Contemporary Designs For Newfangled Lifestyle
219 views
When it comes to street furniture these pieces are working harder than most. With multifunctionality at their core, these designs respond to the challenges that come with limited, urban spaces, and use it as a springboard to generate dynamic, space-saving furniture concepts.
From stools that turn into night street lights to bike racks that transform into waste receptacles, this street furniture is servicing its environment by transforming how people interact with spaces and pushing traditional design boundaries.
France – Damien Gires
These Contemporary Designs, innovative, multi-functional street furniture were first designed and created by Damien Gires and was selected for The Grand Prix of Innovation in the city of Paris.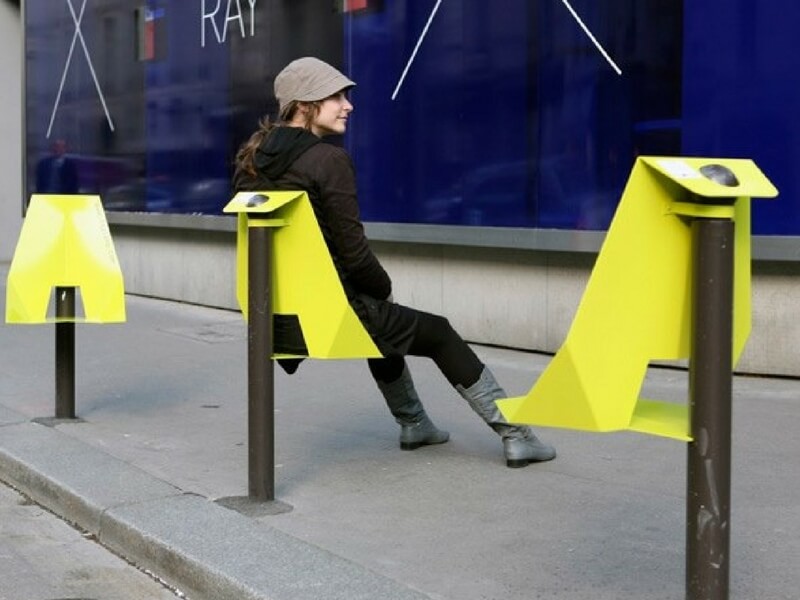 source: pinterest.com
The structure, made of canary-colored, aluminum epoxy is wholly responsive and adaptable to its environment. A lightweight design that can be 'plugged into or attached to existing structures, it was birthed as a way to 'reclaim' the urban space – inspired by the needs and characteristics of the nomadic, urban pedestrian.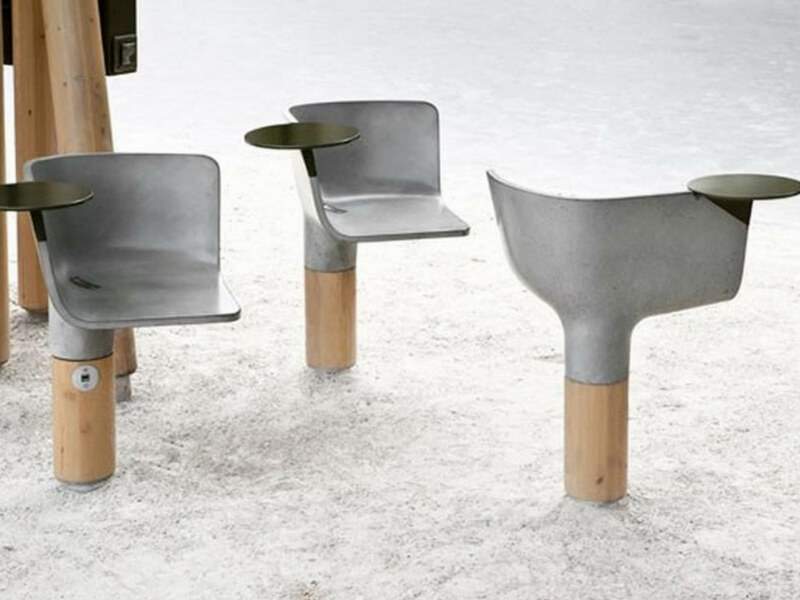 source: pinterest.com
These solid, durable, and standardized seats provide rest, refuge, and a unique place where you can enjoy a sandwich, make a phone call or take a breather from the hustle and bustle of the urban environment.
China – Landezine
Vanke Cloud City Condo located in Guangzhou is a pioneering mixed-use project with micro-unit condo towers and commercial businesses on the podium and street level.
The street furniture populating the condo grounds reflects and embraces the lifestyle of young homeowners who want a flexible, health-orientated yet, design-conscious surrounding.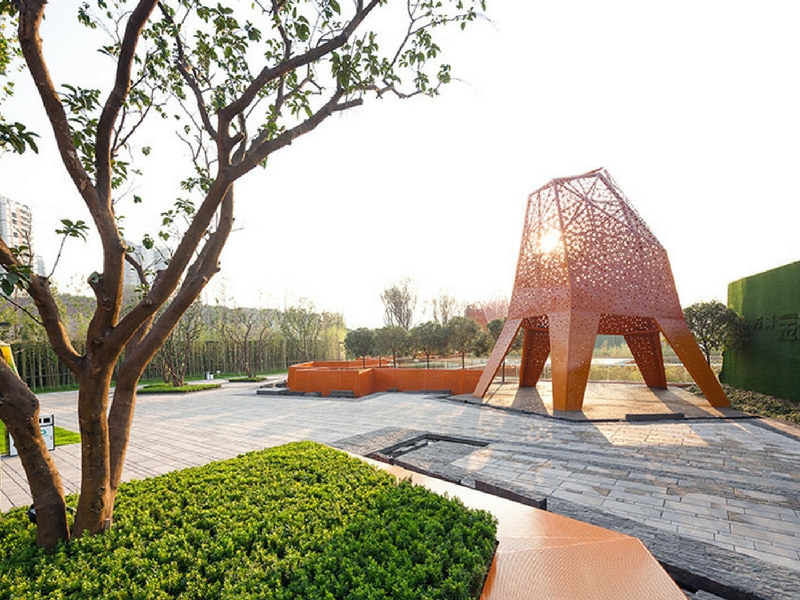 source: pinterest.com
The landscape framework is based on a modular grid system, which response to the spatial dimensions of Vanke's modular prefabricated concrete system. Its multi-functional quality is changing depending on the time of day or mood of the inhabitant.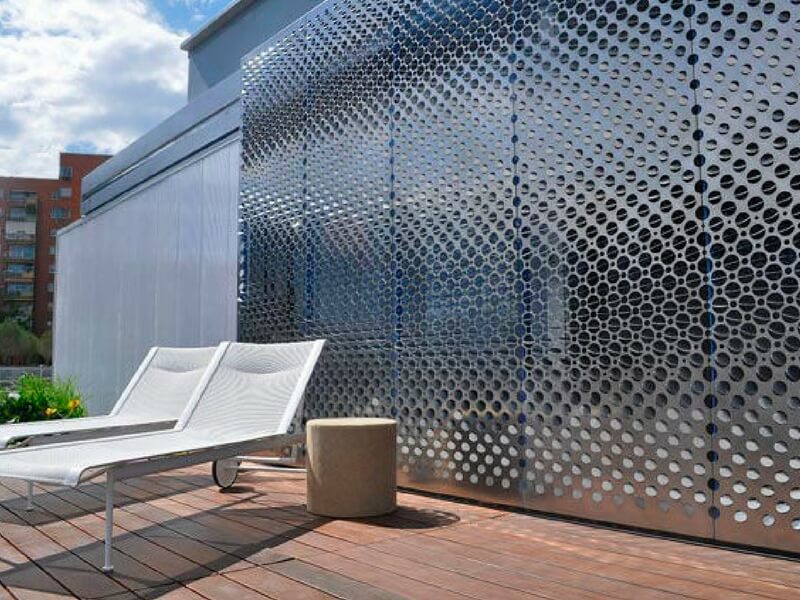 source: pinterest.com
In the evening they become a source of light, whereas during the day the vibrant orange, steel-plated stacks that extend both vertically and horizontally are playful, and promote communication, interaction as well as being a place to sit and relax.
Italy – Lana and Savettiere for Codal
This 'Stripease' bike rack is a truly multifunctional design with different uses depending on the location and its positioning. Horizontally it can be used as a bench bike rack in the parks or in other urban environments. However, when placed in a vertical position it can become a support for a basket for a rubbish receptacle or a flower pot holder.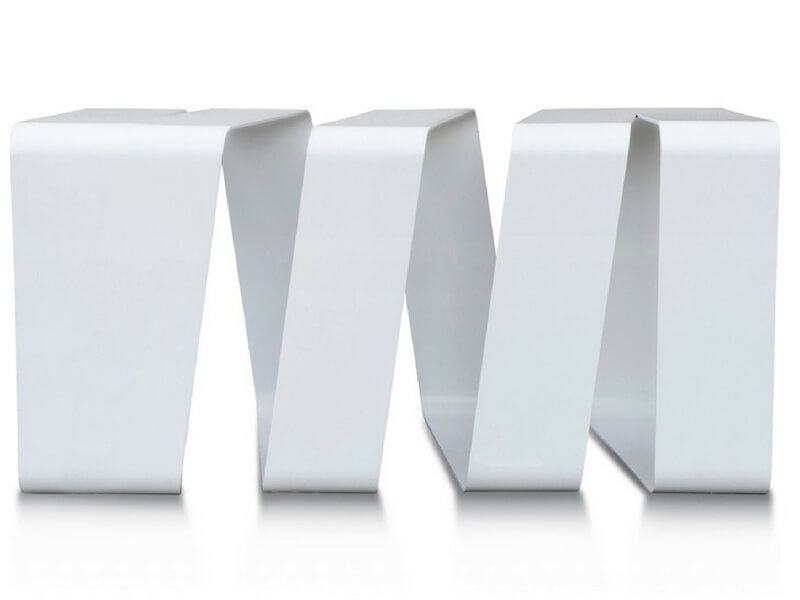 source: pinterest.com
This unique bike rack is composed of four repeatedly folded spiral square sections of wide sheet steel and is equipped with suitable holes for fixing securely to the ground by means of dowels.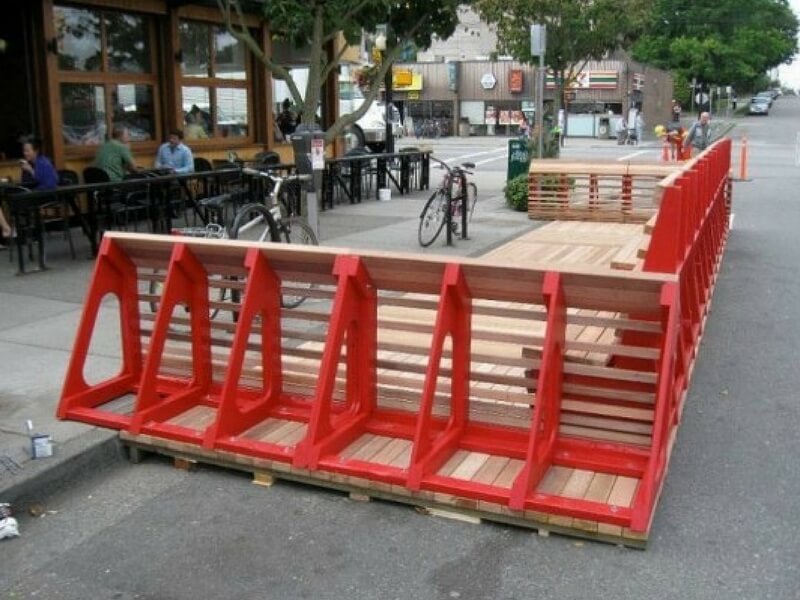 source: inhabitat.com
The use of vibrant colors on the steel is eye-catching, personalizable and makes the surroundings they are placed in more dynamic.
USA – Mark Reigelman
On the steps outside the Brooklyn Borough Hall are Mark Reigelman's 'Stair Squares'. They've transformed the way the daily congregation of people who use the steps, whether it be to sit, study, eat or interact by providing a solid surface on which a hotdog can be enjoyed, a book read or elbows rested!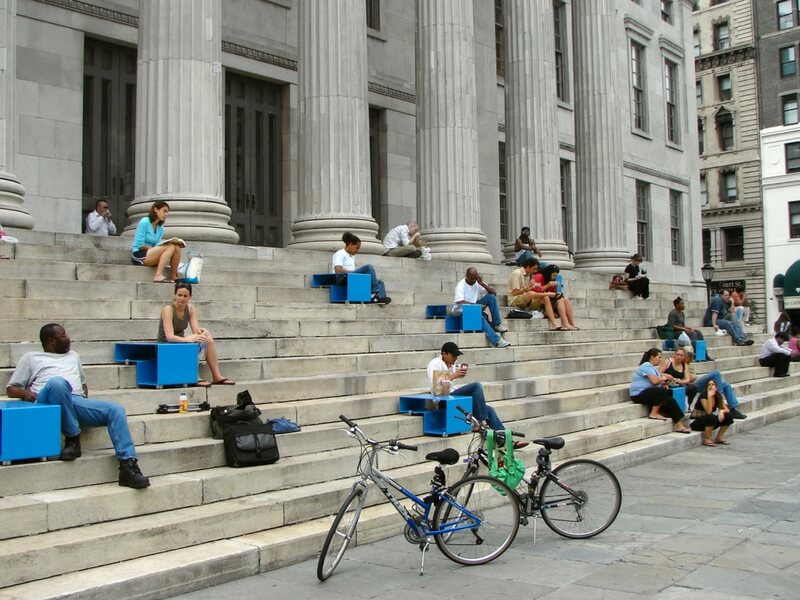 source: damanwoo.com
The squares, which are coral blue are a striking juxtaposition to the more traditional stonework of the steps and building, creating not only a practical solution – but also making it a feature.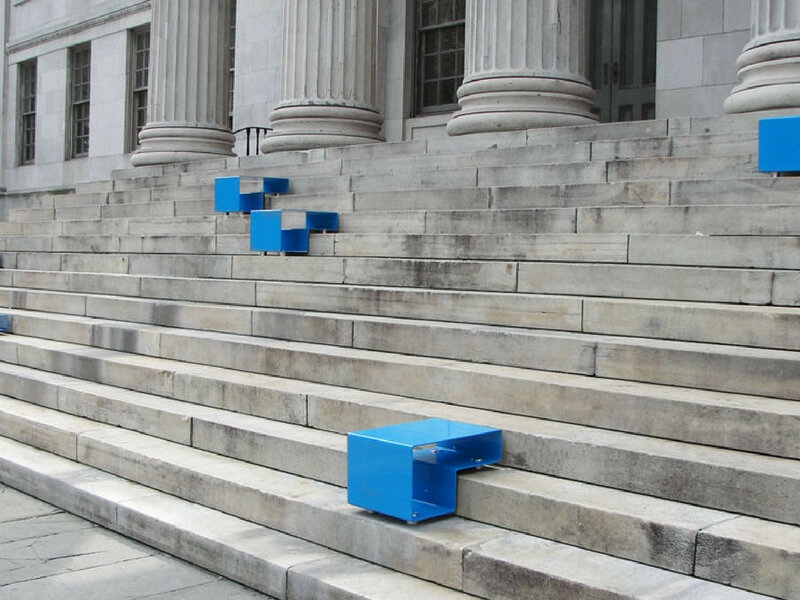 source: pinterest.com
The color, however, is also thoroughly practical as it provides itself as a guide, highlighting the steps with color when the evening draws in.
Also Read: Here's How You Can Incorporate Metal Furniture in Your Interior Design
United Kingdom – Charlie Davidson
At the heart of this project and for the revitalization of the Sunnyside area of Sunderland, was the desire to make street furniture interactive. The stools were deliberately positioned down St. Thomas street, with a specific aim – drawing the public along a route from the shopping center to the Sunnyside park and creating an urban trail.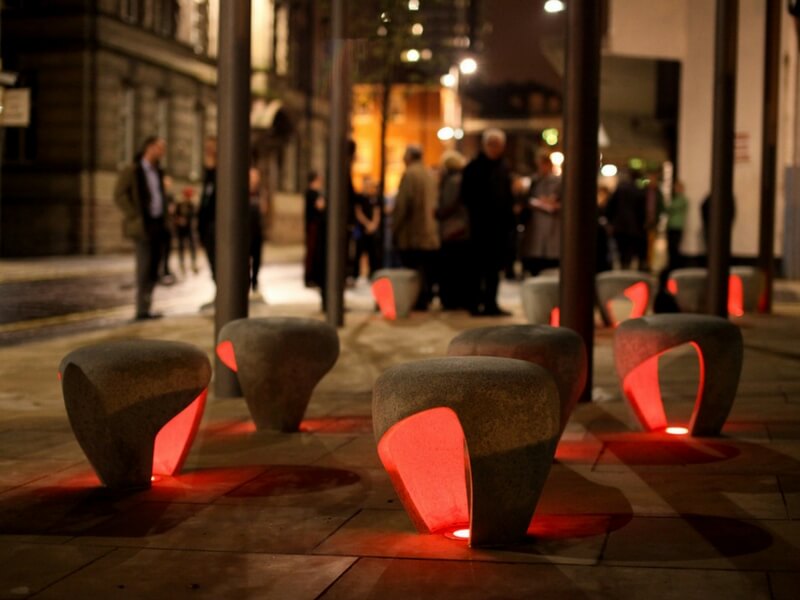 source: pinterest.com
This design uses polymer-based concrete called Jesmonite which gives these illuminated stools the advantage of being warmer to the touch and stronger than concrete. Nighttime, interactive elements including KAPOK lights which are lit up at the base of these stools create warmth, as well as work simultaneously as spotlights to light the path for those out and about in the city at night.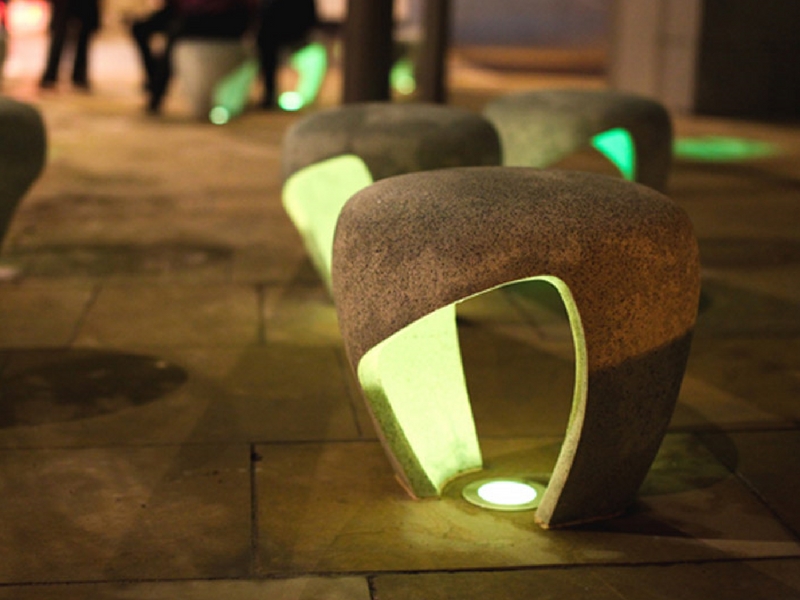 source: pinterest.com
When an environment is challenging, it requires a design blueprint that reacts and responds accordingly, incorporating consumer demands and environmental limitations, while remaining aesthetically dynamic and relevant to a particular area.
All of these designs handle such a difficult specification and have enhanced how people inhabit spaces by seamlessly incorporating themselves alongside existing structures. However, many have transformed the culture and vibe of spaces, creating new activities in areas where they previously didn't exist.
About the Author:
Sara Whitehouse, SEO and Content Editor at Broxap. Broxap is a leading UK manufacturer and supplier of Street furniture, with a range of products including cycle shelters, grit bins, benches, shelters for schools, and more.
For more ideas keep visiting Architecturesideas.