3 Unique Fireplace Designs For Your Master Bedroom
127 views
This is a guest post courtesy of Aaron Bond, the co-owner of AccuServ Heating and Air Conditioning in Toronto, Ontario, Canada.
If you want to have a fireplace installed in your master bedroom, there are tons of different styles to consider. If you have a more distinctive sense of style, then the same old fireplace designs with brick or stone materials, hearth setting, and so on won't be enough for you.
Maybe you want something more bold, more modern, or just plain unique compared to traditional fireplaces, but you're not really sure what that means yet? That's why we're sharing these three unique and stylish room design ideas with fireplace designs for your master bedroom.
No-Hearth Natural Stone Design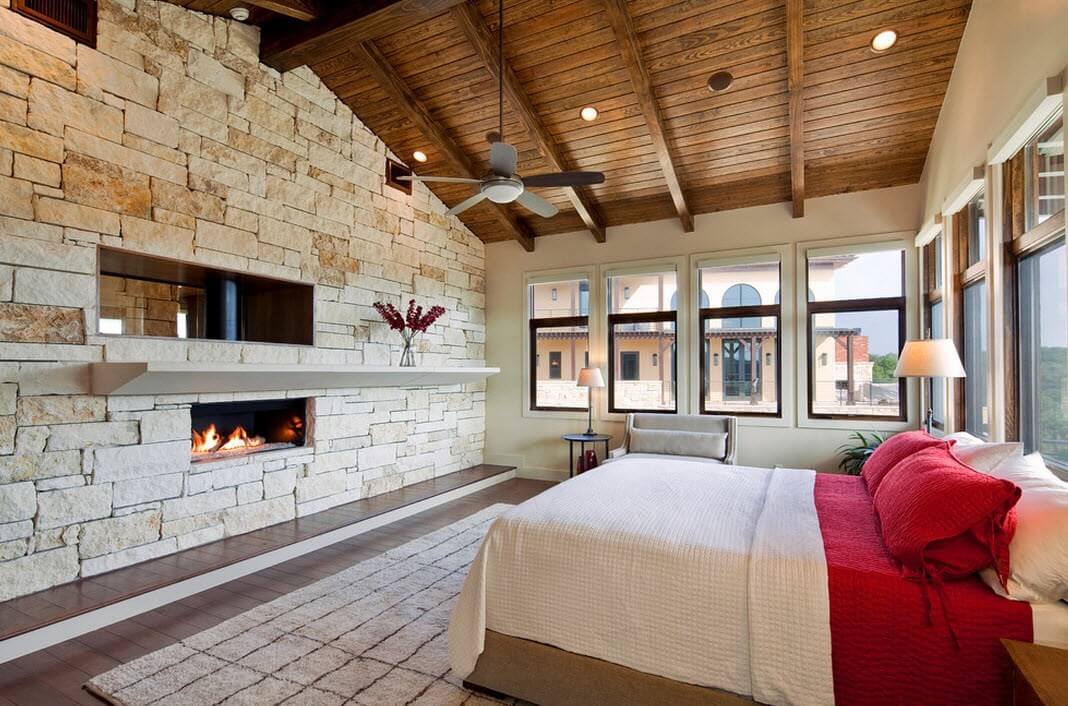 Source : top100design.com
If you like something that's bold and unique but with a classy traditional style, this should strike the right balancing point for you. It uses the new 'no-hearth' modern design where the fireplace is set within the wall and completely devoid of any type of hearth or extra settings. However, for the look and the materials you use the traditional but still beautiful natural stone.
The natural stone gives it a clean, neutral color for the wall in which the fireplace sits, allowing the accent colors used throughout the rest of the room to stand out. Meanwhile the hearth-less design can be sized however you want, and the combination with the natural stone makes it look like the fireplace was carved right out of a rock.
The cleanliness of this design allows you more free reign to set the design for the rest of your bedroom without clashing. This is an especially good benefit if you really want the fireplace more for the utility without sacrificing any distinctiveness.
Modern Peninsula & Pass-Through Design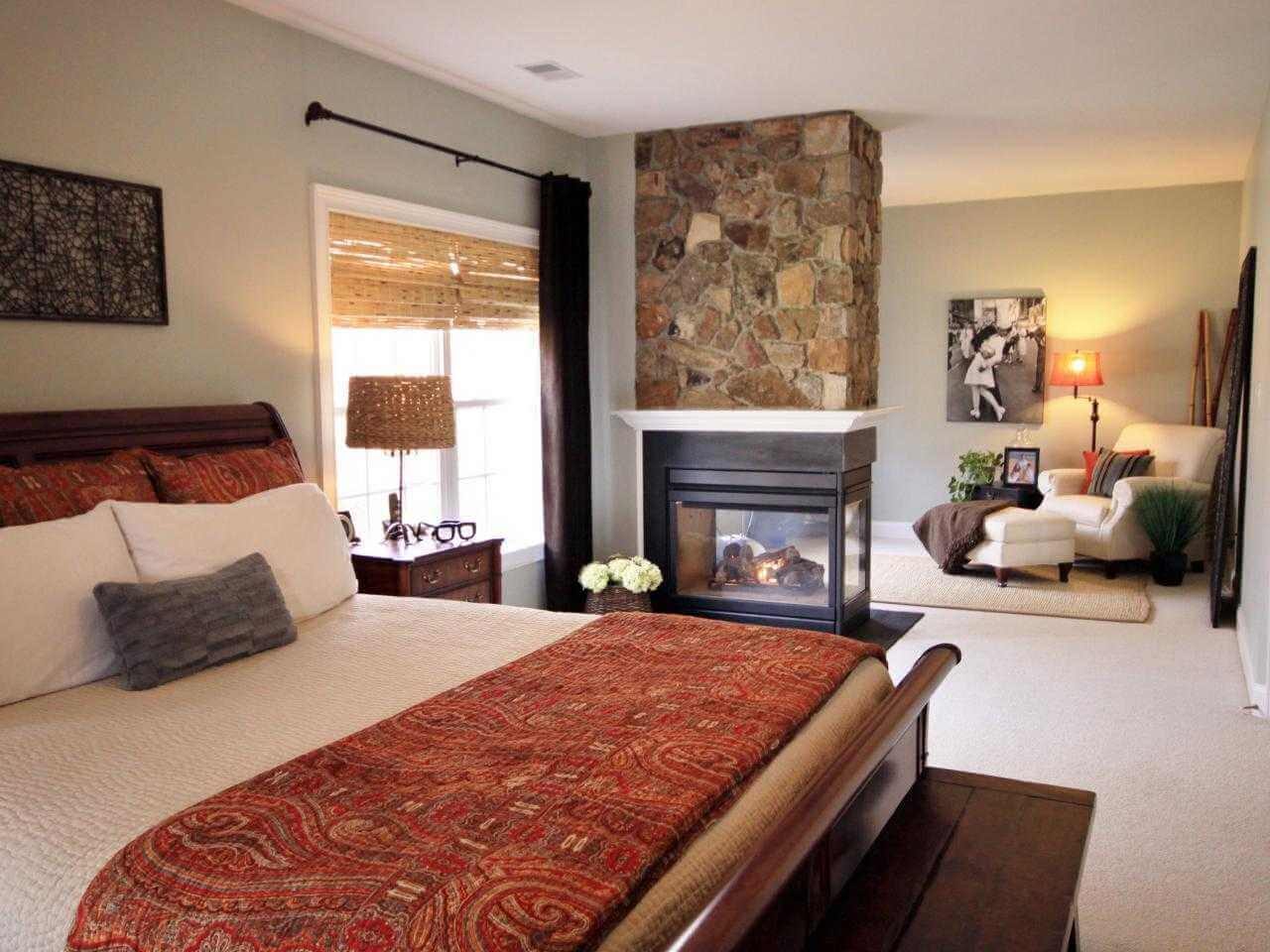 Source : i1.wp.com
With larger master bedrooms you can combine creative use of space with a great and modern looking fireplace. You can include a small section of wall sticking out to provide a small corner of privacy for sitting, reading, working, or just relaxing. Within that wall, build in your fireplace in what is called a 'peninsula' style.
The see-through glass lets you appreciate the fireplace from any angle in the room, and you can pick the material and design of the wall to whatever suits the rest of your bedroom's style. You can choose something more minimalist and contemporary such as something metallic or dark, or something more natural and traditional like brick, stone, or even wood.
Cozy Reading Nook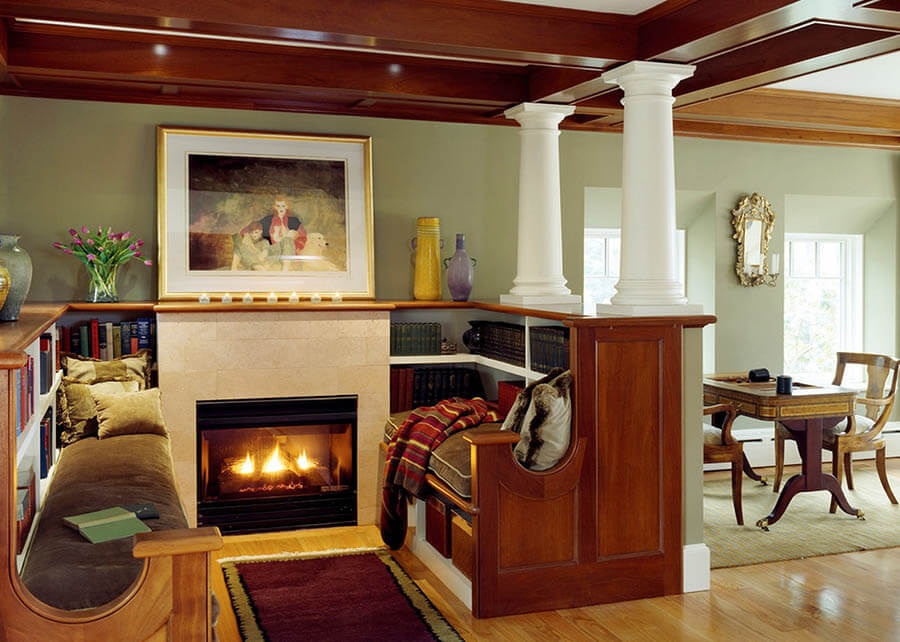 Source : banidea.com
For the bookworms of the world, this can be your dream bedroom fireplace. It requires a large master bedroom as it will take more space, but if you have the space to work with it's worth it. You can choose general design points such as materials, colors and styling however suits you. The key point of a reading nook fireplace is to build out reading space in your bedroom where you can comfortably sit and digest your latest book.
You can build in bookshelves and benches, or simply build out walls or half-walls as the skeleton and fill it with the furniture such as chairs, couches and bookshelves. You can even work in a shelf with glasses and bottles of your favorite alcohol to accompany your reading.
About the Author:
Aaron Bond is the co-owner of AccuServ Heating and Air Conditioning. He has extensive knowledge in hydronics and forced air systems and loves to share his knowledge and expertise with homeowners.