5 Places To Include Stamped Concrete In Your Home's Exterior
137 views
Whether you're designing a new home or looking to upgrade an existing one, you know the outside matters as much as the inside. You want to have a house that looks welcoming from the first approach. And your front yard and backyard should be relaxing places for your family as well as your guests.
A lot of elements go into such a design, from paint to plants. But it's important to start from the ground up! That means a great lawn, but also so much more. You'll also have a driveway, walkways, a patio – maybe even a pool deck. To make the most of these surfaces, stamped concrete makes a great choice.
Let's take a look at some of the great ways you can use stamped concrete to help beautify your home. But first, let's explain what stamped concrete is in case you're not be familiar with it.
What Is Stamped Concrete
This is really as simple as it sounds. Many a daring child knows how easy it is to leave a mark in wet concrete. In this case, though, it's a more artistic image. Many patterns and colors are available to leave a permanent mark in your concrete.  Concrete is mixed as usual, but then coloring is added. Some contractors do it during the mixing, although it can also be done by "casting" the color onto the surface when the concrete is poured.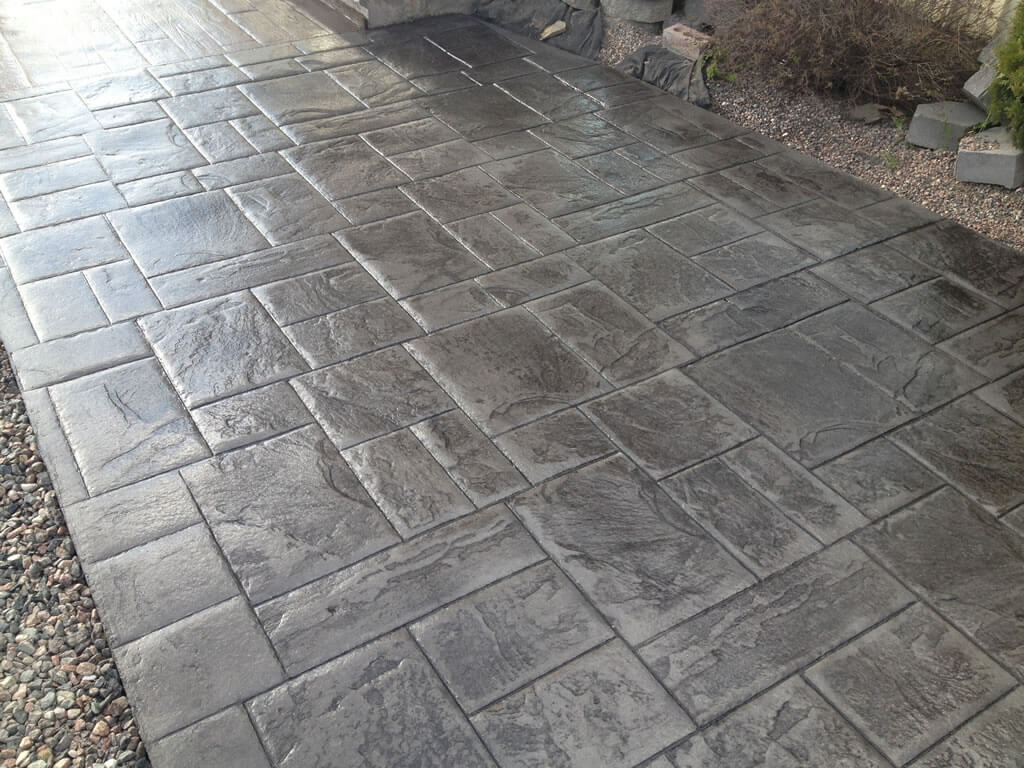 Source : campbellsbayciment.ca
Once the concrete begins to harden, stamps are used to create impressions in the surface. The hardening concrete holds the form of the stamp, creating a surface with real depth and texture. Secondary colors are added to create highlights. Finally, the dried surface is sealed to protect the concrete as well as the design. Some of the most popular styles of stamped concrete include quarried stone, stacked and running bond, cobblestone, brick, and even wood.
Also Read : Easy And Useful DIY Concrete Crafts Ideas
Ideas for Where to Use Stamped Concrete
Since this is concrete, it provides you with a durable surface that is going to last. But it's also impressive to look at. Let's just consider a few great ideas of where you could use it.
Pool Decks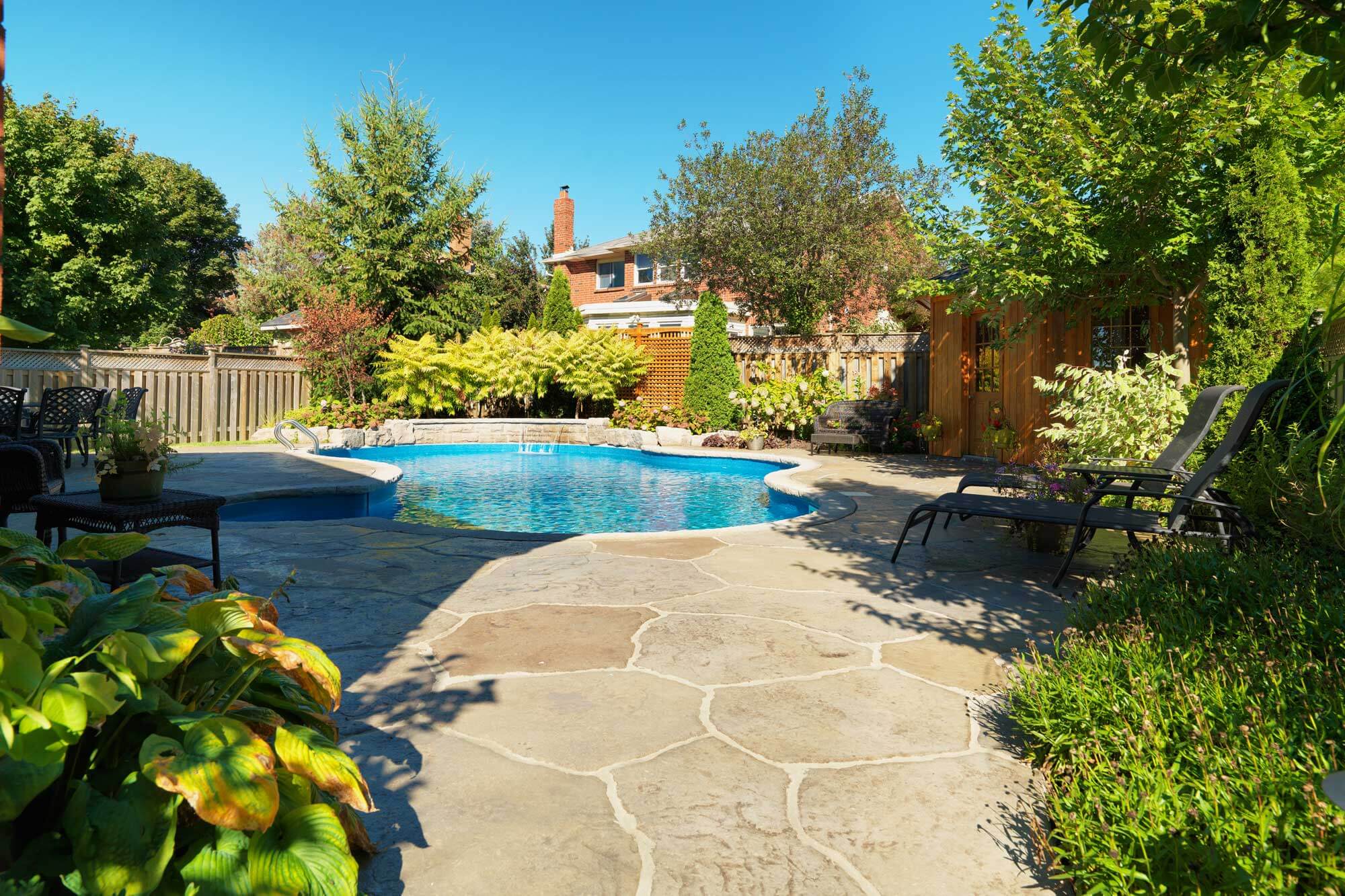 Source : patternedconcrete.ca
Concrete pool decks are common. But at the same time, they're pretty boring when we think of ordinary concrete. Functional and long-lasting, yes. Attractive? Not so much.
But once a decorative aspect is added, you have an abundance of options. For instance, it's easy to create an oasis where it appears that the area around the swimming pool is natural stone. Complement the whole thing with tall green plants that help you feel that you've made an escape from the hustle and bustle of daily life.
The material will hold up well even when it's constantly splashed with pool water. It also stays cooler than many other deck materials, so it's more comfortable under bare feet. A special sealant provides a bit more traction on the wet deck to help lower the risk of slips and falls.
Outdoor Kitchens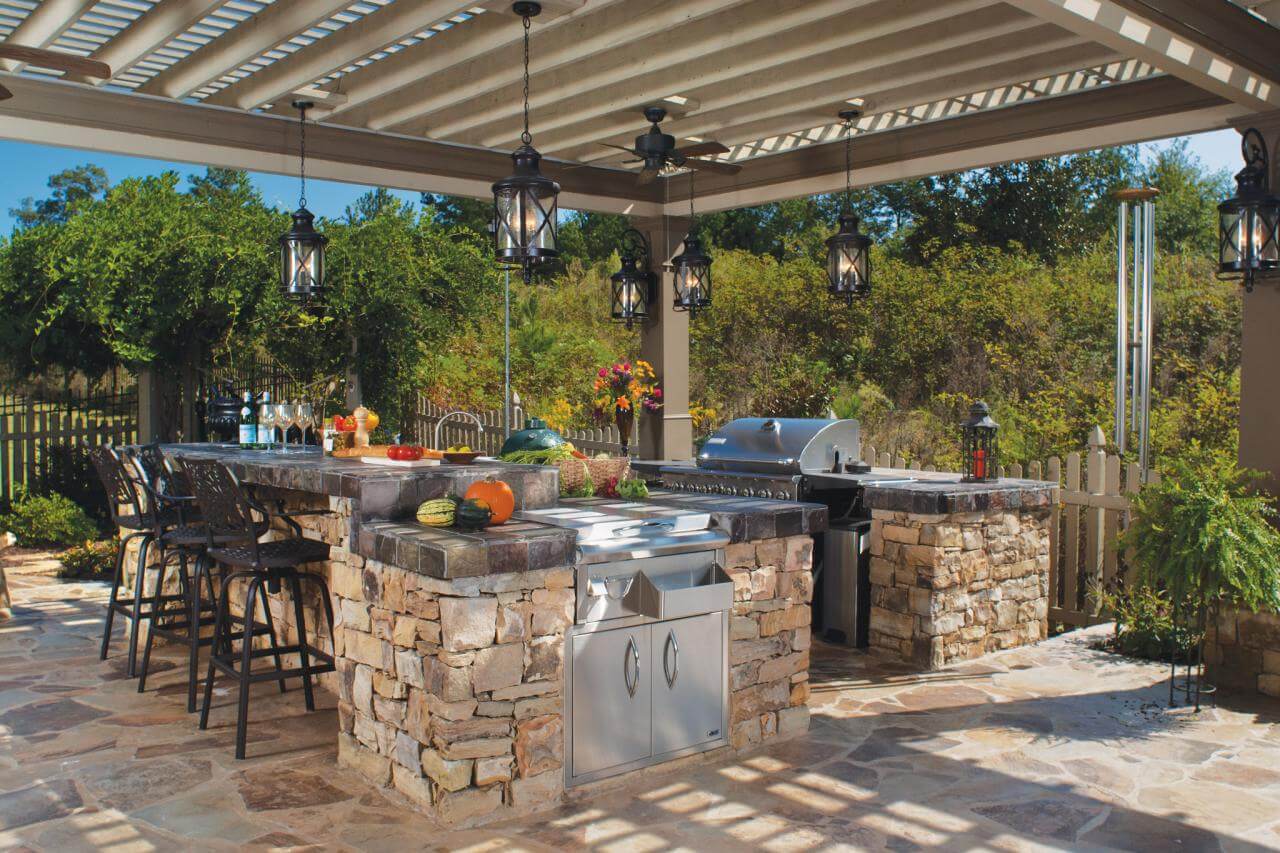 Source : lh3.googleusercontent.com
Whether you only want to toss some burgers on the grill or you want the ability to cook just about anything al fresco, you'll love having a great surface to stand on while you prepare your meal. Your outdoor kitchen area may stand alone or it could be an extension of your patio. But just like inside your home, you want the space to stand out as an area with a unique purpose.
Why not go for a square tile look? Whether you elect small or larger blocks, you can have a great look here. Choose your colors to complement the surroundings and lighting – in a darker area, you may want a light-colored floor. Also, the light colors won't feel as hot – since you're already cooking, you could stand the extra bit of coolness! You can even choose to have concrete countertops with the same design in a contrasting color.
There's no need to slave away over a meal but be denied the great outdoors. Beautify your outdoor cooking area to help make it a great asset for get-togethers or just a change of pace.
Patios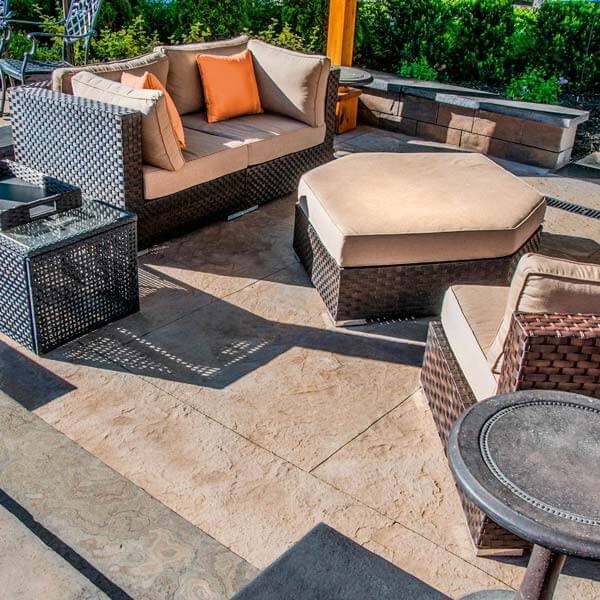 Source : patternedconcrete.com
A patio is a wonderful area that can serve almost as an extra room in your house. There is a huge variety of decorating options, making it versatile and customizable for your own tastes.  But there's no need to be forced to try to hide a boring or ugly surface under furniture or outdoor rugs. Instead, make the concrete itself part of the decorations.
Larger squares – perhaps one foot or larger – are one great option here. They can help create a sense of space and depth to the area. But in reality, the patio is probably the largest canvas where you can opt for stamped concrete. That means you can choose nearly any pattern that fits the style of your home and the feeling you want to convey.
Driveways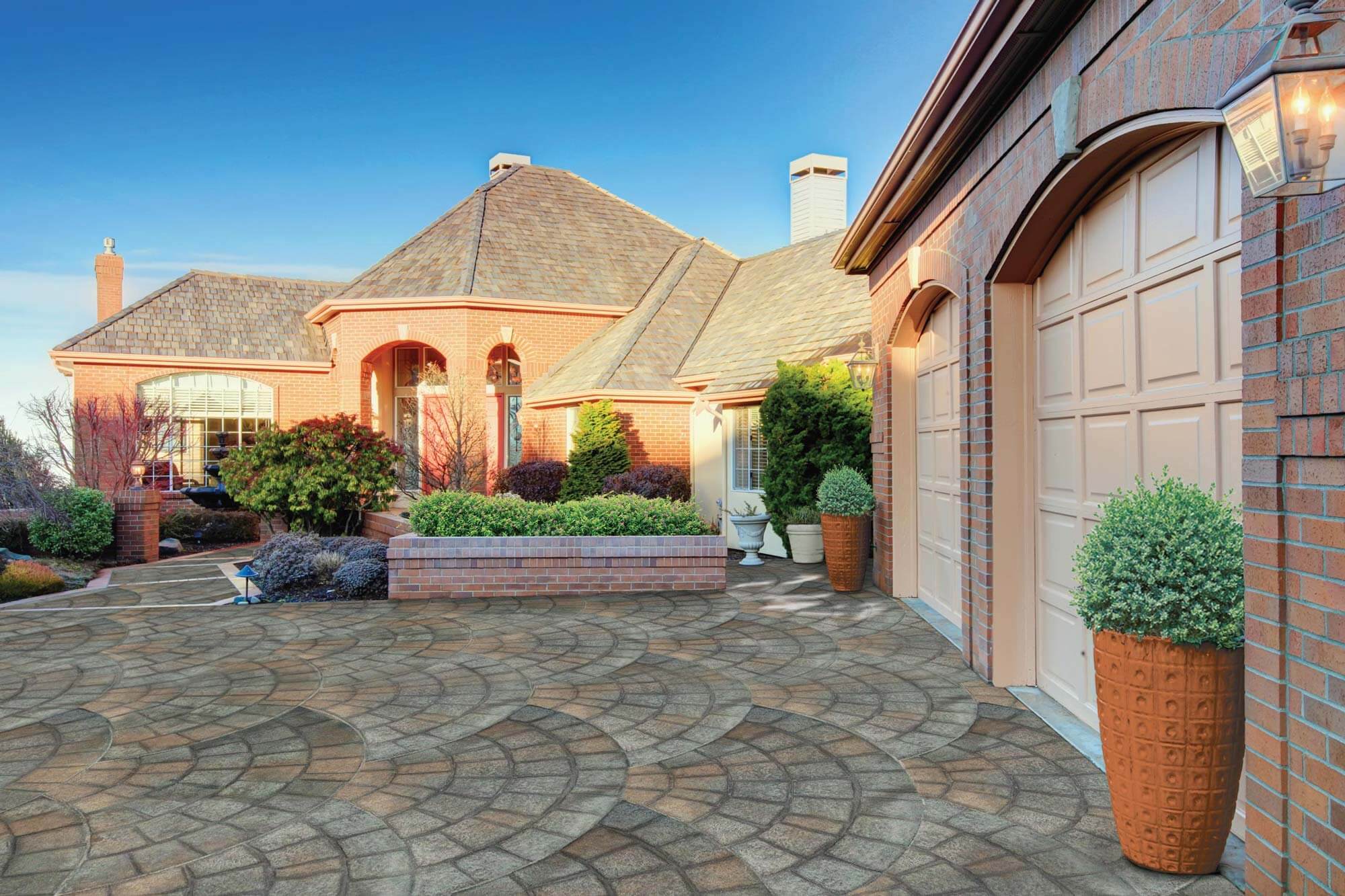 Source : patternedconcrete.ca
Your driveway may be something you take for granted when it comes to having a great-looking outdoors. At the same time, though, it's a large area that doesn't need to look like an ugly landing strip. Unless, of course, that's what you want. But we suspect that you'd prefer something a bit nicer, and there are lots of great options.
If your home is built with brick, you may want to extend that to the driveway as well. But if that feels like too much, you could choose to use plain concrete and use the brick stamping along the edges or at intervals to break up and frame the drive..
Another option is cobblestone, especially if you live in an older neighborhood and would like to carry on that historic character. Real cobblestone is expensive and also can be hazardous since it tends to work loose as the ground settles. But with stamped concrete, you avoid those problems while maintaining a wonderful design!
Walkways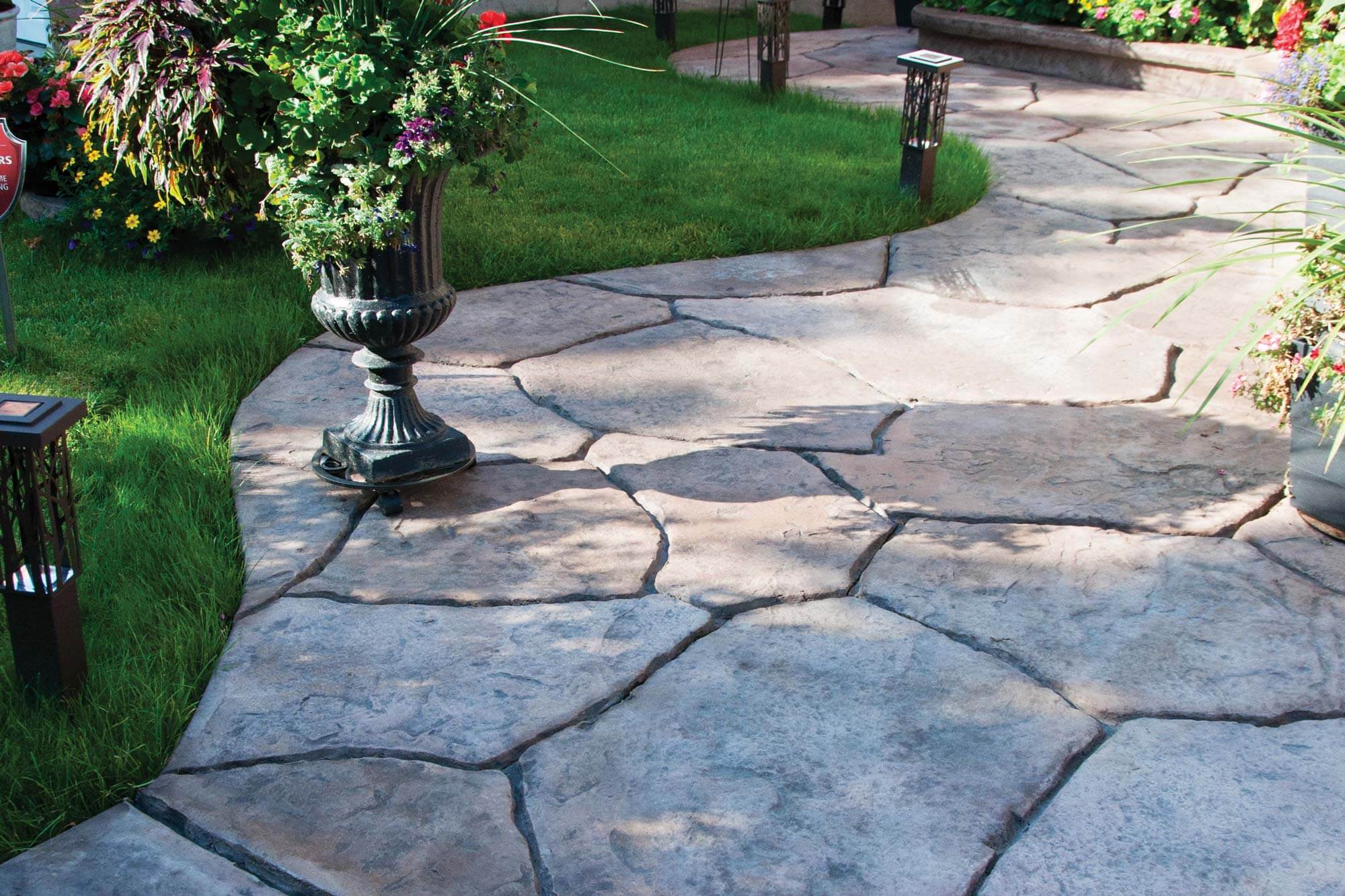 Source : patternedconcrete.ca
A walkway can really serve two purposes. On the one hand, it can be a path leading you from one point to another. It could direct you to the front door from the driveway or street.  But it can also be simply a place to stand while enjoying a stroll with no particular goal in mind – it's simply an opportunity to enjoy the journey. Such might be the case if you create a surface to walk on that wanders through your garden.
In the first case, your stamp of choice might well create a sense of purpose and direction. Stacked bond has clean, crisp, straight lines that point in the direction you're going, making it a wonderful choice here.
On the other hand, if your goal is a more leisurely feel, something less structured might be more to your liking. A hewn stone pattern can be effective. It's almost the polar opposite of stacked bond – it has almost no straight lines and creates a more rustic, simple look.
Conclusion
There's no need to neglect the hardscaping of your property when beautifying or to think it's beyond your budget. Stamped concrete is an excellent option for all your outdoor surfaces, as the examples here show. Its durability and ease of maintenance add to its appeal.
No matter what your tastes or the architectural style of your home, you'll find a stamped concrete pattern that meets your expectations!
About the Author
Bill Michael works for Patterned Concrete as a media outreach specialist. The company is an expert and pioneer in stamped concrete since 1972. It has grown from its Toronto-area roots to have franchises across North America. If you're a concrete mason and interested in stamped concrete work, get in touch for info on how to become a part of the family!