How to Turn Your Kitchen into a Smart Kitchen
67 views
With the wave of technology continually upon us, the question that reigns is how do we even start? We have phones, tablets, TVs, and wearable technology for smart accessories, but how do we begin to make our lives smart? 
Turning rooms of our homes can be comfortable with Alexa, and digital/wifi thermostats. When the small stuff is done, how can we ride the wave and continue to grow with technology instead of standing still?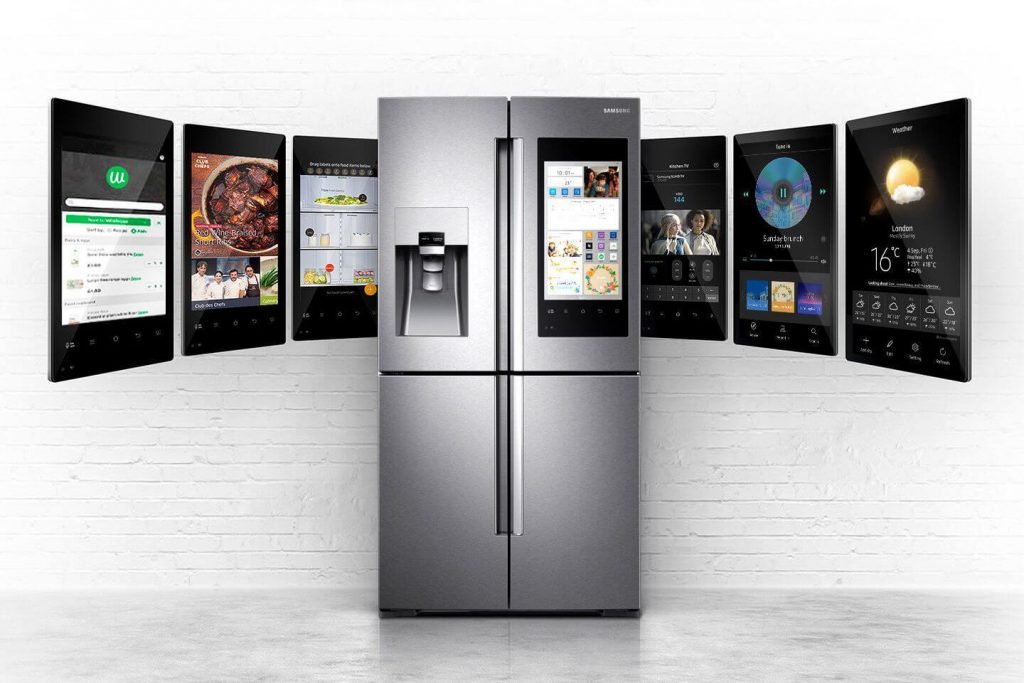 Source: wp.com
Making rooms of our houses can be a great place to launch a deeper understanding of having our lives be "smart." Most families spend a significant amount of time together in the kitchen, either eating meals or as a general gathering place. Setting up your "smart" kitchen can be even easier than you can think. 
There are smart appliances, WiFi Crock-Pot Settings, and lists that are built into a screen on your refrigerator. What are the latest and greatest ways to get your kitchen into "smart" mode? Read on and find out more.
Also Read: Smart Kitchen Appliances Saving Your Precious Time
Pick Up A Few Easy, Small Appliances First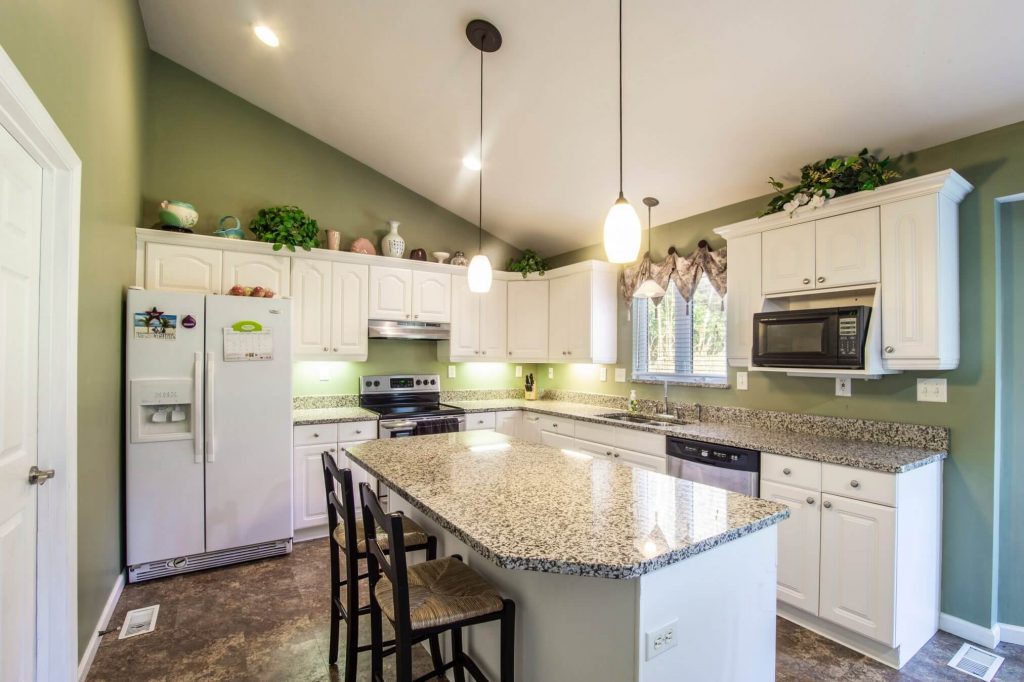 Source: momdoesreviews.com
Figuring out how to use smart products can be tHow to Turn Your Kitchen into a Smart Kitchen best step towards a "smart" life. Getting a few smart, yet small, appliances will help ease you into a setting instead of gutting the kitchen and starting over. 
Chances are you have a penchant for a specific brand or want to stick with the same brand for all your small and larger appliances. Doing some research with Consumer Reports, Amazon Ratings, Google, Yahoo, Bing, etc. will be a great place to step into the first leg of your smart kitchen development.
There are many appliances to choose from. One of the most simple could be a wifi-connected crock-pot. You can add an app to your phone to turn on, change the temperature, and mess around with cooking time. Cooking with a crock-pot just got easier. 
A few other fun, yet small appliances will get you "smart" kitchen ready. Google "smart," Small Appliances, and you'll find a million.
Find a voice-activated coffee maker,  a water pitcher that orders replacement filters, and A Food-Cycler that composts leftovers in three hours. 
Next Step Will Be to Move onto Some Bigger Items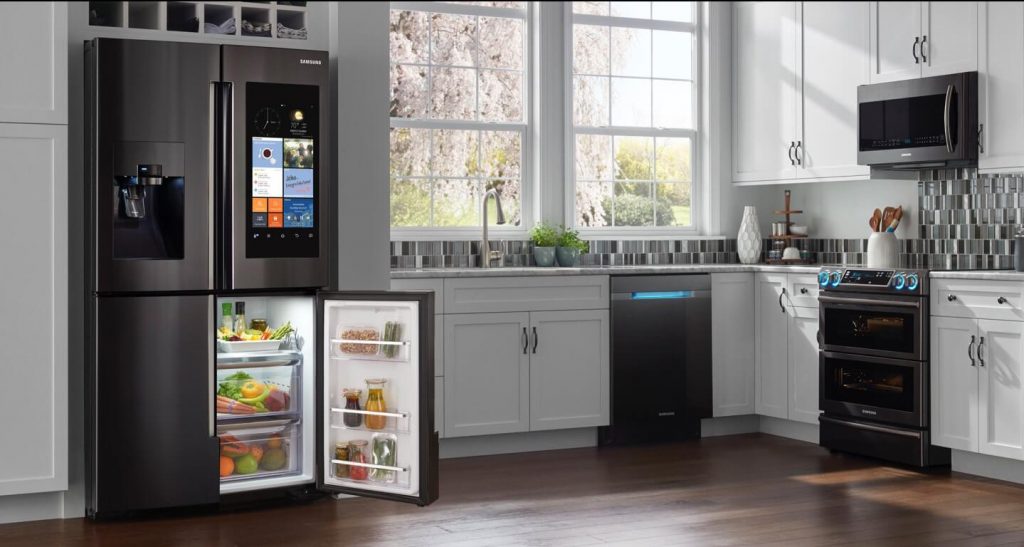 Source: goedekers.com
Once you've gotten used to talking to your coffee pot, then you can move on to getting comfortable talking to your stove, refrigerator, and more. 
Connecting your larger kitchen appliances to voice-activated apps and technology is easy with Google Play store or the Apple App store you can download the apps to your phone and other smart screens around the house (laptops, TVs, tablets, etc.) and then start cooking with a push of a button from the living room, or add an item to your grocery list On Your Refrigerator while you are at work. 
GE has an entire web page connected to the Wifi-Connect, Kitchen Hub. Here, they show many different "smart" items for your kitchen, including a microwave you can watch Hulu on (or get recipes from). Included in the smart, kitchen hub is a state-of-the-art ventilation system that pulls heat as it refreshes the air.
Other recommendations in this Kitchen Hub by GE are a built-in coffee maker on your refrigerator, see-through refrigerator screen that allows you to see what is inside the fridge without having to open it. A touch screen hub, connected by U-Connect that will enable you to control your home through your kitchen. 
The U-Connect app allows you to turn the lights down, start your disLatest Gaming MouseLatest Gaming Mousehwasher, turn the temperature up, check in on your kids, and start your laundry all while you cook dinner (and all with the press of the appropriate buttons.
Smart Apps for Smart Kitchens
On top of Alexa, Echo, U-Connect, and thousands of other apps, there are thousands more you can use for recipes, reminders, lists, tips, tricks, fixes, and more. Researching great apps can help you ease into the last leg of your smart kitchen upgrade. 
Using a smart screen on your microwave or refrigerator can get you music when you are working on Kitchen chores, recipes when you want something new to cook, your grocery list (paperless) sent to your phone (from your refrigerator). You can add an appointment to your schedule, or if you don't feel like cooking one night — order out for food.
Smart kitchens are the wave of the future that is supposed to help make life a little less crazy even when it may be hectic.
Conclusion
The great thing is that smart appliances can match any decor you hope to pair it with so it will make designing your kitchen to suit your esthetic eye move seamlessly. 
Decorating your kitchen may be easier than deciding what appliances to get and how to turn them smart. The refrigerator, dishwasher, microwave, stove, and other features of your smart kitchen can take time to build up. Once you get rolling on it, it may become exciting to find new features and figure out what comes next. You can even make it a family game — What Smart Item/s to Get Next?
While technology is ever-changing and upgrading, using smart appliances to make your kitchen, the hub of your home is a beautiful place to start. Researching the latest and greatest machines are easy with Consumer Reports, Amazon Reviews, and Google to help you find what smart items will work best for your lifestyle. 
Once it is clear how you will use your smart kitchen appliances, research the apps that will come most handy for you. 
After your appliances are installed and your apps are uploaded, all you will have to do is to sit back, enjoy how the technology helps make your kitchen smarter.