Simple and Practical Guide on Furnishing Your Office on a Budget
103 views
It doesn't matter if you are about to build a new business or you are planning to move your current business to a new office, you are going to want to balance between building an office space that not only makes potential clients excited but also allows your employees to work productively and efficiently…. And yes, let's not forget that you don't want it to cost you an arm and a leg.
In this article, I'm going to share some really practical tips to help you get the office space of your dreams that doesn't break the bank 🙂
No doubt, that no matter what you do, you are still going to end up spending a significant amount of money on doing up your office. However, that doesn't mean that you have to go out and spend money foolishly. There are some areas that you are going to be able to save money, but there will be other areas where it will make sense to invest a good amount of money.
The best way to make sure that you don't end up wasting a ton of money for no good reason is to create a budget before you do anything. Then plan exactly what you need to do using the budget as a guide to help you spend money appropriately, in the right areas.
Also, make sure that you focus most of your budget on getting those things that you absolutely need, and then whatever you have left you can spend it on the things you'd like to have. The last thing you want to do is spend all your money on things that are nice to have but you don't really need, because then you'll blow your budget with nothing to show for it! 
Also Read: How to Choose the Ideal Office Furniture for your Startup
Get the Right Office Chairs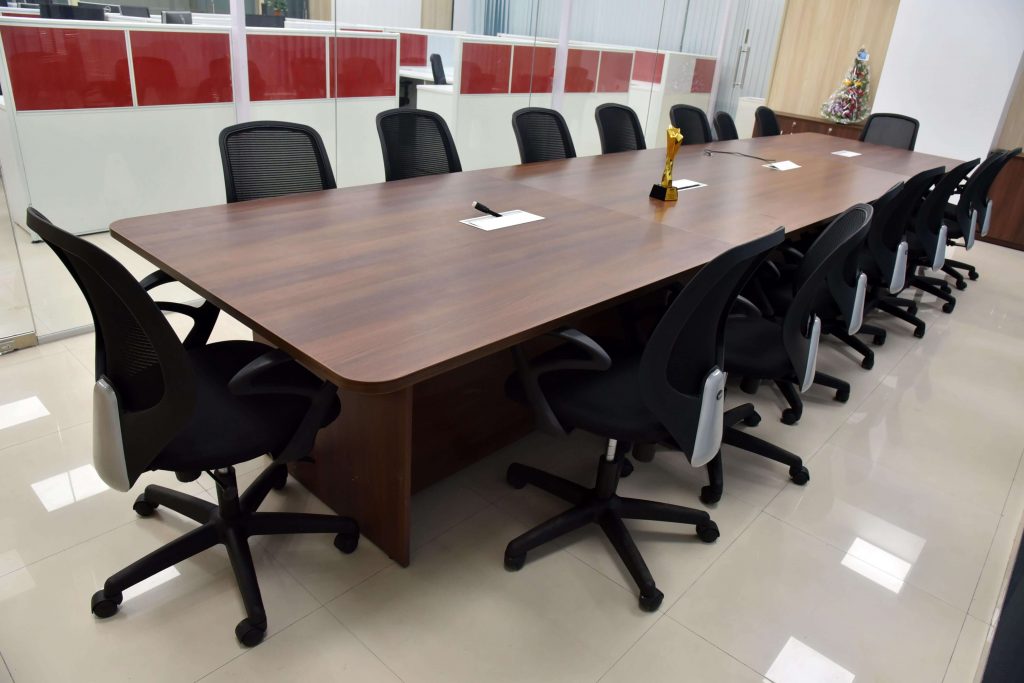 Source: vlitefurnitech.com
The first thing you need to spend your hard-earned money on is some really good office chairs. Since you and your employees will likely be sitting down all day working away, the last thing you want is to end up getting bad quality chairs that cause you all sorts of back problems. Some of the best chairs you can get are called Ergonomic Chairs… so be sure to invest in some good quality ones. You will find that your employees will be far more comfortable and productive as a result!
Choose to Install Bench Desks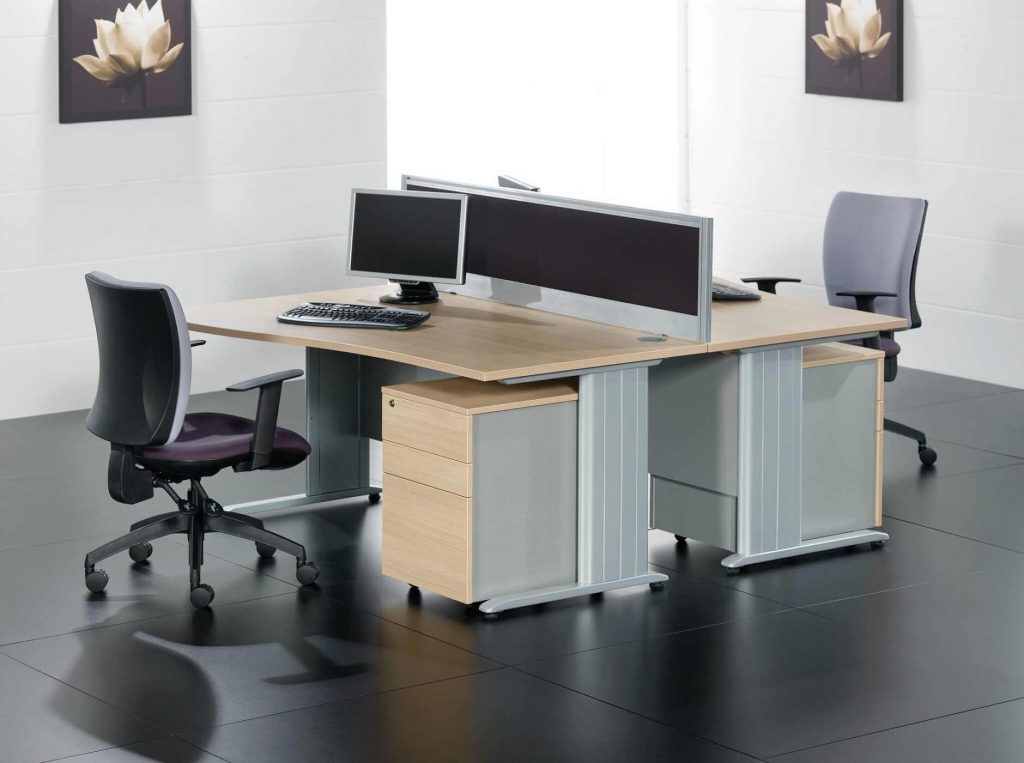 Source: rapidoffice.furniture
One of the best ways to save a lot of space and money is by getting some bench desks into your office instead of conventional desks. Bench desks work really well in maximizing the number of workspaces you are able to fit into a single office space.
That means a lot more employees are able to fit into an office, which is great for saving costs in the long run. While desks are going to be an important piece of furniture for your office, it doesn't need to be all that fancy. If your budget is tight then just be practical and get the desk that meets your needs and fits your budget.
Invest in the Right Storage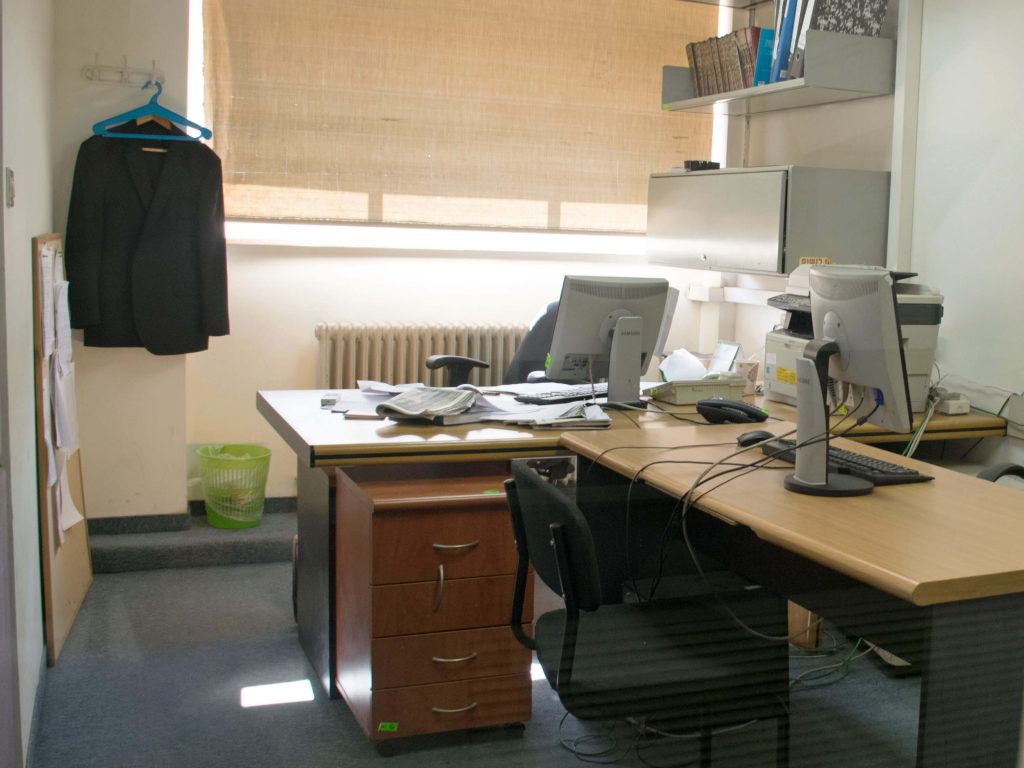 Source: wikimedia.org
Alright, no one out there gets excited when the topic of storage comes up but regardless of how you feel about it, the reality is that it's a very important aspect of any office. Naturally, every office space has different needs and so you will find many, many different types of storage to meet your specific requirements.
If you are working with a small office space then you will want to consider getting shelves that you can mount onto the walls. This will allow you to take advantage of the walls and be able to store all your important things. On top of that shelves are a very cheap storage option, which is great if you're on a tight budget to revamp the office. If you do have the floor space then, of course, Traditional Filing Cabinets are a great storage option.
Buy Second Hand / Refurbished Technology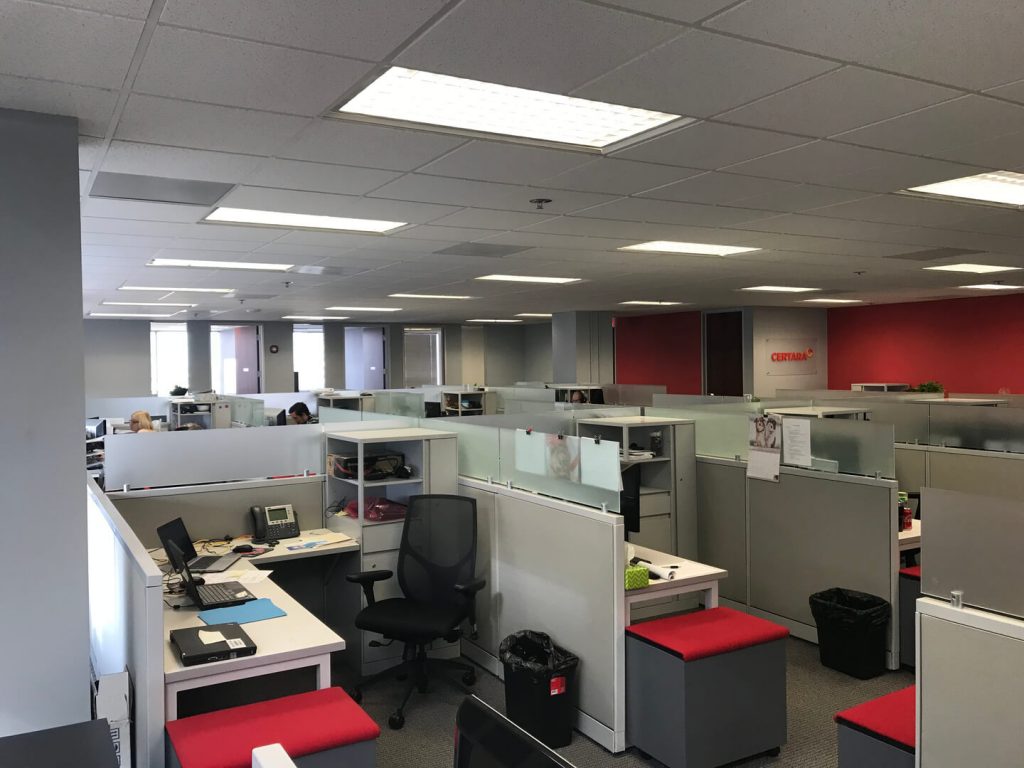 Source: wsimg.com
It's 2019, the reality is that you are going to need some quality tech for your employees to use. But if you go down the route of buying all new tech then you are just going to end up bankrupt! However, don't worry you don't need to fret! The solution is very simple. All you need to do is identify exactly what you need and then get second hand or refurbished models. It will be as good as new and most importantly you'll get the job done for significantly less!
Create a Flexible Office Space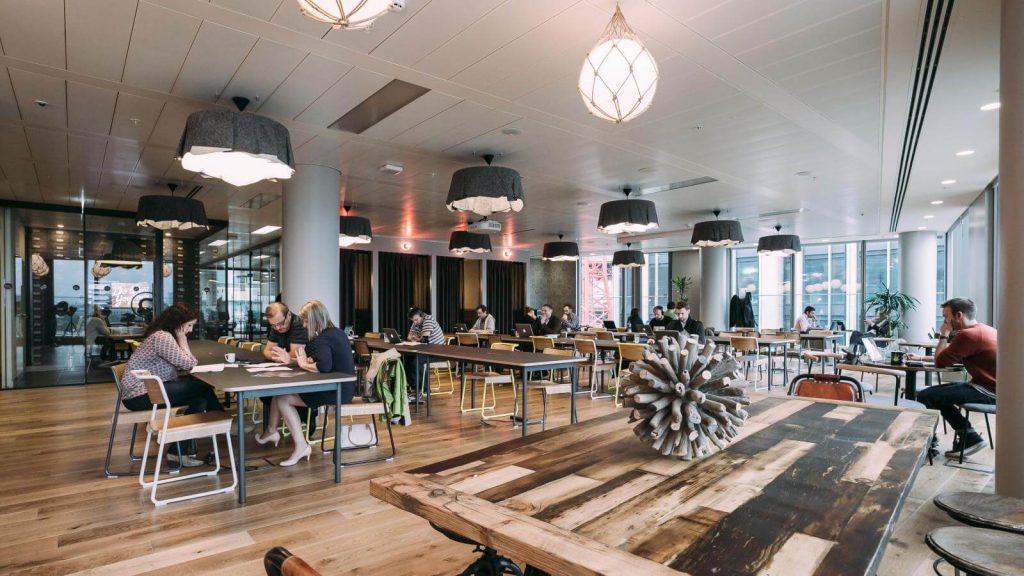 Source: qz.com
In the modern world that we are living in which is extremely fast-paced you really want to invest in an office space that is flexible. What this means is that as a business you are going to develop and your needs will change over time. You want to create an environment in which the office space can easily adapt to your businesses changing needs.
Traditional offices with their permanent walls are very costly but office spaces that are flexible are cheap and will save you a ton of money as you will be able to adapt on a whim as your business grows. No more having to shell out a ton of money to change your office every 6 months.
Let's Not Leave Out the Staff Kitchen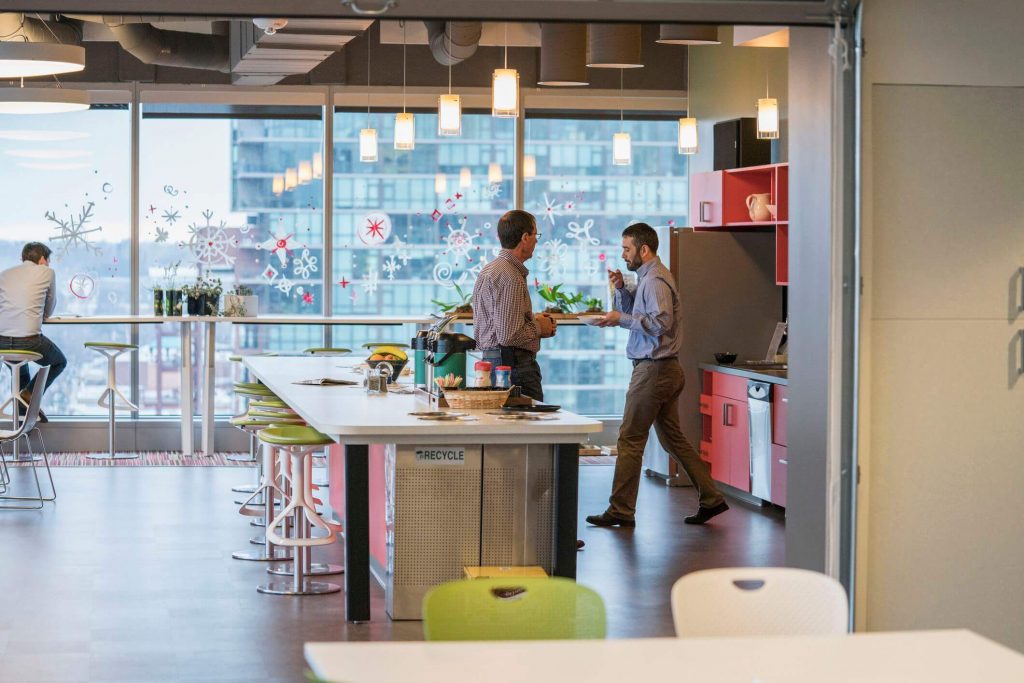 Source: thespruce.com
One of the most important things that a lot of business owners seem to overlook is the happiness of their staff. This is very important and something that you should definitely not forget about because the happier your staff is the more productive they are going to be which will only result in you increase the success of your own business!
One of the best ways to improve the happiness of your staff is to make sure that your staff kitchen is equipped with everything that they need! This includes having things such as a fully stocked fridge, tea and coffee machines and of course a microwave oven.
Lighting Up the Office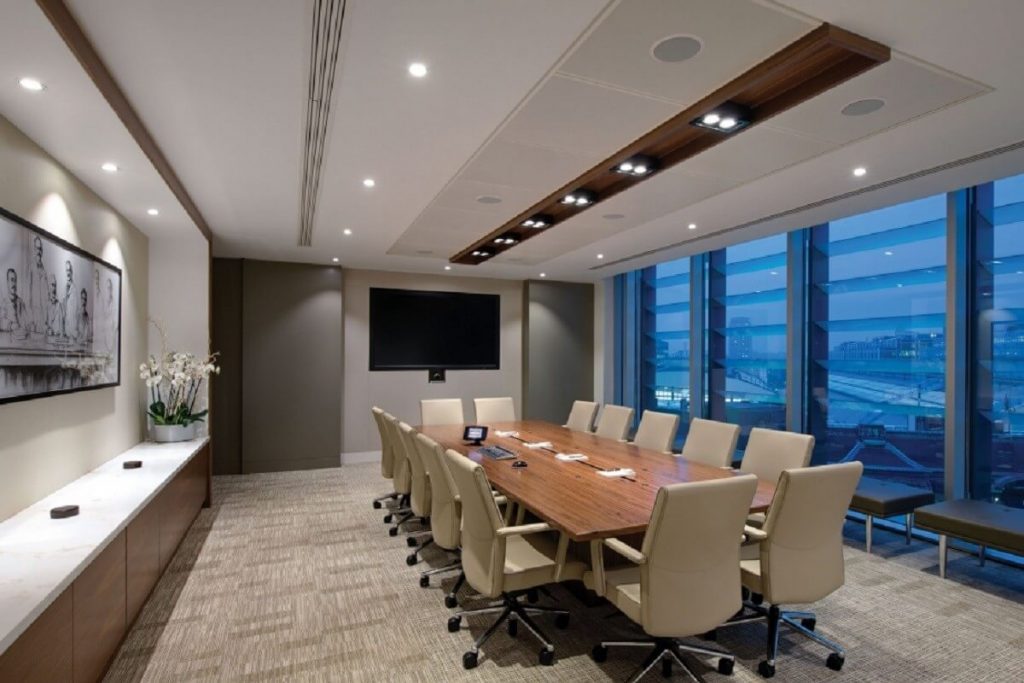 Source: zentura-eu.com
Good lighting is so important not only for making sure that your employees are happy but also for ensuring that they are productive. One of the best ways to save money in this area is to actually pick an office space with a ton of natural lighting. Also, you are going to want to put the employees that are doing the most hardcore work right next to the windows with the most lighting.
If you don't have a lot of natural light coming into your office then you are going to have to, unfortunately, shell out a little bit more cash on getting good lighting installed, but believe me it's worth it in the long run because it will only result in your employees being more productive which will result in a great ROI for your business!
Give the Office a Fresh Lick of Paint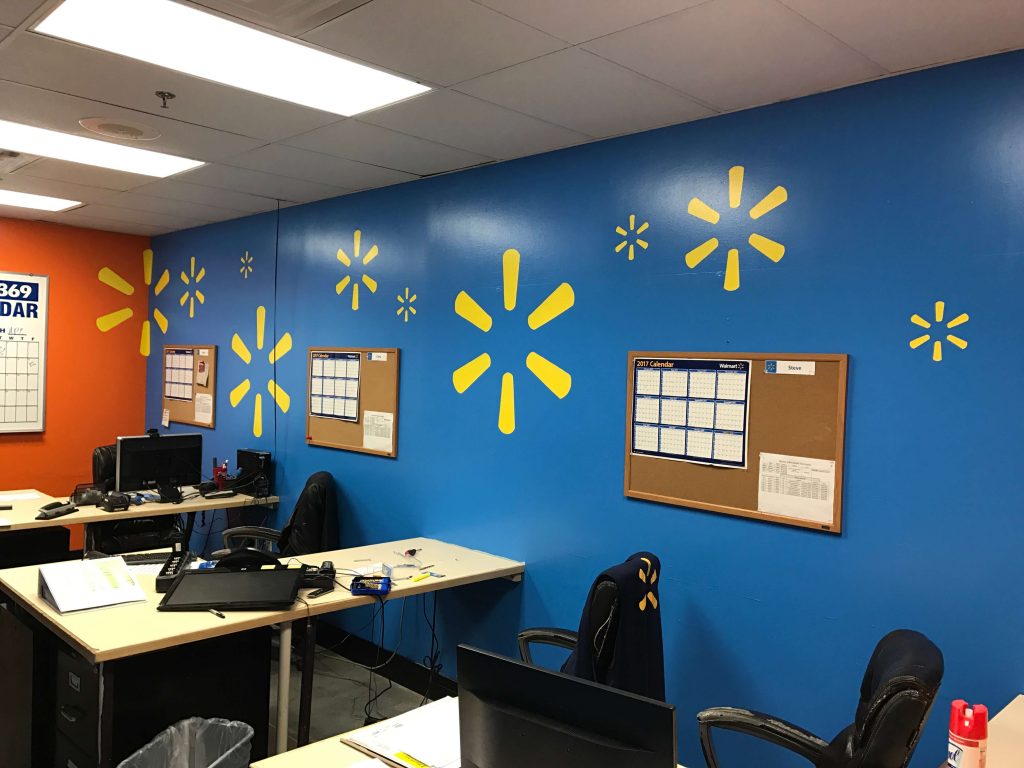 Source: pro-builders.co
You'd be shocked but something as simple as a fresh lick of paint will completely transform your office and make it feel brand new. It really is a great and cheap way to give your office that feeling of an upgrade. Giving it a bright color that is completely different will liven up space even more!
Consider Office Plants and Artwork?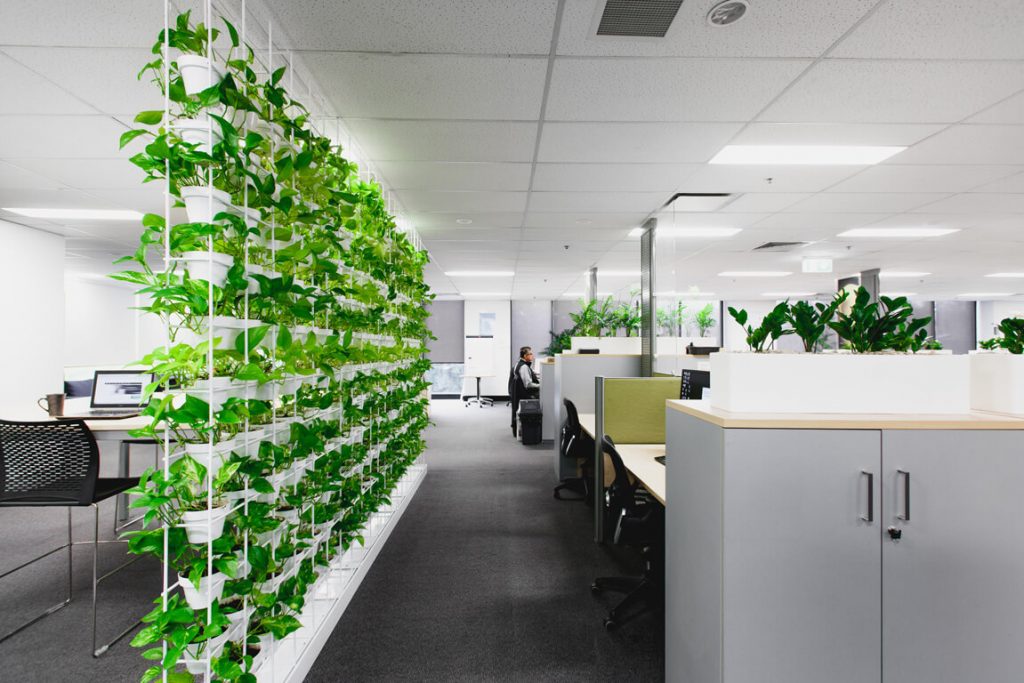 Source: ambiusindoorplants.com.au
One of the cheapest and easiest ways to upgrade and decorate any office is to buy some plants. You'll also find that having some nature indoors will only result in a relaxed environment being created. A relaxed environment is a productive one! Of course, another option is to get an employee of yours that is a budding photographer to print out some of their best photographs that you can hang up on the walls around the office… another way to upgrade the office and it will cost practically nothing! 
Get All Your Furniture Needs Met by ONE Supplier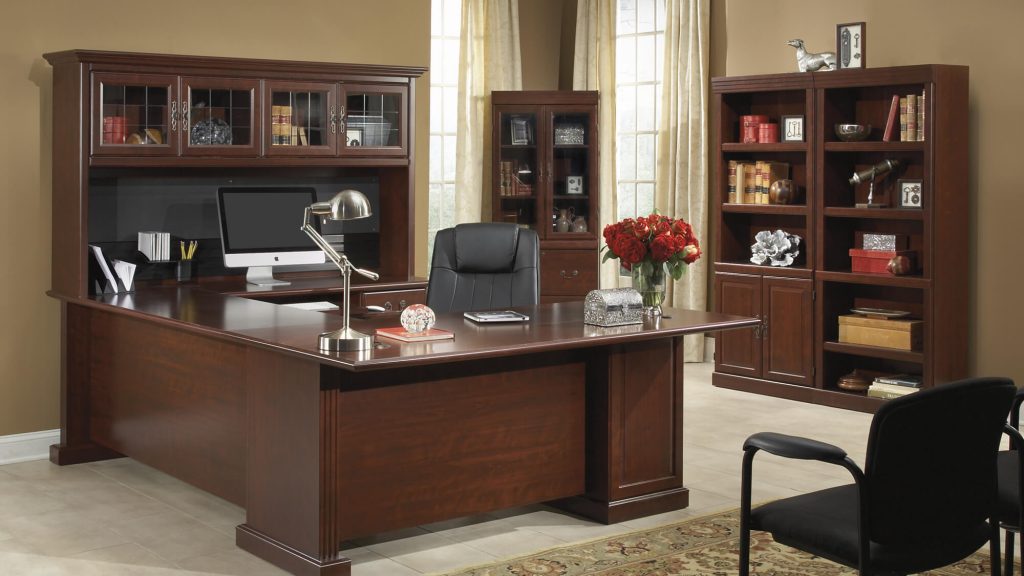 Source: durian.in
One of the best ways you can save a significant amount of money is by buying all your Office Furniture from the same supplier. There is absolutely nothing to lose so just ask whatever furniture supplier you are considering for a quote and see if you can get a good deal.
So there you have it, literally all the steps you need to implement to furnish your office and completely transform it on a really tight budget. All you really need to do now is get out there and get to work implementing the tips that I've given you!