Construction Waste Reduction: A Key Component of Sustainable Architecture
129 views
According to a recent report from Transparency Market Research, the global volume of building material debris is set to double by 2025, reaching 2.2 billion tons per year. 
Fortunately, this trend can still be reversed through recycling and the use of sustainable building materials. Local governments are also playing a leading role by creating and enforcing Construction Waste Reduction policies.
The Logistics of Construction Waste Reduction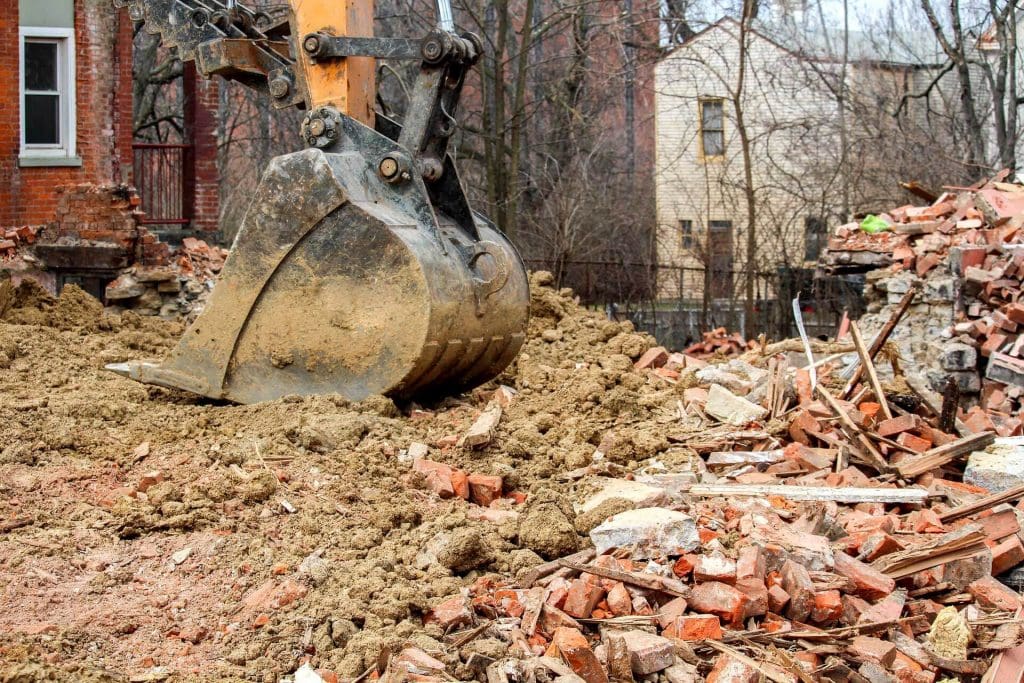 Source: resource.co
In the United States alone, an estimated 250 million tons of solid waste is generated every year, of which approximately 40 percent comes from construction projects. This surplus of unused building materials is mainly composed of plastic, wood, drywall, masonry, and concrete.
Most construction waste is sent directly to municipally managed landfills, where waste from hazardous materials such as air conditioning units, chemically treated wood, paints, and solvents result in soil and groundwater pollution.
Non-hazardous and salvageable building materials that end up in landfills also place an unnecessary burden on local governments. On-site separation of these materials is the first – and oftentimes most time-consuming – step of the recycling process.
Also Read: How To Dispose Of Construction Waste
Because of the costs associated with these measures, many North American municipalities are enacting bylaws and creating recycling incentive programs for local contractors, diverting air conditioners, appliances, and other more cumbersome items from landfills with Varying Degrees of Success.
According to city officials in Vancouver, Canada, recyclable construction and renovation material generally ends up in landfills due to:
Lack of space on project sites to store materials for recycling or reuse

A shortage of recycling depots

Limited awareness of reuse and recycling options
"We're definitely witnessing a construction boom right now," says Chris Baril, finance editor for Hitachi Capital Canada. "This is in part attributable to population growth and urbanization. Other factors include the federal government's commitment to infrastructure modernization and affordable housing for lower classes through the Canada Mortgage and Housing Corporation (CMHC). Unfortunately, this growth does come with its share of externalities."
Emerging Economies, Unforeseen Challenges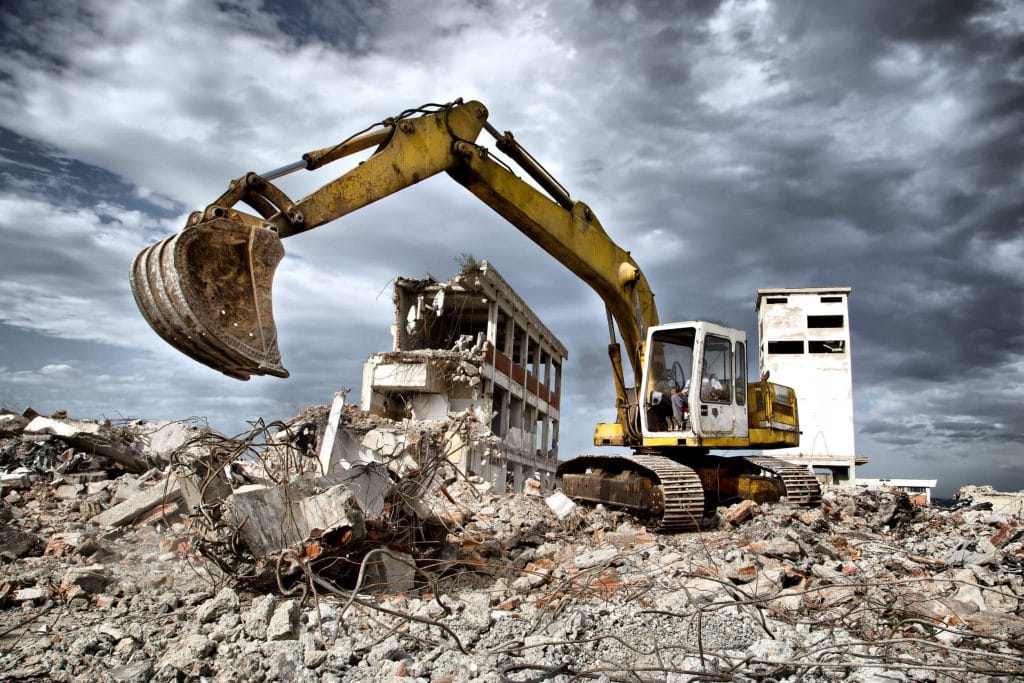 Source: tensilefacades.com
The environmental impact of construction waste is even greater in the developing world, where waste management laws and regulations are generally less stringent than in North America or Europe.
A recent survey of Construction Waste Management Practices in Thailand concluded that in newly industrialized countries, improper handling on construction sites and material yards is one of the major causes of waste since the quality of reusable or recyclable materials is significantly reduced when they are mixed with other construction by-products.
China – the world's leading producer of construction waste – generates close to twenty times more than the United States. In megacities like Shenzhen, 84% of debris is dumped, leading to dire consequences. 
In December 2015, a pile of construction debris caused a landslide in Shenzhen, killing more than 70 workers and demolishing several factories and apartment buildings.
In Brazil, one of the biggest emerging economies, recycling programs are Close to Non-Existent. Despite reduction guidelines and resolutions established in 2002 by the Brazilian Ministry of Environment, 60% of the total waste produced in the country comes from construction, and less than 1% of waste is put to new use.
If Brazil's construction waste were recycled, Experts State that it could be used to build around 7,000 ten-story buildings, 168,000 kilometers of roads, or 3.7 million popular homes – every year.
3Rs: The Path to Sustainability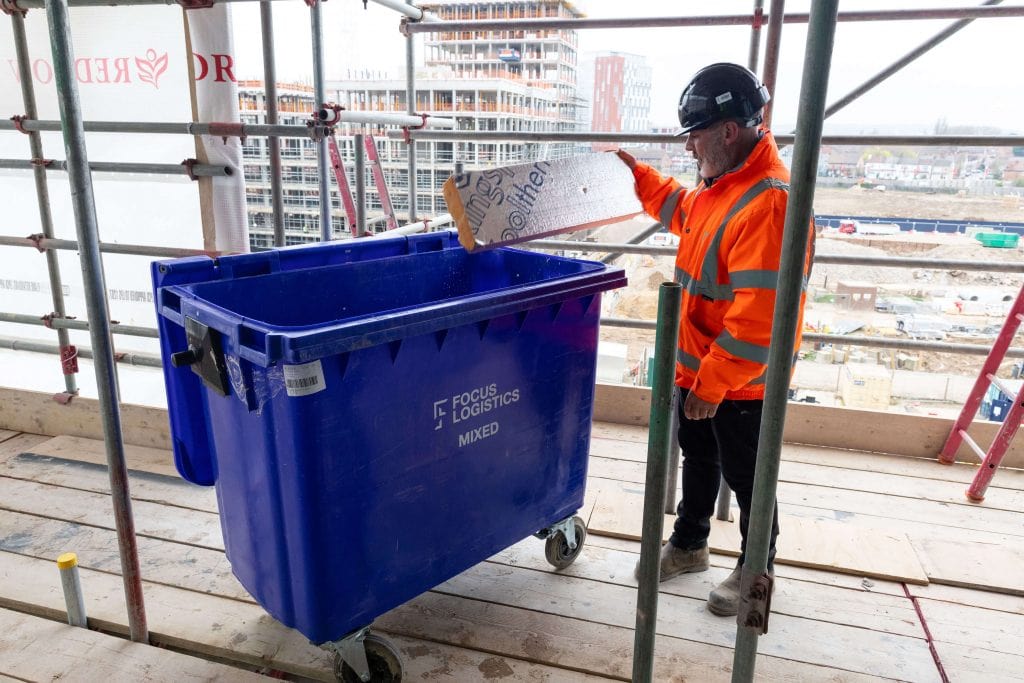 Source: thegreenfamilia.com
Construction waste reduction is a shared responsibility between local governments, urban planners, engineers, and project owners. By favoring materials with recycled content and ensuring that Jobsite logistics facilitate waste prevention, architects can also play a role in the early planning stages of a construction project.
Many of the waste materials on construction sites can be disposed of following the three Rs: reduce, reuse, and recycle. The following materials can be recycled in specialized facilities, saving money and minimizing environmental externalities:
Concrete can be crushed and recycled where the necessary facilities exist.
An asphalt pavement and shingles can be crushed and recycled back into asphalt.

Untreated wood can be re-milled into lumber or used to make engineered products and particleboard.

Laminate surfacing

scraps can be collected, liquified and turned into diesel fuel.

Steel, aluminum, and copper can be collected and sold to local scrap yards.

Drywall gypsum can be removed and repurposed in many industries, including cement manufacturing and

Agriculture

.
The environmental benefits of recycling construction and demolition materials are undeniable, but significant changes will be necessary to ensure sustainability at a local and global level.
As a group of prominent, RIBA Stirling Prize architects recently declared in a jointly signed letter, "For everyone working in the construction industry, meeting the needs of our society without breaching the earth's ecological boundaries will demand a paradigm shift in our behavior. Together with our clients, we will need to commission and design buildings, cities, and infrastructures as indivisible components of a larger, constantly regenerating and self-sustaining system."
About the author: Emelina Vigier writes about sustainability and eco-friendly consumer choices at Aweareness.