7 Easy Ways to Modernize Your Backyard in 2020
Is it time for a backyard renovation? Are you tired of the old, boring, dying grass and looking for something new?
Thankfully, in 2020 renovating your backyard is easier than ever. 
Here are 7 easy ways to modernize your backyard in 2020:
Clean, Color and Declutter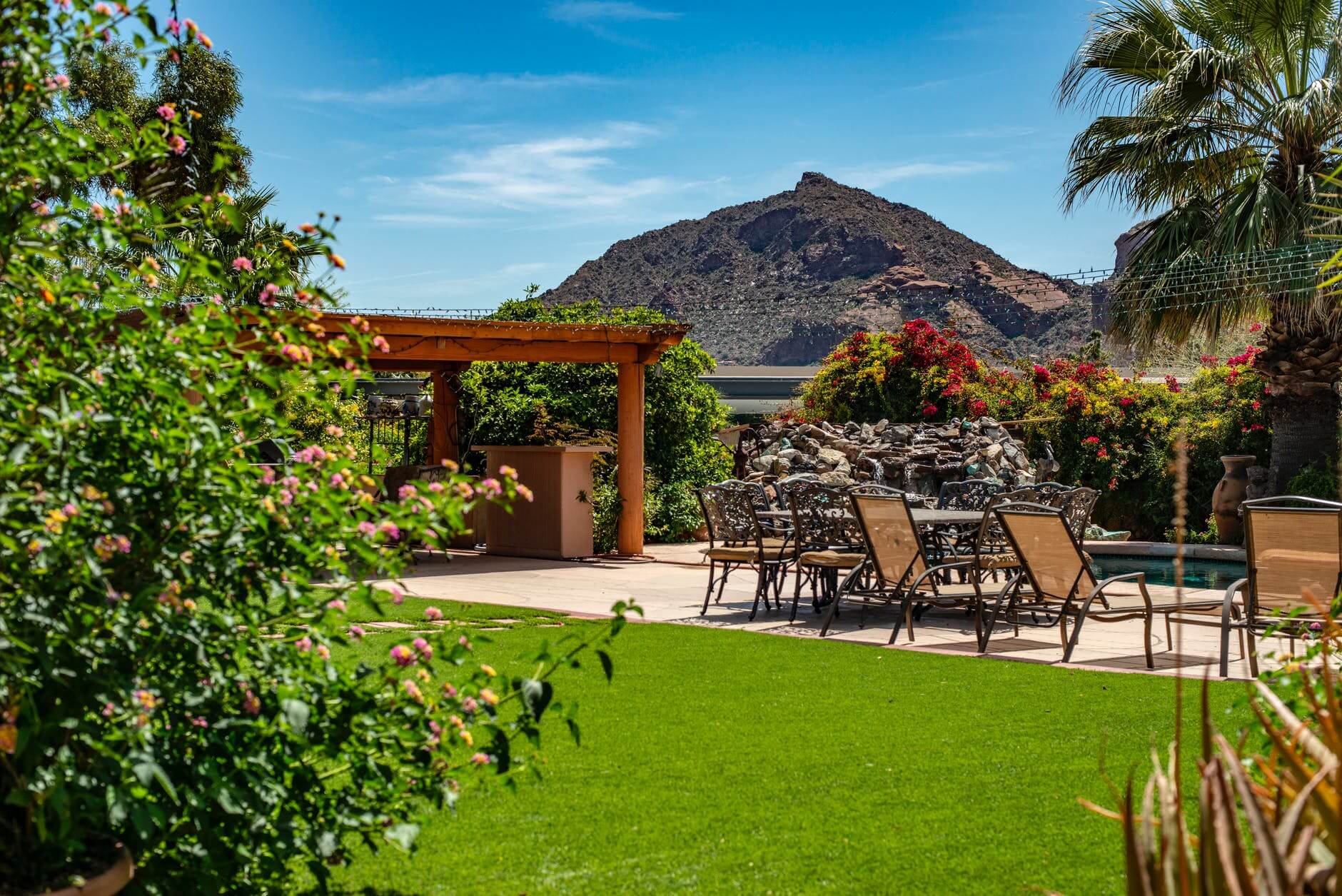 Source: tastefulspace.com
Perhaps the most important step in modernizing your backyard is cleaning and decluttering.
If there are toys, tools and dog droppings all over your yard, it's hard to start modernizing things. Cleaning is always stepped one. That may mean enlisting the help of some children or even hiring a gardener, whatever it takes.
Then, you may want to start to organize your yard to help keep things clean. Try adding a toy corner and/or a tool shed to help maintain order. 
After you've cleaned and organized, it's time to take the next simplest step and add some color. Give your deck, fence, or siding a facelift with some stain or paint, it can make all the difference.
Hiring someone to do this could cost you hundreds, but why not make a day of it, invite some friends over for a painting party to help you get through the dirty work quicker. 
Add or Revitalize Old Furniture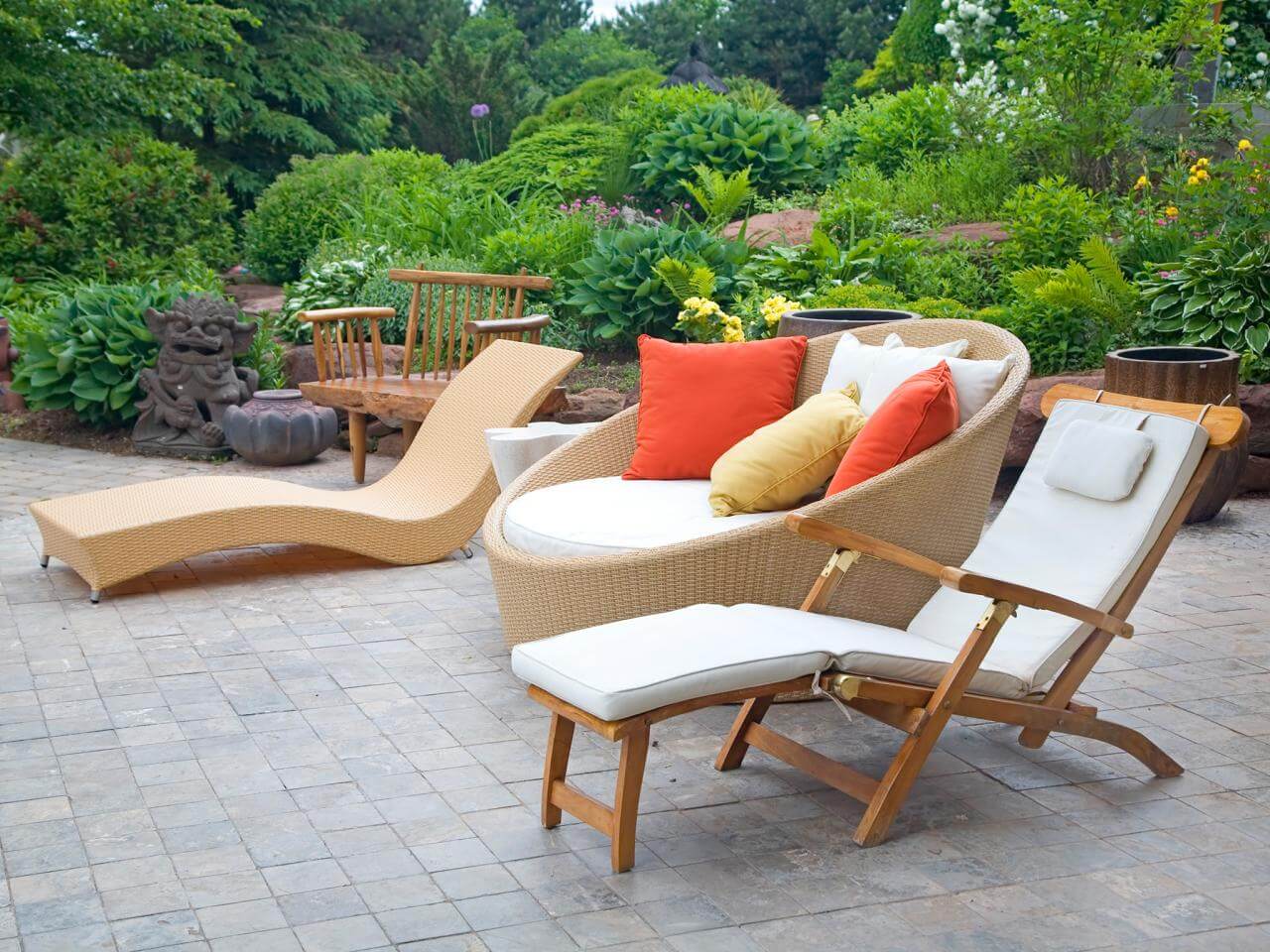 Source: sndimg.com
Creating outdoor hangout spaces with furniture is the next step to modernizing your backyard. It doesn't take a lot of cash to find unique outdoor furniture on places like Etsy or eBay, although you may end up spending quite a penny if you look at the usual retailers for new items. 
Old furniture can really date your backyard and renovating it is far easier than you may think. So, if you aren't looking to buy, it can pay to revitalize old or used furniture by either staining wood, or brushing and repainting metal. 
Add Direction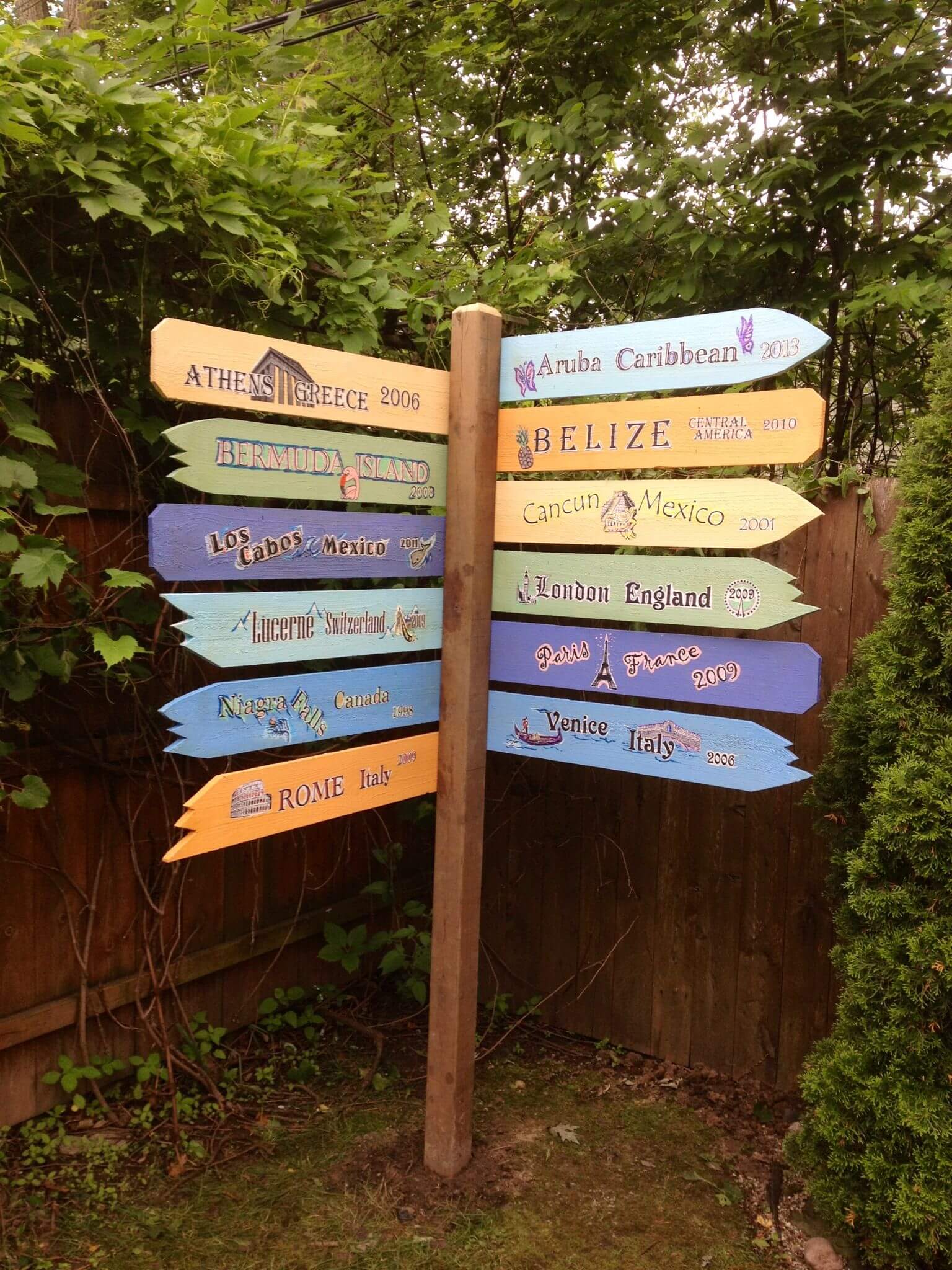 Source: pinimg.com
Paths are one of the cheapest ways to make your yard pop this year. Paths to different backyard locations can really revitalize your backyard and add some much-needed organization and flow.
Simple paths can be made of brick or stone acquired at your local hardware store or online for cheap. Paths help to clearly define spaces in your yard, making the space more aesthetic. They also help keep your feet dry and clean allowing you to use your backyard for more of the year.
Also Read: Tips Of Backyard Design Ideas On A Budget
Electric Awnings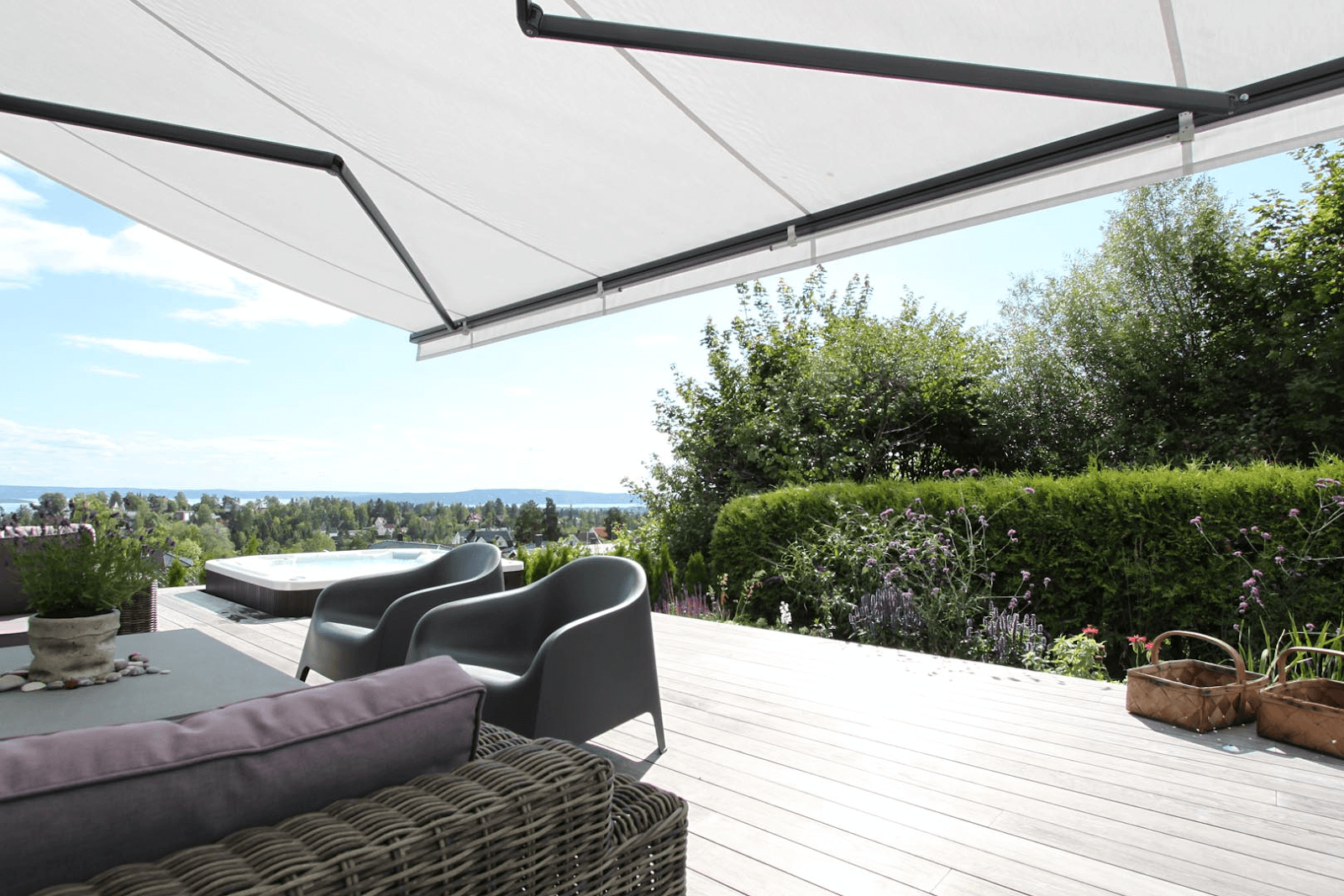 Source: norsol.no
Now that you've cleaned and organized, made some paths and added furniture to clearly define different sections of your yard, it's time to start adding some toys. Try starting with a Norwegian electric awning, otherwise known as elektrisk markise. Awnings can create an indoor/outdoor feel and allow you to use your yard even when the weather may not be suitable.
Electric awnings aren't too expensive and are the perfect big purchase to totally transform and modernize your yard.
Bring The Fire Or The Water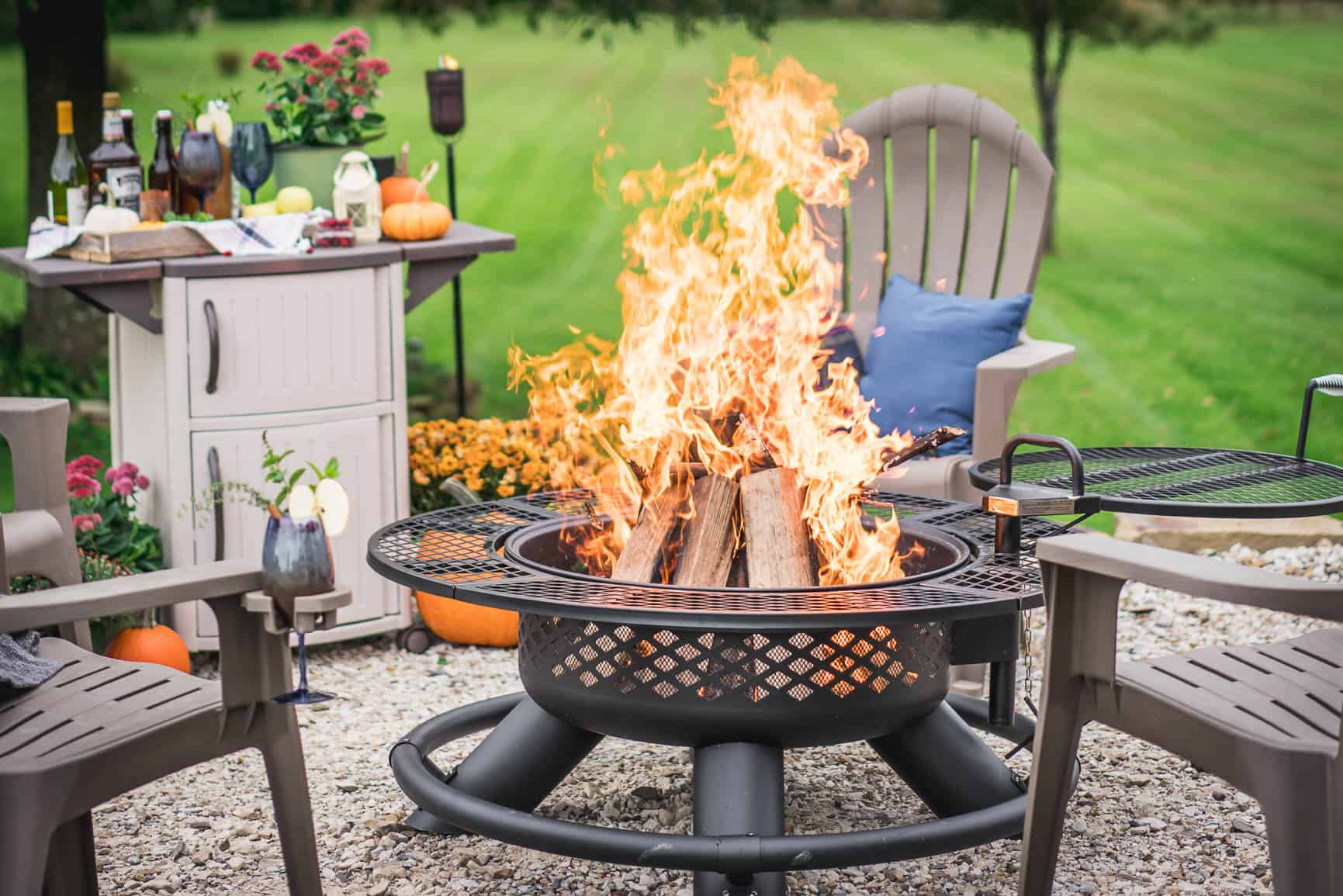 Source: healthstartsinthekitchen.com
Adding a water feature to create a unique sound and feel is another great step to modernize your yard in 2020. Water features can be expensive if you really want something unique and beautiful, however, they are far easier to make than you might imagine if you have the time and energy.
If you have a basic set of tools, a liner, pump, and a nearby electrical source, making your own water feature can be a fun weekend project.
After you've added your water feature try brining the fire with a fire pit. Having a fire pit to sit around and maybe roast marshmallows over during the holidays is a great feature for the whole family. If you have teens, don't be surprised to find them out there on a nightly basis with all their friends.
Are you Projecting?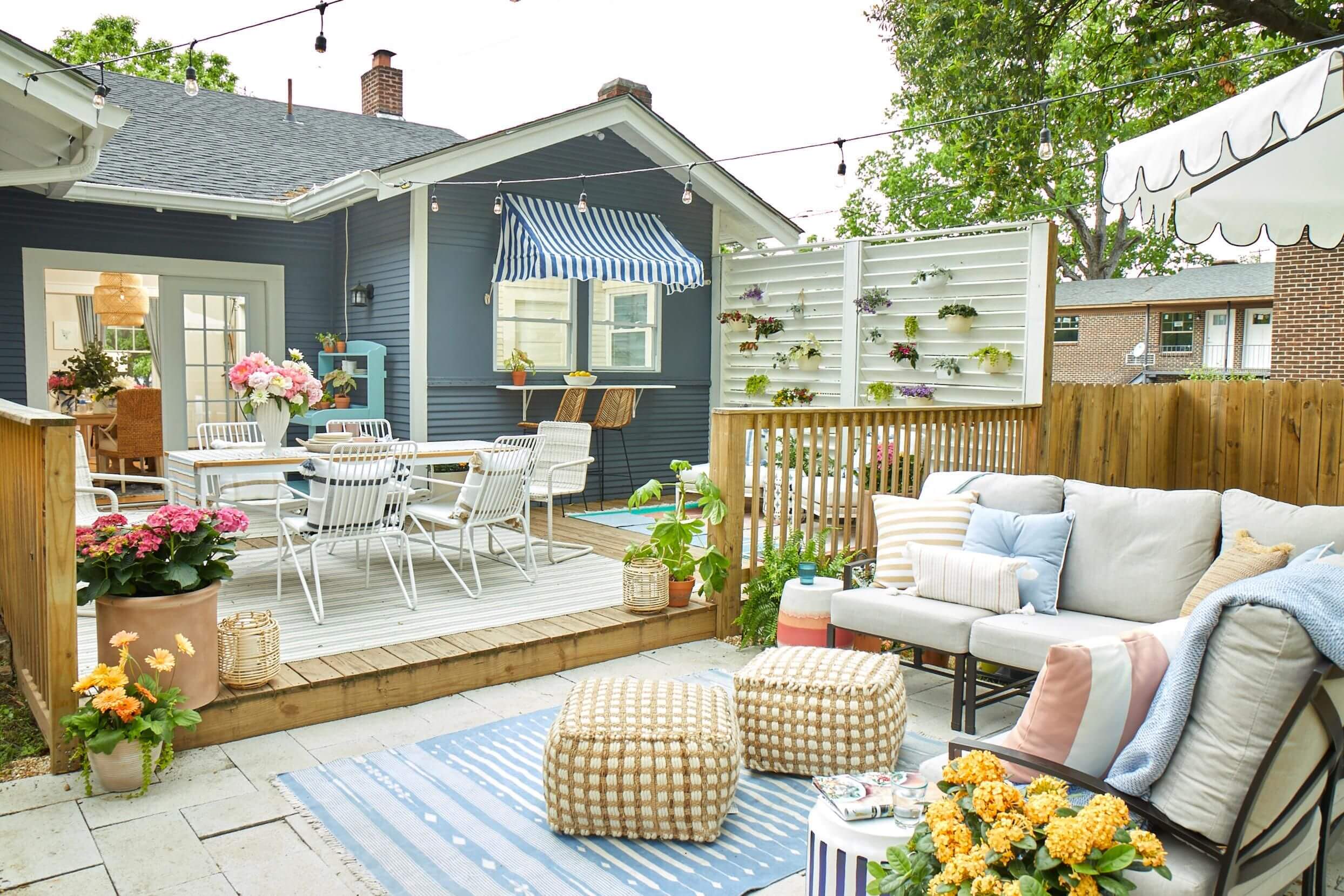 Source: hearstapps.com
Once you have your electric awning, fire pit and water feature you now have a unique indoor/outdoor space to use all year long. Try making that space modern, exciting and entertaining by adding outside projectors.
Watching a movie under the stars is an amazing experience. Just imagine your favorite people, all sitting by the fire, listening to your water feature in the background as they enjoy a game or one of your favorite films. 
Projectors are cheap too, you can get one on Amazon for under $100 and put up a used white sheet onto a wall for free.
Time To Show Off Your Greenthumb
The final way to modernize your yard in 2020 is to plant a garden. Planting a garden is not only a great way to have fresh, delicious, organic food right in your backyard, it is also a beautiful way to break up the spaces in your backyard and add some natural color. 
Building a planter is an easy way to start a garden. All you need is a hammer, some nails, four pieces of wood and a shovel.  Paint the wood black or try a cool, modern burnt look by charring the wood before creating your planter. 
Gardens can really help make your backyard for functional and modern this new year.
Remember, you don't have to be stuck with a boring, colorless backyard. If you follow these easy steps you can create a space you really want to spend time in, your own private oasis, just out your backdoor.