Your Ultimate Guide for Choosing a Cabinet Hardware Jig in 2020
It is true that a cabinet hardware jig can make your life easier, whether you're building something from scratch or updating your kitchen cabinet. However, you need to make sure you don't start the project without having the best ones on the market. 
Whether you're updating your kitchen cabinet or building it from scratch, a cabinet hardware template makes the installation precise and easy. You need to make sure you have the best cabinet hardware jig. Why? Because installing knobs and pulls is one of the intimidating tasks in cabinet hardware installation as it requires you to drill accurately. You'll also need to measure the exact location to place the holes on the cabinet and you can only achieve this accurately with good quality cabinet hardware jigs.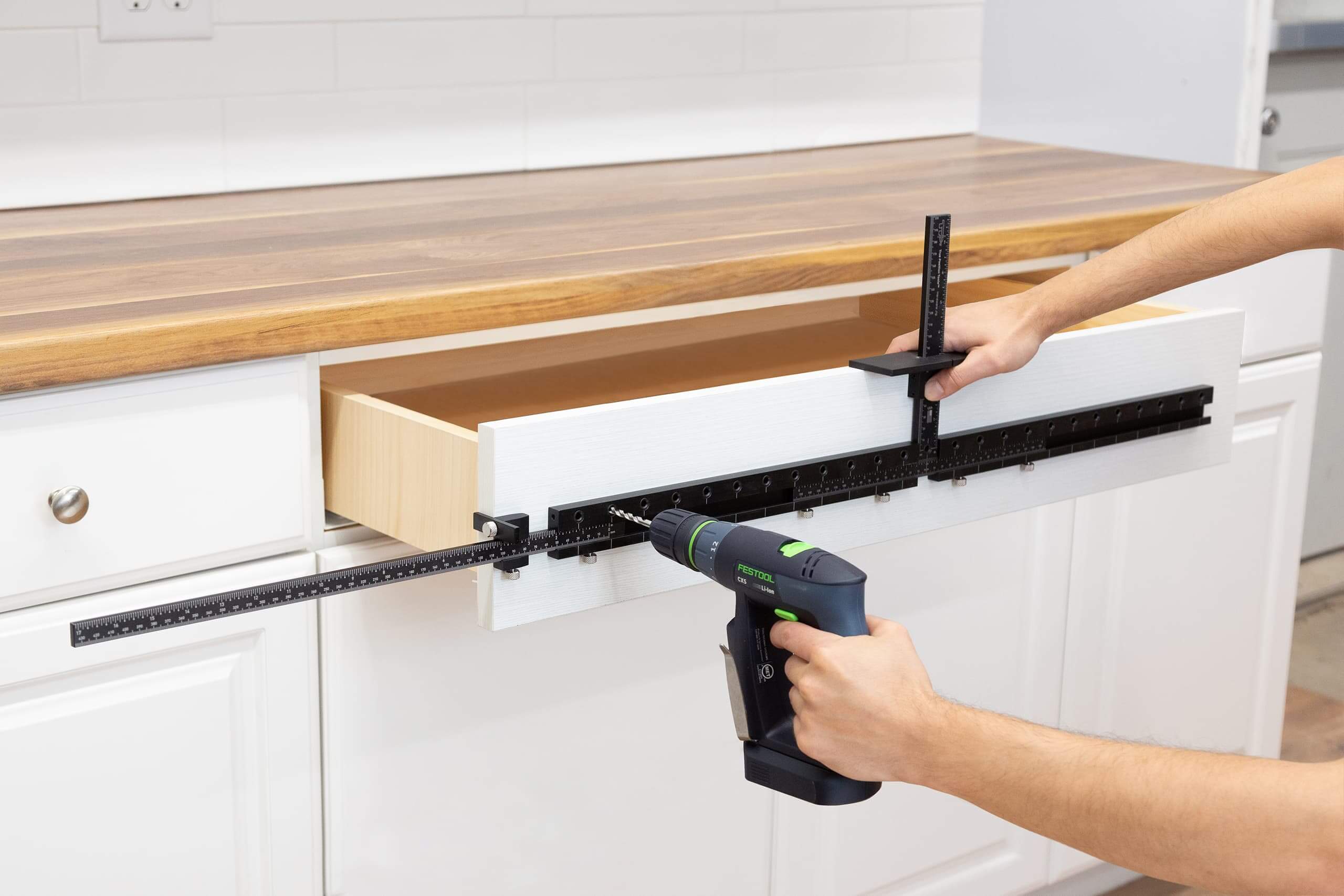 Source: truepositiontools.com
The best cabinet hardware jigs make it easy for beginners to use. When finishing up a kitchen, drilling for the hardware is one of the most important jobs. If you make a mistake, you'll have to remake what you've already done or done tons of filling work. But thanks to cabinet hardware jigs, you'll find it incredibly easy to add pulls and knobs. They have measuring guides and drill guides that will help you eliminate all the guessing games when starting the project.
But the problem is, how do you choose the best one?
How to Choose a Cabinet Hardware Jig
There are several factors that you need to consider if you want to choose the best cabinet hardware jig. Read on to learn what these factors are.
1. Material. The material of the cabinet hardware jig can affect its performance. The most common options for the best jigs are made of aluminum or stainless steel. These materials are perfect for combining transportability and durability. The only thing is that they tend to be more expensive than the other cabinet hardware jigs. So, if you aren't going to use the jig that much, then you can settle for the ones with a simpler, plastic design.
2. Durability. Since we talked about the material, we also need to focus on durability. If you're going to use the cabinet hardware jig a lot, then you need to make sure they are strong enough. This is to ensure that they don't break while you're in the middle of a project, or that they don't lose shape. They should remain reliable for whenever you need an accurate measurement.
And while aluminum and stainless steel are popular materials, you should choose steel jigs. Steel cabinet hardware jigs are a lot better than the aluminum ones. They also help the tool to get through tough jobs and take a lot of abuse.
So, make sure to choose the jigs that have reinforced hole templates, steel liners, and bushings.
3. Price. You can buy most jigs for $30, which makes them fairly accessible for an average user. However, as we've discussed earlier, the best options are usually expensive. The good news for you is that a really solid piece of equipment lasts for a lifetime. It may be worthwhile for you to pay more to get more.
However, if you're only going to use it once or twice, then it wouldn't make sense to get the expensive jigs. You can buy the ones made of plastic, which costs way cheaper than aluminum and steel jigs.
4. Easy to use. When doing a project, you wouldn't have the time to mess around with a cabinet hardware jig that's hard to use. Simplicity is the key, so the jig should help you save time, and allow you to work quicker than when using a cheap hardware jig.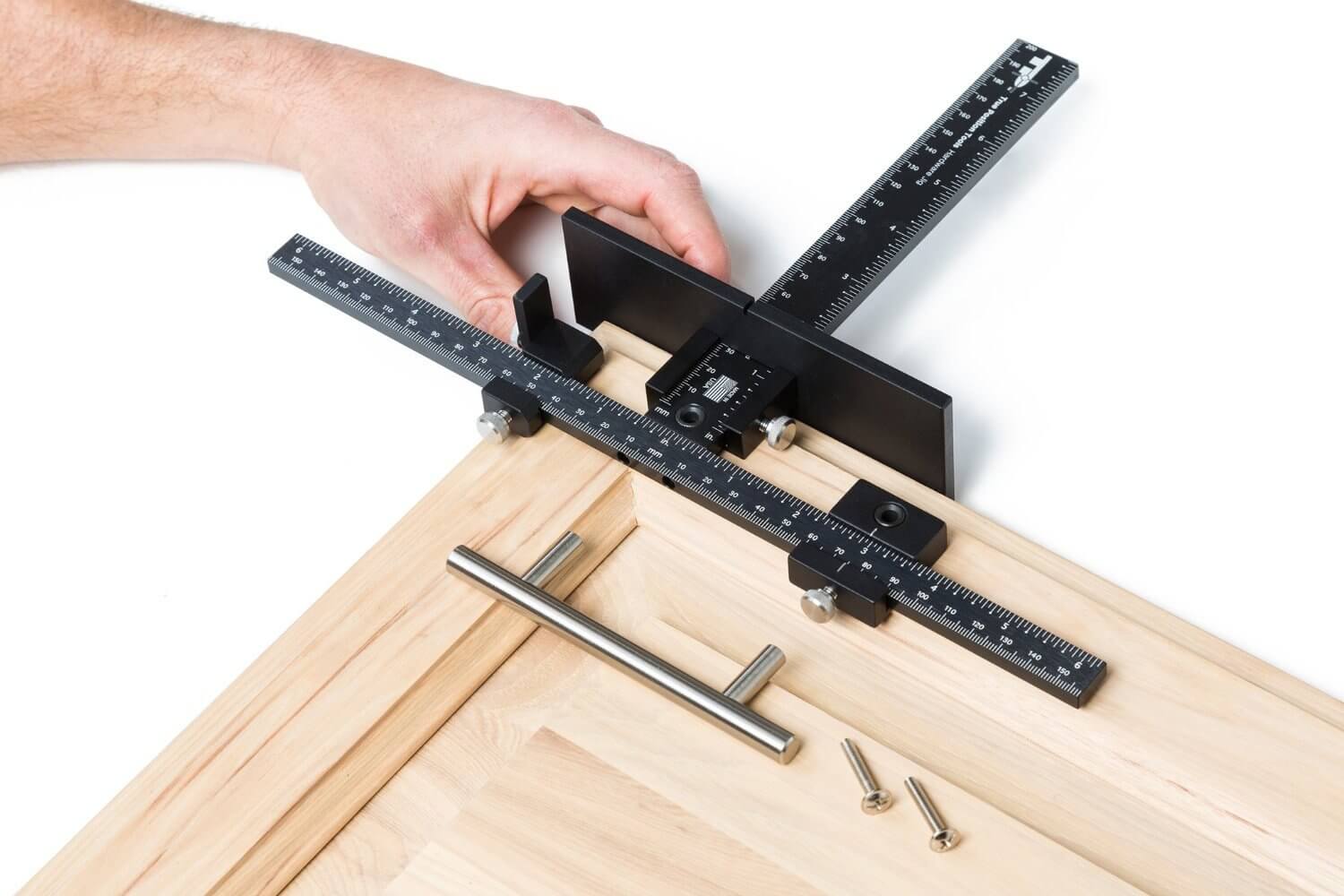 Source: amazon.com
There are two issues that buyers face when it comes to convenience – durability and its features. There are Chinese hardware jigs out there, and most of them will work. However, they're not as durable as the other jigs, so you'll end up replacing them frequently. This means you'll have to do the measuring and prep works on your own using different sets of tools.
Most of these hardware jigs don't even have a lot of features. This is why you must invest in a hardware jig that has all the features you need if you want to save time and make the installation process easy.
5. Additional features. Don't forget the extra features that come with the hardware jig. Some of them have center markings that can help you install cabinet handles, while some of them help you in drilling shelf holes. The rest of them are just basic measurement jigs.
If you want your hardware jig to have more features, then you will have to pay a much higher price. Don't expect basic equipment to be useful for different applications. Again, go back to the price. How much are you willing to spend?
You don't have to pay for those extra features if you don't want them. Instead, you can save money and just buy some other woodworking tools.
6. Accuracy rating. Some hardware jigs include information on their accuracy rating. So, if you want to buy a jig for professional reasons, then this will be a very important factor that you should always remember. The hardware jig needs to perform well, otherwise, it's basically useless.
7. Warranty. Just like any other equipment, you should consider the warranty for the product you're going to buy. Even hardware jigs go through wear and tear, and it will always benefit you to deal with a company that is willing to back you up whenever things go wrong.
8. What do you need the cabinet hardware jig for? One of the most important steps when choosing a hardware jig is knowing what you need it for. What are you trying to install? Handles? Knobs?
Not all jigs can handle all types of hardware. Thus, you want to make sure you only spend money on something that is as versatile as possible, most especially if you're going to use it for professional purposes.
If you have already made up your mind, then that's good. Be confident in the cabinet hardware jig you've chosen to accommodate all your needs. However, if you're still uncertain, then feel free to go back and review this guide until you've finally decided. It's always a good idea to take a step back and review what you need to choose the best one.