5 Factors to Consider When Planning to Install a Lift
Many consumers are opting to install residential lifts. Some of these people are disabled and want to age in place. Others routinely move heavy objects from one floor to another. Indeed, there are those who know a lift adds value to the home. Here are a few things you should know about lifts.
Source: vacuumelevators.com
Find the Right Contractor
Installing a lift is expensive and may take some time. That's one of the reasons to find a reputable lift installation company in Singapore. Look for a company with a great track record with consumers. The installer should have their own insurance and guarantee the work. Finally, select a contractor with a written contract that offers regular maintenance visits. It's important to have a lift inspected regularly. The contractor won't have an estimate of construction time until the homeowner selects a lift and location.
Choosing the Lift
There are several types of lifts available. A cable-driven lift starts at around $20,000. The lift is powered by a cable wound around a drum. Cable-driven lifts need a shaft that can be metal or glass. In new construction, cable-driven lifts have dedicated shafts. Lifts with dedicated shafts need a pit and machine room to operate. This lift is not ideal for an existing home because it requires a lot of extra renovation.
Also Read: What to Look for in a Lift Elevator Provider
Other Lifts
Chain-driven lifts use a chain wrapped around a drum for power. This lift is more durable than the cable-driven variety. It does not need a machine room but may require extra remodeling in a residence. Hydraulic lifts are easy to install into an existing residence. They are powered by a piston and cylinder. The piston and cylinder are part of a system that uses oil to move the lift up and down. This lift does not need a machine room but a pit is needed under the shaft. The amount of extra expense of digging a pit depends on how the house is built.
Pneumatic lifts use a vacuum system and tube for power. A pneumatic lift doesn't require a pit or machine and starts at around $35,000. The pneumatic lift delivers two passengers between floors in 30 seconds. Further, this lift doesn't attach to the wall so little extra work is needed.
Also Read: How To Choose The Perfect Stair Lift For Your Home
Lift Location
Work with the contractor to find the perfect spot for the lift. The lift's style has a lot to do with location. For example, it would be beautiful to have a glass elevator at the front of the residence. Homeowners with a lot of wooden furniture may prefer a wooden elevator. This is an important decision because the lift's placement is permanent.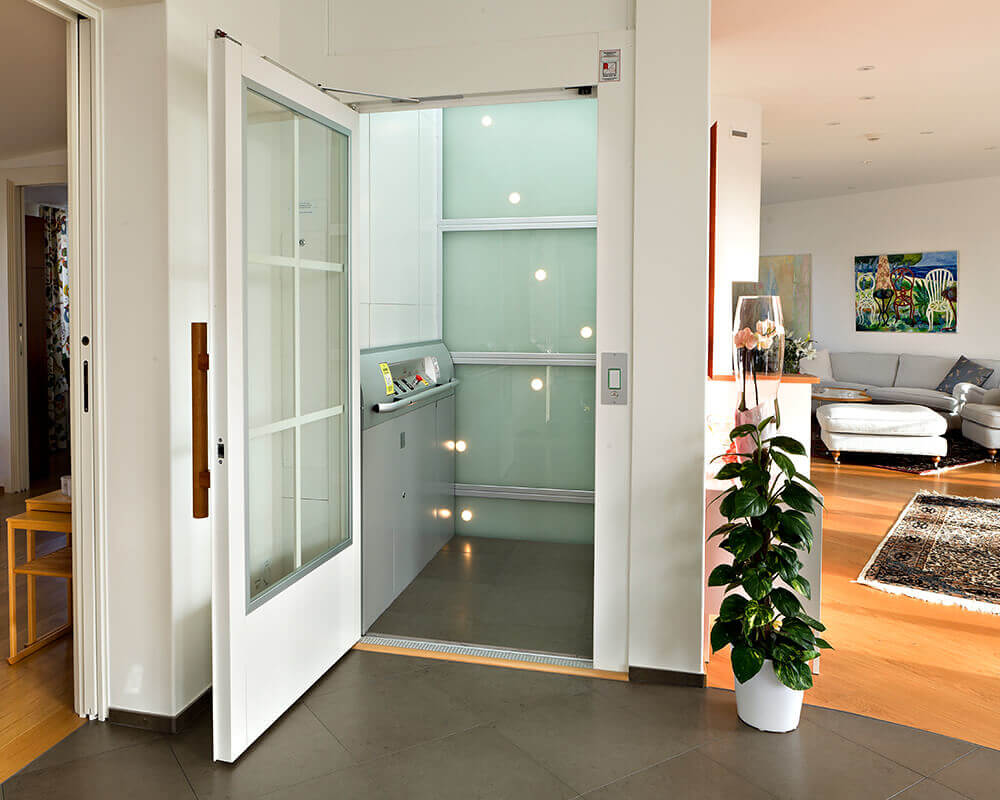 Source: flickr.com
Installation
Most jurisdictions require homeowners to have a permit to install a lift. Likewise, the contractor has to be licensed. Residents may consider living elsewhere until installation is complete. Lift installation is an invasive construction, and there will be lots of dust and noise. Further, expect several workers to be around. Many residents are concerned about elevator safety. Experts recommend staying calm if the elevator gets stuck. Most lifts have a back-up power source and a phone.
A residential lift is a Godsend for disabled residents and family members. People have the right to live independently, and a lift makes this possible. The lift is expensive but not compared to the cost of living in a facility. The lift also adds value to the home.