Chain link fences are not only a practical security solution for different kinds of properties but also economical. They are mostly made from galvanized or coated steel and can include several components such as the mesh, posts, rails, and the gate. It's easy to identify a chain-link fence, thanks to its 'zigzag' pattern.
Installing this type of fence in your residential or commercial property can enhance security and the safety of those who are within the property, it is also an effective way to create boundaries. Even though chain link fences are easy to install, it's generally advisable to hire professionals for the task.
Components of a Chain-Link Fence
As mentioned above, a chain-link fence is made up of several components. Here is a quick breakdown of the components:
1. Mesh/Fabric
Also referred to as fabric, the mesh is the actual main part of the fence. Even though it's the body of the fence, it can't be used on its own as it'd simply fall over. A chain-link fence is also not so effective in terms of privacy, but you can use a screen or cover for enhanced privacy. Planting trees or bushes around the fence can also go a long way to ensuring privacy.
2. Fence Posts
Posts can be compared to the foundation of a building. They provide the support that is needed to keep the fence sturdy. A good section of the posts has to go into the dirt so that the posts can be stable enough. The two types of fence posts that can be used for chain link fences are line posts and terminal posts.
3. Fence Rails
Even though rails are not a major part of a chain-link fence, they play an important role in improving the firmness of the fence. Such rails are commonly added to the top of the fence. There are fences that, however, have a bottom and top rail. Considerably tall chain-link fences have a bottom, middle, and top rail for additional stability.
The Uses of Chain-Link Fencing
If you are looking for a temporary or permanent fencing solution, you should be fine with a chain-link fence. This type of fencing is available in quite a wide range of materials, sizes, and appearance options. The following are some of the main uses of a chain-link fence:
• Residential Use
A chain-link fence is suitable for any type of residential property. The fences are mainly suitable for residential use because they are a more affordable way of enhancing security. Depending on your preferences as the homeowner, there are a variety of sizes to choose from.
• Temporary Fencing
Chain link fences are also a perfect option for temporary fencing. They are used to restrict access to an area for a specified period. For example, a chain-link fence can be used to limit the general public from accessing an area that is under construction.
• Commercial Use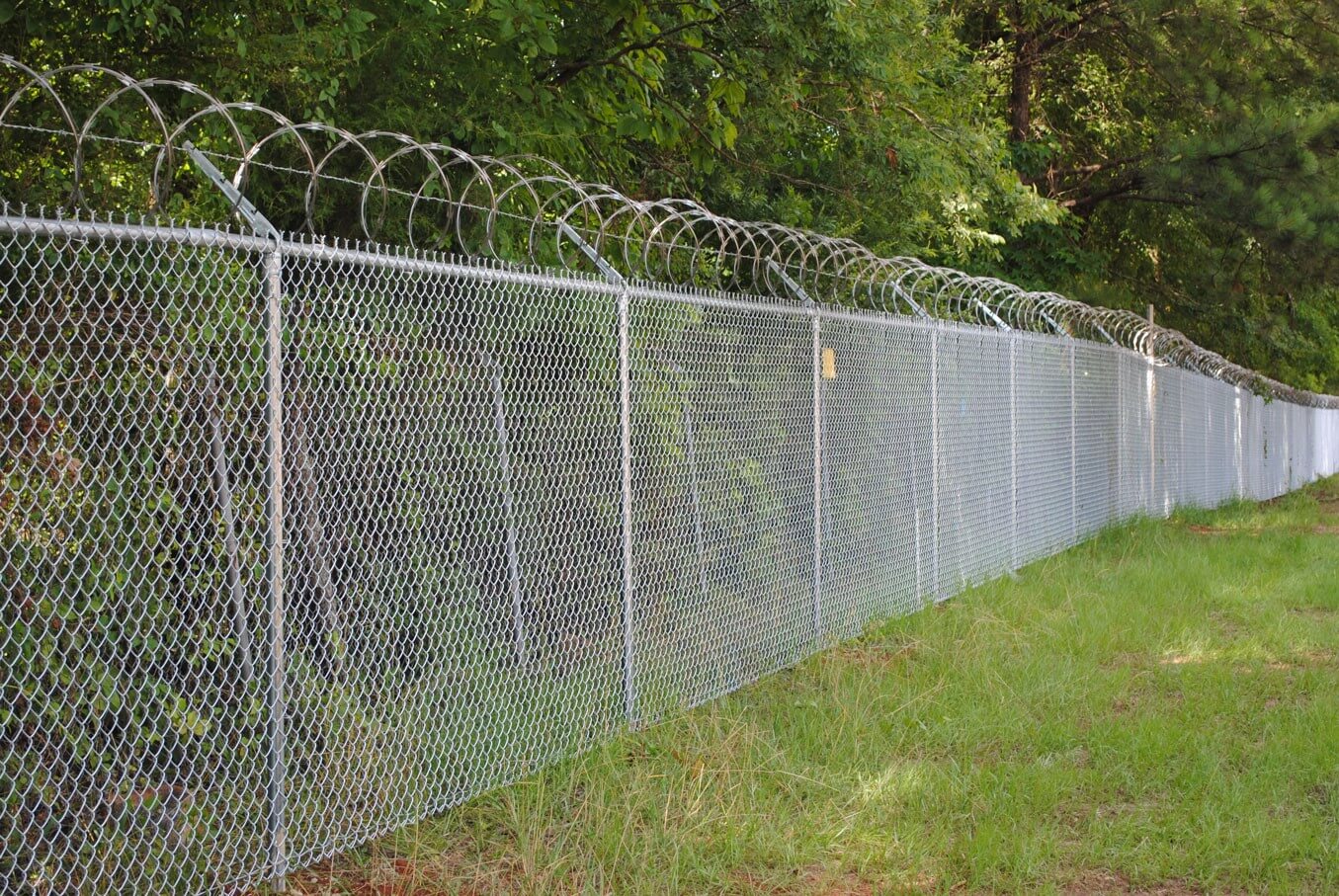 As far as commercial use is concerned, chain link fences are mostly used for the creation of boundaries. They are used to heighten security, enhance the safety of those within the boundaries, and prevention of access to certain areas.
• Gates
Chain link gates can be used in residential or commercial property for enhanced security. The main benefit of using them is that they are cost-effective. Such gates are available as either automatic or regular fence gates.
• Animal Housing
Chain link fences can also be used to confine animals to a certain area. They are used for structures such as outdoor kennels. The main benefit of using chain-link fences to keep animals safe is that the animals can enjoy proper airflow, and it's also easier for whoever's watching the animals keep an eye on them.
As you can expect, there are many other ways to use a chain-link fence. It all depends on your creativity and preferences.
Benefits of a Chain-Link Fence
Chain link fences are quite common, and it's for a good reason. They are an obvious choice for many due to their affordability and simplicity. It does not end there, however. There are a couple of additional benefits associated with using a chain-link fence, as discussed below:
• Cost-Effective
If you are working on a tight budget and you are after a fence that offers strength and visibility, a chain-link fence should be a perfect choice. It's more affordable compared to other fencing options and is still as strong and reliable.
• Provides Security
Chain link fences are see-through, and this is one of the reasons for their use in areas such as military bases and others that require high security. They can also be made to be more than 12 feet high and still be significantly strong as a result of being fixed on steel posts.
• Safety Features
Chain link fences are a more practical solution if you want to keep children and/or pets contained. Most people argue that they don't offer much privacy since they are see-through. However, that's a useful feature for a parent or pet owner who wants to keep an eye on their child or pet to ensure that they are safe.
• Easy to Install
Compared to other fencing options, chain link fences are considerably easy to install. You can even install it on your own if you have some knowledge. Hiring a professional to do the job for you, however, is more advisable as it can be cheaper, and more efficient considering that they deliver quality results in no time.
• Variety of Design Options
There are a number of design options to choose from, in terms of color, size, and even materials. It all depends on your preferences as well as the type of property you want to fence.
• Strong & Durable
Chain link fences are some of the most durable fencing options there is. They can easily withstand conditions that other fencing solutions would not. Besides, they are manufactured from different materials that have varying ranges of durability. If you want your fence to last long, you can choose a material such as galvanized steel or vinyl.
Conclusion
The above is what you need to know about chain link fences and their main benefits. Without a doubt, deciding whether you will install a chain-link fence to secure your property depends on the situation. In most cases, however, this fencing option is practical and offers great convenience for both commercial and residential property. When installing such a fence, however, it's always good practice to work with professionals for the best results.
Read More:-