Sliding closet doors make segregating the territory between a bedroom and closet a snap. Closet sliding doors are truly exceptional in terms of providing a wide range of advantages over a normal closet door. The vast array of customizable choices available today is likely to spark your interest and encourage your artistic side to come out and play with different designs.
Choose from a variety of glass and frame colors to elevate your sliding closet doors to the next tier. They're the ideal method to completely rejuvenate your ideal fantasy space.
Designers understand that each element in a home has a function. Architects and designers just place doors where they're needed; cost-cutting and the convenience of setup are their primary concerns.
When it comes to the advantages that result from the operation of the sliding closet doors, you'll love how smoothly, easily, and quietly they open and close. Minimal noise, greater room, and the thrilling ability to open them with a gentle tap of the fingertips.
7 Types of Closet Doors
The type of wardrobe doors you pick for your closet should let you get more use out of it while still maintaining the room's architectural flow. Learning about the many types of doors available can assist you in creating a fully aesthetic and functional space.
Here are the seven main types of closet doors to opt from:
Bypass Closet Doors
Bypass closet doors are often known as sliding closet doors. These are mounted on a structure with a track that allows them to move past each other. With innovations and technology, these closet sliding doors are now available in a number of materials, including wood, aluminium, and glass.
They can be sleek and contemporary or panelled to give them a more classic appearance.
Accordion Closet Doors
Contemporary accordion doors are composed of light-weighted PVC that may be customized and designed to modify its appearance resembling a variety of other materials, including laminates, hardwood, light fibreglass, and aluminium. Acrylic inlays that appear like frosted or transparent glass are also available for some secured doors.
Accordion doors have tiny panels that enable the door to be extended completely flat when closed or folded into a narrow band when opened. These are ideal for closets that require virtually complete access without employing regular swinging doors.
Bi-fold Doors
Panelled doors joined by a hinge are known as bi-fold doors. Bi-fold doors are most typically available in two pairs for door sizes of 4, 5, or 6 feet, although you may have them customized to accommodate a strangely shaped closet. The most practical application for these panels can be observed in a closet placed in the bedroom.
Pocket Doors
When a pocket door for the closet is opened, they slip into a little pocket cut into the wall. These are ideal for closets when you need easy access to the full aperture but don't have enough space for a swing door. Pocket closet doors may be readily coordinated with the rest of your home's interior doors.
Pivot Closet Doors
Pivot doors create a big impression on a room. These are installed at the top and base of the door instead of normal fasteners along with the framework. This permits the door to completely open, allowing you access to the whole closet.
With these contemporary beauties, you can simply move from floor to ceiling drama. The door gaps may be customized to match existing doors, be flat without panelling, feature glass inserts, and more. These are also frameless, so there is no need for finishing carpenter work on the frames of the door.
Mirror Closet Doors
In most cases, simple closet doors can be transformed into fancy mirrored ones. Some types, such as mirror sliding closet doors come with frameless mirror alternatives, allowing you to have a full-length mirror in your room. You conserve wall space and scatter more light about your area by installing sliding mirror closet doors, making it appear larger and more welcoming.
French Closet Doors
French closet doors are exactly what they sound like. To suit a closet entrance, French doors are made small and lightweight. They are hinged doors in the classic sense. The framework is made of lightweight fibreglass or wood, and the glass can be treated in a number of ways, ranging from tinted to frosted.
When building a house, there is a lot to think about, and closet doors are a crucial element of that design. You desire your closet door to be durable, easy to operate, and easy to reach, as well as blend in with the rest of the decor.
Consider who will use this wardrobe, how often the door will be operated, what would be stored inside, and what the budget is. Take your time, consideration, and think about what's best for you and your room, and you'll know you've made the perfect decision.
8 Sliding Closet Doors Ideas
Although closet doors have the goal of concealing the contents of the closet, they may drastically alter the appearance of your room. That's because there are so many different colours, materials, and patterns to choose from.
Sliding closet doors are a simple way to create an astounding impact in spaces that might use a fast makeover. Here are 8 sliding closet doors designs that you may consider as an inspiration for your project.
Mirrored Barn Sliding Closet Doors
In a farmhouse design language, vintage barn doors with mirrors in the centre seem elegantly stylish. These doors make a terrific point of focus in any space when coupled with textured walls and a lot of vibrant natural colours.
Cris-cross Sliding Mirror Closet Doors
The wood panelling crisscrossed over the mirror sliding closet doors add interest and aids to break up the enormous expanse of the mirror. For a really coherent and striking impression, match the colour of the wood to the colour of the furniture placed in the room.
Bright White Closet Doors Sliding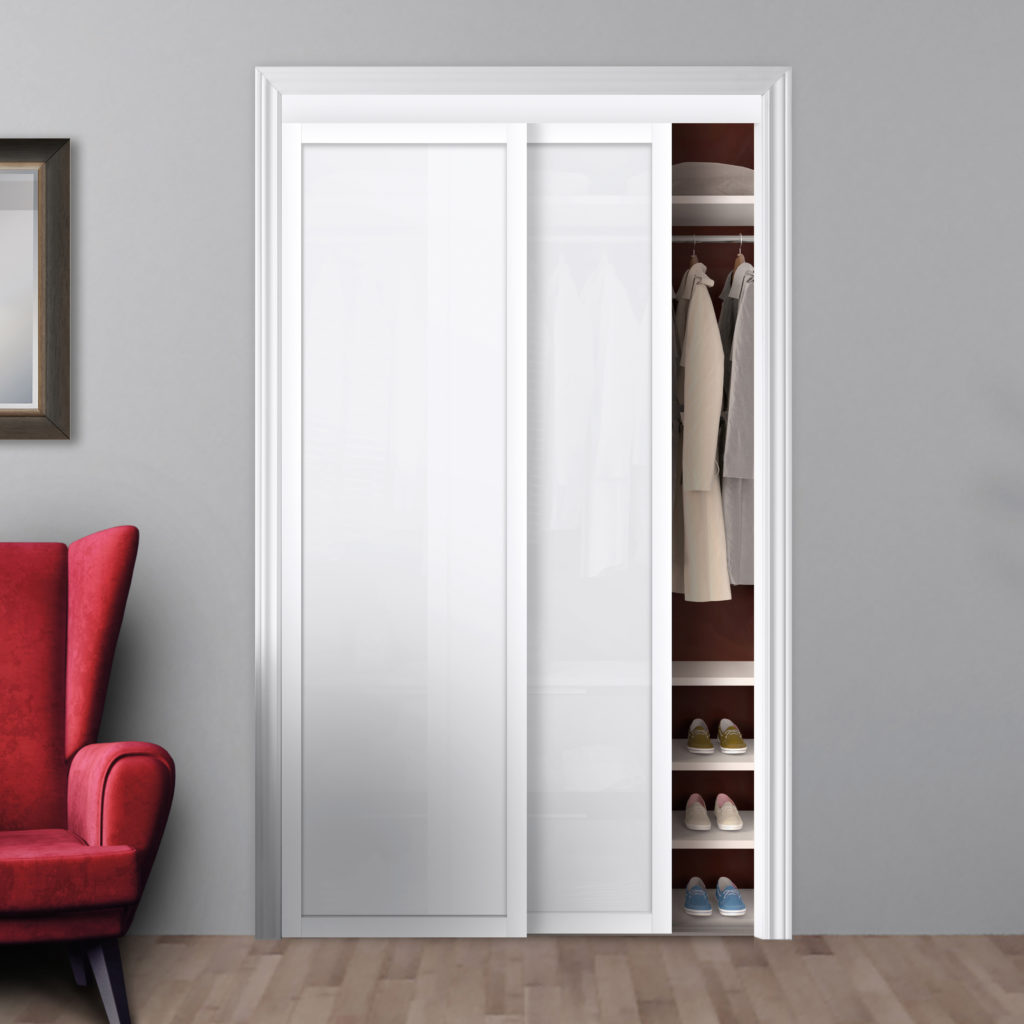 Clean white doors are bright and shining, and they assist in quickly enhancing a space. These lovely doors glide behind each other to enable the opening and closing as a simple task.
Single White Barn Door
A single white barn closet sliding door may be a genuine show-stopper, especially if the gear above it stands out. This is an excellent choice for a tiny closet where more than one door might look heavy or overwhelming.
Dark and Modern Closet Sliding Doors
When coupled with neutral tones and minimal furnishings, modern black or dark sliding closet doors seem dramatic and magnificent. The use of silver accents keeps the panels from looking too hefty.
Light Mirror Sliding Closet Doors
Light frosted mirror sliding closet doors sliding behind each other may aid in the process of grabbing an item from the closet. If bordered by silver or grey, they look fantastic.
Grid Sliding Closet Doors
Sliding closet doors with broad grids are eye-catching but not overpowering. They can be painted in neutral hues to avoid becoming too weighty in the room.
Sliding Closet Doors- Adding Style and Charm
Mirror sliding closet doors or wooden sliding panels are just a few of the unusual closet door concepts that will elevate the aesthetics of your room. In addition, depending on the available area, you may turn your closet doors into closet extensions themselves with a conscious choice of materials and design options.
Sliding closet doors designs for a room may be an excellent method to increase the amount of space available in a room. Sliding doors may be hidden away in the walls or hung over a wall, giving you an additional area to work with when planning layouts and furnishings. You can opt for any of these trending sliding closet doors designs to jazz up the decor of the room and at the same time, they act as effective functional units.
To know more about Modern Interior Doors, read our previous blog on Mid Century Modern Interior Doors. There, we've explained everything in detail.
Also Read:-