10 Innovative Ideas for Stamped Concrete Patios: A Cost-Effective Design Solution
A stamped concrete patio is merely a concrete slab with an embossed, textured, surface. It has the calibre of giving the look of an actual stone patio at up to 50% less than the cost of actual slate or limestone. It is an ideal solution for homeowners who want a cost-effective solution to the high-end look of granite, slate, or other natural stone for their outdoor living and leisure spaces.
Stamped concrete has the power to mimic the look of brick, cobblestones, natural stones, and wooden plank, leaf patterns, animal shapes, even dinosaur footprints. As concrete has a light grey colour of its own, adding a new colour to it enhances the overall look after it is stamped and sealed.
The article will introduce the process followed, pros and cons, various types of designs available, innovative ideas for stamped concrete patio.
How Are Stamped Concrete Patios Made?
The construction method for designing stamped concrete patios is very easy as well as time-saving. 
The basic method to be followed is:
Pouring concrete and smoothening the slab.

Pressing a pattern into the surface while it is wet and soft.

Adding colour to the concrete while mixing, or spraying on it, after the surface has been stamped.
Merits and Demerits of Stamped Concrete Patio Design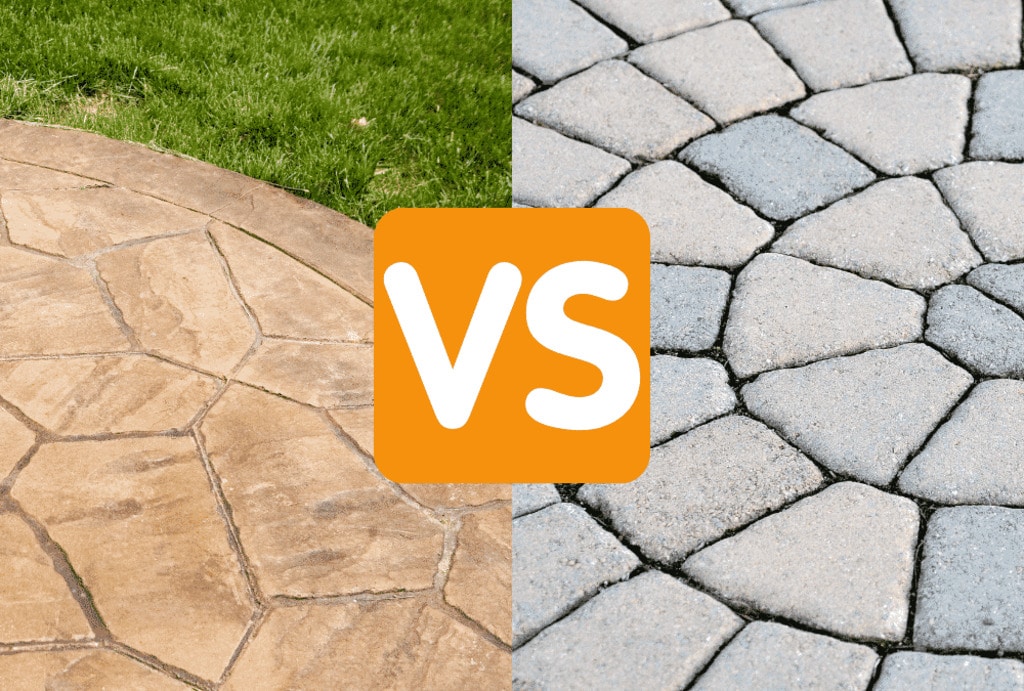 Source : Stamped-Concrete.com 
Stamped concrete patios have their own set of pros and cons based on their cost, installation period, maintenance, aesthetics, etc. The pros and cons have been described below:
Pros:
Stamped concrete patios are cheaper as compared to traditional pavers.

Stamped concrete can be more versatile in design and thus, has more aesthetic value. 

No fear of weeding in between the slabs of stamped concrete due to the absence of joints.

Easy installation.

Low maintenance
Cons:
A longer installation period and special equipment will be required in case of large areas.

Time-consuming maintenance in case of stains: Cleaning of hard stains will require certain compounds to be used. In terms of safety measures, stamped concrete patios are more slippery than pavers.

The tempting deeply embossed pattern creates uneven surfaces and might wobble the patio furniture or even be hazardous for anyone with low mobility.

Being available in various colours, there are high chances of this fading off in the long run. However appealing it might be, but it's not completely similar to the natural stone or bricks.  
How to Clean a Stamped Concrete Patio?
The most basic maintenance requirement is to sweep and dry dust the patio every three days and to mop it weekly. Non-severe visible stains can be mopped off using mild detergent.
Hard stains may develop in patios as they are directly exposed to changing weather. In the case of these strong visible stains, that occur due to grease or oil from parked cars, an alkaline degreaser must be used to take them off. For rust-like stains, oxalic acid can be used to tidy the stamped concrete off. For maintaining their shine lifelong, they need to be resealed every two to three years. For heavy traffic areas, applying high traffic floor polish every two months might be needed.
Types of stamped concrete patio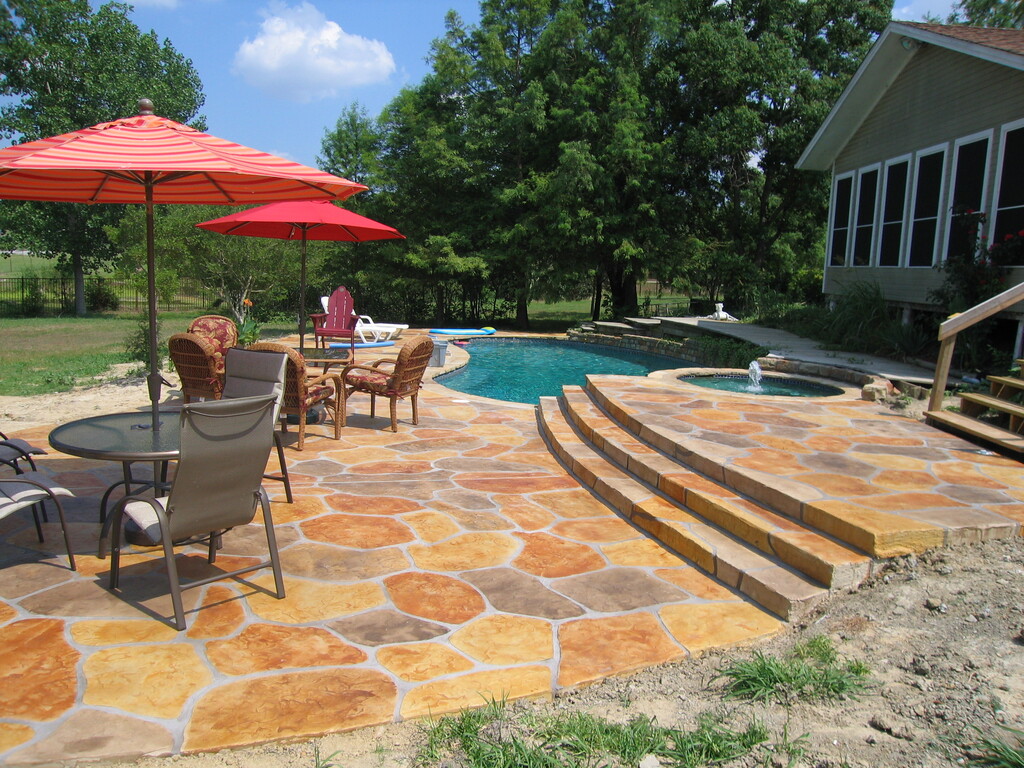 Concretenetwork.com
There are more than hundreds of types of stamped concrete patio consisting of varying designs, these could be further narrowed down into three: the basic, intermediate, and high-end types. 
Basic: It is composed of stamped concrete patio with a single colour and pattern. Designs considered under this type are Herringbone, Slate Skin Patio and the Brown Travertine.
Intermediate: The types are distinguishable. Designs consist of two to three colour combinations with borders and overlays. This typology includes the Shading Stamped Concrete, London Cobblestone, Ashlar Slate, and Flagstone Stamped.
High-end types consist of more than three colours, multi-angled borders and elaborate etches. Designs falling under the high-end type are Blue Stone Stamped Concrete, Large Ashlar Slate Stamped, and Brick Multi-Tone Cobblestone. 
Wood stamped concrete patios fall between intermediate and high-end stamped concrete patio types depending upon their designs as well as the colours and borders that would be used. This depends on the designs, colours and borders that would be incorporated to create these designs. 
How much does a stamped concrete patio cost?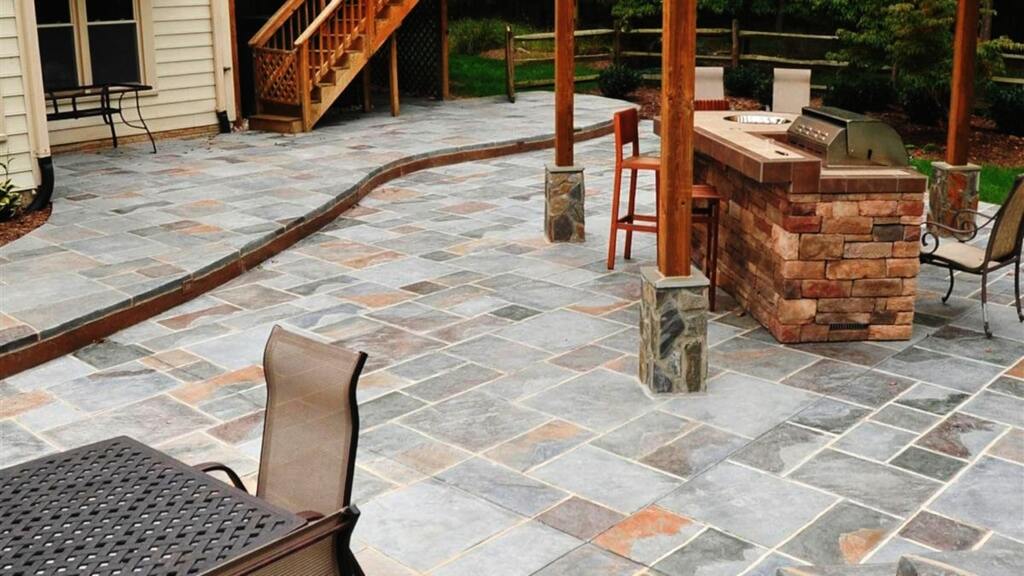 concretenetwork.com
Cost of Stamped Concrete Patio depends on various factors among which the main three factors are: Size, Prep work and design types used. These factors have been explained as shown below:
Size:

It is the biggest determining factor for the overall cost. The larger the size of the patio, the more investment it will require, i.e. lower cost per square foot.

Prep work:

The type of preparation that will be required for the best outcomes.
Some typical costs:
Removal of existing deck/patio-$2-$5 per square foot

Excavation or raising the volume of concrete-$1 per square foot per inch up or down on average.
Design: The more complex the design, the more investment will be required.
Basic designs range from 8-10 dollars while intermediate designs range from 11-18 dollars because these designs usually have two or three colours and borders.
The high-end stamped concrete patio designs cost 18-20 dollars per square foot because it has more intricate designs stamped over the slabs. They are also costlier because one slab might have various stones used in it and thus the equipment may also increase and vary. 
The cost also depends on the space that needs to be paved. Swimming pools and garden walkways usually utilize intermediate stamped concrete while entrance pathways and backyard greeneries usually require high-end types. To know more about the pricing as per your region, just type 'stamped concrete near me' and you will find several options for the same. 
Is it possible to add a Stamped Finish to an Existing Patio Slab?
Yes, it is possible, as long as the old slab is stable and in good condition. The height of the old slab will need to be raised by an inch or so, in order to make sure the new level doesn't interfere with existing steps or vents in the existing foundation walls. Then, the contractor will need to cover the old slab with a new layer of concrete and apply the stamps over it. An expert will prepare the existing slab by firstly cleaning it and then covering it with a bonding agent that ensures good adhesion between the old and the new concrete.
10 Stamped Concrete Patio Ideas
1. Transitional Stamped Concrete Patio Design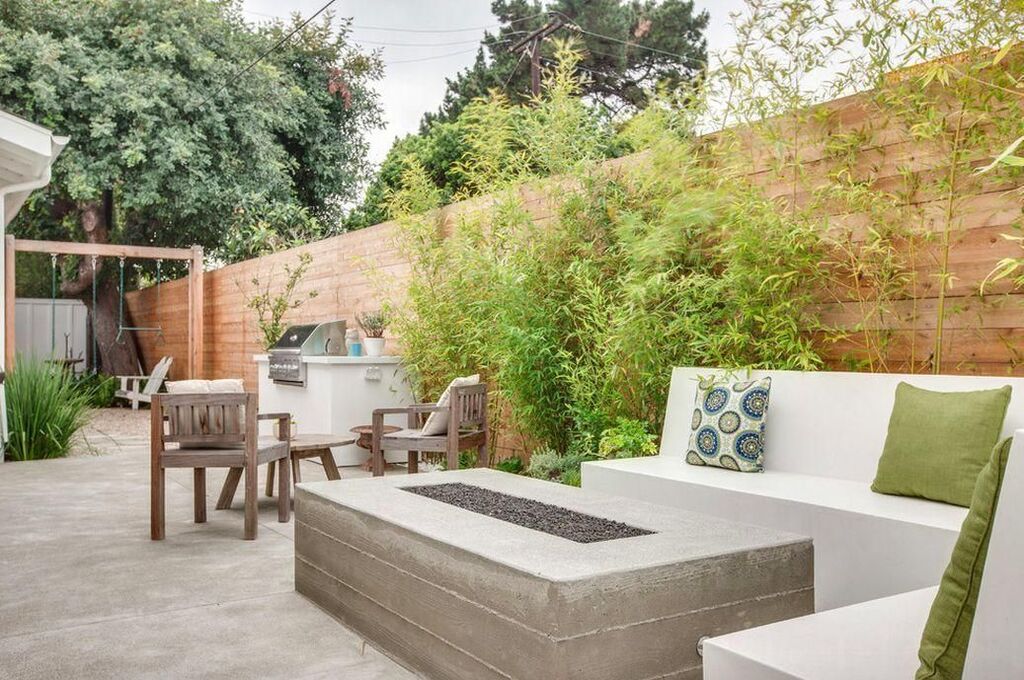 farmfoodfamily.com
A transitional stamped concrete patio is an apt solution for a temperate climate and practical for one-story houses. This particular design features a seamless transition from indoor to outdoor seating. It makes use of smoothened acid-wash concrete slabs to showcase the soft colours of the home's interior. The use of French windows or sliding doors adds up to a more seamless experience.
2. White Sheet Metal Concrete Patio Ideas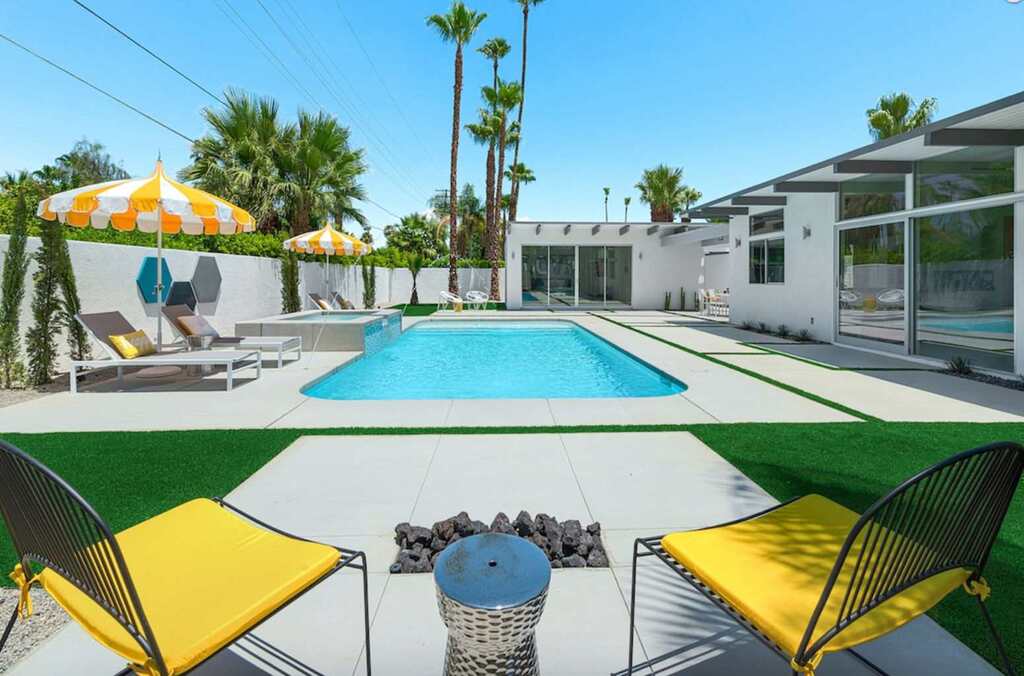 farmfoodfamily.com
This type of backyard stamped concrete patio design goes well with a single-story concrete house. It is suitable for sunny locations and acts as an eye-catcher creating a mid-century modern vibe. It uses white sheet metal concrete that is accented with artificial grass. Making it an ultimate summer patio, it incorporates a small pool, beach chairs, and a ground fire pit. 
3. Travertine Stamped Concrete Patio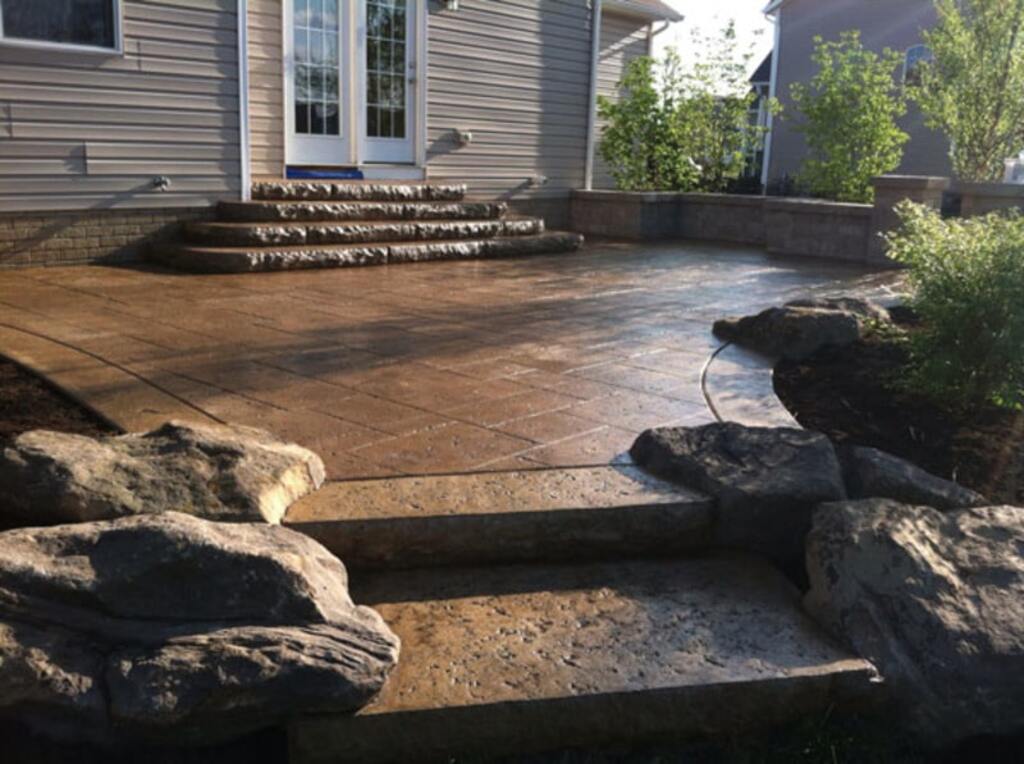 farmfoodfamily.com
Laying travertine over concrete in the backyard or outdoors is like a modern trend nowadays, not only because of its aesthetic value but also for its functionality. In this case, wooden textured concrete has been used for an anti-skid deck. It is supported with rock inlays and some greens at the periphery to evoke a sense of an Asian back deck. It gives an overall natural and soothing look.
Travertine is also suitable for the swimming pool area. Adding travertine in the stamped concrete patio can also help minimize solar heat gain. Moreover, they are easy to maintain in the long run as they can be sealed to avoid degradation. 
4. Wood Plank Stamped Concrete Patio Ideas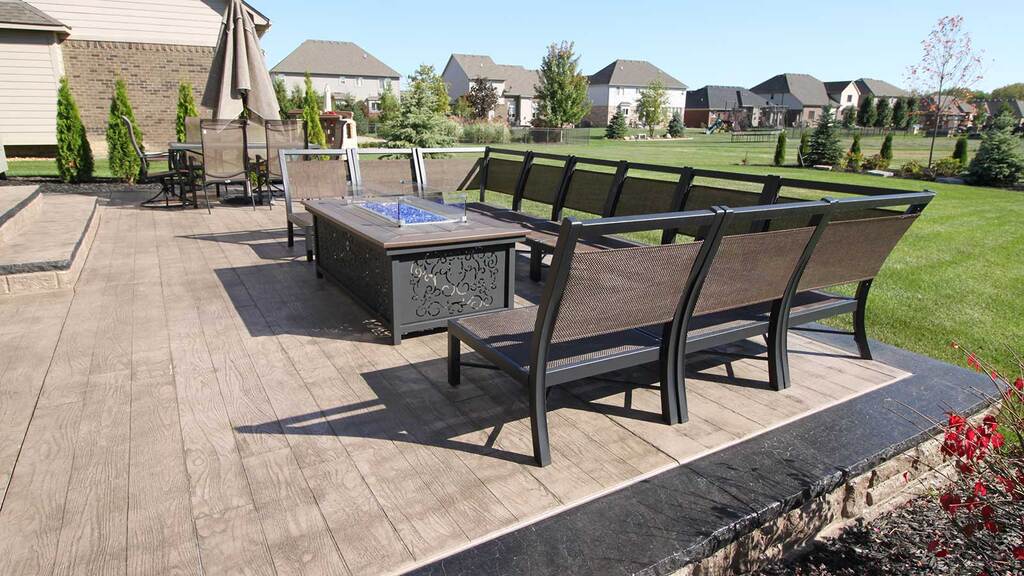 farmfoodfamily.com
This is a patio deck made up of wooden planked concrete using boardwalk panels. It gives a modern rustic vibe and allows a non-slip function too. Adding pergola would be perfect for this backyard patio. A fire pit table or extended dining area also goes well with this type of design. 
5. Cobble Stamped Concrete Patio Design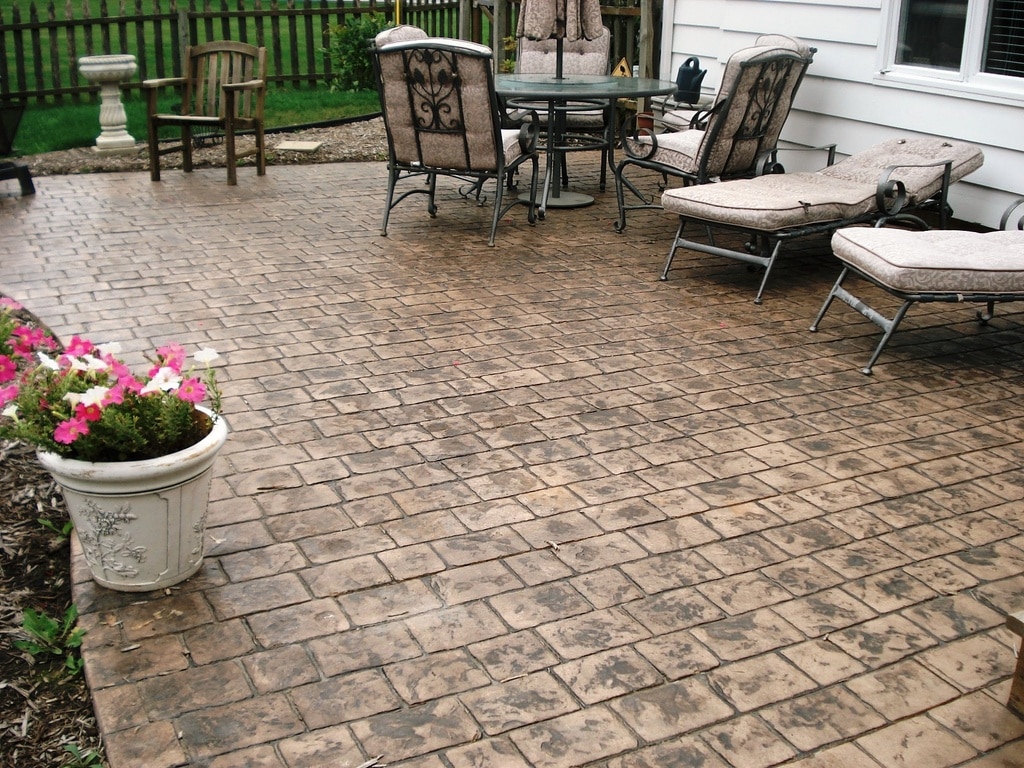 farmfoodfamily.com
Cobblestones never go out of style. This reinstalled patio incorporates London cobblestones stamped over old concrete. This material is apt for colder and wetter locations as it prevents skidding and absorbs water quickly. Minibar, some light effects, and dining tables will go well with cobblestone-designed patios. 
6. Random Flagstone Stamped Concrete Patio
farmfoodfamily.com
The design is inspired by its hilltop location. An effort is made to attain a modern look, by utilizing randomly shaped flagstones placed over concrete. Pea gravel or grass can be used as dividers for more accent. The addition of a lagoon-type pool or any other water feature will enhance the flagstone effect. An extended outdoor kitchen is also recommended for this type of design. 
7. European fan stamped concrete patio design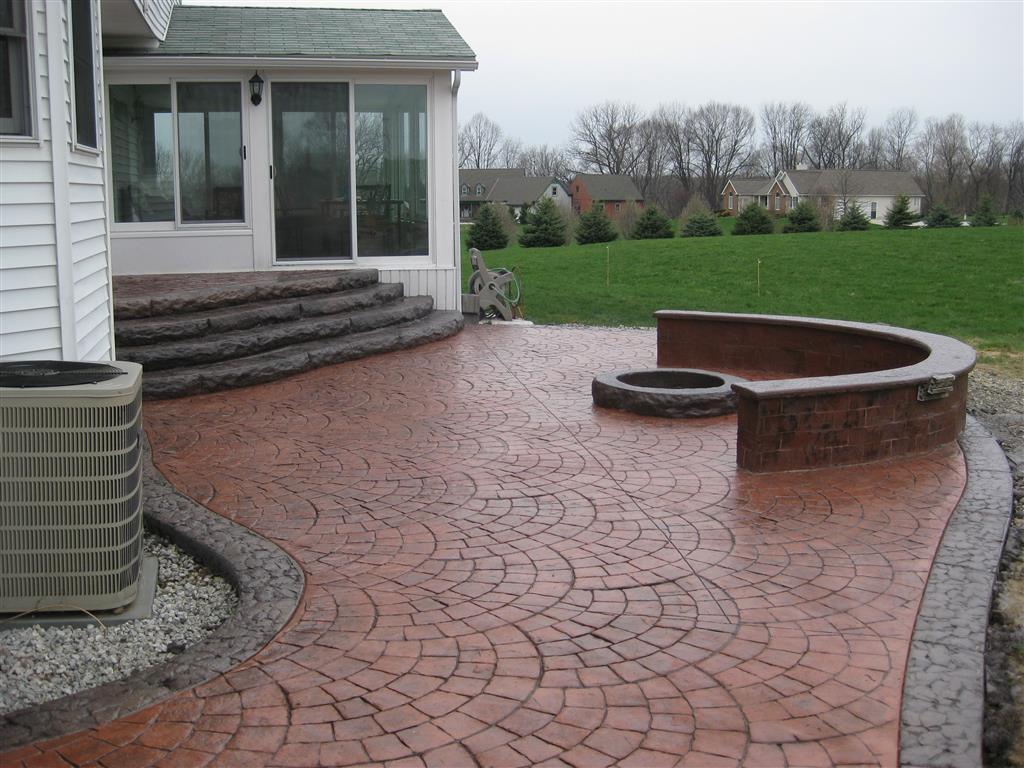 farmfoodfamily.com
The European fan is a basic decorative stamped concrete design that never disappoints. It is very popular in suburban colonial homes both as patio covers as well as pavers. The stair treads at the entrance and the patio area are covered with European fan stamped concrete. 
Many other add ons can be incorporated like in this case a concrete bench. The concrete bench with a ground fire pit is installed here to achieve a widespread patio overlooking a large grassy area. 
8. Herringbone Stamped Concrete Patio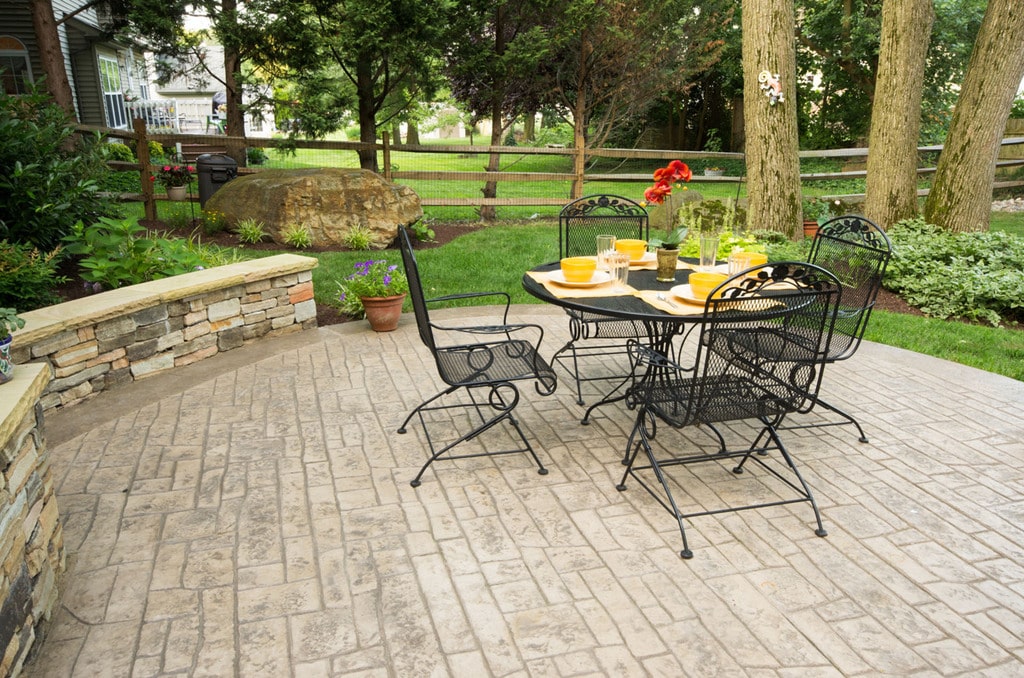 farmfoodfamily.com
Herringbone is a decorative concrete pattern that can be used as an in-lay for stamped concrete patios. This patio has an extended kitchen for some outdoor weekend cooking too. It also has a wall-height brick firepit and beautiful light accents that enhance the overall ambience. The soft tones of the entire patio give a vibe of coastal homes. 
9. Rustic Stamped Concrete Patio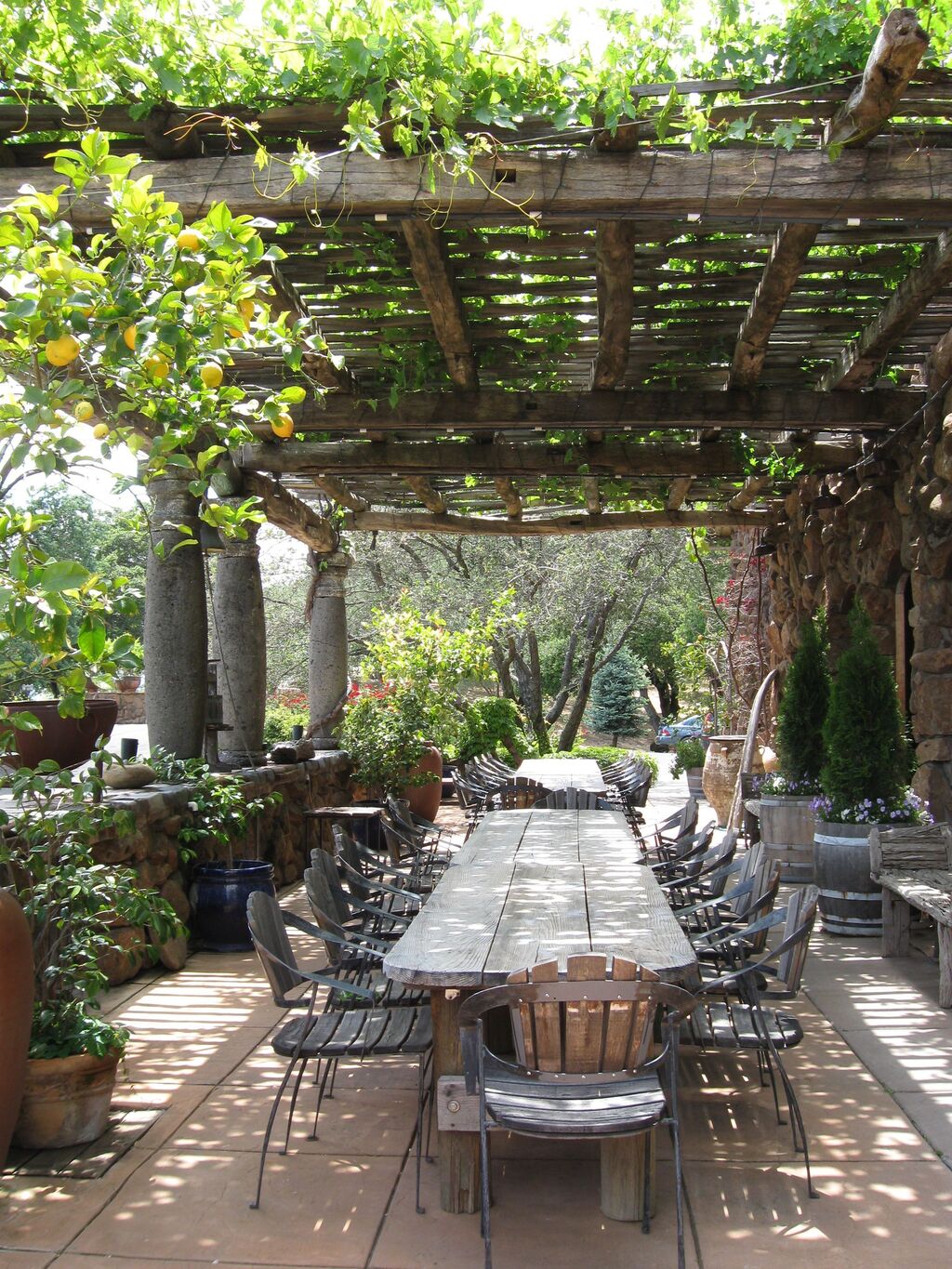 farmfoodfamily.com
In this design, large ashlar slabs are used. But other materials like cobblestone or flagstones can also be used. Fine gravel can be used as a divider. In this case, a wooden pergola with climbers has been used for a more organic and rustic vibe but even a plain wooden pergola or shade will also do. Wooden benches or tables along with wooden bars as extensions are also suitable for this one. 
10. Ashlar slate Stamped Concrete Patio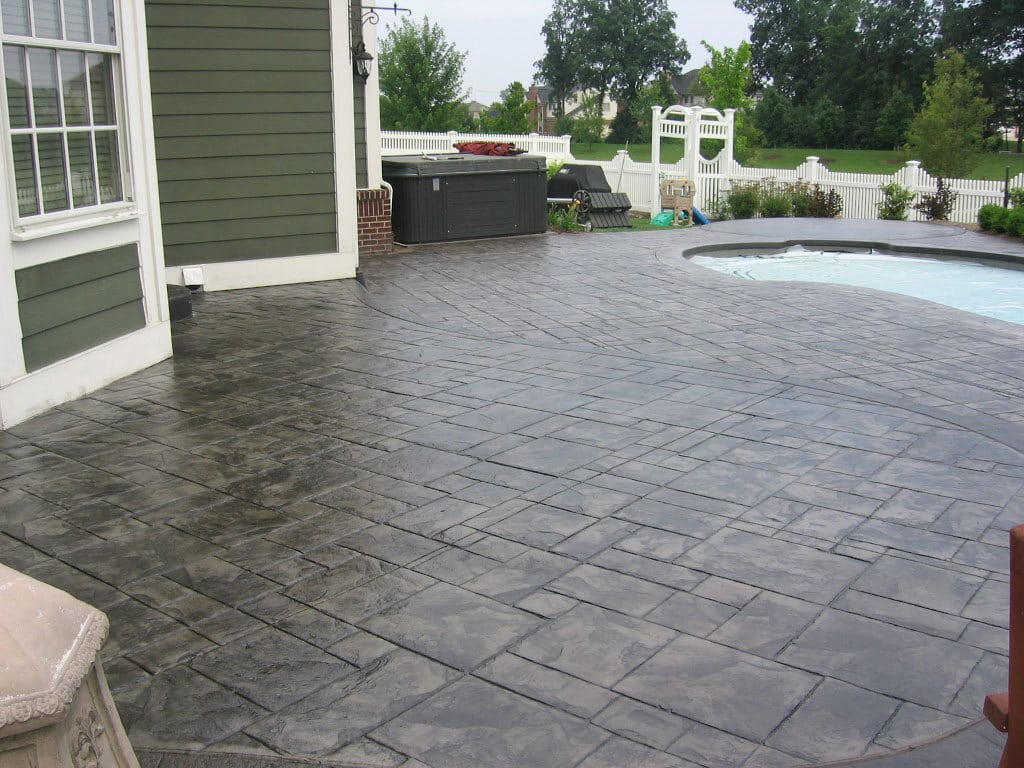 farmfoodfamily.com
Ashlar slates can be used for the entire patio too. A lagoon-style pool is added in the centre of the patio and the palleted English fence complements the stamped concrete patio. Extended space covered with artificial grass, additional dining tables or beach chairs, or a small pergola or shade are some of the possible add-ons for this design. 
Last but most important thing, variables such as cost, type, available designs, maintenance techniques, and costs of the stamped concrete patio must be considered before finalizing the decision to install stamped concrete patio. One should be aware of both, its pros and cons, after all every coin has two sides, it depends on how effectively it can be managed. Consider as well different methods of maintaining concrete to avoid the expensive and difficult process of removal. Concrete scanning process will be necessary to prevent further damage if restoration or repair is needed.
With a wide range of stamped concrete patio design ideas, you can revamp your outdoors to a fun and engaging space that thrives on visual aesthetics and elevated functionality.
To know more about Home improvement ideas, Cleaning and decoration tips visit ArchitecturesIdeas
For daily updates, follow us on our Instagram page @architectures_idea.