Tips for Spicing Up a Modern Kitchen
Modern kitchens, just like any other room In Youre Home, sometimes need a facelift. There are many ways you can accomplish spicing up the center of your family's life, including changing the appearance of cabinets, lighting, backsplash, countertops, and flooring.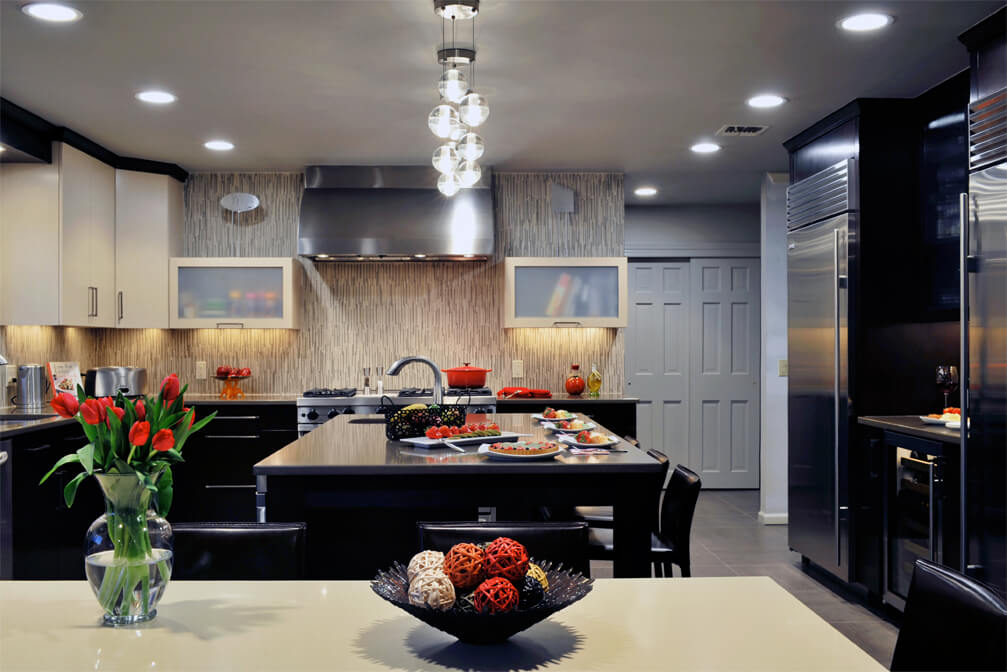 Source : kitchendesigns.com
The first step is considering how much money you can budget for the work, and this depends largely on what you are planning to change.  Changing the look of your cabinets by painting them, for instance, costs less than replacing your flooring.
While saving money is always a consideration, hiring someone to design the new look of your modern kitchen is a wise decision. A designer will help you choose the materials and look that fit your family's needs and character.  Getting professionals involved can make your dream kitchen become a reality instead of a nightmare.
Below given are just five ways to make the changes that will spice up the look of your modern kitchen.
Cabinets can be sweetened by using some simple tricks. Painting them a different color can bring a dramatic feeling to the entire room. Be careful to choose a color that does not overwhelm the senses, such as a soft hue of blue or grey. Adding new pulls to the drawers and doors can add a theatrical change to the appearance to your kitchen. Pulls come in glass, brass, and a variety of other materials.

Source : 27estore.com
A great way to dramatically change the way your kitchen both looks and feels, is to change the lighting. Most modern kitchens have recessed lighting, however being creative in adding more light to any room in your home is always favorable.
The lighting over an island and under the cabinet is a great place to make a drastic change to the look and feel of your kitchen. Over the island, you can hang pendant lights which come in a variety of styles. Choose one that fits your style and budget.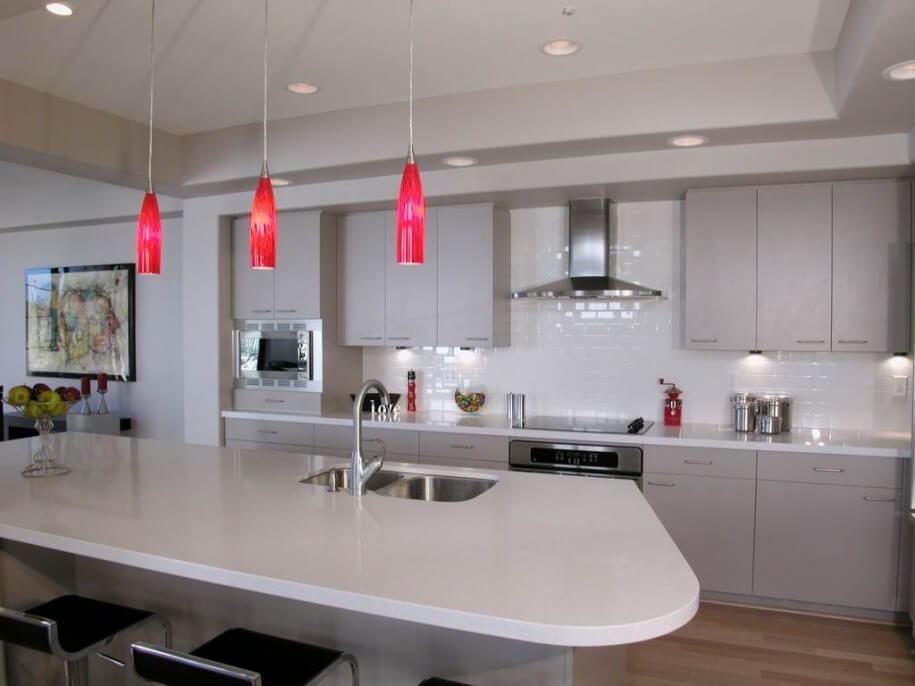 Source : luxurydreamhome.net
Another lighting project may include under cabinet lighting. Adding recessed lighting under the cabinets to shed more light on the counter workspace can add a warm touch to any kitchen.
Backsplashes add a personal touch to any kitchen however they can become dirty, dull or just plain boring. Choosing a different backsplash design is a wonderful way to change the appeal of your kitchen.
Backsplashes come in a wide variety of materials. They can be glass, tin, or ceramic just to name a few. They can be run only under the cabinets or all the way to the ceiling making a dramatic accent covering the entire wall surface.
Backsplashes come in many patterns, from a monotone to an elaborate play of color and textures.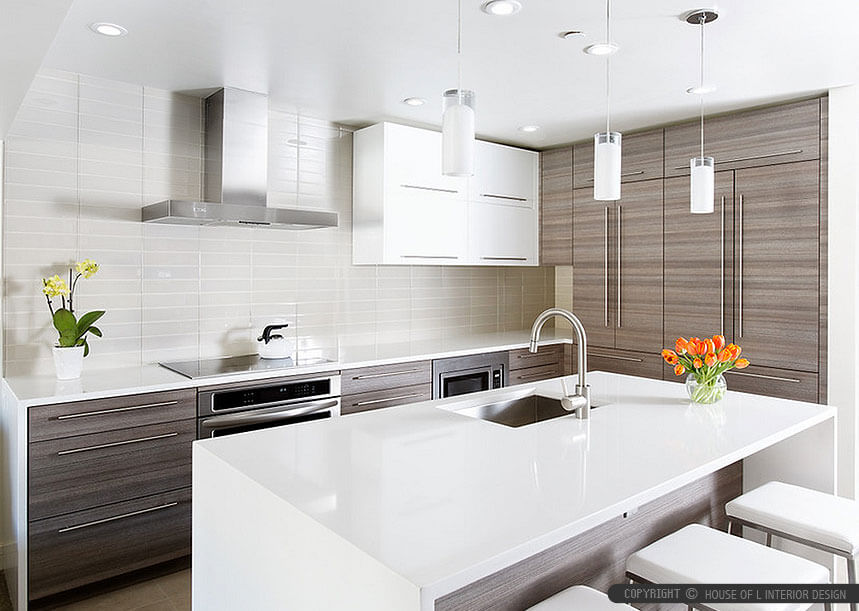 Source : backsplash.com
A more expensive spice you can add to your kitchen is to change your countertops. Perhaps you ran out of money in the budget you used to renovate your modern kitchen, but now you have more funding to work with. In this case, choosing a new countertop could be just the trick for you.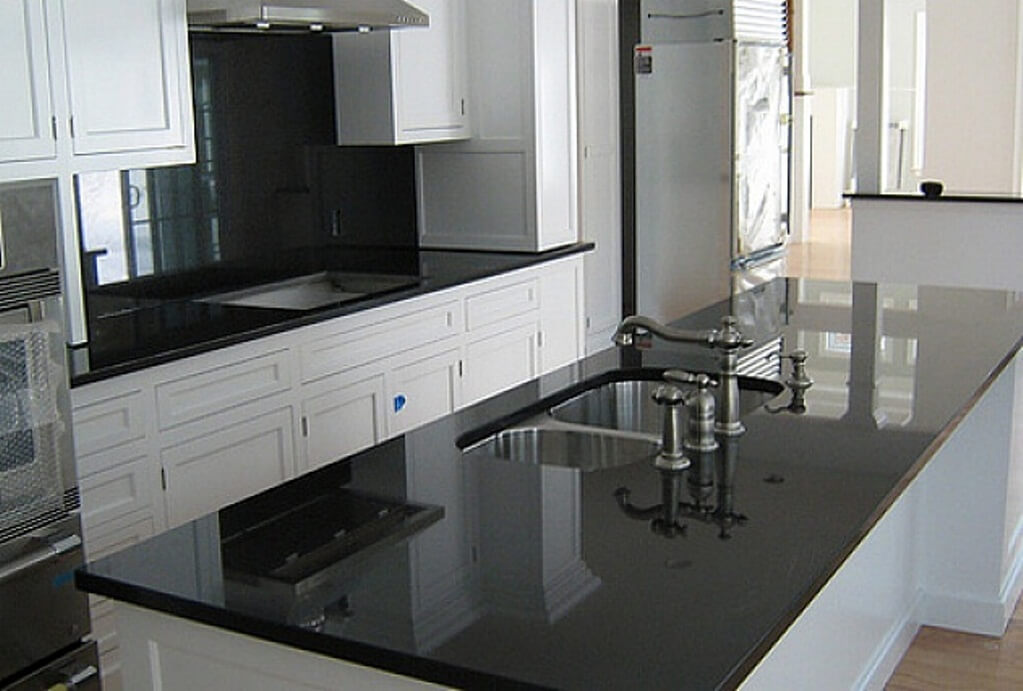 Source : thecssblog.com
Counter top materials come in a variety of materials:
Quartz
Granite
Soapstone, Limestone, and Marble
Laminate
Recycled Glass
Butcher Block
Each of these materials has its own unique textures and qualities, with marble and butcher block being the most popular and most often chosen.
In spicing up your countertops remember to consider your family. If you have small children, then ease of maintenance takes priority. The best and easiest to clean materials for countertops are lava rock, recycled glass, quartz, soapstone, and laminate.
One of the materials listed above is butcher block. While this material is lovely it can become stained if not properly protected and requires constant maintenance. If you have small children, it may not be your best choice.
The flooring of a kitchen can make a major statement, and there are many choices for spicing up your modern kitchen floors. Undeniably, the best flooring to choose from are hardwood, laminate, cork, and ceramic tile with each having its own pros and cons.
Hardwood flooring is very popular, with some homeowners choosing to have it throughout their home, including the kitchen. While hardwood floors are beautiful and durable they do have an enemy, liquids. Moisture on hardwood can warp and split the planks. For this reason, if you have a young family or a pet, it might be better to avoid hardwood as your choice for spicing up your flooring.
Corkwood flooring is made from natural, renewable material and is a more forgiving surface on which to walk or stand. This type of floor can be sanded and refinished and will resist slight moisture. However, cork will change color in direct sunlight and must be resealed every five to ten years. If subjected to standing fluids such as water or animal urine, it will be damaged and need replacing.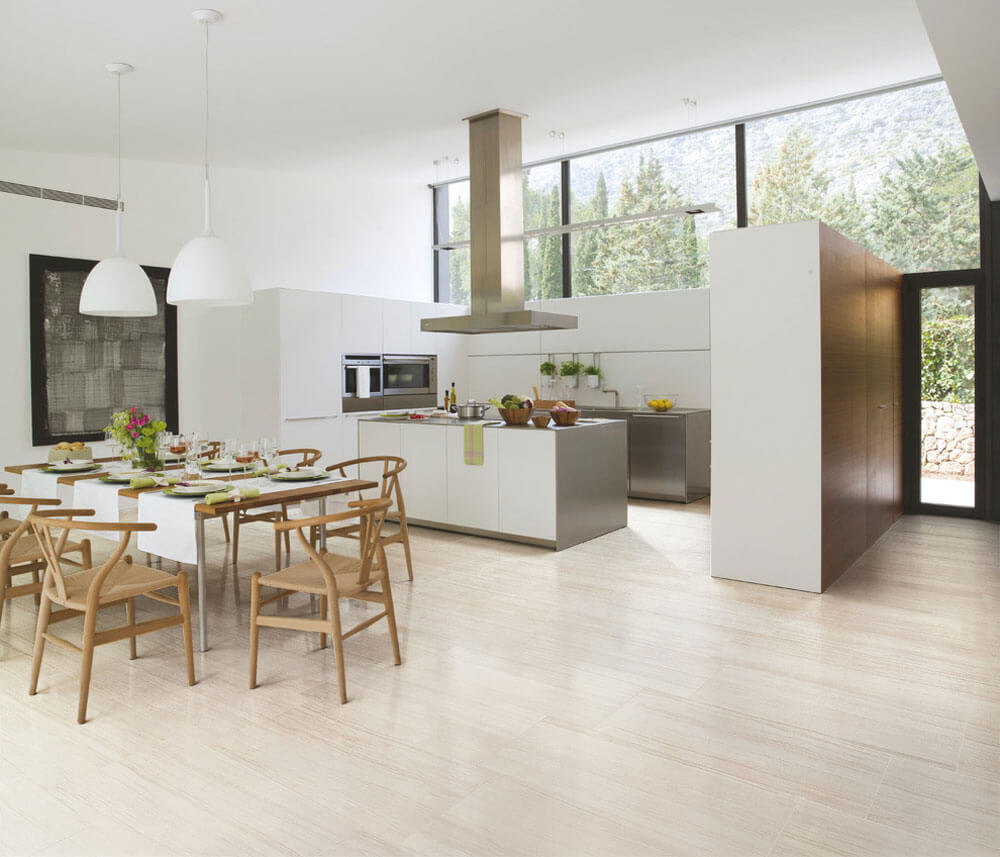 Source : imgur.com
Laminate flooring is easy to install and maintain and has a lifespan of thirty years. However, it is a much harder surface, and cannot be refinished or repaired. Standing fluids, such as animal urine or water will damage it and it is easily dented and scratched.  Laminate is also prone to being attacked by wood-eating insects and most importantly, does not assist in adding resale value to your home.
Ceramic tiling is a more expensive and difficult to install choice for flooring to spice up your kitchen. However, ceramic is waterproof and easily repaired. It is a great choice if you have pets or small children. Also, it is easy to repair and increases the resale value of your home.
Spicing up your modern kitchen is a wonderful way to increase the resale value of your home, and to enhance family life. Be creative in choosing materials and styles that enhance the pleasure of using your kitchen and awe people when they visit your home.  After all, it is the heart of family life and deserves to be not just functional, but a pleasure to spend time in together.