Who doesn't like to work in an office with cool interior designs and full of creative things? Everyone has this dream to work in these offices. Right? To choose office wall design is not the easiest task.
Have you ever seen Google and Facebook offices? They are the real inspirations for an ideal office space. From sliders to hanging chairs, you'll find many strange and creative things in these workspaces.
So are you inspired by these places and want to make your office space like these? Then you're at the right place!! Today we bring 100+ office wall design ideas to change the look of your office.
Gone are the days when people work in all white boring workspaces. However, today you see colorful workplaces with unique designs, and to create a relaxing atmosphere, aquarium enthusiasts keep small desktop fish tanks in their office as they take care of their favorite freshwater fishes during breaks. All this creates a great environment for the employees to work and also affects their work efficiency (in a good way!). You'll observe that all these factors do affect the productivity of the company. 
So why don't you try out these amazing wall designs for office and notice the change yourself!!
Here are the 100+ office wall ideas to transform your walls of work area:
1. Open Conference Space
Source: netdna-ssl.com
What do you think of an open conference room with fabulous wall art? Yes, forget the traditional walls of your office, it's time to paint them in a fun way!
2. Write on The Walls
Source: twimg.com
Want to explain important things to the employees, but there is no space to write? Don't worry, there is a solution, simply paint a large wall with chalkboard paint. Now, you have a place to write your important stuff.
3. Portfolio Wall
Source: 12dee.com
If your office is a modeling agency that gives platforms to the emerging models, then a portfolio wall is perfect for you. Show the photos of your company's top stars on the walls, so that young models get inspirations from them.
4. Green Walls
Source: twimg.com
Green walls are the most trendy wall designs that you'll see everywhere, from the corporate office to the home office. They are easy to do, and maintenance is also low. So, try out the green walls on one of the walls of your office.
5. World Tour
Source: imgix.net
If your work is related to traveling and touring, this wall design is best for you. Paint all the famous monuments or places on the wall using colorful and bright colors.
6. Movie Poster Wall
Source: bennettdesign.ca
Another fun way to spice up your office walls is to create a movie poster wall! Yes, you can actually make this, it is a fun and quirky looking wall.
7. Bring Your Work on Wall
Source: pinimg.com
If you're running a digital media company, which has websites in various fields like food, travel, and architecture, dedicate the whole wall to the work you're doing, it is the simplest way to show your work to others.
8. Wall of Fame
Source: ryanlindahl.com
What is better than a wall of fame? Dedicate the whole wall showing all the great efforts that your workers are doing, hang their certificates and awards on the wall and it is also a work-booster for all of the employees.
9. Fashion as Art
Source: sohucs.com
What if you're a fashion designer and want to make your office that represents your work? How about this wall design? It is perfect for your work as it beautifully describes your work.
10. Inspirational Quotes
Source: ewalls-s.com
A simple way to bring inspiration among office people is to write motivational quotes on the wall like " Think outside the Box", "It always seems impossible until it's done" and " Don't count the days, make the days count."
11. Interesting Wall Paintings
Source: pinimg.com
You never go wrong with the wall arts, use large scale wall art or hang huge paintings on the wall.
12. World Map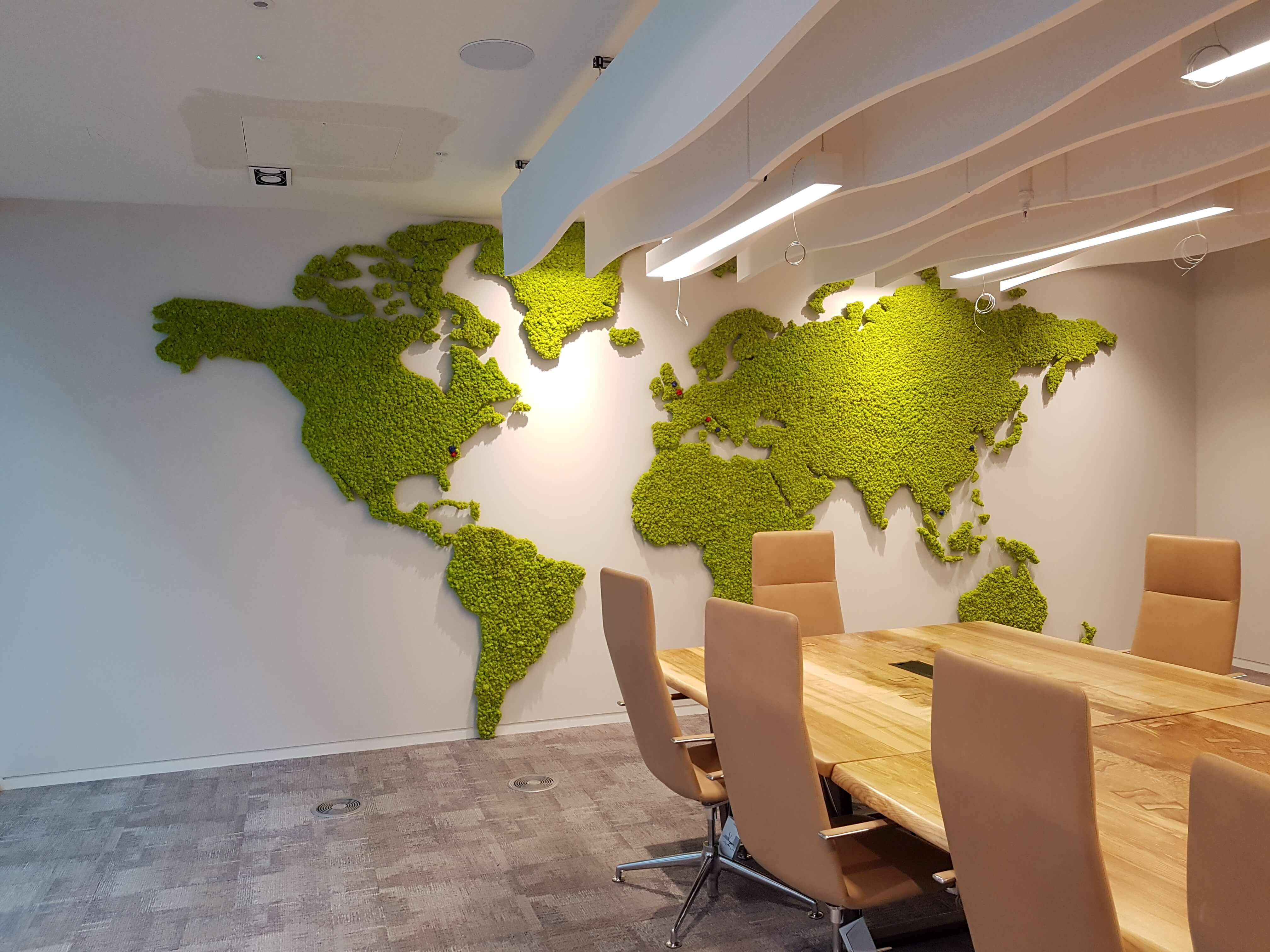 Source: planteriagroup.com
Create a world map on the wall of the conference room but not an ordinary one. Like this wall has a unique one, here you can also pin the places and make it more interesting.
13. Wall Stickers
Source: wp.com
There is also a quick way to enhance your walls, and that is wall stickers. They are easy to install and remove, and you can find a ton of varieties in them. 
14. Cover the Glass
Source: wp.com
Have a large window at the office which is kinda bothering you? Then here is the best solution to this problem. Cover it with some window paintings, this will stop the distractions from the outside and helps you to remain focused.
15. Color the Corridor
Source: wp.com
Don't think that when it comes to office wall designs, you can only do arts on the inside walls. Splash some color on the walls of your corridor and balcony as well.
16. Wall Calendar
Source: amazon.com
Paint the wall with whiteboard paint and create a large wall calendar. Not only it is great wall decor, but also it'll keep you updated and organized.
17. Use Textures
Source: pinimg.com
Colors are a good and safe option in wall decor but if you want to achieve something different then bring different textures such as wood.
18. Floating Shelves
Source: dismenorrea.info
Floating shelves = A great decor + More storage!!
Yes, what else do you need? Place some honeycomb or square-shaped floating shelves on the wall as they will be a great wall design for office.
19. Take Inspirations
Source: hurimg.com
Get some motivation from this Flipkart office and create your office like this.
20. Unusual Bike Racks
Source: officesnapshots.com
You can also use various accessories like a bicycle (look at this one), it will fill your wall space in a useful way.
So what do you think of these office wall designs? Aren't they cool and creative enough to describe your work perfectly? Another plus point is that they make the whole atmosphere of the office a relaxed and positive environment for the employees and after all these changes office people love and respect you even more, and it will show in their work!! So transform your walls by these awesome office wall design ideas and leave a significant impression mark on other people. For more home and office design ideas, visit Architectureideas.