Know the Best Cable Management for Your Collection of Cords
Unorganized cords can be very annoying if left at that. This is especially true if you have many earphones, headphones, chargers, and you have to charge them all at once. Simply placing them on the side won't do. Eventually, the cords will get tangled, and it will be harder for you to manage them. Taking this into account, it's just right that you practice efficient cable management. You can do this through simple tasks, using various tools, and looking into organizers. Doing this will help you keep your home and workplace neat.
Fortunately, you won't have to go through hoops to know the ins and outs of cable management. In this article, we'll walk you through how you can organize your cords better. You can also expect to know how to deal with messy cables.

In the later sections, we will also recommend a tool that you can use for the said task. To be specific, we'll share a hidden gem called cable management box.

How Can I Organize My Cords Better?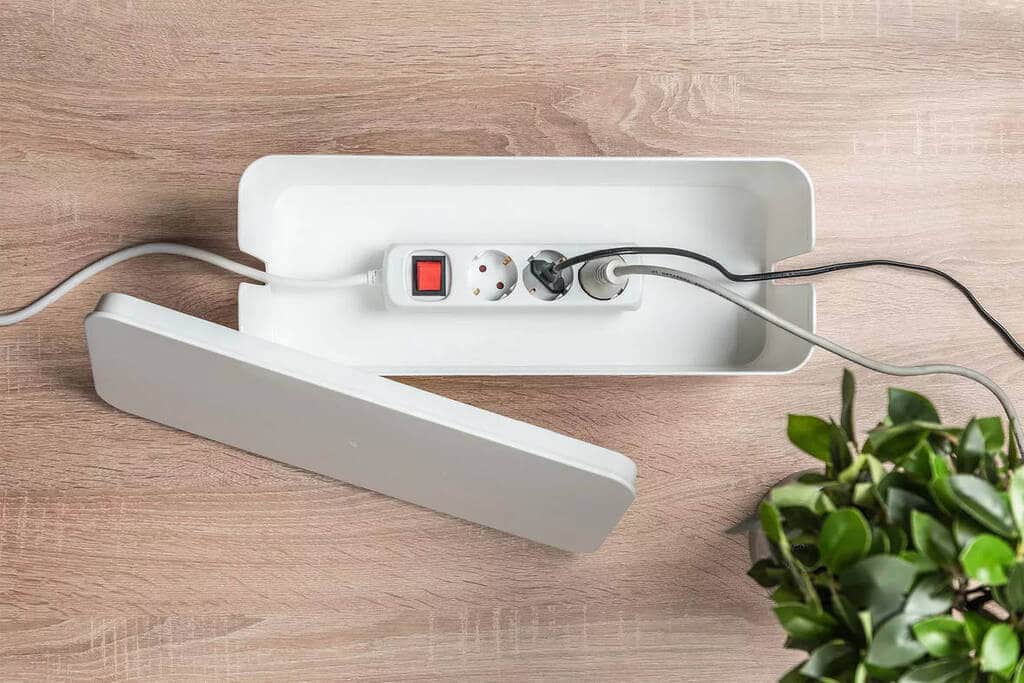 Source: assmann.pl
It can be overwhelming if you're working with a lot of plugs. However, with a wee bit of motivation and a few simple practices, you can easily organize your cords in a better way.
Here is a list of some things that you can do:
Lock cables using straps and ties.
Invest in a charging station.
Use a cable management box.
Each tool will help you get an organized space. It can be too expensive if you invest in straps, a charging station, as well as a cable management box. Instead, you can choose just one.
If you'd like to know our insight about which one is the best, then head on to the next section.

What Is the Best Thing to Use for Cable Management?
We believe that the best thing to use for cable management is a cable management box. We specifically prefer BlueKey World's product since it already includes straps. In addition, you won't have to buy a charging station since you can use your regular socket plug.
For reference, here are the features that you can expect from BlueKey World's cable management box:

Comes with a wire box organizer

Secured with a safe-locking lid

Comes with cable straps and cable chips

Child-Friendly

Pet-Friendly
Aesthetics-wise, you can also expect this to cater to your interior design. It comes in white and black, both of which are elegant shades to choose from.

If you're worried about issues regarding messy cables, then the next topic will help you.

How Can I Hide Messy Cables?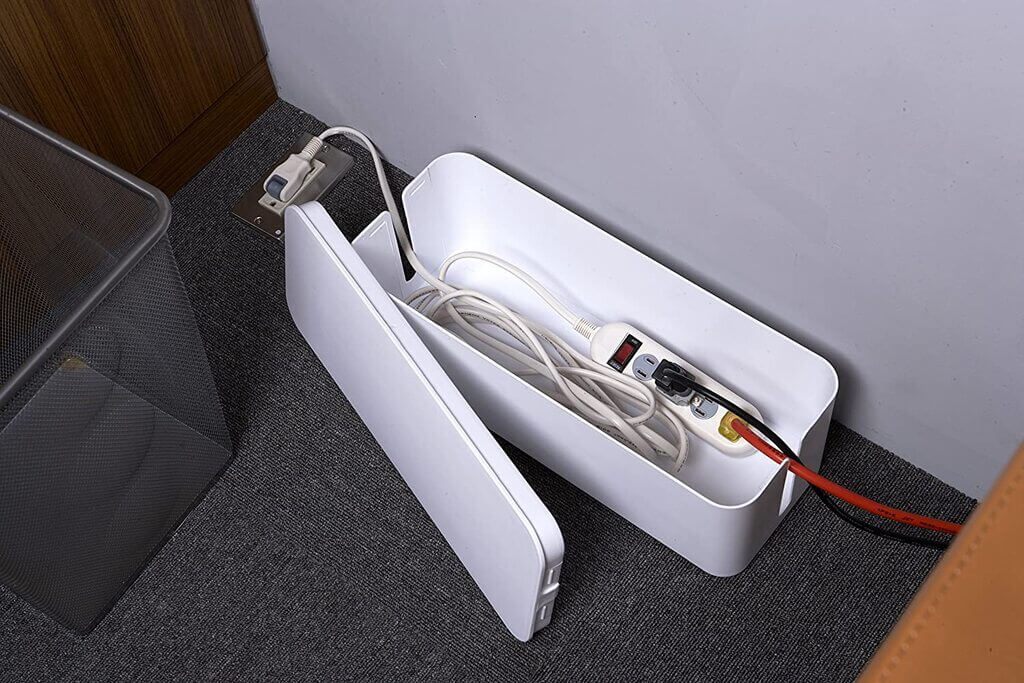 Source: amazon.com
Messy cables aren't hard to hide. You can use simple cable straps to keep them all in one place. However, this solution may not work if you have thick cords or if you're directly plugging in cords to your socket.

In this case, a cable management box can help you again.

Depending on the brand, you can expect a cable management box to come with a cord organizer inside it. That is where you can place your cords. In some brands, like BlueKey World's, you can also fit the whole plug socket in it. This assures more concealed cable management.

However, some people may be wary about how safe it is to use a cable management box. For a clearer view of this concern, refer to the following discussion.
Also Read: A Basic Guide to Home Electrical Wiring
Are Cable Management Boxes Safe?
Generally, cable management boxes are safe. However, it will still depend on the brand that you will get it from.
If you get BlueKey World's cable management box, rest assured that your cords and devices are safe. It is made from high-quality plastic material that is highly resistant to impact. So a minor bump won't stop it from functioning.

Moreover, the device's safe-locking clasp lid makes it safer for homes with children and pets.

Conclusion



By now, you should already know the most efficient way to cable management. Through straightforward tasks, you can start having a more organized space.

For even easier management, we also suggest investing in a cable management box. Our personal favorite is this one from Blue Key World. It is one of the most secure cable management tools because of the cable chips straps designed for any kind of gadget.

Moreover, Blue Key World's cable management box has distinct offers for a very budget-friendly price. If you're looking for a good recommendation, then you should consider trying this out. You don't have to worry about safety since it's made of high-grade materials.