Imagine working in a three-white-walled cubicle and working in an open space having an interactive atmosphere! In earlier times, professionals liked to work in an area where there is no distraction. According to them, the more privacy and confined space are assigned to them, the more productivity they can deliver. If we talk about millennials, their productivity increases with the open area and flexibility provided. Workspace having nature's element to it, the flexibility of moving here and there while working, chips-in good points to their overall work performance.
With the increase in technology, when a work-from-home option is available. Still, employees prefer coming to the office for work. What do you think the reason is? The first thing is the work atmosphere, and the other is the office increases the focus on the job. It allows them to solve issues quickly and efficiently rather than waiting for a reply. So to keep it constant, the work atmosphere should be updated with the change in modern office area design.
No one likes working in a cluttered workspace!
There are unlimited options available for office designing, from closed to open office designs. When you search about Open office designs on google, 50-60% of the articles are dis-favoring it. Although we have different perspectives on the same, there is nothing wrong with going for the option. But before that, you will have to understand the concept more prominently.
If planned properly, employees will love the atmosphere, but if you go wrong even at the smallest detail, then all your determination to create a space is wasted.
Open office design doesn't mean you have to build your office in an open area. It defines the work atmosphere where there are no or less-cubicles and is more flexible. It allows employees to communicate easily without moving here and there.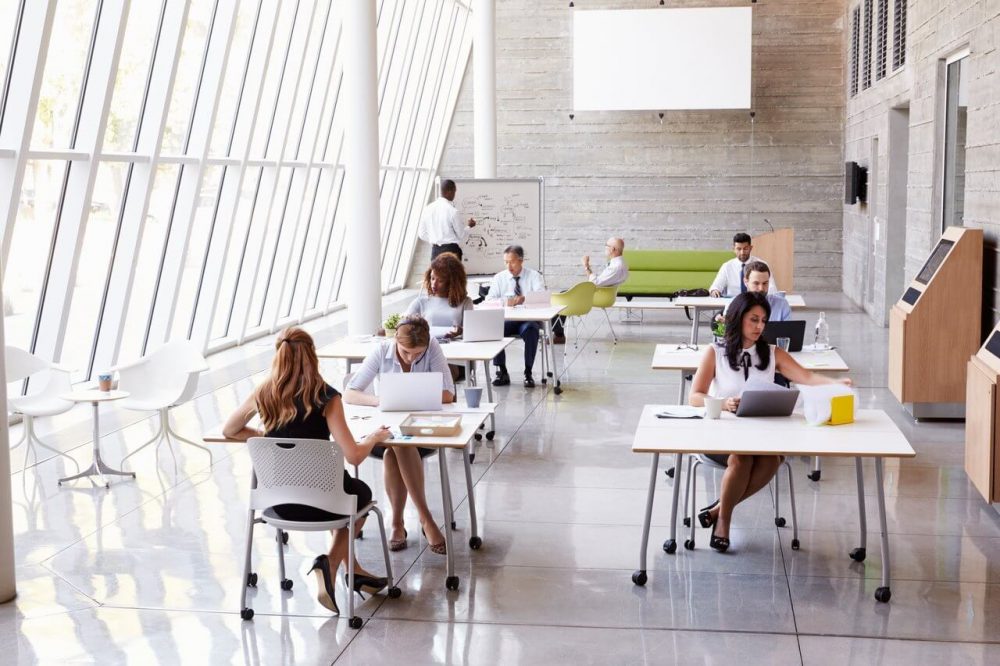 An office with open plan includes,
Large workgroup tables
Clustered cubicles
Open desk and lounge area
Easily accessible conference room
To make you understand better, we have mentioned here, its pros and cons, along with how to eradicate or lessen the cons. And lastly, we have mentioned some of the best examples of open office layout. Before moving to the topic, we would like to tell you that office design will require different designing elements to be considered depending on its work atmosphere and culture.
Pros of Open Office Design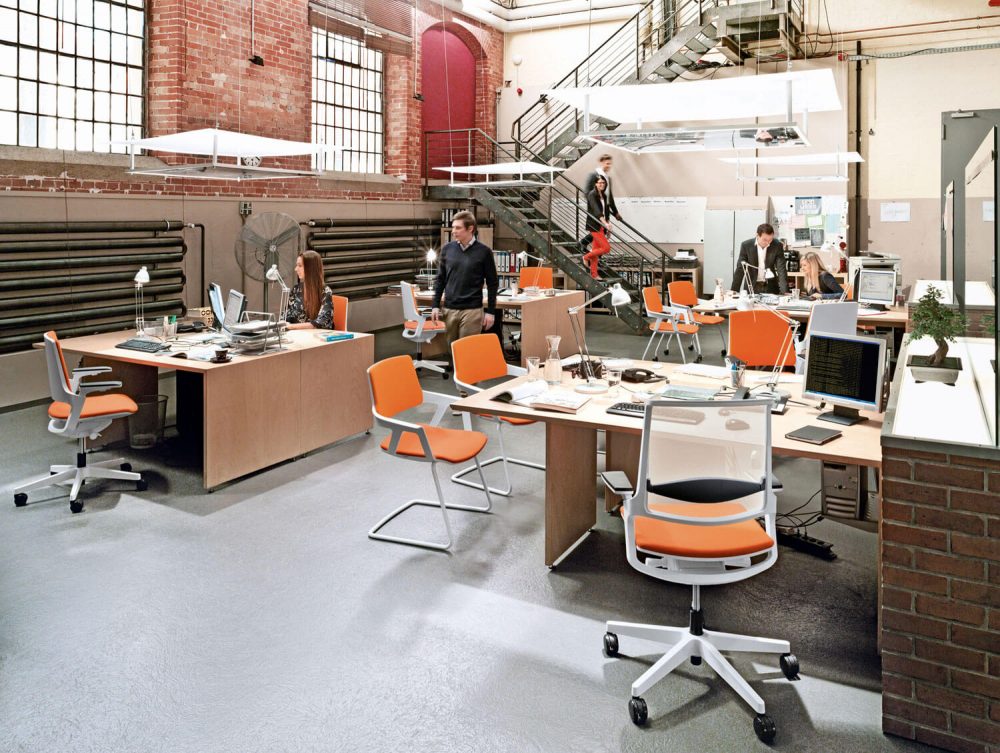 1. Esprit de Corps
French phrase reflecting the meaning of "group or team spirit." When people work together, they create an interpersonal bond along with a professional connection. And all this leads to excellent teamwork and good productivity. This will cut-off the waiting time to meet the senior for certain doubts. Open office space will help you in building the bond and trust among the employees.
2. Efficient Information Flow
It makes it easier for the seniors to pass on the information without delay. Open office designs don't have any hindrance, i.e., the wall that can delay the flow of information.
3. Flexibility
The open-plan offices have the best benefit of flexibility, whether in working or work-area. You can easily move on to the next desk to solve your query or add an extra chair if a new member is appointed for the team. Expansion and abridgment become easy in the open-plan concept.
4. Low Costing
How is it low budgeted? You can use homely-furniture rather than going for perfect professional ones. You won't have to buy stationery for an individual. The utility of office equipment will increase.
5. Effective Supervision
Supervision becomes effective as every member of the team is working in front of your eyes. Co-ordination and inspection of the work done are also easy to achieve.
6. Spacious
Natural light will reflect on the entire floor. Offices with a window and industrial doors allow natural light to pass through and views to see are the best ones. You will never feel exhausted from constant work. This plan removes the con of cluttering from the primary office designs.
Cons of Open Office Design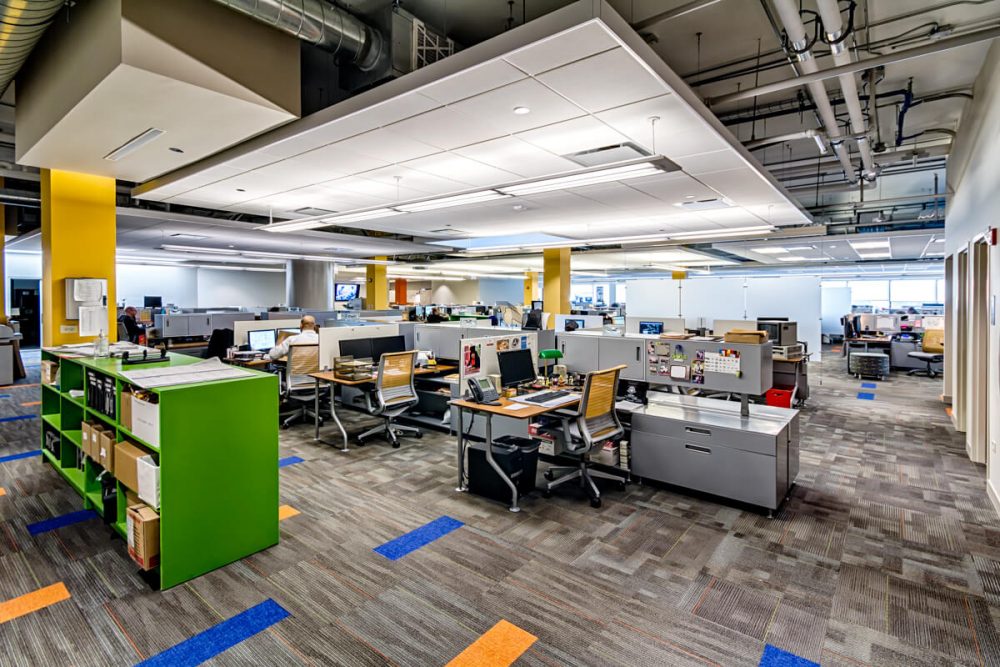 1. Noise Disturbance
Open-plan basically promotes working on a single floor with few cubicles or workgroup tables at distant places. So there is no doubt that there will be some sound distractions. The best option to avoid the scenario of complaining about noise disturbance, let employees hear music with headphones on. It is said that headphones can give the feeling of an invisible wall while still allowing them to interact with each other.
You can also invest in some phone-booth sized cabins or a quite-zone area, where an employee who wants to work in peace can move to!
2. Reduced Privacy
The most sensitive con of this type of plan is a reduction in privacy as it can lead to privacy breaches of the company and distrust among employees. In an open area, there are chances that colleagues are able to hear calls or see into computer screens.
We already mentioned the solution for this in the above pointer, a phone-booth cubicle. You can move over to the cubicle to attend important and confidential client calls. As for computer screens, place on the films over the computer screen to aid in privacy.
3. Unhealthy Environment
No matter how hygienic you are, there are always chances of spreading illness in open-plan offices. Especially, airborne contagious diseases- like viral and flu. And this will lead to absenteeism. The best option to avoid this is by encouraging an employee to work-from-home or remotely when they are feeling unwell.
4. Untidy Appearance
It is common that open space can make things look untidy. After all, almost the whole staff is working under one roof. If your department or office doesn't work with files then, this won't be the issue. But if half of your work is based on the files and includes papers, when it is a huge task of avoiding the con.
As for construction, get furniture with drawers or cupboards, you can also go with shelves so that files and important papers are kept on them. You are done from your side, tell employees to keep things arranged.
Now, you know every pros and cons of the open office layout. It time to get into some creative ideas to design the layout for your office.
Analyze the work atmosphere and culture, then take the decision about which departments can be arranged together to make their work-flow smooth, as the SEO and Content writing team. Teams that are interconnected need guidance or help from the other team shall be kept at the least distance.
Best open office layout design to take inspiration from:-
1. Aeria Games:
An online gaming company, Aeria Games, has its office beside the Spree River. The interior of the office is done by Lindemann Projectnet. The office they have created is spacious, allowing natural light to pass in. With 100+ wooden tables, desks, shelves, and other furniture pieces. They have set up cubicles for meetings and conferences. A free-space is built to work remotely, even in the office.
2. Urban Outfitters: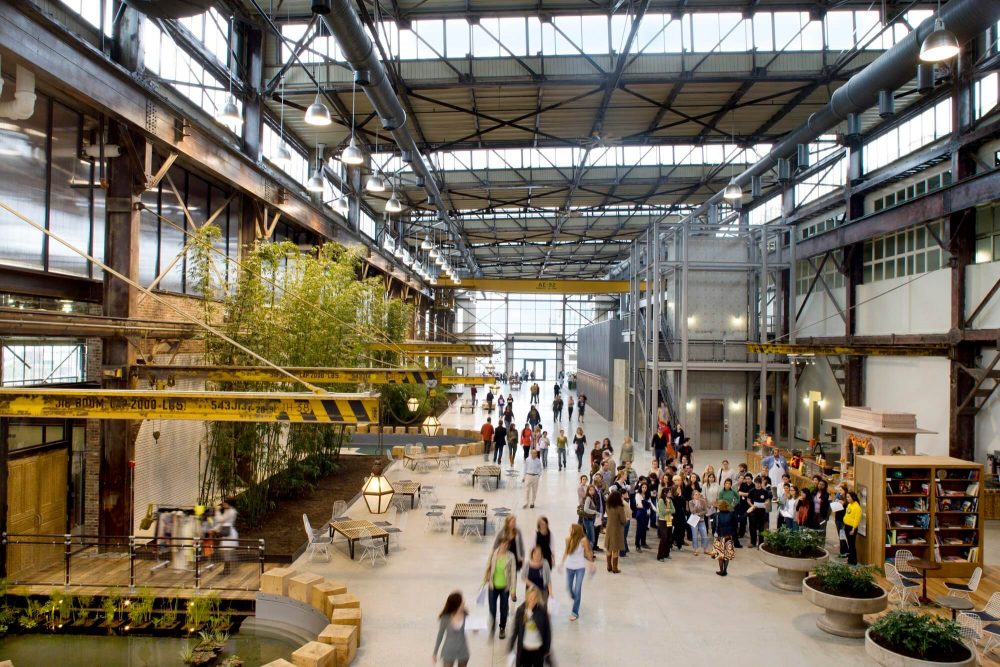 Headquarter of Urban Outfitters, a multinational lifestyle retail corporation, has been out styled in the old navy shipyard in Philadelphia, Pennsylvania. This headquarters houses the professionals of its subsidiary companies as well – Free People and Anthropologie. It may sound a little weird, but the way MSR Design transformed the shipyard into a magical office outlook is just amazing. Whole company in one larger campus with all the basic facilities available. It is a perfect example of what a retail company office should look like.
Fact:- Urban Outfitters has seen employee turnover drop by 11% after renovating the office.
3. Slack Vancouver: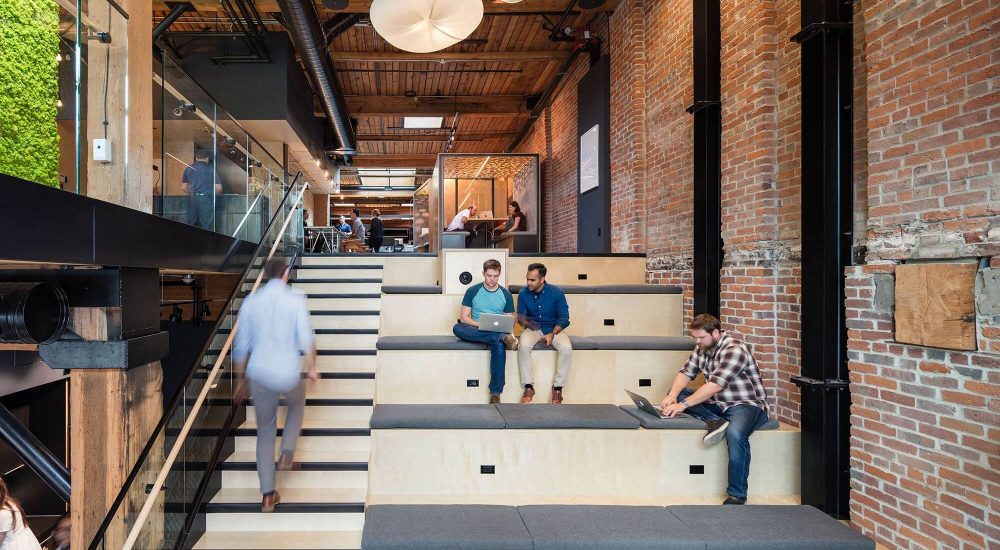 The communication-based software company, Slack, has its head office in Vancouver. They have adopted the open-office design layout for every office around the world, designed by Leckie Studios. The entire office reflects the heritage vibe with brick, original wooden beams, and mechanical infrastructure into the design. It has two floors with large bay windows allowing natural light to pass through. The windows are framed in black throughout the office to smoothen the light.
The second level of the office is an open area with communal and modular concept areas encouraging flexibility. With small phone booth-sized movable cubicles, small private cubbies for skype meetings, and phone calls, it creates a perfect environment for employees to work without feeling fatigued or bored.
4. Hitachi Consulting: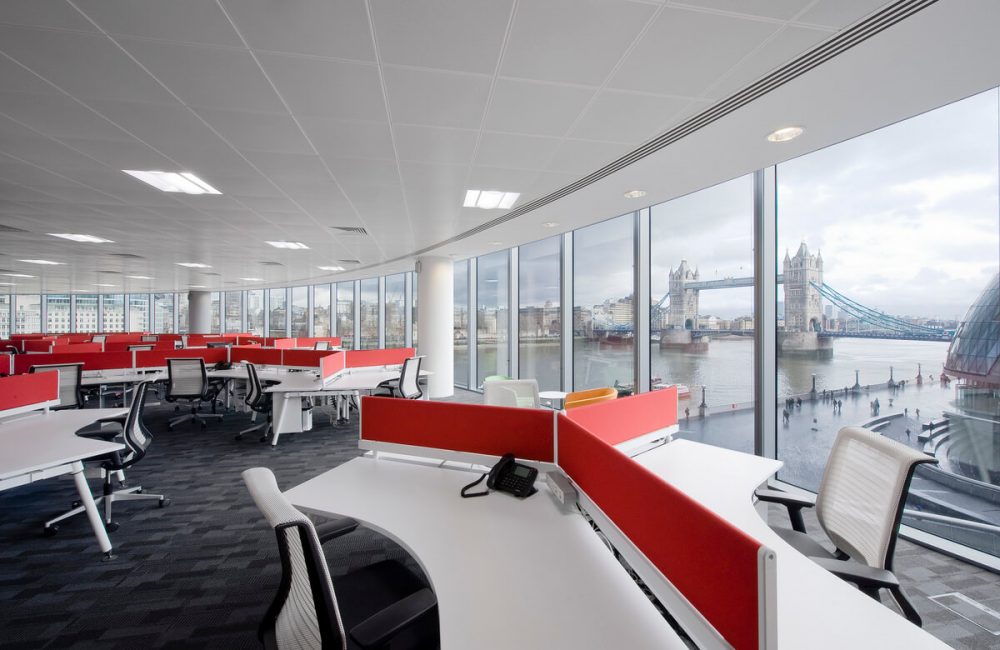 Hitachi Consulting renovated its office in London with the help of M Moser Associates. They adapted the open office layout design, worked on it firmly and correctly, and the outcome is just-so-perfect. It included the factor of convertible spaces. They designed the office, keeping two types of employees in mind, resident, and mobile and accepted the theme that can reflect the brand. An enclosed cabin-like set up is configured that can be used by two people at a time. Open-plan spaces are allotted desks for team formations and automatic exchange of ideas. These areas were located within immediate contiguity to main circulation routes, maximizing the opportunity for uncertain meetings, sessions, and interaction.
Final Call:-
These were the best open-plan offices that adopted an open office layout and implanted the plan properly. The basic thing that we concluded from these designs is adding spaciousness, flexibility, and natural element to the office atmosphere increases productivity and decreases the risk of labor turnover rate.
Discover more:-