Searching for Value in Your Kitchen Remodel
Believe it or not, you can have elegance and sophistication with a small budget in your kitchen remodel. The good news is that you can drastically lower your kitchen renovation price with a few well-planned budget-friendly tips that every homeowner should know.
These ideas can be challenging to bring together, but you can do it.  Whether you decide on white shaker kitchen cabinets, go with inexpensive materials, or incorporate creative flairs, you can re-energize your space with a reduced budget.
Let's take a deeper look at the potential of a kitchen renovation without spending too much cash.
How Long Does Your Existing Kitchen Have?
Start by looking at the longevity of your kitchen's design. Look at the overall color scheme — are you positive you want lively and bright colors? It can be more dependable to switch towards more neutral tones for your essential big-ticket items, such as countertops, cabinetry, and backsplashes.
A timeless kitchen design rarely fails, so you'll be able to appreciate it for many years to come, and it ensures substantial resale value. Choosing soothing, neutral colors for your updated kitchen layout indeed can be an investment in your future, and you will be happy with your decision.
Quartz Is an Excellent Alternative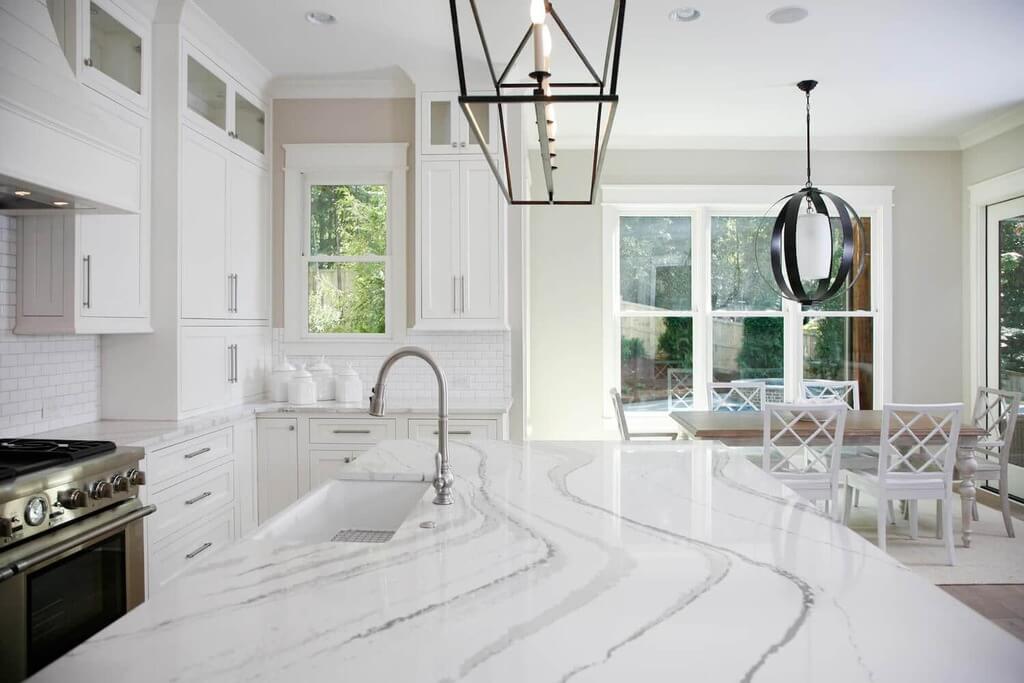 Source: hzcdn.com
Lighter tones of quartz in countertops are popular in home renovations. There is a solid reason for this growing popularity, too. Quartz is attractive, durable, easy to clean, and very sturdy.
These counters will mesh well with many kitchen layouts, as well, so you can work them into any design aspirations you have. You can expect this trend to go on for many years, so your kitchen will stay hip and sophisticated in the future.
Laminates Can Solve Many Issues
Look into laminates, and discover a brand-new world of fantastic countertop options that you can use in your kitchen update. These affordable countertops are both well-made and easy on the budget.
The contemporary laminate options available include elegant marble looks, various types of stone, a wide choice of wood grains, and more. Additionally, the desire for laminate is increasing, spanning other areas like refaced cabinets and flooring.
Cabinet Refacing Can Do Wonders
Refacing your cabinets is a highly resourceful design solution for your kitchen renovation project, both in terms of price and energy. Otherwise known as cabinet resurfacing, cabinet refacing provides your kitchen with a renewed ambiance without breaking the budget.
Refacing cuts back on construction delays and costs helps preserve resources, and is better for the environment. This effective, cost-lowering process is perfect for homeowners whose kitchen arrangement will not experience a major transformation. For instance, if you have Shaker cabinets in a traditional kitchen layout, you can quickly reface the cabinetry and maintain your design structure.
Colors Can Change Your Kitchen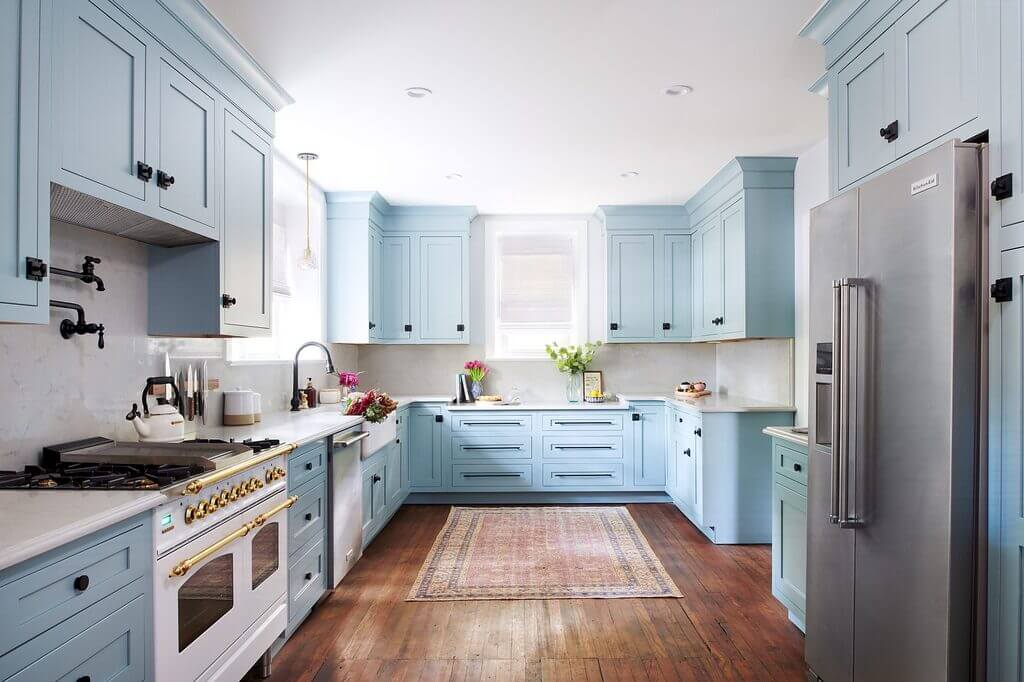 Source: onecms.io
Improve and develop your kitchen update, and add a burst of energy, with wall paint and home décor aspects. Brighten up a neutral kitchen layout with accent walls, lighting, or an assortment of home accessories such as throw rugs, seating, ornamental dishware, and window accents.
Color trends for 2022 vary from lively yellows to soothing blues and teals, to more natural and no-nonsense browns and greens, to pinks and other jewel hues—all great for accents around your new favorite room.
Open Shelving Continues to Impress
Add a feel of expanding any section of your room by introducing a modern and useful open shelving concept. You can use the vigorous effect to create a sense of added height to a room, elevate overall usefulness and avoid the cost of additional cabinet doors.
 Open shelves also offer an exhilarating showcase for your favorite dishware, cookware, and artisan pieces. Create a sense of openness by freeing up your space and mind. Open shelves will work with any design style, from modern to contemporary to country cottage.
Also Read: Italian Kitchen Design 2022: Get a Dreamy Kitchen With These Italian Interiors!
Focus on Flooring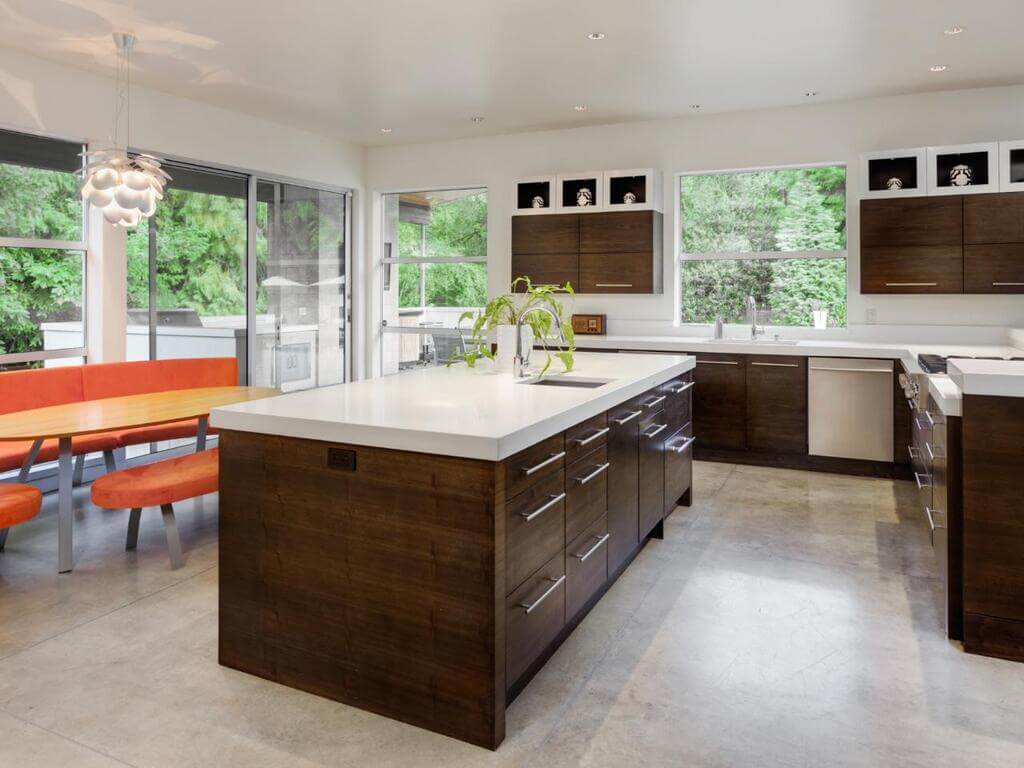 Source: kutskokitchen.com
Save cash with luxury vinyl flooring that looks like fine-grained or rustic wood planks. This flooring is easy to care for and requires practically no maintenance, making vinyl an imaginative and exciting option; it is worth delving into as a component of your remodel. Moreover, chic vinyl is much softer to walk on than tile or ceramic flooring. It is a good option for comfort and charm.
Put Together Flair and Savings
Enhancing your flair in a kitchen renovation project does not need to bust the account. Whether you have white Shaker cabinets, slab cabinets, or other cabinetry, you can save cash with style. Using these design tips, you can start to create the exact kitchen you want today.