Do you love modern architecture and buildings? There is no doubt that architecture and its styles are evolved so much in the past centuries. From the past years, you are seeing the most wonderful buildings are constructing around the globe. Now, it becomes more like a competition, and every country wants to win in this race.
Like the past, this year also the construction and planning of many marvelous buildings are announced or get completed. That's why we have listed the world's top buildings. Everyone wants to visit these fantastic buildings, so come with us to take a virtual tour.
Modern architecture is not bounded to a single style; architects experiment with a variety of architectural styles and materials. From revolutionary radical bowelling architecture to early skyscraper styles, architects try to involve as many techniques to create the masterpiece.
In this blog, you'll get a chance to take a tour of the most iconic buildings in the world.
Here we listed the top Fifteen best buildings in the world:
Academy Museum of Motion Pictures, California
The Academy Museum of Motion Pictures is the world's Premier Movie museum, which is currently under construction and expected to be open by the end of 2019. It is designed by Renzo Piano that features a 1000 seat theater and terrace. There will be a significant impact on visitors to this space as it represents the role of film in our culture.
Beijing Daxing International Airport, Beijing
Beijing Daxing International Airport is the largest single-structure airport terminal in the world. It covers more than 1,000,000 sq. meters ( 11,000,000 sq. ft.). The airport opened just six days before the 70th anniversary of the People's Republic of China (i.e. 25 September 2019). Zaha Architects design the whole design and structure. Its unique shape shows that it is one of the best Chinese architecture in the world. This airport is such a beauty.
Burj Khalifa, Dubai, UAE
Another name for Burj Khalifa is Burj Dubai. Burj Khalifa is a sky-high building situated in the city of Dubai, United Arab Emirates. It is considered to be one of the popular destinations in the world. It has 829.8 m (2,722 ft) in total, with an additional roof height of 828 m (2,717 ft). It receives many awards and also held many world's records.
Central Park Tower, New York
Did you know that Central Park Tower is considered to be a skyscraper residential building in New York City? The building stands straight up to around 1,550 feet (472 m), which provides you the uninterrupted views of the Manhattan skyline. Developed by the Extell Development Company and Shanghai Municipal Investment Group, this tower is located in the beautiful Midtown Manhattan, New York City.
Guggenheim Museum, Bilbao
It is the perfect blend of modern and contemporary art, and the world-famous architect- Frank Gehry constructs this amazing museum. It is not wrong to say that it is one of the most impressive buildings. It was inaugurated in 1987 by King Juan Carlos I in Bilbao, Basque Country, Spain.
Kistefos Museum, Norway
Bjarke Ingels Group created this masterpiece project, which is located in Javnkar, Norway. The ' Twisted Bridge' is as twisted as its name. The designers use precisely articulated materials in the construction of the facade of the Kistefos Museum.
Leeza SOHO, Beijing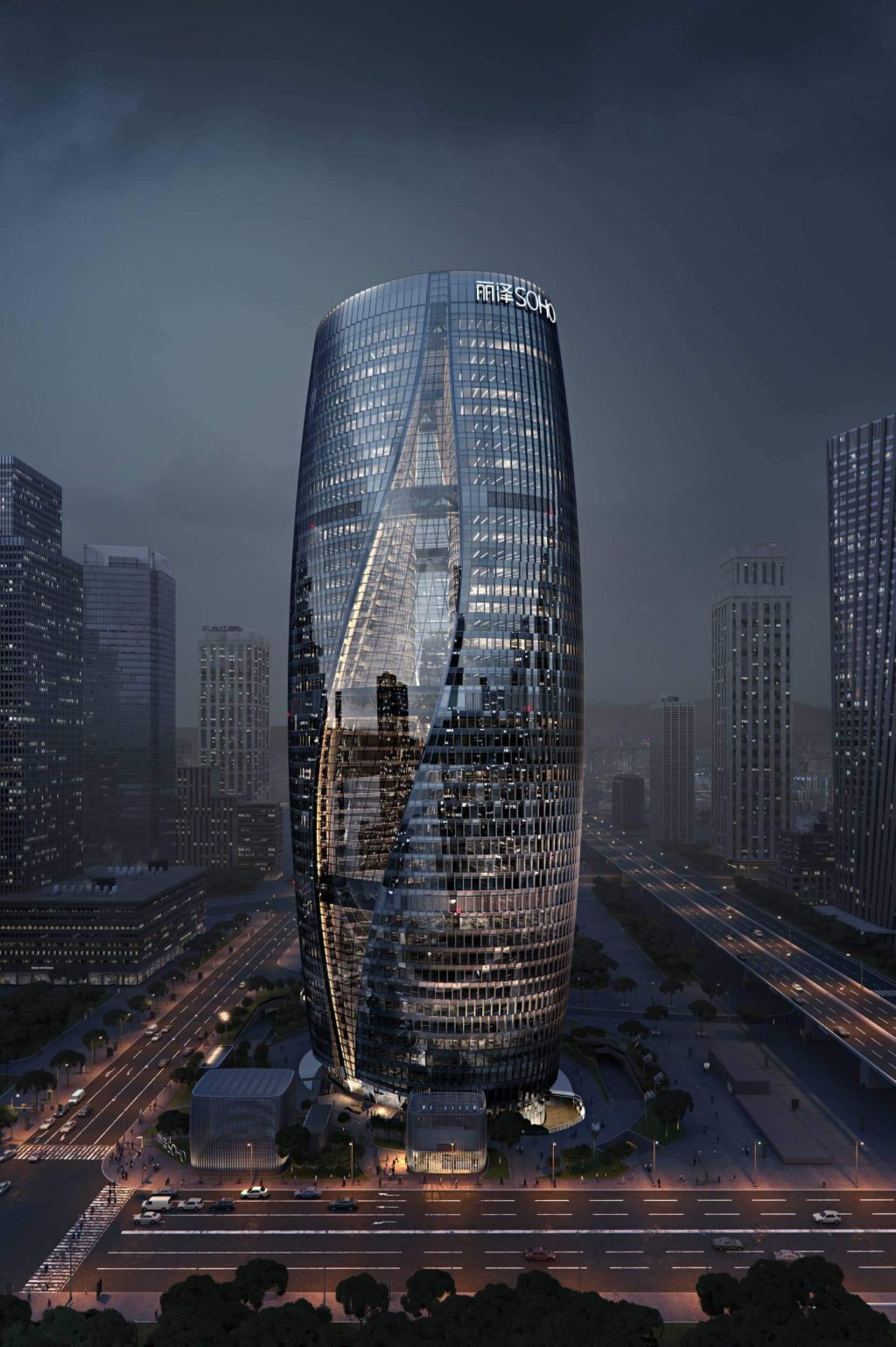 Li Ze Tower or Leeza SOHO is a remarkable twisted glass tower that is under construction. It is located in Bejing, China. Its construction started in 2015, and the goal is to complete it at the end of 2019. Leeza SOHO tower is erecting 623 ft and is guesstimated to be the world's tallest building. The world-famous architect Zaha Hadid designed this building and developed by SOHO, China.
Lloyd's Building, London
Based in London, Lloyd's Building is also known as "the Inside-Out Building." It is located at close proximity to the former site East India House (Lime Street). You can consider it to be an excellent example of Radical Bowelling Architecture. In this style, lifts and ducts are designed to the exterior of the building to save the interior space. In 2011, it was listed in the Grade I listing, which was never happened before ( as it is newly constructed).
National Museum of Qatar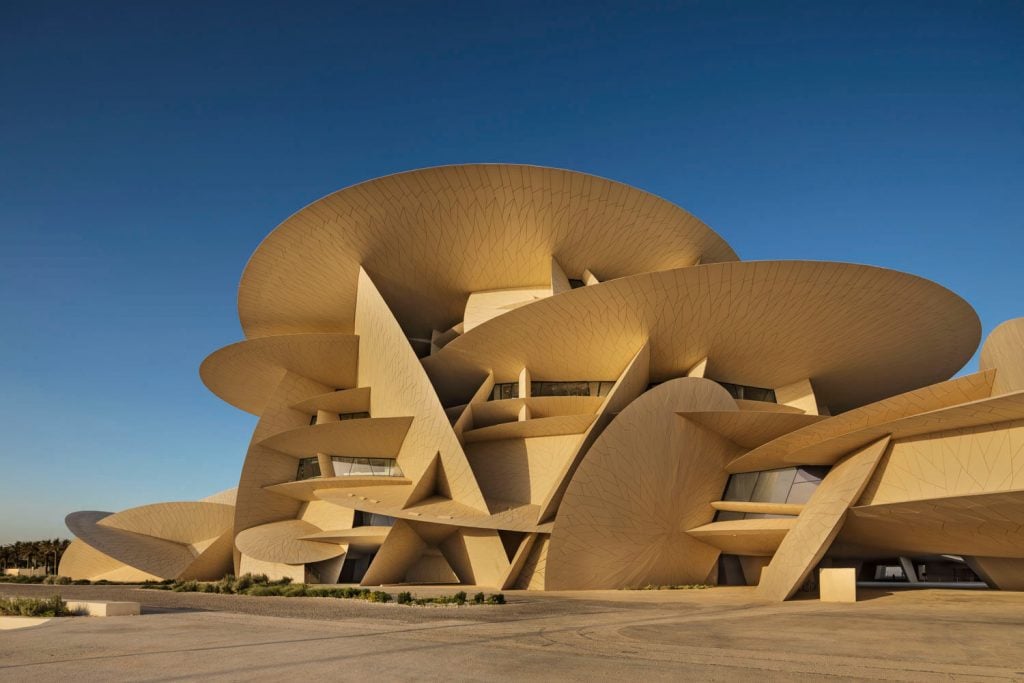 You have never seen any museum like this before. National Museum is situated in Doha, Qatar, designed by Jean Nouvel. The whole structure resembles a desert rose, its roofs are exactly like rose petals. The overall color palette is kept beige to blend in the surrounding desert. This national Museum of Qatar gracefully and proudly define the country.
Sydney Opera House, Sydney
Sydney opera house is regarded as one of the best architectural works. The overall estimated cost to build opera House was around $102 million. Its construction started in 1959 and took around 14 years. About 10,000 workers were involved in the completion of the whole structure. The amazing part is, in the year 2007, it was integrated into the reputed UNESCO's World Heritage List.
The Flatiron Building — New York City, USA
The Flatiron Building was originally known as the Fuller Building, which is a 22 storey building. Its height is around 285 feet (86.9 m), which was one of the tallest buildings in New York City ( in 1902). It is also called " one of the world's most iconic skyscrapers and a quintessential symbol of New York City."
The Shed, USA
This spectacular building is designed by Diller Scofidio + Renfro and Rockwell Group. The year 2019 was very significant for this building as it was officially opened for the public. This breathtaking venue offers spaces for performances, events, and exhibitions. Located on Manhattan's West Side, which is as beautiful as the structure.
Under, Norway
Under is a monolithic structure that is submerged in the water. This is the first underwater restaurant in Europe, and as well in the world. Designed by the Norwegian firm Snohetta, which can able to accommodate 100 people across three floors. "Under" is around 110 ft long and 16 feet beneath the surface of the North Sea. It also has large glass windows so that you can enjoy the panoramic views while having your lunch.
Vessel, USA
Want to explore a honeycomb? Visit the Vessel building, here you'll get a new experience. Designed by Thomas Heatherwick, who is known for his extraordinary architectural skills.
The structure rises to 16 stories in the form of a honeycomb with 2500 steps and more than 80 landings. Hudson Yards developer funds the whole project, and its final cost is estimated to be around $200 million.
Wuxi Taihu Show Theater, China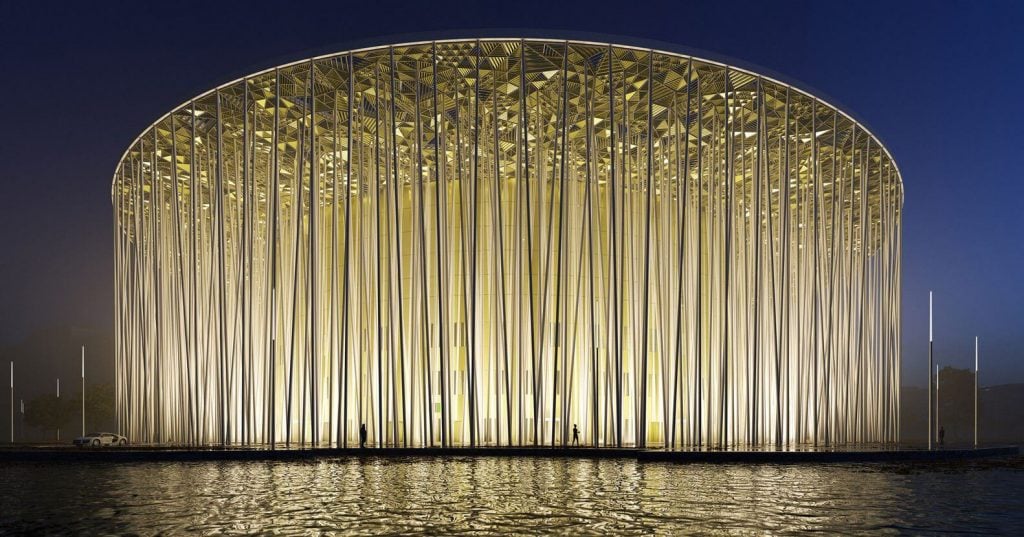 You'll be amazed to know that a bamboo forest inspires a building. That building is Wuxi Taihu Show Theater, located in Wuxi, China. The theater has an astonishing metallic roof that surrounds by white columns. Architect Steven Chilton took inspiration from the 'Sea Bamboo,' a National Park. People really did love and praised this structure very much, and it is also open all year.
Here are some of the best five best designed buildings in the world.
Here you got all the information about the most famous buildings in the world. Some of them also held the world's records. From planning, the groundwork to their construction is an immense example of architecture. After reading this piece of content, you realized that architects had done a really great job. Now, you can believe that everything is possible to construct.
For additional insights: