Is your outdoor looking dull and soulless? Do you want to transform the outer space? Add a striking gate to it. Gates are the first thing we noticed when we enter any house. Fence gates are also as important as house door. They make your home look more appealing and create more personalized space. Fence gates are the perfect element to blend the outdoor area altogether.
It really doesn't matter whether you're living in a city or the countryside, whether you have a large backyard or small, fence gate will make your home stand out from others. From simple chain link fence gate to a complicated one, you'll find here gates for every wall.
A single gate can dress up the whole outdoor area so, take inspiration from the below ideas and make your outside space interesting and fun.
Here are Thirteen fence gate design ideas to inspire you to create a unique gate:
Picket Fence Gates
White Picket Gate
Source: pinimg.com
White Picket gates are the traditional gates, and they might remind you of your grandma's house. They look similar to the English countryside gates, which we already know but people are still going for this type. White Picket fence gate looks splendid when surrounded by bushes or shrubs. Anyways shrubs and bushes are optional, either you can go with them or avoid them. If you have a confusion about the fence gates, then definitely go for this fence gate (safest option to go for!).  
Arched Picket Gate

Source: wixstatic.com
The arch-shaped fence gates have Z-pattern supporters to them. They come with large posts and fancy looped gate handles. A large fence gate will stand out from the boundary walls, and hence it gives a unique twist to the outdoor space.
Vinyl Fence Gate
White Vinyl Railed
Source: vinylfenceanddeck.com
Vinyl fence gates are classic and timeless. Due to the material (vinyl) used, they last much longer than the traditional wood fence gates. They will also give protection from the sun and harsh weather. White Vinyl railed fence gates look as good as other fence gates, so you don't have to compromise on the looks. The only thing that can bother you is its price. These types of gates are kind of expensive, but it's always good to invest in quality things… right? 
Double Vinyl Fence Gate
Source: pinimg.com
With up and down pickets, a double vinyl fence gate also has z- pattern rails for support.
They have large and beautiful handles and latches. You can place many large detailed posts to add an extra beauty factor to the gate. The double vinyl gate will look absolutely gorgeous in your flowered yard. You'll get all the benefits of vinyl in this classic-looking fence gate.
Privacy Vinyl Fence Gate
Source: plasticlumberyard.com
As its name suggests, Privacy Vinyl Fence Gate, it will provide you with enough privacy. It has the slats that touch the post with the frames. It is the perfect option if you have a pet because small pets can hurt themselves by putting their heads in the spaces. It also gives you sufficient privacy by blocking the unsightly areas. This fence looks good in the well-groomed yard and will definitely stand out among all the neighbor fence gates.
Wood Fence Gates
Pole Fence Gate
Source: logproducts.com
This fence gate is made from natural elements like poles and tree branches. Even the Z- support is made from a natural pole. It is connected to the fence by metal henges and has a staggering top. This gate proves that you can make your fence gate with any material, and it will look incredible.
Solid Wood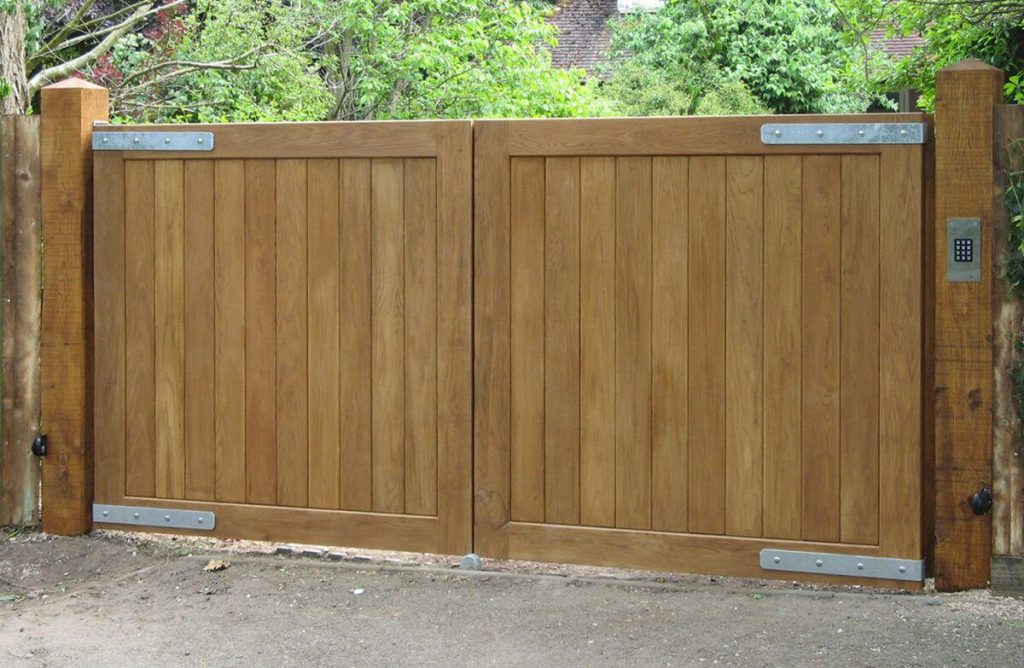 Source: pinimg.com
Wooden plank fence gates are used in gardens for decades. People love to have classic wooden plank gates as their garden entrance. But nowadays you'll see a lot of varieties in these, their shapes and designs have changed, and became more modern and classic. You can include an arch-shaped frame and iron handles to the door.
Bamboo Gates
Source: bambooimport.com
Do you want a unique and tropical appealing fence gate? Then the bamboo fence gate is for you. They look totally alluring and will give you a proper tropical feeling. As bamboo is a strong material, they are safe, secure, and can last up to many years.
Metal gates
Horizontal Slats
Source: googleusercontent.com
Fence gates with horizontal slats look elegant, modern and minimalistic. They made from rough steel; hence, they are strong enough to give proper security. They look wonderful with a white concrete fence.
Etched Metal Fence Door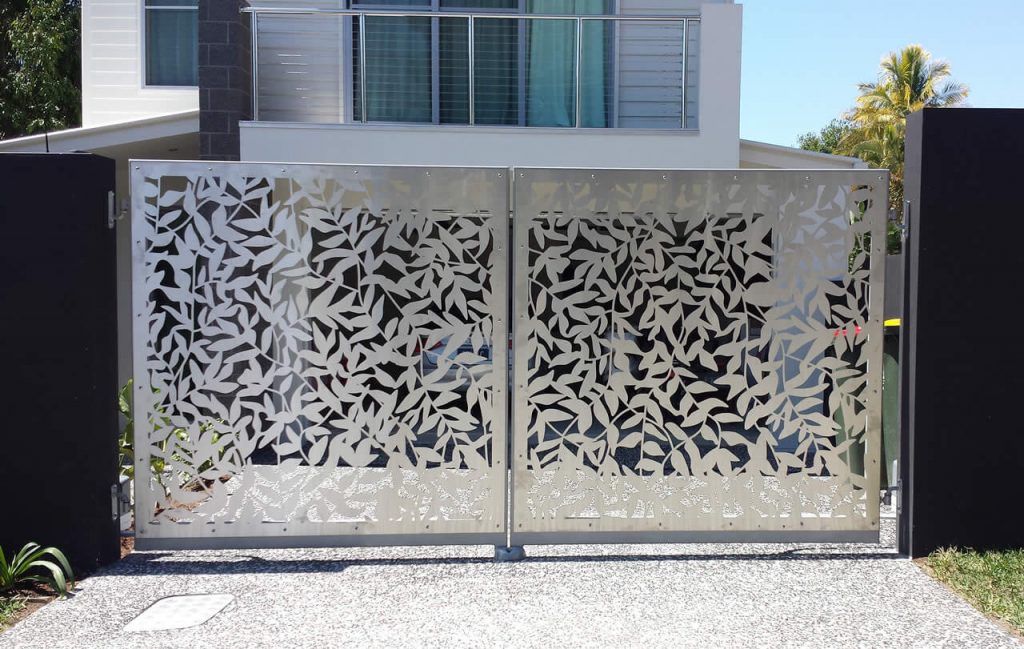 Source: ultimatedoors.com.au
Metal is another material that is high in demand. And we are not talking about ordinary metal gates. There are numerous options that are available in the metal gates. The etched metal gate looks absolutely fantastic with the brick walls.
Colored Fence Gates
Who doesn't like colored fence doors? They add character and dimension to your entranceway.
Purple Beach gate
Source: illusionsfence.com
Love beach? Then bring the beach-vibe to your place by adding a beach gate to your yard. Paint the simple picket gate into a fun purple color and add a rope latch to get the perfect beach look.
Green Ranch gate
Source: pinimg.com
Already have a wood fence gate but want to remodel it? Paint it in green color. When diagonal rails on the slatted frame are painted in blue-green color, it will bring the perfect rustic farmhouse vibe.
Gate On Wheels
Sliding Doors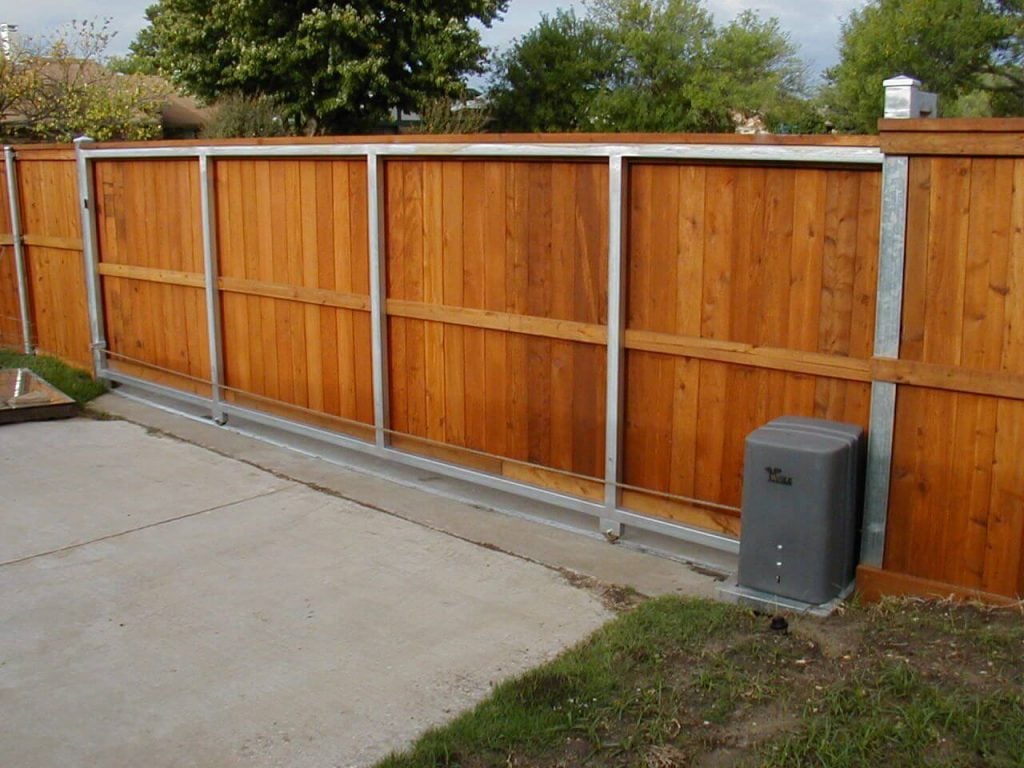 Source: pinimg.com
A sliding door is also the best choice as a fence gate because when a gate is huge, it's tough to move it by hand. So putting it on wheels makes the task much easier, and they also look stylish. 
Here is some information about San Diego commercial door services.
To Sum Up:-
We hope that the above fence ideas will give you some inspiration to recreate your fence gate. Privacy, security, and appealing factor are the significant benefits of a fence gate and wall system. But in the end, you have to decide what kind of fence gate you want and also you can check out more at Architecuresideas.