The modern farmhouse decor style has been the 'it' style of interior design lately. Modern farmhouse is a style that renders a space looking effortlessly timeless yet warm and cozy at the same time. These spaces have a nostalgic country home feel along with a modern twist.
People all over are embracing this style not just for the way the space feels, but also because it is an easy-to-implement style that can be achieved in any given space. We've curated a comprehensive list of 30 charming modern farmhouse decor ideas that you can take inspiration from.
What is Modern Farmhouse Style?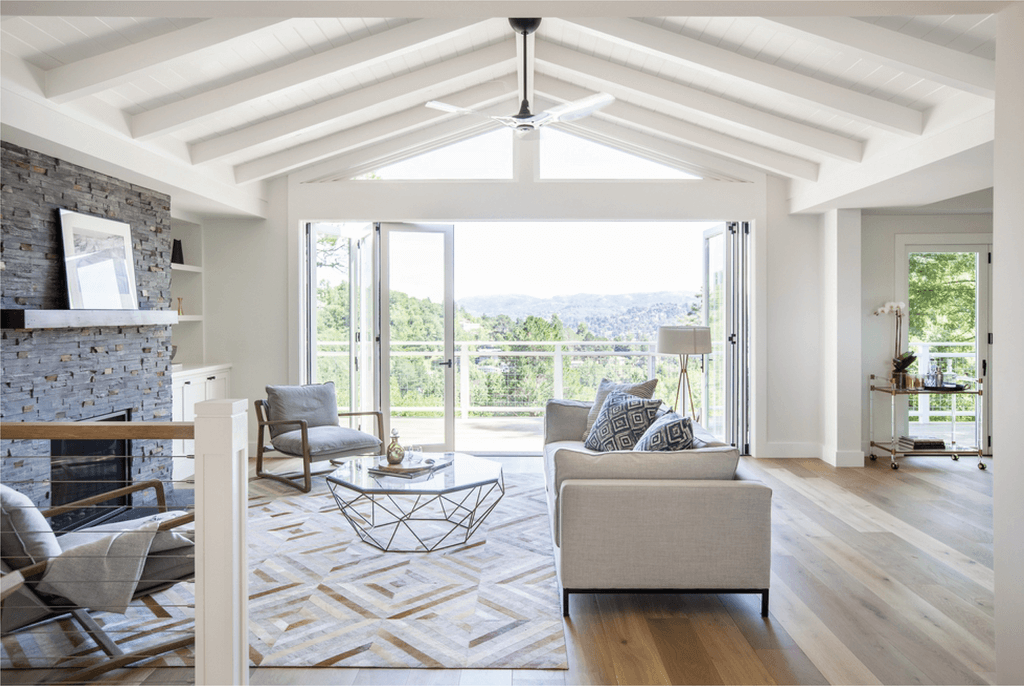 The modern farmhouse style is all about comfort and welcoming appeal. It combines old-world charm along with modern materials to create homes that make you want to stay in. The style is cozy, yet minimal. It just does what's enough to make you feel at home.
The traditional farmhouse style is all about extravagant elements, with vintage furniture, traditional ornate furniture, and rich fabrics. The modern farmhouse style however is much more simplified and minimal, it is minimal, and borrows materials from the modern style.
Streamlined elements adorned in a neutral color palette, with a few warm hues here and there are staples of this style. It embraces and enhances the connection to nature by the use of large windows and natural materials.
The style is trending today owing to its comfortable feel that makes one feel close to their traditional roots. It oozes warmth and a welcoming feeling and uses a modern minimal approach.
5 Characteristics of a Modern Farmhouse Decor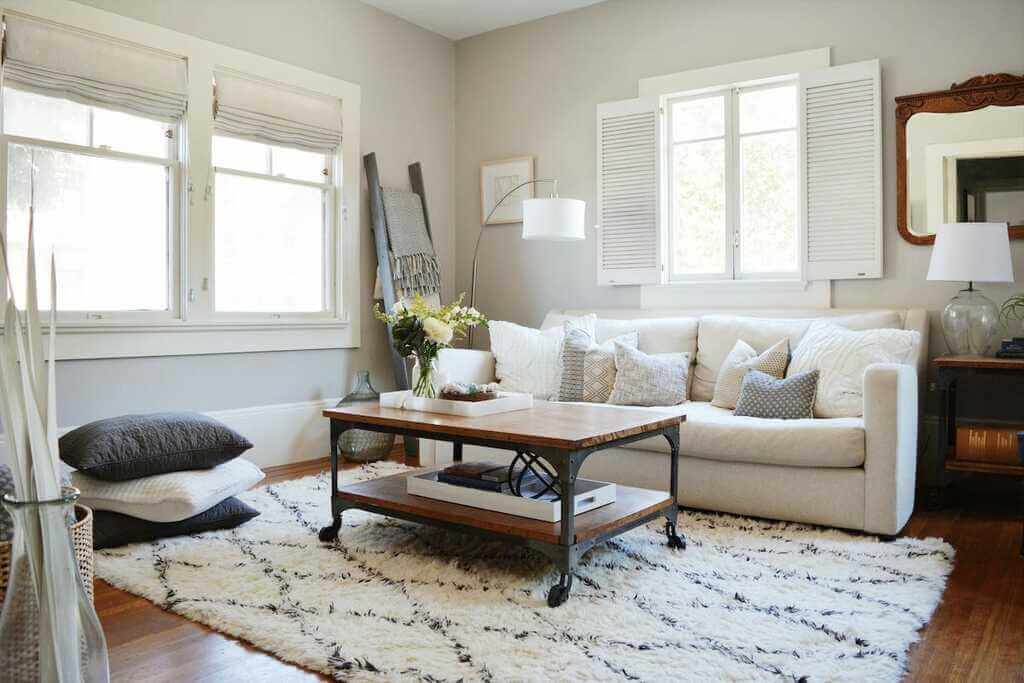 Streamlined Elements: The style uses elements and industrial pieces that look chic yet are extremely comfortable.
Neutral Color Palette with Warm Accents: The style uses a neutral base color palette along with accent pops of colors.
Natural Materials and Textures: Modern Farm house ideas embrace the rustic vibe of natural textures and materials. They make the space look effortlessly rich. It adds depth and character to the space.
Experiment with different Materials: The style uses a diverse material palette. From the age-old traditional wood to modern industrial metals and glass, it brings it all together in one space.
Layer with Textures: Layering is extremely essential in the modern farmhouse style. Nailing the right look requires the addition of several different textural elements that makes the space rich and comfortable.
30 Charming Modern Farmhouse Decor Ideas to Spruce Up Your Home
1. Opt for Sleek Clean Lines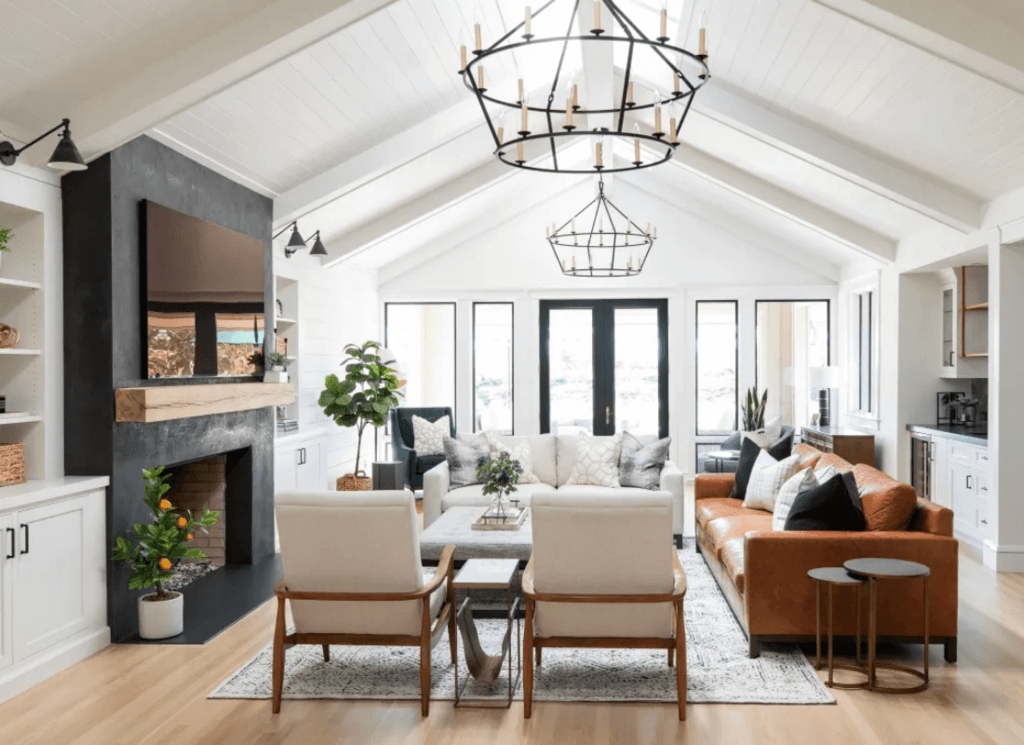 The key to nailing the modern farmhouse style is opting for sleek clean lines. Streamlined furniture and elements give a space a charming modern look. This helps one create an understated aesthetic that is exactly what the modern farmhouse decor style is all about.
2. Use a Mix of Wood and White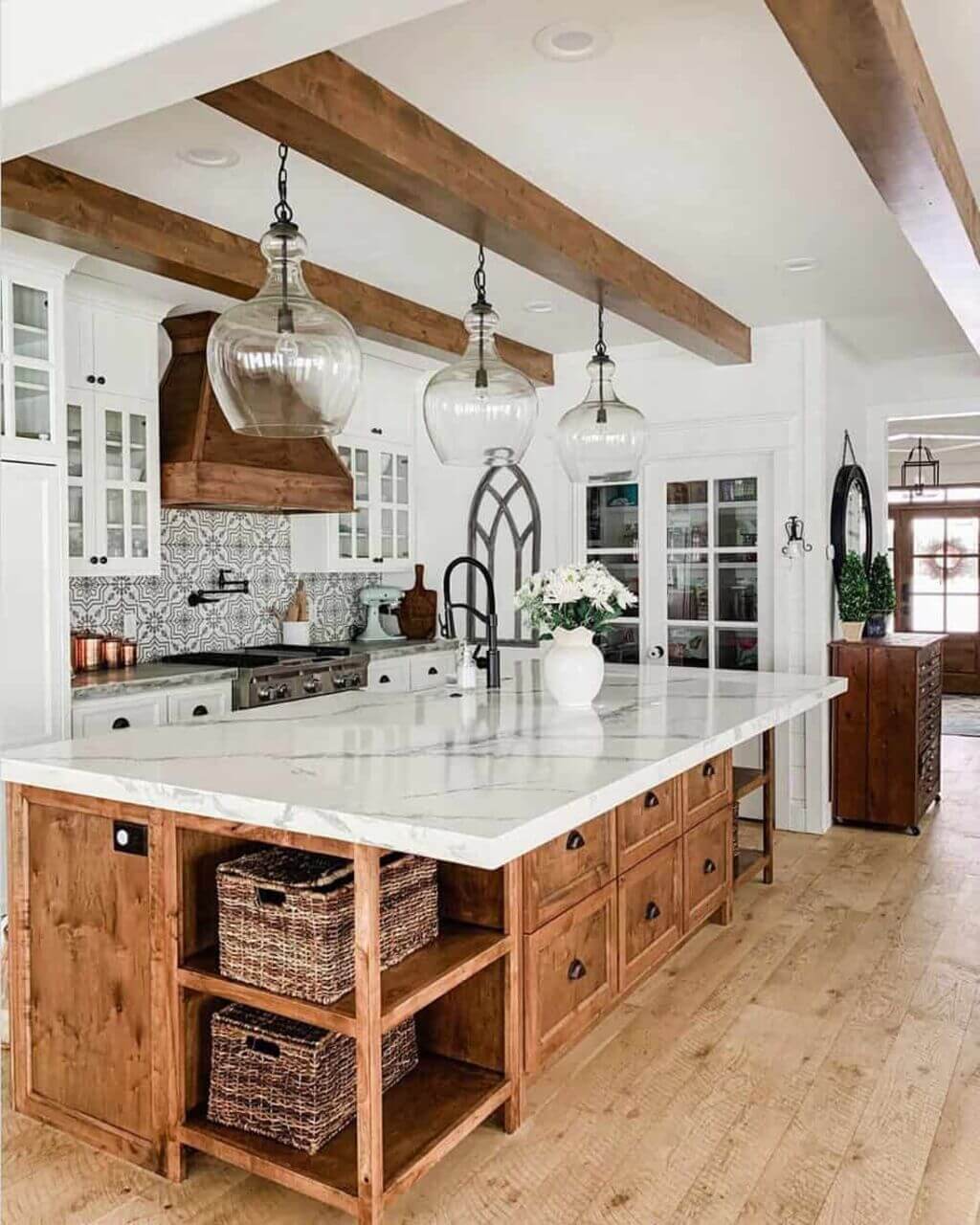 Using wood against all-white interiors is the best way to make a minimal space feel cozy. The warm vibe of the wood creates a comfortable inviting ambiance. You can incorporate wood in several different ways like in the form of flooring, furniture, or the ceiling. Curate a  charming rustic modern farmhouse interior with this method.
3. Let-in Ample Light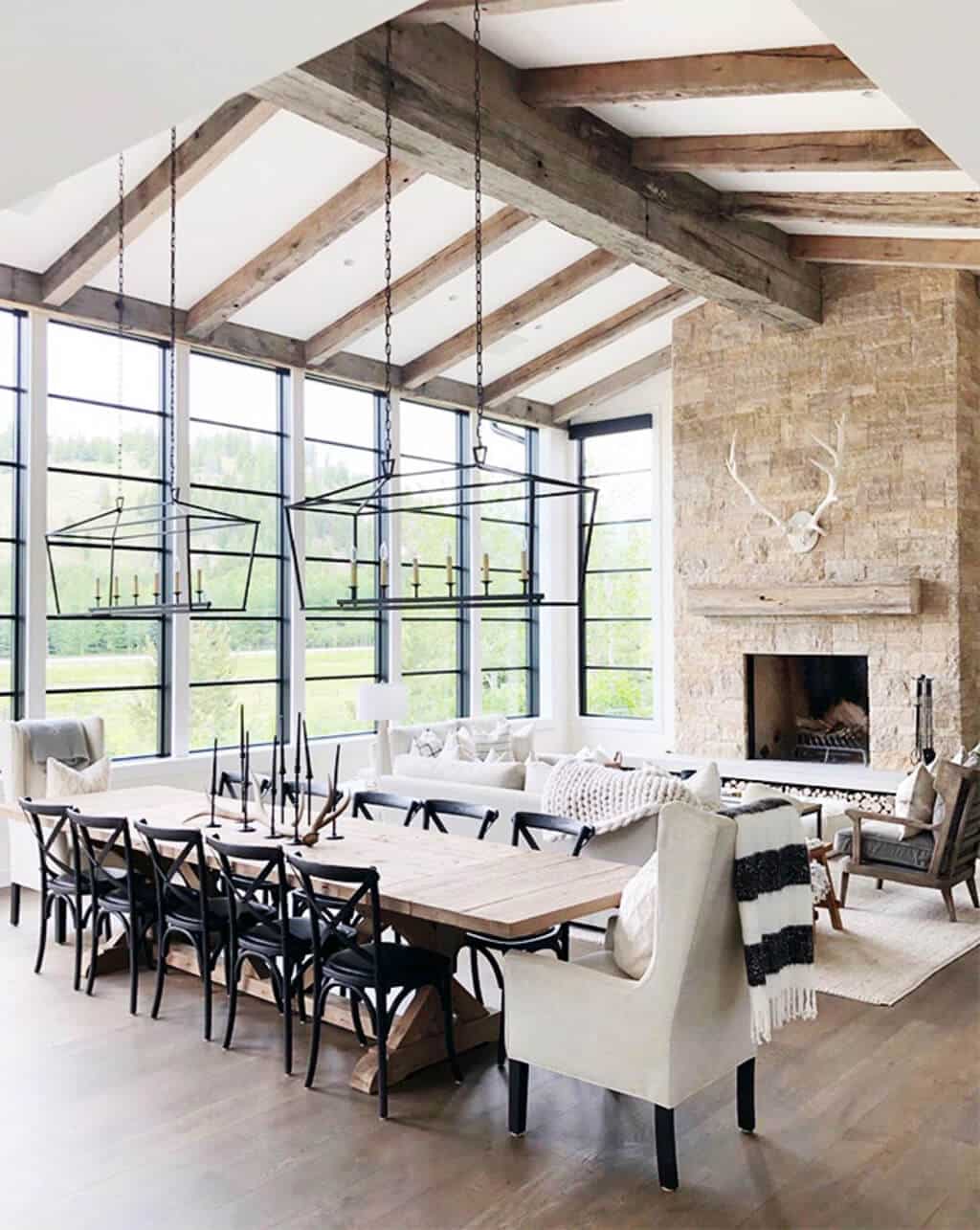 The architecture of the house is just as important as the decor when it comes to modern farmhouse interior design ideas. While the traditional farmhouse style is all about the cozy feel, the modern one is all about simplicity and connection to nature. Go for larger volumes with ample light flooding into the space. This ensures that the space feels comfortable and grand.
4. Hop on the Shiplap Trend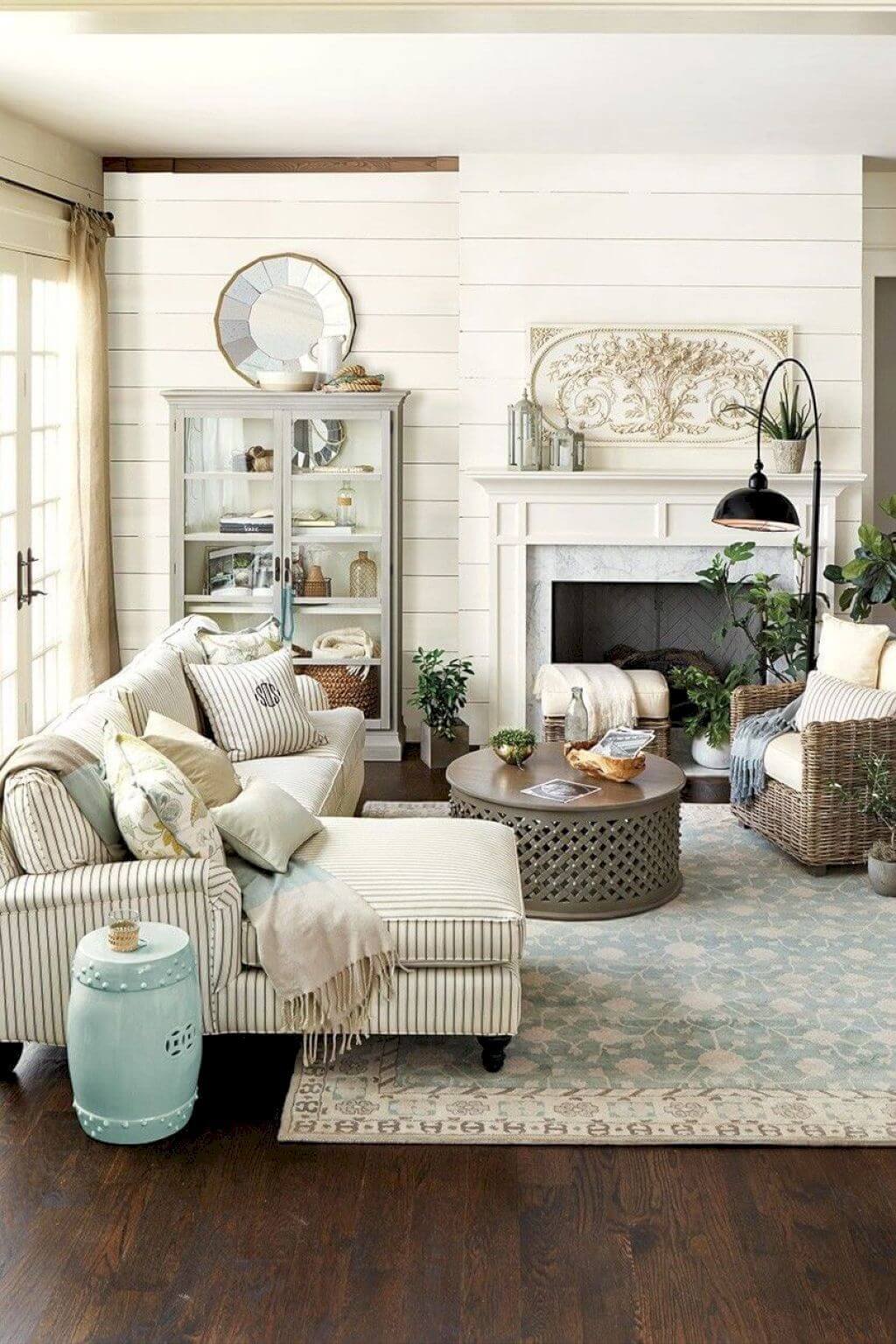 Shiplap is a type of wooden board that is used for making barns and sheds. Using shiplap is a great way to add visual interest to a space. The streamlined aesthetic of which is a balance of the nostalgic country home and a modern look. Hop on this trend for creating a modern farmhouse design. Use it creatively in unusual spaces, be it accent walls, ceilings, furniture, or as half-wall paneling material.
5. Incorporate A-Frame Roofs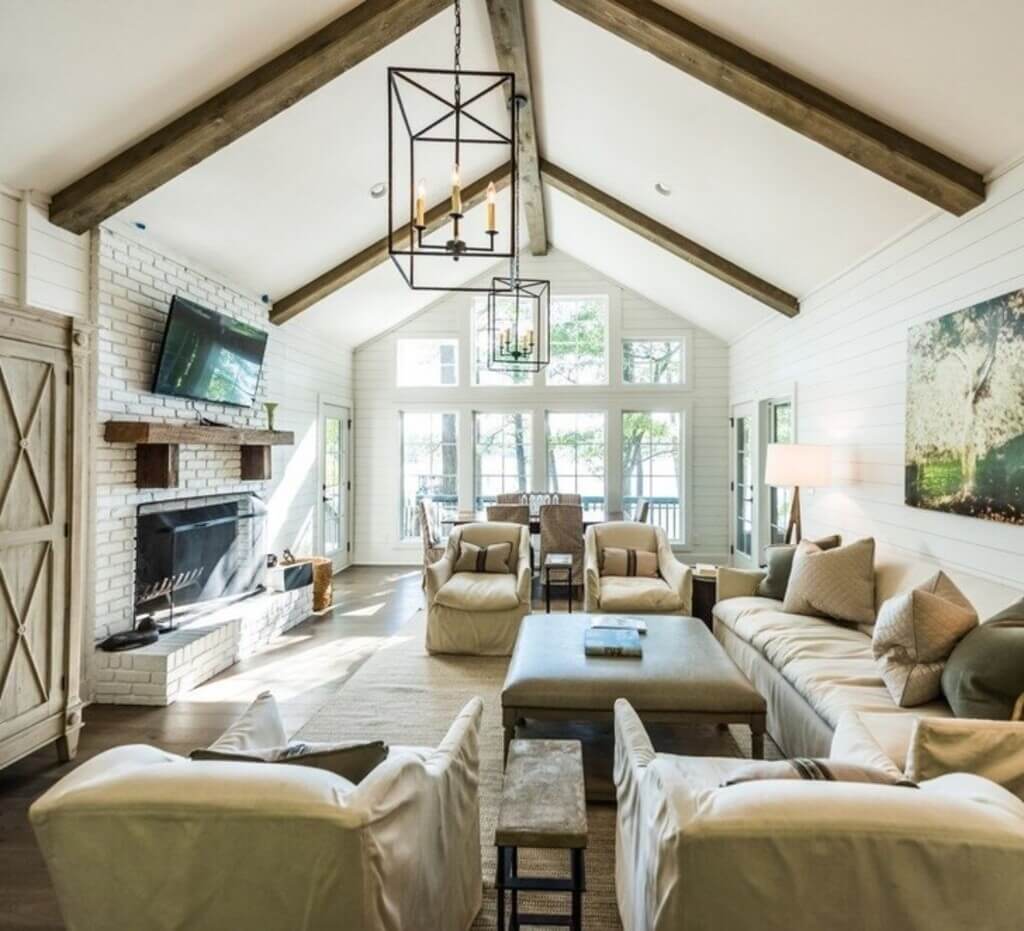 A-frame roofs are simply charming. They are a modern adaptation of the age-old gable roofs that were a staple of traditional country houses. It brings a very homely and cozy vibe to the space. Keep your members exposed for an added rustic appeal.
6. Layer with Metallic Accents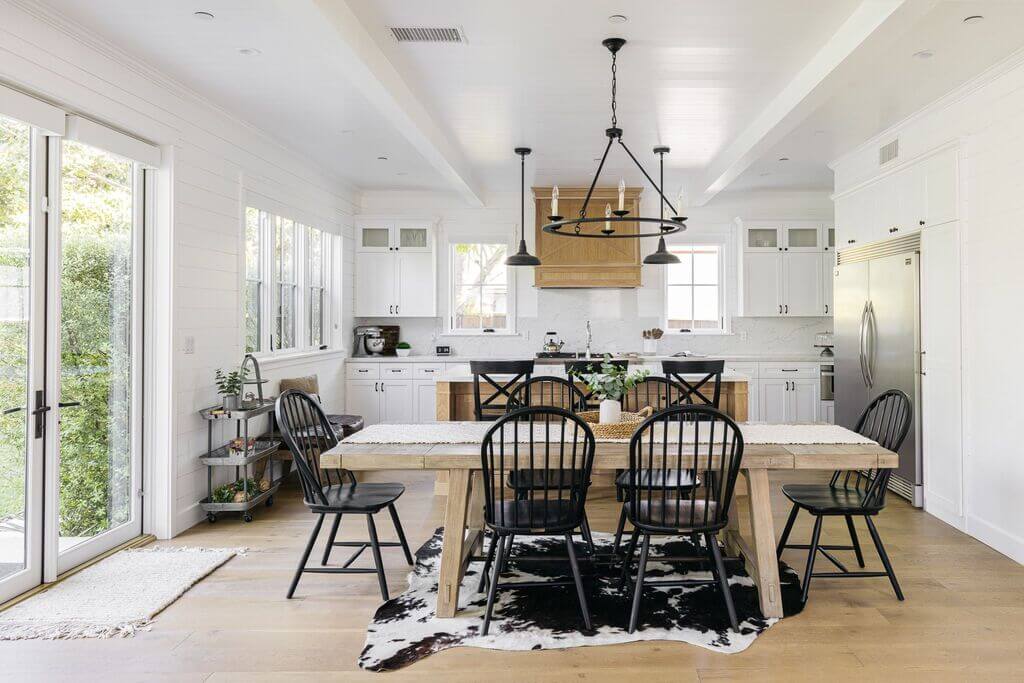 A quirky modern farmhouse decor idea is to add different metallic accents to the simple cozy home. This gives the space a touch of modernism and makes the space look sophisticated. Use contrasting color schemes, and go for bold blacks or rustic copper accents. Stick to streamlined pieces.
7. Go for Wooden Floors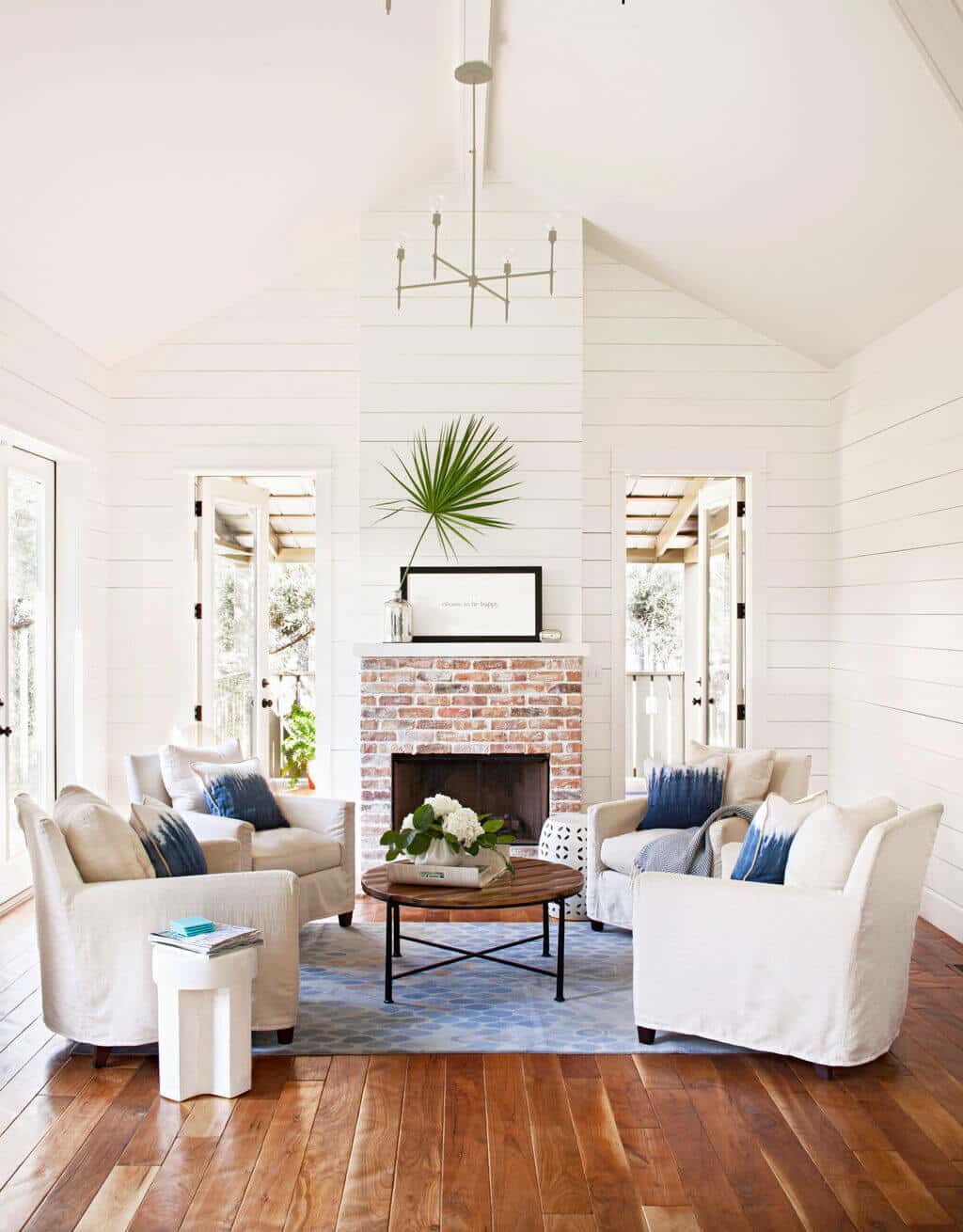 Wooden floorings are the way to go when it comes to modern farmhouse interiors. The warm elegant aesthetic of simple wood creates a welcoming vibe in the space. You can go for different types of wooden floors to add character to the space. Simple battened floors, herringbone patterned tiles, or planks are just a few types of floors you can incorporate to get the perfect farmhouse look.
8. Stick to a Neutral Palette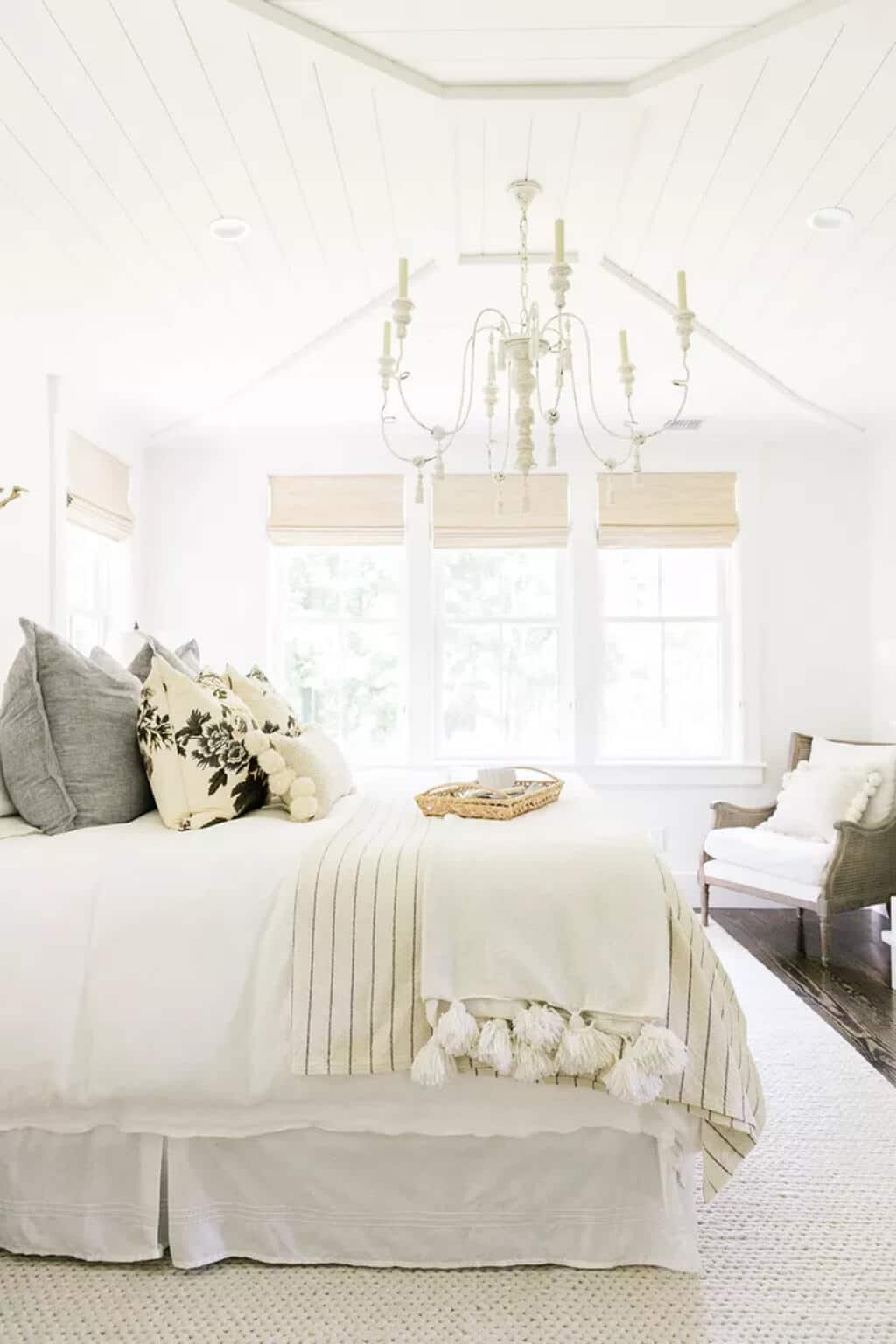 When it comes to modern farmhouse decor style, always start with a neutral color palette. This creates a minimalistic modern looking space, which is what the modern farmhouse style aims to achieve. Go for all whites, tans, and hues of browns or grey as the base color.
9. Let the Structure be Exposed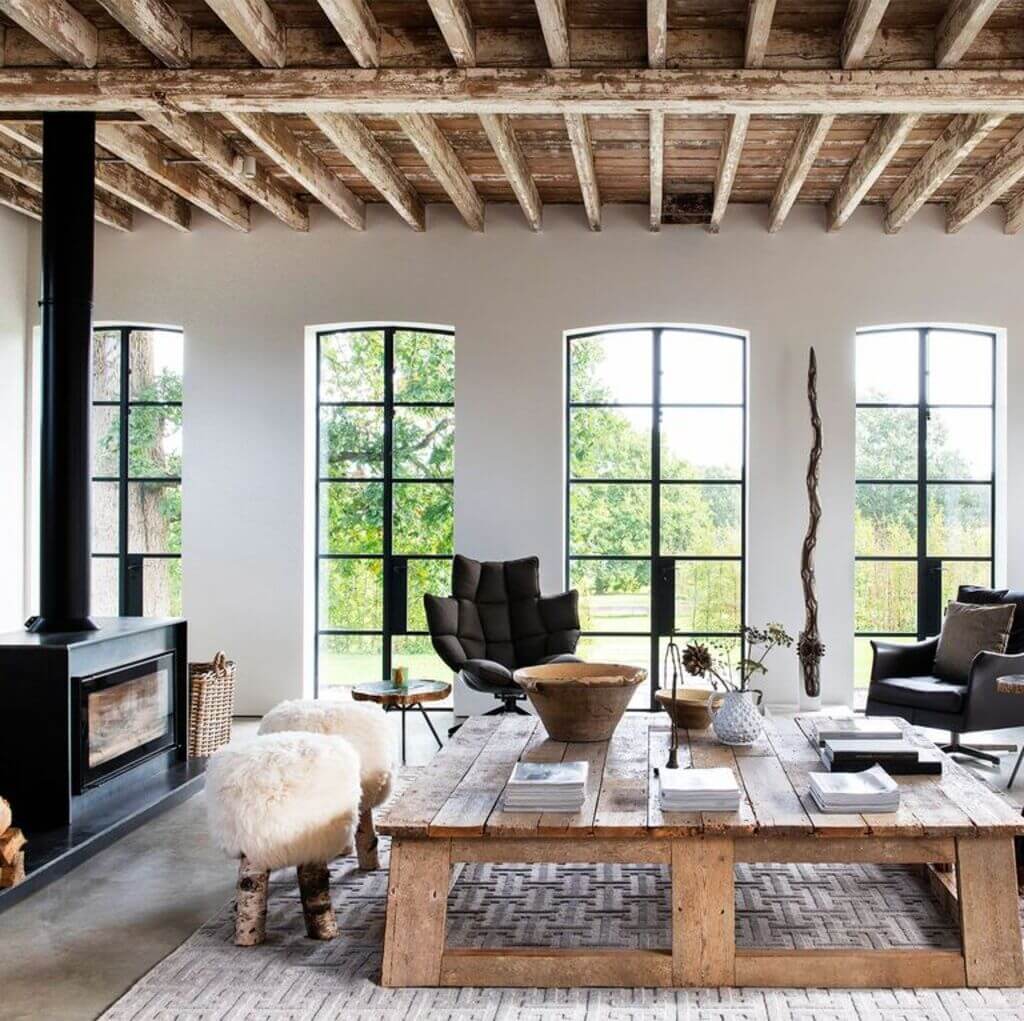 The modern farmhouse style is an amalgamation of the modern, rustic, industrial, and farmhouse styles collectively. Thus, it embraces the rugged aesthetic of exposed materials and members. Keep your structure exposed. Let the beams and be seen, use an exposed brick wall as an accent wall. Incorporate elements in their raw form without any unnecessary ornamentation.
10. Pick Distressed Furniture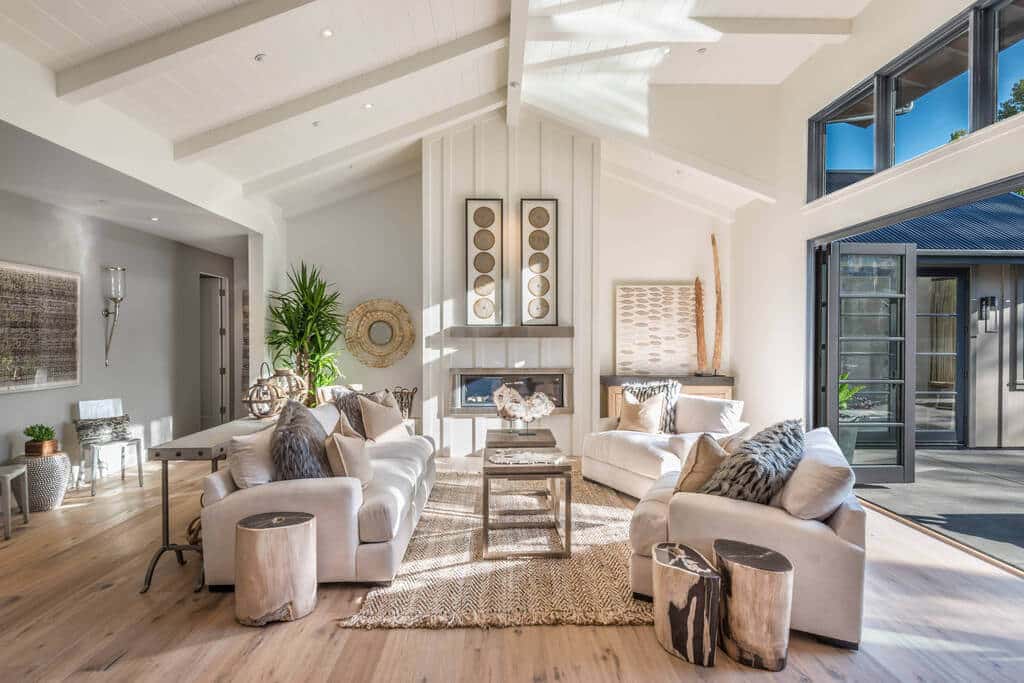 Another way of getting the rugged rustic look is by the use of distressed elements. Pick distressed or upcycled furniture. Make sure you're sticking to clean and sleek elements. Avoid bulky or sculptural forms.
11. Opt for Natural Materials and Textures
Natural materials have a coarse look that is ideal for striking the right balance between modern and farmhouse styles. Go for handcrafted furniture pieces and elements having rough textures. The contrast between the subtle palette and stark texture of natural elements creates a bold statement within the space.
12. Add Open Shelves and Built-in Cabinets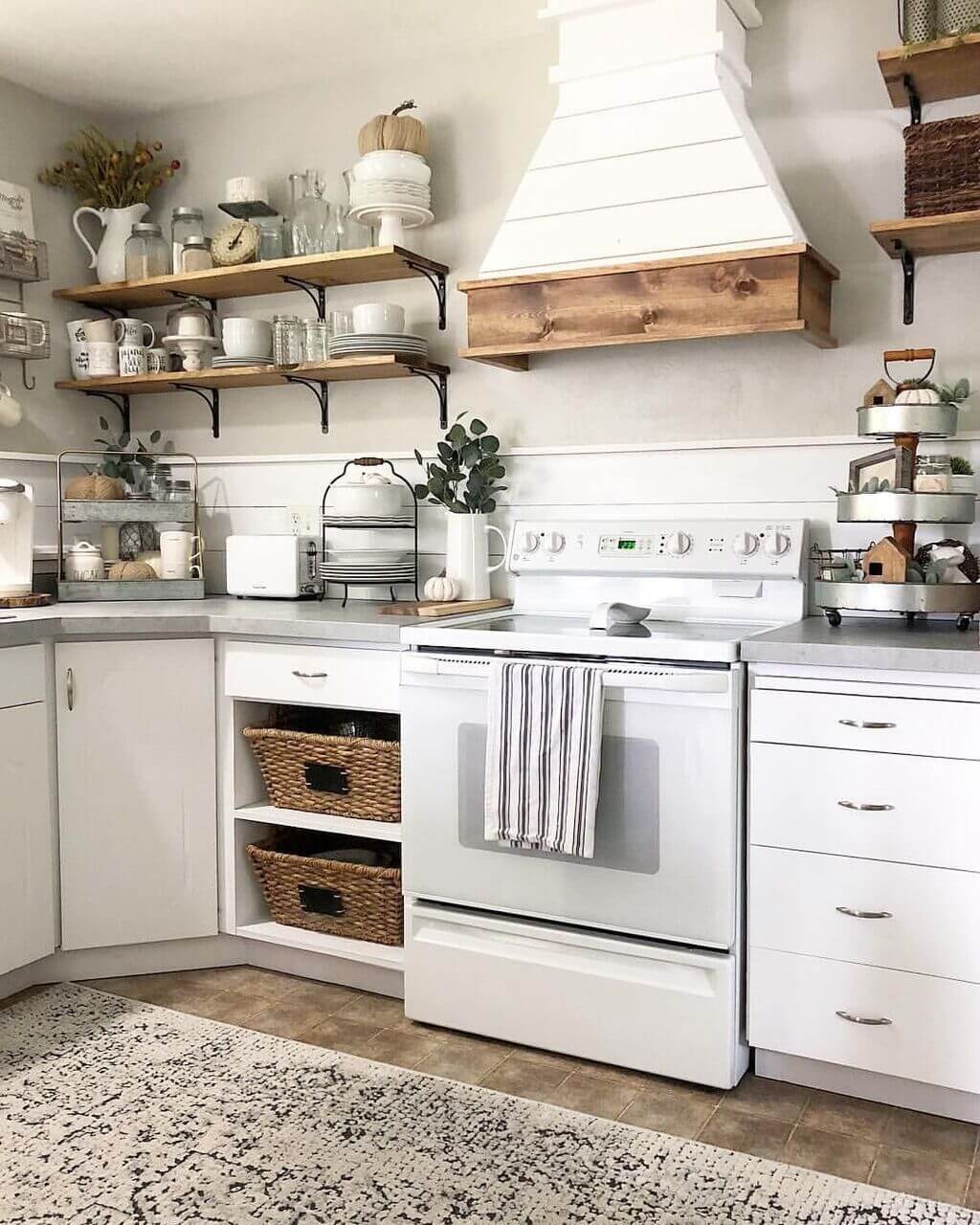 The modern farmhouse style is simply effortless. It aims to have a relaxed approachable vibe. The best way to achieve this, especially in your kitchen space is with the use of open shelves and built-in cabinets. Use simple wooden planks as shelves, and display your exquisite collection of crockery to make a statement.
13. Focus on the Light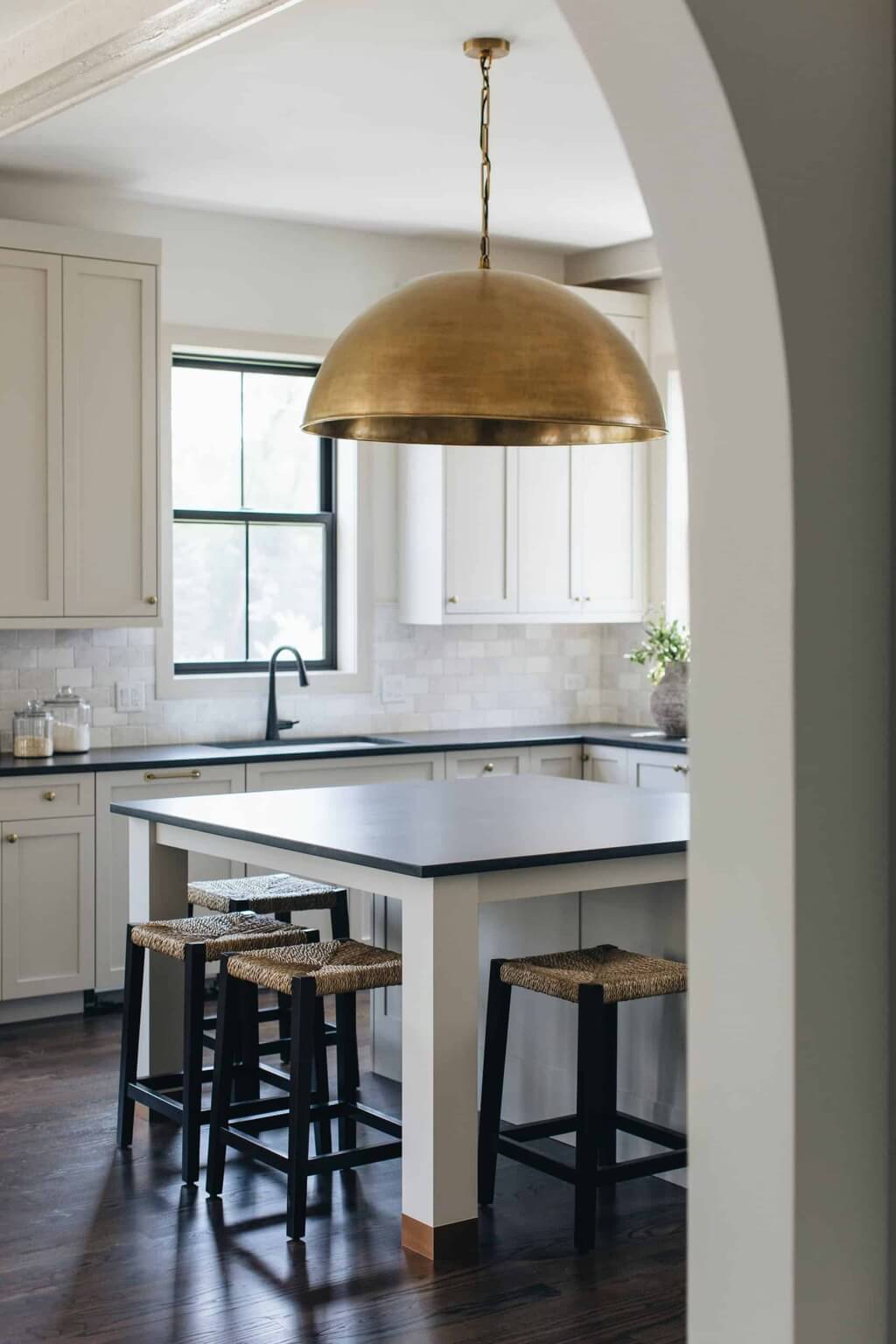 Make a statement with your lighting design. Go for industrial-style light for a simplistic modern aesthetic or sculptural hanging lights for a contrasting look. The kind of light fixture you use determines how comfortable a space looks. Incorporate different quirky light types, such as floor lamps, table lamps, chandeliers, or wall scones.
14. Keep the Interiors Spacious and Airy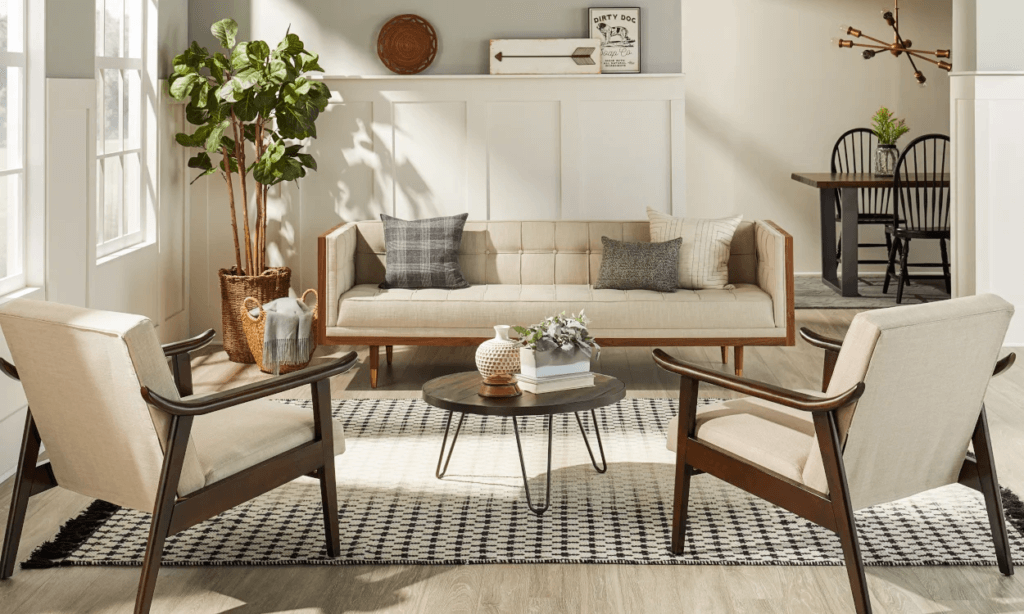 The modern farmhouse style is about doing the bare minimum to achieve a relaxed comfortable and warm vibe in the space. This essentially means the space should have lesser elements and look clutter-free. Keeping the interior spacious, free-flowing, and airy is ideal.
15. Jazz your Space with Warm Accent Colors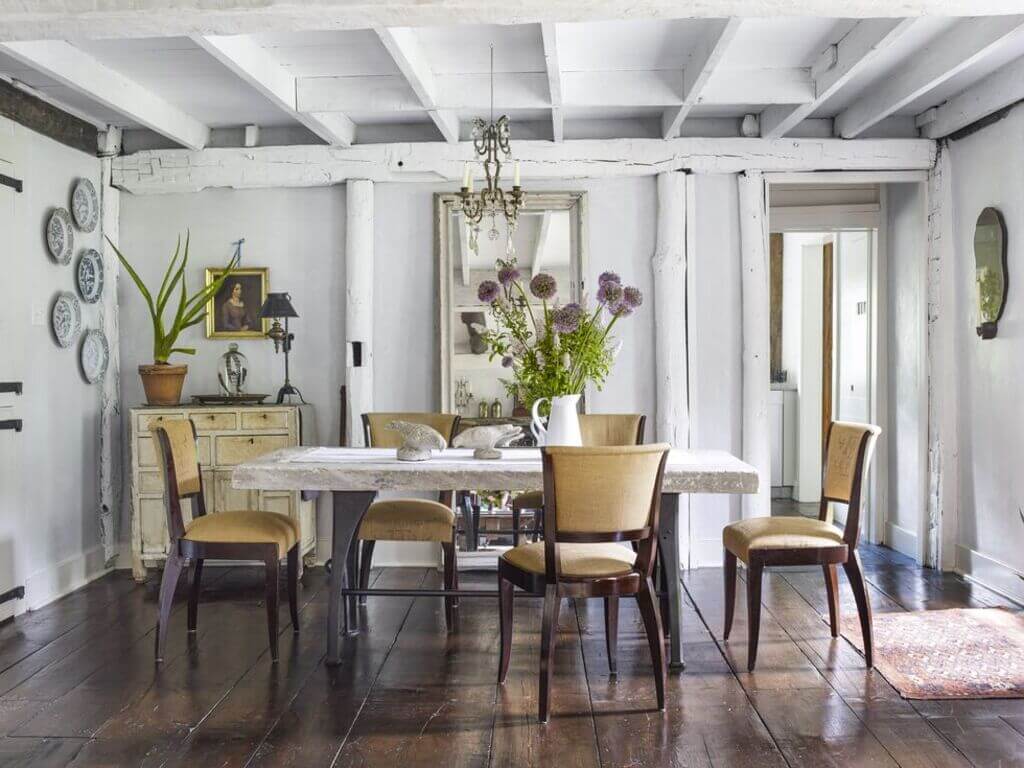 A warm pop of color enhances the welcoming appeal of a space. Incorporate hues of yellow, orange, or brown to add to the visual dynamics of the space. Bind the color with the rest of the neutral-toned space for an alluring spatial aesthetic.
16. Keep it Minimal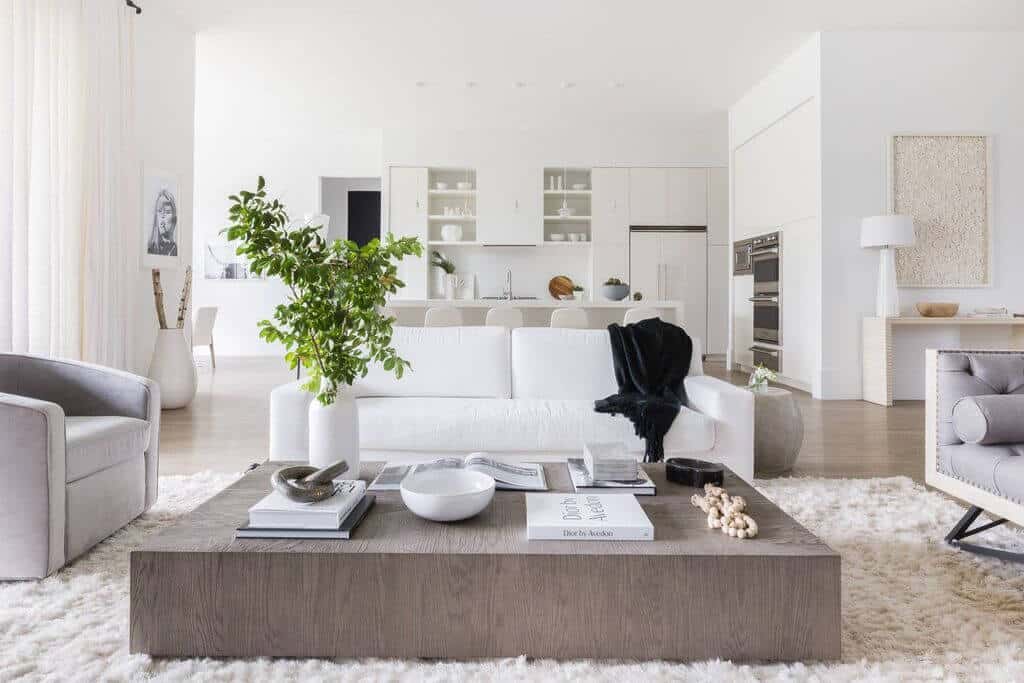 Aim for a minimal look to create a sophisticated modern farmhouse design. Go for streamlined functional elements for a clean aesthetic. Let the basics be simple, and layer with textured accents. Ensure that all the pieces used in the space are more functional and less ornamental.
17. Bring in the Vintage Heirlooms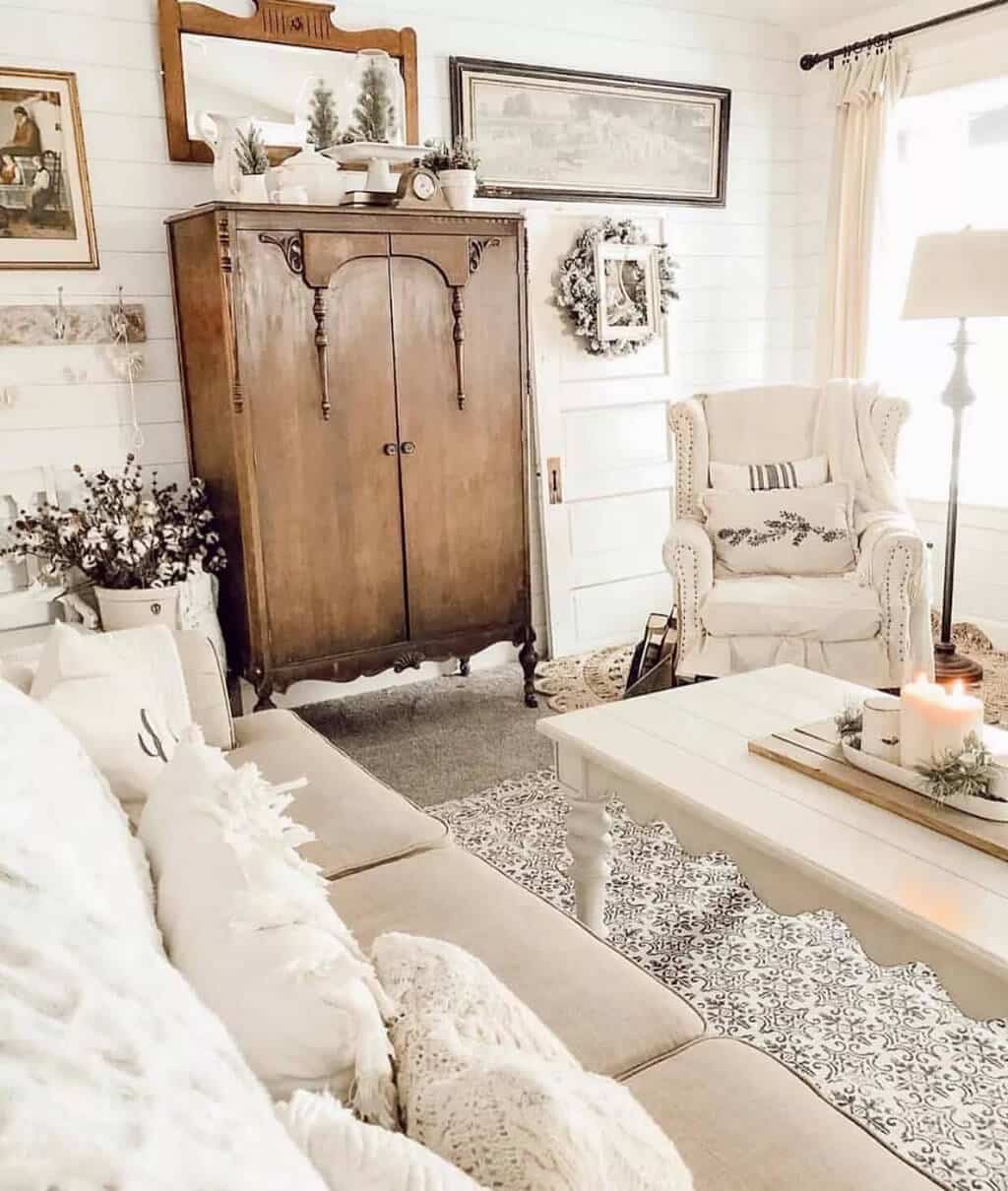 The modern farmhouse decor style loves vintage heirlooms. No need to hide them in storerooms. Bring them out, jazz them up, and make them the centerpiece of the room. You can even repurpose or refurbish them to fit in with other elements of the space.
18. Embrace Simple Industrial Elements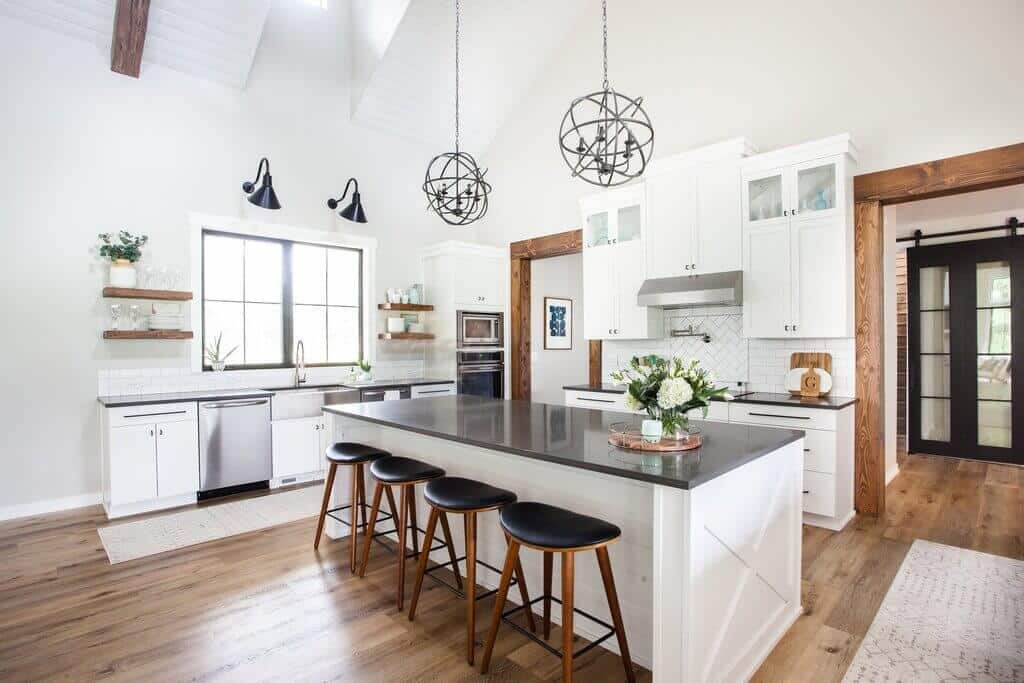 The functional farmhouse contemporary decor embraces the industrial aesthetic. Sleek metal furniture, cage-like metallic light fixtures, and exposed services are the much-adored features of this style.
19. Play Around with Props and Accessories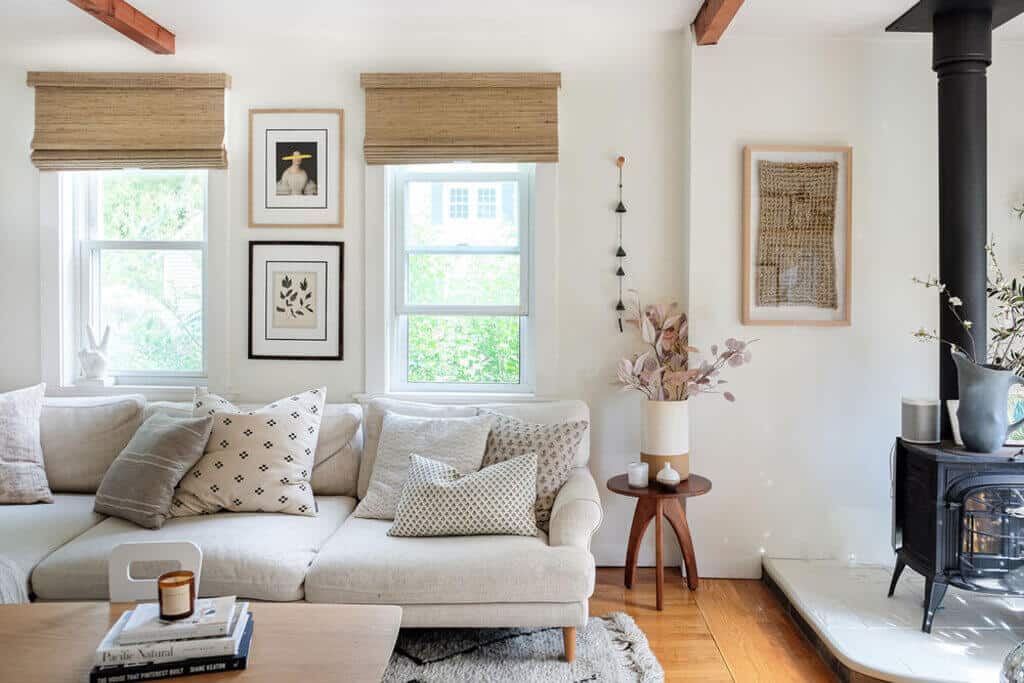 While for most parts, the modern farmhouse style follows a simple functional approach, it also embraces rich textures and accessories. Play around with different accent decor elements. Bring in quirky elements like a cane basket, a chic rug, richly textured linens, and terracotta textured vases for getting the warm chic look.
20. Bring In Some Greens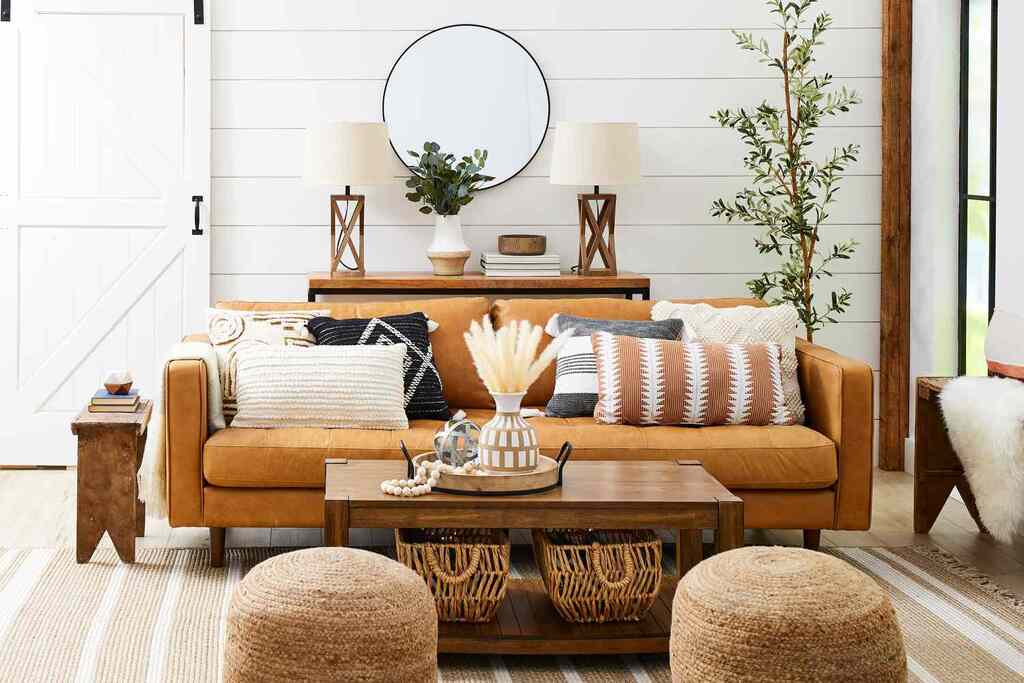 Adding greenery and plants to space may seem like a bohemian thing to do, but that is simply not the case. Plants go well with every interior design style and instantly liven up every space. They render a space such that it looks lively, enticing, and alluring.
21. Go for Cozy Earthy Hues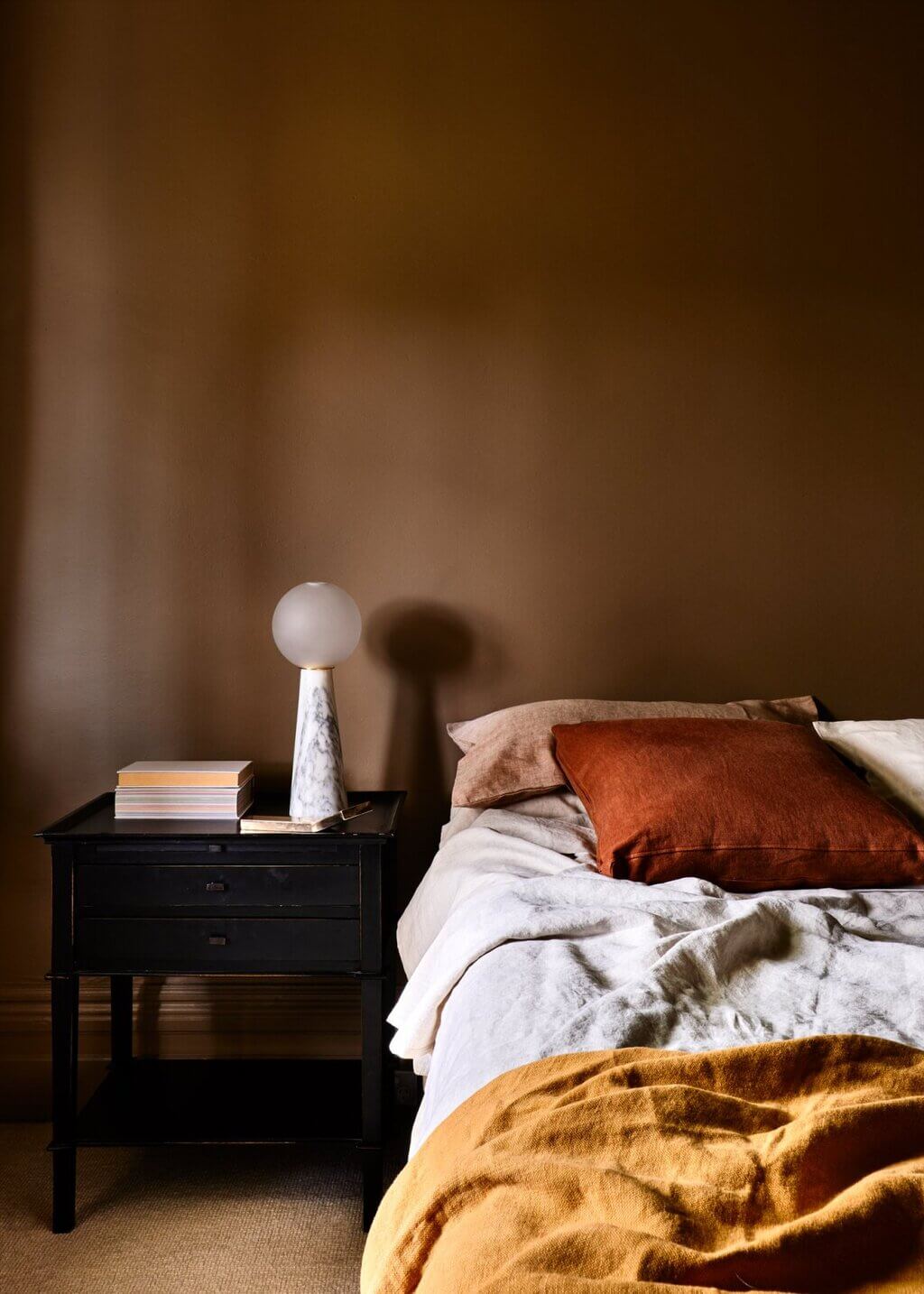 The modern farmhouse style embraces nature and thus using warm earthy tones is the way to go for this design style. Hues of browns, beiges, and cremes work well for this style. Complement these with natural linens and rich textures to get a highly sophisticated look.
22. Get Creative with Your Barn Doors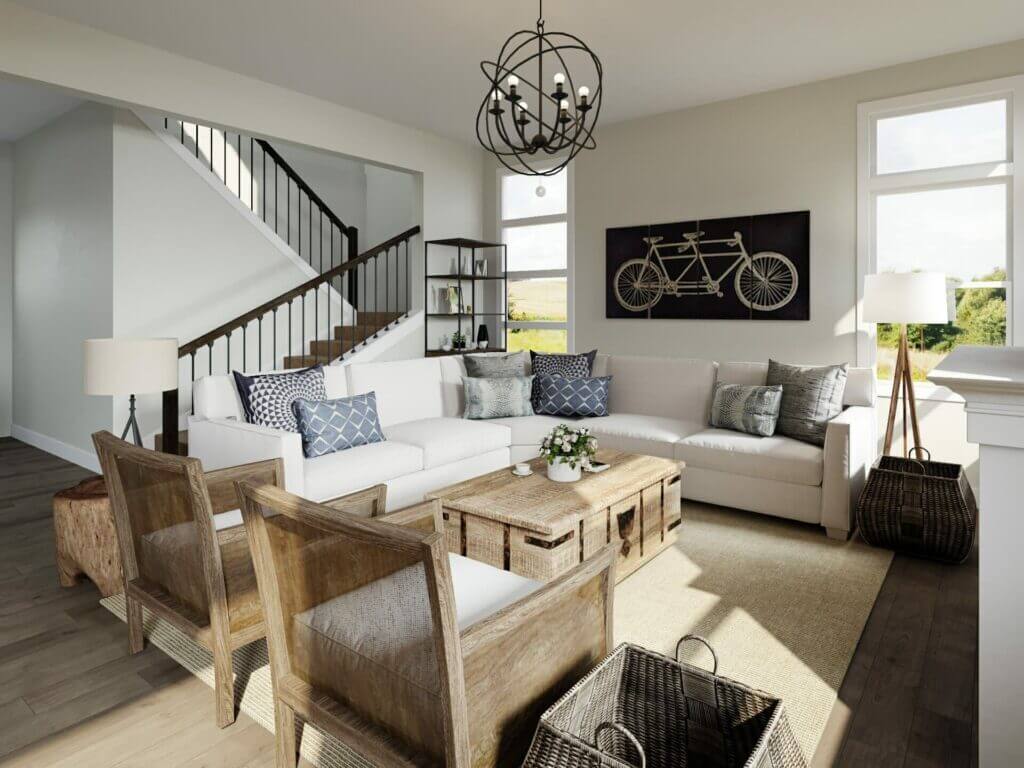 One of the first things that pop to mind when one thinks about farmhouse interiors is barn doors. They complete this style. There are numerous creative ways to use barn doors in your designs. Use them as the main entry door, as pantry doors, or in the form of headboards, etc.
23. Add a Modern Scandinavian Touch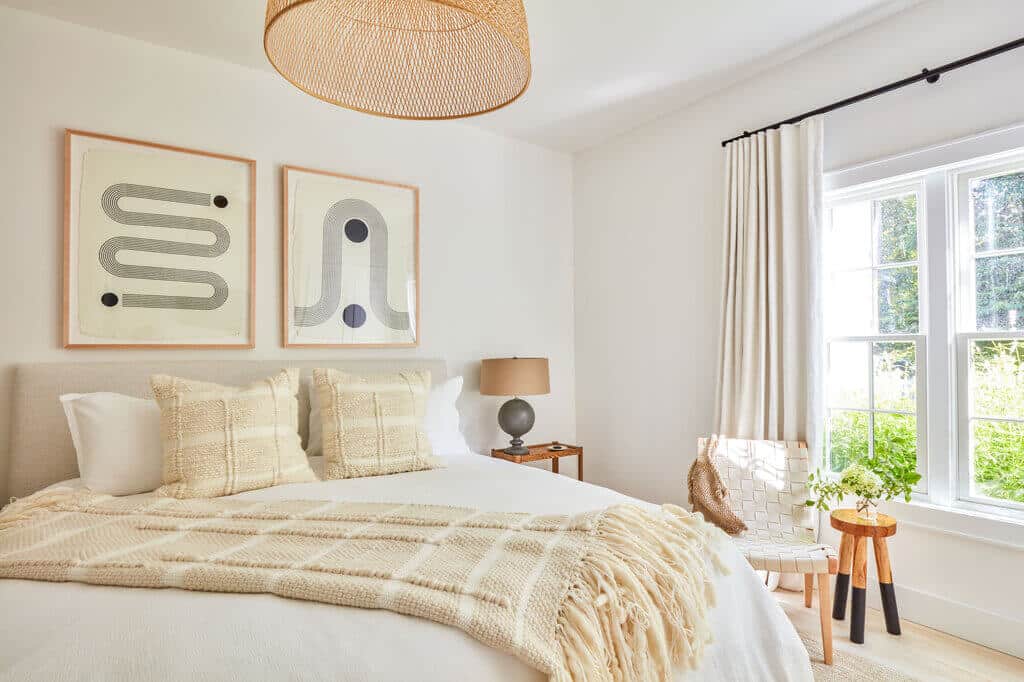 The minimal, Scandinavian, and modern styles are very closely related. You can always switch things up by adding a touch of Scandinavian style to your modern farmhouse interior. Go for a subtle color palette, bring in some natural materials, let ample light in, and use richly textured accents.
24. Go for Sleek Metal Furniture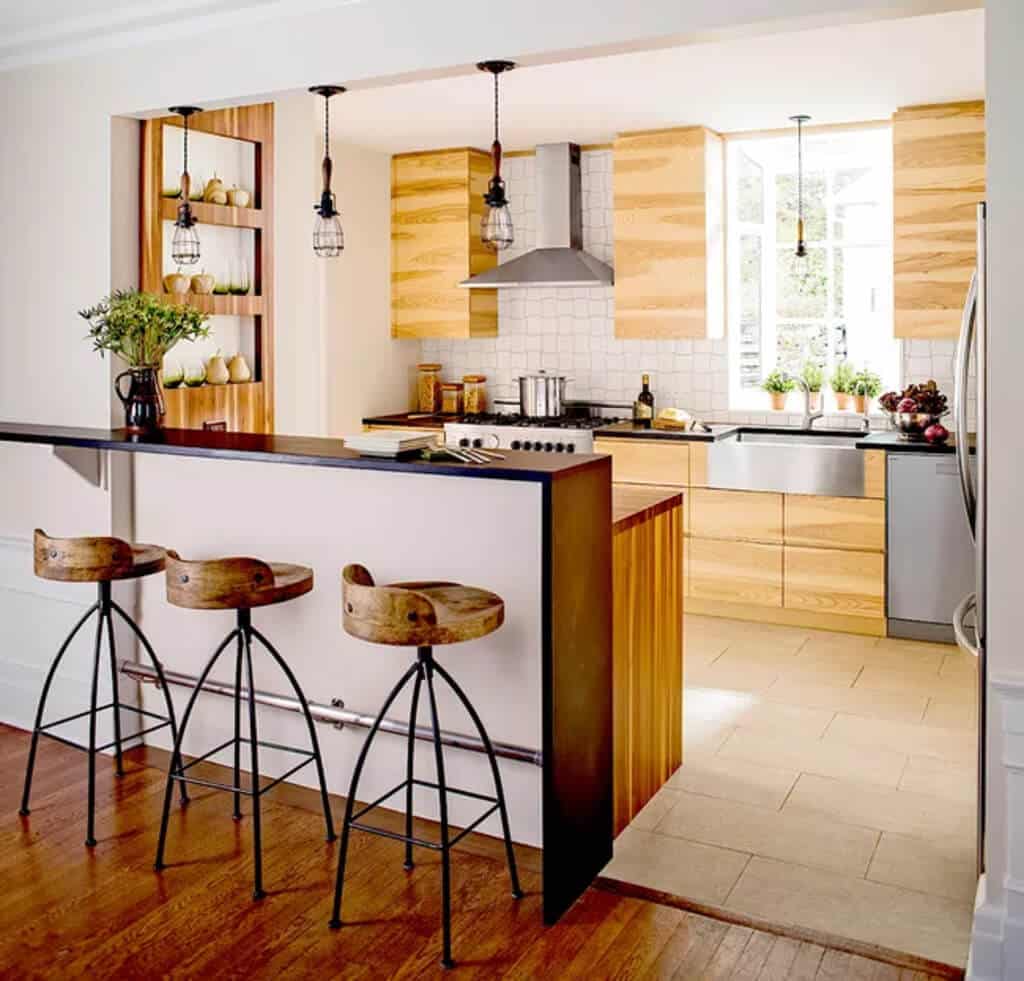 Sleek metal furniture gives an industrial touch to a space, thus making it look modern. It can be a good contrasting element against the warm minimal aesthetic of the modern farmhouse interior design.
25. Up-Cycle Materials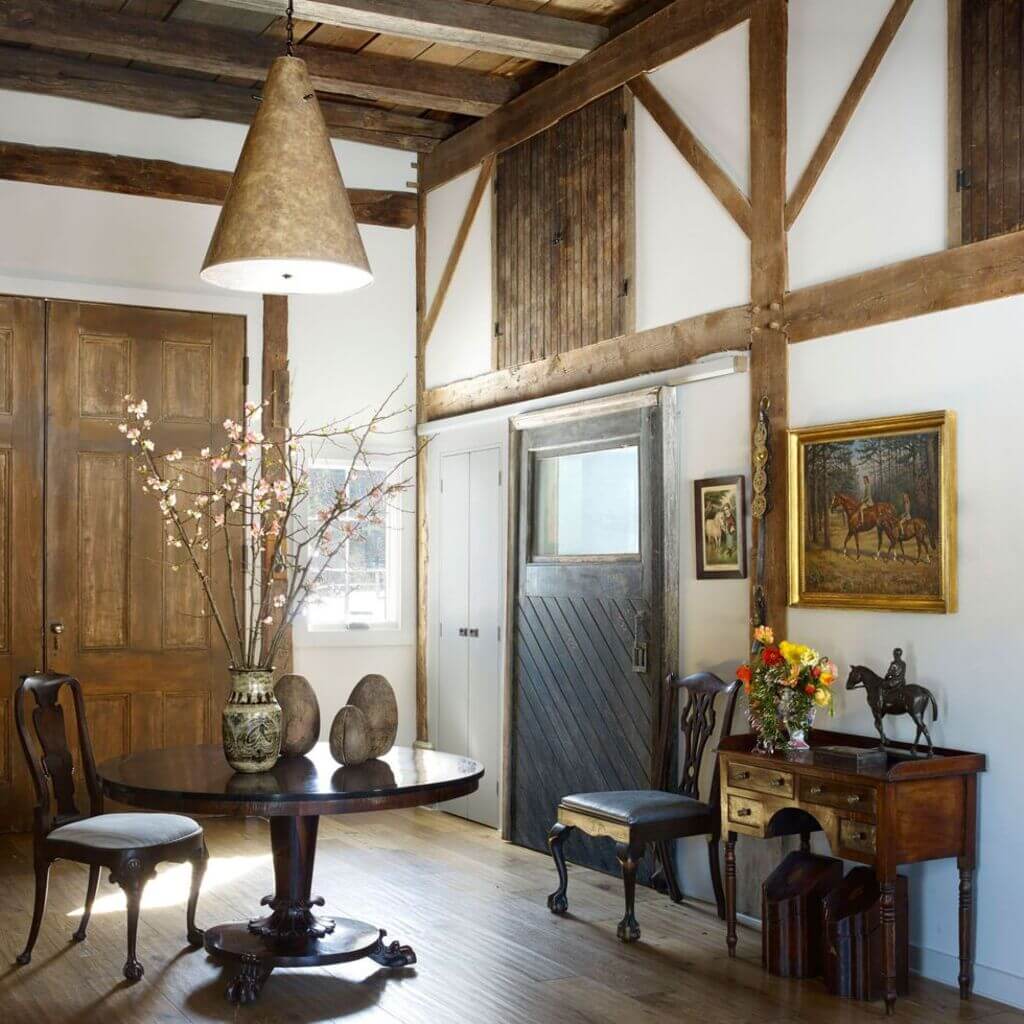 Reclaimed wood, recycled materials, and refurbished elements are a staple of modern farmhouse decor. The rugged and dated look of these materials combined with the clear aesthetic creates a timeless space. These elements are perfect for getting the nostalgic farmhouse vibe into a modern space.
26. Mix and Match Patterns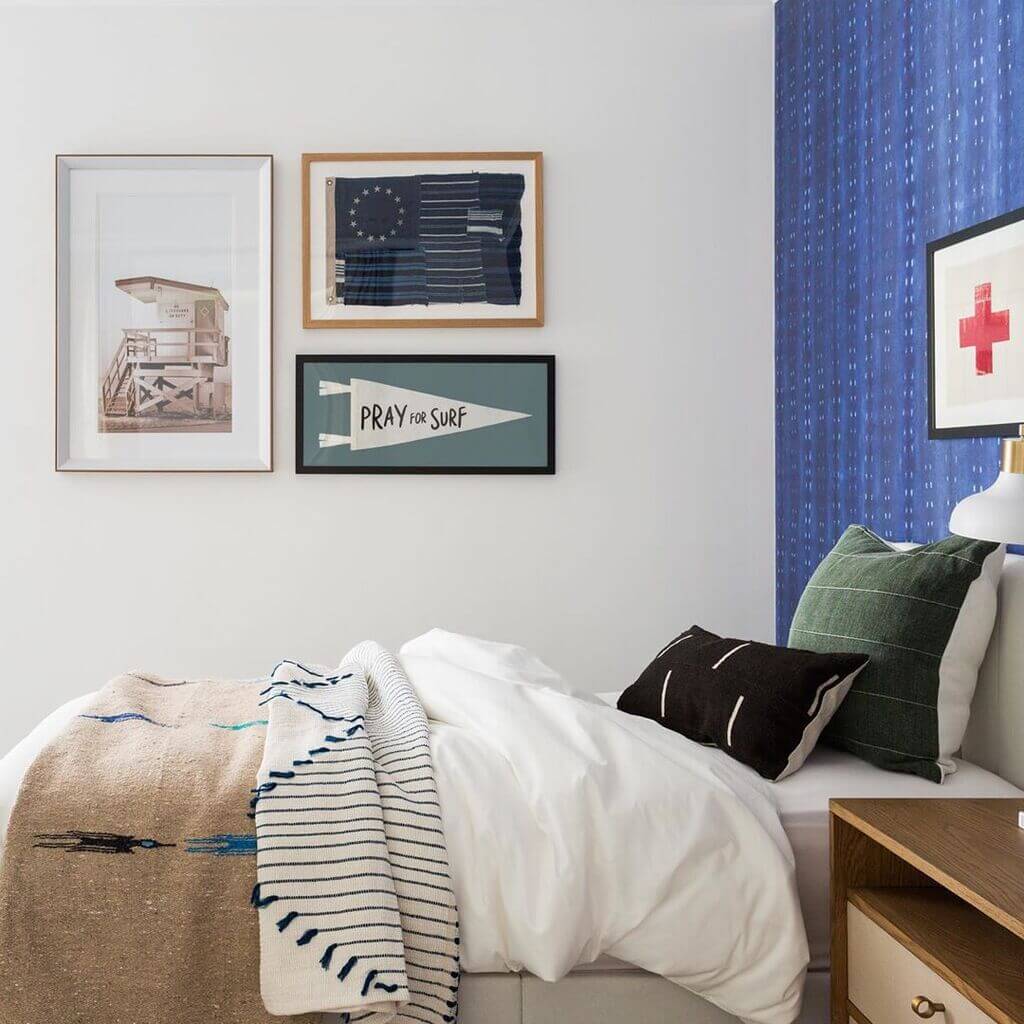 Try mixing different subtle patterns to add drama and depth to your modern farmhouse interior. This will up the glam quotient of your space, rendering it chic and visually interesting. Go for patterned wallpapers or upholstery to make a statement within your space.
27. Try Board and Batten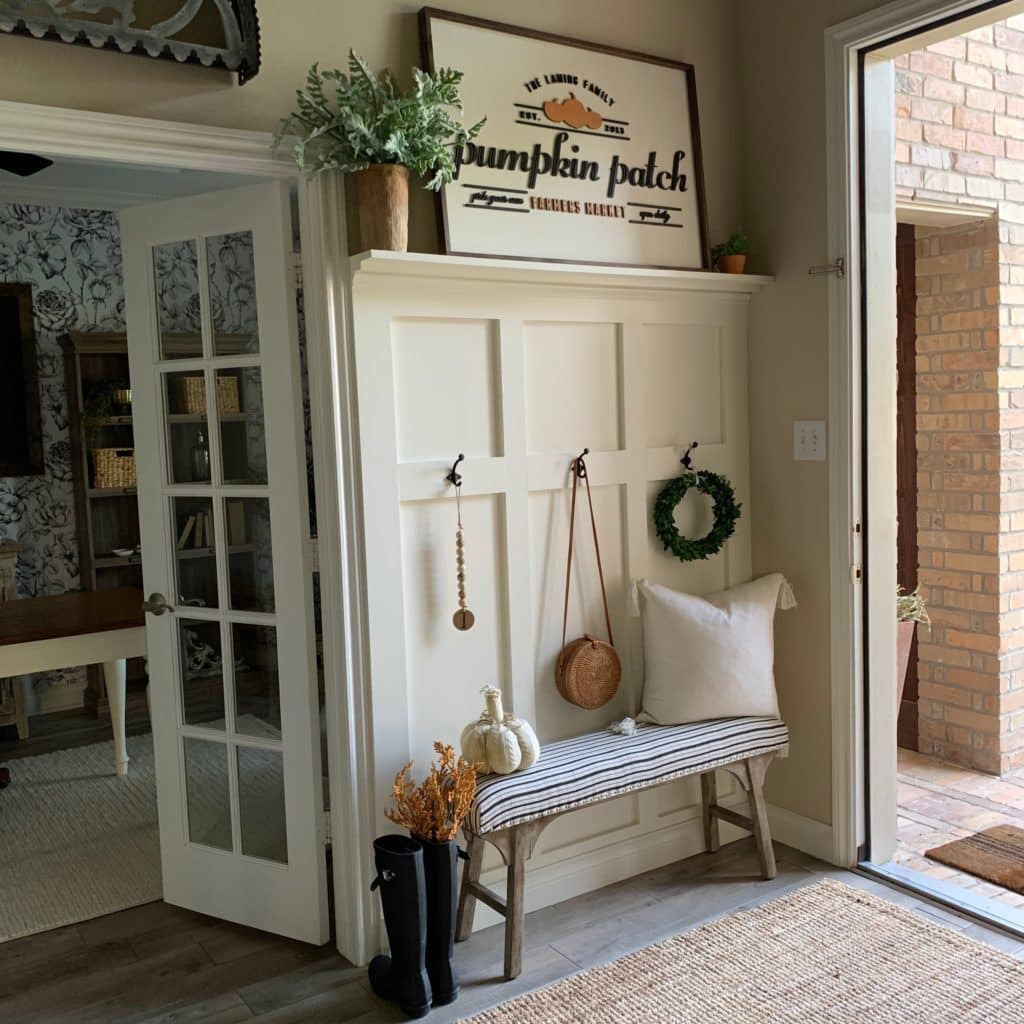 The board and batten trend is a must-try, especially if when you're going for farmhouse contemporary decor.  It gives a chic and edgy look to the space. You can transform any given wall into an accent wall in this simple way. Maintain the overall neutral palette and textural feel to make the space cohesive, yet stand out at the same time.
28. Arrange Artistically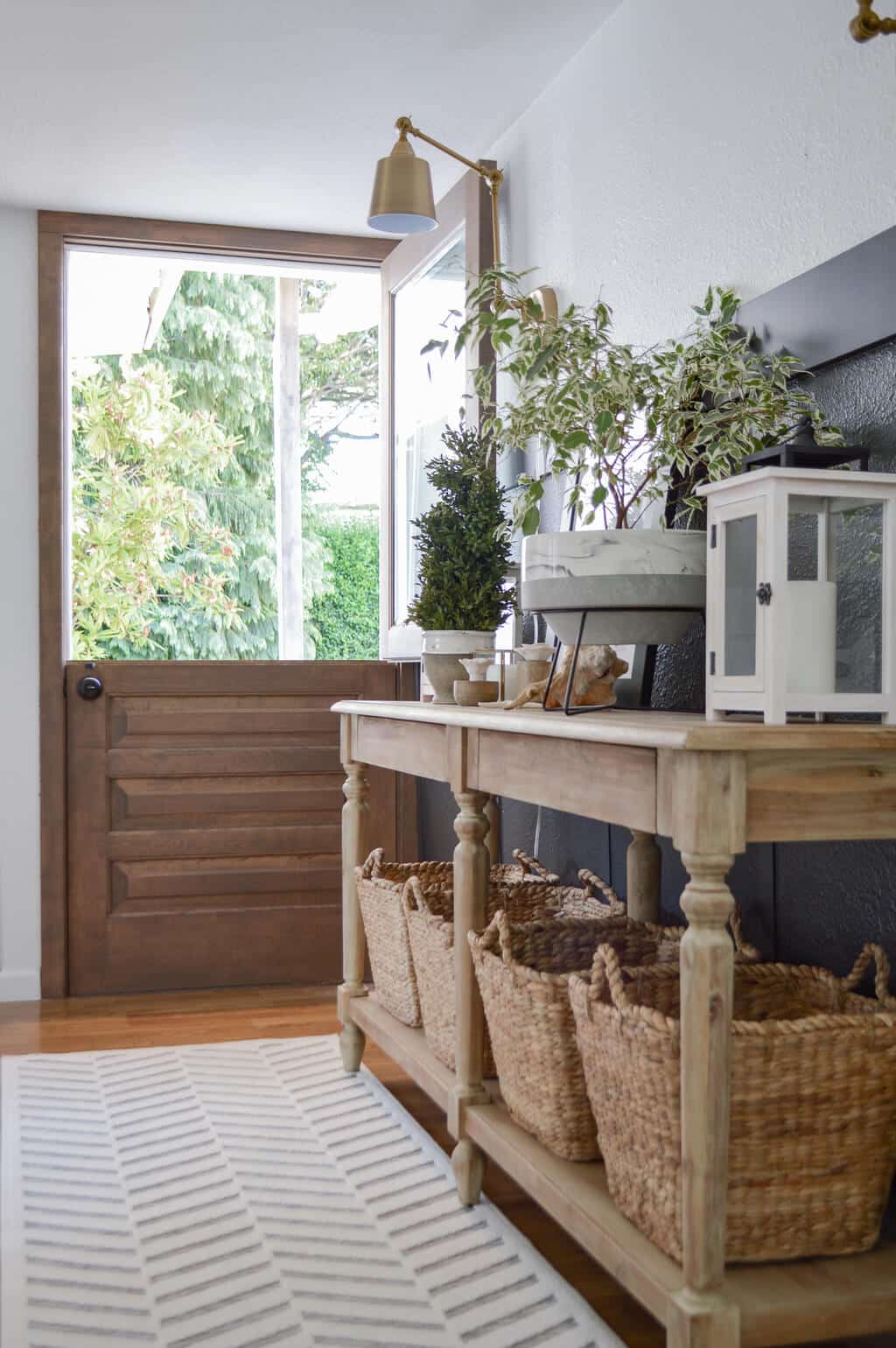 Every little thing counts in the farmhouse decor style. Arrange your essentials artistically with the help of wooden or coir baskets. This validates and enhances the minimal and relaxed approach of the style. You can even incorporate chic wooden trays and trucks to keep your stuff accessible yet display-worthy.
29. Go Easy with Decor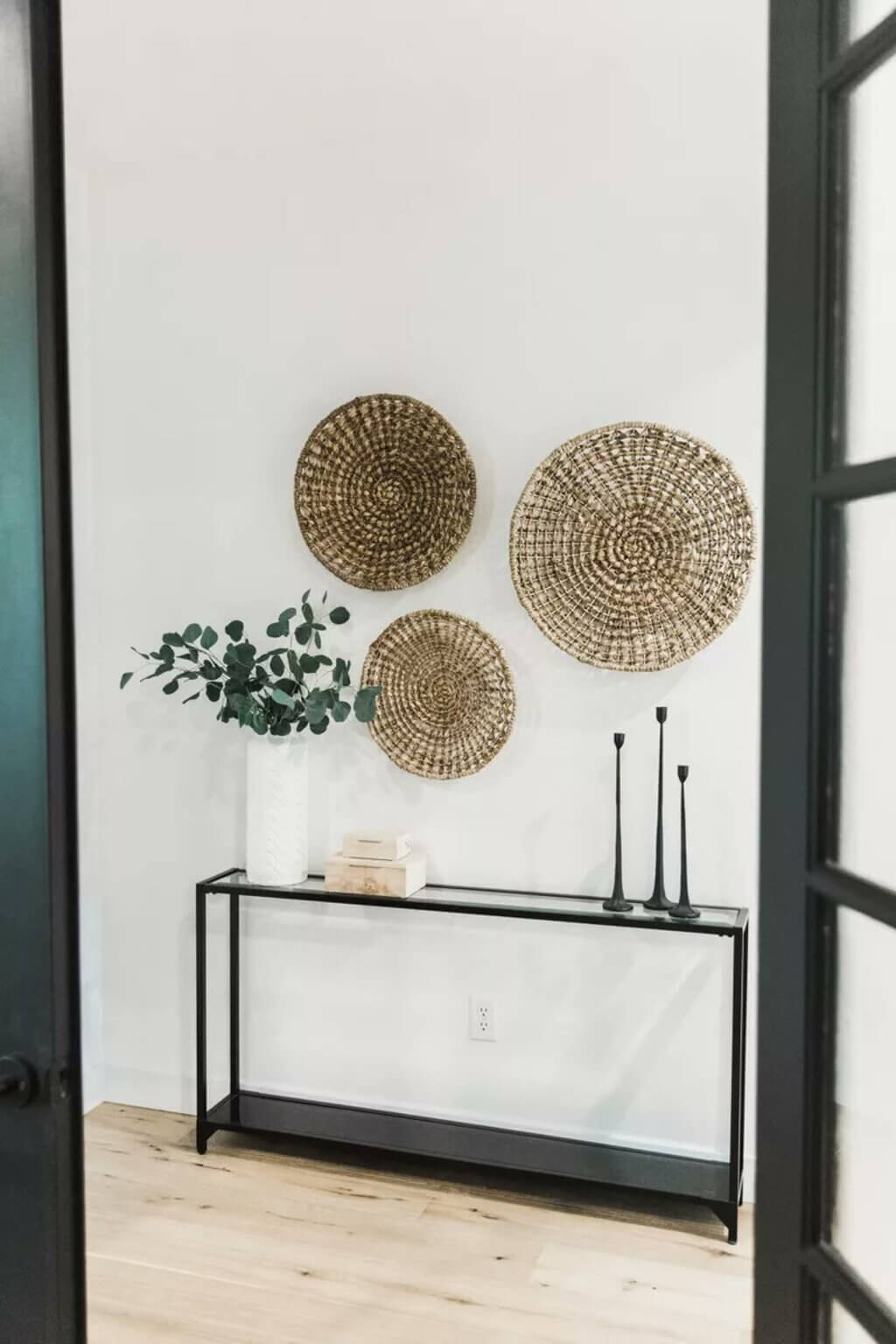 Going minimal doesn't have to mean you cannot include decor elements just for the aesthetics. When it comes to modern farmhouse decor, you can add simple chic elements like baskets or wall plates or industrial sleek candle stands, etc. to give a glamorous touch to the space.
30. Dare to Contrast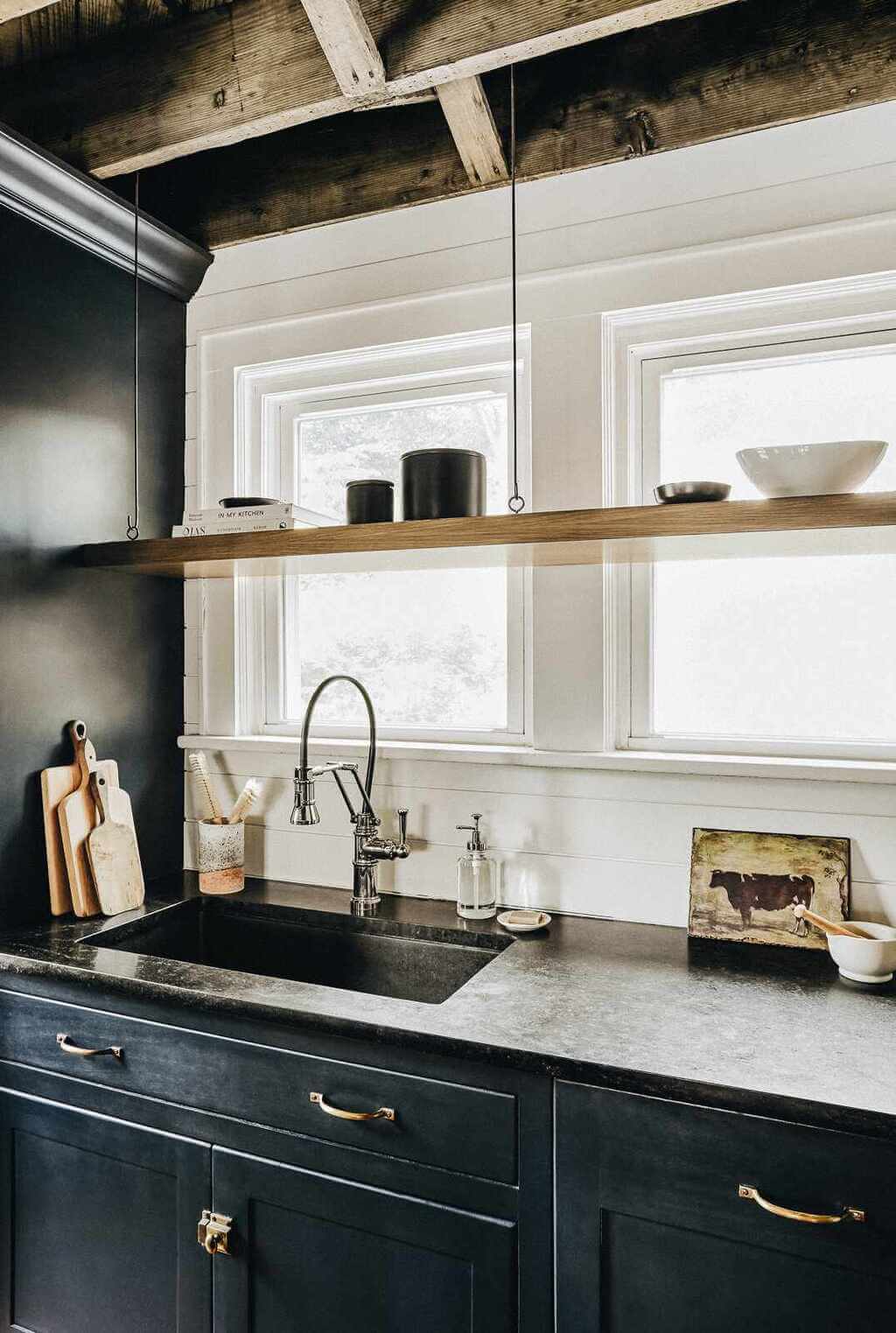 The beauty of the modern farmhouse style is that you get to choose between modern and farmhouse styles. While most country homes stick to a neutral palette, modern homes dare to use contrasting elements that add depth and character to space. So, don't shy away completely from the bold blacks and dark greens, a touch of them here and there is bound to make your space richer and sophisticated.









Modern Farmhouse Style in a Nutshell… 
The style is the perfect balance of minimalism and traditionalism. Taking the best of both worlds, this style strives to achieve humane spaces that are clutter free and have an easy-going relaxed feel.
FAQs: 
1. What Is the Modern Farmhouse Look?
The modern farmhouse look is all about comfortable minimalism. It is warm and cozy like the farmhouse style and simple and elegant like the modern style.
2. What Is the Difference Between Modern Farmhouse and Country Style?
The country style uses more elaborate elements and rich textures and fabrics. Whereas, the modern farmhouse style is more streamlined and subtle yet warm and welcoming at the same time.
3. What Wall Paint Colors Are Used in the Modern Farmhouse Style?
A neutral color palette is mostly used in the modern farmhouse style. Pops of earthy or warm-toned accent colors are also seen in this style.
4. Is the Modern Farmhouse Still in Style in 2022?
The modern farmhouse style is still trending in 2022.
5. Why Is the Modern Farmhouse So Popular?
The modern farmhouse style is popular today because of its relaxed cozy and approachable nature. It is also popular because of its nostalgic feel that fits in with a comfortable modern look.