As Christmas comes closer, our creative juices start running to hunt for the best Christmas tree decoration– isn't it? Well, how about replacing the conventional green with a white Christmas tree?
White Christmas tree decorations can brighten the vibe and make your Christmas merry with their whimsical look. Your choice of Christmas tree with white decorations can be the ultimate show stopper as it's a unique approach and the charming white makes the space and decor look incredibly modern and jazzed up. Let's look into the best white Christmas tree decorating ideas to help you stand out in this festive season.
Why White Christmas Tree is better than the Green Christmas Tree?
Gone is the reign of green Christmas tree nestling in our homes. With emerging trends evolving the decor ideas and 2023 is all about white Christmas tree decorations. One of the main reasons for preferring a white Christmas tree is that its magical look exudes a sense of purity.
It's also a reflection of your confidence to go with the unconventional choice. White Christmas decorations not only look extremely enticing but adds to the sense of sophistication in the entire decor. A white Christmas tree serves as a blank canvas for you to explore a vibrant colour palette and ornamental materials to accentuate the aesthetics of the space while keeping up with the joyous appeal.
32 White Christmas Tree Decorating Ideas for Aesthetics and Warmth
1. An Orange Twist
How about bringing a summery touch to your white Christmas tree? Go for a theme that exudes freshness with sliced orange and lime used to accessorize the tree. These white Christmas tree decorating ideas perfectly allows the winter warmth and summer freshness to coexist and adds a one-of-its-kind look.
2. Boho White Christmas Tree Decorations
Boast a soothing tone with neutrals added to the white Christmas tree. This decor idea beautifully curates a Boho look and the blend of tan and white makes the space look extremely warm and welcoming.
3. The Winter Wonderland
Nature serves as the best inspiration when it comes to designing or ornamenting. Take hints from the natural trees outside and mimic the look inside. Go for white Christmas decorations and make a mini winter wonderland inside your home with silver and white ornamentation.
4. Icey Blue and White Christmas Tree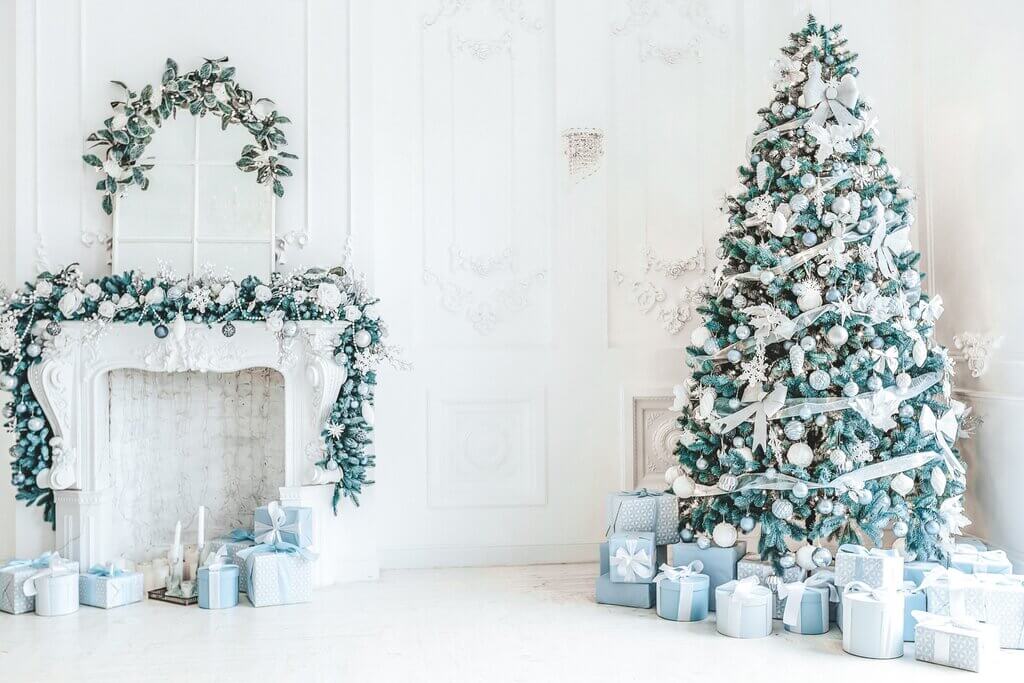 Decorate your white Christmas tree with an icy blue touch to embrace the ice delight. This theme blends perfectly with white, blue, and grey decor and exudes simplicity with its glacial effect.
5. Snow White Christmas Tree
Are you not ready to invest in a white Christmas tree yet? Don't worry! Opt for a Christmas tree with white decorations and conceal the green. Make it look like a tree covered with snow to attain the look of a white Christmas tree. This decor idea also introduces a fresh look to the old Christmas tree.
6. White Christmas Decorations with Wood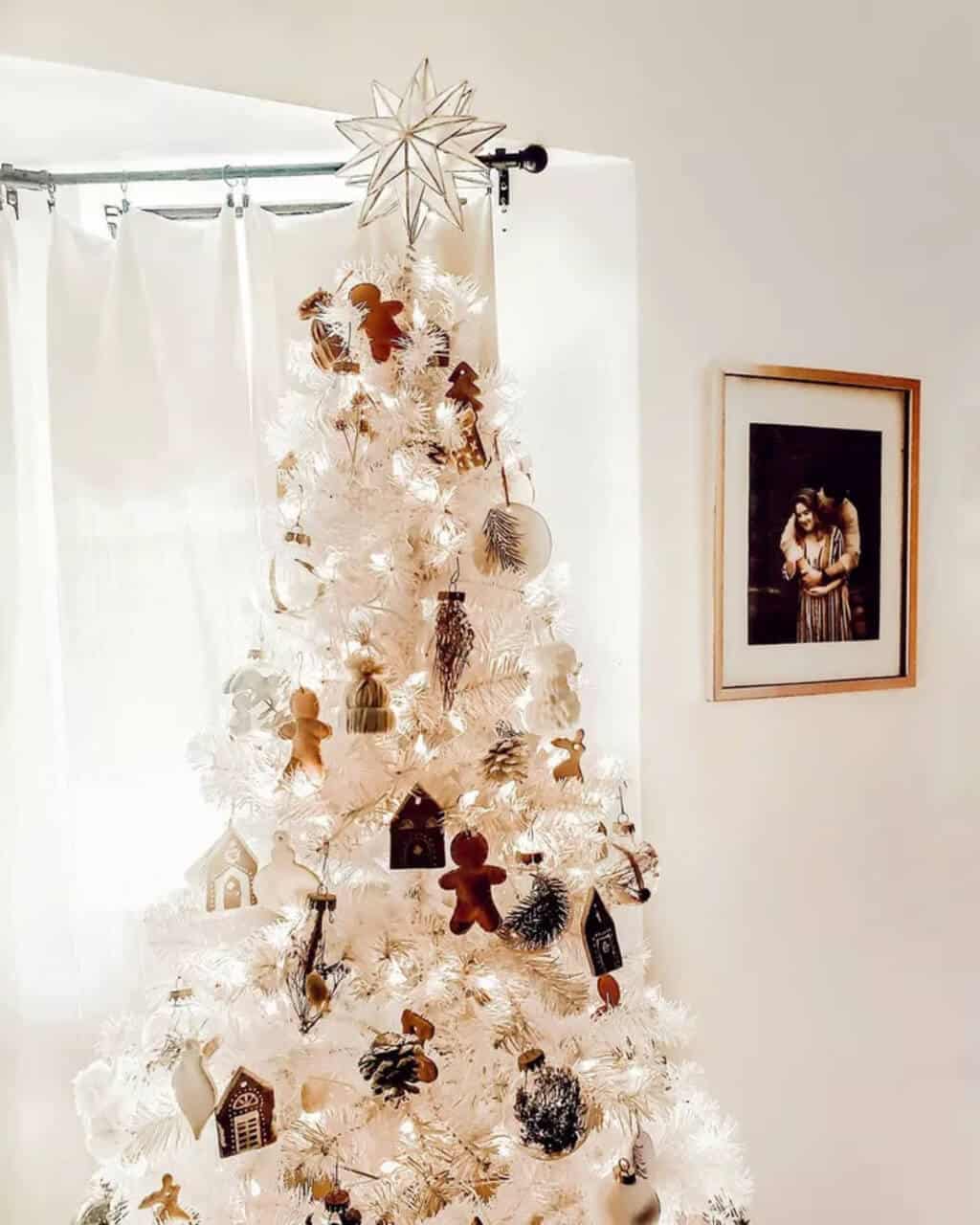 White decoration Christmas tree with wooden hints can never go wrong. Whether you reside in mountain home or an urban zone, adding wooden props to the white Christmas tree will make the look neutral and earthy. The brown tints will shine against the white backdrop and compose an interesting visual. The best part of this decor is that it forms a cohesive look with modern homes.
7. Sea-Themed White Christmas Tree Decorations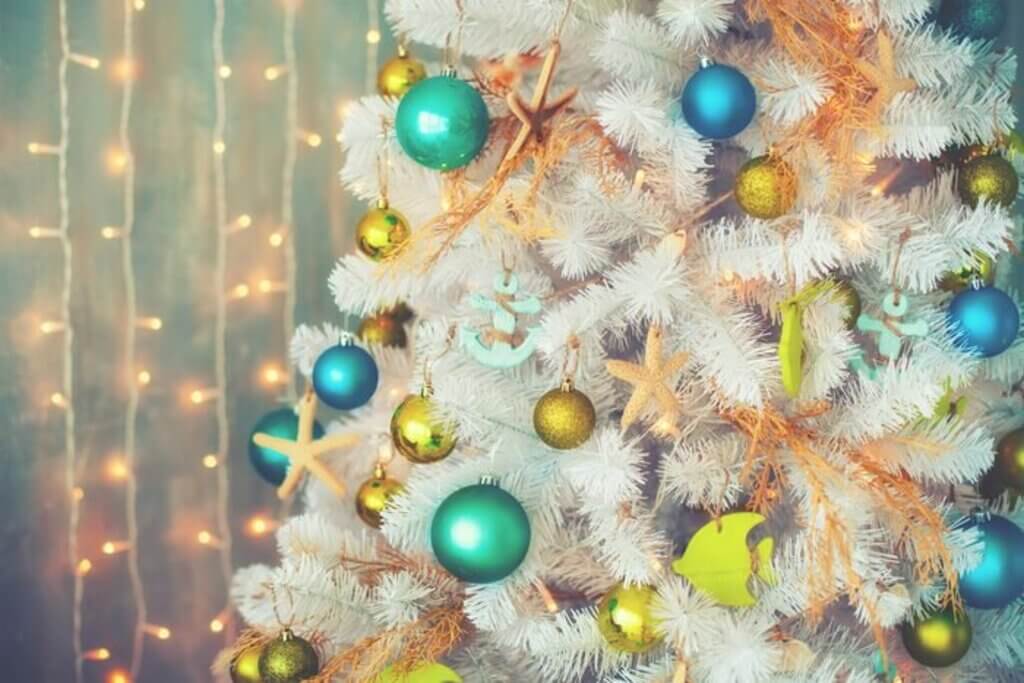 Are you a sea-lover who loves everything beachy? How about making your white Christmas tree exude the same essence? Embellish the Christmas tree with hues of blue and green and add a tropical touch to the entire winter decor.
8. The Neon Focal Point
While we love the sublime look of a white Christmas tree, we don't want it to be the most silent part of the space, right? Pair up your white Christmas tree with neon decorations to make it an attention-seeker of the space. The striking contrast is sure to grab all the attention itself. 
9. A Ribbon Here, A Ribbon There!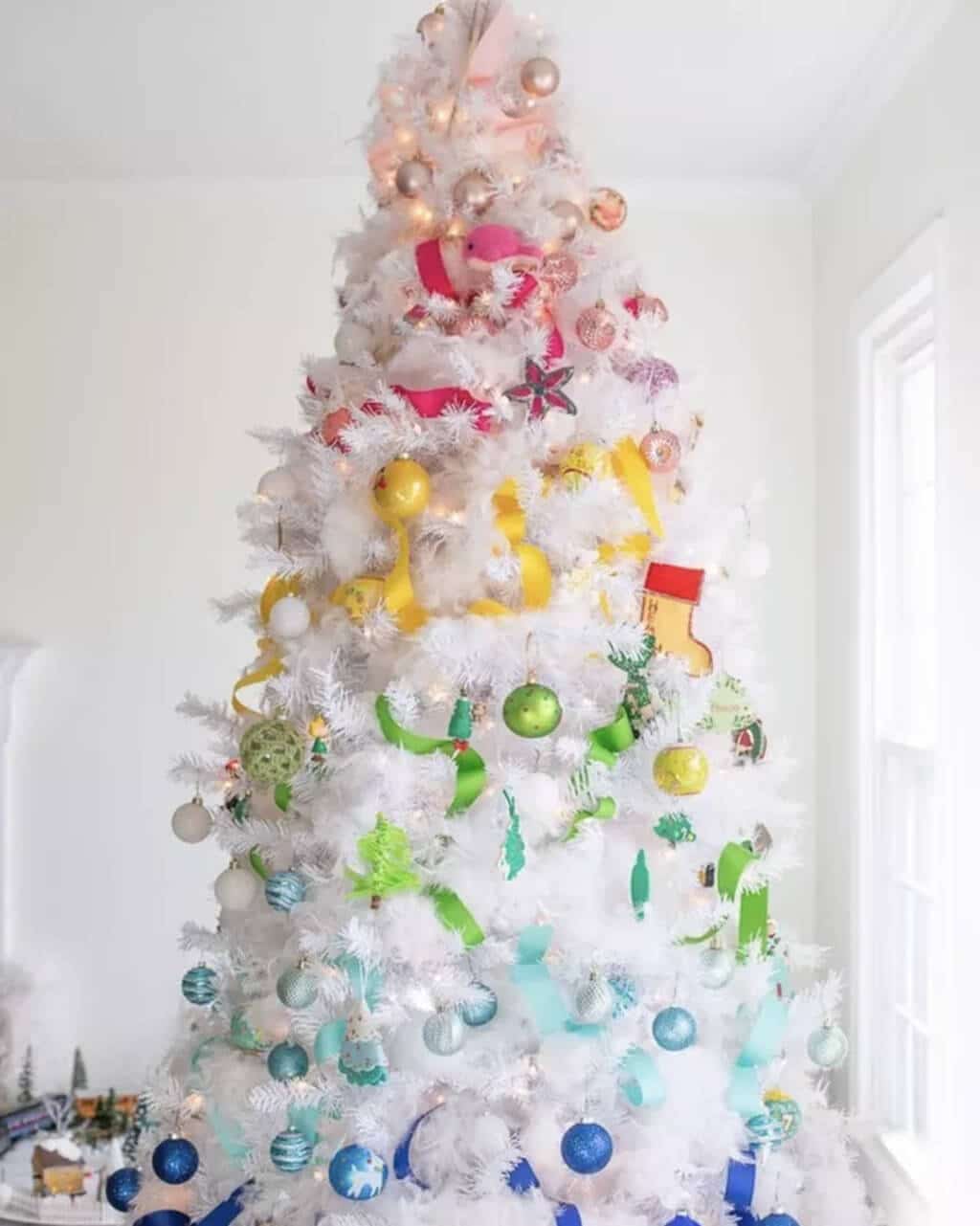 A white Christmas tree is best covered up with colourful ribbons. With a muted white backdrop, don't be afraid to go as bright and bold for ribbons. And to further tie the look together, place the same-toned accessories with each ribbon.
10. Farmhouse Decor and the White Christmas Tree
The design sensibilities of your Christmas tree must complement the rest of the spaces. For a farmhouse-styles home, go for a mix of the white Christmas tree with earthy tones and organic baskets. This style will amp up the aesthetics and add warmth to the room.
11. Beady White Christmas Tree Decorations
Although white Christmas tree ideas are elegant in themselves, the aesthetics can further be enhanced by placing strings of big and small beads around the tree. Keep the tones subtle yet shiny when selecting the beads for a sophisticated look.
12. An Astronautical Decor
Take your white Christmas tree decorations out of the world with a space theme. This could serve as a fun activity for the entire to participate in with DIY tree skirting and placing tiny props like stars, space ship, UFOs, etc.
13. Luxe White Christmas Tree
It's tempting to go overboard when it comes to Christmas tree decorations but it doesn't always suit the space, right? How about going extravagant and staying muted at the same time?
That's the beauty of a white Christmas tree. You can opt for neutral-toned accessories to be hosted on this tree and still the space won't feel overwhelming.
14. The Space-Saver White Christmas Tree
Are you planning to place your white Christmas tree in a compact nook of the house? Here's a solution to that– a pencil tree. These trees are tall and narrow which helps you save space for gifts and other festive accessories.
15. Light Up the White!
Adorn your white Christmas tree with bright lights to add a sparkling effect. Rather than opting for tiny fairy lights, you can embellish the tree with colourful lights to bring a little drama to the decor.
16. Seashell White Christmas Tree Decorations
Make your Christmas decoration stand out by opting for a new-age Christmas tree design. Consider building your white Christmas tree with seashells to make it stand out. This tiny Christmas tree can nestle on a counter and still grab all the eyes towards itself.
17. The Shiny Metallics and White Christmas Tree
Add a little more shine to your white Christmas tree with metallic accents. These Christmas ornaments will make the tree keep glittering and the essence can further be enhanced with fairy lights wrapping around it.
18. An Ombre White Christmas Tree
Not a fan of a plain white Christmas tree? Jazz up the decor by going for an ombre gradient. Use spray paints to create this effect. While the bottom rows can be kept dark, keep moving lighter as you move up. The ornamentation can further be matched with the tones of the levels you're placing it in.
19. Goodbye Pine!
How about switching the typical pine Christmas tree with something different? Yes, we're talking about white winter birch trees. It'll add an artistic touch to the decor and will serve as the most unique white Christmas tree. This tree can be retained in the decor even after the holiday season is over owing to its minimal look yet maximized aesthetics.
20. Well-Groomed Pampas Grass on White Christmas Tree
The white Christmas tree decor trend for this year is revolving around the pampas. Make your tree more vibrant and bold by adding stems to the grass. The faux theme can further be enhanced with twinkling lights and minimal ornaments.
21. A Bubbly White Christmas Tree
Are you bored of using conventional accessories to adorn your white Christmas tree? How about ditching those and going with the unconventional instead?
Opt for colourful balloons and wrap them around your white Christmas tree. You can either end the pattern on the top of the tree with a big balloon or let it flow against the wall for a cohesive look with the space.
22. Christmassy Red and White
White, red, and green are the most Christmassy shades. And while we're minimizing the typical green this year, how about merging white and red? Adorn your white Christmas tree with red ribbons and accessories and set up the most festive tree in your home.
23. The Vogue White Christmas Tree
The combination of white, black, and gold can never go wrong. Pick this palette for your Christmas tree and play around with the uniquely-shaped accessories and patterns for an eye-catchy look.
24. Fluffy White Christmas Tree
Make your Christmas tree the centre of attraction by opting for a tall and fluffy pine. Snow white accents on this tree can bring winter vibes inside your home and the best part of this tree is that it can be folded to store it for the next year.
25. White on White
Apart from the festive vibes, the Christmas tree is also an extension of the design language of the house. And for spaces beholding a modern flair, there's nothing as apt as a white Christmas tree. This approach will ignite the holiday vibes while serving as an eclectic addition to the corner of the room.
26. Christmas Tree with White Decorations
A white Christmas tree adorned with white accents will make the entire space look dreamy. Opt for this achromatic look and brighten up the entire space with white trees and accessories bringing texture and warmth to the space.
27. Green and White Christmas Tree Decorations
Consider adorning the green Christmas tree with white decorations to enhance both shades. Bring silvery glowing garlands and wrap them around the tree along with lights. Don't shy away from using the shapes of snowflakes and stars as accessories to give it a more festive touch.
28. Simply Glittering White Christmas Tree Decorations
The true essence of a white Christmas tree lies in its simplicity and elegance. Don't go overboard while adorning these Christmas trees or else these will lose their charm. Place a few wooden ornaments here and there and introduce silver or gold for a little shine. That's it, your white Christmas tree is ready to rule the decor.
29. Aqua and White Christmas Tree Decorations
Nothing matches the colour combination of white and blue. While the base is composed of a plain white Christmas tree, make it look vibrant by wrapping blue ribbons around it. Consider adding metallic blue accessories to match the theme and curate a fresh look.
30. A Flowery White Christmas Tree
How about drifting away from the traditional decor and picking something floral for a white decoration Christmas tree? Go with the extraordinary choice and add pastel-toned flowers to your tree along with springy ribbons running along the entire height of the tree.
31. Think Out of the Box!
Don't have enough room for a big white Christmas tree? How about hanging it up the wall? Yes, we're talking about a DIY Christmas tree composed of strings.
Add strings of lights in the shape of the Christmas tree and adorn it with the help of a wooden ladder. The steps of the ladder can be used to hang the tree accessories through a string.
32. A Pink Blush on White Christmas Tree
Do you wish to inject a sense of elegance and comfort into the room? Ornament your white Christmas tree with a vintage-inspired theme that blends blush pink in the decor. Play around with different accessories like rose gold lights, pink ribbons, and shiny pink ornaments to sprinkle the magical glitter on the tree.







5 Secrets for a Stunning White Christmas Tree Decorations
Christmas is surely the most exciting time of the year and with the festive vibes enveloping us inside out we want our Christmas tree decorations to be the best, right? Here are the 5 secrets that will help you curate the most designer look for your Christmas tree setup.
1. Fix the Theme
The first and foremost step to adorning your white Christmas tree is to fix the theme. Are you aiming at a snowy look or do you want to keep it a bit summery? Based on the chosen theme, the design language will be curated around it.
2. The Guiding Lights
Lights can be the ultimate guide to the perfect look. Fix whether you're keeping it magical white or inducing a little pop of colours. Select the lighting colours and shapes according to the design.
3. Top it Up!
The top of white Christmas tree decorations can be the ultimate show-stopper. While the bottom of the tree will surely be accessorized, don't forget the top. Place a large and shiny tree topper to grab attention itself.
4. Scaled Accessories
You don't want your white Christmas tree to look overwhelming in a space. This is why it's extremely important to pick accessories that match the scale of the tree. A slight mismatch in the scale can be the ultimate deal breaker.
5. Pockets of Snow
The Christmas look is incomplete without adding snowflakes to the Christmas tree. Make sure that you add little pockets of snow on the tree and adorn them further with fairy lights.
Freeze on Your Creative Style
In the end, the ultimate white Christmas tree is the one that aligns with your design sensibilities. Whether it's a play of texture you'd like to bring or a subtle gradient, make sure that the chosen decor reflects your personality and adds elegance to the room.