Top 15 Mini Christmas Tree Decorations That Fit in Any Space
People who live in small apartments or compact houses know the importance of every inch of space. For them having a huge Christmas tree seems like a distant dream. They not only cover a lot of space but are also extremely expensive. Don't worry; we're not telling you to give up entirely on the Christmas tree, but we're suggesting some unique ways to do it!
A small or mini Christmas tree will be a perfect idea for you if you're facing the same issues. Apart from their inexpensive price range, the other important reason for you to buy these cute Christmas trees is that they can fit anywhere in the house. Whether it be a kitchen island, fireplace mantel, bedroom, coffee table, windowsill, or gallery, you can easily put them literally anywhere, and they'll look pretty fabulous and festive! 
Mini Christmas trees are ideal for decorating small rooms, alcoves of living spaces, or any corner of your home that require some festive decor. Today we've collected some charming and beautiful tiny Christmas tree ideas that will fulfill your Christmas tree wish. 
15 Beautiful Mini Christmas Tree Decoration Ideas
Below are some ideas that'll work brilliantly for small spaces, take a look at them:
1. White Small Christmas Tree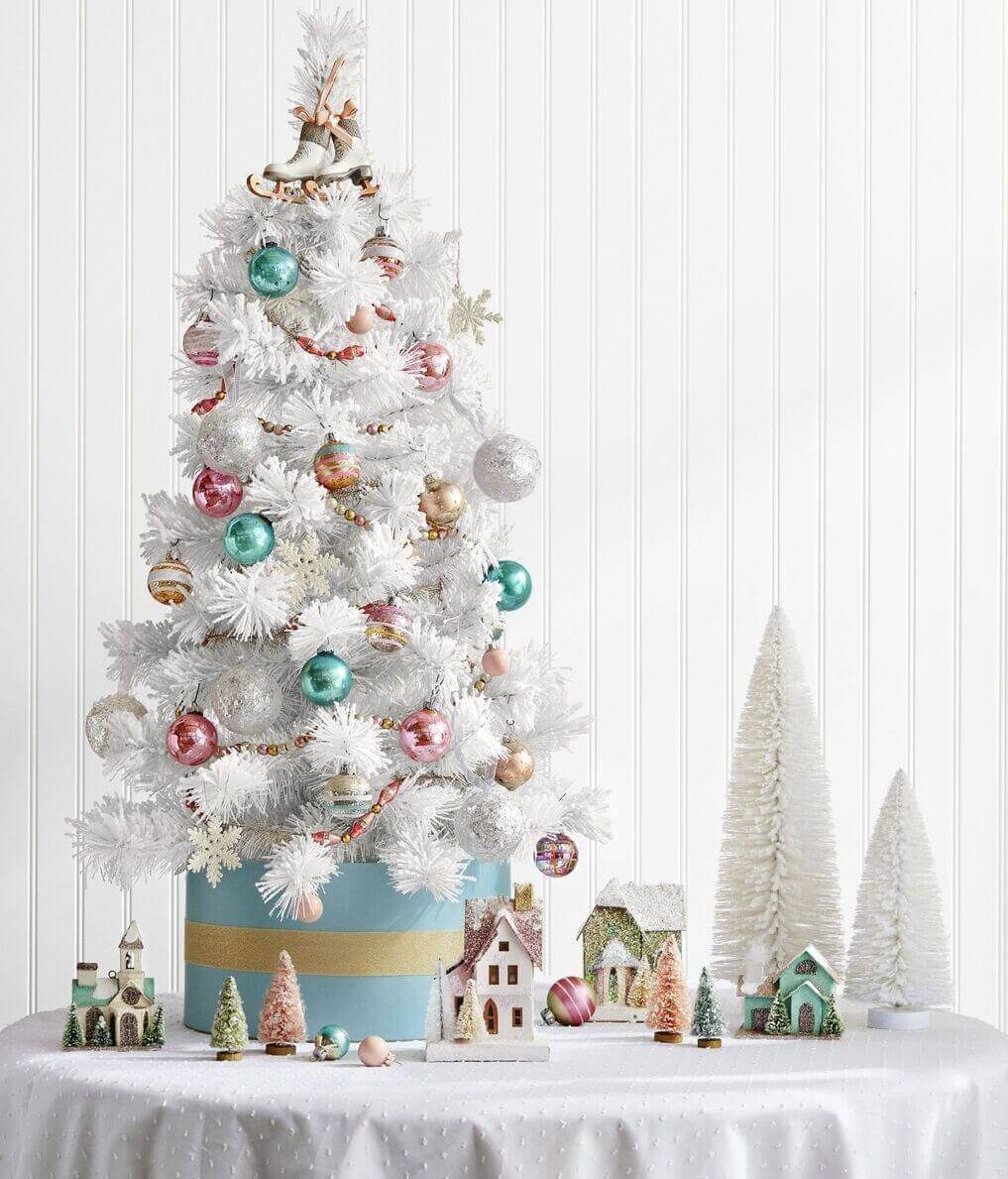 Source: hearstapps.com
This Christmas, why not buy a snowy white tree instead of a traditional green one? Decorate it with some cheerful pastels or jewel tones ornaments, and your tree is ready for the festival!
2. Snowy Pre-Lit Christmas Tree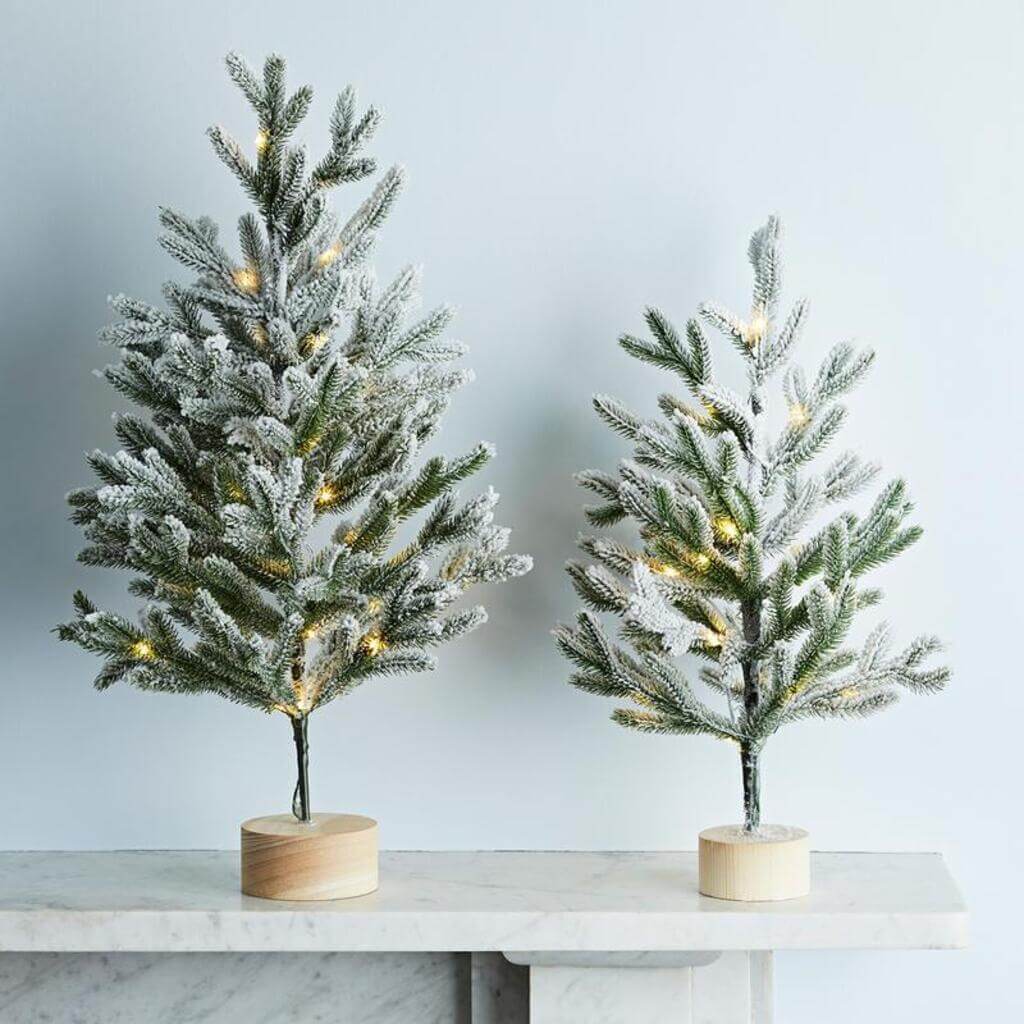 Source: shopify.com
This snowy tiny pre-lit tree is just 60 cm tall, making it perfect for a desk or any other small space.
3. Elegant Mini Christmas Tree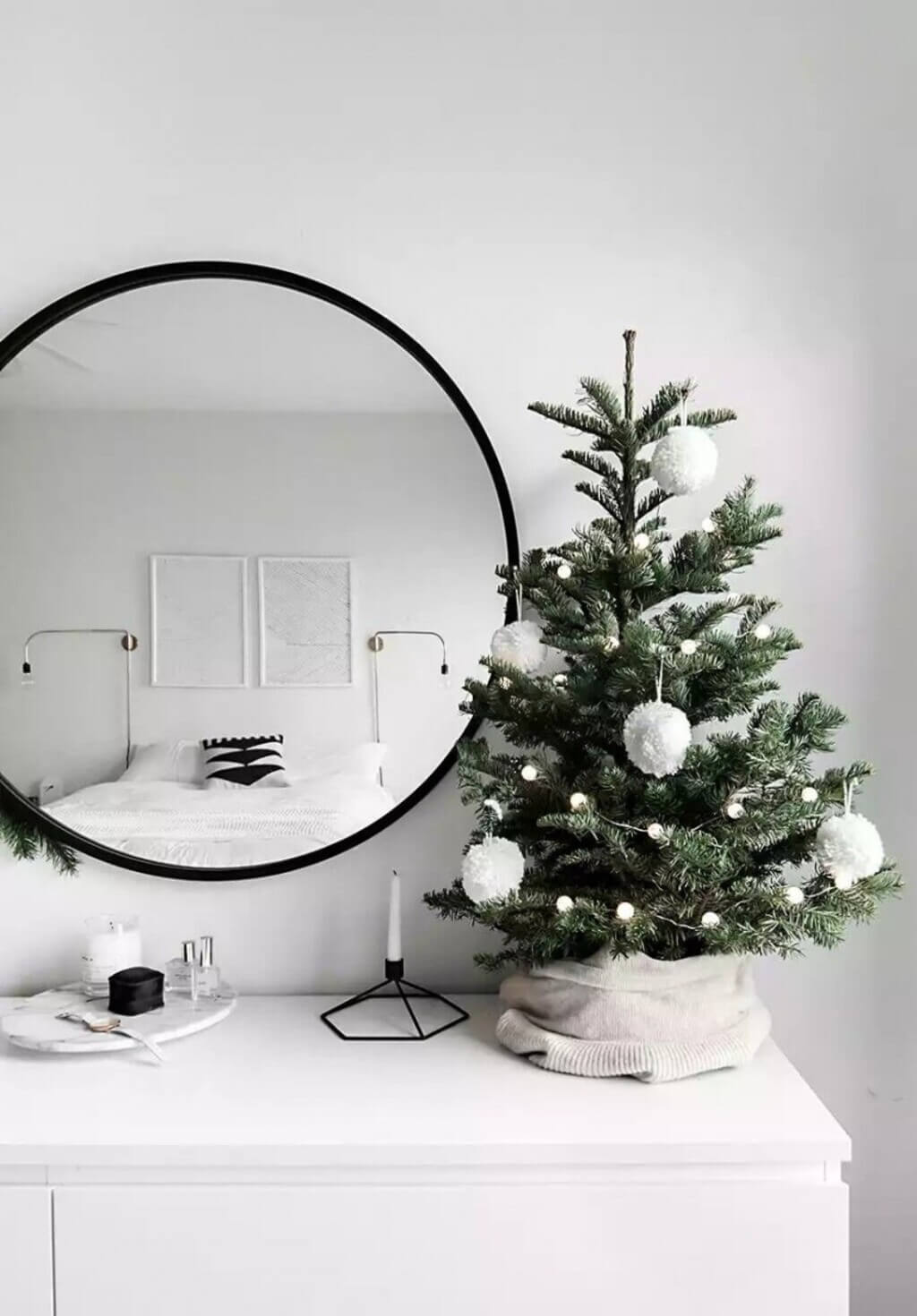 Source: viepratique.fr
Here this cute tree is decorated with white pom-poms and shimmer lights. You'll be amazed to know that it's base is made from a dog bowl, which is covered with a scarf!
4. Small Twinkling Tree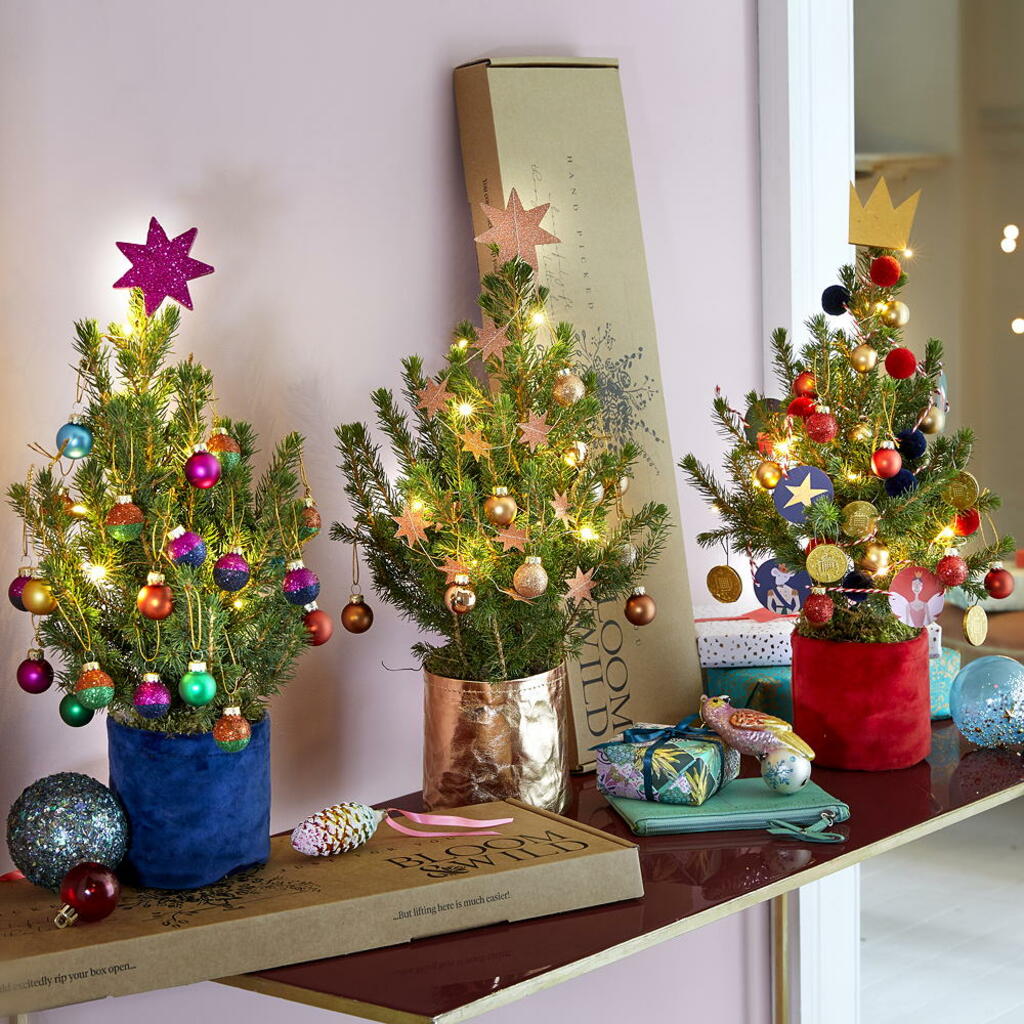 Source: timeincuk.net
Look at how this tree has lightened the entire area. If you love the rustic style, you can buy this tree and decorate it with some wrapping strands of burlap around an already-twinkling tree.
5. Unique Book Tree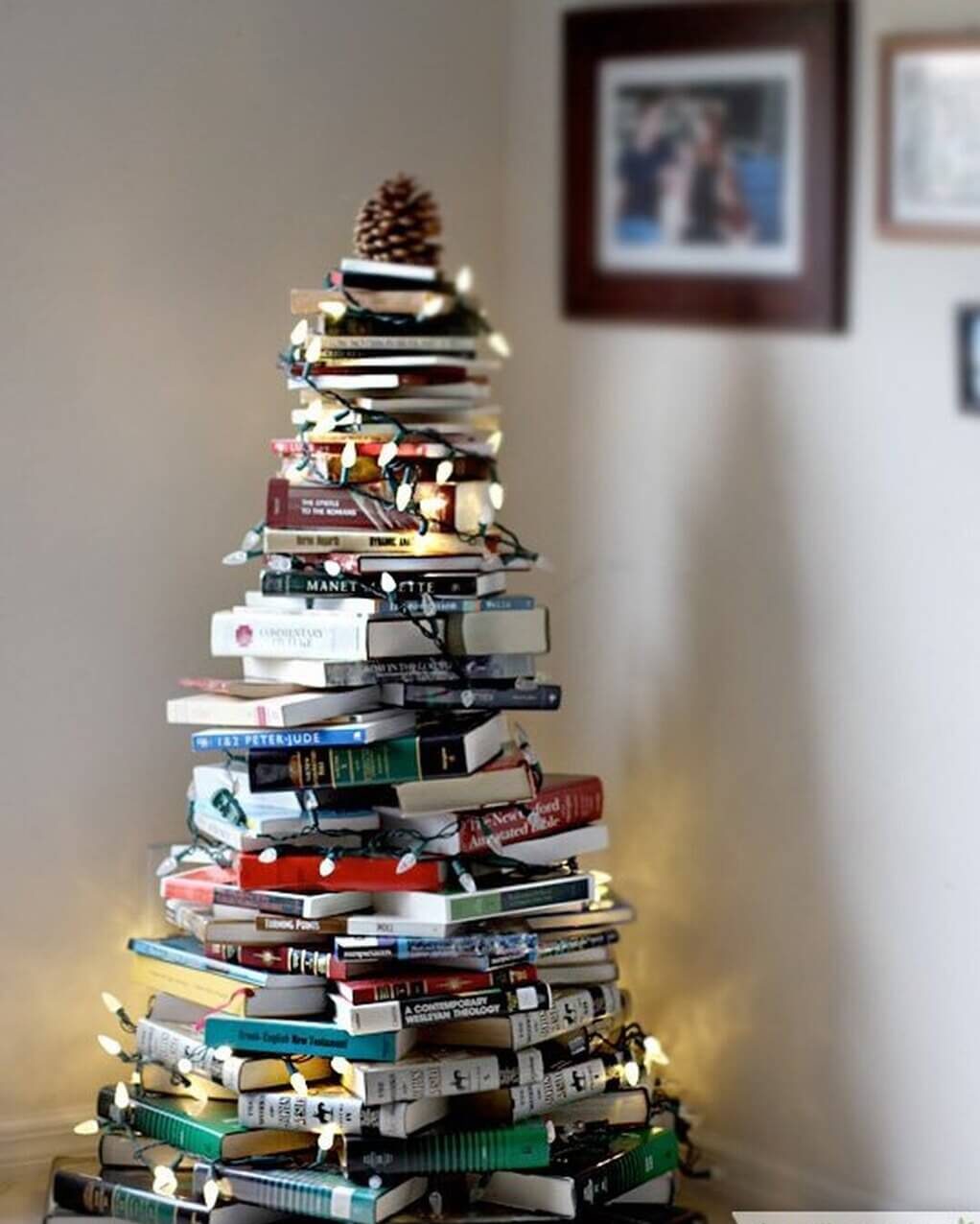 Source: domashnyochag.ru
Have a lot of books? Make a pile of them in the shape of a tree! After all, Pine trees are so 2019, right?
6. Golden Spruce Mini Tree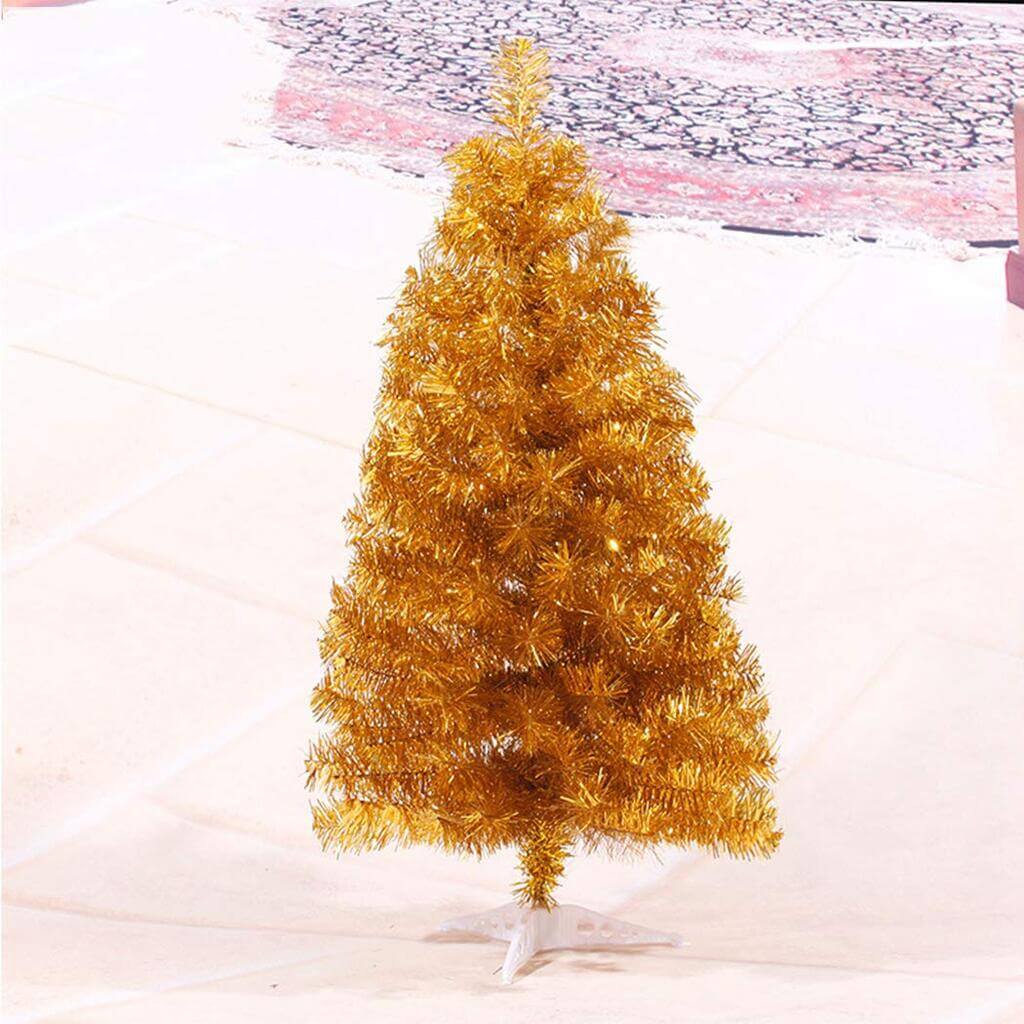 Source: amazon.com
This golden tree will be unusual and eye-catching in your whole Christmas decorations. Add a magical touch to your home with this amazing spruce tree. 
7. Tree in a Pitcher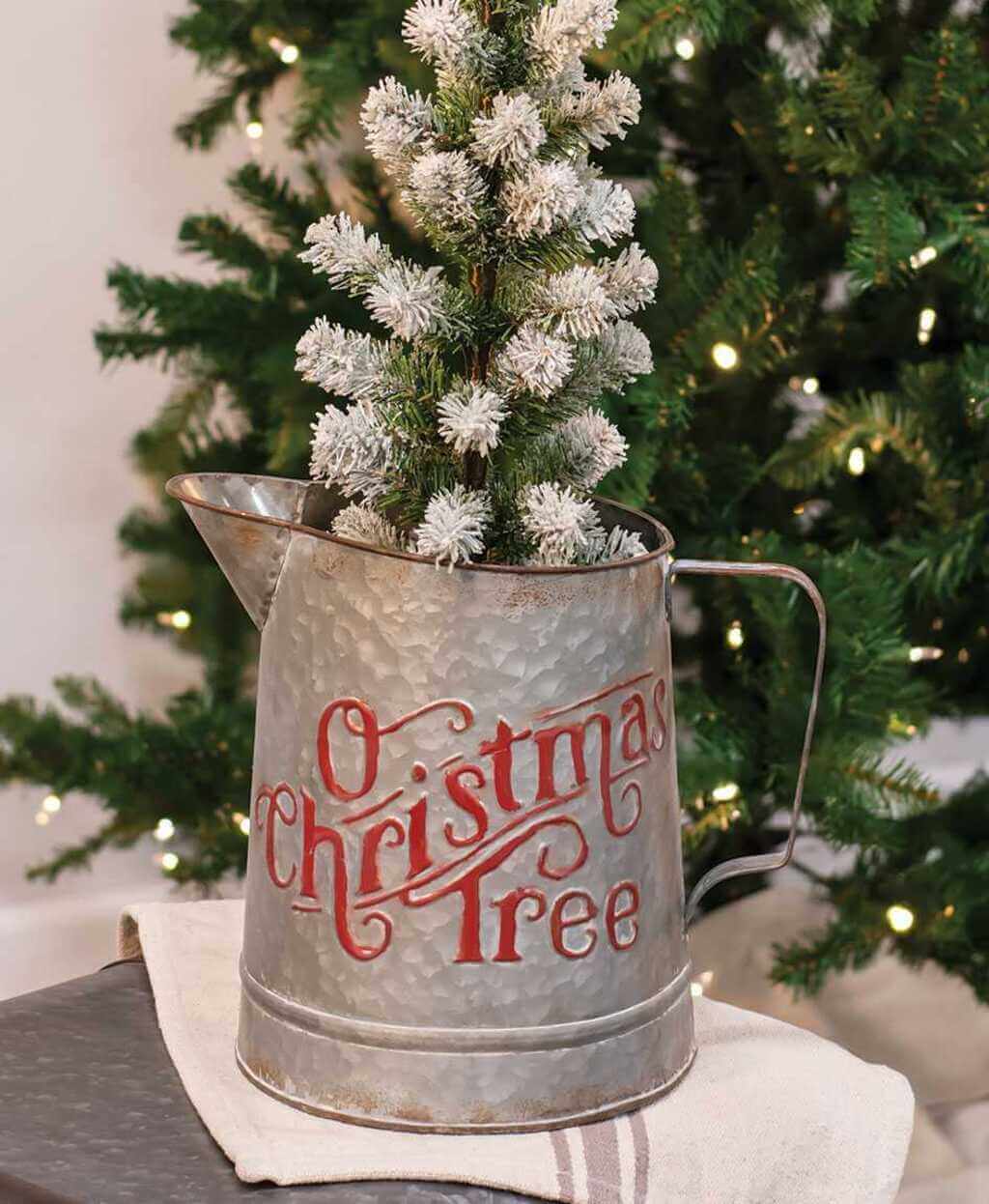 Source: thehearthsidecollection.com
This small Christmas tree is placed in a pitcher, which is bringing authentic farmhouse vibes to space. 
8. Pinecone Christmas Tree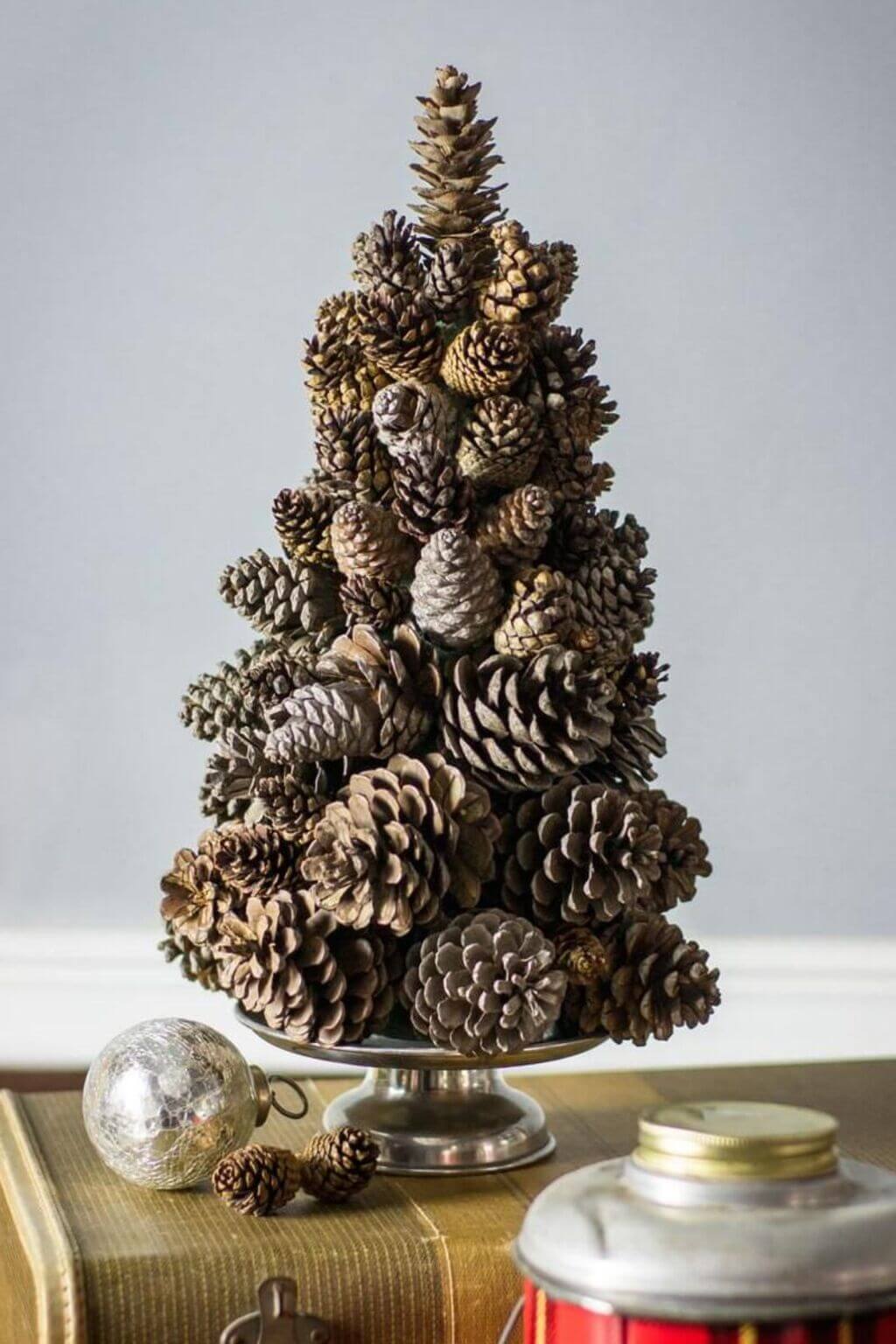 Source: hearstapps.com
Who says that it is compulsory to have a real tree in your home for Christmas? Look at this pinecone Christmas tree. You can use it as a real tree, and it is available during fall and winter. To make this micro mini tree, all you need to do is to hot glue some pinecones in the shape of a tree. 
9. Tree in Willow Basket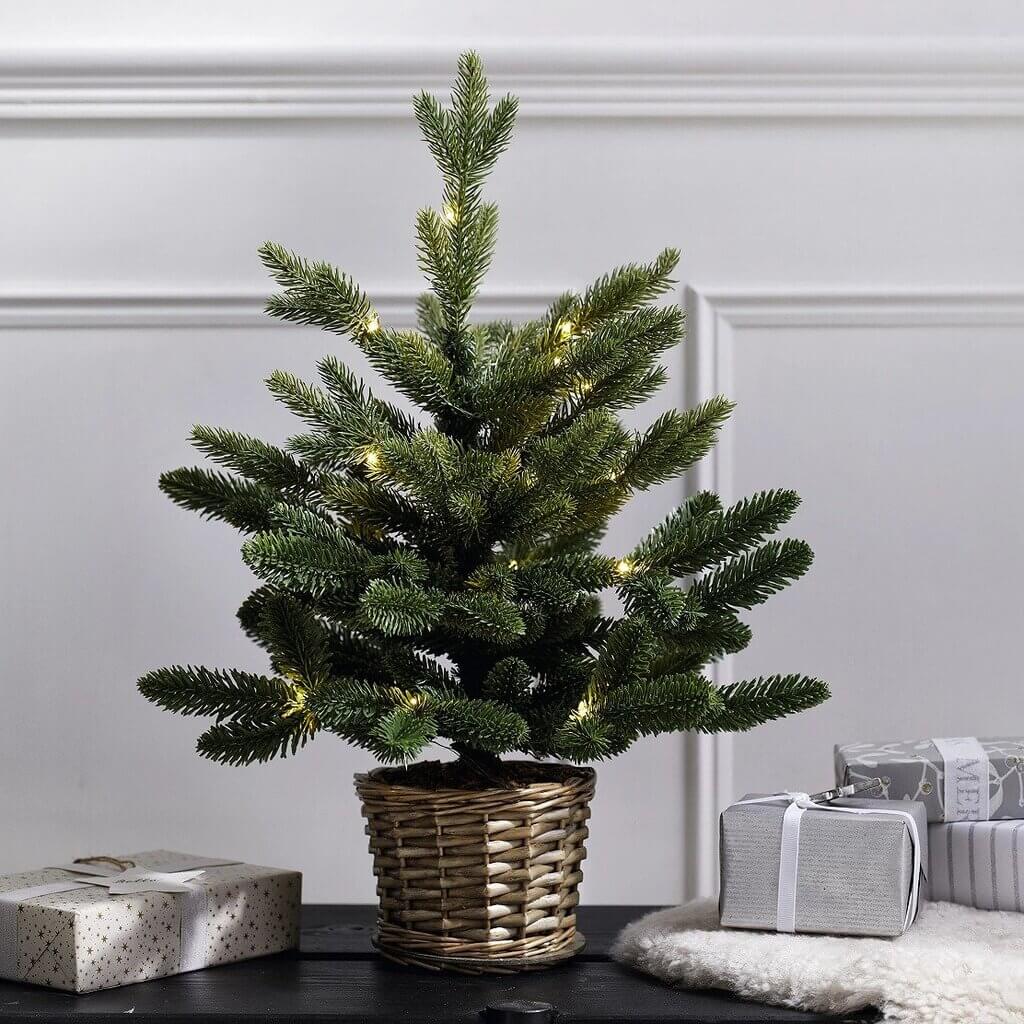 Source: scene7.com
This pre-lit tree is placed in a cute willow basket. With only a height of 1.5 ft, it can easily be fit into any spot. The thick branches of the tree create a fuller shape, and the basket adds a stylish touch.
10. Flower Bouquet-style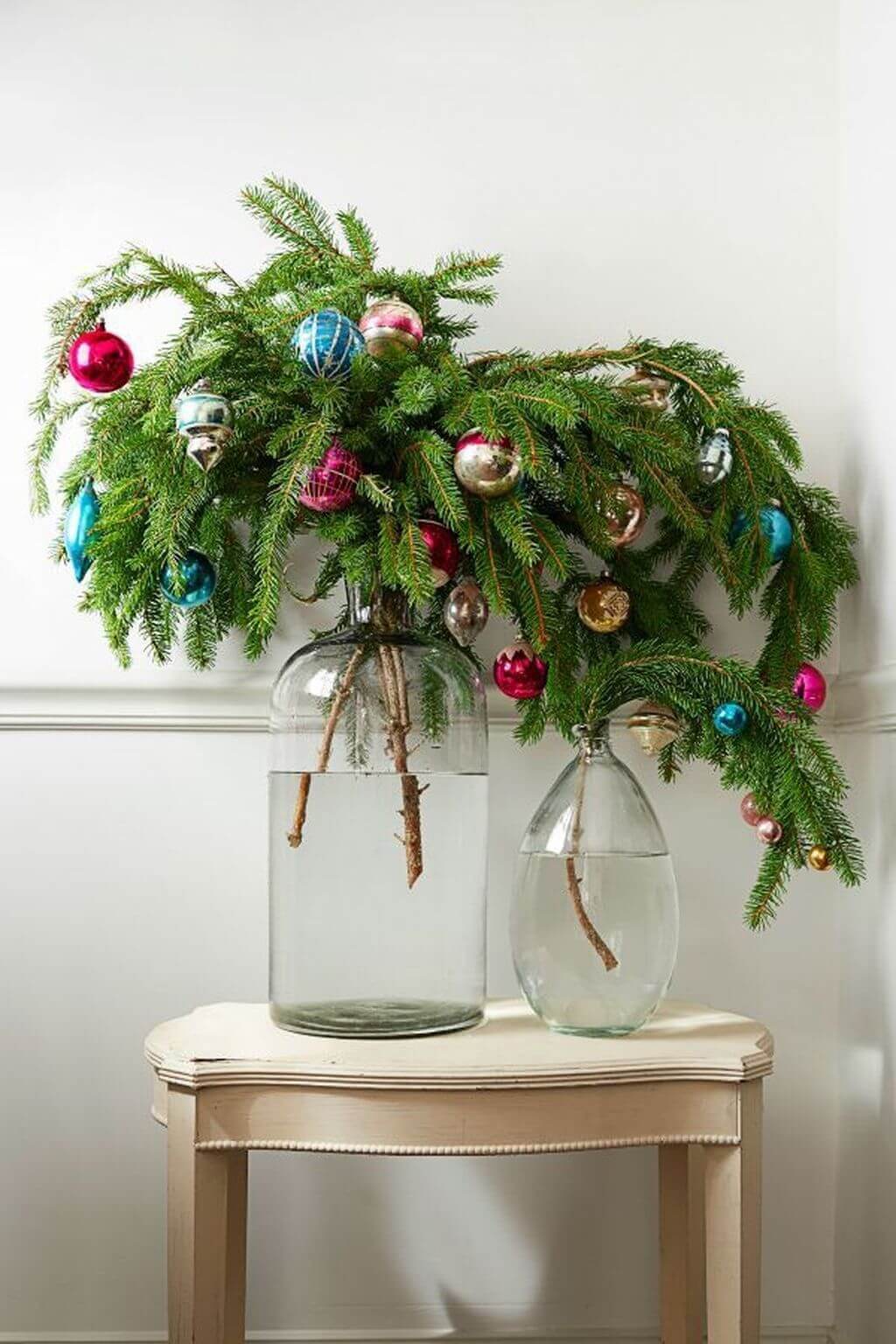 Source: pinimg.com
Worry not if you don't have a budget to buy a giant Christmas tree; you can always use some pine or cypress boughs as a tree. Just place them in oversized jars filled with water and decorate it with your favorite ornaments. 
11. A Classy Mini Christmas Tree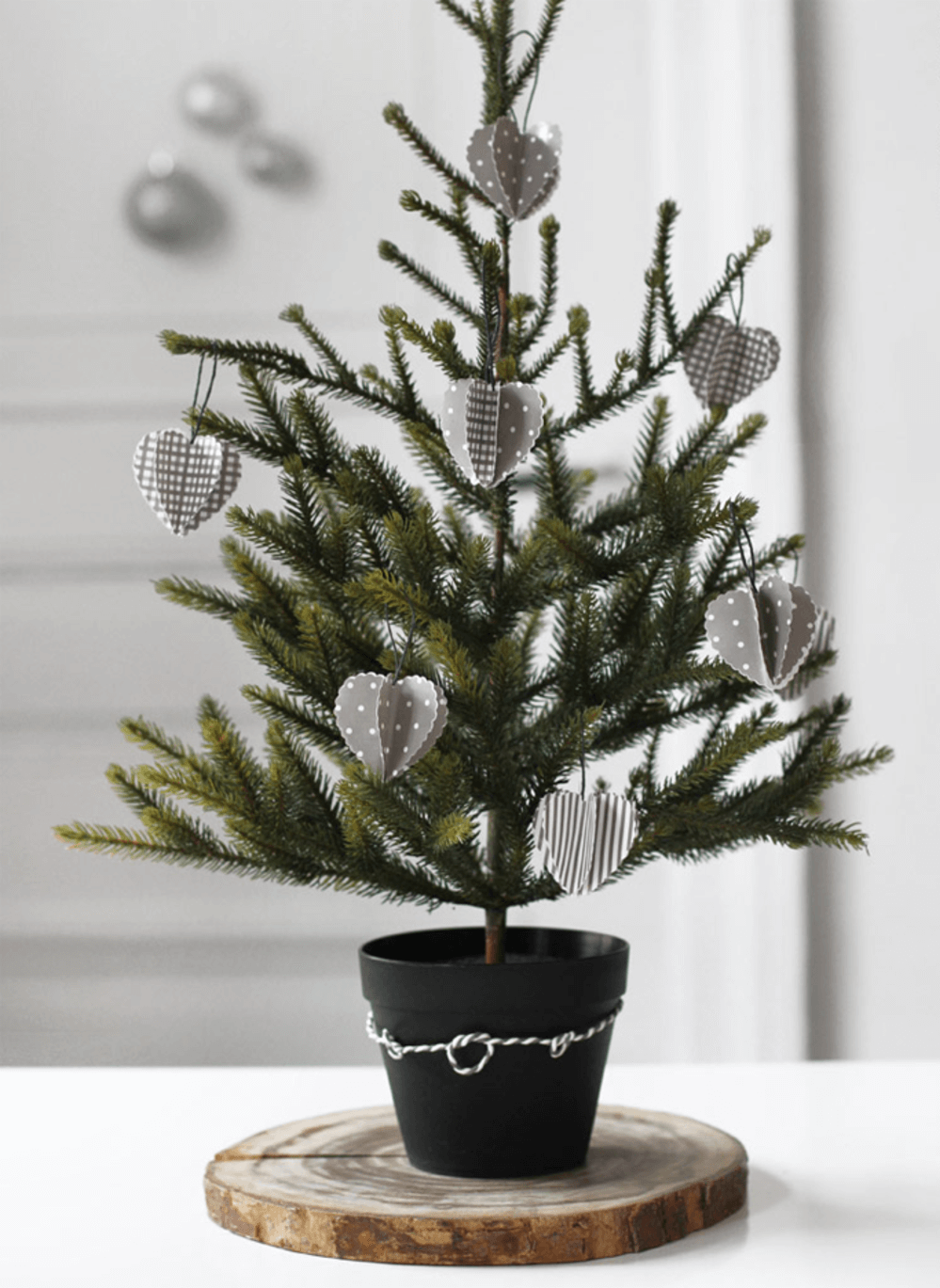 Source: 365greetings.com
Take this classy tree to your office and put it on your working desk to create a sophisticated look. You can also hang some small gray hearts on it. Here the pot is painted in stark black and decorated with twine.
Also Read: Best Christmas Bedroom Decor Ideas for a Cozy Holiday
12. Pine Cone Tabletop Tree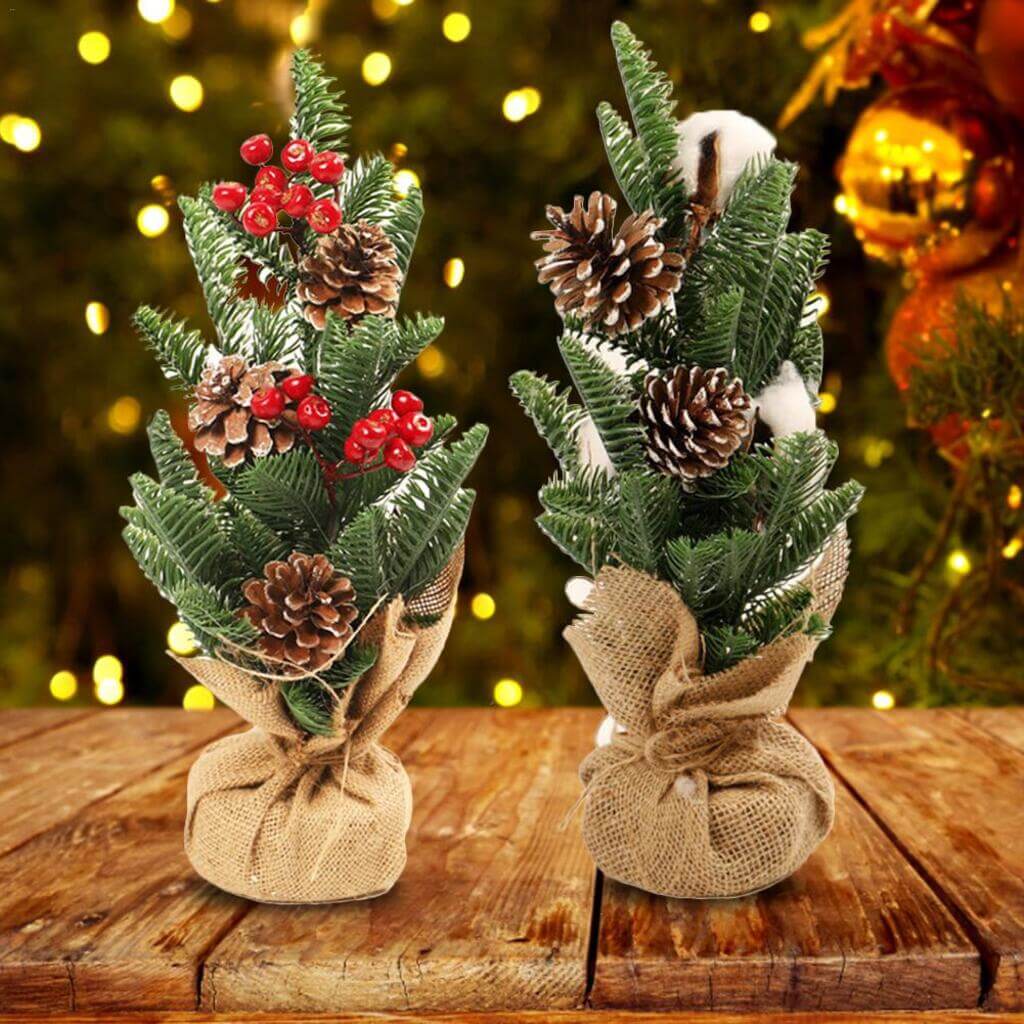 Source: alicdn.com
Another tabletop tree idea is this one. Buy this purse-friendly tree and Spruce up your desk. You can even re-use it every year.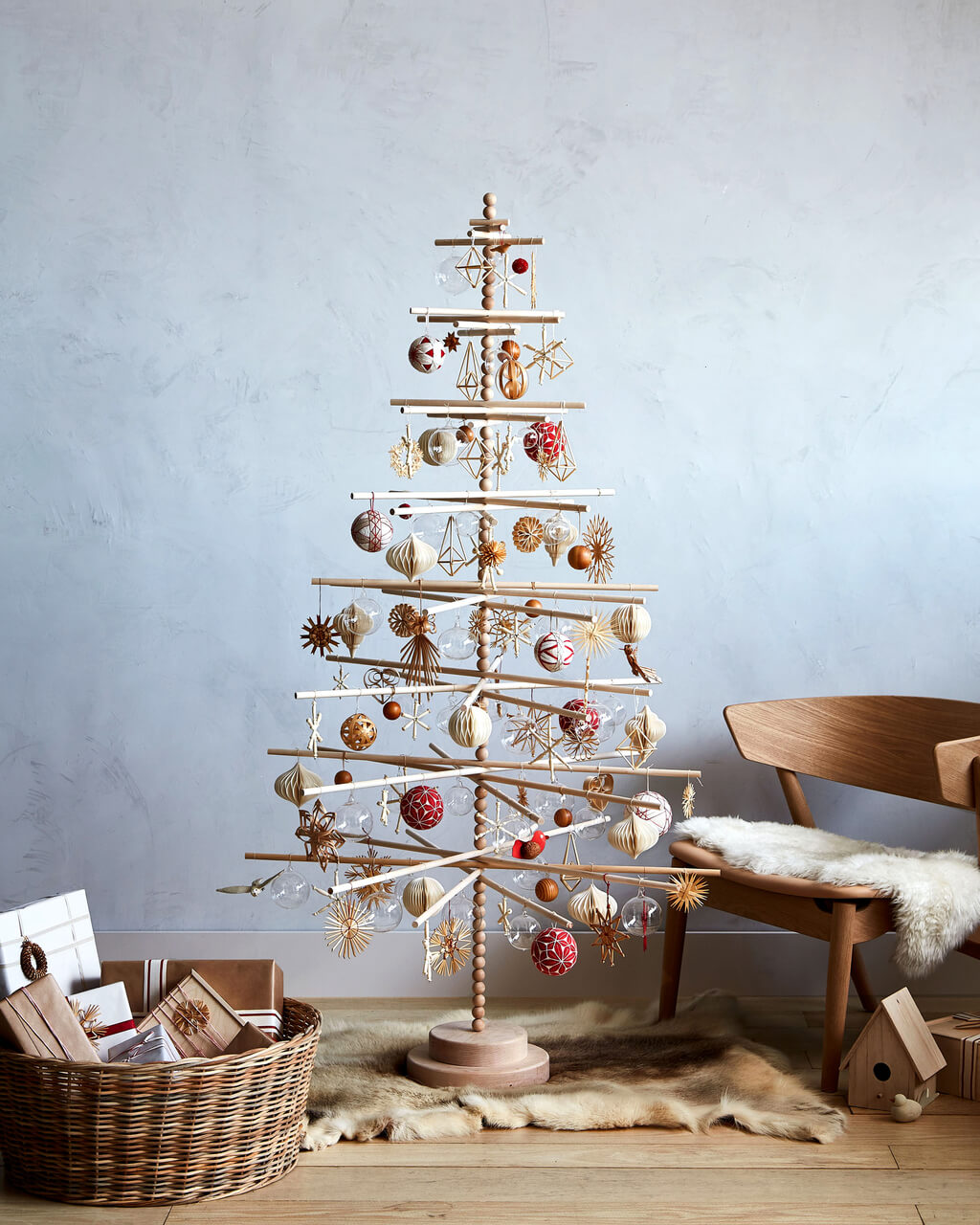 Source: onecms.io
Who says Christmas trees must be made from leaves? You can even make them with some branches. Look at this Scandinavian-inspired DIY Christmas tree. Isn't it looking pretty?
14. Floating Shelve Tree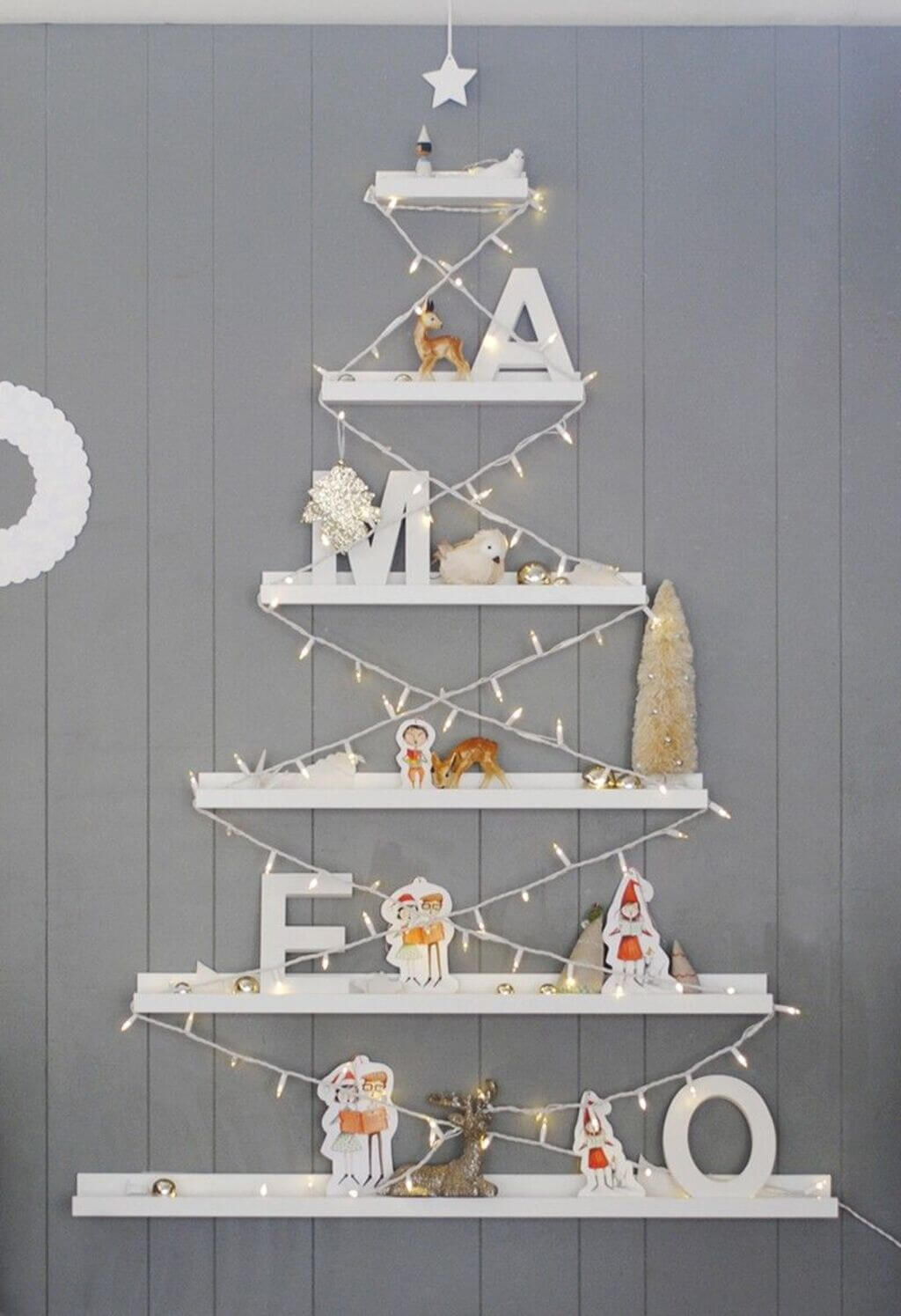 Source: pinimg.com
Another rental friendly Christmas idea is this one. Here the shelves are placed in a specific shape that looks like a tree. You can decorate the shelves according to your taste and style for a festive twist. 
15. A Beach Themed Mini Christmas Tree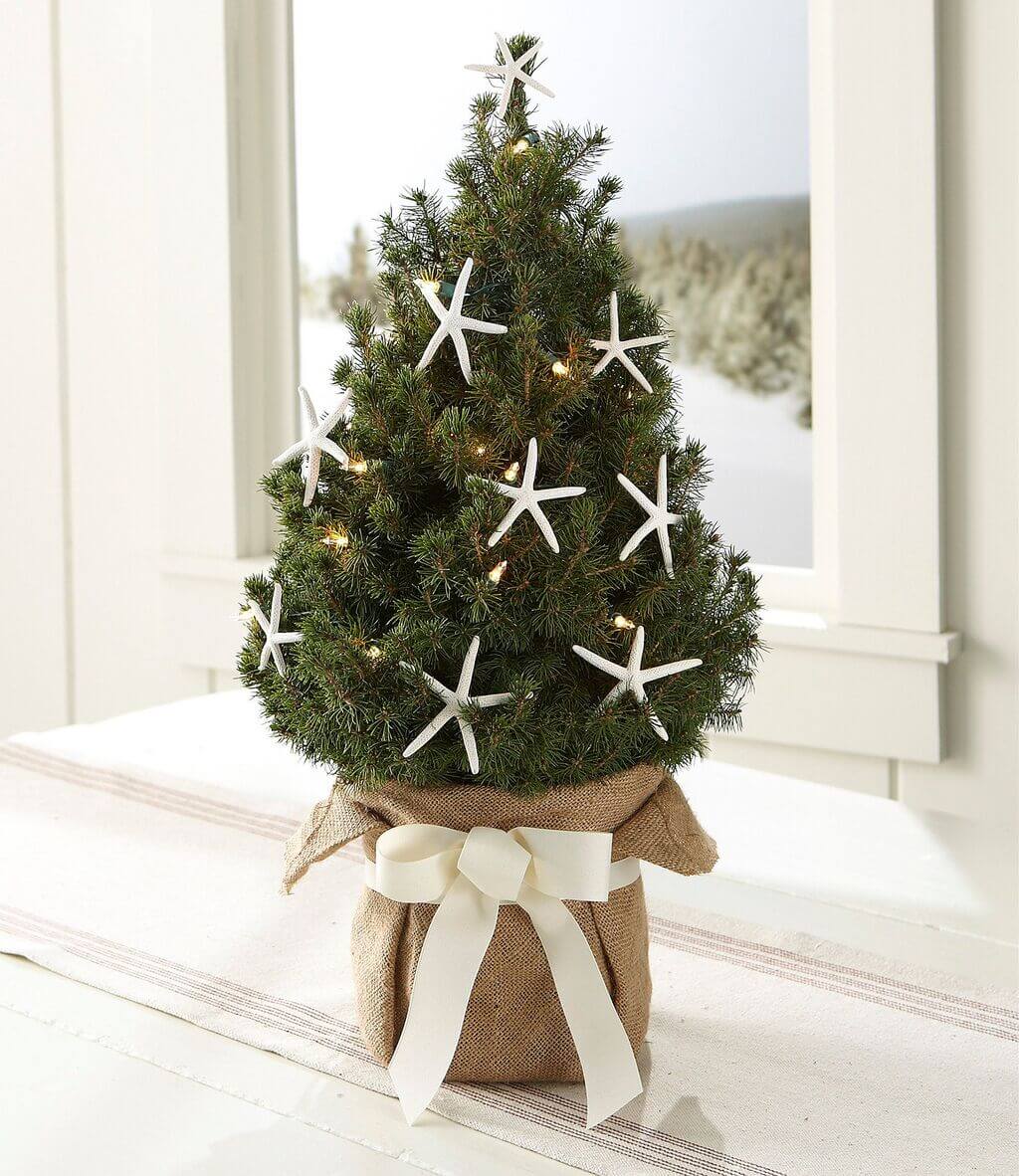 Source: pinimg.com
Are you going to host a beach-themed Christmas party? If yes, then this adorable coastal theme potted tiny tree is perfect for your party. Use fabric flowers and shells tied with ribbons to decorate it and put a starfish-shaped topper to complete the look.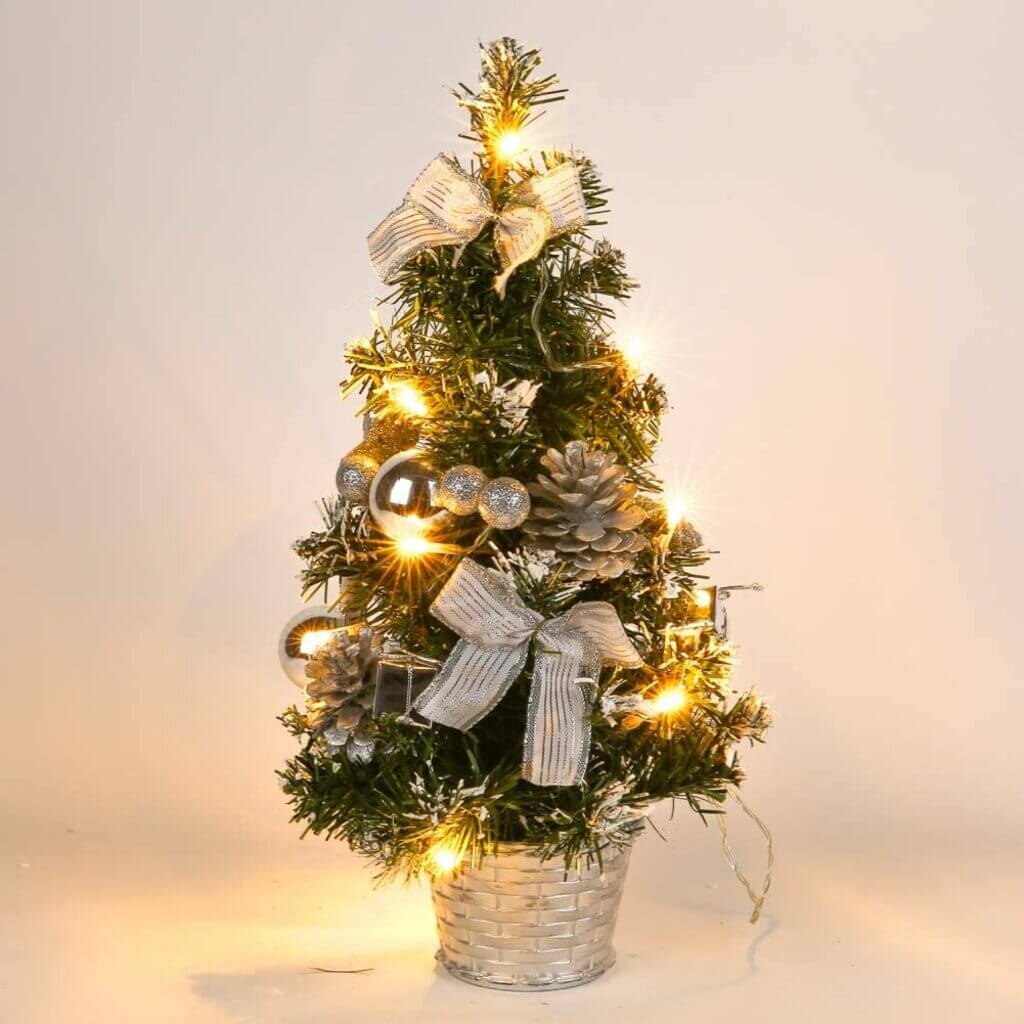 Source: amazon.com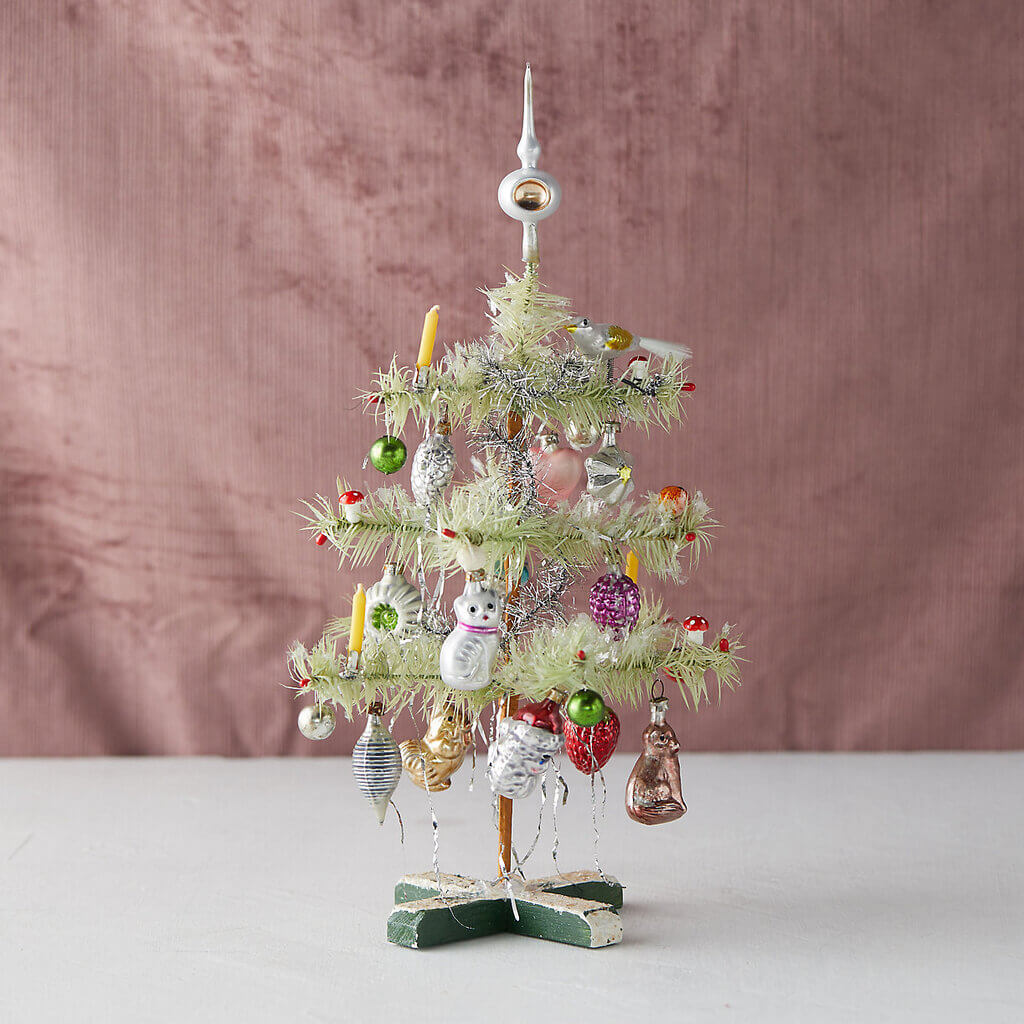 Source: scene7.com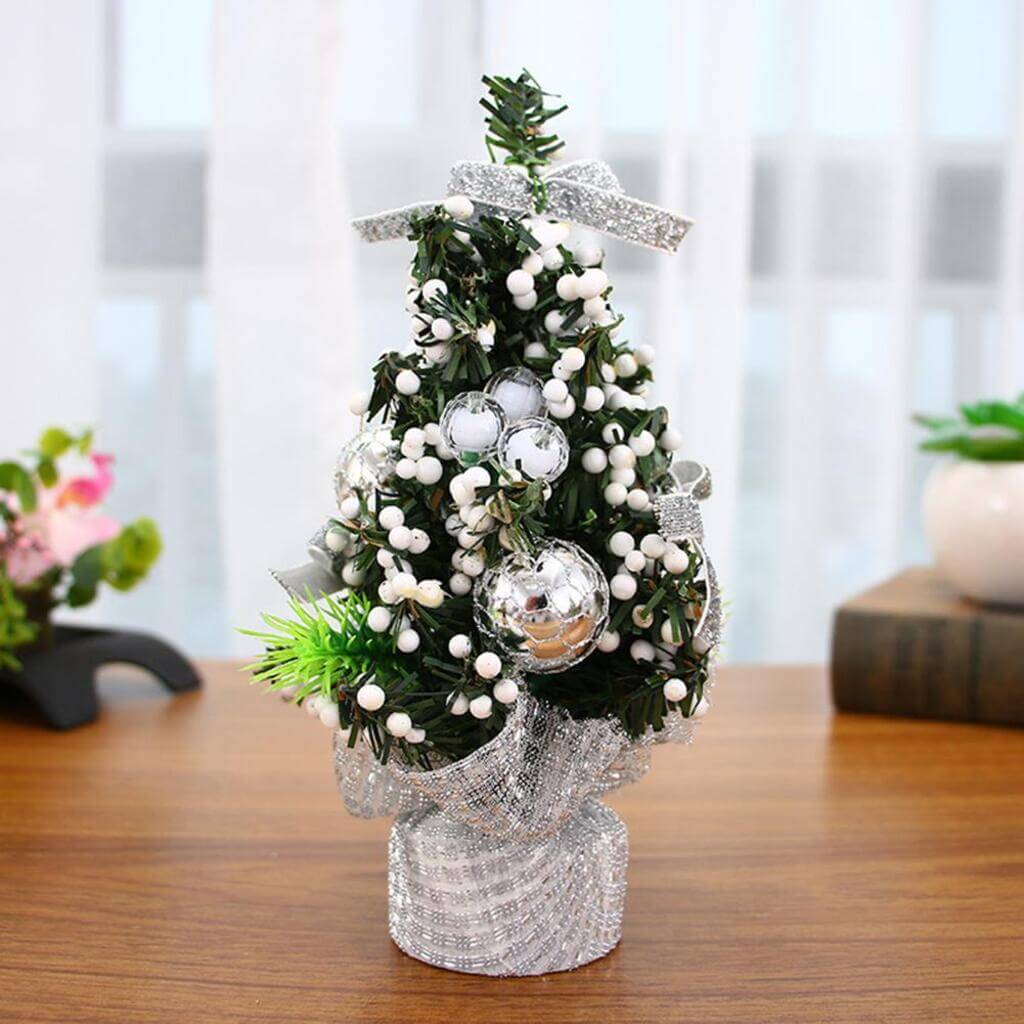 Source: dhresource.com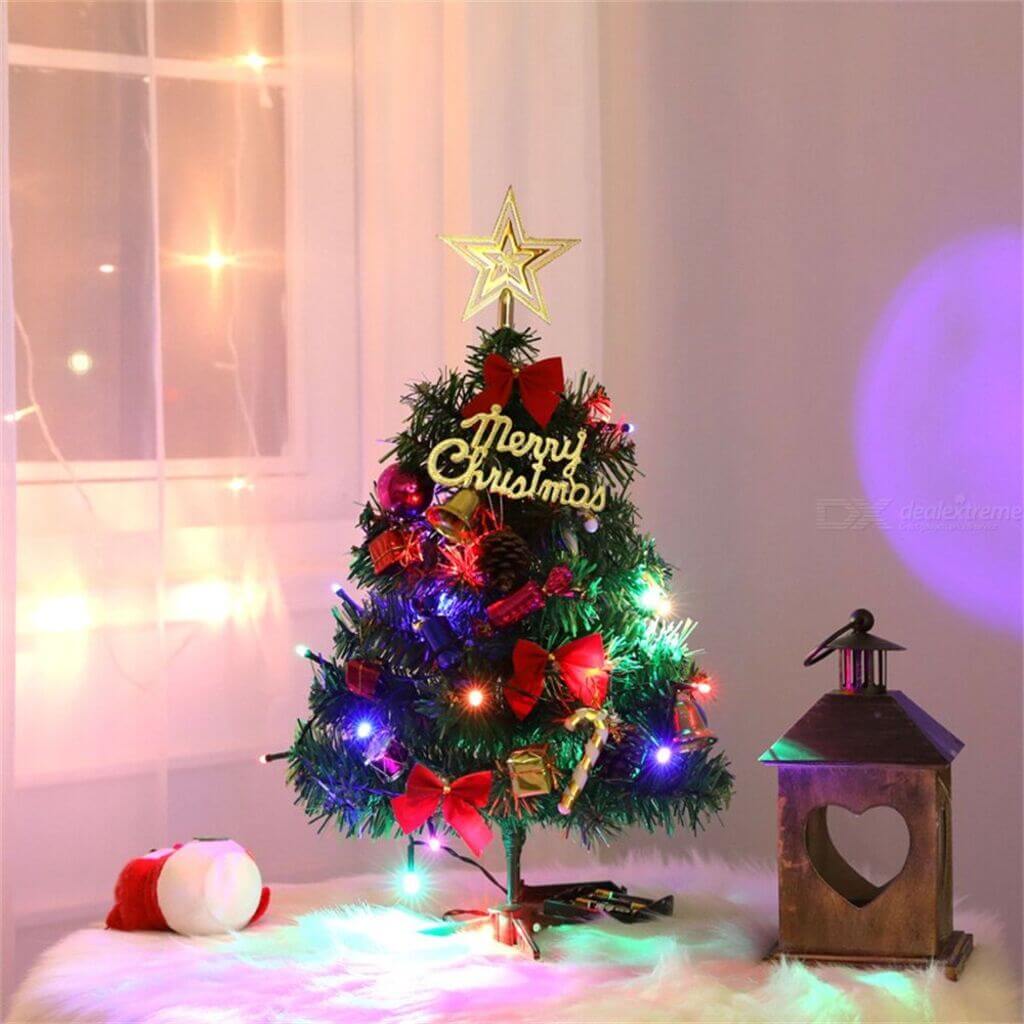 Source: dxcdn.com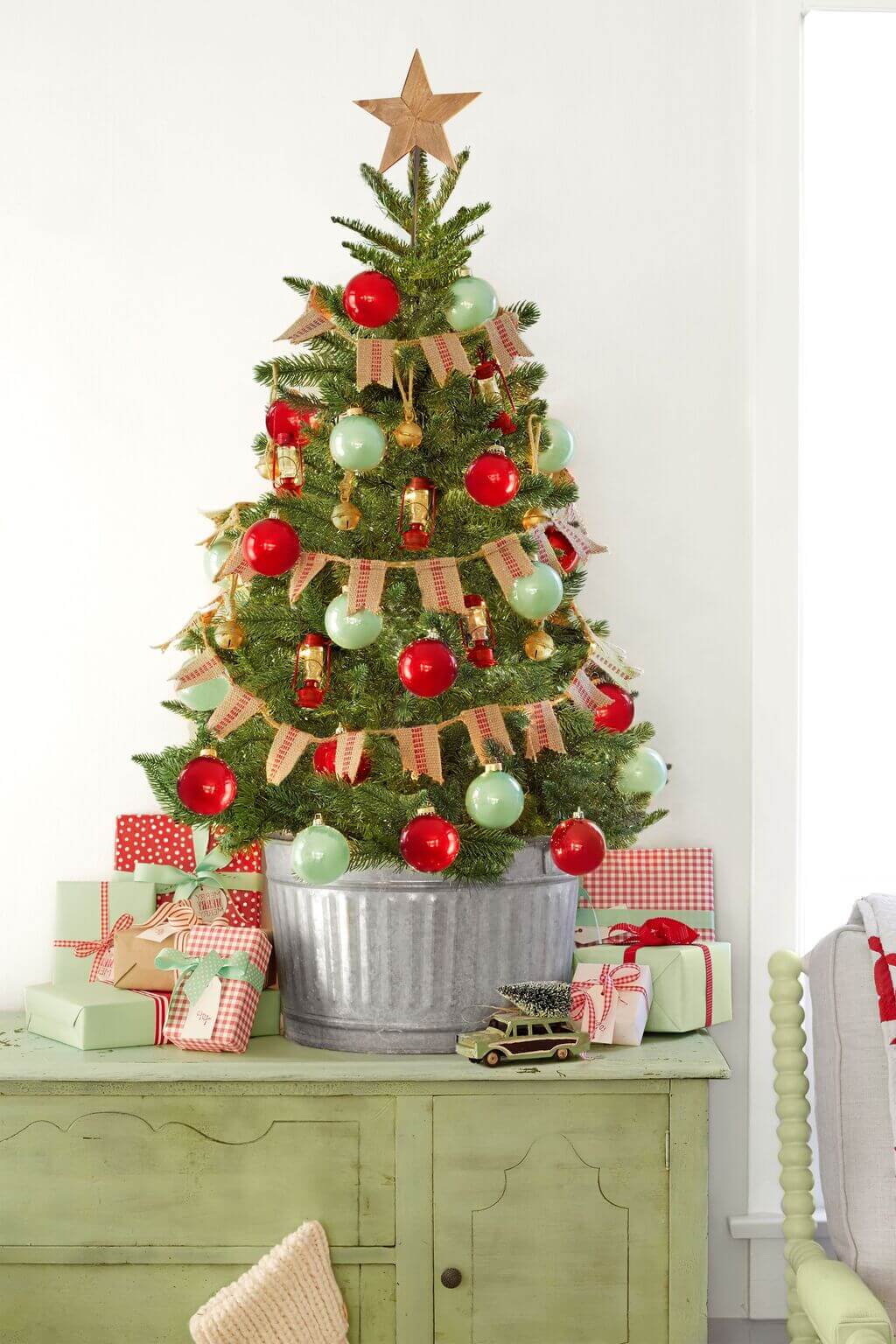 Source: pinimg.com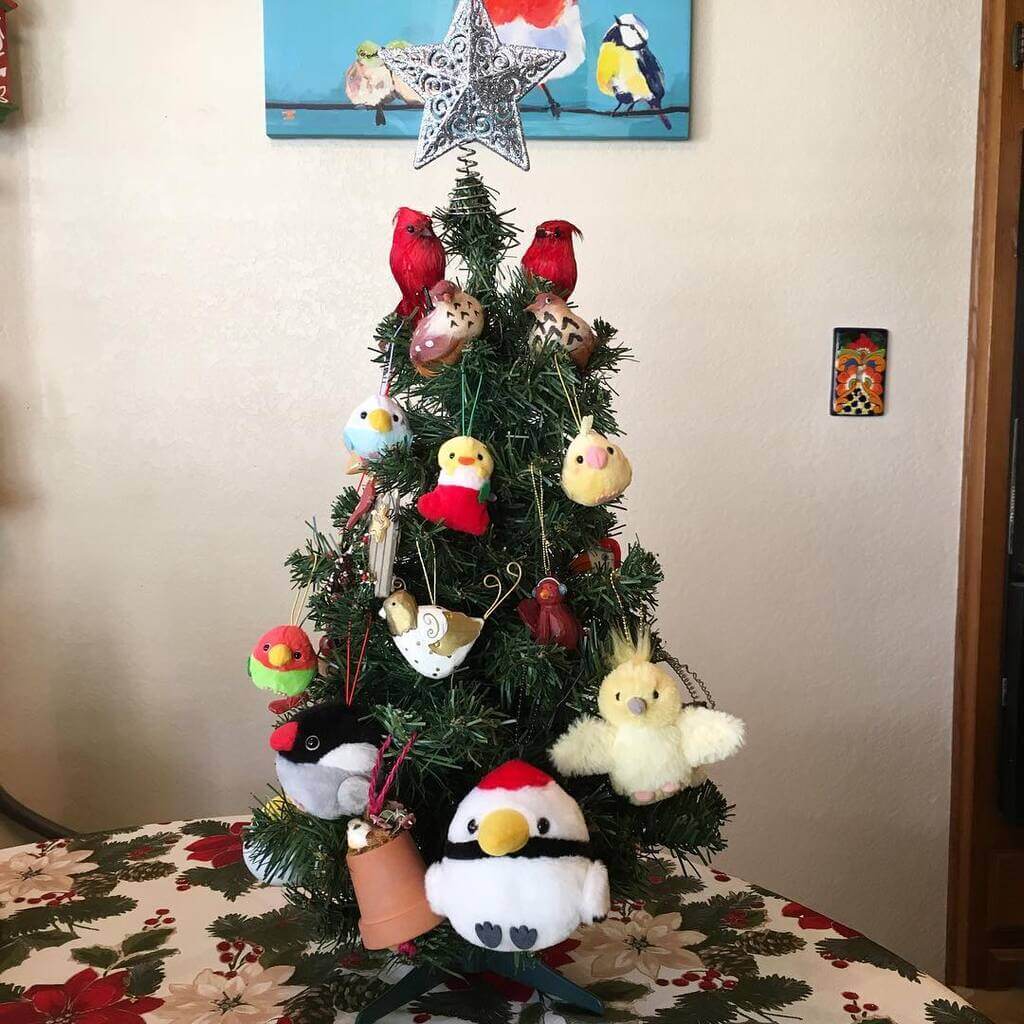 Source: gravetics.com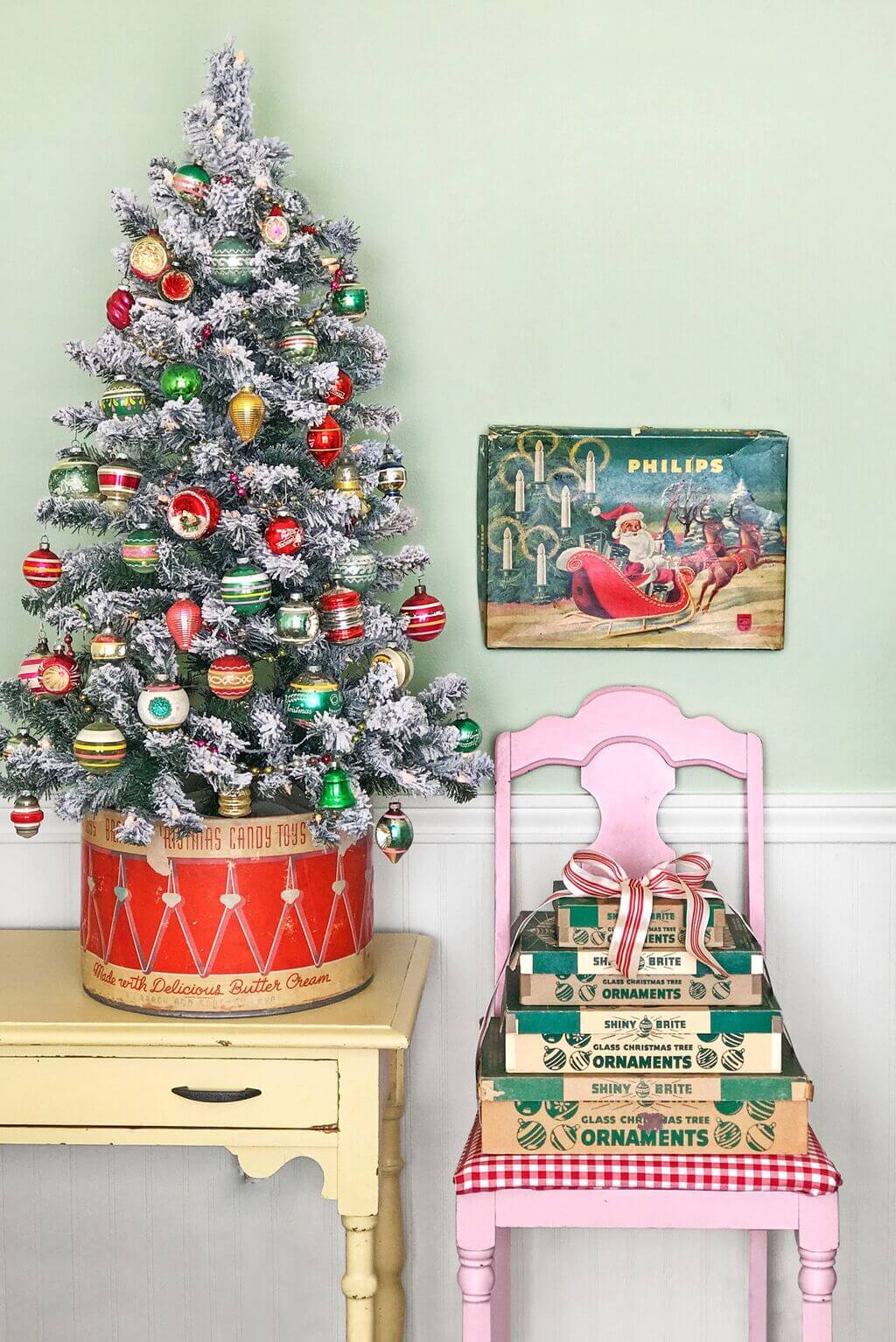 Source: hearstapps.com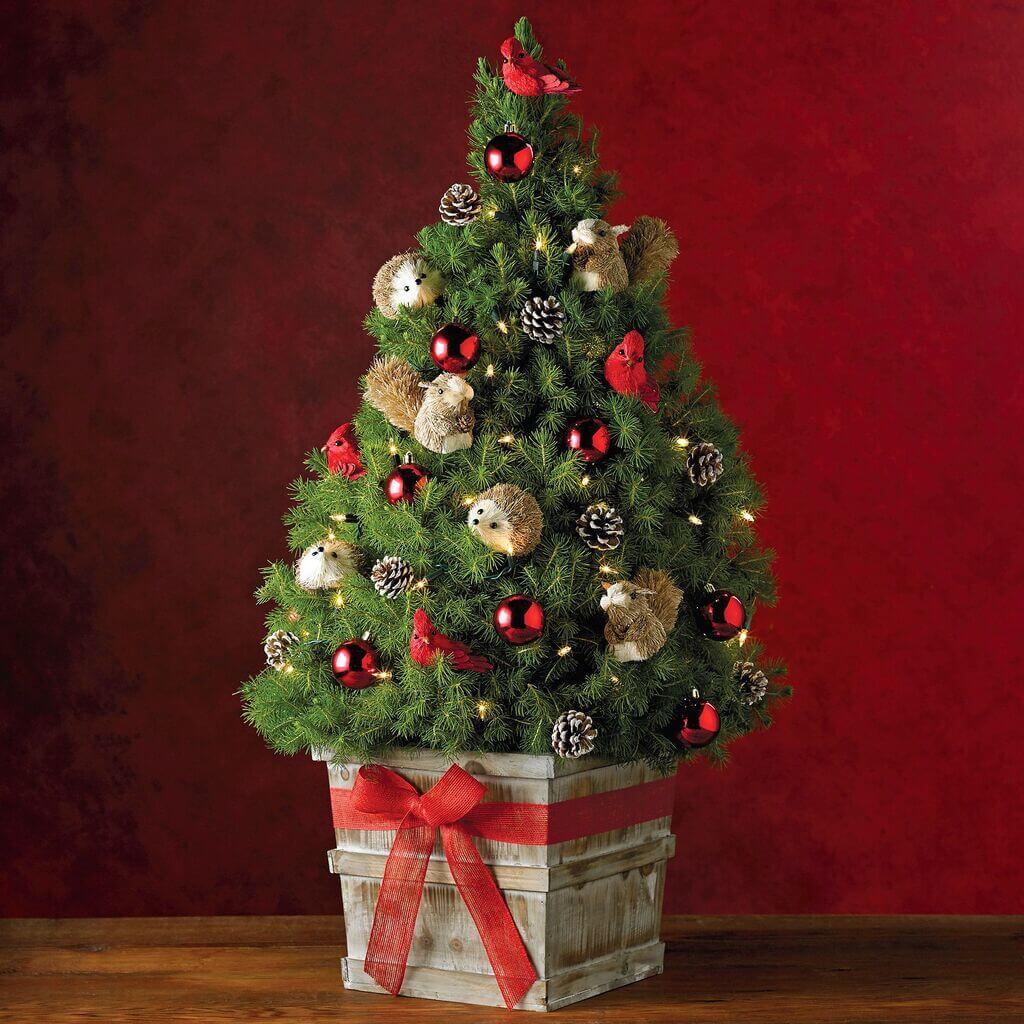 Source: pinimg.com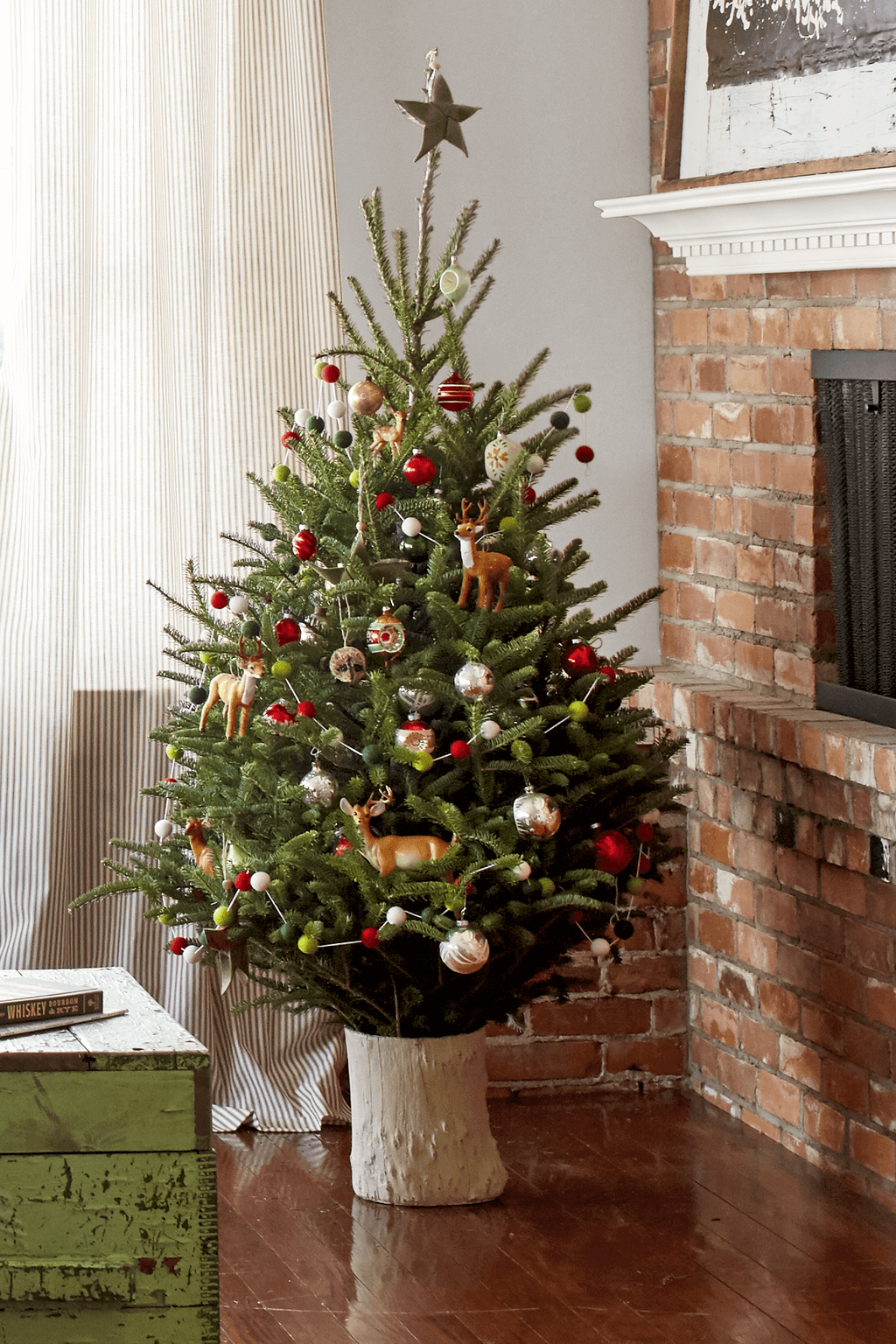 Source: hearstapps.com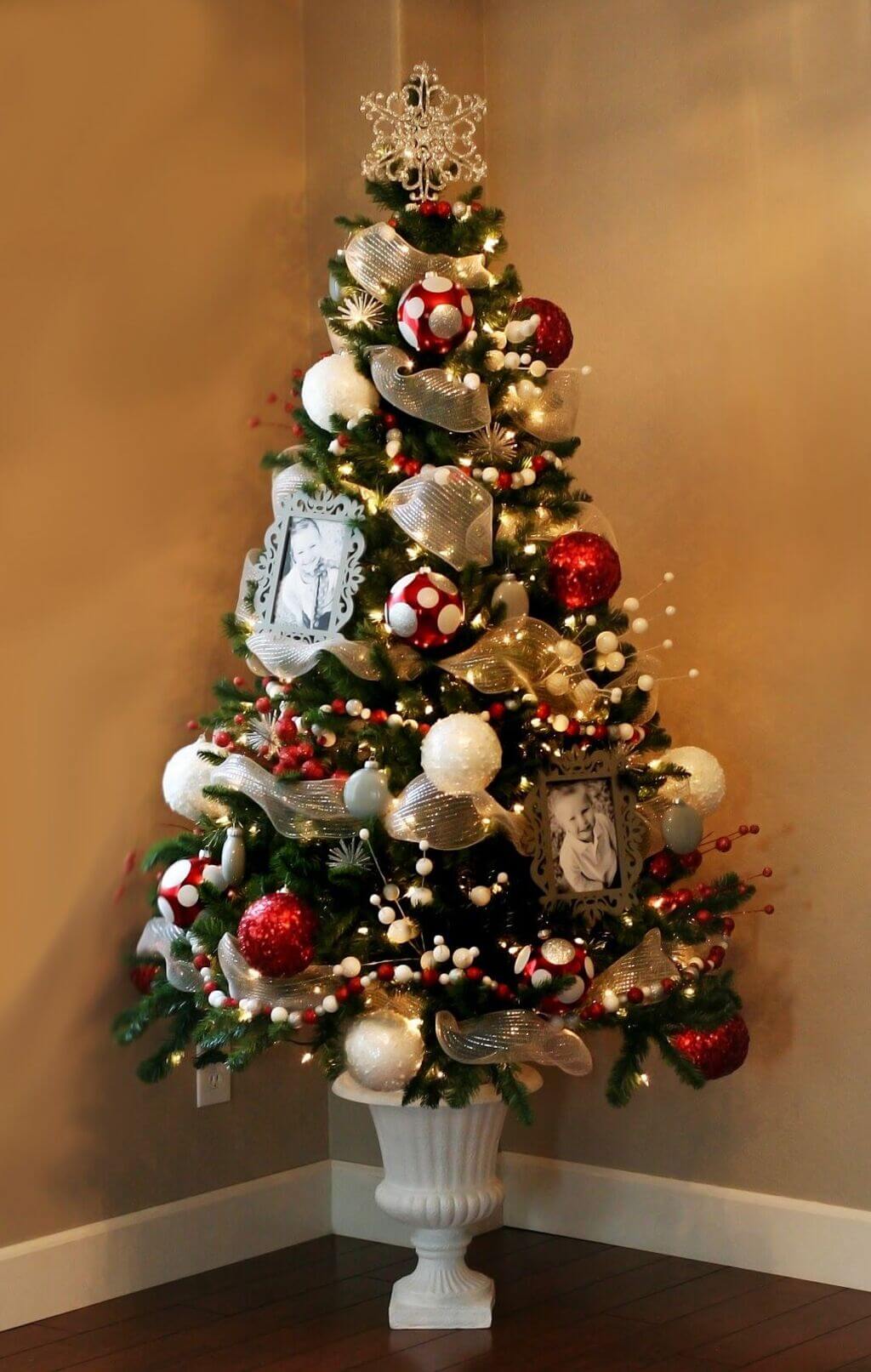 Source: pinimg.com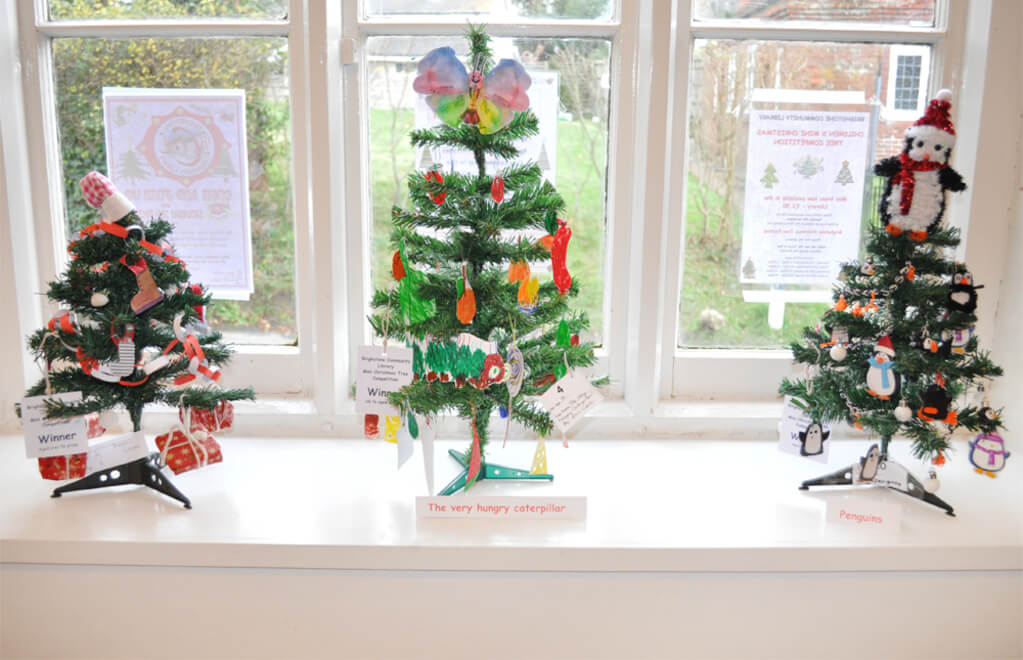 Source: islandecho.co.uk
Merry Christmas! 
Which mini Christmas tree took your heart? For me, all of them are pretty and adorable. These trees prove that you don't need to have a big budget or more space to celebrate Christmas. All you need is a heart filled with love and happiness, right!
So, keep celebrating this festive season with joy and happiness and spread love everywhere. I hope you liked all of these mini Christmas tree decorations, and if you do, please share it with your family and friends.
Keep coming to Architecturesideas for more interesting blogs and decoration ideas.
For daily updates, follow us on our Instagram page @architectures_idea.