A surefire method to adorn the house for Christmas celebrations and conclude the year grandly are outdoor Christmas decor ideas.

One of the best parts of decorating your house for the Christmas holidays is that you do it repeatedly throughout your lifetime. Whether you're a maximalist, an elegantist, or just want something nice for the outdoors, we've uncovered many unique Christmas decor ideas.

We've compiled 25+ stylish and festive outdoor Christmas decoration ideas to brighten your home and welcome visitors.
1. Winter Wonderland Dining
We don't recommend eating in the snow, but a sophisticated Christmas party would look great at an outside table decorated with a beautiful centerpiece.
2. Drop the Wreath
Certain front doors don't need a wreath to bring out their beauty. In such a situation, you can beautify the area surrounding your entrance. Additionally, the snow-covered garland adorning the column crowns looks both beautiful and joyful.
3. Keep the Backyard in Mind
Putting up a tree or two in your garden and decorating them for Christmas is one of the most magnificent outdoor Christmas decoration ideas. Simply get a fire going and stock yourself on cozy blankets.
4. Don't Forget the Fairy Lights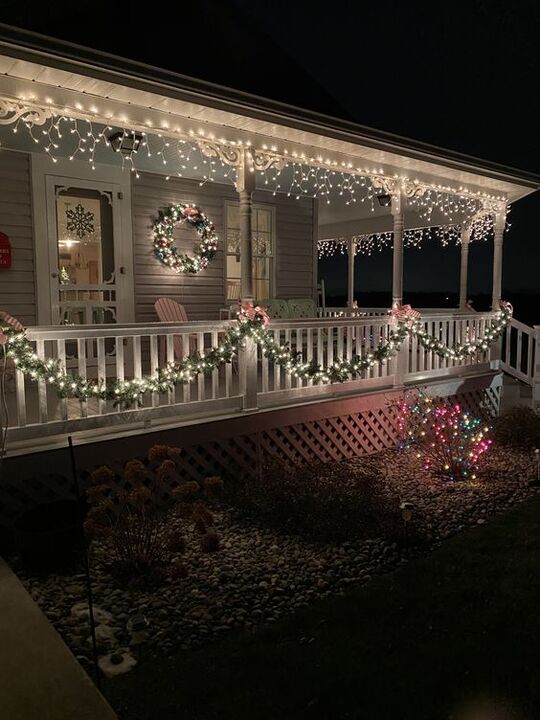 You can create a beautiful Christmas display for your front porch using metallic ornaments, garland, and string lights.
If you want your Christmas porch decorations to seem balanced, you should decorate both sides similarly. You should obtain two of everything: trees, wreaths, and garlands.
The front porch can be made over by Dimples and Tangles, with flocked décor and a riot of multicolored decorations.
5. Enclose Your Columns with Garlands
Put a festive garland around your front porch columns to make your home seem like a winter wonderland.
Use this outside Christmas decoration if you have a spacious doorway or a covered porch. Decorate your front entrance, door frame, and porch columns with garlands.
6. Use Lantern Sconces
Make your porch look pretty and welcoming without spending a lot of money on Christmas porch decorations. You won't be sad when you have to take down the holiday wreath because your front porch will look nice with clean, simple gardening and lantern sconces.
7. Lighted Outdoor Christmas Decoration
The readymade, illuminated Christmas ornaments are a great addition to this outdoor Christmas decoration idea. You must strategically arrange the props about your property and home to get the desired effect. 
Rows of conventional electric Christmas lights adorn the house's windows and columns.
8. Get Crazy with Wreaths
Putting little evergreens in huge natural baskets around the porch can provide texture and a forested sense to your outdoor Christmas decoration. 
A solid foundation of artificial greenery is essential for designing Christmas garlands and wreaths, and natural features such as huge sugar pine cones, magnolia branches, bundles of juniper berries, and pine branches only make it better.
Christmas outdoor decoration that combines artificial and natural components will stay longer and seem more current.
9. Flowers in Illuminated Hanging Baskets
Hanging flower baskets illuminated from below and stuffed with a festive symbol are a creative take on traditional outdoor Christmas decoration. You may put as many of them on your patio, porch, deck, or other outside space as possible! 
You may save money by reusing baskets that you already own, and after winter is over, the same baskets can be readily modified to make room for new spring plants.
10. Patio Or Outdoor Living Space
Protecting outdoor furniture from the winter weather doesn't mean you have to leave the outdoor sitting area unadorned. Covered outdoor furniture should have throws arranged on it, and outdoor Christmas lights should be strung around bushes, plants, and posts.
Place as many candles as possible in glass containers of varying shapes and sizes throughout the sitting area.
11. Apartment Door Christmas Decoration
An apartment door or the stoop of a brownstone or row home is perfect for this outdoor Christmas decoration. 
Put bright red ribbons on the ends of musical note sounds and thread them together. Invoke the spirit of the season and a classic Christmas carol with this door hanging.
Each letter in this outdoor Christmas decoration is strung together with a rope to form a written pair, but they are hung and fastened separately on the inside of the front door. The letters all spell out "fa – la – la."
12. Outdoor Christmas Decoration with Logs
Logs from your fireplace or your outdoor log storage area may be used to make an illuminated Christmas outdoor decoration. Make a votive candle holder by boring holes into the log and setting it on end. 
You may use candles of one single color or a rainbow of hues. You may use matches to light them or get battery-operated ones if you have kids or pets. These Christmas lights may be turned on and off with the flip of a switch. The final logs may be reused in other applications.
13. Home Entrances Should be Lit and Decorated
These multi-faceted Christmas outdoor decorations can brighten and adorn any stairs to your front entrance. Each side of the staircase features a pair of outdoor Christmas decorations, including white branches, glass chandeliers, and boxwood trees. 
Put four vivid red poinsettia plants, two on each side of the stairs, as focus points.
14. Pine Needles with Cinnamon
This outdoor Christmas decoration is a great way to enhance the visual and sensory appeal of your Christmas décor. The concept centers on two pine trees uncomplicatedly adorned with a knotted bow and white ribbons hanging down the tree's length from top to bottom. 
The evergreen trees are positioned inside buckets made of silvery metal. Each bucket should have a cut-out snowflake, and the top should be lined vertically with cinnamon sticks for an extra sensory element.
15. Planters Filled with Festive Decor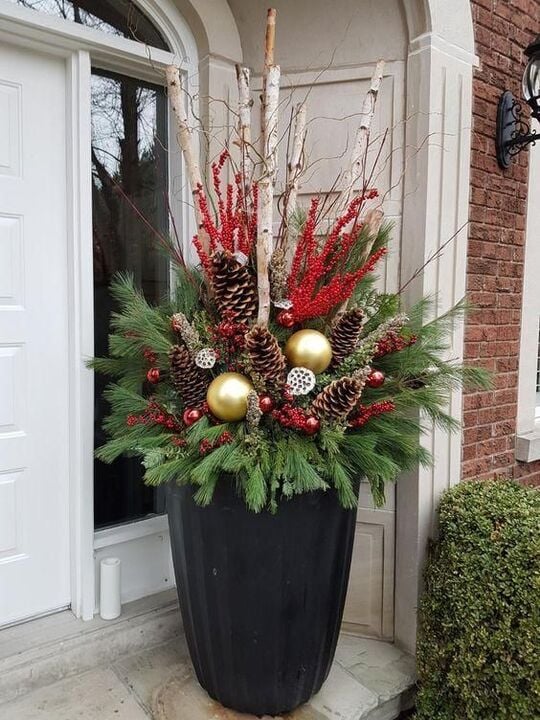 Large planters that are now dormant may be filled with Christmas decorations to create one of the most beautiful outdoor Christmas decorations. Create as many sets as you have containers. The green pine branches, pine combs, and dazzling red decorations make for a lovely outdoor Christmas decoration. 
You probably already have everything you need at home to try this concept. Additionally, find vintage Christmas tree decorations, pine combs, and tree branches in the yard.
16. Color Scheme For Your Patio
Your apartment building's neighbors will discuss your creative outdoor Christmas decor ideas for months. It is ideal for a modest patio or balcony, even with minimal outdoor furnishings.
It's all about the color scheme. Use complementary colors from your current patio set to spruce up your small patio or yard. Put in some decorated Christmas trees. Decorate your fence and windows with lights and bows.
17. Entrance Decked Out for the Christmas
These charming Christmas porch decorations are the perfect way to welcome guests and set the mood for the holiday season. 
Add a touch of serenity and warmth to your home's first impression by gracing the front door with a lush green wreath. A friendly environment that's likely to enchant every Christmas visitor entering into your winter paradise.
18. Turn your Home into a Wonderland
Get into the spirit of the season by turning the outside of your house into a magical winter wonderland. Envision yourself draping your roof with an array of lights and placing a wreath on each window.
Make your front porch shine with lanterns and garlands to welcome guests.
19. Joyous Welcome at the Door
Add Christmas cheer to your home's entrance with a garland with bright red ornaments. Add character to the setting with vintage touches like doormats, lanterns, and signage.
20. A Charming Old Christmas Corner
Flea market finds transformed into seasonal treats will transport you to a simpler time. Set a wooden sled before some unassuming paneling and decorate it with garlands and pinecones for a holiday feel.
With vintage lanterns and recycled containers, convert any area into a warm Christmas hideaway. This outdoor Christmas décoration is livened up with a dash of scarlet.
21. Garden Fireplace for Fun
An excellent concept for an outdoor Christmas decoration is to have fireplaces. An outdoor fireplace is a perfect addition to any Christmas dinner celebration.
Ensure your outdoor fireplace is in working order on the big day so your visitors can stay cozy. There are numerous sorts of fireplace designs to choose from, but go for one that superbly matches the style of your yard.
22. Lounge in the Enchanted Garden
Plunge into the warm embrace of a cheerful garden, its center occupied by a comfy sofa and encircled by jolly decorations. You've captured the season's essence with a golden setting provided by nature, some festive lighting, and a dash of cheer.
23. Lamps Strung Outside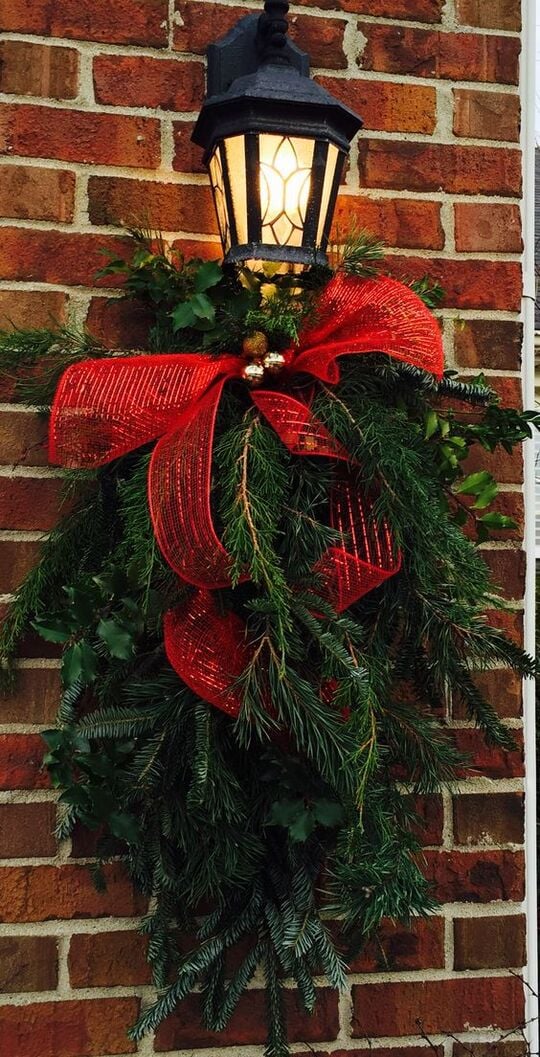 Strings of lights are a quintessential part of each Christmas celebration. Whether utilizing standard LED bulbs or going all out with holiday-themed string lights, the light they emit in your landscape should be comforting and inviting.
Make sure you've got the proper sized wire for where you want your lights. Also, take care of whether they are the mains or battery operated.
24. Replace Flowers with Ribbons
Your leading outdoor Christmas decoration investment should be ribbons, not fresh flowers. They're simple to use and may be reused several times to brighten up flora in high-traffic areas like the lobby.
25. A Full Fledged Outdoor Setup
The scene's focus is a gorgeous tree decked up in traditional red garland and gold lights. A modest evergreen wreath hangs over the hearth, and the mantle is decorated with fresh, fragrant greenery. Gather your friends and family around a roaring fire and a well-stocked outdoor bar.
26. Decorate Your Foyer
Create a warm and welcoming foyer for your guests. Adorn the staircase with a garland made of pinecones, grass, and ribbons in a mountainous shade of blue.
27. Paper Luminaries
Our favorite technique to light up outdoor Christmas decorations is a beautiful variety of paper luminaries. Put them in rows down your front walk or driveway, or scatter them on your porch for an easy and inexpensive Christmas decor. 
28. Decide to Keep Things Minimal
The worth of your Christmas decorations should never be determined by how many lights you can string together.
Stunning evergreen wreaths fastened with bow-tied ribbons provide a touch of elegance to any celebration. Simple, identical evergreen wreaths hung on your doors and windows will give the house the same timeless appeal.
Ending Notes
You can bring the festive mood of outdoor Christmas decorations inside your house with these ornaments. These tips can help you turn your outside area into a winter paradise, perfect for celebrating the holidays with friends and family.
Put these ideas to use this holiday season by adorning your own home or surprising your neighbors with a kind gesture. Not only do they make fantastic presents that may be used for many years, but they are also guaranteed to brighten and shine your Christmas outdoor decorations.
Explore Further