HO, HO, HO…lidays are here!! That means…Shopping, partying and so many things. So, are you ready to celebrate Christmas? It's only 20 days away!! Bring out the festive spirits from inside of you and enjoy every second of this festive season.
If you are living in a small apartment or house and face difficulty in decorating your place? It is a widespread problem because sometimes it is quite hard to decorate small spaces. But with the right strategy and proper decor items, you can do this.
We know a lot of people believe that no Christmas is complete without a Christmas tree. It is kinda true, but what if you have little space? That doesn't mean that you can't celebrate Christmas. Of course, you can!! And now if you ask how to do Christmas decorations without a tree? We are already ready with the answer. Today we bring the list of alternatives for the Christmas tree, which you can implement in any place.
But before you start reading, you need to know what is the key point to decorating any small space.
The key point is to keep things simple and NOT over-clutter!!
This is the major mistake people make in their homes, so we are telling you this in the first place so that you'll not repeat this thing.
So let's start, by looking at these super awesome 12 Christmas decorating ideas without a tree:
1. Christmas Tree Tapestry
Source: amazon.com
Tapestries are the best ways to bring Christmas tree vibes. You'll find various tapestries with a Christmas tree printed on them. Just hang them above your bed frame or anywhere on the wall. Another thing you can do is that just take a picture of an already decorated tree and turn it into a large scale print, just hang this into your apartment… And you're ready for Christmas.
Fast, Easy, and practical!!
2. A Mini Christmas Tree
Source: amazon.com
But if you want a real Christmas tree, even if you have a really small apartment, then there is only one to way to achieve it, and that is the tiny versions of the tree. You can find these cute and adorable miniatures trees in the departmental stores or online (easiest way!!), or you can cut some branches of the live Fraser fir tree.
"Place them on the side tables or near windows and feel the real and authentic tree in a small form."
3. Gold Pineapple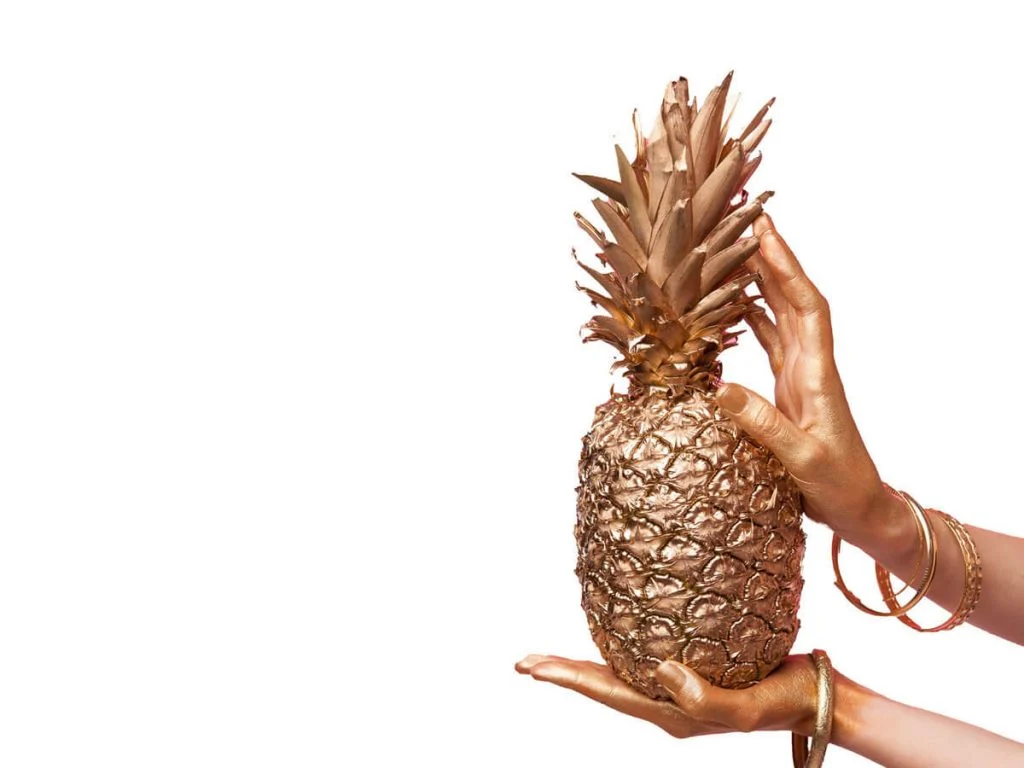 Source: partmenttherapy.info
For a unique and artistic looking Christmas tree, try a pineapple one. Yes… it may sound funny, but it looks so awesome. Pick a pineapple and spray paint it in a glittery gold or sparkly silver color and place it on the table as a centerpiece.
4. Draw The Tree
Source: wallums.com
But if you want a tree in an exact shape of a Christmas tree, then another creative idea is to draw them. If you have a wall with chalkboard paint, then it is fantastic, draw a tree with colorful chalks on it, or you can also paint them on one of the walls of your house.
"A Christmas tree wall painting is a big commitment, so make one if you're ready to see this for a longer period."
5. Crepe Paper Tree
Source: mamabee.com
A fun DIY project for kids is making a tree with crepe paper. Select a green color crepe paper and fold and paste them horizontally on the walls and later decorate it.
"To get the real effects of a tree, trim the bottom of each strip infringe."
6. Fabric Christmas Tree
Source: pinimg.com
Cut out some green felt or cloth in the shape of a Christmas tree and glue it on the wall. Or another option is to buy a fluffy fabric tree and place it in any corner and decorate it with some fairy lights.
"Fabric tree is a great idea if you have a baby who is always crawling and breaks stuff. (which is, in fact, a great exercise for babies!!)"
7. Green Garland Tree
Source: pinimg.com
Another wall tree option is a garland Christmas tree. It is the easiest and quickest way to create one. Just place a green garland in the tree form and top it with a red ribbon bow, and your cheap but very attractive looking Christmas tree is ready!!
8. Tree Branch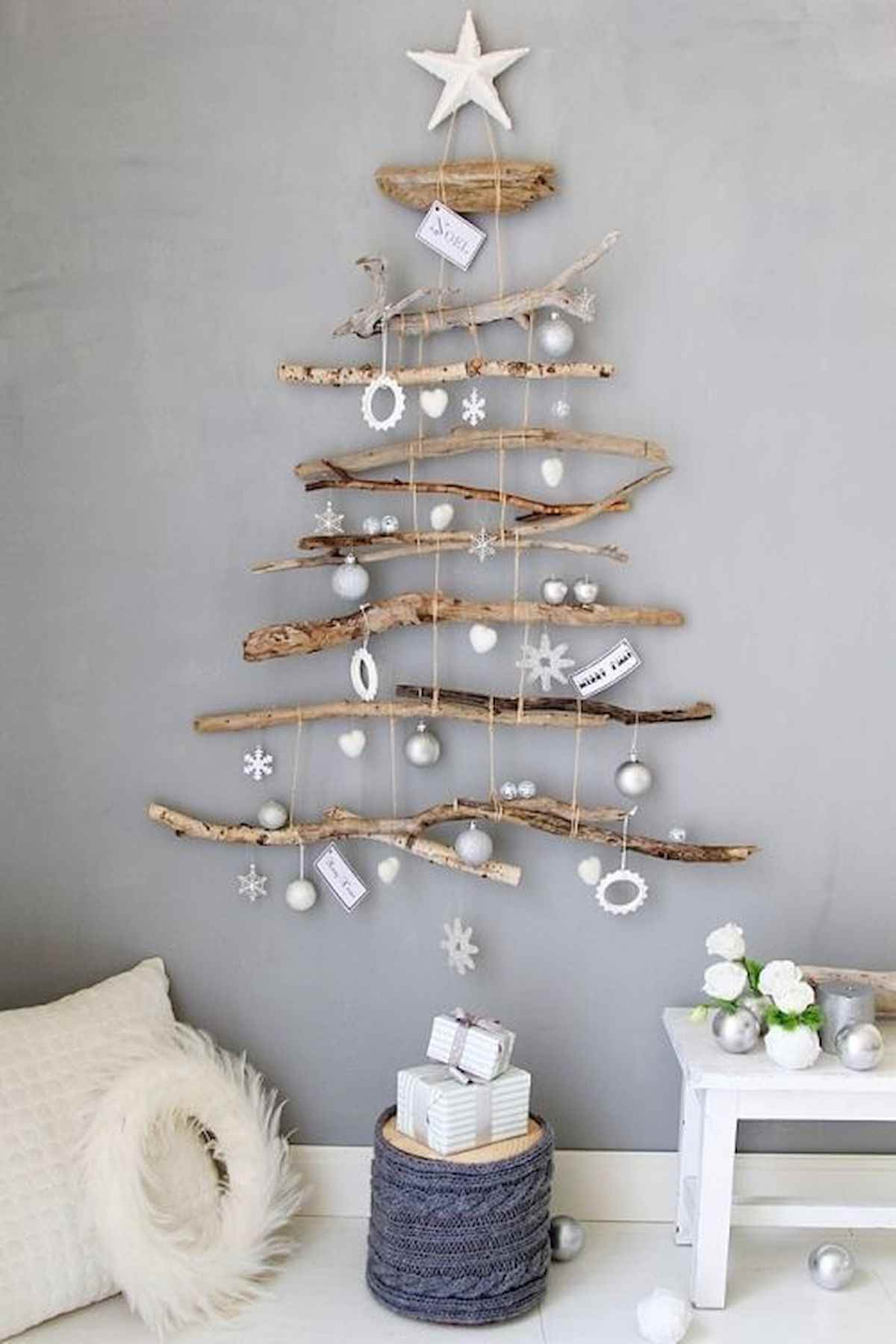 Source: roomadness.com
Grab some tree branches from the garden (if you don't have a garden, then pick it from neighbors). Cut the sharp edges and points and resize them in the pyramid shape. Place them in the decreasing size from top to bottom and tie all of them with a rope. And ta da…your hanging Christmas tree decoration is ready.
9. Washi Tape
Source: apartmenttherapy.info
Another last-minute decor idea is to make one with washi tape. Sounds kiddish? But what to do if you have no time but you want a Christmas tree and believe us it will not look that bad so try it out!
"You can experiment with different designs, prints, and colors. Add ornaments and lights to get the full Christmas vibes."
10. Paper Triangle Tree
Source: realsimple.com
Another eye-pleasing decor is a colorful paper tree. For this project, involve your kids, and tell them to cut out some triangles from the colorful sheets of paper, and place them randomly on the wall (but in a tree shape, of course).
11. A Tree From Ornaments
Source: stocksy.com
Want to do a fun and interesting DIY? Grab some (by some, we mean a lot) ornaments in various sizes. The next step is to create a conical tower with them. Keep bigger sized ornaments on the bottom and tiniest ones on the top.
"Keep going on placing the balls on each other until you reach the desired height."
12. Stickers
Source: wfcdn.com
If it is the day of Christmas and you still not be able to find an alternative solution for a live Christmas tree, then only this DIY can save your Christmas.
You'll find Christmas stickers everywhere, from malls to the dollar stores there are plenty of varieties of stickers. So pick a Christmas tree sticker and put it on your walls or glass windows.
Christmas Decorating Ideas Without A Tree
You are not allowed to either paint or glue anything on the walls, that doesn't stop you from decorating your place. There are other methods by which you can decorate your place without a Christmas tree.
1. Decorate Your Tv Unit
Source: pinimg.com
Imagine a fireplace in your TV unit and decorate it in the same way, like you will decorate a fireplace. Put stockings, ornaments, and garlands to spice up the place.
2. Twinkling Lights
Source: triachnid.com
Another mind-blowing decor you can do is with lights!! After all, the holiday season is all about happiness and joy, and the best way to represent them is by lights. Cover your entire apartment with different types of colorful lights. But not extensively, otherwise you will trip into these.
3. Cozy Table Decors
Source: pinimg.com
Embellish your table with charming and festive decorations, and you don't need much space for this. Check this amazing Christmas table decoration ideas.
4. Wine Glass As A Candle Holder
Source: netdna-ssl.com
How beautiful are these candle holders!!
Actually, these are made from wine glasses. For this specific project, you might need some craft skills, but we are pretty sure that anyone can do it.
5. Festive Wreaths
Source: pinimg.com
Another easy and space sufficient decor idea is that adorn your place by wreaths. They are the true definition of festivals.
Source: wp.com
After reading the whole blog, you are thinking about why these ideas have not come to your mind? Right? The thing is we are not able to think out of the box and stuck with the common decorations which we are doing it through the years. But it's time to change and update yourself with us. I hope you'll find these Christmas decorating ideas without a tree helpful. On Architectureideas, you'll find new and amazing stuff like this one, so keep coming back.