Make Your Home Holiday Ready With These Weirdly Amazing Upside Down Christmas Trees!
Don't panic or be puzzled when you see trees hanging upside down from the ceiling. Don't worry, you're not in the Upside Down like in "Stranger Things," you're just noticing a Christmas tree trend: The upside down Christmas tree! 
These inverted trees have become quite popular in recent years, and now they can be seen everywhere. These aren't chandeliers; they're actual trees that are dangling from the ceiling. Here a tree is placed with its trunk toward the ceiling and the tree-topper facing the ground. So if this holiday season, if you want unusual decorations, try to bring this upside-down tree. To give you more information on these, today, we're going to tell you everything about it in this blog. From their origins, interesting history to modern-day trees. We've also collected sixteen weird but stunning upside down Christmas tree ideas.  
Origin Of Inverted Christmas Tree  
After looking at them, you might be thinking that it's a more recent way of fashioning a traditional Christmas tree, but it actually dates back to the 7th century. It all started when a Benedictine monk named Boniface decided to teach a group of pagans an important lesson. He saw them worshipping at an oak tree, then he cut down the oak tree, and a fir tree grew in its place. After this, he again cut down the fir and turned it upside down. He wanted to teach the arrangement of the Holy Trinity. 
Later, in southern Poland, where this trend becomes popular. In a "Podłaźniczek Tradition," polish people used nuts, sweets wrapped in shiny paper, fruit, straw, ribbons, and gold-painted pine cones to decorate spruce. It is usually hanged upside down from the ceiling in the center of the room. 
Modern Day Inverted Christmas Tree 
These days, these topsy-turvy hanging Christmas trees have made a huge comeback, especially in department stores and malls. Now people are more drawn towards these types of unusual decorative trees. Apart from their striking design, they're actually beneficial. You can get more floor space as they're attached to the ceiling, and also all the ornaments are displayed on the eye level. 
Do you know that Claridge's Hotel in London has an elegant 16 ft upside-down Christmas tree in the center of the lobby? Yes, the world-famous tree is designed by the late fashion designer Karl Lagerfeld. It is covered in silver lametta (tinsel) and handmade snowflakes and topped with an ornate twist of silvered roots, and a mirrored star is placed as the topper.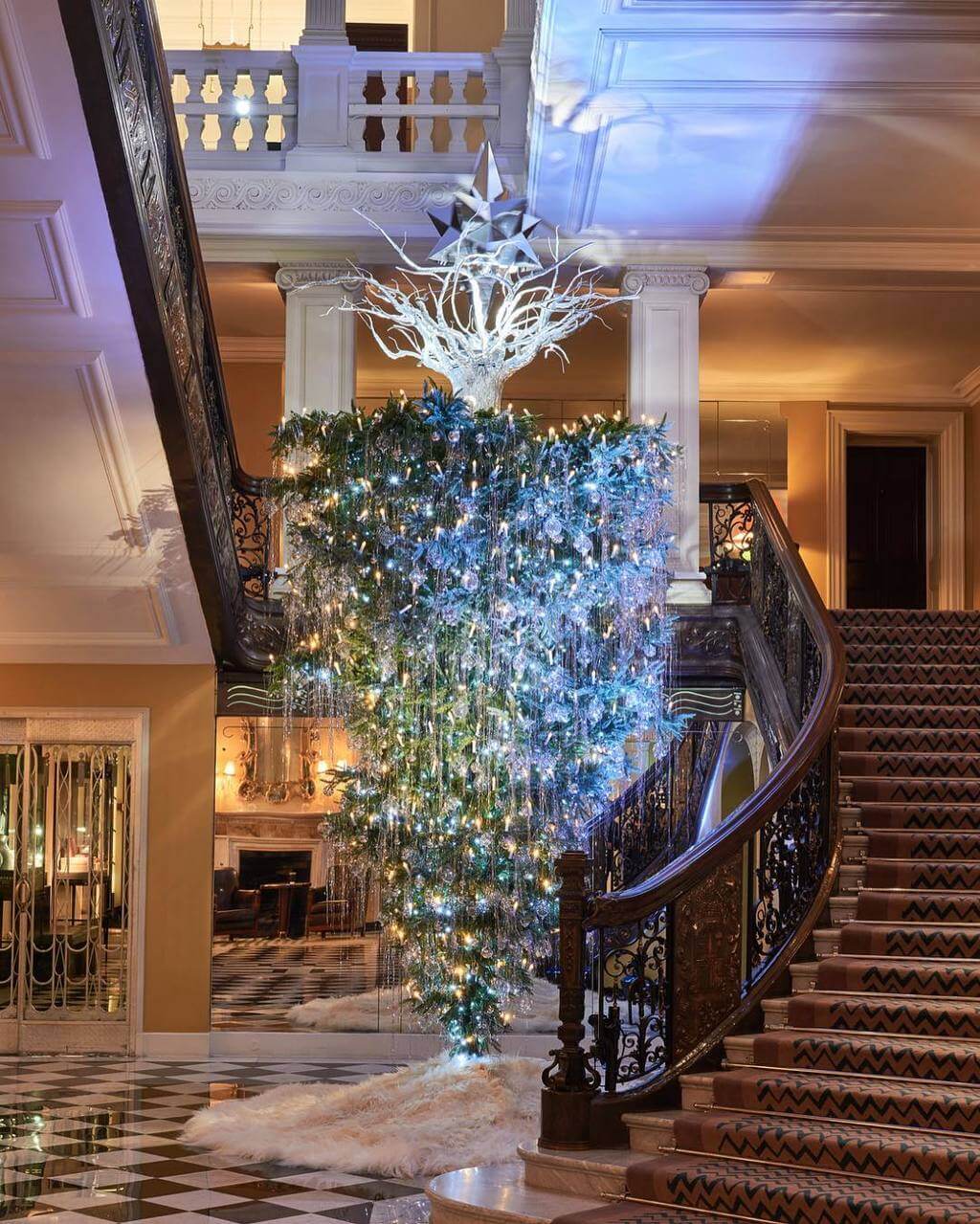 Source: feverup.com
So, this holiday season, decorate your home with this charming and alluring upside down Christmas tree. You can easily find them in any store during the whole holiday season. Below is the list of various types of hanging trees, which you'll love!  
15+ Beautiful Upside Down Christmas Tree Ideas 
Below is a list of the most beautiful and best upside-down Christmas tree ideas: 
1. Lighted Upside Down Christmas Tree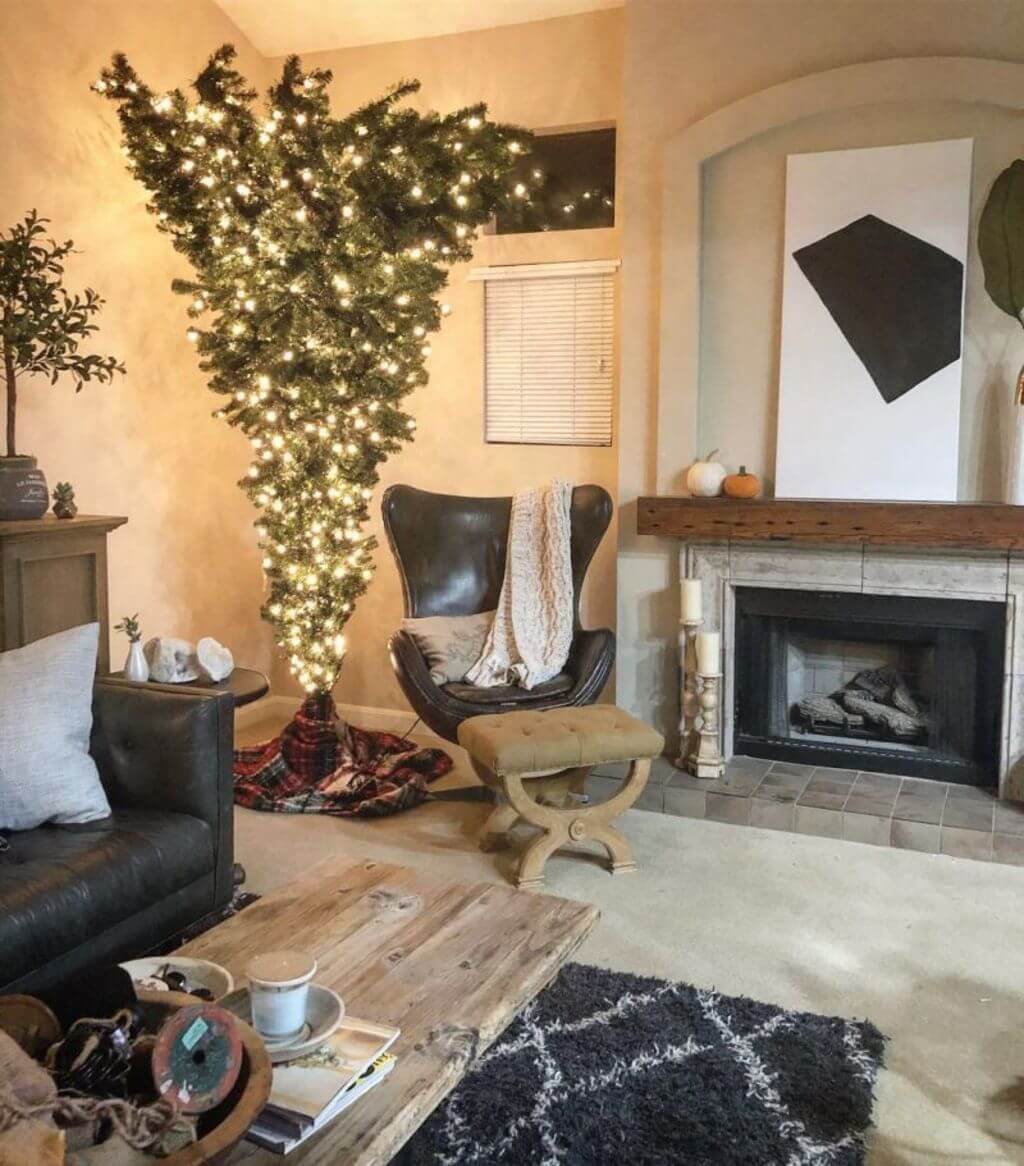 Source: inspirativni.cz
This pre-lit Christmas tree with no ornaments is all you need to get festive ready. Here the owner just added a plaid Christmas tree skirt, but still, the setup is looking gorgeous. 
2. Magical Purple Upside Down Christmas Tree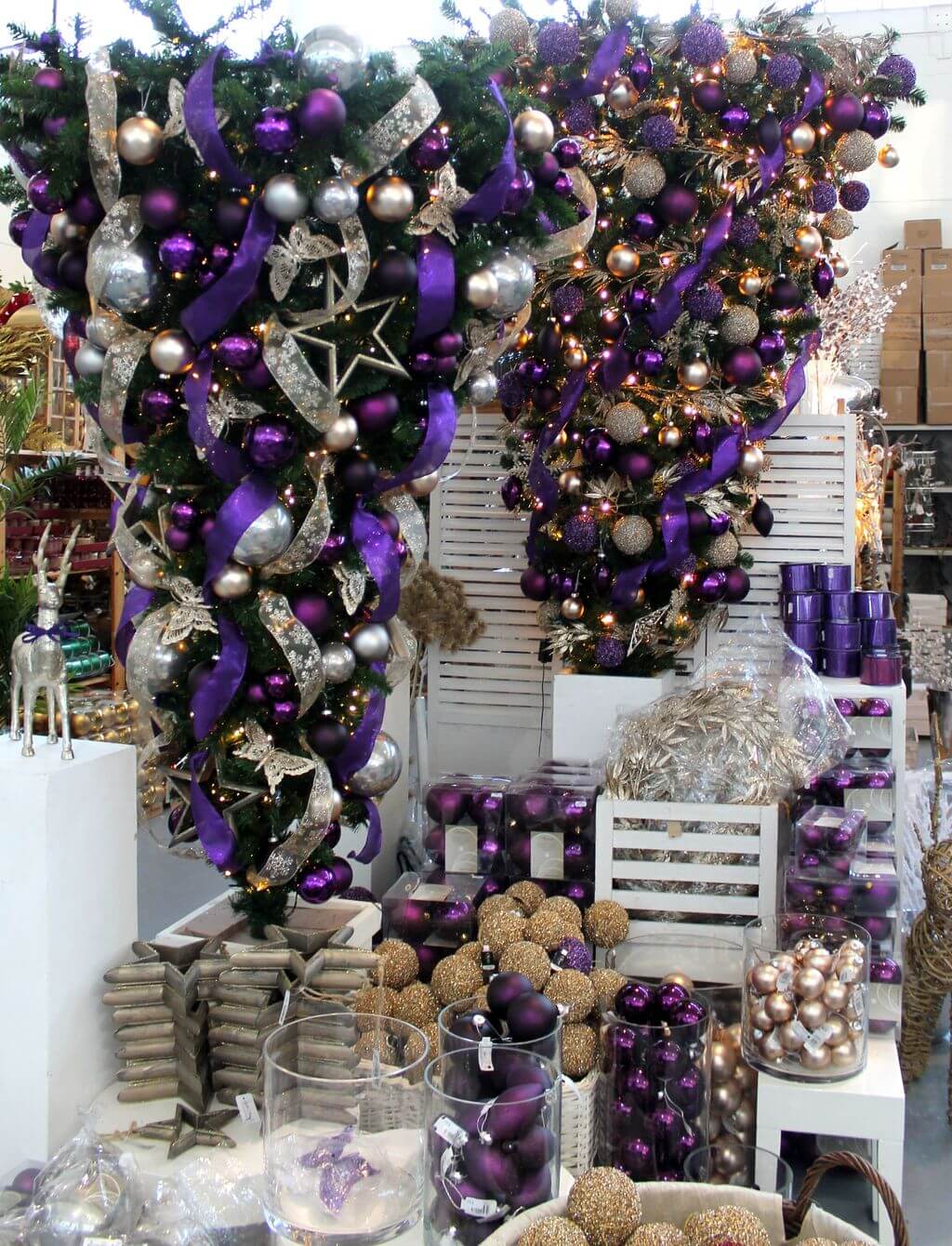 Source: pinimg.com
This Christmas, go for a purple tree rather than a traditional red tree and that too upside down. So, spread some royal cheer in your house with this remarkable hanging tree. 
3. Enormous Upside Down Christmas Tree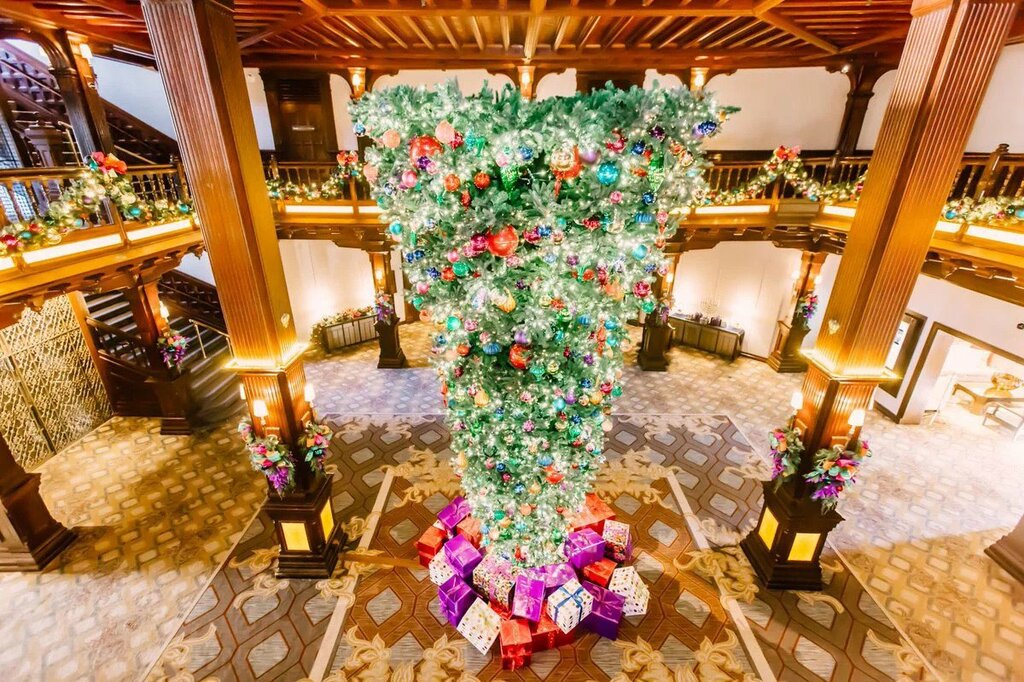 Source: meredithcorp.io
Want something spectacular? Bring this huge glamorous and glowy tree. This oversized one will surely become the center of attraction in your home. 
4. Pink Upside Down Christmas Tree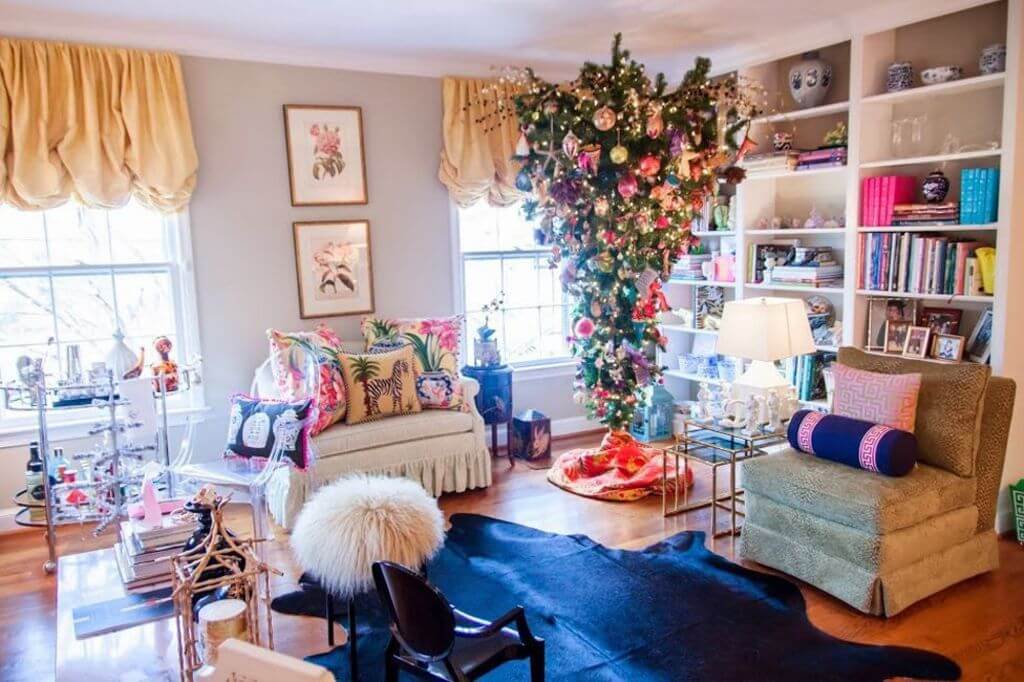 Source: pinimg.com
This Christmas, decorate your room and your tree in a matchy pink theme. Show your guests that your upside down Christmas tree and your decorating style both are unique in itself. Here, the tree ornaments are beautifully matching the living room's lively color scheme.
5. Beyond Beautiful Upside Down Christmas Tree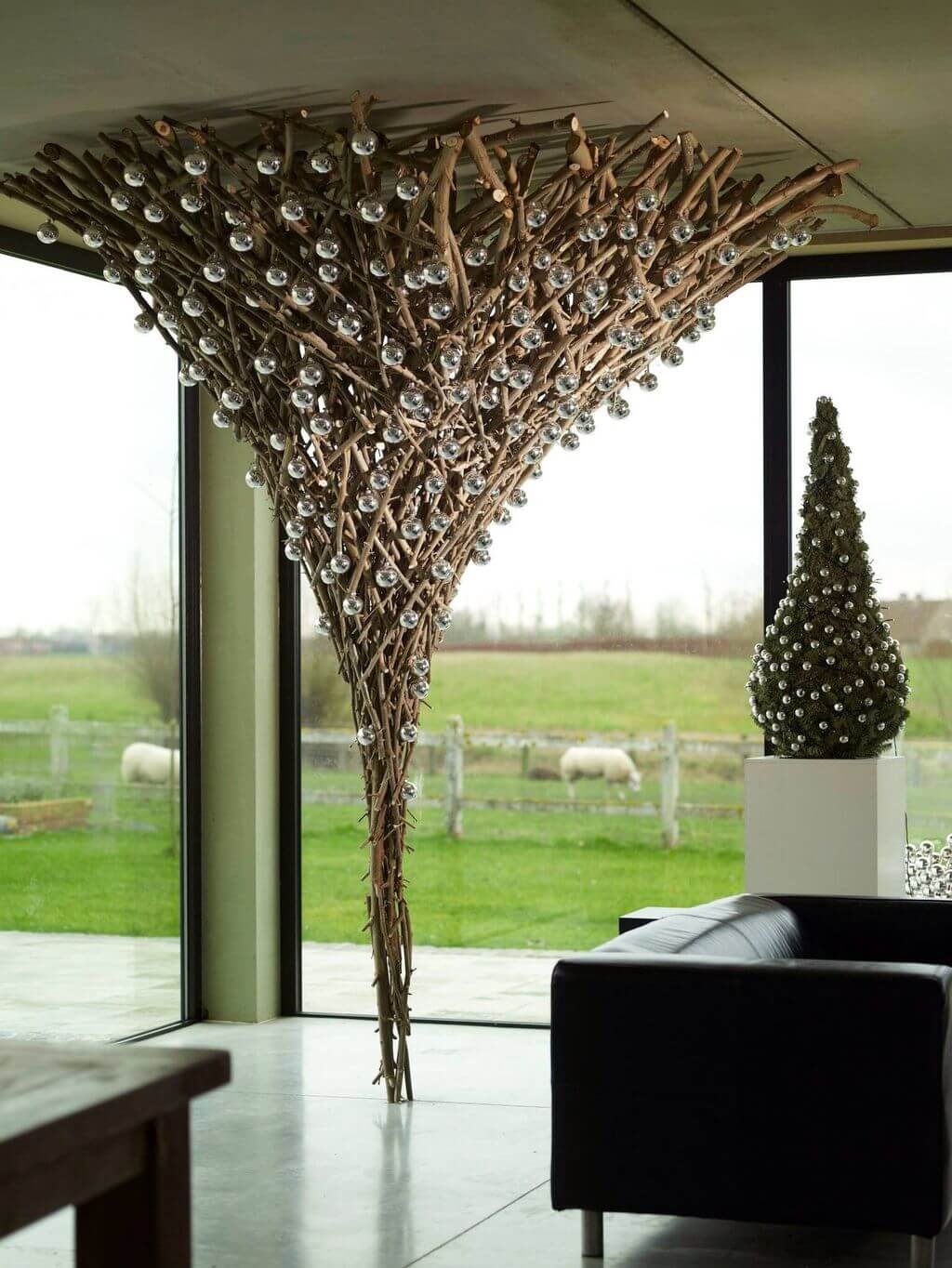 Source: pinimg.com
Look at this drop-dead gorgeous upside-down tree! This isn't like the normal traditional ones; this is totally the opposite one. This looks more like an upside-down chandelier rather than a tree. 
Made from just twigs, this unconventional tree will be a masterpiece in your home! You can also decorate it with simple and classy crystal balls
6. Upside Down Christmas Tree With Metallic Stand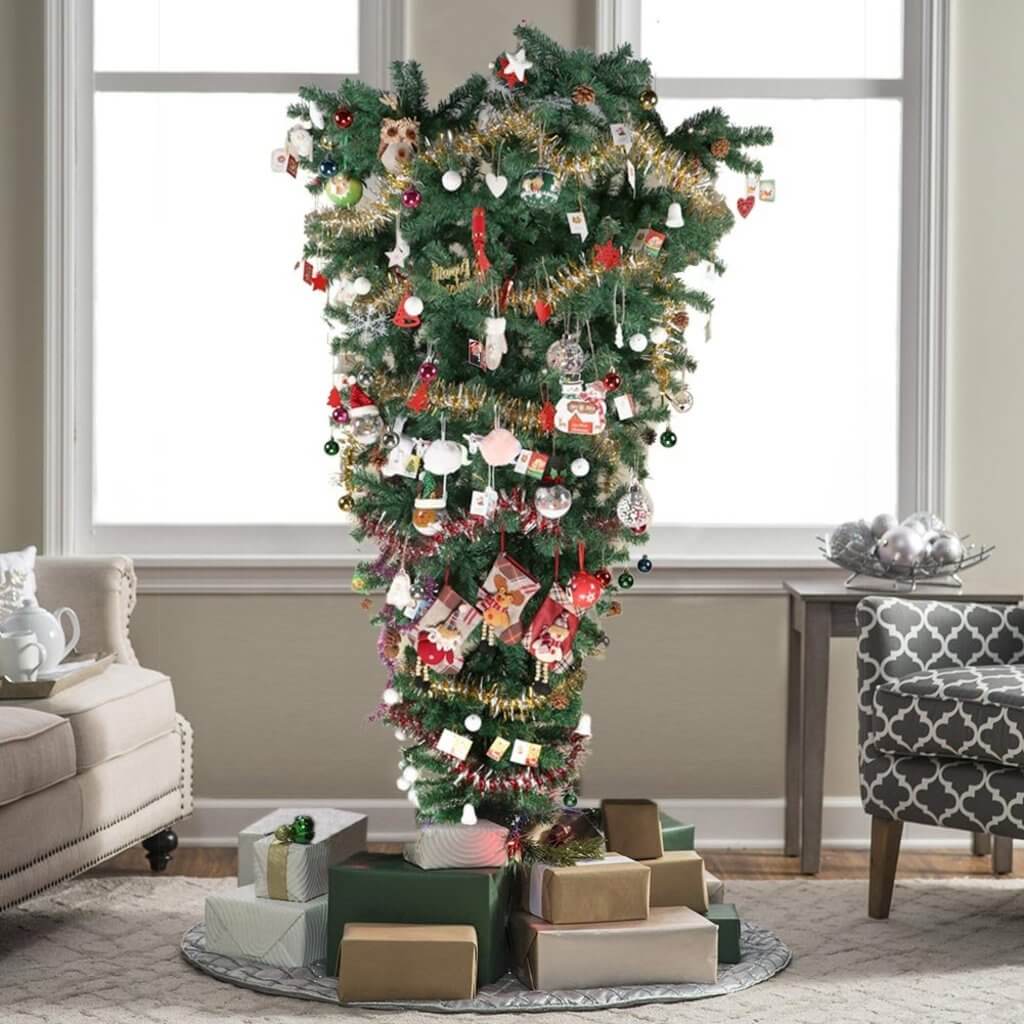 Source: amazon.com
Don't have a strong ceiling to hang this massive tree upside down or don't have time to do this? Worry not, there are trees available in the market that come with a stand. These long metallic Christmas ornaments look really lovely on this inverted tree design.
7. Dazzling Upside Down Christmas Tree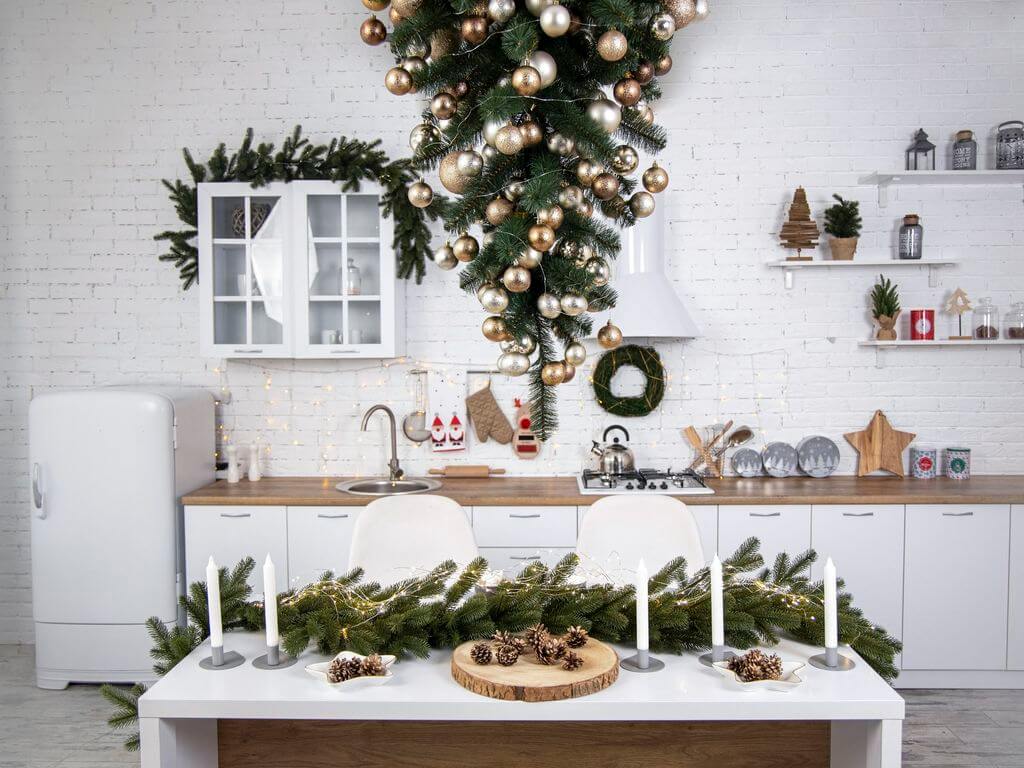 Source: thespruce.com
A Christmas tree is never complete without a dozen ornaments, right! So, Give a jeweled look to your inverted Christmas tree by decorating it with embellishments in vivid colors such as turquoise, orange, fuchsia, purple, bright green, and royal blue. 
 8. Snowy White Upside Down Christmas Tree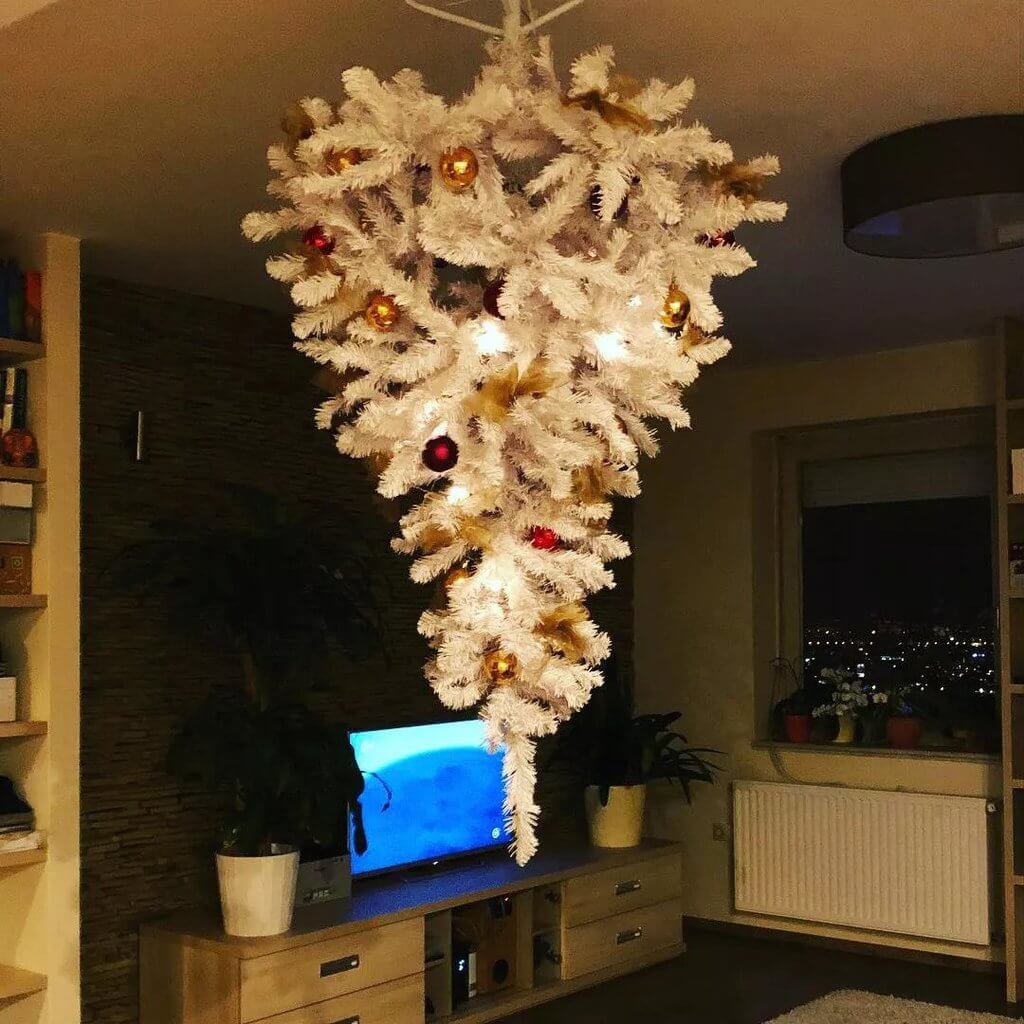 Source: thespruce.com
Here is a Chic and Affordable white Christmas tree, which looks absolutely spectacular in this living room. Instead of piling on the ornaments on your tree, go with a chic minimalist theme using lovely red and gold decorations.
9. Upside Down Christmas Tree in Children's Room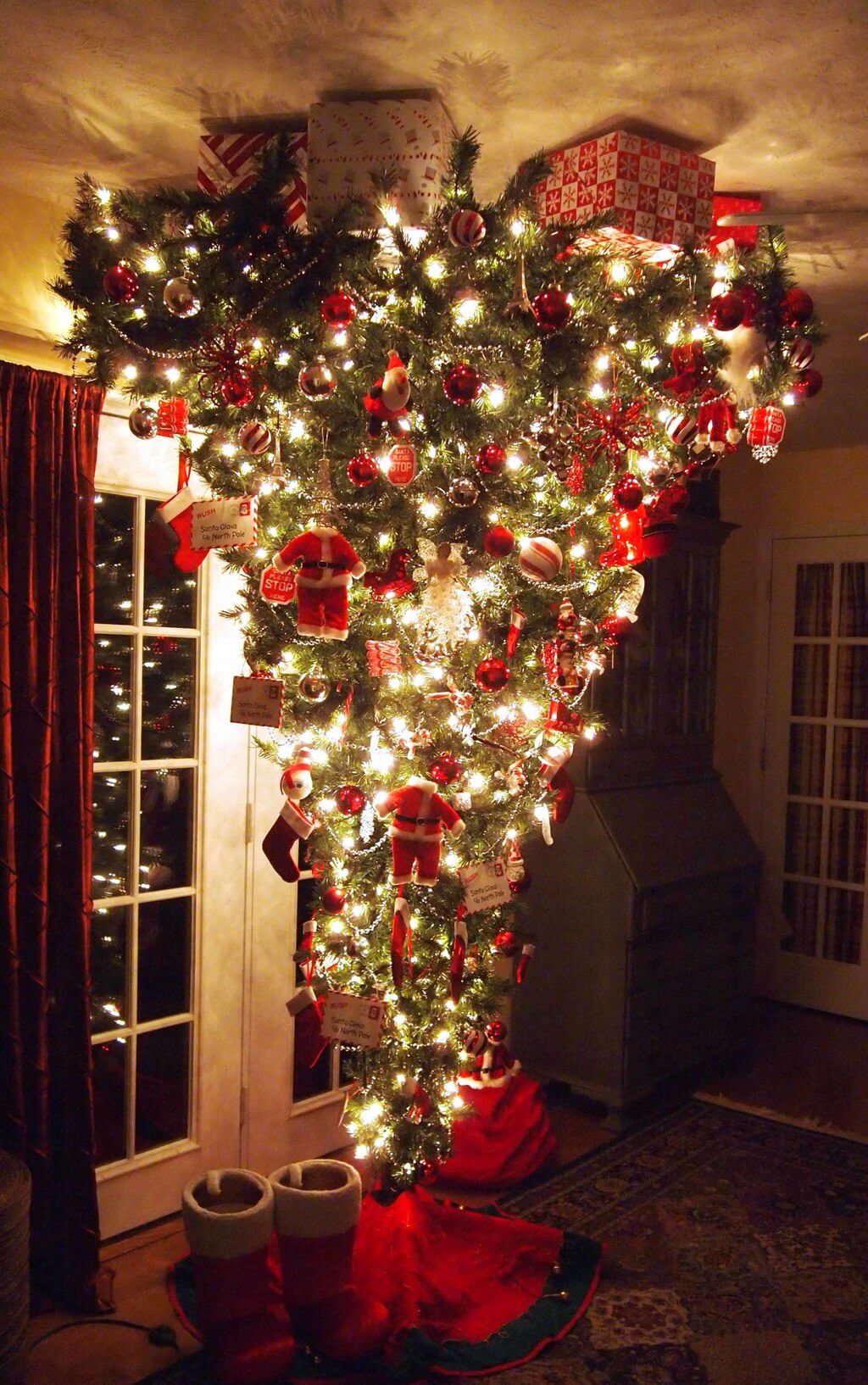 Source: acolorfuljourney.com
Decorate your kids' room with this vast and cute Upside Down Christmas Tree. Use fresh pastel colors like pink, light blue, orange, and purple. 
10. Hanging Christmas Tree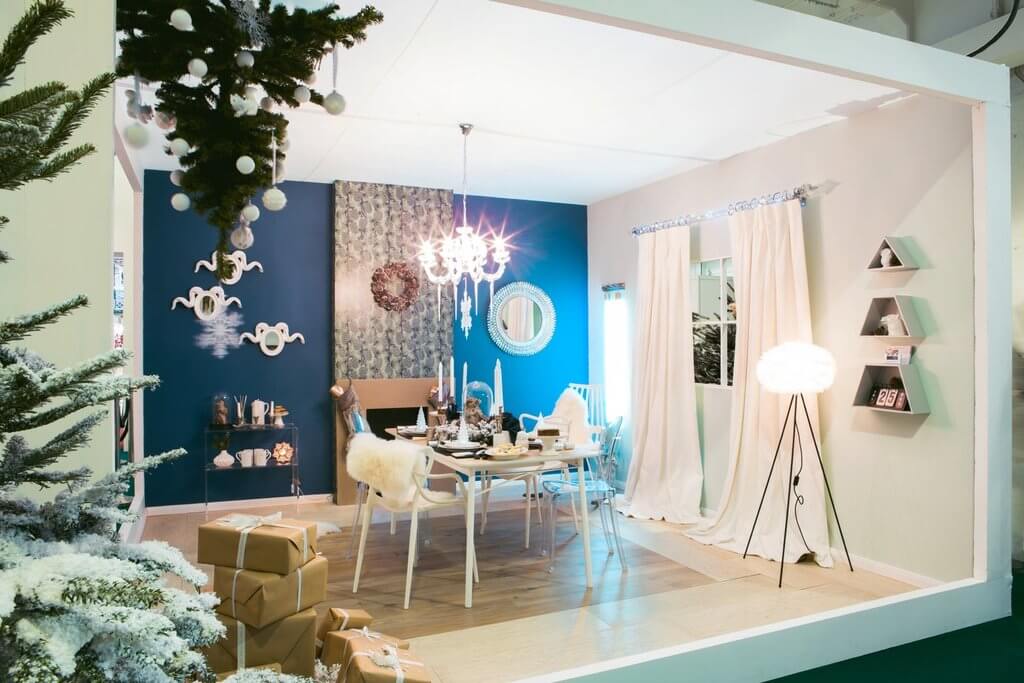 Source: squarespace-cdn.com
Everyone loves the simple ideas that make a chic statement. For example, this tree in the above living room is decorated with inexpensive white ornaments which held in place with white ribbons.
11. An Unusual Upside Down Christmas Tree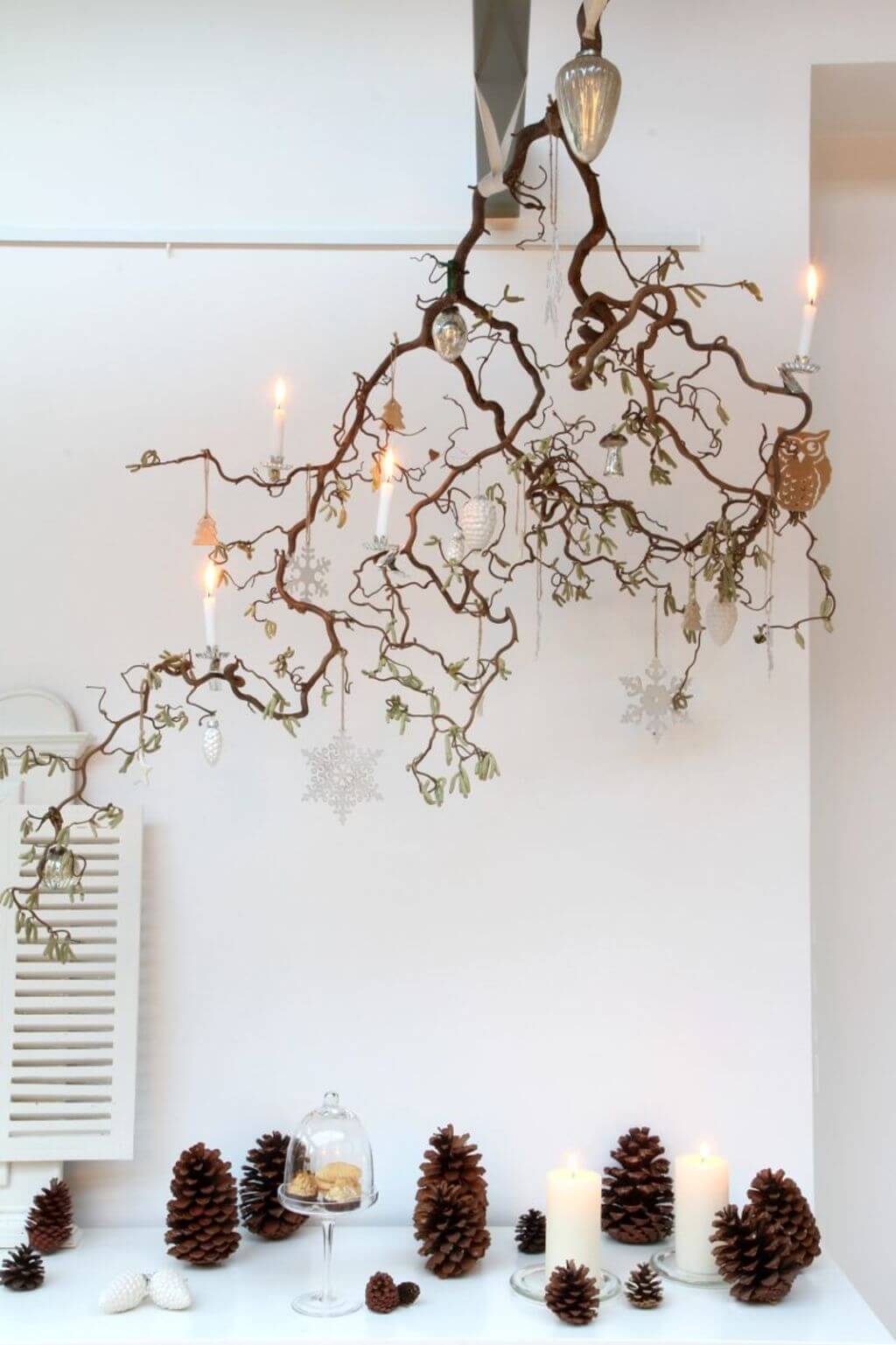 Source: pinimg.com
Here's another unique Christmas tree idea for you. It is made from a tree branch that is decked with candles, snowflakes, and glass ornaments. Doesn't it look magical? An owl is also perched on the tree, perfect for those who like Scandinavian or Nordic decors. 
12. Upside Down Christmas Tree With Glass Ornaments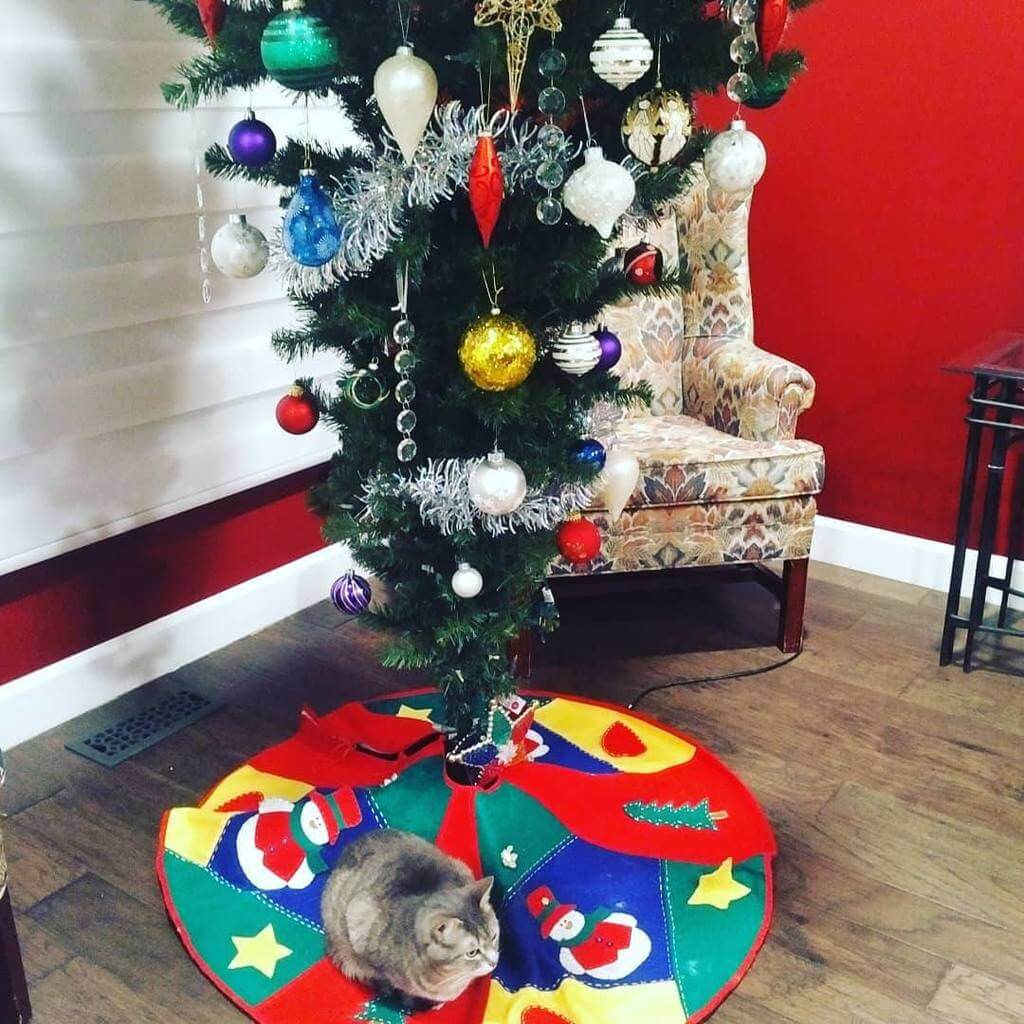 Source: thespruce.com
There is no such rule that you have to cover every inch of your Christmas tree to make a statement. Look at this lovely inverted tree; here, it is decorated with silver garland and traditional glass ornaments in beautiful shapes, colors, and finishes. They're adding the perfect dazzle without making the tree feel fussy.
Also Read: Best Christmas Tree Light Ideas That You Can Also Try At Your Home
13. Minimalist Pine Inverted Tree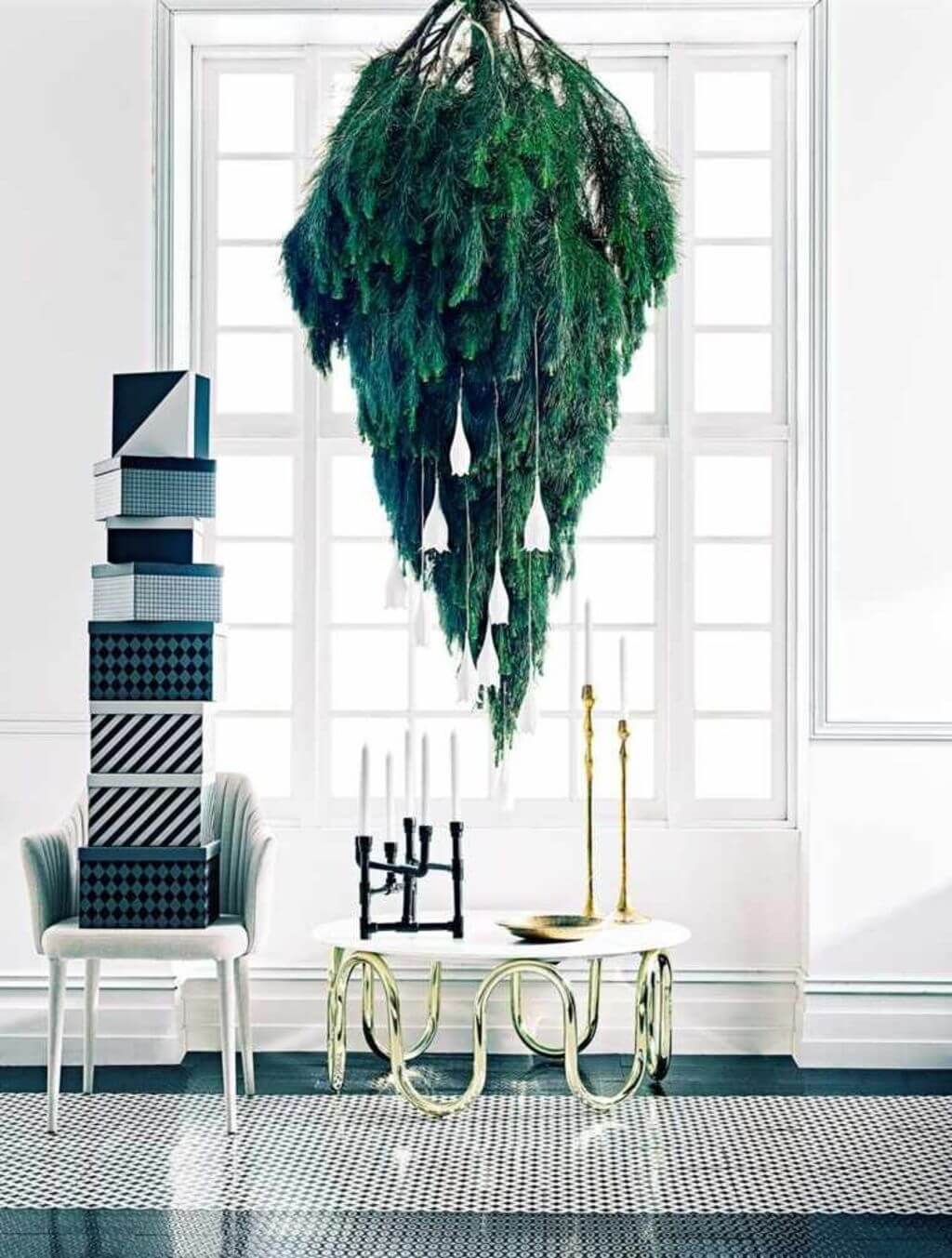 Source: pinimg.com
This is another great example of a minimalist inverted Christmas tree. The whole tree is kept bare, except for a few hanging ornaments. This idea will gracefully go with your modern or contemporary Christmas decorations.
14. Traditional Upside Down Christmas Tree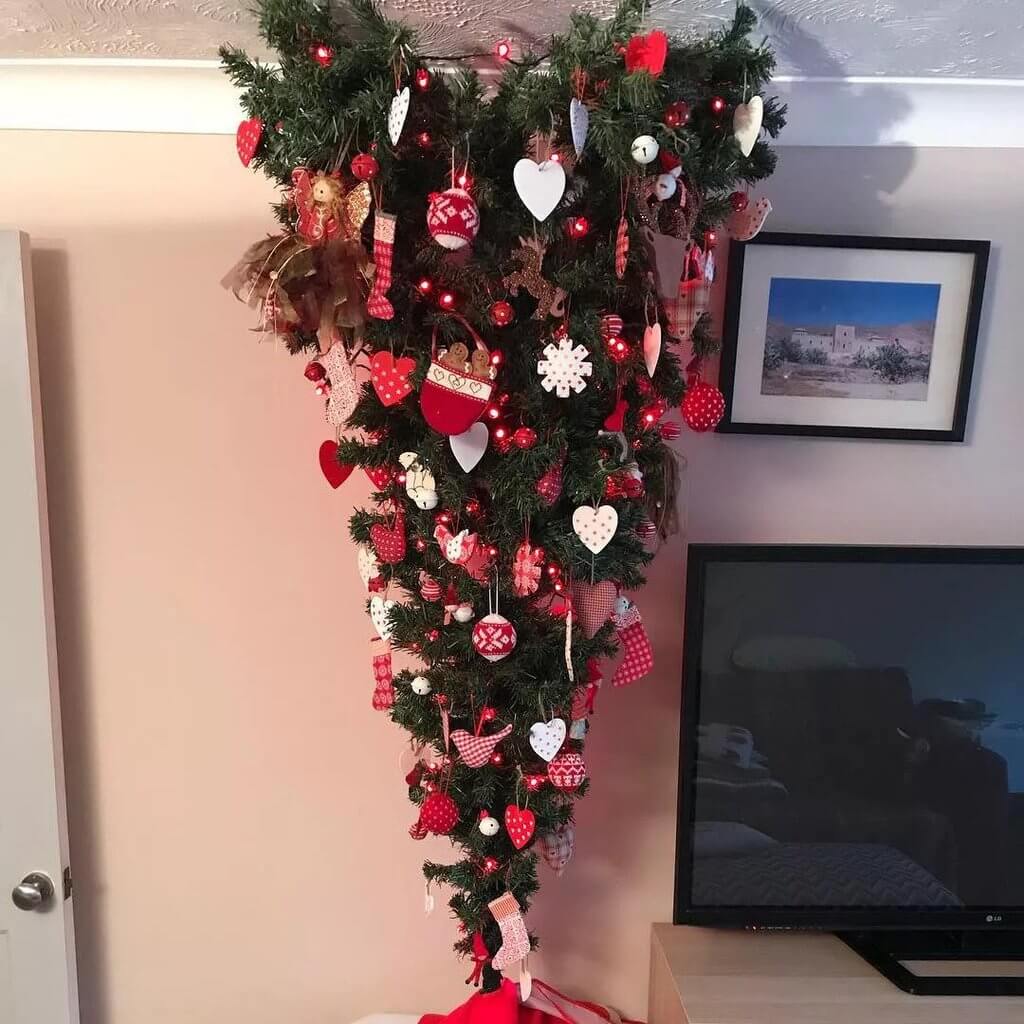 Source: thespruce.com
If you're more into the traditional culture and vibes, bring this tree and decorate it with handmade ornaments. They will bring a heartwarming and inviting vibe to any room.
15. A Distinctive Design
Source: pinimg.com
This holiday season, don't leave any part of your house untouched by the festive magic. Place an upside-down Christmas tree with a tree topper near your staircase. Here the top of the tree is loaded with empty gift boxes. 
16. Upside Down Ice Cream Cone Christmas Tree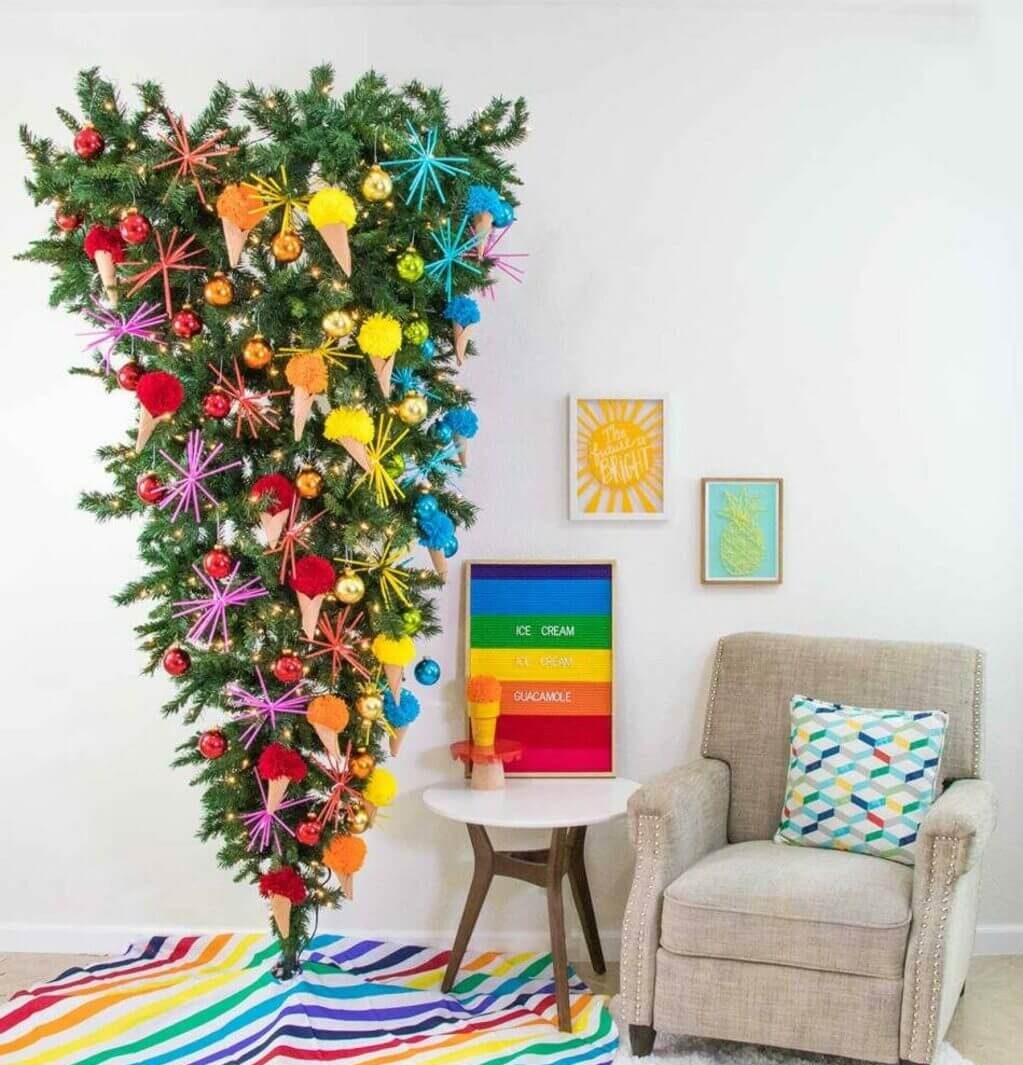 Source: 365greetings.com
We're winding up our list with this cute and colorful Upside Down Ice Cream Cone Christmas Tree. You can use drinking straws, traditional ball ornaments, and pom-pom ice cream cones to make your tree stand out from the rest.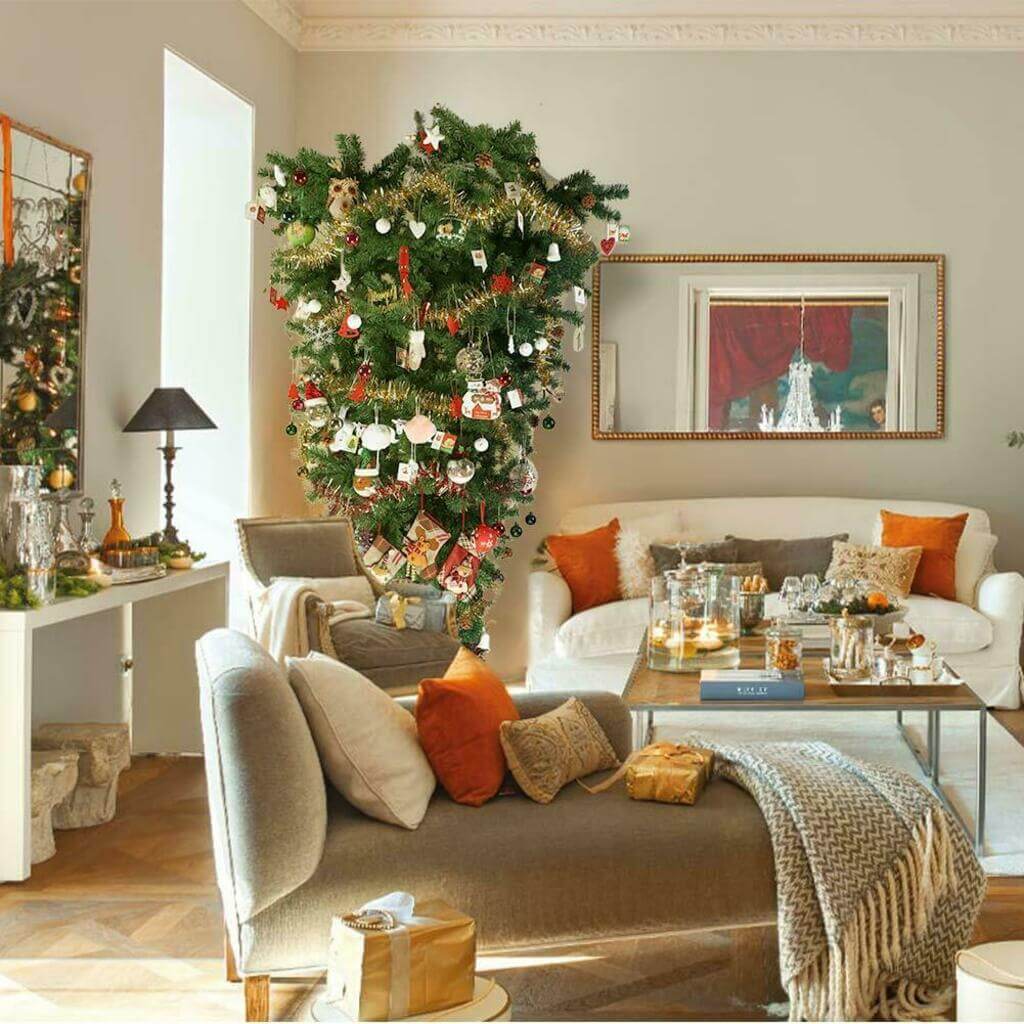 Source: ebayimg.com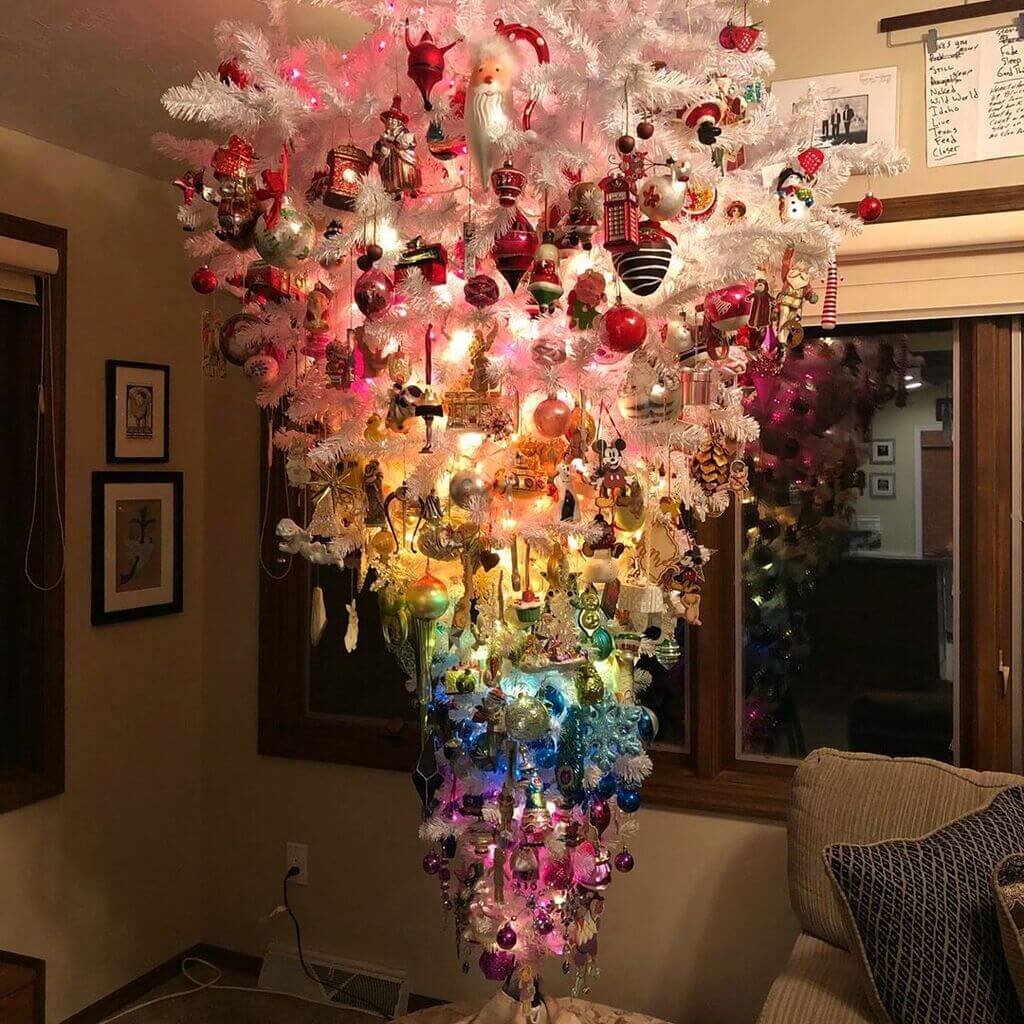 Source: srgcdn.com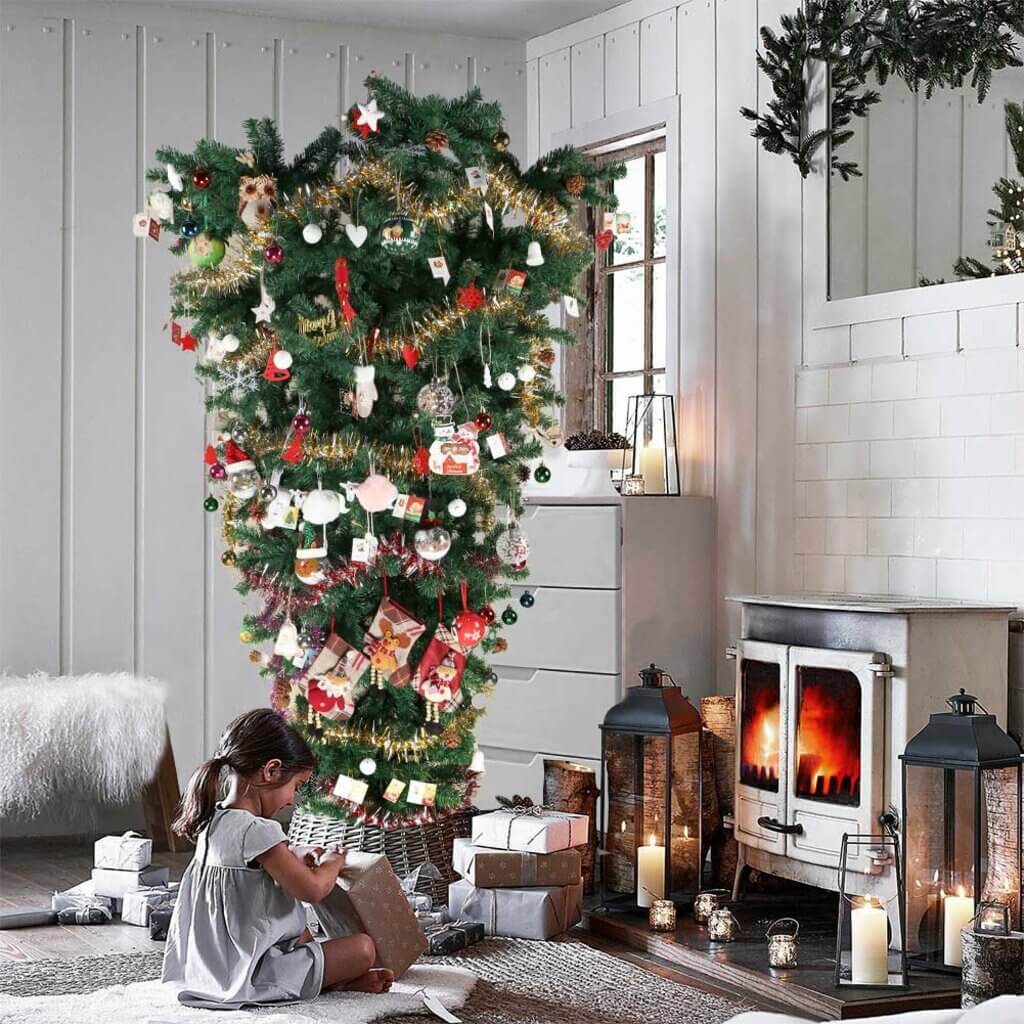 Source: amazon.com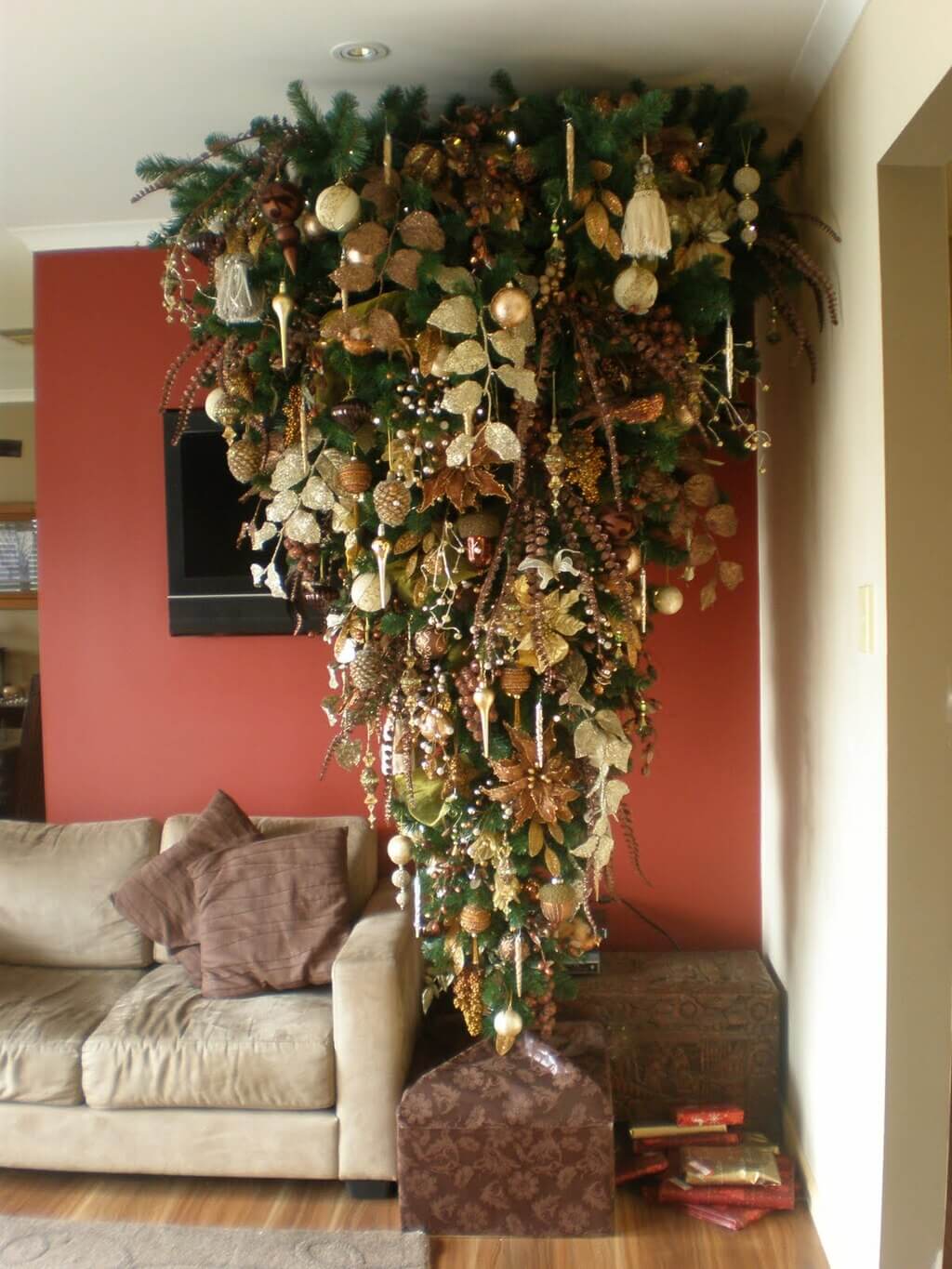 Source: blogspot.com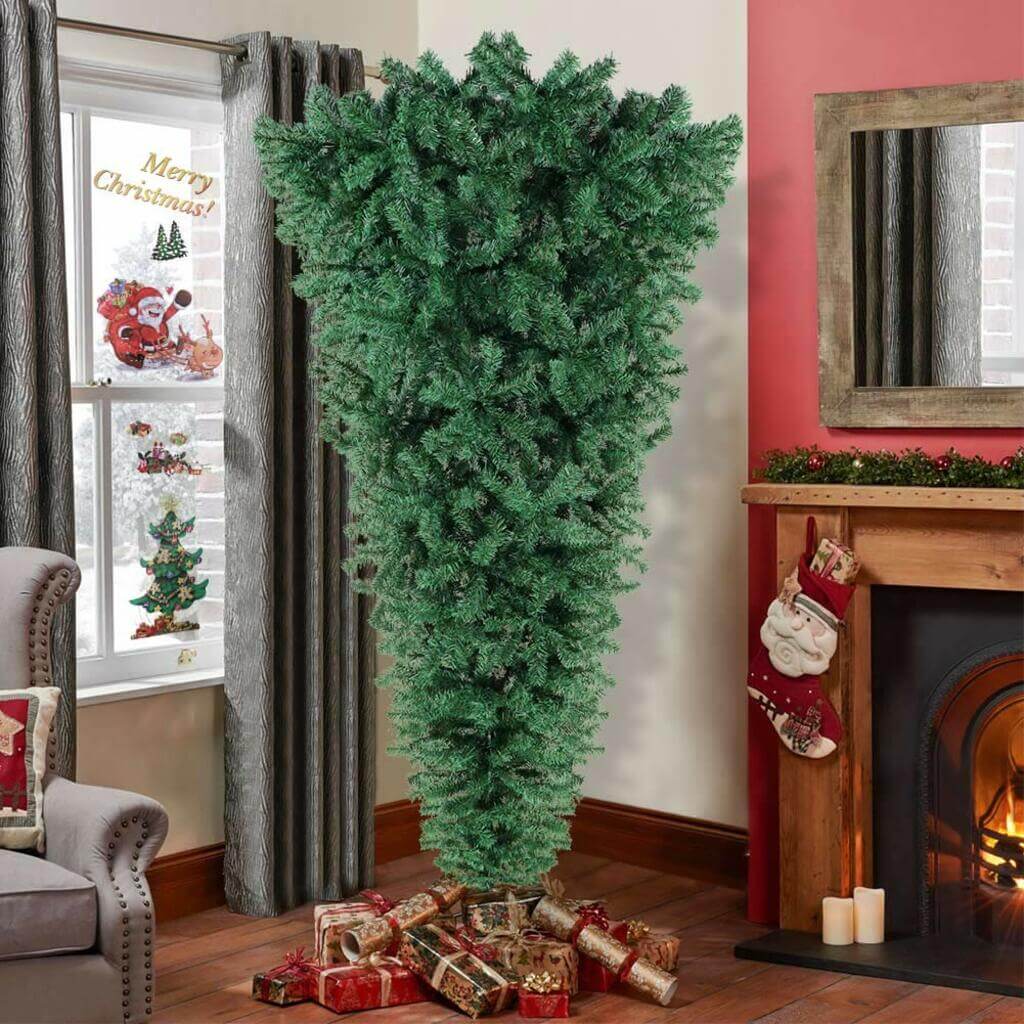 Source: amazon.com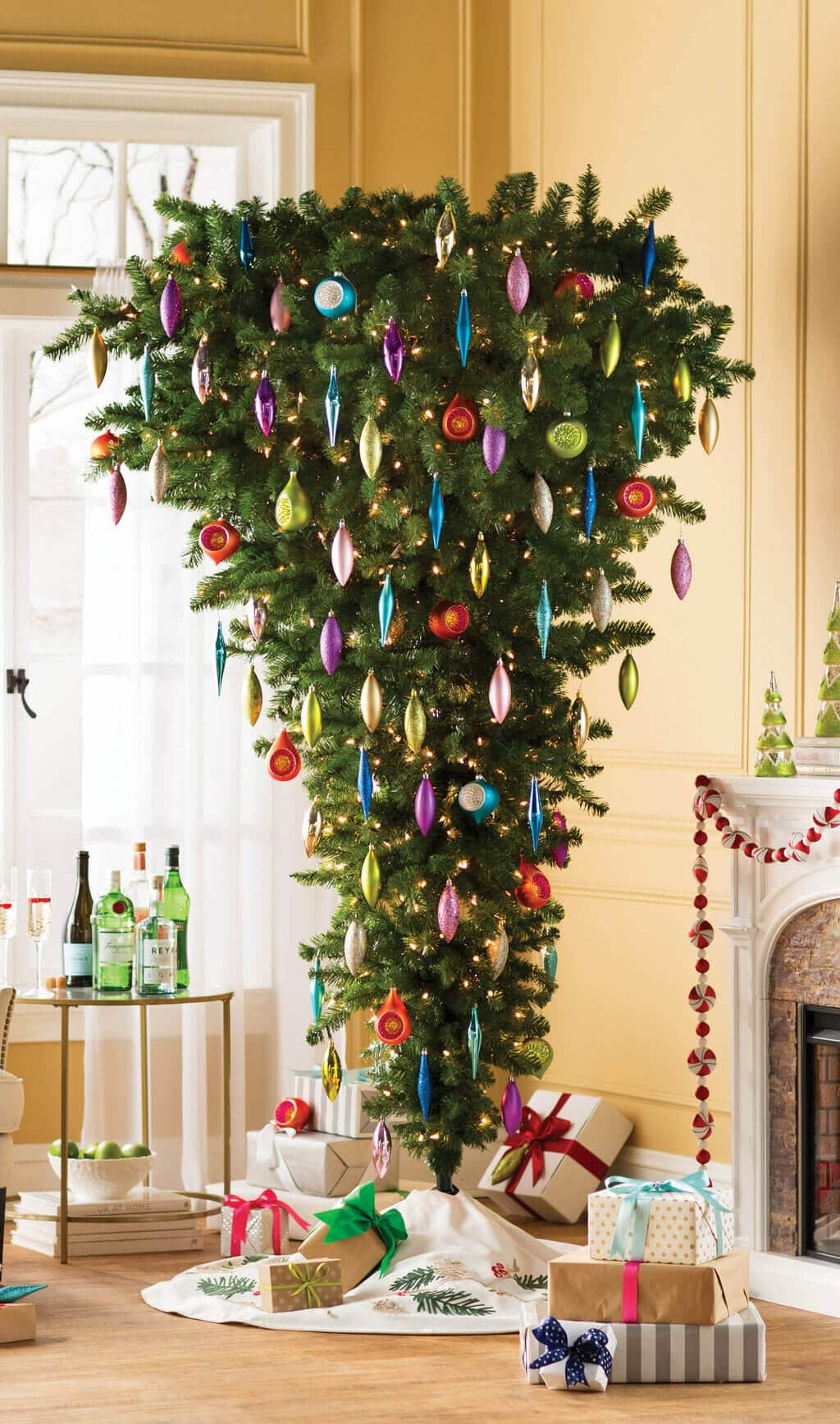 Source: wfcdn.com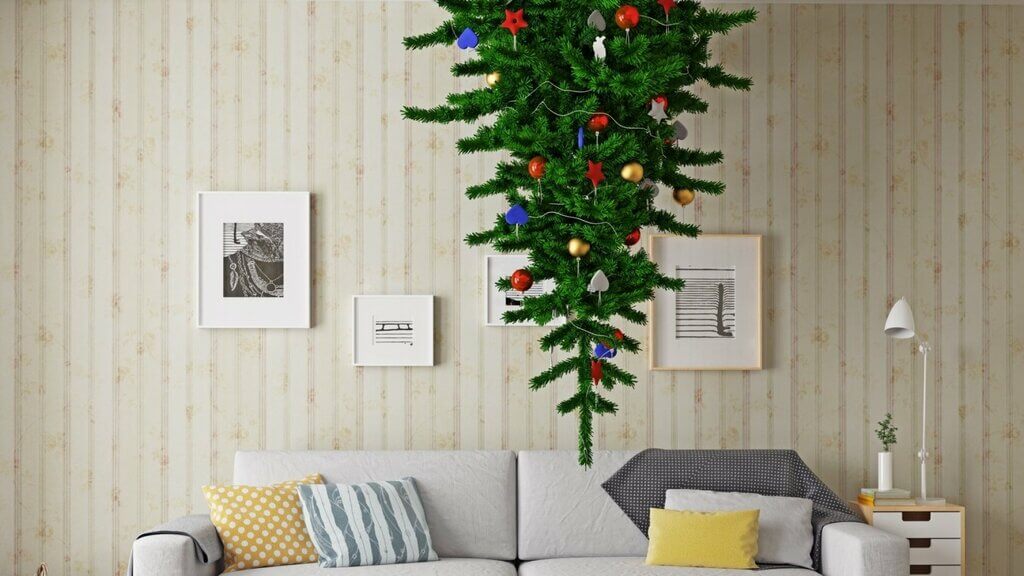 Source: incimages.com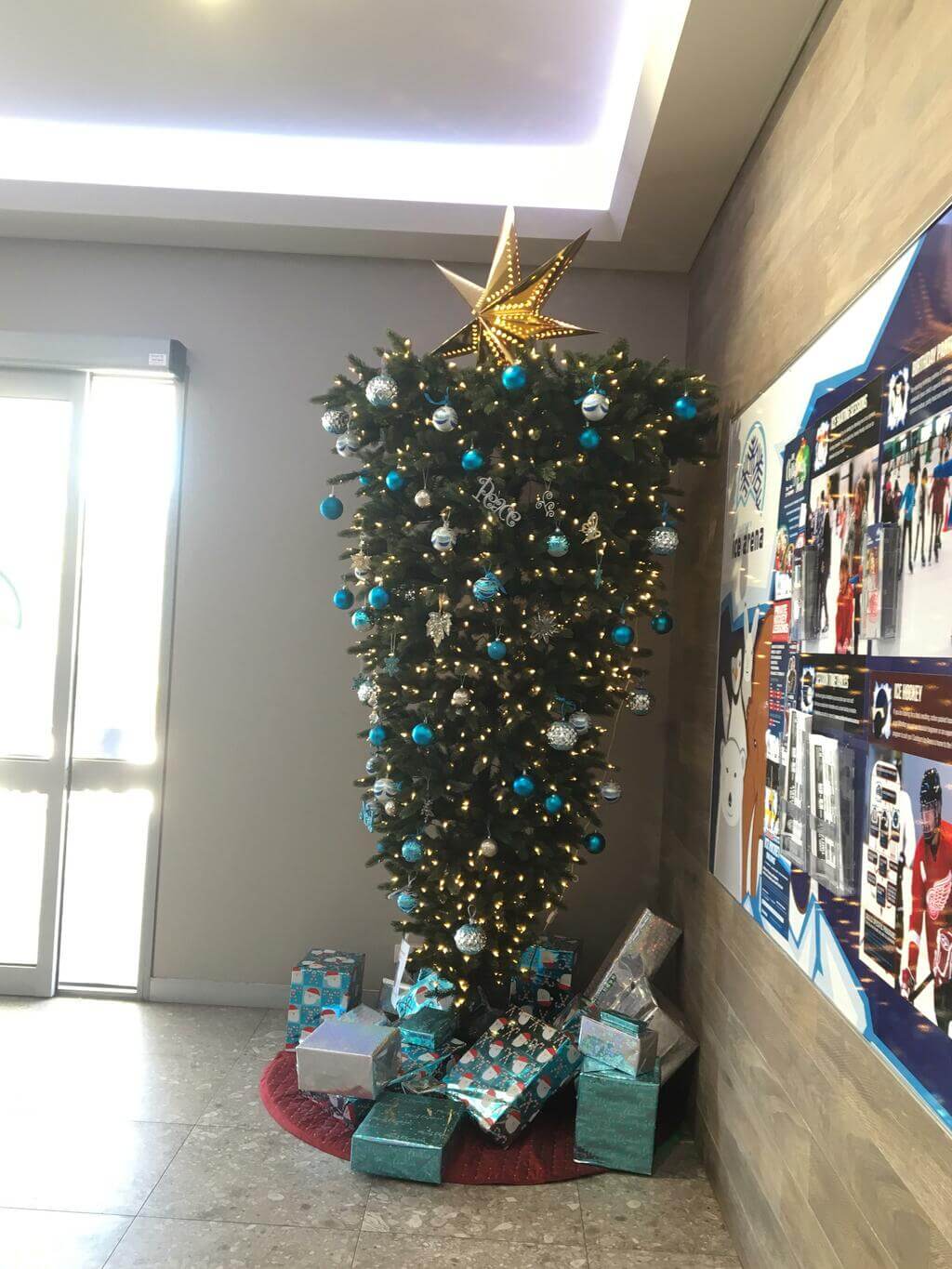 Source: redd.it
Happy Holidays!  
So which Upside down Christmas Tree decoration did you like the most? For me, all of them are pretty and attractive. Always go with the one that fits in your space and also matches with the rest of the Christmas theme of your home. Some people enjoy placing an upside-down tree, while some find it hideous and funny! But for us, it is another way of decorating our places. 
We hope you loved our compilation of upside-down Christmas tree ideas. Don't forget to share this blog with your friends and family so that they'll also get ready for Christmas. Stay tuned with Architecturesideas as more Fun and interesting blogs on Holiday season decorations and ideas are coming.