The holiday season is here! Just two more weeks, and you'll be having delicious dinners with your loved ones, opening presents, and thanking another year of blessings and good health. As of now, you've surely decorated your home with the shiniest baubles, colorful lanterns, brightest lights, and realistic greenery to make your indoors more festive. And you can make your home even more joyful by decorating your outdoor space! Here are five Christmas decoration ideas to brighten your garden, backyard, and front lawn:
Decorate Trees and Plants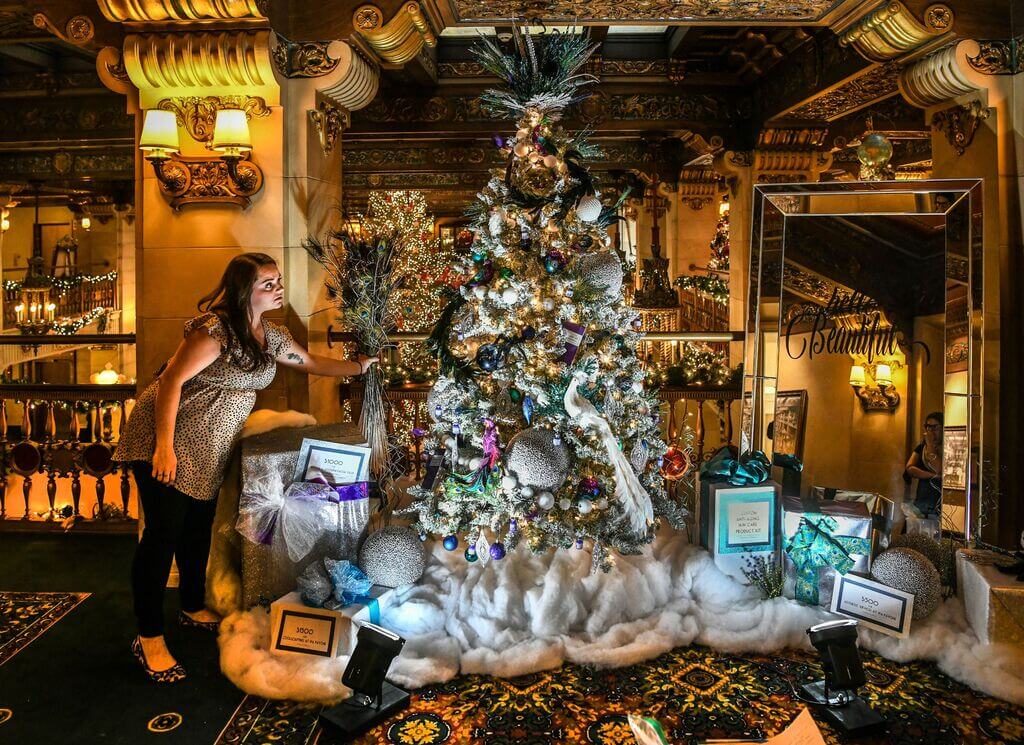 Christmas trees are classic pieces for the holiday season. While evergreen trees are the "traditional" greens to use, any tree, shrub, or bush dotting your outdoor space will be great for decorating. Add some string lights, tinsel, and your favorite Christmas ornaments to your outdoor trees and plants. Then, place some artificial holly branches to add a touch of winter to your space, even if you live in a warmer climate.
If you have a big tree and you're finding it hard to decorate it, consider getting a Christmas tree stand with a rotating feature. This way, you'll be able to hang various Christmas decorations and ornaments on your tree and rotate them easily.
Bedazzle Your Doorway
Your front door is the primary entryway to the inside of your home. Bedazzle it to create an exciting statement for your home's facade. You'll also establish an inviting holiday view for your visitors before they enter.
Mount a wreath on your door to add dimension to your pathway. Place two wreaths to create symmetry and balance if you have twin doors. Then, decorate the top and sides of your doorway with garlands. Residents who choose to buy a lot for sale in Pasig as the site of their new home may also decorate the outside of their windows to leave no bare areas. 
Spice up your wreaths by spritzing some fragrances on them. Scents such as holly, pine, cinnamon, cloves, mint, and dried sweet oranges will add a festive and pleasant smell to your outdoor Christmas space. 
Decorate a Flower Box
Flower boxes aren't limited to just holding plants. If you have a few that don't have that many plants, decorate it as a Christmas piece for your garden. Arrange a nativity scene to recreate the birth of Jesus and the first Christmas. Use a star ornament as the guiding light that led the three wise men to find the newborn Savior.
Extend your miniature Christmas village by putting small figurines of Santa and his elves and reindeer close to your poinsettias. You'll have Christmas dioramas that add life and fun to your outdoor area.
Place Poinsettias on Your Yard
Poinsettias are the flowers of Christmas. Their deep red petals and dark green leaves are perfect pieces for your dinner table and living room mantle. However, they also look beautiful as outdoor plants. 
If you have fresh poinsettias in a pot, place them on the sides of your doorway or the outline of your garden pathway. The reds will create a popping contrast against the vast green backdrop of your yard. Placing poinsettias is also a low-cost and time-saving decorating method for people who have no time to bedazzle their gardens for the holidays.
If you don't have fresh poinsettias, you may still use them as outdoor Christmas decorations. Get some poinsettia plants at the nearest nursery. Place them close to your pathway, and then use Christmas ornaments, garlands, and lights to decorate the poinsettias.
You can also decorate your yard with tasteful artificial poinsettias. This way, you'll be able to display your flowers for the whole Christmas season.
Wrap Your Columns and Posts
Show some love to the posts that hold your balcony and the upper deck in place by wrapping them with garlands or tinsel. Use thicker ones to cover more areas, especially if your columns are wide and tall. Pin some baubles and add some fake snow to recreate the rustic look of a white Christmas.
Consider using a different color scheme for each post, so you can easily tell them apart from each other. This will also create a more interesting look in your outdoor space.
To Sum Up
Your outdoor space also deserves the shine and glam of your indoor Christmas decorations. These five decoration ideas let you use your plants, upcycle containers, and maximize your home's space for the holidays. Decorate your outdoors and enjoy the festivities for the remainder of the year!