21+ Stylish Anime Bedroom Decor Ideas in 2023
Are you an anime fan? Not only in Japan but people from all over the world are also crazy about mangas and animations. The reason is simple: anime has an engaging story, relatable characters, and spectacular visuals.  That's why, from teens to adults, people from any age love to watch these anime episodes and movies, again and again, decorate their room as an anime bedroom, and even some also dress up as their favorite characters.
Many anime lovers also love collecting the anime figurines of the particular series, and even some of them want to talk endlessly about their favorite shows and characters online.
So, if you're a huge anime fan, keep on reading because today, we're going to tell you how to transform your room into a cute anime bedroom. We've piled up twenty-two best anime bedroom ideas from which you can take inspiration and decorate your room or your kid's room into their favorite character. 
21+ Cool & Mystical Anime Bedroom Design Ideas
As a fictitious animation originated from Japan, people are now considering anime as both artwork and culture. So if you also want to decorate your place with your favorite anime hero, an anime bedroom is the best way to do it. 
You can set your bedroom in a specific manner or theme by setting the characters in a meaningful scene. Here are some of the best anime bedroom background and decor ideas for your room:
1. Cool Anime Posters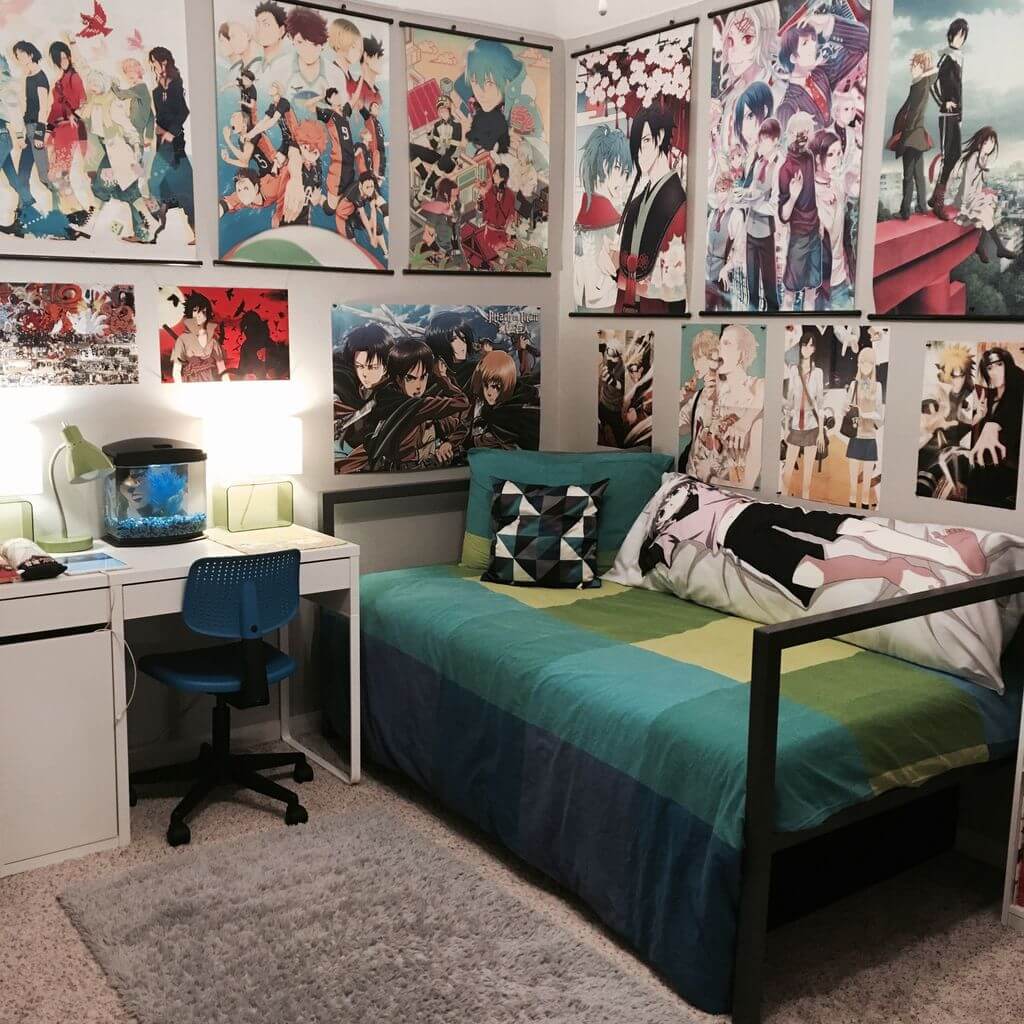 Source: pinimg.com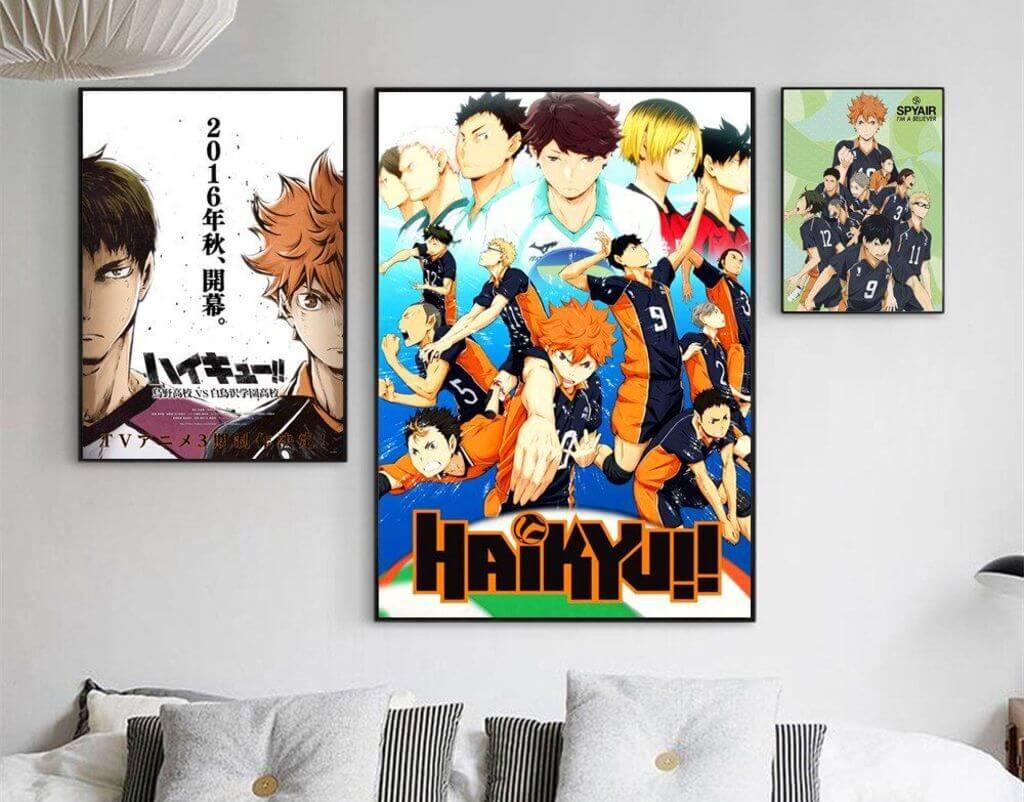 Image Source: pinimg.com
Whether your room is big or small, posters are one of the easiest ways to start anime decorations. You can put several posters of the same series or different anime movies on the walls. These posters will immediately create anime vibes in your room without damaging the walls.
2. Easy Anime Room Decor Idea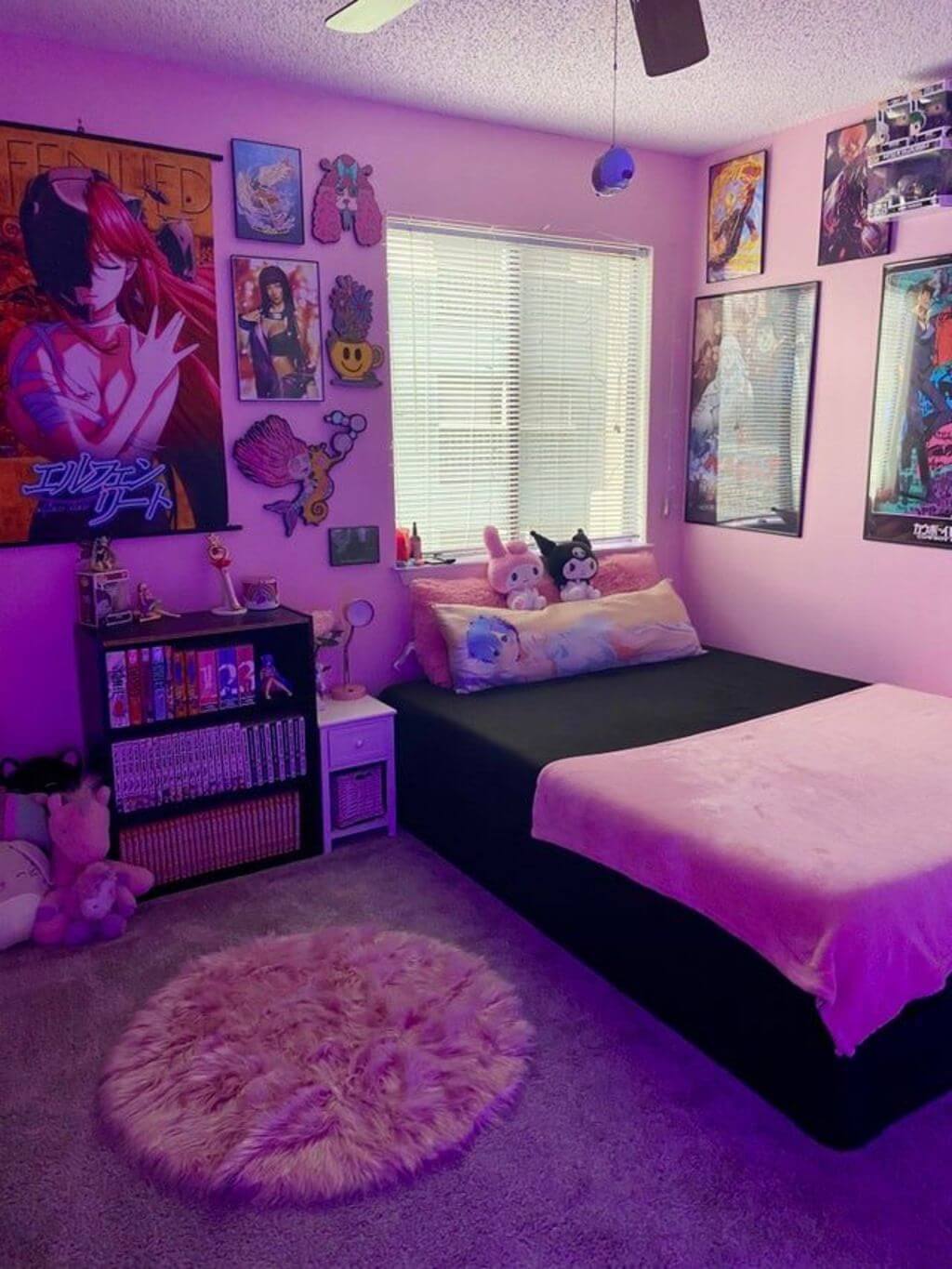 Source: pinimg.com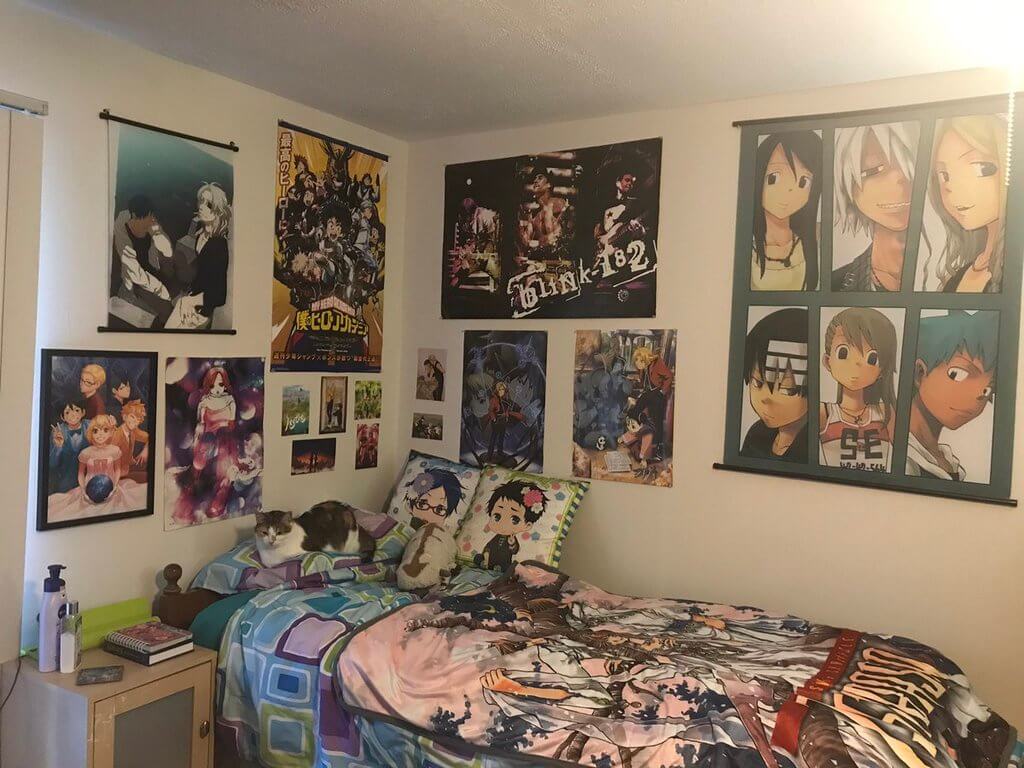 Image Source: twimg.com
Create a similar gorgeous anime bedroom decor by putting anime posters, frames, and toys in your room. You can even set the various colored lighting effects to feel the visuals of anime movies. 
3. Unique Anime Bed Headboard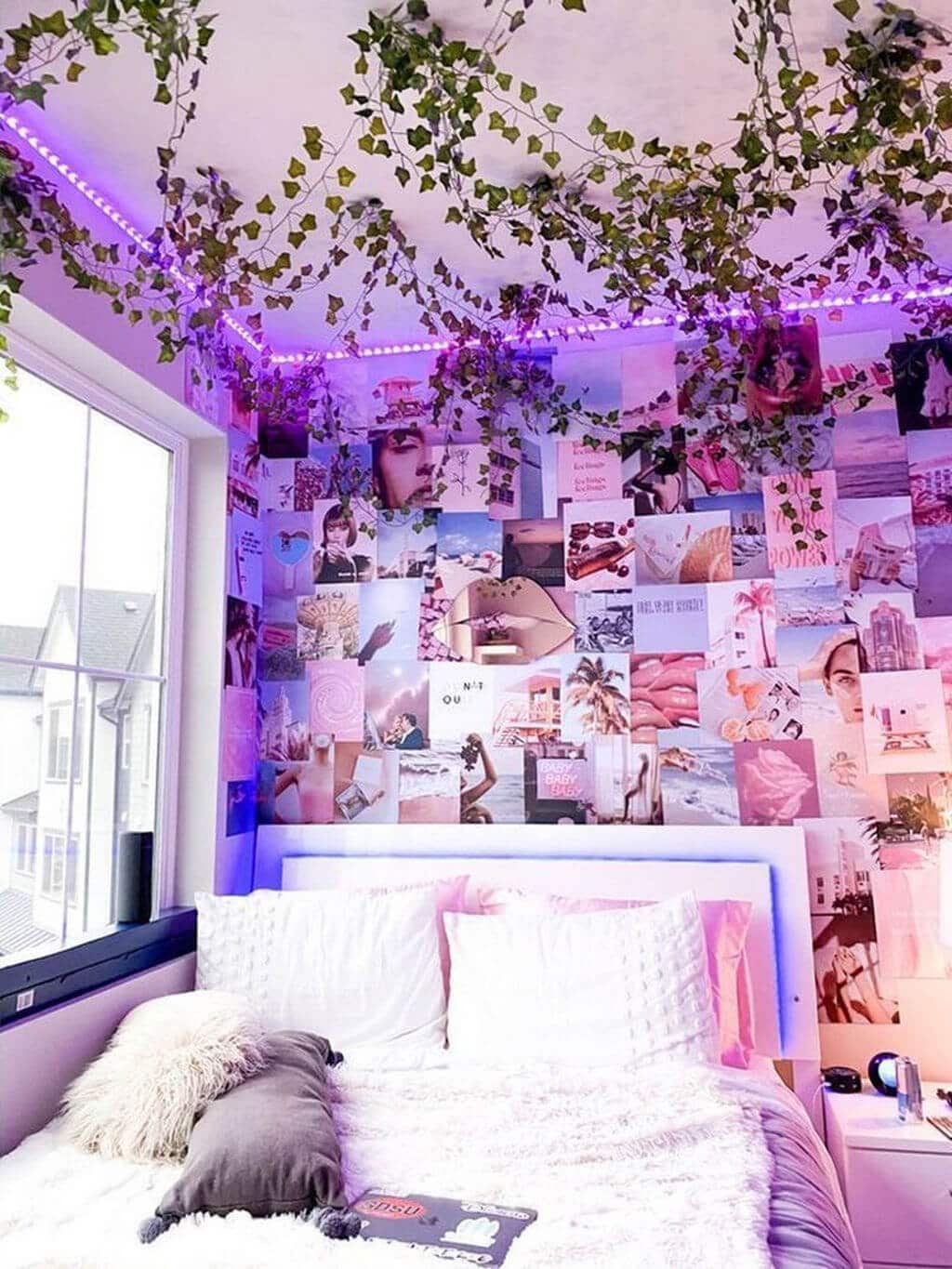 Source: homezideas.com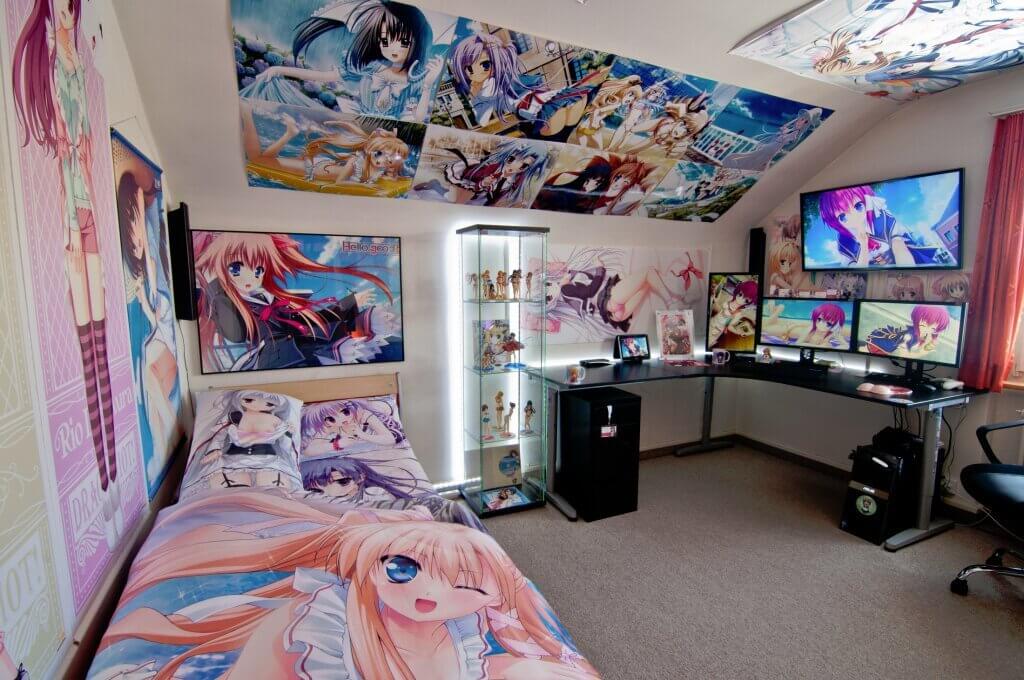 Image Source: twimg.com
Make your bedroom more cozy and comfortable with this unique anime bed headboard. To create this, first print out some anime pictures, posters in various sizes and start gluing them on the wall right behind your bed.
This will act as a headboard for your bed. Lastly, add some fake or real plant vines, and your anime-inspired cozy bedroom setup is ready! 
4. Small Anime Banners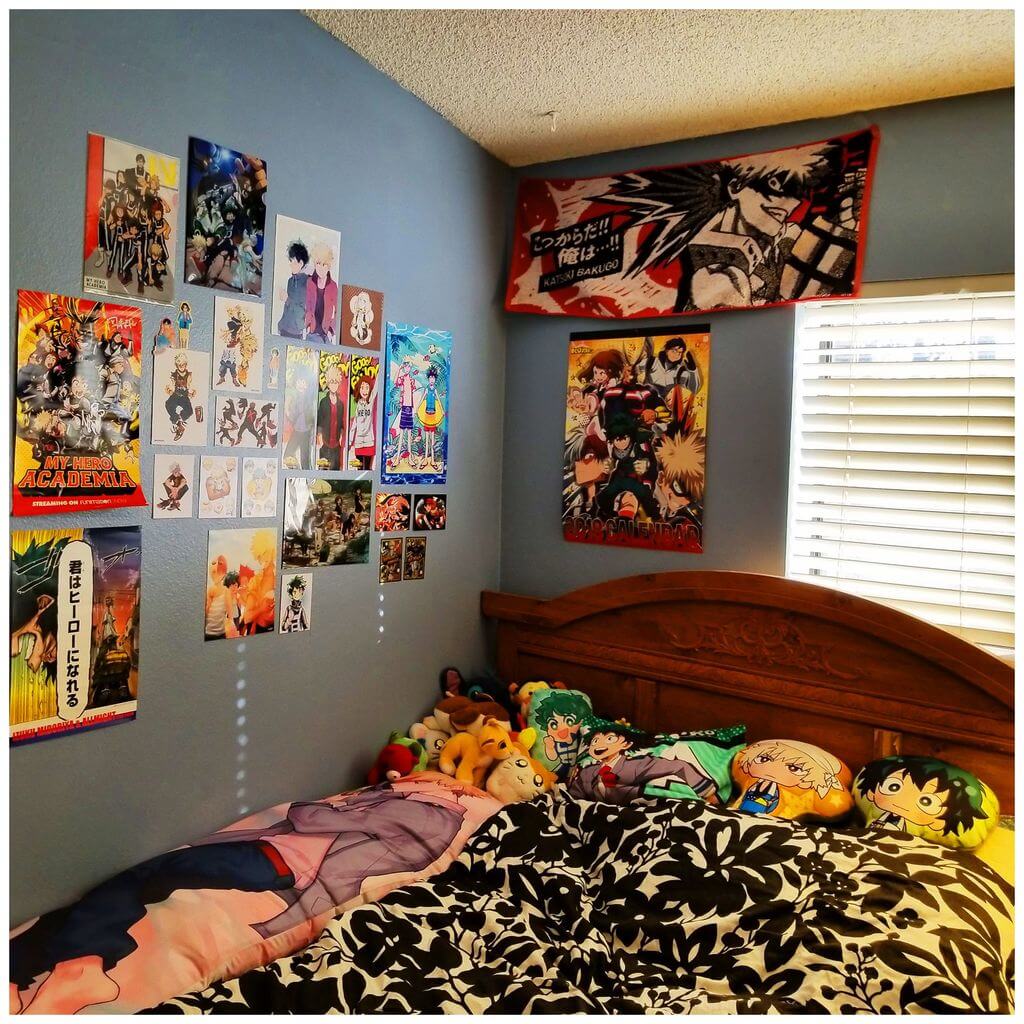 Source: pinimg.com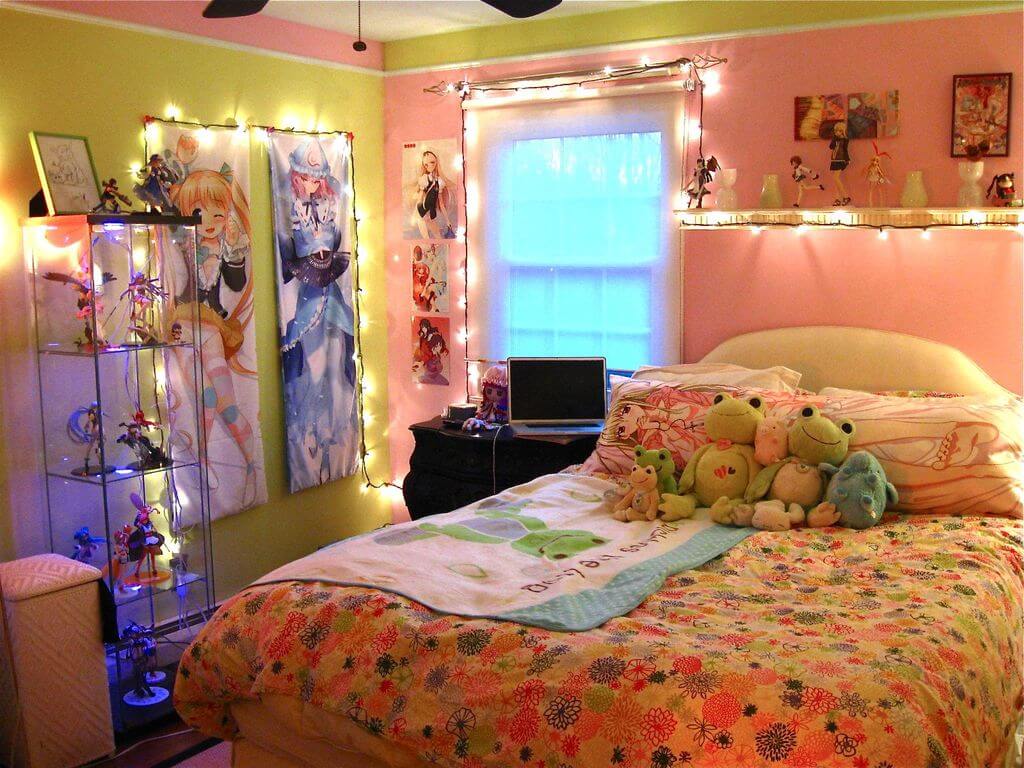 Image Source: pinimg.com
Another way to decorate your room is to use banners, toys, and beddings of your favorite anime characters. Look how cute this bed setup is looking. You can print out some photos and paste them on the sidewall or any wall near the bed. To finish the look, put some of the figurines of your favorite characters on your bed.
5. Creative Anime Bedroom Background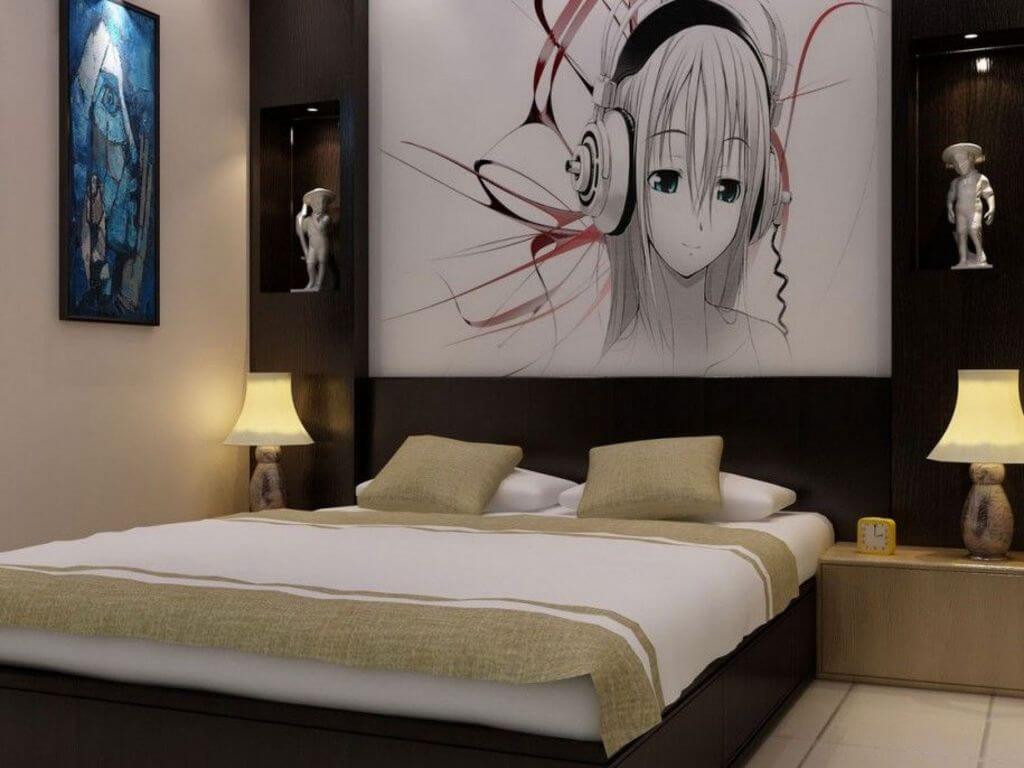 Source: pinimg.com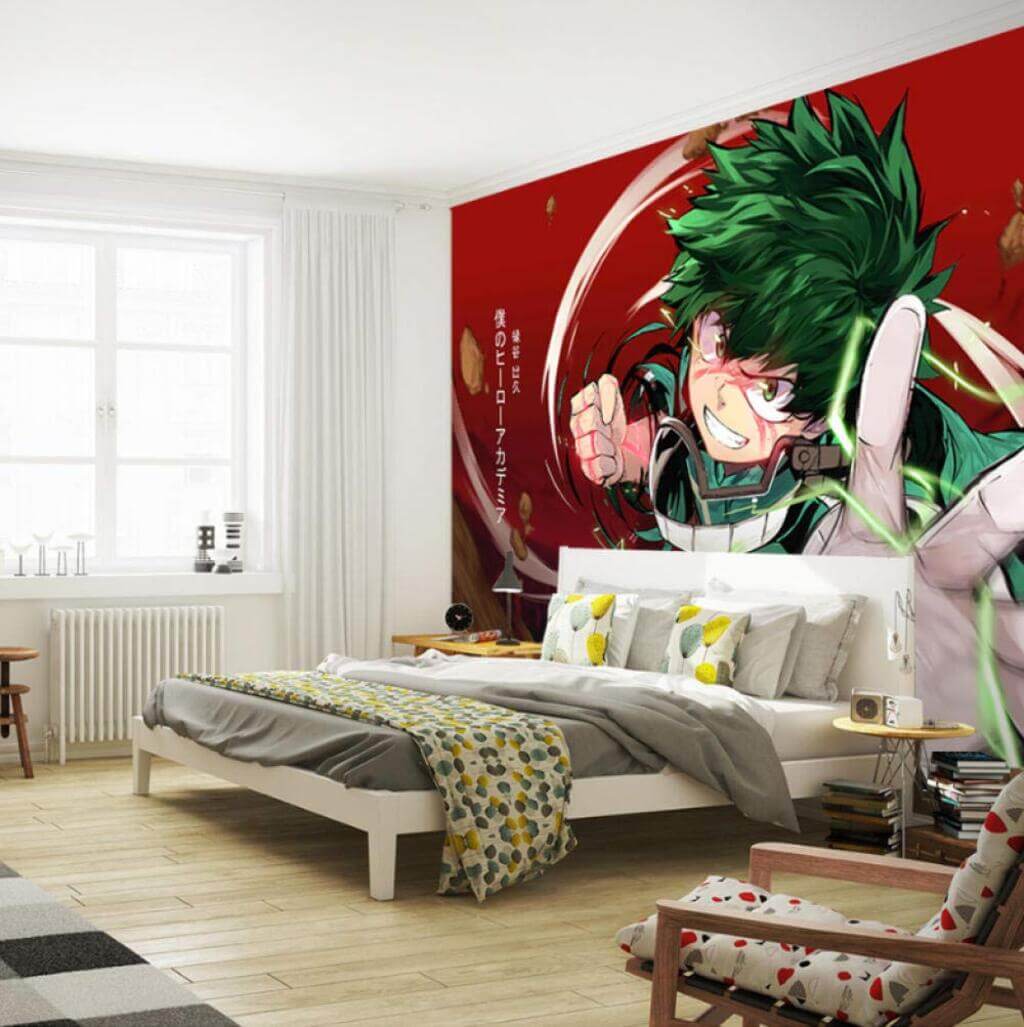 Image Source: amazon.com
Want something contemporary and calm? Go with this bedroom design! You can select one of your favorite anime scenes or characters and use it as wallpaper for one of the walls of your room. Keep the rest of the decor simple so that this wallpaper will stand out in your room. 
6. Doraemon Themed Room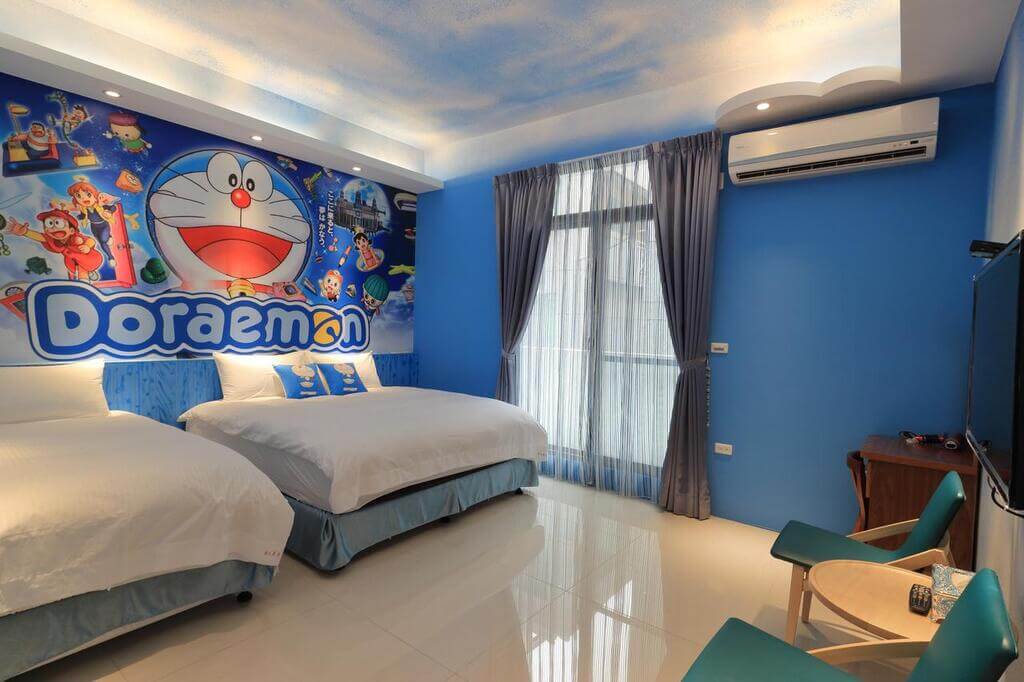 Source: bstatic.com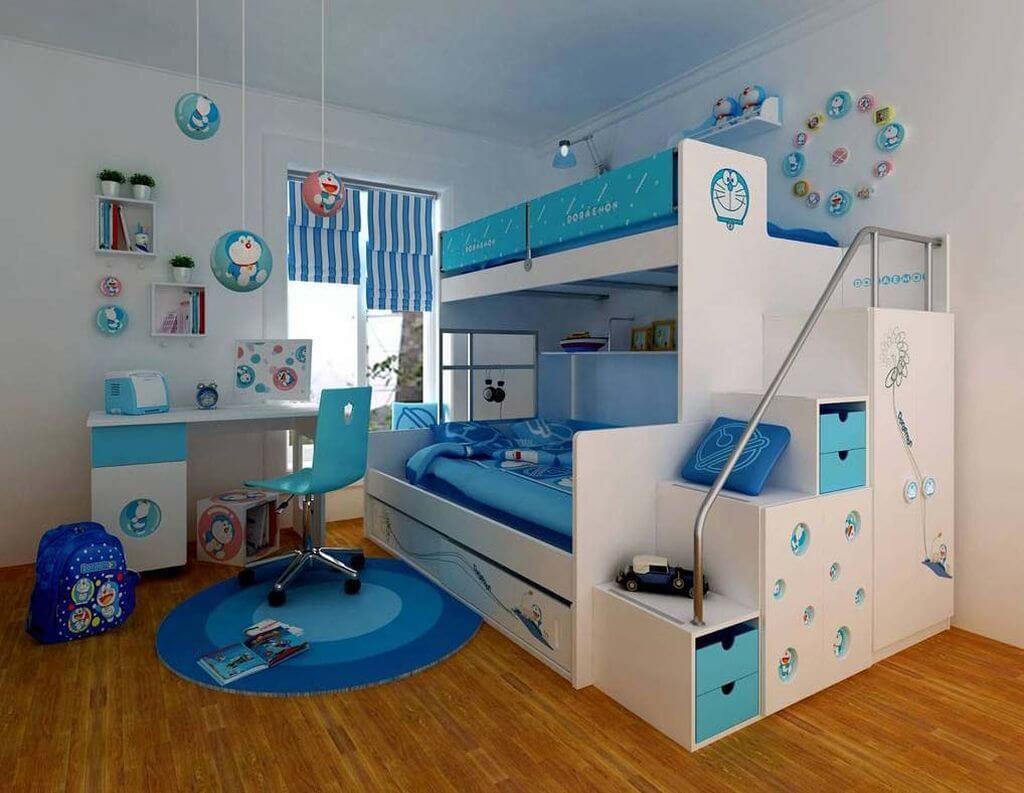 Image Source: pinimg.com
Who doesn't love this adorable plump blue robot cat? Everyone loves Doraemon, right! This is one of those cartoon characters which is loved by every age group of people. If you want to decorate your room in the Doraemon theme, take inspiration from the above room. 
From anime wallpaper, bedding, and curtains to the shelf, here everything is in blue color.       
Also Read: 30+ Amazing Traditional Ideas To Style Your Bedroom
7. Twin Anime Bedroom Design
Source: pinimg.com
Are you planning to renovate or redecorate your twin's bedroom? If yes, go with this ship's anime-inspired bedroom design. Paint and create a sea ship cartoon on the wall and place two beds near one another. Use similar beddings for both the bed and curtains to complete the look.  
8. Dragon Ball Z Anime Bedroom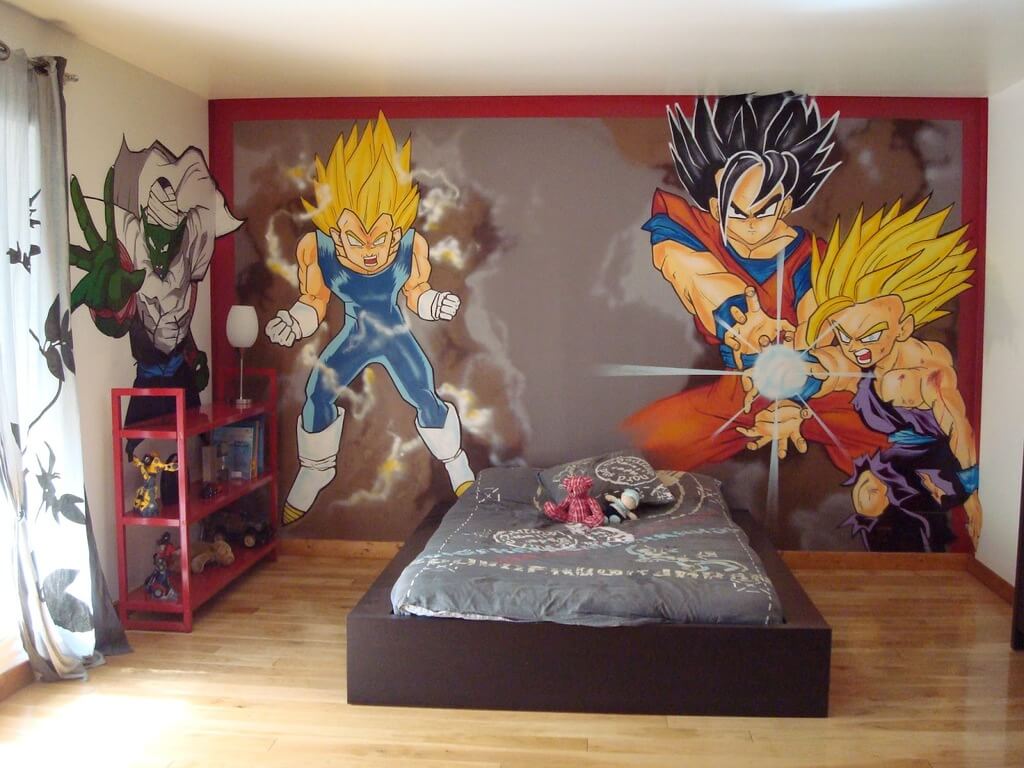 Image Source: blogspot.com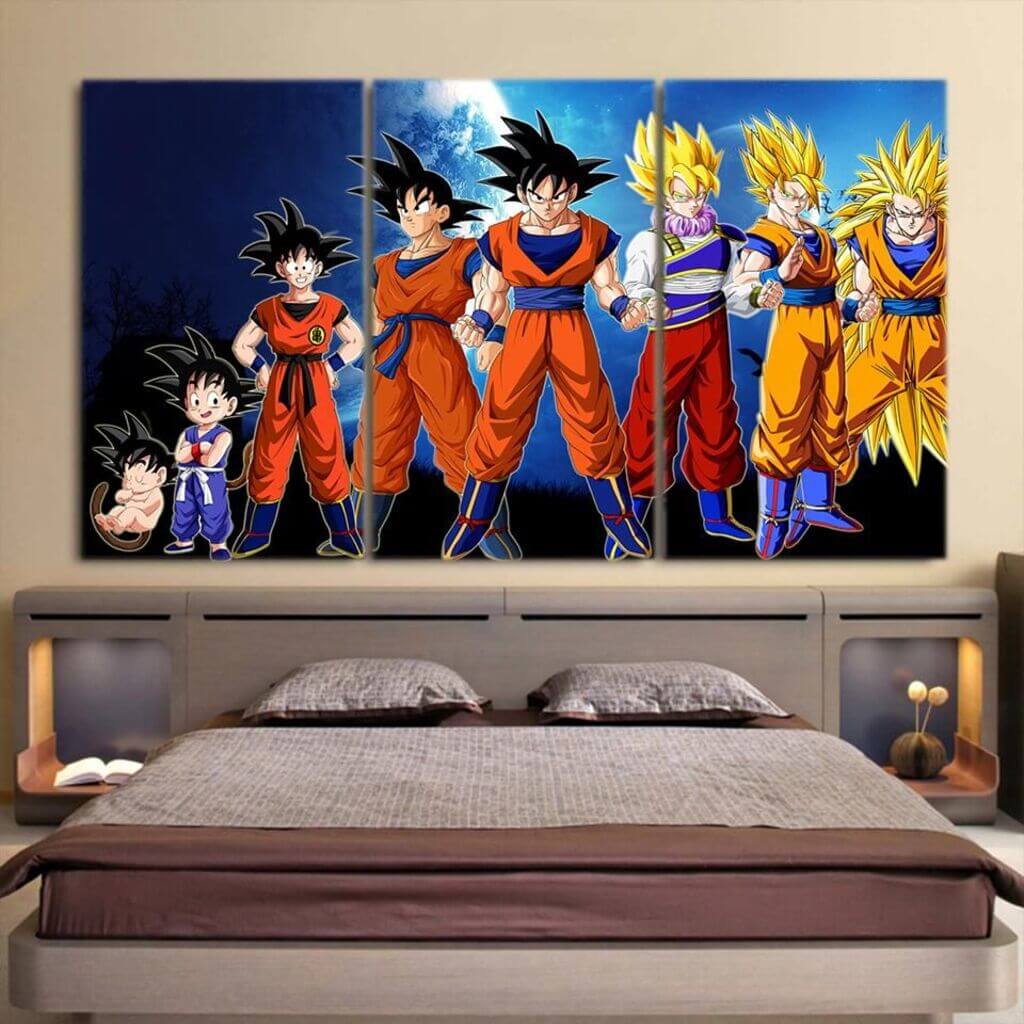 Source: pinimg.com
Does your little boy love Dragon Ball Z? Many people worldwide are obsessed with this amazing manga character. To create this theme, you have to make this anime room background with the help of a three-dimensional painting. It will bring an energetic vibe to the room.       
Keep the surrounding area in a neutral color scheme, such as white walls and light-colored wooden floors. To match the border of the Dragon Ball Z mural, you can add some red shelves and finally decorate them with some anime figurines and merchandise. 
9. A Manga Inspired Room Decoration Idea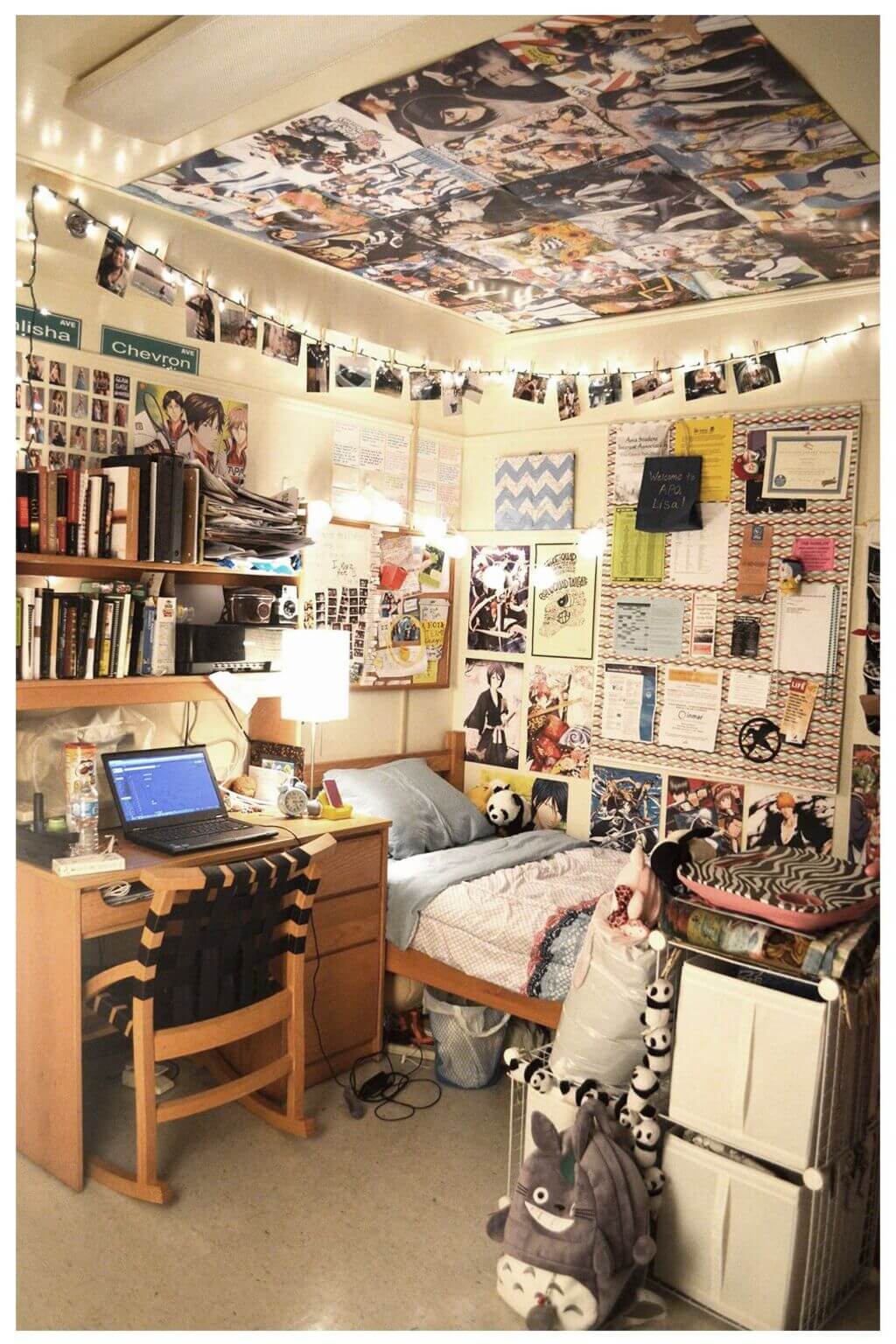 Image Source: pinimg.com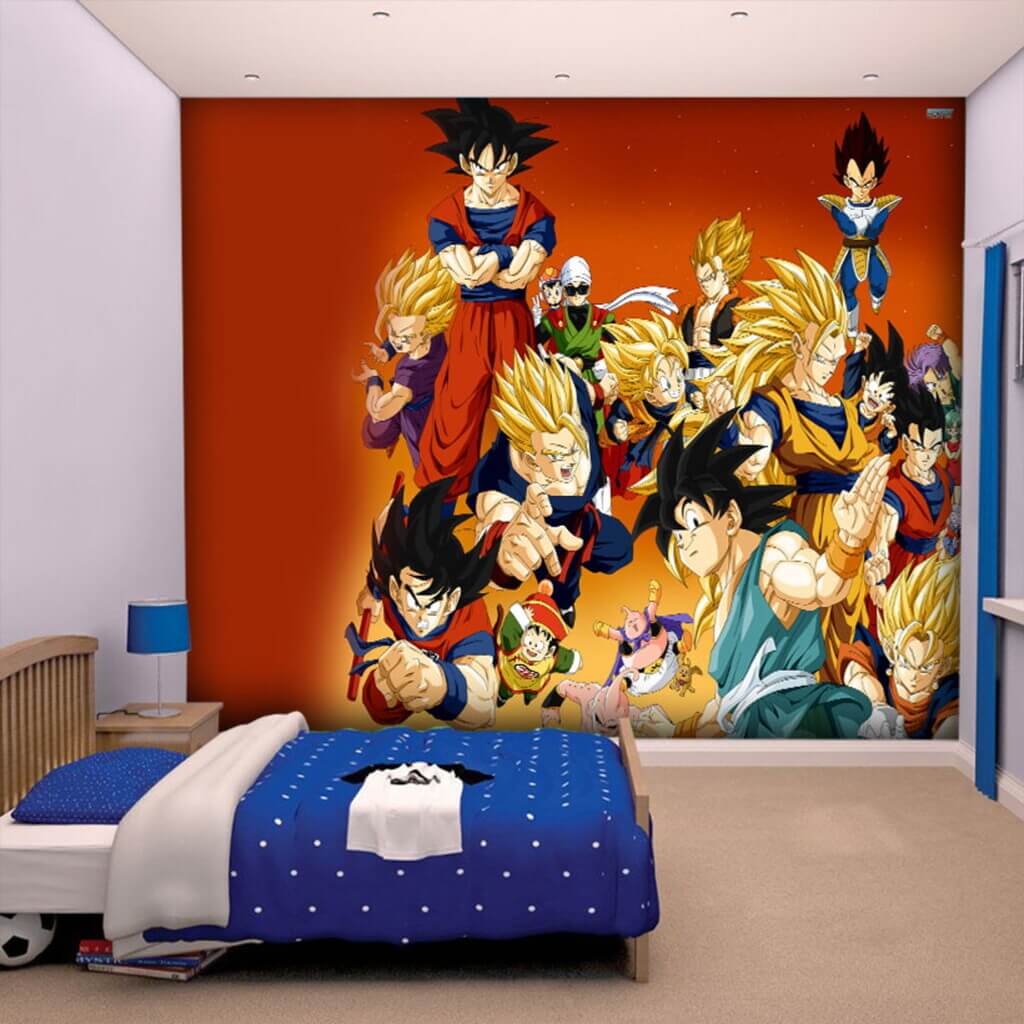 Source: elo7.com
Live in a tiny apartment? Even if this is the case, you can still decorate your space in your favorite anime style. Look at the above room; it is filled with various anime decor and decorations. 
Here even the ceiling has anime-inspired posters and pictures so that when you go to sleep, you'll dream only about anime movies and characters. It is the perfect bedroom idea for kids and teenagers. 
10. Anime Game Bedroom Design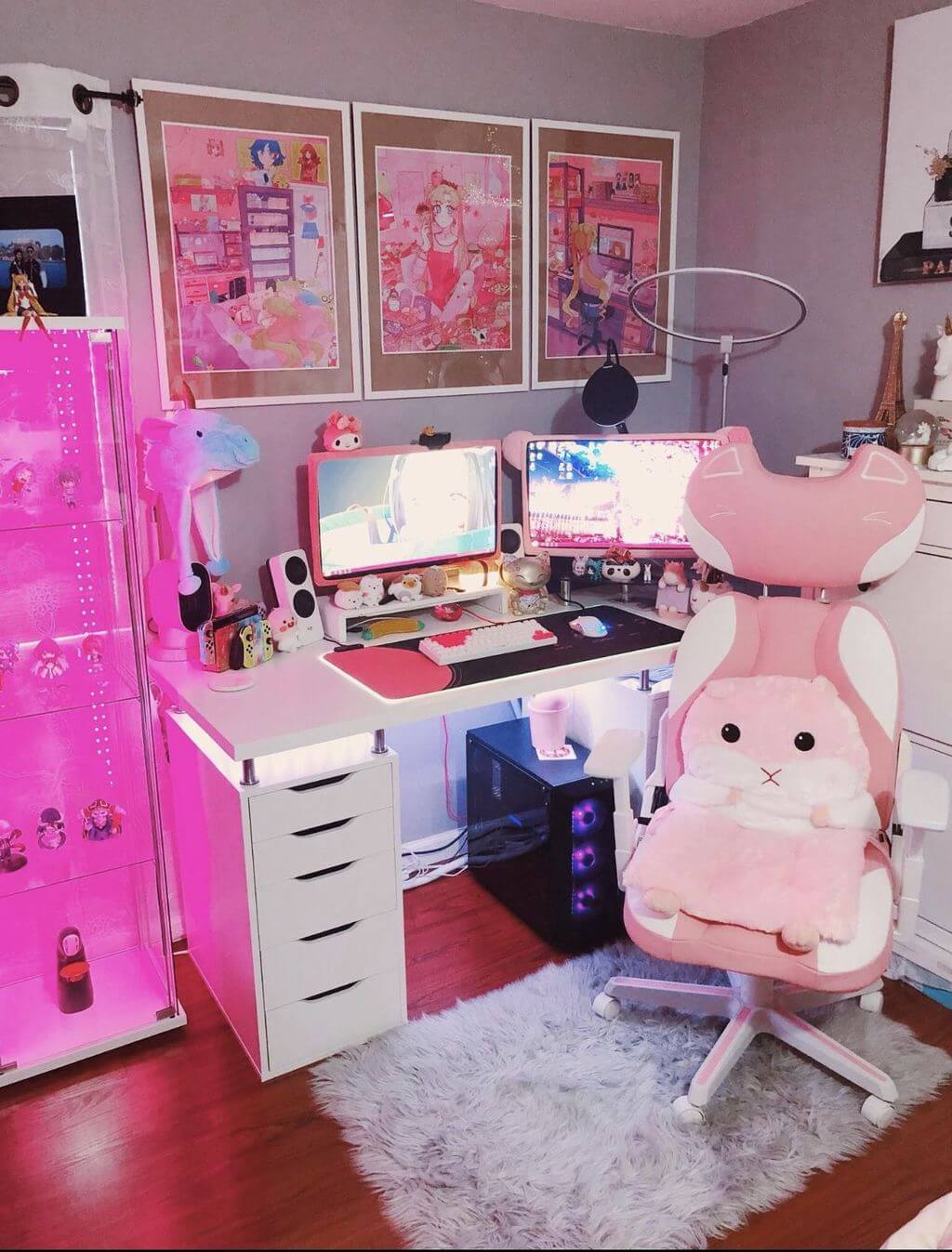 Image Source: pinimg.com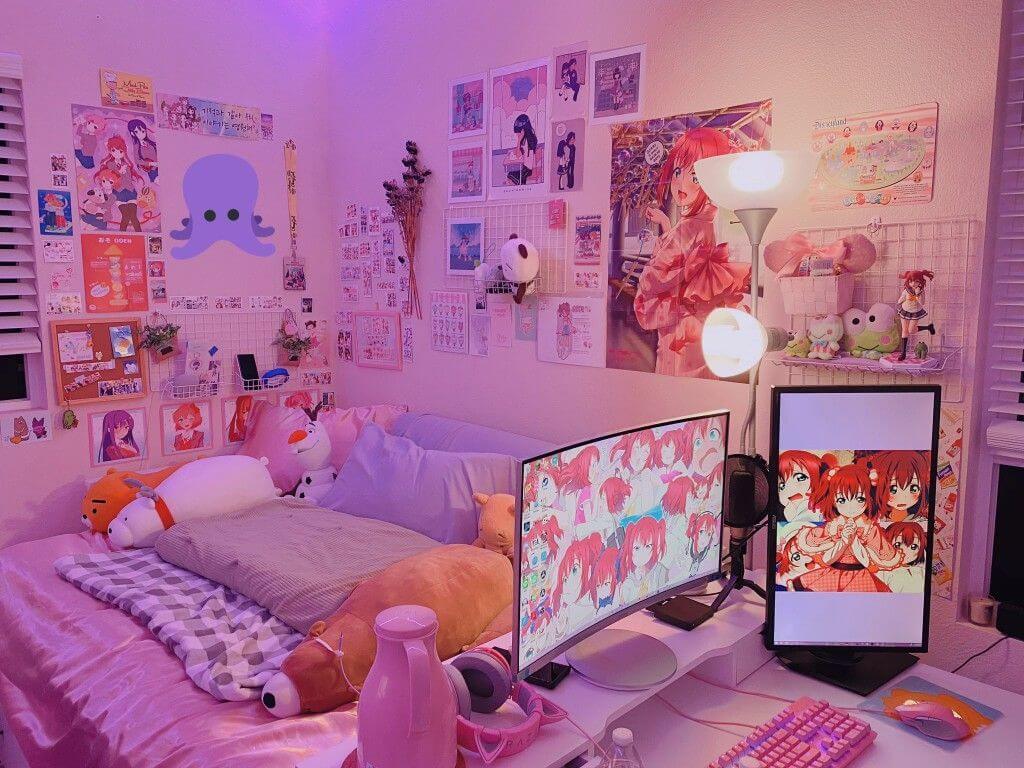 Source: pinimg.com
Do you love to play anime games and series? If yes, this bedroom design will be ideal for you. Decorated with cute and kawaii decorations, this bedroom is appropriate for both boys and girls. 
To add a more dramatic effect, you can add neon lights or purple lighting effects. It will look like you're living in a real game. 
11. Large Anime Murals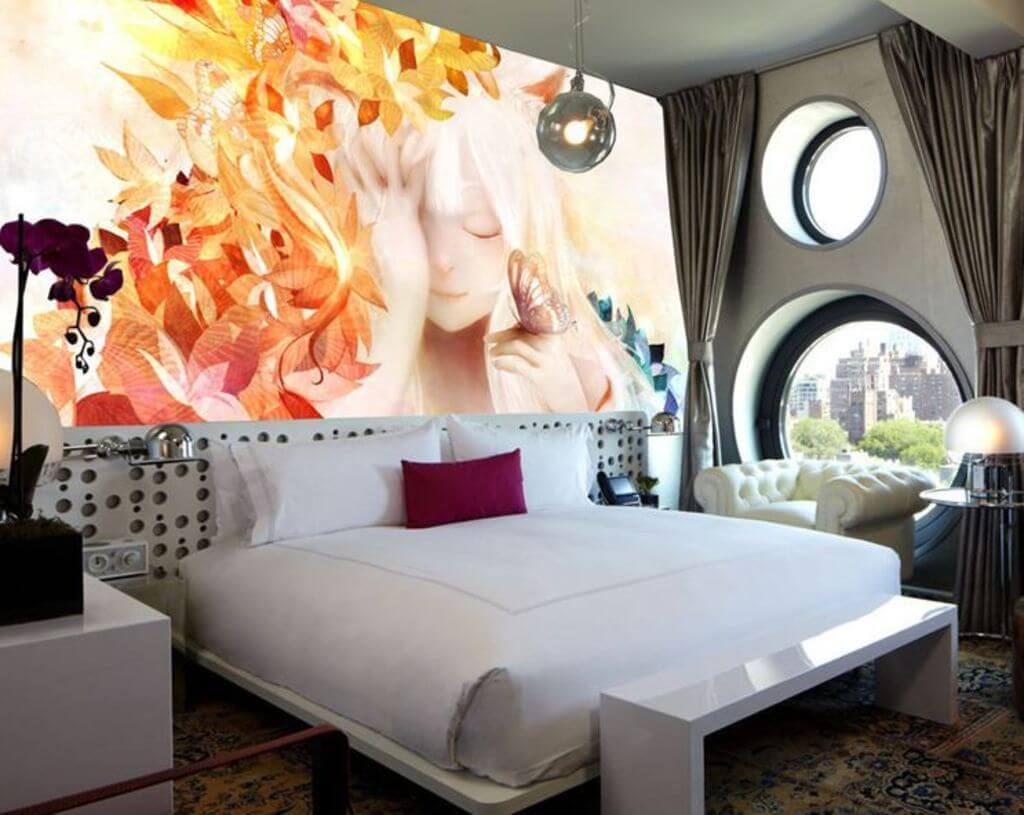 Image Source: pinimg.com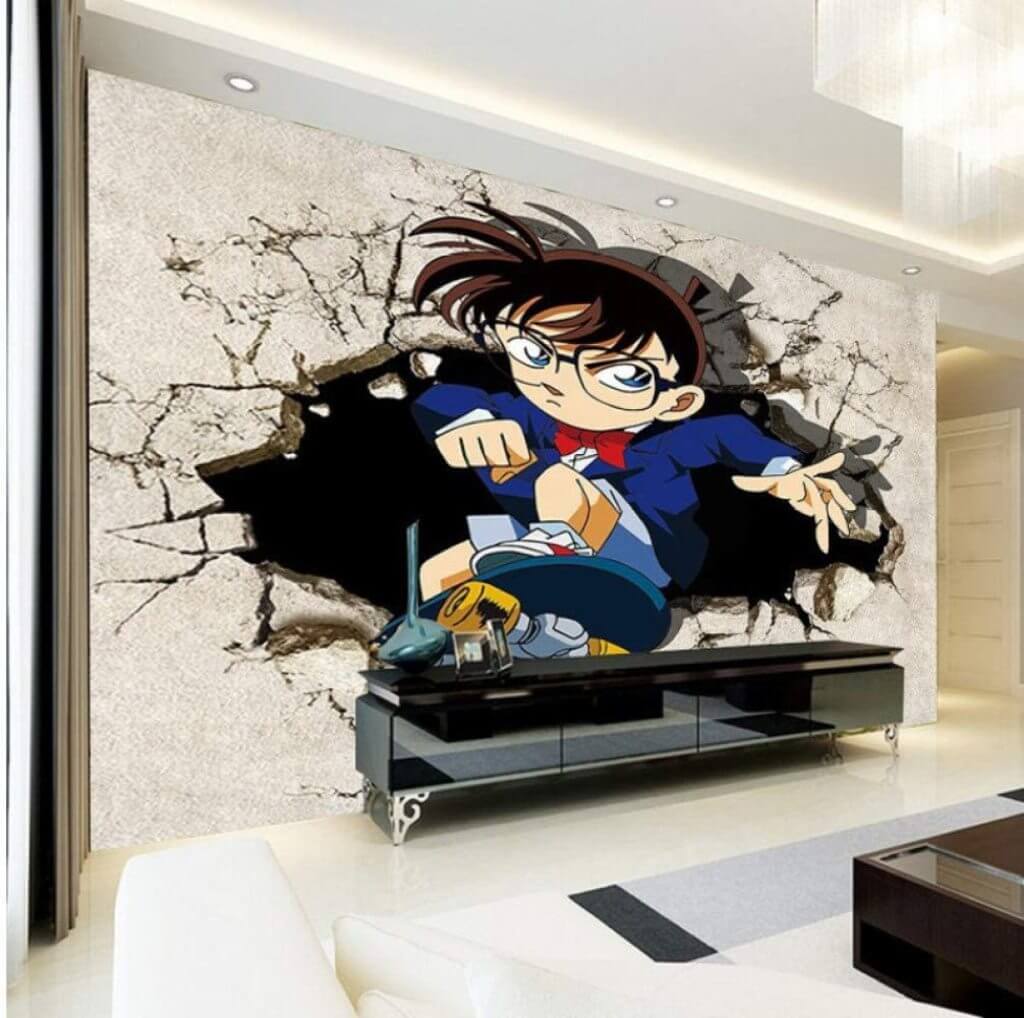 Source: amazon.com
One of the best and easiest ways to bring anime vibes to your room is the Murals! You can easily purchase them from the market as well as online. You can even customize them according to your room size and style. 
12. Animation Movie Themed Bedroom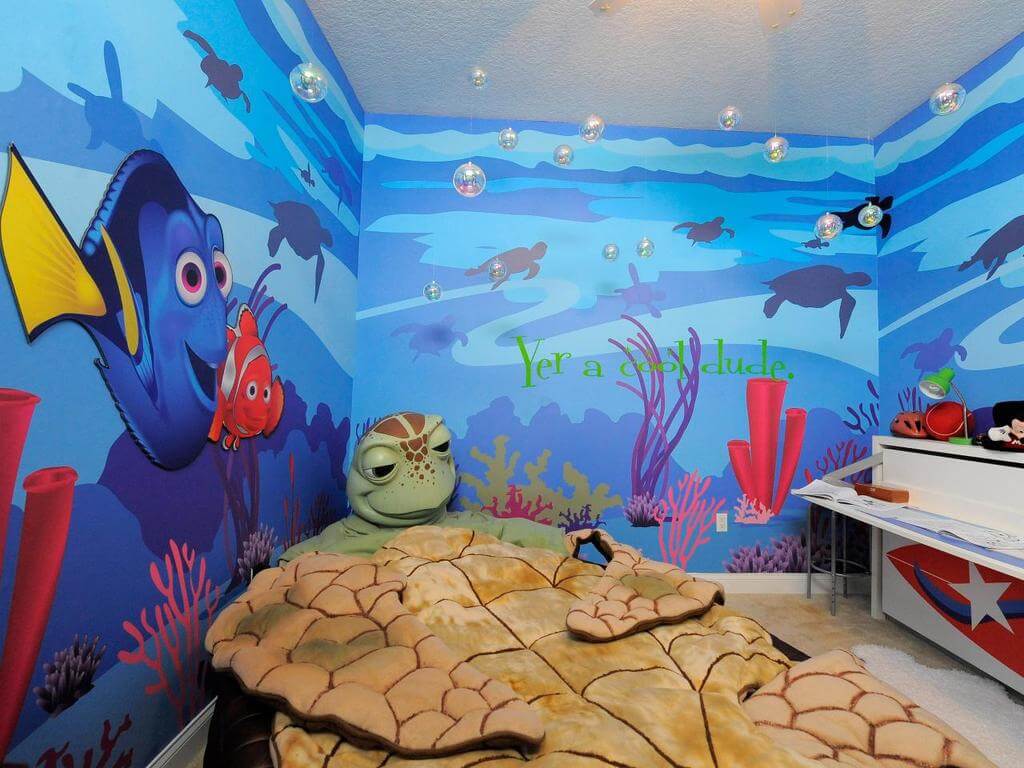 Image Source: sndimg.com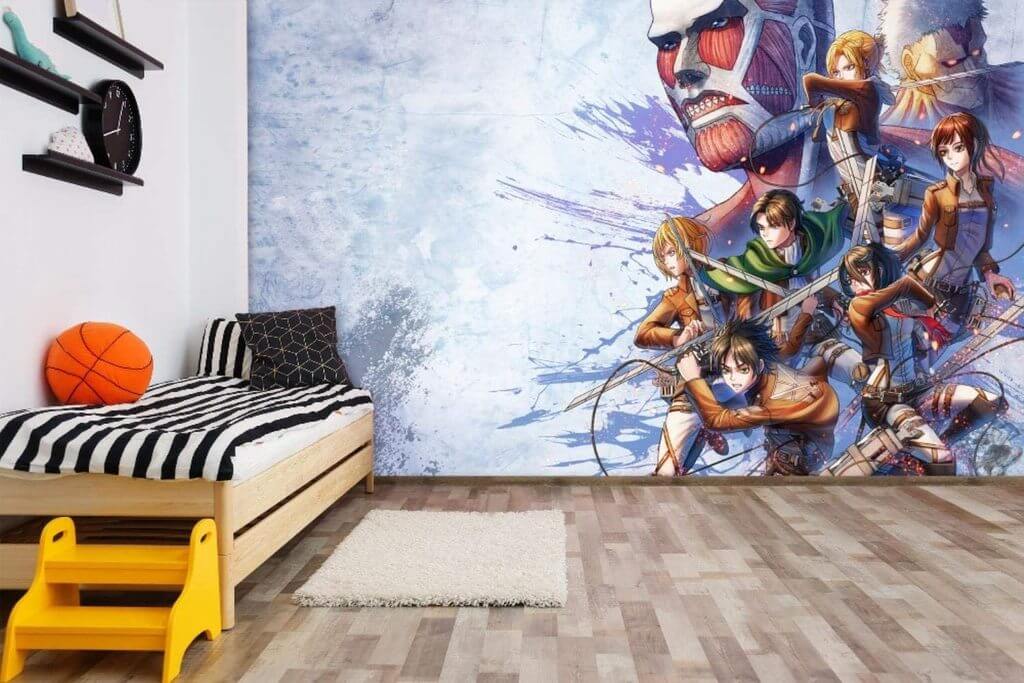 Source: amazon.com
This bedroom is inspired by the Japanese romantic fantasy film "Your Name." The story revolves around a high school boy in Tokyo and a high school girl in the Japanese countryside. Hence, it is the perfect bedroom theme for teenagers.                             
13. Cute Anime Decor Ideas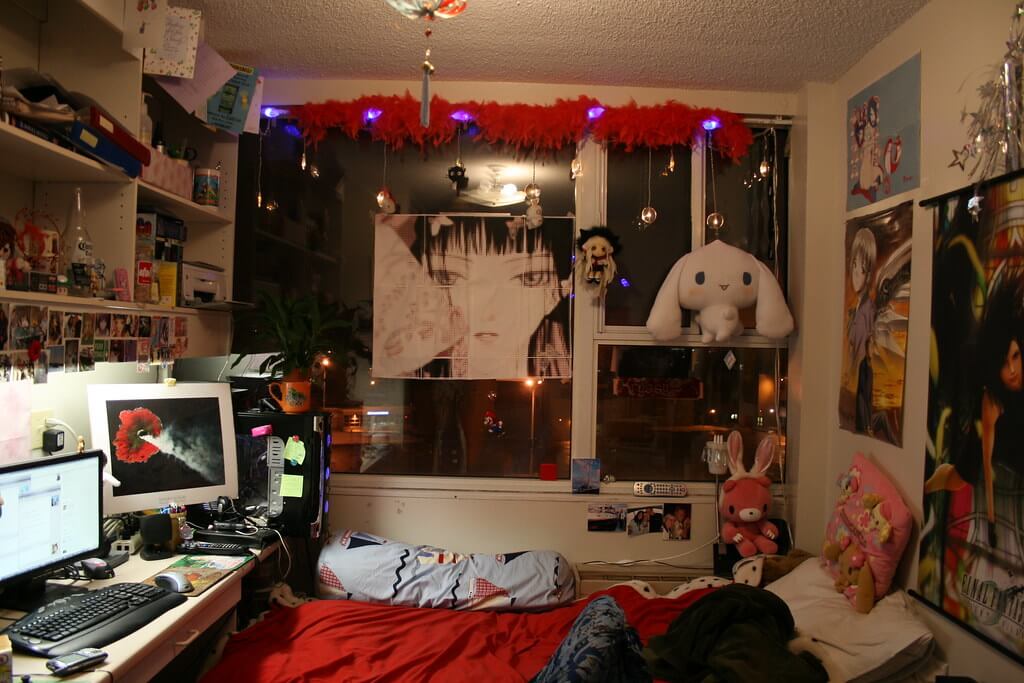 Image Source: staticflickr.com
Do you own many anime figurines? Put them on your bed, floating shelves, or on your desk area to display your collection. This is the best way to transform any boring place into a cute and cool space. 
14. Hang Frames & Posters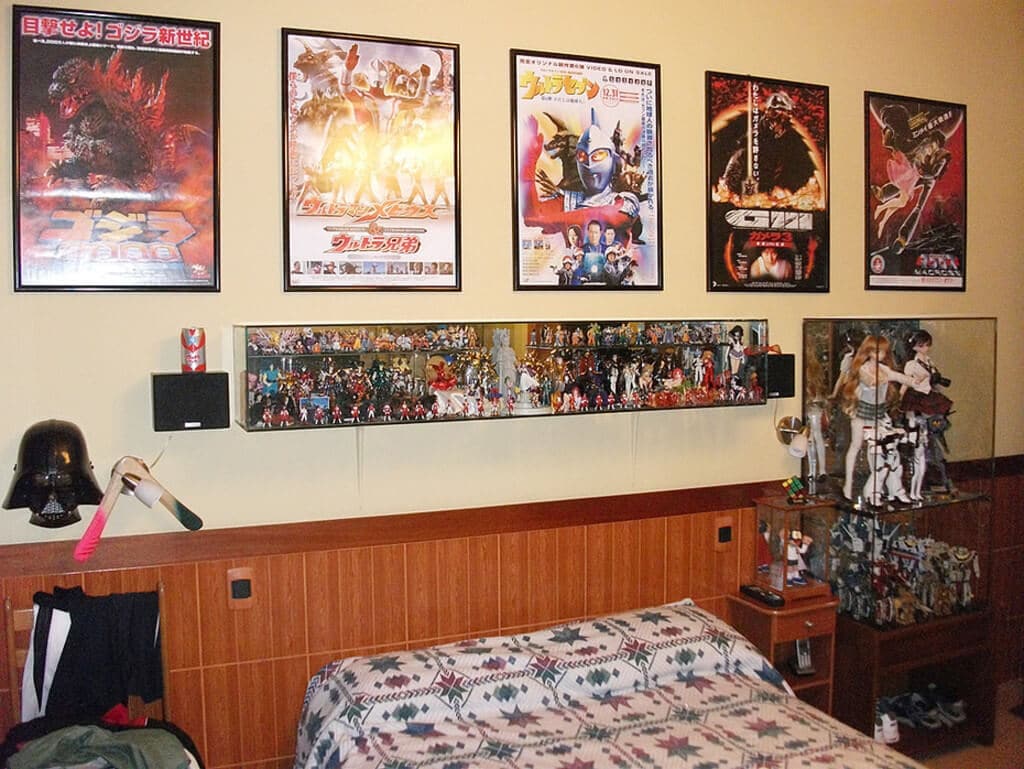 Source: staticflickr.com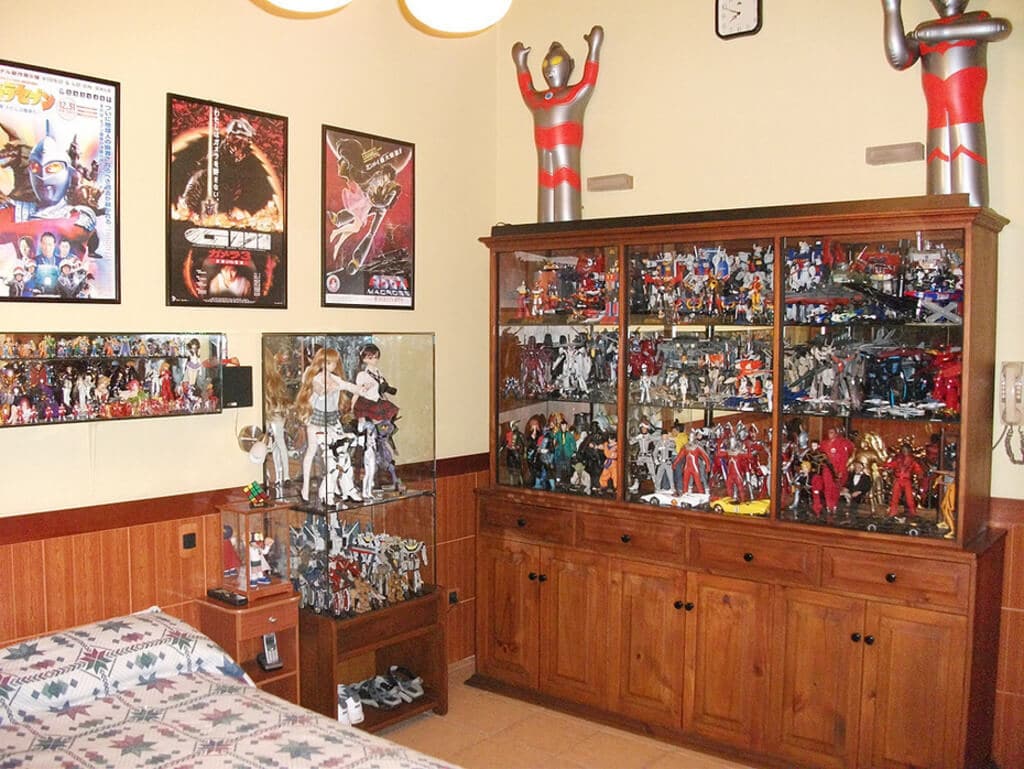 Image Source: dannychoo.com
Here's another way to show your love for animation. You can buy posters and either frames them or paste them directly on the wall behind your bed. You can also put all your anime toys or figurines on glass or transparent glass shelves to display them. They'll be a cute and cozy decor for your room. 
15. Naruto Themed Bedroom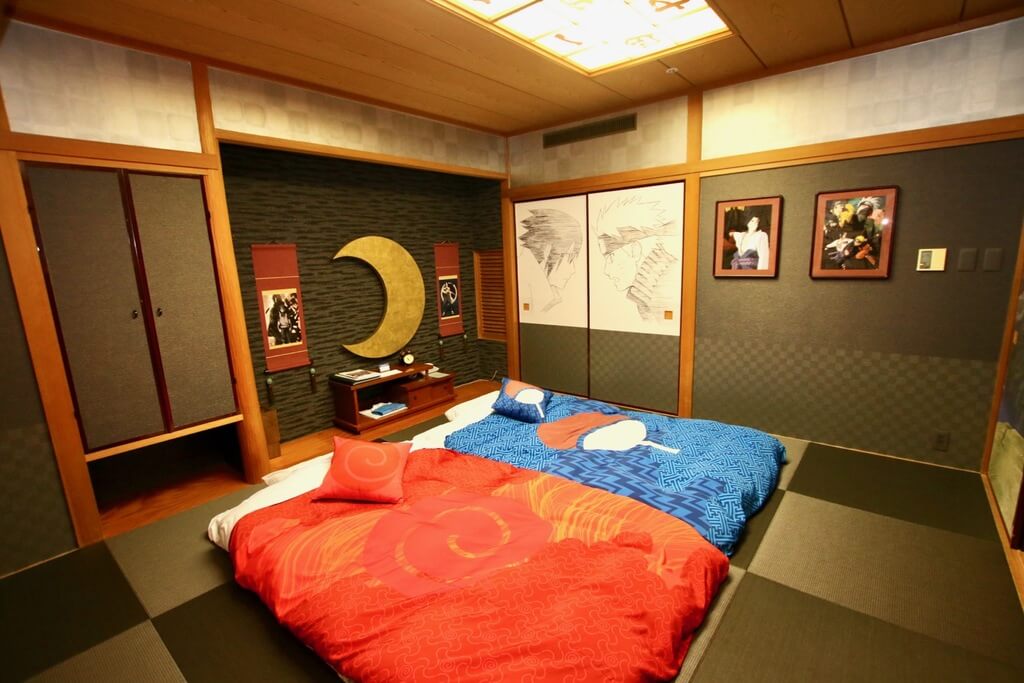 Source: tokyosanpopo.com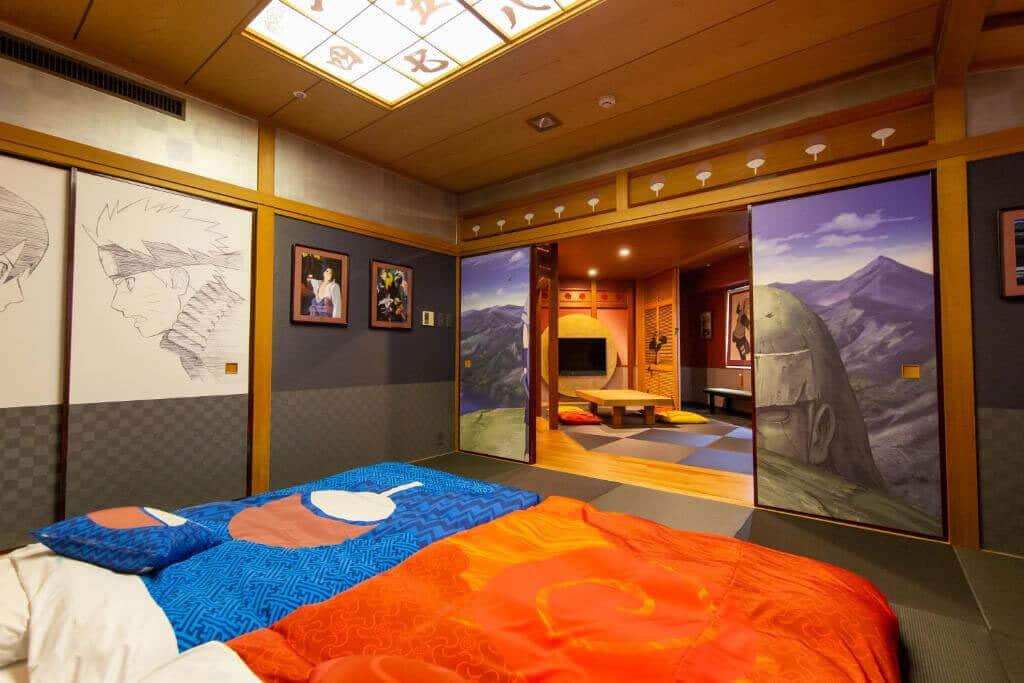 Image Source: readydepart.com
To all Naruto fans, this bedroom will be their ultimate space to rest and watch unlimited anime. This bedroom features a traditional futon perfect for two persons, a warmer mat, and coarse-y display wall background.  
From the velvety mat, wooden panels to the textures and decor, everything is giving Uzumaki Naruto and Uchiha Sasuke vibes. Wouldn't it be fun to live in this room? 
16. Japanese Room Decor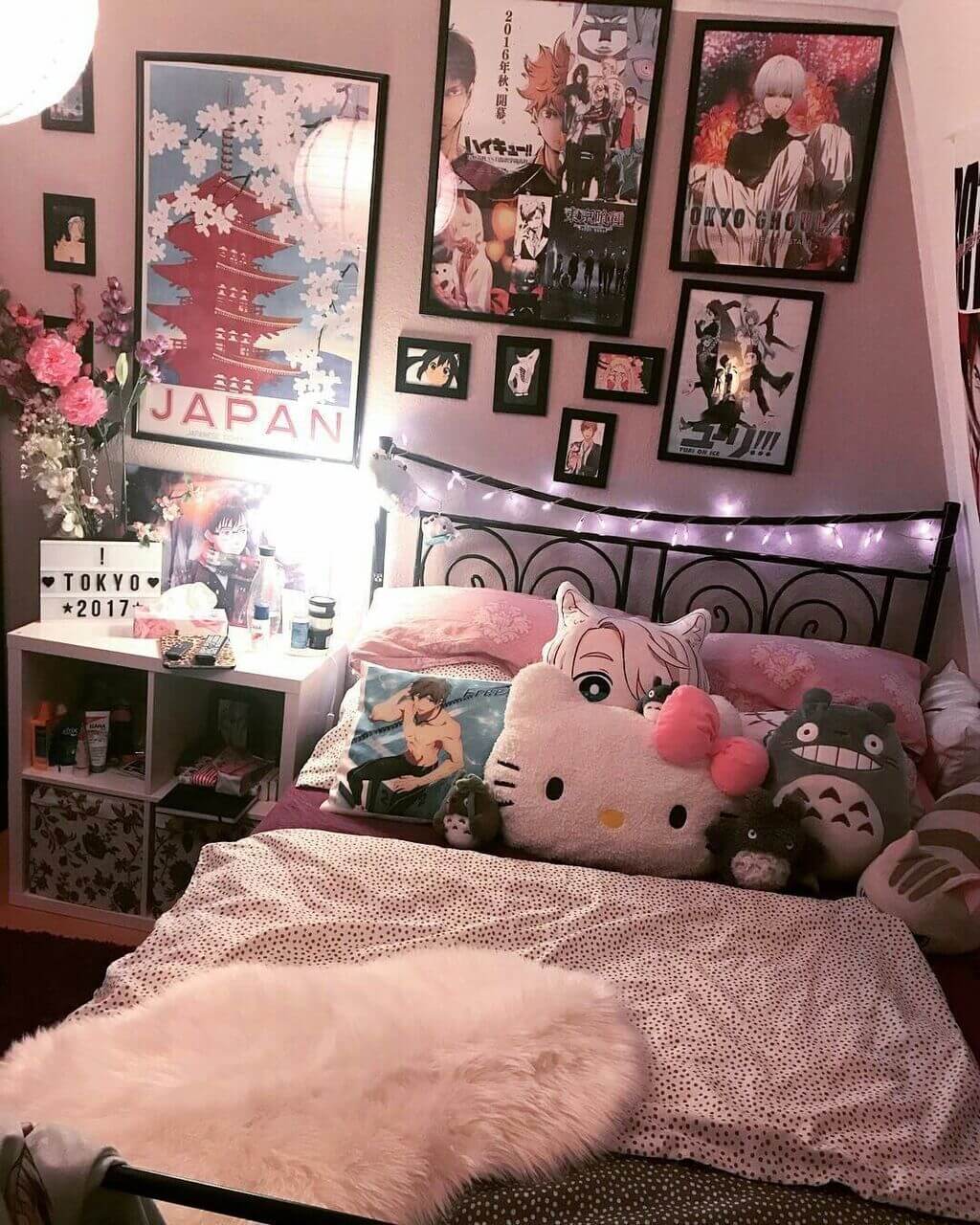 Source: wattpad.com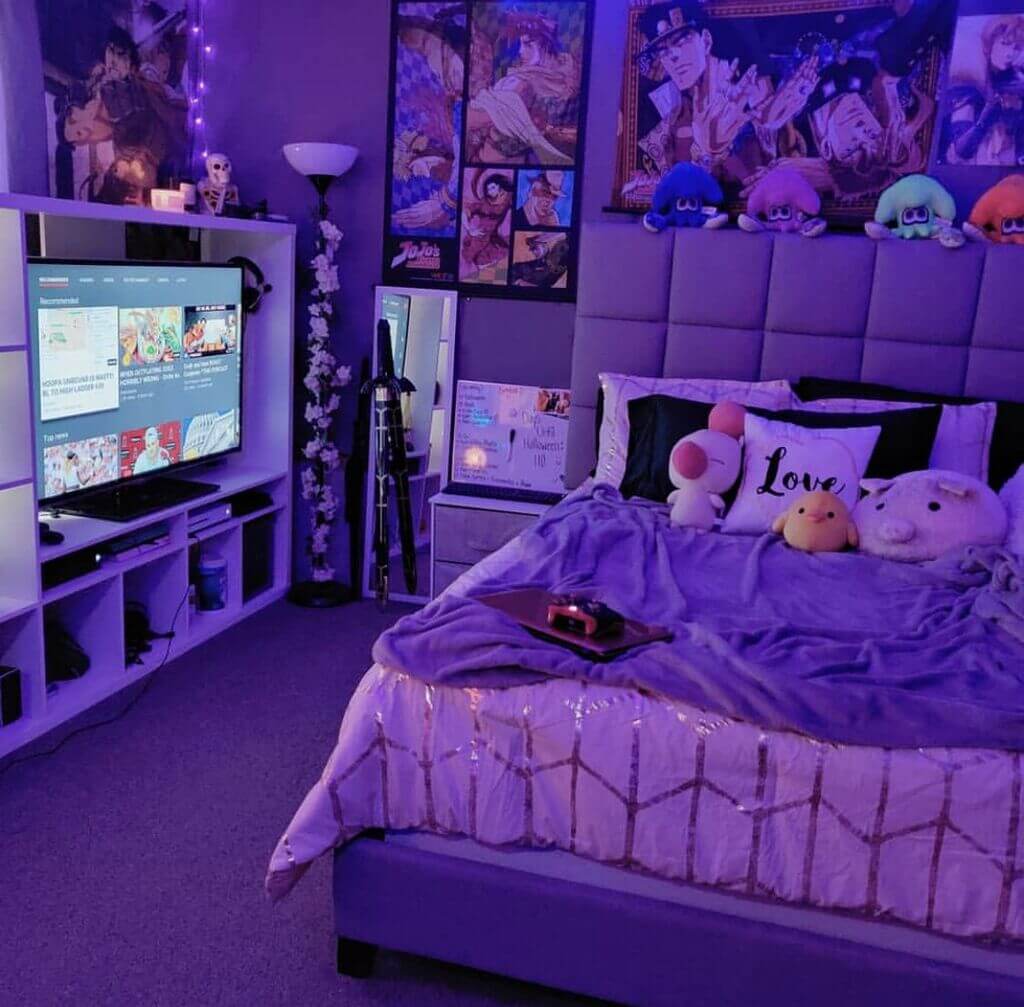 Image Source: pinimg.com
If your little girl is fond of Japanese movies and cartoons, this bedroom design will be most suitable for her. Put posters and frames representing Japanese culture and her favorite anime characters. You can also add string lights and sakura flowers to add a soft touch to the room. 
17. Display Your Collection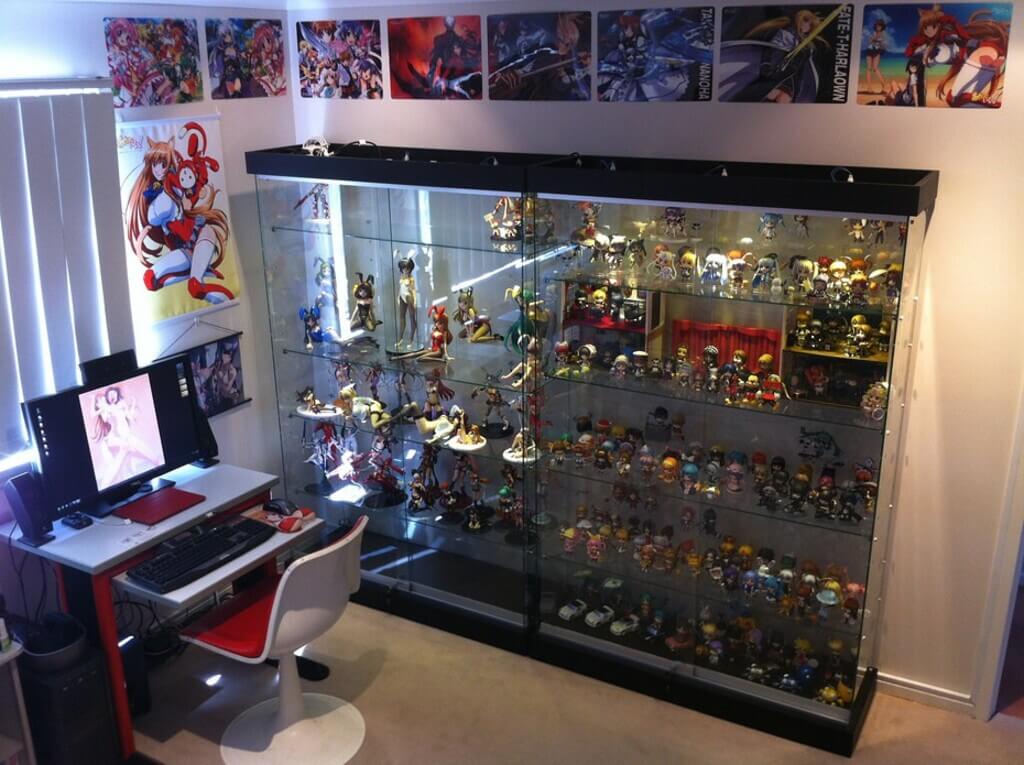 Source: staticflickr.com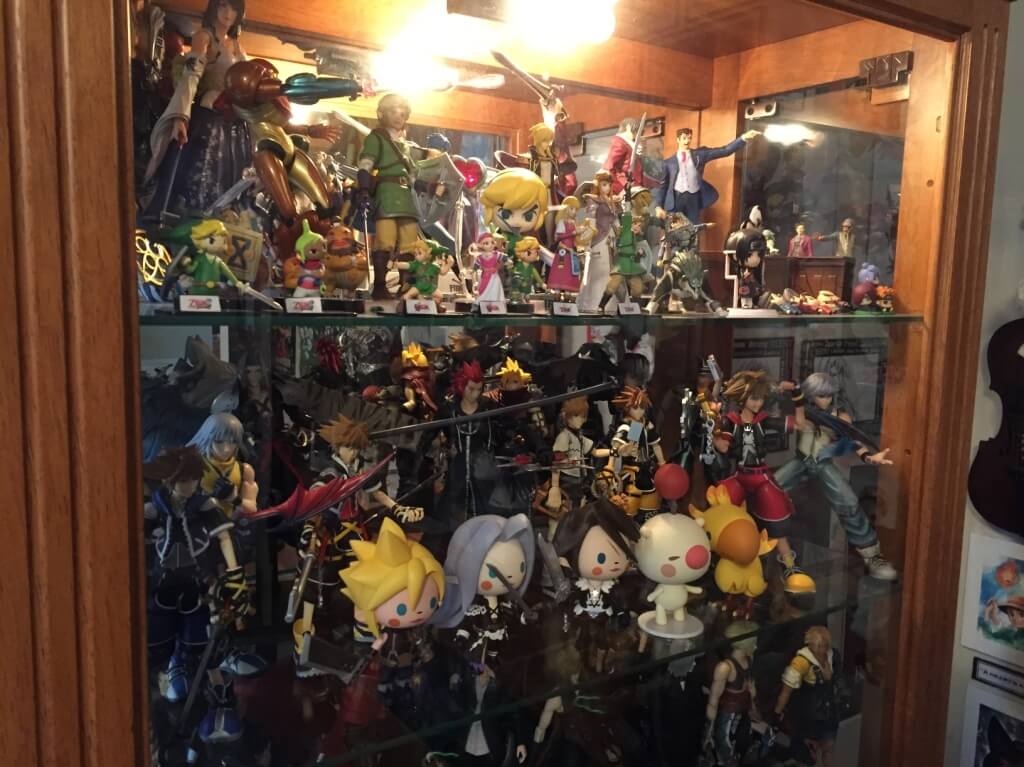 Image Source: fromjapan.co.jp
Do you love collecting various anime movies, DVDs, toys, and figurines? If yes, don't hide them or put them inside the drawers, instead display all of them on the open shelves. You can use either a bookshelf or just mount some floating shelves. 
18. Naruto Bedding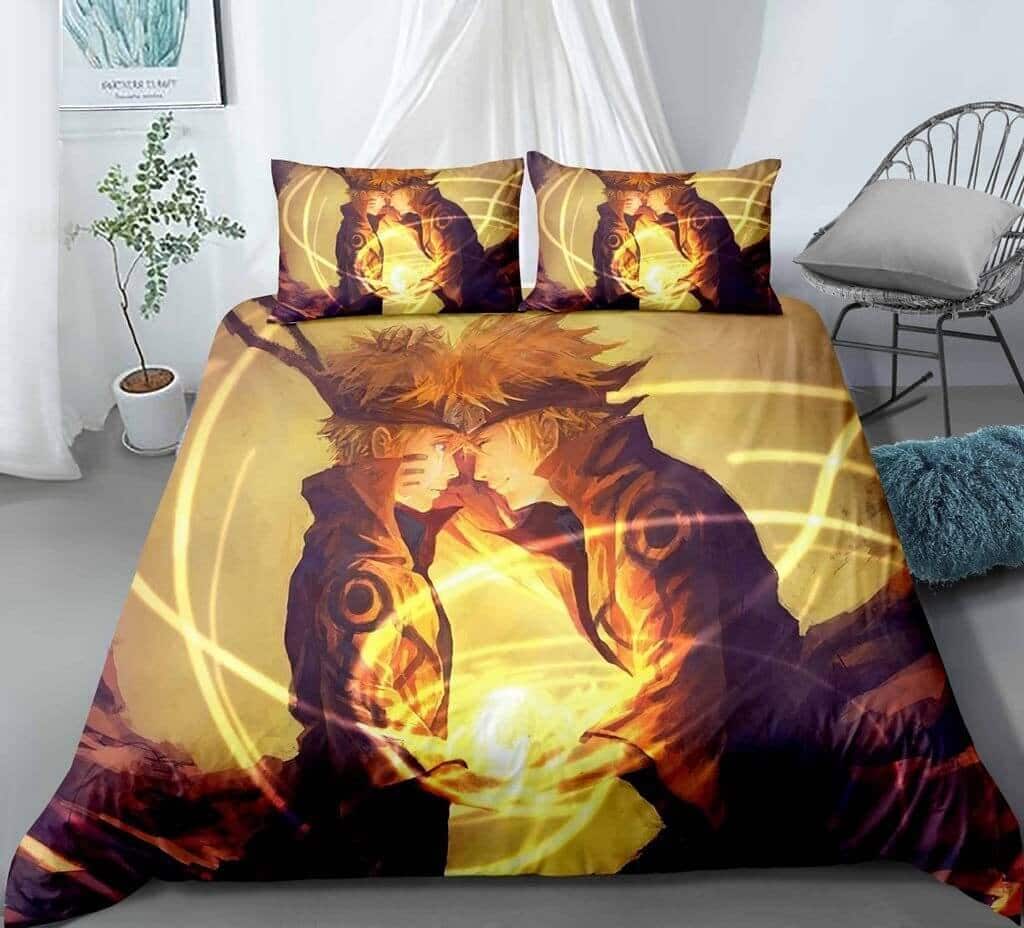 Source: amazon.co.jp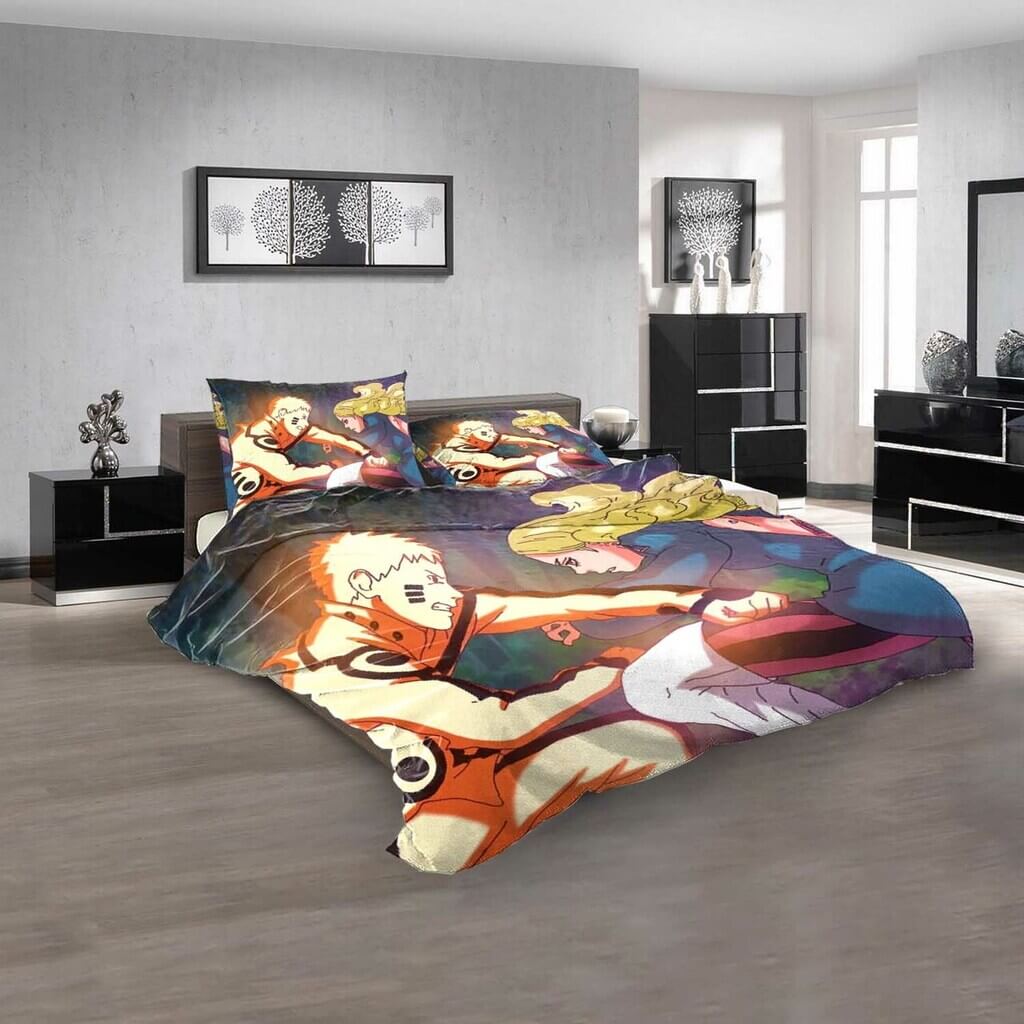 Image Source: bigcommerce.com
If you can't paint your walls in an anime scene or wallpapering is not allowed, don't get stressed. Here's another easy way to fulfill your dream of making an anime-inspired bedroom: Use beddings and curtains that have a print of your favorite anime character! 
Yes, this way, without damaging walls, you can create a fun and entertaining space for yourself and your kids. 
19. Kawaii Bedroom Design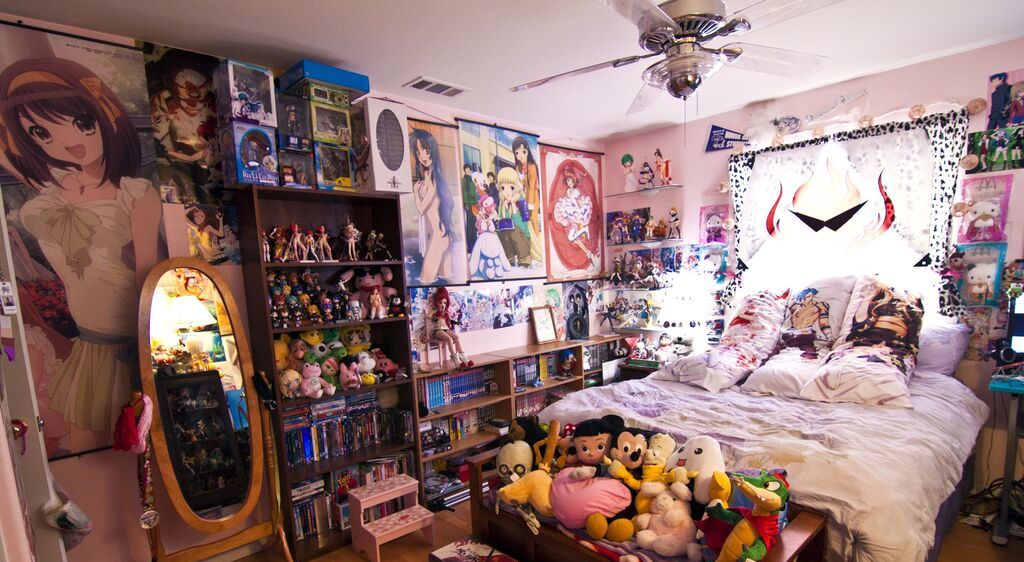 Source: pinimg.com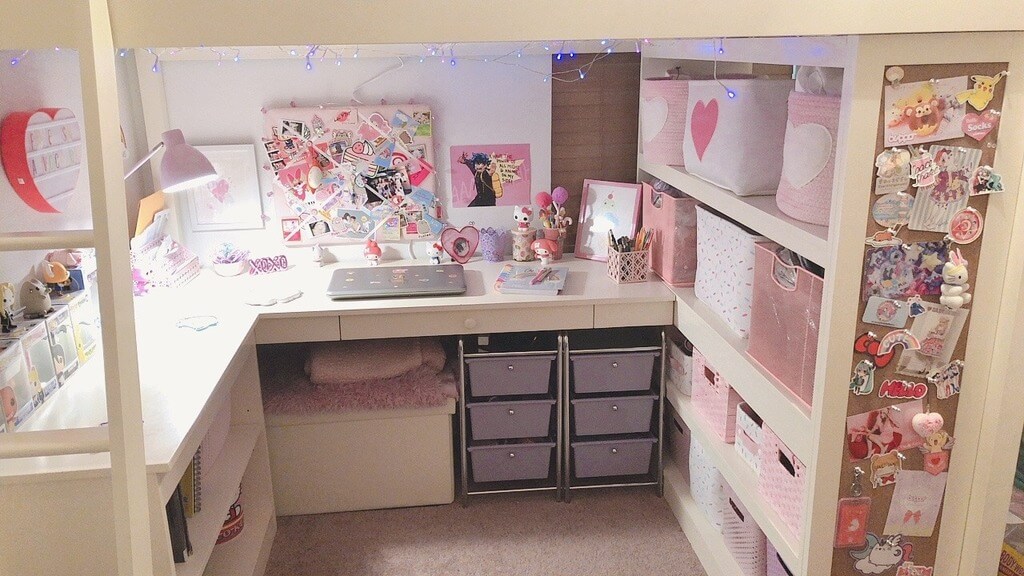 Image Source: tumblr.com
If you're obsessed with anime and kind of crazy about collecting anime-related sort of stuff like stuffed toys, figurines, and magazines, you can easily relate to this bedroom design. You'll need many shelves and storage units to display all your anime collections. 
Also Read: Some Of The Best Vintage Bedroom Decorating Ideas
20. Attack on the Titans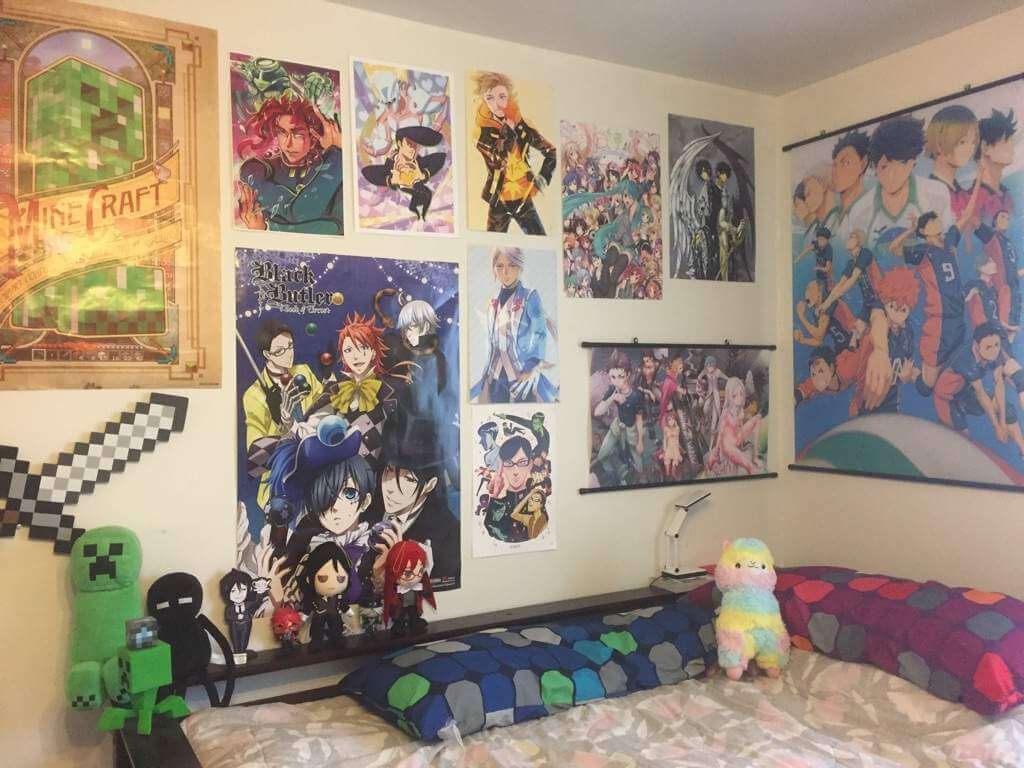 Source: narvii.com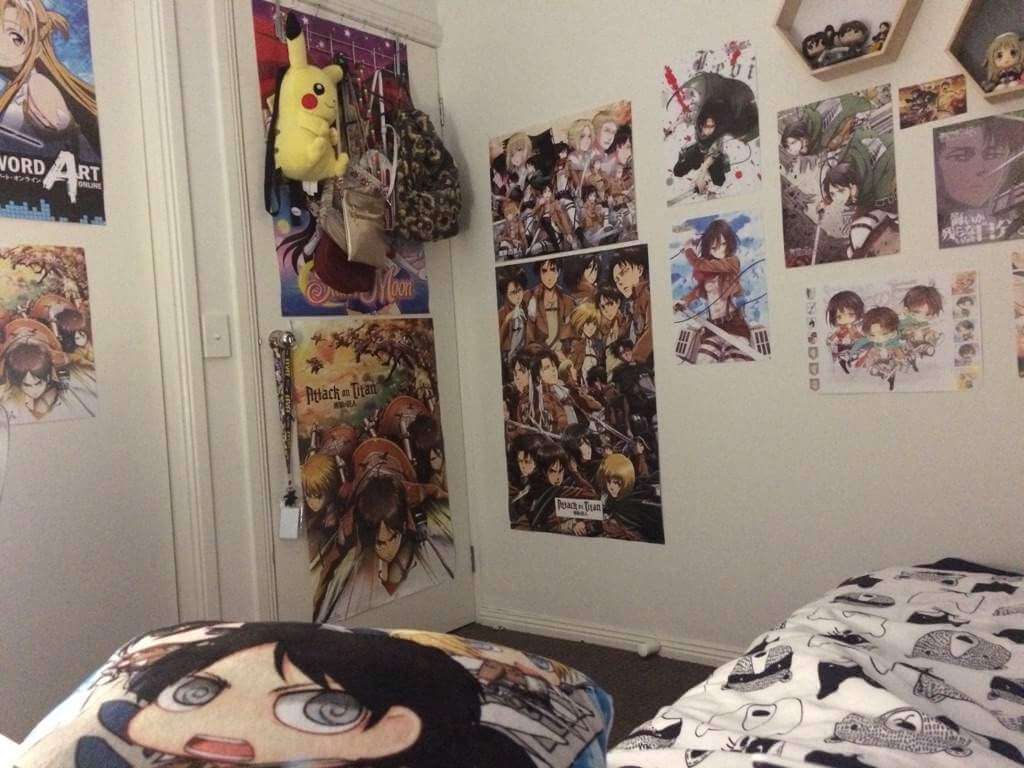 Image Source: narvii.com
Attack On The Titans is one of the top-listed best-selling manga worldwide. This manga is from the dark fantasy genre and has a mysterious story. The relatable characters and adventurous story make anyone fall in love with this manga. 
So if you want to decorate your bedroom in this style, all you need is to put some posters and banners on the plain white walls. For toys, you can use hangers to hang them. Other than these, you can also include pillows and blankets to create a dark anime theme. 
21. Pretty Anime Wallpaper Idea
Source: pinimg.com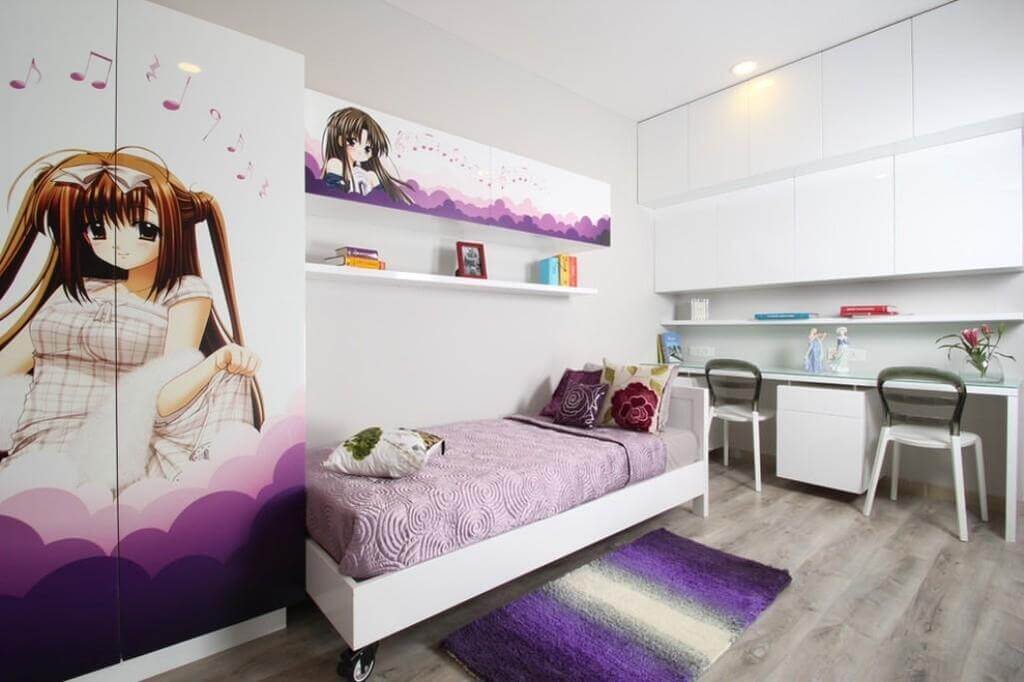 Image Source: homeli.ru
Girls absolutely love soft and pink colors in their bedrooms. So, anime bedroom wallpaper is the best option to bring a cute kawaii vibe to your daughter's room without feeling too congested and stuffed. To store their toys and anime collection, put some floating shelves near the bed. 
22. 3D Naruto Wall Mural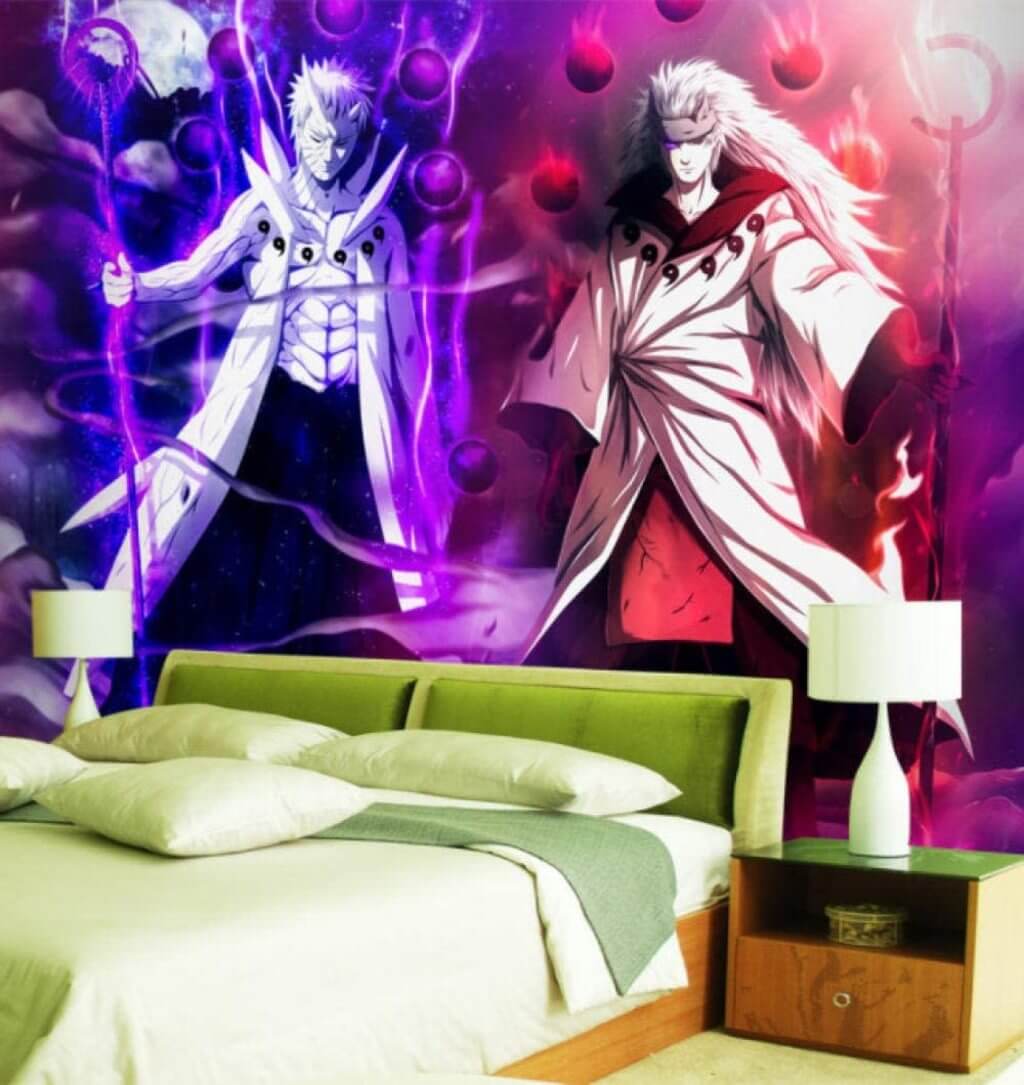 Source: amazon.com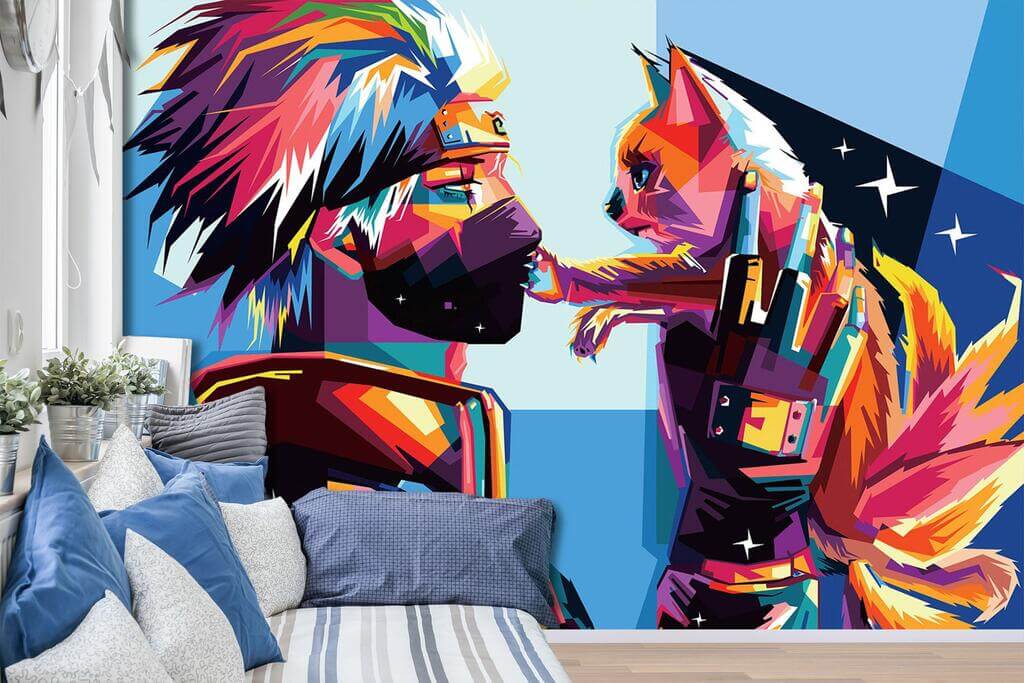 Image Source: dhresource.com
Obito Uchiha and Madara Uchiha are the two names, which every Naruto fan art will be very well aware of. After all, because of them, the great ninja fourth shinobi world war had happened. Later, they were stopped by two great ninjas:  Naruto Uzumaki and Sasuke Uchiha.
So, if you're also a true naruto fan, this anime bedrooms design will be best for you. This room features a giant 3D Naruto Wall Mural, which has Obito and Madara. You can also customize the Photo Wallpaper into any Japanese Anime Wallpaper according to your liking and style.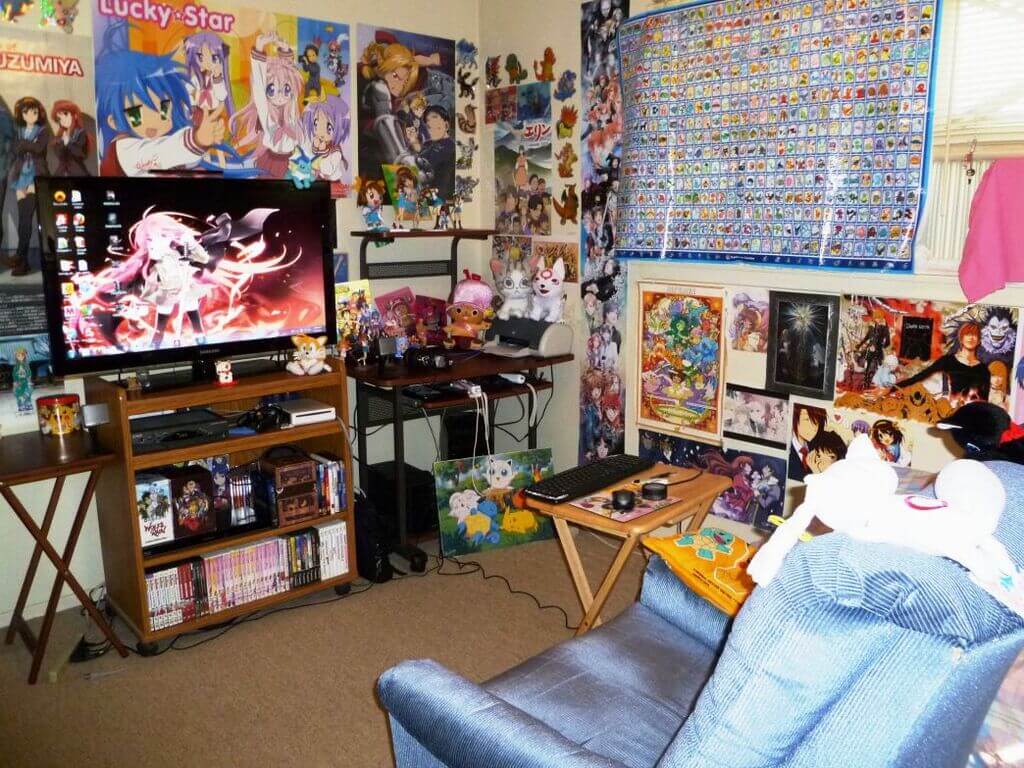 Source: pinimg.com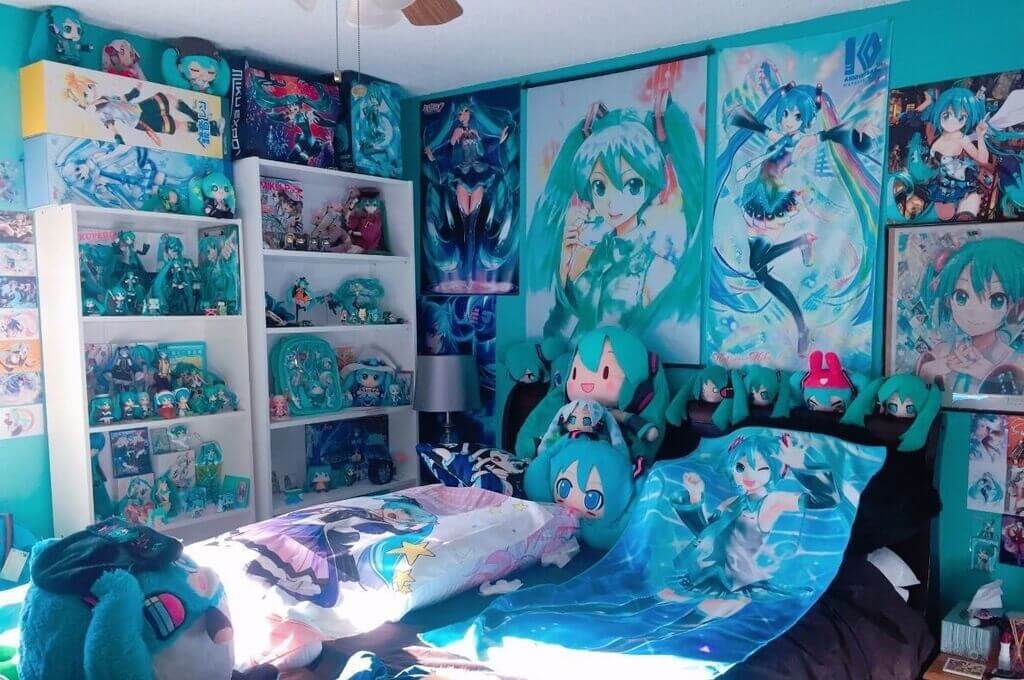 Image Source: pinimg.com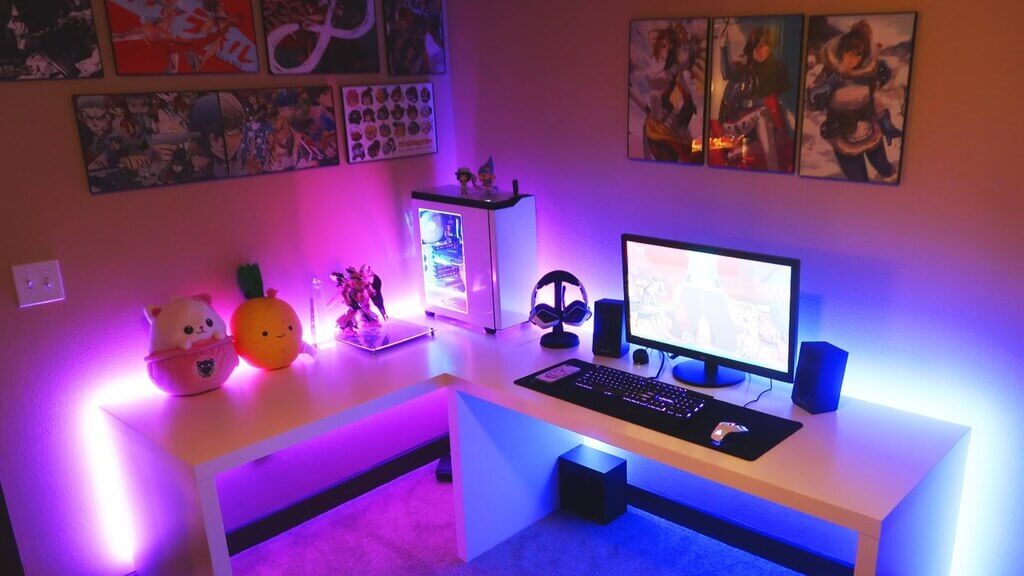 Source: wp.com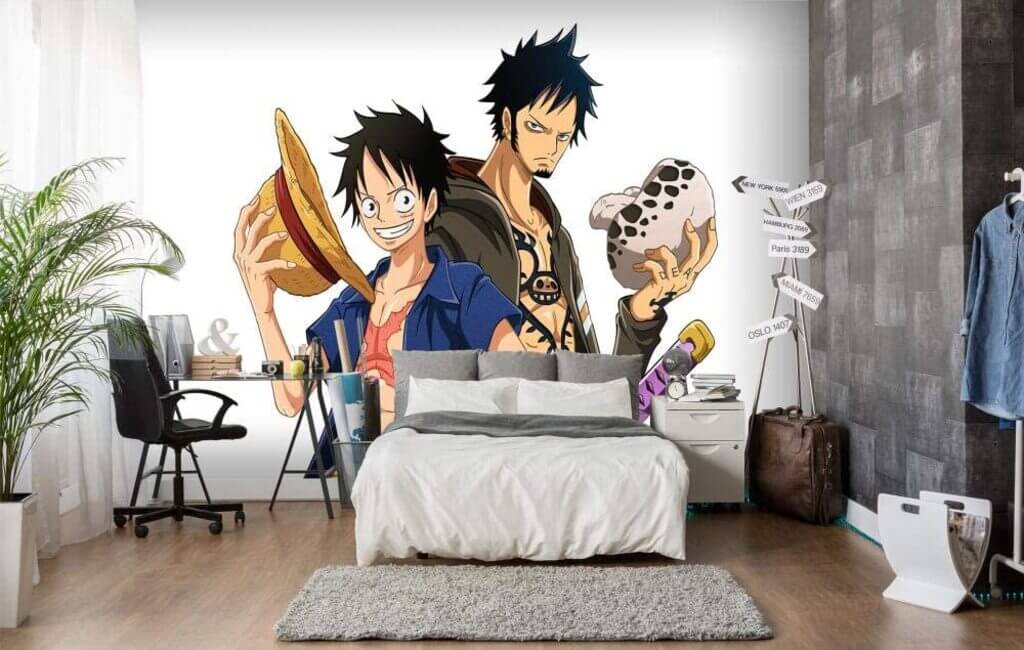 Image Source: amazon.com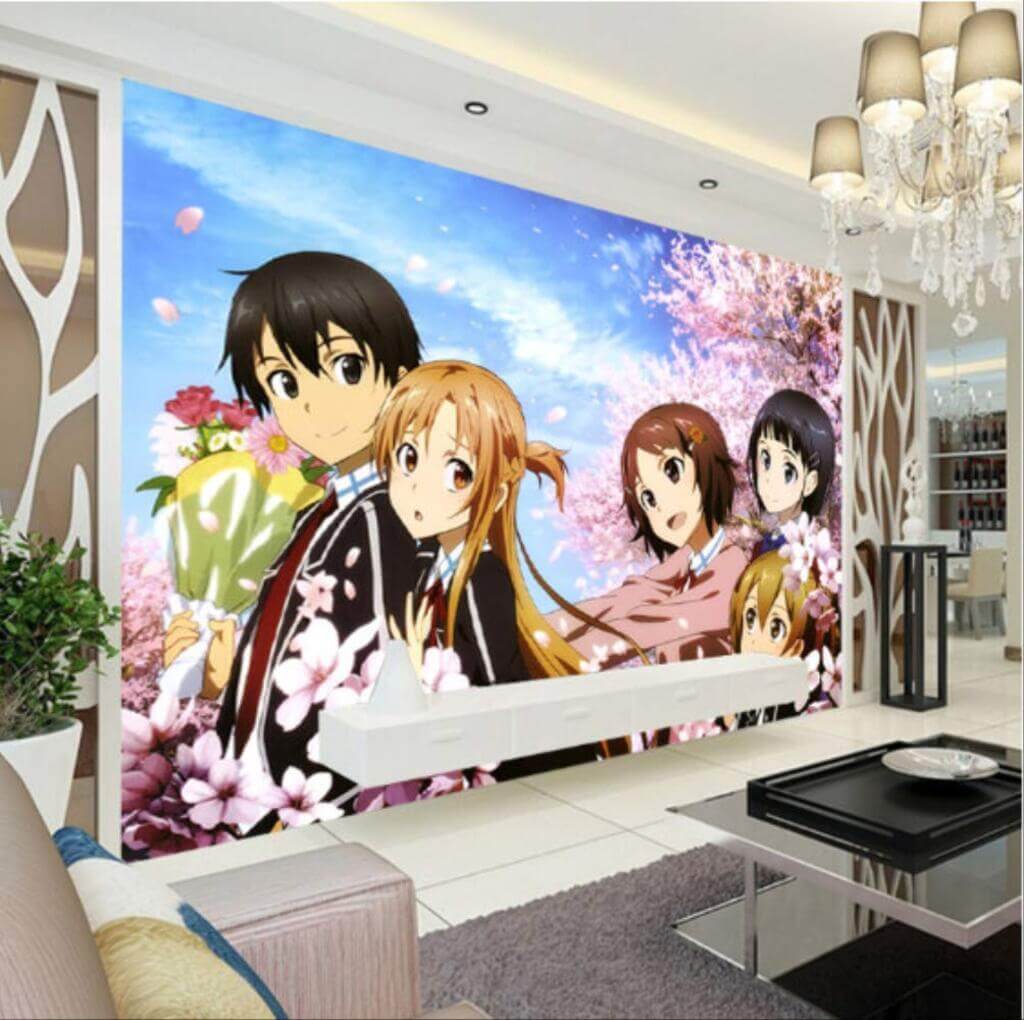 Source: amazon.com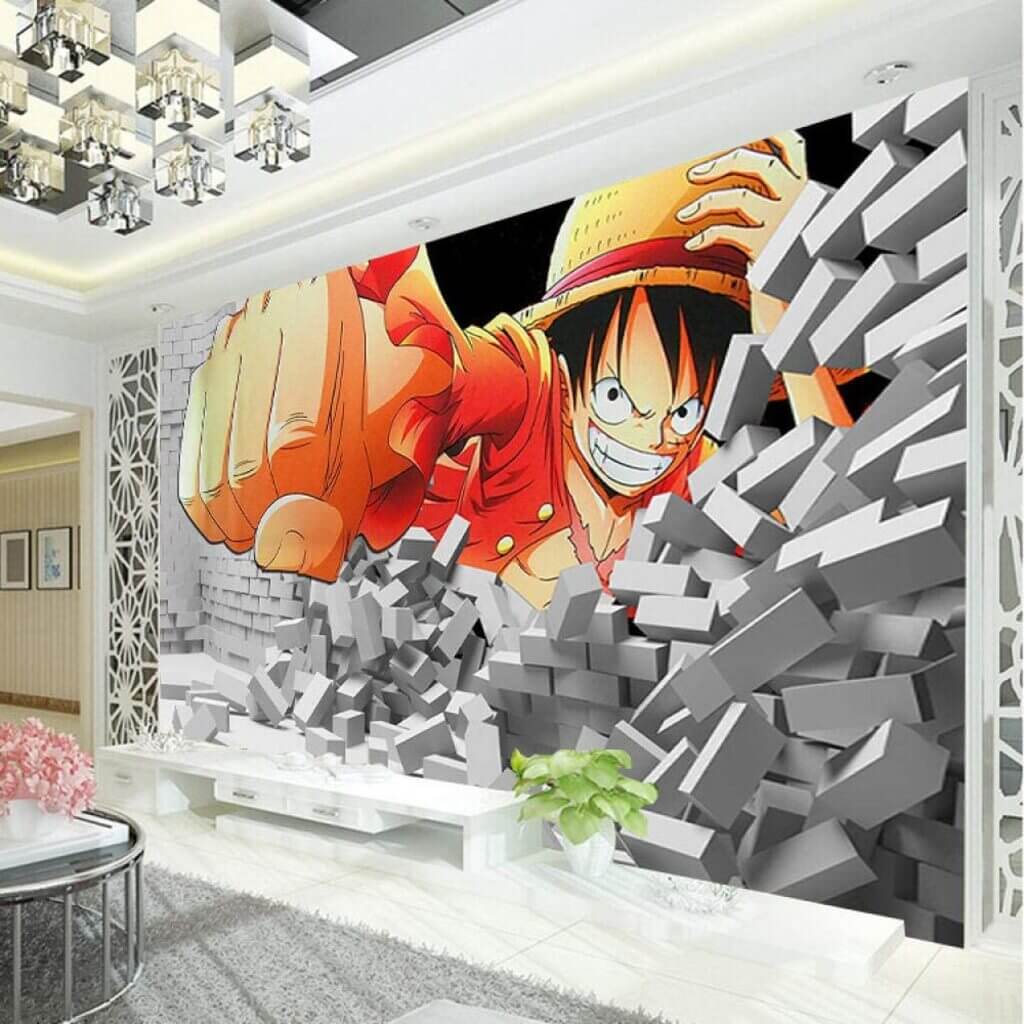 Image Source: amazon.com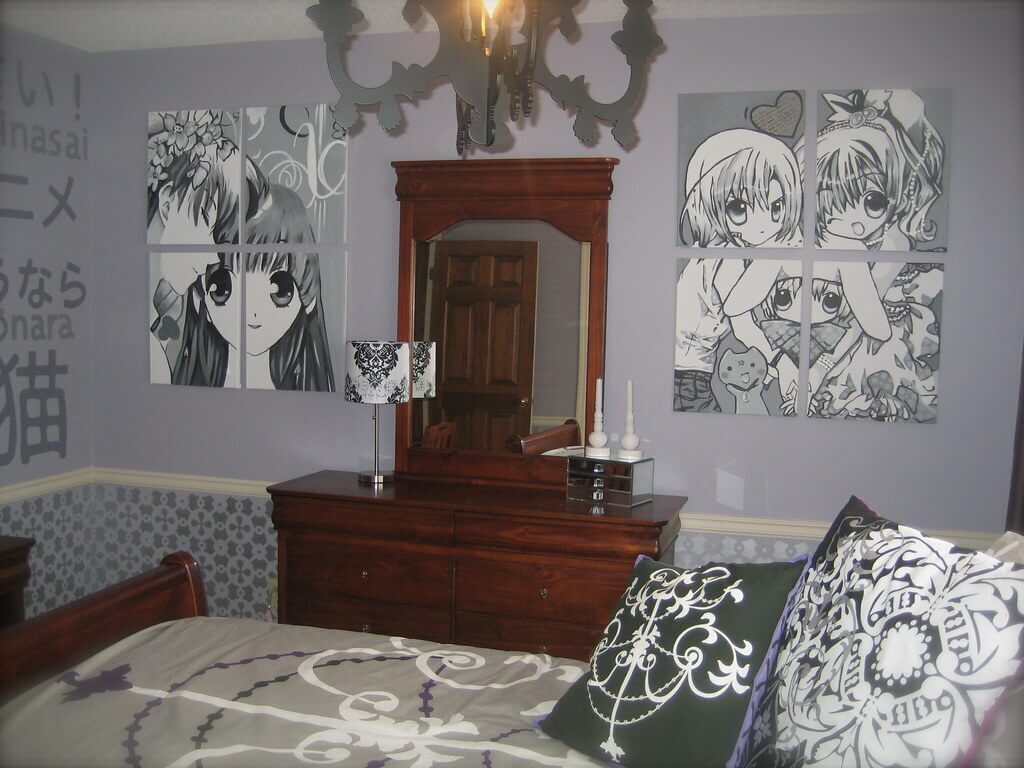 Source: staticflickr.com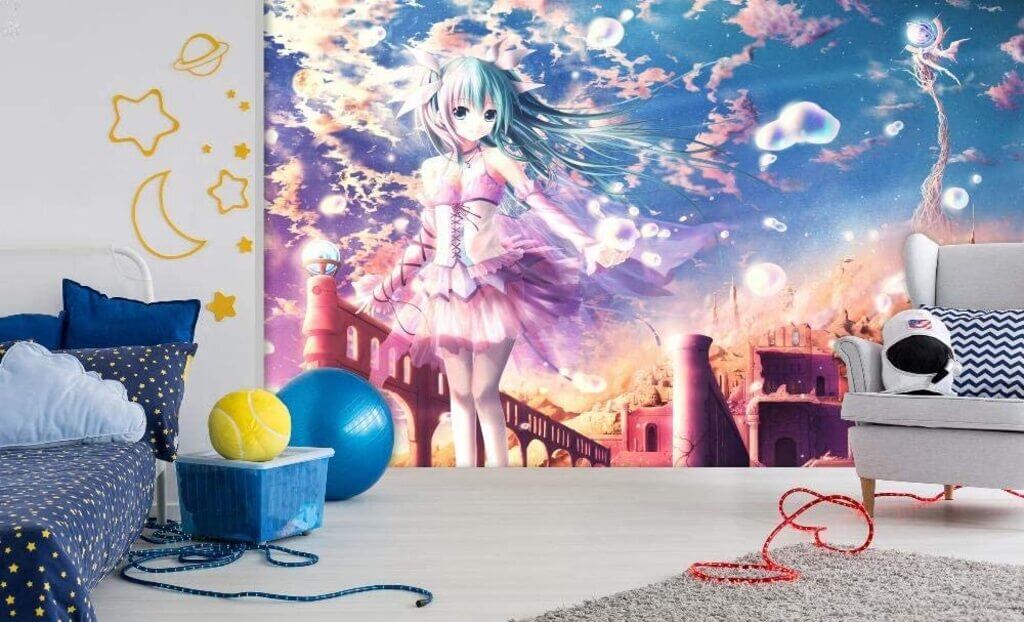 Image Source: amazon.com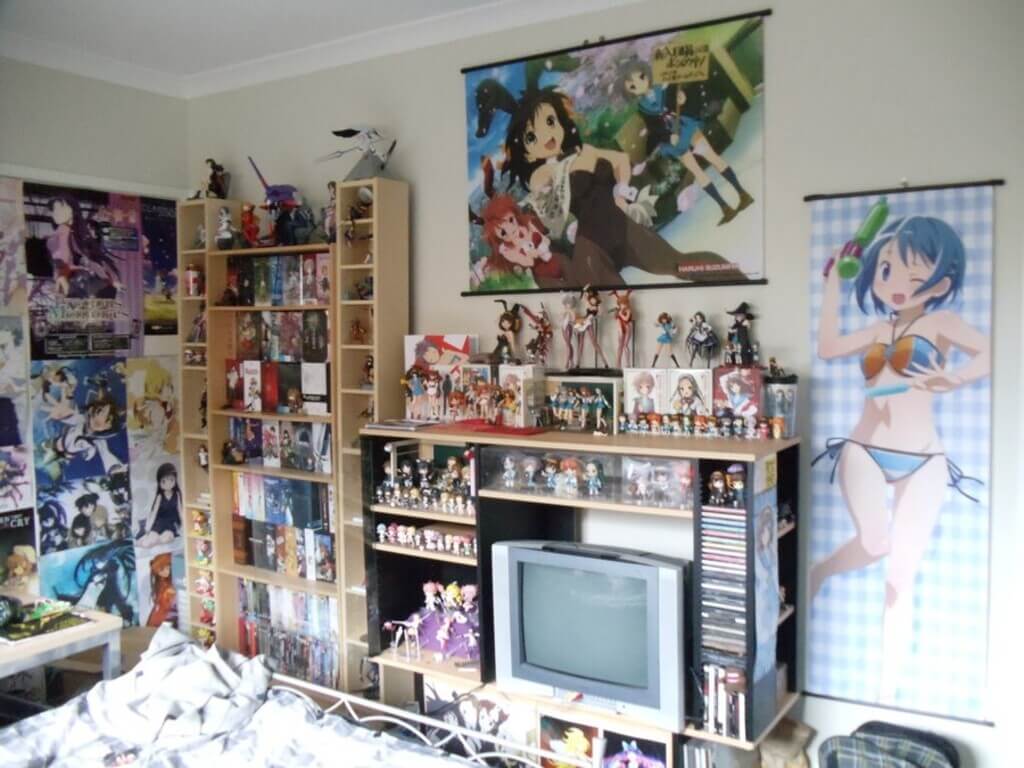 Source: blogimg.jp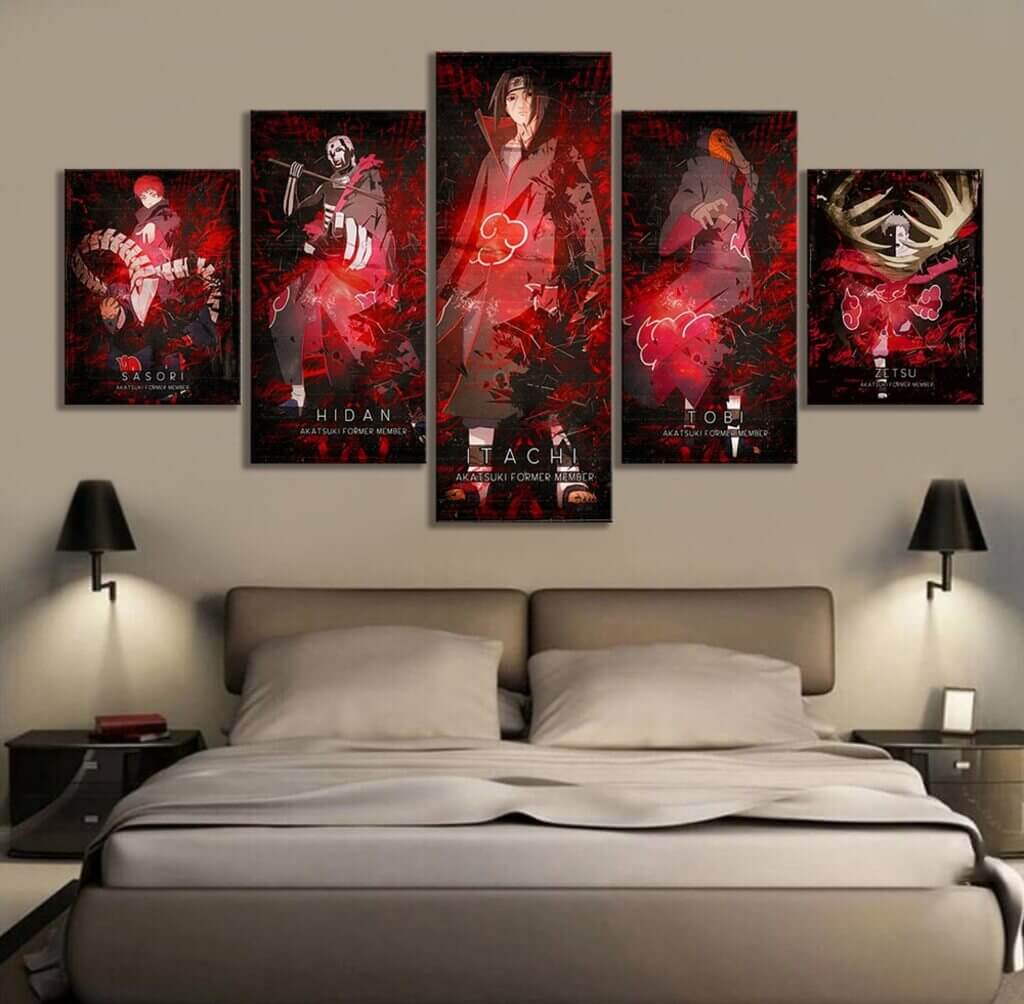 Image Source: alleycorner.com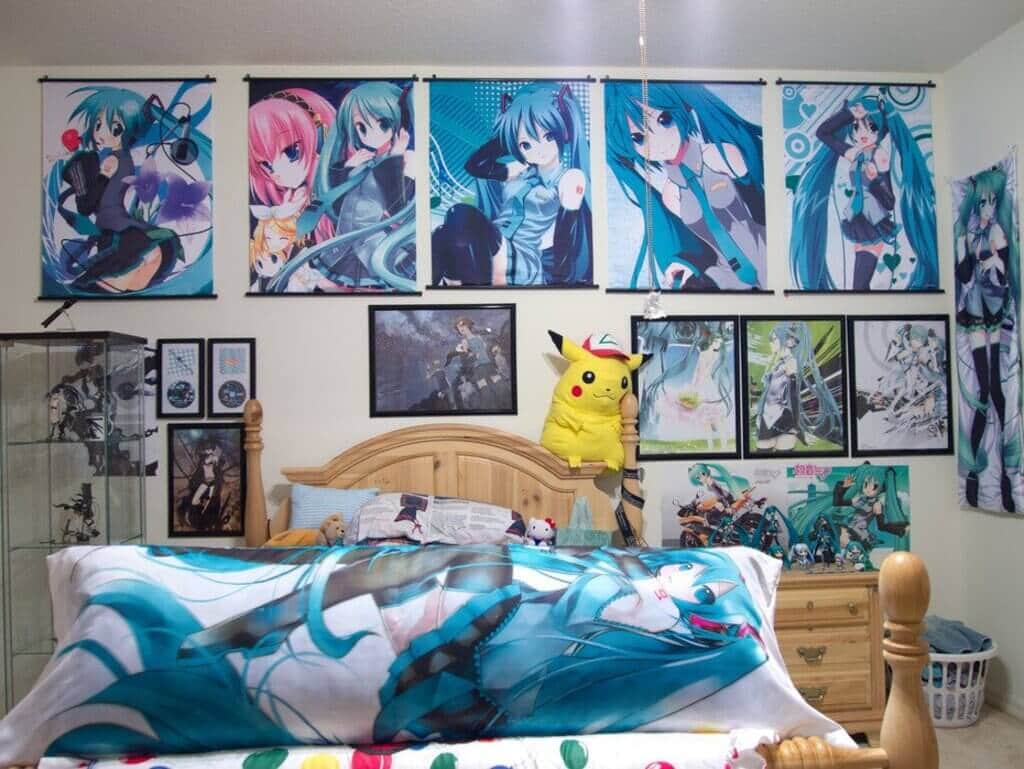 Source: wp.com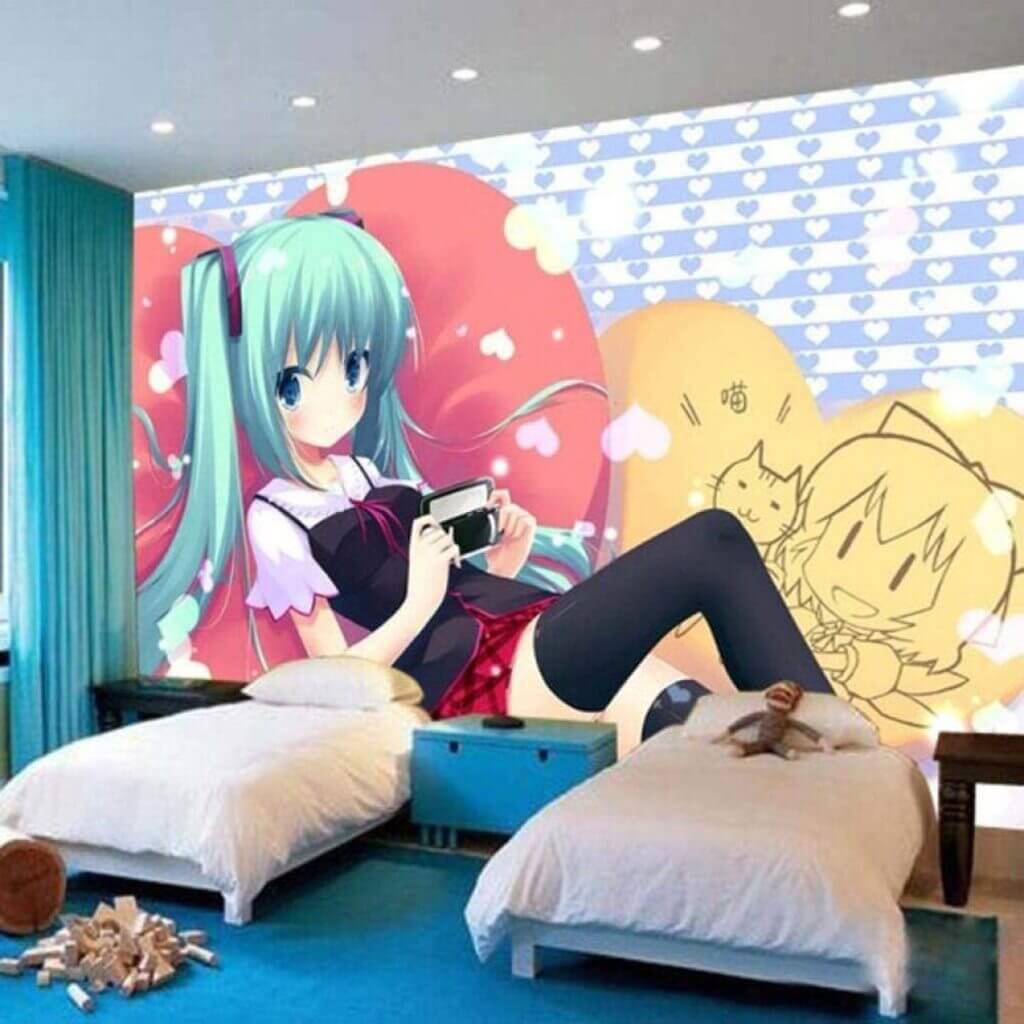 Image Source: amazon.com
The Bottom Line
So, which anime bedroom do you like the most? No matter what your age is, anime is something that we all love. Whether it's one series, a franchise, or anime in general, people love to watch and collect things. You can simply redecorate your bedroom with fewer efforts and on budget. We're pretty sure that you'll have a lot of fun while decorating, and it will also bring back the memories of your childhood.
So these are some of the best anime room ideas. Don't forget to share this blog with your family and friends and help them create a cool and fun anime-inspired bedroom design. 
FAQs
1. What Are the Things That You Will Need to Come Up with Anime Room Ideas?
Here are some of the things you will need to come up with anime room ideas:
Accumulate anime finesses

Ascertain the space that you will require

Tidy your house

Declutter your room

Buy anime merch

Accessorize your bed with plushies

Beautify your room with anime and chibi personalities
2. What Is the English Term for Anime Fans?
Otaku Is the Word Which in Japanese Means Nerd or Geek.
3. What Are the Different Anime Room Ideas?
We suggest you try distinct anime posters of the same series or completely different anime movies on the walls. As far as anime wall ideas are concerned, you can try anime tapestries, wallpapers, or banners.
4. Who Are the Top Preferred Anime Characters for Anime Bedroom Ideas?
Here are the top five preferred anime characters for anime bedroom ideas:
Goku (Dragon Ball Z)

Naruto Uzumaki (Naruto)

Itachi Uchiha (Naruto)

Kakashi Hatake (Naruto)

Saitama (One Punch Man)
For more interior & exterior decoration ideas and tips, keep coming to Architecturesideas.
For daily updates, follow us on our Instagram page @architectures_idea.