Top 21+ Floating Bed Frame Ideas to Make Amazing Bedroom
Isn't it dreamy to sleep on a floating bed frame? A floating bed is one of the most innovative additions to a bedroom that gives you the essence of being suspended in the air. When designing a bedroom, we all seek the most comfortable elements that can serve as a personal retreat, right? 
A floating bed frame is one such popular pick.
The new-age floating bed designs are not only comforting but offer an unparalleled design language. These can serve as the ultimate aesthetic element in the entire room. 
Let's look into what a floating bed frame means and explore different design ideas.
What is a Floating Bed Frame?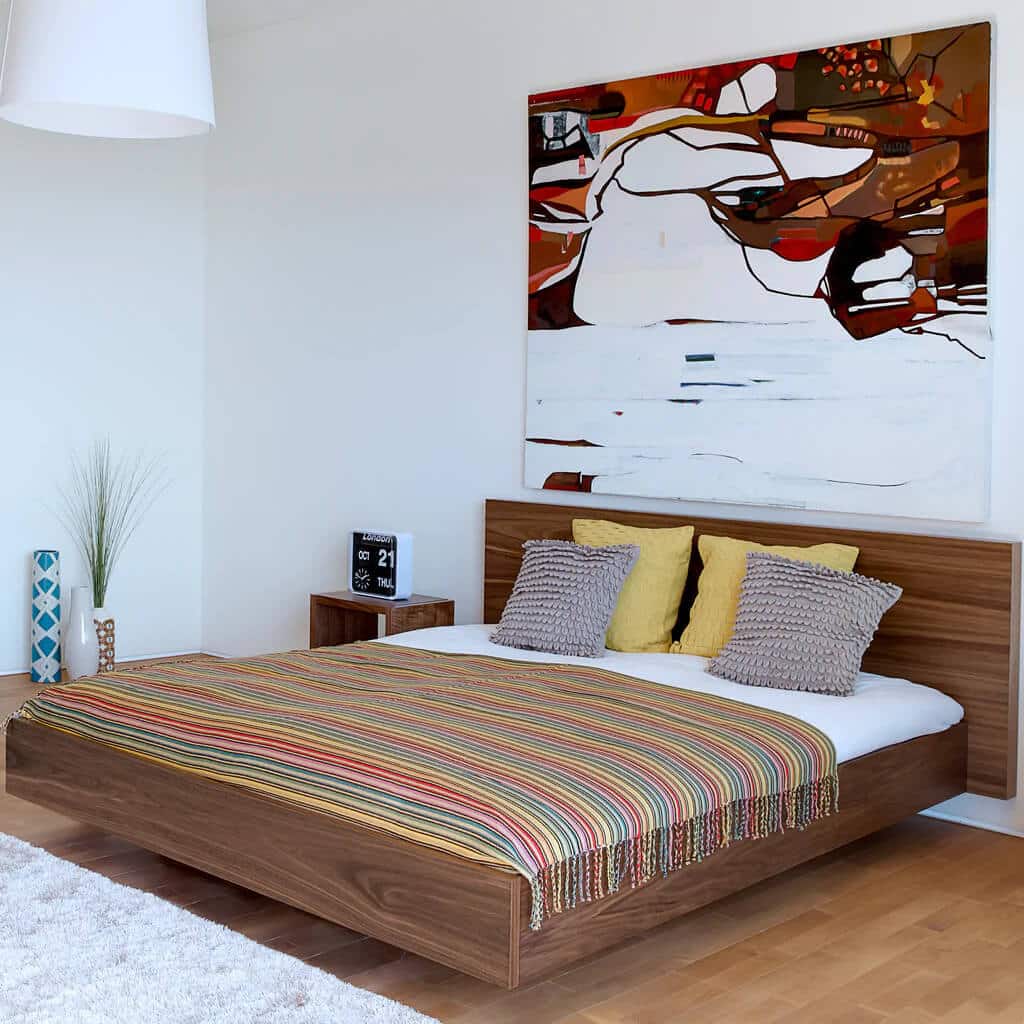 Source: shopify.com
You might be wondering if a floating bed is something like a magical flying carpet. Let's break the myth– it's not! 
A floating bed frame is a bed with a low platform design that offers a visual illusion of being suspended in the air. The base support in these designs has mainly concealed that aids in developing the image of the bed being in the air. 
Although a floating bed frame is made lightweight, however, there's no compromise on its quality and durability. The bed frames are generally composed of metal and wood. With the surge in their demand, there are several floating bed DIY ideas to offer you this modern furniture. 
The Pros and Cons of a Floating Bed Frame
Pros of a Floating Bed
Cons of Floating Bed Frame

Design 

Offer a designer flair to the bedroom.

Designs are restricted to king and queen size only.

Function 

Space attained under the bed can be used as additional storage.

Easy to move and clean under the bed.

Not a suitable choice for elderlies.

There's a limited weight that can be taken up by the bed.

Cost 

The durability and quality speaks for the cost.

The design can be a bit expensive as compared to conventional beds.
5 Considerations Before Investing in a Floating Bed Frame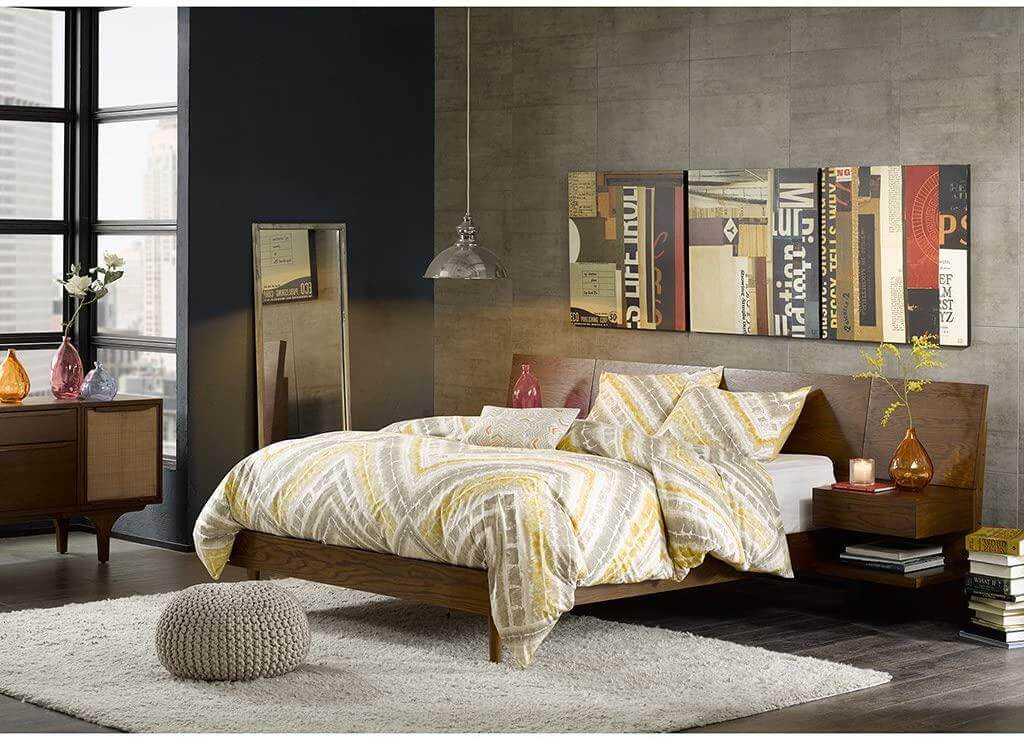 Source: inkandivys.com
Let's look into what needs to be kept in mind prior to buying a floating bed.
1. A Comfy Low Profile
As a floating bed frame generally comes with a low profile, you need to check the height that's comfortable for you. It shouldn't be too low that it ends up hurting your knees or back. 
2. Mattress Size
In case the size of your mattress is fixed, the bed has to be as per that. Your decision of finalizing a floating bed frame will be entirely dependent on the size of the mattress and its weight needs to be considered as well to check the overall compatibility. 
3. Floating Bed DIY Assembly
For the ones considering to take floating bed as a DIY task, it's important to understand that the assembly varies from a traditional design. Make sure to check the process and understand the best way to fix the floating bed frame.
4. Weight Allowance
One of the major cons associated with a floating bed frame is its weight limitation. Each of the floating bed designs has a certain restriction to the weight that can be put. Make sure to check the specifications before opting for one. 
5. Extra Storage Space
With the base of the bed floating in the air, you get extra floor space for additional storage. While picking the floating bed designs, make sure that you opt for the one that offers potential storage. Although sleek items can be placed underneath, you can consider opting for floating bed frame that comes with inbuilt storage.
Floating Bed Designs: Wood vs Metal
Picking a suitable material for a floating bed frame can be a tough call. The most popular choices for floating bed frames are wood and metal. Let's go through a comparative analysis of both materials to help you pick one.
Wood Floating Bed
Metal Floating Bed Frame

Strength 

One of the most reliable and durable bed frame options.

Durable but might squeak with time.

Visual Appeal 

Can either enhance the traditional design or offer a minimalist look to the decor.

Offers a sleek yet firm look to the bedroom decor.

Maintenance 

With additional weight put on the bed, it might end up making noise.

The floating bed frame can be painted in order to offer a fresh look.

Connectors of th

e floating bed frame n

eed to be greased occasionally.

Cost 

Higher than the metal bed frame.

Cheaper than a w

ooden floating bed frame.

Mattress Choice

Best for slow-moving foam mattresses

Apt for bouncy mattresses.
21 Floating Bed Designs Ideas
1. Simply Minimalist Floating Bed Frame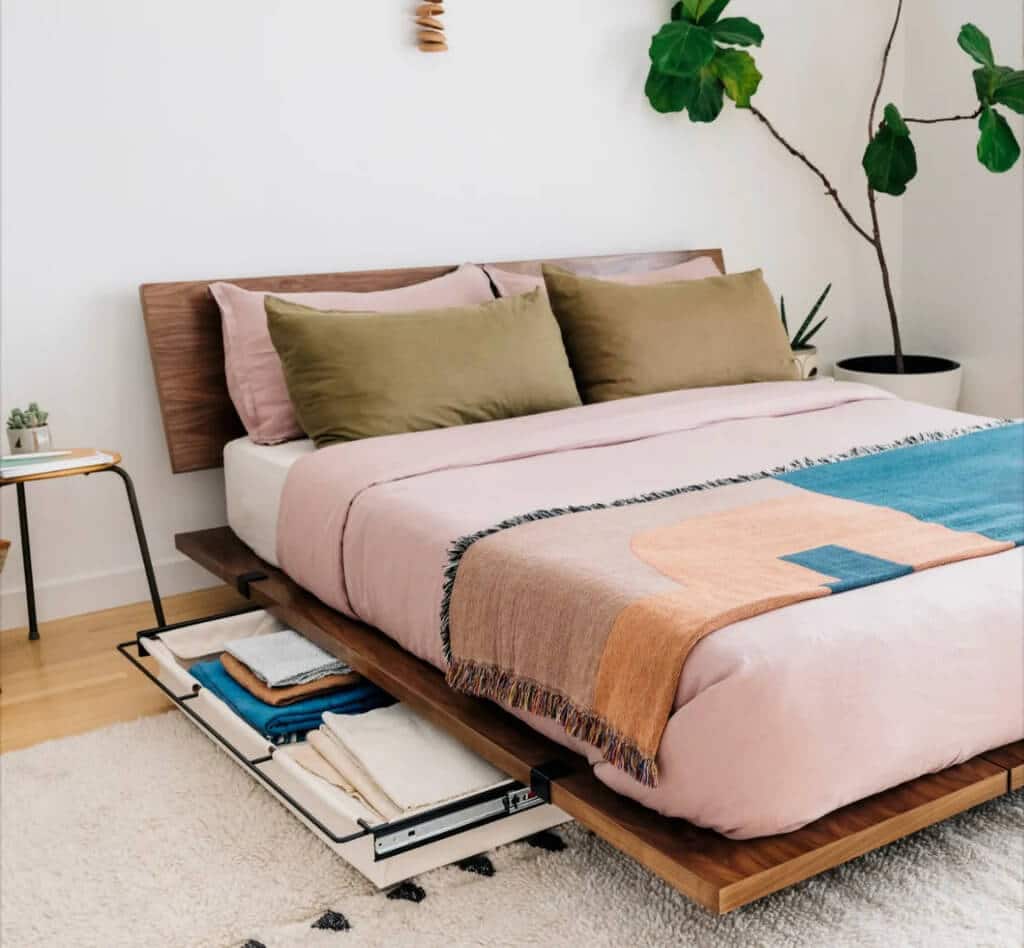 Source: abedderworld.com
Go for the Japanese idea of sleeping low to the floor with the minimal floating bed frame designs. These let you soak into the simplicity and at the same time amp up the aesthetics of the room. One of the best features of these is their ease of assembly and promised durability. 
2. Above the Ground!
Source: homedit.com
Opt for a one-of-its-kind floating bed frame that offers an illusion of being placed in the air. One of the key advantages of these floating bed designs ideas is that the room will end up feeling more spacious. You can pick from the wooden or metal frame for easy assembly and promised quality. 
3. Floating Beds with Lights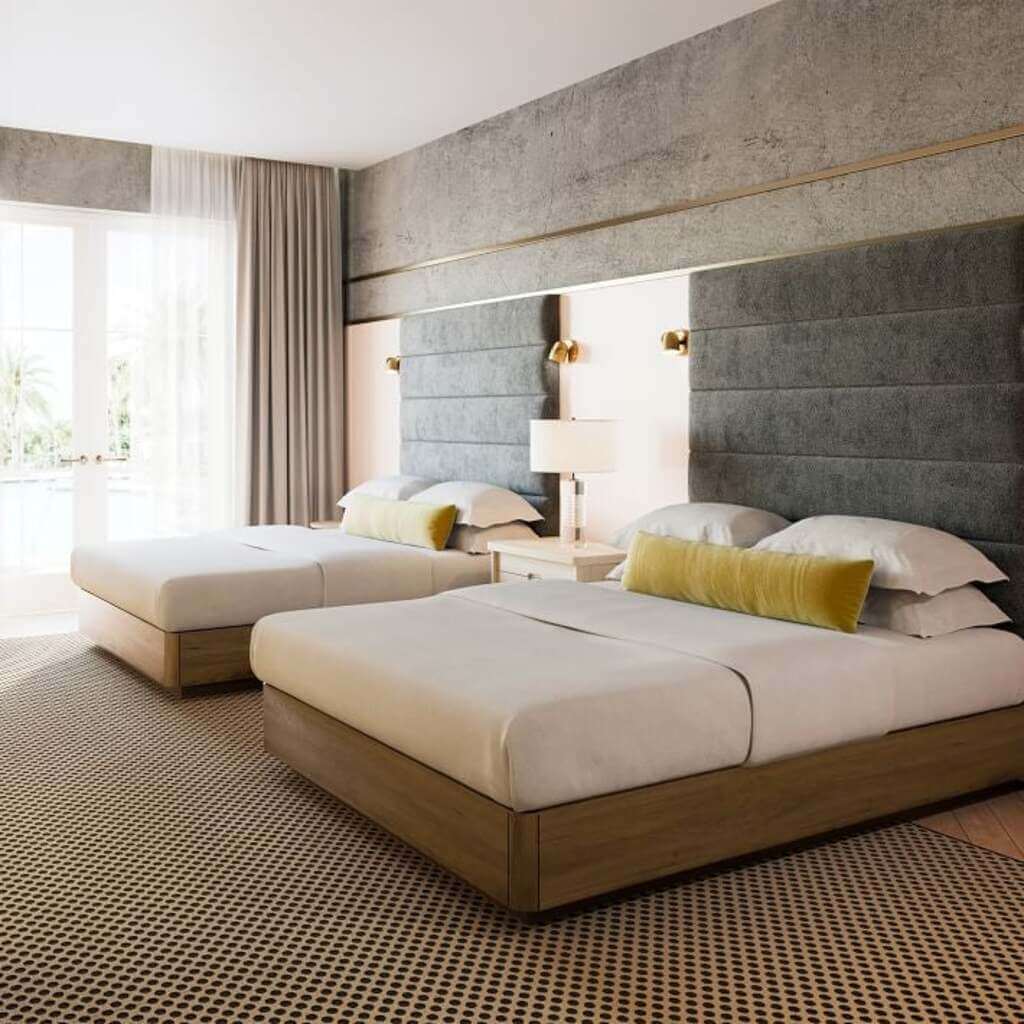 Source: buzzfeed.com
How about a floating frame bed with a reading light fixed to it? Pick a simple wooden frame with a fabric-padded headboard. The tall headboard can accommodate a dim light that can prove to be extremely functional. For all avid readers, you can read anytime with the comfort of staying in your bed.
4. White Floating Bed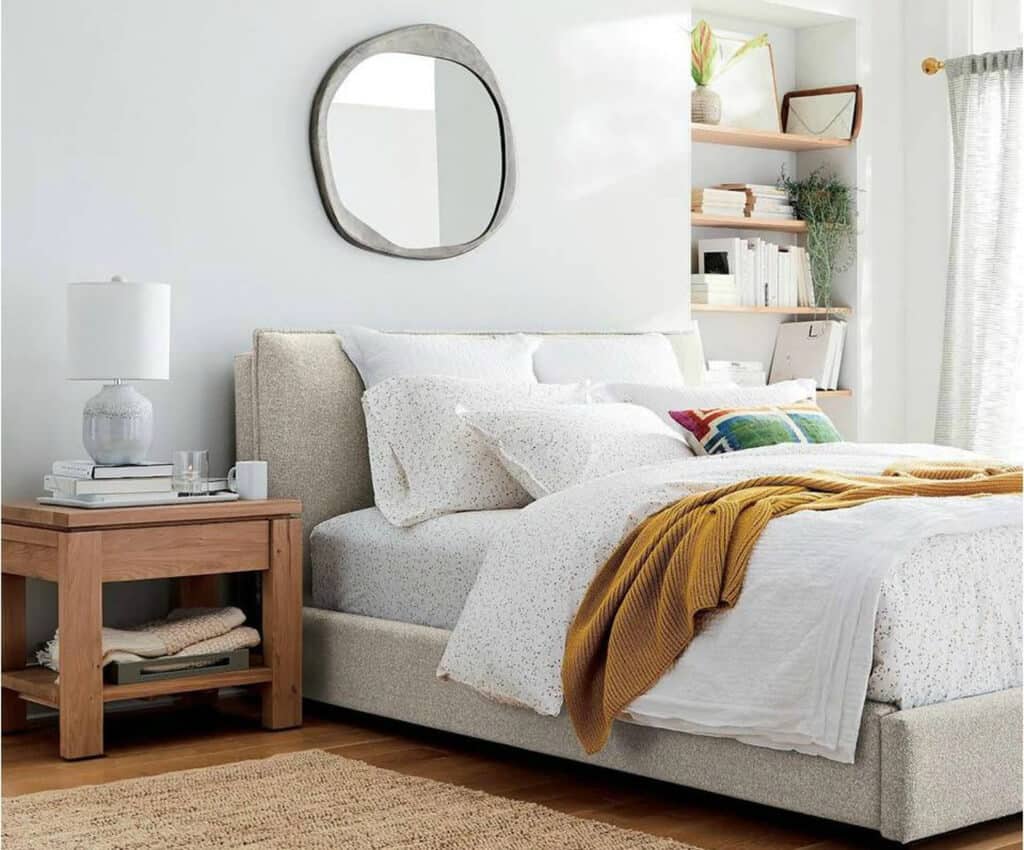 Source: assets-metrostyle.abs-cbn.com
A floating bed frame already makes the room look airier and this essence can further be strengthened with white. A white floating bed frame will add brightness to the entire space and offer a relaxing ambiance in the room.
5. Bed with Side Storage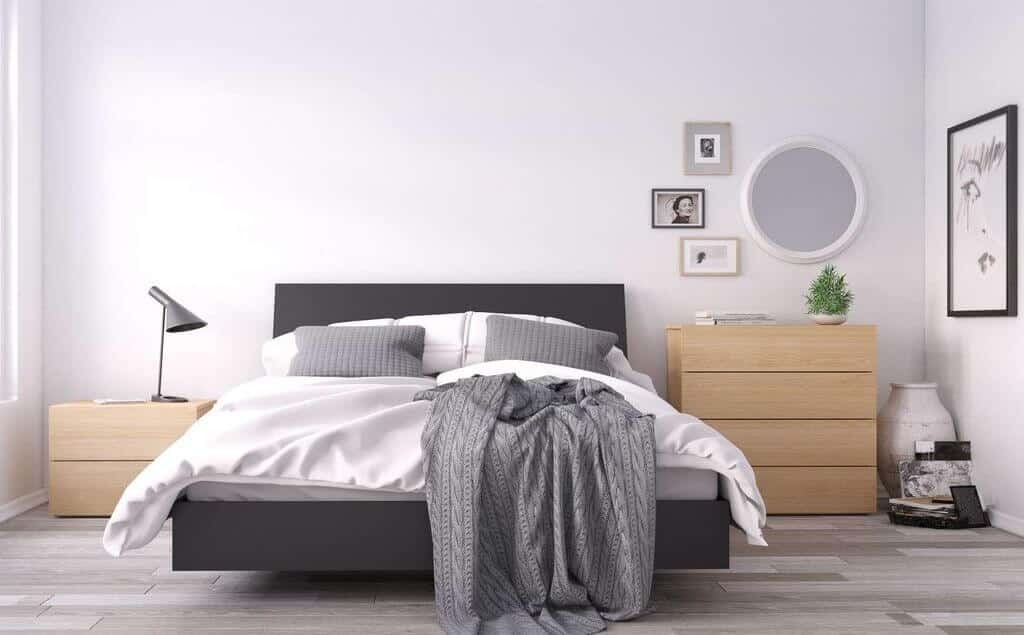 Source: pinimg.com
Picture yourself reading your favorite novel while sitting comfortably on the bed. You need to keep the novel aside but there's no surface to put it on. Disappointing, right?
One of the most comfortable floating bed designs is the one that comes with nightstands. You can consider opting for these options that serve you with side storage platforms. The entire set can complete the look of the room effortlessly. 
6. Modern Flair with Floating Bed Frame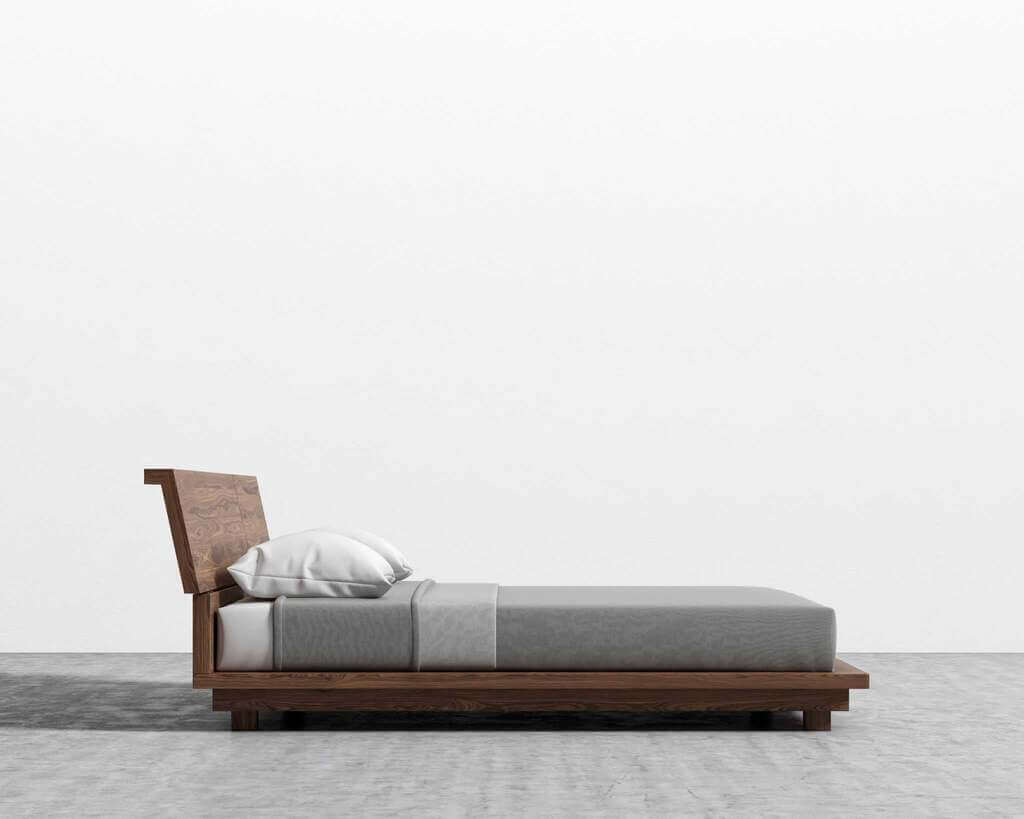 Source: buzzfeed.com
Keep up the modern edge in your decor with a polished bed design. The entire essence caters to the principle of minimalism. Although the floating bed serves as a bold statement-making element, the entire look is sublimely impressive. 
7. A Sleek Look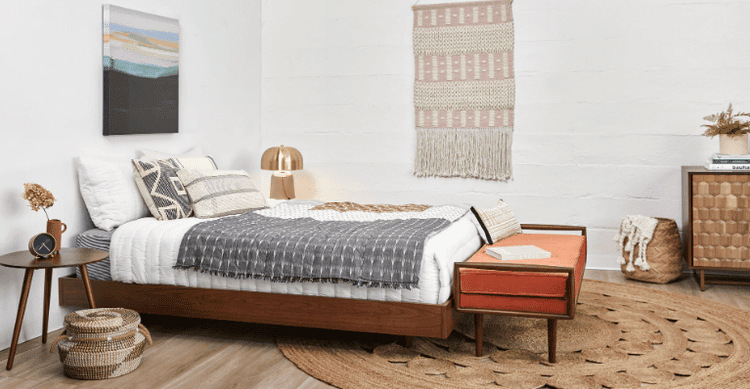 Source: squarespace-cdn.com
Jazz up the contemporary decor of your bedroom with a sleek floating bed frame. The design will make the room dreamy and more soothing to relax in. The minimalist look also serves you with additional storage beneath the bed. 
8. Wooden Floating Bed Frame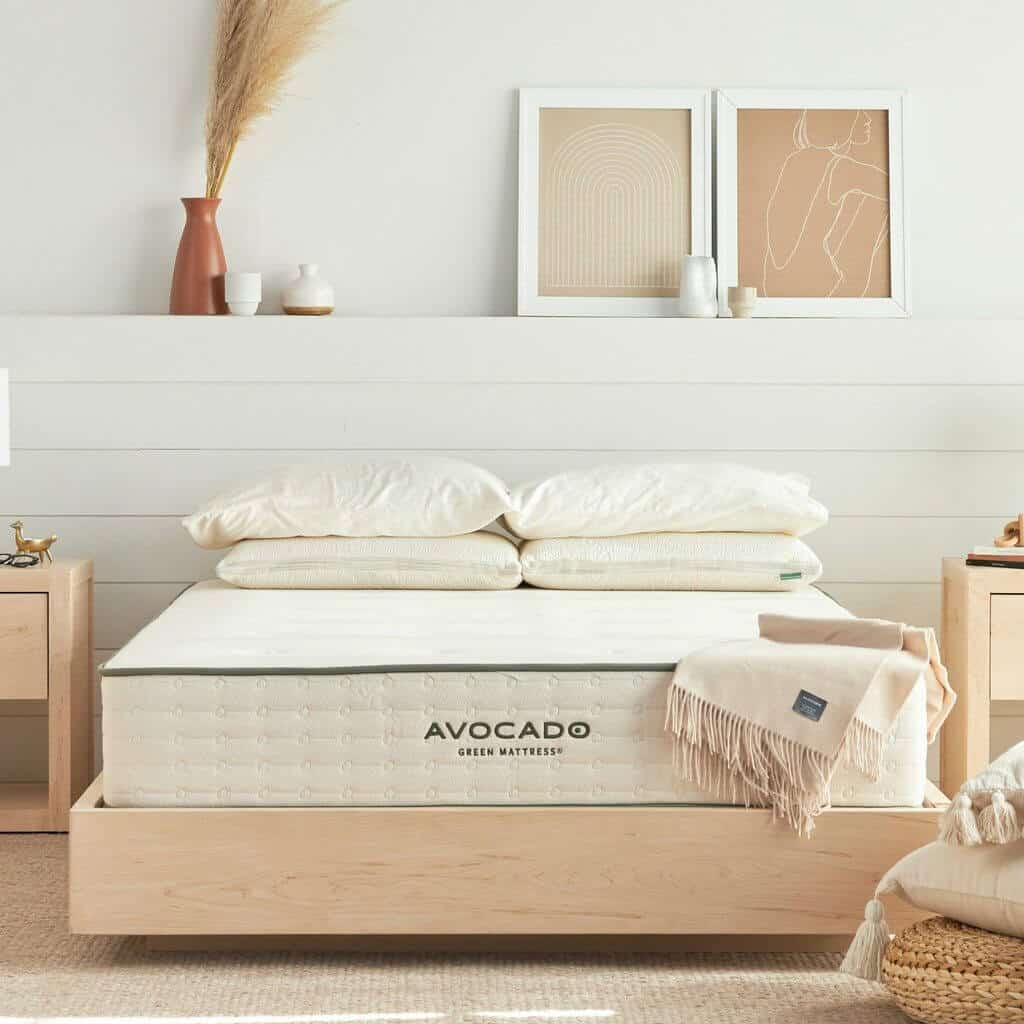 Source: sleepauthorities.com
A wooden floating bed frame isn't only aesthetic but extremely durable as well. You can opt for a wooden finish that matches the rest of the bedroom decor for a cohesive look. With these low-profile beds taking the centre stage, consider the idea of adding matching or contrasting side tables next to it for an interesting look.
9. The Luxurious Floating Bed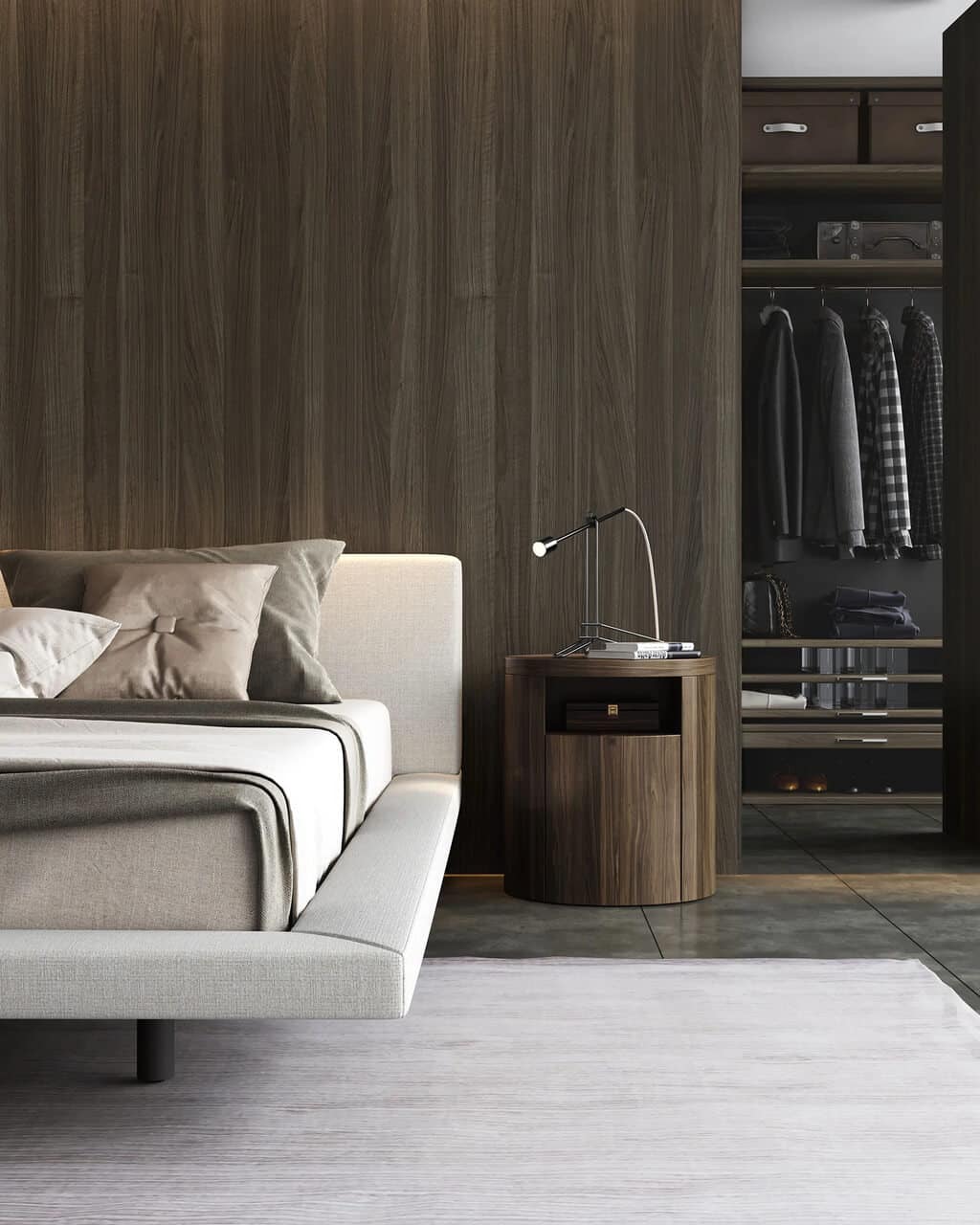 Source: shopify.com
Let the bedroom exude a sense of luxury with an upholstered headboard. Opt for a floating bed frame with its side panels finished in a neutral-toned fabric. The experience can be reinforced by opting for soft foamy mattresses that will jazz up the feeling of your bedroom matching a 5-star hotel room interior design.
10. A Floating Bed Frame with Floating Tables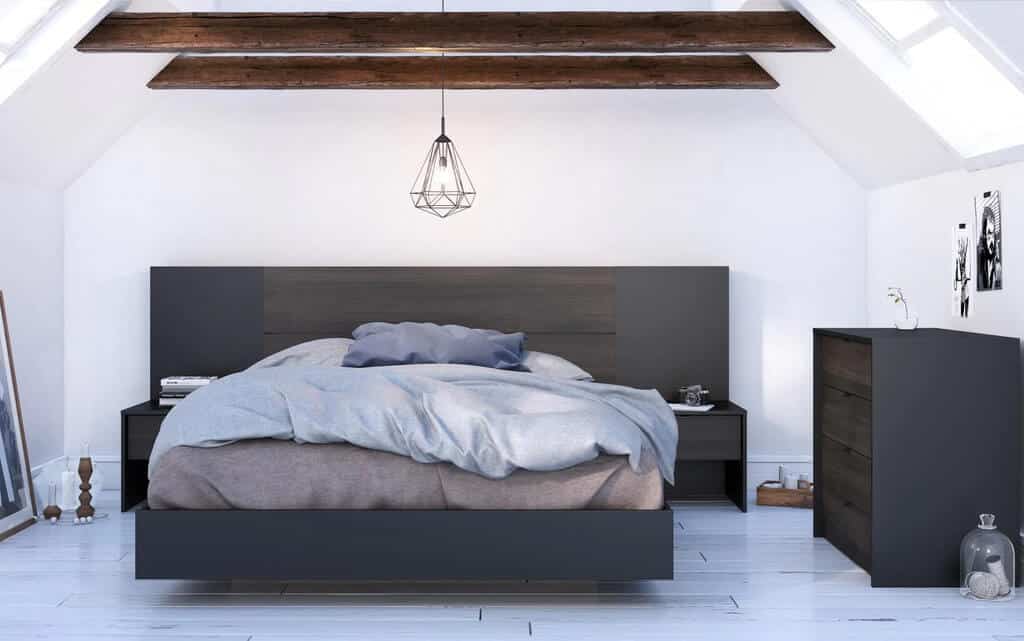 Source: shopify.com
You have heard of floating beds. How about matching nightstands also seeming to be floating in the air? Interesting, right?
Opt for a sleek floating bed frame design with attached side tables that also seem to be in the air with their sleek supports. The entire decor will speak a chic language with this addition to the room. 
11. The Unbelievable Illusion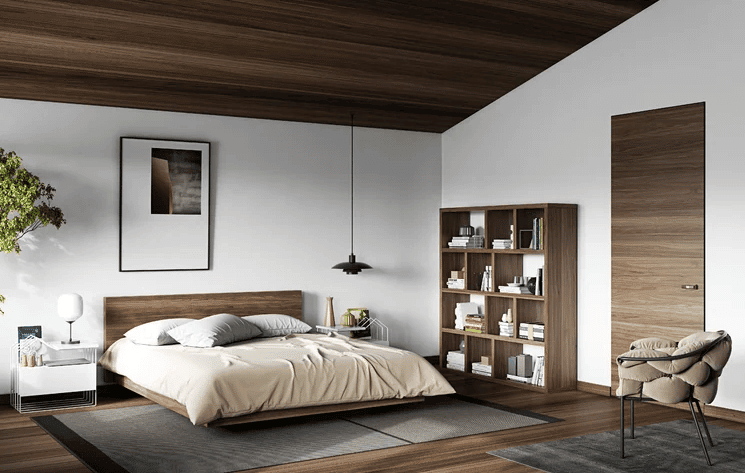 Source: squarespace-cdn.com
Opt for a floating bed frame with its support placed somewhere in the center. It will offer the best illusion of the bed being floating in the air and the look composes a sleek design. This is one of the best choices for the ones aiming at a minimalist design language. 
12. High Headboard!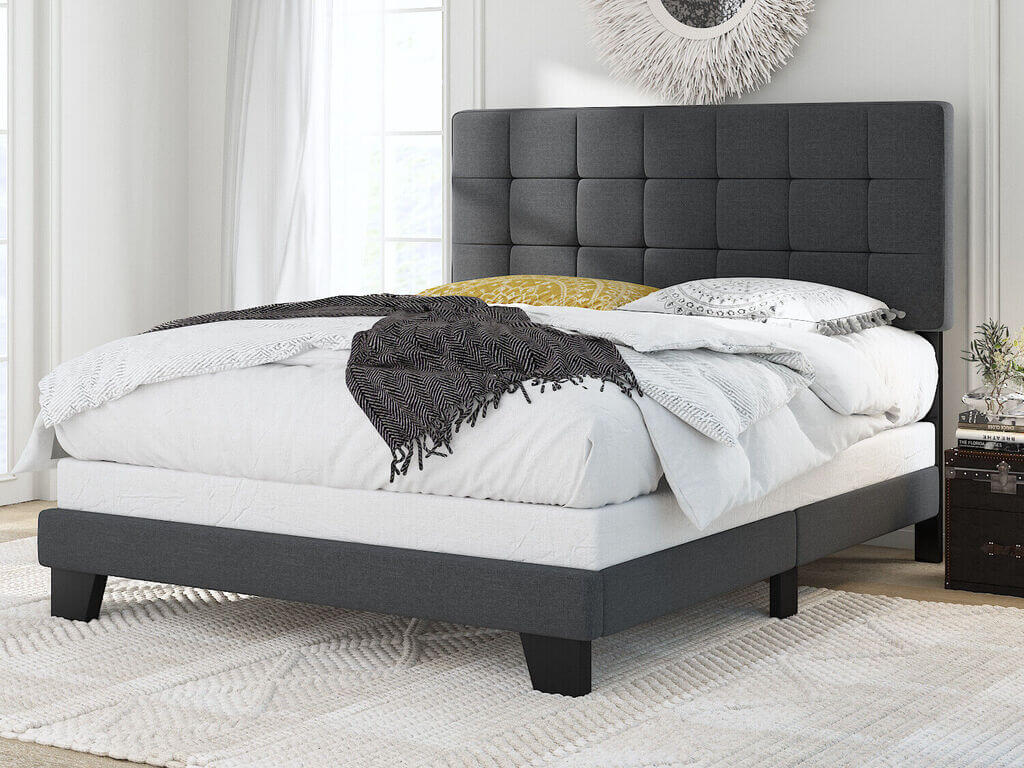 Source: ebayimg.com
Give your room a majestic feel with a floating bed frame design accompanied by a high headboard. It will make the room exude a sense of sophistication and the finish of the headboard can be chosen as per the rest of the design language.
13. A Compact Floating Bed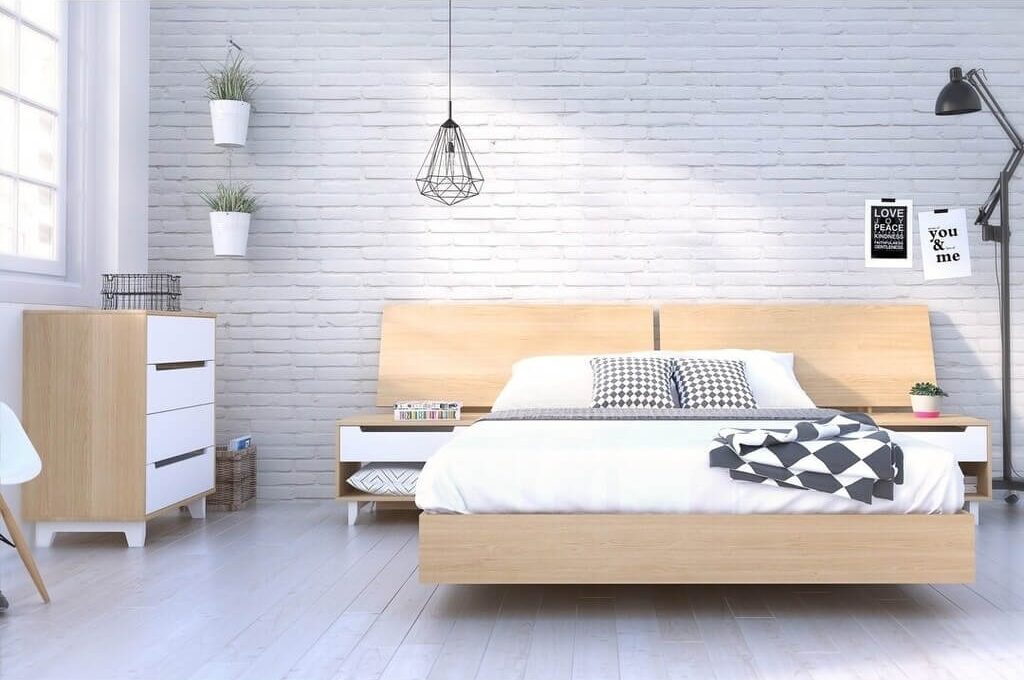 Source: ostkcdn.com
In order to make a small room appear larger, you can opt for a minimal floating bed design. Make sure that the support legs are totally concealed so that the space feels airier. It can prove to be one of the most aesthetic elements in the entire room with its simplicity.
14. The Talking Curves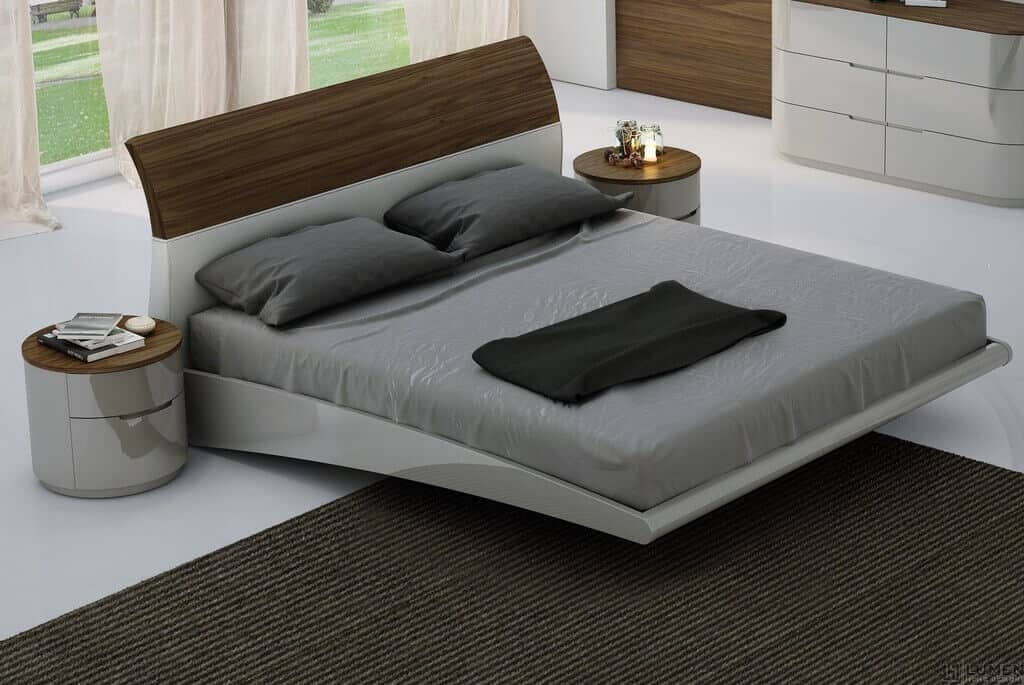 Source: lhdnyc.com
Rather than sticking to the boxy and extremely sturdy bed designs, keep it a bit organic. An organic headboard on the top of a floating bed frame can add a little softness to the entire decor. The design can further be jazzed up by placing round nightstands on either side of the bed.
15. The Cabin Life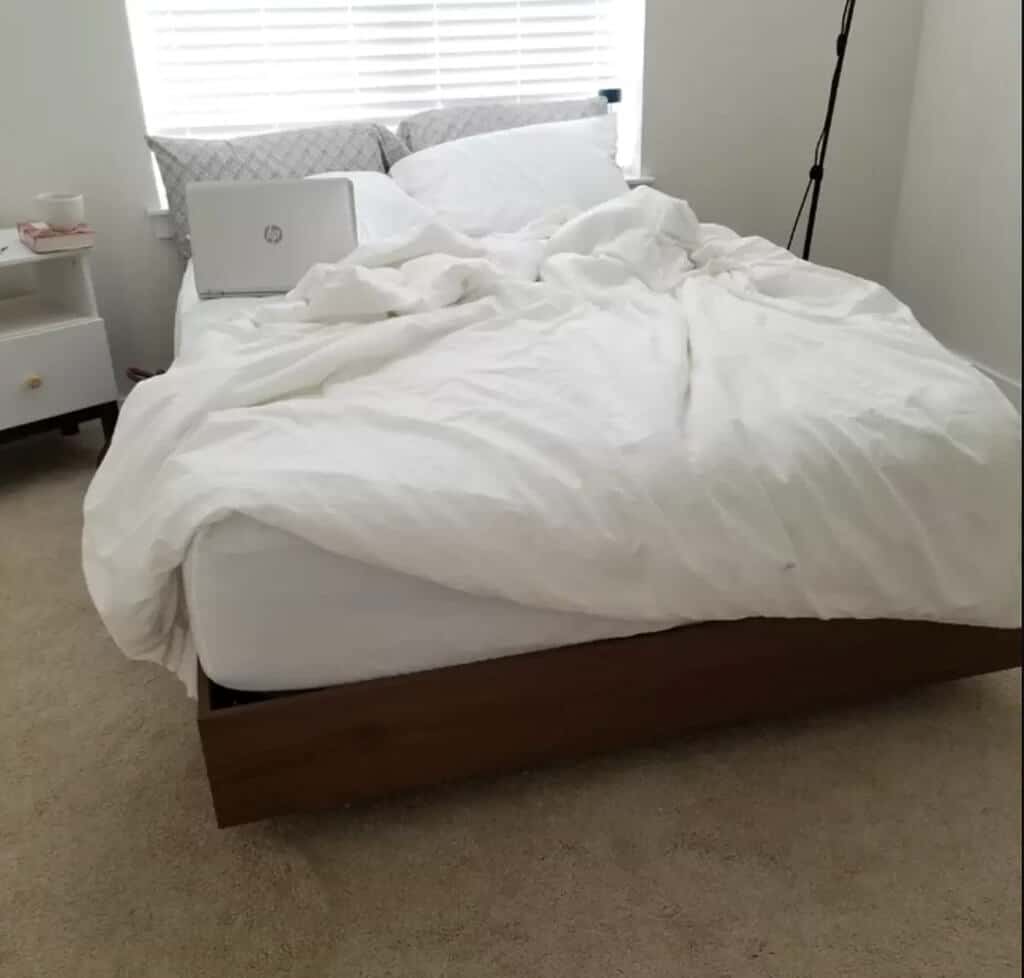 Source: buzzfeed.com
Live the cabin-style life in your modern house with a rustic floating bed frame. Opt for low-profile bed designs composed of walnut wood. One of the best qualities of these floating bed designs ideas is their light look and longevity.
16. A Stylish Storage

Source: shopify.com
Aren't we all always seeking extra storage space in our bedrooms? You can choose a floating bed frame that offers plenty of storage beneath the bed. It can be a home to all the extra items. These floating bed designs ideas aren't only eye-pleasing but prove to be extremely utilitarian as well.
17. Wavy and Floaty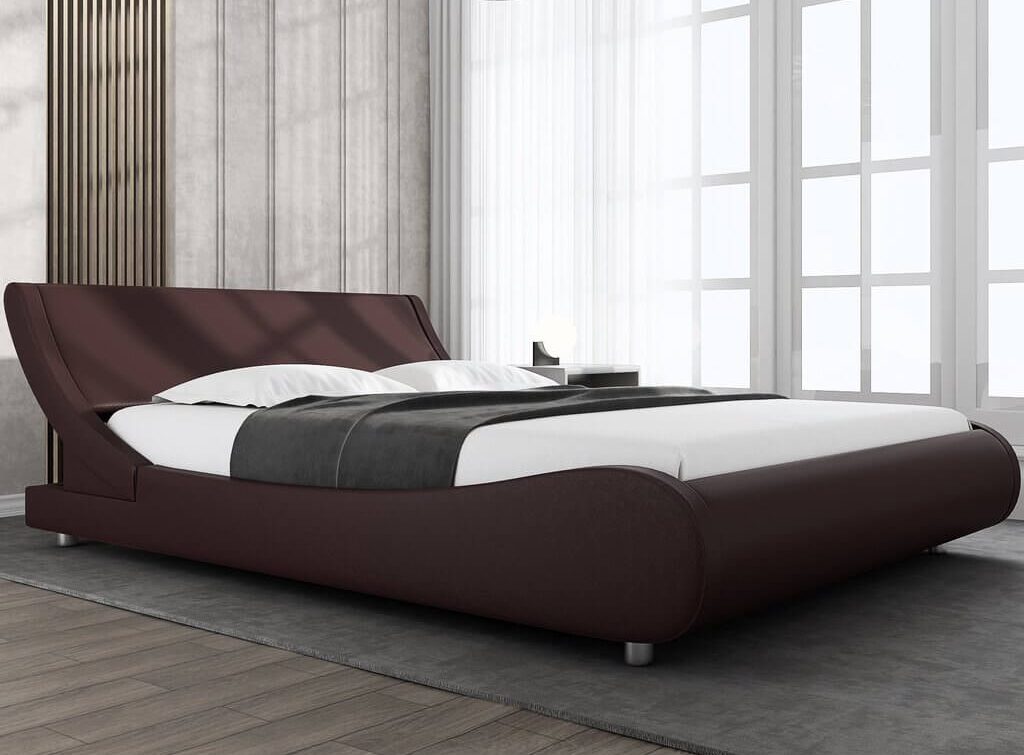 Source: walmartimages.com
How about a design that mimics the form of a wave and at the same time seems to be floating in the air? A floating bed frame with curves can prove to be one of the most enticing options to add to your bedroom. It can be considered as floating bed DIY project as it's extremely simple to assemble.
18. Keep it Super Low!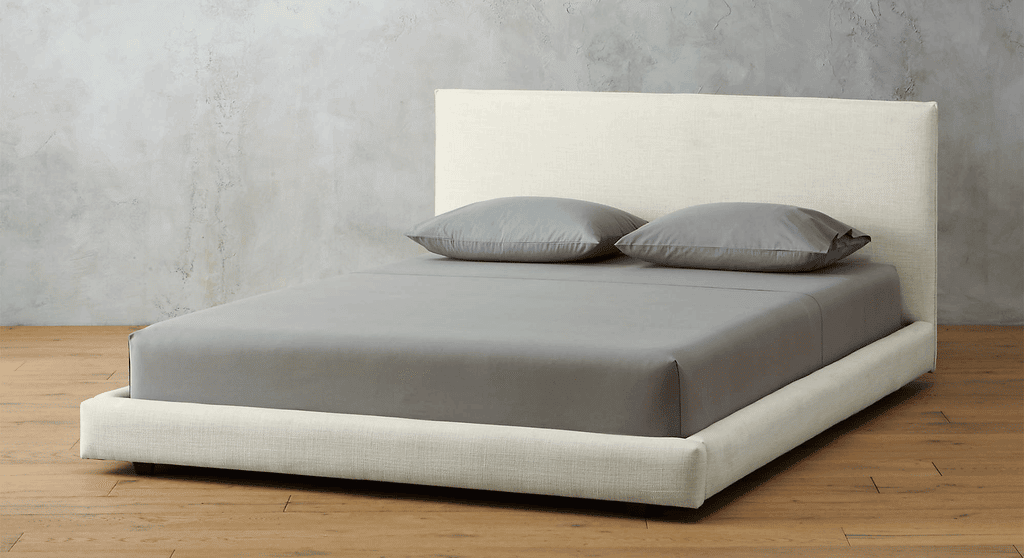 Source: buzzfeed.com
A floating bed frame can be kept as close to the ground as possible and still it will appear to be in the air. Consider the idea of bringing a cushiony design to your bedroom that will serve as the perfect nap partner while also accentuating the look of the room.
19. An Extended Grey Frame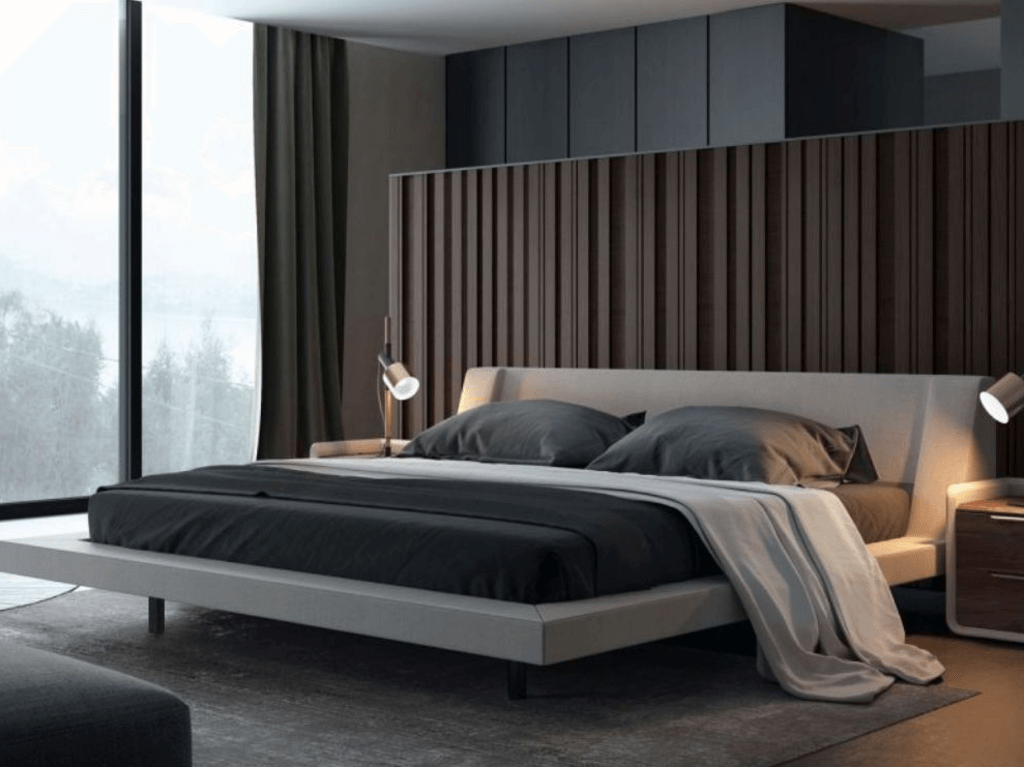 Source: squarespace-cdn.com
Rather than picking the conventional brown floating frame bed, bring an oriental touch to the decor with gray tones. Blend light grey with deeper hues like black for an enticing contrast that aids in bringing an airier look to the room.
Also Read: Top 12 Stylish Bedroom Color Scheme Ideas for 2022
20. Promising Design and Comfort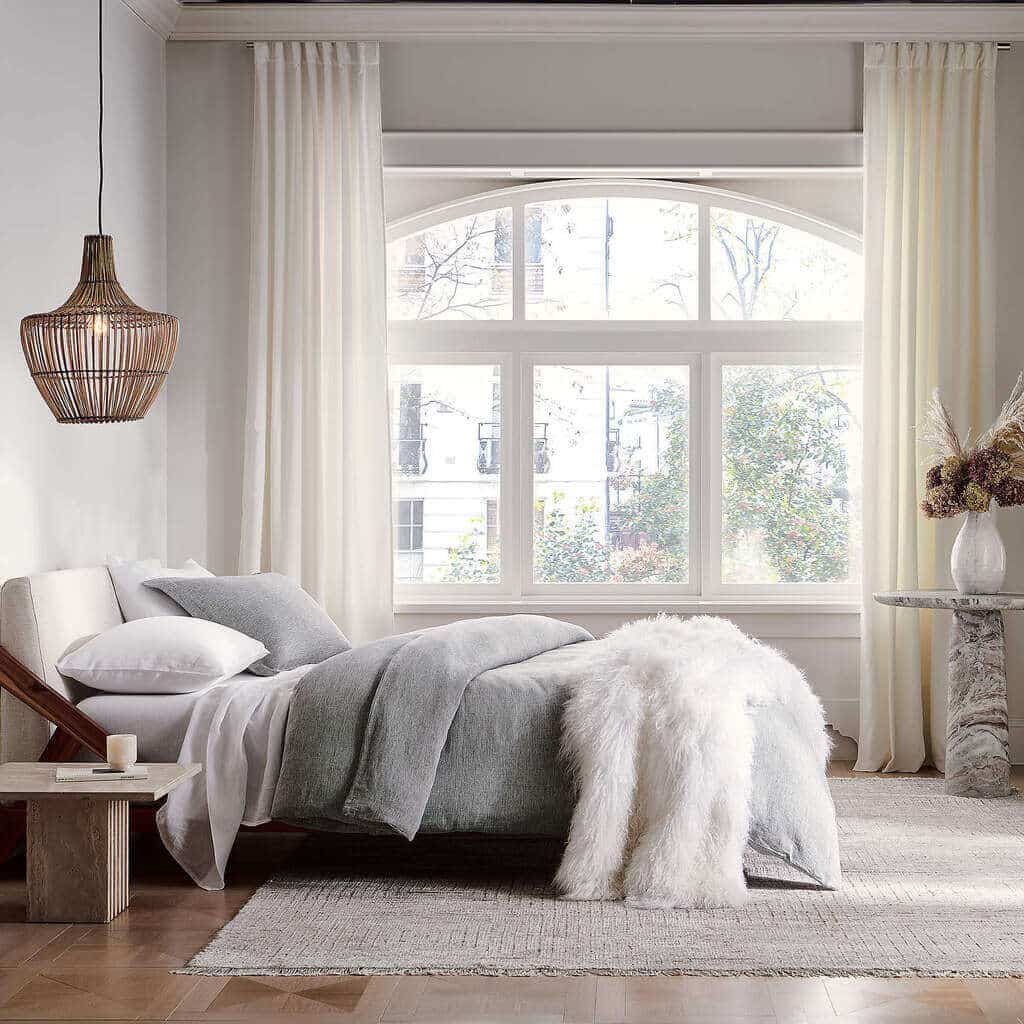 Source: buyma.com
Your choice of floating bed designs shouldn't only be aesthetic but need to cater to the comfort factor as well. Go for a design composed of wood that will demand minimal maintenance and add warmth to the room. The comfort can further be enhanced by opting for plush soft furnishings sitting atop.
21. The Pocket-friendlies!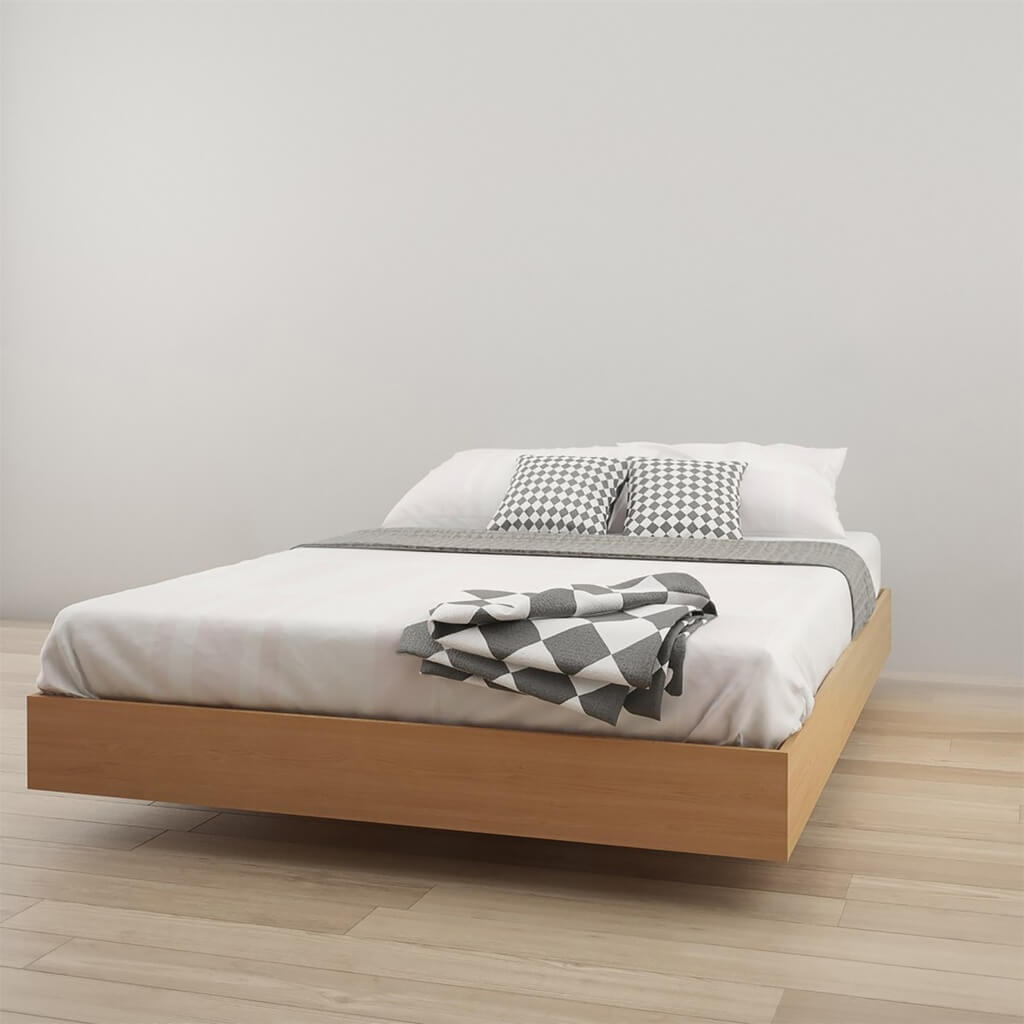 Source: amazonaws.com
You wouldn't want the desire of owning floating bed to take a toll on your pockets, right? Consider browsing through a list of affordable floating bed designs that don't compromise on their quality. Opt for your desired design language and keep the pockets happy too. 
Float into Your Dreams!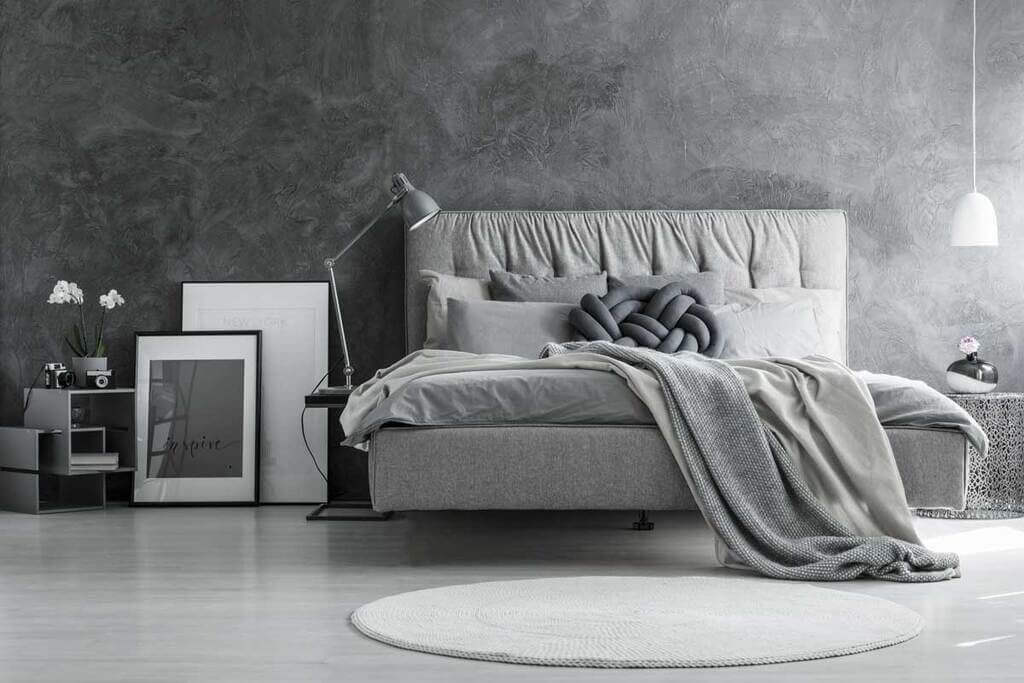 Source: decortips.com
With such comfortable floating bed frame designs, it's impossible to resist getting one. Go for a design that lets you reflect your style and allows you to relax at the end of each long day. From floating bed with lights to simply patterned designs, there are a plethora of options to choose from. Understand your requirements and furnish your home with its perfect match.
To know more about Home improvement ideas, Cleaning and decoration tips visit ArchitecturesIdeas
For daily updates, follow us on our Instagram page @architectures_idea.