The bedroom is one of the most important rooms in the house, as it is a place of personal reflection. Two colour combination for bedroom walls can create a lovely and inviting appearance. A space's aesthetics and energies are defined by its colours. It is true that each colour has its own beauty and significance, but choosing colours that look good when they are paired up is an art in itself. You can create an interesting colour combination by mixing two colours, and this can add a touch of elegance to your space.
There is no doubt that colour combination in a bedroom has a significant impact, so it is important to choose your colours wisely, and know the effect of each colour on your bedroom. You can choose from a variety of options depending on your lifestyle or the type of personality you have, so you can find the one that suits you best.
Stunning Two-Color Bedroom Wall Ideas
1. Terracotta and Ivory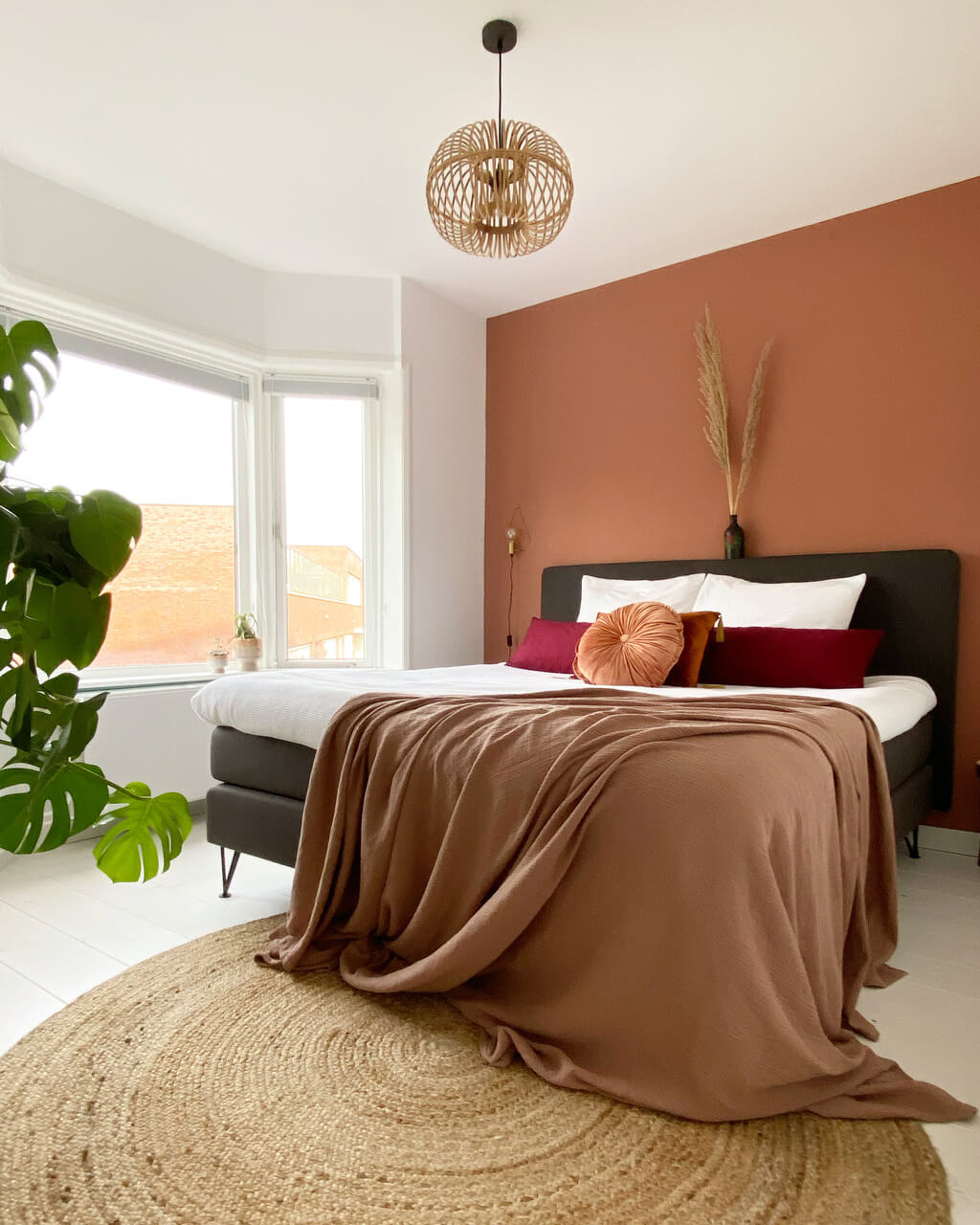 Terracotta, an earthy colour lends an air of naturalness to the space where it is used. Combining this colour with ivory colour will give an elegant balance between the two colours. With a rustic bedroom look, it complements wooden furniture and mono-coloured upholstery wonderfully and adds an elegant touch. Its the best bedroom 2 colour combination.
2. Lavender and Off-White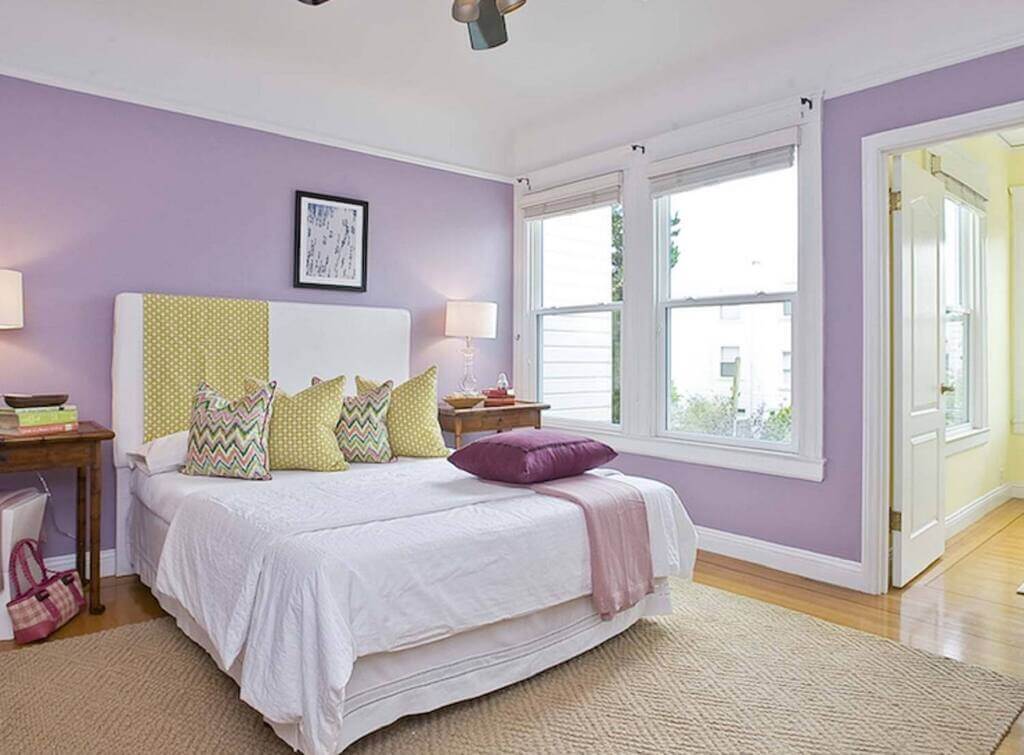 The combination of both of these bed room 2 colour creates a winning combination for the bedroom, which translates into a sense of stability, peace, and calm. The combination of these colours would go well with white or soft coloured upholstery. It has a pleasant combination of both colours that do not overpower one another, but instead create a relaxing effect to make the room feel like a perfect sleeping environment.
3. Yellow and Grey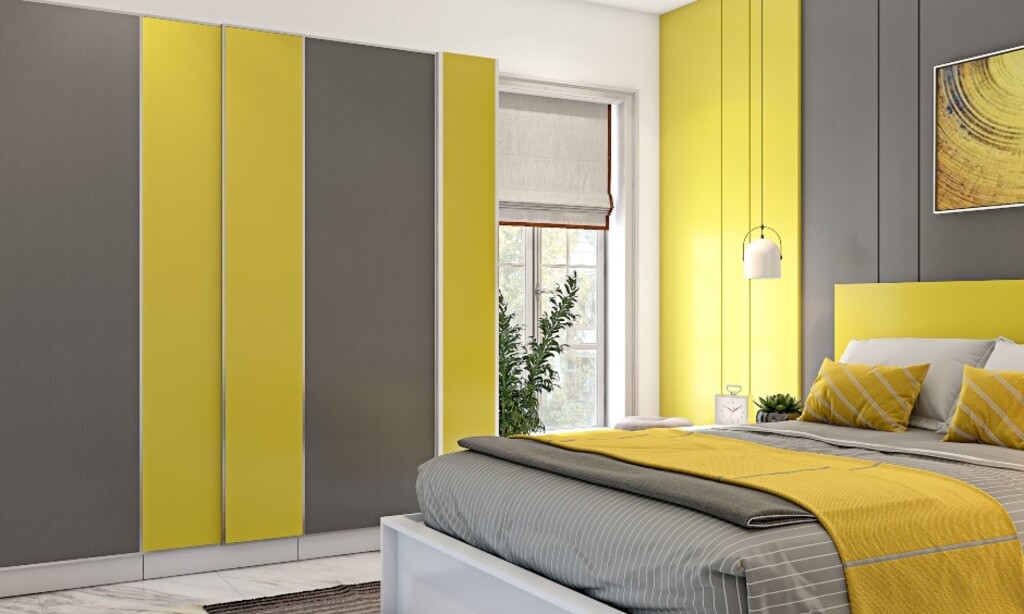 Colour yellow provides a cheerful and positive atmosphere that looks great on a child's room wall. Yellow stimulates babies' metabolism and keeps them active when they are surrounded by it. In addition, too much yellow can overstimulate infants and make them fussy and aggressive. Add a shade of grey to the colour combination and you will achieve a harmonious tone that is both stable and elegant at the same time.
4. Cream and Brown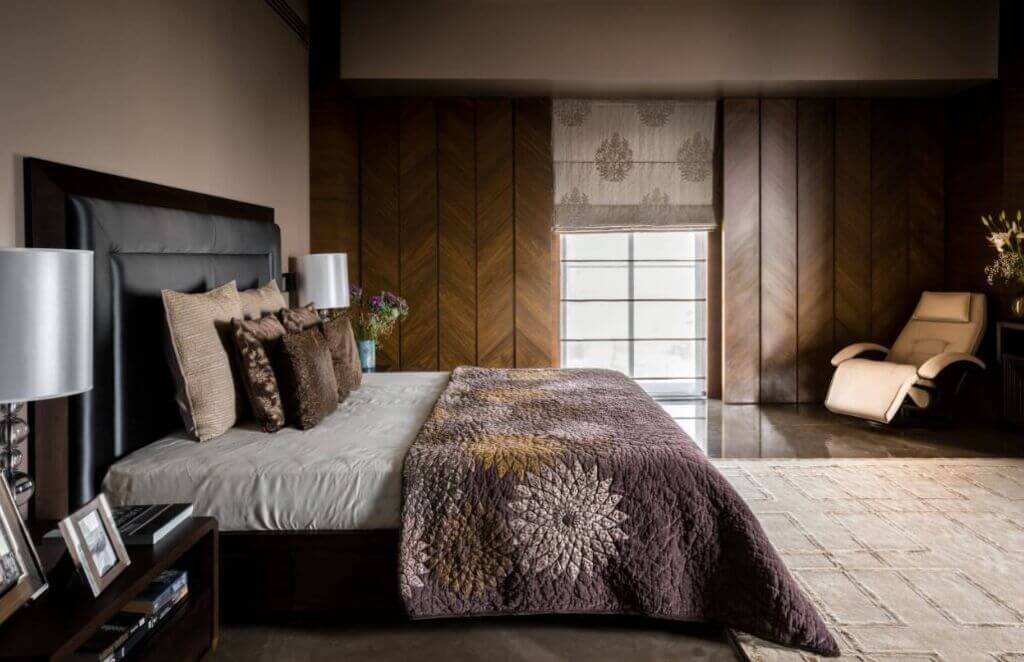 A cream or brown shade is elegant and happy, and it will keep you relaxed. It's a neutral shade and can be combined with almost any kind of furniture. A bedroom paint two colors are suitable whether you have wooden furniture in your bedroom or a collection of different items of furniture.
5. Light Brown and Muted Green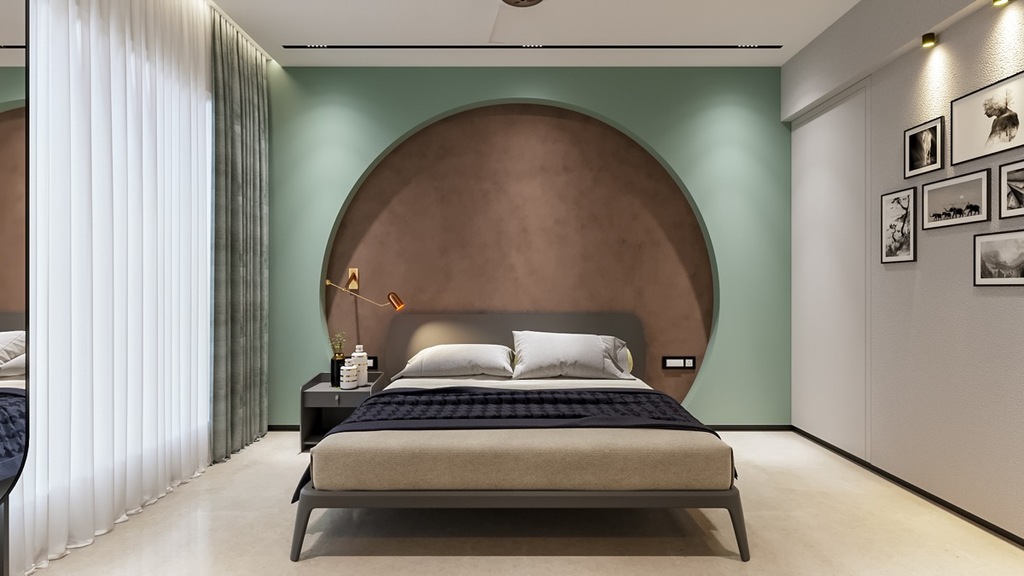 People who prefer a natural vibe in their sleeping space would love this combination of light browns and muted greens. With this two colour combination for walls, your flat will have a spacious appearance along with a natural feel that makes it a very healing space
6. Peach and White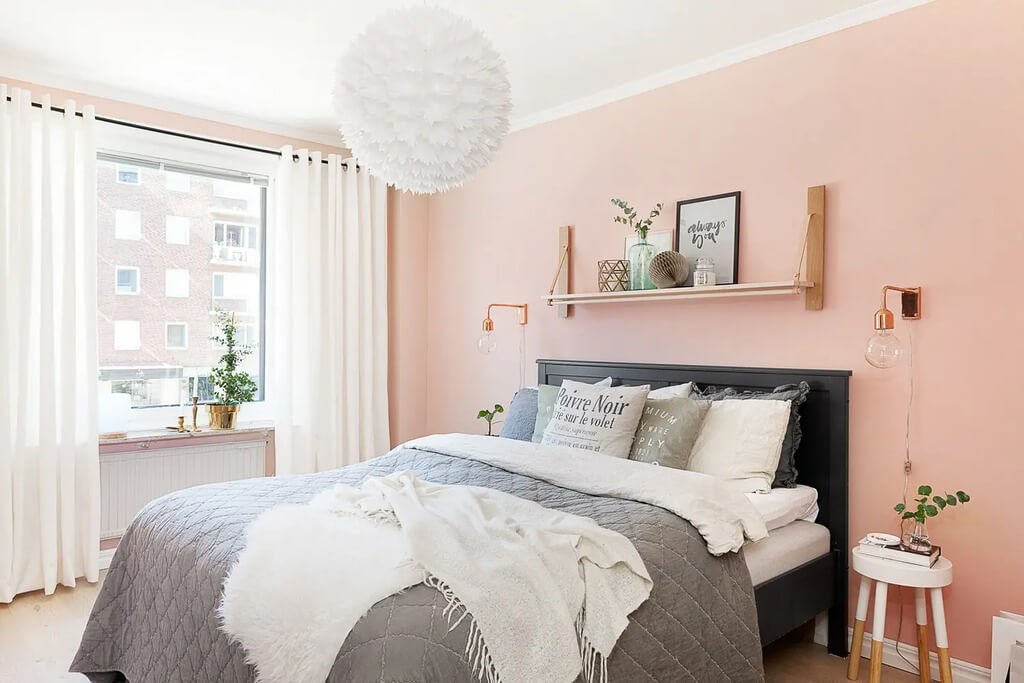 This peach-white combination adds coziness to the room. Moreover, you will find that it provides a pleasant and comfortable ambiance for your resting time in the bedroom. For a sophisticated, modern look, use it all over.
7. Pink and Grey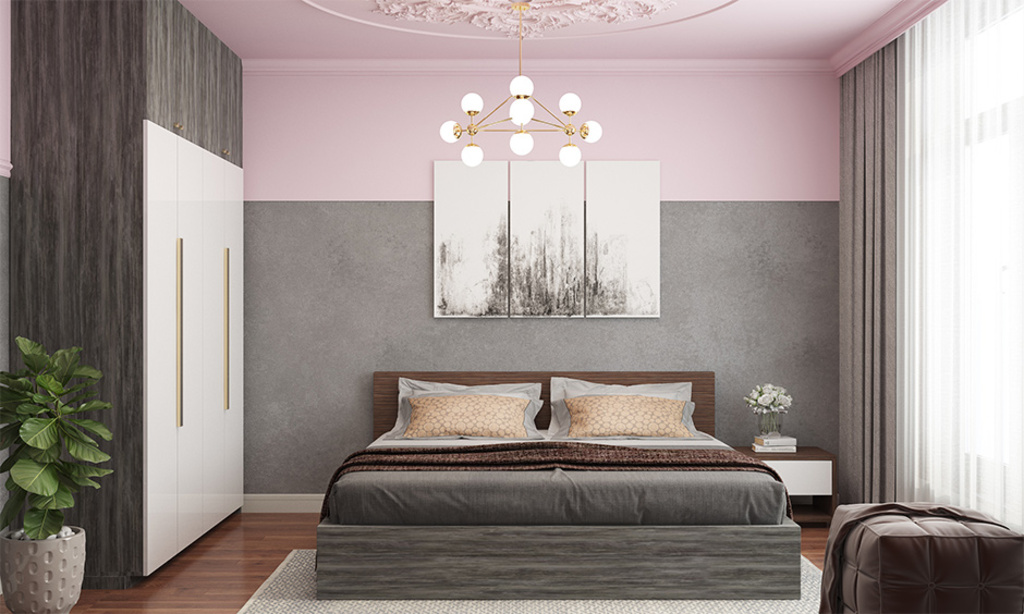 Pink and grey are great colour combination to use if you want to add a touch of femininity to your bedroom walls. Combining pink and grey colours can make the room interior appear extra spacious in addition to creating a sunny ambiance. This is an example of a feminine two colour combination for a wall.
8. Pastel Grey and Yellow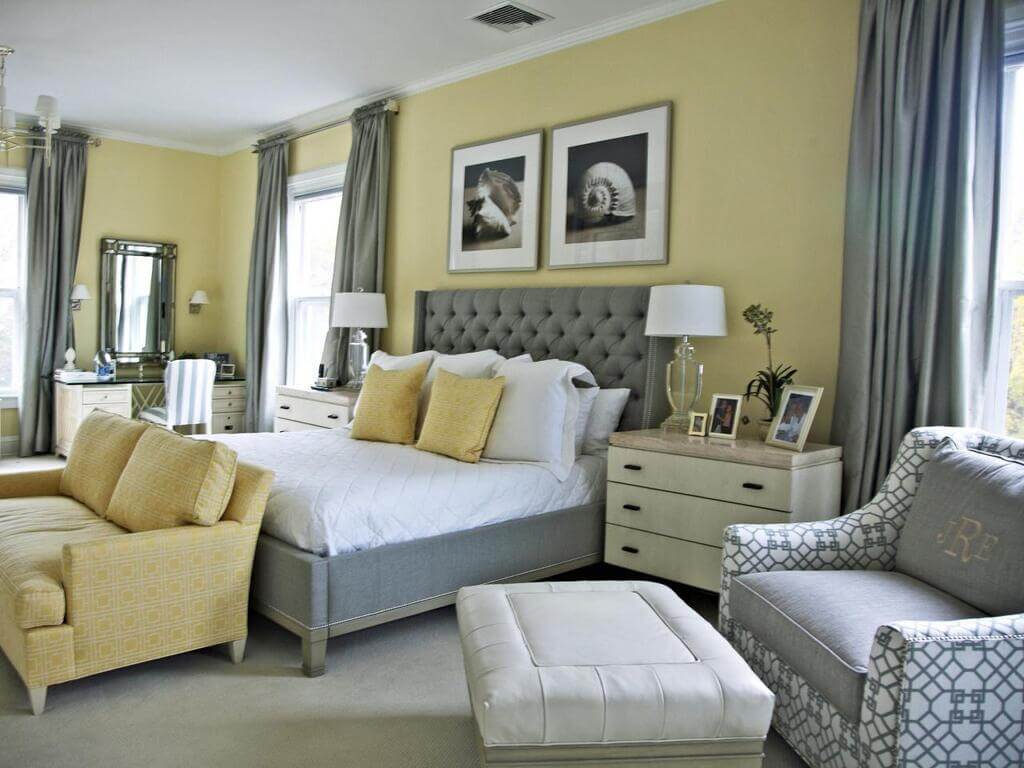 Gray is the colour of sophistication, while yellow is the colour of sunshine. It creates a relaxing atmosphere in the bedroom. For bedroom ceilings and walls that's an extremely soothing colour combination.
9. Burgundy and Beige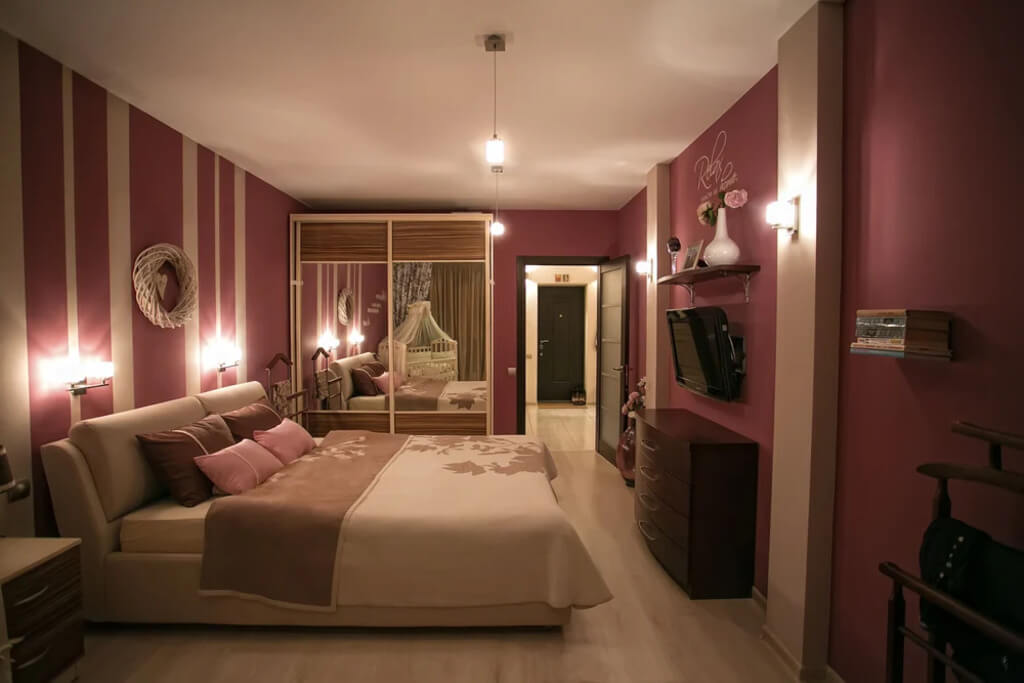 The burgundy and beige colour combo looks luxurious. The colour beige is a neutral shade, and it creates a subtle highlight when paired with burgundy colour, which brings that extra shine around. An excellent combination of neutral tones and deep, rich shades that are both alluring and comforting at the same time, make this combination very appealing. The color combination creates a relaxing atmosphere and a beautiful transparent ambiance.
10. Maroon and White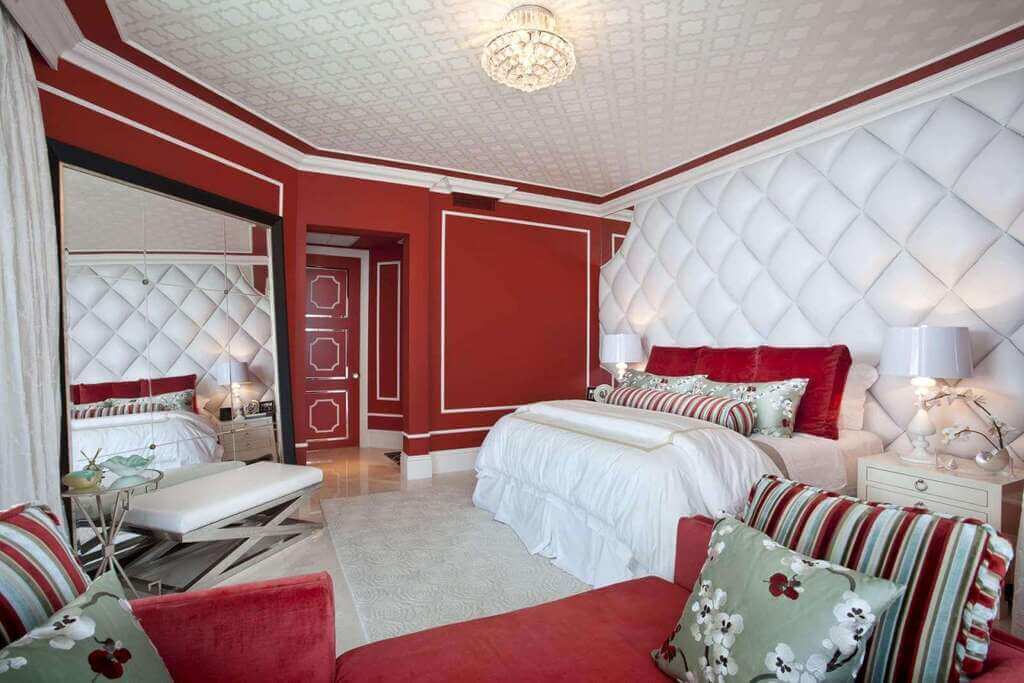 An elegant and breathtaking space can be created by combining the colours maroon and white. It is the perfect combination, since maroon makes your space look cozy and white makes it look spacious.
Natural light during the day will bring out the richness of maroon, and soft bedroom lighting at night will add a calming, inviting atmosphere.
11. Burnt Orange and Off White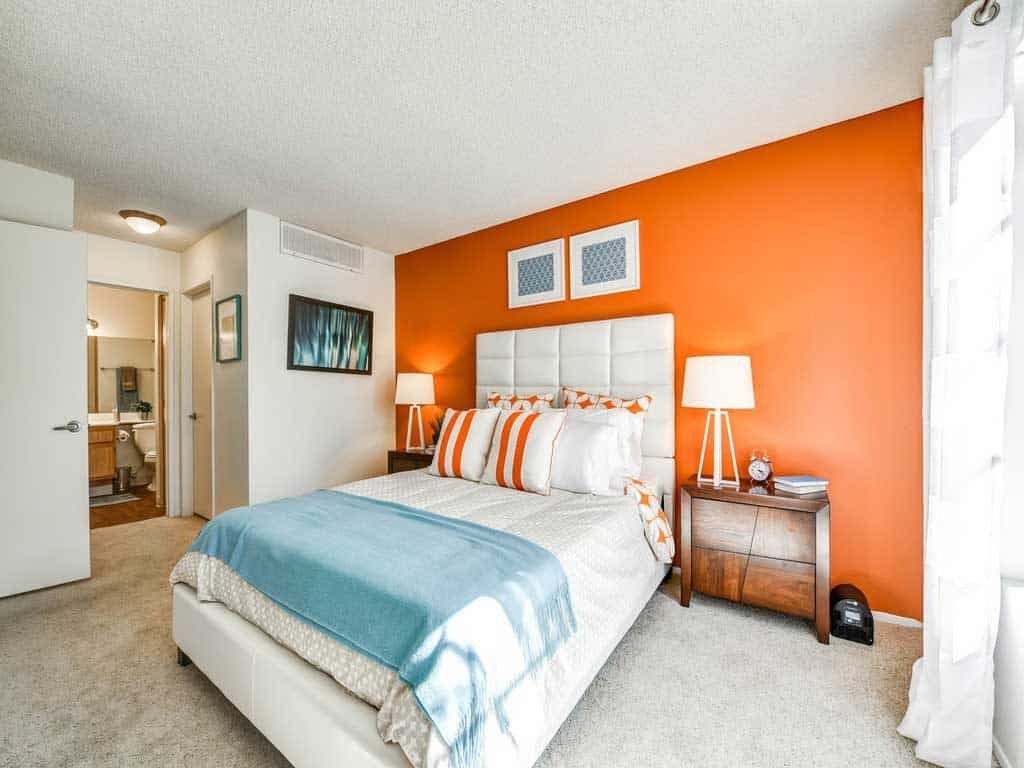 It is a flavourful colour with a touch of brightness that might seem extra elegant in the bedroom. Combined with an ivory colour, the brightness will be reduced to a few degrees and the soft glow will be achieved. A major advantage of using bold orange colours is their versatility. The bedroom can be furnished and decorated with light or dark-coloured furnishings and accessories with this colour combination.
The colour combination is soothing to the eye. This is an elegant bedroom wall colour combination consisting of two different shades of colour.
12. Almond Brown and Muted Green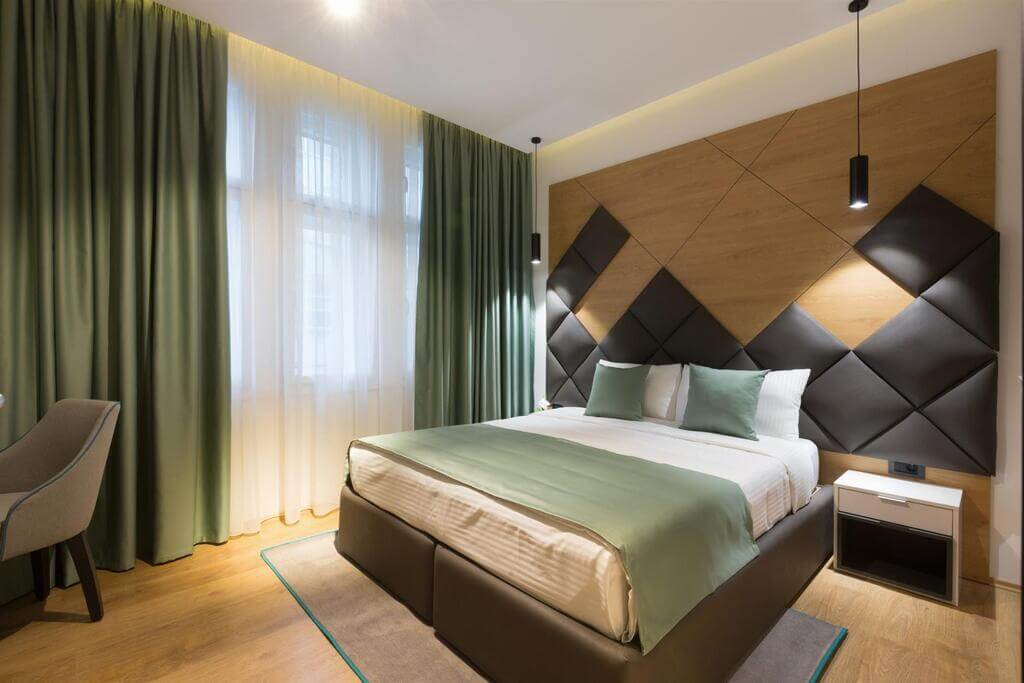 Green and almond make a great combination for any bedroom, regardless of its size. Known for its tranquillity and balance, green has a soothing effect on the eye. With almond brown, it creates a charming natural vibrancy that soothes the senses and creates a sense of calm.
This kind of colour combination is perfect for releasing negative energy.
13. Blue and Black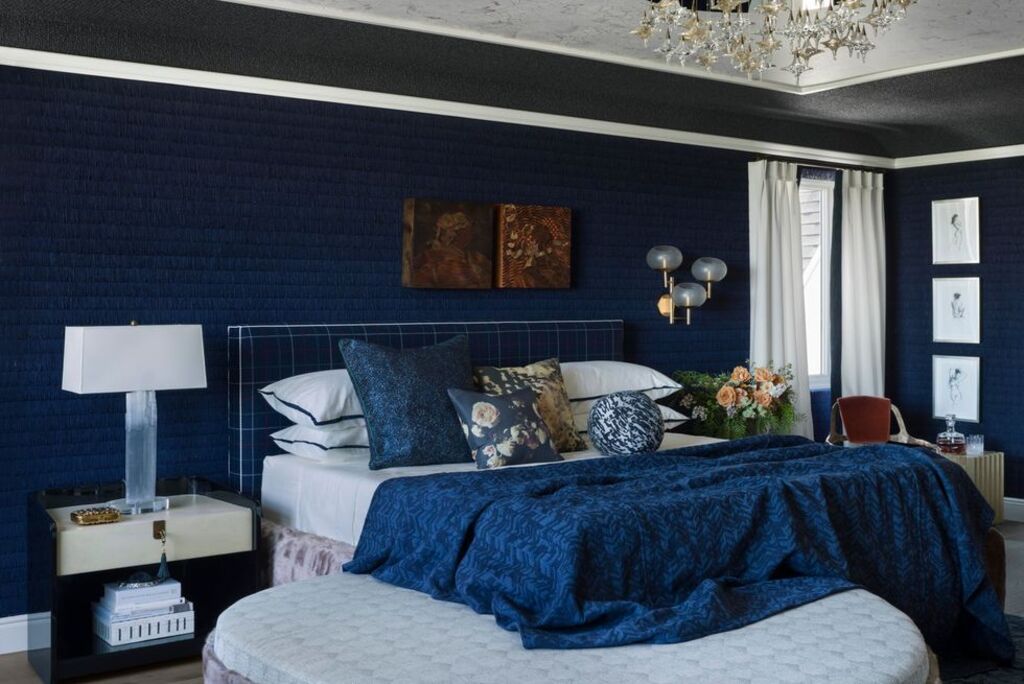 Blue represents confidence, while black represents authority. Adding some warmth to the space and incorporating some wooden essence will give it the appearance of a bachelor's quarters. In addition to being considered manly colours, black and blue complement each other quite well.
14. Black and White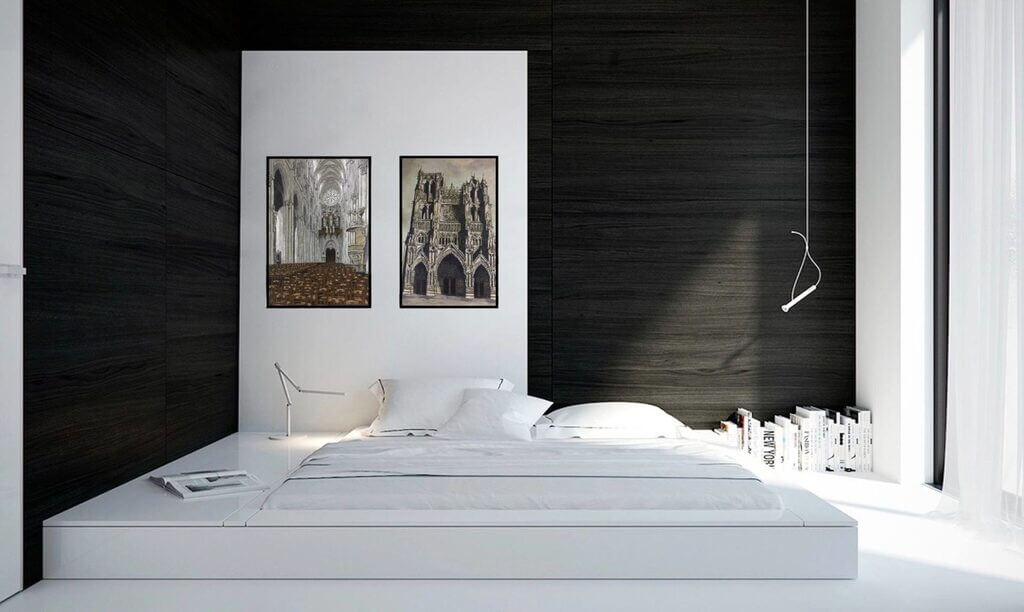 A black and white two-colour combination for the walls of a bedroom is most certainly elegant and stylish. There is a strong contrast between black and white, and it works well together as a whole. White represents light, simplicity, and purity, while black represents authority and strength. It creates an elegant and mysterious ambience in the bedroom.
15. Chocolate Brown and Beige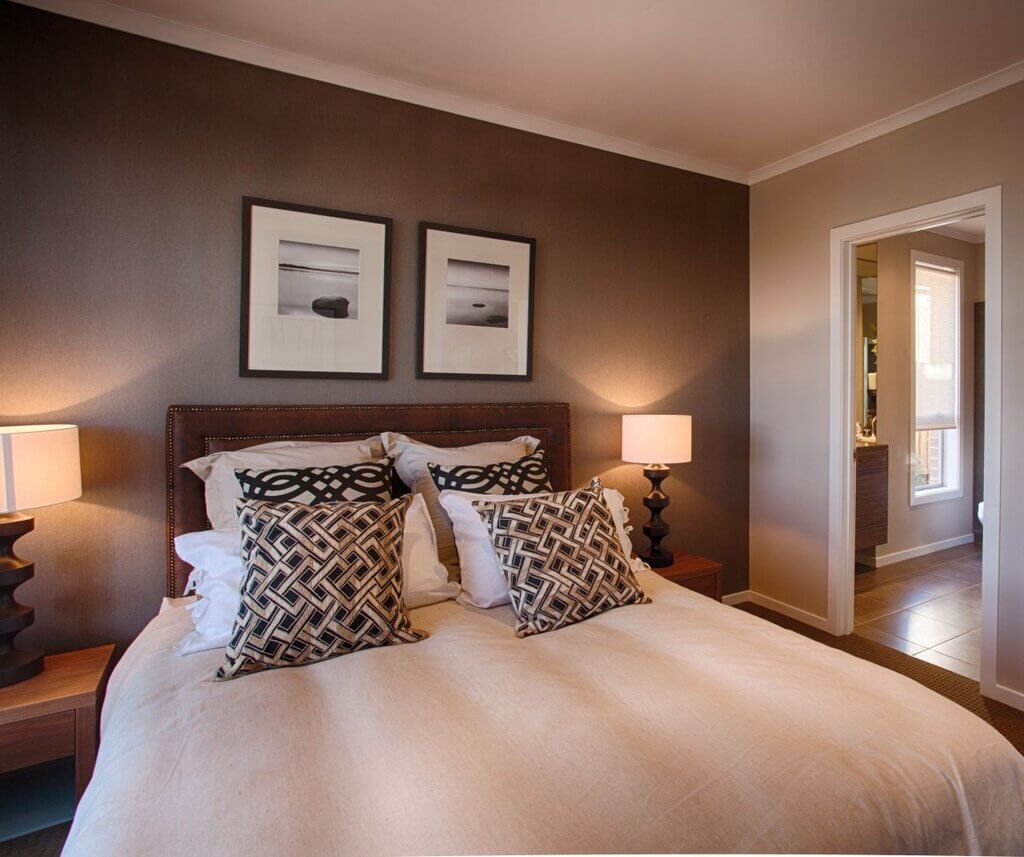 This combination of two different shades of brown on the walls of the bedroom looks great due to the contrasting shades. The colour brown symbolises resilience, security and warmth. Beige, in its simplicity and calmness, perfectly complements it. They help create a happy, peaceful atmosphere.
16. Blue and Brown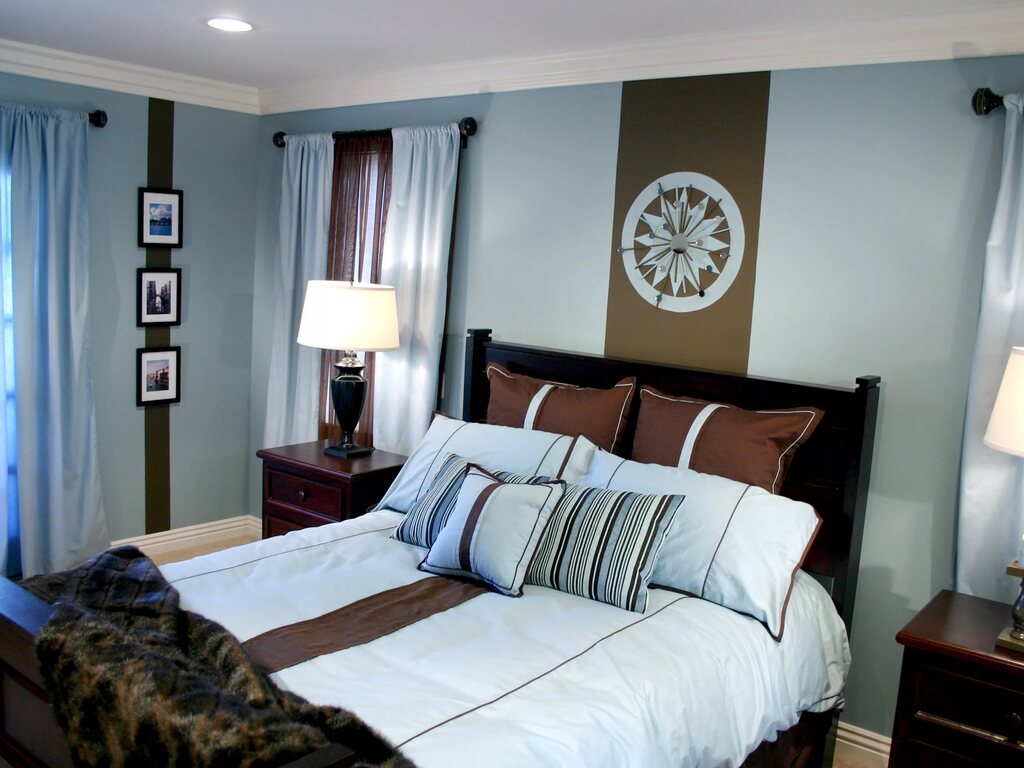 Blue is usually regarded as a symbol of serenity, health, and wisdom, which makes it a great choice for use in a child's room. A shade of brown will accentuate the contrast in the room while also providing warmth and stability.
17. White and Blue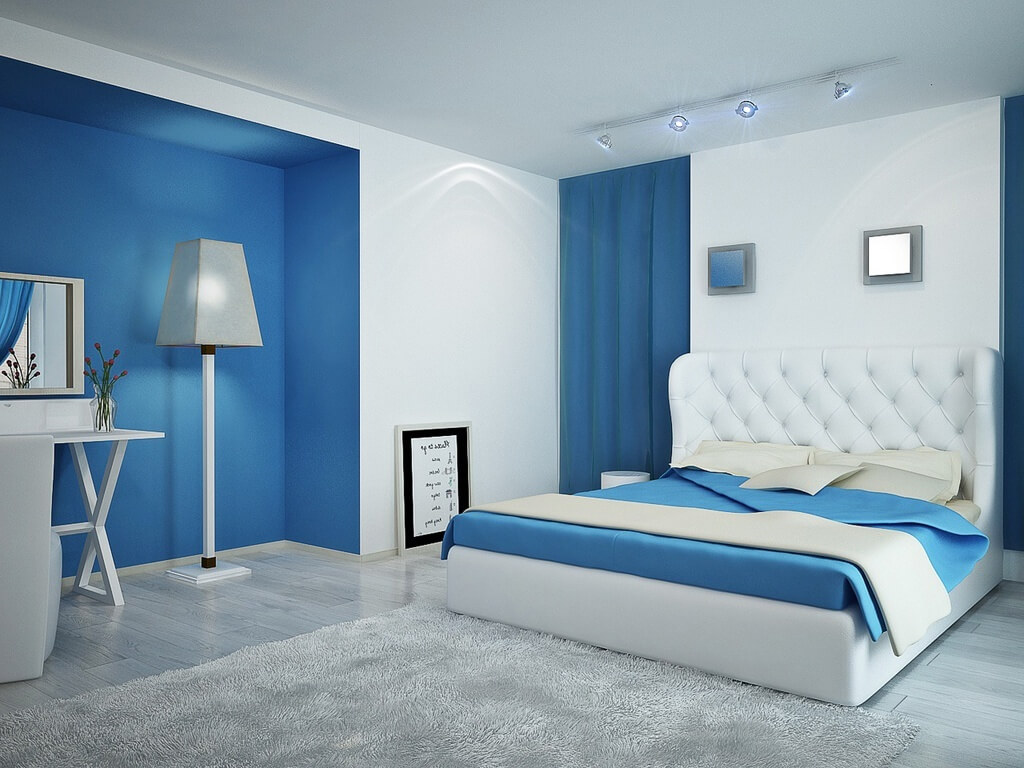 The colour combination for this bedroom is bright and attractive and it creates a peaceful ambiance. Different shades of blue are available and can add beautiful depth and dimension to the bedroom walls. Furthermore, using blue and white accent colours in the bedroom enhances its aesthetic appeal.
18. Turquoise and Cream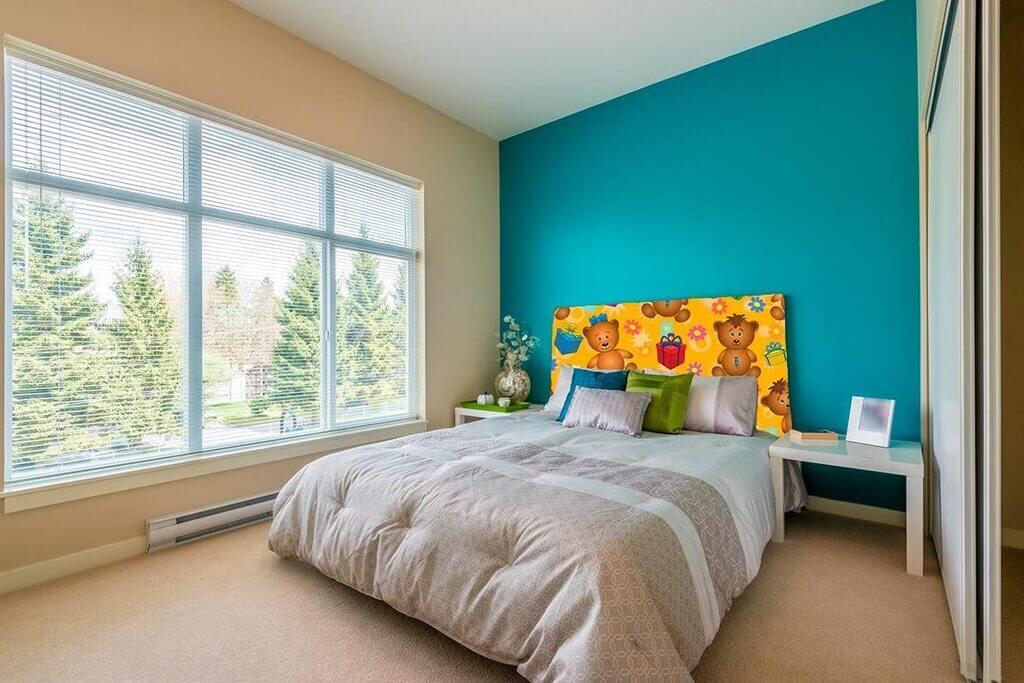 The colour turquoise represents calmness. The combination of this pattern with a neutral colour such as beige will create a bedroom that is aesthetically pleasing and stylish. Its gentle simplicity and mellow elegance will complement the turquoise, creating a harmonious balance.
19. Mustard and Green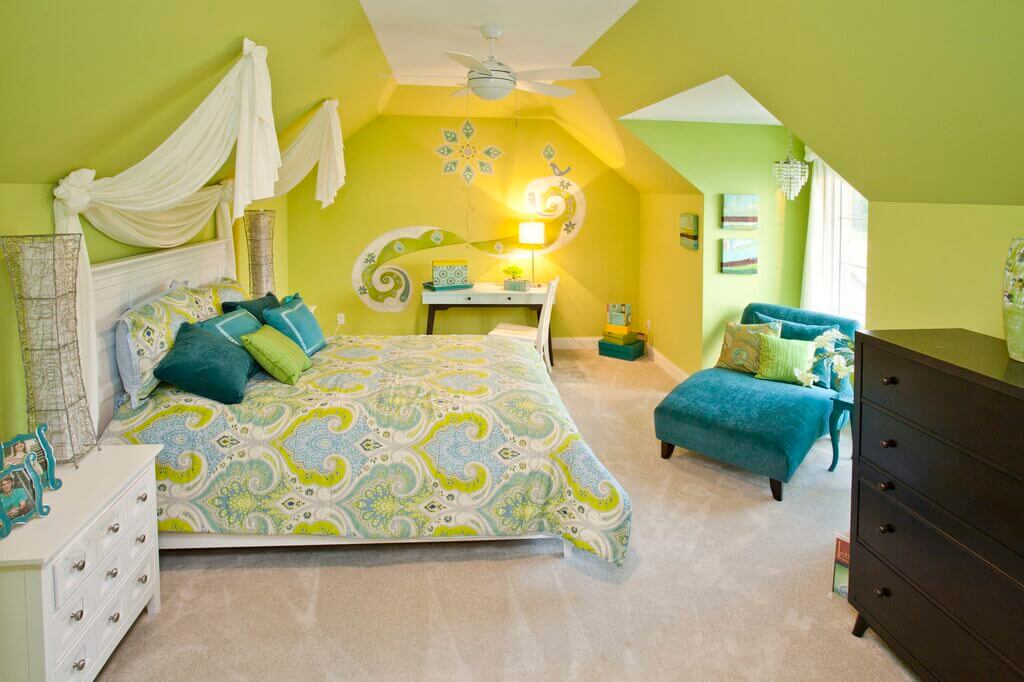 The green colour is often regarded as the most obvious representation of nature. However, mustard is complementary to its character despite its contrasting shade. The mustard colour represents warmth and diversity, it celebrates creativity.
It is pleasing to the eye in a bedroom to see green and mustard colour combinations on the walls.
20. Emerald and White Colour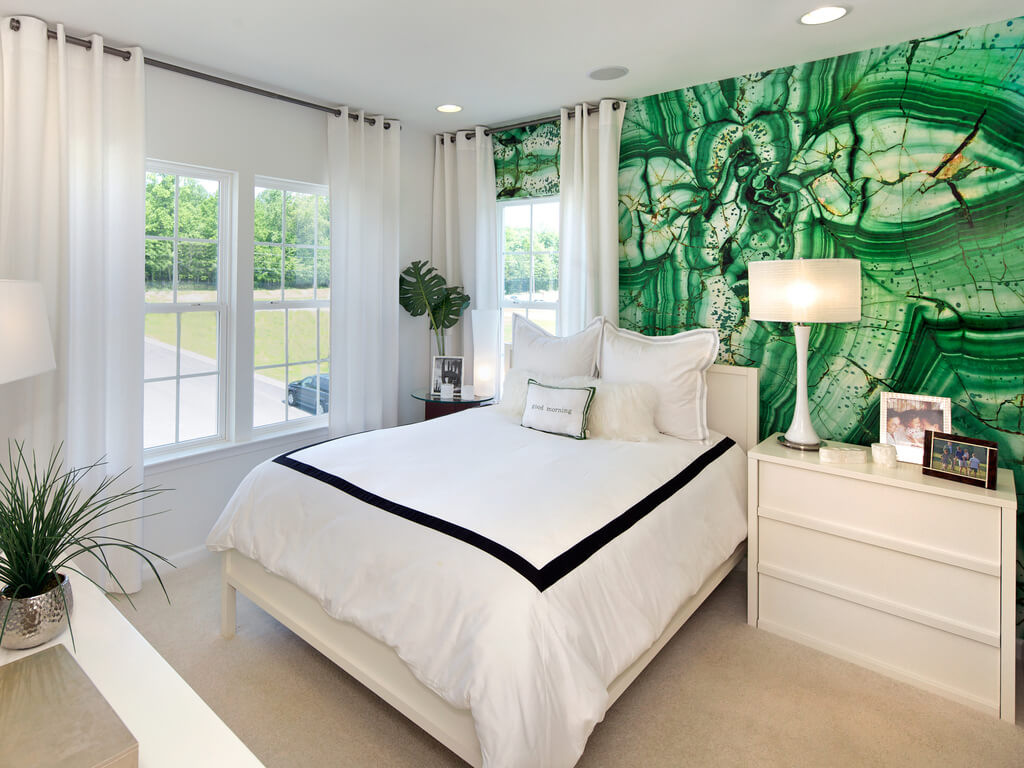 Emerald green symbolises elegance and abundance. When paired with contrasting white, it is simply stunning. The emerald can be used on an accent wall, such as textured or plain panels. For more elegance, you can have some fresh plants as decor in the room along with the emerald.
21. Baby Pink and Lime Green

22. Orange and Charcoal

23. Black and Brown Bedroom Walls

24. Red and Grey

25. Red and White

26. Light Brown and White

27. White and Grey

28. Black and Grey

29. Yellow and Cream

30. Blue and Yellow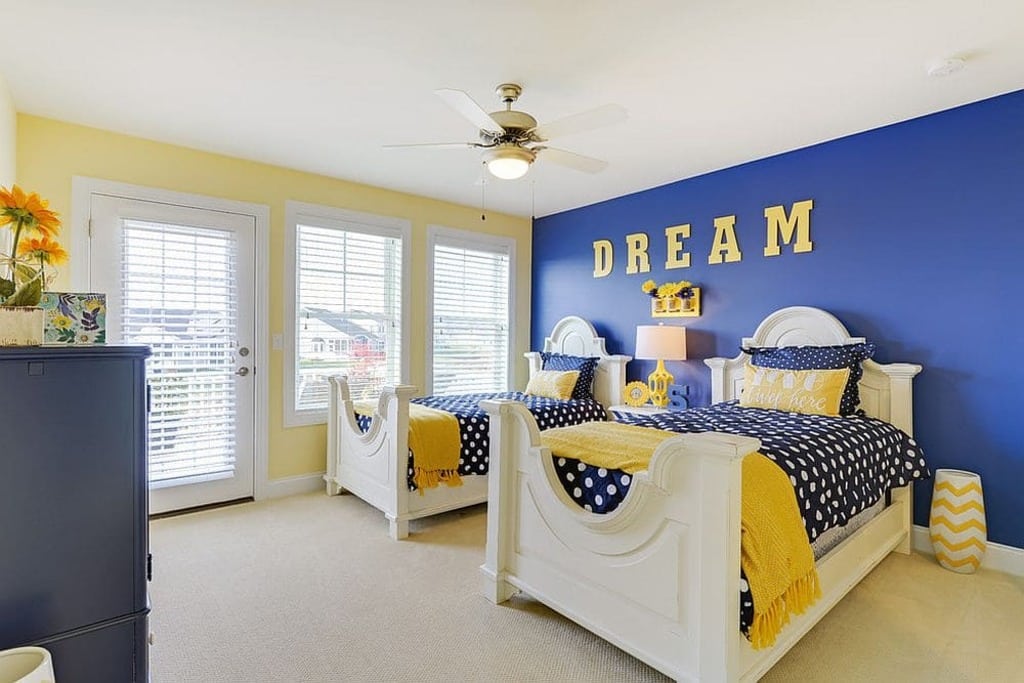 31. Mint Blue and Grey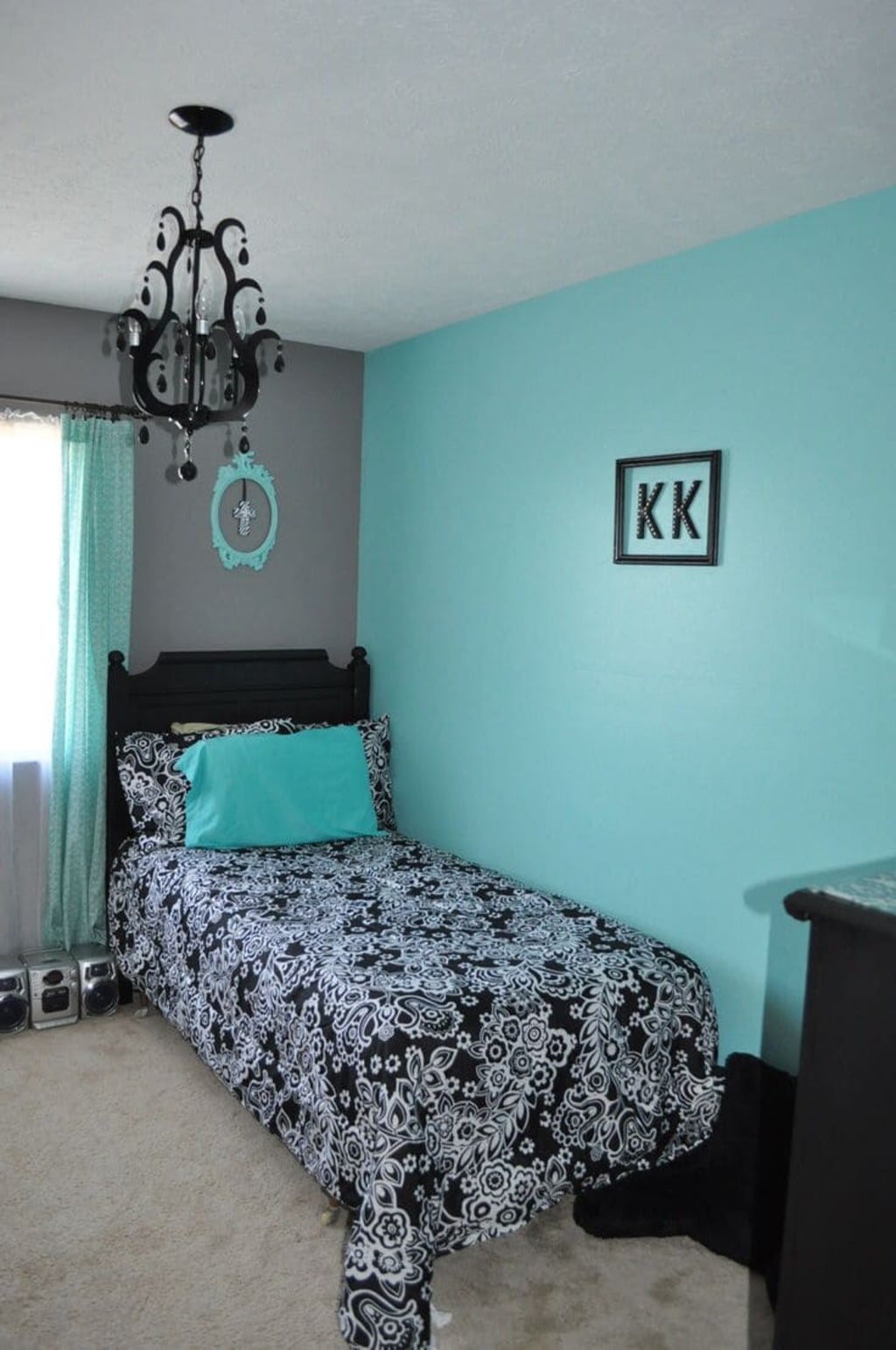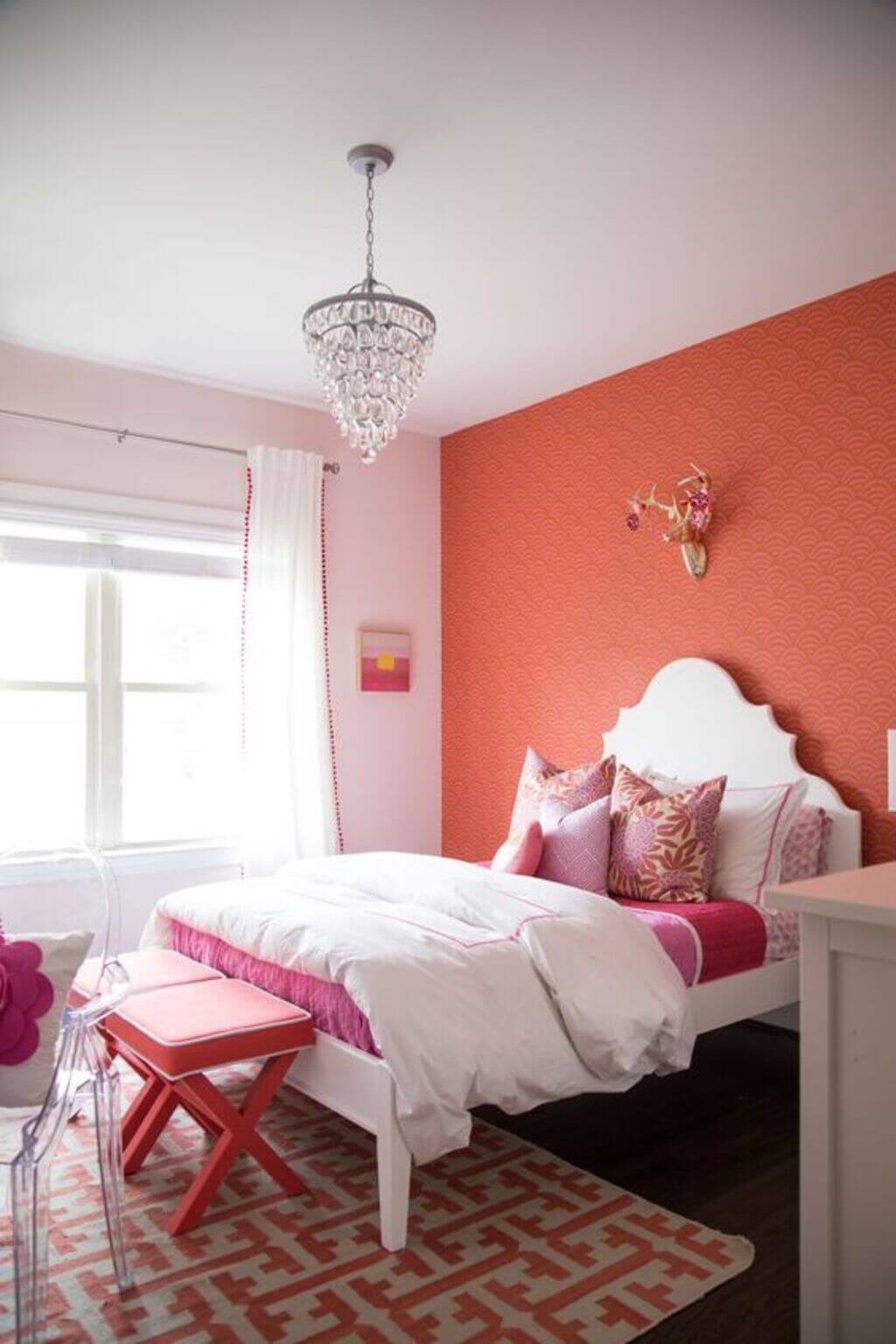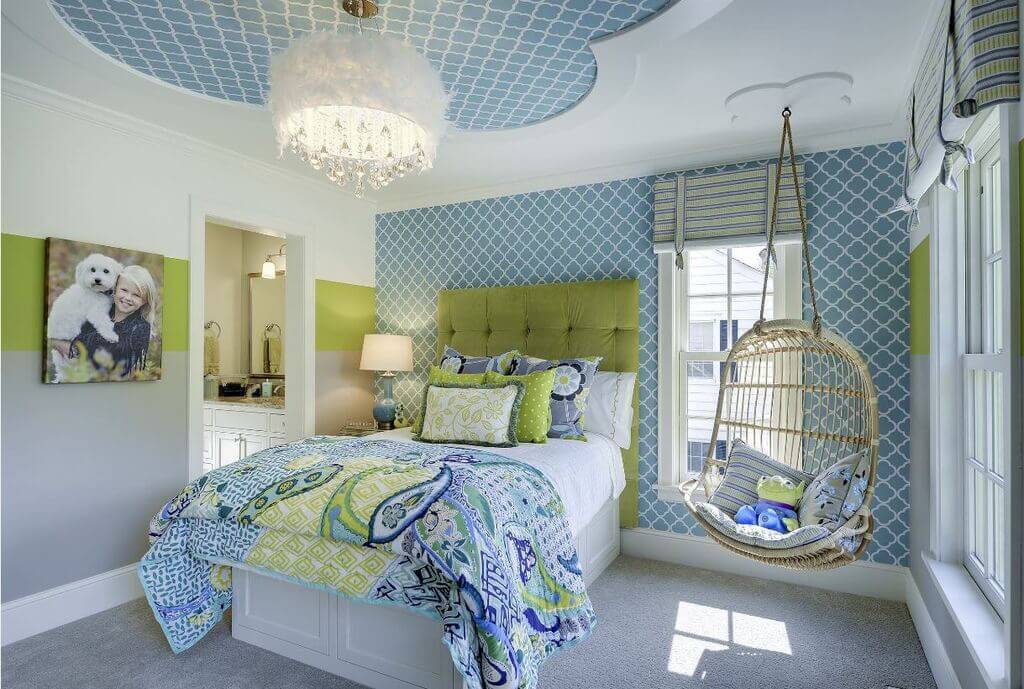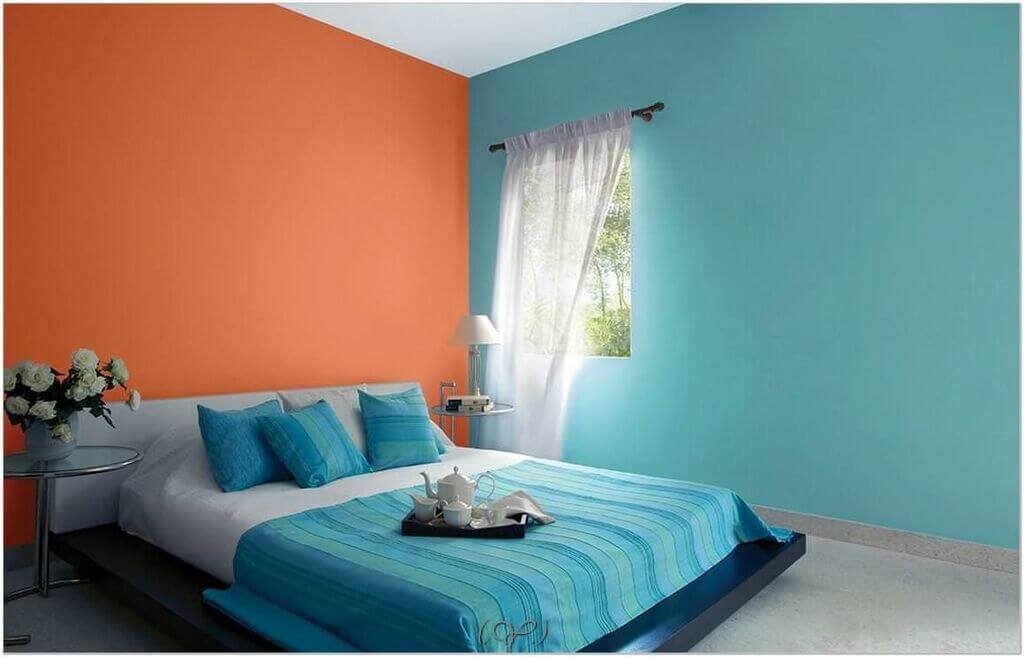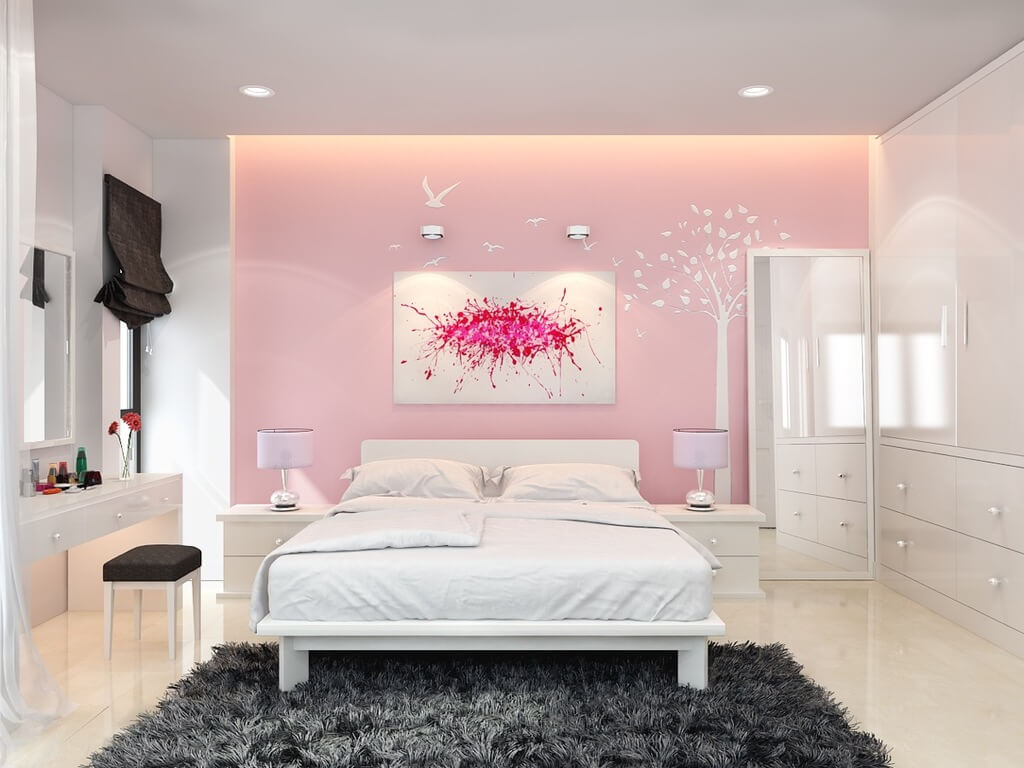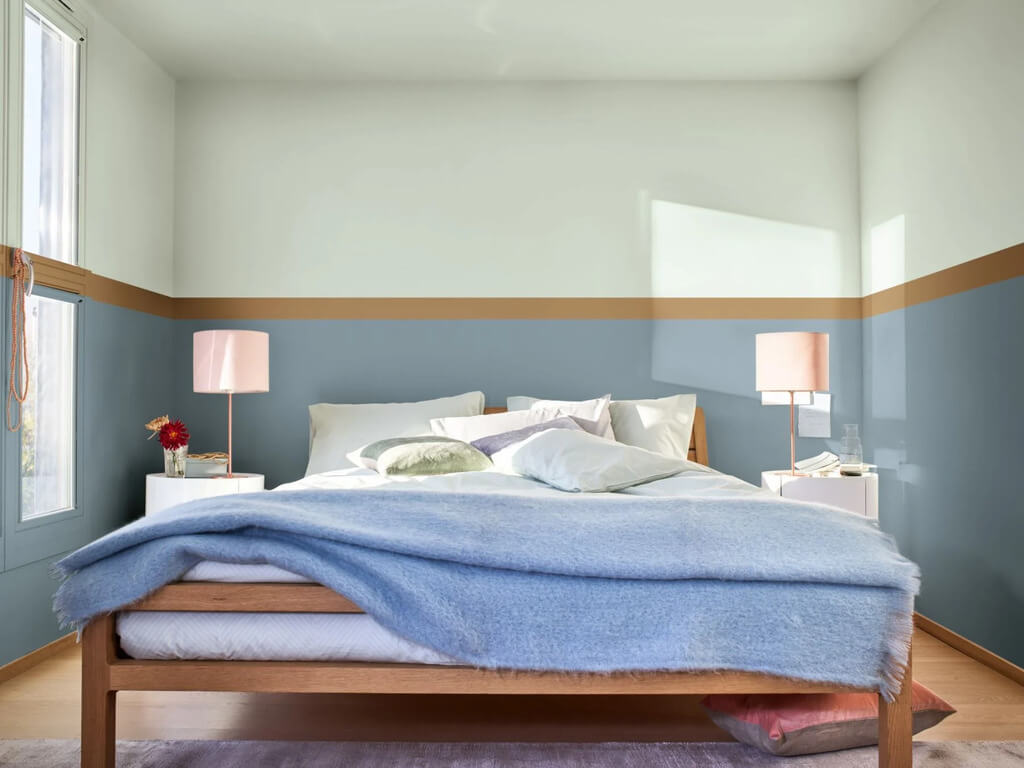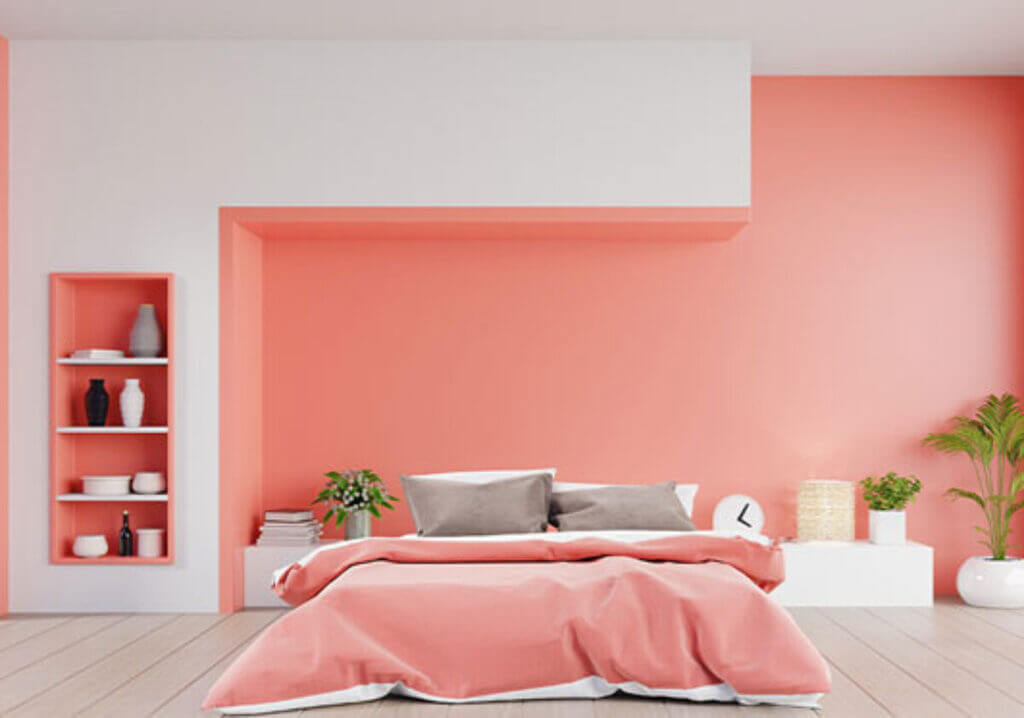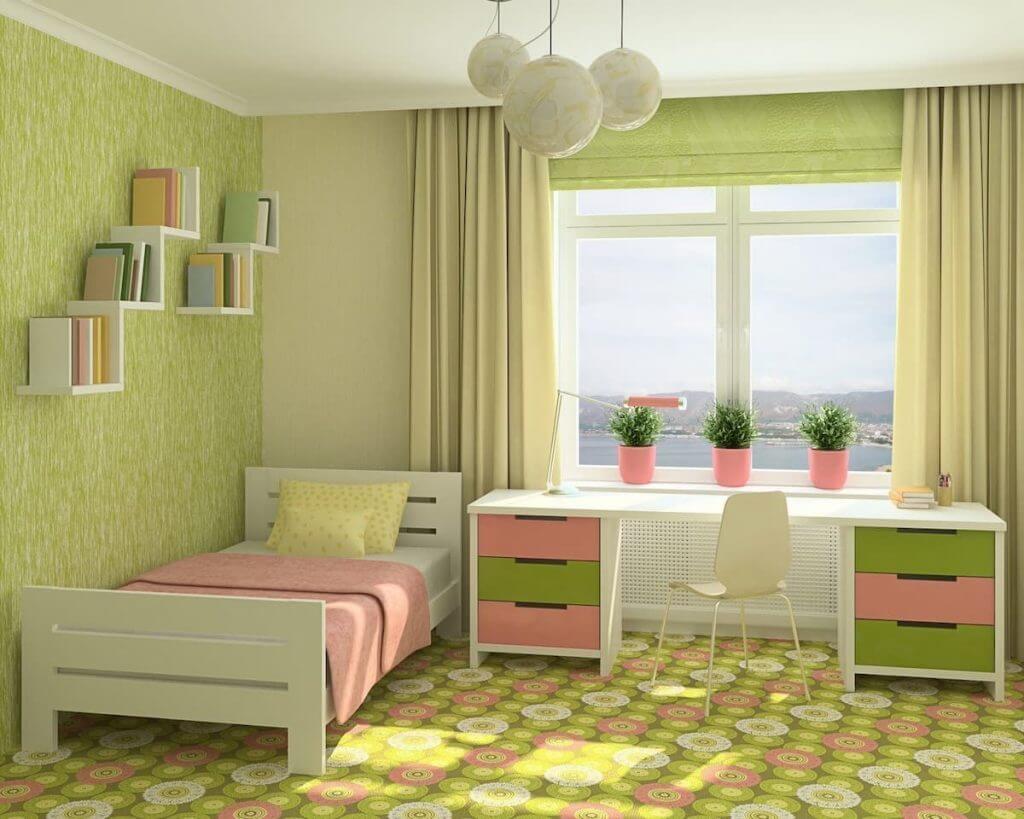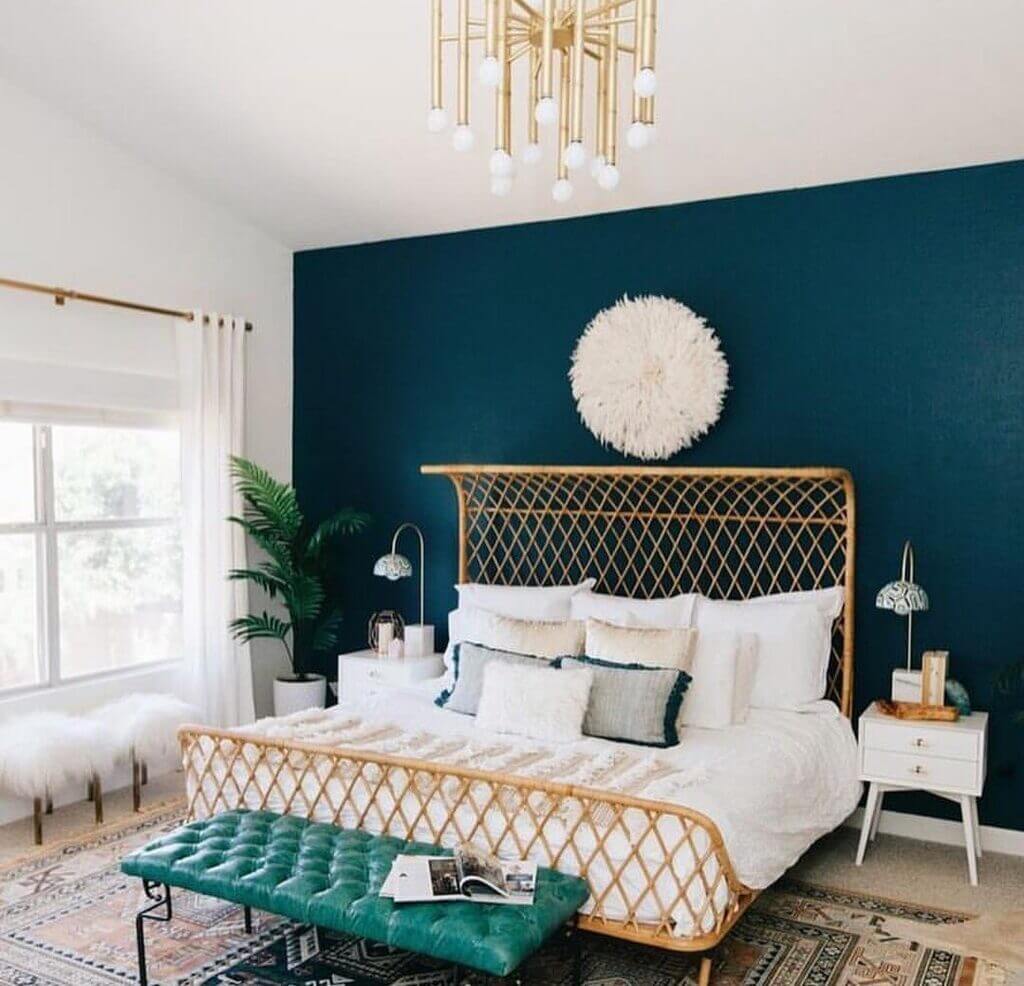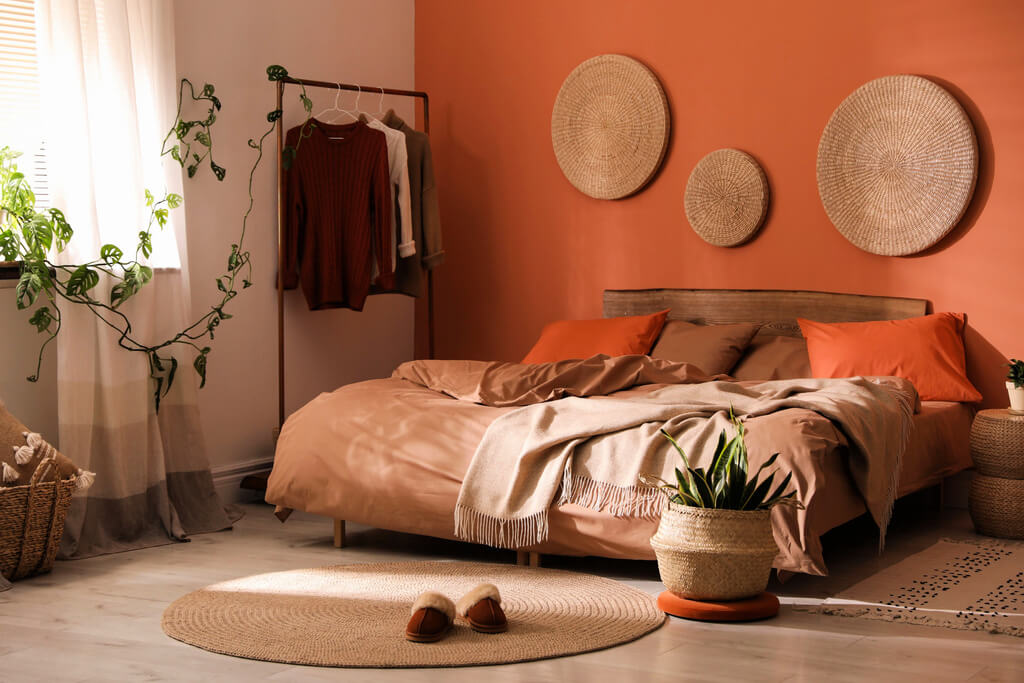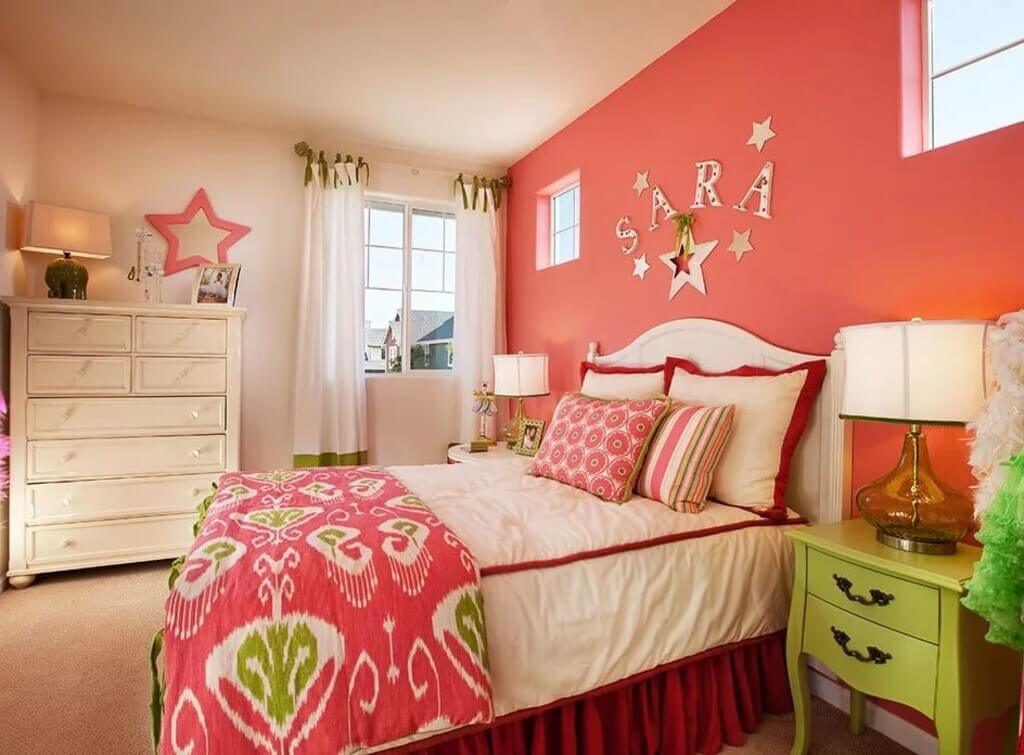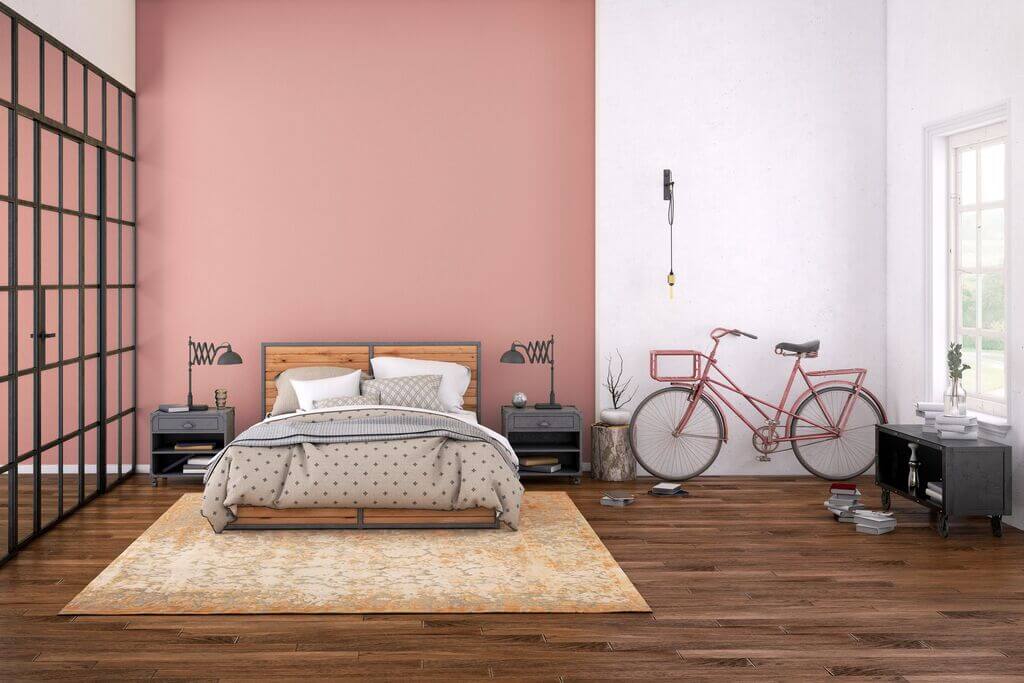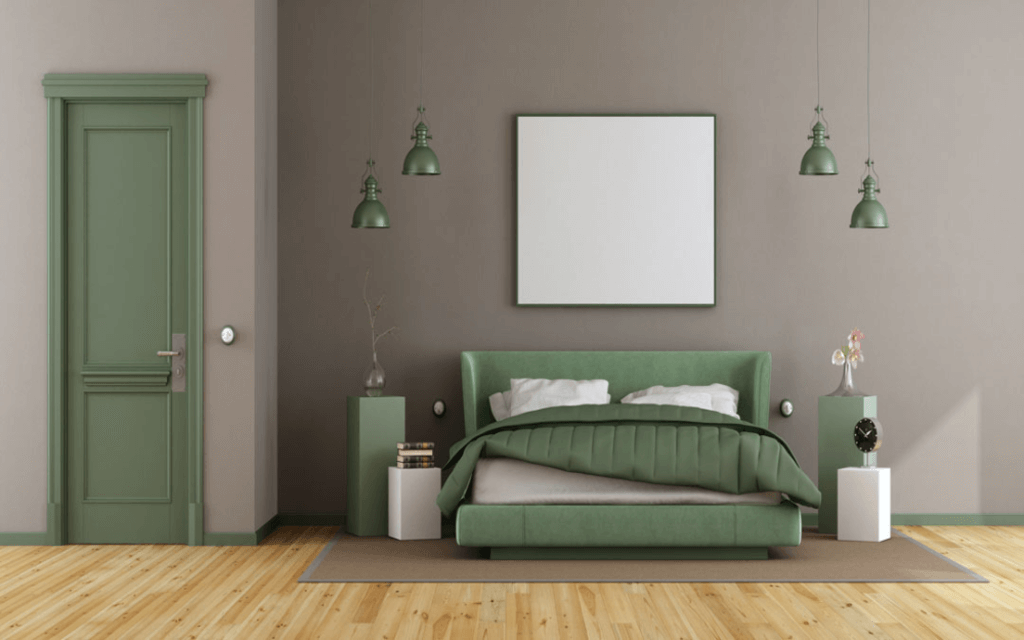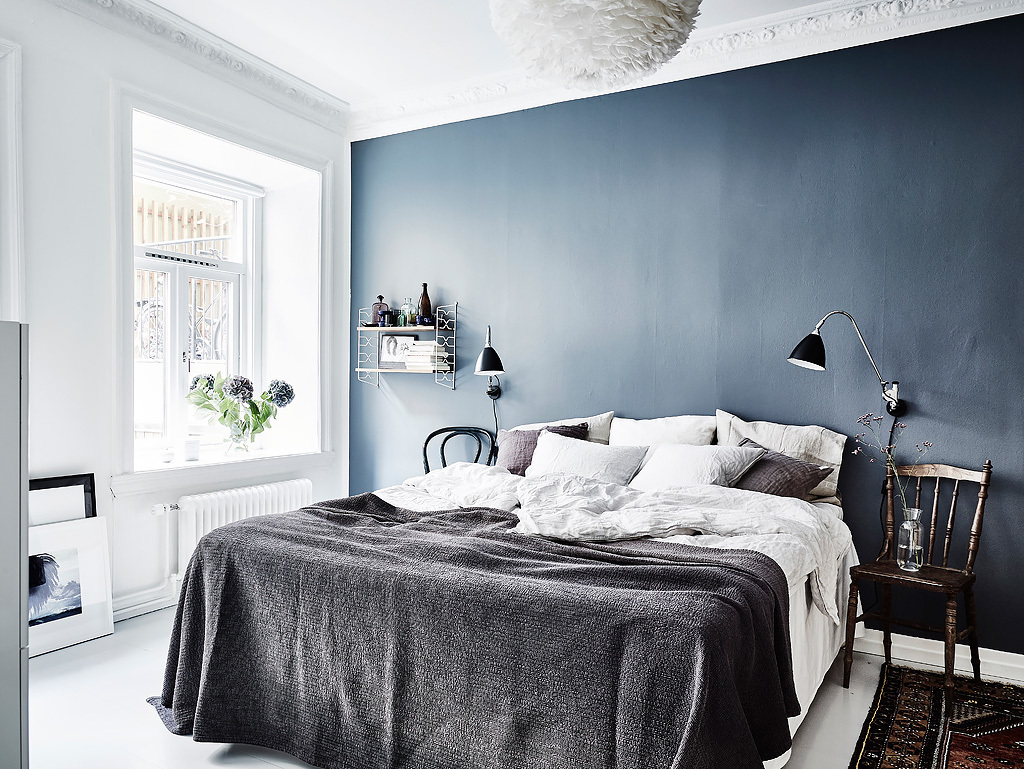 FAQ's
Does White Work Well for Indian Bedrooms?
A white colour for an Indian bedroom is a good choice because it provides a bright appearance. Furthermore, it matches almost every other colour perfectly.
What Is the Best Colour for a Bright and Spacious Bedroom?
Classic looks will never go out of style. The combination of black and white will make your bedroom look spacious and bright, so it's the ideal choice if you're looking for a two-colour combination.
Which Colour Soothes the Mind the Most?
Pattern Combination With White is always a great choice. In addition to its elegance, this combination provides a calming effect that can help you unwind after a long day's work.
What Is the Most Luxurious Colour Combination?
If you combine a colour combination such as Royal Blue And Light Grey Cotton, you can really make your bedroom walls more colourful and lively. Moreover, it adds an air of luxury to your space.
What Are Two Formal, Elegant Colours?
White and black are two of the most popular colour combinations when it comes to painting bedrooms. Your room will look formal and elegant with this shade. This light colour scheme will bring life to your bedroom without being too overwhelming.
Conclusion:
There are so many ideas when it comes to selecting two colours for a bedroom wall like purple two colour combination for bedroom walls, orange two colour combination for bedroom walls, brown two colour combination for bedroom walls 2023, pink two colour combination for bedroom walls and many others! With the help of this blog, we hope you have been able to get some inspiring ideas for two-colour combinations. There is no denying that your bedroom is a little sanctum of comfort. The colour of the wall, the style, and the hues must all be a reflection of your personality!
Continue reading: