11+ Latest & Stylish Bedroom Ceiling Designs & Styles
After a long day at work or college, when we enter our bedroom, we want to forget everything. We all feel happy, relaxed, and safe in our bedrooms, right? That's why according to architects and interior designs, bedrooms are the most important part of the home. So, this part should be well designed and decorated. Let's explore bedroom ceiling design.
Now you probably started thinking about the color theme, wall designs, and lighting. don't worry, you're not alone. Whenever it comes to decorating a place, people always tend to think about these things, but what about the ceiling? Yes, bedroom ceiling design is as important as other interior decorations. Those days are gone, where houses were filled with boring plain white ceilings. Nowadays, traditional beam ceilings to modern false ceiling designs are available in the market.
With so many options, sometimes people get confused about selecting the right ceiling design for their bedrooms. A bedroom ceiling should be designed in such a way that you'll feel relaxed and comfortable in there. It should be a place where you can sleep peacefully and that too without sacrificing your personal style and aesthetics.
Today in this blog, we've compiled a list of various types of ceiling designs for bedrooms. From farmhouse style, traditional to vaulted and modern ceilings, we've covered all the latest ceiling design for bedroom.
No matter how bad your day was, once you enter your bedroom with these types of beautiful and stylish ceilings, you'll forget everything. These ceilings will make your bedroom cozy and inviting, where you can freely enjoy a moment of solitude. So, are you ready to transform your ordinary-looking bedroom into a modern lavish-looking space?
11+ Trendy & Modern Ceiling Design For Bedroom 2023
Nowadays, nobody ignores the fifth wall of their home. It plays a vital role in enhancing the aesthetics and overall ambiance of a place. Unique, attractive, and lavish bedroom ceiling designs are now an integral part of interior designs.
So, whether you want to create a vintage or minimalist or maximalist or ultra-lavish look, you'll find the right one on the list. These modern ceiling designs will seamlessly elevate the overall environment of your bedroom and set the perfect mood. So, let's start exploring these beautiful and simple bedroom ceiling design 2023.
1. Extended Panel False Ceiling Designs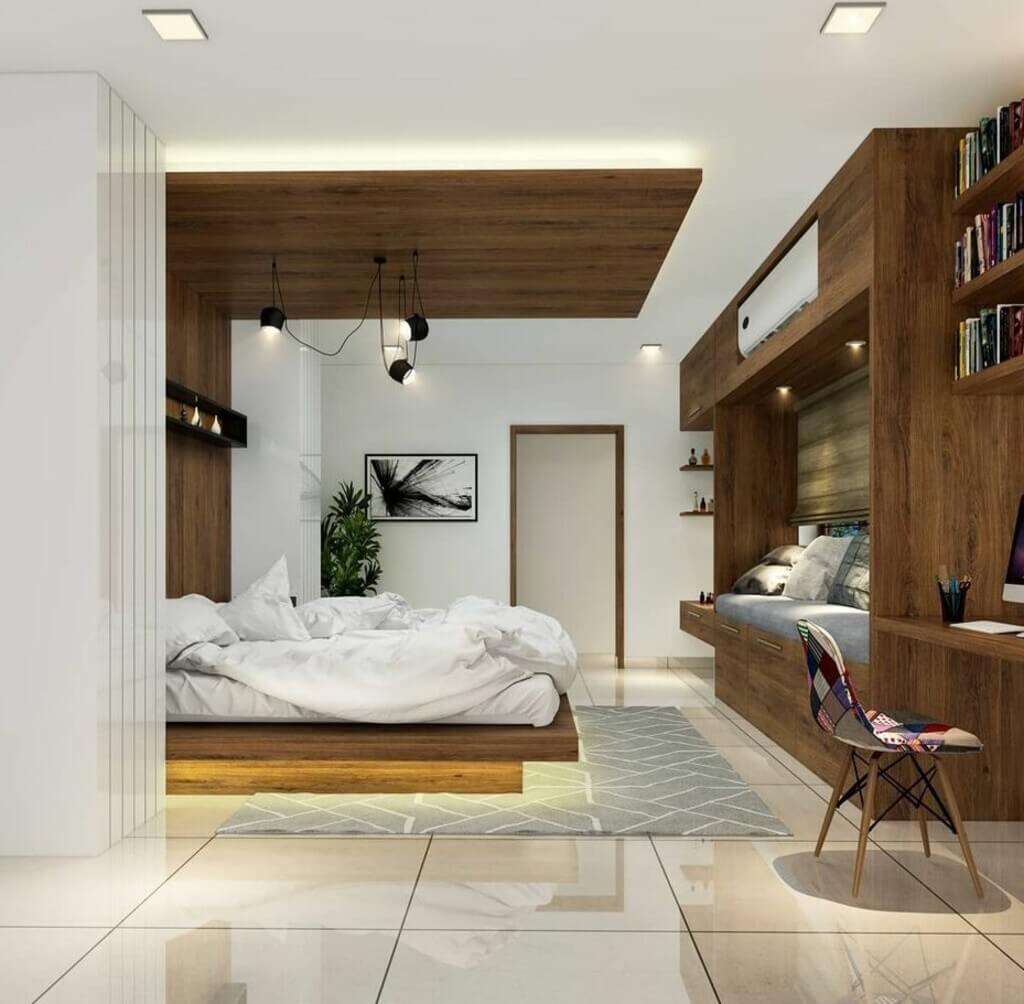 Source: buildingandinteriors.com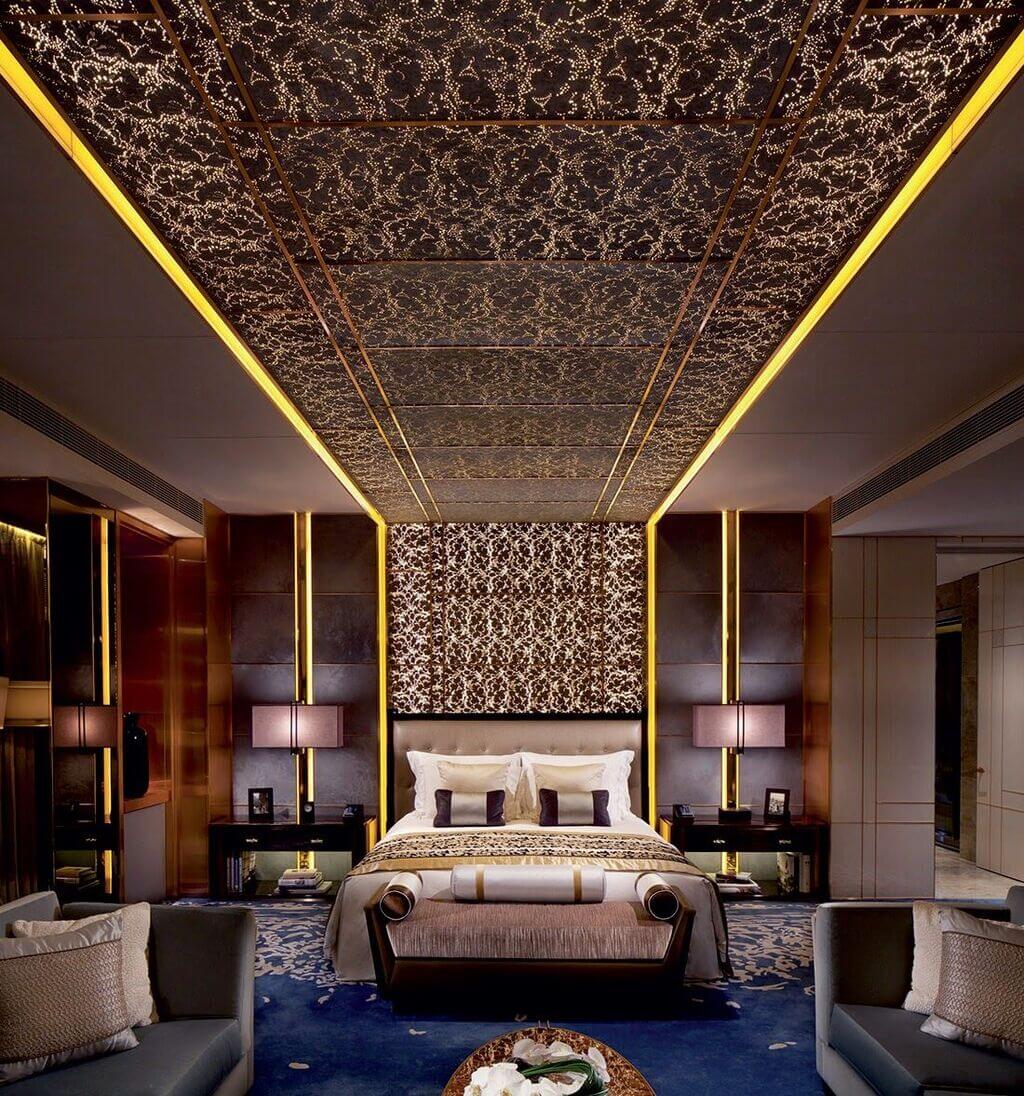 Source: pinimg.com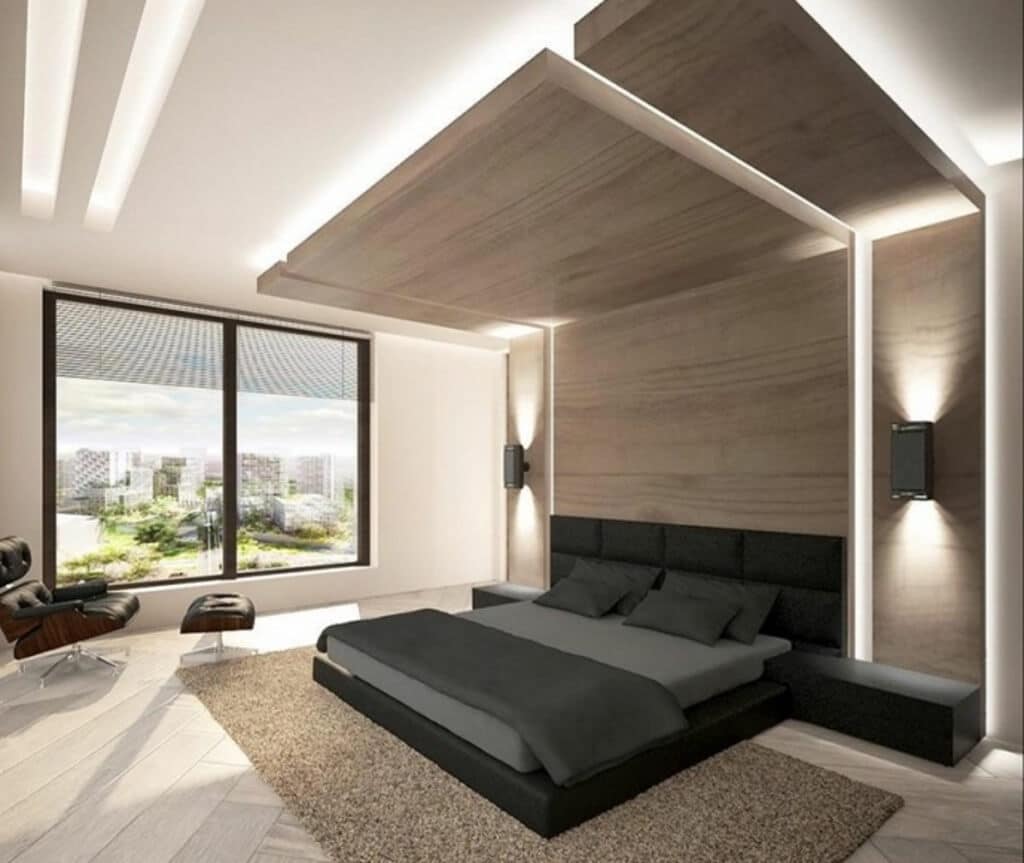 Source: buildingandinteriors.com
Want to add some extra drama to your bedroom? If yes, extended false ceilings are the best for you! These ceilings consist of a vertical panel that goes from behind your bed to the ceiling. This panel will also act as a headboard for your bed. 
This false ceiling for bedrooms is perfect for those who want to create a clean, minimalistic look with a hint of boldness. It will immediately draw one's attention and enhance the interior of the space. It kind of also creates a sense of theatre in the bedroom.  
You can get this extended panel false ceiling in any color and material of your choice. This modern ceiling with swooping lines of the panel will create a striking effect in your bedroom.     
2. Vaulted Ceilings For Bedroom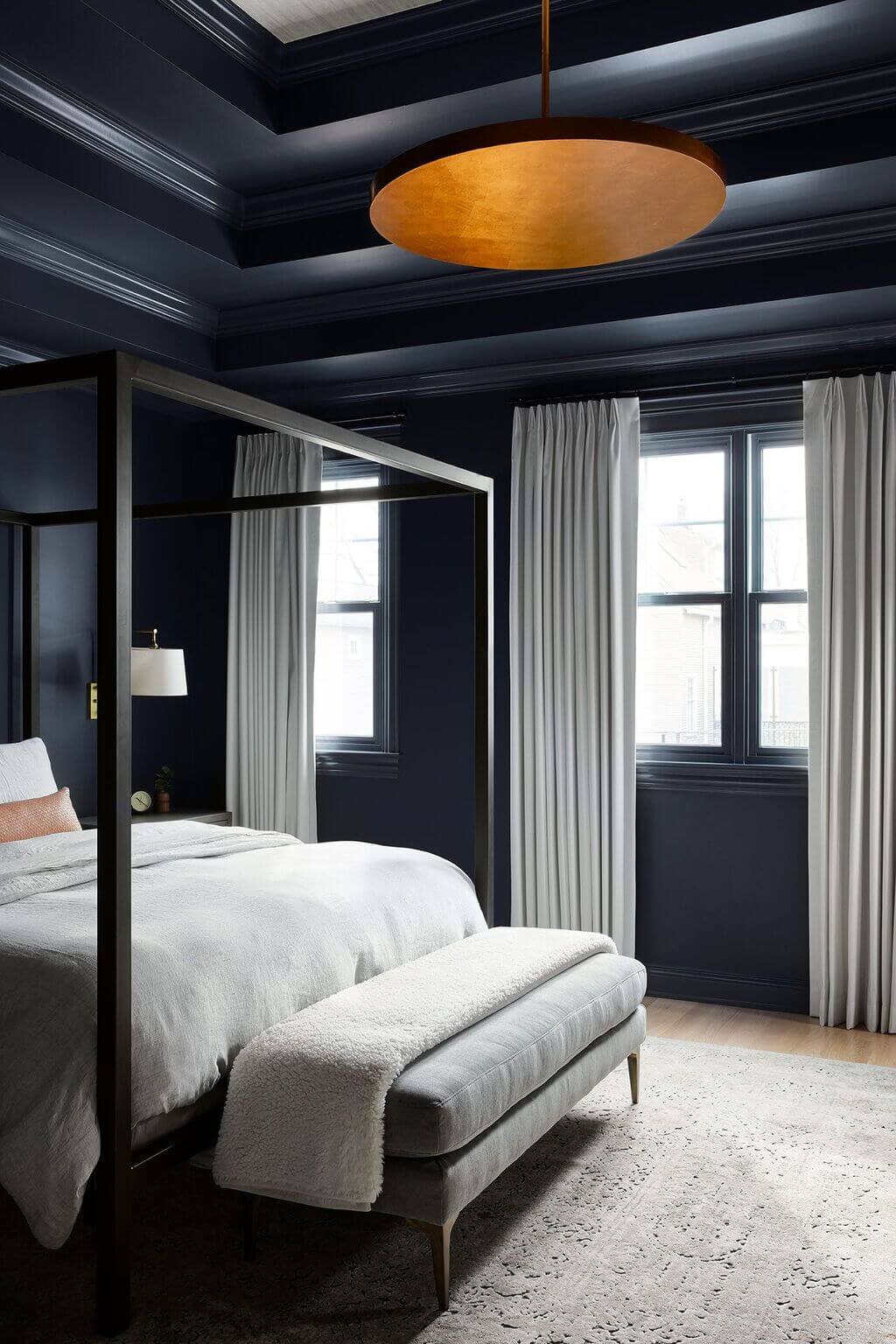 Source: pinimg.com
If you're remodeling your bedroom, go with a vaulted ceiling. They're perfect for adding character and light to a room. These types of ceilings look aesthetically pleasing and are available in numerous shapes, sizes, and styles. From a simple but luxurious dome ceiling, you can select the one which goes well with radiant interiors.
This classic vaulted ceiling looks amazing in rooms that have French windows or high ceilings. You can add dramatic light fixtures and chandeliers to create an industrial or glamorous ambiance in your space. 
For a stunning look, you can also paint your vaulted ceilings in dark colors like navy blue, deep red, etc. They'll instantly give the illusion of the ceiling being higher in your bedroom.
For more information on this ceiling design, read our previous blog, vaulted ceilings. From its history, types to styles and designs, we have explained everything in detail. 
3. Creative Plant Ceiling Idea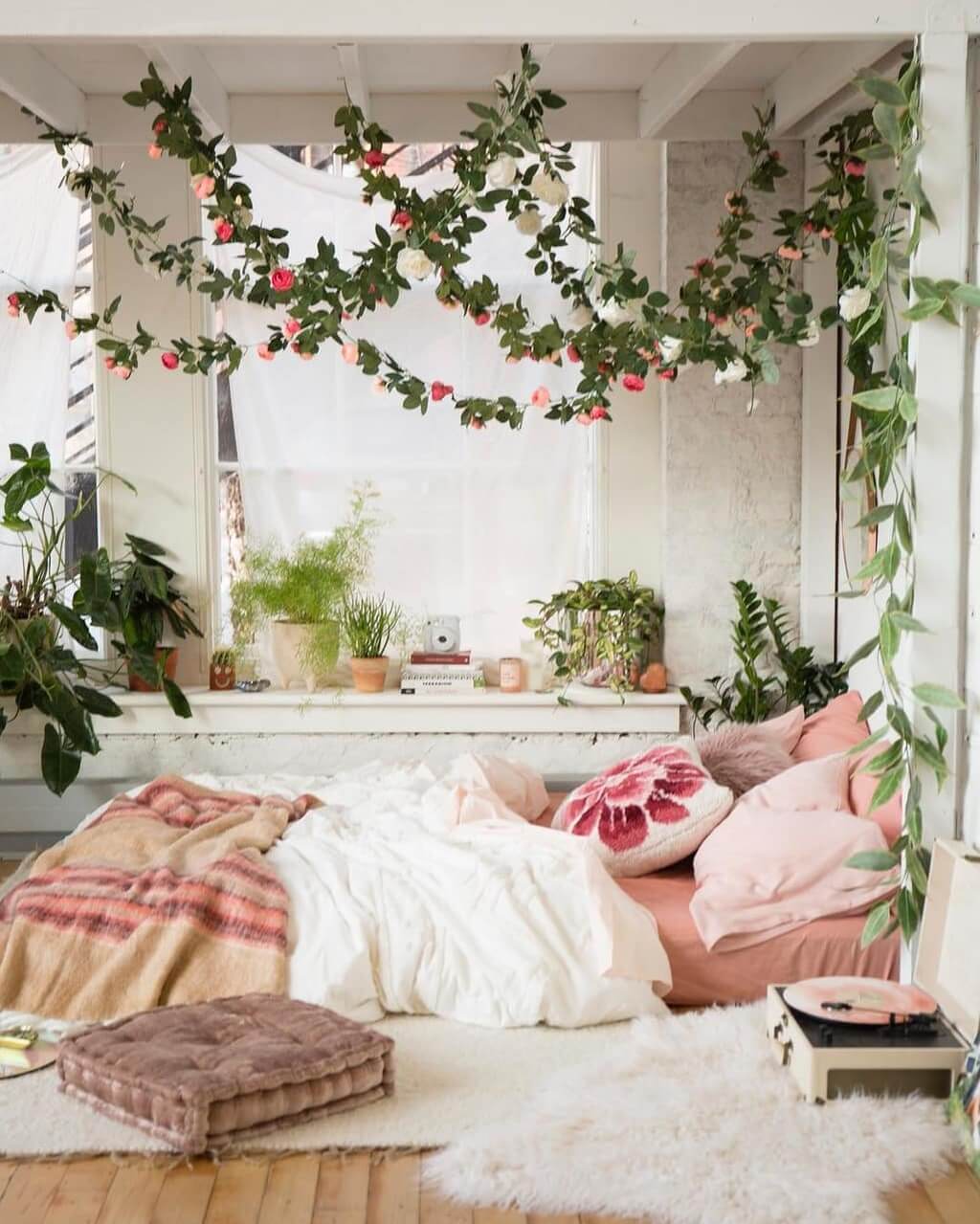 Source: whicdn.com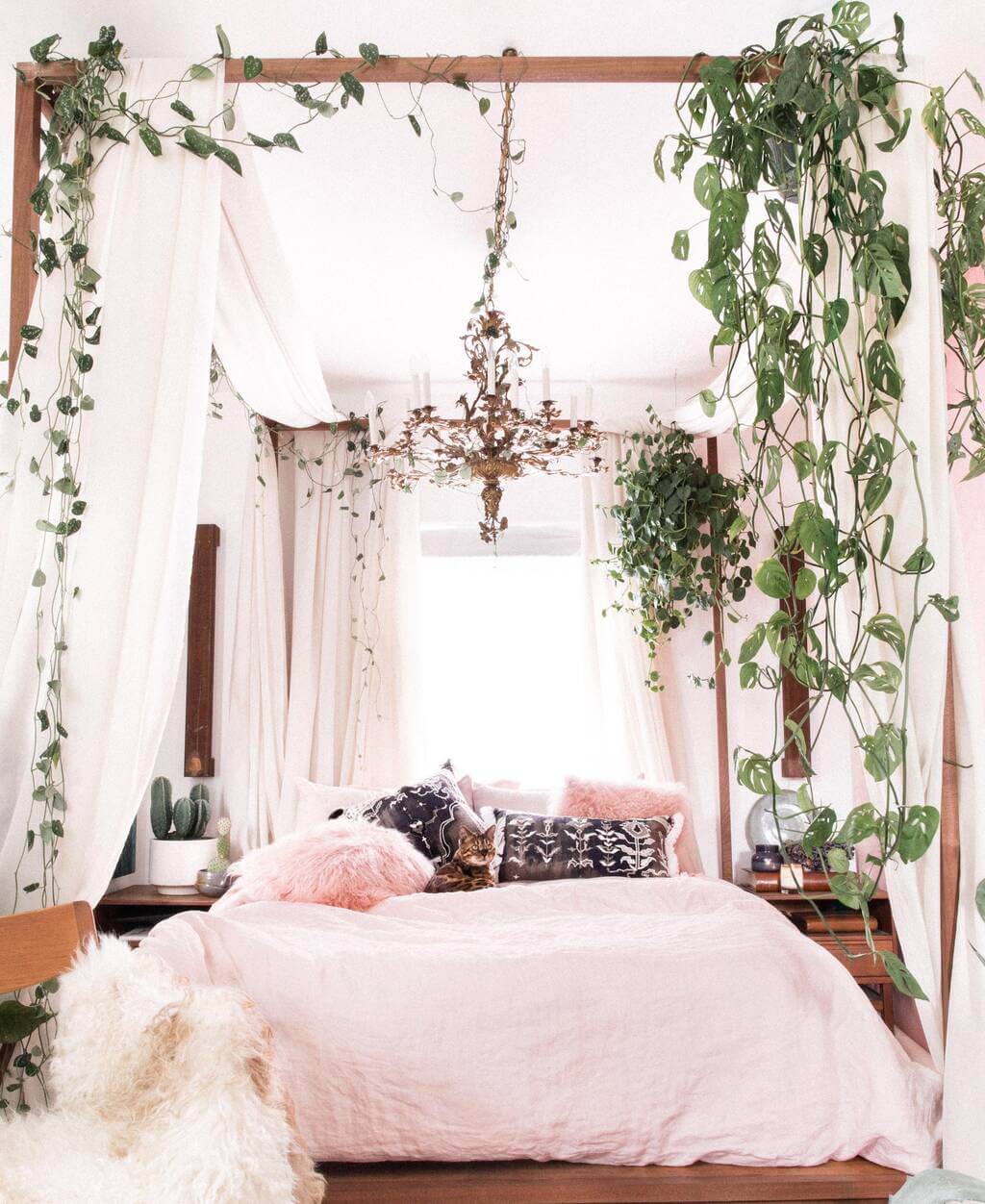 Source: architecturaldigest.com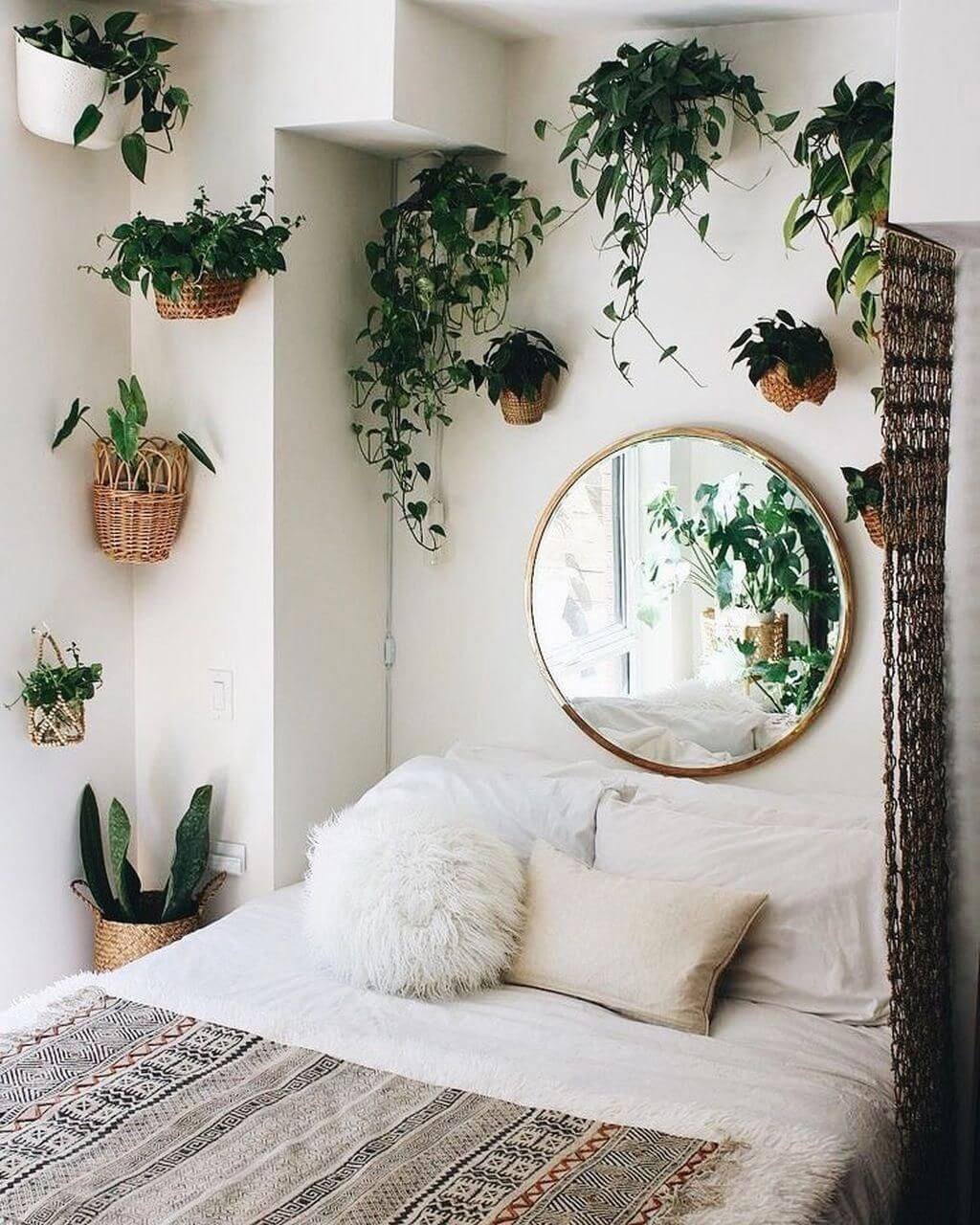 Source: pinimg.com
There is nothing more refreshing and pleasant than plants. If you love nature and want to bring some natural elements into your space, go for plants. This is probably the easiest way to transform any dull-looking space into a breezy and happy place.  
This plant ceiling idea is a great option for those who are living in college dorms or apartments where they're not allowed to paint to do construction stuff. It works perfectly as a ceiling design for small bedrooms. For this interesting ceiling idea, all you need to do is to buy dome hanging plants and vines. 
After this, you can hang them either directly from the ceiling or create a wooden beam structure (as shown in the above picture) or in whatever fashion you want! You can cover your entire ceiling with various types of plants (artificial or real) and make your own little botanical garden. Just a little bit of creativity and you'll feel that your room is way more bright and fresh than before.  
4. A-Frame Ceiling For Bedroom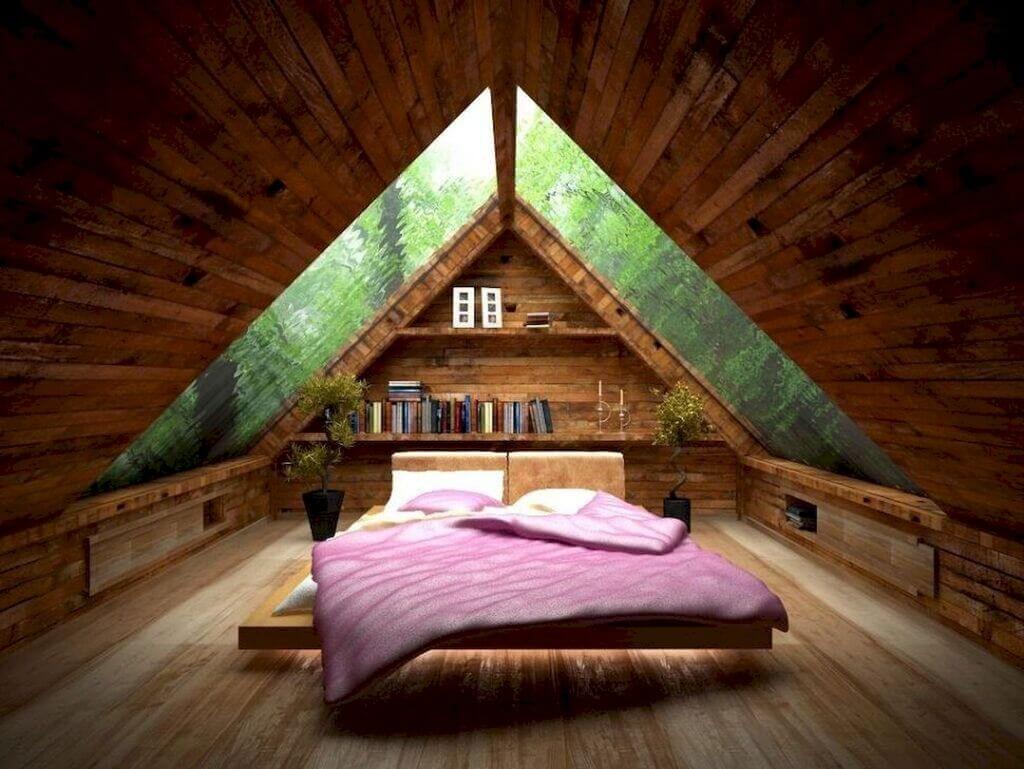 Source: jihanshanum.com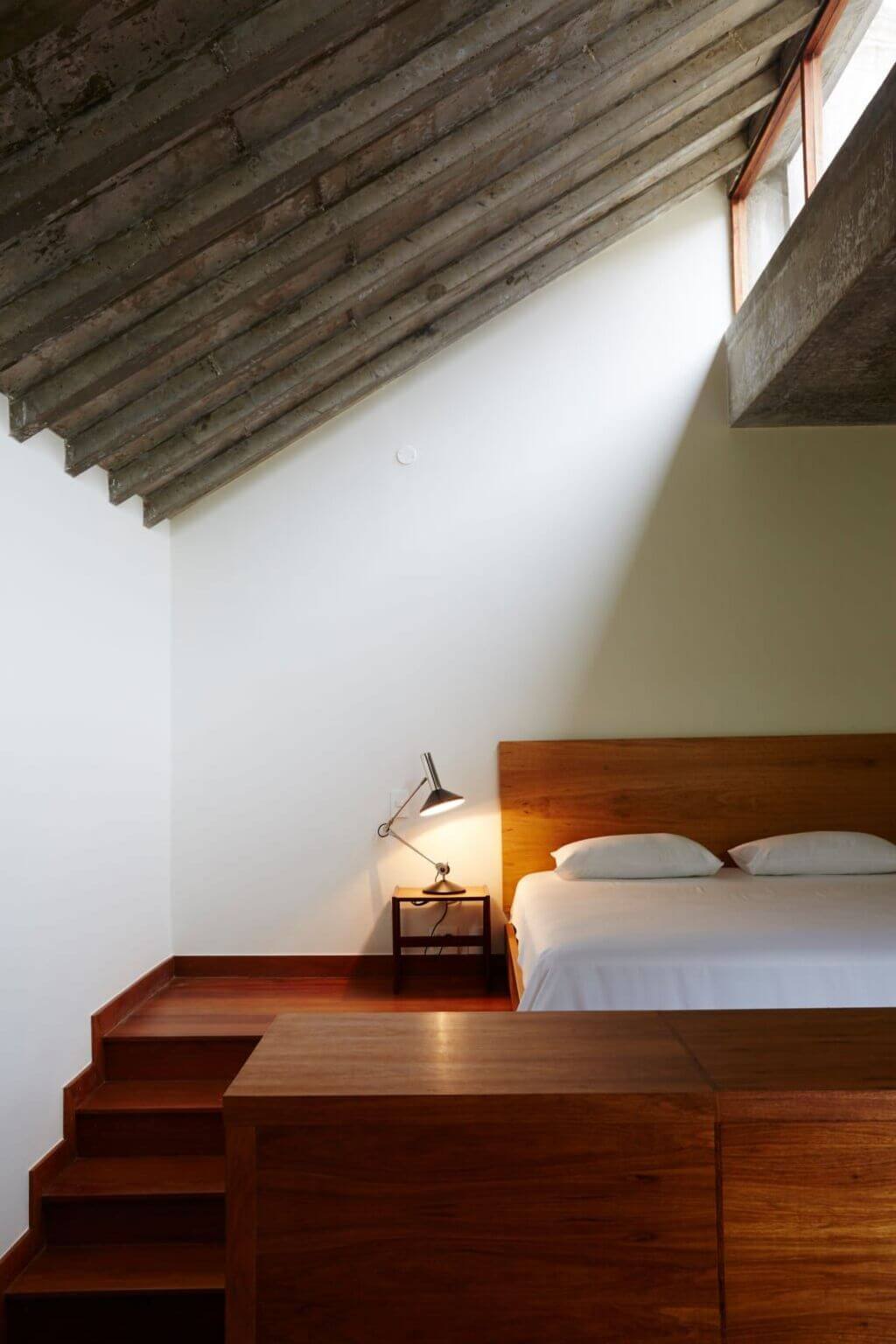 Source: pinimg.com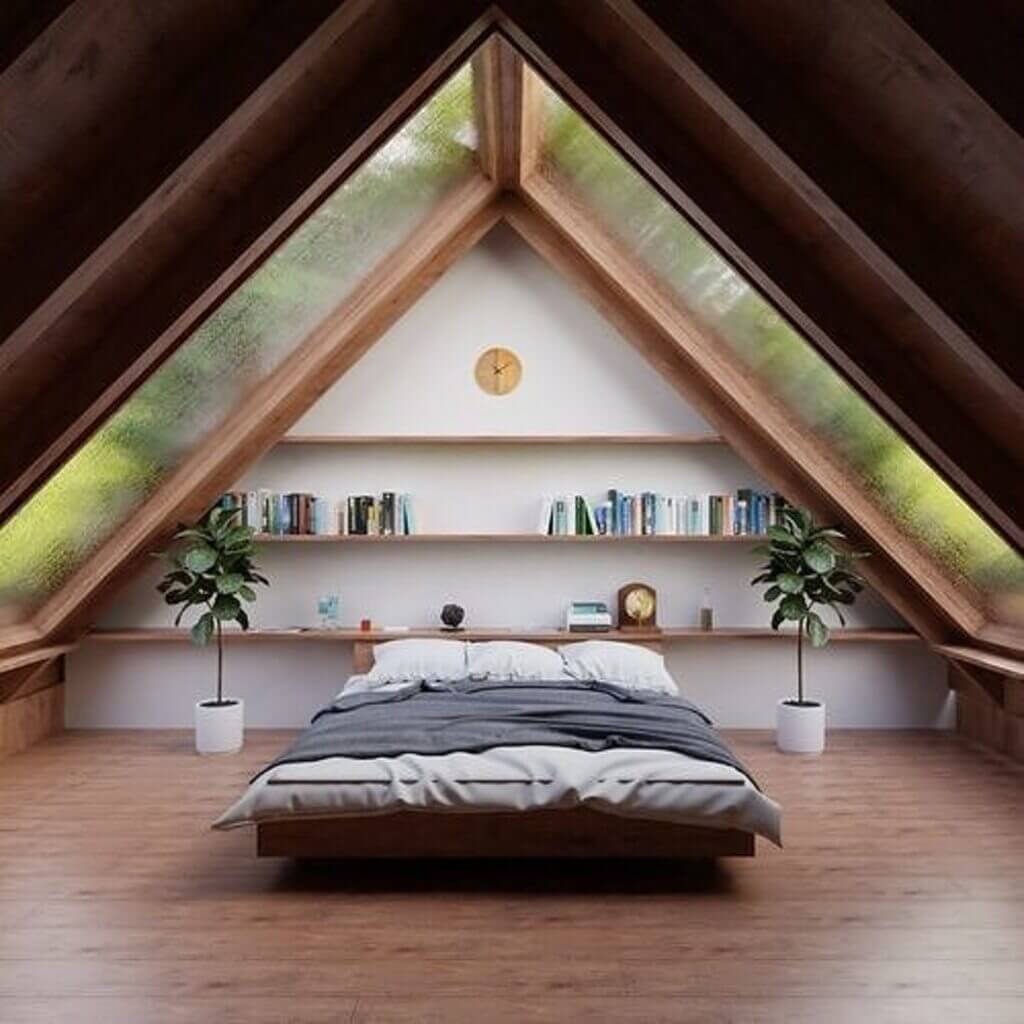 Source: cgtrader.com
Do you have an attic in your house? Many people have this A-shaped extra space in the upper part of their homes.  Most people don't know how to use it. Yes, you can completely re-use this space as a guest bedroom or study area. Believe me; attics are so much more than a dusty storage room with a creepy crawl space. 
When you use the low sloped ceilings of attics correctly and include the right elements, you can literally make them the loveliest rooms in your home. To give the right decor treatment, first start with these wooden A-frame ceilings. They'll make this space cozy and inviting. 
If your room is big enough, you can add two beds for a balanced symmetry look. Add funky or structural light fixtures as light is an important factor in any home decor process. 
5. Modern False Ceiling Designs For Bedroom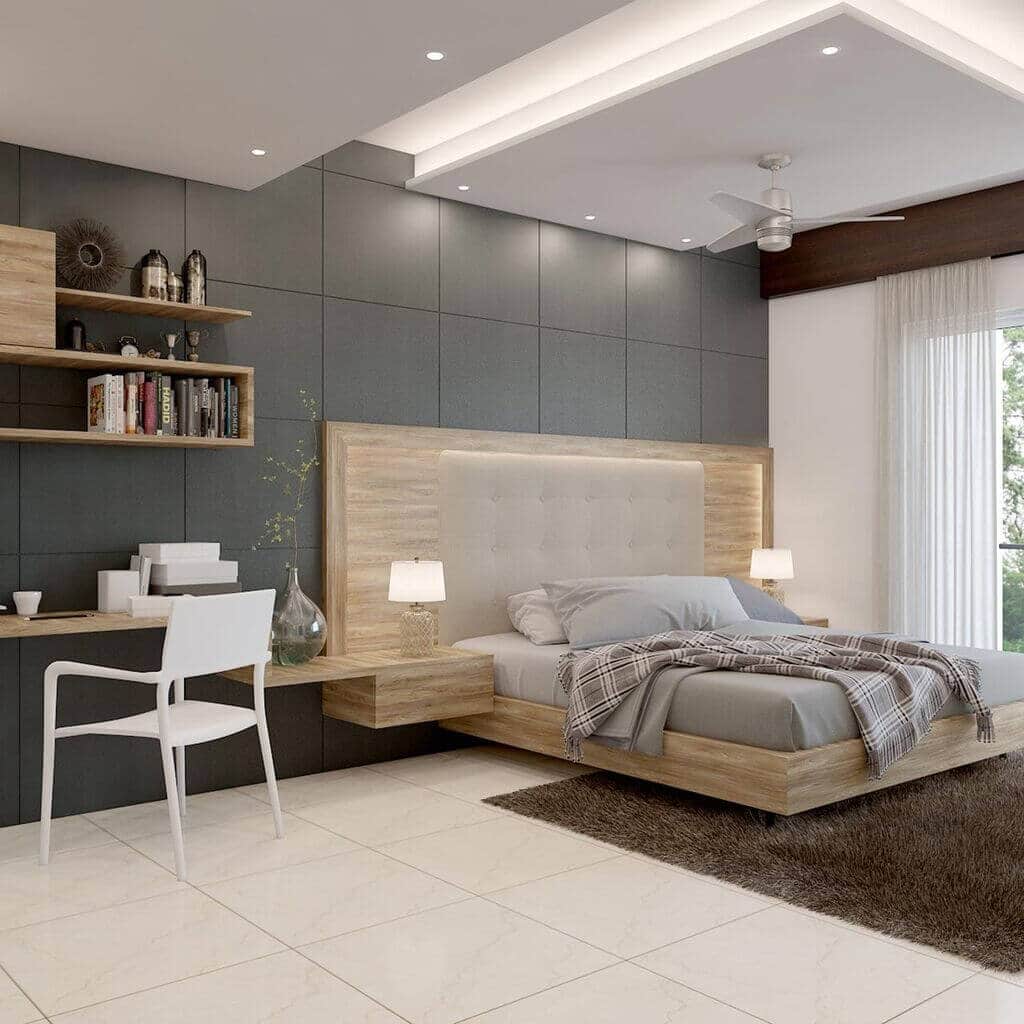 Source: pinimg.com
If your home has high ceilings, you should definitely go for false or dropped ceilings. They were extremely popular in commercial buildings back in the days, but now many urban homes have these types of modern dropped ceilings. 
This ceiling consists of a supporting structure which is more commonly known as covering panels. Whether you want to hide the ugly wiring of ventilation systems and light fixtures or want to hide imperfections of your ceilings, these modern dropped ceilings are the best solution. 
Available in numerous colors, textures, finishes, and designs, these false ceiling design for bedroom are the perfect way to add a touch of glamour and luxury to your home. There are two types of dropped ceilings available in the market: removable and non-removable. So, create the perfect mood and insulation in your room with these ceilings. 
6. Glamorous Grasscloth Ceiling Design Idea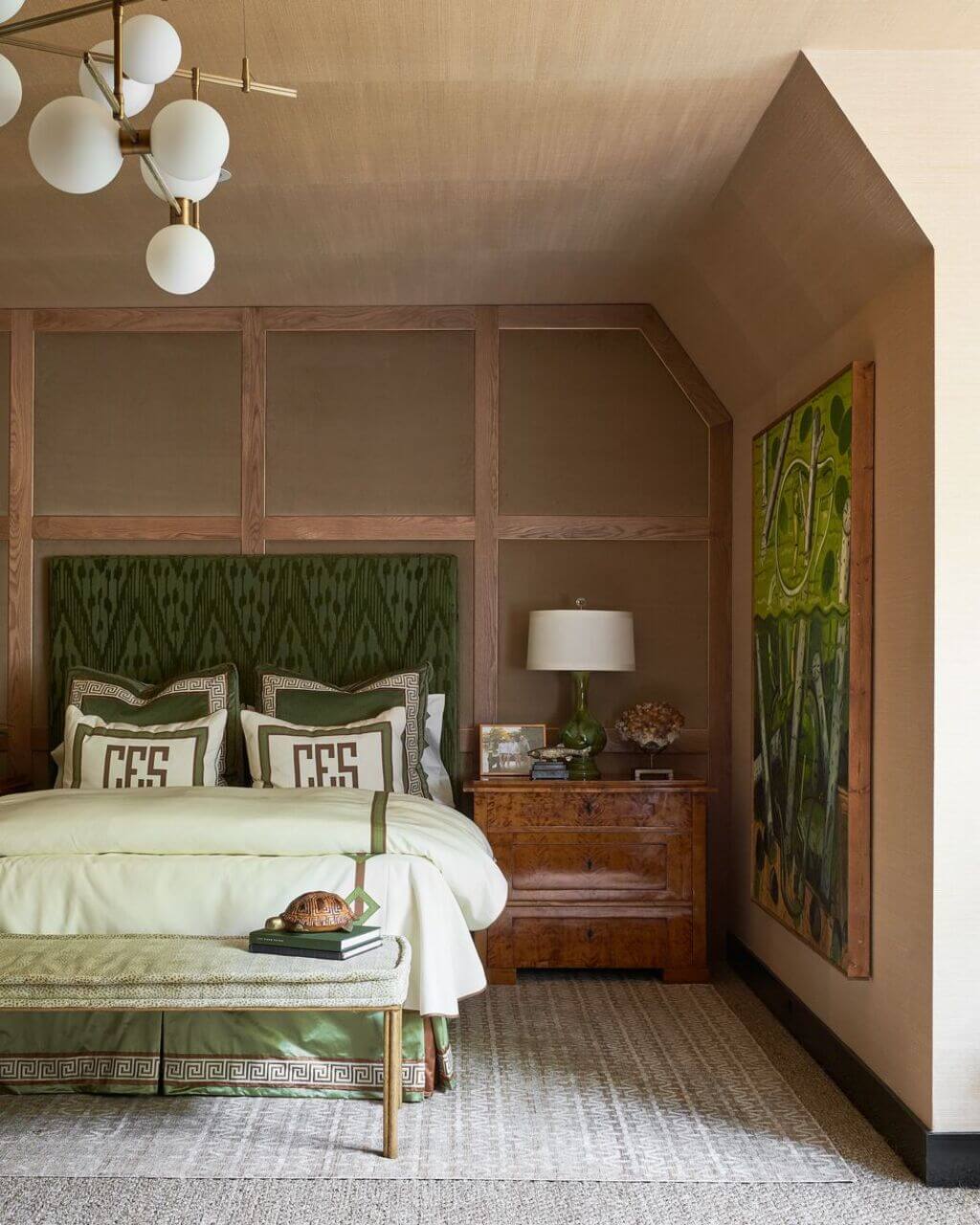 Source: hearstapps.com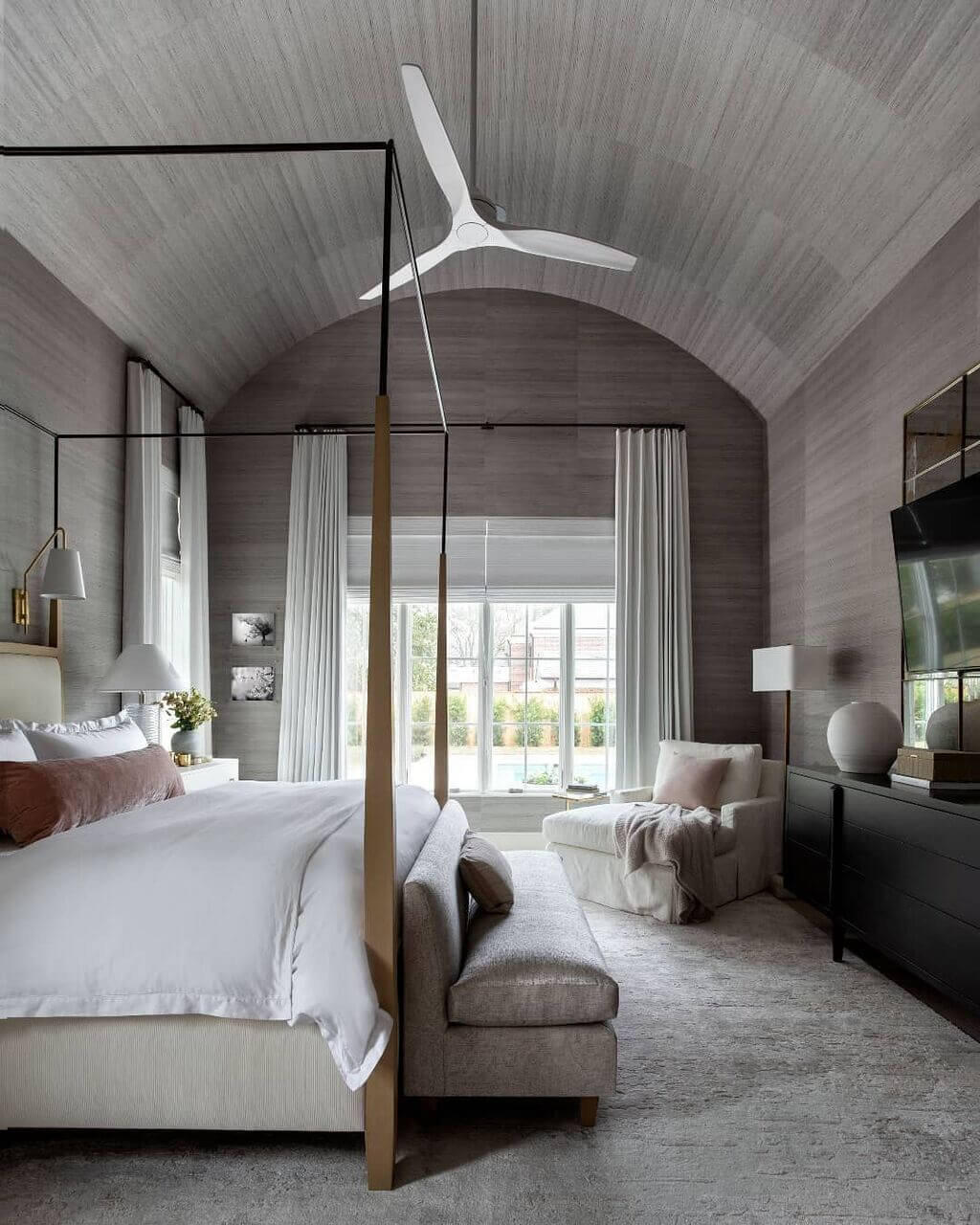 Source: pinimg.com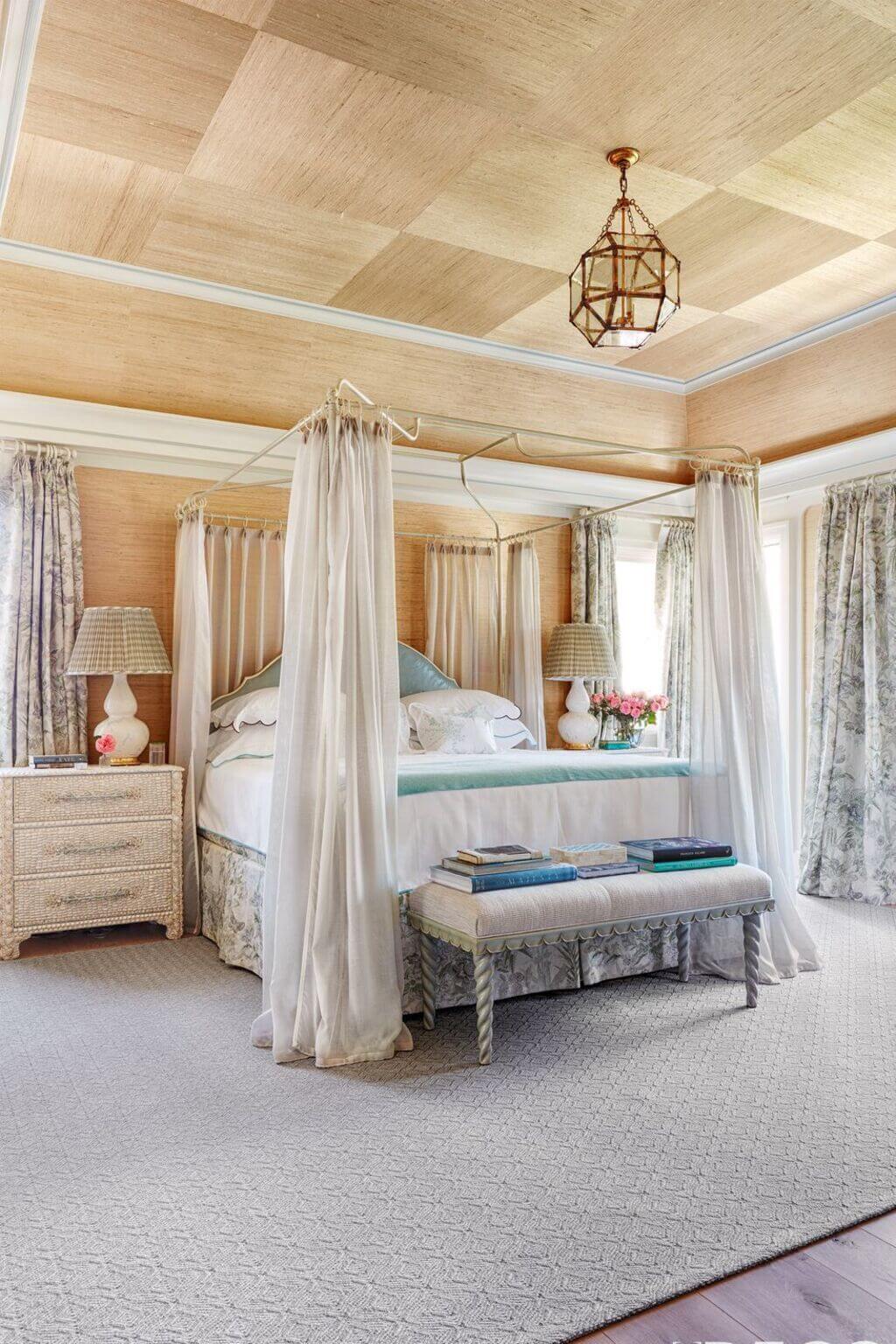 Source: hearstapps.com
Add a designer touch to your bedroom with the grasscloth wallpaper. These days, if you ask any interior expert about the latest ceiling design idea, their answer will surely be Grasscloth! 
This wallpaper is different from others because it has layers that help elevate the overall look of any room. You can select neutral tones or bright colors and create a warm and cozy ambiance in your bedroom. 
You can use this wallpaper on your walls and ceilings. This will surely bring an element of intimate coziness with its unique texture to your space. 
7. Classic Exposed Beam Ceilings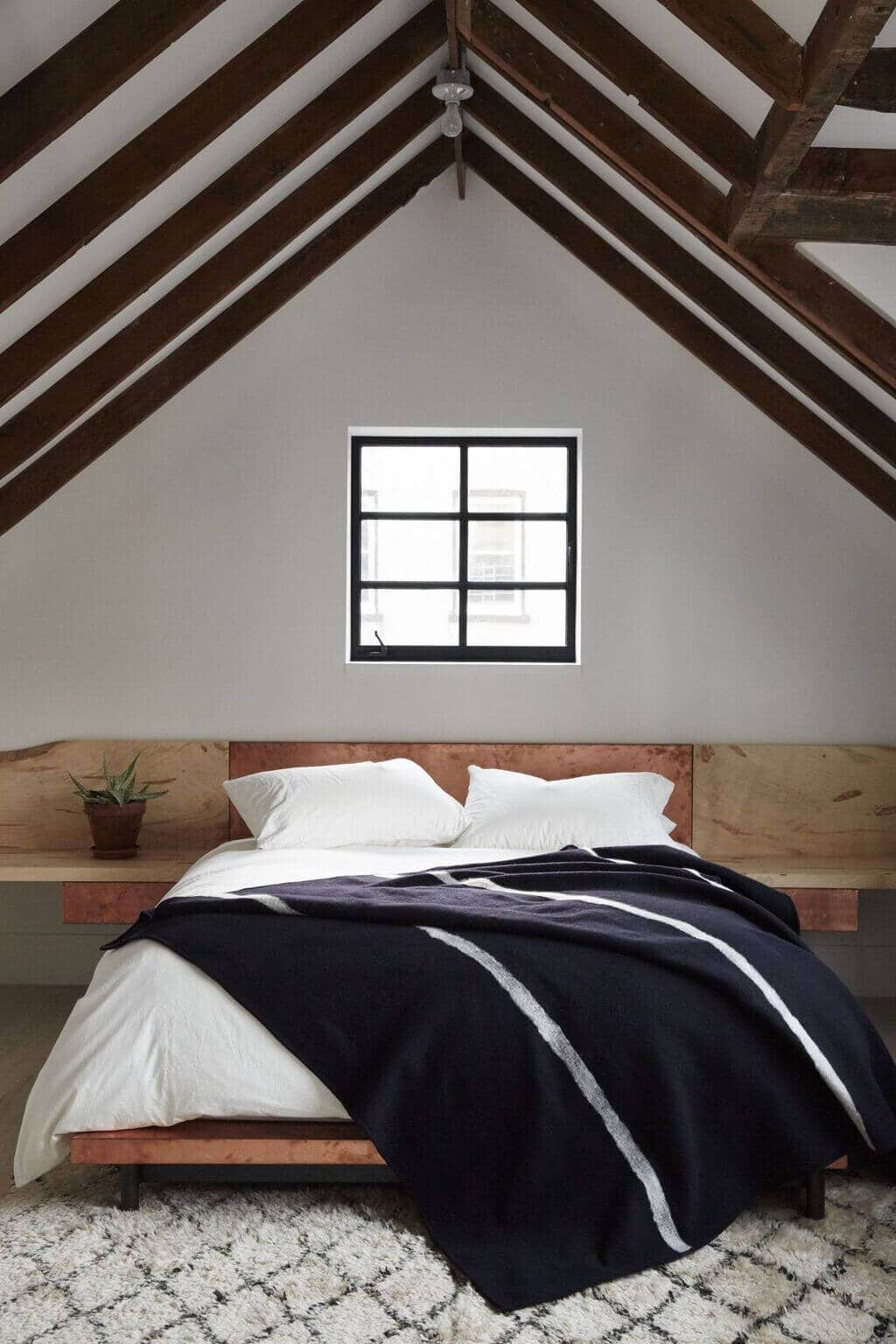 Source: pinimg.com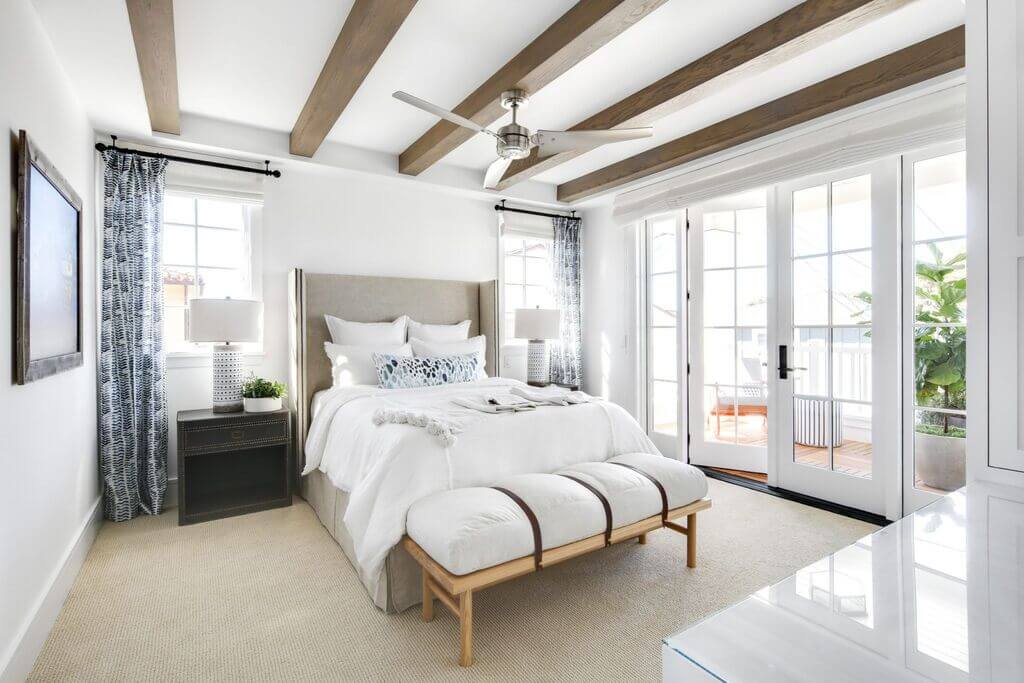 Source: pinimg.com
One ceiling design that never goes out of style is Exposed Beam Ceilings! Whether it is your living area, dining room, or bedroom, these classy ceilings will completely transform the atmosphere. 
You can go with a single beam, multiple, or fill your entire ceiling with beams; both ways, they'll look attractive and eye-pleasing. You can select the dark-colored ones or the light-colored ones, depending on your room's interior design. 
One of the best things about beam ceilings is that you can add them with flat ceilings or vaulted ceilings. Both ways, it will add architectural and visual interest to your ceiling. Real wooden beams are expensive, so you can also go for faux beams.  
Here are some more modern bedroom ceiling designs ideas and inspirations for you:
Source: architectureartdesigns.com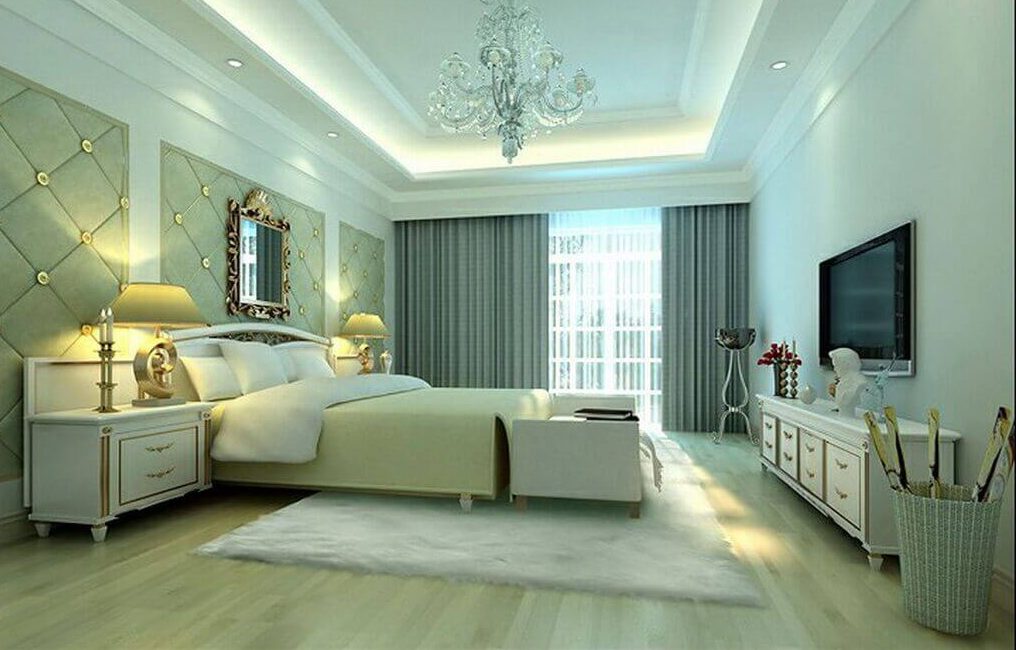 Source: apartmentsavailable.info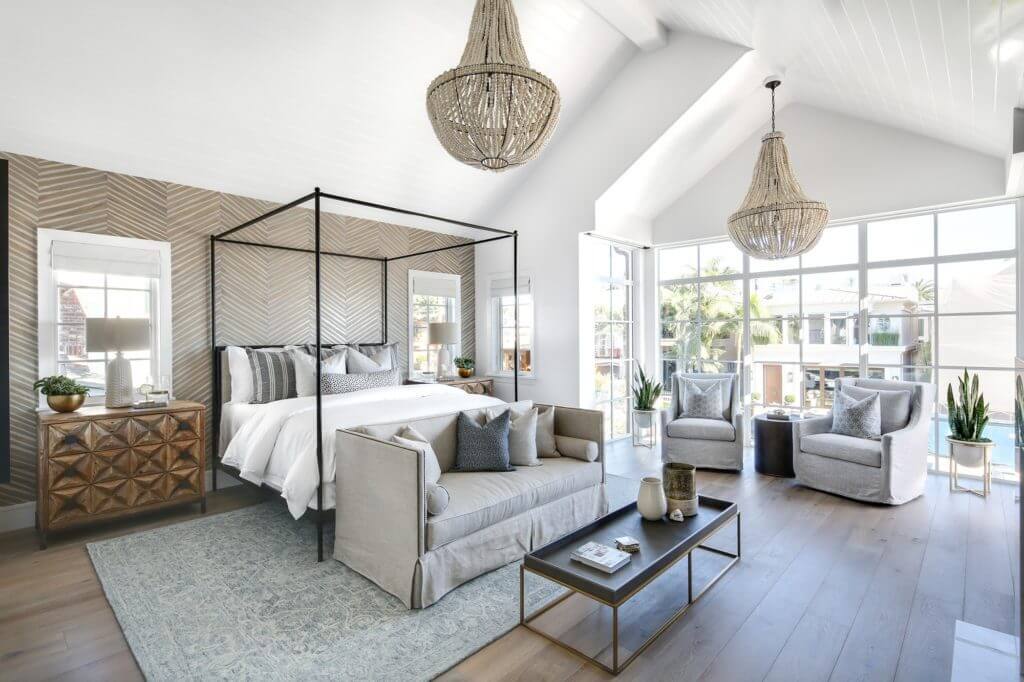 Source: lindyegalloway.com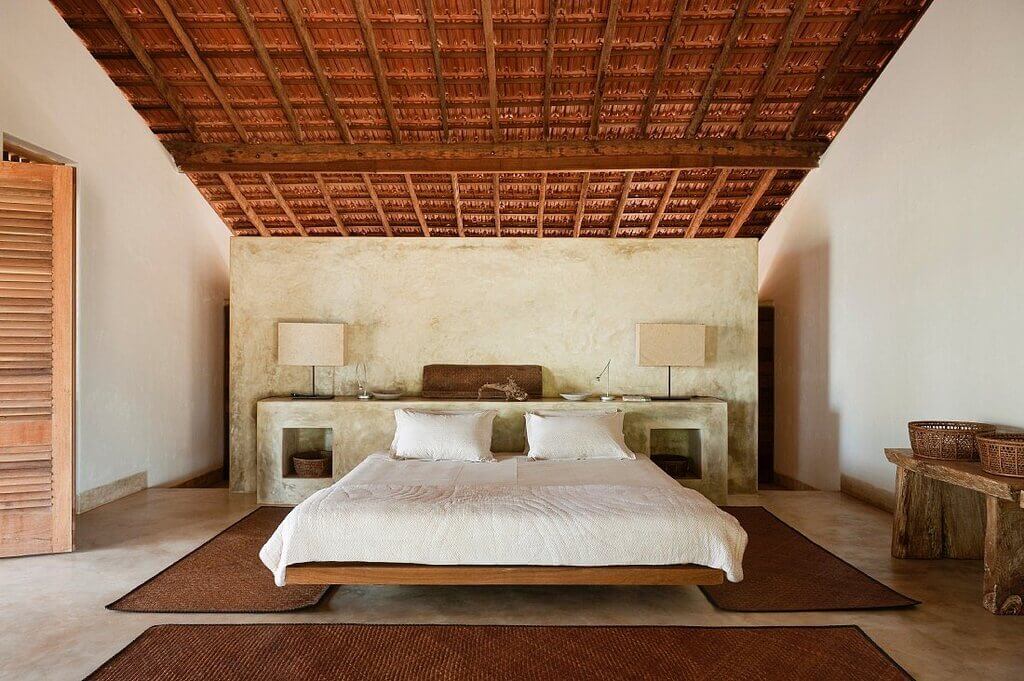 Source: living4media.com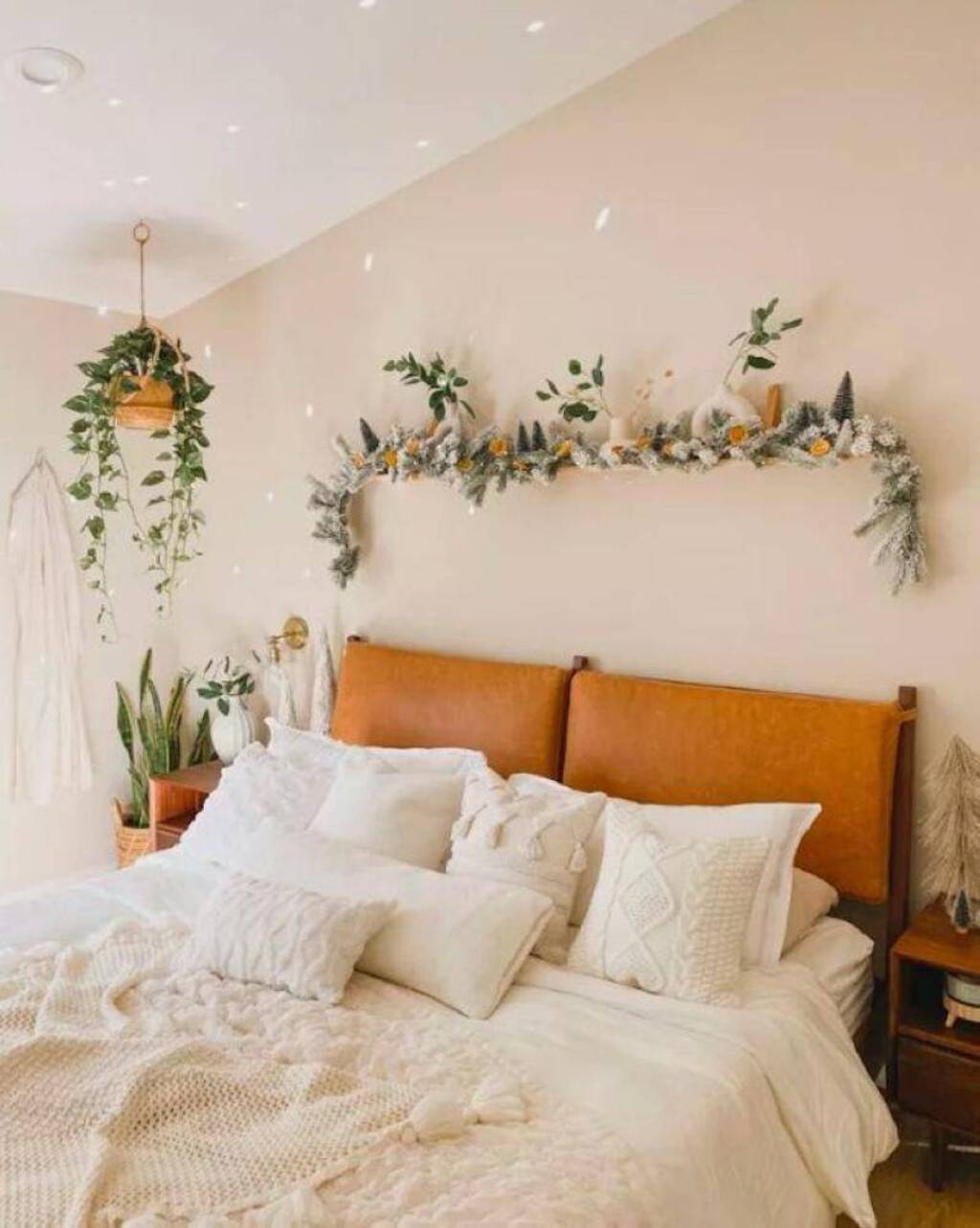 Source: alwatan.com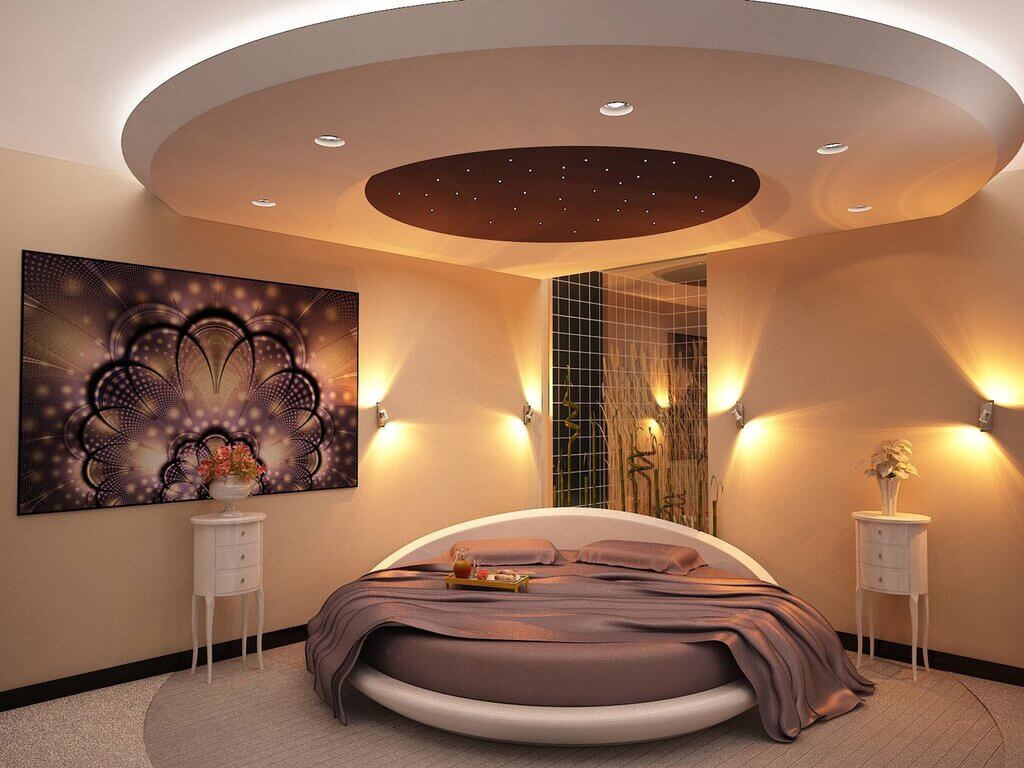 Source: idei.club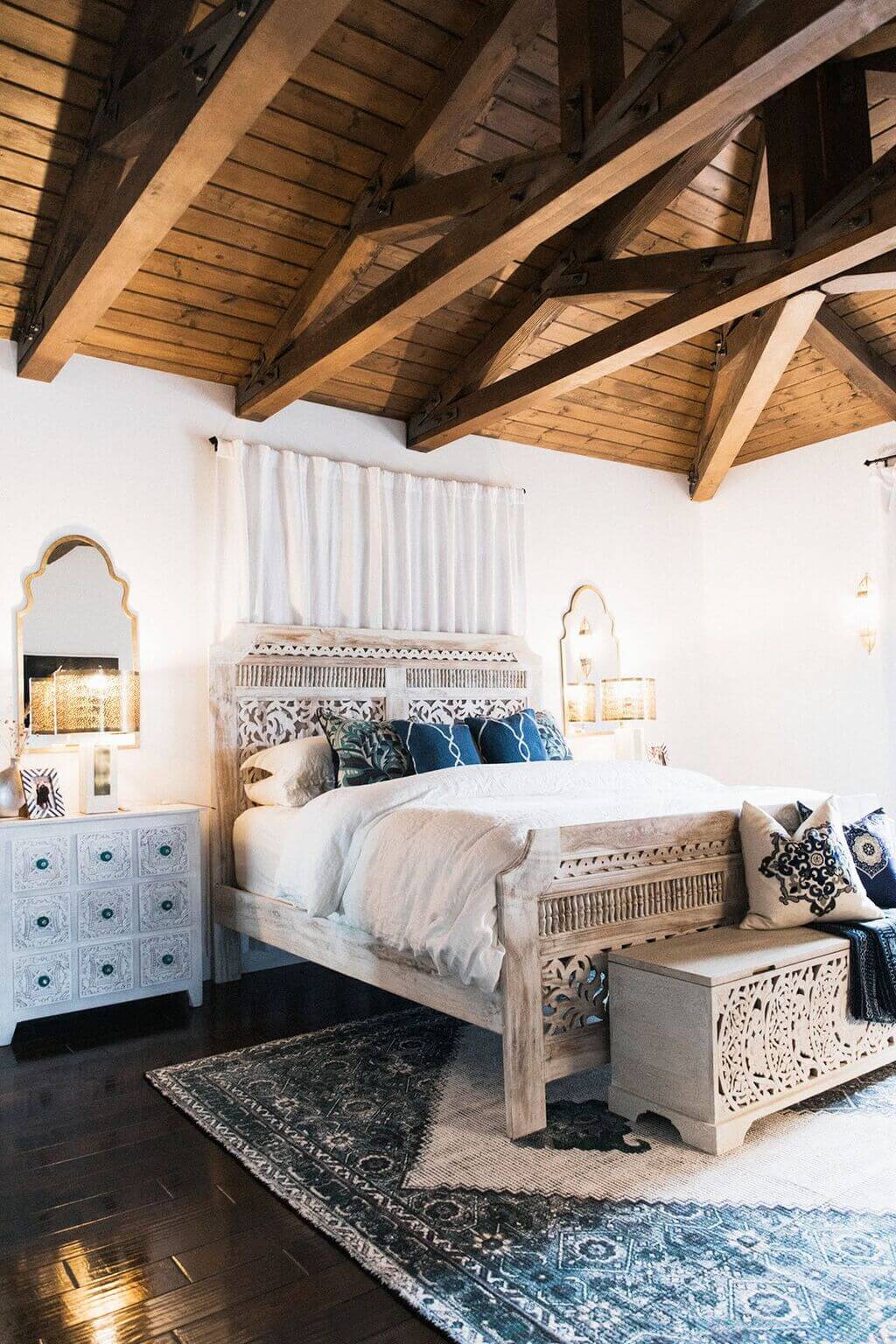 Source: pinimg.com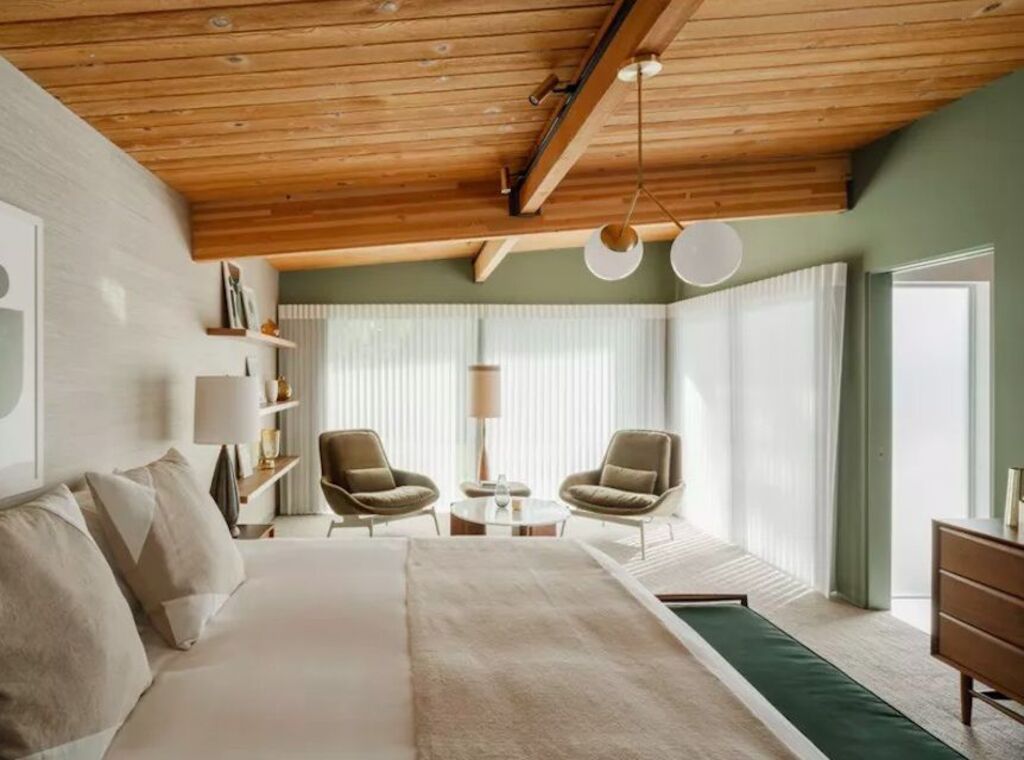 Source: mydomaine.com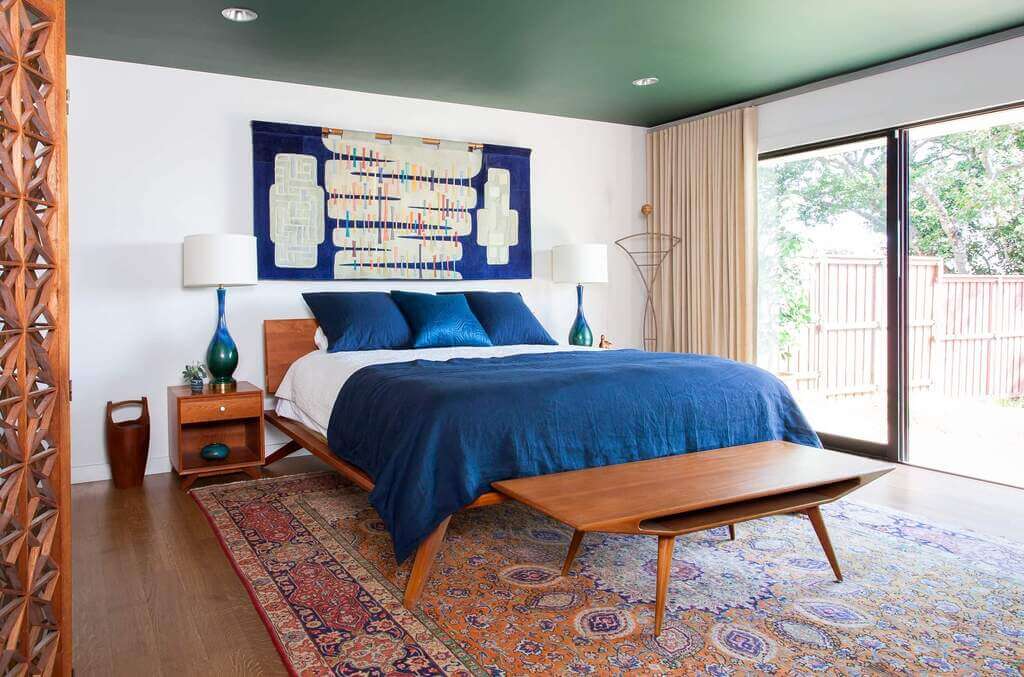 Source: reverbsf.com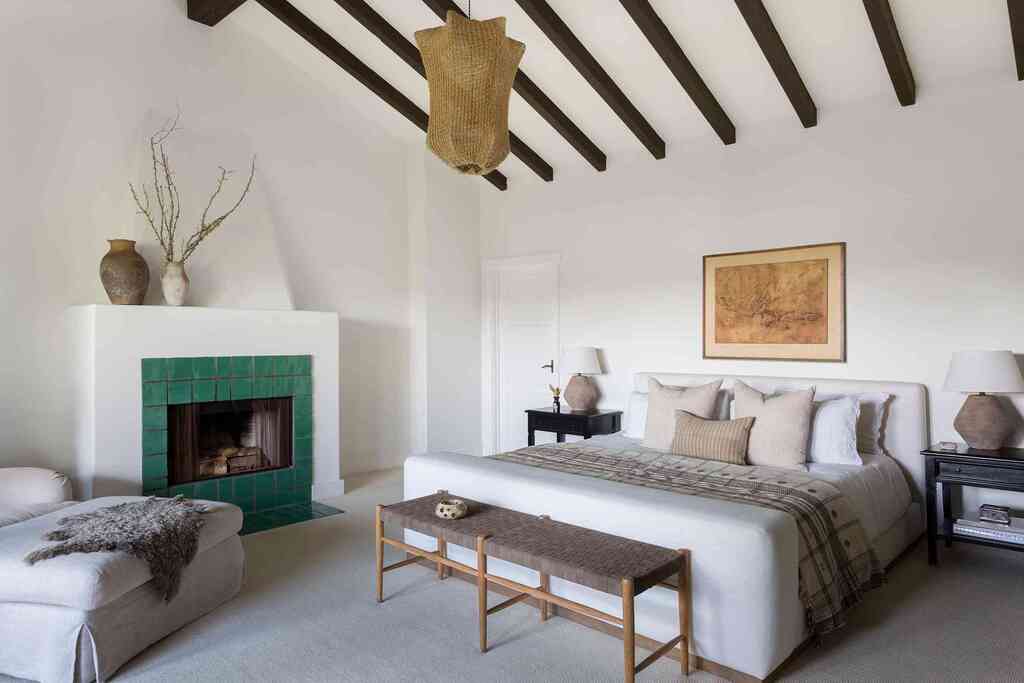 Source: mydomaine.com
The Bottom Line
So, which ceiling design do you like the most for your bedroom? All of them are stylish, modern, and attractive. Before finalizing the design and shopping for the materials, it's better to consult an interior designer. This way, you can get the exact analysis of the materials, decor elements, and cost. This will save not only a lot of time but also your money. 
Also, consider the shape, size, and height size of your bedroom. If your space has low ceilings, the less elaborate ceiling designs will be best for you. On the other hand, the false ceilings or dropped ceilings will perfectly work for rooms with high ceilings. 
So this is all about the bedroom ceiling design. If you want to read more about ceilings styles, types, and designs, do read our blog on ceiling texture types. There we have explained various types of textures that you can use to modify your existing ceiling design.  
If you find this blog helpful, share it with your friends and family and help them get the most stylish and trendy ceilings for their homes. For more home decoration ideas and architectural information, keep exploring Architecturesideas.
Don't forget to follow us on our Instagram page architectures_idea for daily updates.