Basements have transformed from being just extra storage rooms to important living spaces that can be used by a family for a variety of functions. Home basements can serve as a home office, a gym, a family entertainment room, bar, or even extra living space. Thus there is a need to pay attention to it just like you do other rooms in the house. The basement has some unique needs when it comes to styling it up. The lack of lighting and some have low lying roofs with low lying ductwork and beams means you must be creative when you decide which ceiling options for the basement to go with. Other significant reasons to consider before settling on a certain style are what you plan to use the room for and your budget.
In this article, I will take you through some stylish ceiling options for the basement that suit different needs and budget points.
Drywall Ceiling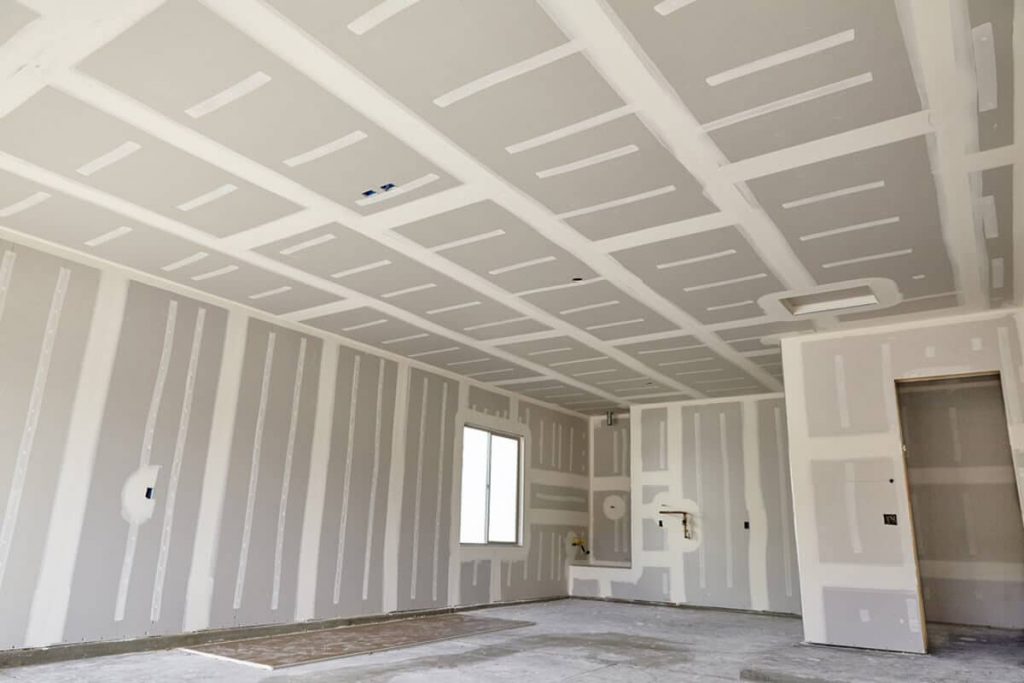 This is probably the most common basement ceiling option used in many homes. This is because it is cheaper than other options. If your basement styling came as an afterthought, you may probably be out of pocket and just need something that will make the place livable but doesn't cost much. The drywall ceiling makes the room look uniform with the walls. However, drywall is not the most stylish of ideas. It is also susceptible to damage by moisture and termites, which can be a concern for the basement.
Corrugated Metal Ceiling
Corrugated metal makes for excellent low basement ceiling ideas. This is because it reflects light and adds texture, which is very important for the basement without needing to add bulk. The corrugated metal ceiling serves a useful and decorative function, which is what we want with many of our home fittings. The metal can either be old for that rustic feel or a more modern feel. Installing a corrugated metal basement ceiling is not difficult, especially if you have wooden beams.
Tin Ceiling
Apart from lighting, one other challenge using the basement poses is sound. If you plan to use the basement as an entertainment room or as a theater, you should consider having a ceiling that at least helps with this problem. A tine ceiling is one of the options you have here. That's why you see them in some pubs. This type of ceiling doesn't just serve a decorative function. It helps with the sound and makes the space more intimate and fun to be in.
Painted Wooden Plank Ceiling
Painted wooden plank ceilings are common due to their versatility and flexibility in bringing in a particular style you have in mind. You have a wide range of colours to paint the planks to achieve the desired style. You can decide to paint the planks before installing them or after installation. Some basement ceilings have exposed beams already. You can play around with these beams and some ceiling panels to create a modern feel.
Painted Basement Ceiling
A paint job can do your basement wonders. Depending on the structural elements in your basement, a paint job can transform it into the type of room you want without even adding a single fitting. Painting all white can be stylish, all beams, pipes, and ductwork and even the walls will combine to improve the basement look. A mix of colours can also do the trick. Some standard colours are orange, red, brown contrasted to achieve a specific look. The good thing with a basement paint job is that it is cheaper, and since no additional fittings are added to the ceiling, it saves on space, making it a perfect low basement ceiling idea.
Wood Paneling
Wood panelling is a stylish basement ceiling option. Compared to fitting boards, wood panels are much more manageable. They have that modern feel to them. Some wood panels are flexible enough to go around curved surfaces, which is very important in the basement with all the piping present. In some basements, it doesn't make sense to install ceiling boards for this reason. Wood panels do not cause height degradation like the boards. Wood panels can be found in numerous colours and design options to achieve almost any theme you have in mind. Learn more about basement ceiling design ideas and design features in new luxury homes and townhomes in Kleinburg.
Stretch Ceiling
Stretch ceiling is a good option for the basement. They are unique, flexible, and provide lighting options to truly transform your basement from a dull, empty space to a fun, stylish space you can proudly welcome visitors to. Stretch ceilings also offer good soundproofing options. This is one of the best options for people who want the basement to be a theater or a studio. The only downside to this type of ceiling is the cost. Compared to other options on this list, there are more expensive. However, no other basement ceiling option provides the same level of visual appeal.
Suspended Basement Ceiling
If you do not have a problem with height in your basement, then a suspended ceiling is a good option. To achieve this style, you have to create a metal frame hanging from the joists. You'll then place your tiles or acoustic boards to finish the look. It is easy to pull off this look, and it will look stylish too. It can serve a functional purpose and soundproofing, depending on the type of tile you use. You can choose to go for decorative tiles to achieve a cool style. The suspended basement ceiling does a good job of hiding all the beams and stuff on the ceiling, which can be destructive or plan ugly to look at.
I hope this article has helped you with some basement ceiling ideas. The basement doesn't need to be ignored and used as a dumping space. It is as important as any other room in the house. You can find a cool style for it and add value to your home.