11+ Alluring & Astounding Basement Ceiling Ideas
Gone are the days when a basement was only used as an extra room, storage space, or a dark part of the house. We used to put our extra or unused stuff in the basement, and it was a place that was either useless or had rarely been used. But that's not the case now! These days, garage spaces have become an important part of houses. Explore best basement ceiling ideas for your home. 
Now more and more people are converting their basements into second living rooms, amazing office areas, and workout gyms. Not only this, but basements also function great as home theatres, entertainment, and gaming zones. 
Are you also planning to transform your basement? Do you want to make your basement look interesting and inviting? If yes, you should pay attention to one of the most important things: Ceilings! As if your ceiling has marks, cracks, and exposed beams, it will surely look a bit off and unattractive. So you have to transform your basement ceilings first and then think about the decorations. 
There are so many methods and ways to cover your basement ceiling and turn it into another beautiful and functional space for you and your family. You can select the design according to your ceiling height or the trend and if it's a bit confusing for you, keep reading this post. 
Today in this blog, we've gathered up some of the cool basement ceilings ideas of 2022. We've included all types of ceiling for basement such as low basement ceiling ideas. So, you can select the one according to your specific apartment and requirement. Let's start.
11+ Cool, Creative & Cheap Ceiling Ideas For Basement (With Photos)
Creating a beautiful and useful space in your basement can seem easy, but it requires proper planning and designing. That's why many people feel this is a bit challenging. Start with the basics, which are your basement ceilings! As most basements have exposed beams, a maze of pipes, wires, and ductwork, you should always tend to first think about them. These things make cleaning more difficult and tend to be an eyesore when guests are over.   
No worries, there are many basement ceiling ideas to cover insulation available in the market. Below are some of the most popular and common types of ideas to cover the basement ceiling. You can use these methods on every type of ceiling, including standard, low and high. So, are you ready to give a fantastic makeover to your basement ceilings? Let's start with the best basement ceiling options list!
Cottage Themed Beadboard Ceilings
Source: houzz.fr
Does your basement have a painted plain or a popcorn texture ceiling? If yes, it's time to transform them into a stunning masterpiece with beadboard ceilings! Whether your ceiling height is low or normal, these beadboard ceilings will work perfectly. 
Nowadays, cottage-themed beadboard ceilings are so in trend. They make the room appear brighter and spacious, which is an important factor for the basement, right? These ceilings are durable and will surely give a warm cottage-like feel to your home.  
Apart from covering the unevenness in the ceiling, it also adds a degree of insulation. This simply means that your basement will be warmer than usual on cold winter mornings. Another great thing about these ceilings is that they're not too complicated to install and are relatively cheap. So, just add some light work, and your ceilings will be more visually appealing. 
Drywall Basement Ceiling Ideas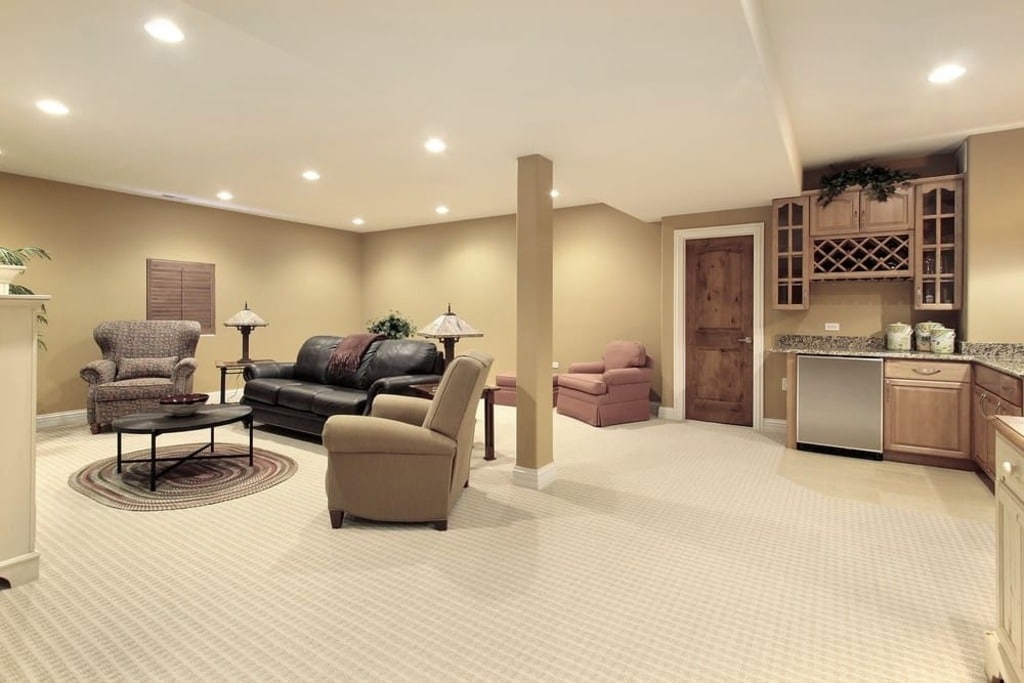 Source: houzz.com
One of the safe and cheap basement ceiling ideas is drywall. If you're confused between many or want an affordable option for your ceilings, go with the drywall basement ceiling idea. Drywall gives a smooth, attractive living space, and maybe that's why it is a widely used material.
So whether you want a good outlook and decorative appearance or a noise-free atmosphere, drywall is the best option. This material will effectively reduce the noise in your basement and make the ceiling resistant to fire. To get a finished look, all you need to do is apply a coat of primer and a coat of your favorite paint color.
Don't forget to add fancy lighting like recessed lights to get the ultimate modern or futuristic appeal. This basement ceiling idea works perfectly with small spaces and basements with low heights.
Corrugated Metal Basement Ceiling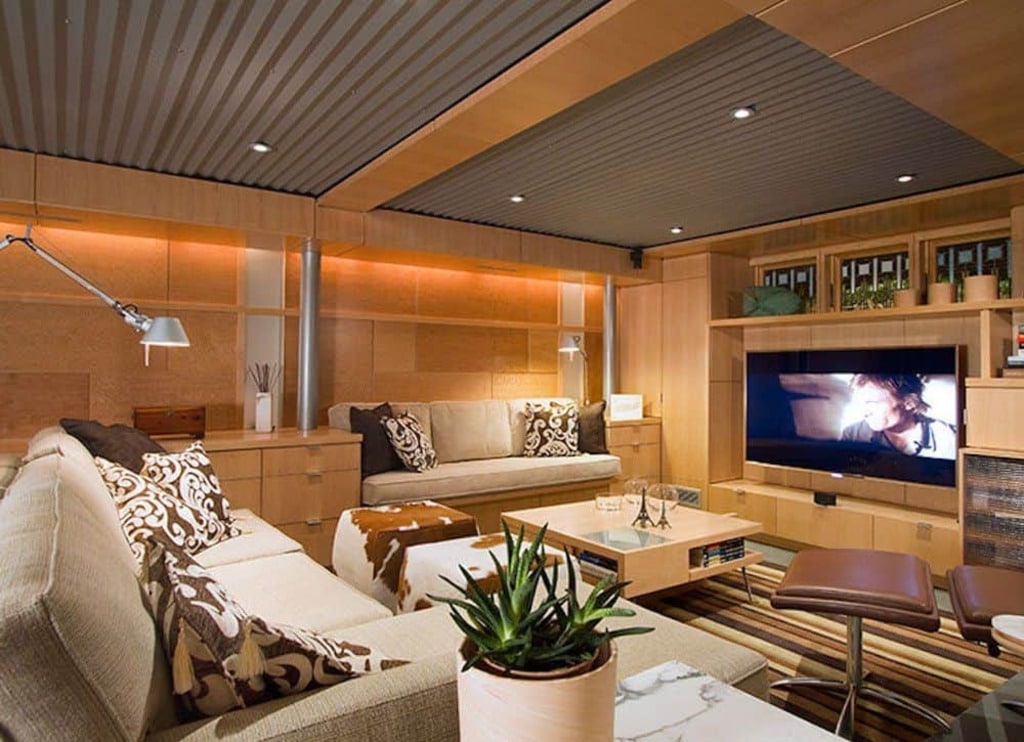 Source: tumgir.com
Does your basement have ceilings at low height? Rooms with low ceilings can quickly feel cramped if you don't select the right type of ceiling. So how to overcome this problem? Experts have recommended using a decorative element to overcome this tight and compact feeling. These materials will bounce light and introduce a new texture without adding bulk. A simple and effective solution to this problem is Metal Roofs!  
You may have seen these types of roofs on farms. Well, nowadays, these corrugated metal sheets are so popular and commonly used as an alternative for traditional ceiling materials. These roofs reflect light and create an artistic ambiance that makes them ideal for both normal height and low ceilings.
So, if you're looking for an industrial ceiling that is cheap, use recycled tin sheets. For a rustic look, you can easily find these metal tiles in barns or purchase them new for that ultra-modernist feel. This will also hide all the beams or pipes and give a finished warehouse or steampunk design look.  
Painted Exposed Beams & Pipes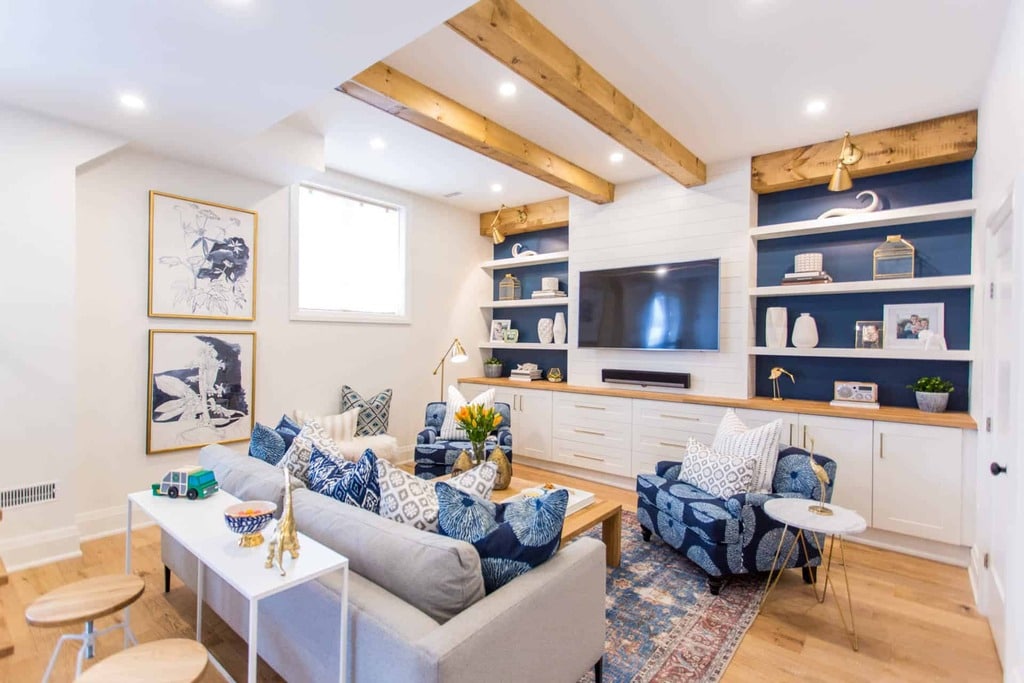 Source: 123remodeling.com
Another inexpensive basement ceiling idea is to paint the exposed beams and pipes of your basement ceiling. You may have seen these types of ceiling designs somewhere as they're highly popular in coffee shops and other modernist locations. If your basement has ceilings with exposed rafters and joists, you should definitely try this ceiling idea. 
With the help of just a couple of coats of paint, you can completely change the feel of an exposed ceiling. You can go with the all-white theme and paint everything white, including pipes, ductwork, and lighting fixtures. Or you can highlight the beams and pipes by painting them in contrasting colors like orange, yellow, and red. Just keep in mind that bright colors will liven up the space, and neutral ones will make it look modern and industrial. 
One of the benefits of painting the beams and pipes is that if any type of repair is required, it can be easily done as it is all exposed. Whereas if you apply other types of the ceiling like drywall, you will have to pull apart the drywall completely. 
Drop Ceiling Tiles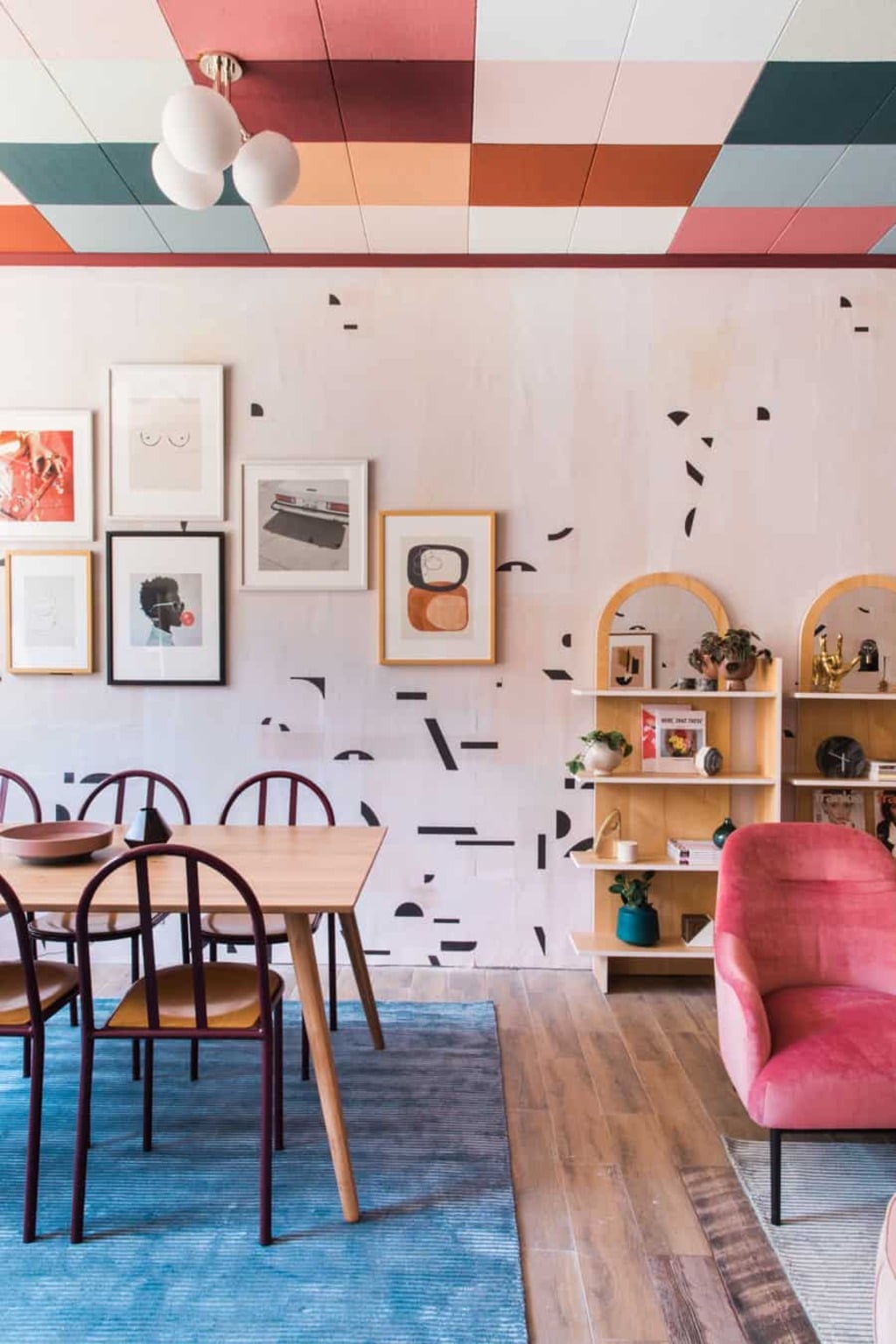 Source: pinterest.com
Another way to add some decorative elements and stunning factors to the ceilings of older homes and the basement is Drop Ceiling Tiles! They're one of the best cost-effective and attractive basement ceiling ideas.
These days, many homeowners are going with basement drop ceiling designs to make their space look more welcoming and cozy. Perfect for older basements where the wiring and pipes may be located below the beams. You can seamlessly hide all those unsightly wires, beams, and pipes under these pretty ceiling tiles.  
Drop ceilings are actually a kind of false ceiling that is suspended below the original fifth wall. They're placed with steel wires over a frame; that's why their installation is easy. If any tile gets damaged over time, you can simply lift it out of the frame and pop a new panel in instead of fixing the entire ceiling. Plus, you can also put lighting fixtures in the tiles so that you'll get ample light in your basement. 
From the traditional white foam or particleboard panels to classy tin tiles, modern drop ceiling ideas for the basement are available in a wide range of varieties. You can create a grid overhead to establish a geometric pattern as it looks visually appealing. Drop ceiling tiles are water-resistant, and they don't sag or develop mildew, even for twenty years. Pretty cool, right? 
Also Read : 11+ Latest & Stylish Bedroom Ceiling Designs & Styles
Traditional Coffered Ceiling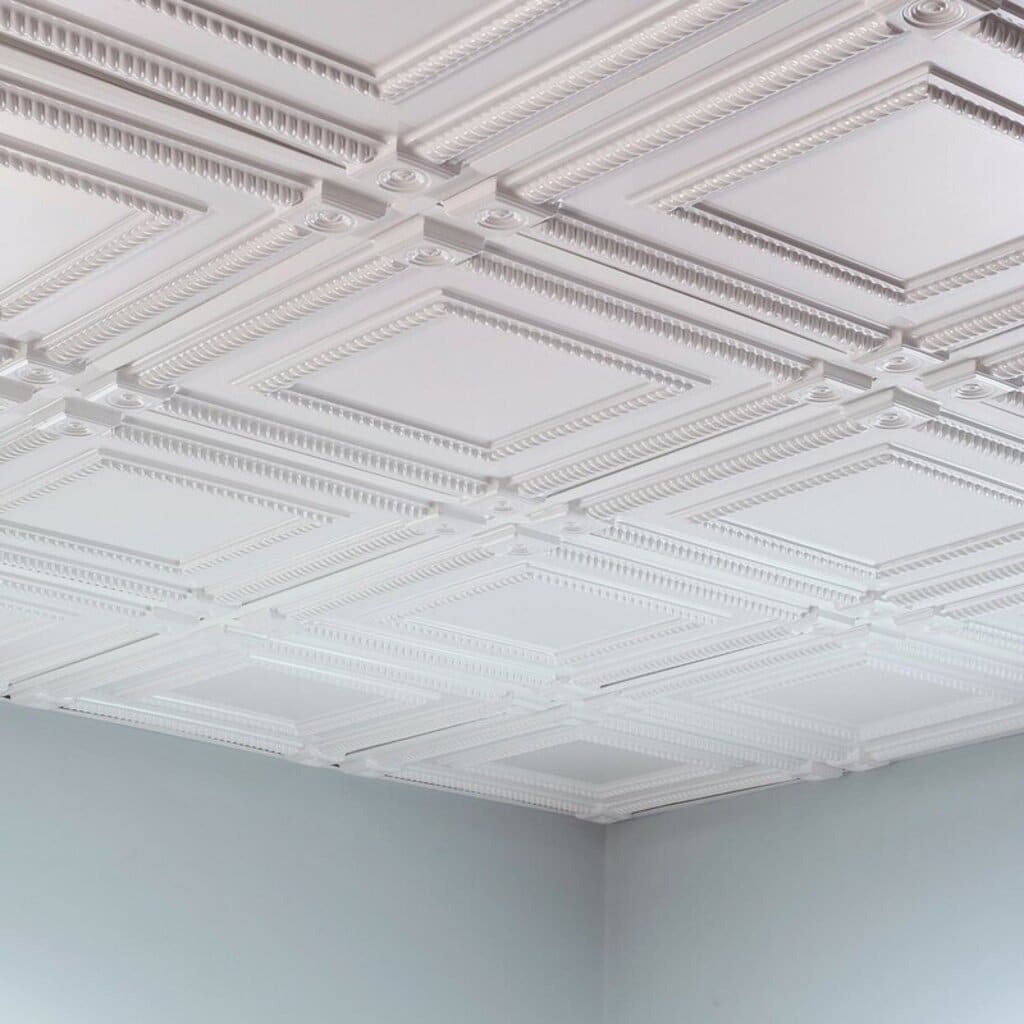 Source: walmart.com
What do you think about having coffered ceilings in your basement? Yes, they look complicated and challenging to install, but they're not actually. You can add these simple but really attractive coffered basement ceilings to make your space beautiful. 
Look at the above basement, where in-lay tiles have been used to create this coffered ceiling design. The elements like beams and simple designs add just enough embellishment to the space. The whole ceiling design seems like it is an architectural element of a traditional coffered ceiling instead of any structural solution. 
These types of ceilings are practical and look really pretty. They also come at a reasonable price which will be such a plus point. You can paint them or leave them as it is, both ways they'll look elegant and classy. To add more drama to your place, you can include crown moldings. So, whether you're planning to make your basement your office or a hangout spot, these ceilings will surely create a unique and stunning focal point. 
Wood Plank Basement Ceiling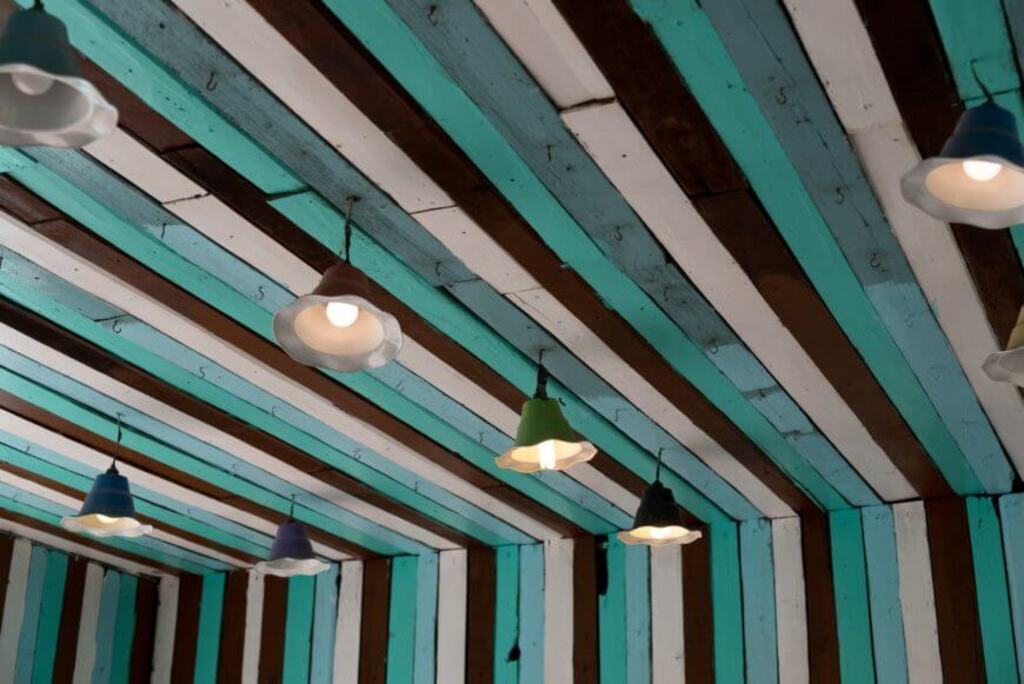 Source: architecturesideas.com
Those who want a more modern and chic basement look can go with wooden plank basement ceiling ideas. These ceilings not only cover an exposed ceiling but can also be installed directly onto an existing ceiling, such as popcorn or drywall. 
Lightweight and sturdy, wood planks are perfect as a basement ceiling. Moreover, if you want, you can paint or stain them for the desired effect. Instead of expensive wood, go with reclaimed wood as it is affordable than other woods and beadboards. 
Add or hide lighting strips hidden inside support beams and enjoy the changing shades of barn wood. This will surely add a unique character to the overall space. It will make your basement feel comfortable and cozy. For a different look, you can also make patterns with wooden planks. 
Stretch Ceiling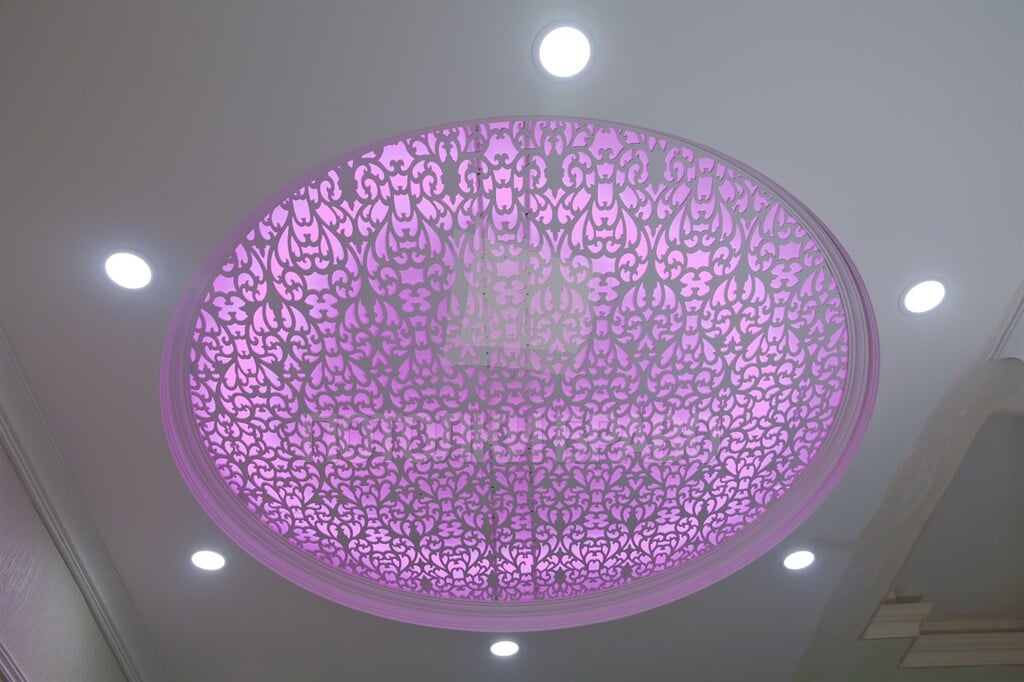 Source: boot-ceiling.com
Do you want a visually appealing basement ceiling without involving a lot of work? If yes, stretch ceilings will be best for you! These ceiling designs will give off the appearance of luxury, and there is not a lot of furniture moving, messy work. They can be easily installed in a short timeframe.  
This basement ceiling has a reflective and shiny outlook that makes it look really appealing. You'll keep coming back to your basement just for the feel. The most amazing thing about them is that you don't have to break the bank to set it up. It is one of the affordable basement ceiling ideas for standard basement decorations.
You can literally create any type of design and unusual shapes, including arches and domes, and that too without any visible light source. So, if you're thinking about converting your basement into a home theatre, stretch ceilings are the best as they offer excellent soundproofing options.
Textured Glue-Up Tile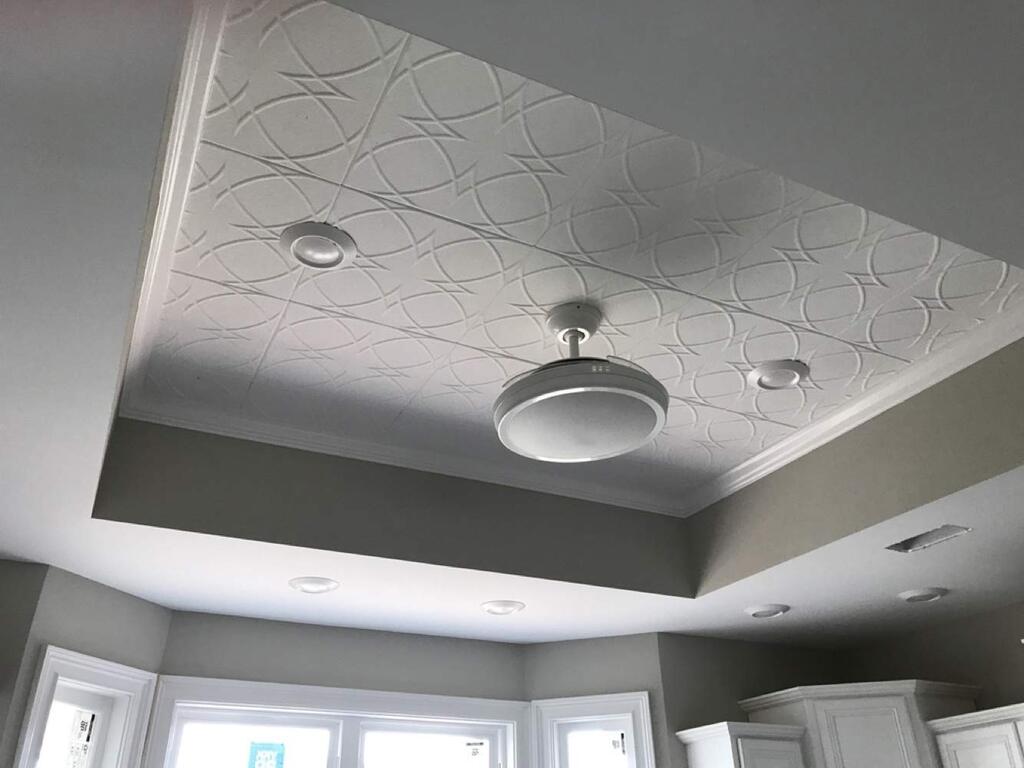 Source: amazon.com
For those who are looking for DIY basement ceiling ideas, this one's for you. This is one of the easiest removable basement ceiling ideas. Buy some textured glue-up tiles from the local store or the home depot. All you need to do is to paste them on your basement ceilings. 
Start with smaller sections at first and glue all your tiles one by one. This way, you'll get a beautiful and cheap basement ceiling. These glue-on tiles are made of polystyrene or fiberboard and come in a variety of colors, sizes, and styles. You can even paint them as per the interiors. 
Wallpapered Basement Ceiling Ideas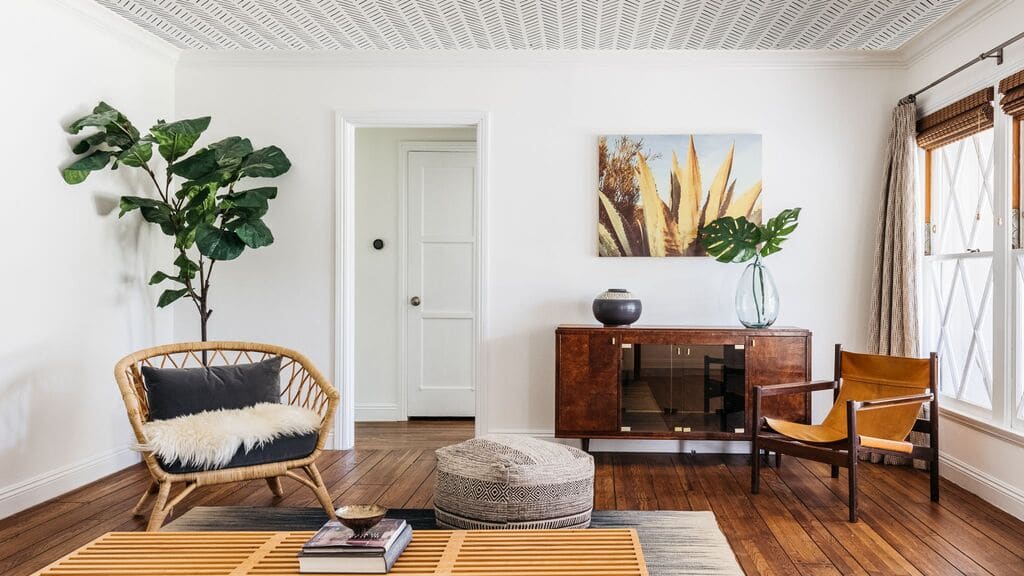 Source: ceilingonfloor.com
Don't have money or time to decorate your basement ceilings? No worries, get some wallpaper, and you're done! You can find wallpapers in any design and pattern, from faux wooden wallpapers, sceneries to luxury and glamorous ones. 
If your basement area is small, you can try solid colored ones or stripped wallpapers. Make a bold abstract statement and add a personal style and flavor into space with these types of wallpapered basement ceilings.
Here are some more stylish and modern basement ceiling ideas for you to get more inspiration: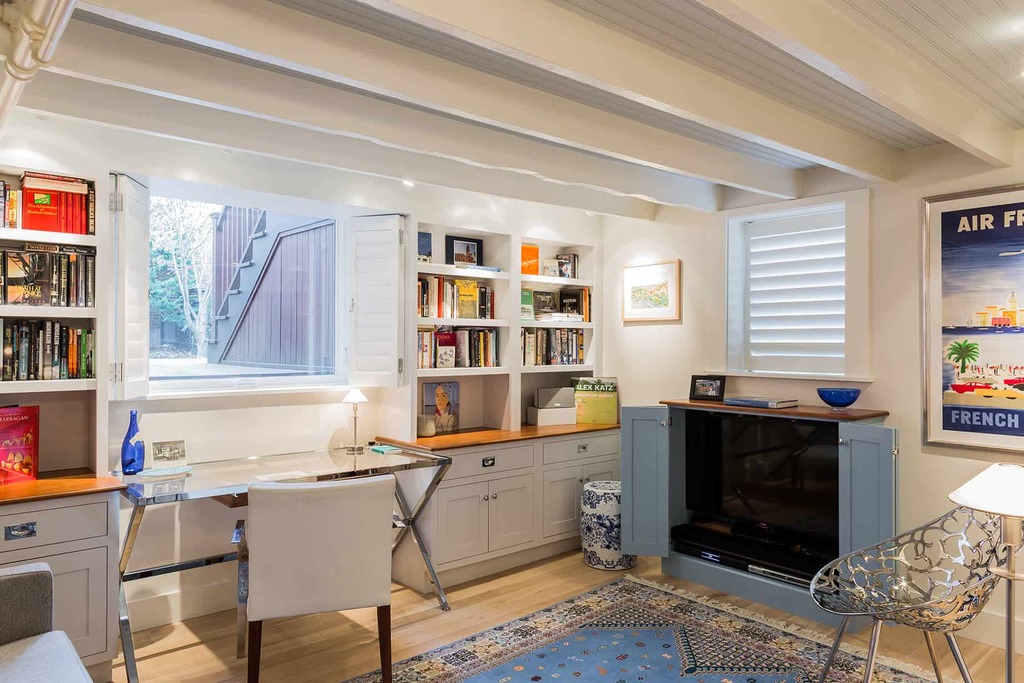 Source: idei.com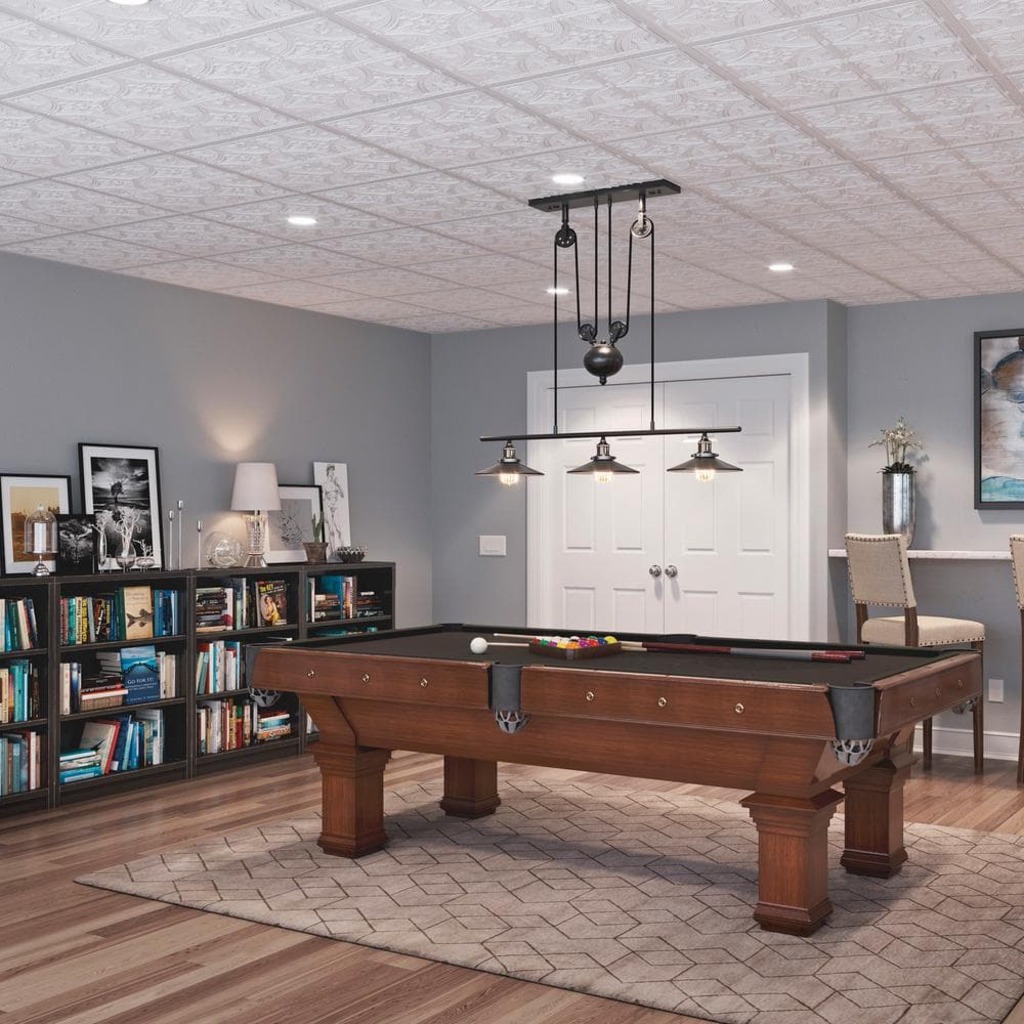 Source: brainstudy.com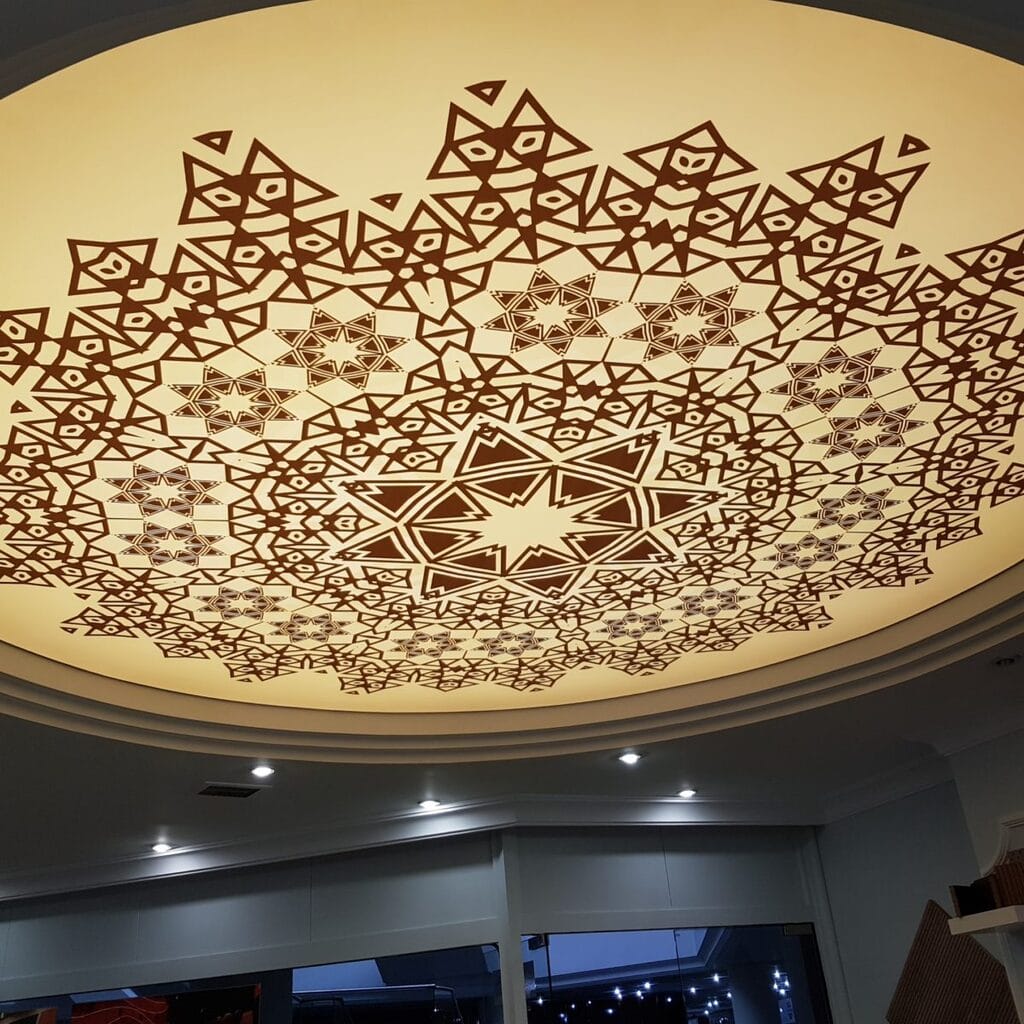 Source: acoustima.com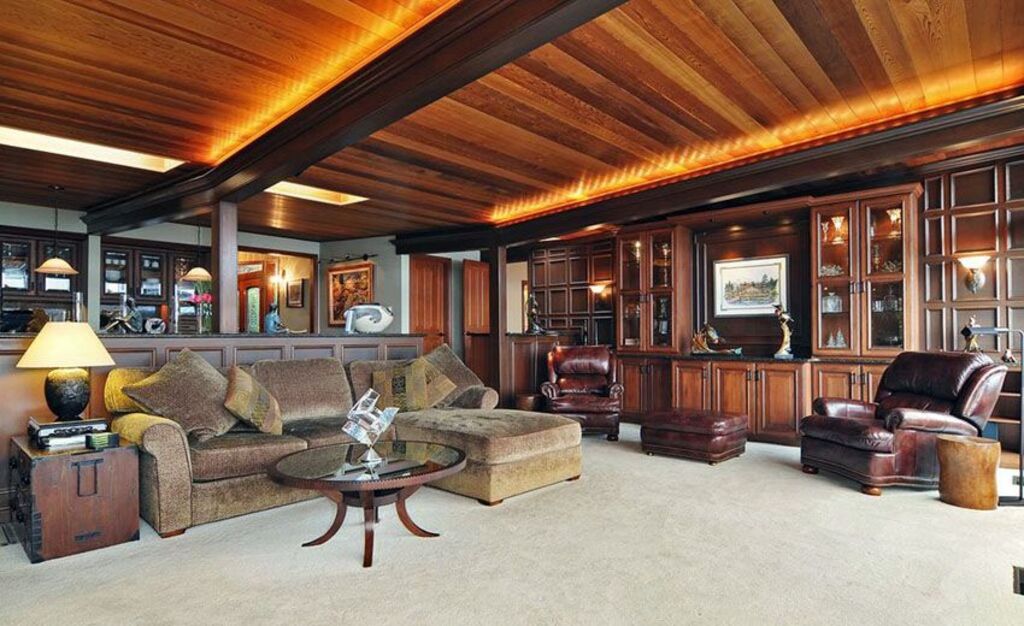 source: br.pinterest.com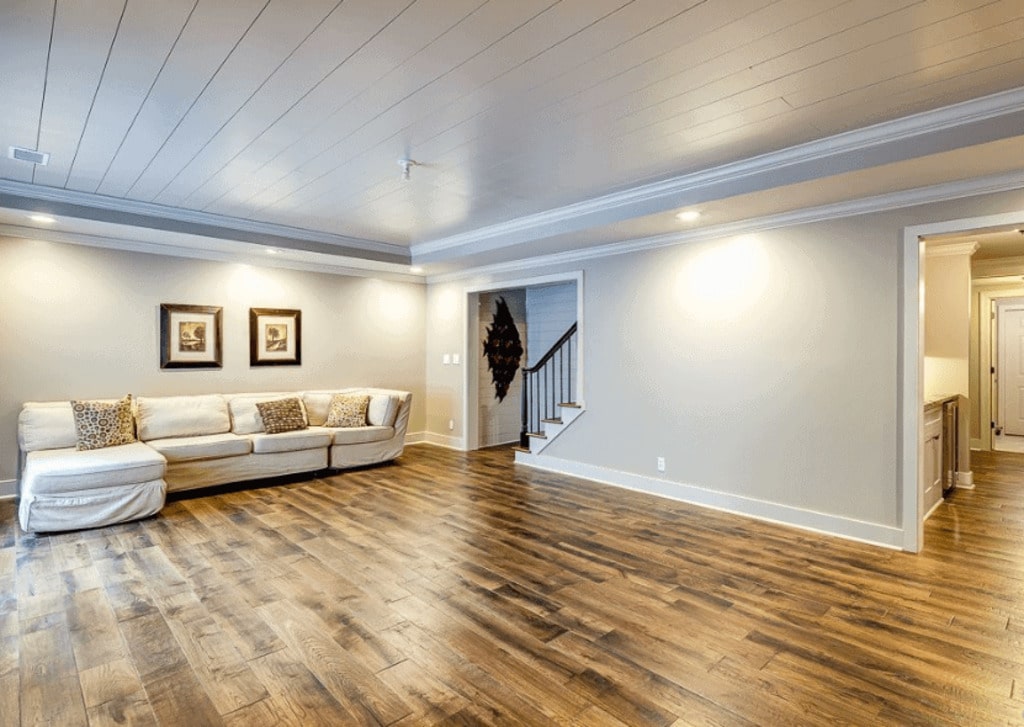 Source: remodelmore.com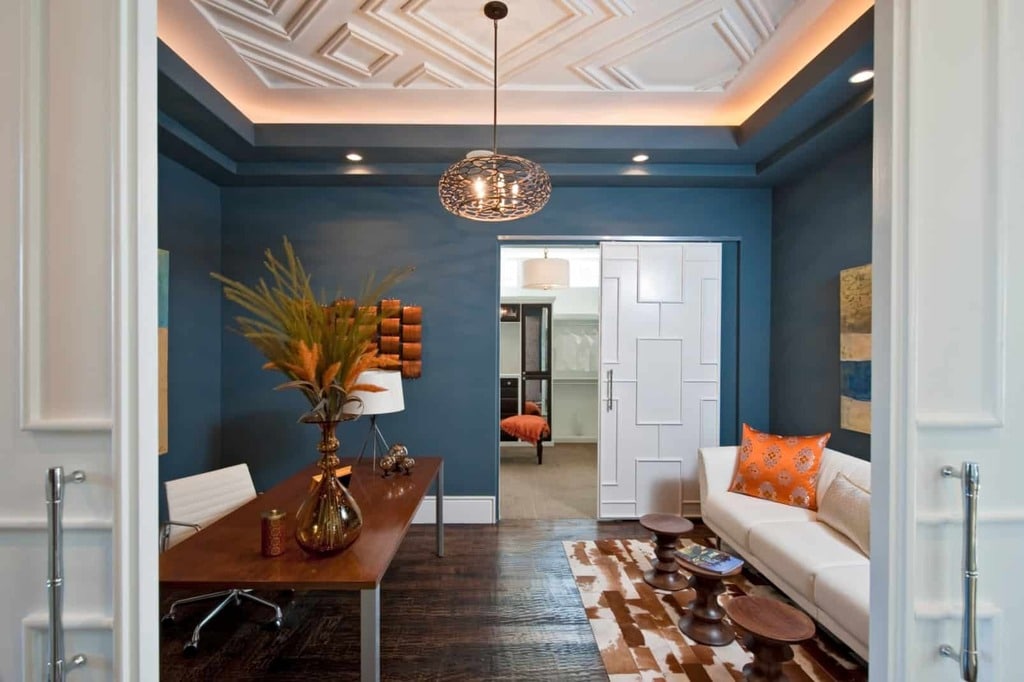 Source: houzz.com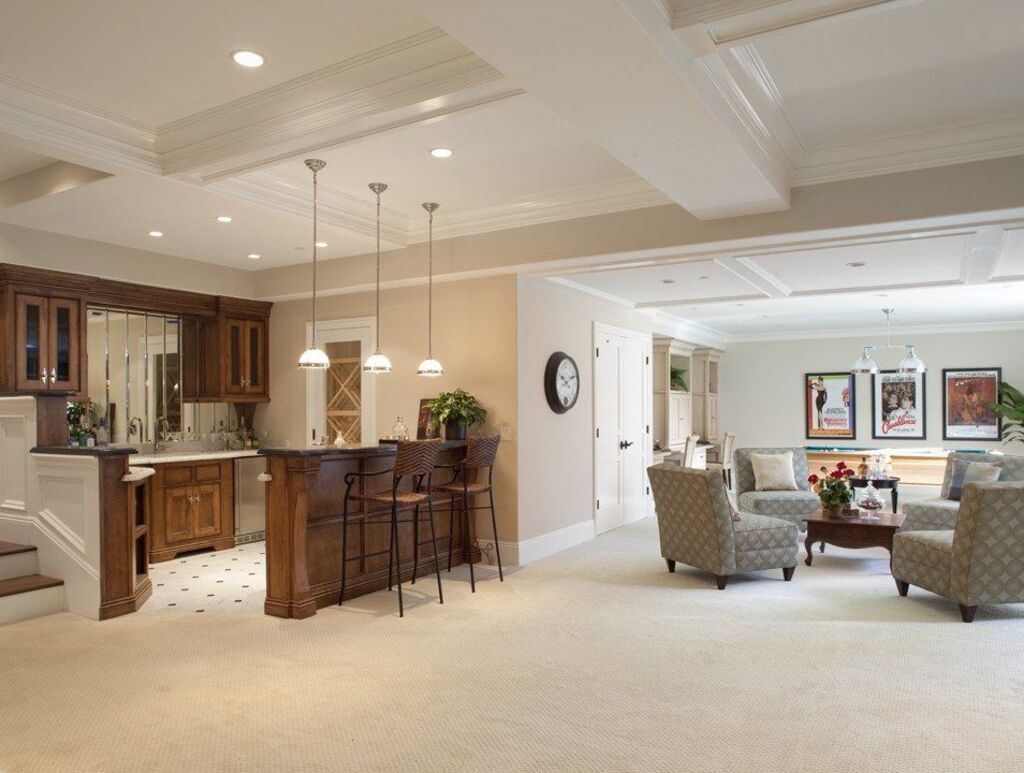 Source: interiorsroom.com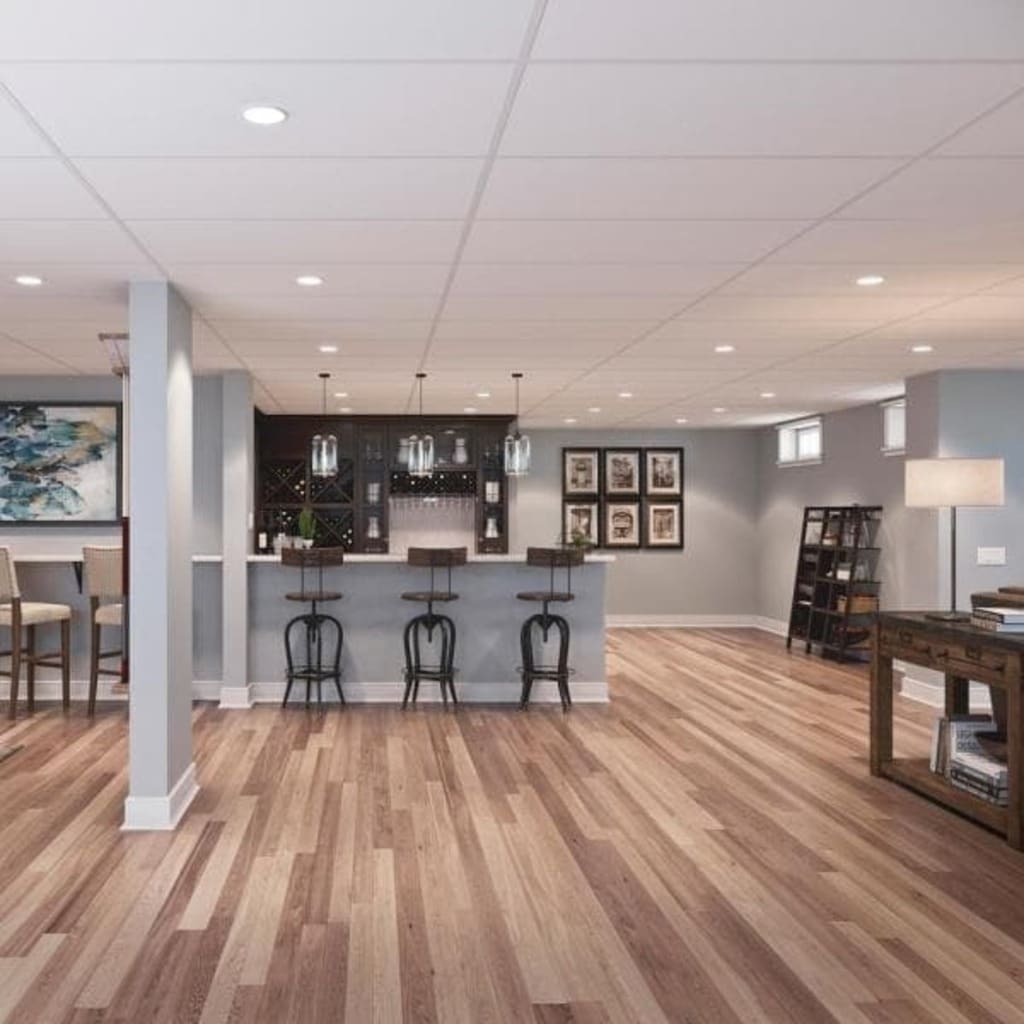 Source: pinterest.com
Source: pinterest.com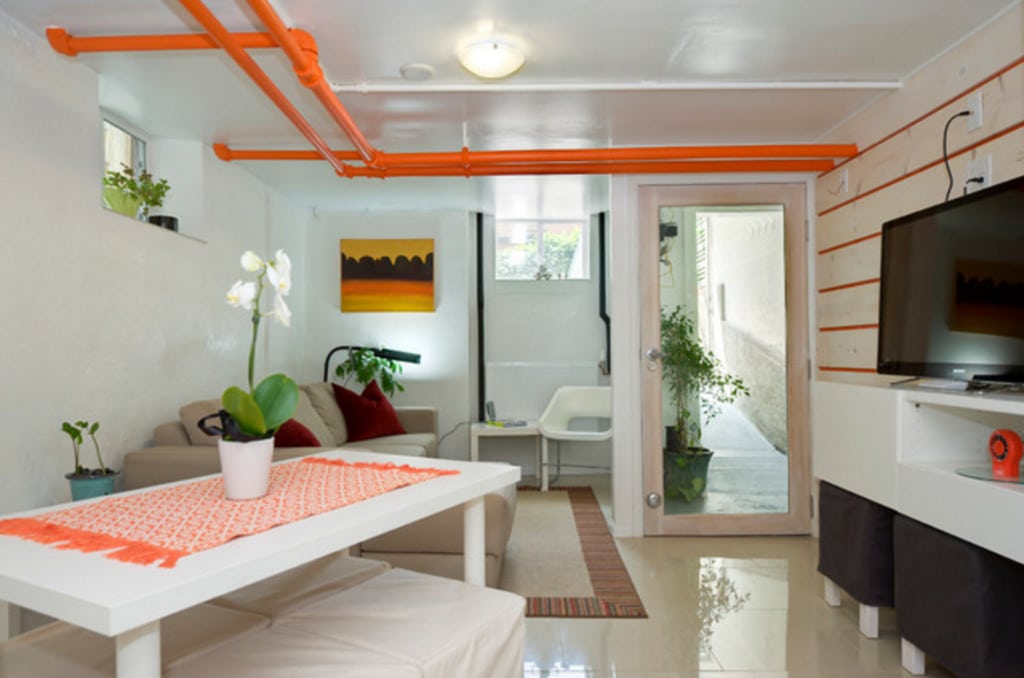 Source: remodelmove.com
Final Thoughts
So which ceiling idea do you like the most for your basement? When it comes to the installation of a ceiling, there are numerous ways to do it. You just have to be creative and think out of the box. Do in-depth research, and then according to your basement space and budget, decide the ceiling type and materials. You can also select the unique basement ceiling idea according to what you're converting your basement into a room, entertainment room, or personal office.
Don't be afraid to try ceiling options in different themes, colors, and styles for your basement. All these ideas that we've mentioned in this blog are cheap materials like wood planks, paint, PVC, and corrugated metals. They will surely end up making your basement ceiling look amazing!
For more basement and ceiling ideas, read our previous blogs on various ceiling texture types, Stylish Bedroom Ceiling Designs, and Basement Storage ideas. 
I hope you liked this blog on basement ceiling ideas, and it has also helped you to pick the right ceiling design for your basement. Also, don't forget to share this blog with your friends and family so that they can also get to know about these amazing inexpensive basement ceiling ideas and transform their spaces. 
For more interesting home and office decorations ideas and architectural information, explore Architecturessideas.
Do follow us on our Instagram page architectures_idea for daily updates.