Maximize and Organize Your Basement Space With These Creative Basement Storage ideas
Are you struggling in organizing your basement effectively? Does your basement is filled with piles and piles of unused stuff, dust, and spiders? Not anymore! Get organized with our innovative and best basement storage ideas. 
You're very fortunate if you have a functional basement because it can be one of the most valuable storage spots in the whole house. From the home office, entertainment zone to the ultimate storage space, a basement can be used in many ways. But what if this is not the case with your basement. Rather than cleaned and organized, it is all dusty and filled with a lot of junk. 
Many people face challenges in organizing their basements because it may look more cluttered instead of looking neat and tidy. Today we have come with various basement storage ideas that will help you to creatively organize your basement. So, whether you have a finished or unfinished basement, a high or a low budget, keep everything organized with our innovative basement storage solutions that are both practical and aesthetically seamless.
Nowadays, not everyone has the time or money to renovate the basement completely; that's why these quick and simple DIY storage ideas will be perfect for everyone. From built-in cabinetry to the storage bins, we have listed all the various ways by which you can organize your basement stuff, hideaway unsightly clutter, and transform your basement into a stylish storage area.
How to Organize the Basement Effectively?
Whether you use your basement as a game room, office, home gym, or just a place for extra storage, you have to clean and organize it in such a way that all the stuff will be accessible and functional. So let's start with the process which you have to do before organizing your basement: 
Clear the Clutter
Pick up your kid's toys, clothes, or any kind of clutter that is taking all the floor space. Categorize all the basement content's in three categories: Throw away, donate, and sell. 
Cleaning
Once your floor and cabinets are free from clutter, it's time to clean the whole area. Also, don't forget to clean electronic appliances like refrigerators, freezers, washers, and dryers. Leave the doors slightly open for air circulation. 
Creative Basement Storage Ideas
Now the area is clean, and all your unwanted stuff has been removed, now it's time to organize your basement. Below are eleven ways by which you can store all your things without creating a mess. 
#1. Get Organized with Pegboard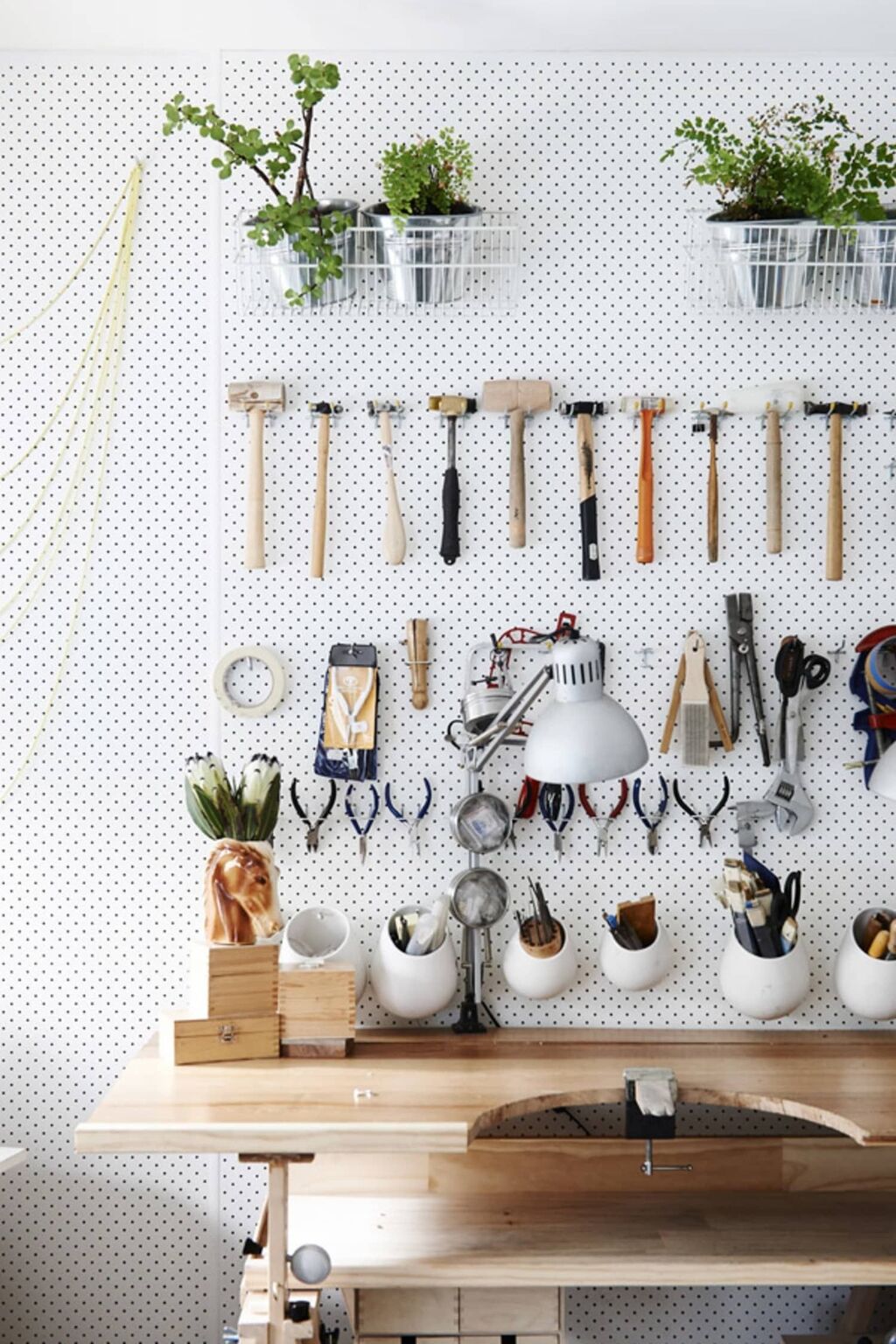 Source: pinimg.com
The best way to store all your tools and iron items is by storing them on the pegboard. This way, you can easily see and access all of them without creating a mess. With the help of hooks or shelves, you can easily display tools, crafts, and other frequently used items. This will also prevent them from rust. 
#2. Use Wooden Bookshelves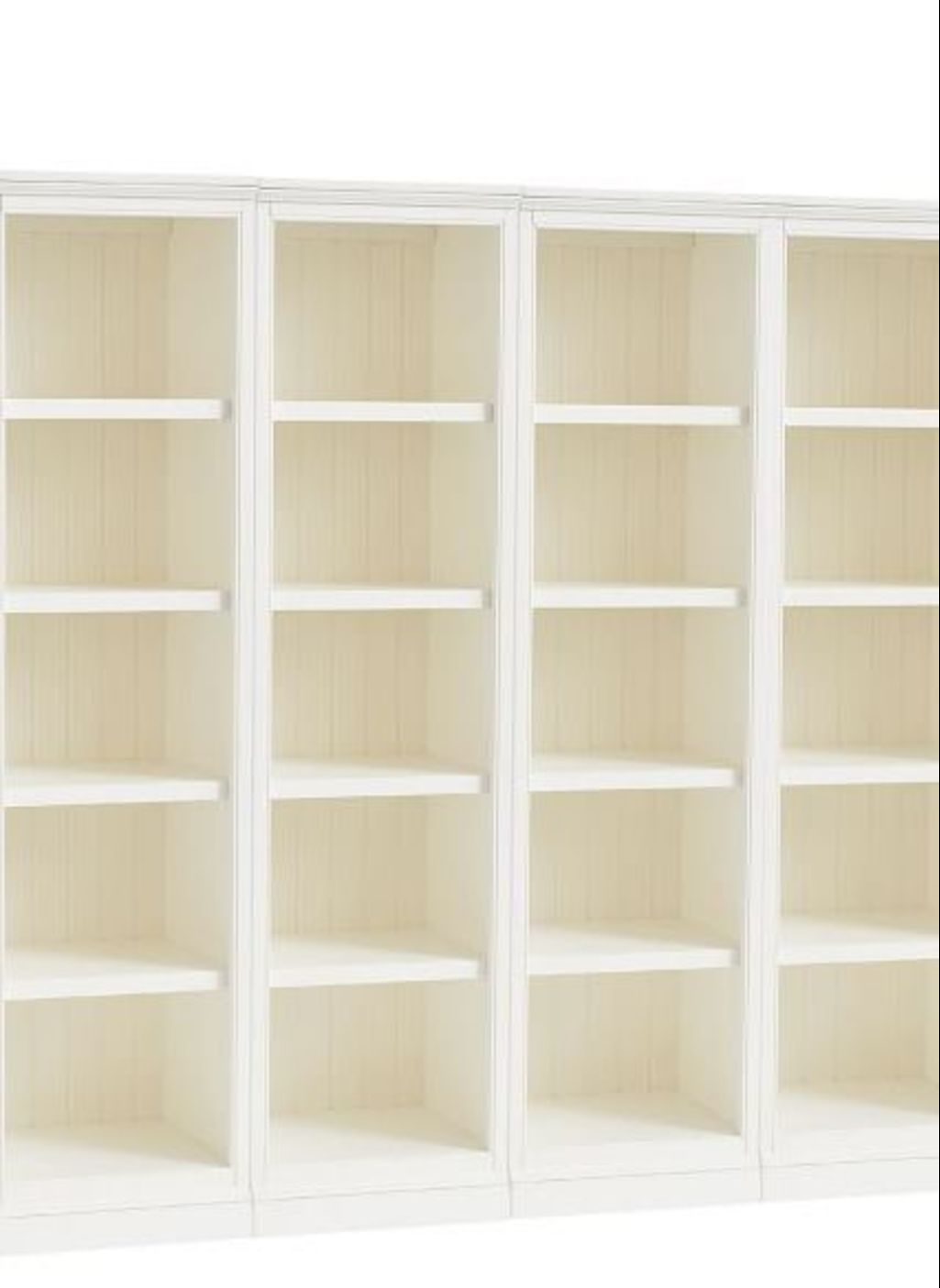 Source: hearstapps.com
The simplest way to add extra storage space in the basement is by placing built-in storage units. But these units are usually expensive, so what is the other option? You can either use a bookshelf or custom made wooden shelves for storing various kinds of stuff. This is a pretty cheap alternative option without spending a lot. Use baskets or bins to store tools and other things. 
#3. Behind-the-Door Space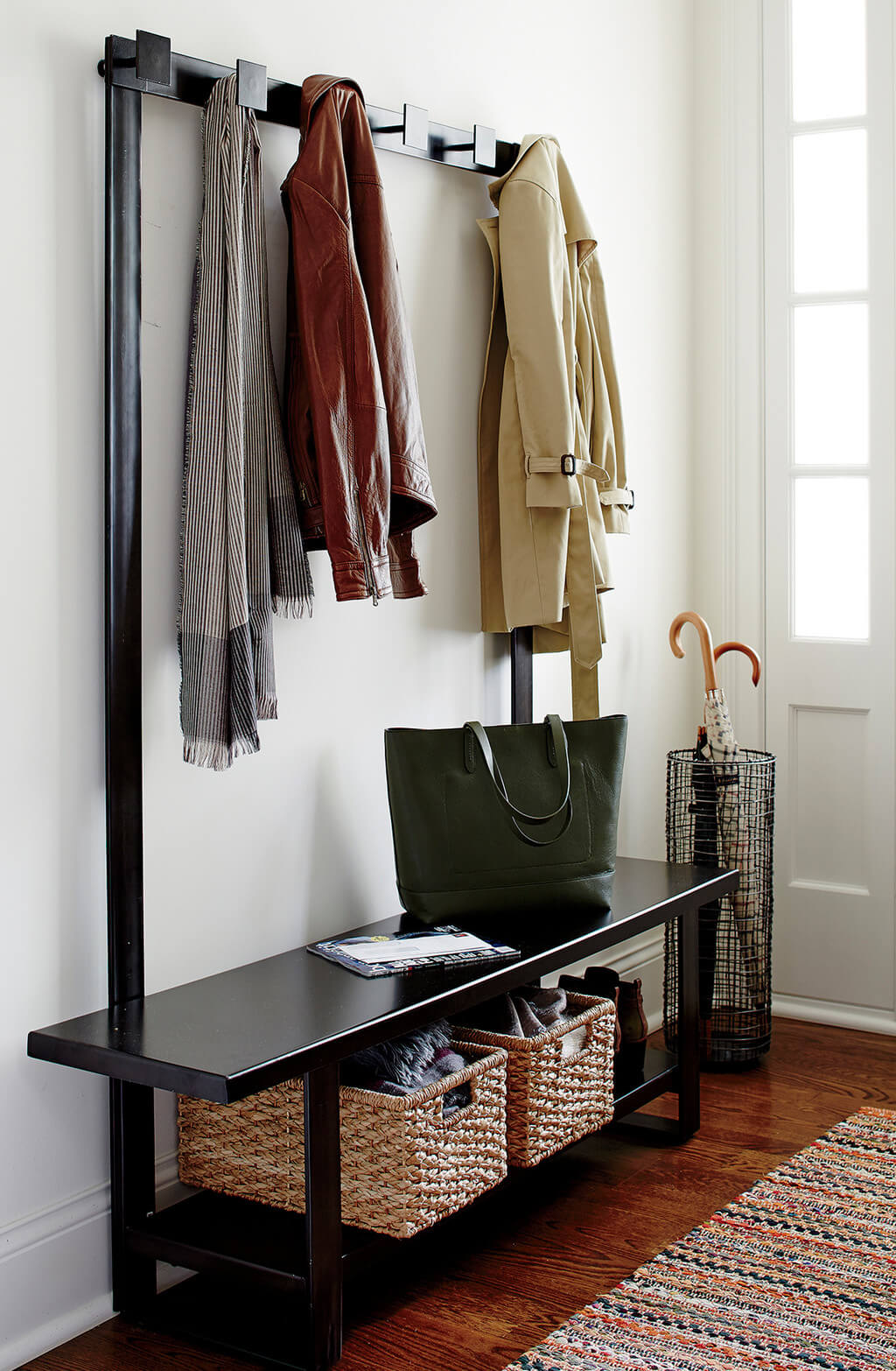 Source: hzcdn.com
Another space-saving hack is to use the space behind the doors. Install a coat rack or hanger and use it to hang various things. You can also use a wall-mounted rack and some storage drawers to keep outerwear and other cold-weather gear in reach. 
#4. Go Vertical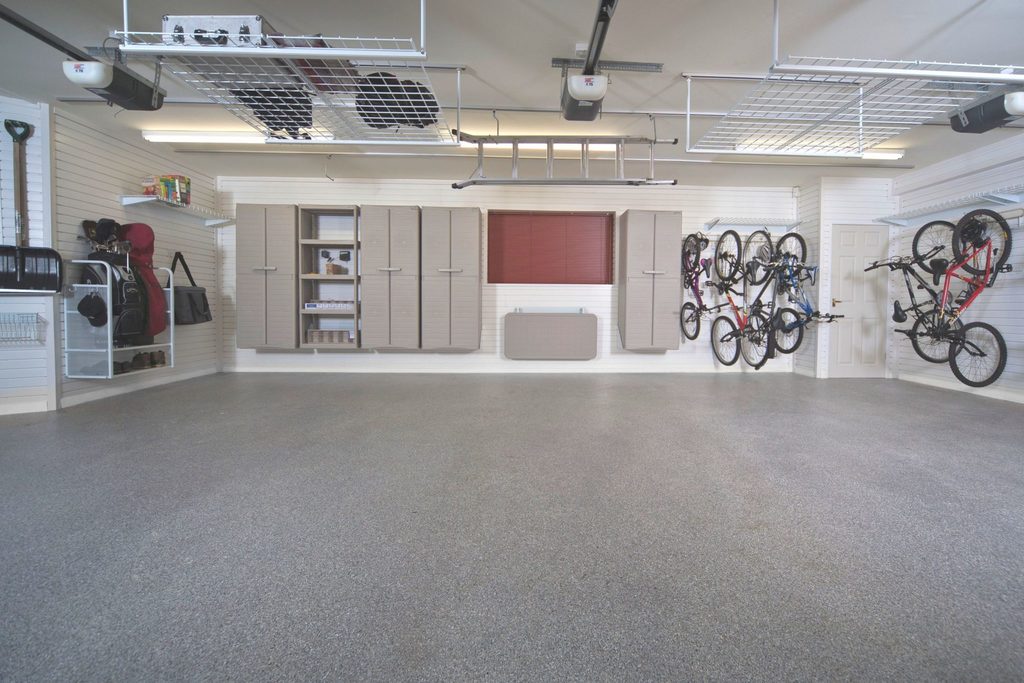 Source: homedesignerandarchitect.co.uk
When you don't have much space horizontally, use the vertical space. You can use your walls for bicycle storage, wall storage, and many more things. Place some ceiling storage units and use them for storing big, bulky, or awkward items such as luggage, coolers, seasonal decorations, and more. 
No matter how small your place is, do always take advantage of your basement's vertical space. It is one of the easiest-to-achieve basement storage ideas. 
#5. Use Clear Plastic Bins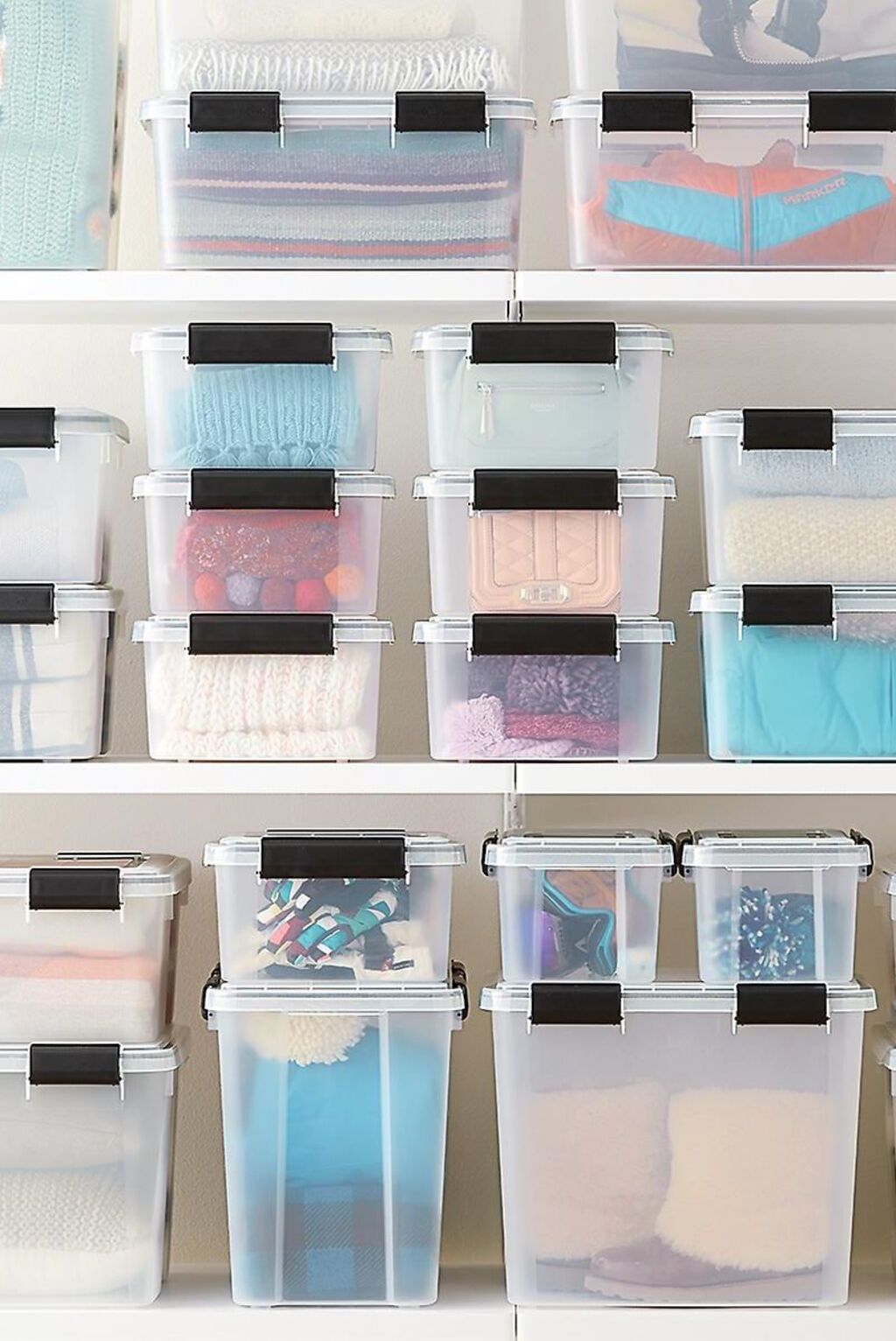 Source: jutarnji.hr
People often use their basements to store off-season clothes, decorations, and other things. Do you also use your basement for this? So instead of cardboard boxes, use airtight, waterproof plastic bins. In these, you can easily see what is stored inside, and they keep your belongings free from mold and mildew. 
#6. The Forgotten Space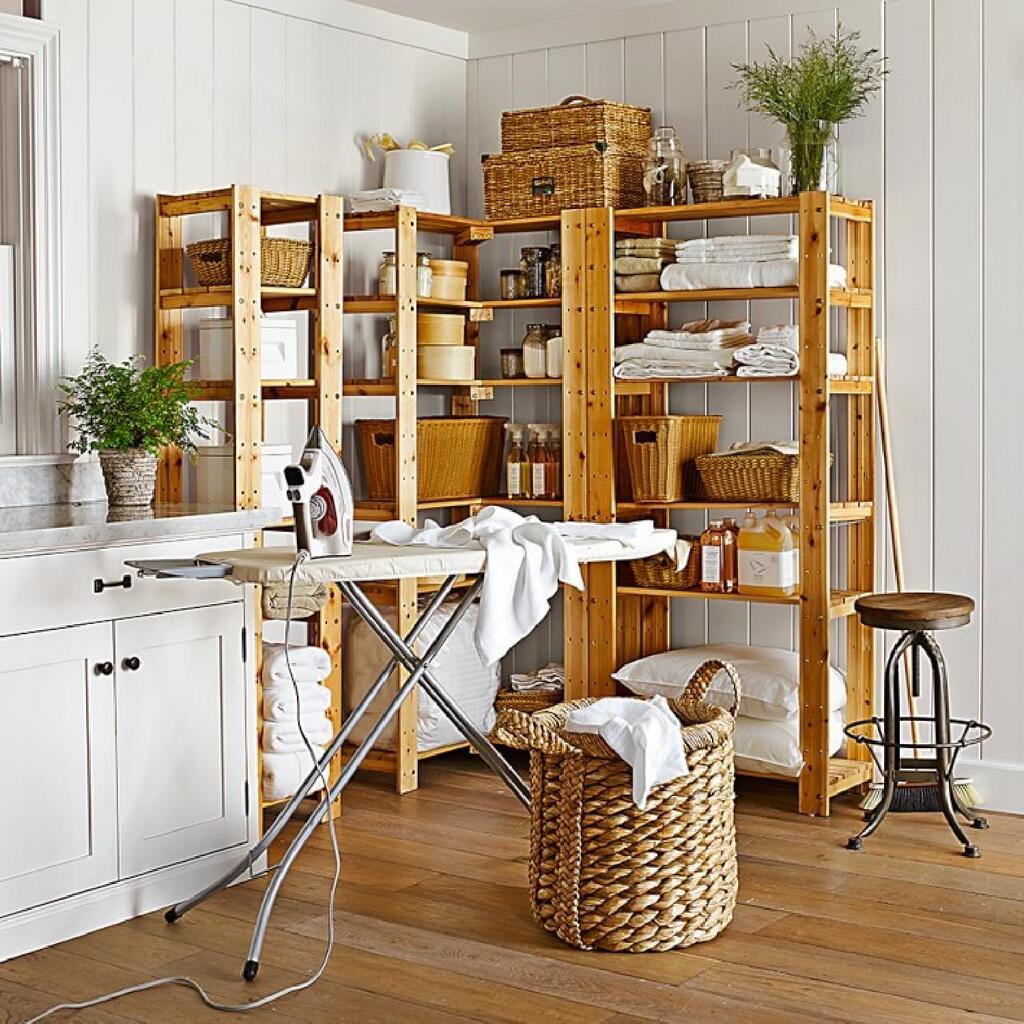 Source: cloudfront.net
Sometimes we forget about the corners and think that we can't store anything there, but you can actually use these kinds of spaces for storage. Buy corner racks and stands and store items that are not frequently used.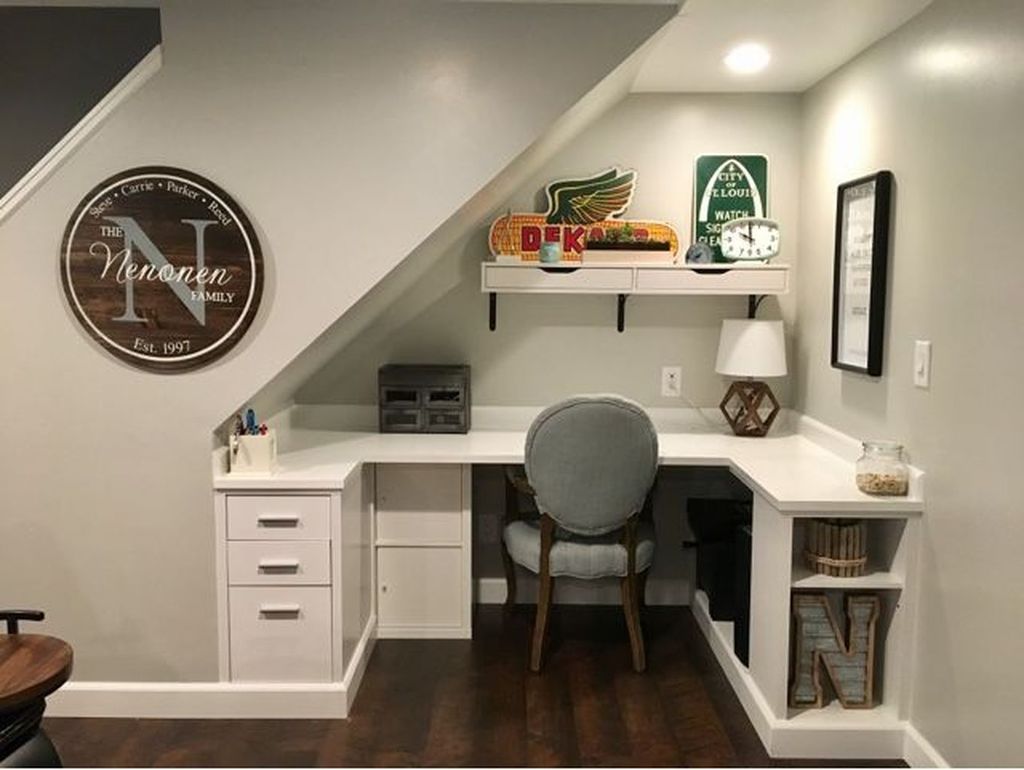 Source: pinimg.com
You can also convert this space into a working space by placing an L-shaped desk. Make those awkward spaces into a storage place with a convenient corner shelving unit. You can use a combination of baskets and boxes to keep everything in place.
#7. Add Open Shelves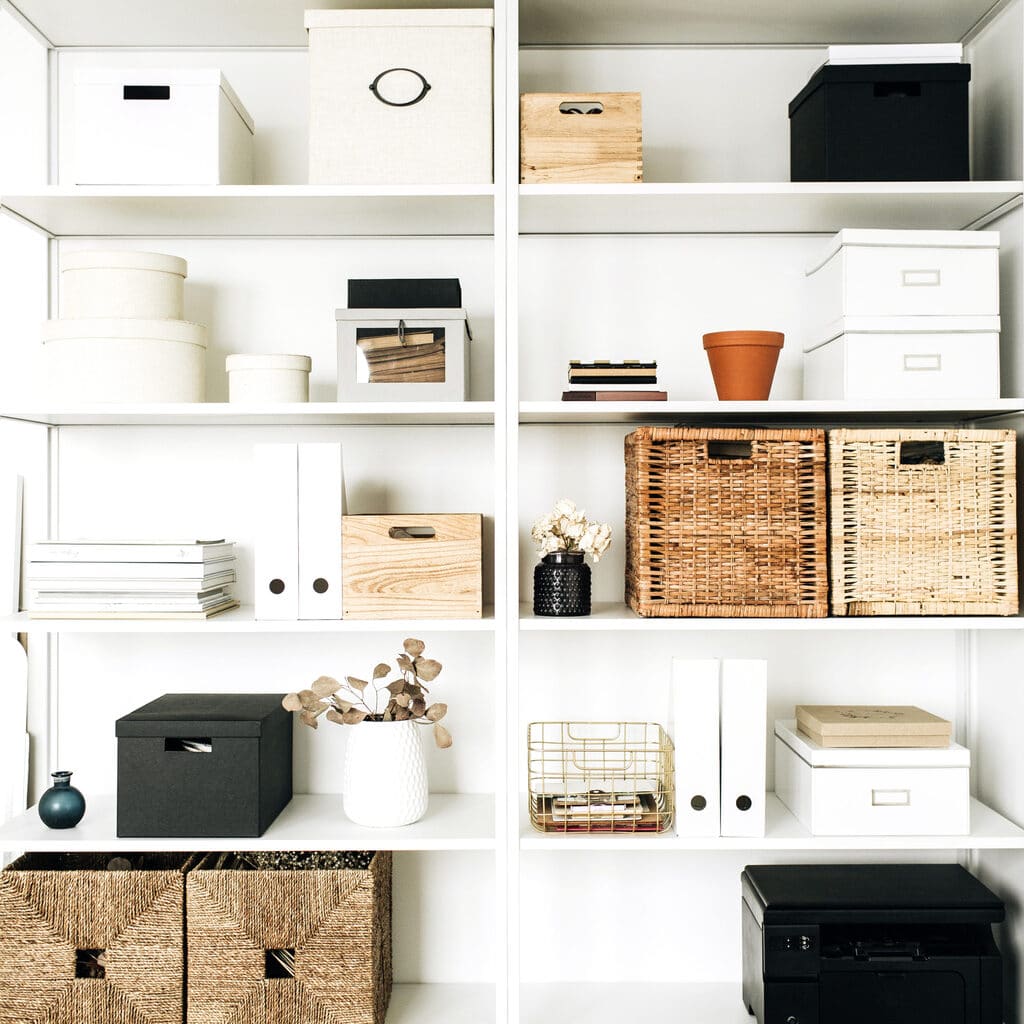 Source: wp.com
Probably the easiest way to organize your messy basement is by adding shelves. You can either DIY these shelving units or purchase them from the nearby store. These units come in limitless varieties such as wood, metal, plastic, and composite materials. Their size will also depend on the basement measurements and your storage requirements. 
#8. Store Under the Stairs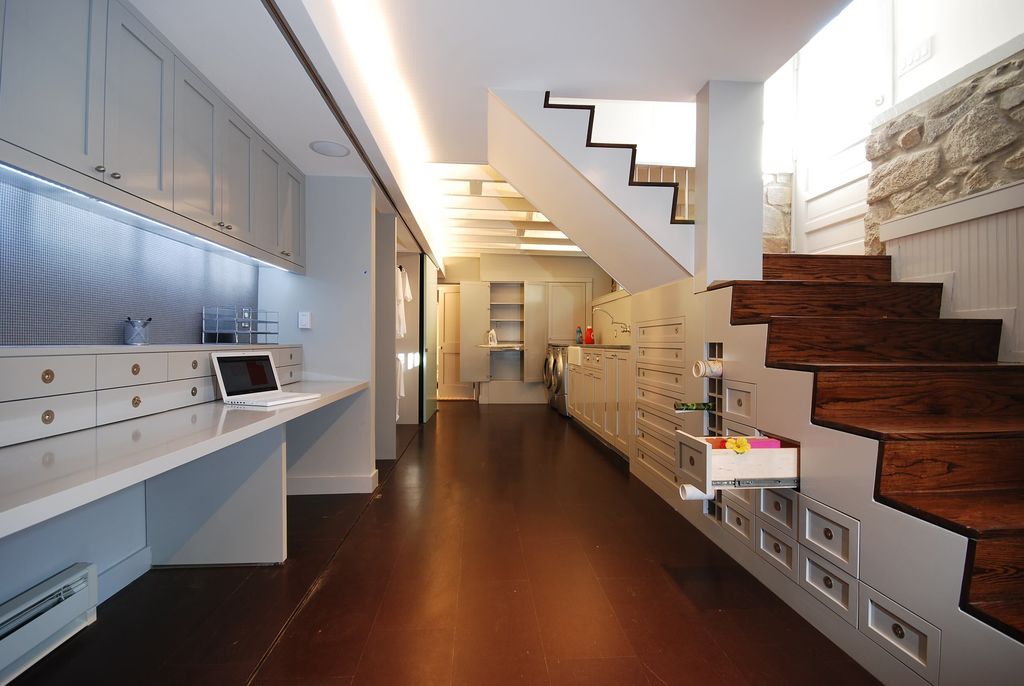 Source: pinimg.com
Be more creative when it comes to basement storage. If you're short on storage space and have an open staircase, then Utilize this space. They can be easily converted to hold built-in storage units. Whether you have a small basement or you're using it as a family or entertaining, you can use the space under the stairs to store bins full of toys, crafts, and more.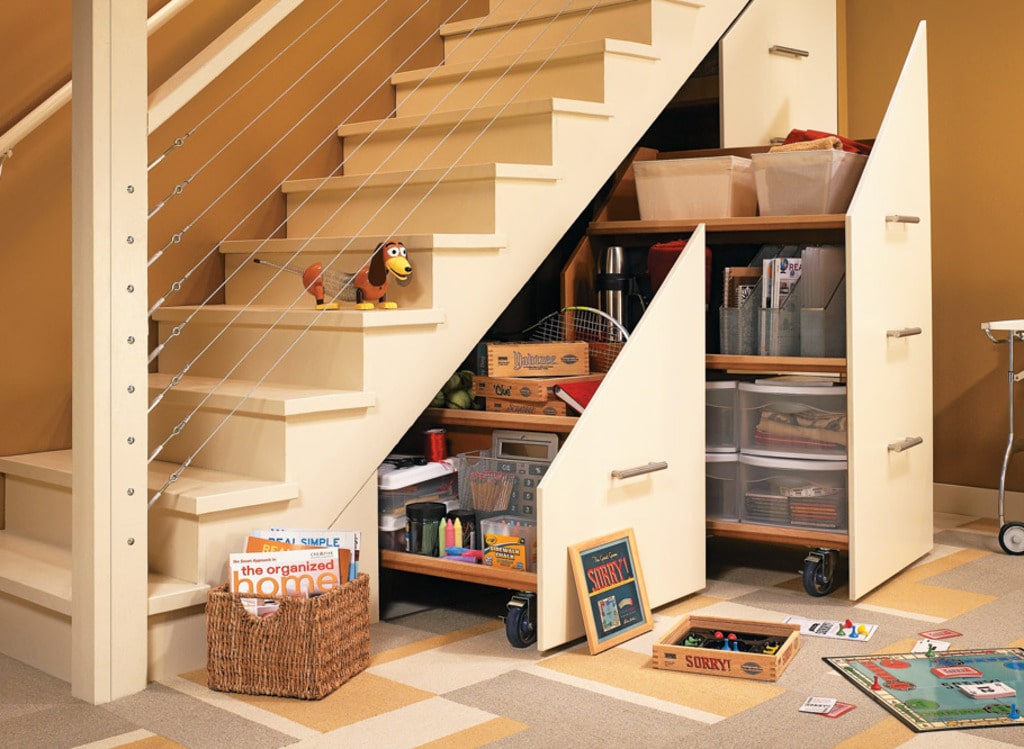 Source: amazonaws.com
If your basement has open staircases, you won't have to renovate it; just place some drawers and bins or built-in shelves under the stairs. This allows you to carve out some more space to store more items such as stashing kids' playthings, gym equipment, or craft supplies. This way, all your things will be out of sight but easily accessible. 
#9. Slider Boxes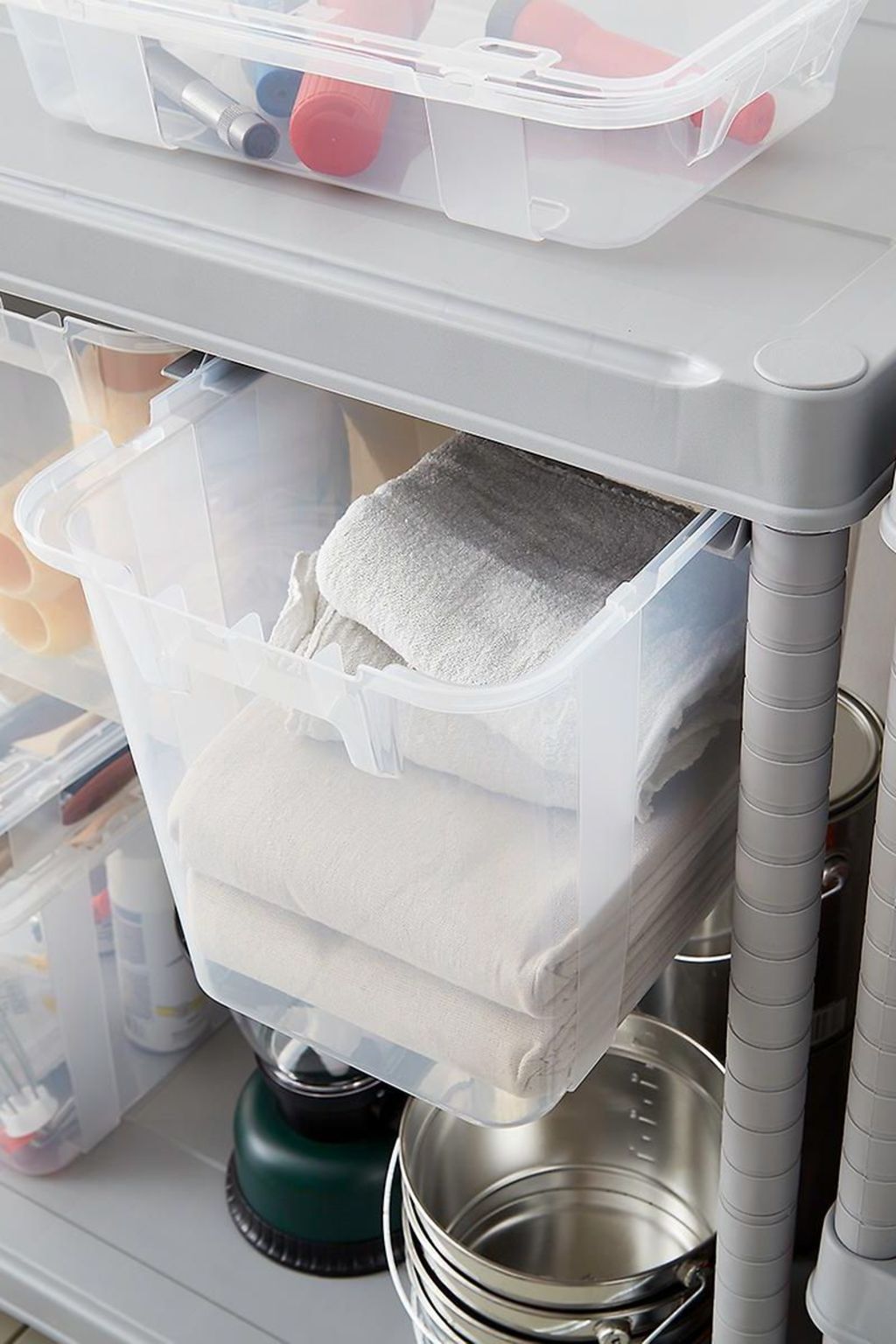 Source: hearstapps.com
Instead of regular boxes, use these types of bin rails boxes. These clever gadgets will easily attach underside of any shelf, and you can use them by sliding them out and in. They provide easy access for frequently used stuff and also keeping them organized.
Also Read: Turning Your Basement Into A Luxury Area
#10. Sturdy Storage Racks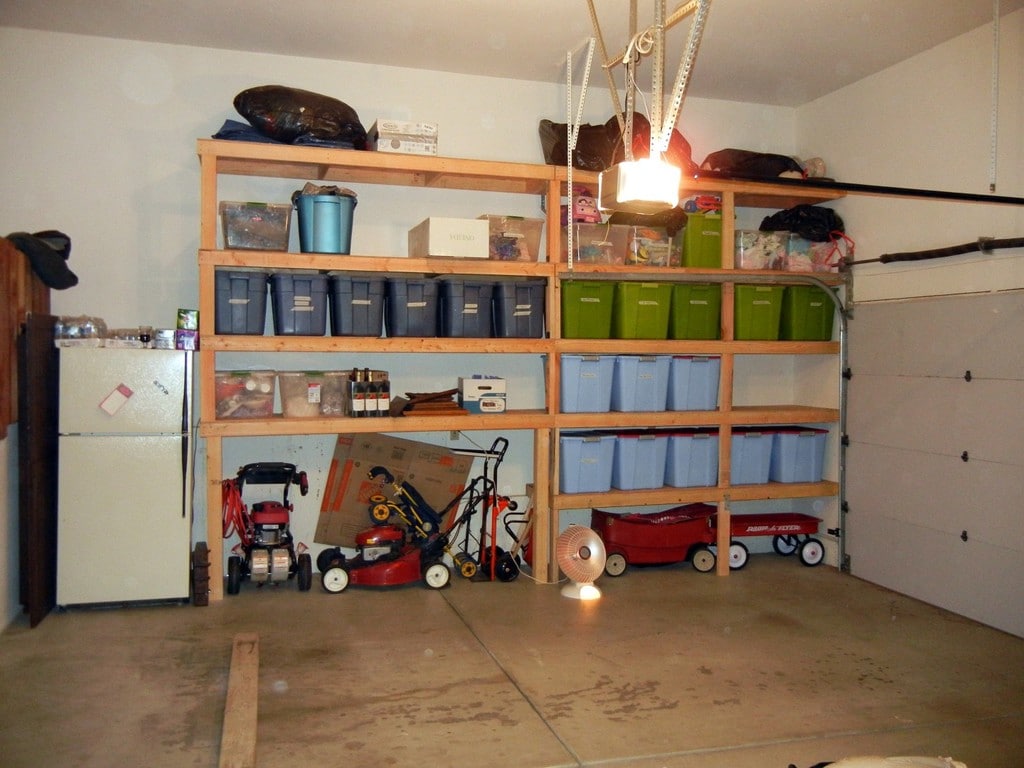 Source: guardiandiabeticalertdogs.com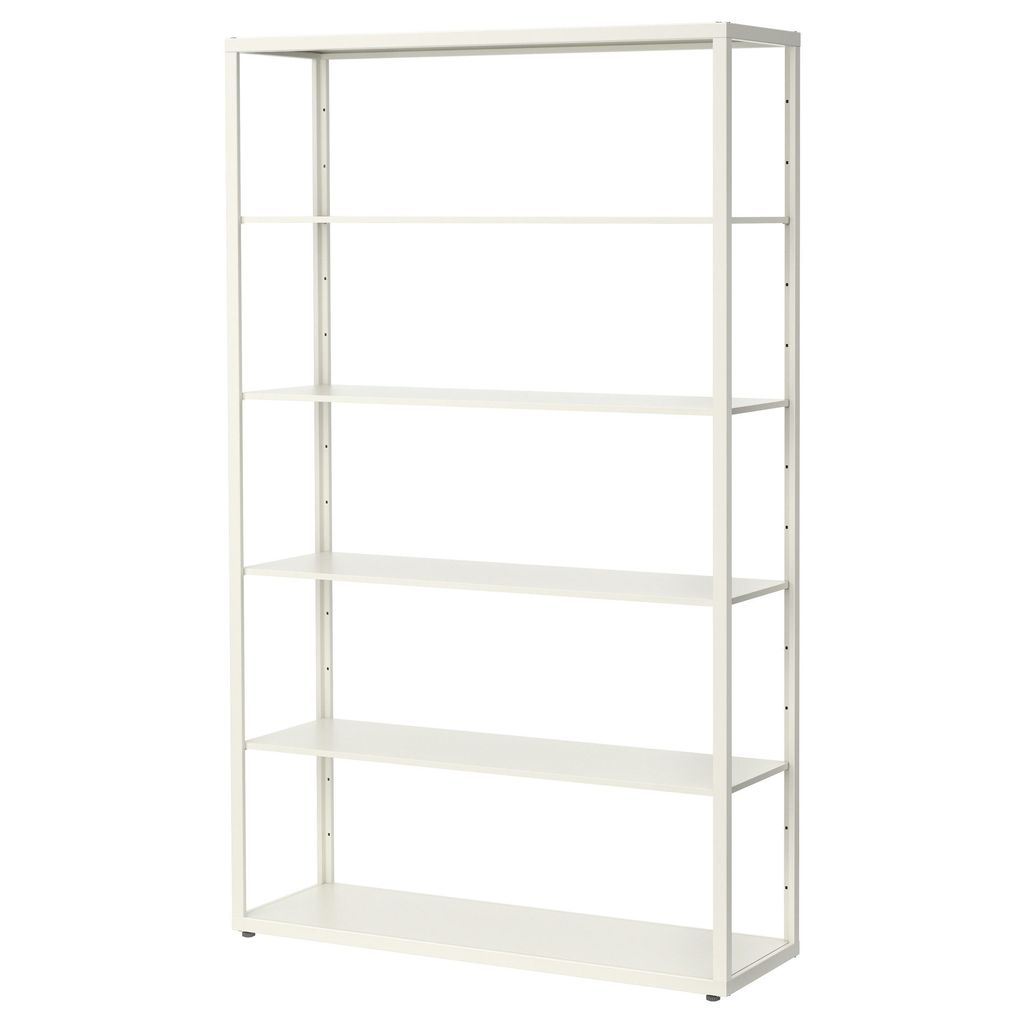 Source: pinimg.com
If you don't have a budget to construct special storage units for your basement, use these kinds of open shelving racks. They're quite sturdy & strong and will store all your stuff beautifully. Easy to access, these racks will help you to stay organized and tidy without breaking the bank. 
#11. Label the Bins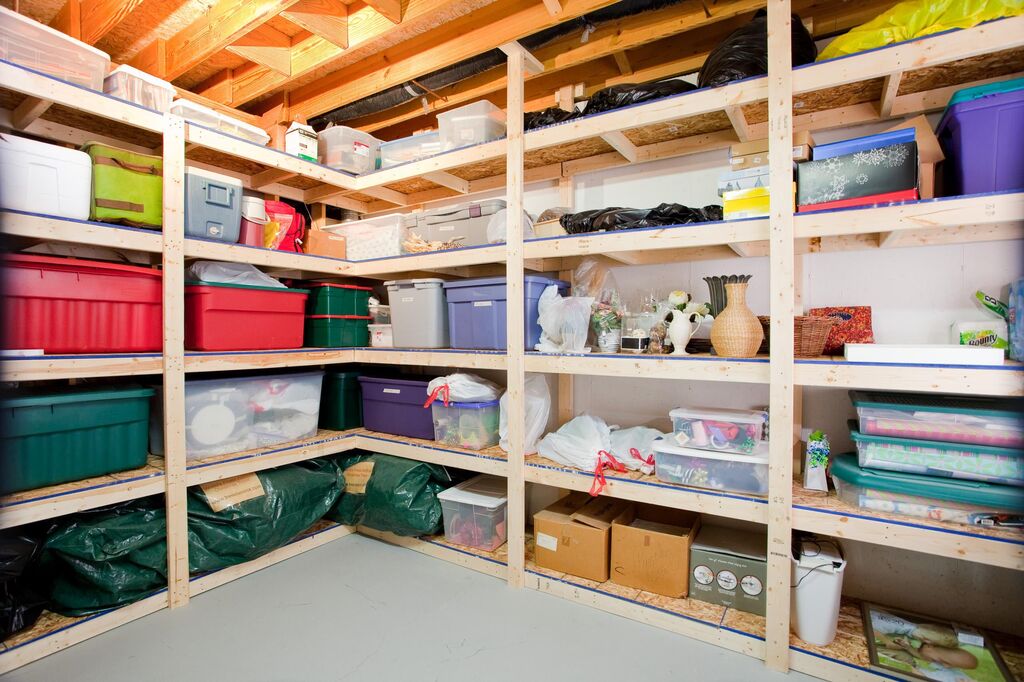 Source: pinimg.com
After all these basement storage ideas, our last tip for you is labeling. Yes, it is important as after some time you may forget what items are in which box. So it's better to put labels on them so that you can easily identify which box contains what stuff. 
Final Verdict
Keep cleaning your basement from time to time to prevent the mold and mildew. If you feel any unwanted smell, use a dehumidifier as it controls odors and moisture, which is harmful to your valuables.
I hope you like this blog and read our other home improvement blogs, like how to clean baseboards, How To Get Rid Of Paint Smell, and How to Paint Concrete floors.
Keep coming to Architecturesideas for amazing architectural content.