We usually don't pay attention to the baseboards of our house, right? But do you know that they can make big impressions on guests and family? Just like the floors, clean baseboards make any room beautiful and brighten up the whole house. They easily get scuffed and stained, so they can make space seem dingier and less tidy.
But the main thing is to know how to clean baseboards properly. Which methods are best for various types of baseboards? In this blog, we have gathered up six multiple ways by which you can easily remove dirt from your baseboards. From magic erasers to homemade cleaning solutions, we have collected all those effective tricks that have been used for many years.
I know cleaning is always considered as tedious and time-consuming, but once you know the right ways of cleaning and how to do it, your baseboards will sparkle, and your home will glow!
6 Best Ways to Clean Baseboards
Below are the top 6 methods by which you can clean your baseboards without getting a hurting arm.
Pre- Preparation
If you're planning to clean your walls, floors, and other surfaces, then clean the baseboards at last. Baseboards can accumulate the dust that is kicked up from the floor, walls, and surfaces, and it'll undo all your hard work. Move all the furniture, carpet and mat that may come in the cleaning process and don't forget to wear gloves and mask if needed.
#1. How to Clean Baseboards with Baby Wipes
When your baseboards aren't that dirty, you can easily clean them with cleaning wipes. It is the best and easiest way to clean baseboards and even for laminate floors.
Cleaning with Baby Wipes

Baby wipes

Gloves

Clean cloth

Dryer sheets
First, remove any dirt from the baseboards by a vacuum cleaner. Then wipe the baseboards with baby wipes or any cleaning wipes. Rub gently on the marks or stains, until they're gone. After this, use dryer sheets to create a dust-repellent layer over the wood and reduce future stains. The only downside of this method is that it uses more disposable products, and they're more wasteful than employing reusables.
#2. How to Clean Baseboards with Broom
Another way to clean the baseboard is the dusting, but only if you don't have too terribly grimy baseboards. The task will be much easier if you use the right tools.
Cleaning with Broom

Mini Handheld Broom

Gloves

Clean cloth
Take a mini handheld broom and start sweeping your baseboards. If you don't have a mini broom, you can also use a clean paintbrush. Slowly clean all the edges of the boards. First, vacuum your floors, then start cleaning the baseboards.
#3. How to Clean Baseboards with Vinegar Solution
We all know about the benefits of vinegar; that's why it is a crucial ingredient in all sorts of DIY home remedies. So why not use vinegar to clean your baseboards! After all, this is one of the best cleaning supplies you'll run across in your house. It is also entirely safe for use on metal and hardwood floors.
The reason behind its magical cleaning properties is that it contains acetic acid, which gives it serious cleaning power. Also, it's natural and safe to use around animals and children.
Vinegar and Water Baseboard Cleaner

1 cup vinegar

5 cups warm water

Bucket

Sponge

Microfiber cloth or paper towel

Gloves
Now let's make the cleaning mixture. For that, you need to mix the two liquids (vinegar and warm water) in the bucket. You can also mix them in a 5:1 ratio and fill it in a spray bottle to create a homemade dust spray for baseboards or other wood surfaces in the home.
Now take a sponge and wet it in the solution, and while applying light pressure, start wiping down your baseboards. Now leave the mixture to sit for a couple of minutes and then wipe vinegar mix with the cloth. Repeat the same process until the baseboards are free of all dust and debris. You can use the same solution to clean other household things. For example, you can use vinegar and water mixture to get rid of silverfish in the house.
#4. How to Clean Baseboards with Wood Cleaners
A wood cleaner is a good option for wood baseboards. If you think that these cleaners may damage the varnishing, don't worry; all these Commercial wood cleaners are formulated to clean untreated and varnished wood without damaging it. So if you have unpainted baseboards, use these cleaners without much thinking, especially during those intense spring cleaning sessions. And, these commercial products come with a manufacturer guarantee!
Clean with Wood Cleaner

Commercial or homemade wood cleaner

Gloves

Toilet wand

Old sock
Grab an old sock and put a disposable toilet wand into it. Now spray any cleaning liquid on the sock. You can use wood cleaner, gentle soap, or the solution of vinegar and water. Gently wipe around your baseboards until all scuffs and marks are gone. It may sound funny, but believe me, this method really works, and your baseboards will again be clean and shiny.
Many times wood cleaners leave a waxy residue that may build up over time and may dull your wood finishing. So it is advised to use wood cleaner for cleaning baseboards only a few times.
#5. How to Clean Baseboards with Soapy Water
At the time, when modern cleaners were not available, what people used? Soapy water! Yes, do you remember how our grandma used to clean everything with just soapy water. When it comes to cleaning household items, nothing beats good old soapy water.
For example, dishwashing liquid: you can use it for washing clothes, and it's one of the best natural remedies for cockroaches around. Similarly, dishwashing liquid and water will work like magic on your scuffed and dirty baseboards.
Soapy Water Baseboard Cleaner

1 tsp dishwashing liquid

1 bucket of warm water

Gloves

Sponge

Microfiber cloth or paper towel

Cotton swabs

Spray bottle of clean water
First, take a bucket and add water and dish soap in it. Then wet a sponge in this cleaning solution and start rubbing your dirty baseboards. Just apply little pressure and try to clean it in circular motions until the stains lift away. Repeat the process on the whole baseboards and Re-wet the sponge as needed.
For corners, and hard to reach spots, use cotton swabs. When the whole area is clean, spray some clean water on the baseboard, and wipe with the dry cloth.
#6. How to Clean Baseboards with Magic Erasers
If none of the above methods has worked, you can turn to modern cleaning magic to take care of your dirty baseboards. Melamine foam erasers, which are more commonly known as Magic Erasers, do a fantastic job cleaning many surfaces.
We're pretty sure that after you use magic erasers once, you will add them to your house cleaning list. You'll be amazed by the results.
Magic Eraser Baseboard Cleaning

Melamine foam Magic Erasers

Gloves

Microfiber cloth
Apply gentle pressure and start rubbing the magic eraser on the stains of the baseboards. Sometimes it may leave some residue as you clean. Remove it away with a microfiber cloth. Make sure not to apply too much pressure while cleaning as Magic Erasers have enough cleaning power to strip away paint and other surfaces.
At the End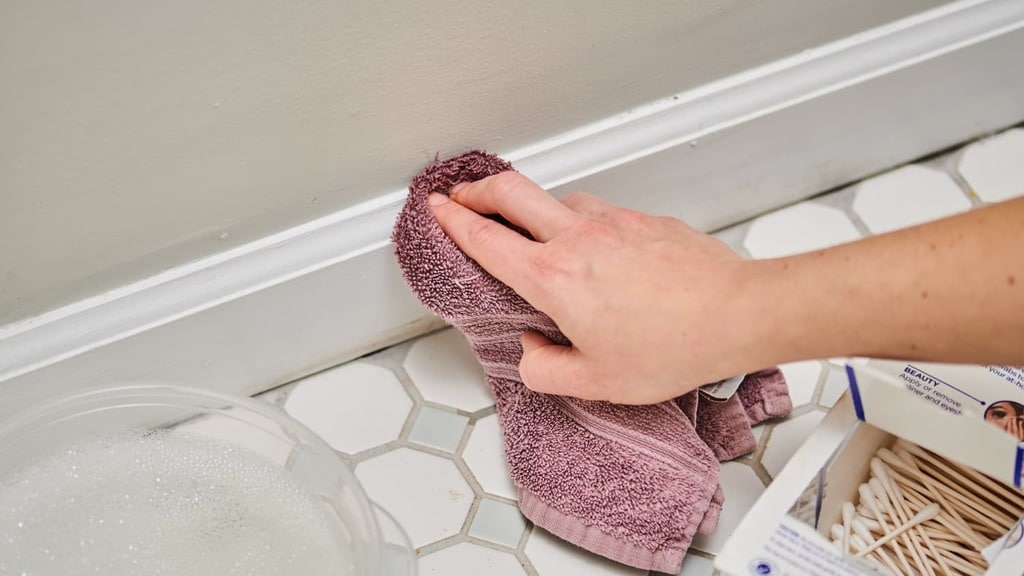 We hope you liked all the six methods that we told in this blog. When you clean all your baseboards, certainly, your home will become more beautiful. But you have to do the regular cleaning to keep them looking beautiful and shiny as the new ones.
All the above methods are quite easy because cleaning your baseboards is not a frustrating chore. So whether your house has white baseboards, painted or unpainted wood baseboards, you'll clean them in no time.