7 Best Rated Bathroom Exhaust Fans in 2020!!
Those days were gone when your room was used to fill with cooking smells, humidity, or any kind of unpleasant odors, whenever you cooked or took a shower. The new advanced technology has brought new inventions in home insulation systems. It brilliantly reduces the transfer of outside air that makes heating and cooling much easier. Check out some tips before buying quiet bathroom fans.
Do you also face the humidity problem in your bathroom? Water leaking from the shower or bathroom faucet can cause humidity that may result in the buildup of mildew and mold. So the solution to this problem is an exhaust fan. Yes, a bathroom fan will quickly remove this excess moisture from the air and there will be no molding in your bathroom. Today in this blog, we are going to tell you how to buy the best quiet bathroom exhaust fan for your bathroom, and along with that, we've also listed seven best fans so you can select the best for your space. 
Things to Look in a Quiet Bathroom Fan:
But what are the things that you should look at while purchasing a fan for your bathroom? Below are the three basic things that you should keep in mind before buying an exhaust fan: 
1. Noise Level (Sones)
A sone is a measure of loudness. The ideal quiet bathroom fans should be between 0.5 and 3.0 sones. 
2. Required Cubic Feet Per Minute (CFM)
The rotation of the fan air is measured in Cubic Feet per Minute (CFM). for example, if you have a bathroom with dimensions 8′ x 9′ = 72 sq. ft, so a fan with 80 CFM is recommended. 
3. Bathroom Area
If your bathroom area is Less than 50 square feet, then go with a fan with 50 CFM. In short, take 1 CFM per square foot of the area to find out the perfect fan for it.
7 Best Bathroom Exhaust Fans
Below is the list of top quiet bathroom fans along with their features. Select the one according to your requirement and budget. 
source: evandudley.co

This quiet bathroom fan is from brand Air King which comes with a snap-in mounting system. Which simply means that you can easily install this all by yourself. It also comes with brackets that attach to the ceiling joist, which allows the fan to fit in the spot perfectly. 
Features
Quiet operation and maximum performance.

It has an HVI certified motor. 

Comes with wire nuts and a Romex connector for easy installation.

High performance and very durable.

Operates at 90 CFM at 2.5 sones

Right or left hand ducting

Comes with a warranty of 1 year on parts.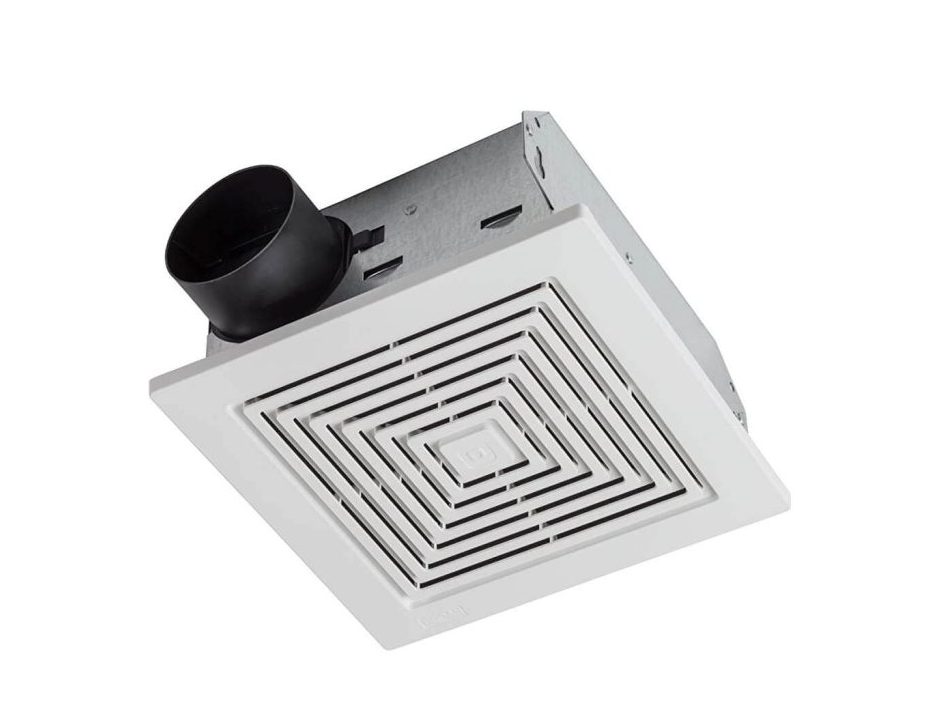 source: bobvila.com

The Broan 688 Bathroom Exhaust Fan has an amazing White polymeric Grille, which effortlessly blends with any decor. Another amazing thing about this fan is that you'll not need any kind of tools to mount this. Because it has Torsion spring grille mounting.
Features: 
Eliminates humidity and any kind of smell.

Operates on 50 CFM and has a 4. 0 Sone rating

Easy installation

Paintable polymeric grilles 

Easy cleaning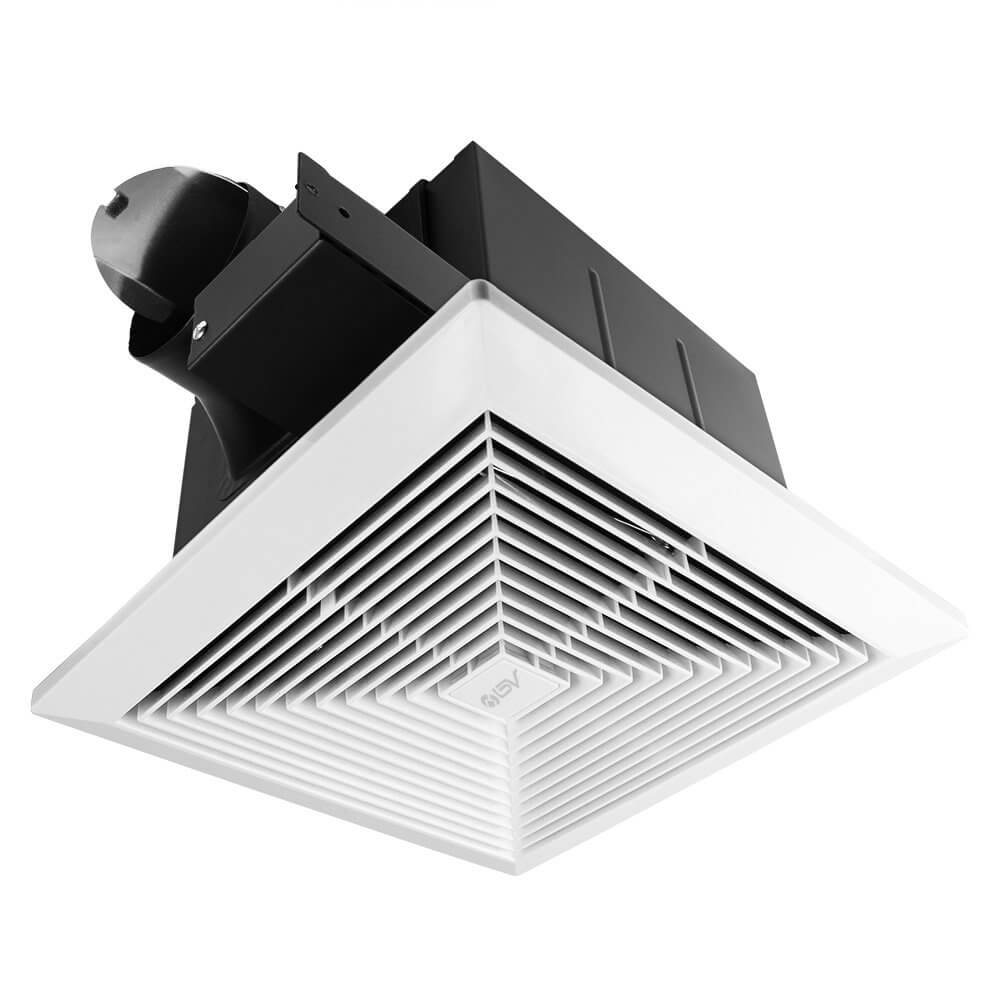 source: amazon.com

Do you want a fan that is strong yet quiet? Then go for the BV Ultra-Quiet Bathroom Exhaust Fan. It has a solid metal body, yet you'll not hear any noise from it. The mount opening is 9.25″ x 9.0″ with Height: 7.5″ and Stainless steel 4″ duct collar. It is a perfect Ventilation fan for the area for bathroom space up to 90 sq ft.
Features: 
Quiet performance

It has a heavy-duty motor.

Lifetime lubrication and thermally protected. 

HVI 2100-certified and UL Approved. 

Durable and gives high performance.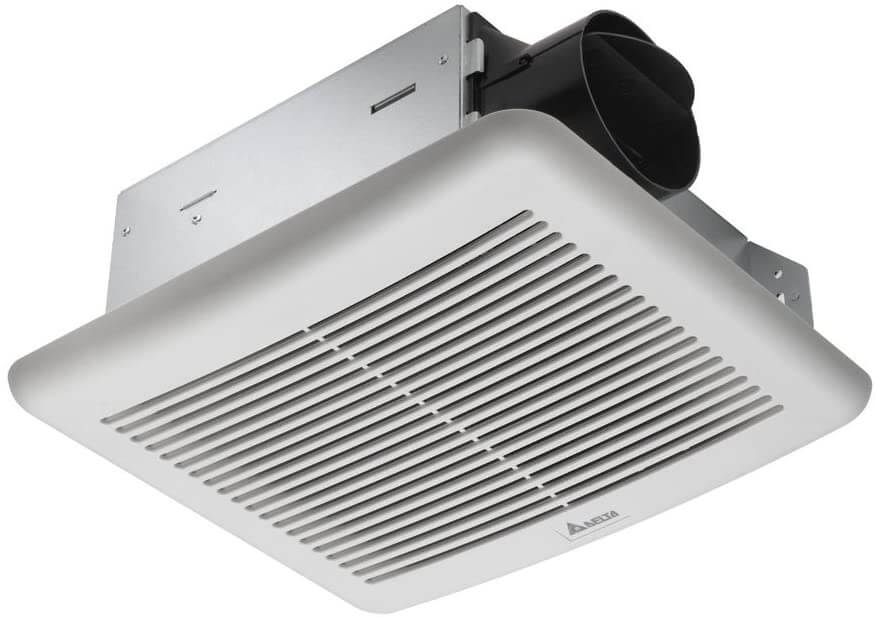 source: hdsupplysolutions.com

The next quiet fan on our list is the Delta Electronics SLM70 Bathroom Exhaust Fan. It has a DC brushless motor for extremely quiet operation. You'll be amazed to know that the motor has been tested to run continuously for 70, 000 hours (8 years)!! 
Features: 
Noise level of 2. 0 sones.

Energy efficient

It comes with a slim body that can be easily fitted on the retrofit or ceiling.

It has an

LED

indicator light.

It has a Galvanized steel body that resists corrosion.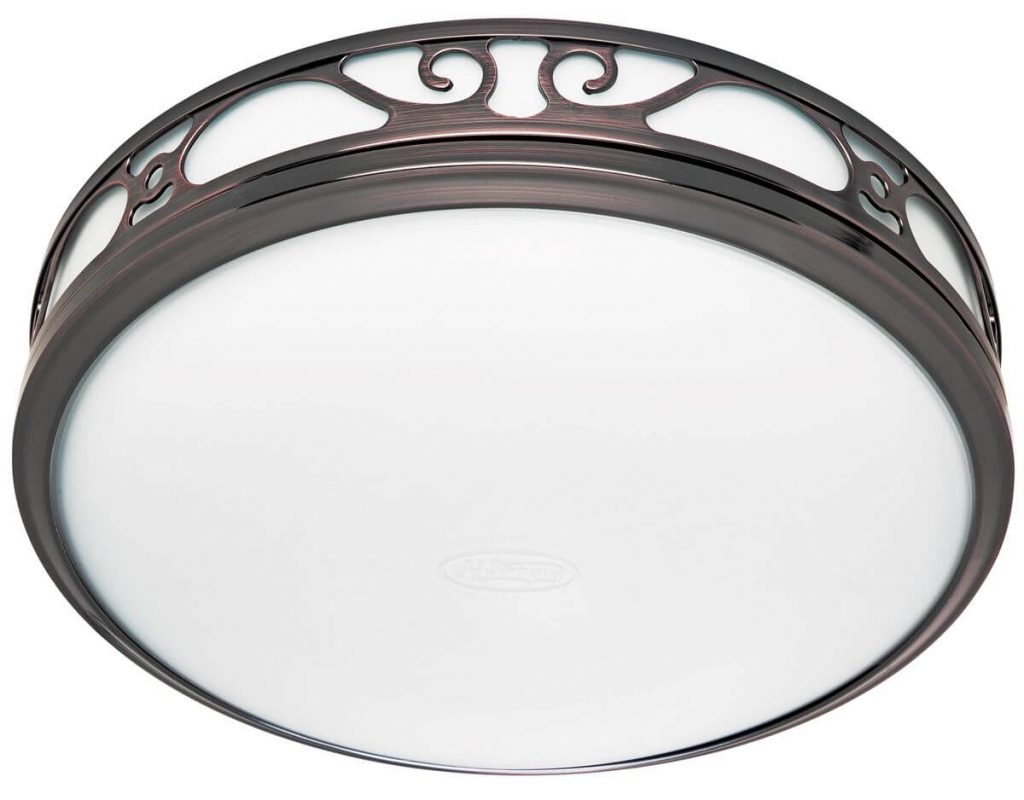 source: pinterest.com

The Hunter 83002 Bathroom Exhaust Fan features a royal bronze finish and white glass enclosure that has two bulbs and an optional night-light. You can use a single wire for the fan motor and light fixtures. The glass cover can also be removed and replaced easily. It has a Four-inch duct diameter and housing are 8.9 L x 9.7 W x 7.4 H inches, and the Light cover is 15 inches in diameter.
Features: 
Ultra-quiet fan

Fan motor and lights can be used together or separately.

Reduces excess moisture and humidity

Flush mount

110 CFM output, 3.0 sones

Screwless cover design for easy access and cleaning.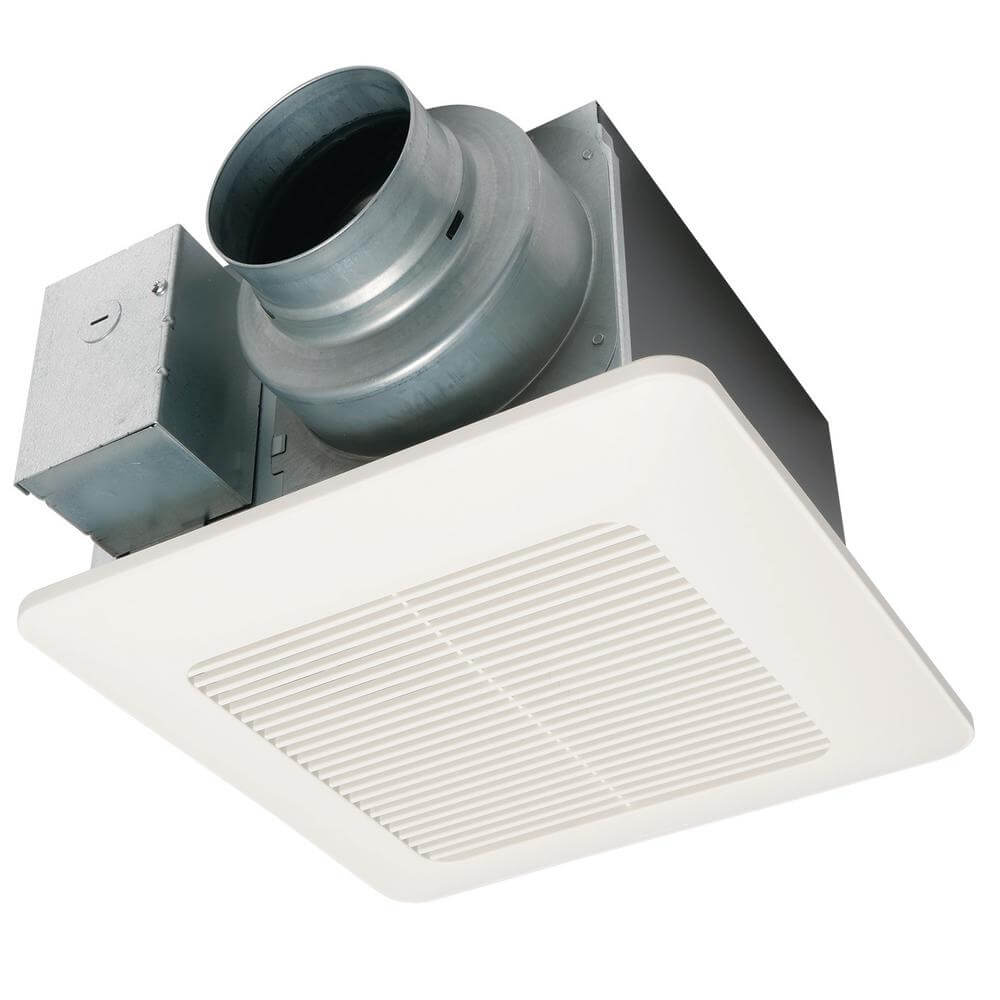 source: homedepot.com

This Bathroom Exhaust Fan features a built-in Pick-A-Flow speed selector switch. With the help of this switch, you can adjust the required airflow. This is from the world-known brand Panasonic. 
Features: 
Extremely quiet fan, it operates at 0.3 – 0.9 sones.

Flex-Z Fast bracket gives flexible, fast & trouble-free fitting.

Comes with a sensor. So whenever it detects static pressure, speed is automatically increased.

Completely eliminate the humidity, mold, mildew, and other air pollutants from any room.
Also Read: What are the Benefits of having an Ensuite Bathroom in your Home?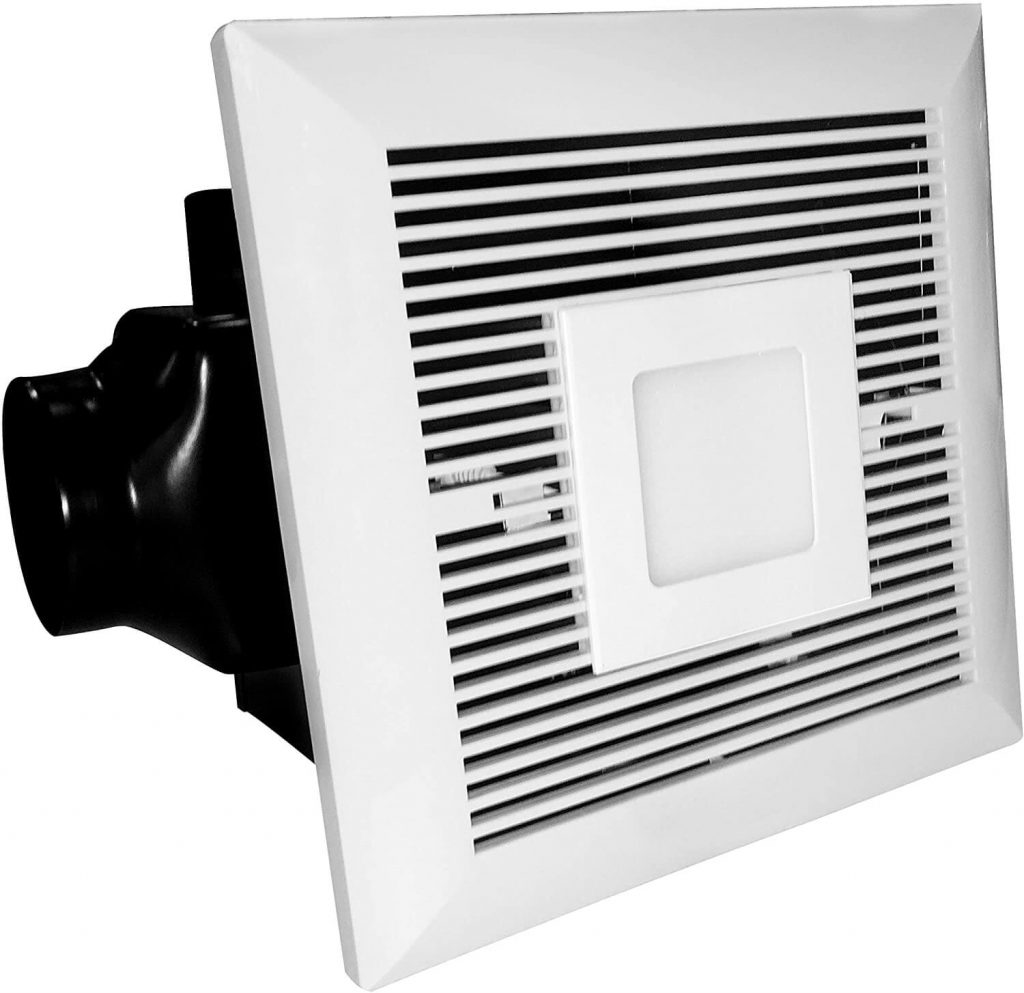 source: amazon.com

This bathroom fan is from Tatsumaki. It comes in a perfect size which can mostly work with any size of a bathroom. The Tatsumaki LD-120 Bathroom Exhaust Fan has stainless steel and plastic body.
Features: 
It includes a built-in 6W LED light. 

120 CFM and 1.2 sones. 

It comes with a double hanger bar system.

Low noise operation

Easy installation
Final Verdict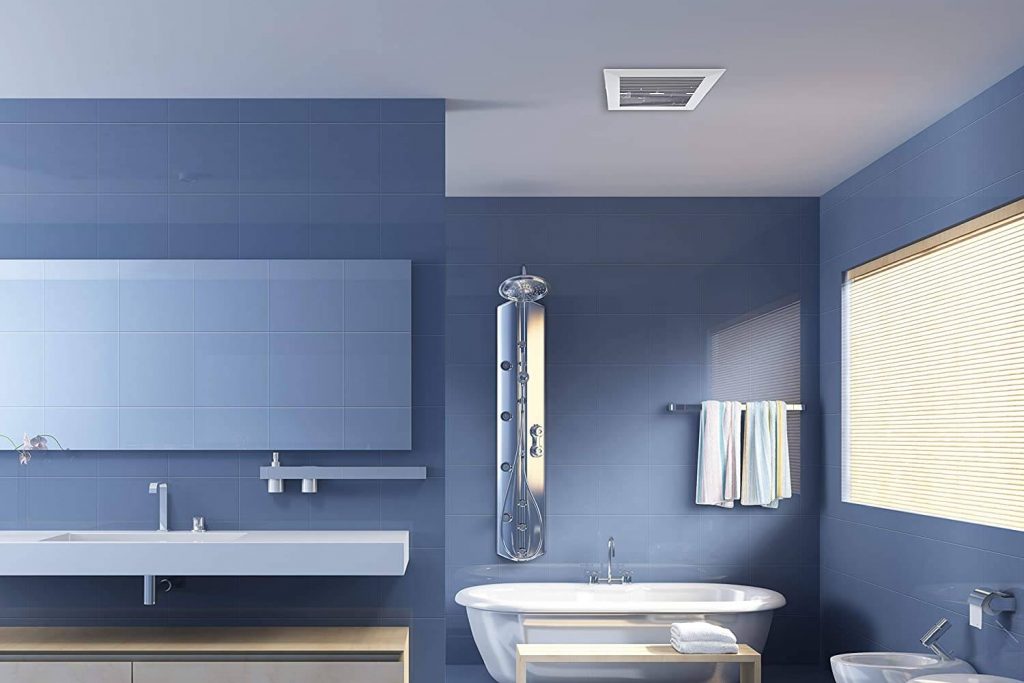 source: hauslane.com
So which exhaust fan is your favorite? From eliminating the humidity to the stubborn odors, a ventilation fan removes everything and makes your bathroom fresh and clean. These fans are not only for the bathrooms, but they can also be used anywhere, such as cooking areas or a room that requires proper ventilation. 
Always pick the one according to your bathroom size and the factors that we have mentioned in the blog. For more interesting blogs and DIY projects, keep coming to Architecturesideas.