Dressing Up Your Bedroom with Textile: A Guide to Choosing the Right Fabrics
In DIY interior design, fabrics are often seen as an afterthought. As a homeowner, you want to select the best textiles for your bedroom and you may view textiles as finishing touches instead of elements your home needs to complete and elevate its look, style, and appeal.
However, you shouldn't design a room without thinking about the types, designs, and colors of fabrics to feature in the space first.
Fabrics suppliers in Dubai say that textiles allow you to show your personality and make a room appealing and stand out. Through the skillful use of fabrics, you can also create the right vibe you want to convey and ensure they are cohesive with your interior design.
Because of these reasons, whether you are having your home build or renovate; it is never too early to shop for fabrics you can use in the various rooms in your home.
How to Select the Best Textiles for Your Bedroom
Your bedroom is one room in your home that requires different fabrics for various applications, such as window treatments, bedding, and covers for chairs and ottomans.
But with so many types of textiles to choose from, you may find yourself spending several hours narrowing down the best options smartly for the different features in your bedroom.  
If you want to choose the right fabrics for your bedroom in the shortest time possible, follow these tips:
1. Know the Most Commonly Used Fabrics in Bedrooms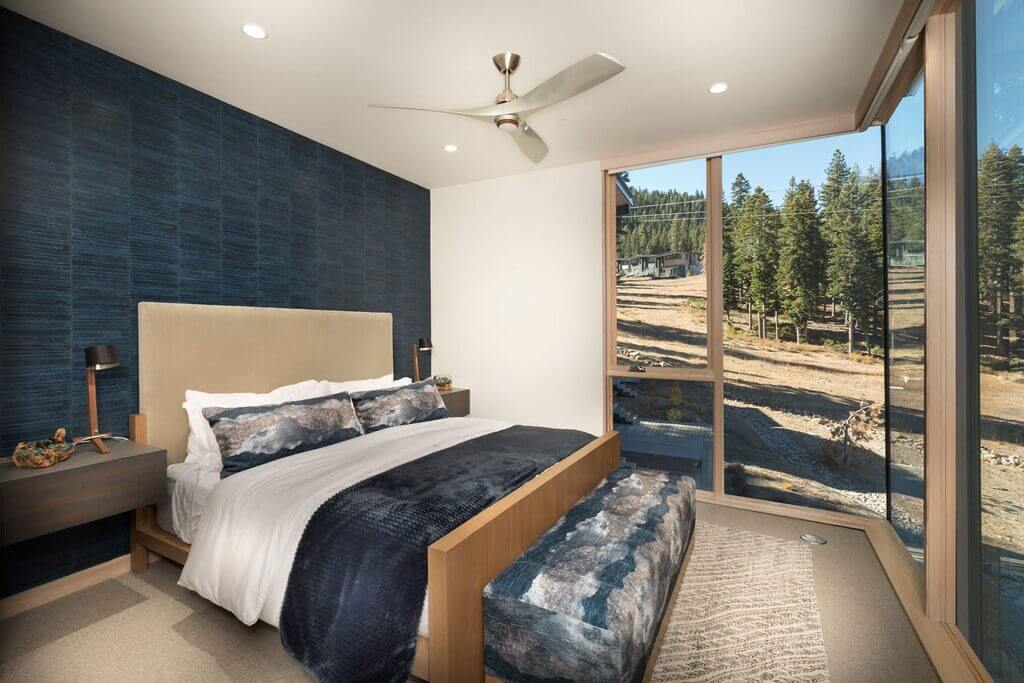 Source: cloudfront.net
When you have an idea of the qualities of these widely-used fabrics, you can select that best meet your requirements.
Certain fabrics are more frequently using for specific purposes than others. These textiles include:
Cotton
This versatile fabric is a classic, multi-purpose, and inexpensive textile that comes in different textures and thicknesses. Cotton has high-tensile strength, making it a strong and long-lasting material that does not rip or tear easily. It can also wash easily and frequently and dries quickly.
Polyester
This textile is also a sturdy material that can be used for various purposes. Because of this, it is a popular choice for interior decoration. Polyester is also effective in resisting stains and lasts long.
Silk
This fabric is soft and flowy and can make any feature and space look elegant. It is often used in bed linens and curtains. However, silk is quite delicate and stains easily, which means it requires a lot of care.
Nylon
Nylon was invented as an alternative to silk. It is strong and hard-wearing and, thus, frequently used for upholstery and curtain work.
Rayon
This textile is similar to silk since it is soft, smooth, and flowy. However, it is stronger than silk and, thus, more commonly using in window treatments and as upholstery.
Velvet
Velvet is another fabric that gives spaces and furniture a touch of elegance. It looks and feels luxurious and is a great material for bedding, curtains, and couch and sofa covers.
2. Consider the Interior Design Theme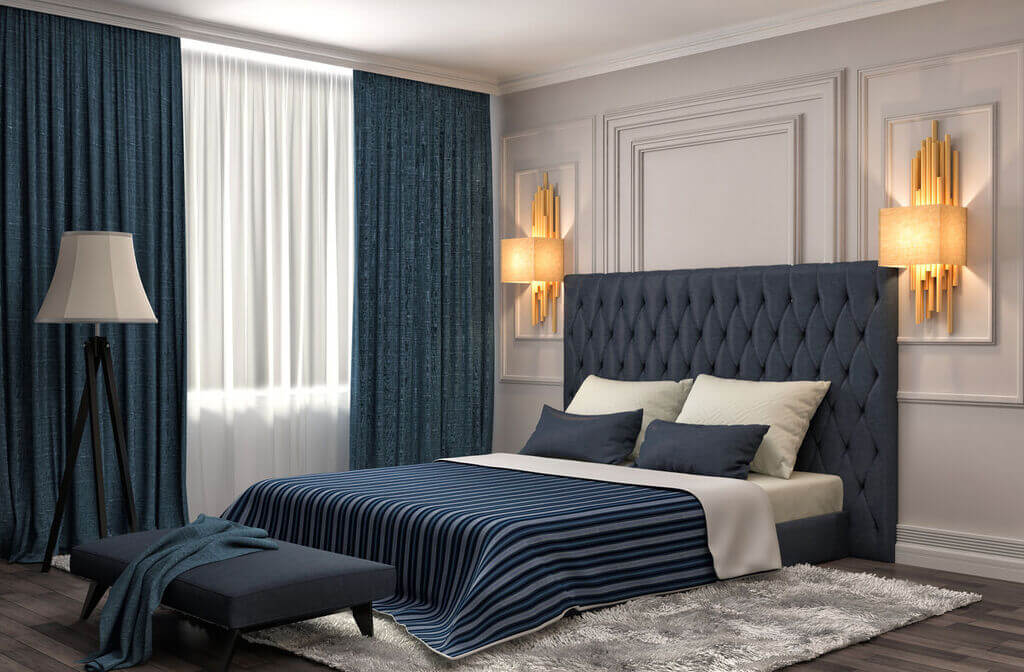 Source: smalldesignideas.com
Although making your bedroom as comfortable as possible maybe your primary goal, ensure it follows or complements your home's overall interior design theme.
Consider your home's design style and design elements. If they highlight elegance and classiness, silk, satin, rayon, velvet, and lace fabric are your best options.  
If you have a contemporary interior design, you will do well to opt for cotton, wool, and linen.  
Also, pay attention to the fabrics you already have in the other rooms. If those already have the same textiles and you don't want to update all these features, you can save money by getting the same material for your bedroom window treatments and furniture.
Regardless of which route you go, don't forget to prioritize getting fabric that brings your bedroom together.
3. Choose Colours and Patterns Carefully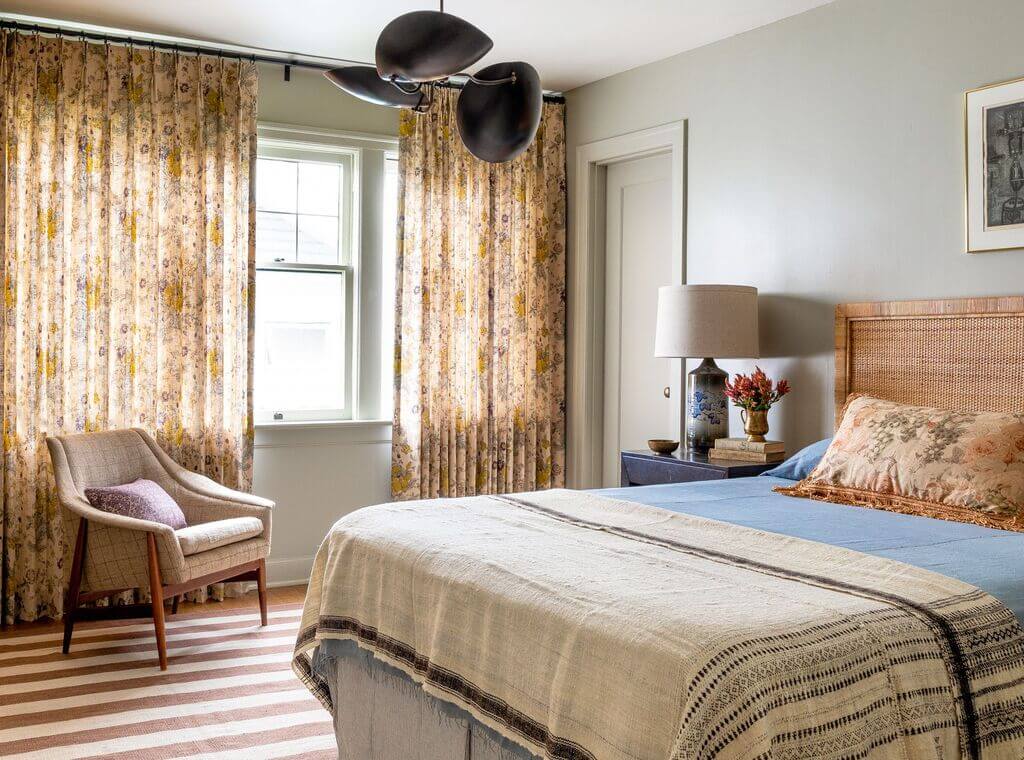 Source: hearstapps.com
The colors and patterns of fabrics are also essential parts of your bedroom's overall design. As such, consider those elements as well.
For instance, if you want to have a natural, relaxing, and modern bedroom design, opt for a solid-colored textile in a neutral earth tone.
If you are aiming for a relaxing and calming bedroom that evokes the vibe you get from beachside cottages, white fabrics with splashes of yellow or blue are your best bet.
Additionally, if you want to incorporate patterns, consider the furniture in your bedroom first.  Fabrics with small, detailed patterns in a large room can get easily lost.
For small bedrooms, consider getting fabrics with stripes and checks since those will add color and the illusion of space. They will also help create a comfier, less formal feel for the room.
Also, be careful about using too many colors for your bedroom since doing so can make the space feel hectic and perplexing. If you want your room to appear unique and visually appealing, mix patterns instead of hues to avoid creating a chaotic look.
Lastly, since a bedroom is supposed to be the place where you can relax and sleep, avoid vibrant colors and eye-straining patterns. They can affect your ability to rest and impart a disorderly appearance at the same time.
Also Read: Minimalist Master Bedroom Ideas for Blissful Simplicity
4. Don't Forget About Texture
Lastly, do not ignore the importance of including the texture of fabrics in your shopping decision. This single element can give your bedroom design a completely different feel.
Additionally, the texture of your fabrics can enhance the level of comfort and aesthetics of the room.
If you want to give your bedroom a plush and homey feeling, go for cotton and linen fabrics for your furniture covering and bedding.
On the other hand, silk, satin, rayon, velvet, and lace are the best textiles to pick if you want your bedroom to look more elegant and luxurious.
If you are choosing upholstery fabrics for your children's bedrooms, textiles with rough textures, such as canvas, leather, linen, or tweed, are excellent options since these are all durable and do not tear easily.
Also, keep in mind that like patterns, you can combine textures to create a fascinating contrast of rough and smooth. Another option is to layer smooth or fine and coarse or rough textiles.
Doing so will give your bedroom another interesting and eye-catching feature.
When shopping for bedroom textiles, remember that the quality of the fabric is just as vital as the material.
If you want to have bedding, window treatments, and furniture upholstery or coverings that you can use for years, choose brands and products that are famous for their durability and ability to maintain their quality and appearance.
Author Bio:
James Prathap is the General Manager at NGC Nafees, one of the leading distributors of wallpapers, floorings, and fabrics in the Middle East and South Asia. Formed three decades ago, the business also offers high-quality panoramics, coordinated fabrics, and creative stickers for residential and commercial projects.