Bean Bag Chair Fabrics: A Guide on Selecting the Right One!
Do you think a bean bag is the only thing that can provide you with the utmost relaxation and comfort-ness? We do.
Bean bag chairs have ruled over the hearts of kids, teens, adults, and whoever has desired comfort before anything. From the time it first entered the house decoration line, it hadn't really left (even for a year). 
Initially, it was known as the Sacco chair in the 1960s. From the very start, it didn't have any specific shape (as that depending on the user's choice). Its sole aim was to provide the ultimate comfort level to the users. 
Keeping that in mind, over the years many brands have created thousands of shapes for bean bags. Along with that, bean bag chair fabrics has also seen variations with a change in the furnishing styles and themes. Apart from leather, now there are other fabrics too, that are used in the making of a bean bag.
While researching the fabrics and best bean bag chairs in the market, we read a blog on Homesthetics about the same. They have put in an amazing effort in proving the best of the best information. You should really check it out!
So whether you are doing a DIY project on making a bean bag or looking for it on an online store, you will first need to know about their fabrics. Here in this article, you will read about different materials used in the making of bean bag chairs!
Guide on Bean Bag Chair Fabrics:
Let's have a closer and detailed look at the types of bean bag chair fabrics and under what conditions you can use them. 
1. Cotton
Source: shopify.com
Cotton has always been the go-to fabric for almost everything, be it the clothing we wear or the bedsheet we sleep on! The reason is but-obvious – it is a super-soft, comfortable, affordable, and breathable fabric. Although it is easy to clean, it isn't stain-resistant. You can't remove every kind of stain from it. Also, once it gets wet, it will take time to dry.
2. Leather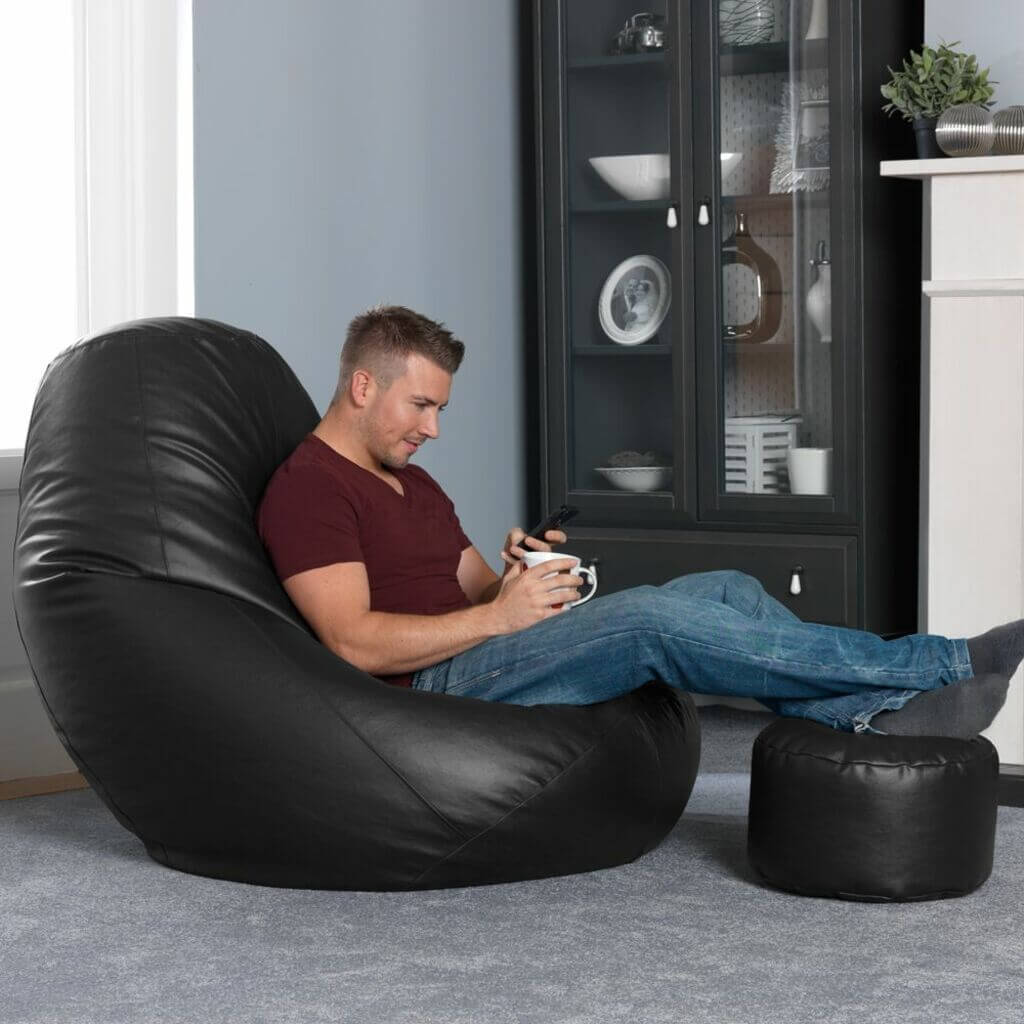 Source: pinimg.com
If you want to go for a real bean bag feel, leather is the best option. You will get a bean bag chair in two types – genuine leather and faux leather. Leather is the reflection of luxury and comfort. It is easy to clean and maintain, but it is high-priced as well. Not everyone can afford it. As for the faux leather, it might be in the budget but won't match the durability of the real one.
3. Suede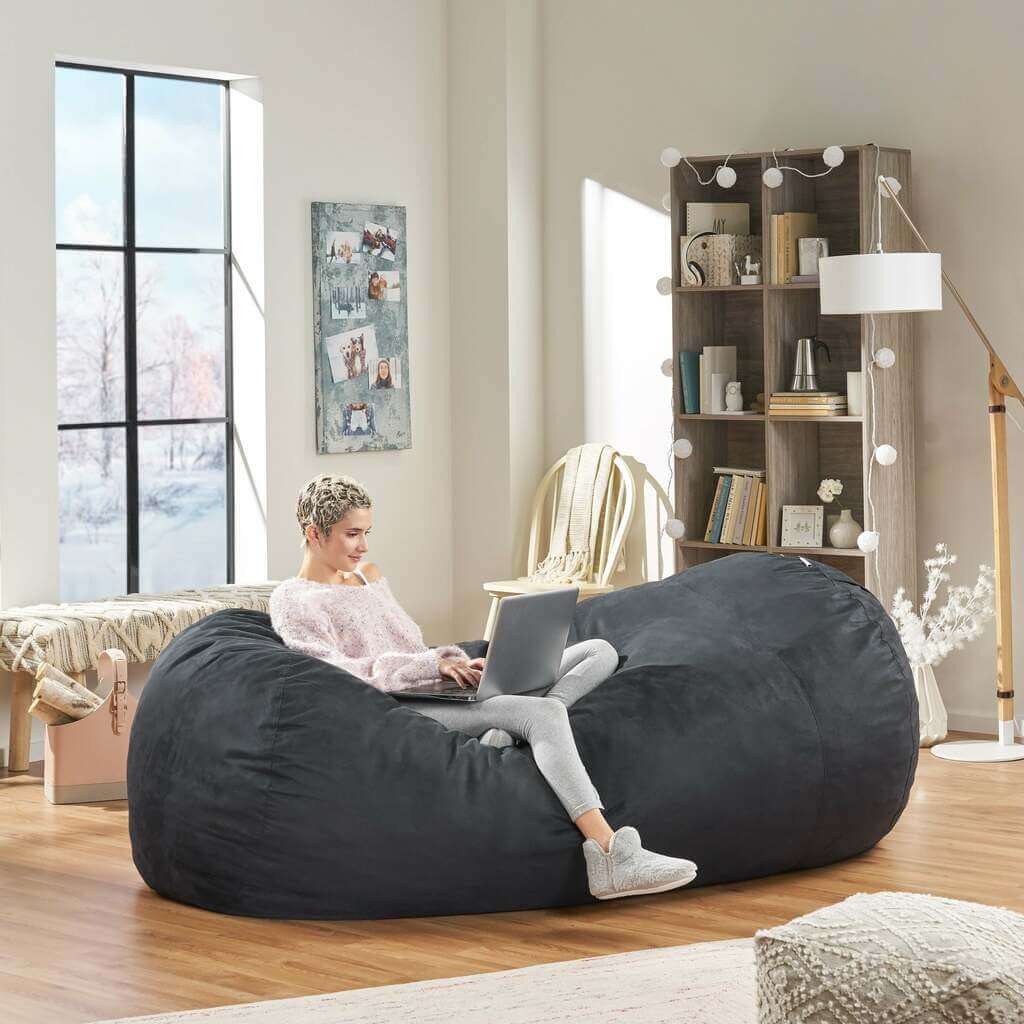 Source: ostkcdn.com
A close substitute for leather is suede. It is softer and has easy maintenance. If you are looking for a bean bag that will go well with any style and is distinctive & attractive than the rest, you should only opt for suede. But suede isn't waterproof, so a suede bean bag chair doesn't make the right outdoor furniture.
4. Faux Fur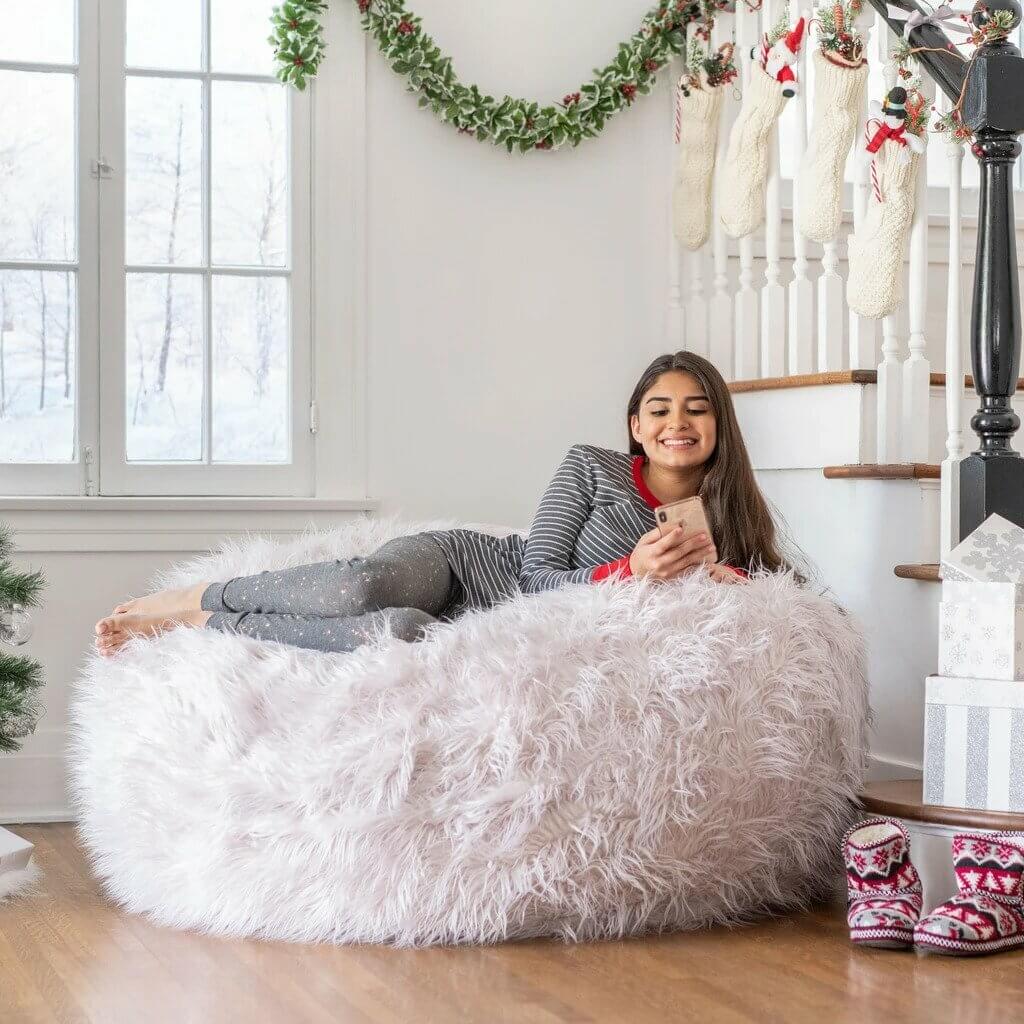 Source: shopify.com
Want to go cozier with the fabric? Faux fur is the option. The sensuous texture and luxurious look make it perfect for royalty home decor. However, keep in mind that maintaining faux fur is too hard. It can be machine washed but in a delicate mode. To keep its softness intact, brush it after air drying.
5. Velvet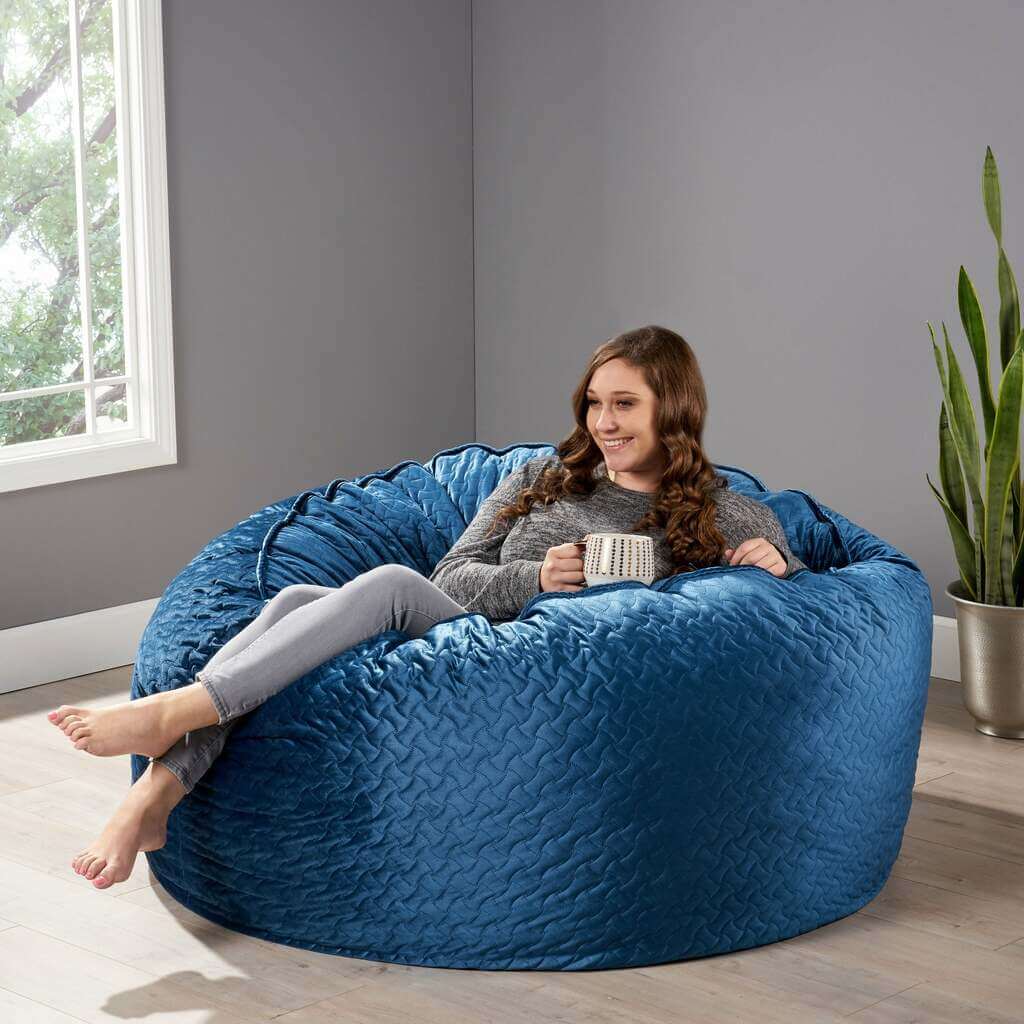 Source: ostkcdn.com
Another plush and the upholstered fabric is velvet. The bean bags made from velvet can be used as a chic Instagram setup as well as a wine and lounging area. The velvet material has a luxurious and stylish appeal. This so-nice-to-skin fabric needs extraordinary care and upkeep. So if you are ready to dedicate time to its maintenance, it will make exceptional furniture in your home.
Also Read: 9+ Mid-Century Modern Chair: Enhance the Interiors with Exclusive Collection
6. Corduroy
Source: shopify.com
Corduroy may not be successful in the clothing line, but for the furniture, it is successful. Why? Because it is already weaved with the backing, so furniture with corduroy won't need one. Apart from that, it is super comfortable, soft, and easy to clean and maintain. What is the most significant plus point? It is pocket-friendly with a rich look.
7. Nylon & Polyester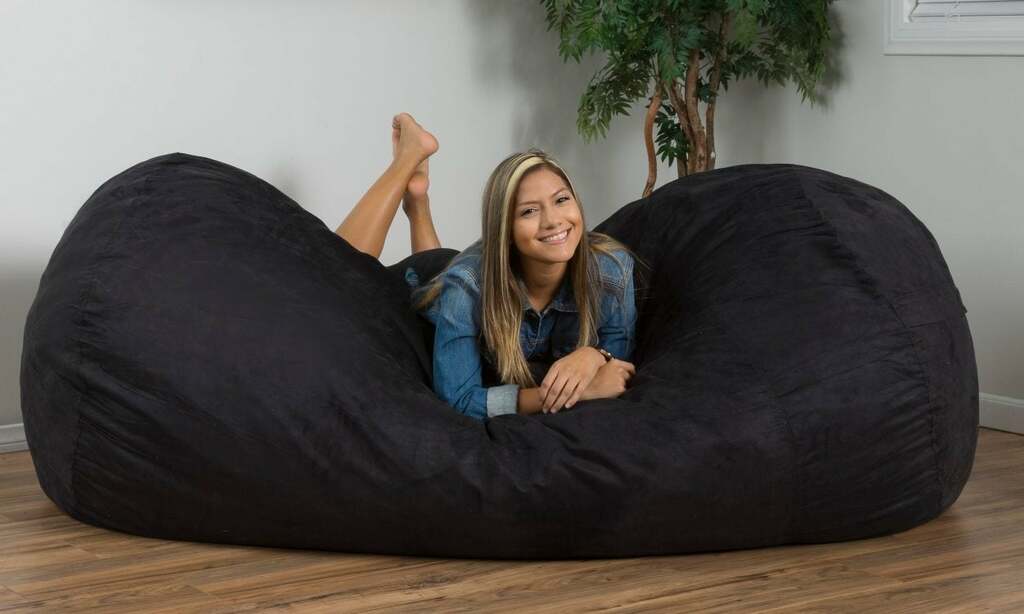 Source: ostkcdn.com
Are you looking for a fabric for the bean bag chair, which makes it useful for both outdoors and indoors? Nylon and Polyester is the answer. Both the textiles are water-resistant, strong, durable, and lightweight. Practically, you can carry them with you on the trip. Place it in the patio or the garden and enjoy evening coffee and tea without worrying about cleaning the bean bag. A damp wipe will do the wonders!
8. Patterned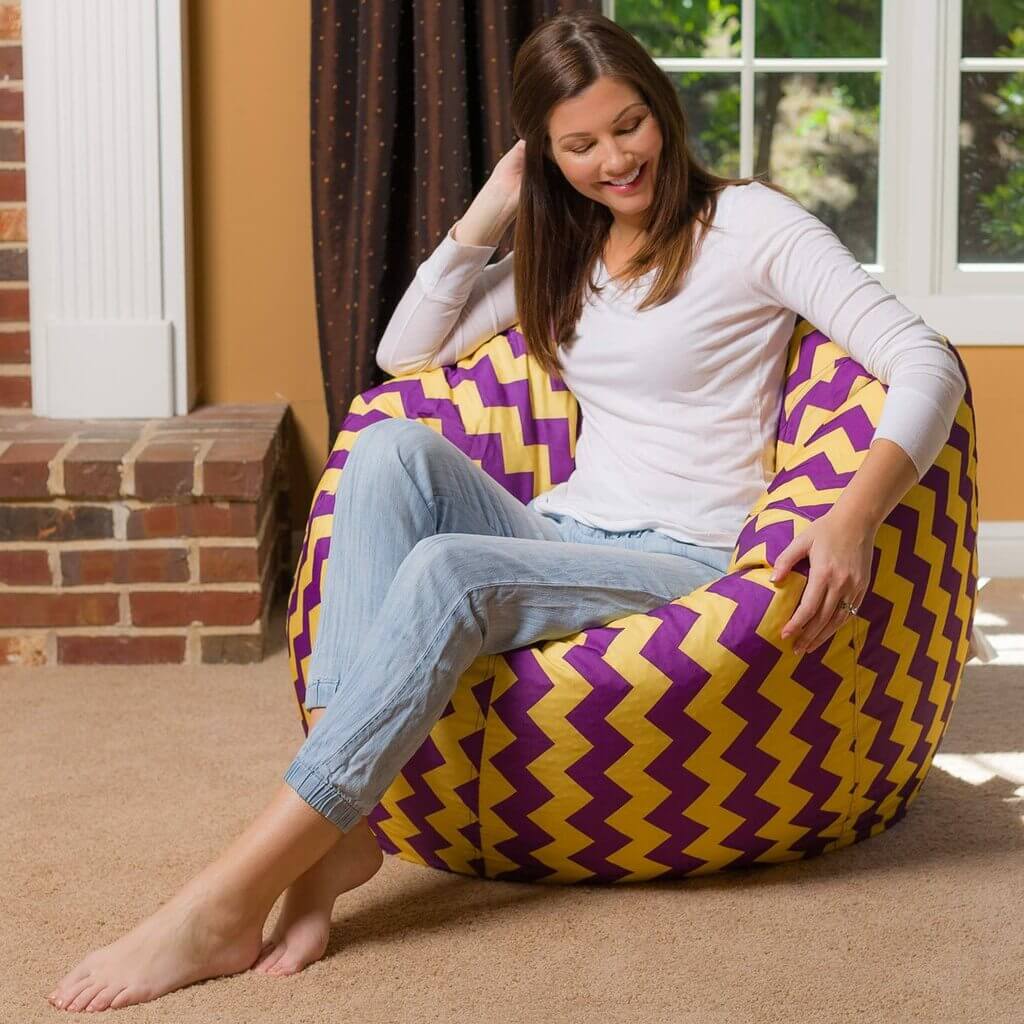 Source: amazon.com
Want to add a splash of color or pattern in the bare room? Don't worry. You can also use patterned material to spruce up the look. When going for patterned fabric make sure the patterned is weaved and coated. The coated pattern will wear off, eventually making it look weird. In comparison, the weaved one will stay intact.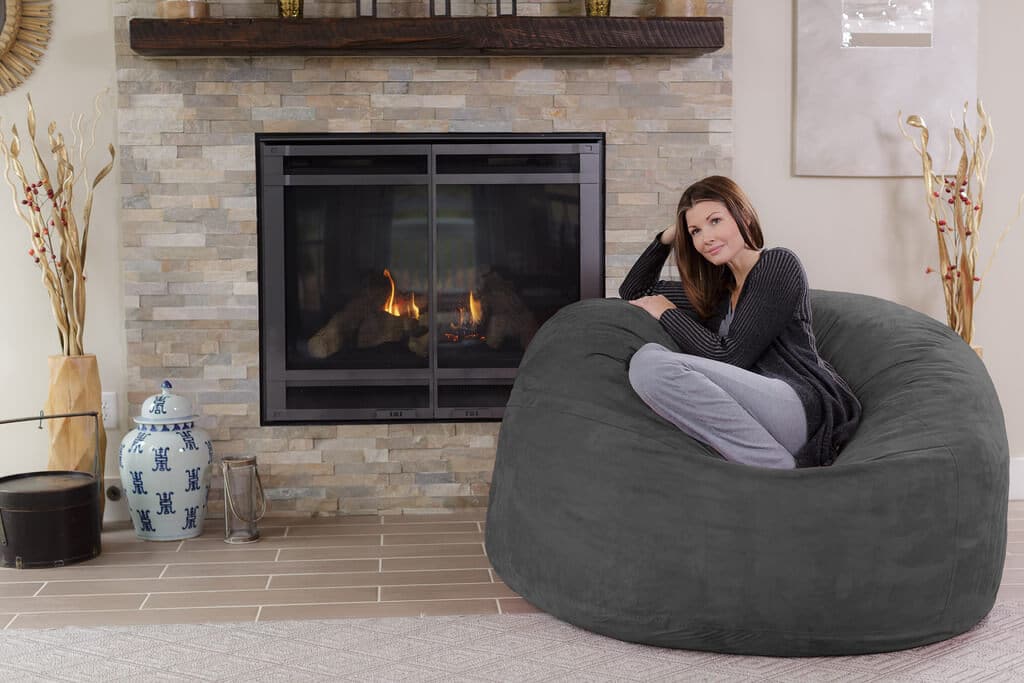 Source: walmartimages.com
Wrapping up:
Bean bag chair fabrics should be fire-retardant to keep everyone safe. All the fabric related furniture around the house tends to catch fire easily. To avoid the fire hazard, make sure the material used is fire-retardant. 
When you buy a bean bag or its fabric, consider all the factors, then decide which one to go for! If you have kids or pets at home, consider getting stain-proof fabrics. For more information on house decor ideas and related stuff, visit ArchitecturesIdeas.