Why Buy A Pool Slide & How To Choose One For You
If anyone tells you that having a pool at home isn't that big of an advantage then that person doesn't know what he or she is talking about. Or, they simply don't care about swimming or having fun for that matter. The truth is that nobody can deny the benefits of this amazing addition to your home, so you were definitely right to install it when you did.
There's one thing you need to know, though. Having a pool means that you will constantly be thinking about adding some extra features to it that can provide you with even more fun. One of those extra features that can be added is known as a pool slide. If you are thinking about getting one, but you aren't sure if it's the right thing to do, read on to find out why getting a portable pool slide might just be a perfect idea.
Source: bluehaven.com
1. It's Fun
Let us start with the very basic. We cannot exactly fail to mention that adding a slide will be extremely fun for the whole family. Imagine yourself sliding instead of jumping into your pool. Now, imagine your kids doing the same thing and possibly turning this whole thing into some kind of competition. There's no denying the fact that adding this product will certainly be extremely exciting for the whole family.
2. It's A Wise Investment
When investing in anything related to your home, you have to think about whether it's a smart investment or simply a waste of money. This is because you might want to sell your home in the future. While most people don't even think about selling when making these investments, there are those who never fail to take that into consideration. And, in the end, it pays off.
Portable pool slides are definitely a wise investment when you think about it this way because they can certainly increase the market value of your home. Of course, the pool itself increases the value and the slide just adds to that a little bit. Think about the buyers, though. They are far more likely to fall in love with a home featuring a pool slide, meaning that you will have an upper hand and no trouble selling the property if it comes to that.
3. It Looks Amazing
Everybody wants their backyard to look beautiful. That's why we are all constantly tending to our gardens, for example. Having a pool slide can definitely enhance the overall appearance of your yard and especially so if you choose a great design. Speaking of that, you will definitely have some great designs to choose from, but, as you will quickly see, that's not the most important thing to consider when buying this product.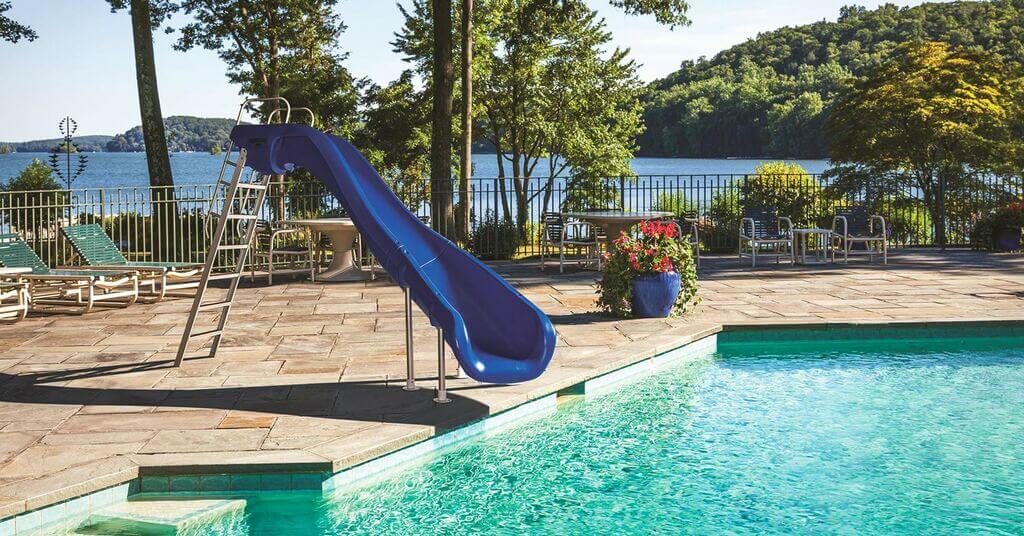 Source: wisepick.org
How To Choose Your Pool Slide
There are some things, such as those explained on this website, that you will have to take into consideration when choosing your pool slide. Naturally, you want the product to be perfect in every aspect, and in order to make sure that you are choosing the perfect one, you will have to do some research before making the purchase. Buying the first product that you come across is not the wisest idea.
As I have already mentioned, you will have to take quite a few things into account when choosing this addition to your property. If you have never shopped for these products before, you might be a bit confused as to what it is that you need to consider. Don't worry, though; I'll let you know about the things you should think about before making this purchase.
1. Quality Of Materials & Products
The first thing you should consider is, of course, the quality of the overall product. In order to determine that quality, you will have to do two important things. For starters, take a look at the materials. Nothing can tell you more about the quality than the materials that these products are made of, so make sure to always check that first.
As for the second thing you will have to do so as to determine quality, let me put it this way. You can't know how great something is until it has been tried and tested. No, this doesn't mean that you should buy a lot of different slides and test them in order to determine quality. It simply means that you should rely on the opinions of people who have already tested some of those. In other words, read product reviews.
2. Durability
Unsurprisingly, you will want your slide to be durable enough to last for a long time. Nobody wants to have to replace this product after only a couple of months of using it. That's why you should think of the durability of the specific product before actually giving your money away for it. Once again, you can check this by reading product reviews and figuring out what the people who have already used these have to say about durability. If you find that there are too many people dissatisfied with a specific product, it's best to avoid it altogether.
Here are some more things to consider before the installation: https://www.thespruce.com/considerations-before-installing-a-pool-slide-2736545
3. Design
I have briefly mentioned above that a pool slide can really add to the overall appearance of your property and that the design you choose will have a direct impact on that. Now, this doesn't mean that the design is the most important thing to consider, but it definitely shouldn't be taken for granted. After all, you don't want to get something that doesn't look really nice and that will only spoil the overall appearance of your pool and your whole backyard.
So, after checking out the quality and the durability, you should proceed to look at different designs and choose the one that will perfectly fit in with the overall look. When you start searching, you'll see that there are a lot of different designs to choose from. Make sure to choose a great one.