A Complete History of the Most Loved Furniture Bean Bag Chair
From corporate offices, college dorm rooms to living areas and bedrooms, Bean bag chairs can be seen everywhere these days. They're rapidly gaining popularity in our culture, right? So, if you like to add this relaxing and Casual Furniture to your home, place your order right away at Architecture Lab.   
But have you ever wondered who invented this concept? Who finalized the design? And most importantly, what makes them so special? 
Comfortable, Durable, and Easy to clean: These three things make a bean bag chair special! And nowadays, they are globally accepted as a great alternative to traditional furniture. So it's no wonder that everyone is crazy about this cute little piece of furniture. The history of the bean bag is also quite amazing! You'll be amazed to know that the first-ever bean bag chair was designed in the 1900s!  
Because of their ergonomic properties, now doctors started to recommend them. They're highly beneficial for the children on the autism spectrum as it is a form of therapy. Apart from this, they're also used by many interior designers as an interior staple. From small to super large, they have a variety of bean bag chairs in various colors. But before that, you need to know what type of bean bag chair is best for you. So, keep reading to find out more exciting things about the iconic bean bag chairs.  
 History Of Bean Bag Chair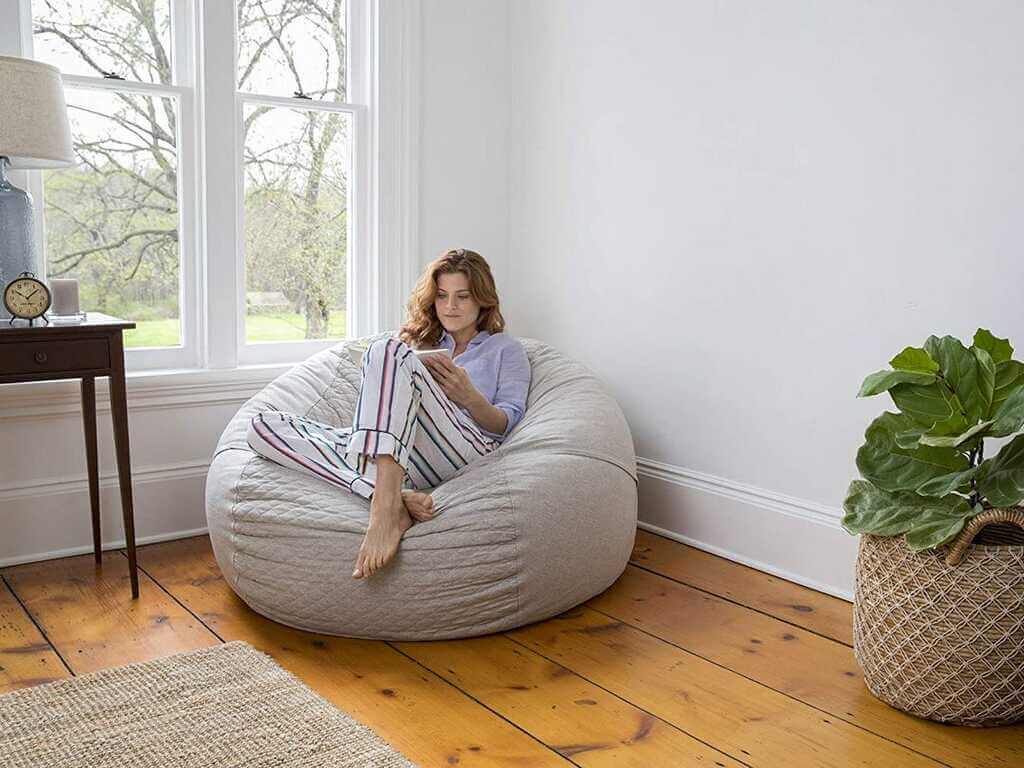 Source: insider.com
Bean Bag Chairs have a long and rich history, and most people are unaware of it. The very first bean bag chair was created in 1969, and it was known as the "Sacco," and it was designed by a trio of innovative young designers: Piero Gatti, Cesare Paolini, and Franco Teodoro.  
The project was commissioned by Zanotta Design in Italy and these three designers were asked to create an aesthetically appealing chair that is also comfortable and unique in every aspect. The original Sacco was made from 100 percent pure cotton and they were available in a dozen gorgeous colors. 
Zanotta says about Sacco: "The initial public reaction was incredibly enthusiastic, so it soon became one of the biggest commercial and social successes ever recorded by a piece of furniture."
After some time, these bean bag chairs gained so much popularity, and later in the 70s, there were many types of them that started manufacturing, such as cotton, canvas, and corduroy bean bags.  
Bean Bags in 2020!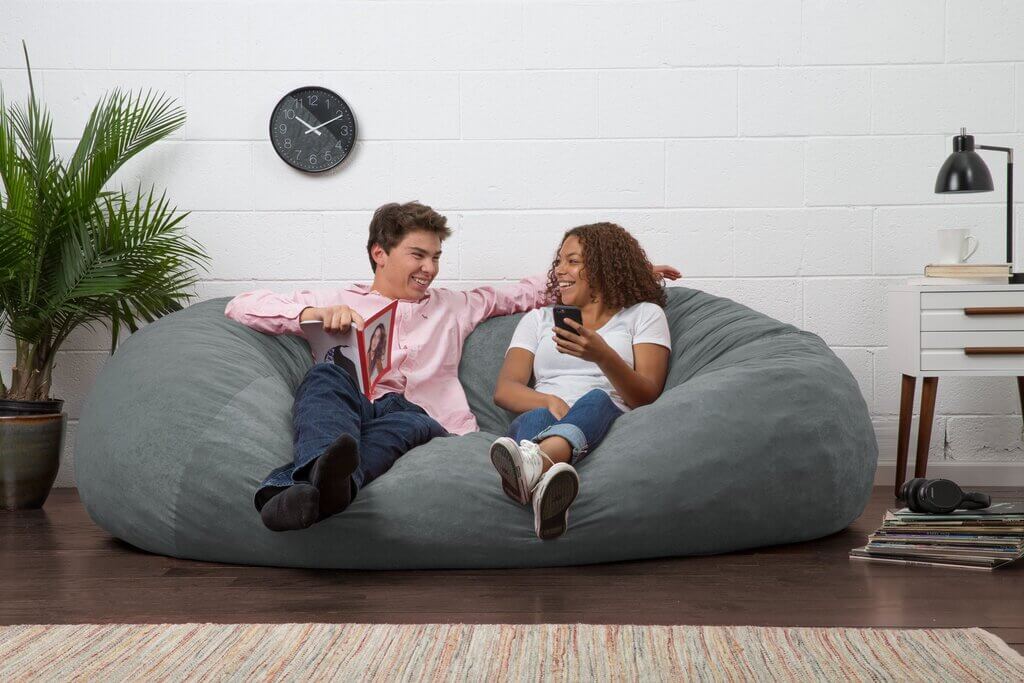 Source: amazon.com
Starting from the 1960s, bean bags can now be seen in every other house. Previously these bags come in a limited number of shapes, but nowadays, the bags are slightly different from the original ones. They're now available in thousands of shapes, sizes, and styles and made from various materials, including vinyl, faux fur, leather, polyester, canvas, nylon, microfiber, PU leather, and suede. 
Today's bags have waterproof, water-resistant, and fade-resistant fabrics as their outer covers and are sold with separate inner liners. This makes them so much easier to keep clean and wash regularly. Today you can find luxury bean bags, designer bean bags, personalized bags, and many more.
Types of Bean Bag Chairs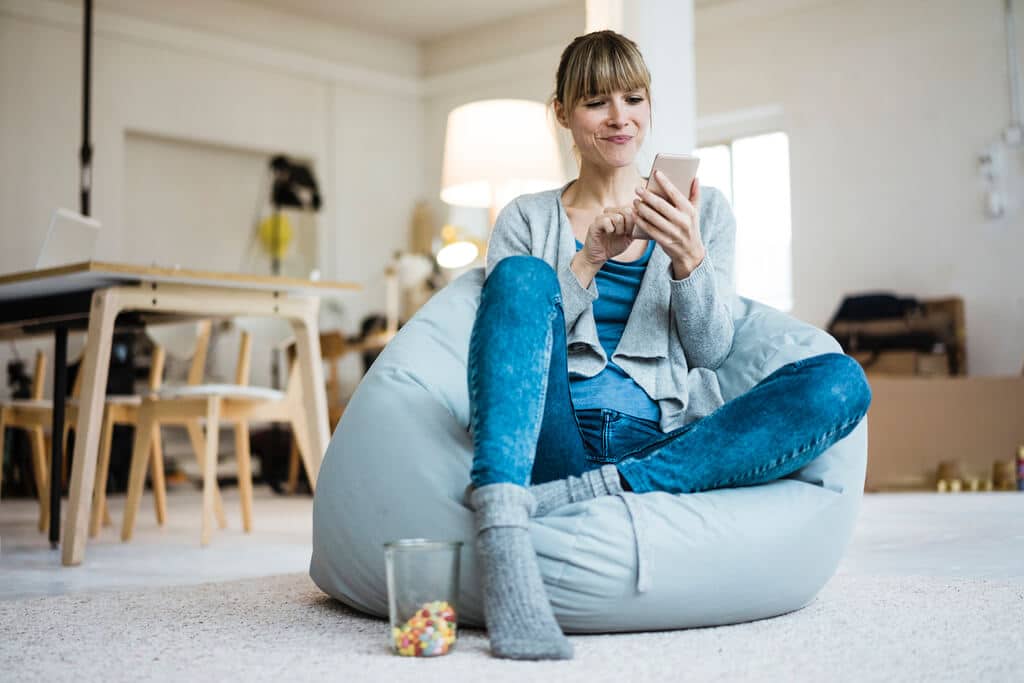 Source: firstforwomen.com
Apart from regular seating, the bean bags are now used as chairs, loungers, pillows, pool bags, pet bags, and even as loveseats. You can use them indoors and as well as outdoors. Bean bag chairs can be classified according to their: Shape, Size, Filling, and Covers. 
Let's know more about them, and later you decide which will suit you best:
Shape
From Classic round and square to modern gaming chairs, they come in almost every shape that you ever imagine. Even there are fun-shaped bags like animals, sports equipment, and even emojis are available in the market.
Also Read: 8 Styles of Conservatory Chairs to Fit any Decor Needs
Sizes
After the shape of your chair, also consider the size. The smallest bean bag chairs are for kids. They come with a circumference between 110 and 120 inches in total. After this, there are bean bags for teens and adults that range between 130 to 150 inches around. But if you really want something huge and big, there are bags with 180 inches in circumference that are also available. They can be used as seating for multiple persons.
Filling
There are many kinds of bean bag filling materials that you can use such as Polystyrene beads, Shredded foam, and Expanded Polypropylene. Don't ignore these because the level of comfort, durability, and weight mainly depends on the type of filling. 
Covers
Similarly, the cover is also essential for its comfort and look. Cotton, suede, vinyl, velvet or velour, plush, and leather are some popular outer cover types.
At Last! 
Whatever design, shape, or style you select, one thing is sure: ultimate comfort! there are many benefits of bean bag chairs like they are super easy to implement into any place and also inexpensive as compared to other types of furniture. You can also easily transport them from different living spaces. So, if you like to add this relaxing and Casual Furniture to your home, place your order right away at Architecture Lab.
Keep coming to Architecturesideas for more interesting blogs on furniture, architecture, and other home improvement ideas.