How to Pick the Right Rug: A Complete Rug Buying Guide!
Looking for a quick way to uplift the ambiance of your room? Include rugs in your decors! Versatile and stylish: Rugs are a simple yet effective way to update the floors, interiors, and overall aesthetic of a room. From bold floral design, black and white patterns to neutral textured rugs, and even custom rugs, you can buy rugs in every possible shape, color, and design. With their help, you can easily transform the look of any place as they can really tie a room together visually and ultimately make the room cozier, comfortable, and more welcoming. 
However, buying a rug isn't that simple as it seems. There are many factors and things such as rug material, color, and size that you have to consider when choosing a rug for your home. Today in this blog, we're going to tell you how to pick the best rug for your place. We've explained each and every factor in detail so that you'll select the best one. 
Best Rugs Online
Rugs provide a solid foundation to your space by creating a sense of cohesion and coordination. We always try to find affordable area rugs that will match our existing furniture and decor, but there are many other important things apart from this. Many people just consider the style and look alone, and many times they end up wasting their money. 
A new rug is a big investment as they're expensive. Imagine purchasing a rug that is too small for your space. Wouldn't that be an inappropriate choice? You'll immediately regret your decision and all your efforts that you put into designing the room will go in vain. Similarly, getting too large will cover the entire space and hide its existing fixtures. 
So, find the perfect way through this guide and buy a stylish rug that goes well with your place that too in your budget! So that you'll not regret buying and wasting your hard-earned money. 
Depending upon your room, size, and overall look or theme you want to bring in, there are various options that first you have to understand before buying any type of rug. So, let's start with the size of the rug.
Determine The Rug Size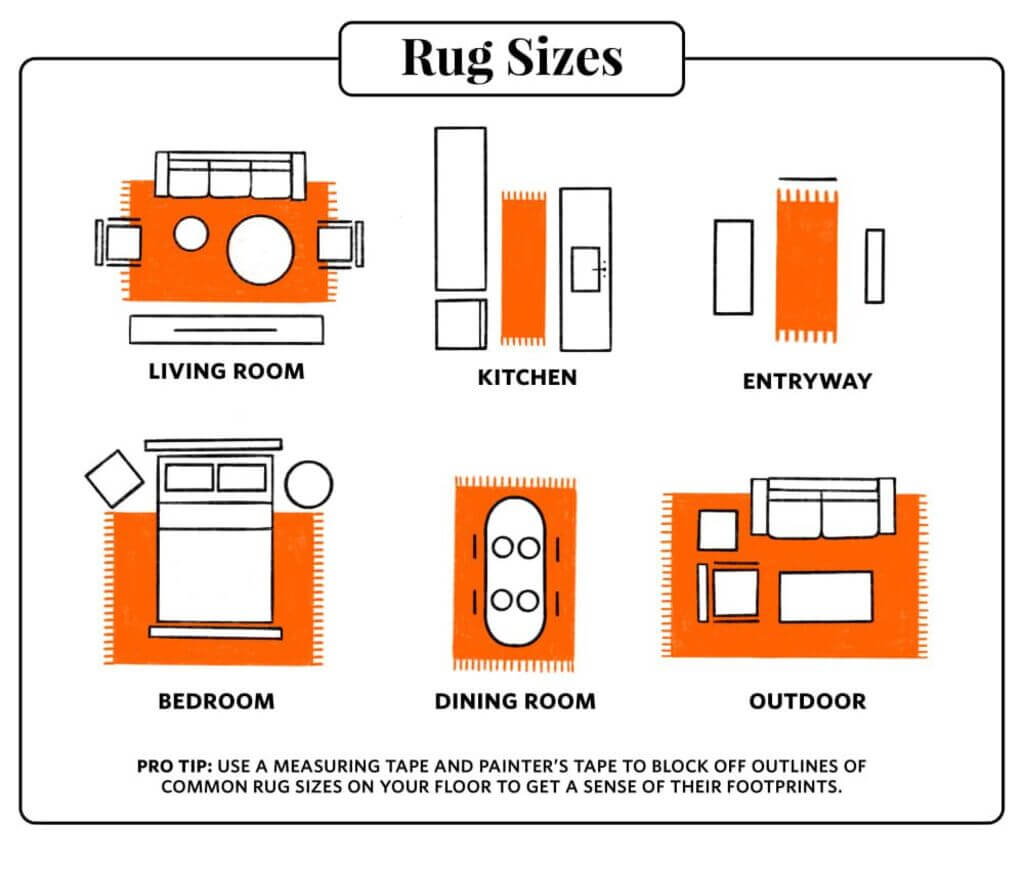 Source: pinimg.com
The first thing that you should know is the size of your rug. Yes, as rugs come in various sizes and area rug placement should be according to the size of the room. So, measure carefully your room where you want to put the rug and then decide what dimensions will fit best.
From 1.83m x 1.22m, 3.05m x 2.13m to 4.88 x 3.66m, and 5.49m x 3.66m, you can find a rug in a wide variety of sizes. Even some companies like Therugcompny offers made-to-order rugs, which simply means you can get it any size according to your room's dimensions. 
So basically, there are two rules: first, go with the size that completely covers the area. Second, pick a smaller rug that only runs under the front feet of the sofas and chairs. You can also use multiple small rugs, but if you're planning to place one large statement rug, there are some basic floor plan rules that you should follow.
Area Rug Floor Plans
Here are various floor plans according to different rooms. You can select the rug size according to the respective floorplans. 
Living Room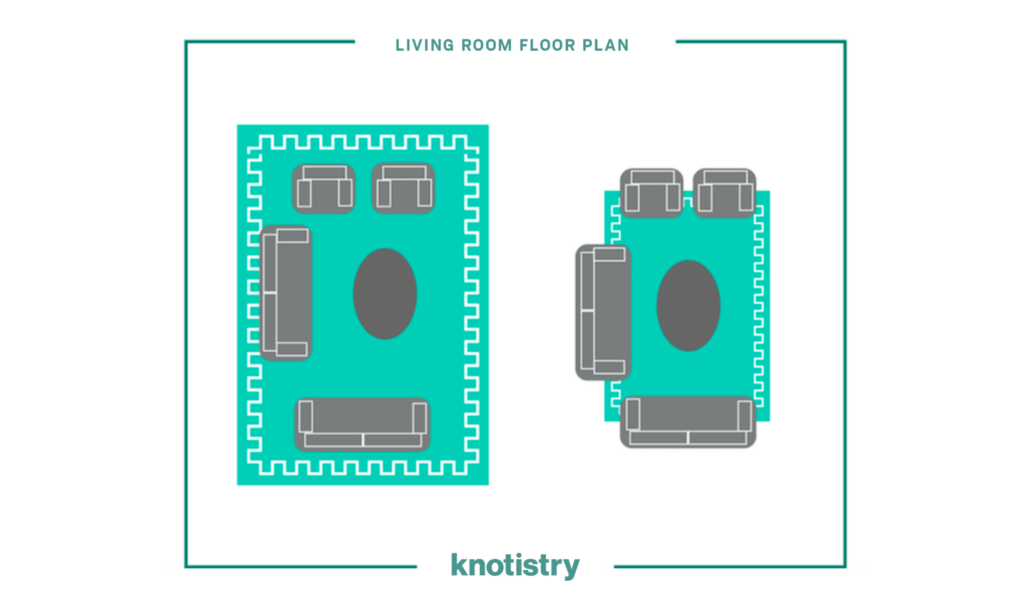 Source: knotistry.co.uk
Ideally, all your living area furniture should sit on the rug, so go for a large area rug. However, if you want front-legs-only, you can pick the smaller size rugs. The best area rugs for the living room will be rug with A 5′ x 8′ or 6′ x 9′ dimensions. Just make sure that whenever your sofa is placed against a wall, at least the front legs of the neighboring armchairs are on the rug. 
Dining Room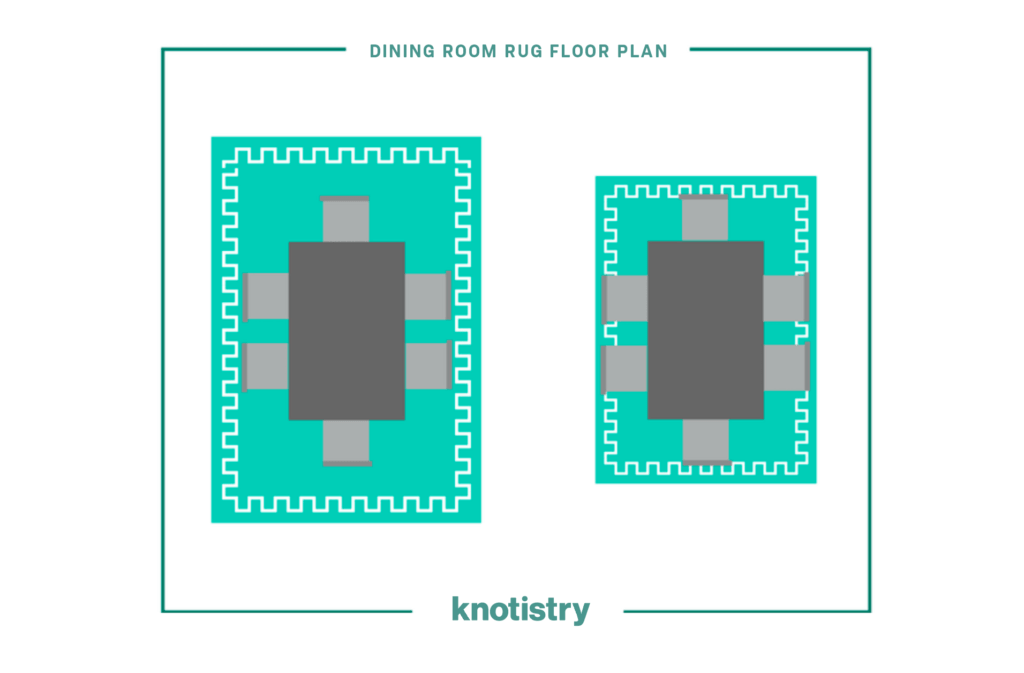 Source: knotistry.co.uk
The dining room rug should be large enough to put all your dining furniture. It should have enough space even when chairs get pulled away from the table. For general measurement, first, take measurements of your table and then add approximately two feet.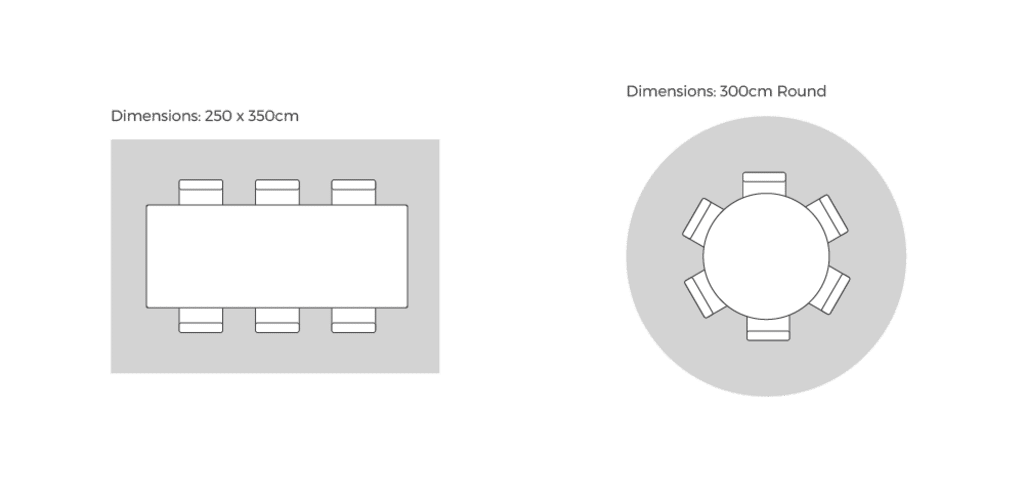 Source: therugcollection.com.au
If you have a circular or any other shape of a dining table, you should always add at least 24 inches on all sides. 
Bedroom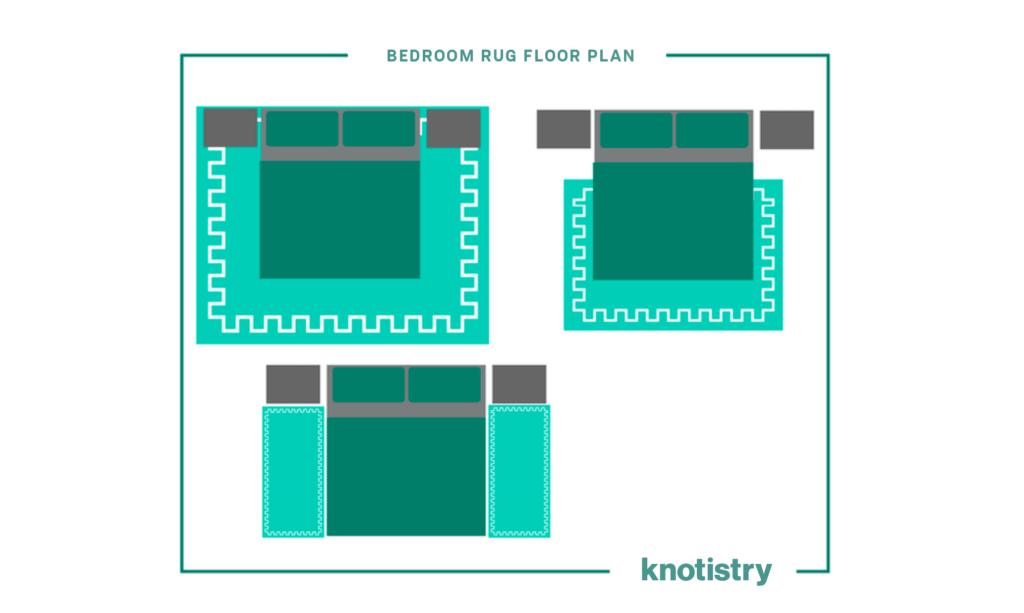 Source: knotistry.co.uk
When you're buying a rug for your bedroom, consider three rules: 
Pick a large rug so that all your bedroom furniture can sit on it.

Select a smaller rug that will peek out from the foot of the bed. Or, 

Use one large rug and two runners to lie beside the bed.
Just make sure that if you opted for a small rug, it should cover roughly ⅓ of the bed's base.
Kitchen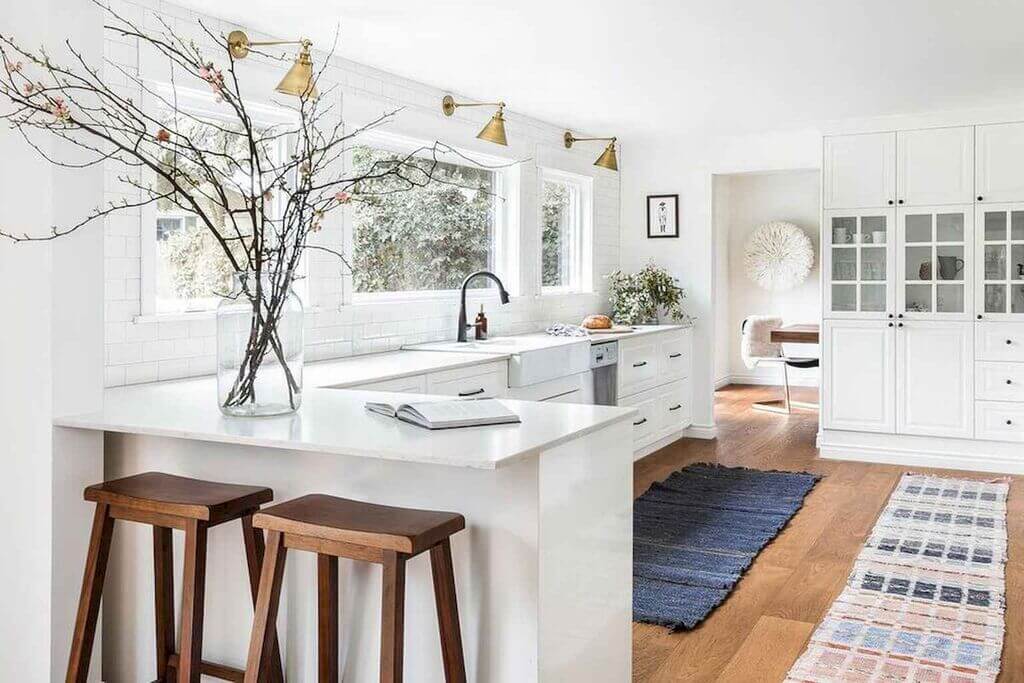 Source: pinimg.com
In the kitchen or entryway area, use runners instead of rugs as they're specially designed for these places. A narrow runner of 2' x 3' or 4' x 6' dimensions will work perfectly.  
Outdoors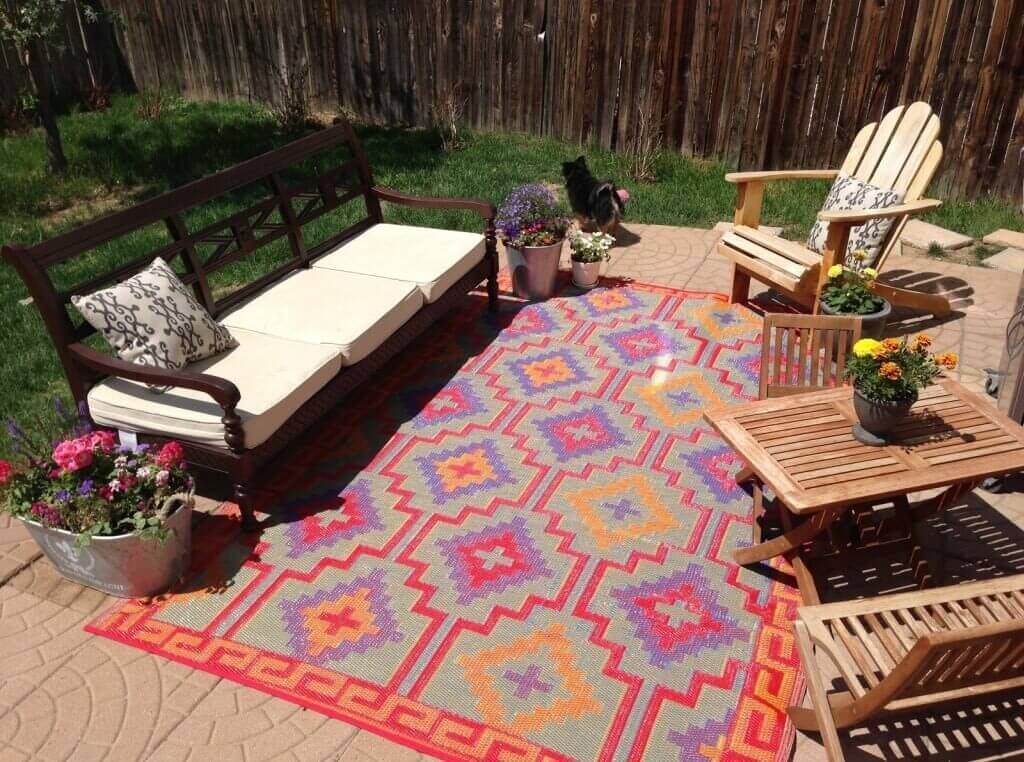 Source: optimole.com
Are you looking for outdoor rugs? Then always search for large rugs. For measurements, just decrease 12-24 inches from your space's perimeter. 
Select The Right Rug Materials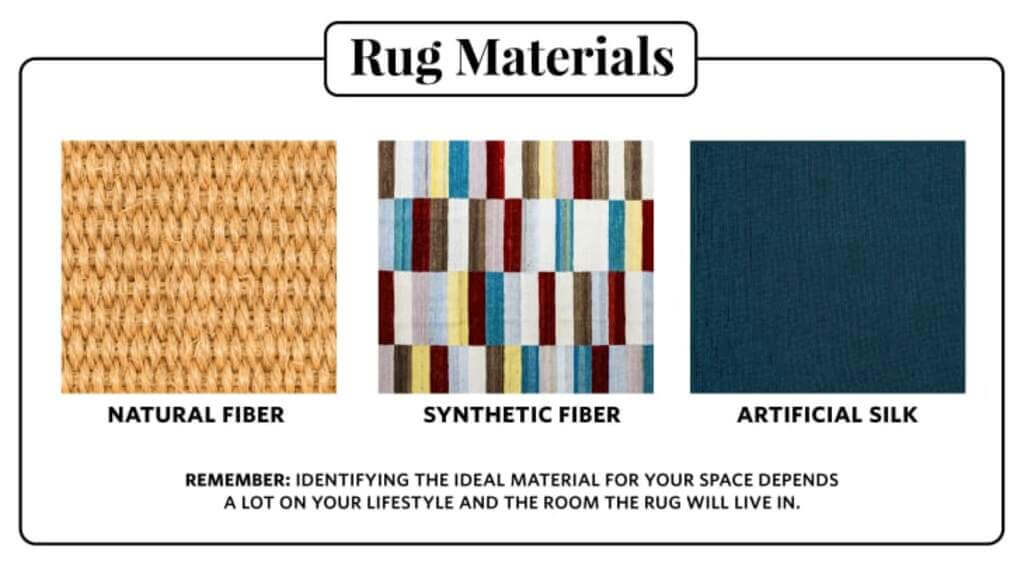 Source: apartmenttherapy.info
The next thing that you have to keep in mind is the materials. Yes, rugs do come in various types of materials such as plant-based fibers like cotton, linen, sisal, jute, and allo; downy, natural fibers like wool, silk, and mohair; and synthetic materials like nylon and solution-dyed acrylic. Not only these but there are more materials which are available in the market. 
Each offers a different look and feel, and style. Different kinds of materials are also appropriate for different areas in the home, such as indoor and outdoor. For example, the best material for outdoor rug are synthetic and polyester. You also have to look for their maintenance and whether you have children or pets. All these things should always be considered before buying a rug.  
Here is the comparison of various materials in tabular form. To know about them in-depth, scroll down. 
Comparison Table: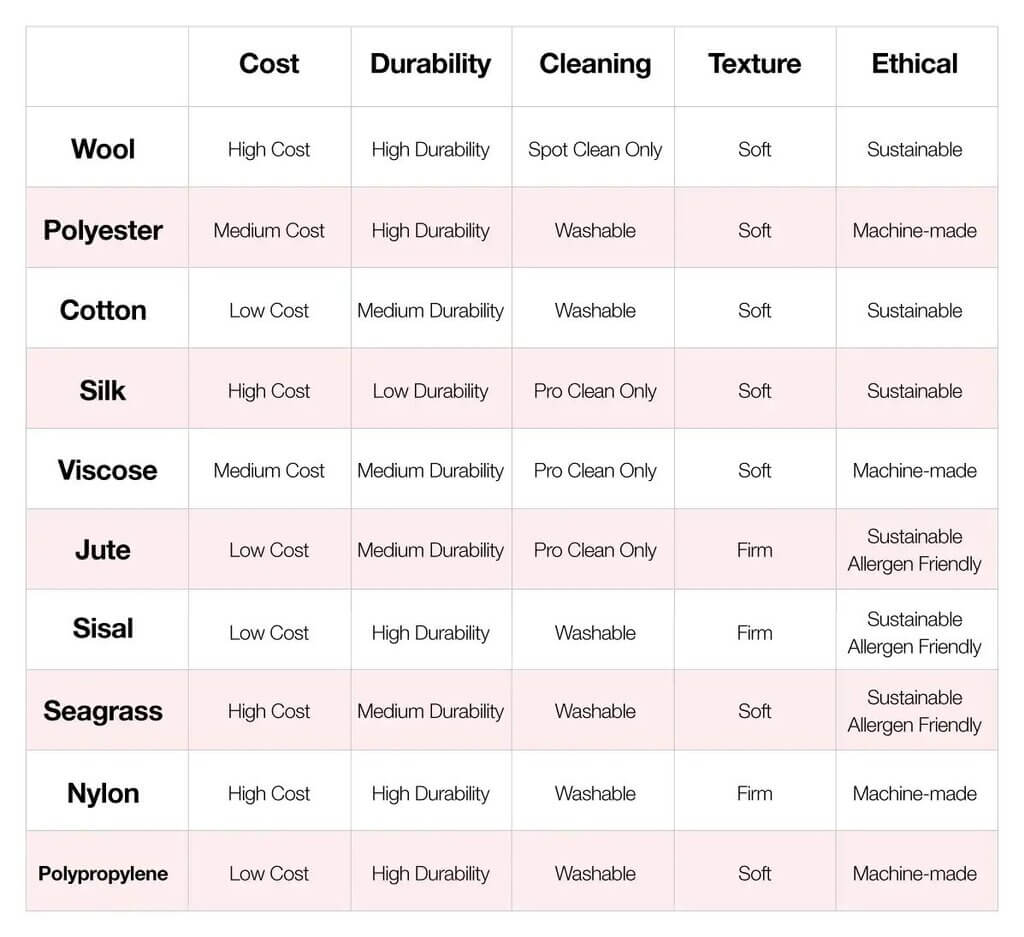 Source: ostkcdn.com
Natural Materials:
Let's first start with the natural materials as rugs with these materials are pretty popular; 
Wool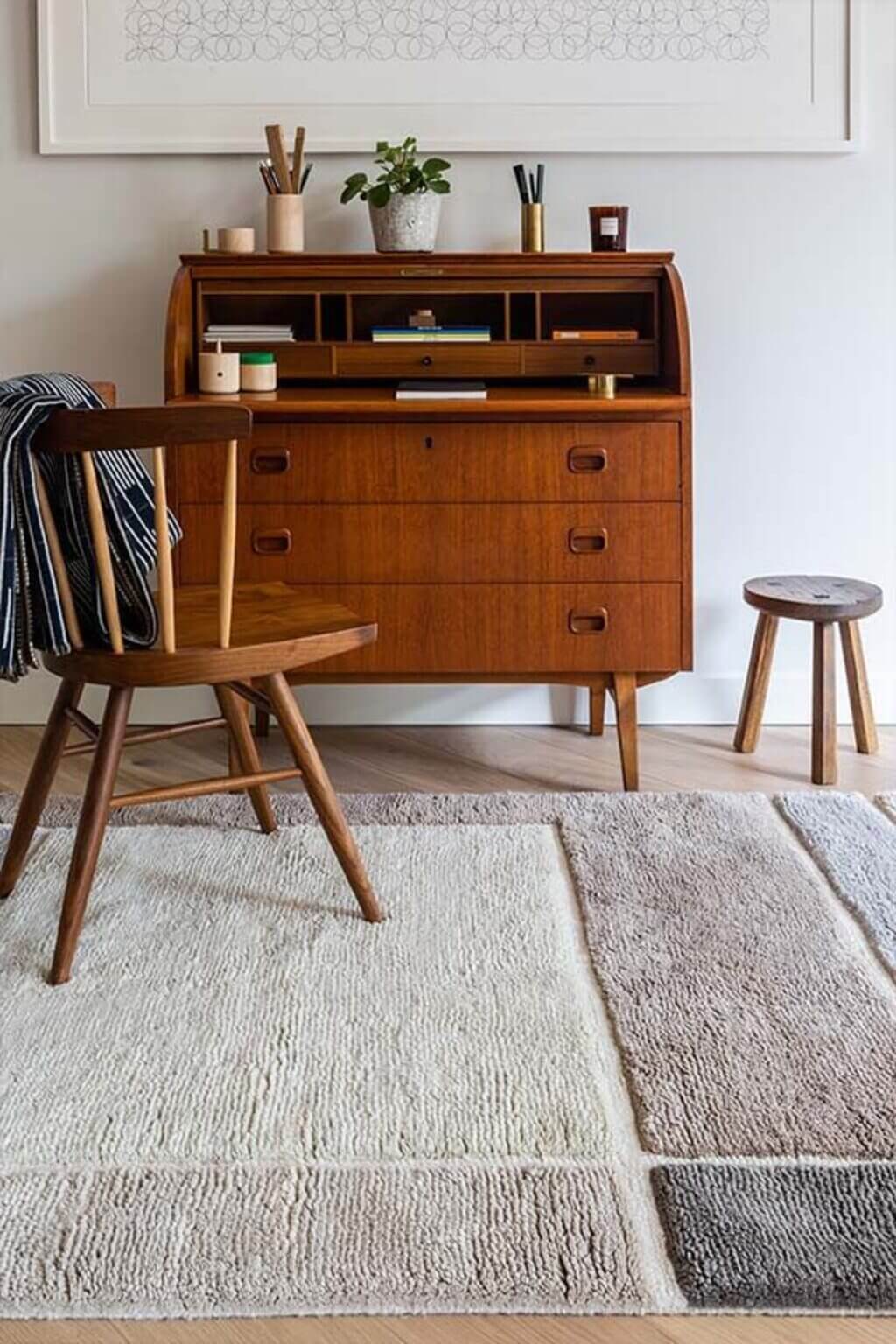 Source: emailtuna.com
Wool is one of the most commonly used natural materials that people prefer as a material in rugs. If you ask why? Here is the reason: They feel warm and are extremely soft underfoot. 
Silk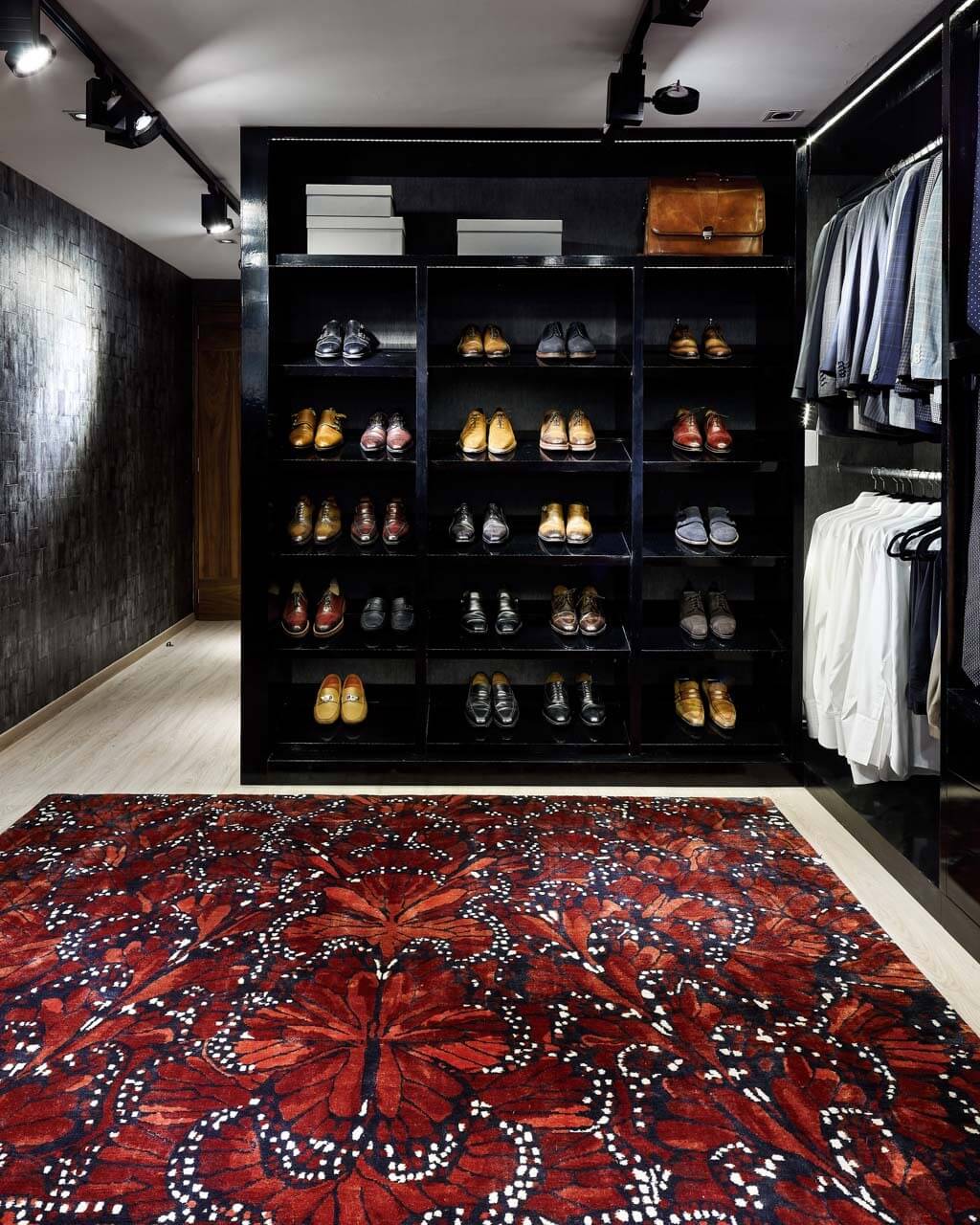 Source: revistaambientes.com.mx
Silk rugs are best for those who want to create luxurious vibes in their home. Silk rugs like Persian and Turkish Silk (Hereke) rugs are some of the most expensive rugs in the world, and their maintenance and cleaning are also high. Another budget-friendly option of real silk is Bamboo Silk.  
Cotton
Source: shopify.com
Cotton is usually less durable than the other flat weave fibers such as sisal, jute, or polypropylene, but it is an affordable option. 
Synthetic Materials:
Synthetic materials are inexpensive and durable. Let's have a look at synthetic rugs: 
Polypropylene (BCF) 
Rugs made from synthetic fibers are hardwearing and easy to maintain. The best rug material for high-traffic areas is Polypropylene (BCF). These types of rugs are generally thin, difficult to vacuum, and sticky under-hand. 
Viscose
Viscose material is quite similar to cotton, and it is made from regenerated wood cellulose. These rugs are shiny and soft but not good as wool or silk rugs. 
Polyester
This material has similar characteristics to Heat-Set Polypropylene yarn because it is a bi-product of oil refinement. 
Choose The Rug Colors & Patterns
We include rugs in our decors to create a look or vibe, so the style of rugs is also an important factor while buying one. From bold patterns to vintage, there are a million options when it comes to rug design and patterns. 
Similarly, texture and colors are also important that you should look for. Picking up a bold pattern or color will become a focal point of the room, whereas a more neutral rug or textured rug will gracefully blend in with your existing decor. If you're thinking about how to choose an area rug color, below are some trending rug colors in 2021: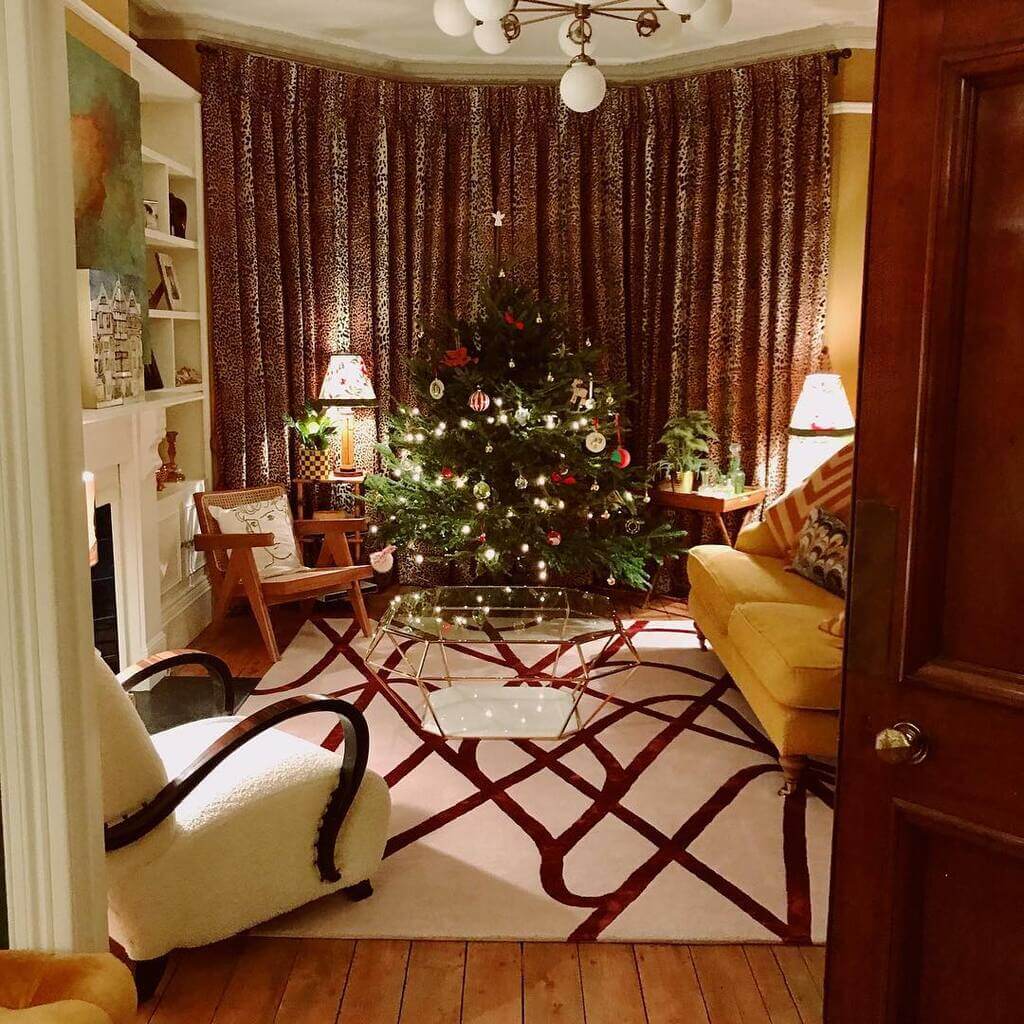 Source: undelete.news

This summer, colors like bold red and ruby red will be in. So, buy your rugs in these really eye-catching and contrasting shades of red. Just make sure when you're using one decor in bold color, keep the rest of the decors minimal or in neutral color tones.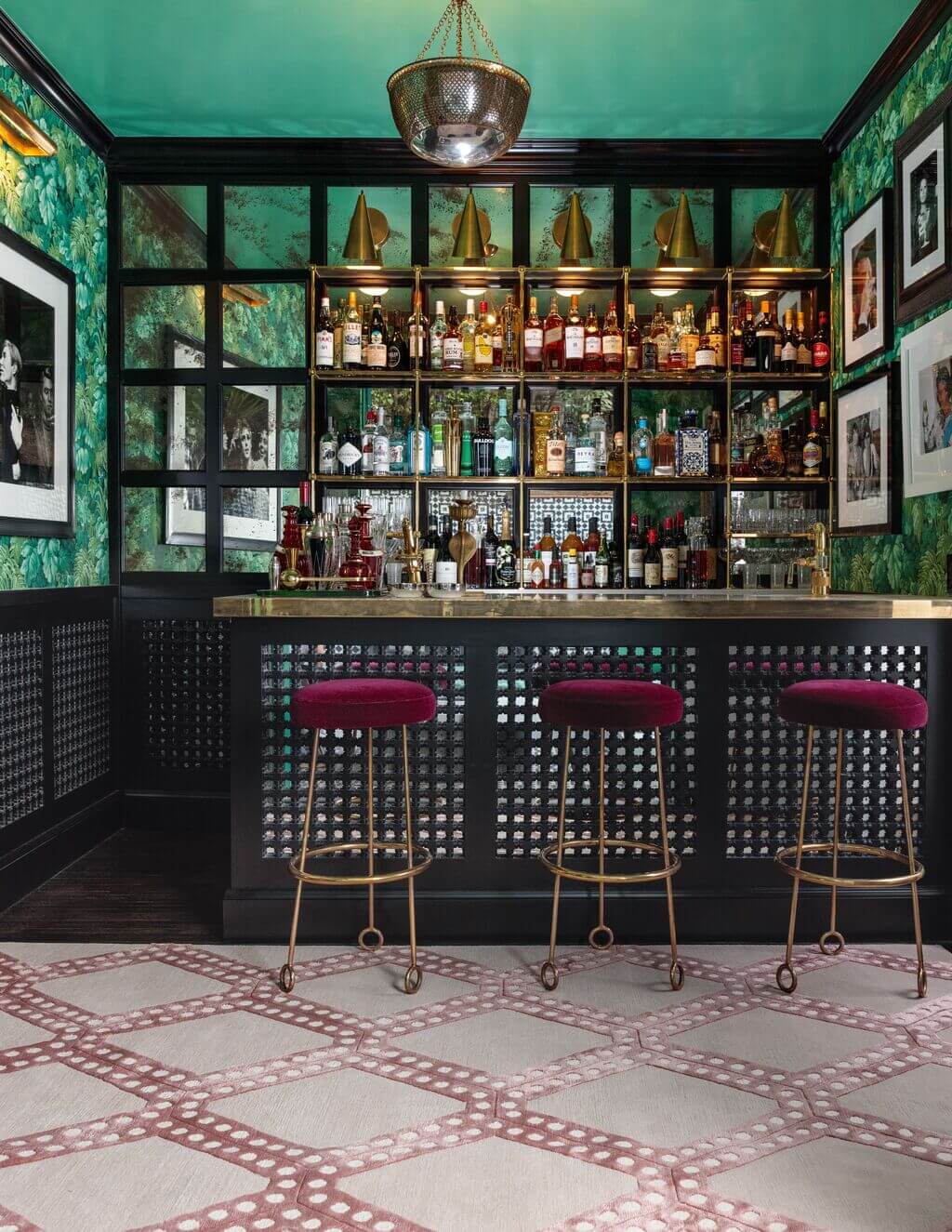 Source: pinimg.com

Bring the luxe vibes of palm springs by this really pretty velvet pink color rug. Look for a candy pink rug or one with a graphic motif or polka dot detailing. These types of rugs are hand-carved in Tibetan wool.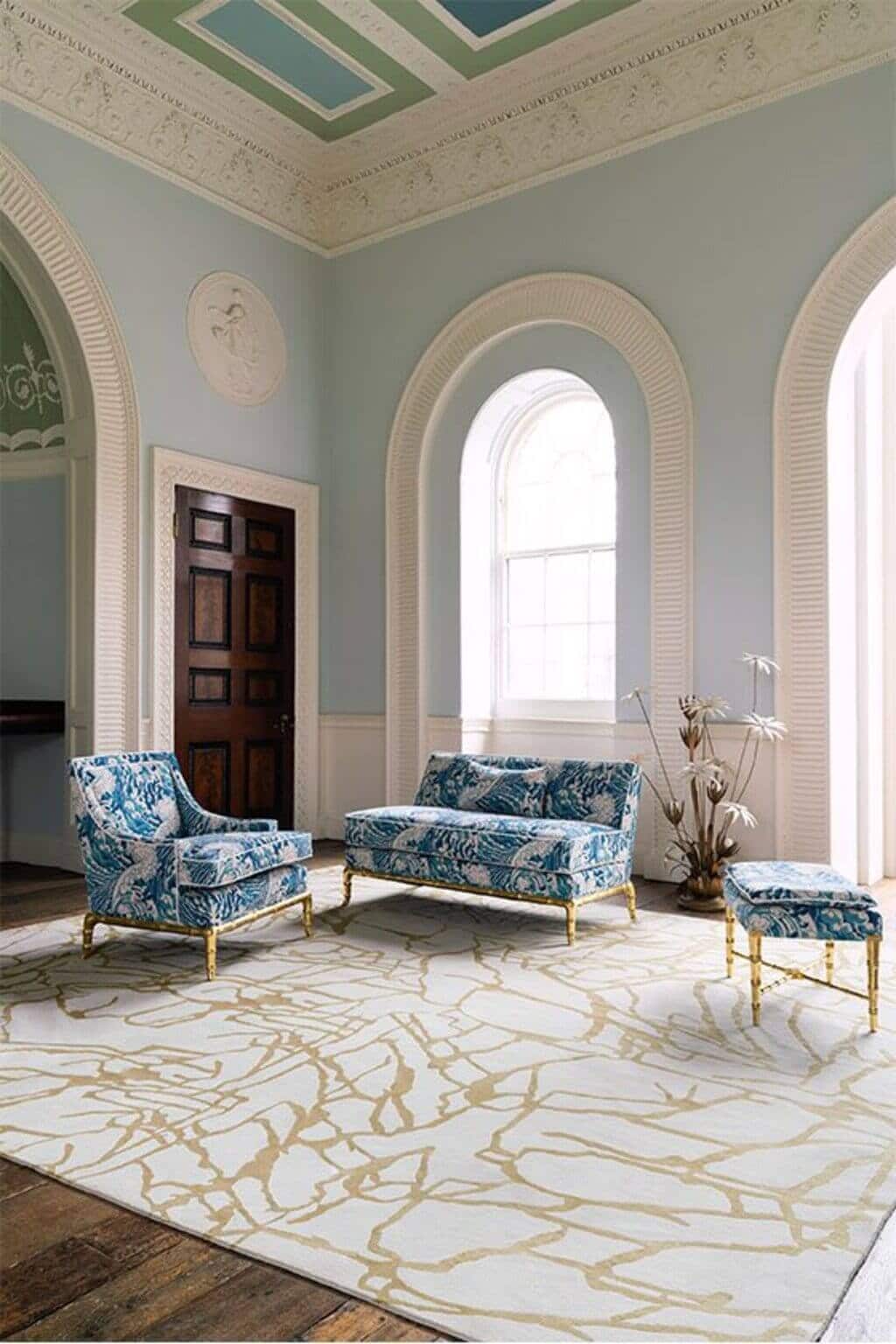 Source: emailtuna.com

Gold is a classic color that never goes out of style. Whether you want to add a glamorous touch to your room or want to change a place from boring to dramatic, gold is the color for you! Buy rugs with gold designs, patterns, or motifs and transform your space.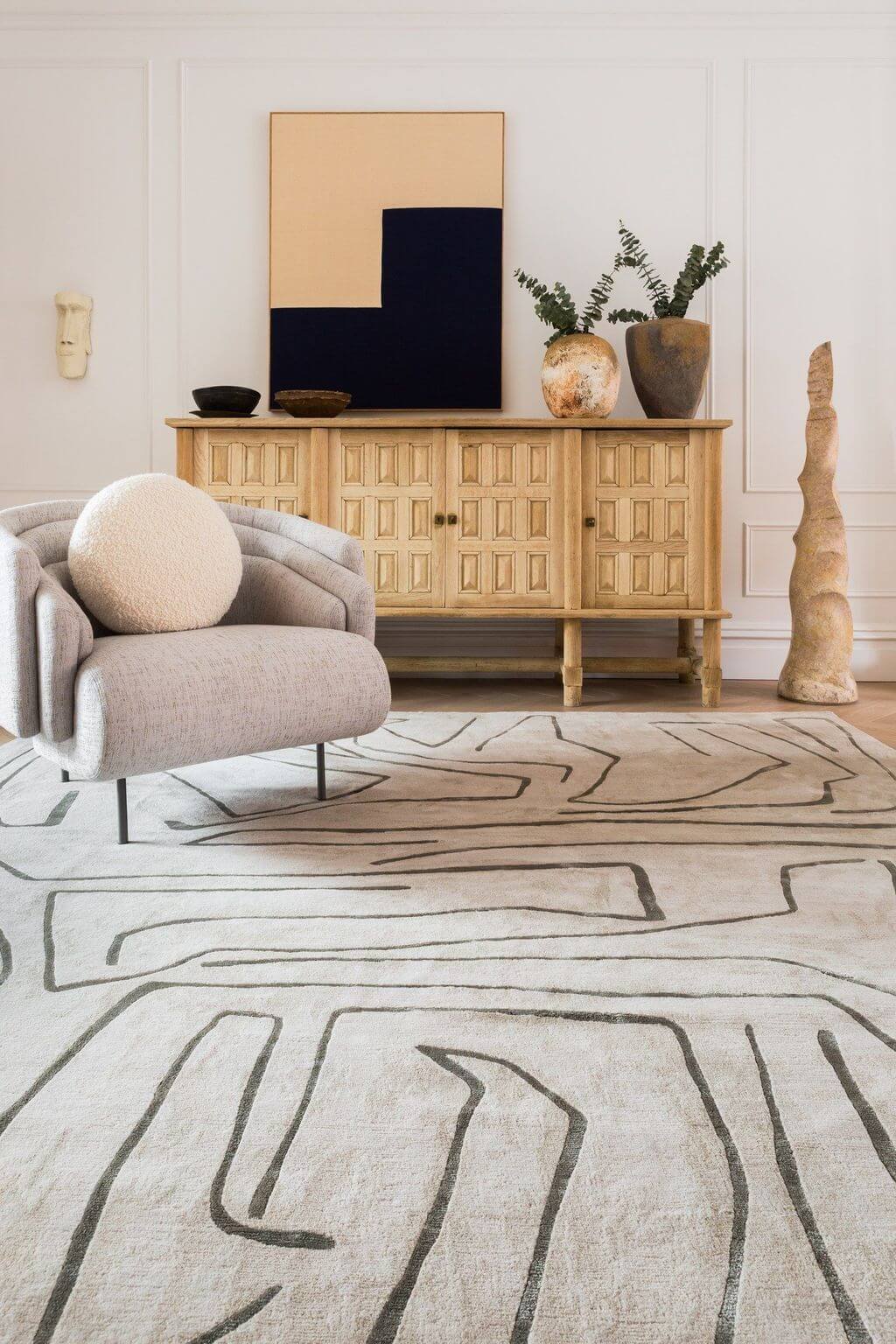 Source: pinimg.com

Love minimalist design? Then probably a neutral color palette will be the best option for you. You can pick these types of rugs with silk motifs or which have some texture. This way, you can easily add rich dimensions and a sumptuous sheen to your room.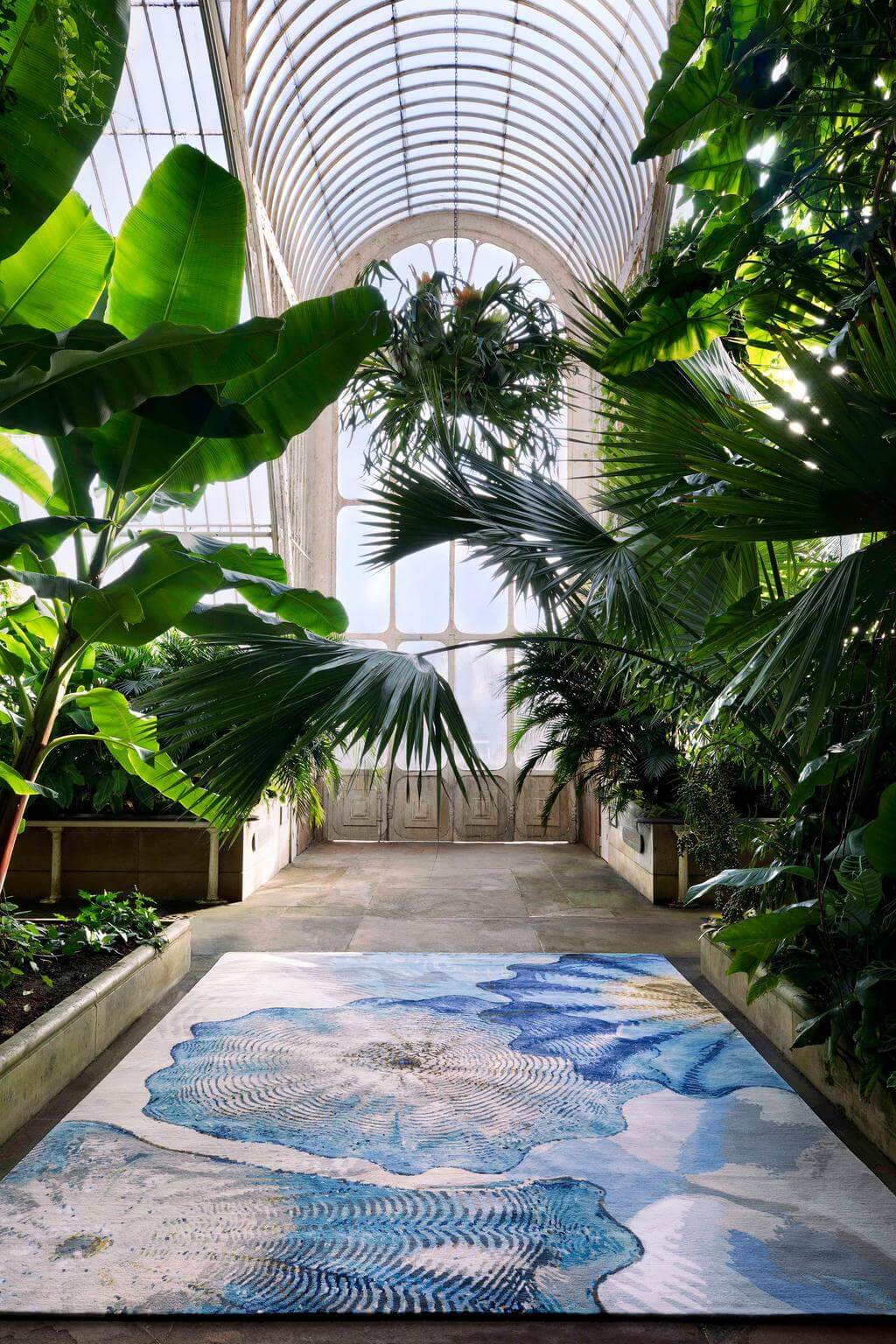 Source: 1stdibscdn.com

Blue is an ultimate soothing color for the summer and spring season. Include a rug that features blue splashes, prints, or motifs. This way you can easily add a pop of color, drama, and little character to your space. You can also add two or more rugs to create a layering effect.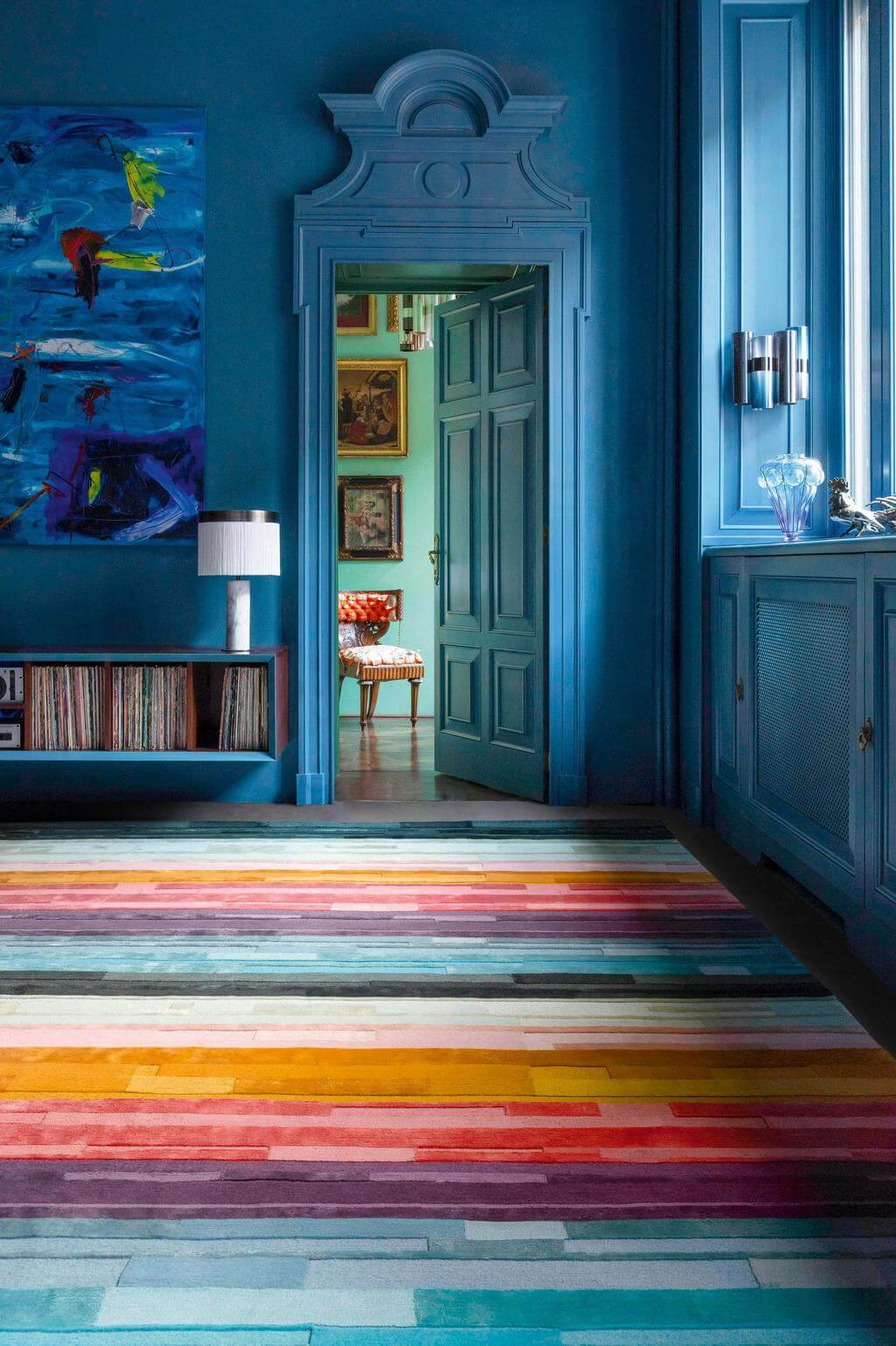 Source: eporta.com

If you can't decide on one color, go with a multicolored rug. These rainbow pattern rugs are perfect for those people who want to add fun elements to their room. Look at the above rug; here, it has an uplifting pattern that brings a twist to a classic look.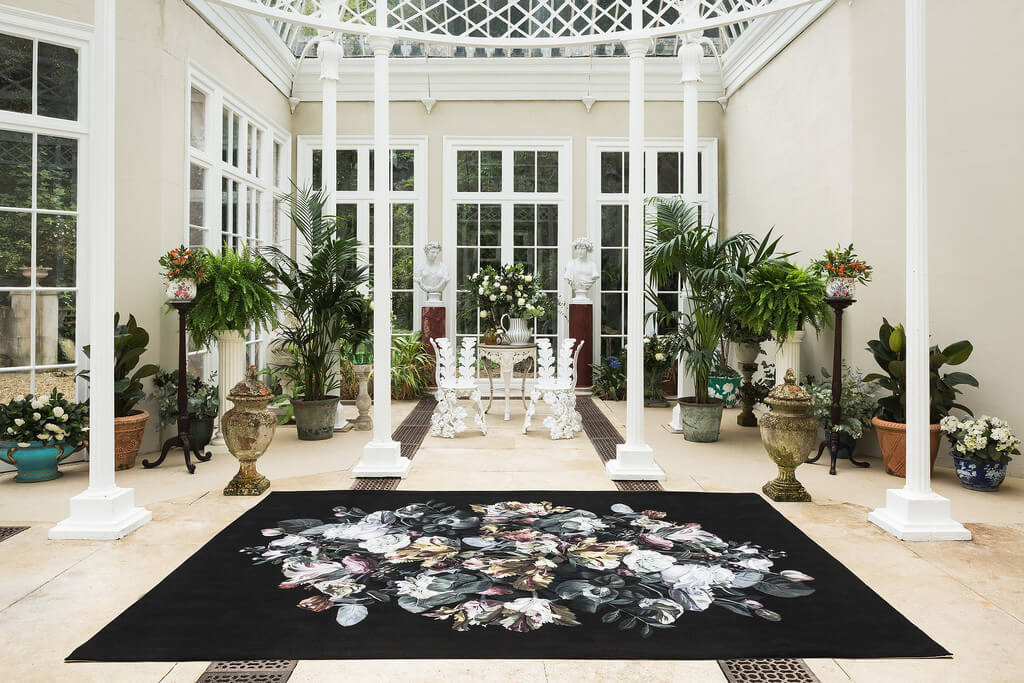 Source: wixstatic.com

Black is evergreen! Whether you buy a rug with black patterns or an entirely black rug, there is no doubt that your space will surely look incredible. 
Pick The Rug in Right Shape
Your area rug's shape affects the overall aesthetics of the room! Yes! You heard that right. A round rug can make your area look more spacious, whereas a runner rug will make it look more expanded. Below are the general rug shapes with their best use and characteristics.
After knowing about the trending colors and materials now, you might be thinking about what kind of rug shape you should go for? Will a circular rug work in a living room? Yes, choosing the best shape of rugs can sometimes be confusing. 
Maybe you like a small square rug, but your space needs a big rectangular one, and a square rug might not look good in there. Picking up the wrong shape and size can make your room awkward and unflattering. Keep on reading to know what kind of rug will work in different areas of your home. 
Rectangular Rugs
A rectangular rug is perfect for large halls, rooms, seating areas, and offices. They come in various sizes, so get the one according to your space. From runners to large area rugs, they will look good everywhere in your home, including the hallways and kitchen. 
Square Rugs
You can use these rugs in square rooms or when you want to define different zones or areas in a room. Just pair two or more rugs with some square-shaped tables, and you're done. 
Circular Rugs
Round shape rugs are in trend these days. They look extremely pretty in small rooms. If you want to add whimsical, playful, cozy, and soft factors, just place a half circle rug or oval rug. You can also pair this rug with similar shapes, furniture, and decors. 
Are you looking for a more unusual-shaped rug? On therugcompany, you can find dozens of designer rugs in various shapes and sizes. There are also custom-made options available, so you can design your own rug with whatever materials, size, and shape. 
Also Read: Ultimate Rug Guide 2021: History, Importance, Types & Styling Tips!
Can't Decide: Select The Rugs By Style & Room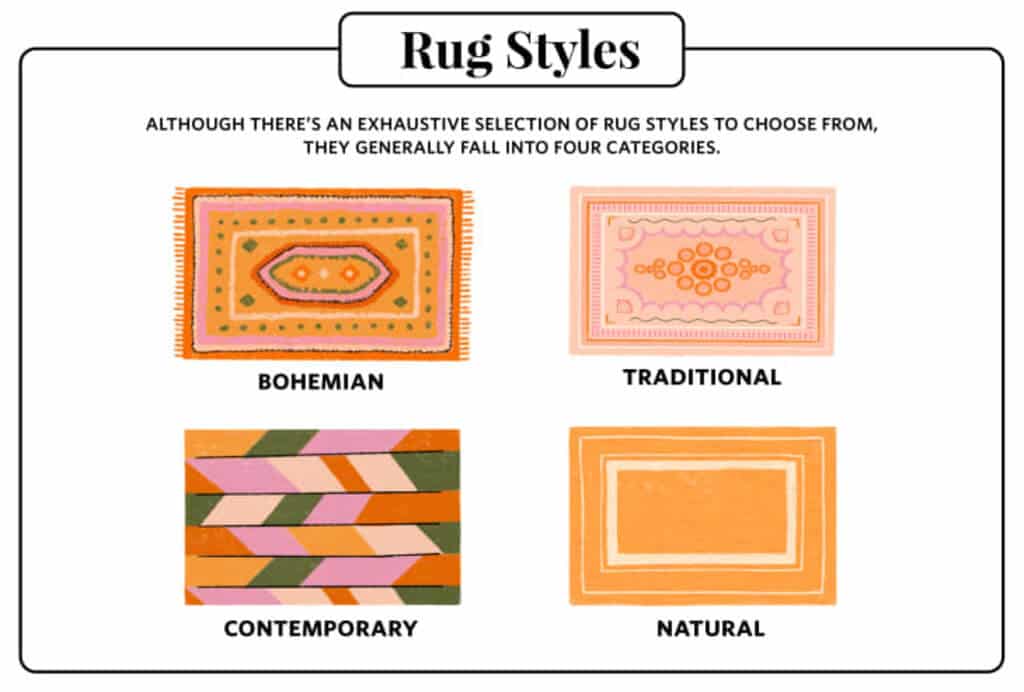 Source: apartmenttherapy.info
Some people also prefer to buy rugs according to style or theme. Rugs do come in many styles, so you can pick the one according to your aesthetic of choice. You can also mix and match them to create a unique look. 
Traditional Style:

Persian, Oriental, Moroccan, Berber

Contemporary Style:

Mid-Century, Geometric, Coastal, Country, Farmhouse

Natural Style:

Jute, Sisal, Silk, Sheepskin, Leather, Cowhide

Bohemian Style:

Shag, Kilim, Dhurrie, Southwest, Ikat
But if you want to choose the rug according to room, here we're going to explain how to pick the best rug according to various rooms of your house:
Living Room Rugs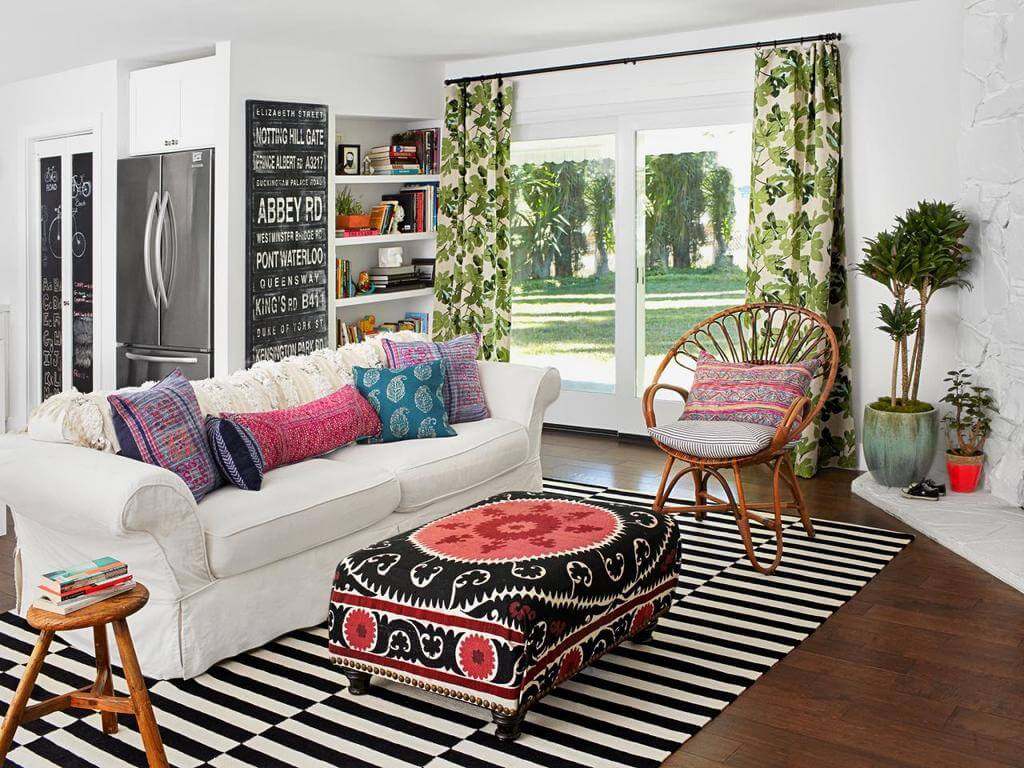 Source: decoist.com
A living room will never complete without a rug! It not only adds comfort to the place but also contributes a rich tonal element that will make your design extraordinary. As one of the busiest zones in the home, you can go with the wool, sisal rugs, or low-pile dhurrie. For a casual and natural look, add a natural jute rug. 
Bedroom Rugs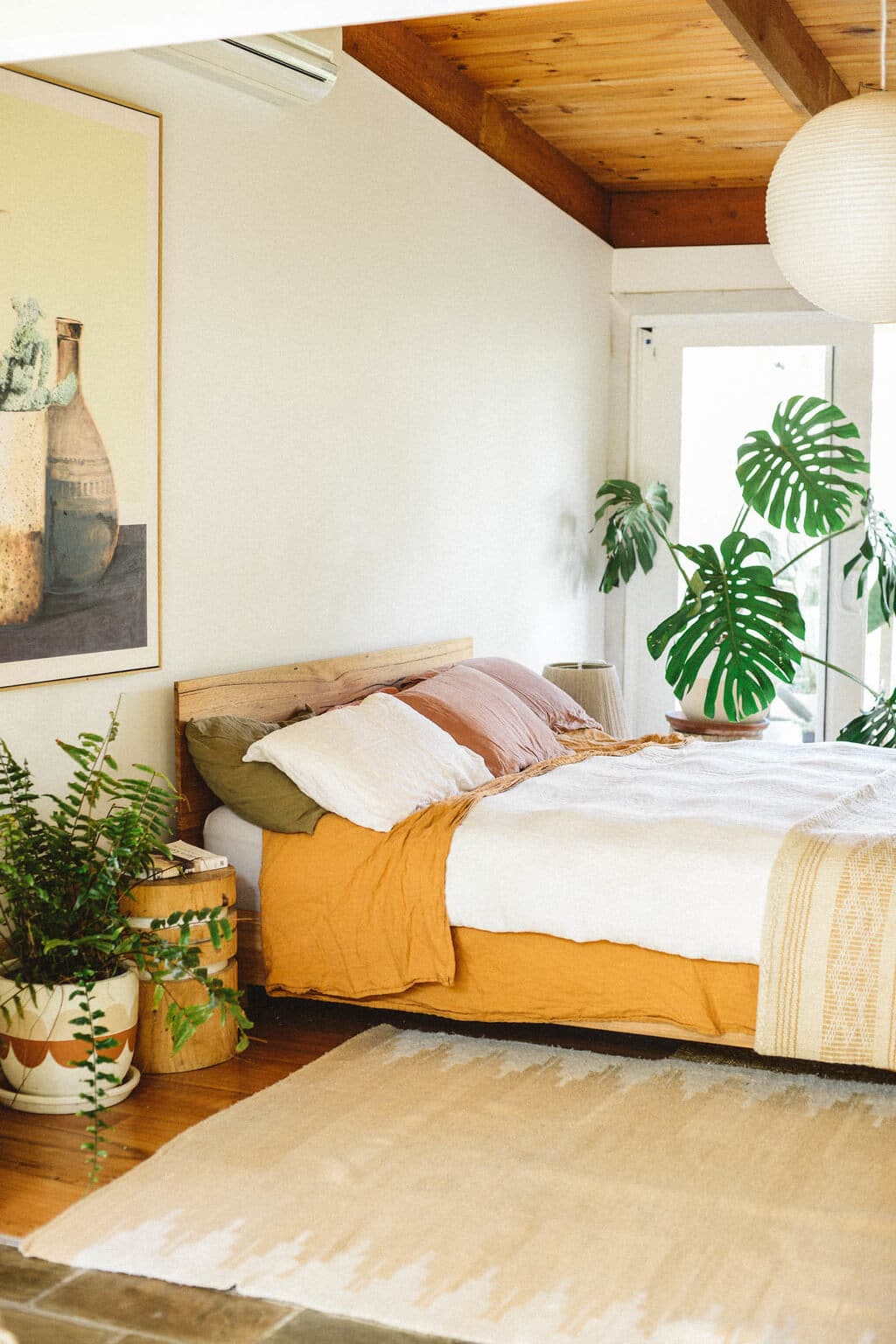 Source: pampa.com.au
Bedroom rugs are special because they're the first thing that your feet touch first in the morning! So pick the one that is cozy and warm. 100% wool rug or silk rugs are the best choices for this room. Rugs with 8′ x 10′, 9′ x 12′ or 2′ x 6′, 4′ x 6′ dimensions are the best size for any bedroom. 
Dining Room Rugs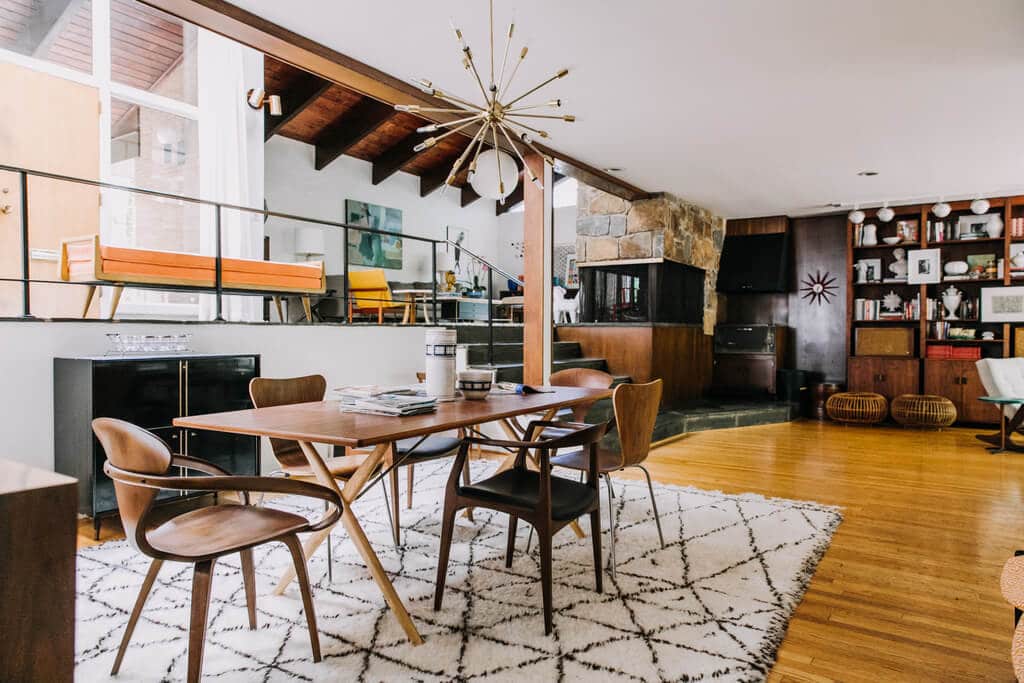 Source: apartmenttherapy.info
If you have an open layout home, you can distinguish different areas with the help of rugs. Use a thick material rug such as flat weave or mid-pile rug, cotton or wool composition rugs in your dining area. 
Rugs For Kitchens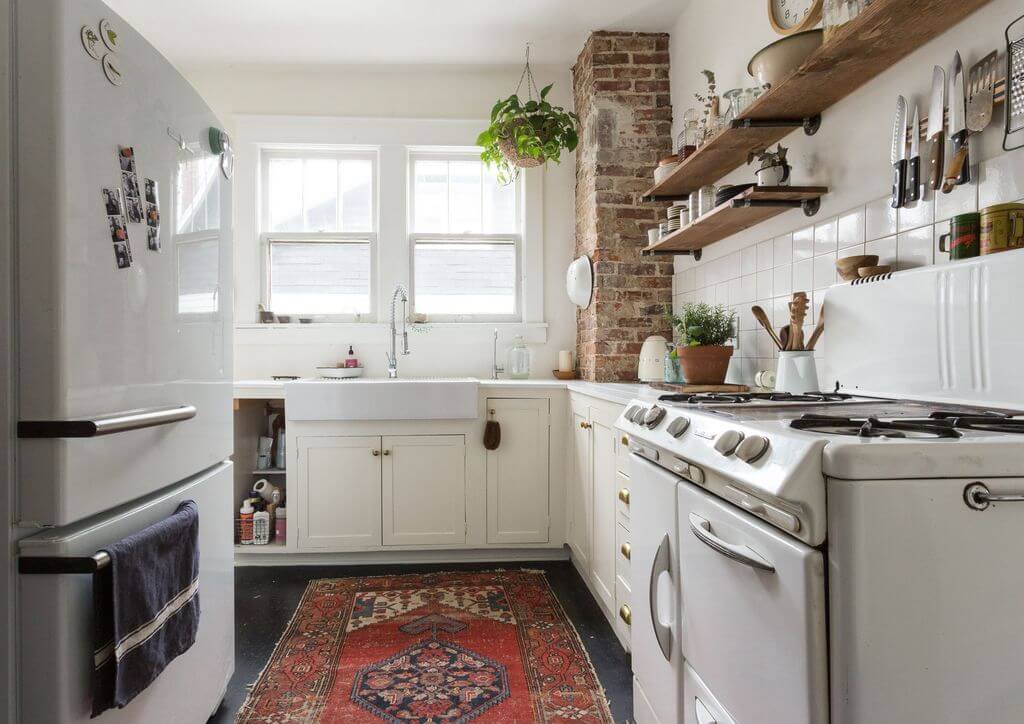 Source: pinimg.com
Avoid any type of high-pile rugs or anything overly textured rug in your kitchen. As they easily trap dirt and debris, and their cleanup can also be challenging. Use a flatweave, low-pile area rug, or a mat underneath the sink. You can also use a runner instead of a rug. 
Kid's Room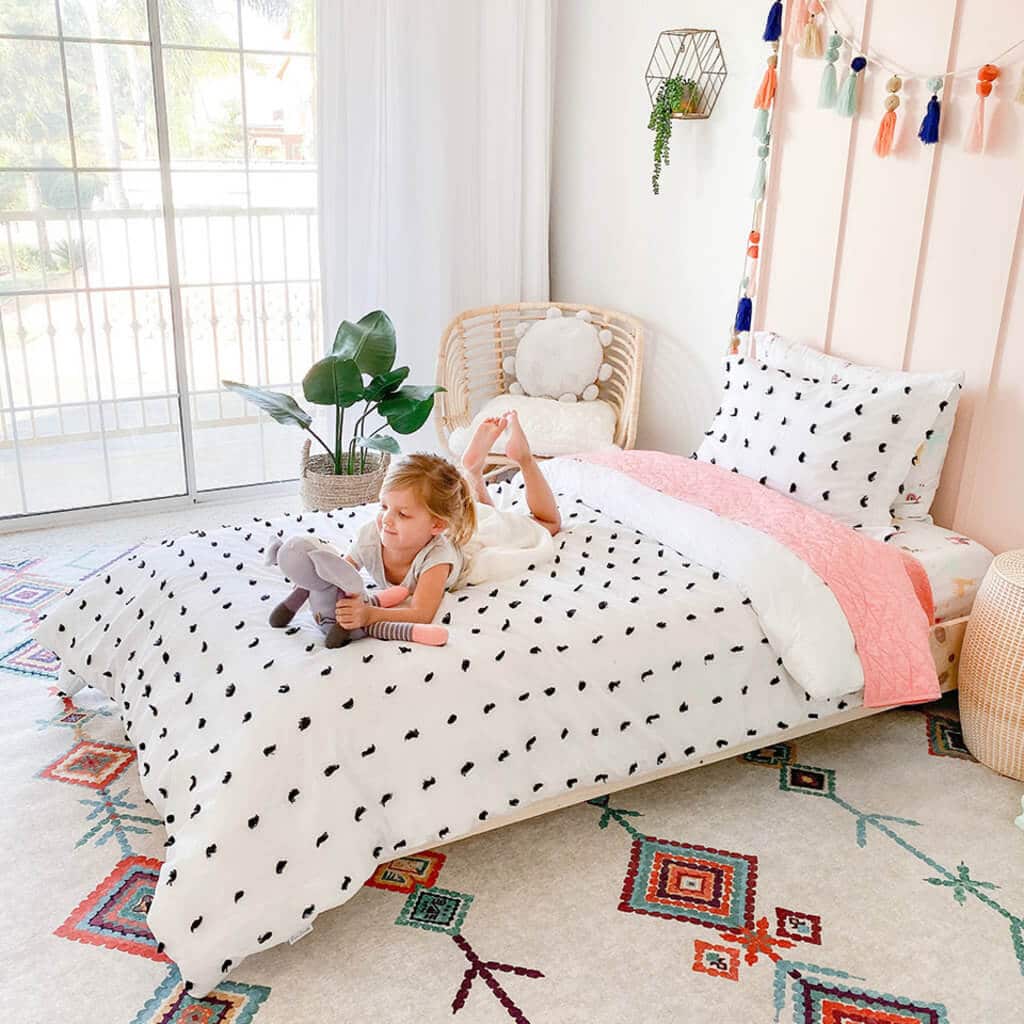 Source: ruggable.com
Look for a rug with playful and whimsical vibes. You can pick circular rugs or multicolored rugs to add a little fun and adventure to your baby's room. You can also try various shapes such as asymmetrical, round, or small square-shaped rugs. 
Hallway Rugs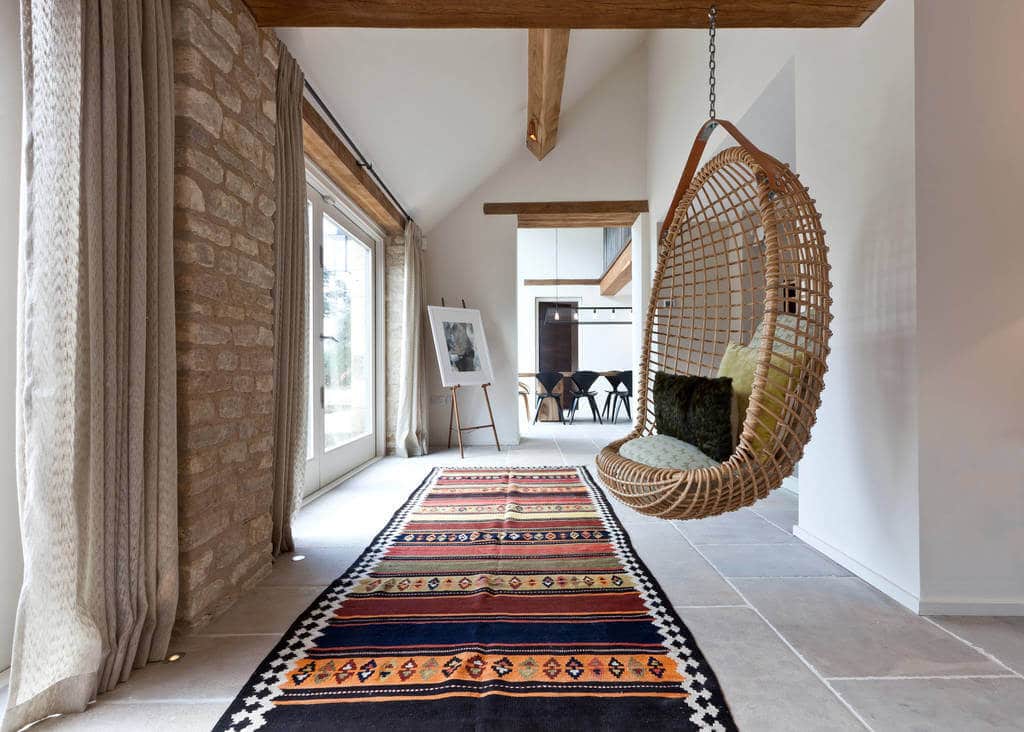 Source: hzcdn.com
Make a good impression by setting a tone with some incredible rugs. Long elongated rugs are perfect for these spaces. Also, select the high-quality area rugs because entryways and hallways are the high traffic areas of a home. 
Final Words! 
A rug can be used in many ways or for different purposes. You can use it to add comfort and coziness to your space or to divide and separate various zones in your open layout apartment. Other than the above factors that we've discussed in this guide, there is one important thing also, and that is Budget! 
Imagine looking and selecting a rug with the best colors, shape, and size, but what if that rug is too expensive. How will you feel? Heartbroken, right! So, consider your budget first, then start searching for an area rug that would suit your home's interiors and theme or style. 
Also, do take care of them regularly and carefully. Materials like silk and wool require a lot of attention and care. When you clean regularly and maintain them in the right way, a rug can last for many years. 
So, this all about how to pick the right rug for your home. I hope this buying guide helped you to understand all about the rugs. Knowing the necessary and vital factors such as rug size, shape, material, and style, you can actually buy rugs without getting confused and spending a lot of money.!
For more home improvement and decoration tips, keep coming to Architecturesideas. If you find this guide helpful, please share it with your friends and family who are also struggling to find the perfect rug for their home.