Having your own home is a blessing! And by decorating it, we usually show our love, right? From living rooms, bedrooms to the kitchen, we always try to find new ways to update our home decors. Whether you're an interior designer or a homemaker, do you know the most common and effective decor to uplift any room's ambiance? The answer is Rugs! Yes, whether you want mid century modern rugs to achieve the full style for your modern rooms or just want to create vintage vibes, you can do everything with the help of area rugs.
Don't get surprised because this is not a new trend that has been around just for a few years; rather, rugs have always been part of interior design from many centuries ago. Many people get confused with the two words "Rugs" & "Carpet." Yes, they both are different things.
According to Merriam-Webster, a rug is "a piece of thick heavy fabric that usually has a nap or pile and is used as a floor covering," while a carpet is defined as "a heavy often tufted fabric used as a floor covering" and "a surface or layer resembling or suggesting a carpet."
In short, the main difference between the two is the movability & size. Carpets are usually used to cover the entire floor, and sometimes they're affixed to the floor. On the other hand, rugs are small and only used to cover small sections of floors. They're never attached to the floors, so you can easily move them from one place to another.
Today in this blog, we're going to talk only about rugs: Modern designer rugs, Living room rugs, Jute rugs, Kitchen rugs, Oriental rugs, Round rugs, and Indoor-outdoor rugs! From their history, types to their materials and styling, we've covered everything. We've also included some of the best and trendy modern rugs so that you can shop your favorite area rug directly for your home.
According to many designers and interior designing experts, Rugs will be one of the trending decors in 2023. You can use them in your living room, bedroom, dining room, and even in the kitchen. They not only help you to define the theme and color palette of a room but also protect floors and absorb the noise of day-to-day life.
There are a variety of styles and designs available in the market. So, sometimes, it can be a little overwhelming and confusing for you to find rugs in San Francisco for your home. What to do? Keep on reading, because we're going to tell you everything in detail. 
What are Mid-Century Modern Rugs?
Rugs are available in various styles, sizes, and colors. But nowadays, which is the most popular type? The answer is Mid-century Rugs! Because they are one of those styles that were popular, that are popular, and will remain popular for the upcoming years. But what is this style? How did it all get started?
Mid-century style is basically from the 1940s to the 1960s. Yes, right after the second world war, both the economy and population were booming during this entire period. People had started settling down and buying new properties and started furnishing them. This was the time when the mid-century style came into the limelight, and people had started implementing them.
The mid-century style originates from the 1940s, but still, it is celebrated, and nowadays, it is one of the desired looks and styles amongst the top interior designers. This style is simply characterized by simplicity, clean lines, and an effortless look. They're creative and available in colorful pieces of textiles and geometric motifs.
Why Is Mid Century Modern Look So Popular?
Mid century rugs come in every possible pattern and shape, such as ovals, circles, rectangles, and many more. With this particular style, you can easily achieve a minimal abstract look or even a glamorous look without feeling overwhelming. This is the main reason why people are loving this style even after so many decades.
Mid-century modern is a look that creates a unique fusion between modern and vintage. With its timeless beauty, you can easily elevate the atmosphere of any space. In simple words, mid century style adds a character while still remaining minimal, contemporary, and fancy.
Even experts and designers have predicted that this year, this style would be one of the popular styles that people will go for. So include mid-century modern decors in your interiors and create a timeless interior that'll never go out of fashion.
Importance of Rugs In Our Home
If you have a rug in your home, you already know the benefits of it. But for those who are new to rugs and still figuring out why they need a rug, here's the answer. A rug not only changes the overall look and mood of any room but also has many other benefits. Here are the top five reasons why you should invest in a rug and how a rug makes your life easy.
Reason #1: Adds Comfort
"Comfort and Warmth" are the two words that perfectly define "Home." Adding a fluffy, soft, and thick rug means that you've increased the level of comfort to your own space. Do you agree with the statement that rugs are more comfortable to stand on than a hard surface floor? If yes, then if your apartment has wooden or tiled floors, go for rugs without having second thoughts.
From natural materials like silk and wool to synthetic ones, there are thousands of options available, which we have described further in the blog. Just add a rug or rugs to certain parts of your floor so that your feet feel more comfortable, especially in the winter season.
Reason #2: Enhance the Home's Interiors
Do you want to change the color scheme of your room? Or you don't like your existing flooring? If your answer is yes, then there is no better option for you than rugs. You can't change your current floorings, so with rugs, you can instantly change the mood and look of any room without the hassle of painting or renovating furniture.
A rug is a simple and cost-effective way to change up the palette of your room. From bold and bright colors to subtle, neutral colors, you can find rugs in every shade.
Reason #3: Create Zones
The open living concept is great, but sometimes it is hard to separate spaces. Here is when rugs can help you. They'll help you to separate or divide the room into different areas. You can create an entirely new theme, or it can be re-positioned or removed completely.
Reason #4: Cover Imperfections
Does your floor have cracked tiles, stains, or Scratched marks? Worry not, just through a nice-looking rug on it, and you're good to go. Sometimes our room has imperfections, and fixing those things can be a little expensive. So, a quick fix to hide any unsightly stain or distracting imperfection is rugs.
This idea will be best for those who are living in rented apartments; they can easily conceal their boring or unsightly floorings with the rugs. They will easily blend in with the rest of the furniture and make your place more presentable.
Reason #5: Sound Control
Another practical benefit that many people are unaware of is that a rug can help to reduce the noise. Yes, they can significantly control the sounds by absorbing the noise from the air around them.
So if you're also irritated with the sounds of footsteps and other noises, place a rug in your room, and your problem will be solved in minutes. This is an extraordinarily effective and stylish tool for reducing echo and noise in a space.
Now, you know what rugs are, how they're different from carpets, and why we all need rugs in our life. If you've decided to get a rug, there are few things, such as their types, styles, and materials, that you should know. These things will help you to get the perfect one for your home. For that, keep on reading!
Various Types of Rugs
Indoor Rugs
Indoor rugs are always made of soft materials, not tough materials like wool. The reason behind this is that they're generally kept away from the harsh elements and weather conditions.
Outdoor Rugs
On the other hand, the outdoor rugs are designed to be heavy-duty and weather resistant. So, strong, sturdy, and synthetic materials are used, such as sisal and nylon. Because these materials can last for many years and withstand the harsh elements of the outdoors. So you can use them for years in your patio, decks, or backyard without worrying much.
Runners
Runners Rugs are narrow and long in shape, and they're generally used in hallways. They're specially designed in such a way so that they'll fit the space located in the hallway. Available in various lengths and shapes, you can get the one according to your hallway.
NOTE:
You can use an outdoor rug as an indoor rug but never use an indoor rug in your outdoors. Because they can't withstand the weather, rain, and sun. These rugs are made from soft materials and will immediately damage from direct sunlight and water.
Types of Rug Materials
From hand-loomed New Zealand wools to durable and smart synthetics, rugs come in various materials. So which one is the best? Below are four materials that are commonly used these days:
Wool Rugs
If you ask me which is the coziest material from all rug materials, my answer will be Wool! Not only are they soft and comfy, but wool rugs also have insulating properties, which would be really helpful if you're living in colder regions.
Ultra-durable and comfortable, these rugs are also stain, dust, and flame-resistant. But they are usually expensive.
Cotton Area Rugs
If you feel that wool rugs are a bit expensive for you, then try cotton rugs. They're the perfect alternative to wool and also are durable yet soft. 
Silk Rugs
Do you want to add a luxurious factor to your interiors? Go for silk rugs. I know they're expensive, but they provide such a beautiful and luxe vibe to any room. You also have to keep them well maintained as they can be damaged easily.
Polyester Rugs
These types of rugs are pretty common these days as they're inexpensive. Polyester Rugs or Microfiber rugs are light, durable, and soft. But they've also some drawbacks as polypropylene/olefin rugs.
Where to Place Rugs in Your Home?
Many people are confused about the placements of the rugs. Are you also confused about whether you can put rugs in the kitchen or not? What type of rug will be best for different rooms of your house? The answer to all these questions is here; you can place the rug anywhere in your home, including outdoors.
So, whether you want to decorate your living room or want to add comfort in your hallways, rugs are the best option. But what type of rugs should you place in specific places? Clear all your doubts here:
Living Room
When it comes to living areas, first figure out the size, then decide the rug design. Never place small rugs as they'll appear cluttered and make a room look smaller. On the other hand, large rugs will make the room look more streamlined and spacious.
Bedroom
Another place where we all put rugs is our bedrooms. If you have a regular double bed pair, we recommend you to go with 8×10 rugs (7.8 feet). This size is perfect because they almost 'disappear' under the bed and creates an illusion of more space in the room.
Kitchen
Yes, you can put rugs in your kitchen! From the last few years, kitchen rugs are becoming popular, and now they're a global favorite. These rugs will surely make your kitchen more warmer and more inviting.
Dining Room
If you're thinking about what size of the rug will be perfect for your dining area, here is the solution: Just add 60cm onto each side of your dining table, and that will be the ideal rug size for your room.
You can go with patterned, textured, or even bright, colorful rugs depending on your home interiors and style. But if you want to upgrade your home decors to the latest 2023 trends, below is the list of rugs that'll be on top of the trend list of 2023.
9 Trendy & Stylish Modern Rug Designs!
Whether it be a bedroom, living area, or bathroom, there is a rug for everyone and every place.
Trend #1: Contemporary Modern Rugs
Are you looking for a rug that can add some colors to your boring living area? Go for this multicolor rug. The warm and muted tones of brass, pink, and water blue colors will add some character and depth to any room. The shimmery tone will gracefully create the illusion of movement.
Trend #2: Textured Rugs
This rug probably is perfect for those who love the minimalist style. It comes in really subtle color with a soft, deep texture of Merino wool, and it is handcrafted. It means not only it looks aesthetically pleasing, but also it feels good under your feet.
Trend #3: Cute Floral Rugs
Do you want to decorate your space stylish with the latest decors? If yes, then don't overthink, just go with a floral rug. Take inspiration from the above rug; it is hand-knotted and has a really soothing soft blue and crisp white color palette. The black & white background and the wool and silk yarns will make your family room cozy and inviting.
Trend #4: Glamorous Gold Print
One of the evergreen patterns that you can go without having any doubt in your mind is the Marble print. The best thing about this pattern is that if you want a subtle look, you can go with the monochrome colors but if you want that glam, go with gold and silver fluid marble. This gorgeous silk floor covering will illuminate your space and provide a luxurious radiant glow.
Trend #5: All Blue Setup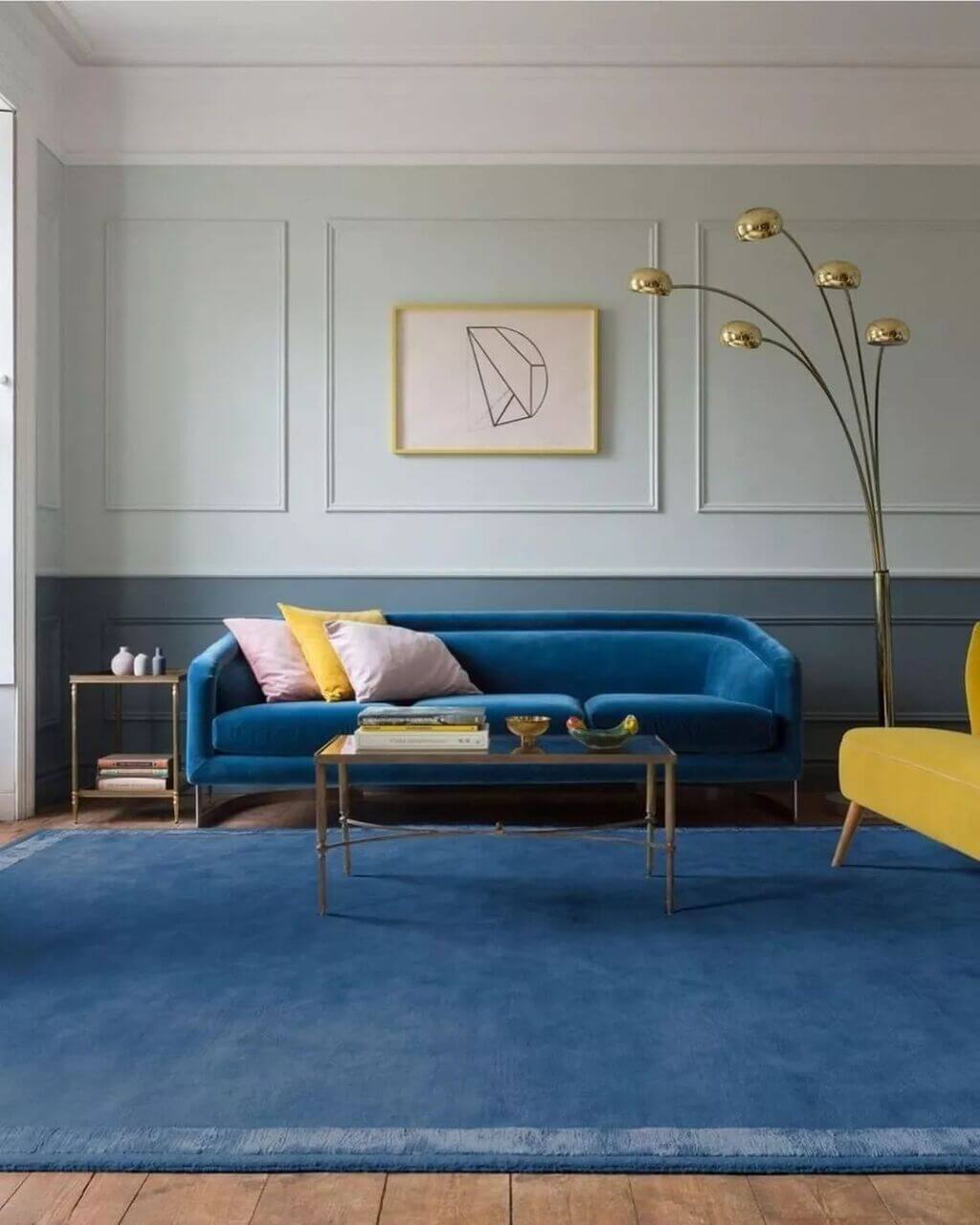 Whether you're designing your large living area or small bedroom, a geometric pattern is a perfect idea. Take a look at the above picture; here, the designers have selected the all-blue setup. From rug, wall paint to the furniture is in a dusty blue palette, which is creating the illusion of water washing over the design.
Trend #6: Classy Red Rugs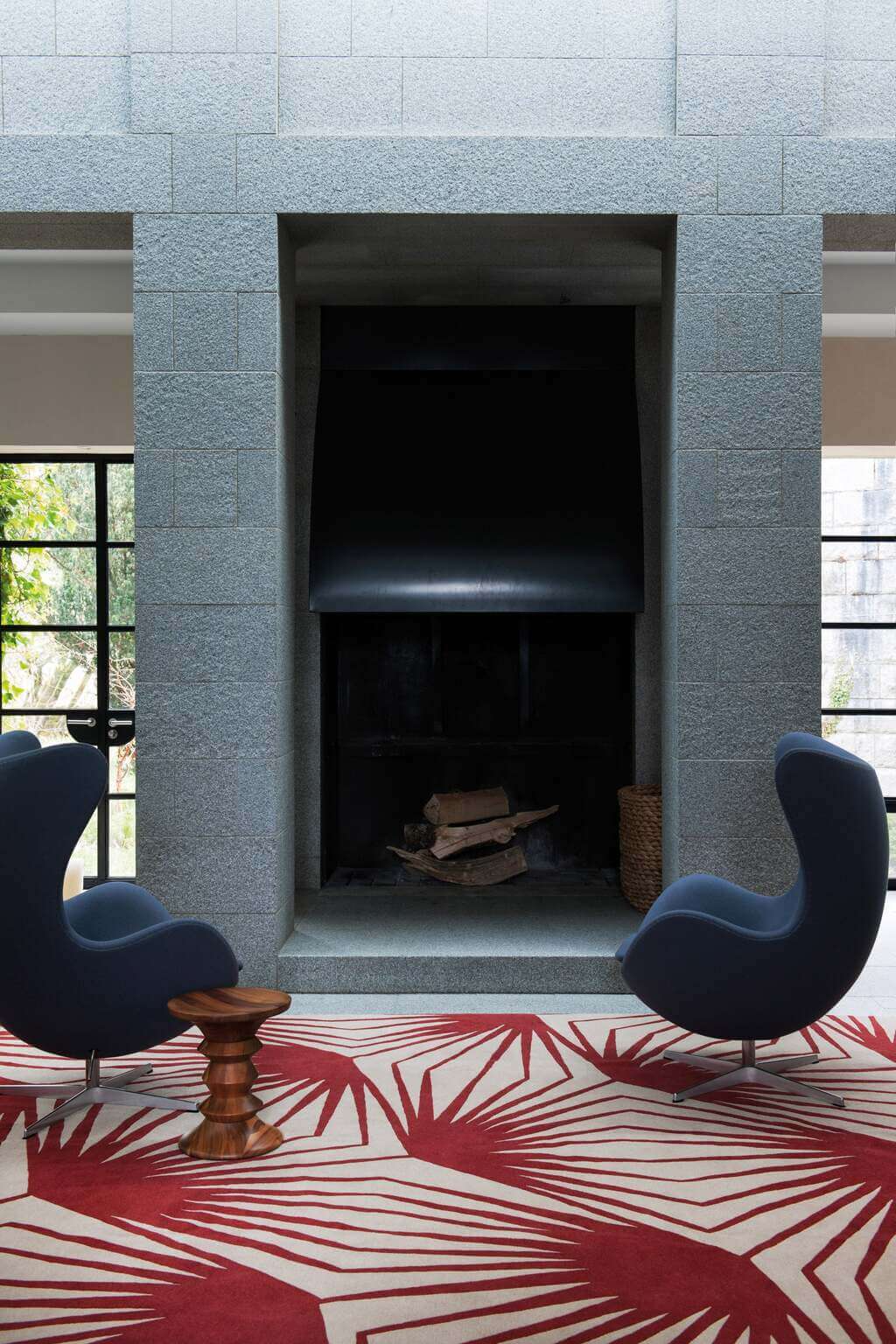 If you ask any designer how you can instantly uplift any room's ambiance, their answer will undoubtedly be, "by adding Pop of Color." For example, pick a red shade and create a combination with a rug and couch in the same red color. This poopy motif design in silk material will look good in any space.
Trend #7: Rainbow Rug
Give a stunning makeover to your reading corner by placing these types of colorful rugs. The multi colors of the rug will perfectly match with your books, and the whole setup will look really pretty. These bright or muted tones will immediately add interest and richness to any space.
Trend #8: Pretty Pastel Pink Rug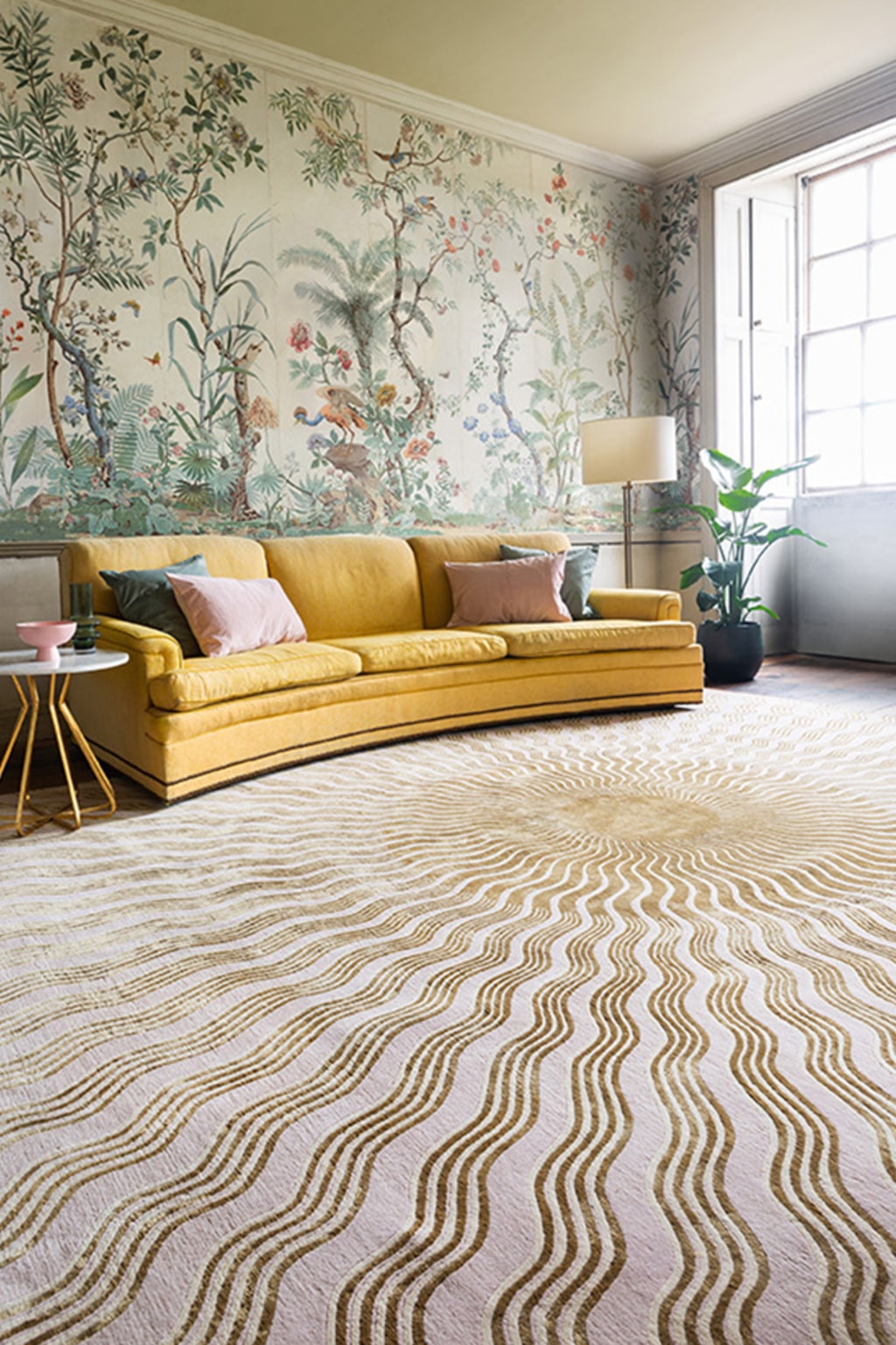 If you're not ready to go with the bold colors, we recommend you go with the pastel shades. This is the best way to add a subtle yet striking factor to your home.
Trend #9: Terrazzo
Terrazzo is one of the patterns that can be seen in the whole year 2023. If you can't include this on your floors, at least buy a rug in this print. Believe me; your home interiors will immediately feel the new breath of life.
If you want to explore more designs and patterns in rugs, check out Therugcompany. There you'll find various types of rugs and also tons of options in their colors, style, and materials. 
Styling Guide : How To Style Rugs?
After looking and selecting your favorite rug, now you might be thinking about how to style it. We've got your problem; here, we're going to explain how you can easily include and style different types of rugs in various parts of your residence.
1. Create a Mid-century Modern Living Room
No other style can beat the sleek and timeless look of a mid-century style. So, this summer, create a fantastic-looking living room with a bright and colorful rug. Go with a white rug, blue rug, green rug, black and white rug. You can also pick those rugs which have colors like pistachio green, beige and black colors as they are in high demand right now. You can also pair these area rugs with some mid-century furniture and decors.
2. Add a Graphic Twist
People always try to play safe when it comes to room decorations, but this year designers have told us to do experiments with the patterns and designs. If you're still unsure about painting walls in bold and bright colors, just go with graphic rugs.
Choose a rug with graphic design or pattern and you'll immediately notice a transformation in the whole ambiance. Abstract strokes, lines, and stripes are also one of the modern trends that will be seen in 2023.
3. Decorate your Lounge Area
This spring season, give a makeover to your lounge area through boho rugs! Yes, this is the simplest and easiest way to decorate your balcony, patio, or outdoor seating areas without picking up a paintbrush. Bohemian rugs are full of artistic patterns that can instantly uplift the atmosphere.  
All you need to do is pick a light pink rug in bohemian style and pair it with your sofa, other furniture items, and decors such as geometric pillows. Ta…da…your place is ready for welcoming your guests.
4. A Traditional Touch
I know traditional style is evergreen and never goes out of fashion. But at least you can add some twist to it! This simply means buying a rug with contemporary patterns in traditional colors. One single style and mat can be a little boring, and over time it will make your living room outdated and tiring.
Create a lovely space by mixing up different styles, and that surely will be inviting and fascinating. Select a decor with modern vibes, and this will make any room more interesting and fun. Search for a traditional rug with a contemporary twist which simply means a rug with complex, intricate patterns. This makeover will surely surprise your guests.
How to Choose the Right Rug For Your Home?
After knowing all about the rugs, the big question is: How to pick the right rug? With so many options out in the market, finding the best one can be like trying to solve a puzzle. Yes, rugs are expensive, and you have to invest wisely.
Therefore, there are many factors that you should keep in mind while buying a new rug. Here are few things that you should look at before placing your order:
First, determine the size which you want for your room. A rug with the right size will enhance the overall look, whereas a wrongly sized rug will mess up your space.

Secondly, look for the materials such as wool, synthetic, and silk and decide where you want to place them. There are various types of materials available out there.

Lastly, decide the color schemes and style which will match your existing home interiors and style.
These are only a few things but there are many more factors that you should always keep in mind while buying a rug. Read our blog on the Ultimate Rug Buying Guide, where we've explained everything in detail. So that you don't end up investing in the wrong rug.
Rug Cleaning & Maintenance Tips
Buying the rugs and placing them in the rooms isn't the final step. Just like the wall-to-wall carpet, they also need care and maintenance. If you properly and regularly clean your rug, it automatically increases its life.
However, you also have to be careful as you can also damage them if you don't take care of them in the right way. Below are some useful tips for you:
General Care
Try to vacuum clean your rug regularly and systematically.

If you have placed the rug in a place where direct sunlight is coming, then it may cause fading and sun damage. So use curtains or blinds to block any direct sunlight.

Once in a while also, rotate or change the position of your rug.

Immediately clean the spills so that they don't leave any stain on the rug.

Never rub the stains, as this will make them go deeper in the fiber and it becomes set or permanent.

If you're using any cleaning products, make sure to clean them entirely after you're done with the cleaning.

Always use dry towels to absorb any remaining moisture.

Don't put heavy furniture items on area rugs as they can crush the fibers and create dents.

To prevent slipping, absorb sound, and also provide cushioning and softness, try to use rug pads.
Cleaning Guide
Above are the general caring tips, but what about their cleaning part? Every rug is made of different materials, so each one has a different cleaning procedure. Here we're explaining how to clean wool rugs, silk rugs, and natural fiber rugs:
Wool Rugs
Daily vacuuming keeps them dirt-free.

Only use cold or lukewarm water when cleaning to avoid shrinkage and damage.

If any spills happen, immediately clean and blot them away with mild soap and water.

Never use any type of oxygen cleaners on your wool rugs.

Try to avoid any kind of direct sun exposure as it may fade the color and cause serious sun damage.
Silk Rugs
Never ever saturate or soak your silk rugs with water, as this can deeply damage the fibers.

Also, don't use any kind of oxygen cleaners.

For silk rugs, professional cleaning is recommended.
Natural Fiber Rugs
Natural fiber rugs are highly absorbent, so try to clean and vacuum them regularly.

Never try to steam clean or saturate with water your rugs as this may cause them to shrink.

Keep them away from the direct sunlight to prevent fading.
The Bottom Line
"Flooring is the foundation of any beautiful room. Start with a great Rug, and the rest will fall into place."
Rugs not only connect our space, but they also complete the room; they create a whole atmosphere where you can relax. Starting from the early 90s, they are still an important part of our houses. Whether you want to add some drama or comfort, rugs are the simplest and convenient way to do it.
In this blog, we've tried to give you in-depth information about rugs, including what are mid-century rugs, and why they're popular in 2023. We've also explained various types of rugs depending on the materials and place. Along with the styling tips, we've also added a few trendy rug options for you so that you can buy them without spending any more time online.
I hope you find this blog on Area Rugs informative and helpful. Now, you know everything about rugs, so you can finally start shopping for your favorite pair of rugs. Give a glamorous and new look to your living room, bedroom, or any part of your home. But don't forget to take good care of them by the tips that we've told you in this blog.