7 Best Ideas on How to Decorate a Small Living Room
Decorating a small living room can be hard if you don't have a lot of space to work with. If you think about what you want and use your imagination well, you can have the home of your dreams. This means that you should have little planning and some inspiration before decorating your small living room in a very attractive way. To spice things up when the background is simple and boring, you should pick out decorative items that you like. To find the right style and color, try on a lot of different things. Finally, the right decoration can help make a small space look bigger. We've put together some of our favorite ideas on how to decorate a small living room. 
Make Your Living Room Higher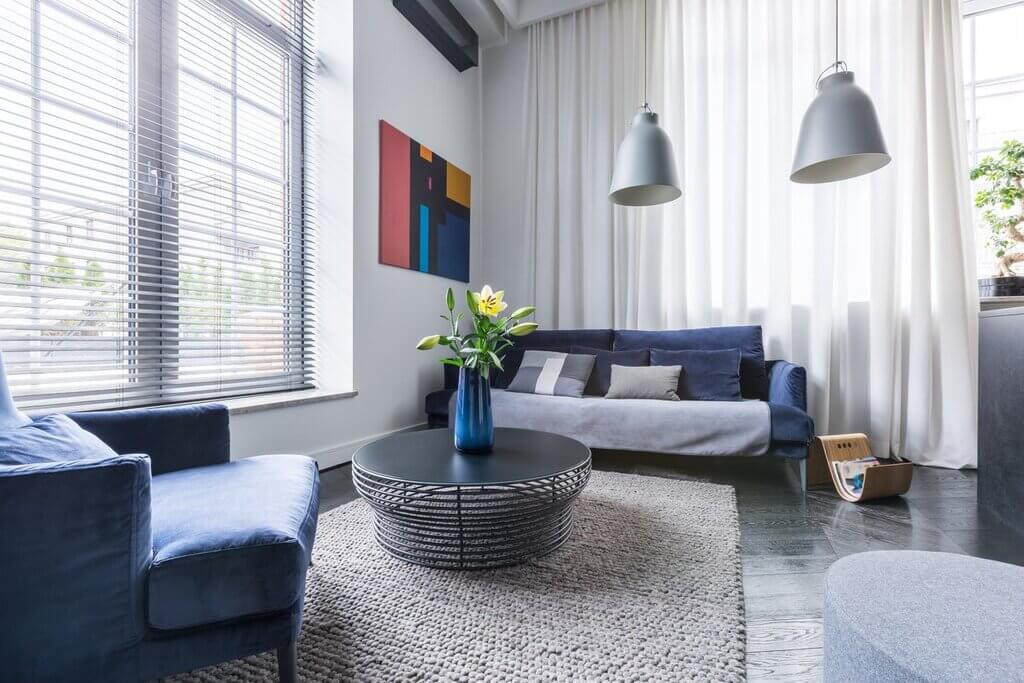 Source: matterbrothersfurniture.com
You can make your living room look bigger and have more storage space by designing it higher. To save space on the floor, choose lights that can be put on the wall or hung from the ceiling. It's better to hang your curtains and curtain rods near the ceiling than above the window. By adding a few extra inches to your drapes, you can avoid having crooked curtain hems.
When you put art on your walls, start at eye level and work your way up to the ceiling. In the middle of your gallery wall, put shelves on top of each other. They should go from there to the edges. To make your living room look bigger and more spacious, use these design ideas as soon as you open the door to make it look bigger.
When you want to make your home feel more open and airy, use high-ceiling drapes and simple furniture.
Know Your Rug Size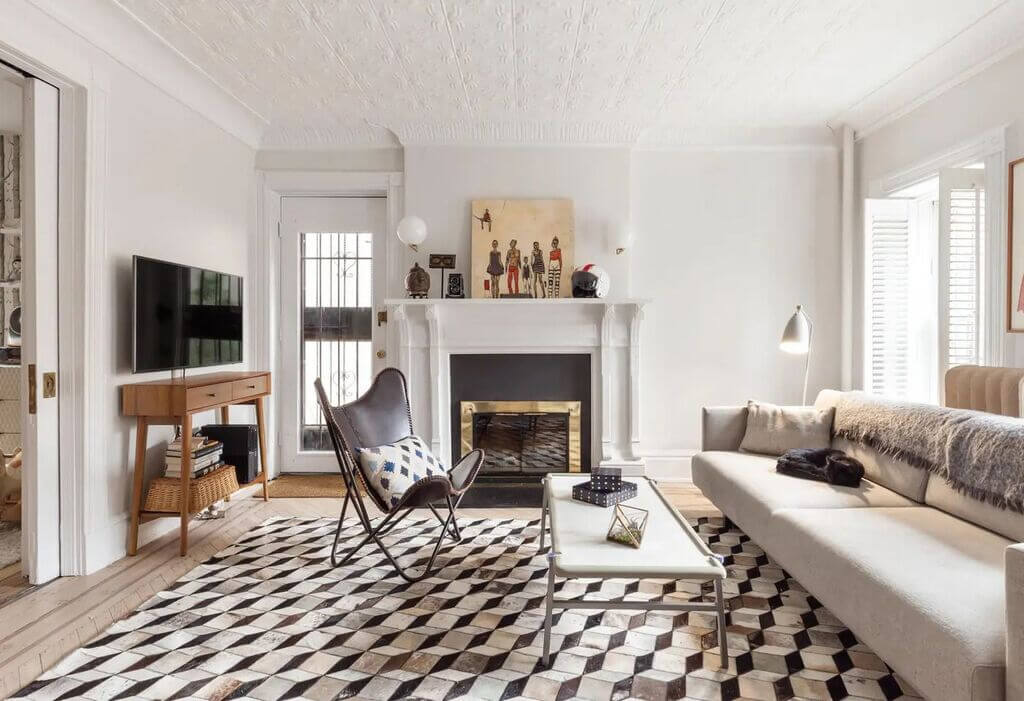 Source: hearstapps.com
Small living rooms should not have big furniture. When it comes to the rug size, though, bigger is better. A big rug can make the living room look bigger. If you choose a small rug that looks like it's floating in the middle of the floor, your room will look a lot more crowded and small. Looking for a way to figure out how big of a rug you need? Tape the shape of a rug on the ground. Try out a few different sizes to see which one fits your room's dimensions and also makes it look bigger.
Make Good Use of Mirror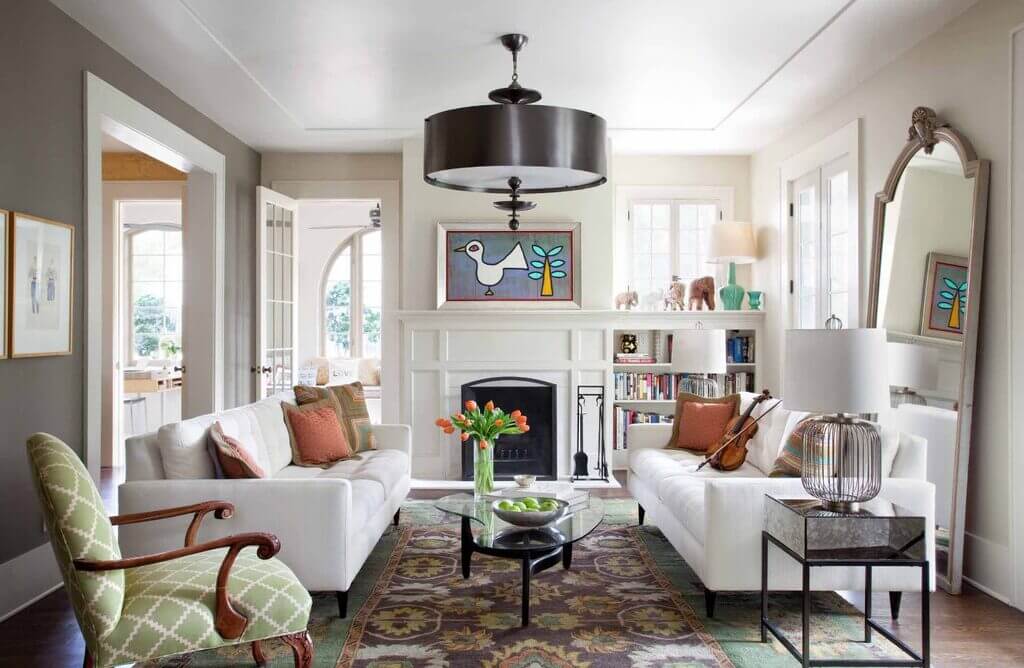 Source: remontbp.com
Designers love to use mirrors to make a small space look bigger. To make a small room look bigger, hang mirrors on the walls. This is a cheap way to do it. They reflect light and make the picture look like it has more depth. They aren't all made the same with mirrors, though, so they're not the same. Avoid mirrors with fancy frames that take up a lot of space. In a small room, a big mirror might be too much for the space.
These frames make the mirror smaller. For a smaller frame around your bigger mirror, you could go with a frameless one. A table lamp or sconce can be placed next to a mirror in order to make it more reflective. If you're going to put up a gallery wall, think about adding a mirror, this sounds attractive already, isn't it? There are true benefits of living in a tiny house. 
Avoid Using Sofas and Use a Vertical Space Design
Rather than having a huge sectional or many couches in your living room, put two small chairs in the corner. It will make your room space seem bigger. You don't have to cut down on the space to make it look nice and welcoming. It's important to put the main point of the room near the seats so that people feel like they're part of the room. This could be a fireplace, entertainment center, or coffee table.
Arranging things in a vertical manner is one of the best ways to maximize storage space in a small living room. A lot of storage and usefulness can be added to the walls if there isn't enough room on the floor for both things. A vertical element, on the other hand, will draw the eye up and make the space seem bigger.
Use the vertical space in your living room to both add style and store things like clothes and shoes. If you don't have built-ins in your living room, you might be able to store your TV and other things in a floating wall storage unit. As there are more options for decorating a small room in this way, making it look bigger can make it look bigger Decorating the room from the bottom up is a good idea as a rule of thumb Storage units that go up and down or shelves that go on top of each other are great ideas for decorating a small space.
Also Read: Top 7 Living Room Trends 2022 That You Should Try in 2022
Setting Up Media Center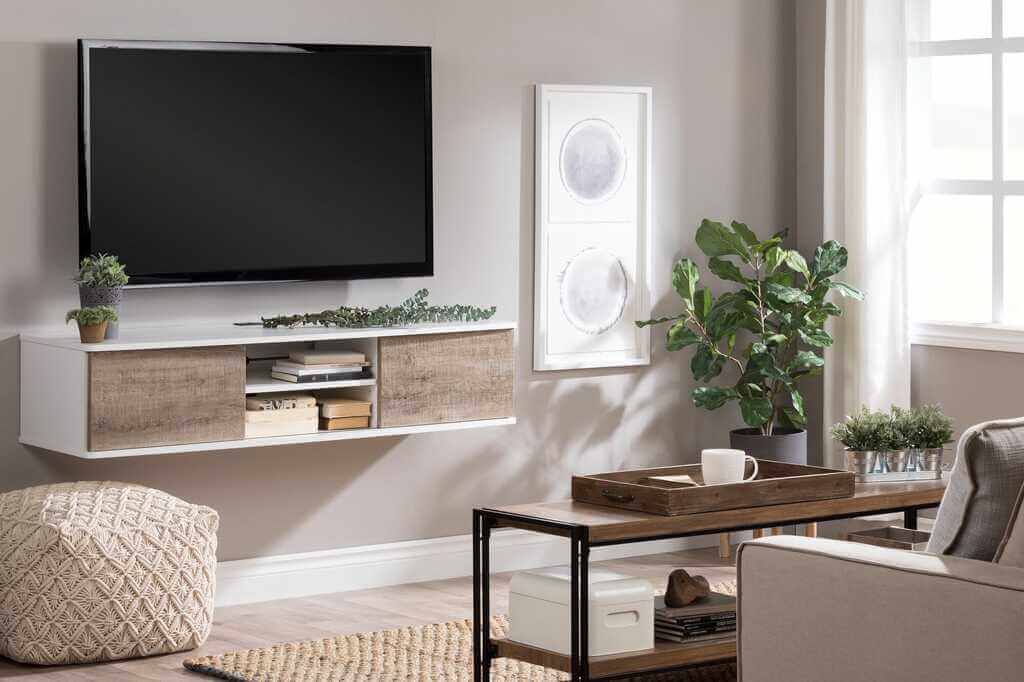 Source: tlcinteriors.com
Think about a floating media center if you want to free up floor space, avoid a big and bulky media box, and make a statement in your home. Hang the TV on the wall, and then add floating shelves above and below the screen to store things. To hide wires and connections, you also have a place to decorate and store other things. By placing an ottoman on the lower level, or by using the lower shelf for storage, you can make an at-home office that you can work in. This is where you can make it your own.
Add a Sliding Door

Source: pinimg.com
Floor space can make a big difference. As a bonus, sliding doors can free up a lot of valuable floor space. One of the best things about modern farmhouse design is the use of sliding barn doors. If you want to divide the room, you can use things like bookshelves, hanging panels, or sleek decorative screens that are both practical and stylish.
Also Read: Deco TV Frames: Why Buy a Television
Use Shelves to Store Things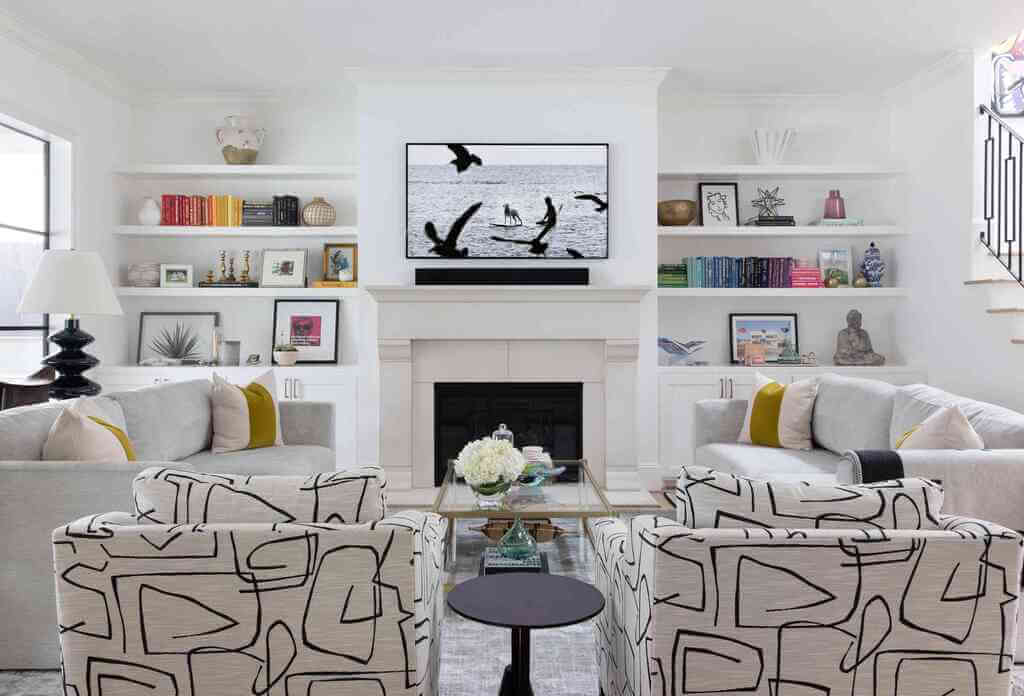 Source: thespruce.com
In some cases, you can build shelves for extra decoration or storage. If you don't want to build in, floating shelves are also a good option if you can't build in. Alternatively, you could make the bottom shelf bigger so that there is more room to sit down.