Are you planning to renovate or redesign your bathrooms? At first, it may seem like an easy task, but when you start working on it, it will turn out to be more complicated than it seems. One of the simplest places to start your bath design is choosing the right type of mirror. Why a mirror? Because a mirror is the centerpiece of any bathroom and it also gives your bathing area a feeling of spaciousness.
As they play an important role, here we're with some of the best bathroom mirror ideas of 2023! From checking out one's appearance, applying makeup, to shaving, there are many functions of a mirror. Apart from this, they also reflect natural light, add the final addition, and complete the space.
But selecting the perfect mirror for your bathroom can seem like a daunting task. First, you have to think about your bathing area's size and then think about whether you want a small or big mirror? There are tons of options available in the market, such as round, square, oval, rectangular, tinted, transparent to antique frames in different styles, sizes, colors. So, the big question is, which type of mirror will work for your space? 
Don't worry, keep on reading because today, we have gathered up eighteen bathroom vanity mirror ideas in this blog. From trendy round mirrors to unique light-up mirrors, you'll indeed find the perfect mirror idea for your bathroom.
17+ Gorgeous Latest Bathroom Mirror Ideas
Apart from providing reflection, a right mirror also contributes a sense of spaciousness and enhances the presence of natural light. So here are the eighteen stunning framed bathroom mirror ideas 2023.
1. A Mirror Cabinet
Do you live in a small apartment, or do you have a compact bathroom? If yes, then you have to use every inch of your space cleverly. So, instead of a normal mirror, use a mirrored cabinet above your sink. Look at the above farmhouse chic bathroom; here, the rustic mirrored cabinet looks really pretty and practical. 
2. Folded Corner Mirror
Living in a compact home is hard, but you can make it easy. How? By using your space efficiently! For example, you may already have seen corner mirrors in many bathrooms. They save space, but sometimes they look awkward. So instead of normal corner mirror use, go for a folded corner mirror and you can turn these awkward-looking corners into a custom vanity mirror. Look how cute is this pink bath.
You can always use these types of mirrors to enhance the overall vibe of your bathroom. This way, you can easily utilize these awkward room corners and make them into something more useful and convenient.
3. Double Sink – One Mirror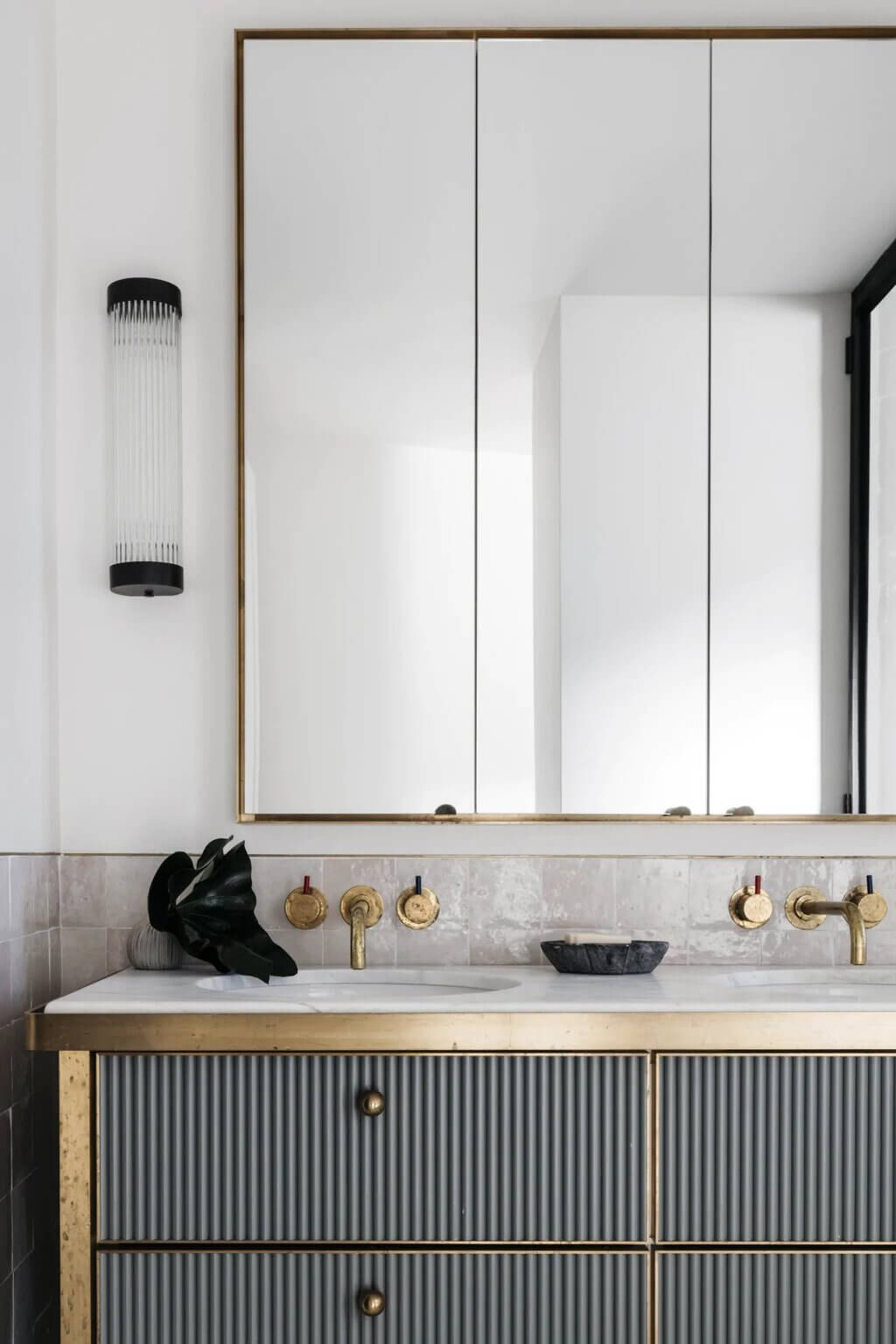 Does your bathroom have double sinks? If yes, then it is not compulsory to put two mirrors. You can break up the symmetry and place a single mirror that stretches from one end of the vanity to the next.
This mirror also has a hidden cabinet, so one large mirror will surely double the storage space as compared to two small separate mirrors. This bathroom is designed by Arent & Pyke. They put the simple bronze framed mirror, which complements the dark gray grooved drawers and black sconces.
4. Antique Bathroom Mirrors
Show your love for antique things by placing these types of mirrors. These mirrors have antique brass chains to suspend them. Aren't they looking so unique and pretty? You can use them in the same size or in various sizes according to your bath space. They also have shelves where you can put flowers in a vase, perfume, and eyeglasses.
5. Modern LED Mirrors
This time, equip your bathroom with the latest technology. Yes, we're talking about the modern mirror that comes with light-emitting diodes (LED). Believe me, it is the best of both worlds because it is the best perceivable way to get a realistic reflection of an image, and it also adds light to the room.
Don't worry about the bills because they also conserve electricity! They are specifically designed to produce a pure white light–perfect, which is extremely good for shaving and applying makeup.
6. Kid-Friendly Bathroom Mirror Ideas
Are you decorating bath space for your kids? If yes, then make sure to place the mirror at the lower height or according to your kid's heights. You can always experiment with the shapes and can also switch up design compositions.
Take inspiration from the above designs. It is designed by Studio/Lifestyle, where a sideways oval mirror is also placed lower on the wall. This way, space becomes both kid-friendly and intriguing.
7. Barn Door Mirror
This unique mirror design will surely baffle the minds of your visitors. It is a sliding barn door mirror. This beautiful black mirror will deliver a high contrast to the predominantly white bathroom walls. It also comes with a shelf, where you can create your mini garden by placing plants. 
8. An Asymmetrical Mirror Design
Give a contemporary touch and feel to your bathroom with this asymmetrical mirror. There are many types of unusual-shaped mirrors available in the market, such as a rounded rectangle, dome-shaped mirror, pill-shaped mirror, or popsicle-shaped mirror.
You can instantly add a quirky touch to your bathroom without going over the top. These types of mirrors look great and give multiple effects when 2 to 3 mirrors are placed accordingly.
9. A Mirrored Vanity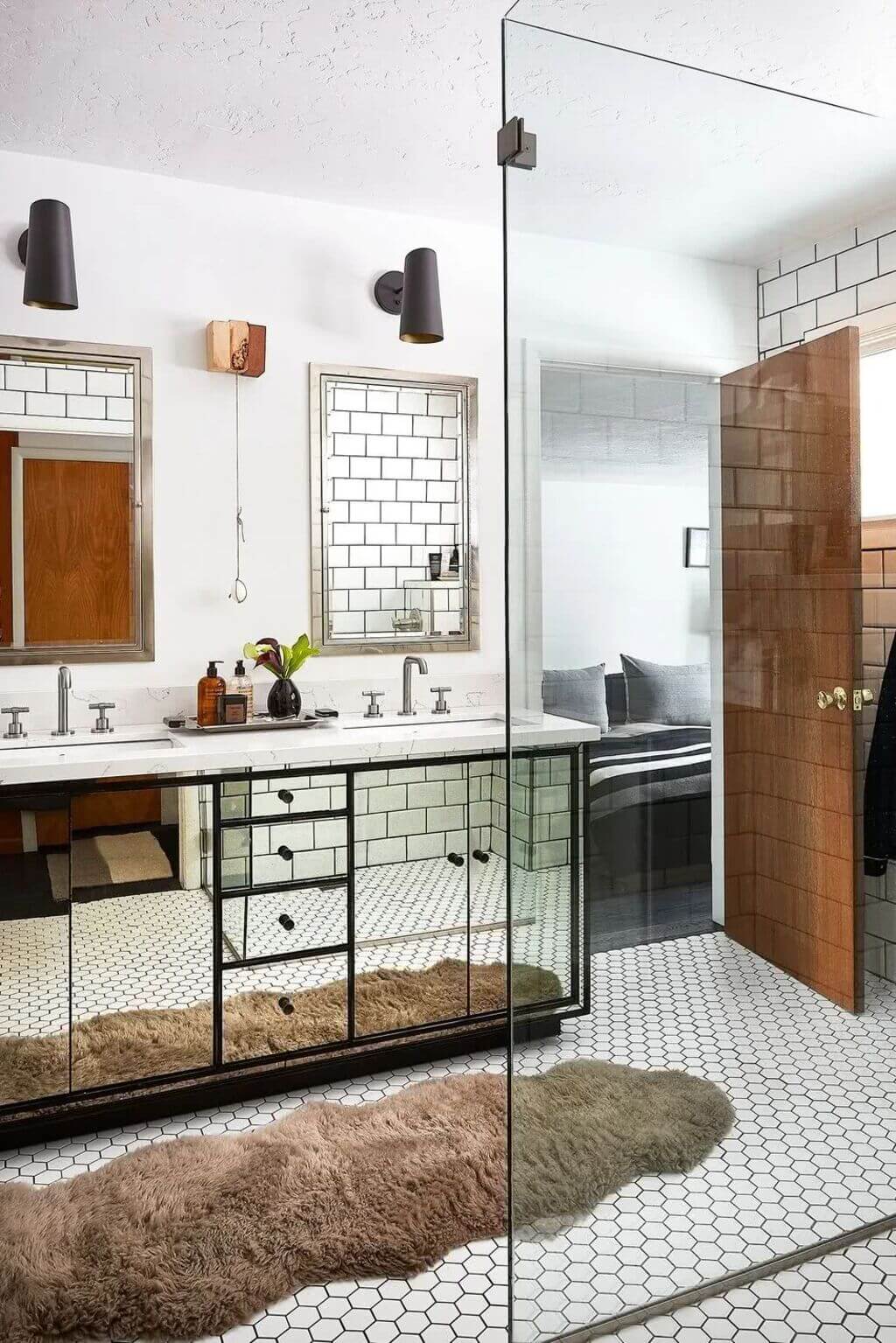 Who says that you can only put mirrors on the wall? No, not at all! You can bring many mirror effect elements to your home and break the rule. Don't think that mirrors are limited to walls; look at the above bathing area.
Here the homeowners Christian Burch and John Frenchette opted for a mirrored cabinet vanity. They intentionally placed this in their bathroom to make the room feel larger and want to add a touch of glam.
10. The Light-Up Mirror
It is so frustrating, whenever you're doing your makeup, and the lighting is not perfect. So for all those people who feel the same, we suggest using a light-up mirror. This not only makes your dress-up and makeup application easier but also adds more style to your bath.
This is a Studio DB-designed space, where velvet stool and light-up mirror are used. So if your space allows, go for this setup and add a vanity & a light-up mirror.
11. Mirror With Steel Frame
Steel framed mirrors are so in trend right now. Even in them, there are two options: a simple mirror with a steel frame and the other option is the giant mirrors with metal bars.
The first style is effortless to create. All you need to do is find some antique mirrors with vintage or steel frames and then place them on your bathroom walls. The second style is tricky and only looks good in large bath areas. First, paint your walls in dark paint and then put on a giant mirror. Finally, place some iron bars that match with the wall shade on top of the mirror.
12. The Full-Length Mirror
If your bath has enough room, we suggest going with a full-length mirror. Not only you can easily get ready in the morning, but it also adds a sophisticated and polished look to your bath area.
Here, the owners have placed a large mirror with an edgy matte black finish, and they look absolutely stunning against the luxe marble floors. Also, the neutral color palette has been used here to ensure a polished look with a touch of eccentricity in this bathroom.
13. Brushed Metal Wall Mirrors
Another way to bring sophistication to your baths is by using metal wall mirrors. These types of mirrors are designed with a contemporary look that complements various designs and styles.
To get the look on another level, you can also match your hardware and light fixtures with the mirror's brushed metal frame. This will create a modern and urban bathroom design while providing an accurate reflection of yourself.
14. Go Frameless
Sometimes it is not compulsory to put double mirrors for double sinks. Look how brilliantly designers have put a single but large frameless mirror for two sinks. How to decorate a mirror without a frame?
All the elements, including mirror, vanity, and linear ceiling light stamp, are creating a modern style. However, the oval soaking tub with well-defined lines and sharp edges perfectly balances out the entire look.
15. Rustic Bathroom Mirror Ideas
Do you want to create a bath design that is unique and unusual? If yes, then what do you think about creating a rustic bathroom design? Look at the above bath, where elements like a distressed wood framed mirror, an old ladder, and a weathered stone sink are teamed up to create a rustic yet modern look. Two vintage wall sconces have been placed to light up the mirror and vanity to complete the rustic interior design.
16. Create A Symmetry
Sometimes creating a symmetrical design looks more good than the other designs. This mainly works for unusual-shaped places. If you are confused about how to balance a weirdly shaped area, then go for asymmetric design.
For example, in this bath design, classic double mirrors have been used over double rounded sinks, but they're in an oval shape. Both sinks and storage areas are also kept in the same shape and design to balance out the look.
17. Bathroom Mirrors with Storage
Does your bathroom don't have enough space? Yes, steal this idea. The first step is to paint your bath walls in pure white color. Why? Because neutral colors make your bathroom feel bigger than it truly is.
Then place a narrow vertical mirror that has some open shelves. This will allow you some storage space, and you can put things like daily bath essentials, potted plants, makeup, and other personal items on the open shelves.
The black mirror frame and shelves are adding a touch of eccentricity. Believe me; this is one of the easiest and best bathroom mirror ideas for a small bathroom
18. Mirror For Fun
This is not a mirror idea, but designer Hecker Guthrie has created an illusion by putting a portrait in the mirror's place above the bathroom sink. It's just for fun and is a loose interpretation of What people would actually see if there was a real mirror.
Instead of going for the typical symmetrical route, he completes the design by hanging single slim pendant light. Even flanking a sink area with sconces is also a subtle but bold choice. You can also go with this fake-out mirror design to prank your guests and create a fun atmosphere.
Are you looking for more bathroom designs? Yes, check out our previous blog on the latest bathroom floorings and give your bath area a unique and trendy outlook.
Conclusion!
Not only the shape, size, and design of the mirror is important, but the placement of these mirrors is crucial for attaining a perfect look. With the right placement, you can easily create an illusion that makes your bathroom look bigger than it actually is.
Another vital thing after this is the lighting options so that you can enjoy all the benefits of the mirror you just picked out. You can either go for ceiling lighting or use pendant lights or wall sconces for additional lighting.