Recently you started renovating your house or just want to replace the old flooring of your bathroom? Whether this is the case with you or not, choose the best flooring for bathroom is always a fun thing to do. Some people select the flooring based on the tile appearance, and some prefer budget-friendly options.
If you're also looking for interesting and amazing bathroom flooring ideas, you landed on the right page. Today we've listed seven amusing and best flooring for bathrooms. So whether you have a small bathroom or a huge one, all these floorings will look beautiful in all of them. We have also listed down the advantages and disadvantages of each of them so that you'll get a fair idea of each type of flooring. So, let's start,
7 Best Bathroom Flooring Ideas
1. Porcelain Tile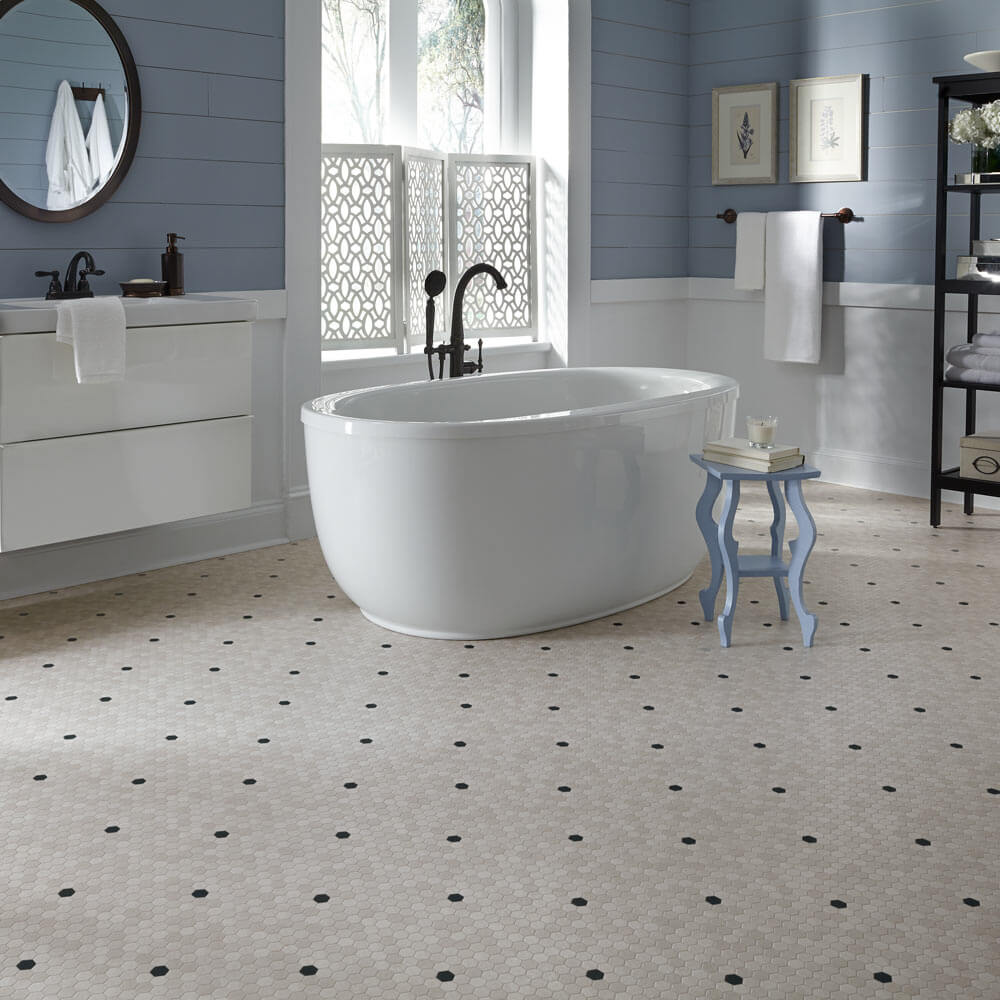 When it comes to bathroom flooring, porcelain flooring should be at the top of your list. Why? because it is waterproof, stylish, and also cost-effective. All these things made porcelain tiles best in the world of bathroom flooring.
It is made from clay that's shaped at remarkably high temperatures that's the reason why it resists water, bacteria, staining, and any kind of odors. Like the stone, they also have a deep and textured feeling. The incredible thing is that they're pretty inexpensive, which means you can have all that luxury in your budget. Porcelain tiles are available in a variety of sizes, styles, and shapes such as hexagonal, octagonal, square, and many more.
You'll also not face any kind of cleaning and maintenance difficulty with these tiles. But the only problem with them is that sometimes they become slippery but other than this they are a good choice as bathroom flooring.
Pros and Cons of Porcelain Tiles
PROS
Many styles and colors are available.

Easy to maintain

Durable and waterproof

stain resistant

Good resale value

Inexpensive

Works well with radiant heating
CONS
Feels hard and cold underfoot

Often sterile-looking

Slippery

Tough to install
2. Vinyl Flooring: Sheet, Plank, or Tile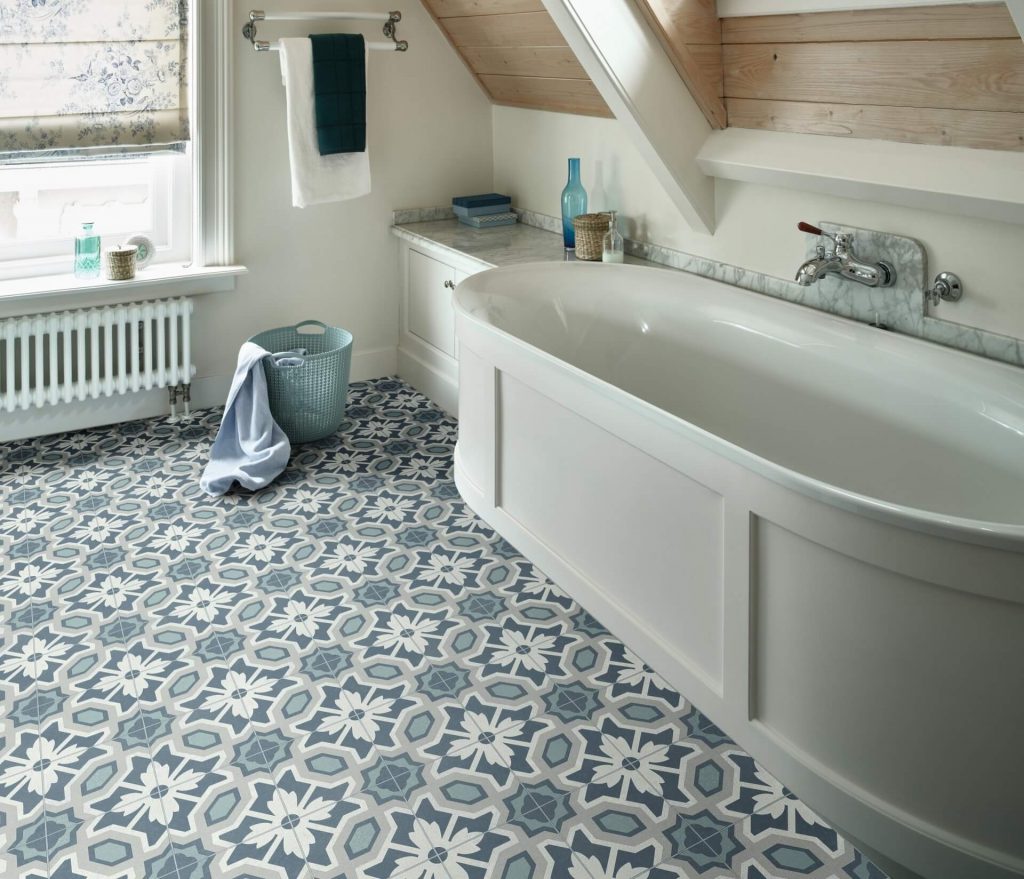 Want a good looking and practical flooring in your bathroom? If yes, then there is nothing better for you than vinyl material. For many decades, vinyl has been a popular choice. Generally, they come in three types: Sheet, Plank, and Tile. You can select any one depending upon your requirements. Because they're highly waterproof and susceptible to moisture, they are commonly used in the bath, but you can use them anywhere in your home.
They mostly come in widths of around 5 inches and lengths of approximately 48 inches. Now, if you're thinking that they may be hard to install, you're wrong. You can install them all by yourself. Read our blog on how to install vinyl flooring and get the shining vinyl flooring in your bathroom.
Pros and Cons of Vinyl Flooring
PROS
Completely Water-resistant

Cost-effective

Luxury looking product

Feels good to walk on.

Super easy installation

Easy to replace and Can be installed over existing flooring
CONS
Does not improve property value.
3. Natural Stone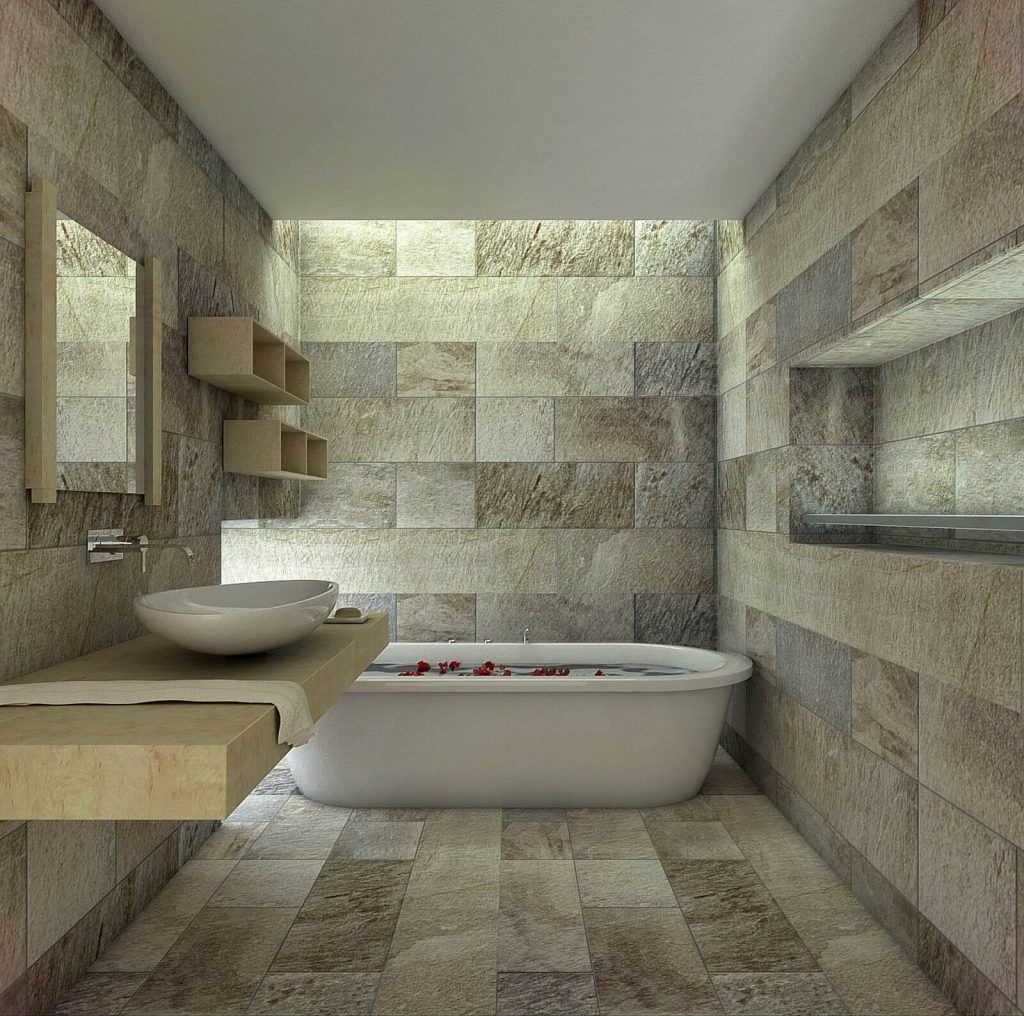 There is no material other than the stone that can provide a luxurious looking bathroom. Yes, it's 100 percent true! But this luxury comes with a price tag. If your pocket allows you, then definitely go for stone flooring in your bathroom. You can select from granite, limestone, marble, and travertine flooring. 
Not only are they aesthetically pleasing in looks but also very durable. If you maintain them carefully, they'll last long for many years. They also have excellent resale value. Other than its high price, it has one more drawback that is they're very slippery when they're wet. For that, you can also use textured stones in your bathroom.
Pros and Cons of Natural Stone Flooring
PROS
Available in many kinds of stones

Excellent resale value

Very durable and long-lasting

Also available in texture variations.
CONS
Installation is hard

Require high maintenance

Quite expensive

Requires regular cleaning and sealing.
4. Engineered Wood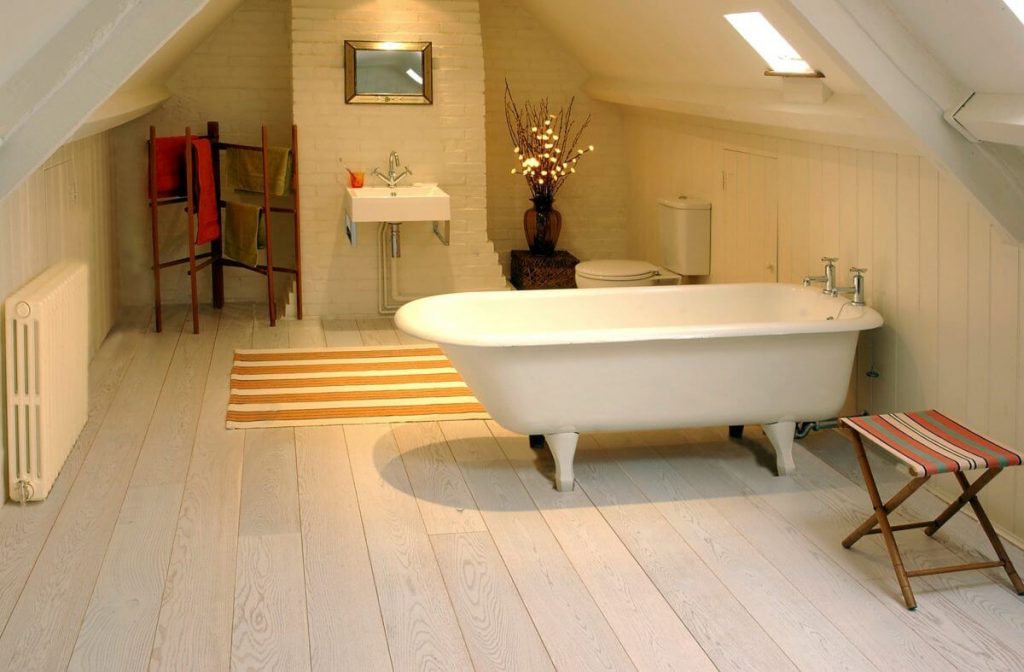 Does your heart is set on wood flooring? Don't worry, you can use wood flooring in your bathroom but only engineered wood because normal wood flooring will damage because of the moisture and water. Whereas the engineered wood floors have a plywood base that holds up the humidity, and the top layer is made from hardwood, so they look authentic like your wood floors.
But keep in mind that this is one of the most expensive floorings, so only think about it when you're ready to invest a significant amount on your bathroom floorings. Another thing is that they're water-resistant, not waterproof, so they are prone to damage no matter how well you protect them.
Pros and Cons of Engineered Wood Floorings
PROS
Best alternative wood flooring choice

Stable and sturdy

Authentic hardwood on the top

Comes in a variety of styles and designs.

Withstands heat and moisture.

It can be installed over existing flooring.
CONS
Moderate-to-high expensive

It is tough to repair damaged boards.

Water-resistant, not waterproof.
5. Laminate Flooring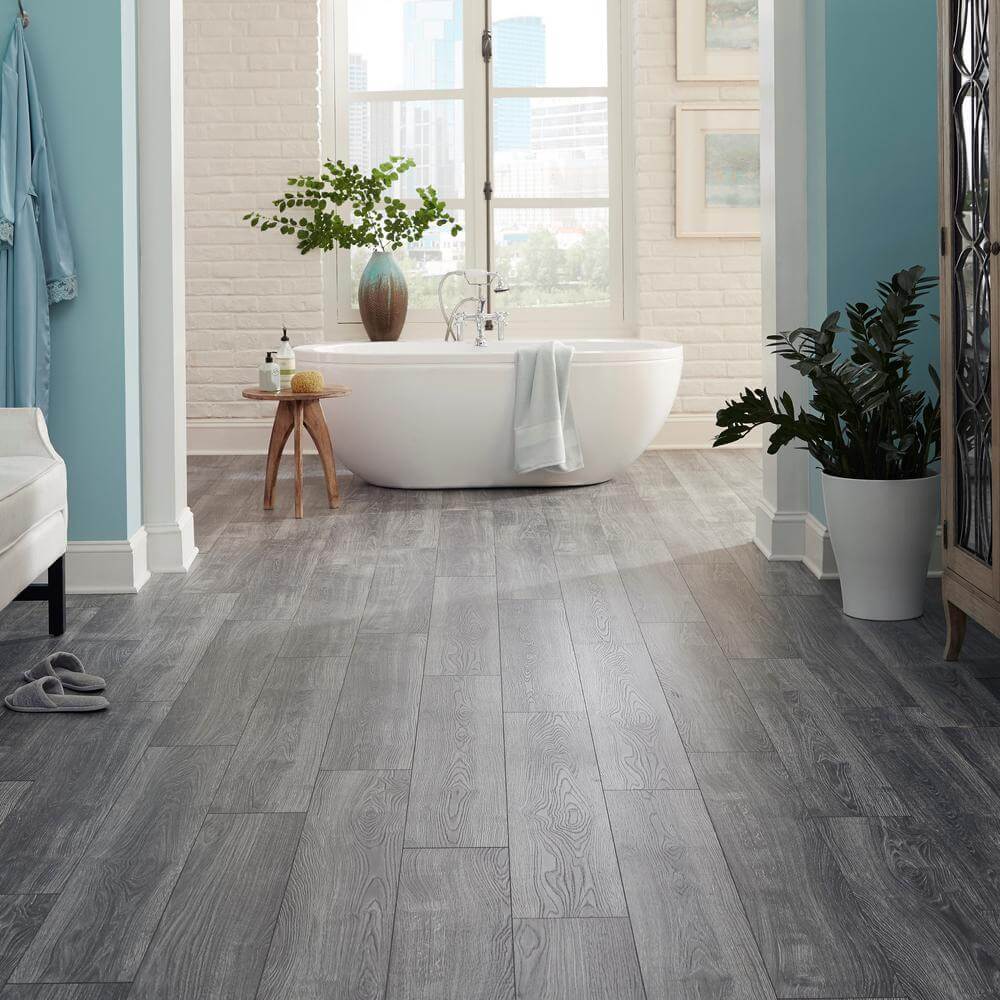 Honestly, laminate flooring will be the best option over the hardwood flooring for your bathroom. The laminate tiles' surface is made up of oak, slate, marble, or cherry or any other stone. And it is protected from a top layer known as the wear layer. 
But you have to be careful with laminate tiles just like the wood floorings because if the moisture goes down to its surface, it's pretty tricky to clean it. If it comes in contact with any kind of moisture, the laminate tiles' surface will expand and bubble.
Pros and Cons of Laminate Flooring
PROS
Inexpensive

Easy to install
CONS
Once damaged it cannot be repaired

Laminate flooring can collect static
6. Cork Flooring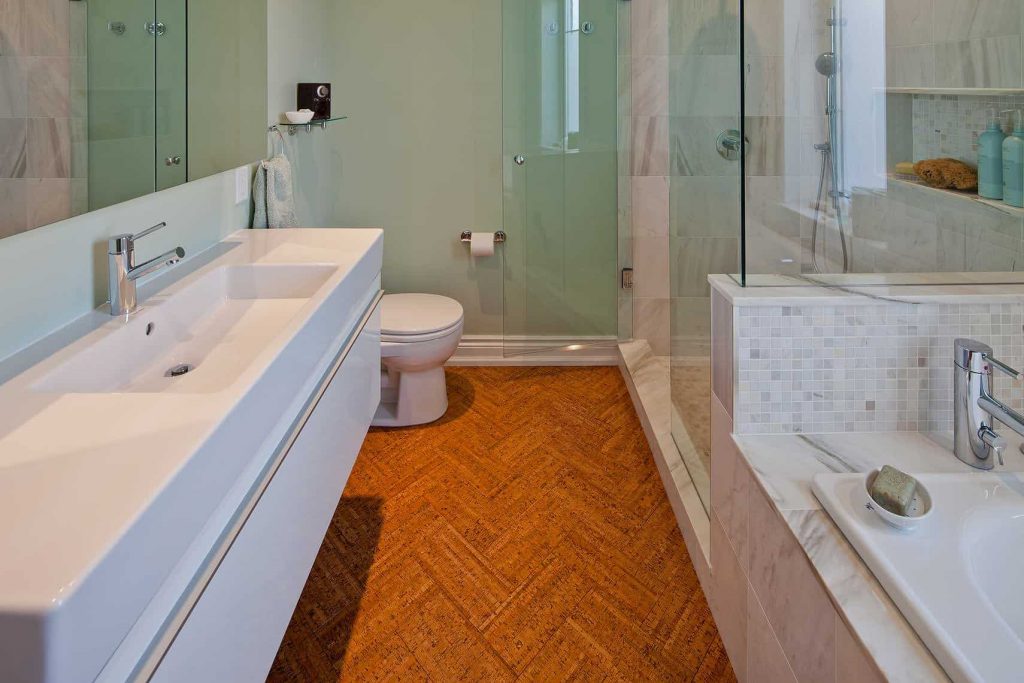 Looking for a more sustainable option, then nothing better than the cork flooring. It feels super comfortable under your foot, and also, it is quite easy to install. Do you know cork has antimicrobial properties? This simply means your bathroom will be free from any kind of molds and mildews.
Besides that, cork is naturally textured, so don't have to worry about the bathroom slipperiness. It has unique grid patterns, which look absolutely beautiful, and it is low maintenance flooring. Whether you have a separate bath area or ensuite bathroom , it is perfect for all kinds of bathrooms.
However, this flooring also has some disadvantages like it is water-resistant, but it is not waterproof. Also, you have to seal your cork flooring with multiple layers of polyurethane every couple of years to protect it from damages.
Pros and Cons of Cork Flooring
PROS
Easy installation

Low maintenance.

Soft to walk on.

Highly sustainable

Mold and mildew resistant.
CONS
Require multiple layers of polyurethane.

It is water-resistant, not waterproof.
7. Concrete Flooring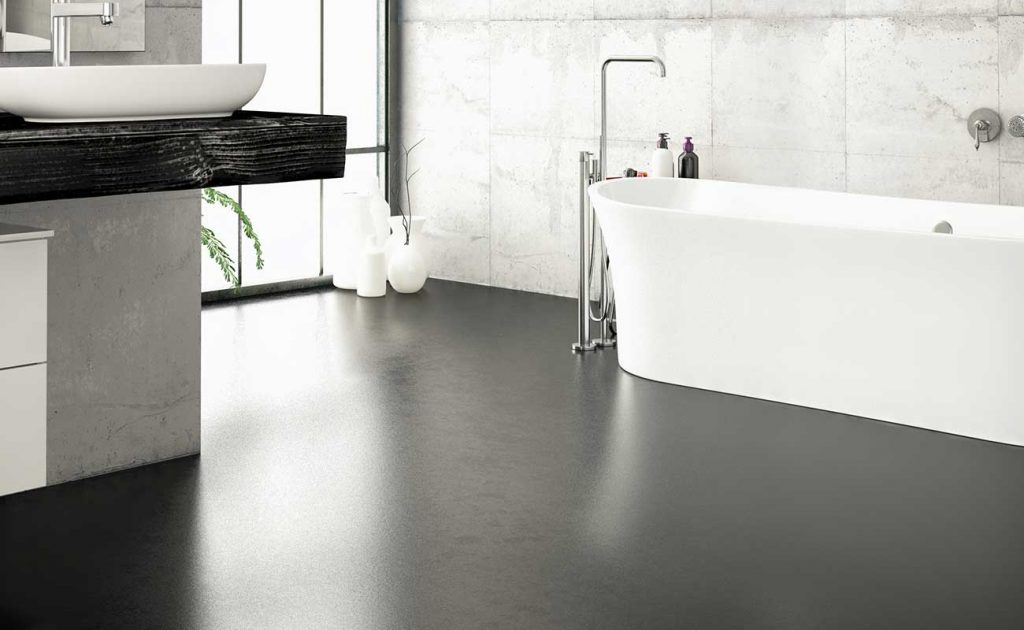 Another great flooring material choice for your bathroom is the concrete. It is incredibly hard and strong. There is absolutely no material in this world that can beat the strength of concrete. You can't scratch or dent a concrete floor.
Don't think it is old material; it is indeed one of the trendiest materials on this planet. From walls to the furniture, concrete has been used for many years. It is perfect for your bathroom because it is durable and completely water-resistant. You can also paint them in various tints and colors. Read our blog on how to paint concrete to know the full procedure.  
Pros and Cons of Concrete Flooring
PROS
Durable and strong

Low maintenance

Waterproof and water-resistant
CONS
Feel hard underfoot

May develop some cracks over time.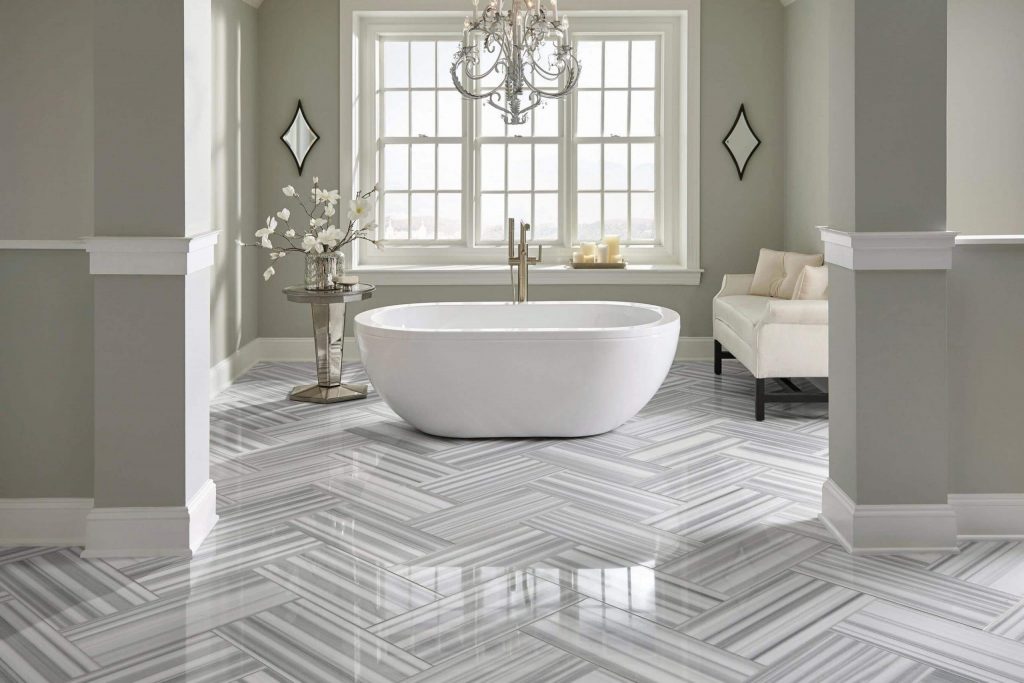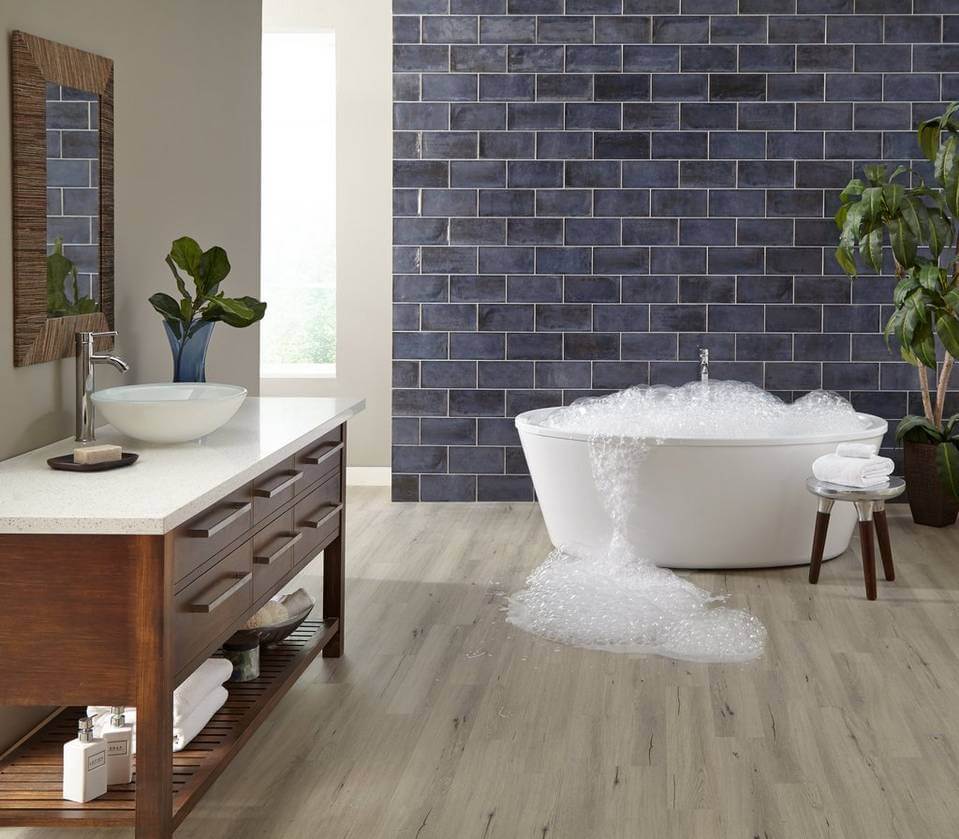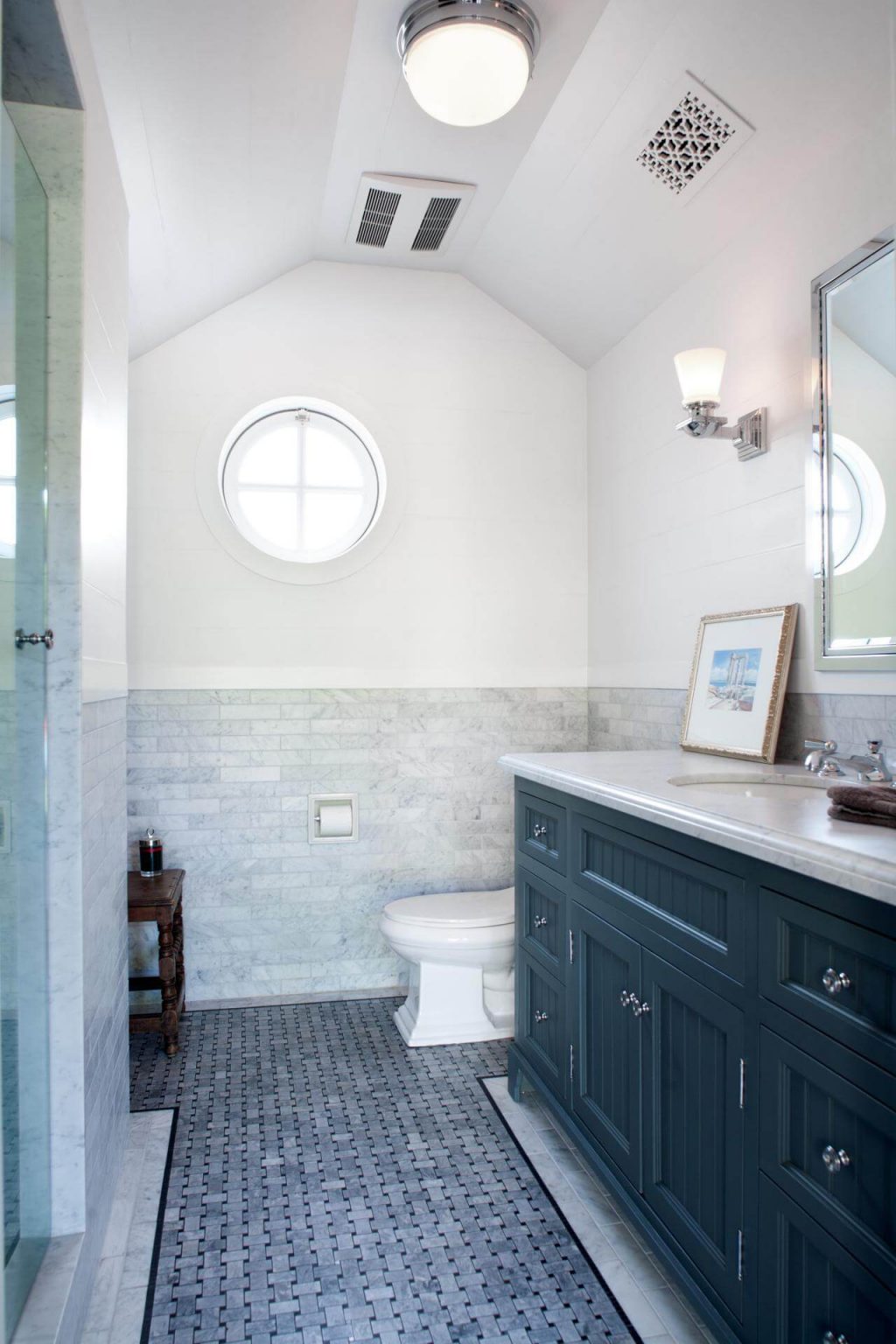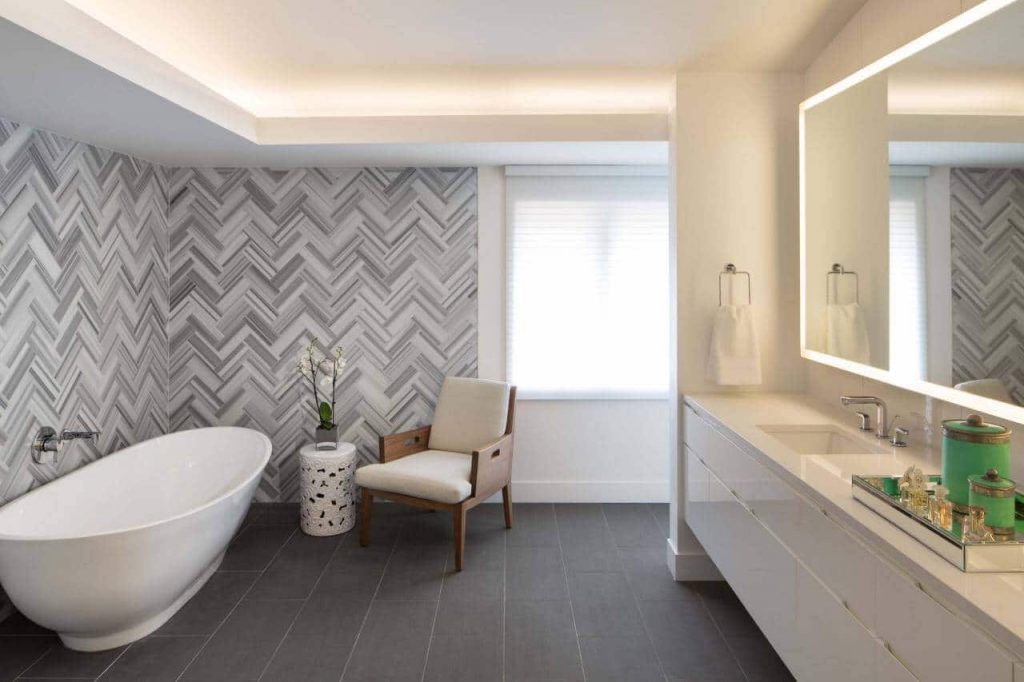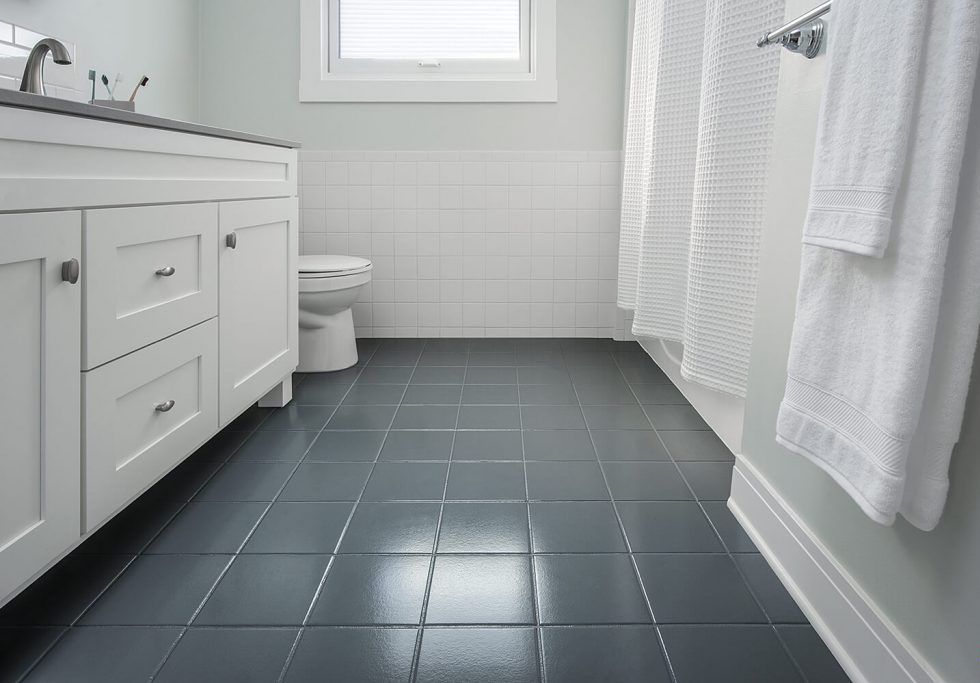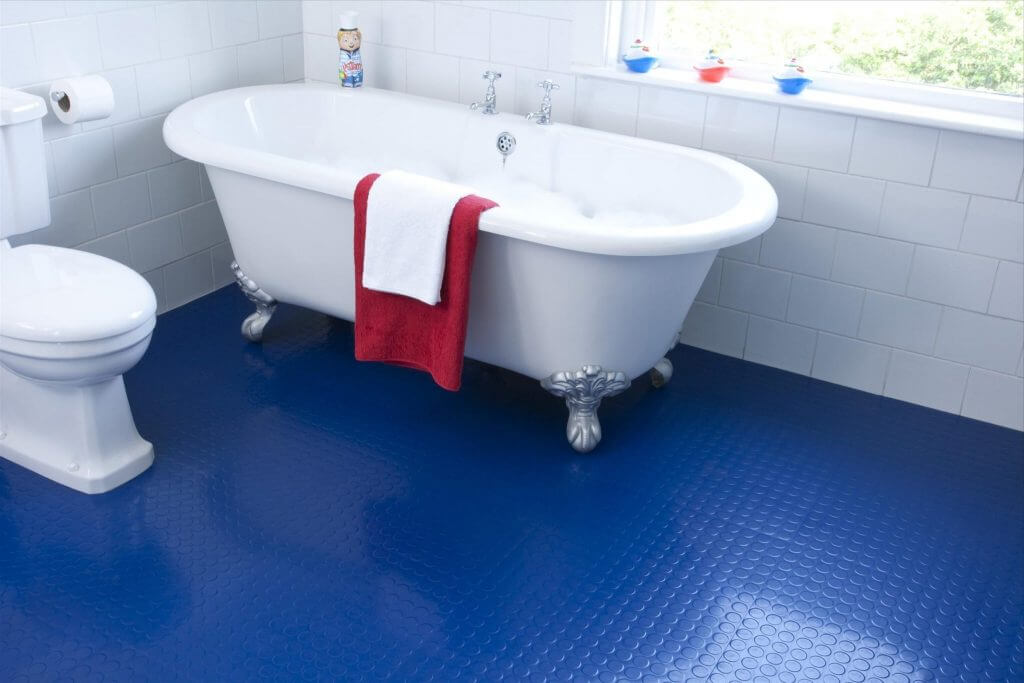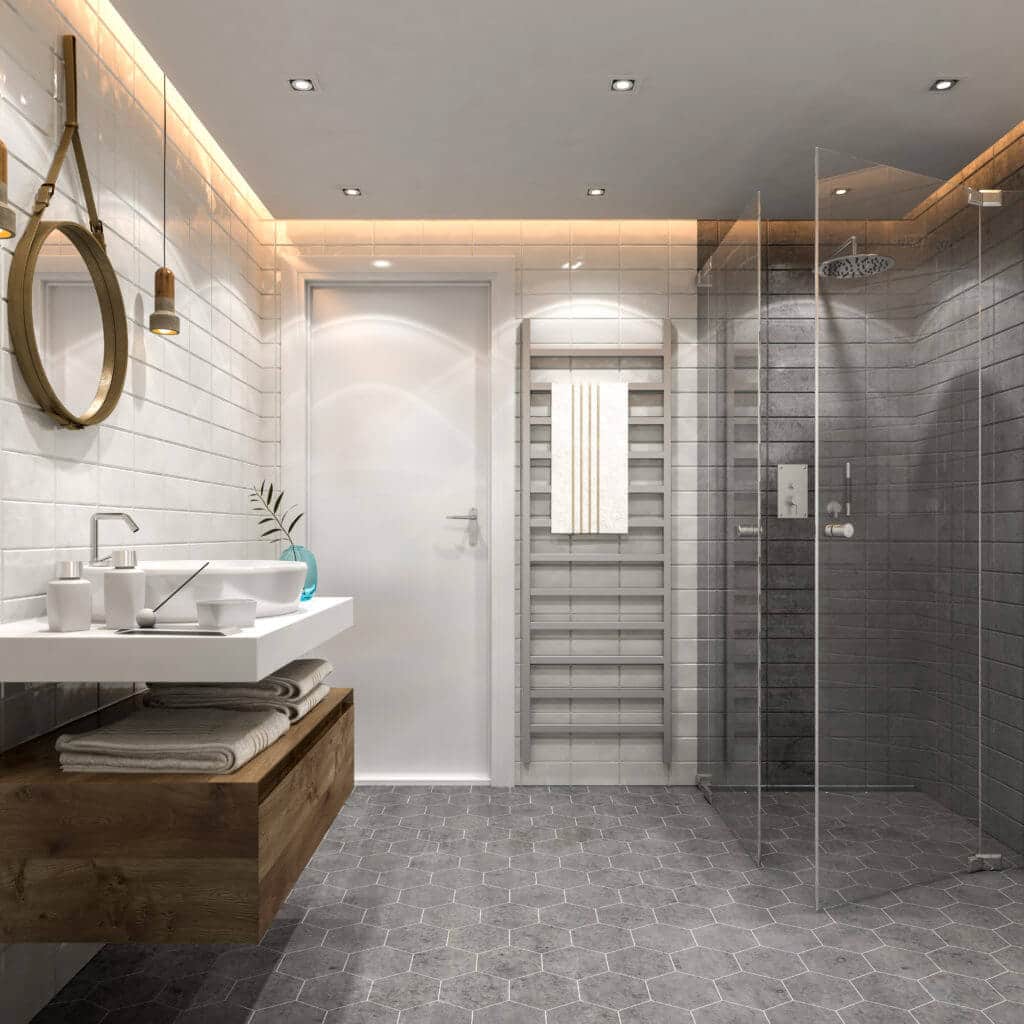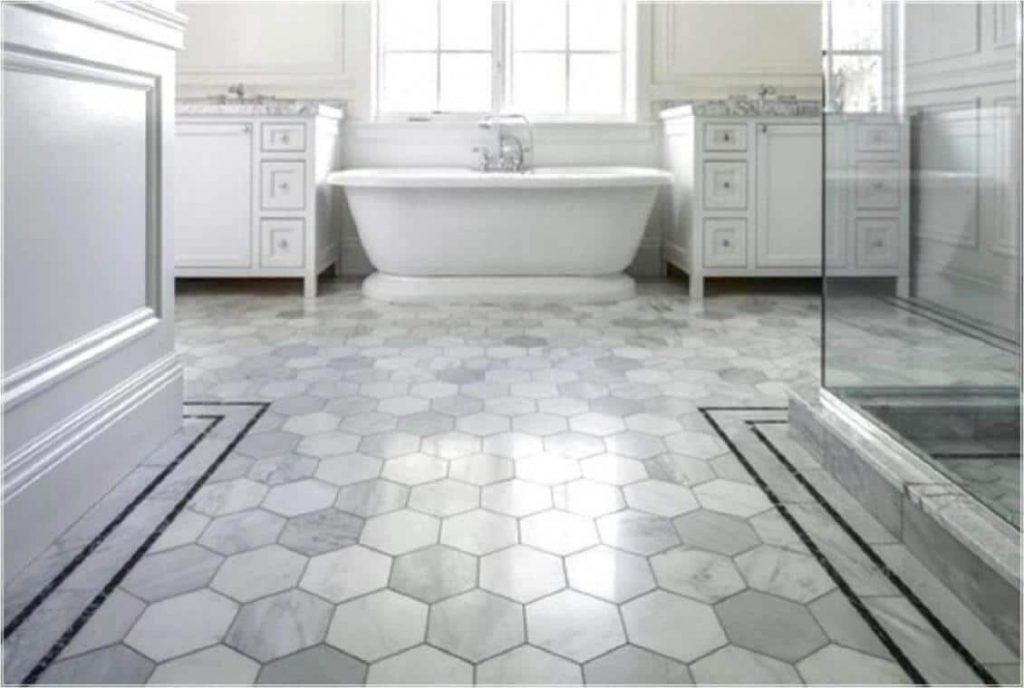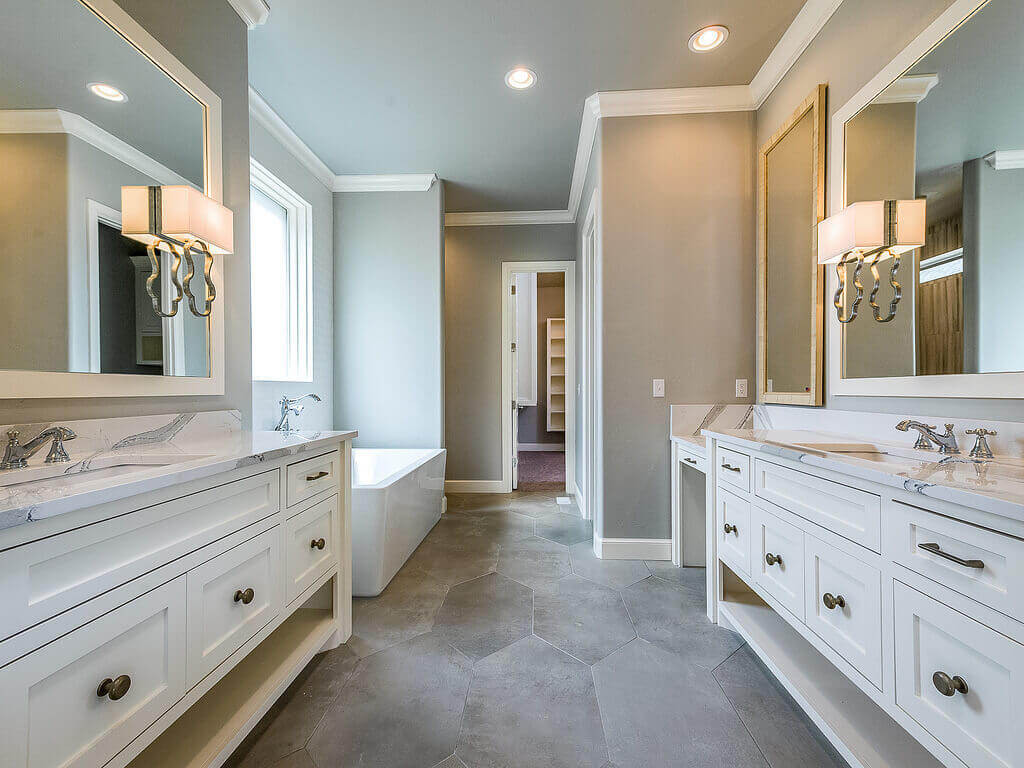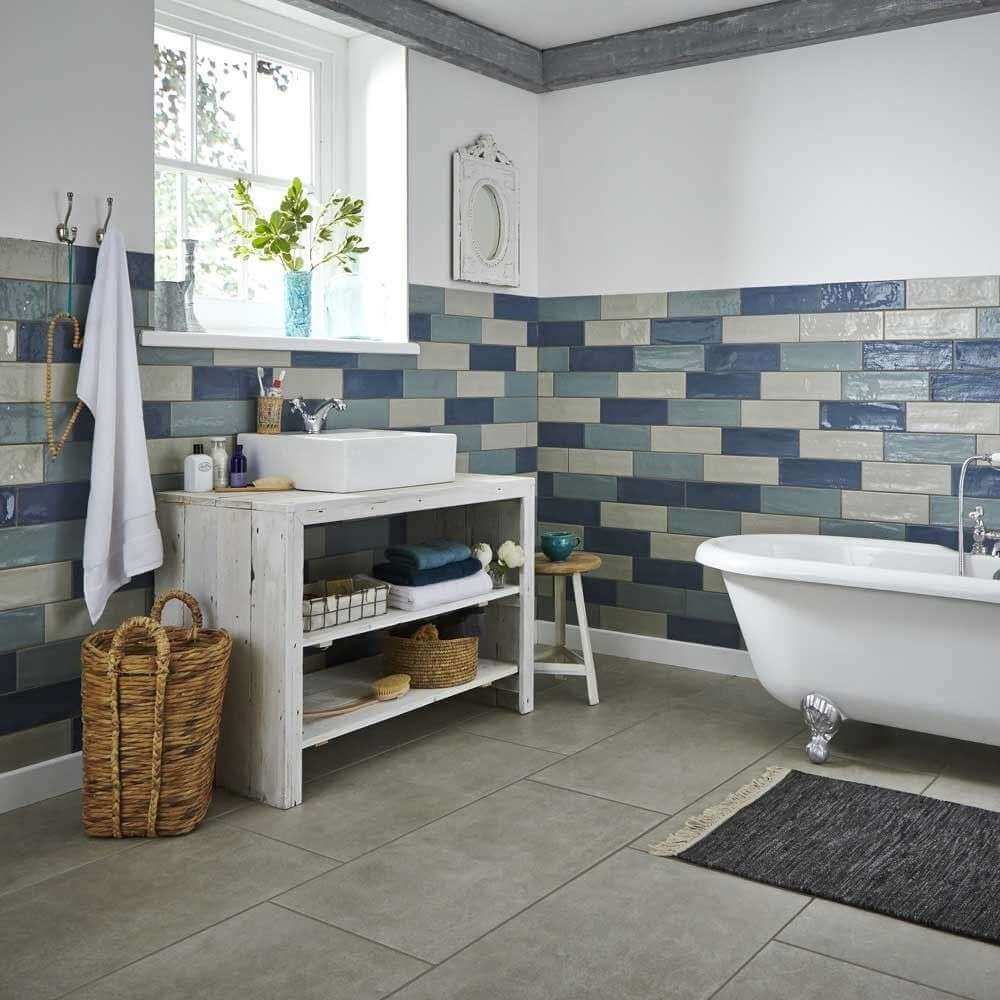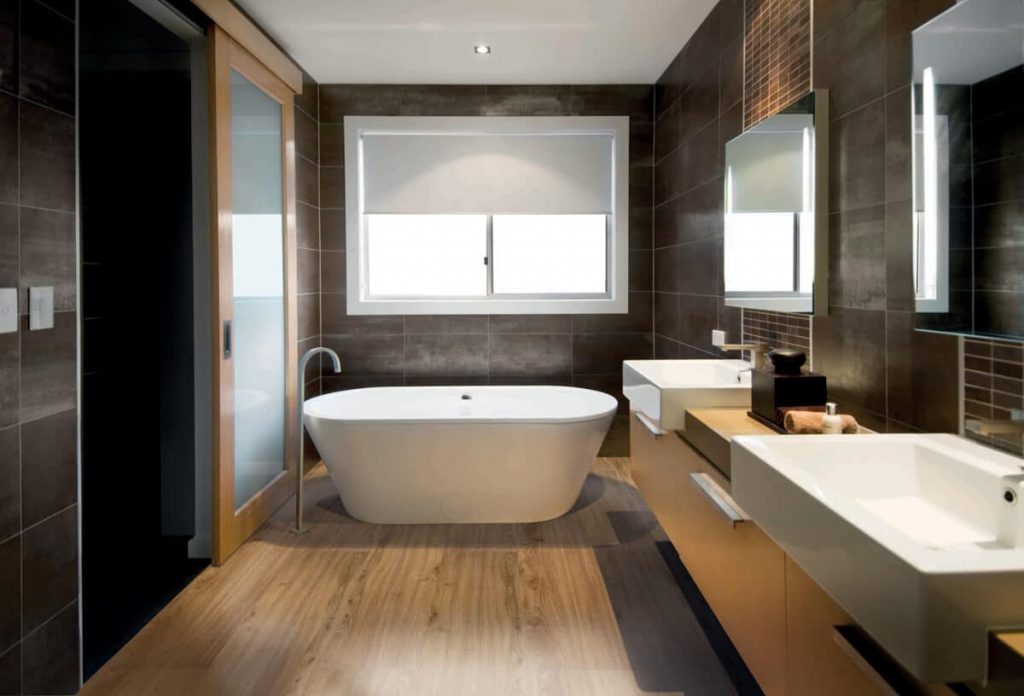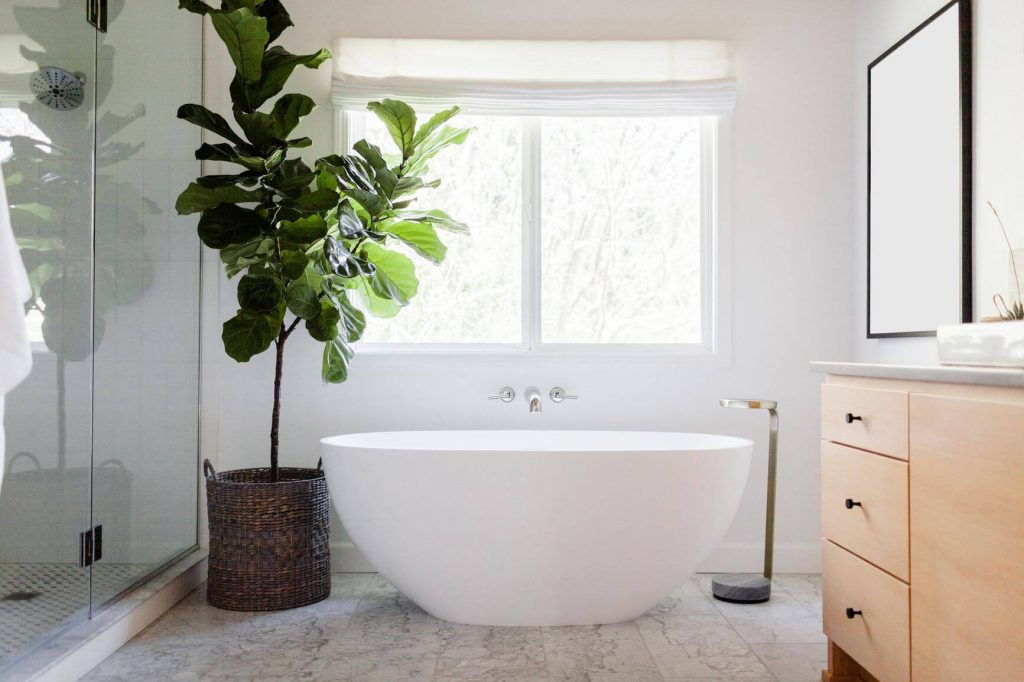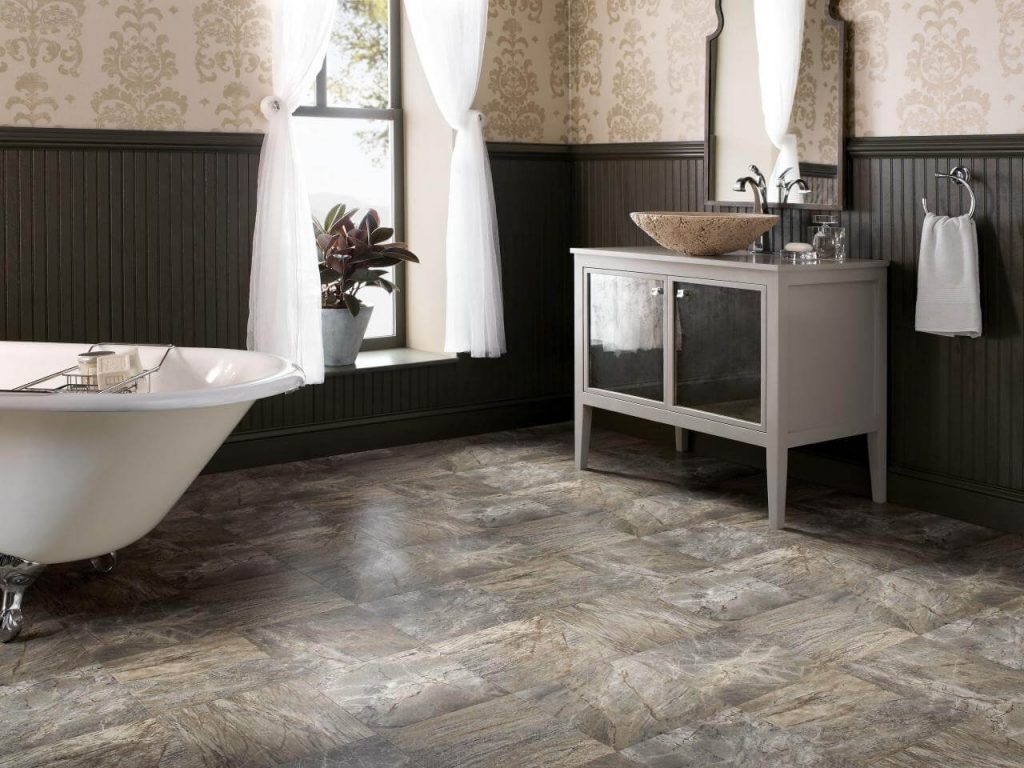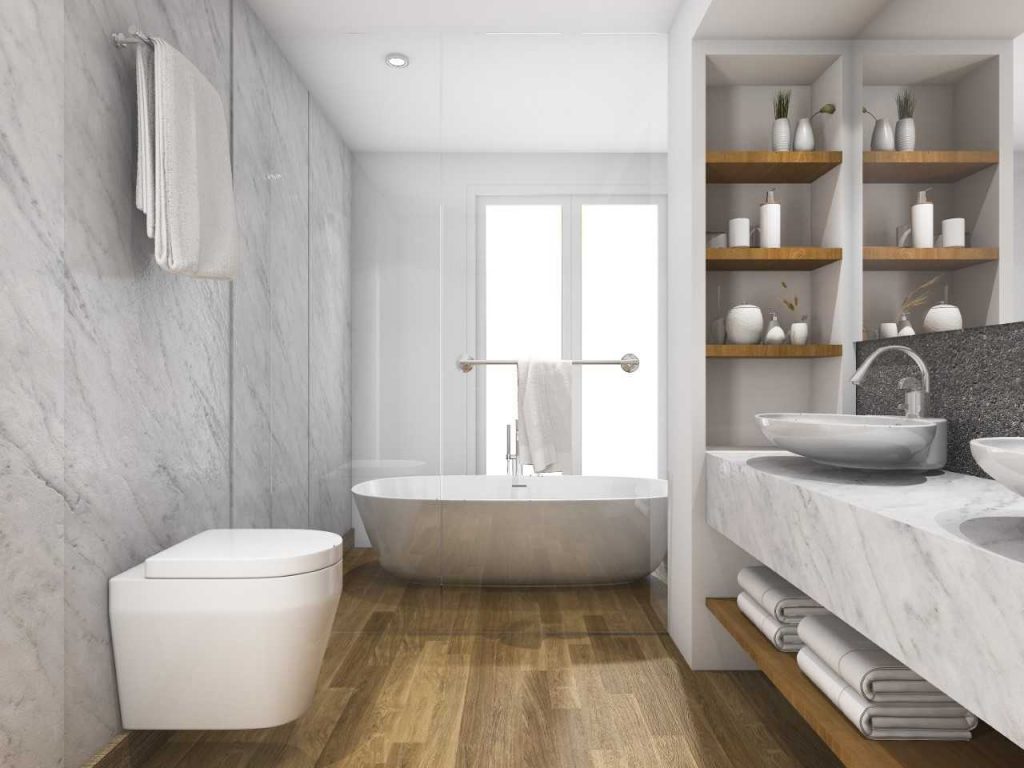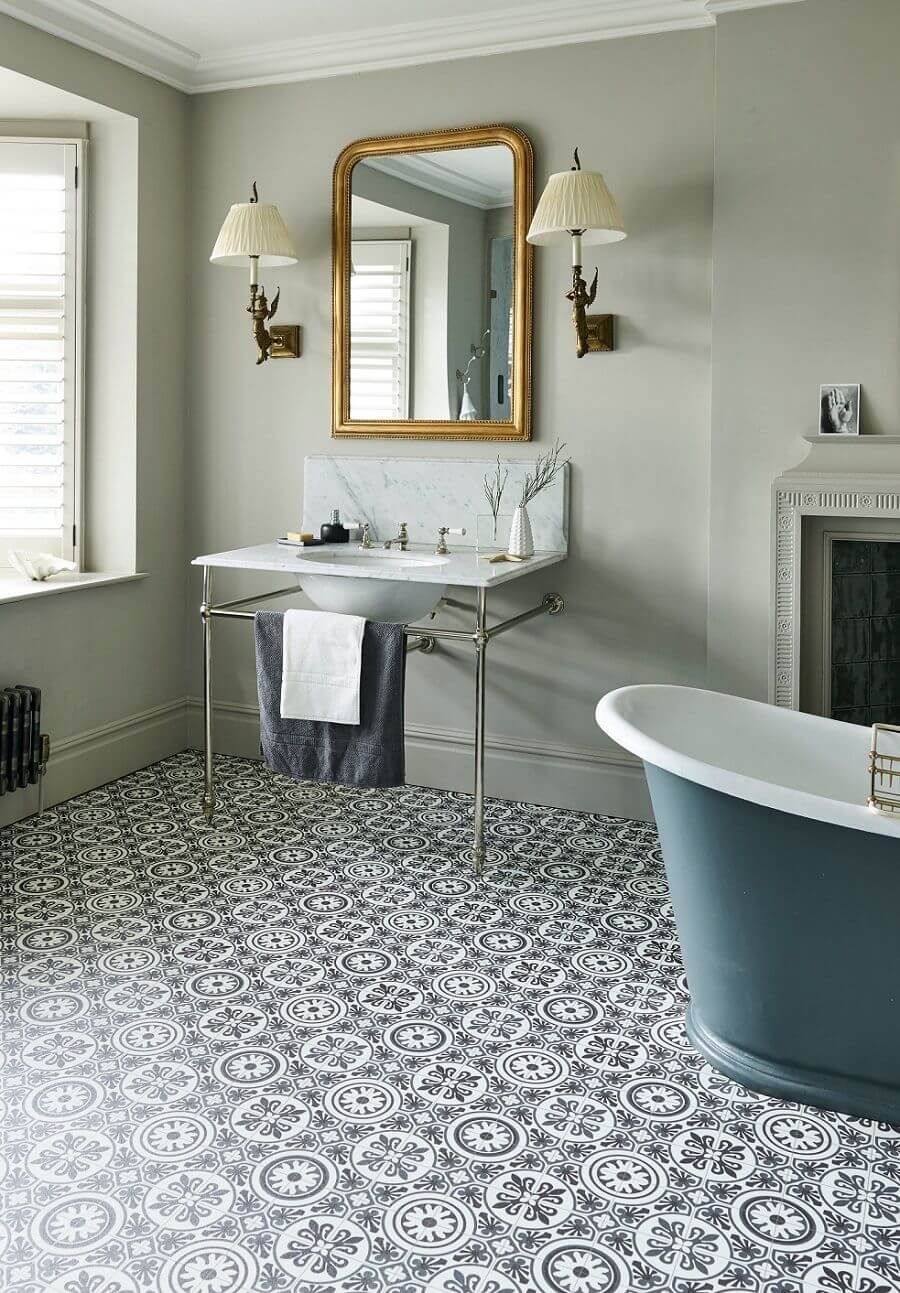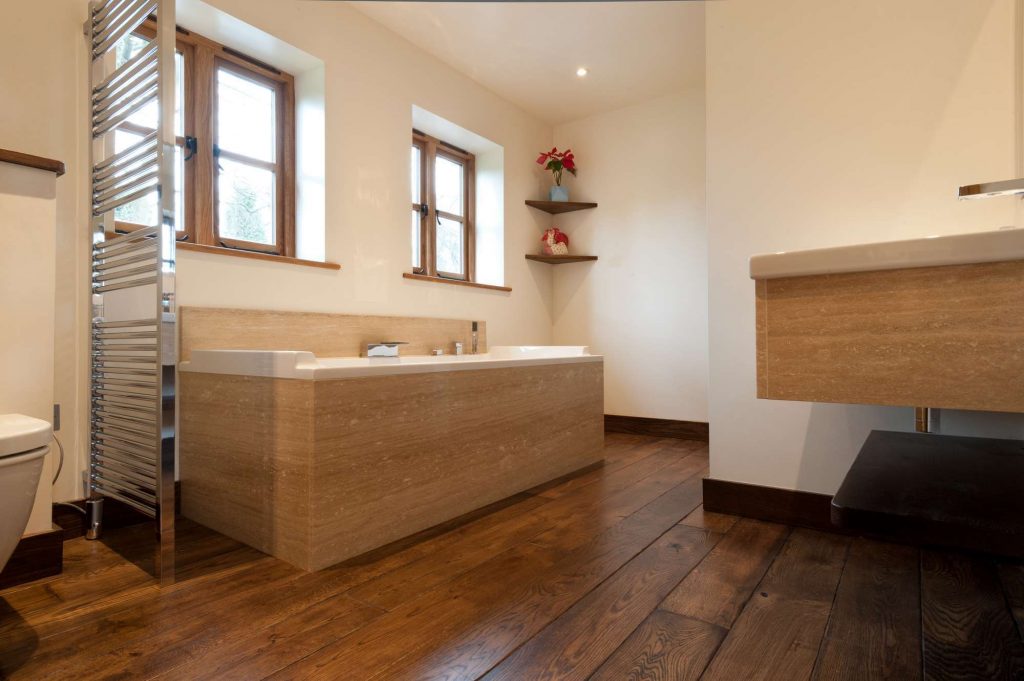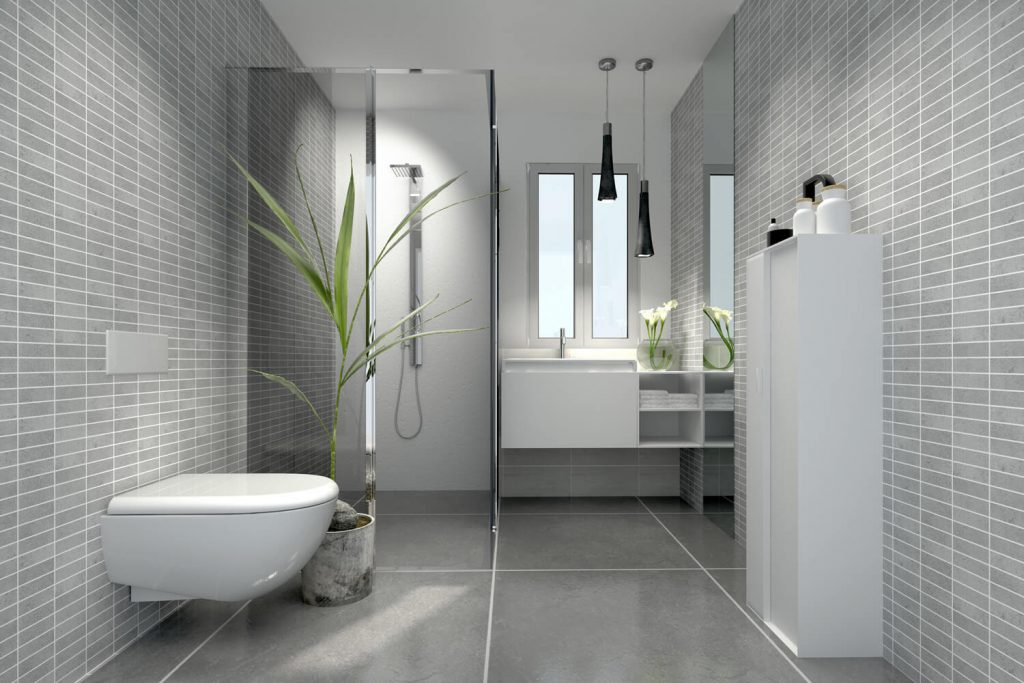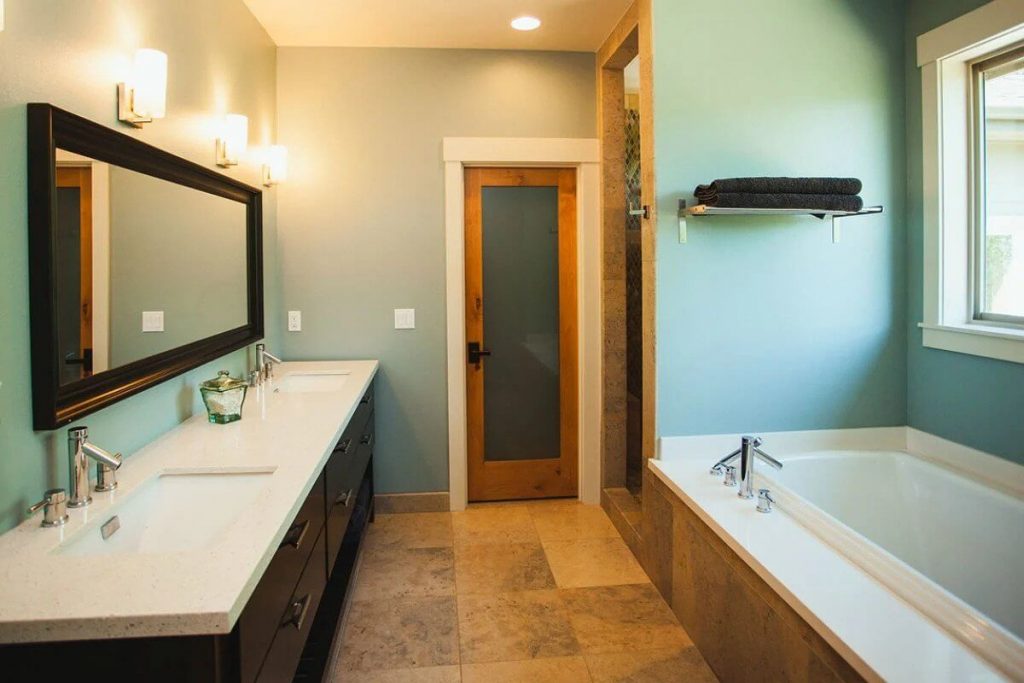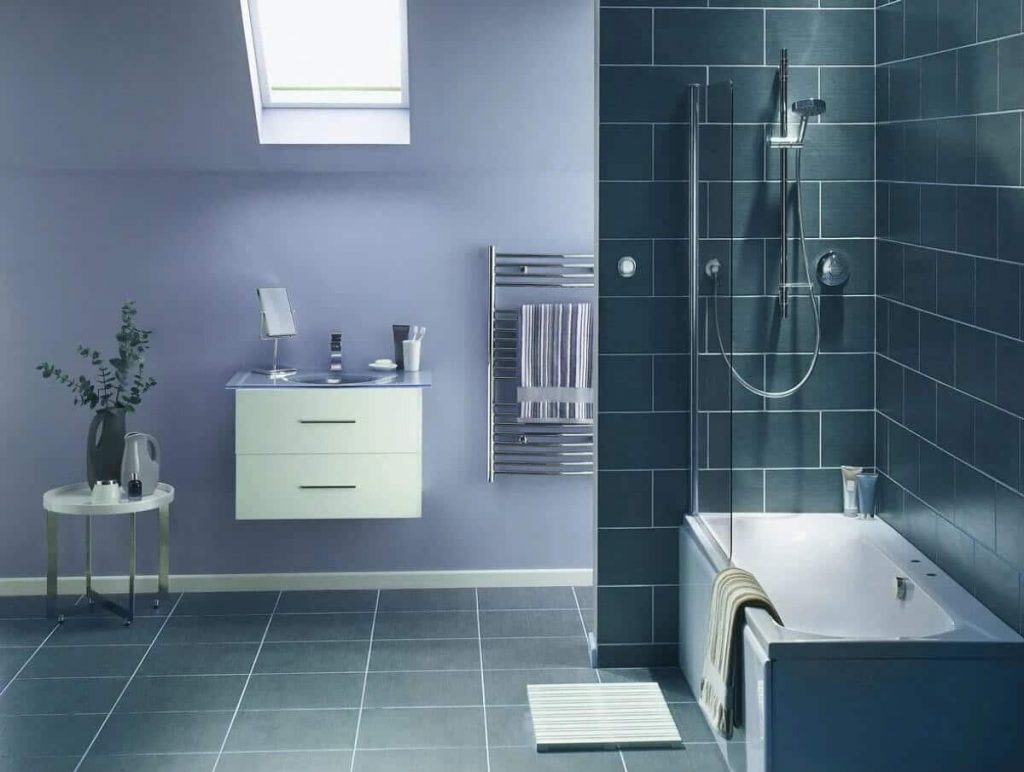 Final Verdict
Always select that flooring that is suitable for your bathroom, as well as comes in your budget. Avoid putting hardwood or carpet flooring as they are highly prone to moisture damage. Apart from the maintenance, you should regularly clean your bathroom.