9 Eye-Catching & Unique Living Room Mirror Ideas
Mirrors have a magical ability to make any space look bigger and brighter! 
If your living room seems smaller and duller and you're struggling to decorate it, try Mirrors! A beautiful mirror can easily elevate your space and transform your plain walls into attractive ones. The mirror looks like a small interior element. 
However, it's not only a great decor piece but also helps your living room appear bigger. It creates a fantastic illusion that makes any space look larger than it is.    
Are you also looking for some ways to decorate mirrors in your space? If yes, keep reading!
Today in this post, we've gathered up some of the most fun and creative living room mirror ideas. A dazzling mirror can easily dazzle and brighten your space within a few minutes. A Mirror acts as a spectacular and interesting art by playing with the dimensions and reflections. 
From gold full-length mirrors to vintage mirrors and wooden framed mirrors, today, there are many options available in mirrors. You can use them in any size, shape, and design. 
However, you don't need to be bold or go over the top for decorations; you can also use simple and minimal mirrors to create a clean and sophisticated look.  
From large modernistic mirrors to small round ones, we've included nine different types and styles of mirrors in the list so that you can find the best one for your home. So, are you ready to add light and liveliness to your home? Let's get started! 
9 Creative Mirror Decoration Ideas to Brighten Your Space
1. Big Mirrors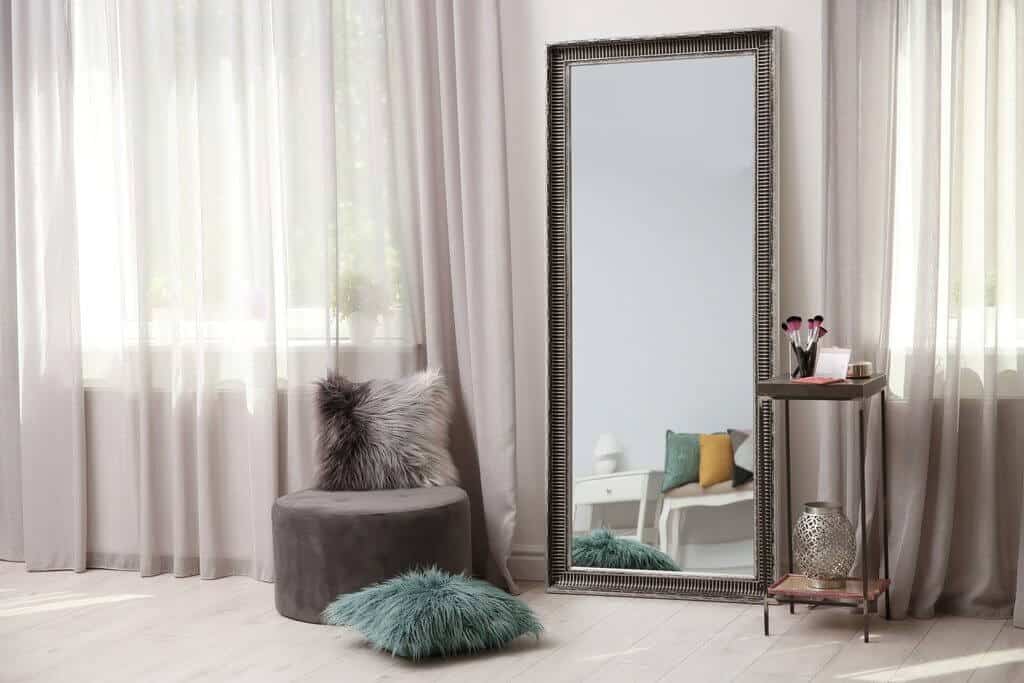 Source: coasterfurniture.com
Do you have an extra full-length mirror that is lying here and there? Here's a creative way to use it! Place it on your fireplace to get an extended built-in look. You can also paint them either in a neutral color or dark color. This large mirror and fireplace combo will give an illusion of wider space.  
2. Vintage Mirrors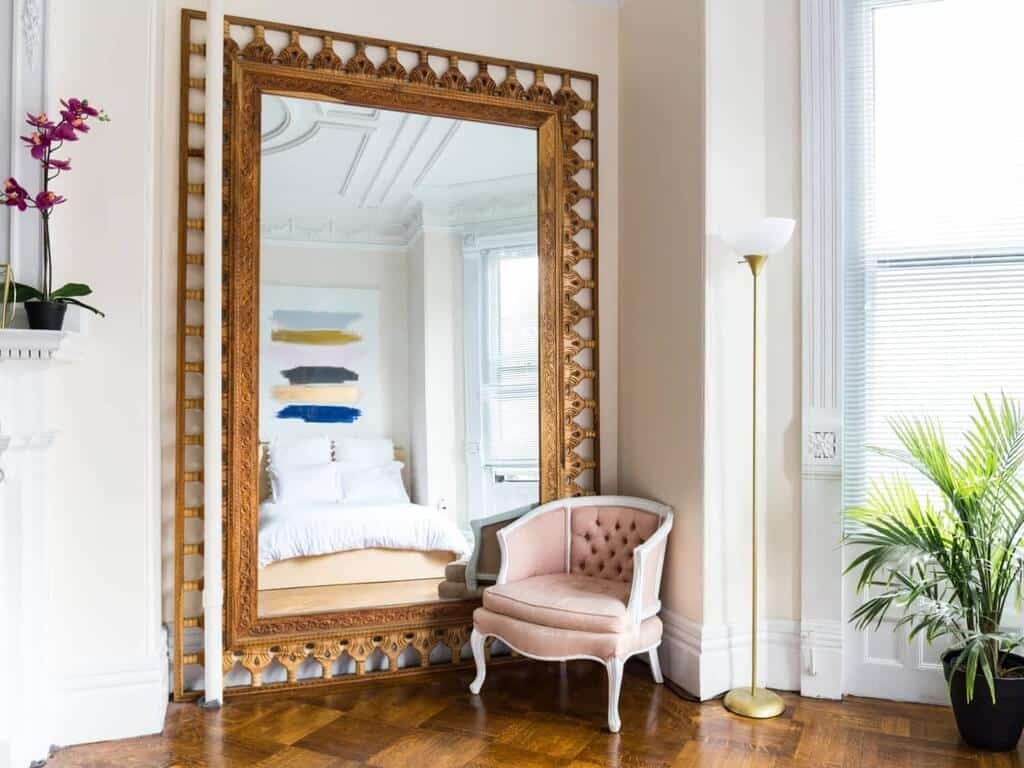 Source: apartmenttherapy.info
Antique and mirrors are timeless beauty! You can buy them from stores or thrift them from your local thrift market. Gold full-length mirrors with unique details are amazing ways to accentuate your home's architectural interiors and accents. From golden to copper and metallic, there are many options when it comes to old and antique mirrors.      
3. Wall-to-Wall Mirrors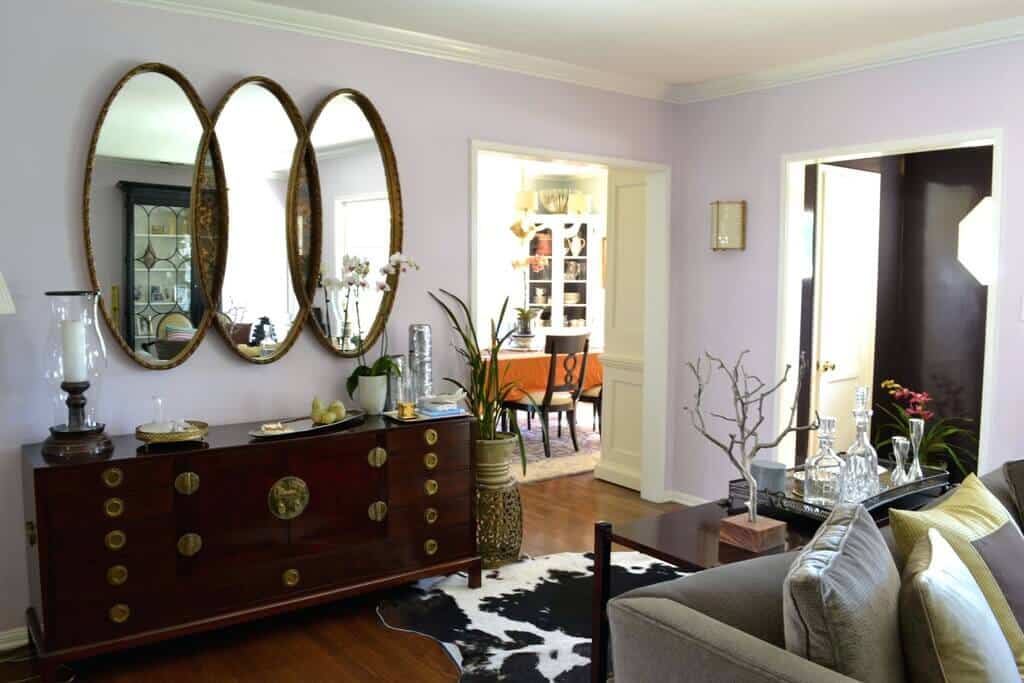 Source: thearchitectsdiary.com
If you feel your living room is small and want to make it bigger instead of regular mirrors, go with wall-to-wall mirrors. These mirrors will immediately double the size of any small corner. This is a perfect way to increase and maximize the limited space. 
4. Matching Mirrors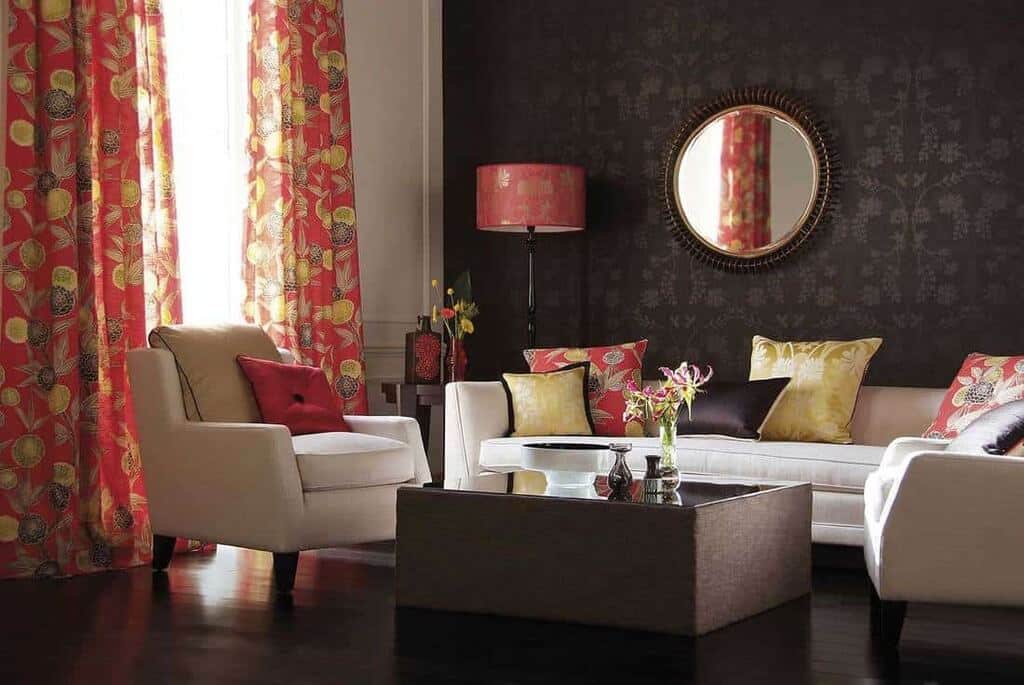 Source: homedecorbliss.com
If you want to get a symmetric look, match your mirror frame with other decors, such as a matching brass mirror with a brass chandelier. You can use various decor and elements that compliment the mirror. This way, the room will have a balanced and complementary look. 
5. A Black Mirror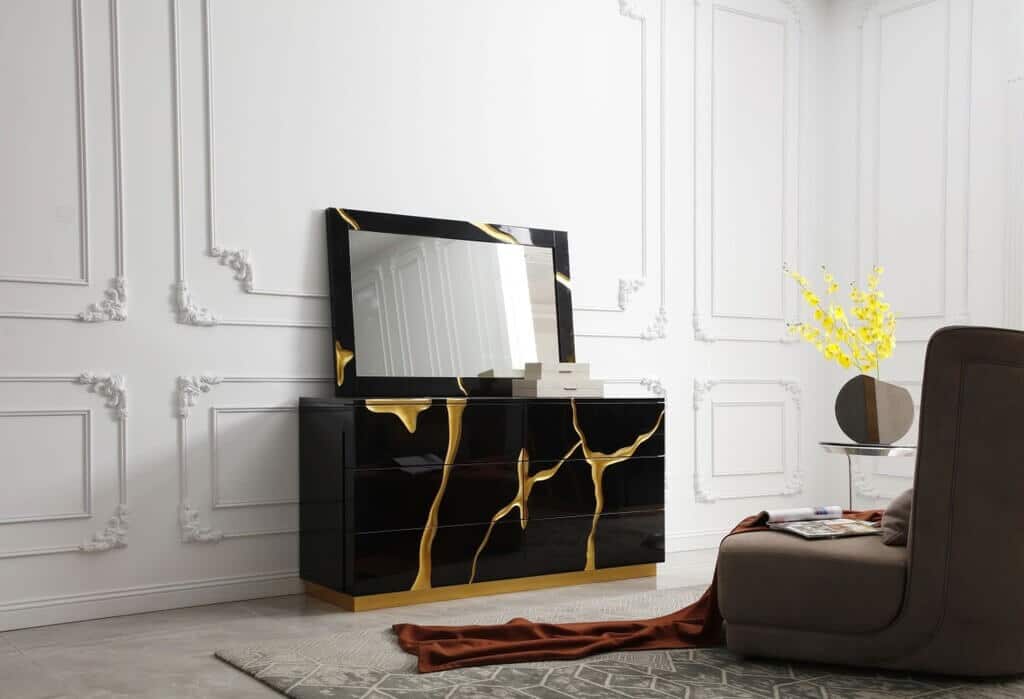 Source: vigfurniture.com
If you have walls painted in bright, vibrant colors like red, yellow, and green, go with a black framed mirror. The tactile textures on the mirror will complement, tame, and soothe the bold colors of the wall. From darker to lighter, shades of black, brown, or gray can also work seamlessly with any bold colors.  
6. Round Mirrors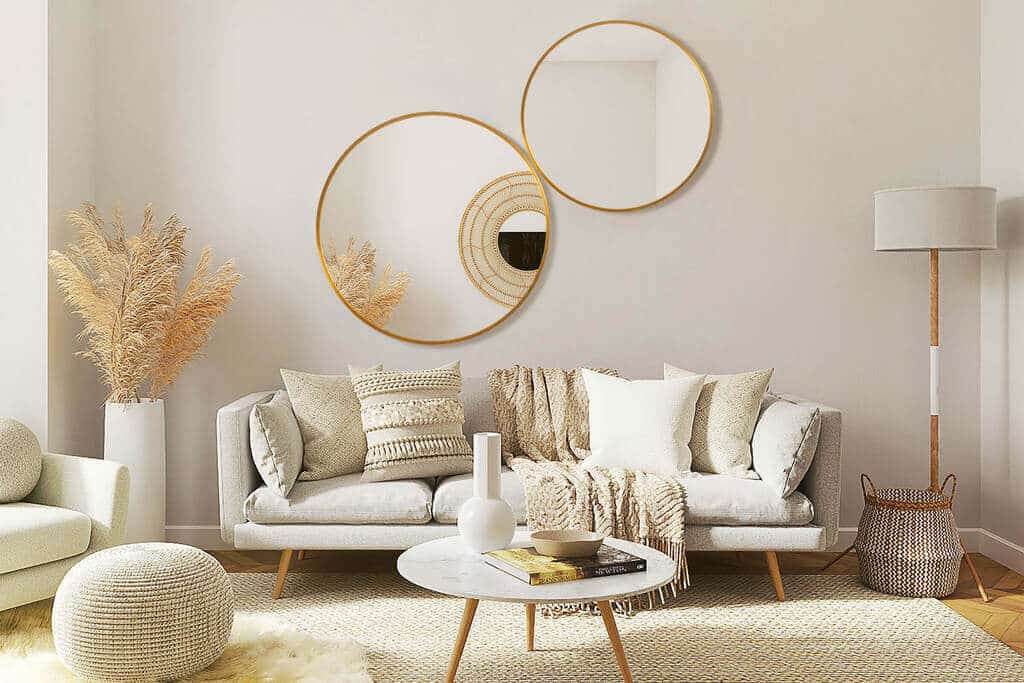 Source: shopify.com
Full circle mirrors always look great regardless of the shape and size of the room. These mirrors with round edges or frames look simple yet classic and add an eye-catching factor to your place. You can put a round mirror above your fireplace or directly in front of the window. This way, when the room fills with natural light, the mirror will maximize the effect, and your room will appear bigger and brighter. 
7. Wooden Framed Mirrors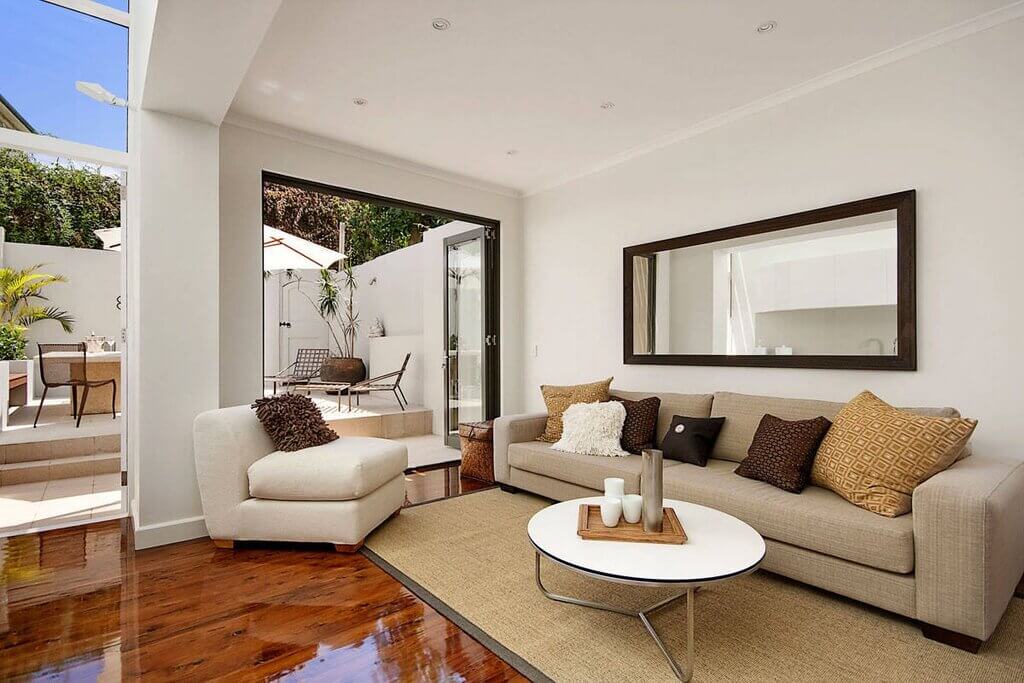 Source: nimvo.com
Do you have wooden trims and beams in your interiors? If yes, add a mirror with a wooden frame that matches exactly the shade of the wooden beam and trims. These vintage wood living room mirrors enhance the overall look without cluttering the space. 
8. Split Hexagon Mirrors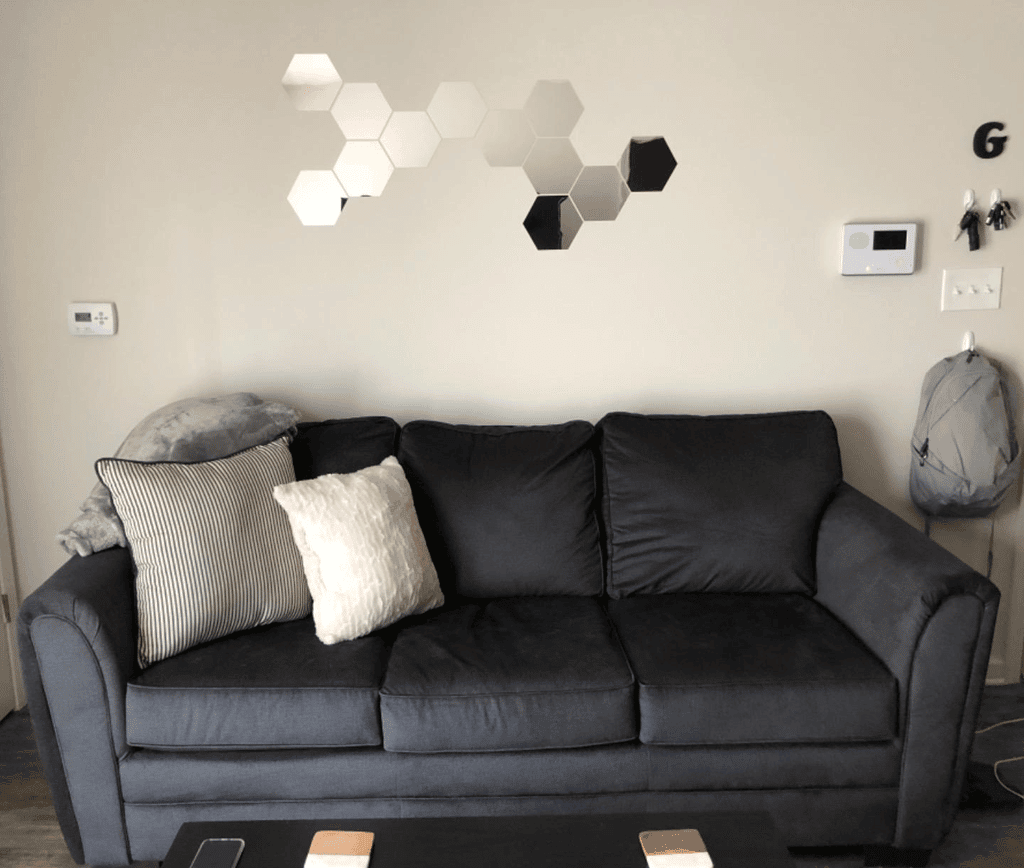 Source: buzzfeed.com
Another great idea to spice up your living room is to use multiple mirrors. To create a geometric layout, you can display a row of glass mirrors with varying heights and sizes on the wall behind your sofa or couch. 
For example, you can use split hexagon mirrors and put them in a row either horizontally, vertically, or randomly to add a personalized touch to the room.     
Also Read: Best Decorative Wall Mirrors Which Can Be Installed In Your Home
9. Distressed Mirrors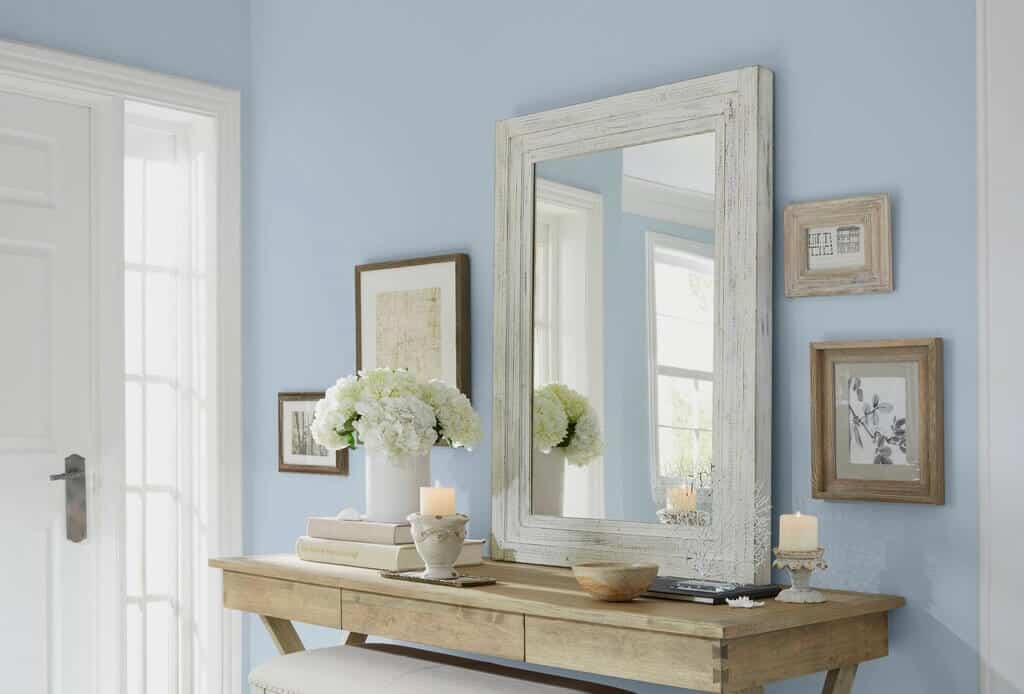 Source: lowes.com
Instead of a regular mirror this time, go with a distressed, stained mirror! These types of floor-length mirrors look great with both modern and vintage modern interiors. This will create an effortless vibe with a farmhouse and rustic look.      
The Bottom Line
So these are the top nine trending mirror ideas for the living room. Mirrors are a wonderful and brilliant way to make any space look bigger and brighter. From vintage mirrors and gold full-length mirrors to distressed and multiple mirrors, many types of mirrors are available in different shapes and sizes.