10 Stylish & Modern Full Length Mirror Ideas in 2023!
Whether you're a fashion blogger or not, it doesn't matter; a full length mirror is a must for everyone, right? You can instantly decide which outfit will look best on you or which clothes go with your mood for the day. Everybody deserves a perfect floor-length mirror, in which they can inspect their complete look before heading out. 
Mirrors are one of the best decorative and transformative home decor pieces, in which you can invest without thinking much. A large-size floor-length mirror not only provides you a full view when you're getting dressed but also creates an illusion of ample space. 
Just place them near your windows, and they'll reflect light and give your room a multitude of elevated optical illusions. And of course, they make it super easy to take selfies and capture #OOTD! 
If you still haven't found the perfect full-length mirror for your room, don't worry. Today we've rounded up the top ten full-length mirrors from Amazon. So, whether you like the minimalistic look or the trendy one, here in the list, you can find your favorite one. From eclectic statement pieces to the traditional rustic mirrors, we've included every type of mirror so that you'll get a huge variety of styles to choose from.    
10 Best Full Length Mirror For Your Home!
From rustic wood framed mirrors to modern slim mirrors, this list consists of numerous types of mirrors to suit any interior design, style, and budget. Here is the list: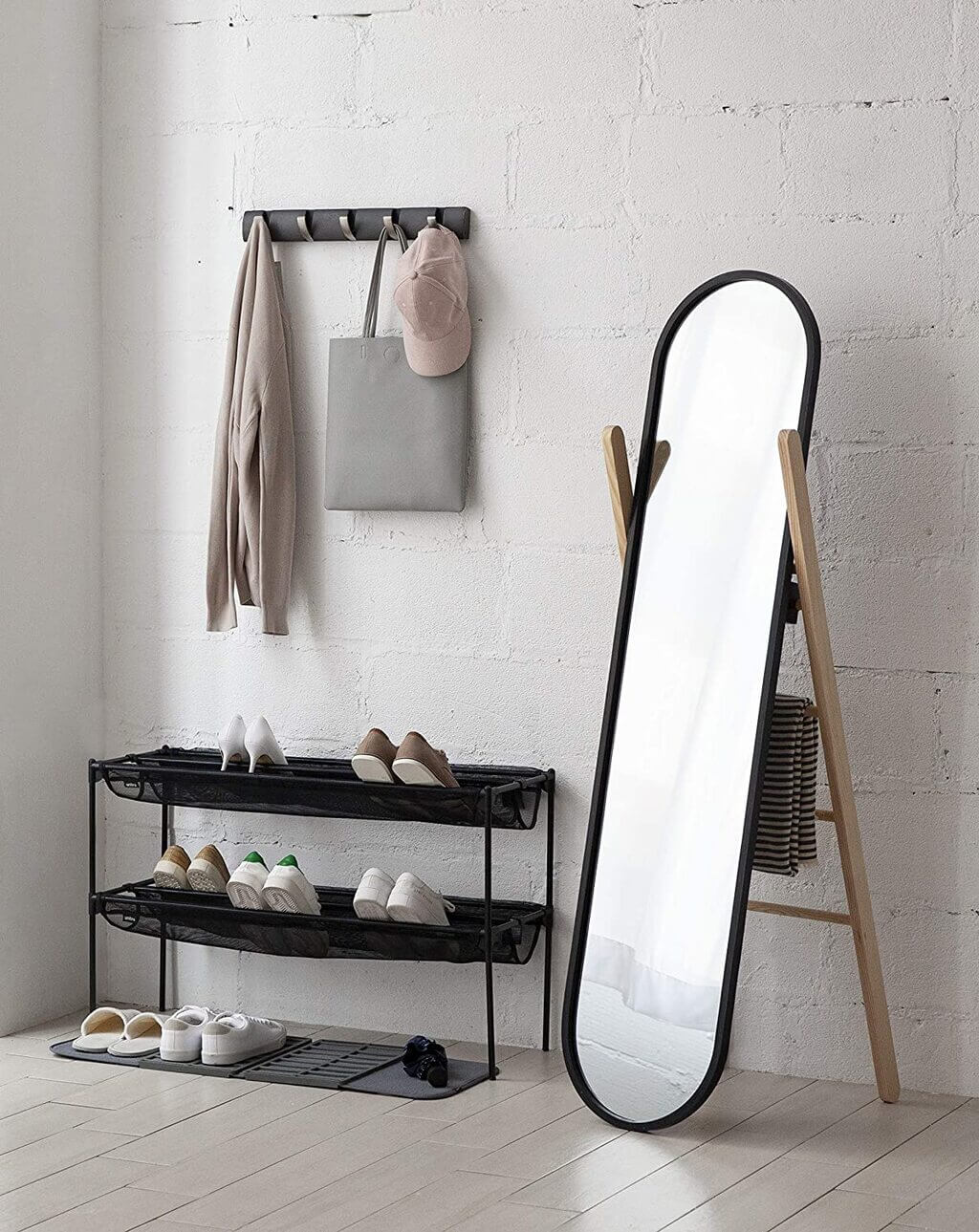 Source: amazon.com

Key Features:
Full-length mirror

Multi-functional storage

Small-Space Living

Solid rubberwood easel-backed ladder

Measures 16¾ x 61¾ inches (42.5 x 156.8 cm)
This Hub Floor Mirror is perfect for compact spaces. It takes less space and can be used as a storage rack to hold clothing, linens, and a variety of accessories. You can set your clothes for the week on its four-rung ladder. That's why Hub Floor mirror  emerges as the best full length floor mirror
They'll be easily accessible from here. So, check yourself before heading out the door in this gorgeous sleek black and natural wood-finished mirror. 
A reviewer wrote: "Love this mirror. Love the rubber frame for the bath, which eliminates rust. High-quality hanging. It has stoppers on the back and can be hung vertical or horizontal with sturdy and easy wiring on the back."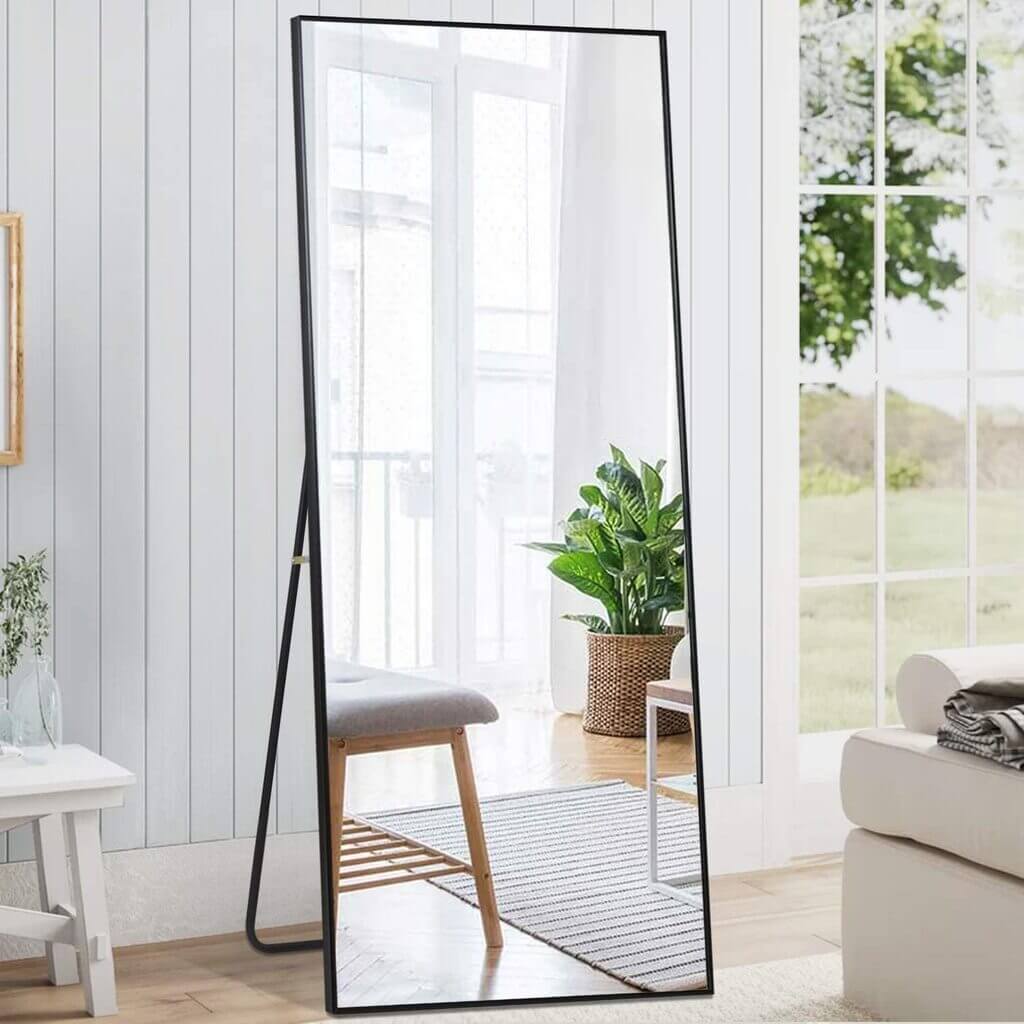 Source: amazon.com

Key Features:
Rounded Solid Wood Frame

High-definition Imaging

Environmentally friendly and safe

59″ x 20″ Size

High-quality glass materials
Are you looking for a simple and versatile floor mirror? Don't think much and order this PexFix Floor Mirror. This modern-looking tall mirror will look amazing in any space. It is 22 inches wide and 65 inches tall, which is perfect for seeing your body in full. 
Its design is incredible; it has a classic arched top and a thin black frame. You can easily incorporate this mirror into any style of your room decor. Also, you can display it in many ways, such as either leaning it against a wall or stand it on its bracket or stand. Another thing that catches people's attention is that its glass is shatterproof! 
A reviewer wrote: " I LOVE this thing. It's a great size and goes so well In my living room now that I'm trying to go with a bit of a minimalistic theme. It's the perfect selfie mirror. I especially like how well it was packaged and the fact that the stand already came attached, so there's literally no assembly required unless you want to mount it, which I don't."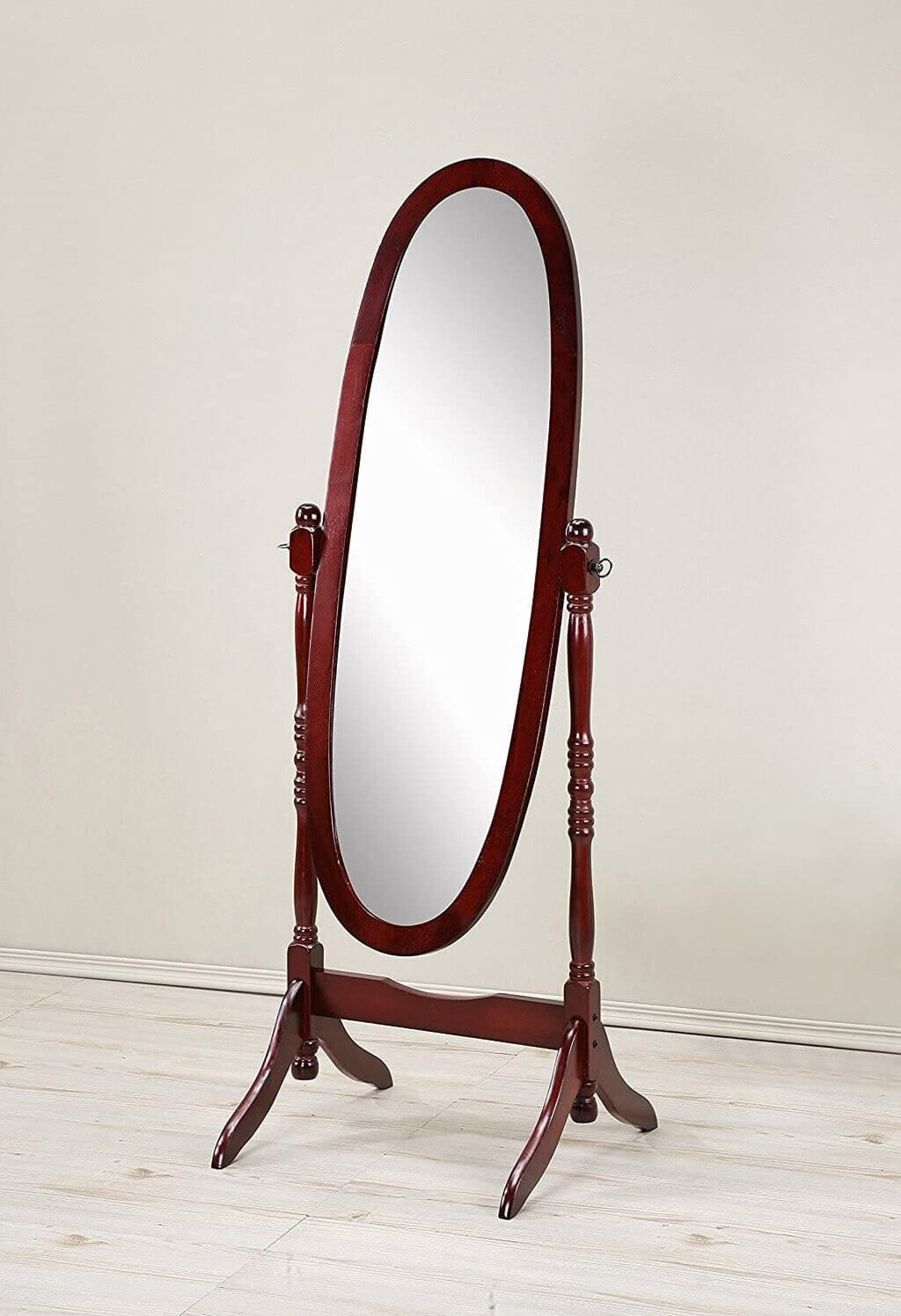 Source: amazon.com

Key Features: 
Hardwood frame construction

Simple Assembly Required

Dimension: 21″W x 16″D x 59″H
Add a traditional touch to your room with a modern twist with this mirror. It is a freestanding cheval oval mirror. This mirror is 59 inches tall and comes in espresso, cherry, black, oak, and white. The best thing about the best full length floor mirror is that you can tilt it at various angles to get a perfect reflection. 
It will take only a few minutes to install, and that too without any tools. You can place it in your bedroom to get the charming vintage vibes. 
A reviewer wrote: "I am absolutely obsessed with this mirror. I cannot believe the quality for the price!! It took 5 mins to put together, and it is beautiful."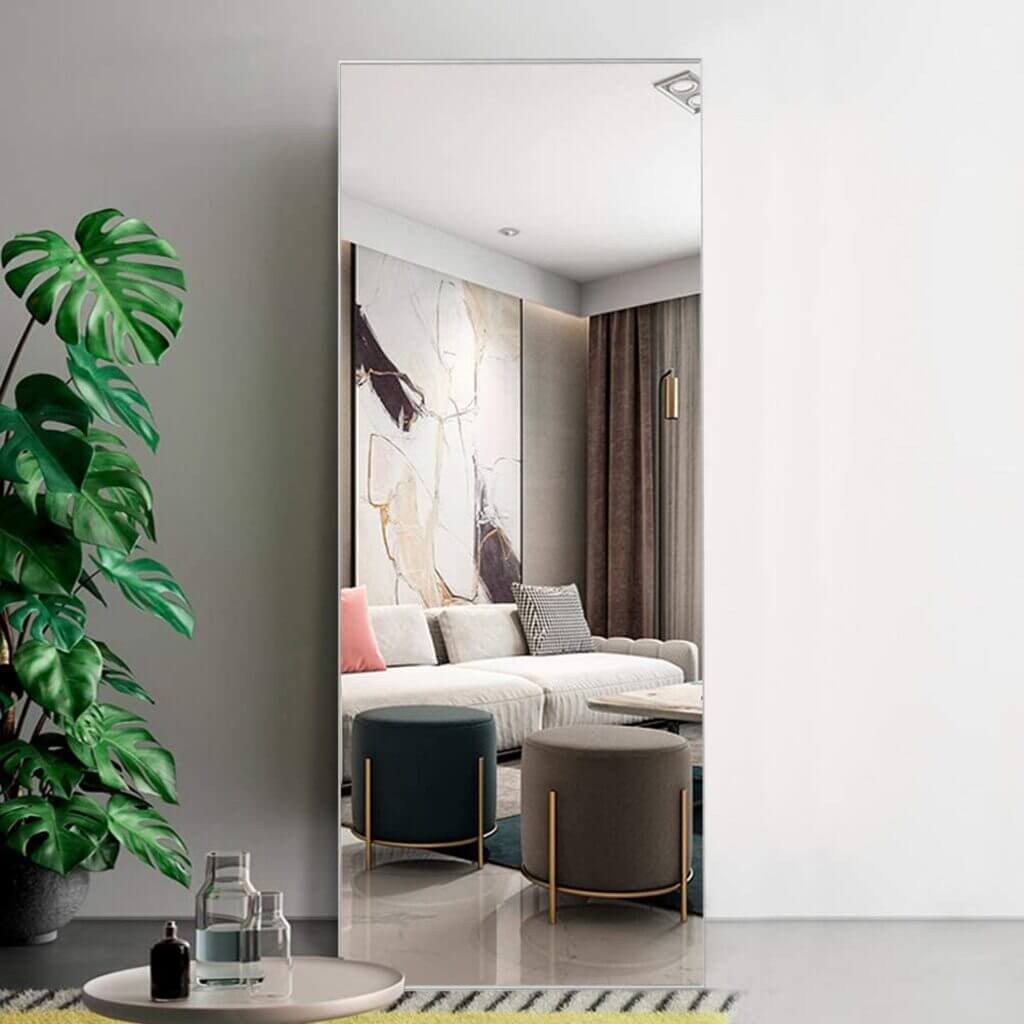 Source: amazon.com

Key Features: 
Multi protective layers

Anti-rust Aluminum Alloy Frame

Sturdy and stronger

Equipped with floor stand

Shatter Proof Glass
Are you looking for a stylish mirror with a budget-friendly price? Go with NeuType Floor Mirror! The simple design and perfect length will be a versatile addition to your room. 
This modern mirror is about 22 x 65 inches, perfect for viewing your daily outfits. It has a slim aluminum frame that is quite sturdy and is available in many other finishes. It also comes with a stand, so you can use it like that or just lean it against the wall. The mirror is made of shatterproof glass, so you don't need to worry about its breaking. 
A reviewer wrote: "Absolutely stunning, packaged very well, and easy to stand up. I'm a TALL girl (a little over 5'10"), and having a mirror that was large enough for me was very important. This does exactly that but isn't so big that it takes up too much space. The gold trim is super classy and adds an expensive-looking quality to the mirror and my room. Overall amazing and definitely worth the buy!"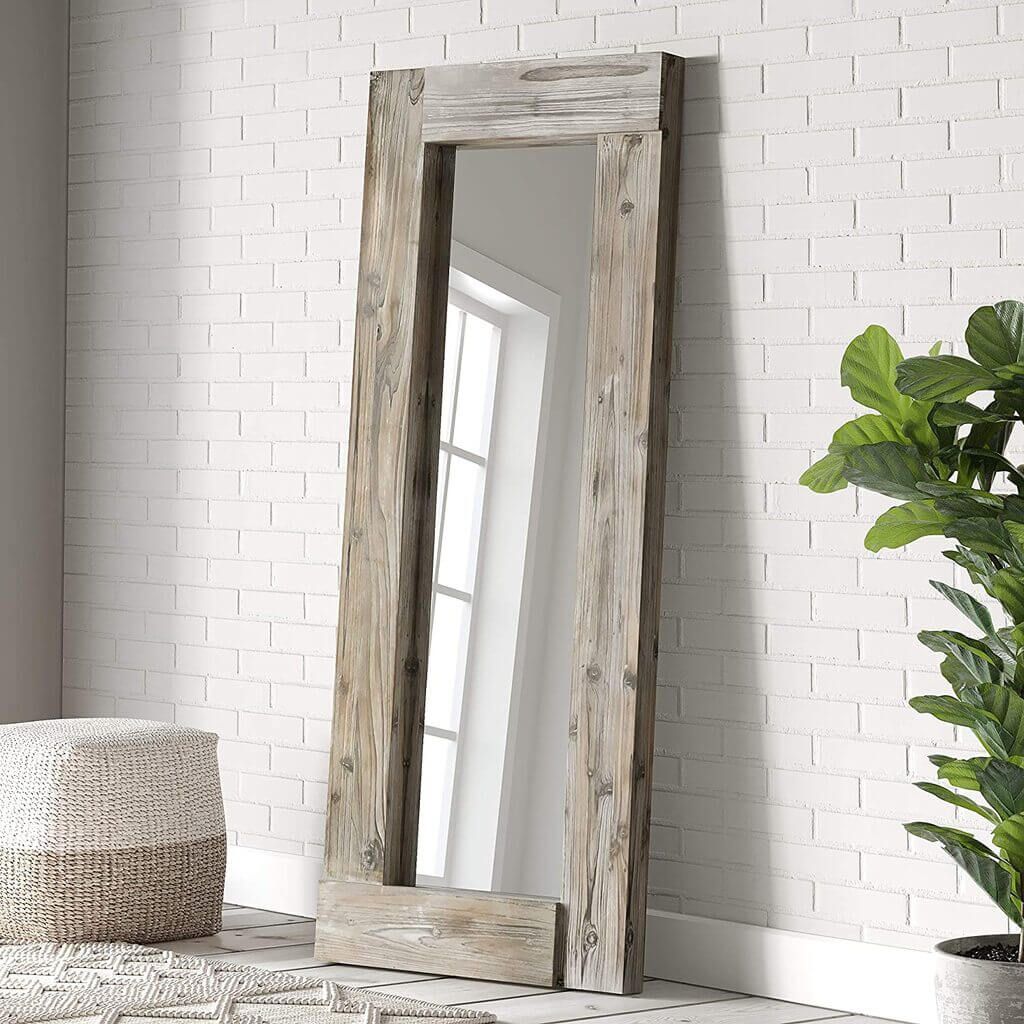 Source: amazon.com

Key Features: 
Wood Frame Mirror

Pre-installed Wall Mounting Hooks

Frame Dimensions: 24″ x 2.5″ x 58″. Mirror Dimensions: 14″ x 48″. Frame Width: 5″
Do you love the farmhouse, rustic style? If yes, then this Barnyard Designs Long Decorative Wall Mirror will be the best for you. With a natural-looking unfinished rectangular wooden frame, this mirror will give you authentic old vintage-inspired vibes. 
You can either hang it or lean it towards the wall in your entryway, hallway, living room, or dining room; one thing is sure that it'll look amazing. It comes with pre-installed mounting hooks, which makes the entire installation process so easy. 
So get ready to open up your space and create the illusion of more space with this mirror. This huge eye-catching mirror decoration is perfect for bohemian and shabby chic interiors. 
A reviewer wrote: "This mirror is gorgeous. It is heavy, made of beautiful barn wood, and adds that farmhouse feel. I am considering buying one more to add to another room in my house. The price is fantastic and worthy of every penny! Oh, and it was packaged very carefully to arrive without any issues. Very happy with my purchase."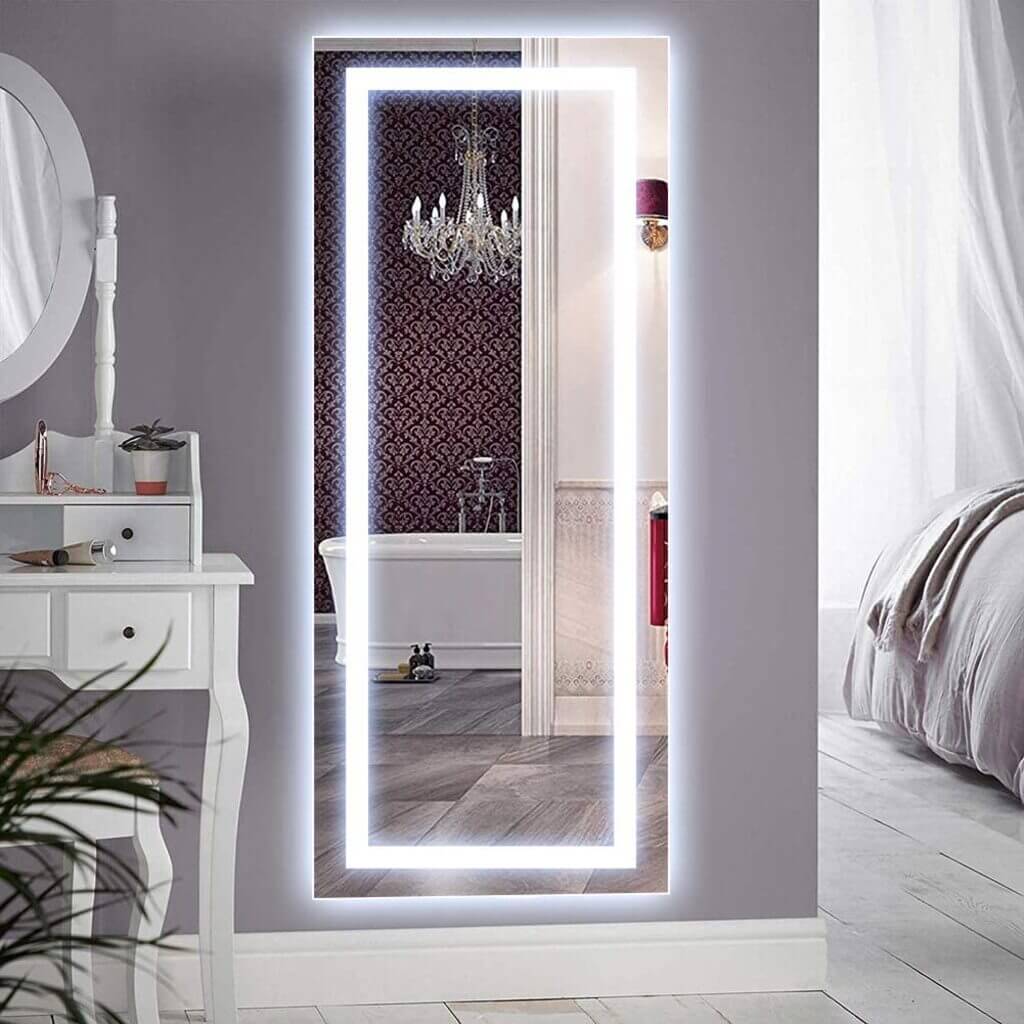 Source: amazon.com

Key Features: 
Comfortable White Light

Easy to Mount

High-Quality Mirror
Sometimes at night, when the lighting is low, it becomes hard to see our outfits and reflection in the mirror. If this happens to you, it's time to get this modern QiMH Vertical mirror with LED lights. Why this only? Because this vertical mirror has cool, futuristic backlighting that will help you see your outfit better. 
These lights will illuminate your face means there will be no shadow on the mirror so that you can do makeup better and take selfies! This is a full length mirror with lights that is wall-mountable and is around 47 inches long, and weighs 30 pounds. Comes with high-quality aluminum-backed glass and a built-in touch panel system, believe me, this luxe mirror will make your life easier.
To operate this, all you need is a single 9-volt battery, which is sufficient to provide lighting for around 50,000 hours.
A reviewer wrote: "I love this mirror! Very well built and sturdy. Looks sleek & cool even when the light isn't turned on. Has a nice rocker switch to turn it on. Great bright white light, but not too bright that it is blinding to look into. Having the light from the front helps prevent shadows that would be cast from overhead lighting."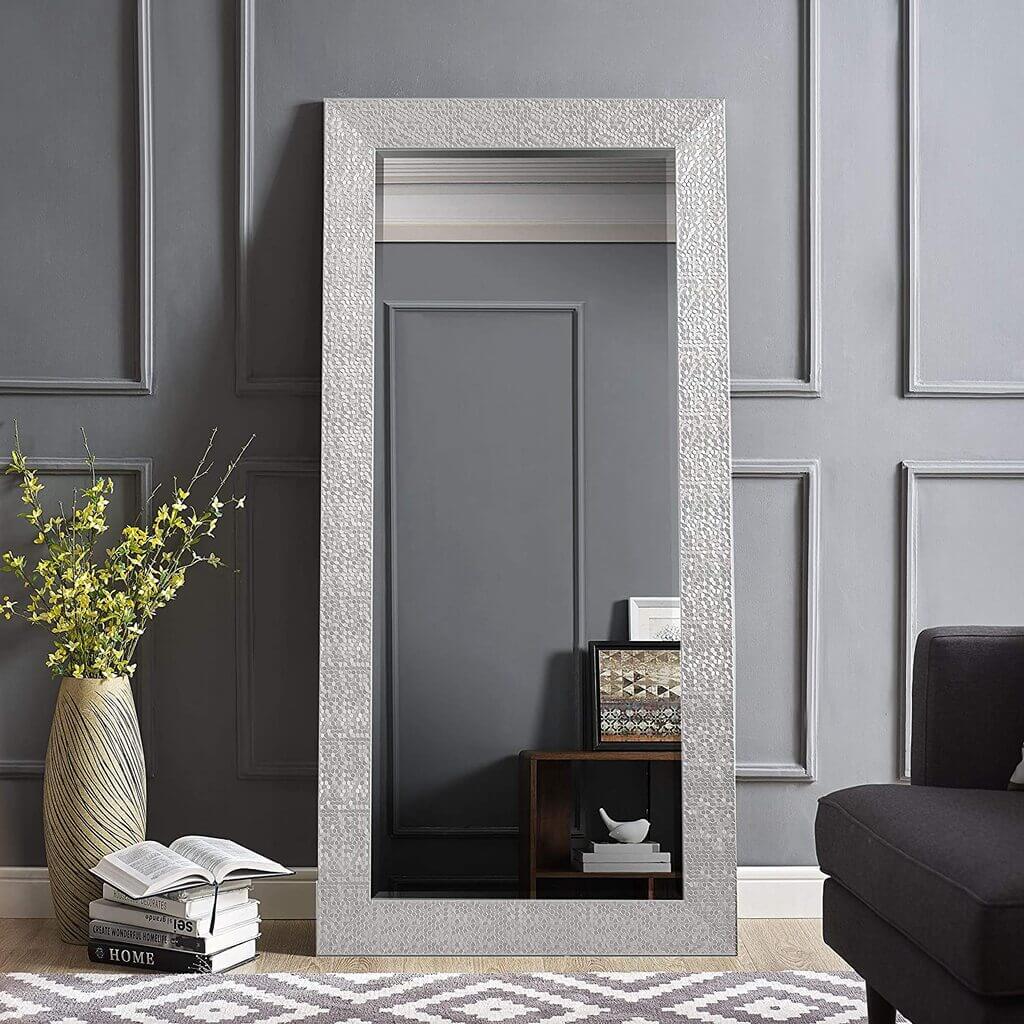 Source: amazon.com

Key Features: 
Mosaic frame

Available in several lengths 

Comes in various metallic shades
Want to give a touch of opulence to your bedroom or your living room? Buy this mosaic-style mirror from the brand Naomi Home. With a beautiful ornate design, you can comfortably put it either in the living room or in your own bedroom. It comes in various sizes and several color schemes, including various metallic shades like silver, copper, and pretty rose gold.
Its length is about 31.5 x 65.5 inches, and you can either lean it against a wall or hang it up. Despite the low price, this mirror looks luxe and high-end. So, add a glamorous style to your room with the help of this mirror that has an intricate mosaic frame. 
A reviewer wrote: "Love this mirror! Just the size I wanted! Easy to mount! Looks great!"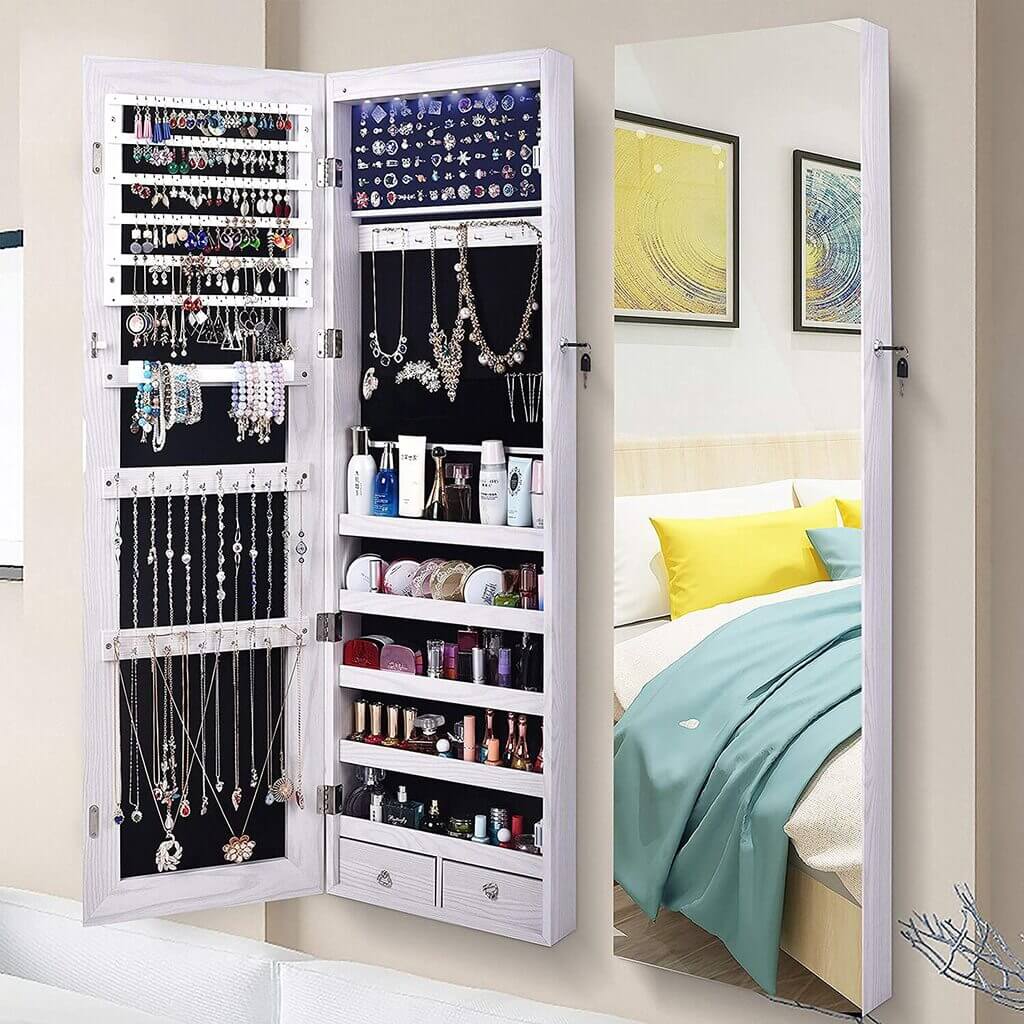 Source: amazon.com

Key Features: 
Full-length large frameless mirror

Comes with a jewelry cabinet

Easy to Hang & install

Comes with 6 LED lights
All women know the struggle to find the right jewelry at the right time. And it becomes more frustrating when you don't even know where they are. Don't take any stress. Make your life easier with this 2 in 1 mirror cum jewelry organizer.  
This is a full-length mirror that has built-in storage. There are multiple shelves and drawers where you can store all your cosmetics, earrings, necklaces, bracelets, rings, and more.  
There are also six small LED spotlights provided to illuminate everything. It is available with brown and white frames. Comes with a lock-and-key closure on the side, this modern floor mirror 100 % ensures that your valuables remain safe. 
A reviewer wrote: "Good jewelry organization compartments. I love that it can be hung over a door or attached to a wall or door. The mirror is wonderful! (Other brands have mirrors that aren't a true image, but this one is)."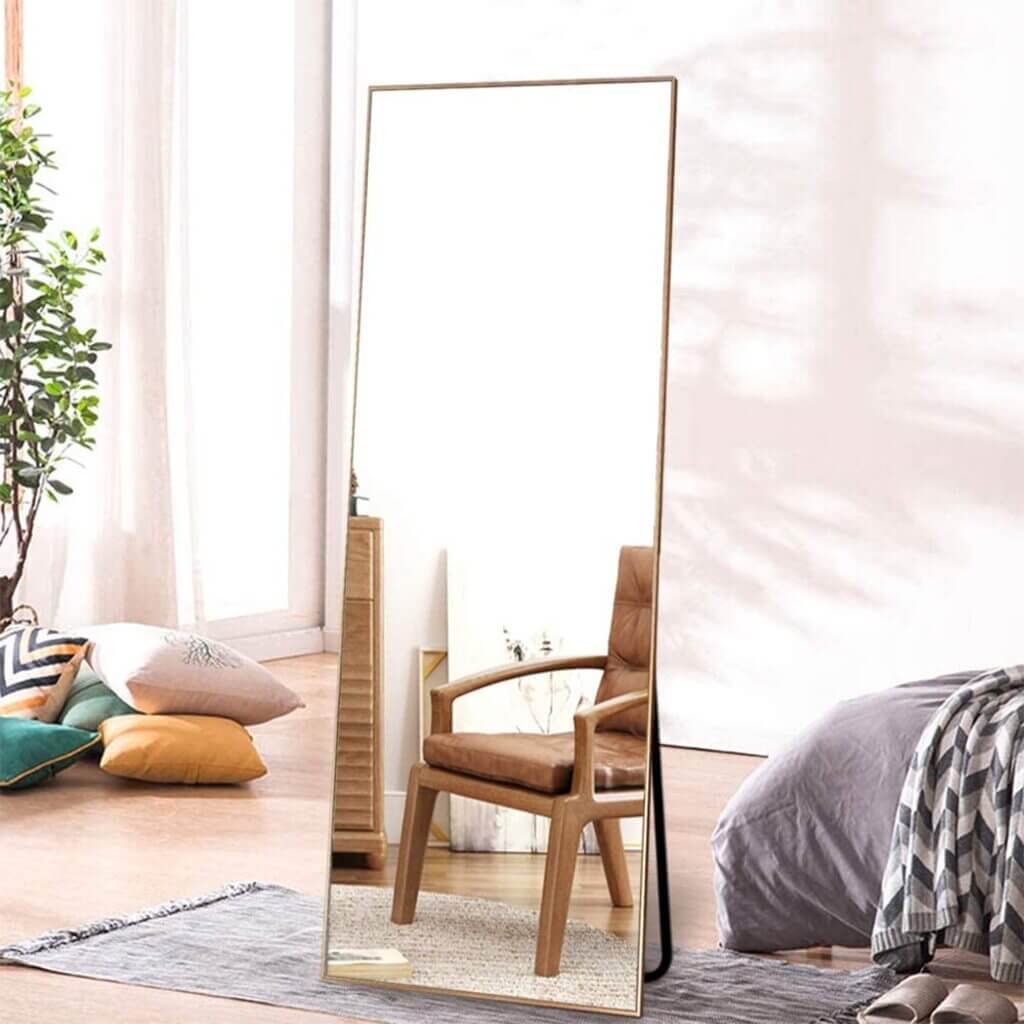 Source: amazon.com

Key Features: 
Free Standing Floor Mirror

Convenient to move

Aluminum Alloy Frame

Explosion-proof Glass

Free Standing Bracket
The next mirror on the list is the ONXO full-length mirror. It is a 22-inch-wide standing mirror that is available in black, silver, rose gold, or solid wood frames. It is a perfect home decor piece that'll go with any decor style. So, before leaving your house, check yourself in this cute mirror.
It comes with three installations: Free Standing Floor Mirror with Standing Bracket, Leaning against the Wall, and Paste on the Wall. Choose the one that suits your style and room interiors, and start your day! 
A reviewer wrote: "This mirror is the perfect size for me. I was worried that shipping the mirror might result in damage .But when I receive it, it's in perfect condition. and I love this I can but anywhere in my room or I can put it on the wall. I don't have any full-length mirror at my house. this just exactly what I want .right size, good quality."
Also Read: 17+ Stunning & Trendy Bathroom Mirror Ideas in 2023!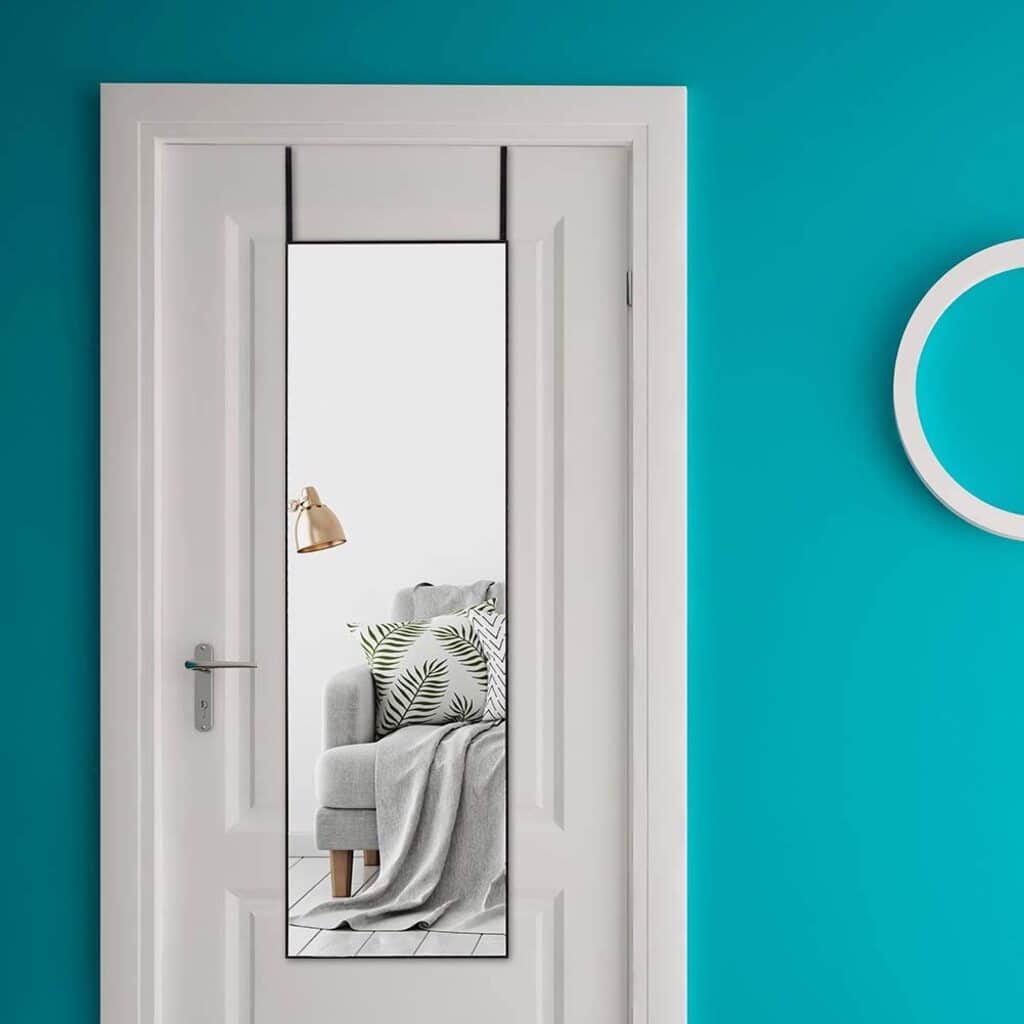 Source: amazon.com

Key Features: 
Made of Aluminum Alloy

Durable and Stylish

Made of shatter-proof glass

Comes with 2 sets of hangers
Are you living in a small apartment? Or are you a university student and living in a dorm? If yes, then you already know how hard and challenging is to make space for everything. Don't worry if you have no floor space left to put a full-length mirror. The Rose Home Fashion door Mirror will not take any floor space because you can hang it on the door. 
With only an 18-pound weight, this over-the-door mirror comes with hangers, making the whole installation process smooth and easy. It has a thin aluminum alloy frame, which will give a modern, streamlined look. 
A reviewer wrote: "I really like this mirror. It's a perfect size. I hung it over my door and was worried that the door would not close, but no worries, it closes perfectly."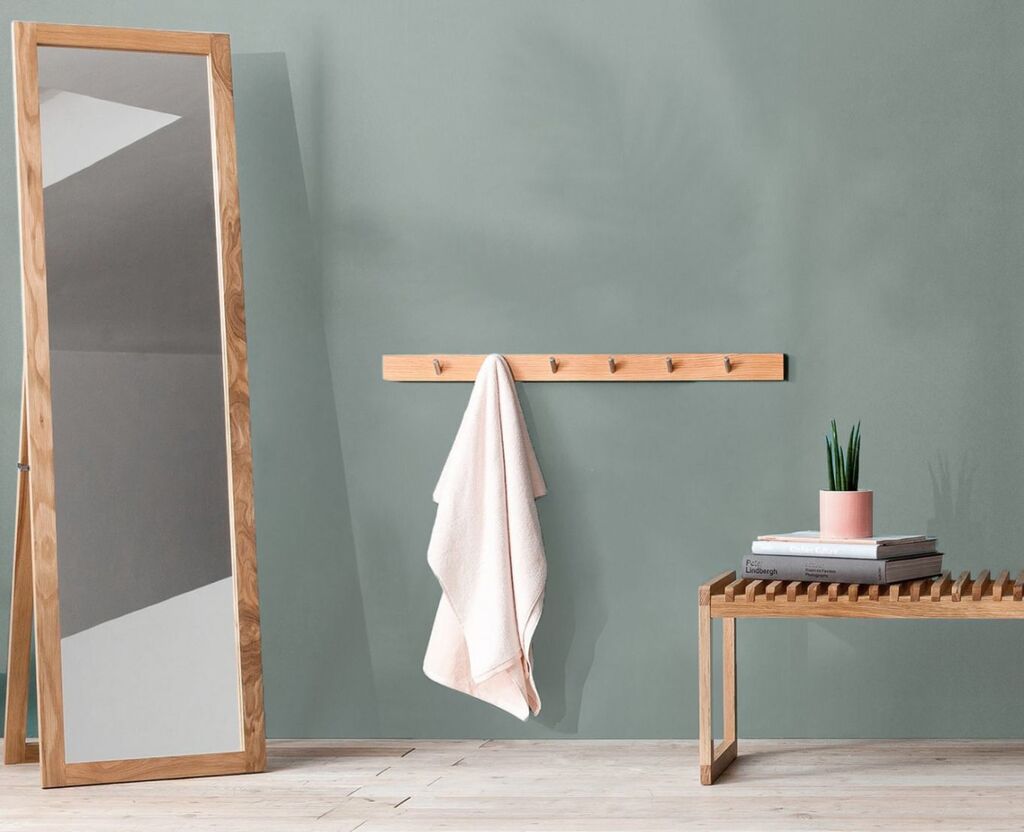 Source: venoor.com
The Bottom Line
Whether you're getting ready for a special occasion or just getting ready for office, a full-length Floor mirror is a must to have in the home! It will not only help you to see yourself but also help in opening up a room. It reflects light in a specific manner that makes everything a little bit brighter. 
Whether you like the simple and sleek look or bold and modern, you can find your favorite mirror. These mirrors come in a huge variety of styles, colors, and designs. So, show your unique personality and style through these mirrors. 
So this is all about the best full length mirror. If you find this blog helpful, share it with your friends or family. 
For more honest product reviews, buying guides, and any other home improvement ideas, keep coming to Architecturesideas.
For daily updates, follow us on our Instagram page @architectures_idea.