There has been a trend of people switching to divan beds these past few years. It's actually not surprising considering what the bed offers. It comes in sleek, stylish looks, coupled with modern design features to attract young homeowners who are looking to purchase a bed. Their space-saving design also makes it an efficient organizer in any bedroom. And yes, some also come with a headboard.
It can be hard to redesign a bedspace. However, with a divan bed, it won't be a problem. Its headboard and contemporary design easily make it a fitting centerpiece for your bedroom. Still not convinced to buy a divan bed? Here are top three reasons why you should make the switch.
1. Affordability
The first question everyone or anyone asks when shopping for anything is the price. To get the answer to that question, you would need to dive deeper into some aspects of the divan bed.
Buying a bed is a big purchase. Oftentimes, it may be considered an investment. The prices reflect how much comfort and utility it can guarantee you. The great thing about a divan bed is that it does not just provide you with comfort (as expected from any bed), it is also capable of add-ons or upgrades that can improve the quality of your sleep.
The features you add to the bed will, of course, change its pricing. You can add various features like storage cabinets and a customized headboard to a divan bed. However, like all beds, the bulk of the cost would come from the mattress you choose.
Considering these things, a divan bed may either be affordable or costly—depending on the customizations and add-ons you choose. If you want a luxury mattress, for example, that would add a few hundred bucks from the base price. If you want to have a general idea of what type of divan bed you would like, you can start browsing divan beds from TheLuxuryBedCo.com.
2. Customization
The main reason you should be switching to a divan bed is because of the level of personalization. A new room also means a new design. You can use the wide variety of design choices and skews to truly make the bed your own.
Not only do divan beds provide aesthetic and design customizations. You can also increase the level of utility and practicality. Usually, there would be some wasted space located under your mattress, but not with divan beds.
As mentioned earlier, you can add drawers as a feature of your bed's base. Drawers can be built and added with specific customizations as well. For example, you can opt to add dovetail joints to your drawer as a feature. This does not only make the drawer easier to use but also increases its durability.
You can also add on glides to your bed so cleaning it won't be an issue. Upgrading it by adding on chrome shepherds' castors is also possible. The castors provide better movability than default glides.
Considering it has so many design choices to choose from, here is a list of the most common types of divan bed base:
Platform Top Divan Basic: This is the most basic divan bed type, and it uses hardwood as a base for the bed. This divan bed provides a simpler look. This is the perfect type for individuals looking for a more postmodern or minimalist look.It comes with foam padding to give enough comfort. This is especially beneficial if you're looking to alleviate some of your lower back pain. If you think the padding isn't enough comfort for you, you can always add a mattress on top.
Open Coil Divan: This divan bed type is usually chosen by people looking to buy a new bed for a kid's room. The open coil bed has a base of steel springs. This makes it springier and softer and is perfect for kids to jump on. This is one of the cheapest bed designs and not to mention, one of the lightest divan bases. In terms of lumbar support, it does provide some. But over time, like all coils, it does lose its spring. If lumbar support is your priority, the Platform Top is still a better choice.
Pocket Sprung Divan: This is the best divan type that should be at the top of your list. The pocket sprung divan is considered by most the best premium divan bed type. It provides both the comfortability of an Open Coil and the Lumbar support of a Platform Top. The features this divan offers are definitely the best of the best. A bed this premium also comes with a premium price. However, the comfort it provides is well worth it.
All these bed types are suitable for customization. You only need to choose what is right for you. But if you don't really like customizing bed drawers and storages, and you just want to buy a bed that comes with built-in storage space in it, then ottoman beds are for you.
3. Less But More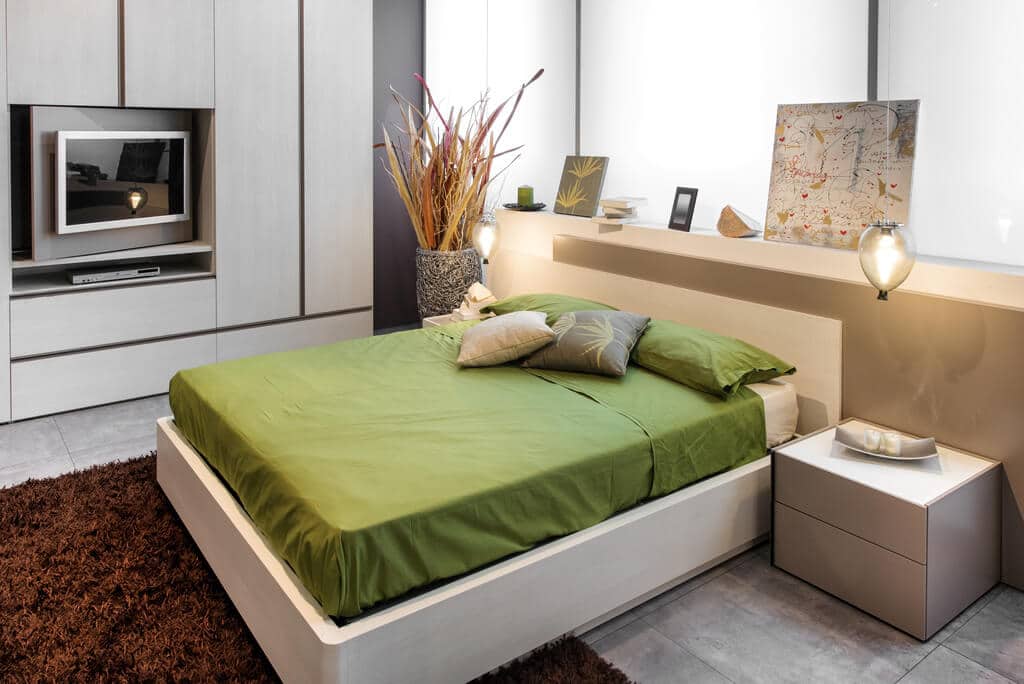 As mentioned, you can add drawers to your divan bed. With this in mind, you can design a less cluttered room. You can style your bedroom without the need to compromise storage space.
With the drawers just under your bed, you gain three things:
Practicality: Your items will be in reach for anything you put in without having to walk to your closet. No need to stand up in the middle of the night to get an extra blanket. You also won't need to walk to the closet to keep the blanket as well.
Peace Of Mind: With a drawer just under you at night, you know all your valuables and important items are close by. Just add a small safe in the drawer for all your valuables.
Cleanliness: Dust will eventually find its way under your bed. However, thanks to the addition of a storage unit, it will become minimal. As most storage beds consume the majority of the space between the floor and the bed base, there's less chance for dust and clutter to collect underneath your bed.
Final Word
Overall, divan beds are a solid choice. You can customize it with the type of headboard and mattress you like, and you can add drawers to increase storage space as well. Not only do you get all these features, but you are guaranteed a good night's sleep as well. That in itself is priceless.
Find out more:-