8 Best Glass Cleaner For Shower Doors of 2023
A shower is a place we use to clean ourselves, but, if the space itself looks grimy the experience becomes unpleasant. Soap and scum-clad glass showers are the unsettling sights we all have to deal with. Hard water further adds to the staining of the glass. Let's explore the best glass cleaner for shower.
This problem can be combated by consistent cleaning with a squeegee, acidic glass cleaners, and sometimes abrasive stain removers. Maintaining a weekly glass cleaning schedule is necessary to keep pesky residue at bay. Following a consistent routine ensures minimal use of harsh abrasive cleaners that could damage the glass. 
In this article, we're taking you through the different ways to keep your glass shower clean. We've also curated a list of our top 8 glass cleaner for shower to help you with your needs.
How to Practically Keep Your Glass Shower Clean
Cleaning experts recommend three stage maintenance procedure to keep glass showers clean.
Post-shower clean-up:

Clean your shower after every use. Wipe out the splashed water from the glass surface using a squeegee. You can even spray a mild glass cleaner for gentle everyday cleaning. Keep your shower well-ventilated, open a window or switch on the exhaust to keep the space mould-free. 

Weekly maintenance clean:

Once a week, deep clean your glass shower using an acidic glass cleaner for shower. This will keep your shower free from cloudy hard water stains. Spray the solution on the glass surface and gently wipe in horizontal and vertical motions using a rag. Lastly, polish the surface using a microfibre cloth. 

Occasional deep clean:

Every once in a while, clean your shower with a mildly abrasive spot cleaner to remove stubborn hard water marks. This works wonders when used alongside a fine steel wool sponge. Scrub the surface in a circular motion to remove all the spots, be cautious about scratching the surface harshly. 
Top 8 Products to Help You Keep Your Shower Clean
1. Rejuvenate No Scrub Soap Scum Remover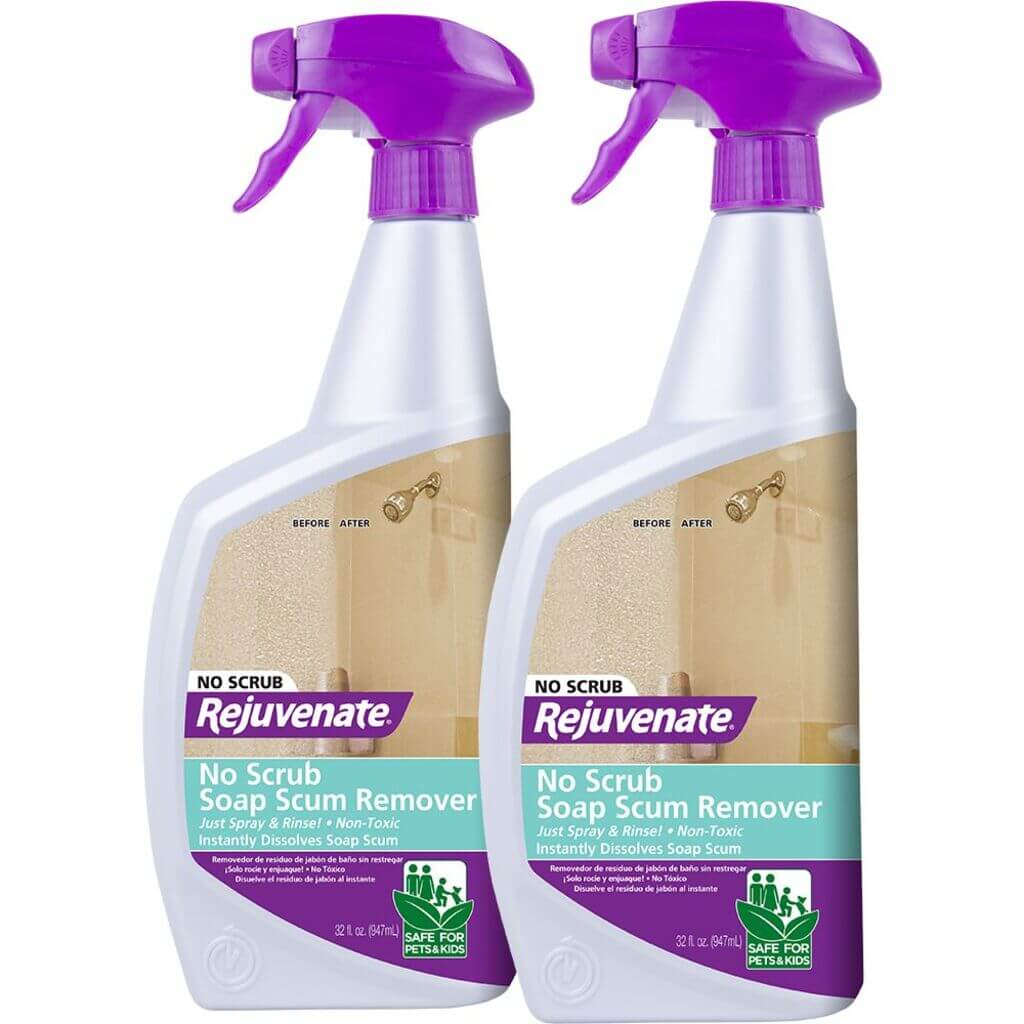 Source: walmartimages.com
Why we recommend: Non-abrasive, multiple surfaces friendly, streak-free finish 
Price: $10
Rejuvenate no scrub soap scum remover is a go-to hassle-free complete bathroom cleaner. It is a versatile glass cleaner for shower that works well on all the different types of bathroom surfaces. Plus, it has a no-scrub formula, that essentially reduces the cleaning time and makes it perfect for regular cleaning.
All you need to do is spray it evenly on the surface to be cleaned, let it sit for 3 minutes, and wipe it off. The glass cleaner absorbs all the mineral build-up giving a streak-free polished finish. You can use this cleaner on all your bathroom surfaces including glass, ceramic tiles, stone tiles, chrome, porcelain, etc. This is our overall best shower cleaner pick.   
2. Hope's Perfect Glass Cleaner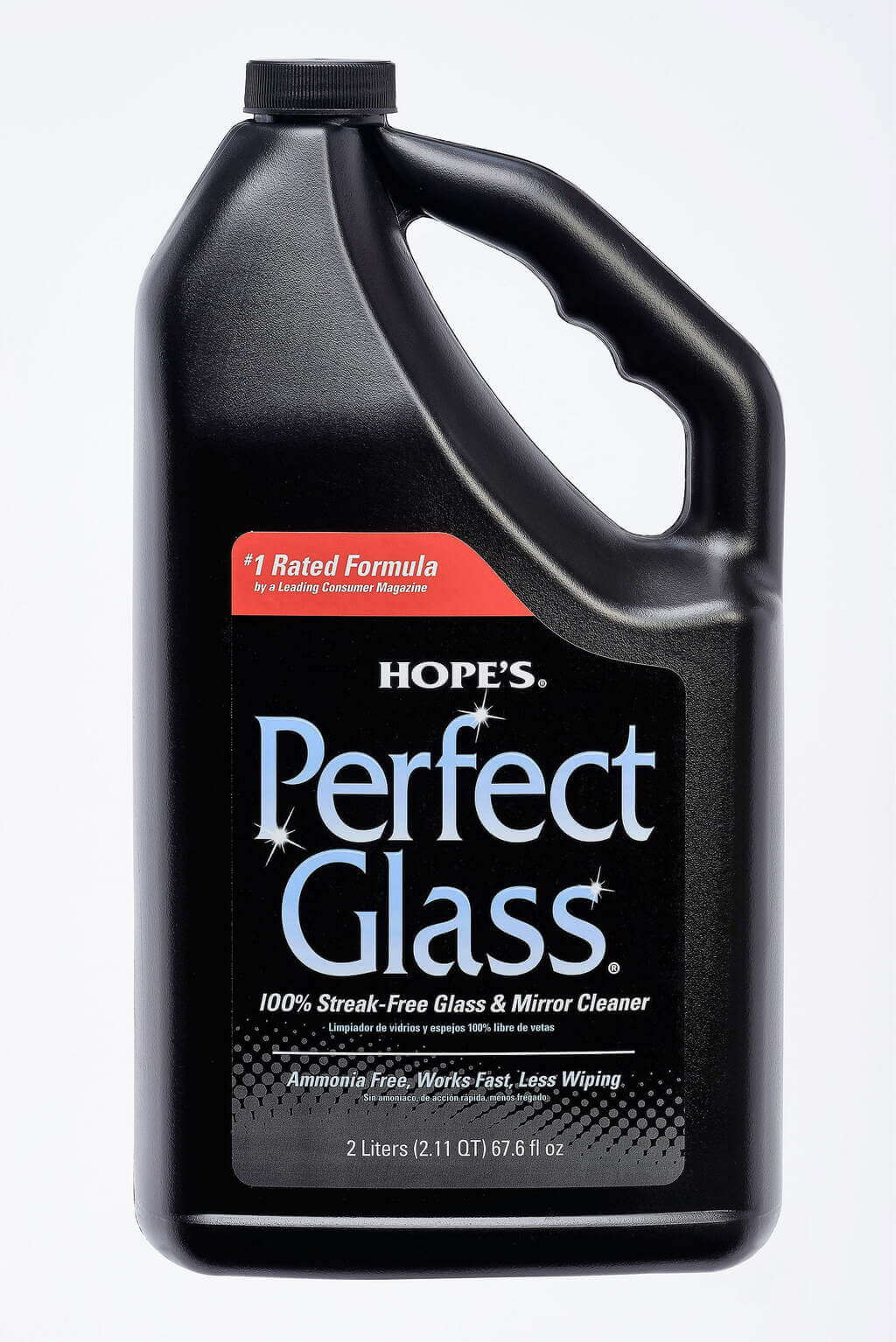 Source: walmartimages.com
Why we recommend: Perfect streak-free look, easy to use
Price: $22
Hope's perfect glass cleaner is as its name suggests, the best bathroom glass door cleaner. No more hazy glass showers, with the use of this cleaner, as it provides a truly streak-free look. The ammonia-free formula works well on glass shower doors, mirrors, windows, and cooktops.
It isn't ideal for use on other surfaces as it is not formulated to fight against mould or mildew. Use this as the last step of your weekly shower cleaning procedure for a polished look. Or, as a regular everyday glass shower cleaner. This is our best streak-free finish glass shower cleaner pick.
3. Rain-X Shower Door X-treme Clean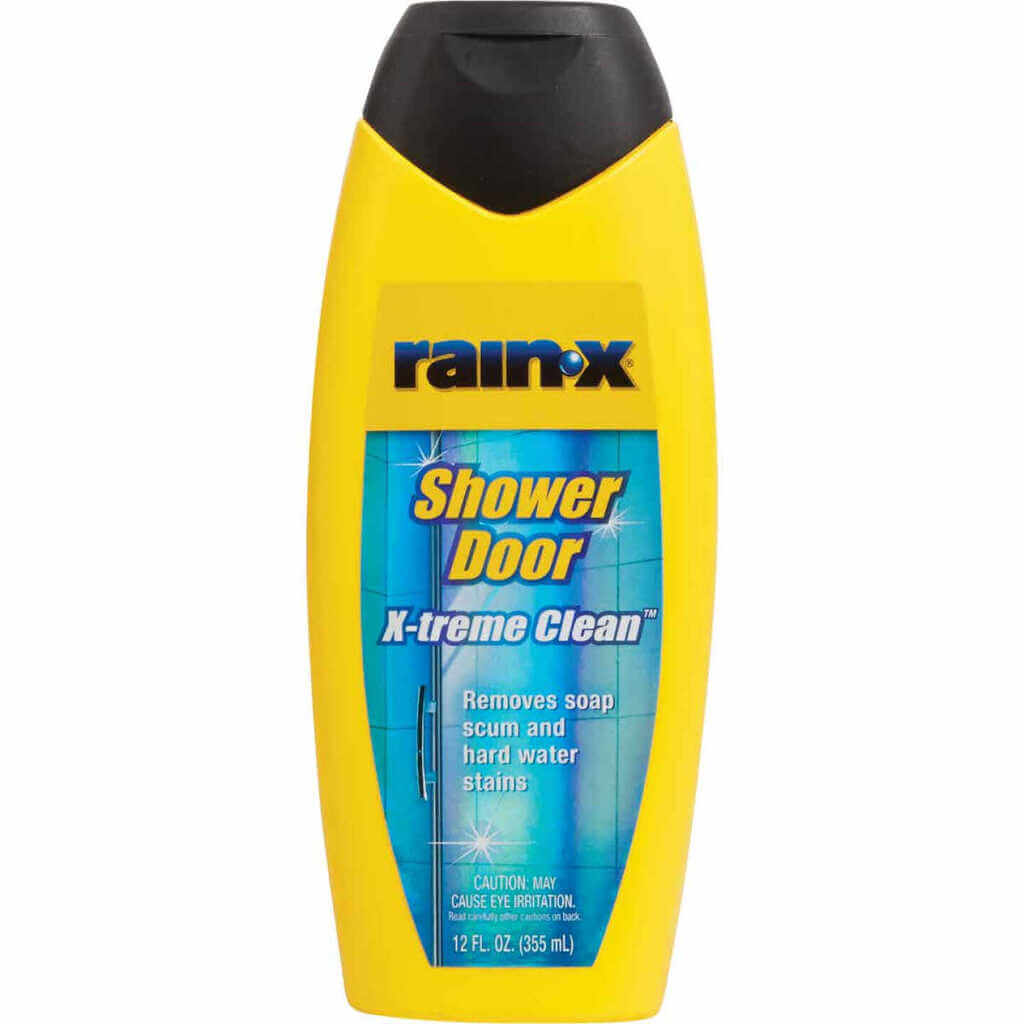 Source: doitbest.com
Why we recommend: Glass exclusive deep cleaner
Price: $10
If you're looking for a nonabrasive protective glass cleaner for shower, go for Rain-X shower door X-treme clean. It is one of the best glass shower door cleaners out there. The cleaner is designed to fight soap and scum buildup on glass shower doors and render the glass sparkling bright.
The process of application may be a little labor intensive and hence we recommend using this for occasional deep cleaning sessions. Apply the solution to the surface of the glass, gently rub in a circular motion to remove the stain leave it for a few minutes and rinse it off with warm water. Finish the process by drying the surface using a microfibre cloth. This is our top best cleaner for shower doors recommendation.
4. Mrs Meyer's Clean Day Vinegar Gel Cleaner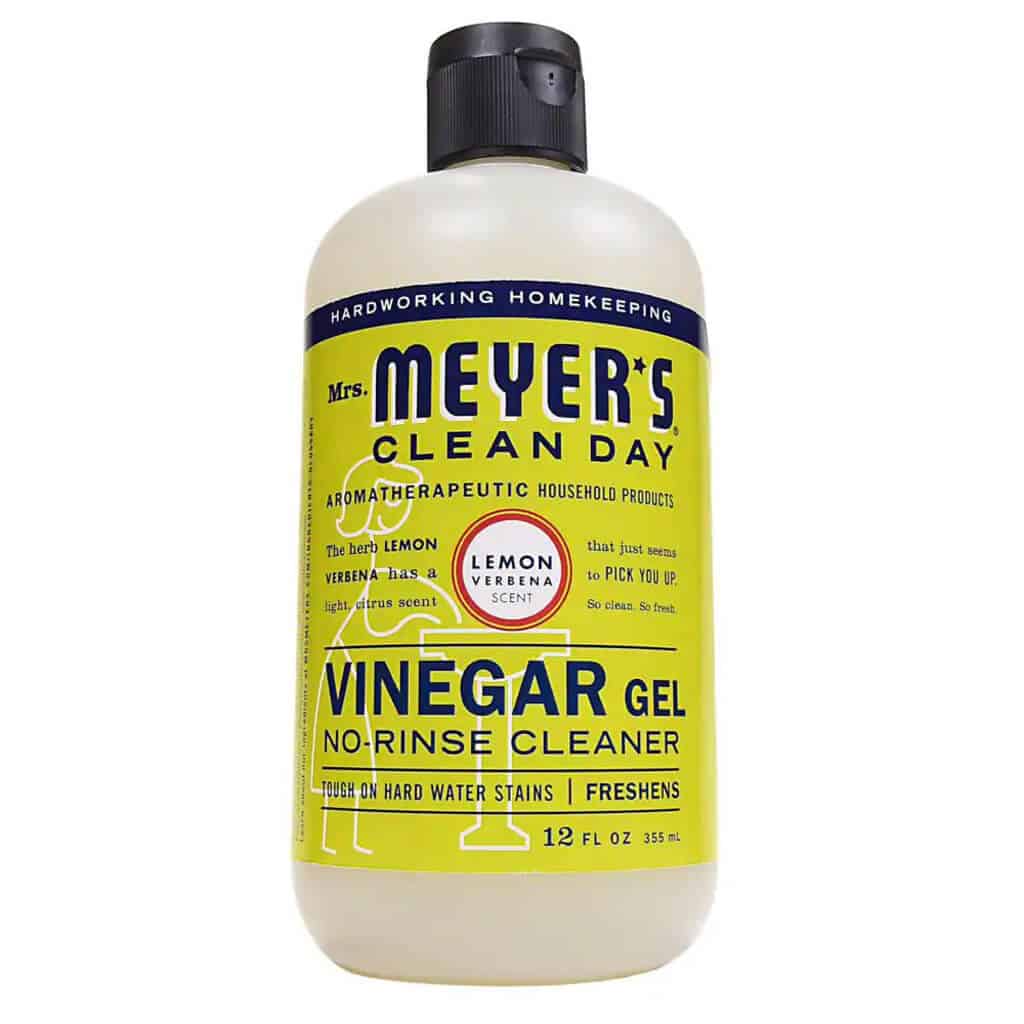 Source: thdstatic.com
Why we recommend: Easy gel-based, no-rinse formula for stubborn spot removal 
Price: $20
This vinegar-based gel cleaner is great for weekly cleaning. It has a no-rinse formula that allows ease of use. Mrs Meyer's clean day vinegar gel cleaner removes hard water stains and soap scum from not just glass, but also faucets.
It is proven to be effective on surfaces like stainless steel, glass, and mirrors. Simply apply the gel to the surface, leave it for 10-15 minutes and wipe it off using a cloth. Its specialty is removing stains, thus we recommend this for occasional spot cleaning. This is our top easy spot glass shower cleaner.
5. Formula 420 Glass Metal Ceramic Pipe Cleaner
Source: shopify.com
Why we recommend: Quick-fix, non-toxic, pleasant fragrance 
Price: $ 20.67 (pack of 3 )
If you want a hassle-free glass shower cleaner that requires no soaking, scrubbing or waiting, Formula 420 should be your pick. Not only is it the best cleaner for shower doors, but it also works well on glass, pyrex, metal, and ceramics, alike.
This easy-to-use multi-purpose cleaner is non-toxic and does the dual job of a cleaner and a deodorizer. Simply follow the instructions on the pack, apply it to the stained surface, give it just about a minute and rinse it with warm water. There you have your spot-free fragrant bathroom ready within a minute. This is our best quick shower glass cleaner pick. 
6.  CLR Multi-use Calcium, Lime & Rust Remover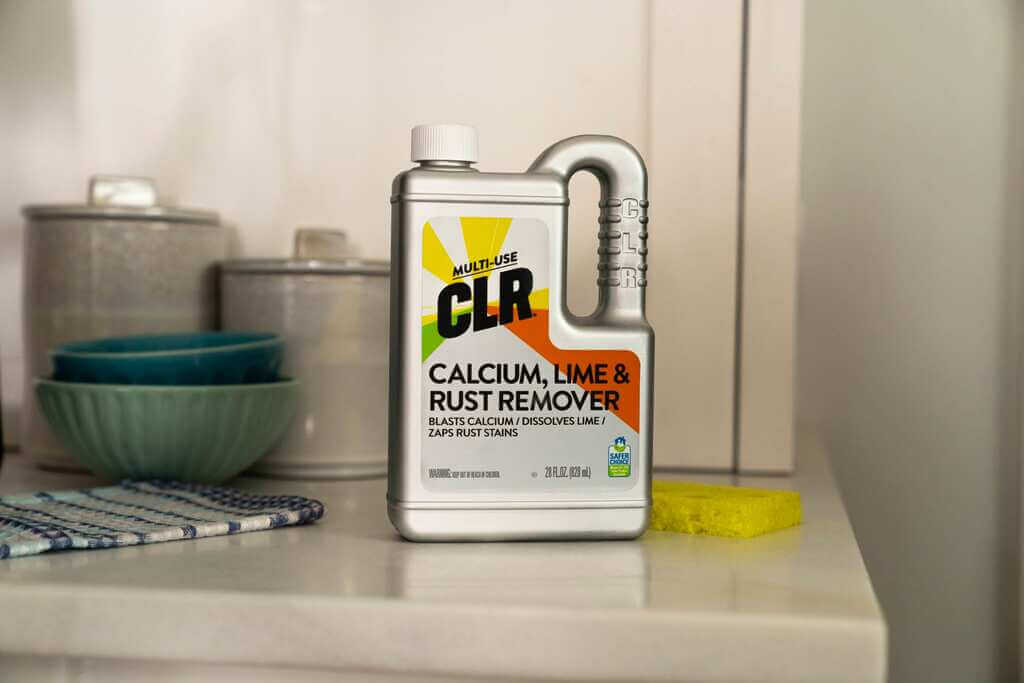 Source: lowes.com
Why we recommend: EPA safe industrial strength formula, multi-surface friendly
Price: $7
CLR multi-use glass cleaner is a heavy-duty industrial grade cleaner that is ideal for spot-cleaning. It removes hard water mineral deposits from almost every bathroom surface, excluding stone platforms and tiles. Its no-ammonia, bleach, and phosphate-free formula are EPA approved making it safe for household use. 
Apart from cleaning glass showers, you can use it on surfaces like plastics, ceramic, porcelain, stainless steel, etc. All you need to do is mix the powder with equal parts warm water and scrub the surface with a cloth or sponge. It is advisable to use this glass cleaner in a well-ventilated space and never in combination with other household cleaning methods. This is our best budget shower glass cleaner pick.
7. ECOS Plant Powered Bathroom Cleaner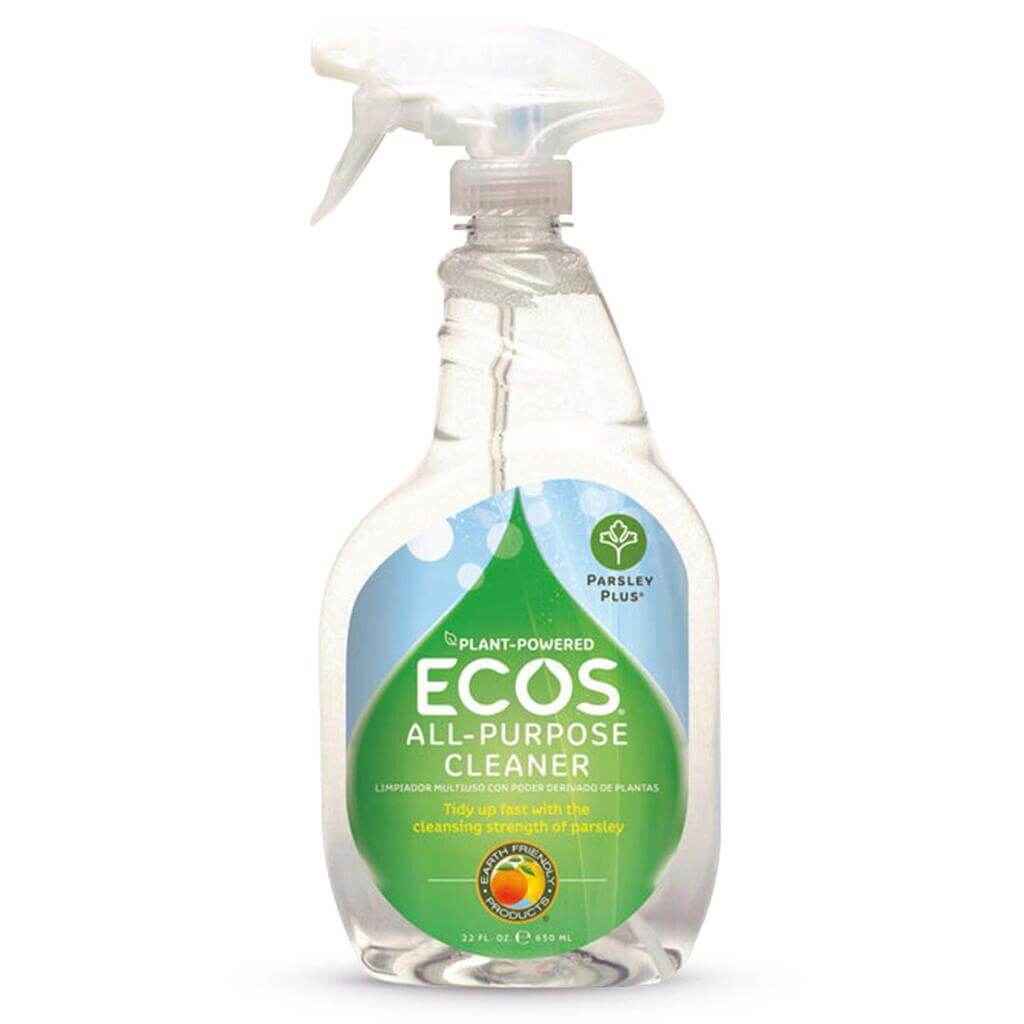 Source: amazon.com
Why we recommend: Easy spray, no-rinse formula, ideal for large showers 
Price: $4.38
Need to clean huge showers with spots that are hard to reach? This is the perfect glass cleaner for shower. The ECOS plant-powered bathroom cleaner is a unique spray cleaner that requires no rinsing. Its green formula creates a protective layer on the surface that prevents soap scum buildup.
We recommend using this as a daily after-shower cleaner to prolong the intervals between deep cleans. You don't need to worry about its safety or smell, it is comfortable for everyday use as it is EPA certified. Moreover, it doubles up as a bathroom freshener with a refreshing tea tree scent. This is our best everyday large glass shower door cleaner pick.   
8. Bring It On! Cleaner with Drill Brush Attachment Set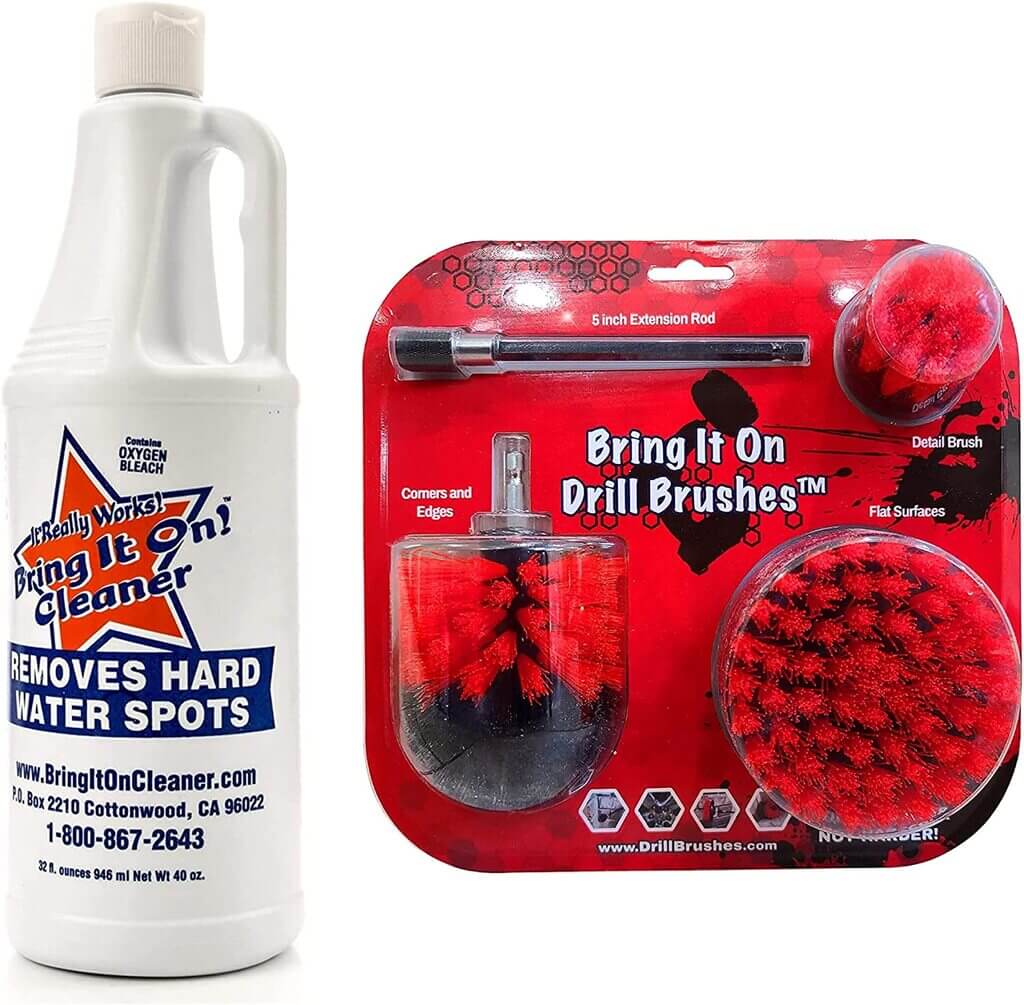 Source: amazon.com
Why we recommend: All rounder cleaner for the entire bathroom, unique oxygen bleach formula
Price: $29.74
Have residual spots that just refuse to come off, no matter how many times you scrub them? Our next pick is just the right pick for those nasty spots. Bring it on! cleaner with three drill brush attachment set is excellent for getting rid of stubborn hard water spots and scum residue.
Unlike the harmful chlorine bleach supplements, its patented detergent with oxygen bleach formula is safe for use yet is as effective as chlorine bleach.  When used with the power drill brush set, it gives a professional level of cleaning at home. It is perfectly suited for use on any and every bathroom surface, specifically, the results on fibreglass are remarkable. This is our best shower glass cleaner for thorough all-around cleaning.
Also Read: Best Ways to Clean a Dirty Shower Curtain and Liner!
5 Tips to Maintain a Scum-Free Glass Shower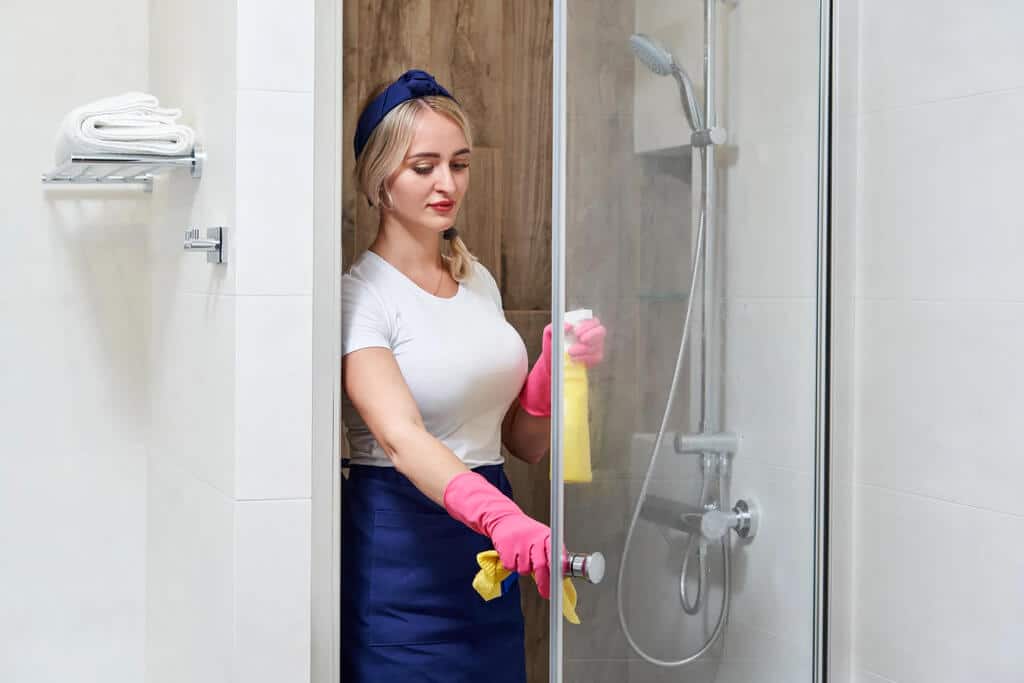 Source: popsugar-assets.com
We understand that cleaning glass showers every day or weekly can be inconvenient, so here are our 5 tips to maintain a scum-free shower. 
Keep the shower ventilated: The easiest way to avoid excess build-up on the surface of the glass shower is to keep it well-ventilated after use. Opening the doors and windows, and switching on the exhaust allows water to evaporate, thus reducing moisture and chances of mould buildup. 
Dry the surface after every use

: As we already mentioned about having a daily post-shower cleanup, it is essential to clean the surfaces dry after every use. Even without using any product, just ensuring that the shower is dry helps prevent soap-scum buildup. 

Switch to liquid soap instead of soap bar:

Soap bars mix with water creating cloudy stains when splashed on the glass surface. Liquid soaps on the other hand don't contain the same amount of waxy grime trapping solids making them a better option for maintaining scum-free bathrooms.

Use a water softener:

Majorly, the hazy white spots that you see on glass showers are caused by hard water. The minerals and salts in hard water create a residue on the glass shower, once the water evaporates. Investing in a water softener is the best way to prevent these hard water stains and get relief from the lifelong maintenance cycle.   

Use a water repellent water shield:

After every glass cleaning session, to prolong the effect of the cleaners, shield the glass surface with a water repellent cleaner. These essentially create a coat that shields the surface from the water and thus preventing stains. The Rain-X's X-treme water repellent is a good water repellent spray that can be used for keeping soap and scum at bay.  
Final Takeaway
To keep soapy, scummy, and hard water stains away, religiously follow a daily, weekly and occasional deep cleaning schedule. Use the best-suited products from the list above to clean your glass showers and maintain them. Go for acidic nonabrasive cleaners for regular use, and industrial grade cleaners for deep spot cleaning.  
FAQs:
1. How Do I Make Glass Shower Doors Crystal Clear?
Use the best glass shower cleaners available in the market. The nonabrasive ones include products like the Rejuvenate No scrub soap scum remover, and the heavy-duty options include CLR multi-use calcium, lime, and rust remover.  
2. What Is the Best Thing to Use for Cleaning Glass Shower Doors?
The best thing to use on glass shower doors is a non-abrasive glass cleaner. The Rain-X shower door X-treme cleaner is one of the best cleaners for shower doors available. 
3. How Do You Get Hard Water Stains Off Glass Shower Doors?
You can opt for DIY concoctions to get rid of hard water stains off glass doors. Vinegar mixed with warm water works wonders in removing the stains. 
4. How Do You Clean Cloudy Shower Glass?
A deep cleaning session using acidic nonabrasive glass cleaners will render the cloudy glass surface sparkling. 
5. Should I Remove Glass Shower Doors to Clean Them?
It's not advisable to remove glass shower doors for cleaning unless you're a pro-DIYer. Use a leave-on spray-type glass cleaner to clean the hard-to-reach spots.
6. What Causes Hard Water and Scum to Build Up?
The minerals like calcium and magnesium in hard water prevent soap from dissolving completely. Instead, they bond with soap creating a film that sticks to every surface in the form of cloudy residue.  
7. How to Prevent Soap Scum from Forming?
One of the easiest ways of preventing soap scum is to switch to liquid soap instead of bar soap. The talc in soap bars contributes to the creation of scum. Liquid soaps don't contain talc and complex solid waxes, thus reducing the chances of scum formation.  
To know more about Home improvement ideas, Cleaning and decoration tips visit ArchitecturesIdeas.
For daily updates, follow us on our Instagram page @architectures_idea.