40+ Large Coffee Table Options for Your Living Space
Don't we all love sitting on a plush couch next to a large coffee table holding our favourite novel and a freshly brewed cup of coffee? 
A big coffee table sits in your living room with more than one purpose. Apart from serving as a base to put your drinks or accessories on, it is also a statement-making piece of home decor. Modern or classic, every design of a large coffee table injects a unique essence into the space. Let's look into the best coffee table options and help you find the right match!
Jazz Up the Living Room with 42 Large Coffee Table Options
1. Elegantly Wonderful: Oversized Coffee Table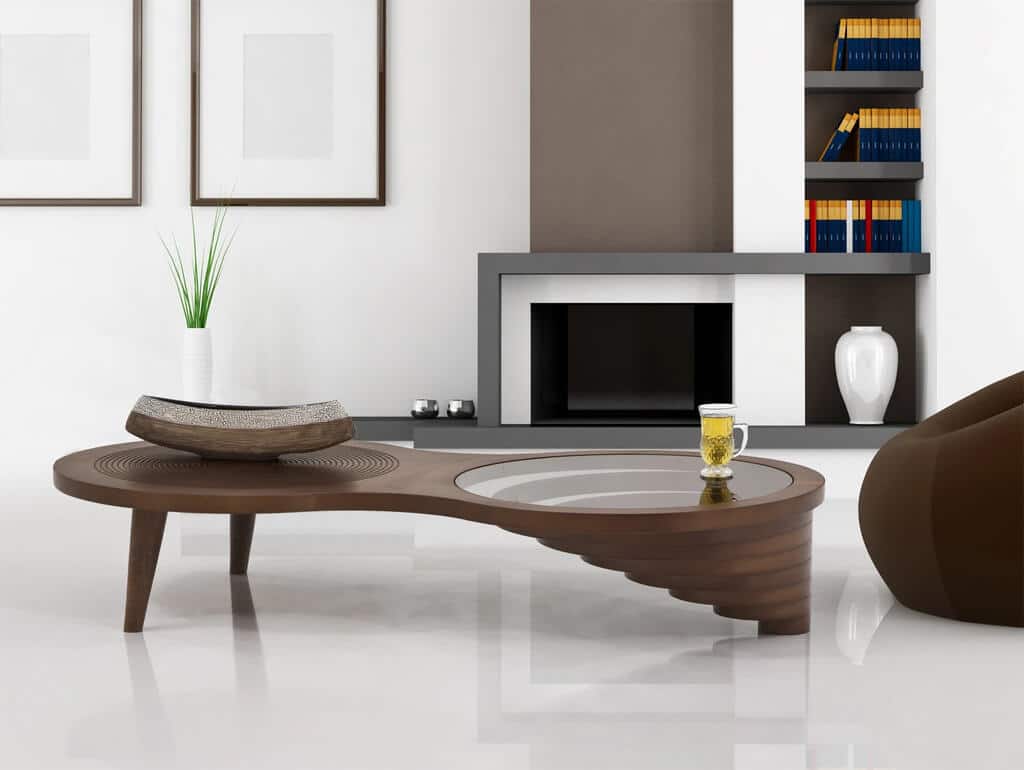 Source: etsystatic.com
A large coffee table is one such decor element that doesn't overwhelm the space. It'll always prove to be functional and sit as a beautiful accessory in the room. Consider opting for an organic-shaped coffee table composed of wood and glass.
2. A Long Coffee Table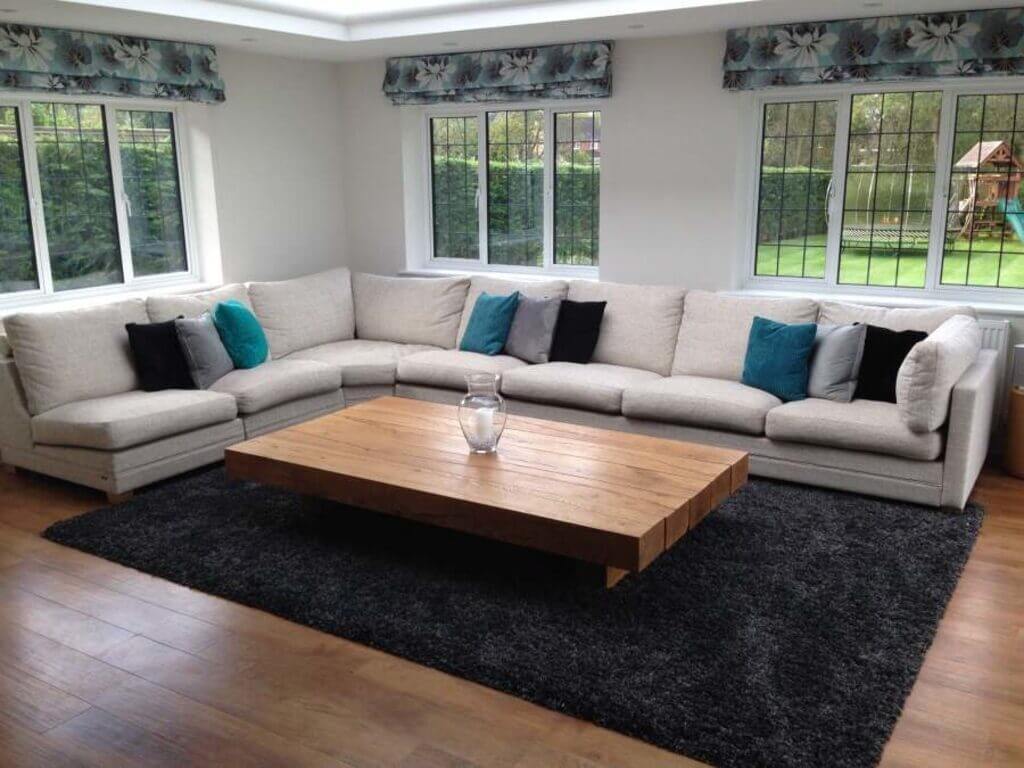 Source: trendir.com
If you aim to offer comfort to each member sitting around the coffee table, opt for a long design. The length won't only cater to the functional aspect of the space but also offer a longer aesthetic surface in the room. 
3. Sleek yet Large Wooden Coffee Tables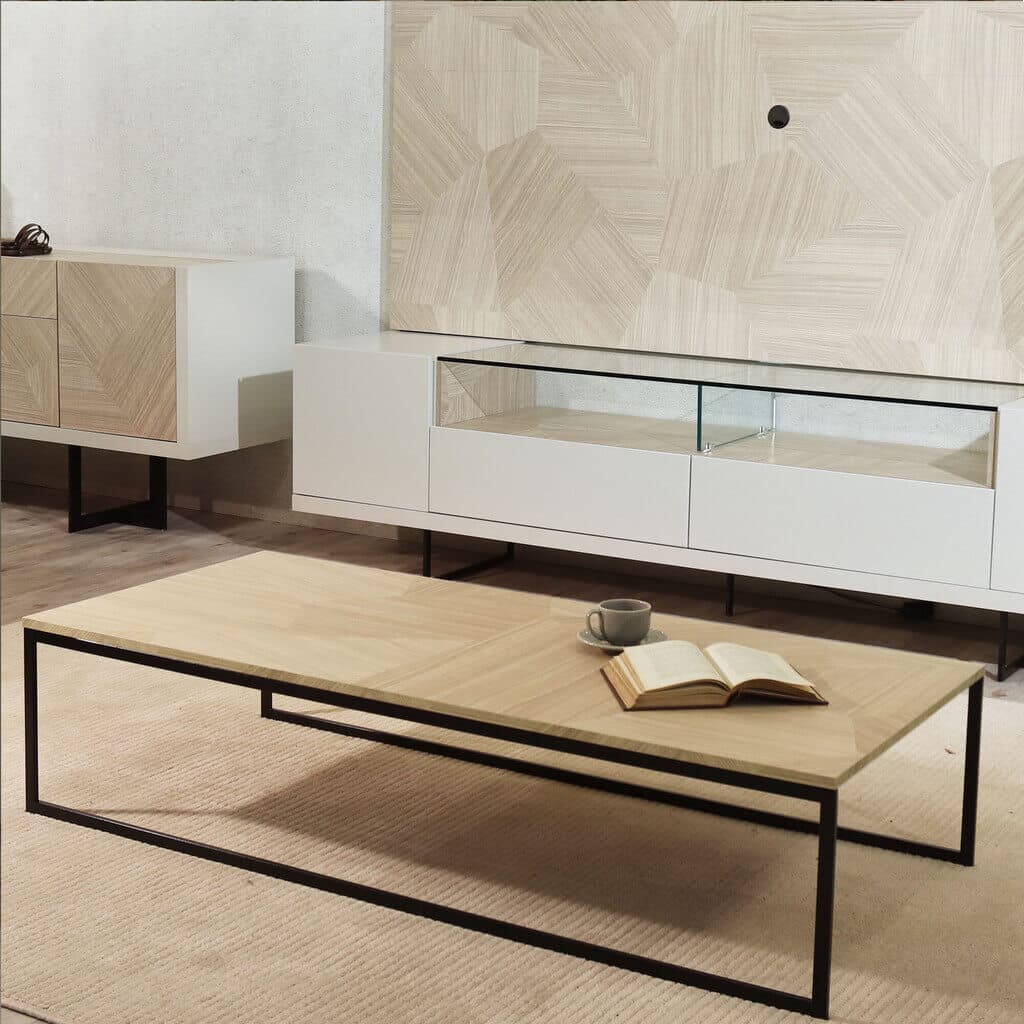 Source: fcdn.app
A coffee table is a spot offering ultimate family time. From its functionality to aesthetics, everything has to be perfect in this case. The demand is fulfilled by a wooden coffee table with a sublime look and a sleek steel frame to support the framework. This large coffee table is the perfect fit for modern homes with a neutral palette.
4. Solid and Big Coffee Table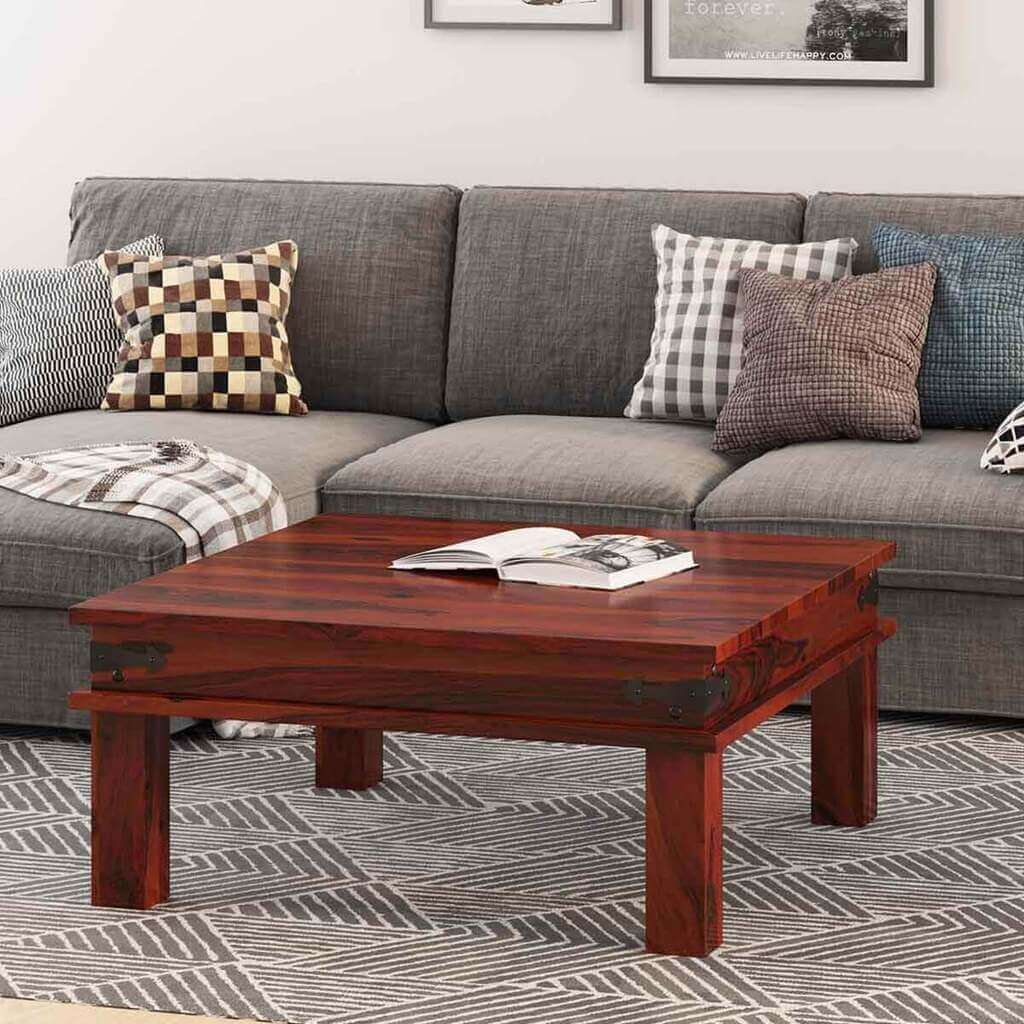 Source: amazonaws.com
Try a bold style with a concrete-casted large coffee table. The block look sits as an impactful design element in the design and brings a brutalist touch to the interior decor. 
5. A Modern Twist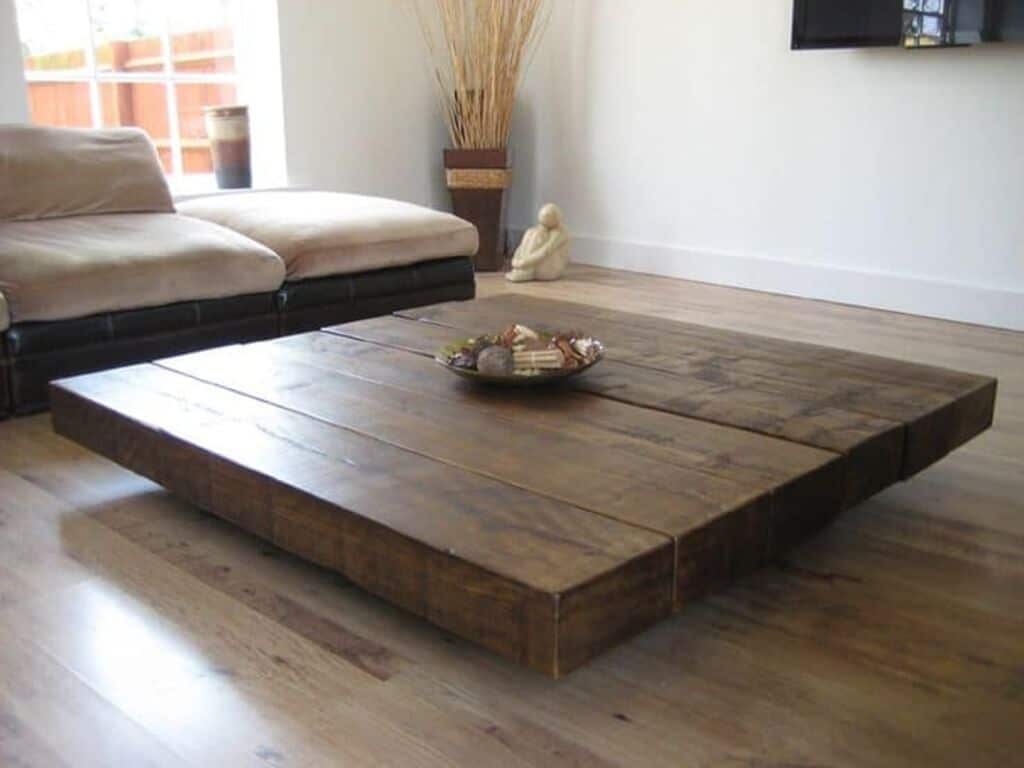 Source: trendir.com
Eliminate the long legs from your coffee table and look for something more modern and closer to the floor. A low-height wooden coffee table would sit just right in a contemporary design language.
6. Modernly Unique Large Coffee Table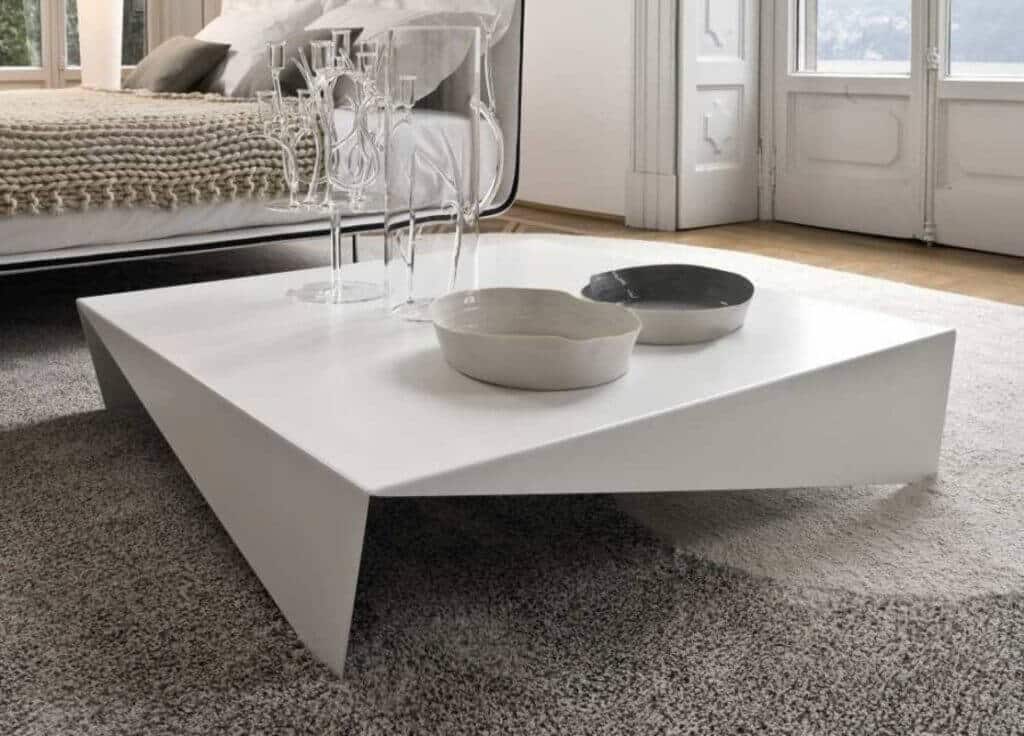 Source: trendir.com
Bring a striking design to your interiors with this large coffee table in white. The crisp design has a futuristic touch with its minimalistic design.
7. Functionally Soft: Plush Long Coffee Table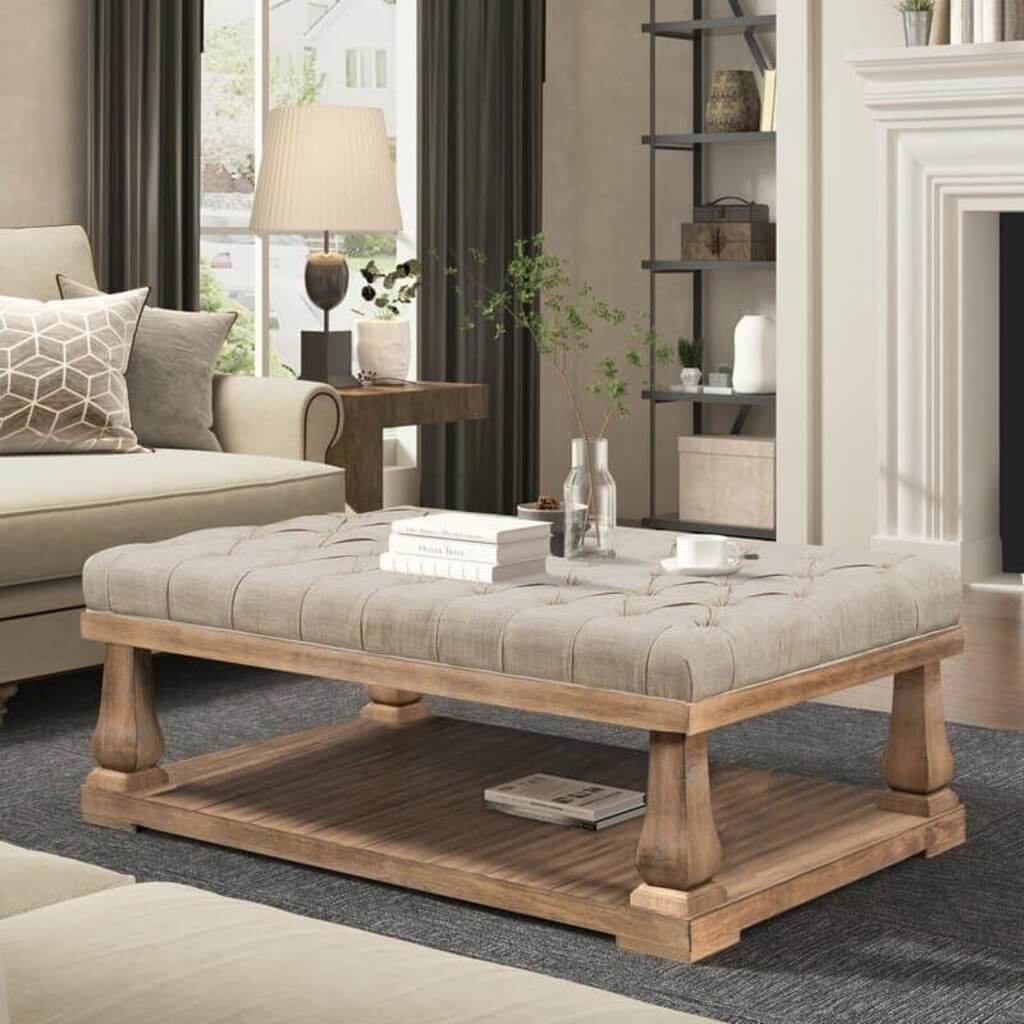 Source: trendir.com
Looking for a multi-purpose coffee table? Go for this plush table that can also serve as a comfy seat if you're surprised by a large number of guests. 
8. Fluted and Unique Coffee Table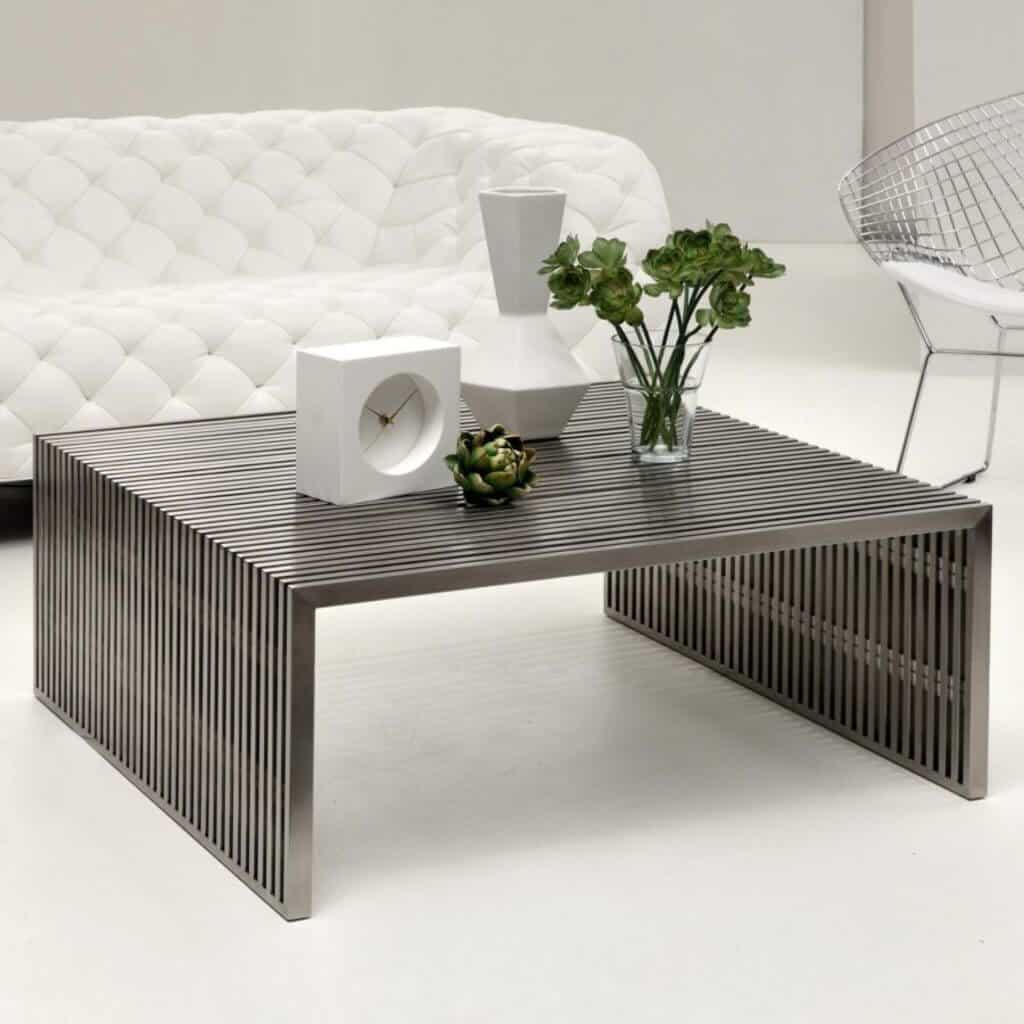 Source: trendir.com
Go for an extremely unusual coffee table design composed of metal. The fluted design is sure to jazz up the entire decor. This piece will shine against a plain white or neutral backdrop. With this large coffee table design, you don't need extra accessories to amp up the aesthetics of the space.
9. Plain Glass Coffee Table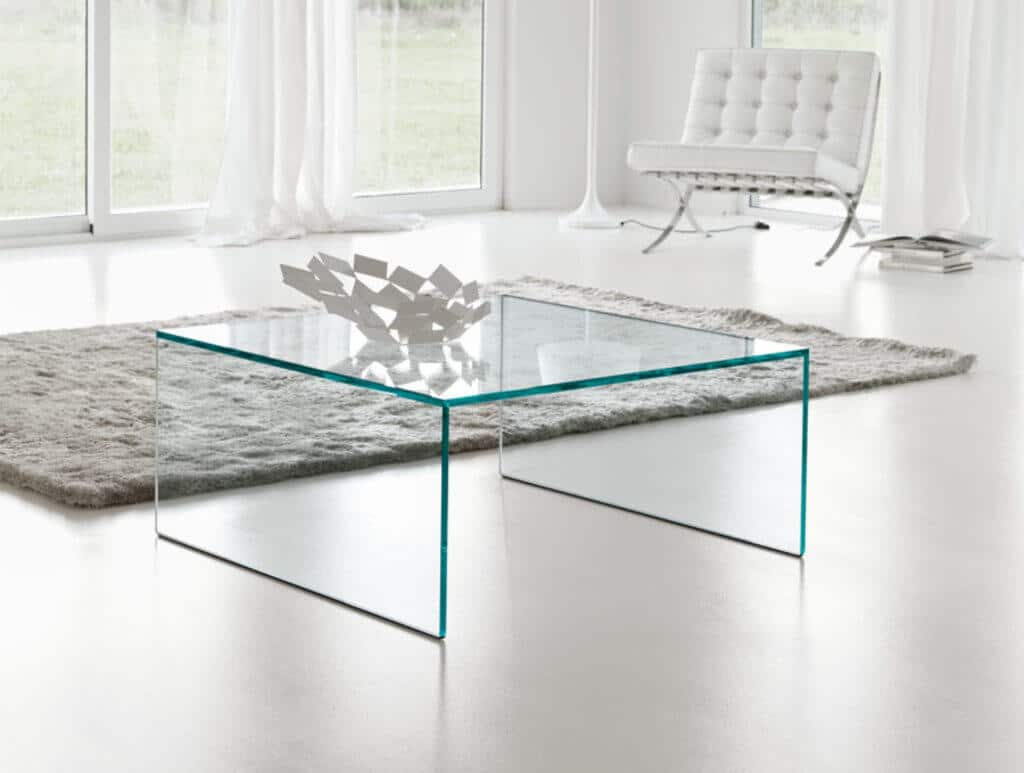 Source: trendir.com
Make the interiors look light and airier with glass. The entire table composed of glass offers a neat look to the living room.
10. A Large Floating Coffee Table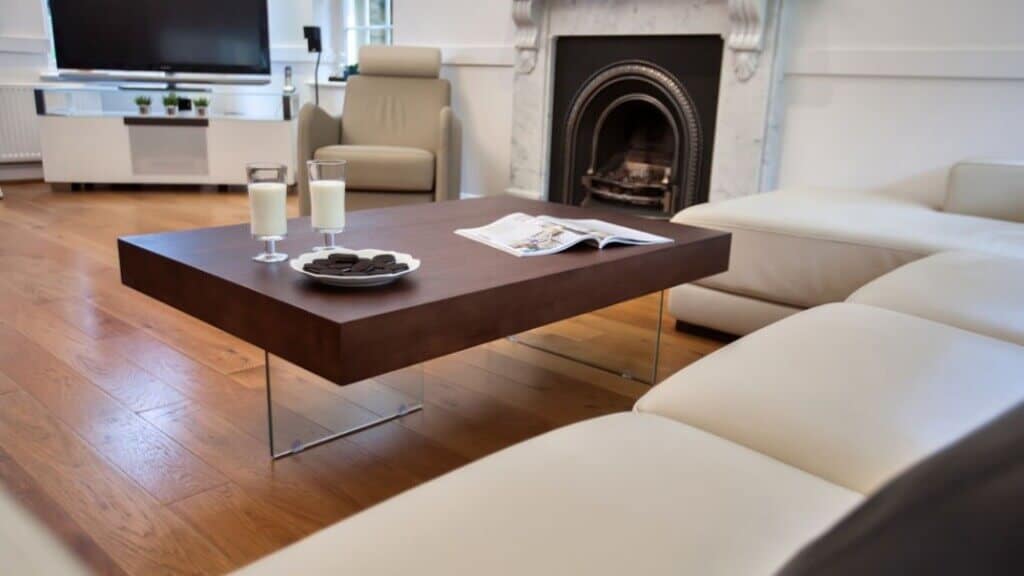 Source: coffeeandsidetables.com
Make your large coffee table seem floating by opting for a wooden tabletop with glass legs. This is the best fit for a compact living room as it doesn't take up much of the floor space. 
11. Black and White Coffee Table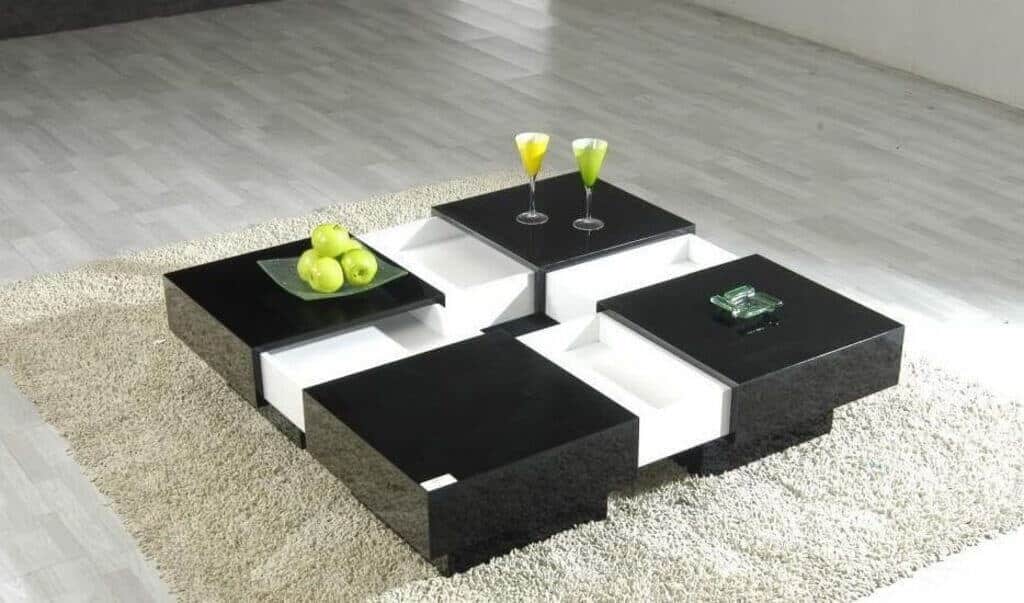 Source: pinimg.com
Fill the living room with a classic combination of a black and white coffee table. These colors have a timeless appeal within them which will always keep them on the top of the trending list.
12. The Retro Tales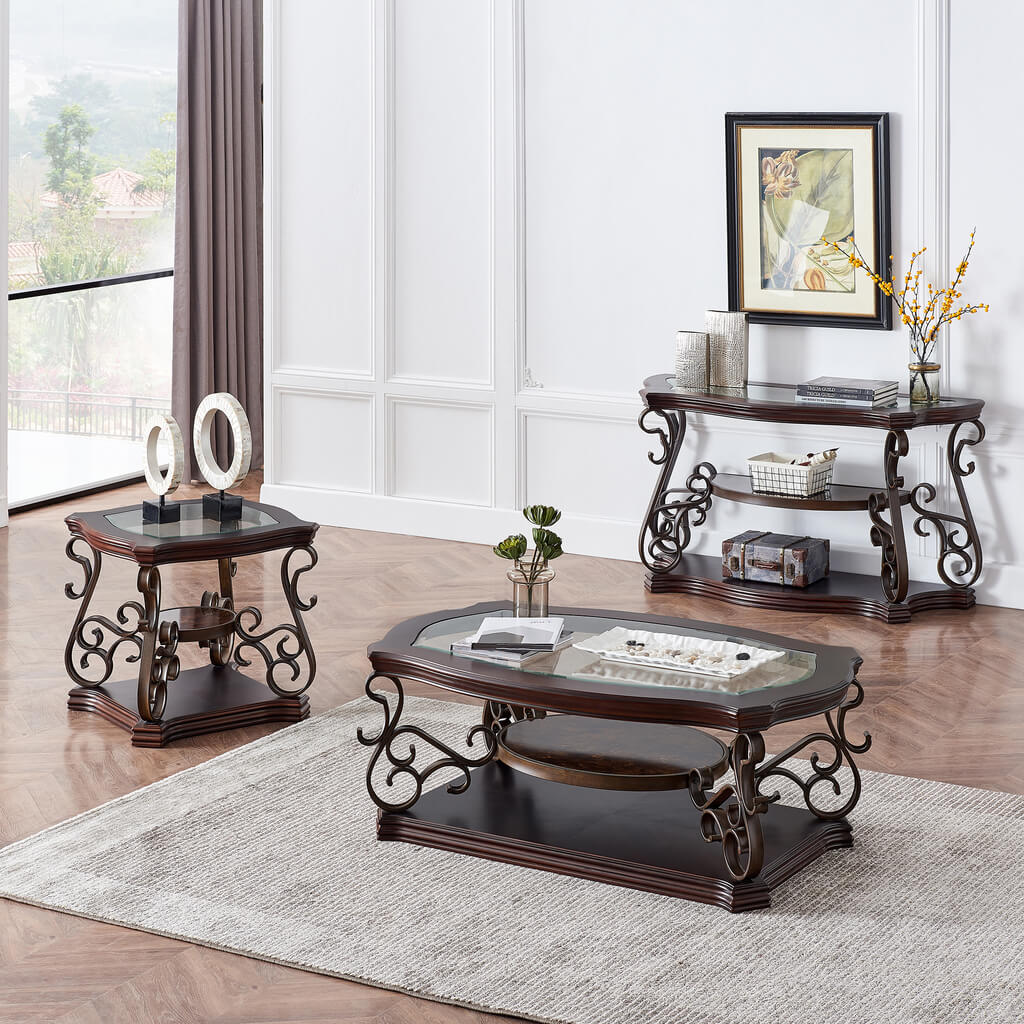 Source: trendir.com
How about a table that fits right for your cocktail nights along with the coffee evenings? This large coffee table speaking a nostalgic language is everything you need to amp up the decor of your living area.
13. Organically Large Coffee Table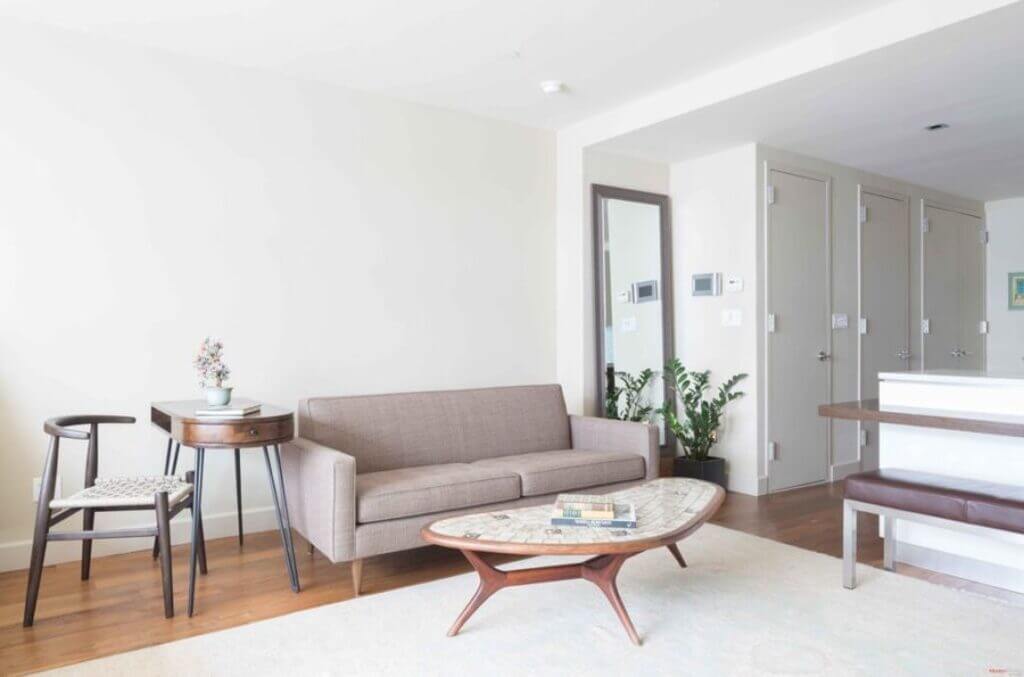 Source: trendir.com
Break the typical boxy pattern and opt for a large organic-shaped table in your living room. The mid-century design exudes a sense of elegance in the entire decor. 
14. Pebble-Shaped Coffee Table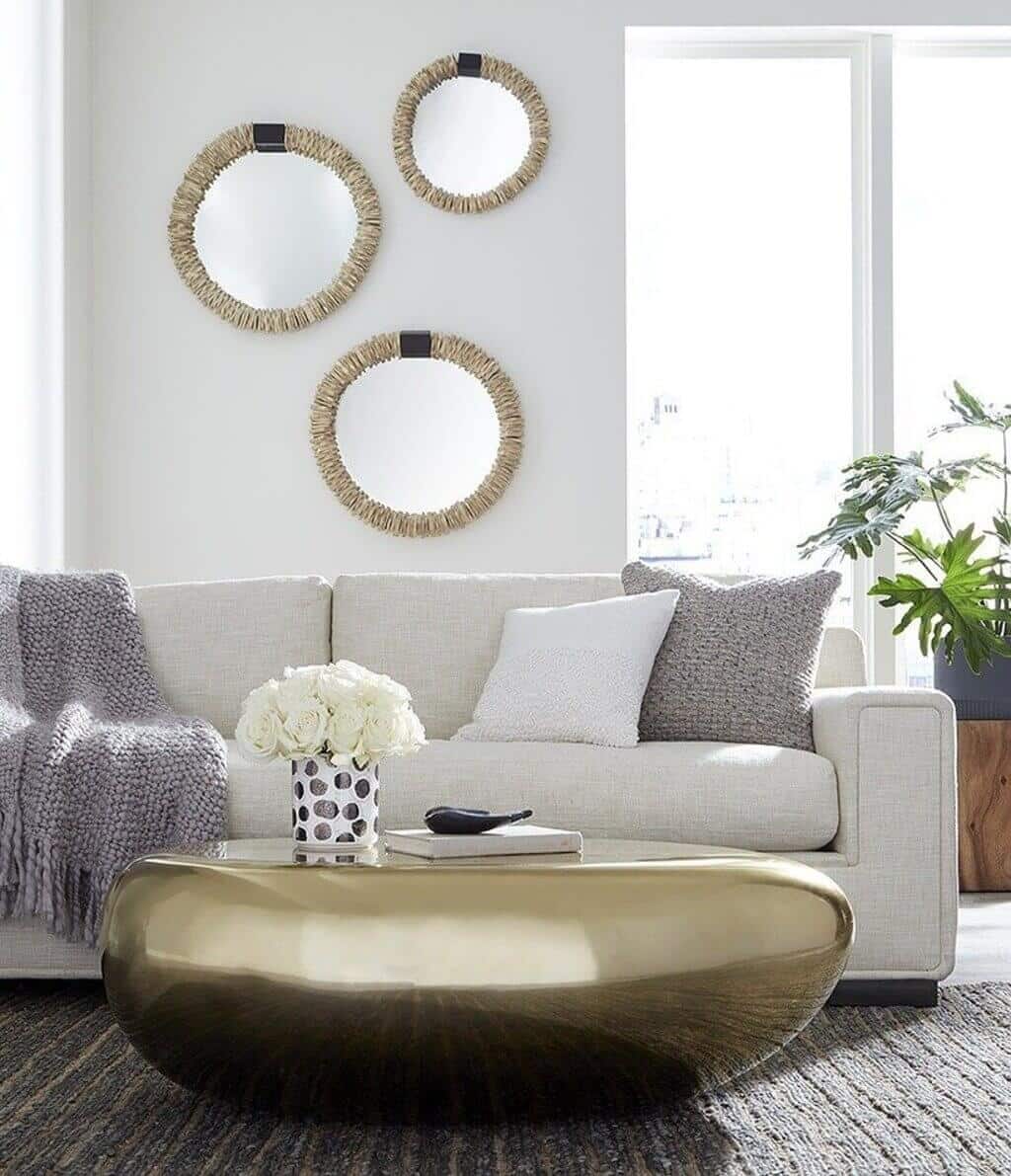 Source: phillipscollection.com
Think out of the box and add a pebble-shaped coffee table to the interiors. This table design imparts a luxurious touch to the living room when opted in gold or bronze finish. The shiny surface will make the furniture stand out.
15. The Hexagonal Cluster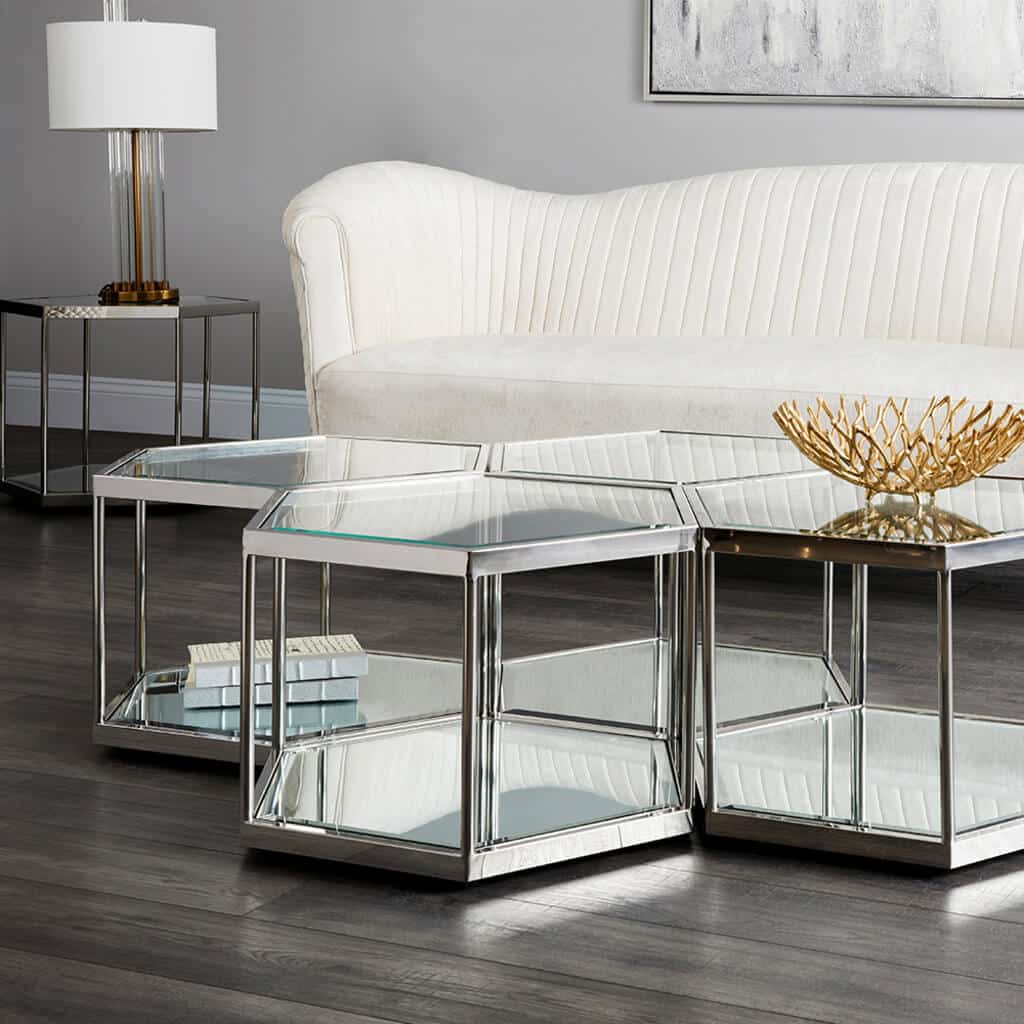 Source: xcella.ca
Go for multiple coffee table units in the glass. Rather than a large coffee table with a single slab, opt for a hexagonal cluster of four with a metallic framework and tempered glass top.
16. Streamlined Black Large Coffee Table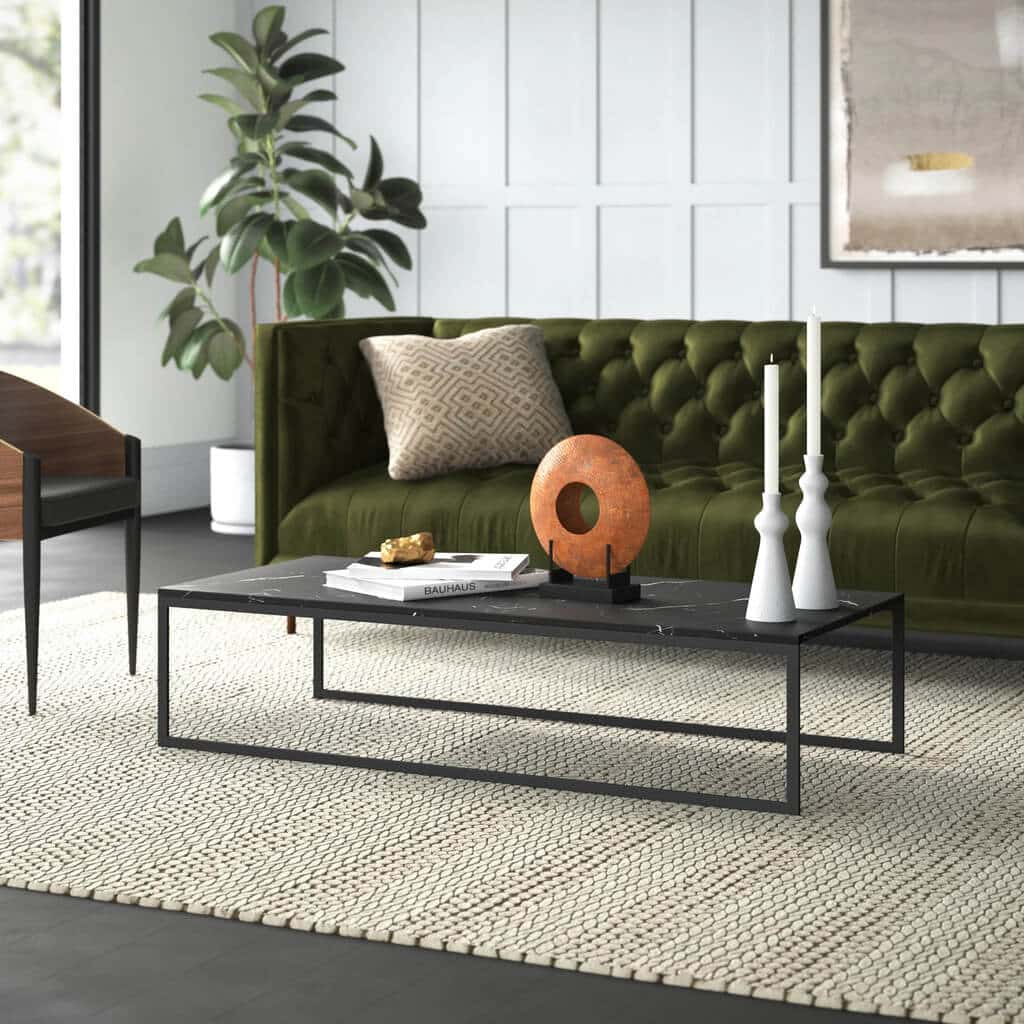 Source: wfcdn.com
Bring a bold accent to the living room with a streamlined black accent on a coffee table. The long rectangular table with a marble top brings an industrial touch to the interiors and enhances the aesthetics of the room. 
17. Polished and Glass Coffee Table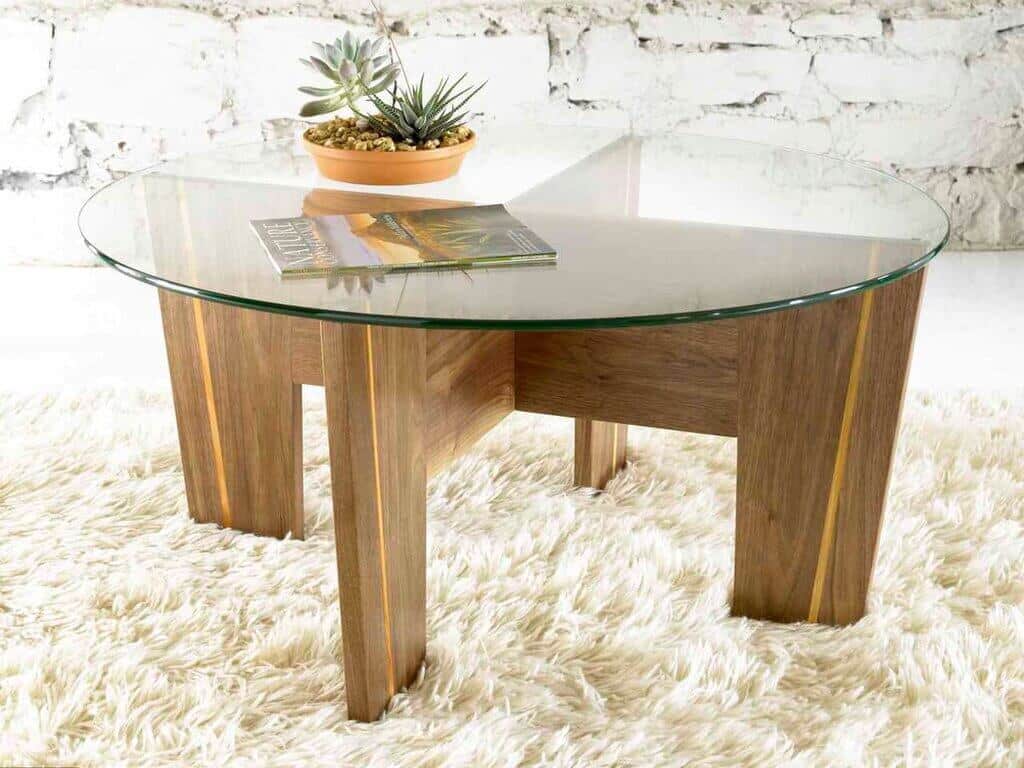 Source: twimg.com
Are you looking for a little gloss in your living room? How about the idea of a polished wooden coffee table with a glass top sitting in the middle of the seating area? You can pick the size that suits the layout and keep the decor simply admirable. 
18. Shiny and Reflecting: Large Coffee Table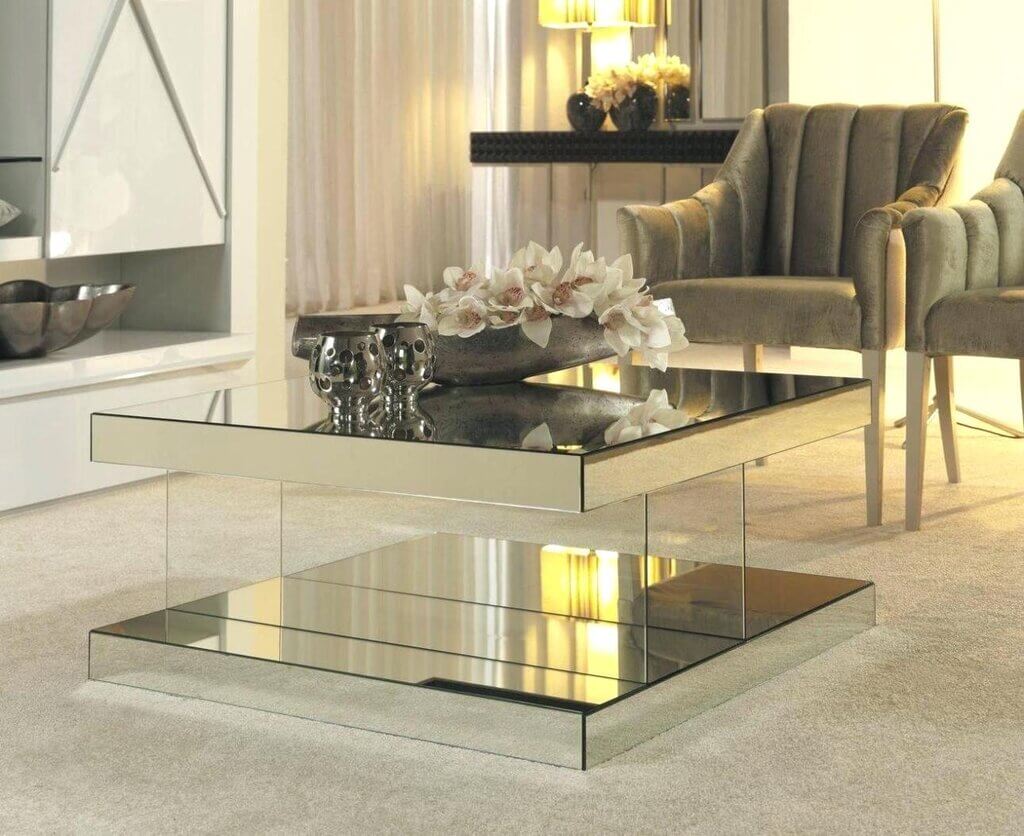 Source: idei.club
Leave the conventional designs and adopt mirrored coffee tables. Composed of glass legs and mirrors on its base and top, this piece offers an artistic appeal to the living room decor. 
19. The Lift-Top Table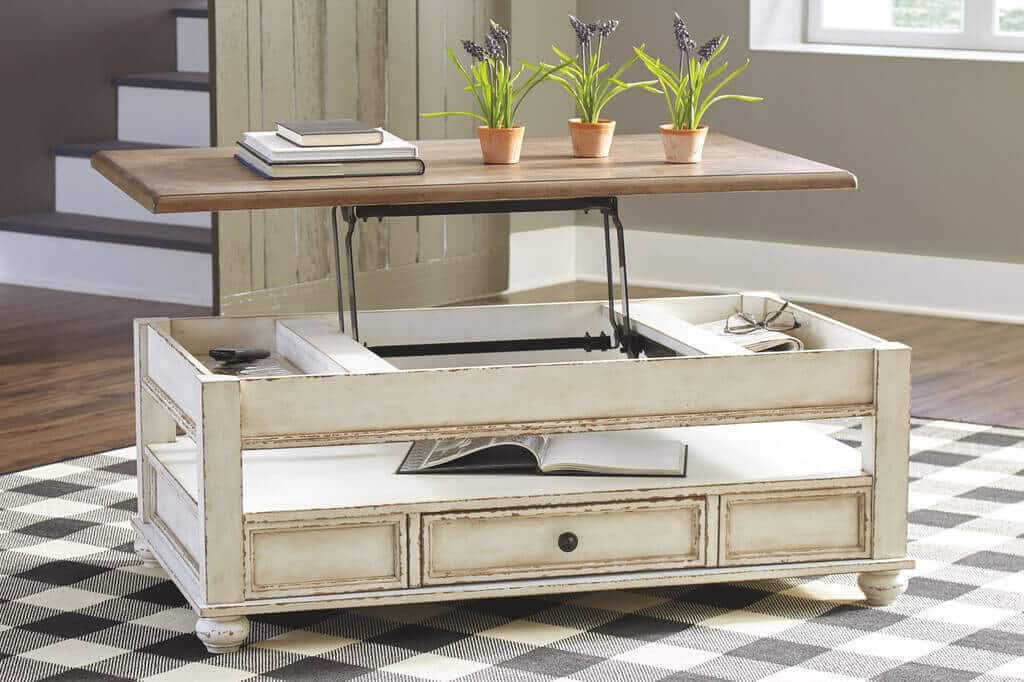 Source: bigcommerce.com
The current lifestyle demands a multifunctional approach in each design element. The lift-top table allows you the flexibility of easily attending work meetings and gives you the advantage of an extra bookshelf and concealed storage. 
20. Criss and Cross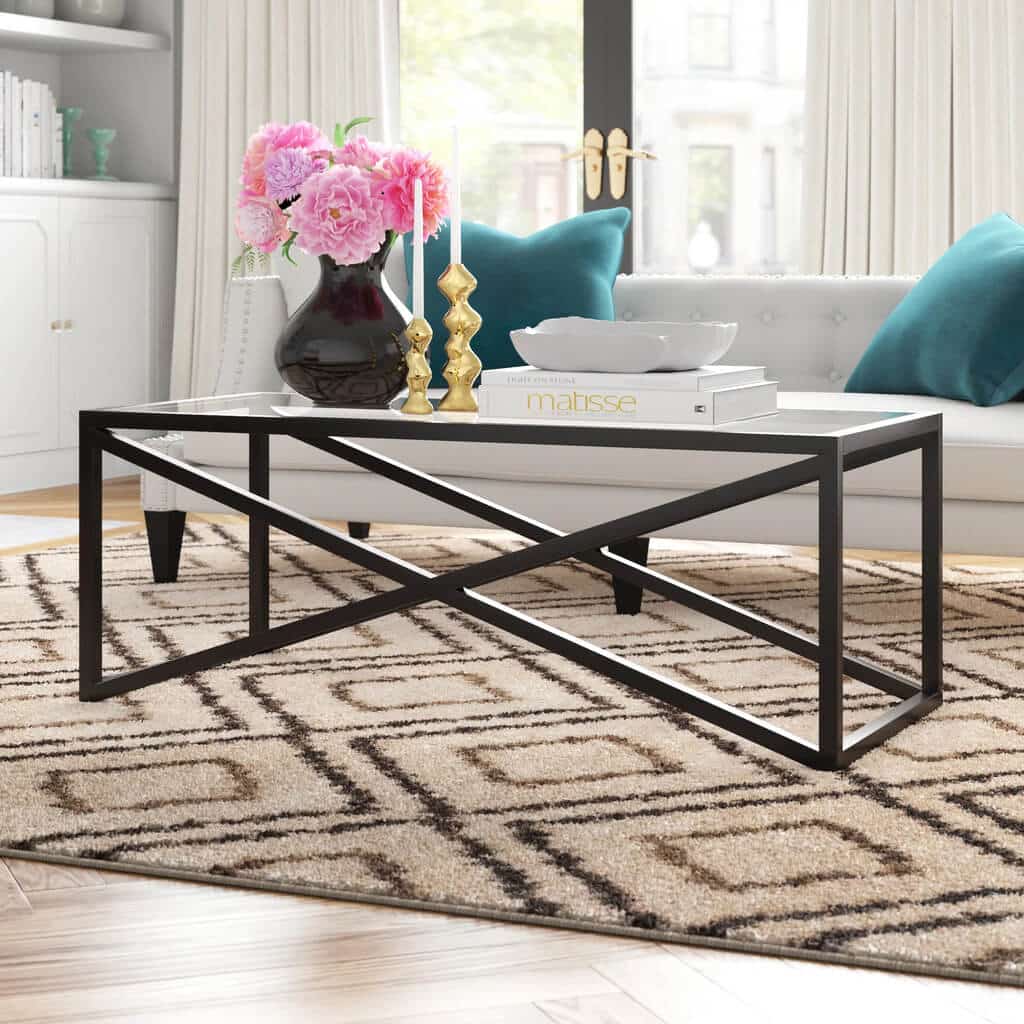 Source: wfcdn.com
With crisscrossed table legs, this large coffee table design brings a geometric touch to the room. Crafted in steel and glass, the table design adds a sense of eclecticism to the space. The design's sleek look and versatility make it a perfect fit for any design. 
21. Charming White Coffee Table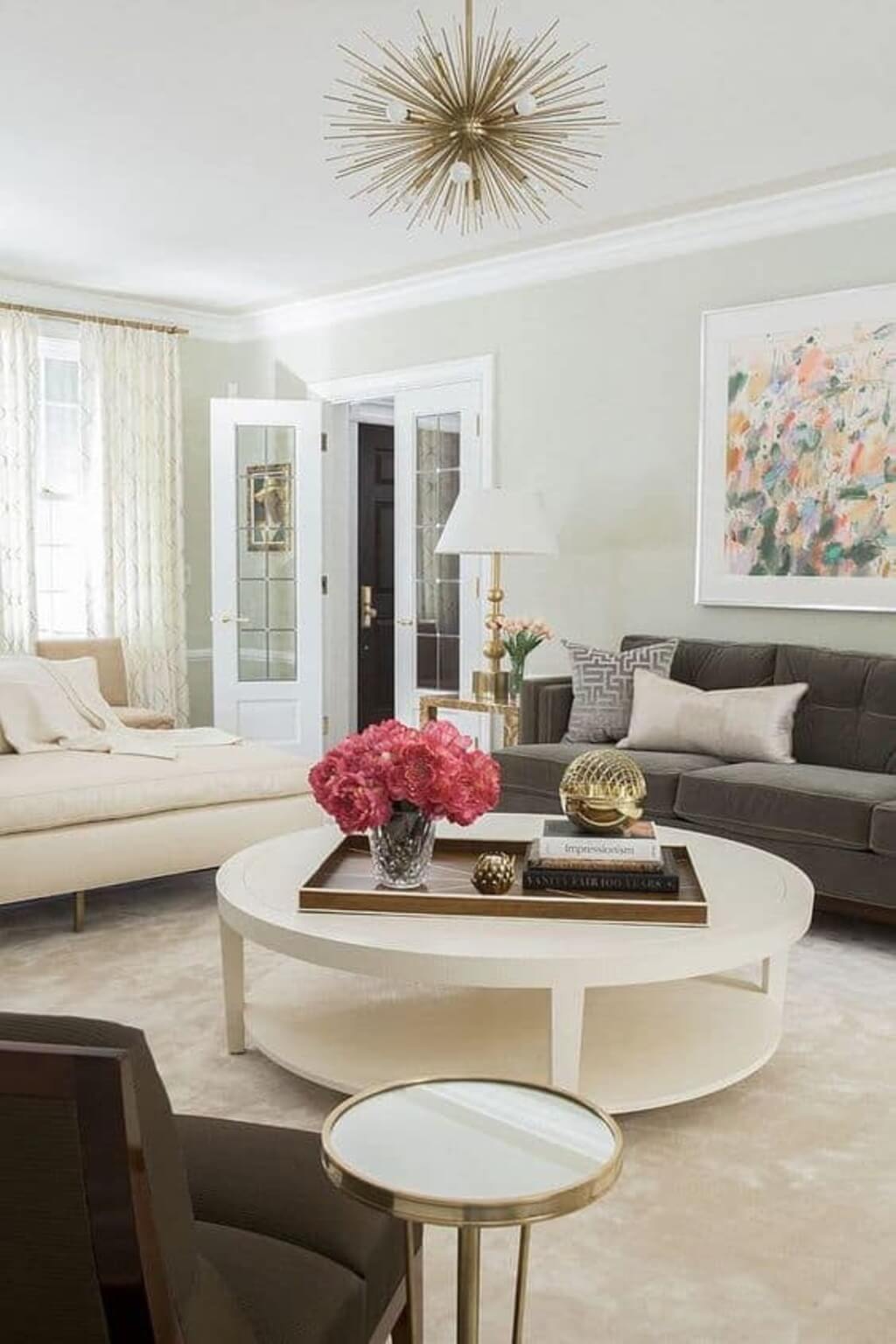 Source: trendir.com
If you want to drift from the conventional wooden coffee table looks, consider adding a round and white table to the decor. It'll impart clean aesthetics and the versatile white fits in any design language that's being followed in the interiors. 
22. Triple Rounds in Tri-Shades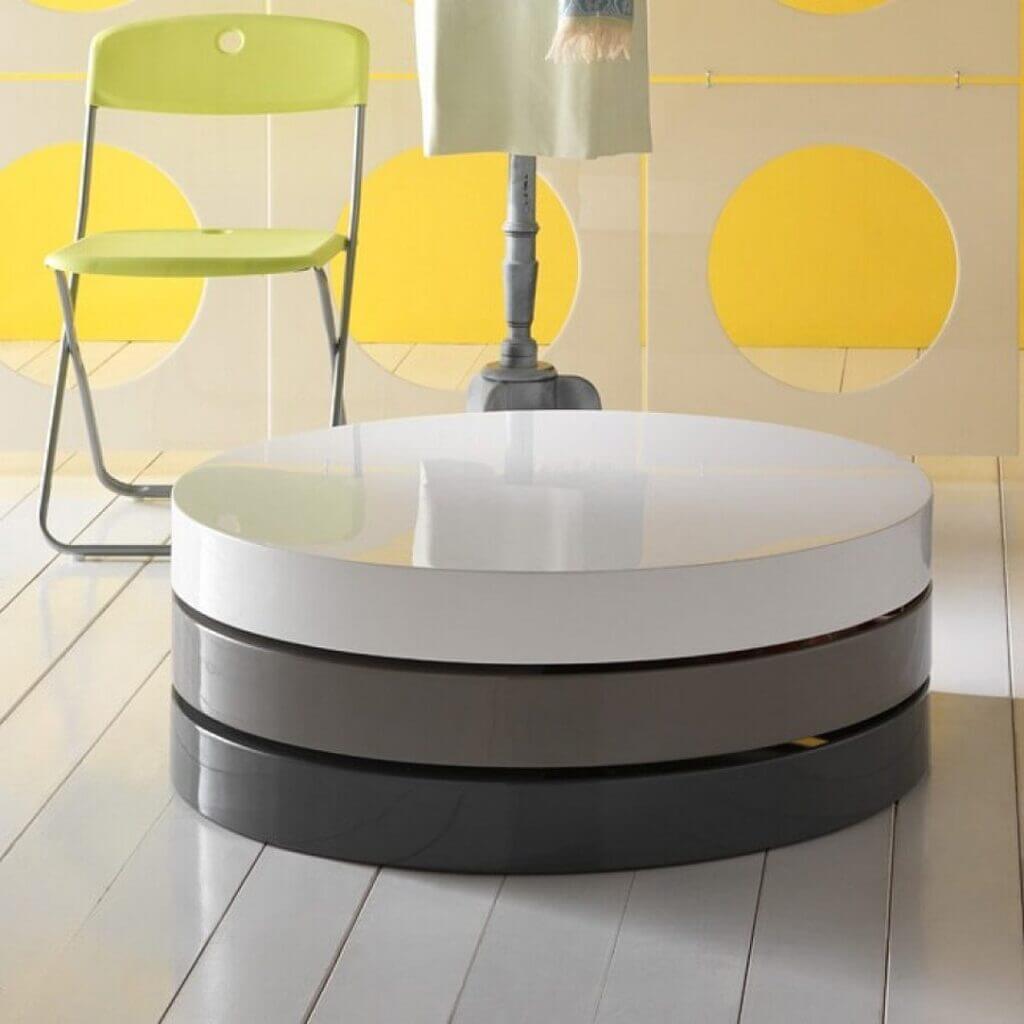 Source: trendir.com
Bring an innovative twist to the home decor with a triple-tiered coffee table design. Consider adding soft shades of ombre to the mood board and enjoy the contemporary aesthetics. 
23. The Layers of White on Large Coffee Table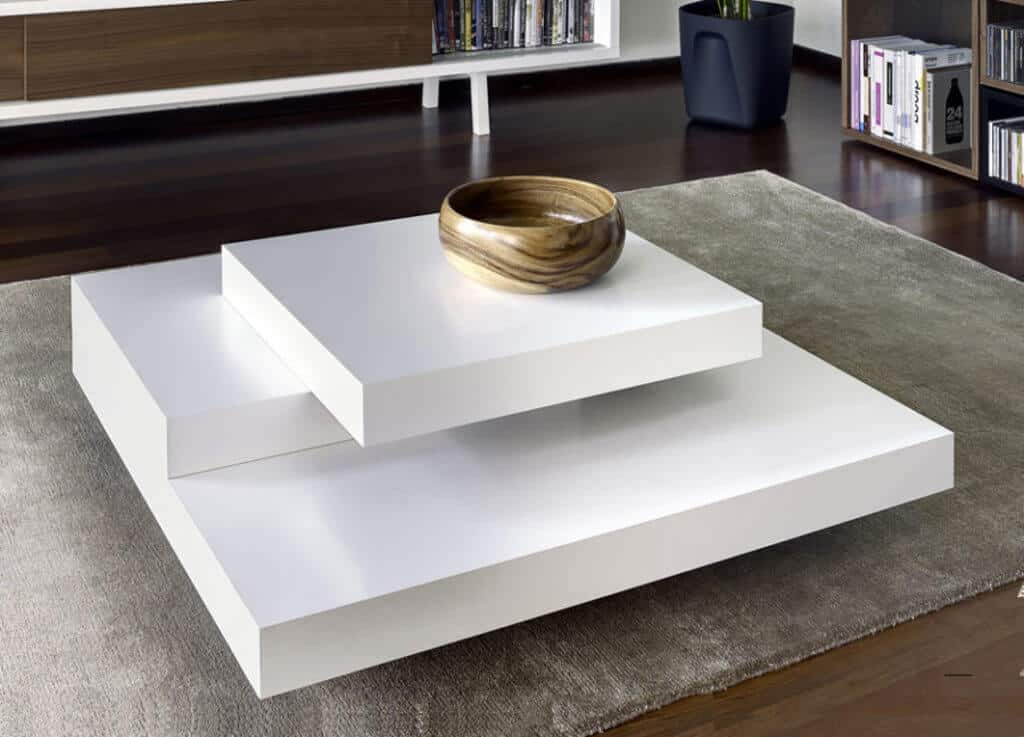 Source: trendir.com
Add an architectural touch to the home decor elements with a large coffee table design that plays with different sizes of rectangles in white staggered here and there. Each level can prove to be functional as an extra tabletop that can hold a few accessories along with the coffee cups. 
24. The Graceful Gray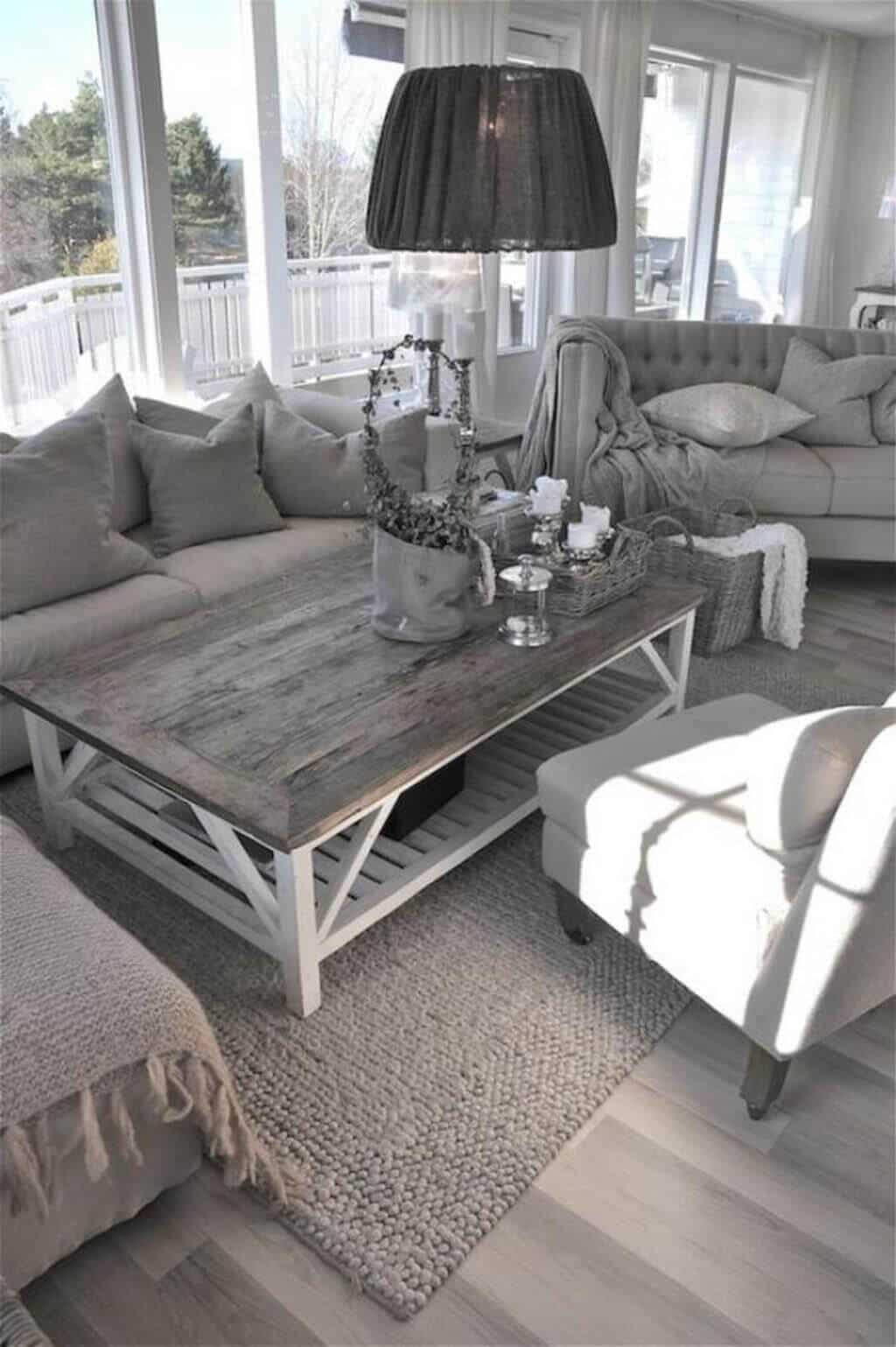 Source: elwatannews.com
Gray has been the ruling colour in home decor. Rather than playing with browns or whites, bring grey accents to the interiors that complement the decor. 
25. Soft and Round!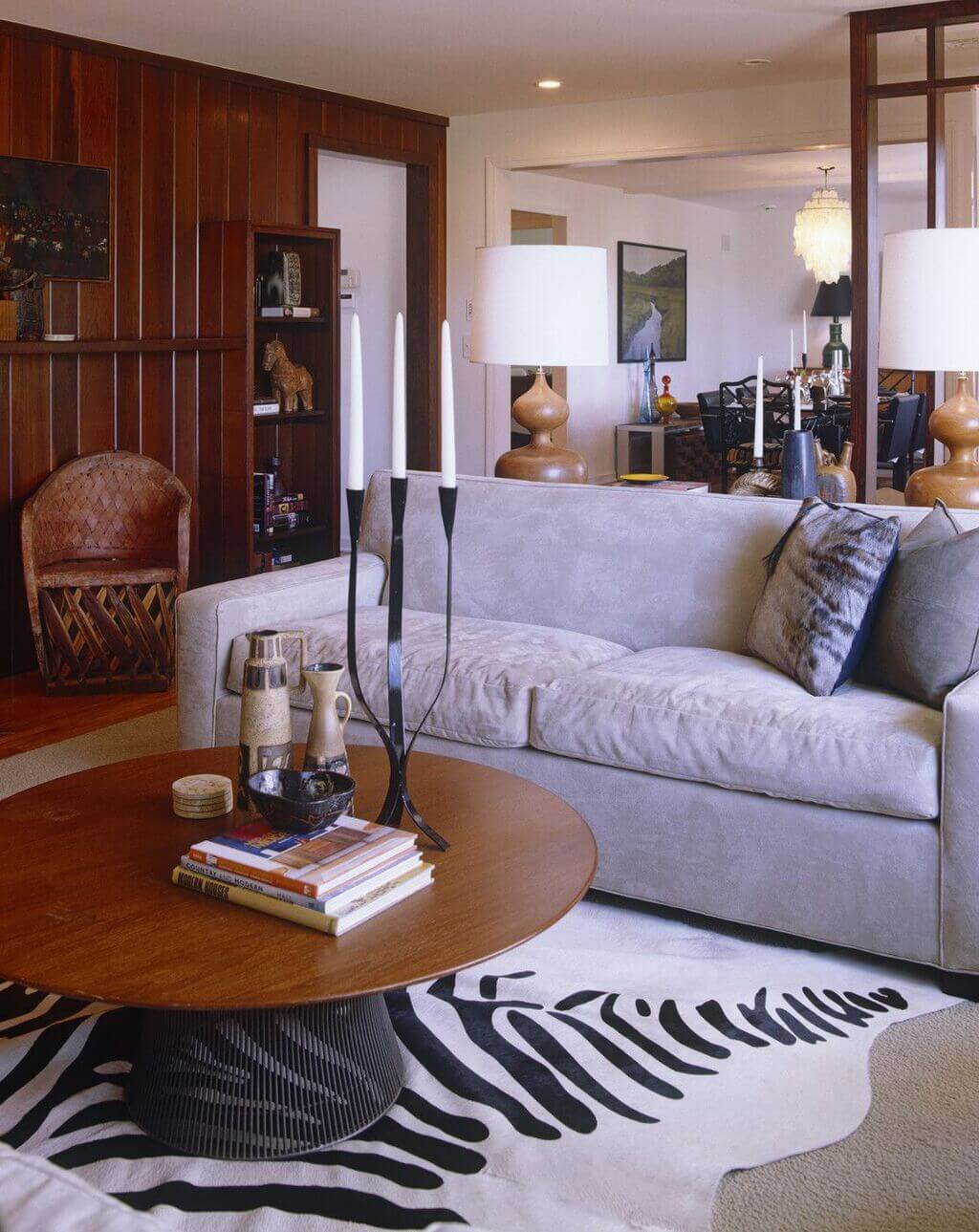 Source: pinimg.com
Ditch the solid geometry and bring a softness to your home decor with a huge coffee table in a round shape. Blend the conventional wooden top along with a metallic base to make a unique statement.
26. Large Shiny Coffee Table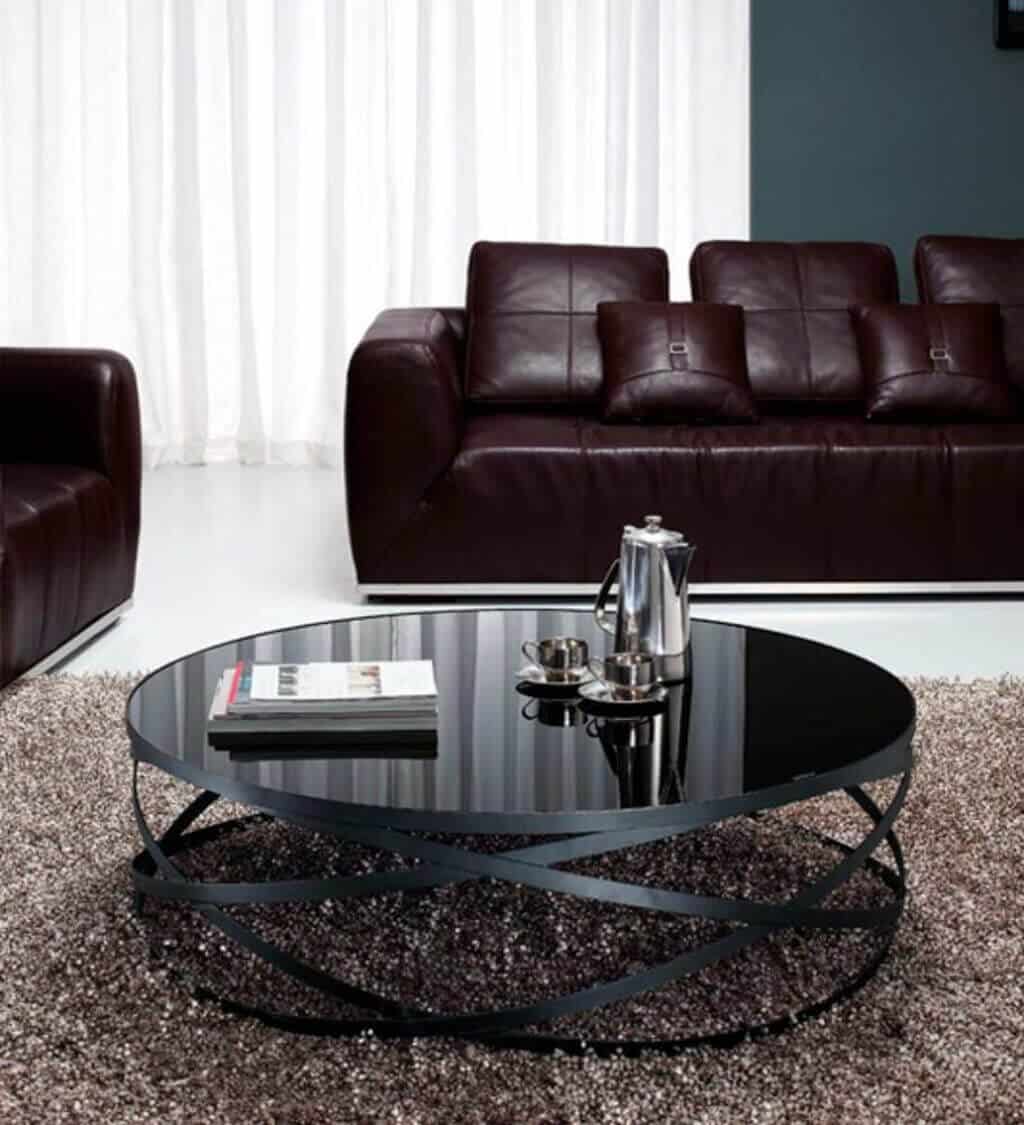 Source: trendir.com
Add a sense of mystery to your living room with a bold and black round coffee table. The shiny surface causes a reflection of light that makes the space look bright and brings vibrancy to the room.
27. Stacked and Staggered Large Coffee Table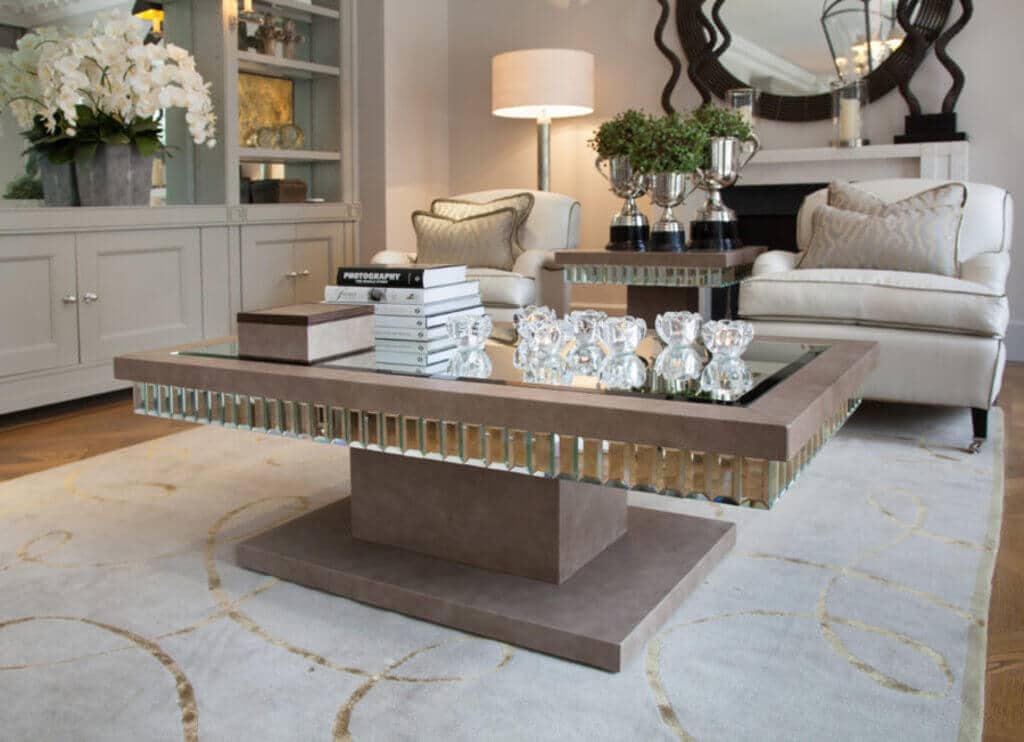 Source: trendir.com
Go for a large coffee table design that's unusual in shape with staggered cubes. The layers of large and small geometries add elegance to the interiors. Adorn the edges with mirrors and witness how a simple addition can activate the entire room.
28. The Set of Two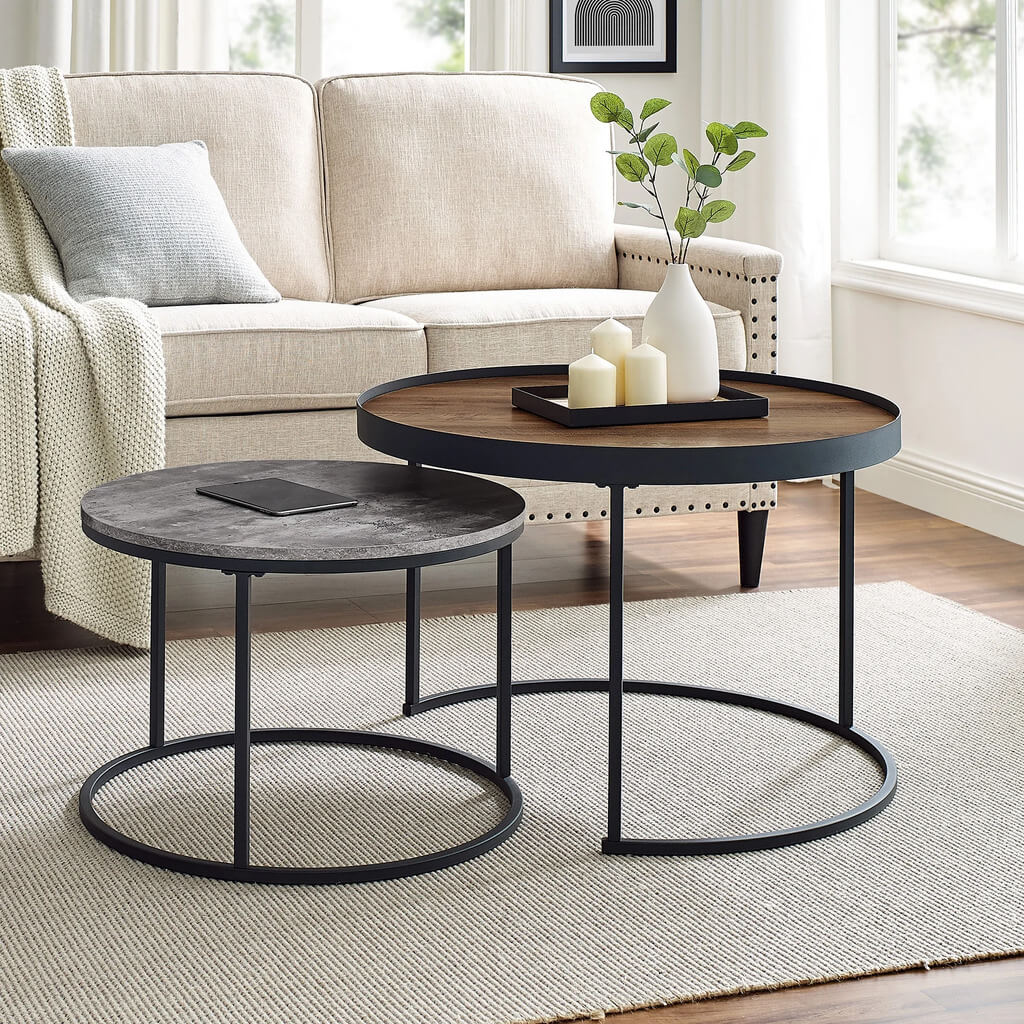 Source: ostkcdn.com
Why go for one when you can have a set of two coffee tables? Add a unique diamond-shaped design to the living room with its geometric legs that make it look light-weighted and decorate the entire room with their stunningness. 
29. The Spiral Glass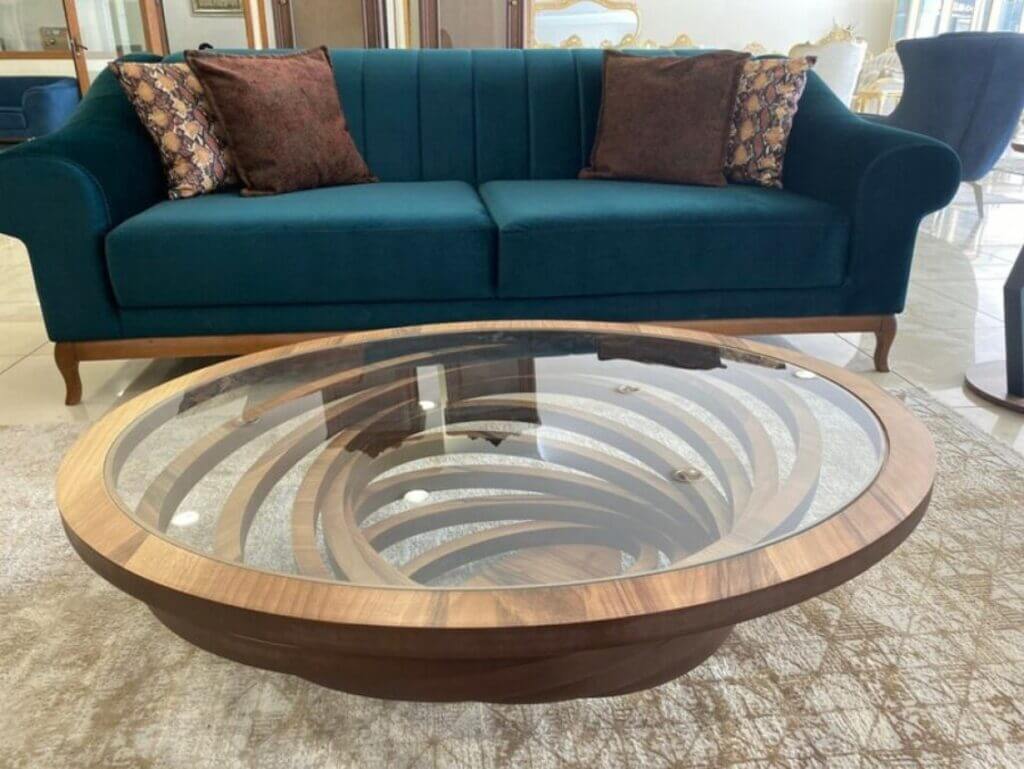 Source: trendir.com
Why keep the decor simple when you can go a bit overboard to exude style? Consider adding a round coffee table with a spiral base. The layers of oval add depth and impart the furniture its stunning appeal. 
30. Large Coffee Table Cart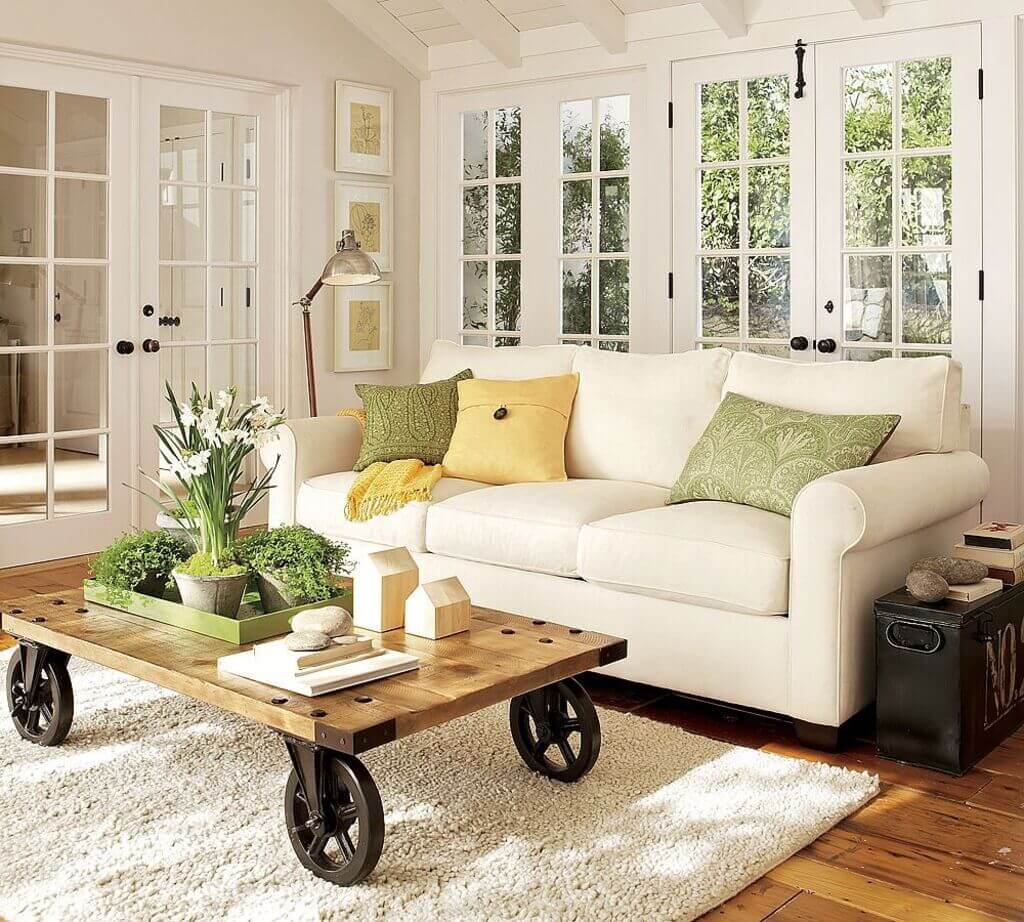 Source: pinimg.com
Rather than a simple large coffee table, why not opt for something stylish and offer coffee on wheels? Add a cart design to make it flexible and take your coffee along with you to your favourite spot in the room. 
31. The Comfy Coffee Seat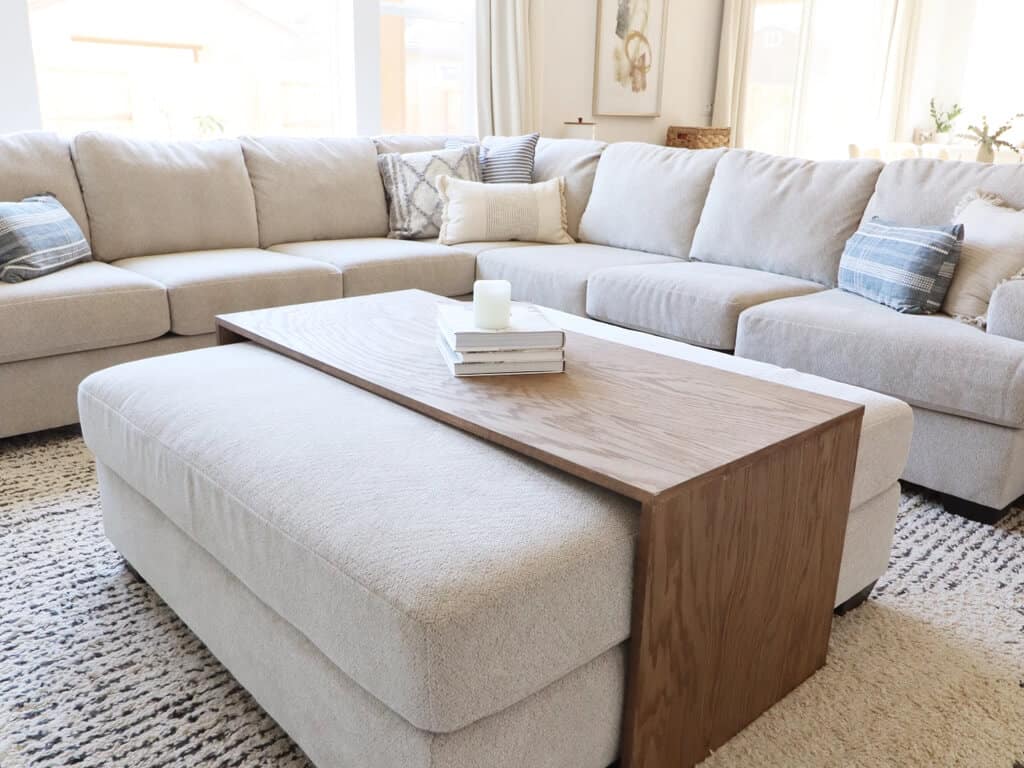 Source: wordpress.com
Who doesn't enjoy a hot cup of coffee on a plush seat? There's nothing better than a large coffee table that comes along with a seater. This unique furniture piece can be the center of attraction in the entire room.
32. Large Wooden Coffee Tables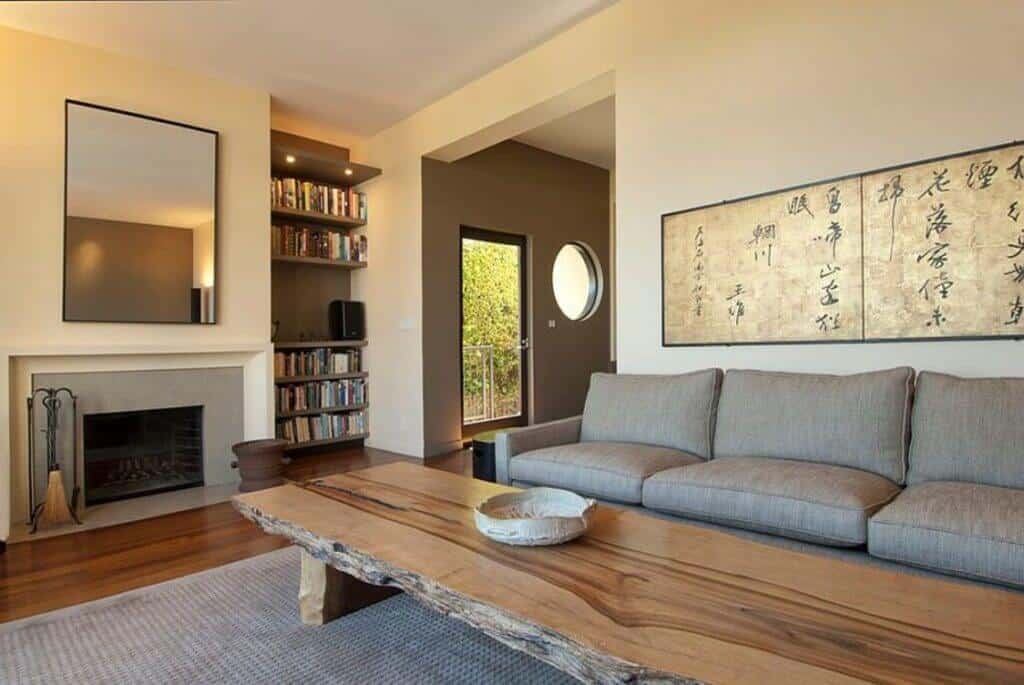 Source: trendir.com
For a rustic decor, consider adding a wooden slab resonating with the natural appeal of the tree trunk as your table slab. Enjoy your coffee while being surrounded by natural and soothing elements. 
33. The Angled Mirrors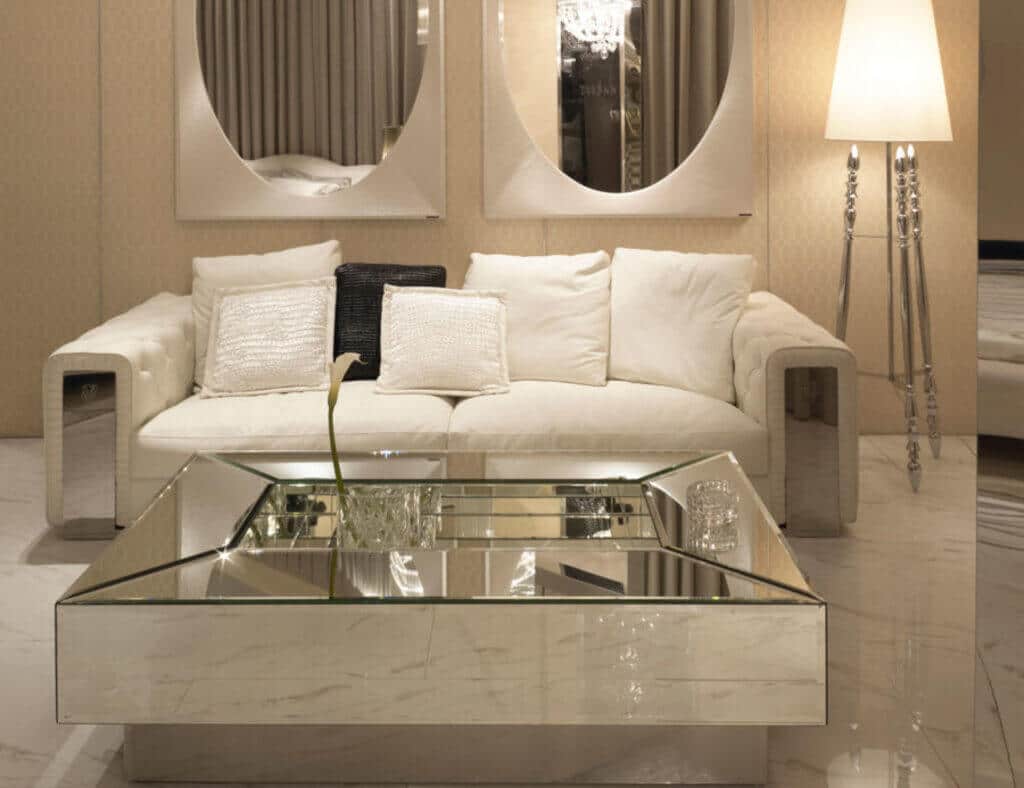 Source: trendir.com
Make a loud statement with a mirrored coffee table. Opt for an eccentric design that plays with lines and angles and adds to the glam factor in the space. Sip your coffee while peeking at yourself in this mirror top. 
34. Large and Slender Coffee Table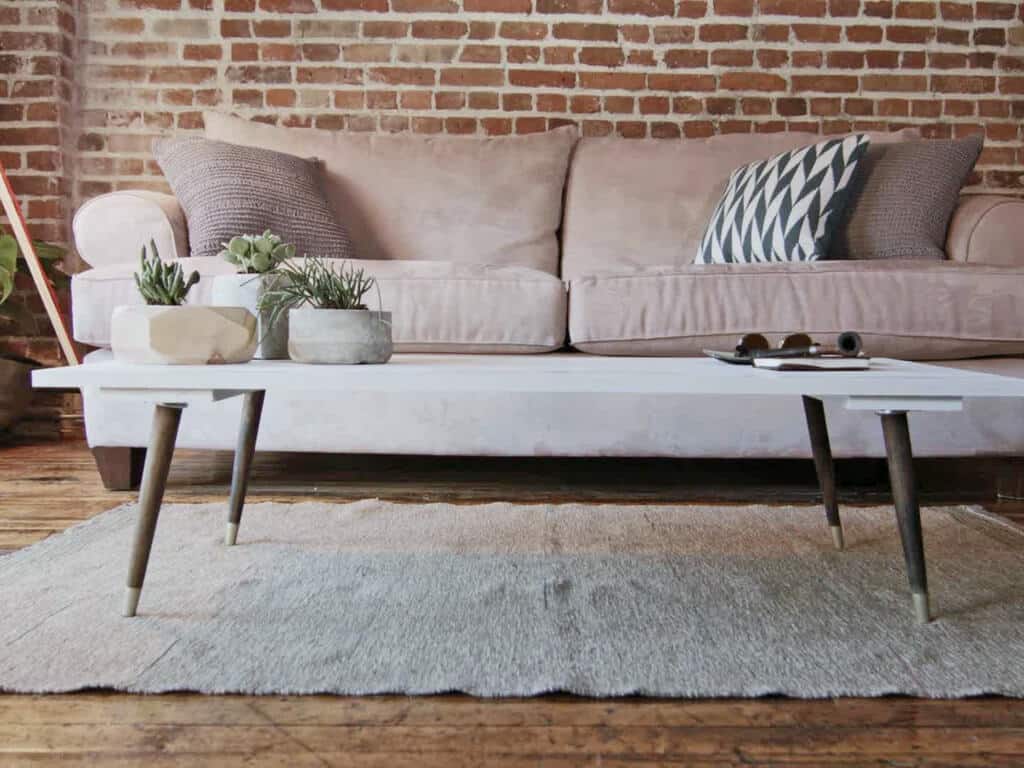 Source: sndimg.com
Add a crisp white table to your living room with slender legs. This will offer a feminine look to the space and the versatile tabletop can also be used to ornament the space with tiny green plants.
35. Traditionally Oversized Coffee Table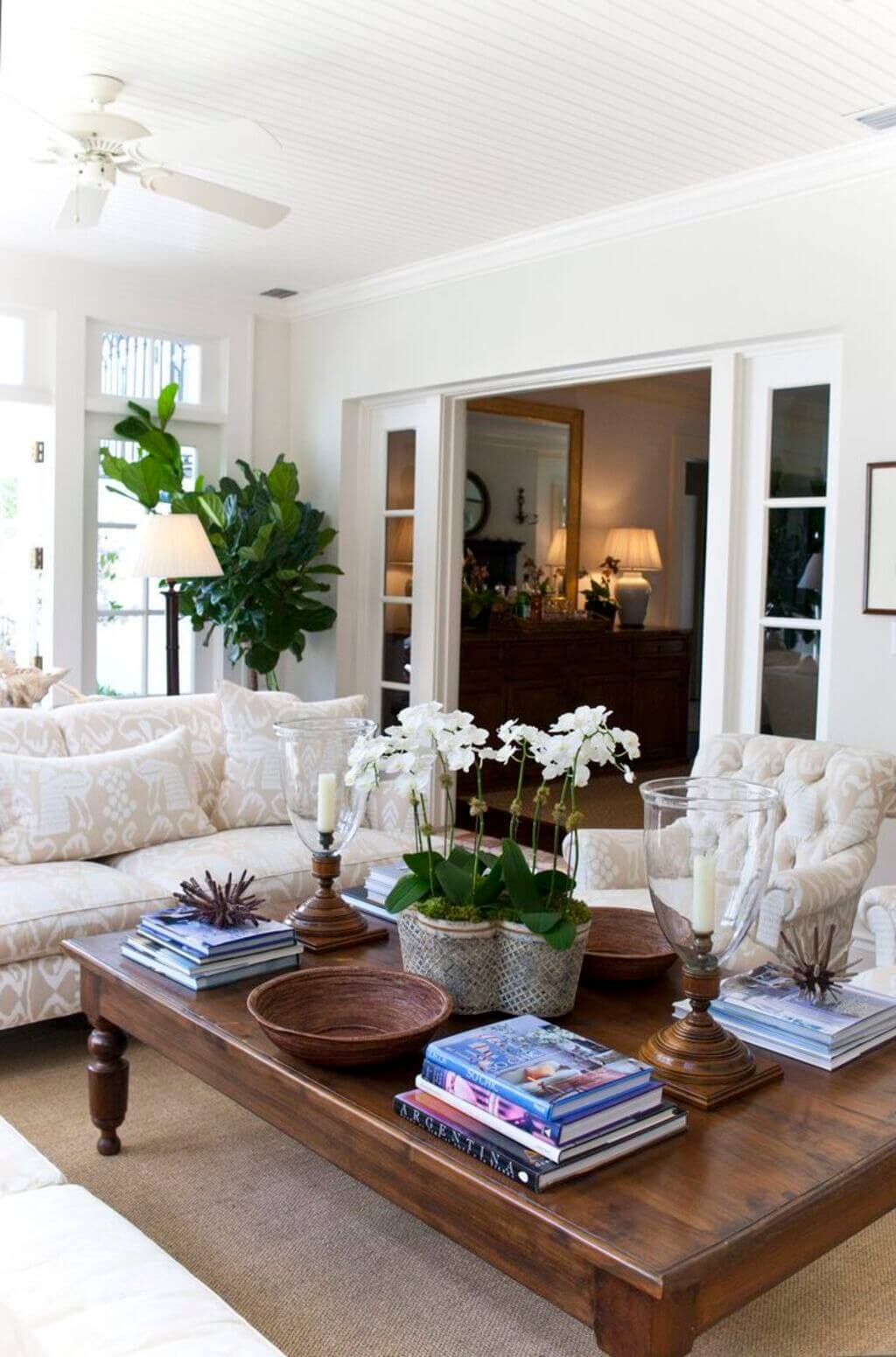 Source: pinimg.com
Are you more inclined towards vintage decor? Opt for a large coffee table composed entirely of wood and adorn it with a few classic decor items like flower vases, books, lamps, etc. 
36. Display, Store, and Coffee!
Source: wallsdesk.com
Go for a versatile design that will offer a surface for your coffee, serve as a design element in the room, and give you space to display your favorite decor items. 
37. The Big Square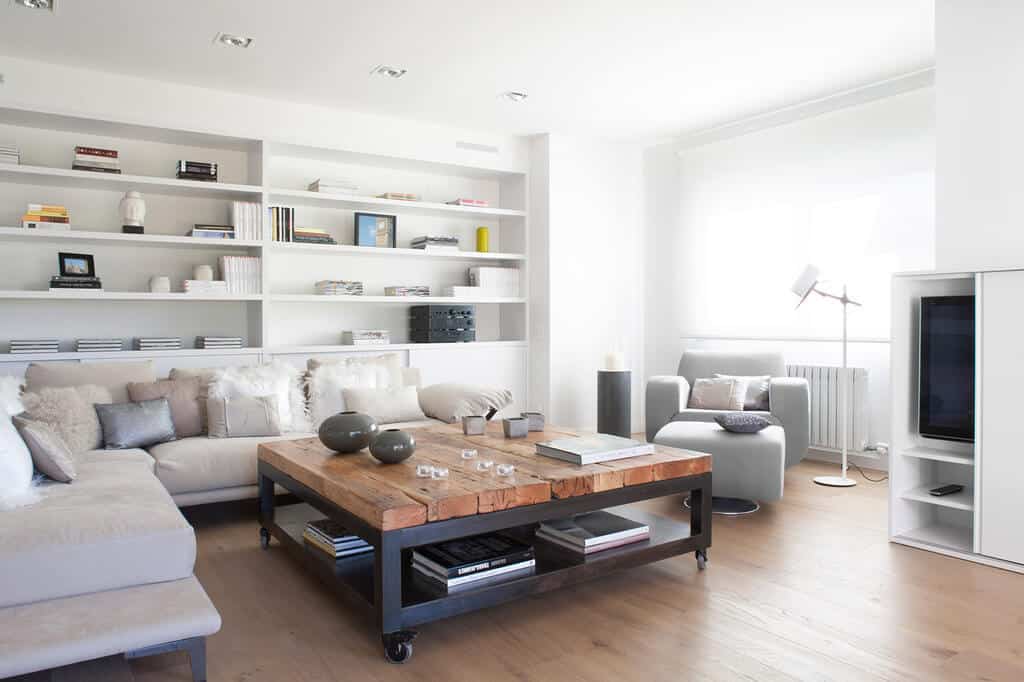 Source: susannacots.com
Go modern with a large coffee table with a metallic base and wooden top. The planks composing the table top offer a sturdy look to the design and keep the palette aligned towards natural vibes.
38. Oval and Large Coffee Table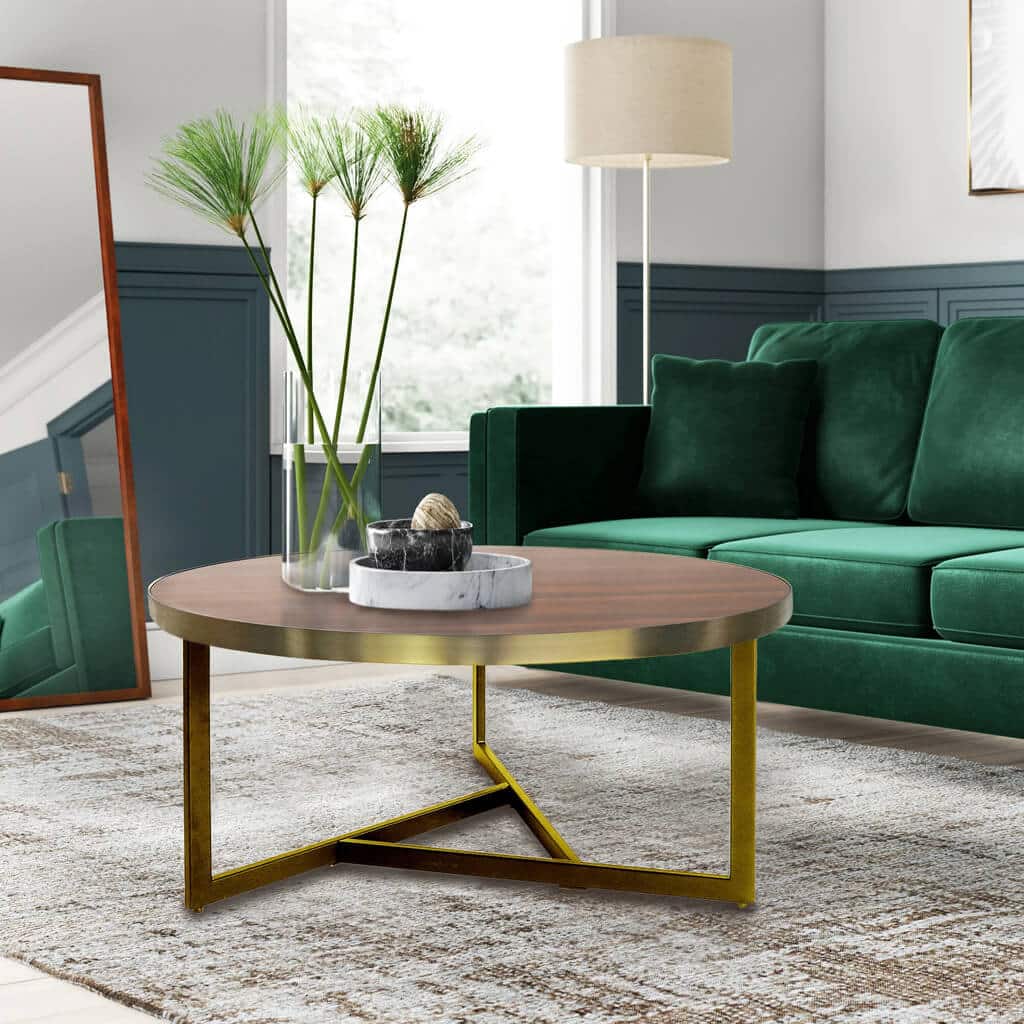 Source: wfcdn.com
Adorn your modern design with a large oval coffee table speaking the language of minimalism. Keep the frame in grainy brown wood and the tabletop in crisply, clean white. 
39. The Marble Appeal
Source: wfcdn.com
Opt for solid wood with the charm of a marble table. The sleek gold legs on the edges complement the black and white surface along with running veins on the surface.
40. A Tone or Two!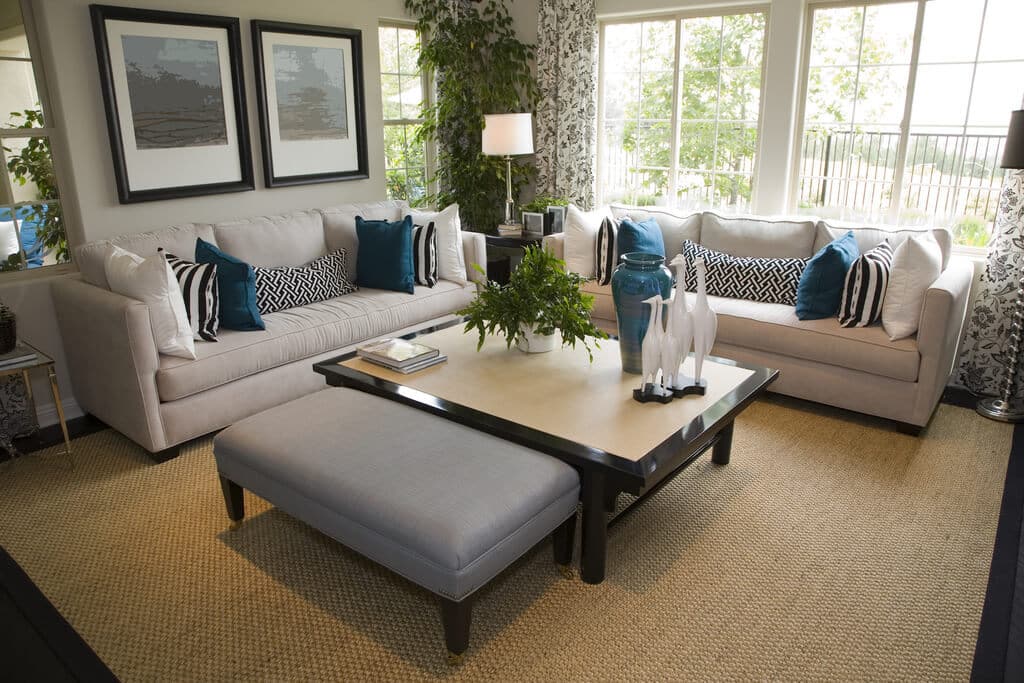 Source: zdassets.com
While you're considering an oversized coffee table, why not play around with the tones? Bring in a dual-toned beauty to your home that's big enough to accommodate a few decor items as well. 
41. Large Coffee Table with Drawers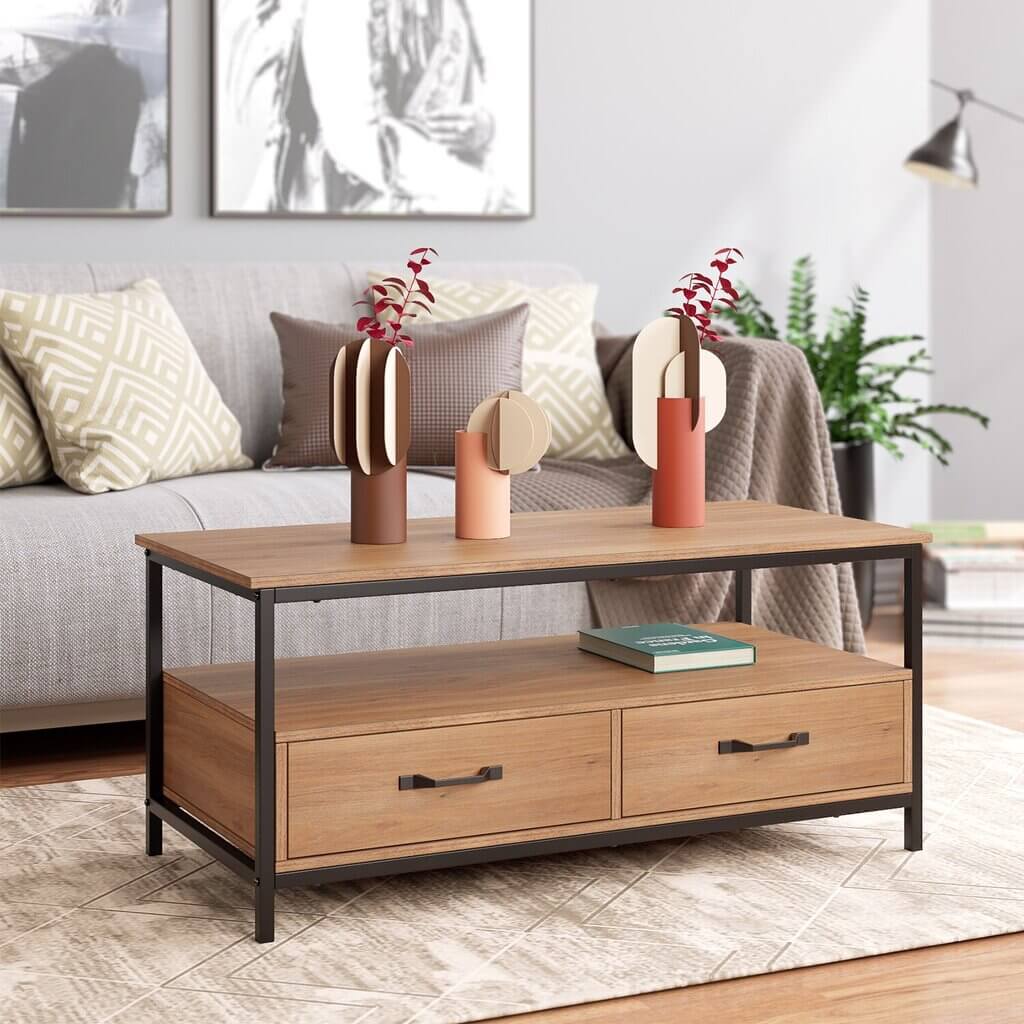 Source: walmartimages.com
Are you up for a little texture, tone, and extra storage in your living room? Opt for this large coffee table that also provides you with the advantage of extra storage with drawers incorporated in its sleek profile. 
42. Sip and Store: Big Coffee Table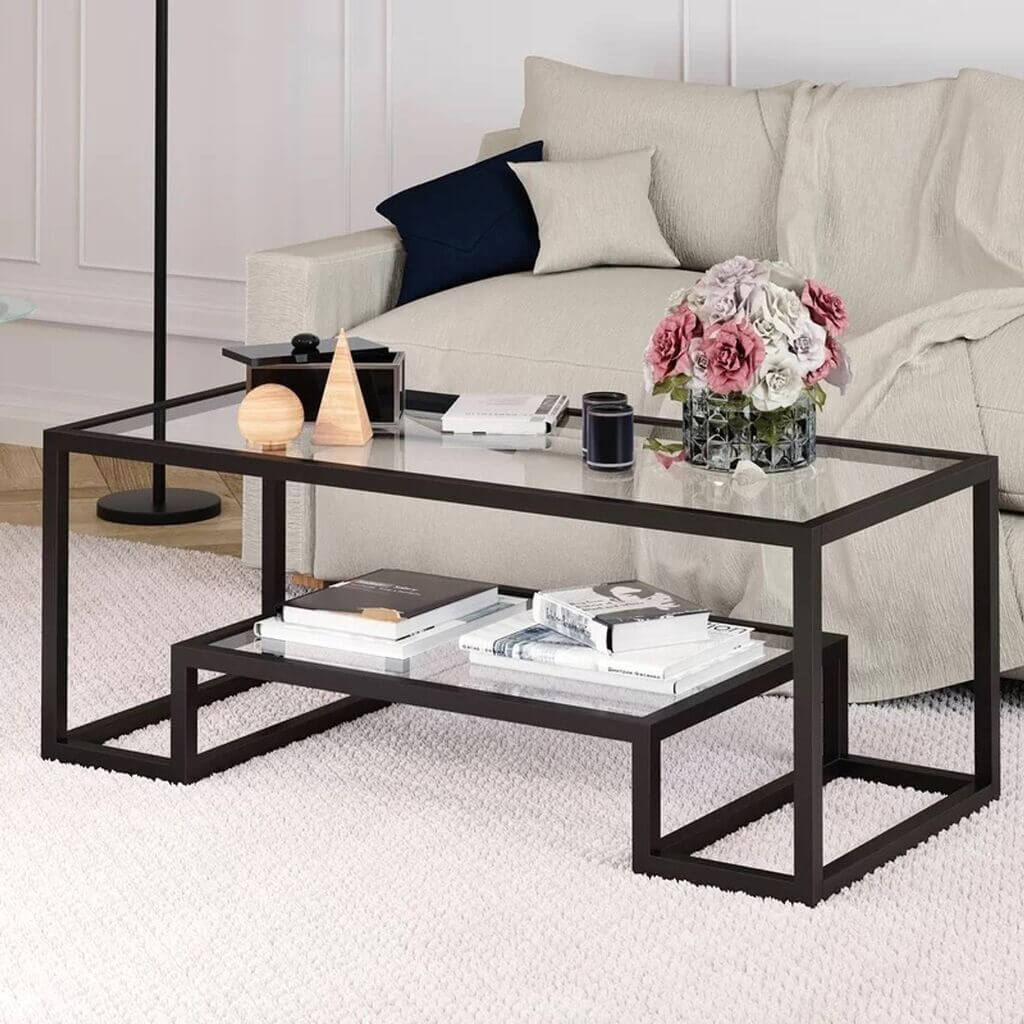 Source: buyma.com
Pick a large coffee table with a metallic frame and seamless glass. The outlined metal offers a bold look while the glass balances out to keep the appeal subtle. The table follows Hollywood Regency design language if opted in a shiny finish. A shelf from the lower level raises to provide extra storage underneath the main tabletop.
Also Read: 40 Charismatic And Budget-Friendly Modern Center Table Design For Every House!!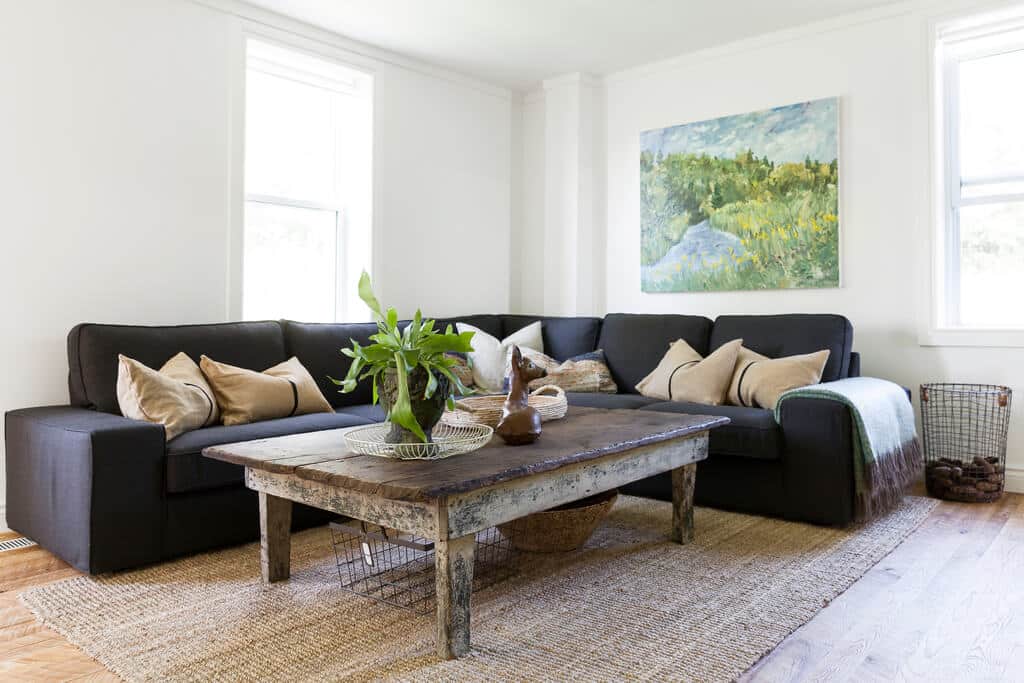 Source: apartmenttherapy.info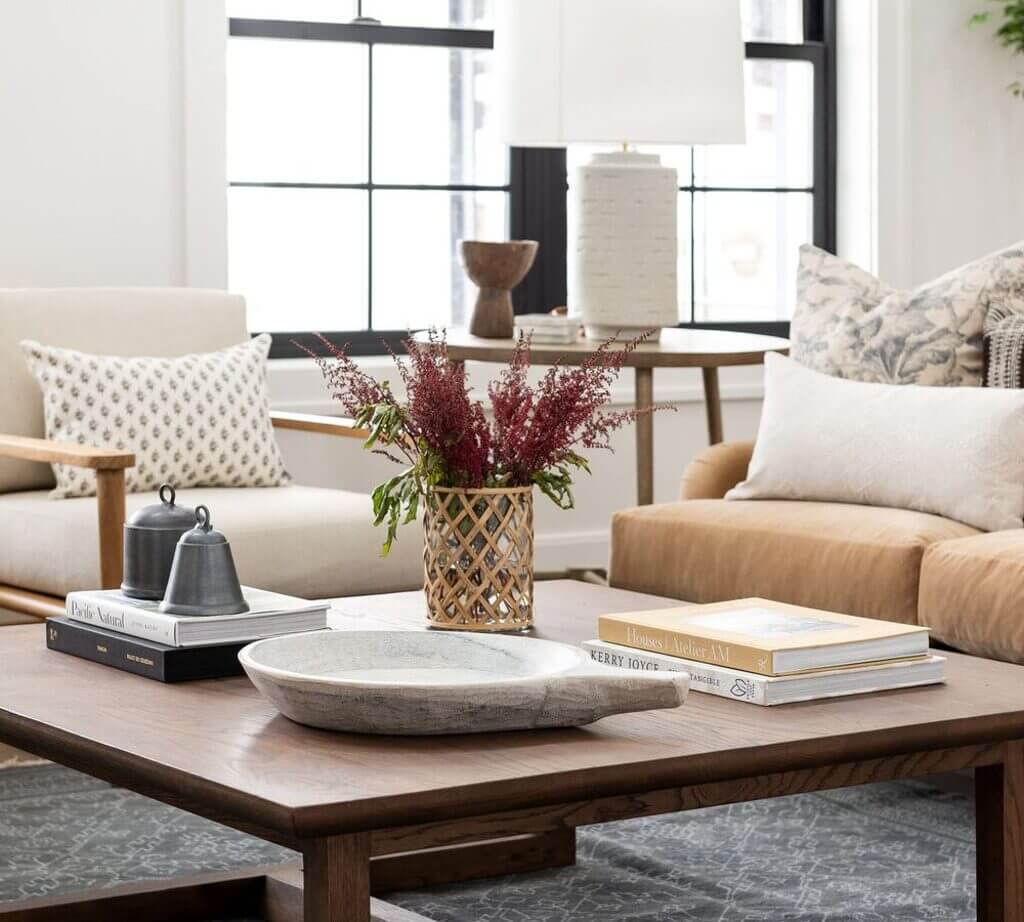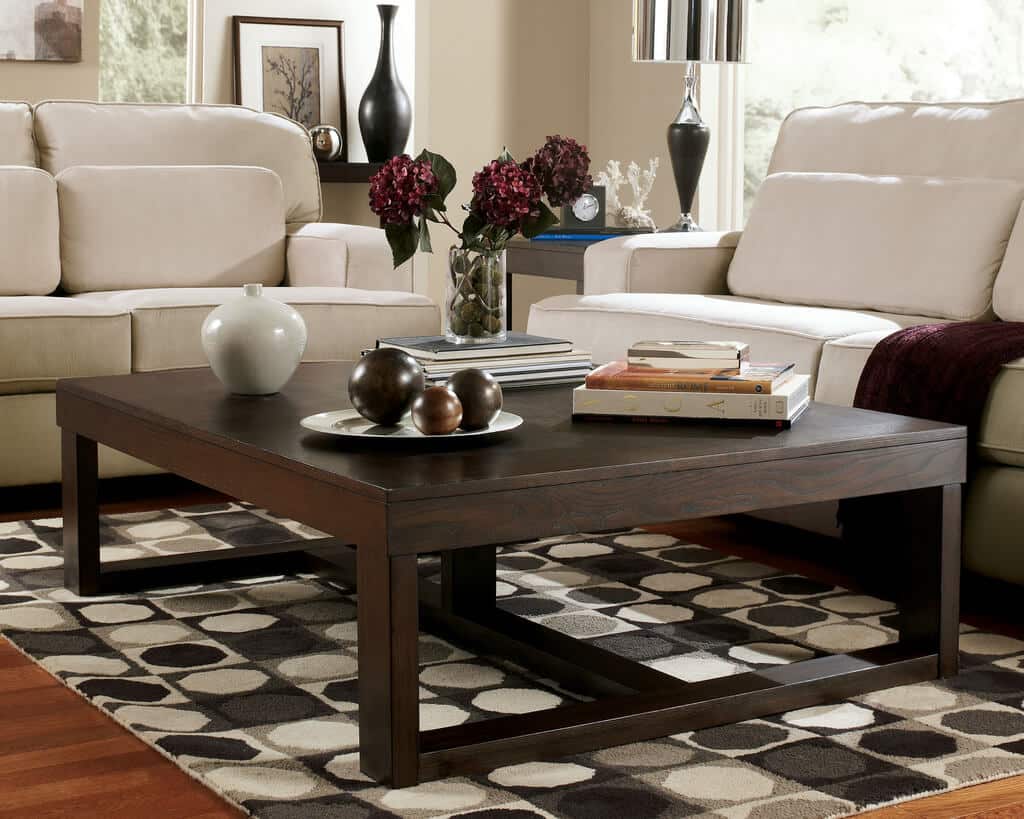 Source: foter.com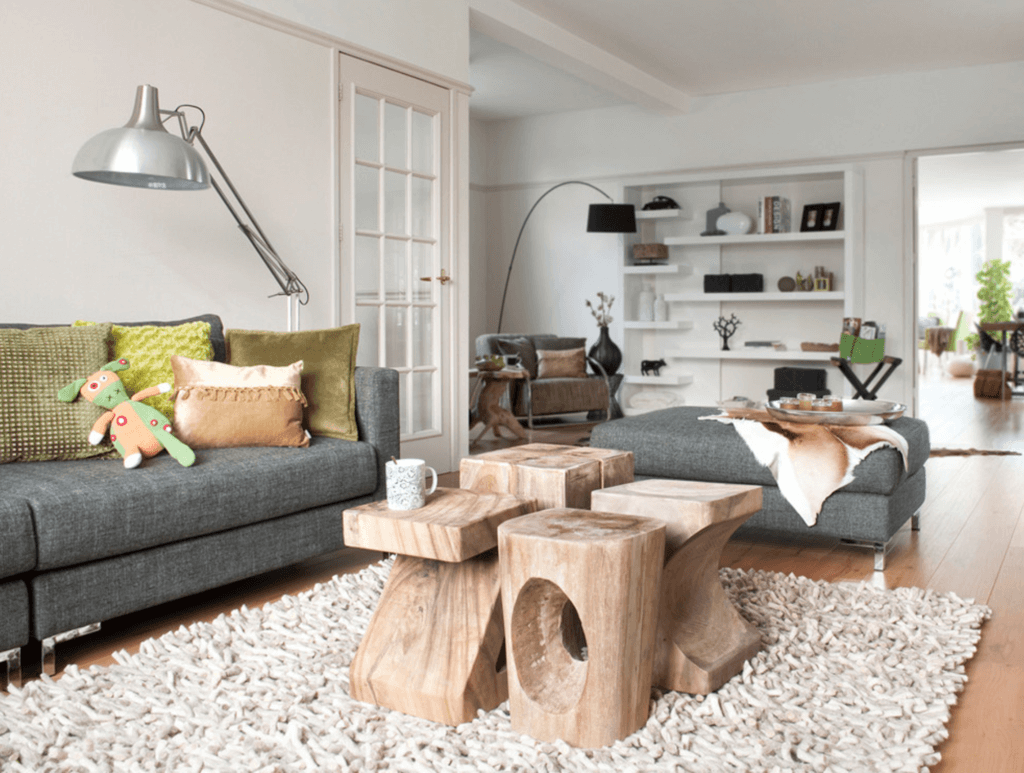 Source: bigfoto.name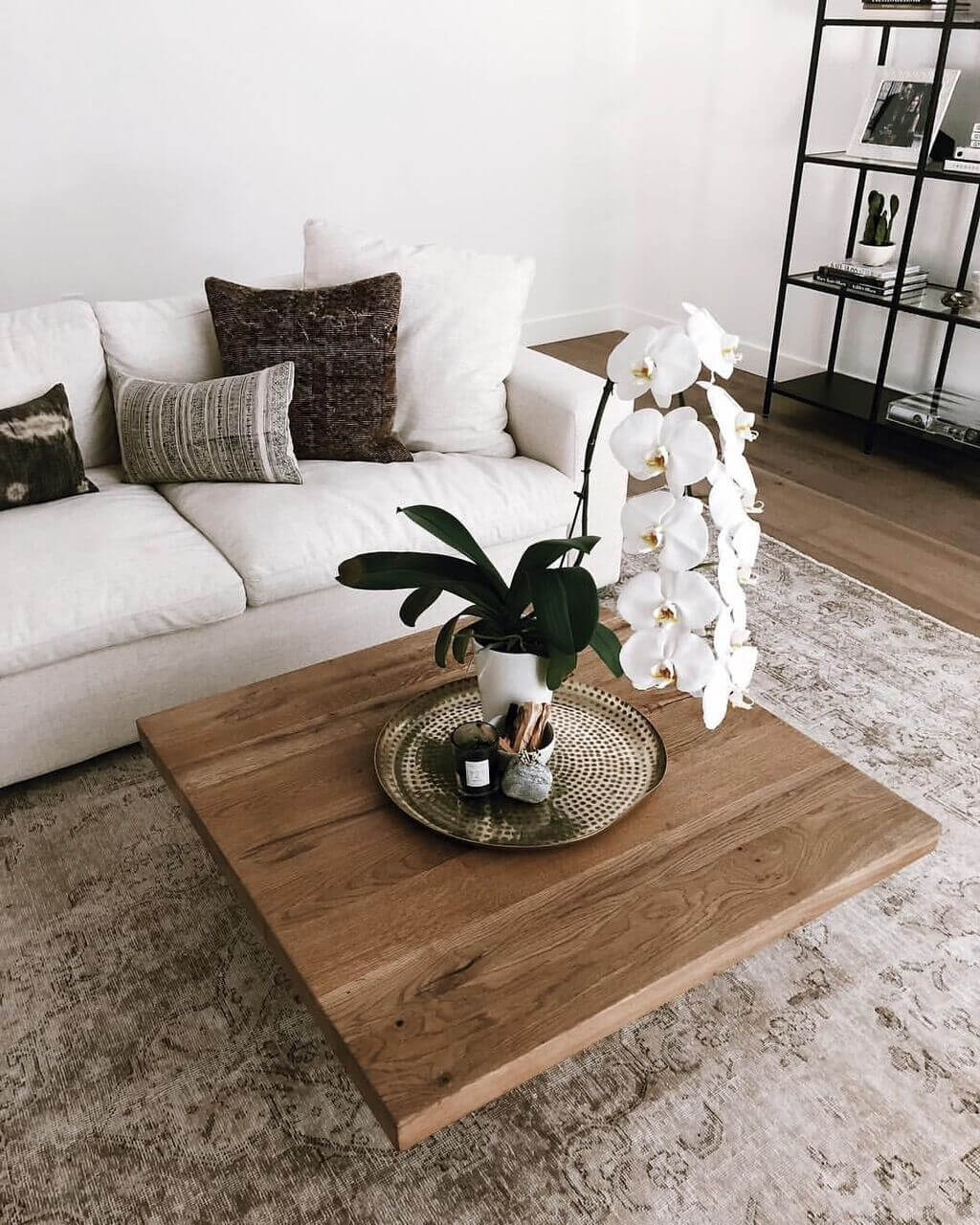 Source: pinimg.com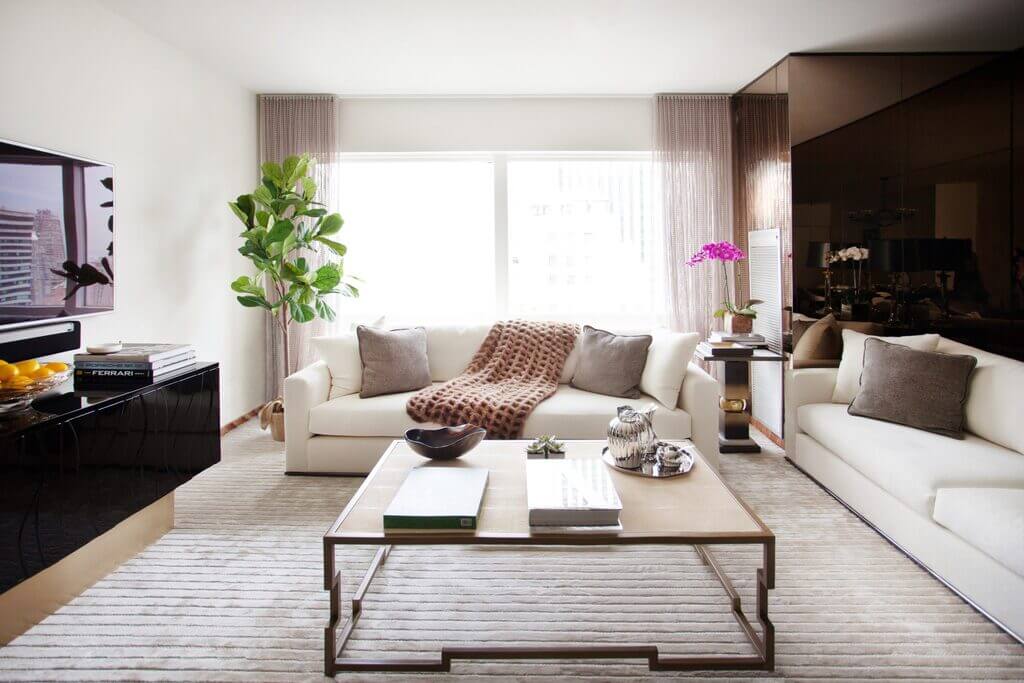 Source: cloudfront.net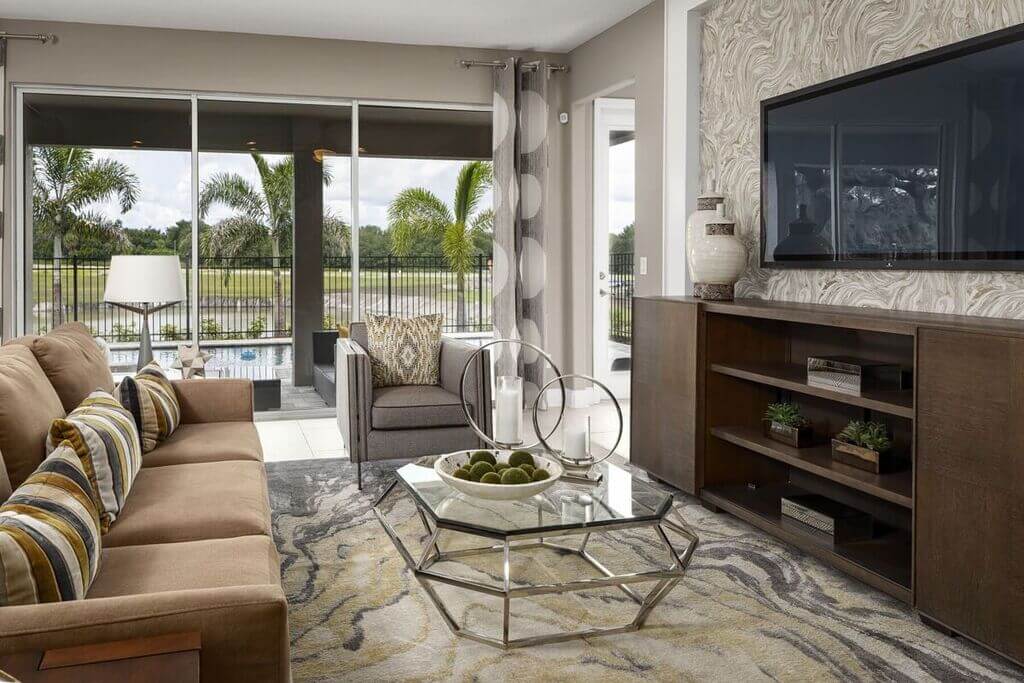 Source: mihomes.com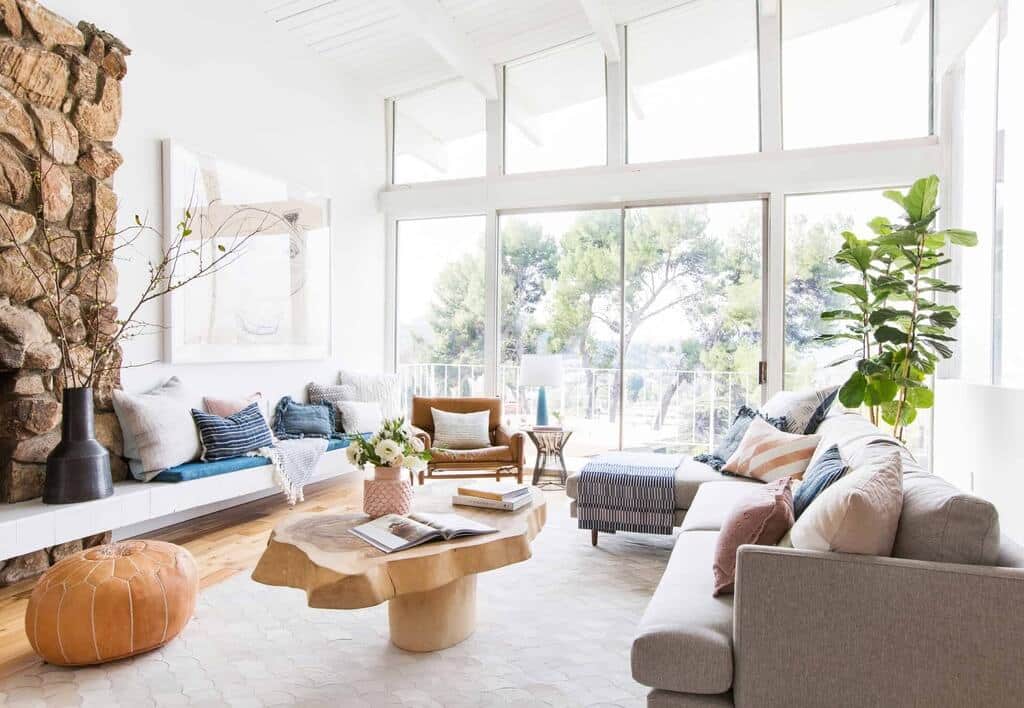 Source: stylebyemilyhenderson.com
Source: cloudinary.com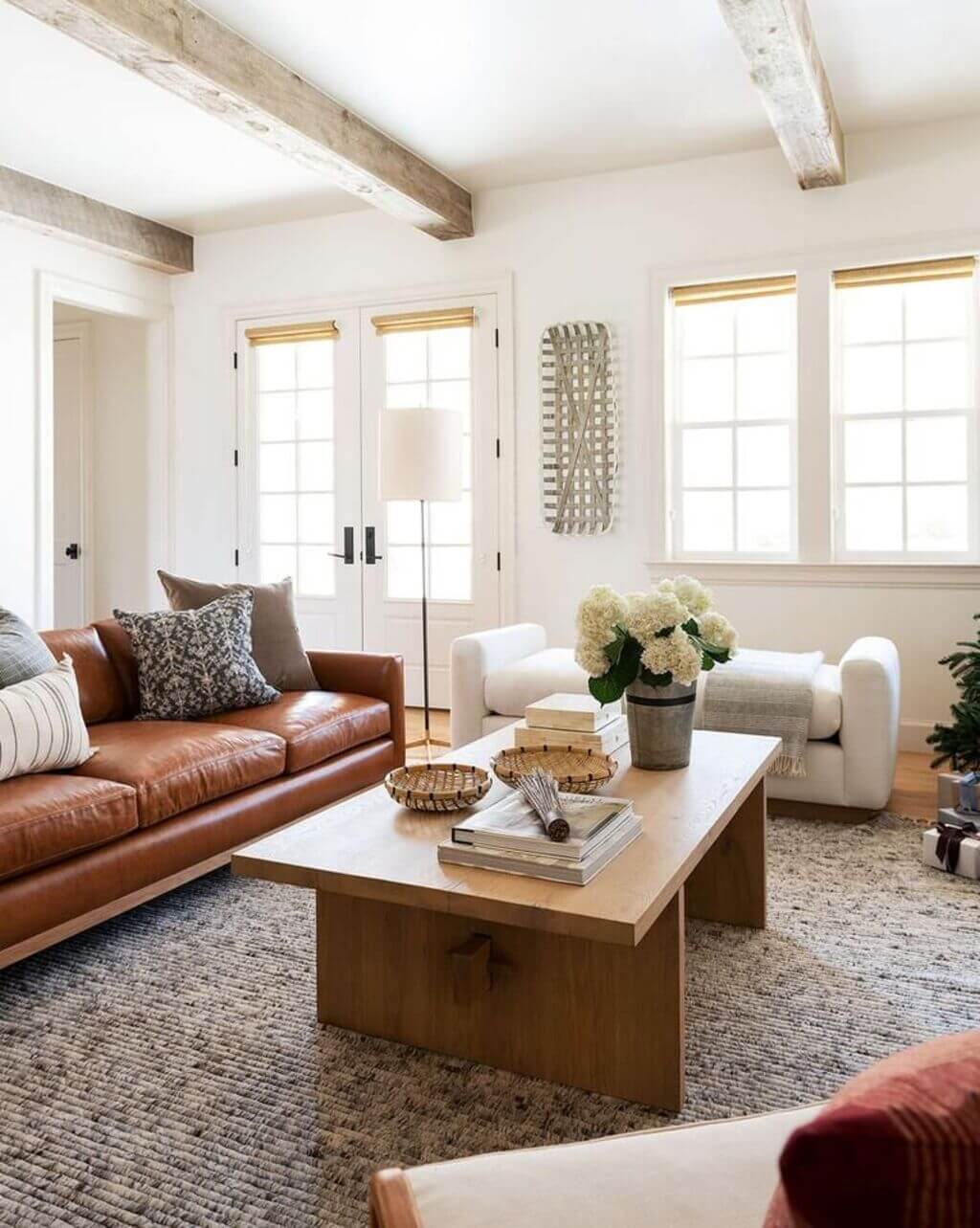 Source: pinimg.com
An Aesthetic Edge to Your Home
A large coffee table is a perfect addition to your decor based on the language you're trying to maintain. Vintage or contemporary, sleek or bold, pick the best match that suits your needs and aids in offering unparalleled charm to your home.
To know more about Home improvement ideas, Cleaning and decoration tips visit ArchitecturesIdeas.
For daily updates, follow us on our Instagram page @architectures_idea.