Marble Coffee Tables: Latest Designs, Styling Guide & Caring Tips
Even after decorating your living room, are you feeling something is missing? We can tell what your living space is lacking, and it is Marble Coffee Table! Many people don't pay attention to coffee tables, but they're an important part of the room. They can immediately elevate any room design and style aesthetics.  
Gone were the days, where we only used wood and glass tables. Nowadays, marble is the new trend, and probably you have already seen marble tables in every other house. Marbles tables come in various shapes and sizes, such as edgy square marble coffee tables, space-saving nesting tables, and sleek glass tables. 
You will find numerous styles and designs of marble coffee tables that are available in the market. Even you can customize it according to the space and interiors of your home. 
Now you might be thinking, why only marble? What is so special about marble tables? Actually, there is not one, but many reasons why people are crazy about marble. From kitchen countertops to dining tables, marble is a pretty common material to see in houses.            
Benefits of Buying a Marble Top Coffee Table
Here are some advantages of having a solid marble coffee table in your home:
The marble is a quite strong material, and its surface is also scratch-resistant. 

According to your style, you can select the base material such as pinewood or wrought iron legs. 

You can mix and match various materials and create a unique combination for your coffee table.

The marble surface is very easy to maintain and clean.

White marble top coffee table will instantly make any dark room brighter and lighter. 

Another great thing about marble is that it can easily blend with any other material, style, or design.

From traditional design to ultra-modern style, marble can be molded in any shape or style. 

If you ever decide to sell your marble coffee table, you'll surely get a really good price for it because marble is long-lasting. Hence its surface will still be shiny after many years of use.  
Today in this blog, we've made a list of the best marble coffee tables in 2022. We have included a wide range of designs and styles, including genuine marble tables, antique marble top coffee tables, and budget-friendly faux marble tables. So are you ready to add an effortlessly chic-looking coffee table to your decor? 
11+ Stunning & Best Marble Coffee Table Ideas
Marble is a timeless beauty, and it has been used for many centuries in one form or other. From royalty to normal American homes, marble can be seen in every time period. It provides luxury, elegance, class, and of course, timelessness. So, here are the thirteen latest marble table designs for you: 
1. Box Frame Marble Coffee Table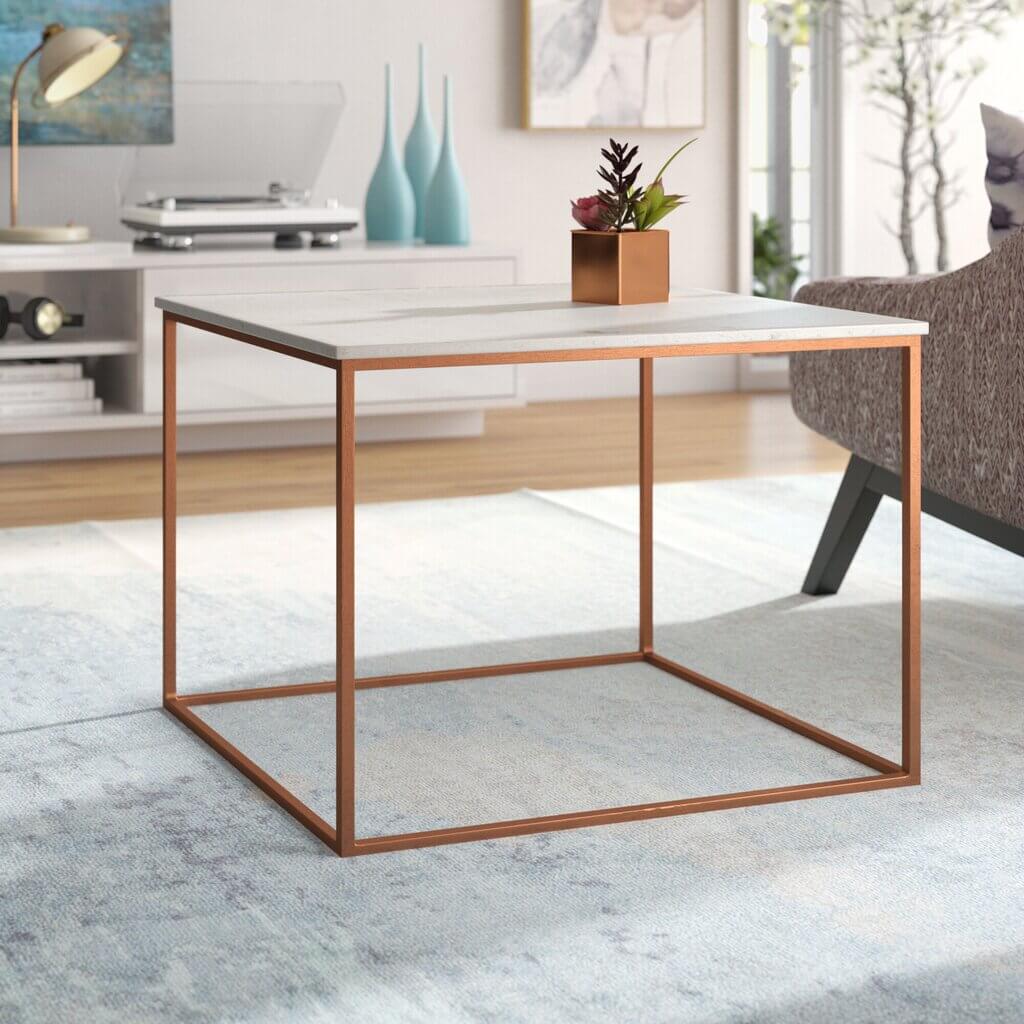 Source: wfcdn.com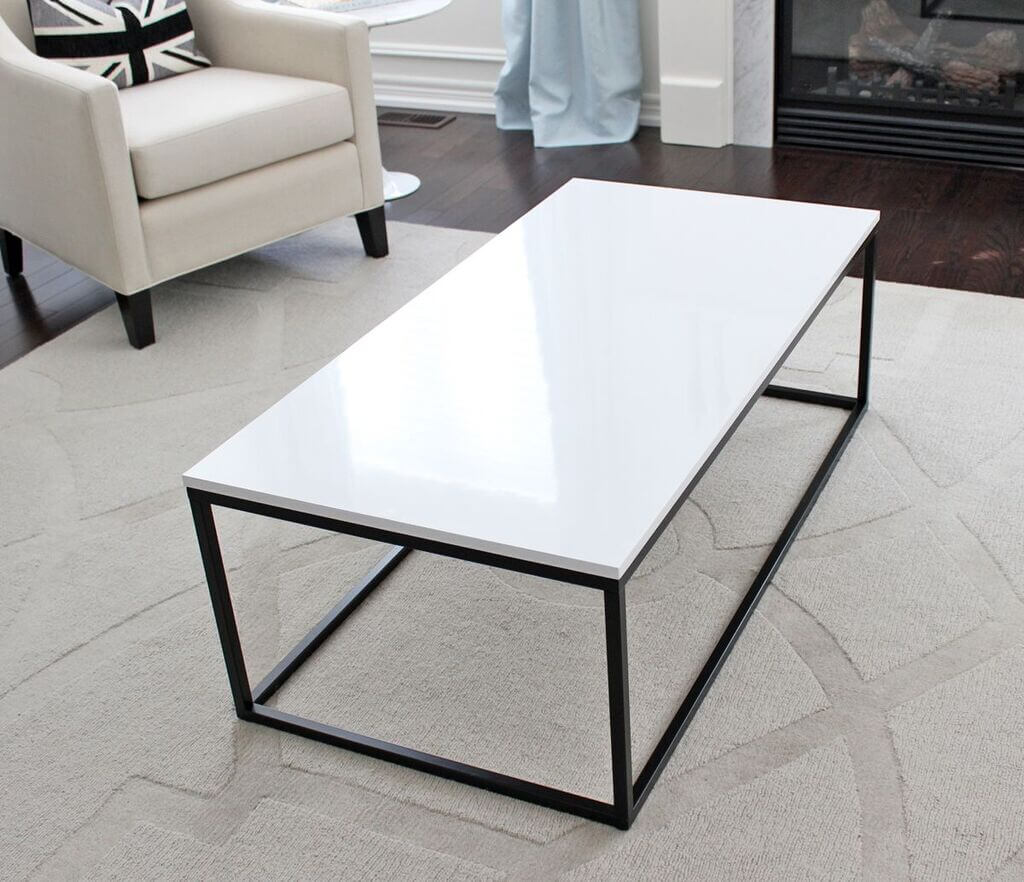 Source: pinimg.com
Add a glam factor to your boring living space with this table. This is a box frame marble and metal coffee table. Clean-lined iron tubing in a copper finish and a white marble top are perfect for creating both an edgy and elegant look. 
2. Sculptural Wood And Marble Coffee Table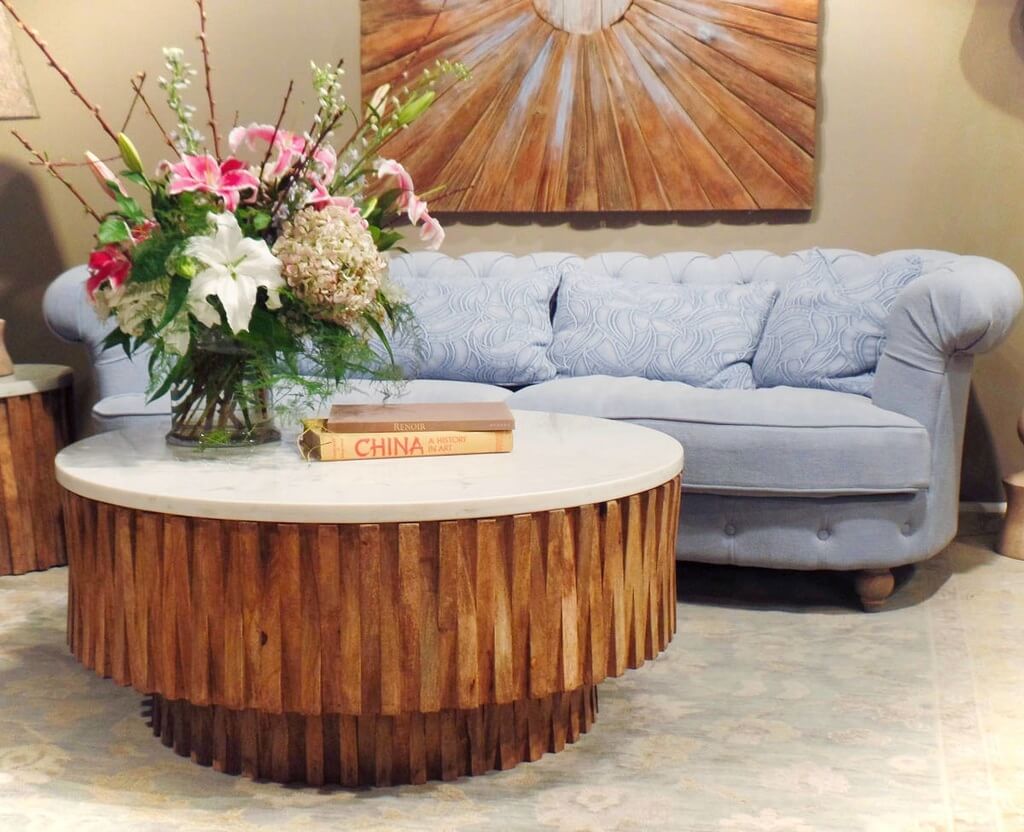 Source: homeinfo.hu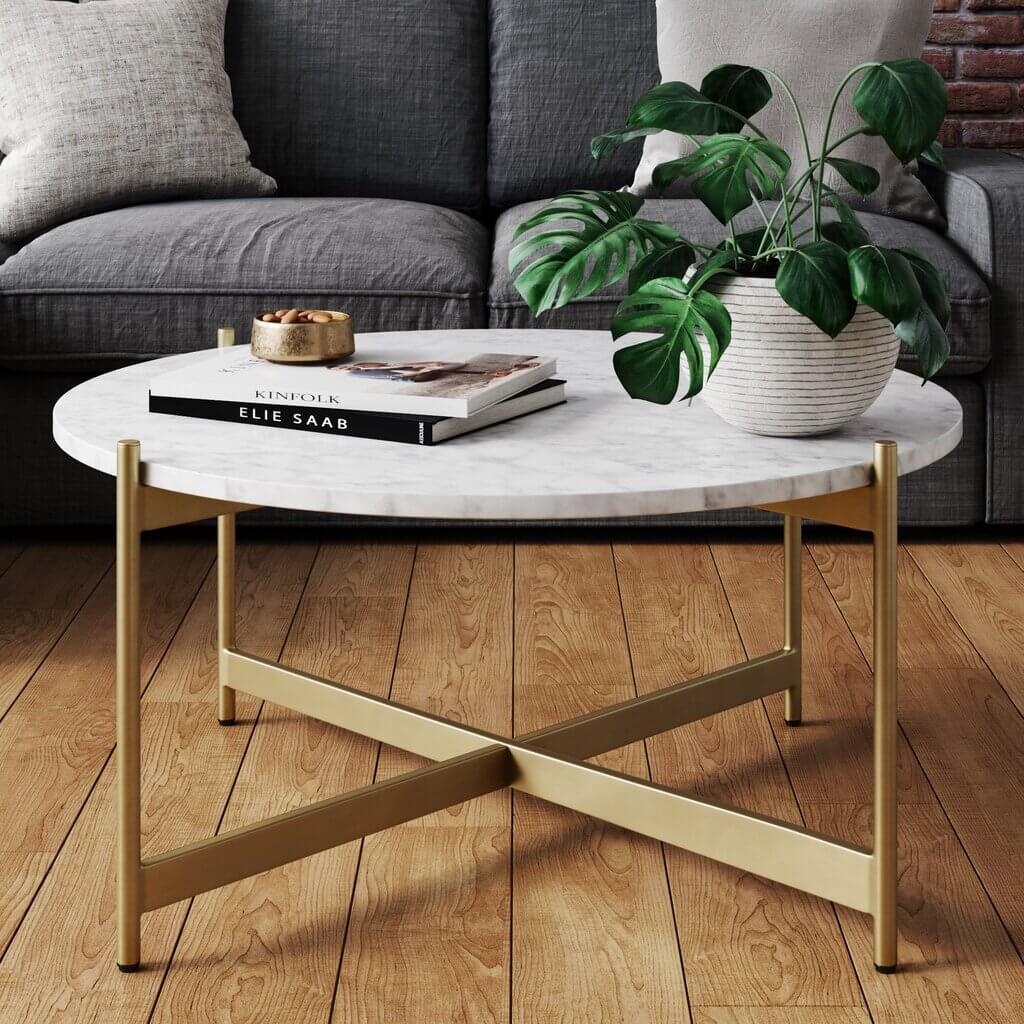 Source: wp.com
Yes, you can buy tables that have a combination of marble and other materials. Look at this one, this marble and wood coffee table. It has a unique sculptural design in the wood bottom part and a clean, simple white marble top. The rich texture, clean lines, and mix of various finishings is the best thing about this furniture. It surely will make any space glamourous. 
3. Round Marble Coffee Table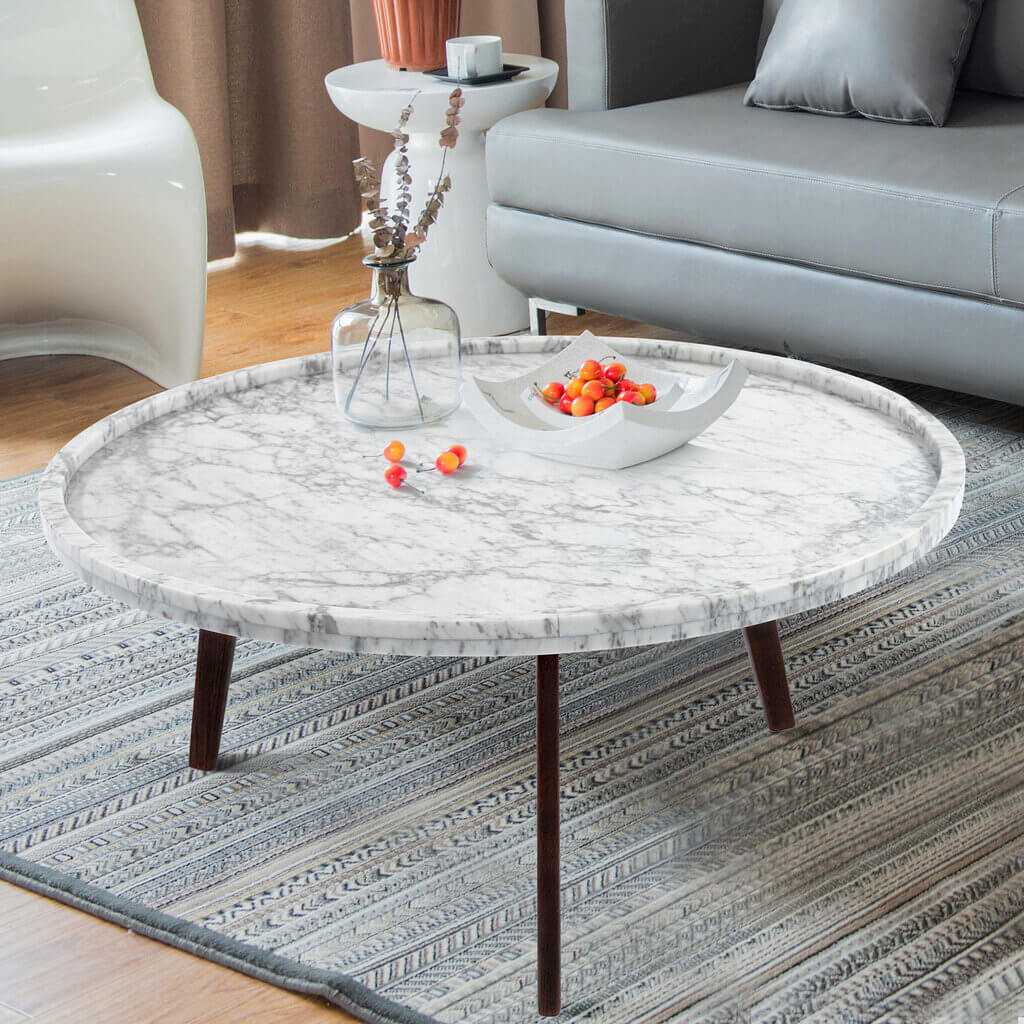 Source: wfcdn.com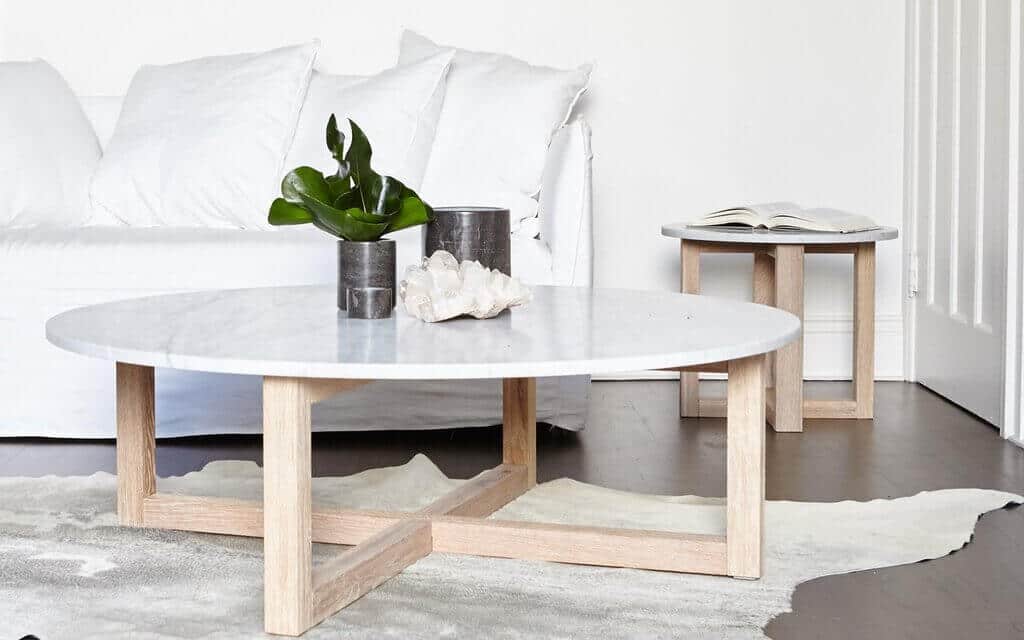 Source: shopify.com
Round or oval marble coffee tables are perfect for small spaces. This unique table again has a combination of marble and metal. Isn't it looking pretty? The marble top with metal legs will look beautiful with any room decor. 
4. Rectangular Marble & Wood Coffee Table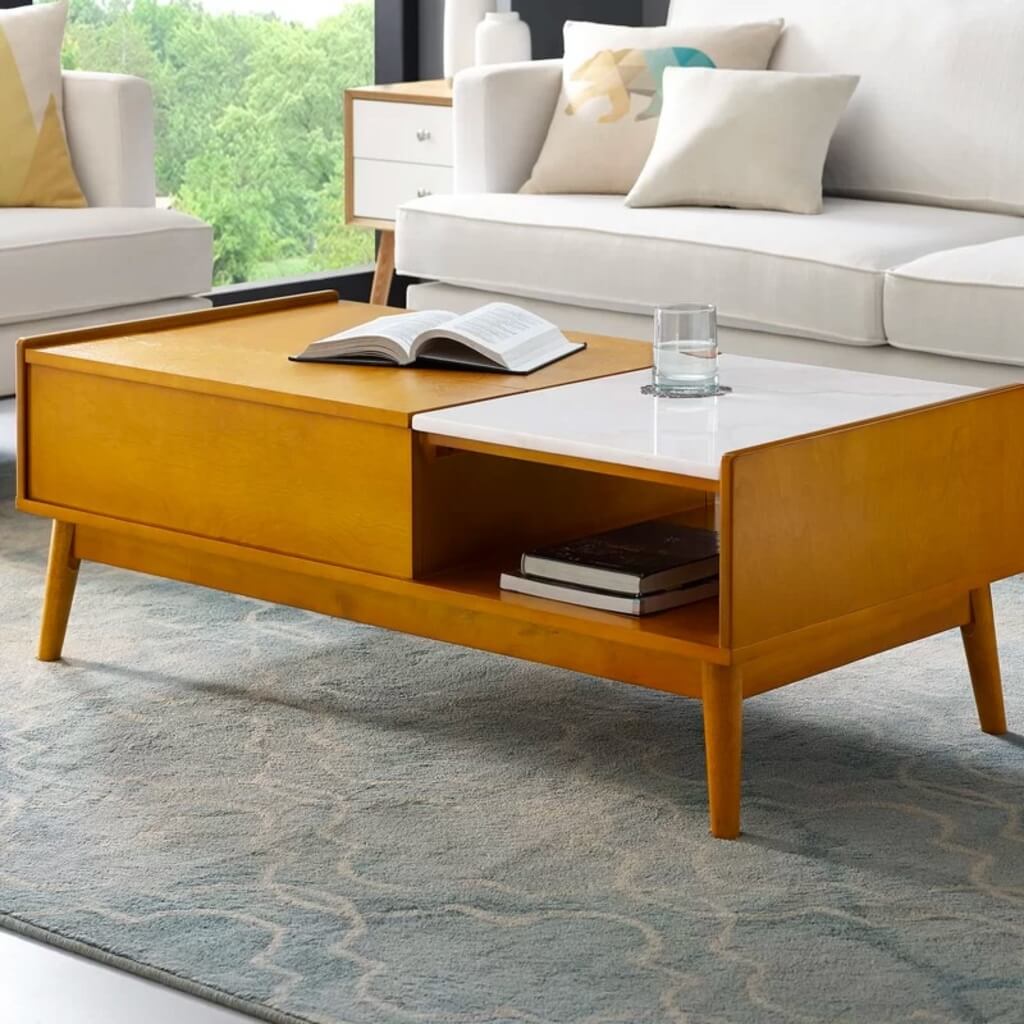 Source: homeinfo.hu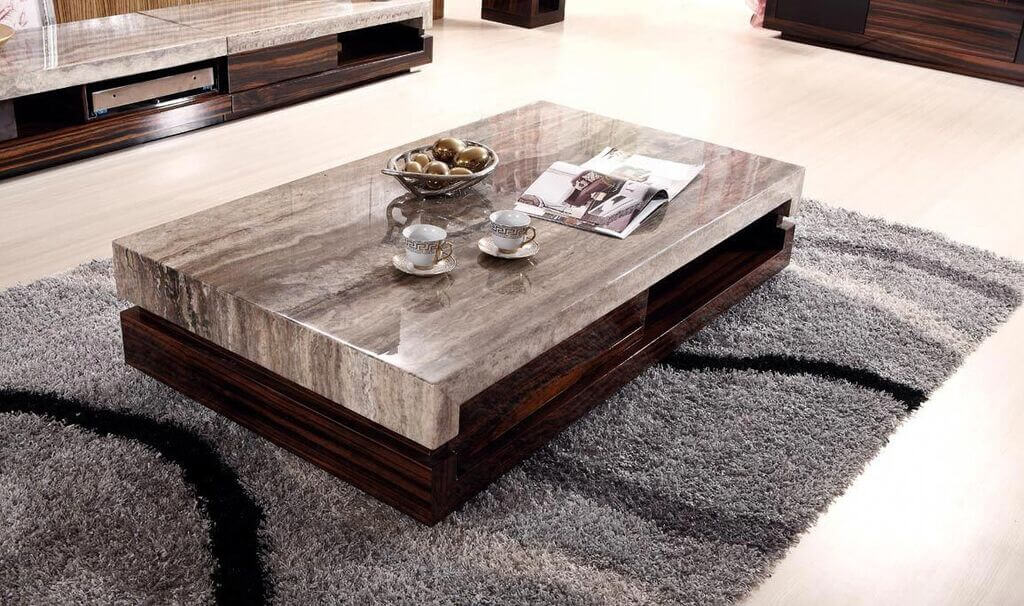 Source: pinimg.com
Not a fan of a coffee table that is entirely made from marble? Purchase this table. It is a wooden table with a tiny marble top! This little slab is adding a cool charm to this warm wood coffee table. It also features a lift-top that reveals hidden storage, where you can store all your important documents and other stuff. 
5. Ultra Modern Table Design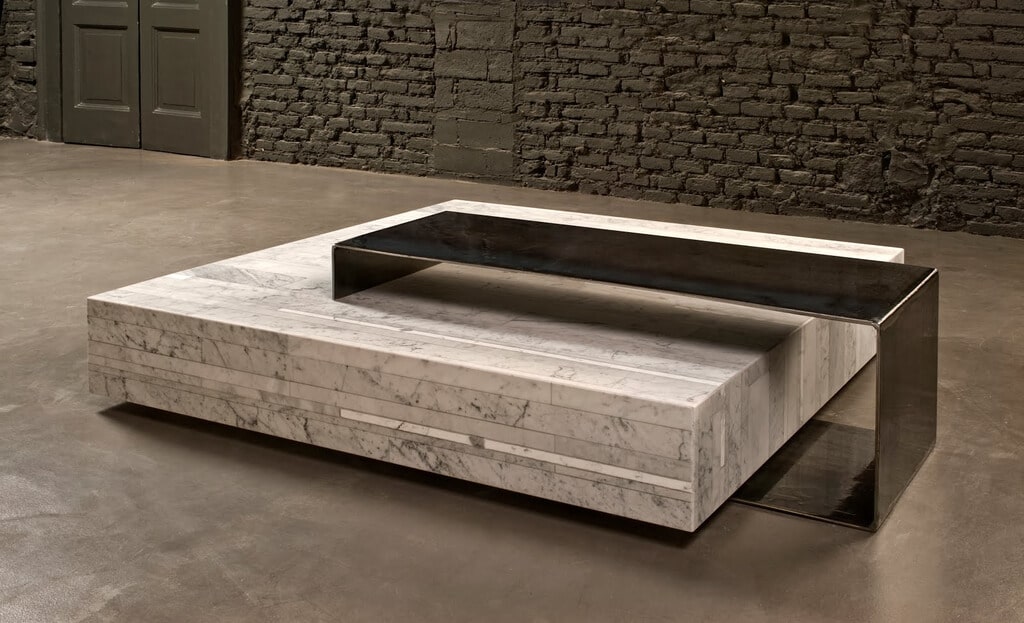 Source: gessato.com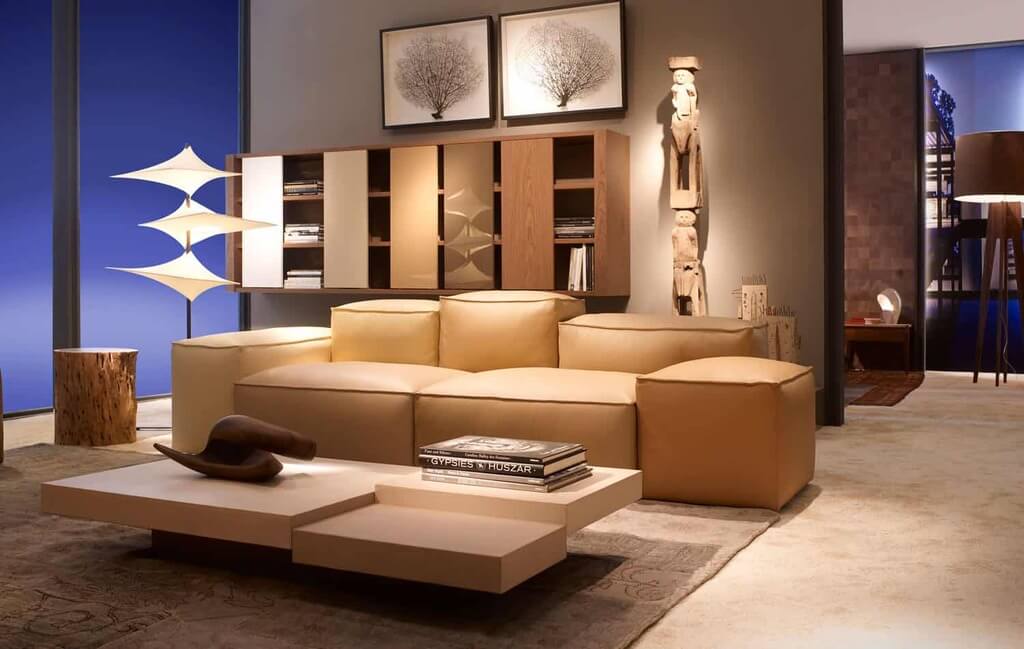 Source: trendir.com
These types of minimalist modern design tables are in trend these days. It is made from combining various elements in a very non-traditional manner. The metallic look of it looks really luxurious and grand. 
6. Mid Century Faux Marble Coffee Table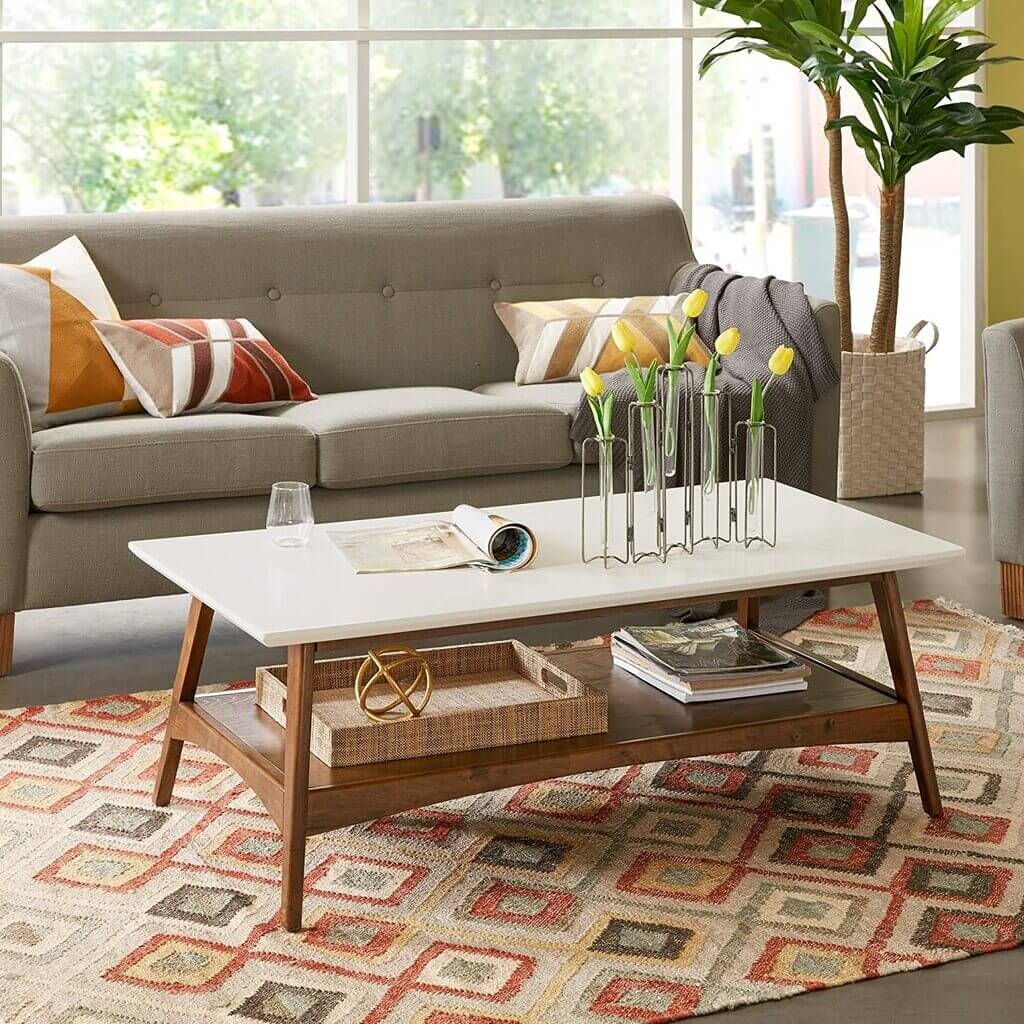 Source: amazon.com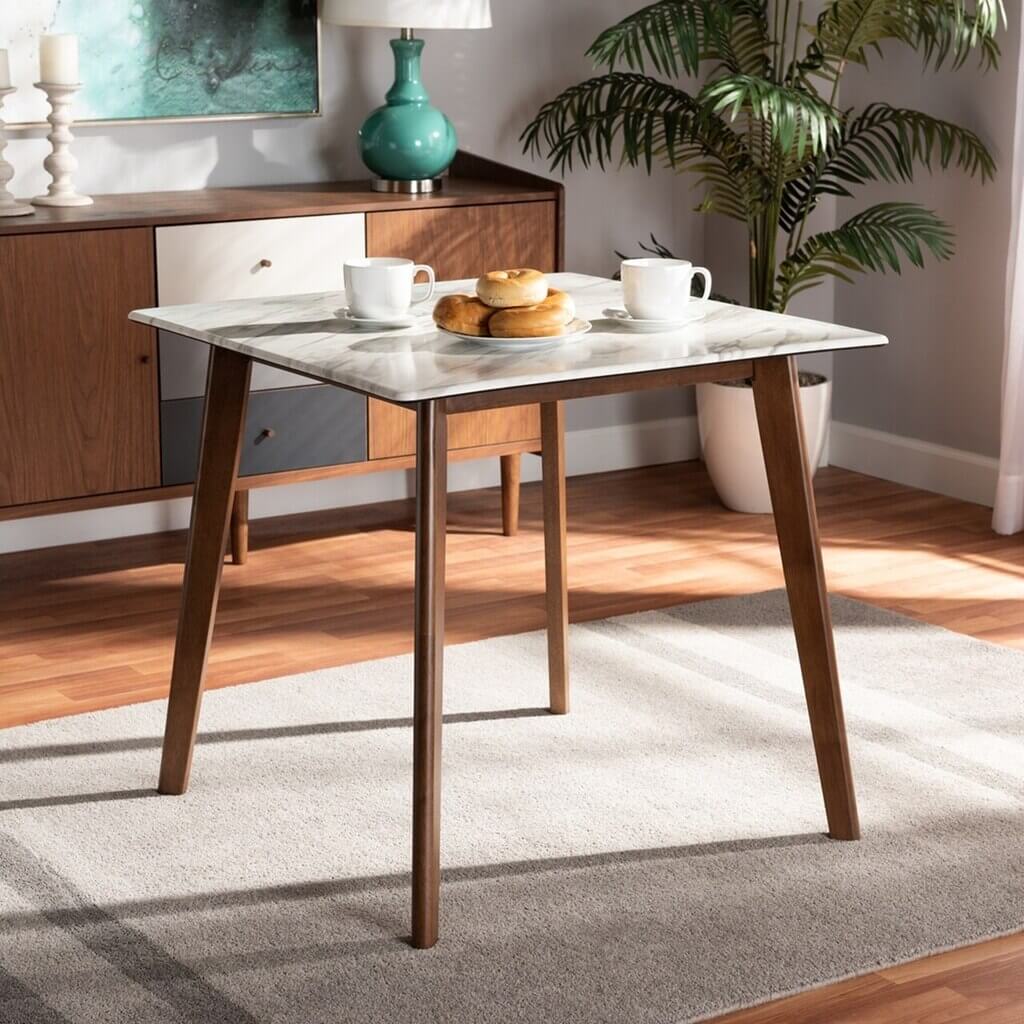 Source: bigcommerce.com
If you'll ask any interior designer which style is evergreen and can be seen in upcoming years, their answer will surely be Mid Century Style! So if you're looking for timeless furniture that never goes out of style, this marble effect coffee table will be perfect for you.
It is a Mid Century Modern Style Faux Marble Table with storage. It's budget-friendly, and its top looks like real marble. You can store magazines, books, or accessories on the sleek and handy wooden shelf. 
7. Modern Rectangular Coffee Table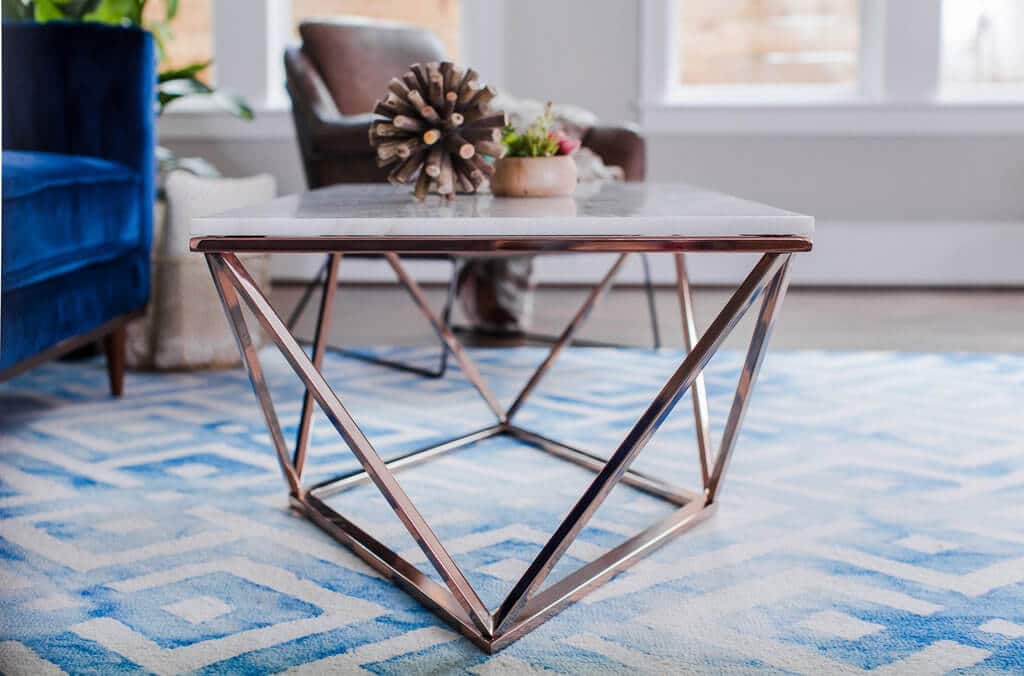 Source: wixstatic.com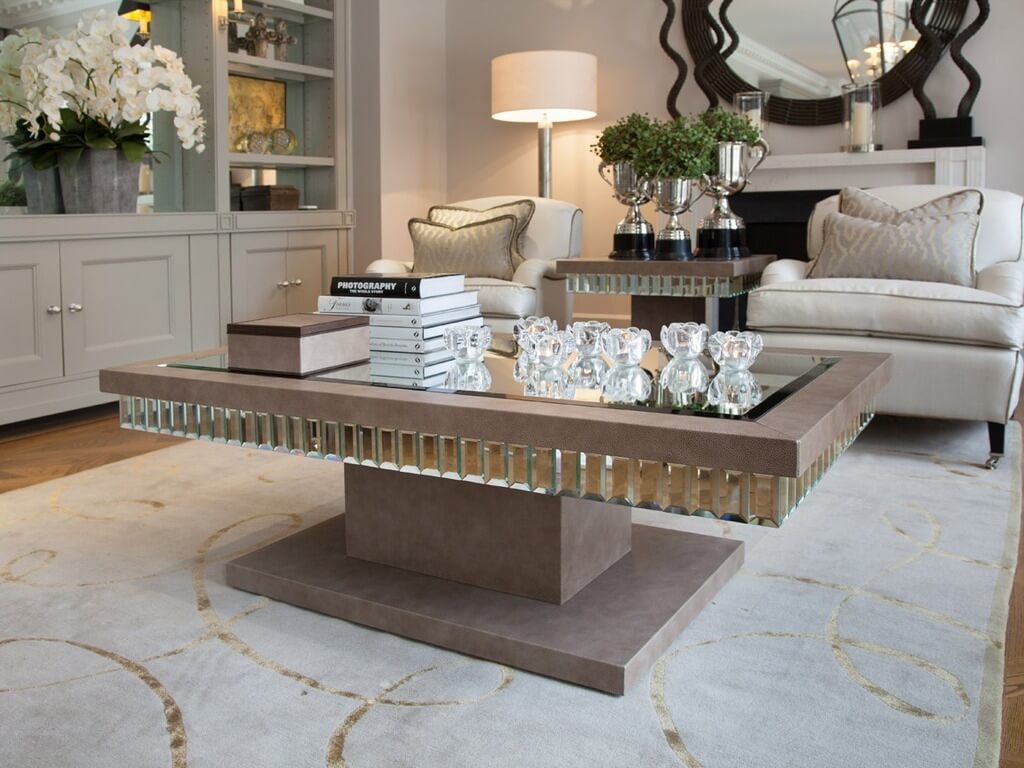 Source: wallsdesk.com
If you want things simple and clean, go with this modern table design. It has a classic rectangle shape with a geometric base design. The sharp angles and clean lines of the rose gold base will give your room a refined aesthetic. 
8. Lift Top Coffee Table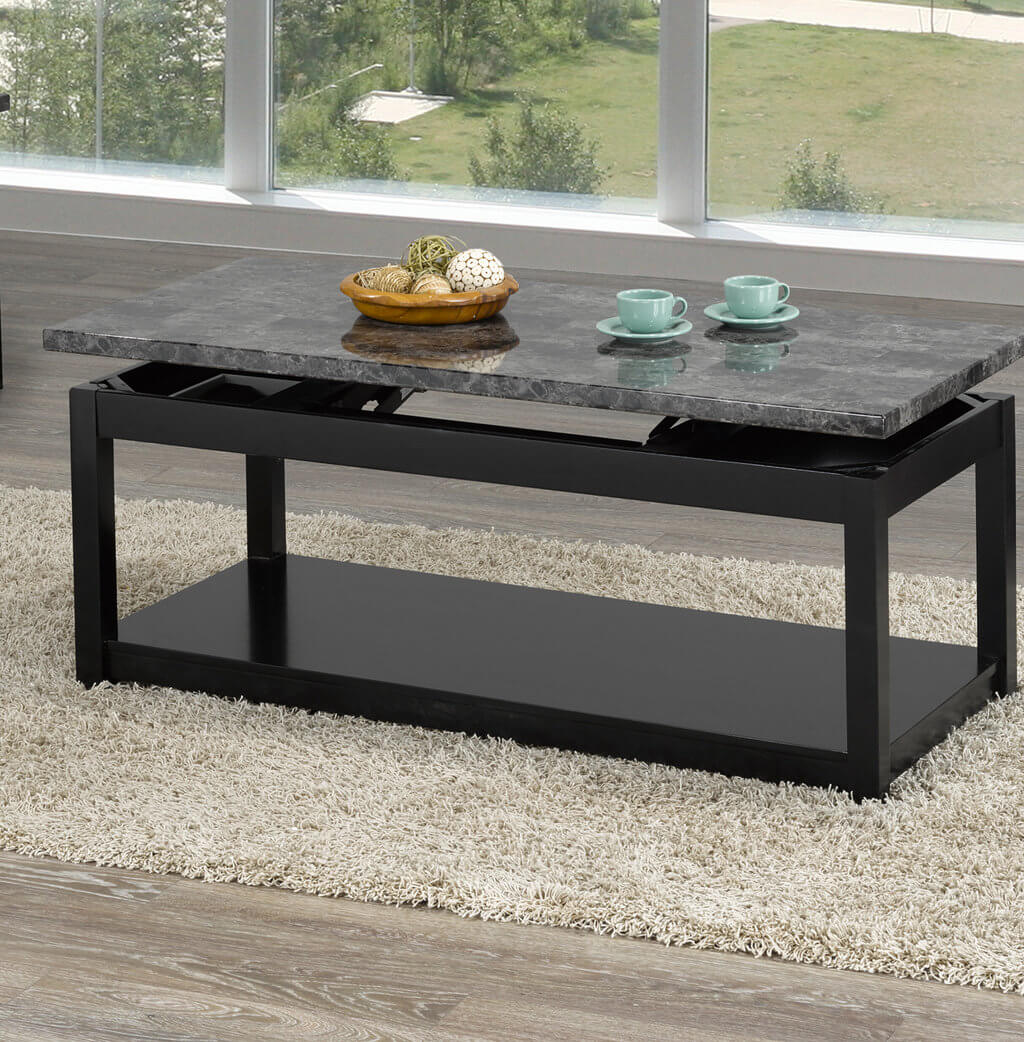 Source: wfcdn.com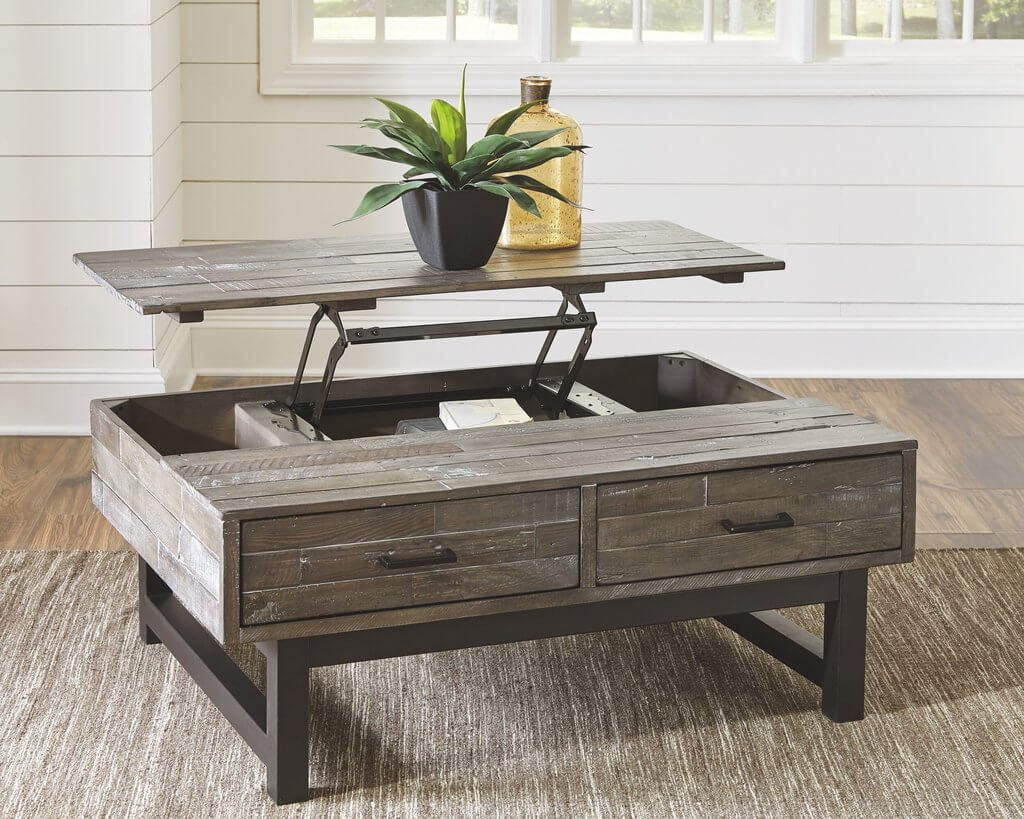 Source: wfcdn.com
Lift tables are another trendy design when it comes to coffee tables. People love this style because of its adjustable height. You can comfortably work, put things down and pick them up from the top surface. The beautiful combination of marble and wood is a perfect example of a combination of playful and elegant. 
9. Hexagonal Coffee Table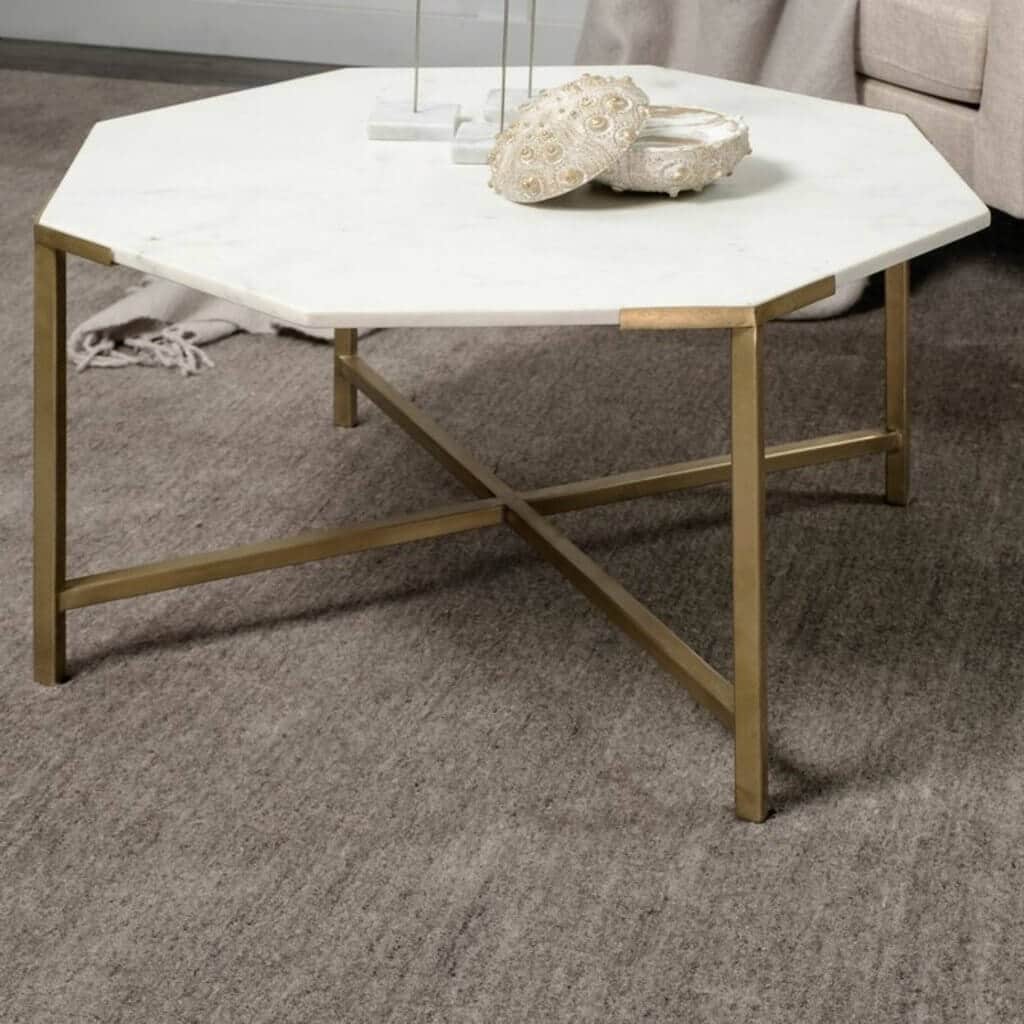 Source: homedit.com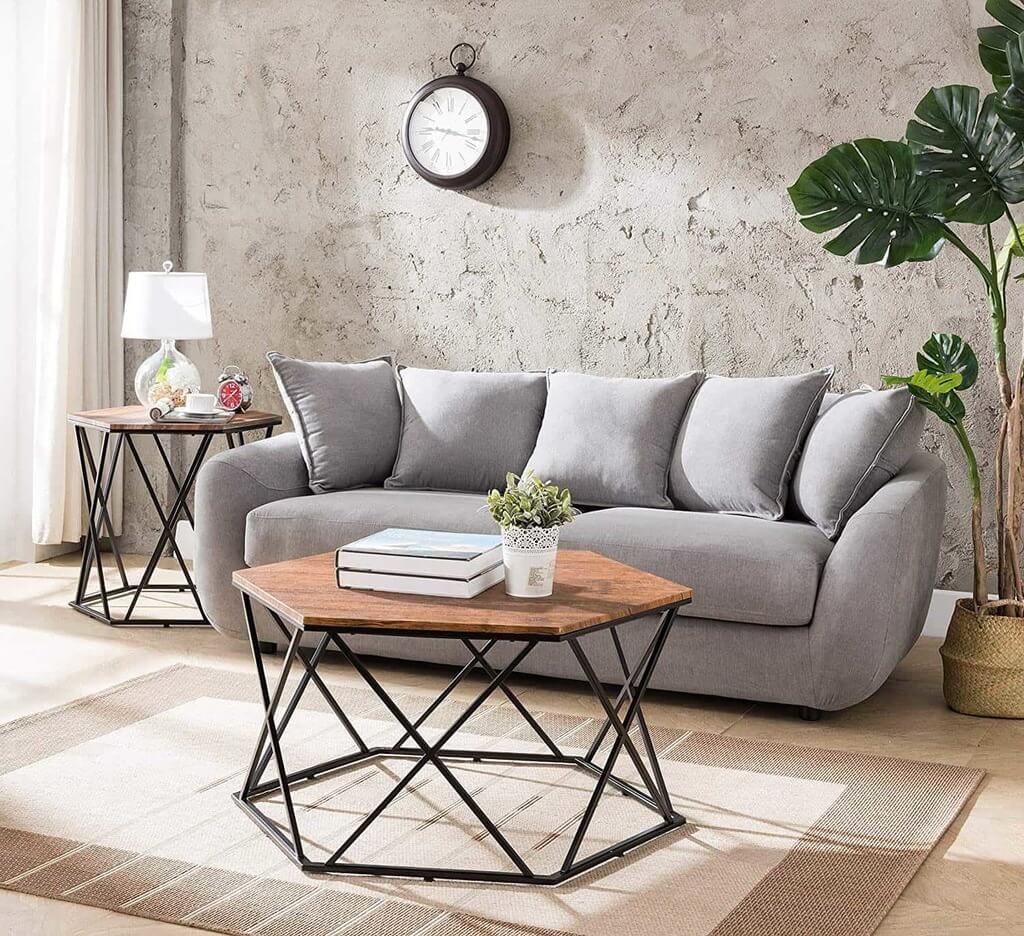 Source: trendir.com
Another great example of a marble and metal table is this stone coffee table. Here gold-colored legs are paired with the pure white marble top. On top of that, its unique hexagonal shape makes it appropriate furniture to place in any room. 
10. Grey Marble Coffee Table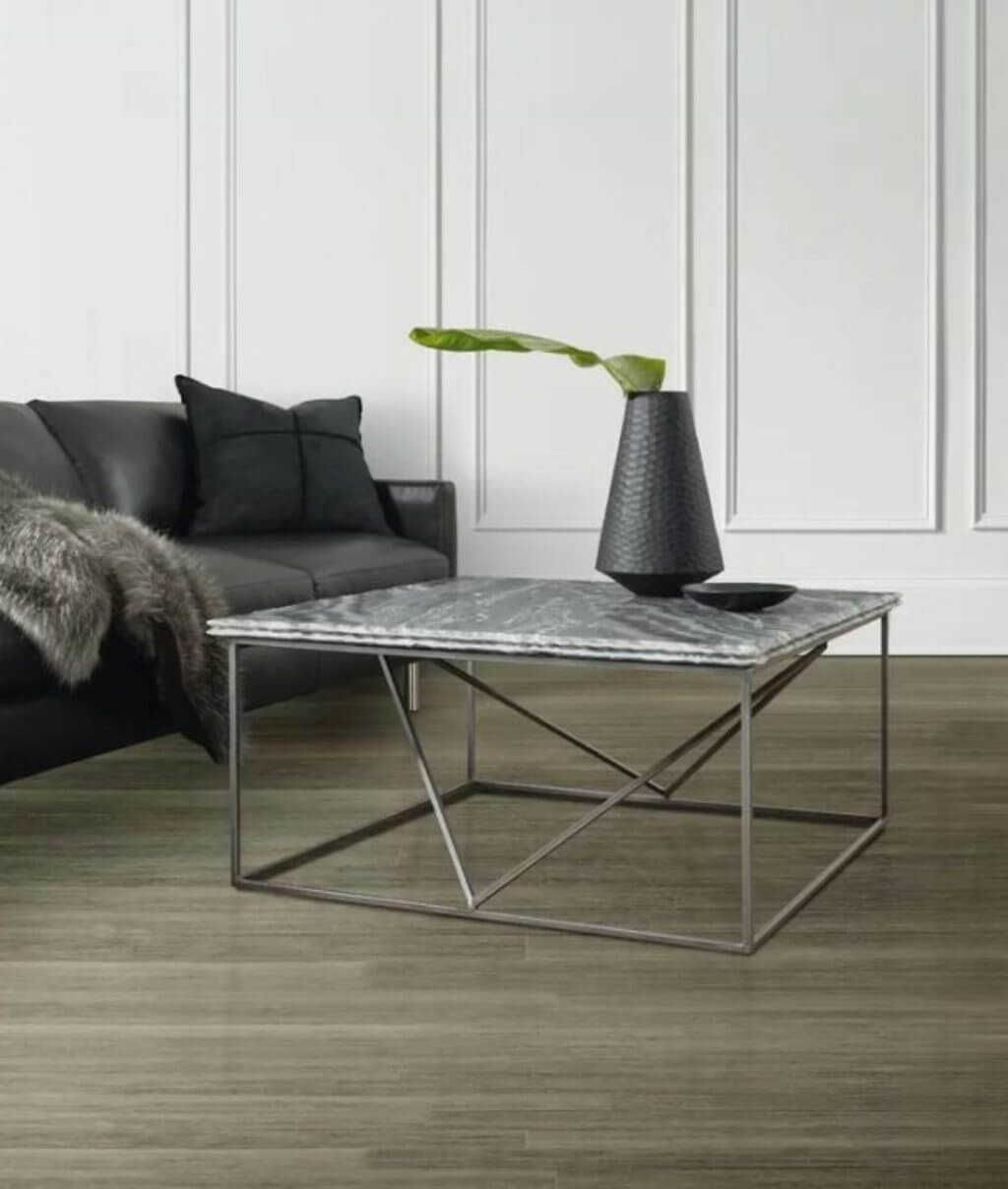 Source: home-designing.com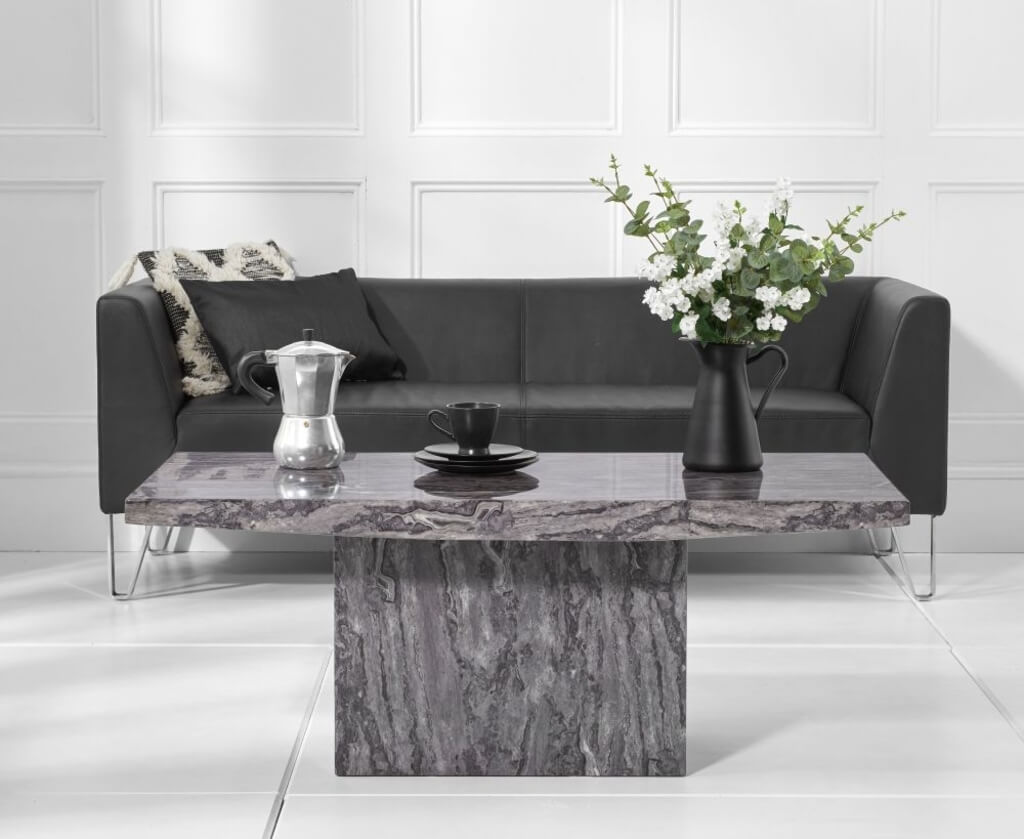 Source: choicefurnituresuperstore.co.uk
Love the industrial style? Get this grey marble table for your family room. The raw edge, grey coloring, and unpolished metal legs offer true industrial vibes. 
11. Minimalist Table Design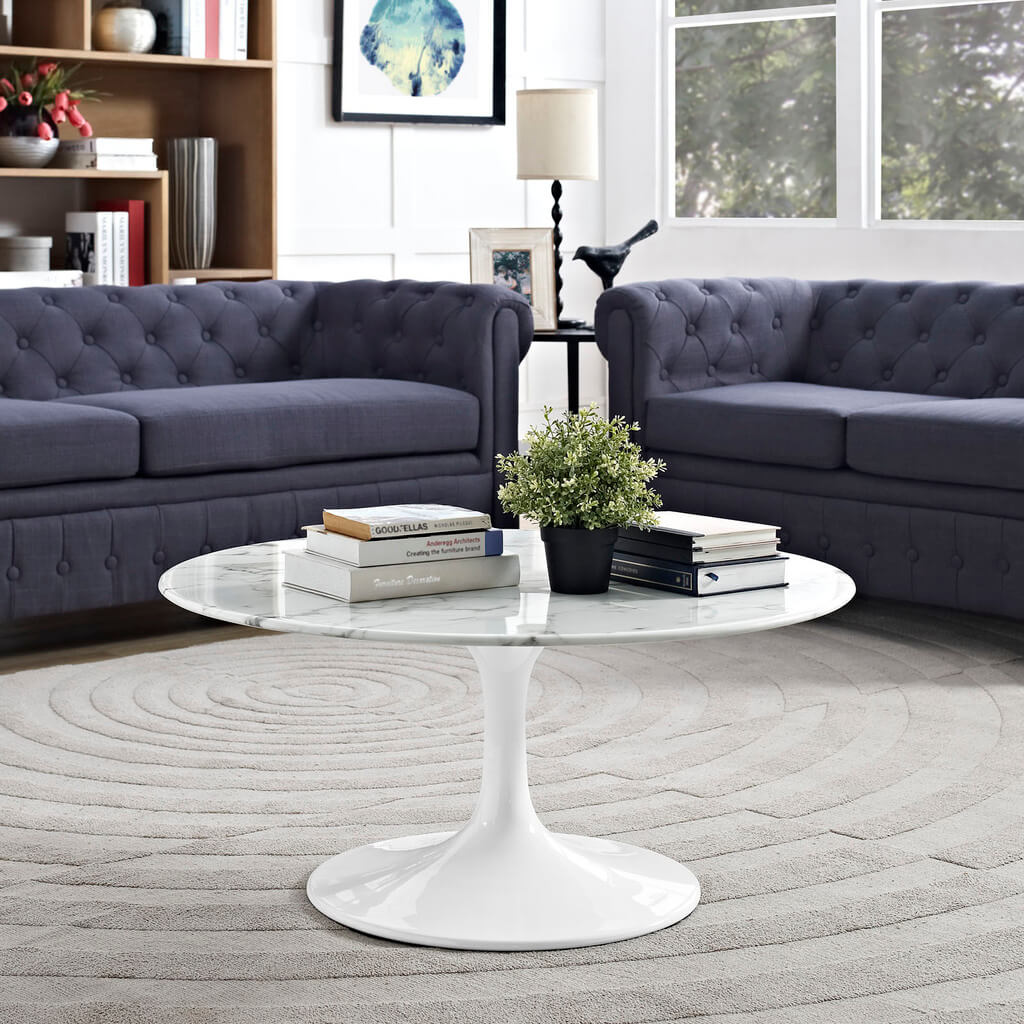 Source: walmartimages.com
Source: thespruce.com
If you don't like the over-the-top table designs, go with this one. It has a classic round shape that will perfectly fit in your minimal interior design. It looks really stylish and sleek at the same time and will work great as a coffee table. 
12. Classy Contemporary Design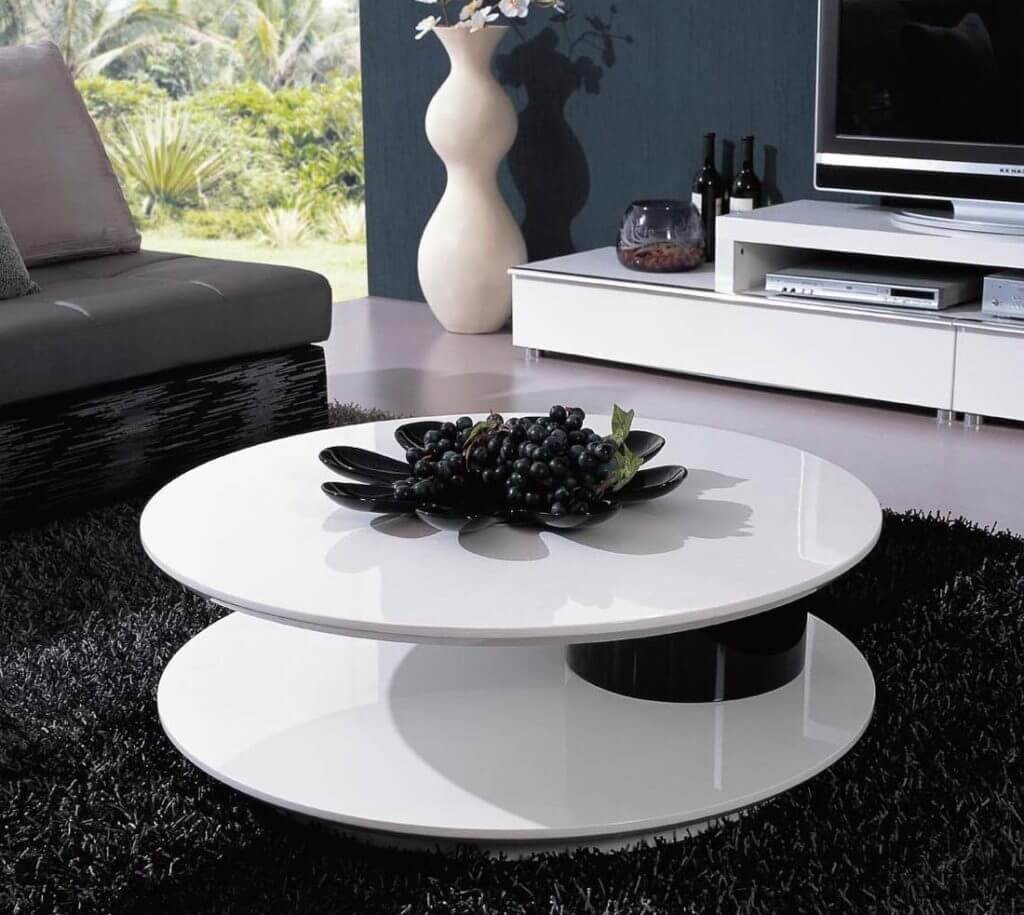 Source: shopify.com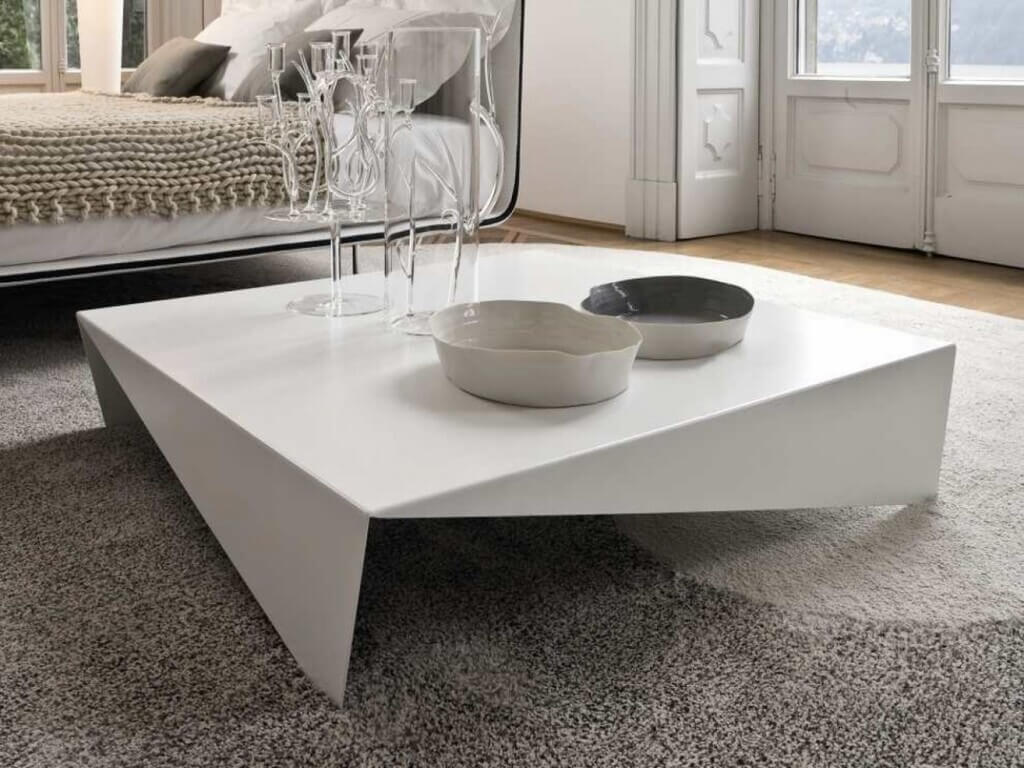 Source: coffeeandsidetables.com
Two-tiered tables are one of the top trends of this year. So, bring home this really lovely, modern coffee table in white color. It has a black marble block as support between two thin slabs of white marble. This black and white combination will look simple yet chic. 
13. Sculptural Rectangular Marble Top Coffee Table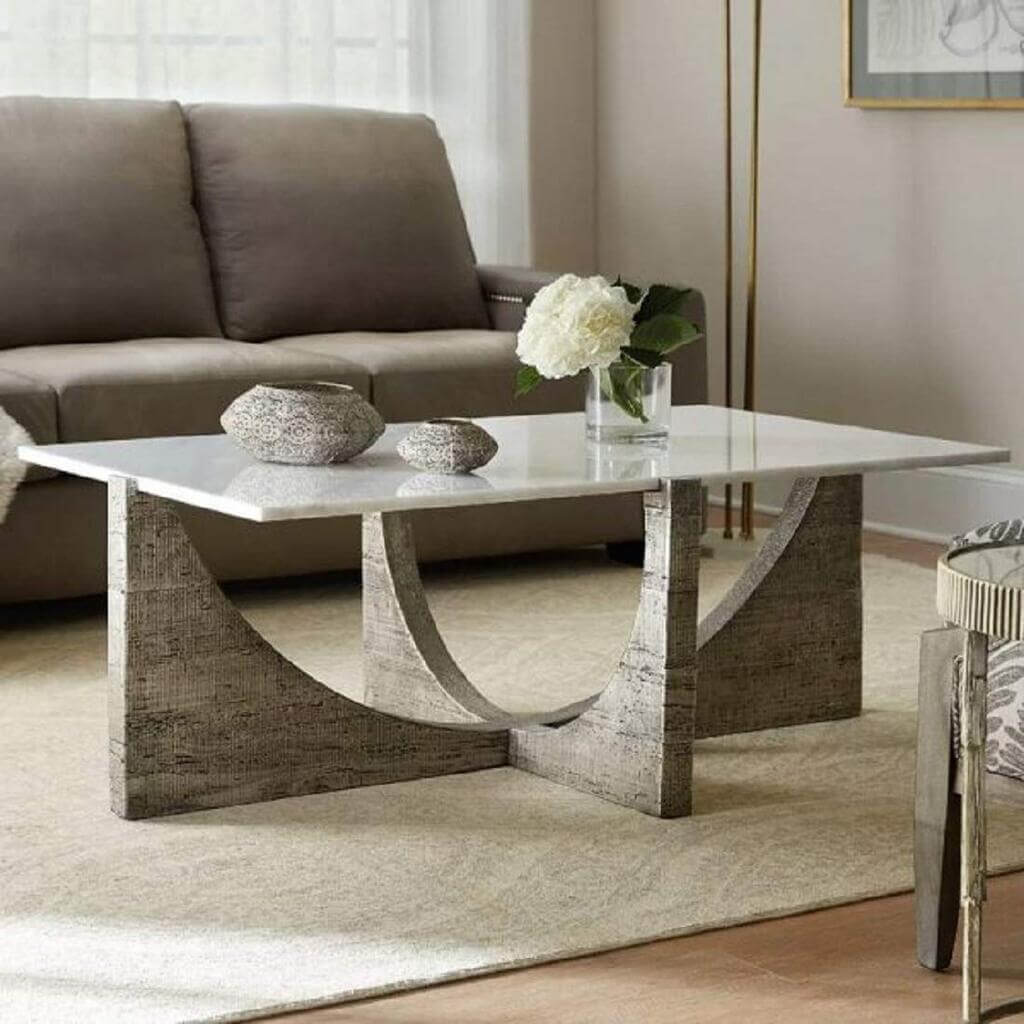 Source: home-designing.com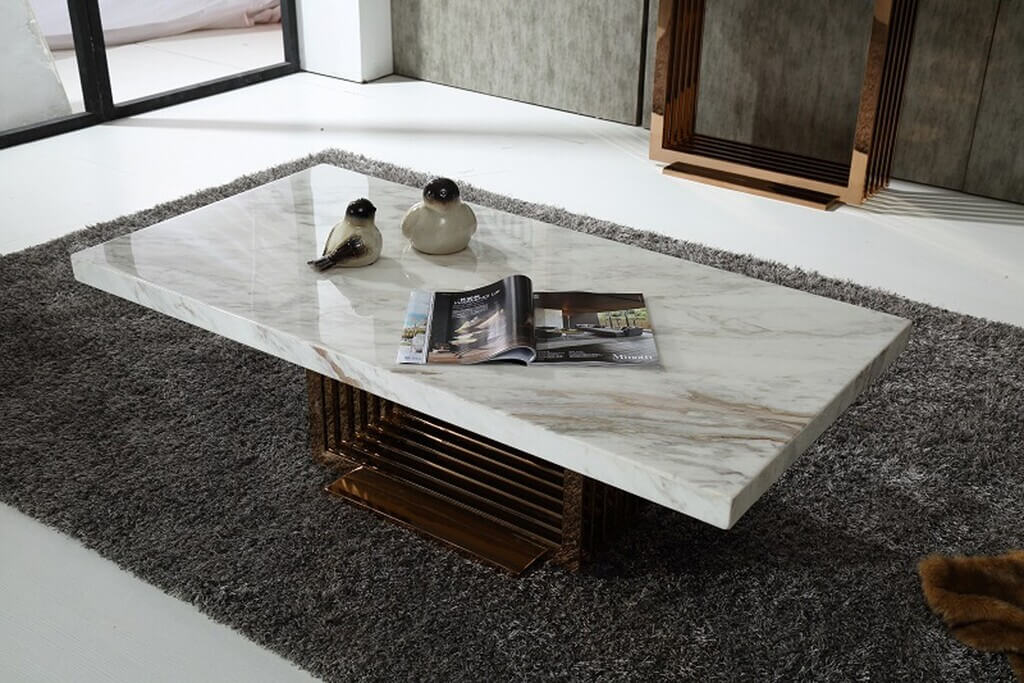 Source: choicecustomhome.com
The last one on the list is this incredible marble table with a sculptural design. The top is classic white marble, but the base is a solid wood base with an interesting pattern. This unusual table provides optimal durability and will add a statement style to your room. 
Also Read: Coffee Tables: Glorify Your Room With The Unique Designs
Styling Guide: How to Style Marble Coffee Tables?
Styling a marble table is pretty simple and easy. So, if you're also struggling to style your table, here are some quick tips for you: 
The key to styling is: Stay Simple and Chic! 

You can put two oversized items on one side of the countertop, such as candle holders or small lamps. Plus, place one large centerpiece in the middle. 

You can also put colorful book arrangements, statuettes, and tabletop hourglass to freshen up the decor.   

You can use porcelain, copper, or glass vases for a lovely display theme and fill them with beautiful garden flowers. 

You can also place outside-the-box items such as teapots and wicker baskets.

If you love minimalism, a simple candle display and coasters will be best for you. 

To add some pop of color, you can also add tablecloths or tapestry or trendy throw as a tablecloth. 
Marble Table Care Tips:
Here are some bonus cleaning tips for your marble top table. Follow these and keep your table shiny looking for a longer period of time. 
To avoid stains and marks, use coasters for cups and glasses.

Clean the table regularly with a dry clean cloth. Remove all the dust from time to time.

For deep cleaning, clean it at least once a week with a stone cleaner. This will help to keep the marble shine from fading. 
Want to see more center table ideas, other than marble coffee tables? Read our previous blog on 40 Charismatic And Budget-Friendly Modern Center Table Designs. 
The Bottom Line
So, which marble table do you like the most? Marbles come in a huge variety of designs, shapes, and colors. From old classic styles to chic modish ones, there are thousands of styles available in the market. 
Not only in America, but they're also widely used around the globe for decorating indoors as well as outdoors. So whether your interior has dark furniture and decor elements, a marble top table will create a balance and contrasting look. 
These marble coffee table sets are resistant, beautiful, classy, and a little bit pricey. However, they will last more years as compared to other materials.
So these are some of the best Marble coffee table ideas. If you find this blog helpful and interesting, share it with your friends or family.
For more interior decoration & designing ideas, keep coming to Architecturesideas.
For daily updates, follow us on our Instagram page @architectures idea.